Graphic Novel Recommendations for You!
And 36 out of 72 of them this year turn out to be British!
We adore Christmas at Page 45!
We're never too busy to help, and we promise it'll be your easiest, most serene shopping experience this year.
Ask for recommendations tailored to your friends' tastes!
Come, conjure your friends in our minds' eyes!
Tell us a little about friends or your relatives and – even if they don't yet read comics – we'll find you a selection of presents perfect for them, then show and tell you a little about each choice.
We'll find you books for difficult Dads, all-ages beauties to make little eyes shine, and Young Adults excellence for even the most discerning.
Bring wish lists to the counter!
Be they long or short lists, we'll find your books for you!
Not sure what the book you want is called? We know our stuff! A brief description is all that we need.
If a graphic novel is not in stock we'll search the warehouses of different distributors: their delivery is ever so fast!
Buy Page 45 Gift Vouchers for in-store or on-line shopping!
Alternatively, Page 45 Gift Vouchers come in denominations of £5, £10, £20 and come with a free card either by Lizz Lunney or Philippa Rice.
Comics & Graphic Novels for Christmas!
There will be Christmas Present Classics below too, but first we present Page 45's Very Best of 2017!
Please click on the links below to read our full reviews with interior art!
Important: if you see multiple covers, please click on any for individual reviews!
Buy to collect in store (no postage costs!) or…
We Ship Worldwide! (postage at cost only!)

Venice (£19-99) by Jiro Taniguchi.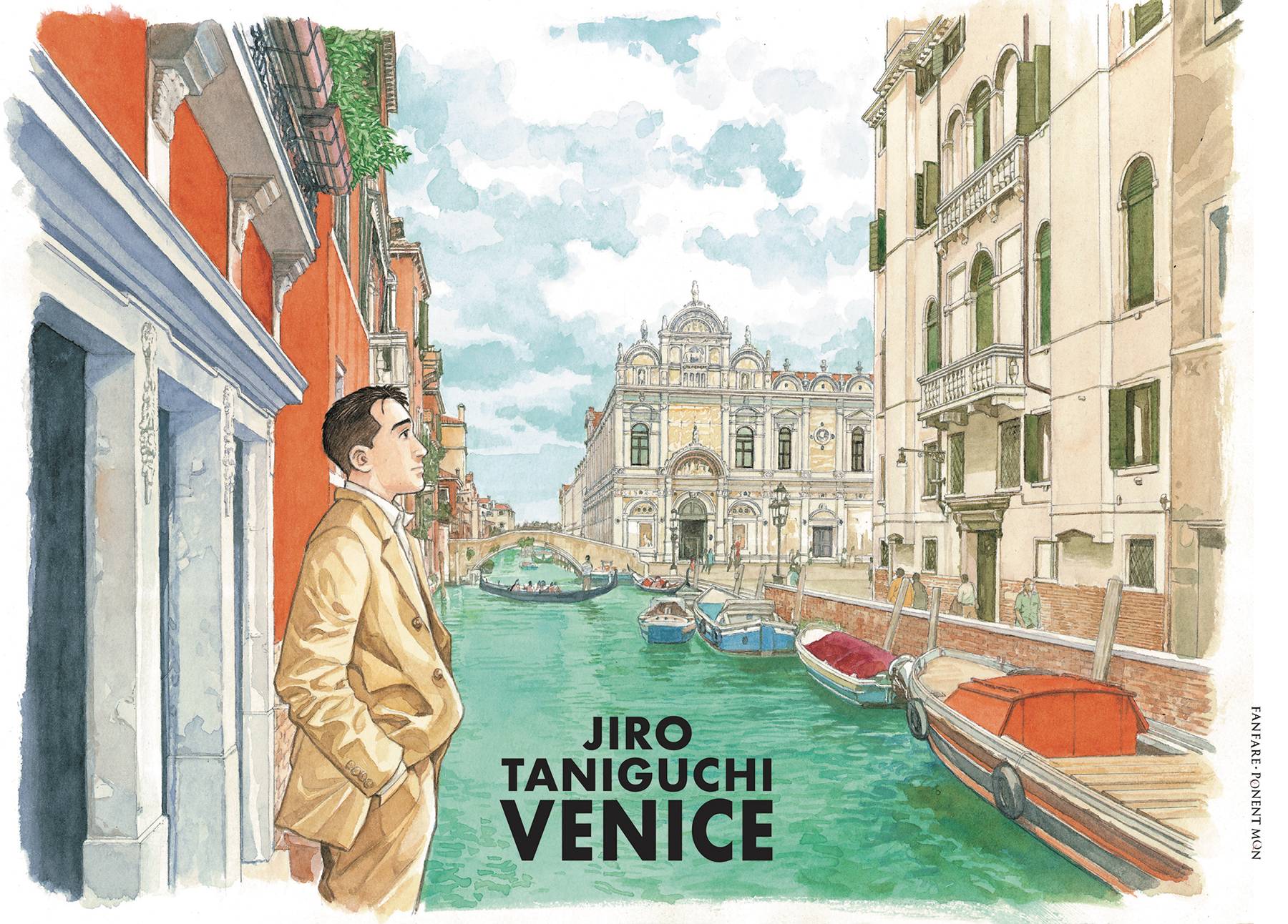 Venice is a city of gently lapping water, of dazzling light reflected on its undulating surfaces; of bridges, of sighs, of the Bridge of Sighs; of echoing footsteps and silent facades which are no less impressive when crumbling. But more than anything, Venice is a city of surprises.
If Paris is a
city of vistas re-designed to be seen through, under or over, so that wherever you roam you know where you are, Venice is far more tantalising. You can catch glimpses under and over its bridges, but such are its circuitous and labyrinthine trails within the embrace of its serpentine Grand Canal that all is revealed only gradually and most unexpectedly, as you take one random turn then the next.
It is magnificent, it is mysterious and it is coquettish. It is my favourite place in the world.
And Jiro Taniguchi is my favourite Japanese artist. Match made in heaven.
Read the full Page 45 review of Venice and buy if you fancy!
Boundless (£16-99) by Jillian Tamaki.
Reveries,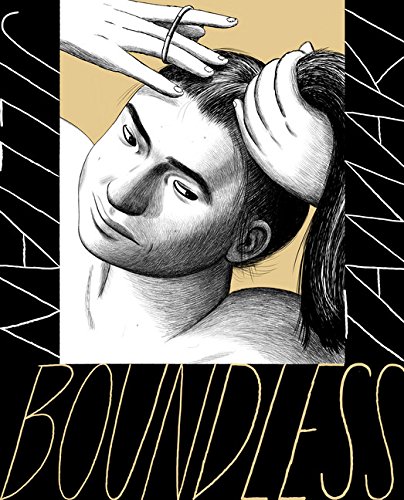 perspectives, freedoms, constraints…
Bodies, faces, fiction and fabrication…
Illusion, isolation, engagement and disconnection…
There's so much to absorb in this phenomenally rich and varied collection of searching short stories. You neither know what you'll get next nor know how it will be presented or indeed how each will end – except unexpectedly.
Each story comes with a narrative guile and its own art style. I suspect you'll be grinning for weeks.
Read the full Page 45 review of Boundless and buy if you fancy!
Face (£9-99) by Rosario Villajos.
"Except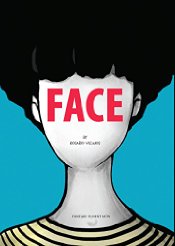 that she doesn't have a face…"
Playful and refreshing, rarely has a graphic novel surprised and delighted me so consistently throughout. But the ideas behind it are universally recognisable: a bit key, that.
Conforming to the norm is partly what this is about in so many ways, whether it's society's expectations, one's looks, one's search for a romantic partner or one's dynamic within a relationship.
There's so much to consider here from identity and self-perception to symbiosis, gravitation and assimilation. There will be a certain degree of alignment, as is so often the case, but in far from predictable ways! There are rules of attraction to consider and self-castigation will rear its ever so common head; the way we can end up making constant comparisons with the lives of others: their careers, relationships, creative successes, beauty, athleticism, entertainment value… and gardening expertise.
Read the full Page 45 review of Face and buy if you fancy!
The Worm And The Bird (£14-99) by Coralie Bickford-Smith.
"I am too busy to look,

"I can look another day," thinks The Worm.
But The Bird is looking. The Bird, up above, is looking right down at the ground.
In this immaculately structured graphic novel – so much of whose story is image-delivered with shiny ink – the creator of THE FOX AND THE STAR, presents much to make us think, much to make us grin, with a drive of dramatic tension as the Worm hurriedly goes about its business oblivious to the patience of the early Bird up above.
Two different perspectives mirror each other, before a third is presented by implication.
Read the full Page 45 review of The Worm And The Bird and buy if you fancy!
Collecting Sticks h/c (£16-99) by Joe Decie.
In the countryside you will need sticks.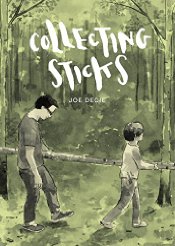 If you live in a city, be sure to pack plenty.
Welcome to the mischievous, autobiographical world of Joe Decie, for whom sleight-of-hand is a default setting. When I heralded his DOGS DISCO as "the return of the pint-sized prankster", Joe immediately fired back on Twitter, "I'm really quite tall, you know".
He'd fit comfortably inside your pocket.
Here the family goes glamping – glamorous camping – and his young son Sam steals the show. "Do you believe in the olden days?" he inquires, earnestly. "In the '80s they used spears."
You will be beaming with recognition throughout. One of my two Books of the Year.
Read the full Page 45 review of Collecting Sticks h/c and buy if you fancy!
The Sound Of The World By Heart h/c (£22-99) by Giacomo Bevilacqua.
Our Jonathan's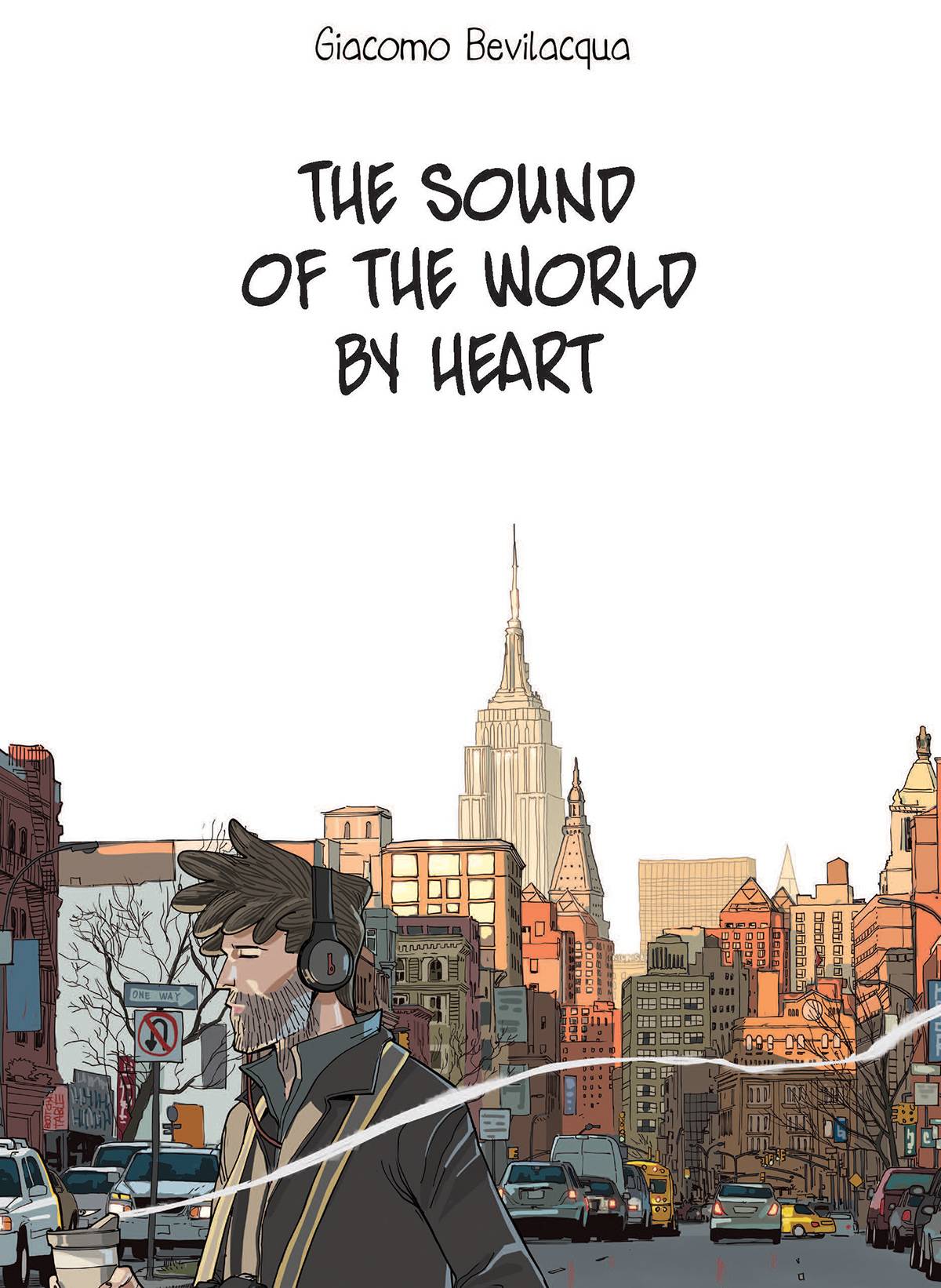 graphic novel of the year.
Photojournalist Sam is on a mission to stay silent for sixty days in New York City, one of the busiest and loudest in the world. He takes meticulously composed black and white photographs. On some of them a mysterious red-haired woman begins to appear, in full colour. She wasn't there when he shot them.
Soon the girl begins to appear in the real world, seemingly at every turn. Sam's instinctive reaction is to turn away, to run, to flee. But what is he really running from, where will he end up, and who will be there when he does so?
A quiet, introspective journey of tenderness and beauty.
Read the full Page 45 review of The Sound Of The World By Heart h/c and buy if you fancy!
Unreal City h/c (£14-99) by D.J. Bryant.
David Lynch,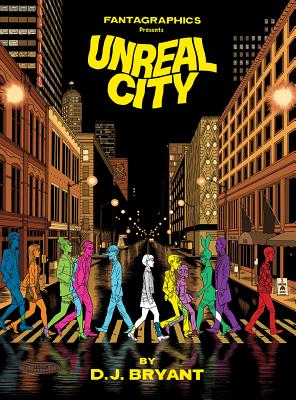 Charles Burns, Daniel Clowes.
Five stories in multiple art styles in which tables are turned. Relationships, perception, time, manipulation, reality, fiction… all these will be warped as D.J. Bryant presents you with puzzles to mess with your mind and his protagonists'. Control will be sought, control will be lost, and in 'Objet D'Art' control may never have been an option in the first instance – whichever instance the first one turns out to be. 'Objet D'Art' wouldn't work in any medium other than comics.
Bryant's art is meticulous and glossy, sexy and hypnotic. It's also decidedly top-shelf for two of the tales.
Read the full Page 45 review of Unreal City h/c and buy if you fancy!
The Can Opener's Daughter (£12-99) by Rob Davis.
Sequel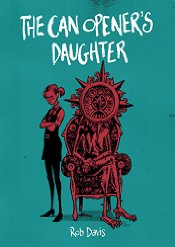 to THE MOTHERLESS OVEN, my fave book of that year, wherein we learned that although it is commonly acknowledged that children are the products of their parents – both by nature and nurture – here parents are very much the mechanical product of their children.
Everything is familiar, yet looked at anew, askew or turned on its head. Words may have multiple meanings depending on intonation or a minor adjustment. Almost every panel demands a quotation, so dense is the wit on display. Perspectives are important, the fresher the better, so here is the second in Rob Davis' trilogy, dovetailing precisely into the first to illuminate elements of what went before and leave us gasping desperately for more.
Read the full Page 45 review of The Can Opener's Daughter and buy if you fancy!
The Best We Could Do h/c (£22-99) by Thi Bui.
"Proximity and
closeness are not the same."
My other Book of the Year, this profoundly moving story will win so many international awards, you mark my words.
So often the best route to true understanding lies in the lives of others.
Here Thi Bui seeks to understand her distant relationship with her parents, in order to relax into parenthood herself. To do so she explores their lives in Vietnam and the adversity – often cruelty – which they encountered from without and within, while trying to create a family of their own. That her mother and father met at all was a miracle; that they ever escaped to America was another.
Read the full Page 45 review of The Best We Could Do h/c and buy if you fancy!
Arthur And The Golden Rope h/c (£12-99) by Joe Todd-Stanton.
A most excellent quest
involving Thor, Odin and the enormous wolf Fenrir. HILDA and ZELDA fans will lap this up, for Arthur is an Icelandic Zelda, addicted to exploration and acquisition, forever adding artefacts to his arsenal of treasured possessions.
Arthur will to need to summon old friends, all his courage and his quickest of wits to restore fire to his frozen town after its gigantic brazier is knocked down and extinguished by Fenrir. He'll have to curry the Thor's favour, and the only way to do that is to help him defeat the 500-foot Fenrir!
Present and correct: wit, rules and exploration for eyes with background details galore. There are swords stuck everywhere in Valhalla's hall. Can you find them all? Its library is as vast as vast can be. Poor Arthur must read every dusty tome in his research. You can see him scampering up ladders, balancing books on his head, receiving a nasty surprise, but if you look really, really carefully…
Castle In The Stars vol 1 (£14-99) by Alex Alice.
Album-sized,
all-ages excellence which had me thrilled by its visual majesty, gripped by its power-play, charmed by its adroitly delivered comedic notes, then caught anchor / line / balloon-ballast in its steampunk spell. I suspect you'll weep with wonderment at the Aethership blueprints.
It co-stars the white-stoned "Wow!" that is Neuschwanstein Castle, constructed on such a sheer mountainous outcrop that I've always thought "How?!?" Alice makes the most of the vertigo-inducing terrain with iron gantries spanning the slopes, cable lifts and the sort of magical glasshouse laboratory you find in games like Riven and Myst, buttressed out from the escarpment and over a waterfall.
Read the full Page 45 review of Castle In The Stars vol 1 and buy if you fancy!
Water Memory (£13-99) by Mathieu Reynès & Valérie Vernay.
Seagulls surf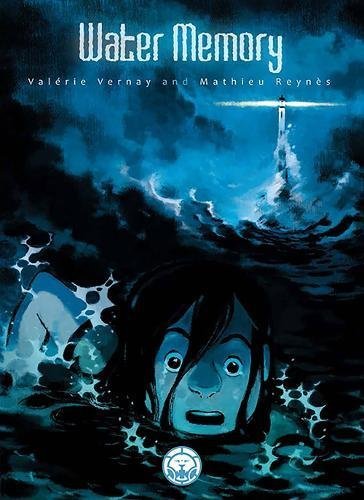 the sea breeze, directing our gaze to the lighthouse on an island not far from the shore. Beyond lies the fishing village, a yawning stretch of bright blue sky between sunlit clouds funneling our attention there too. Later a wave-break of white flowers flows through standing stones.
At the heart of this gripping YA graphic novel lies a mystery which may or may not contain a dark, fantastical element. Regardless, it involves local legends of emphatically not displeasing sea spirits. Its other heart lies in the relationship between Marion and her mother; its driving force any young person's instinct and compulsion to explore.
Marion and her Mum are moving back into the family house after it's been empty for 34 years.
Read the full Page 45 review of Water Memory and buy if you fancy!
Geis: A Game Without Rules (£15-99) by Alexis Deacon.
A Geis
is a taboo or curse which cannot be broken, but invariably is, and the consequences are always dire.
Diabolically ingenious, every element dovetails precisely, be they the intense, concurrent action sequences of fight and flight or the games and the geis itself, all of which have rules if our remaining competitors from GEIS Book One could only perceive then understand them.
What are they competing for? The kingdom itself. What is at stake? Their very lives. Unfortunately they don't know that. Only young Lady Io and the duplicitous Nemas have discovered the truth, and they have been cursed into silence. Rising from this rat-race for power is an inspiring spirit of altruism. PS. The colours are amazing!
Read the full Page 45 review of Geis: A Game Without Rules and buy if you fancy!
By Chance Or By Providence s/c (£14-99) by Becky Cloonan.
Was there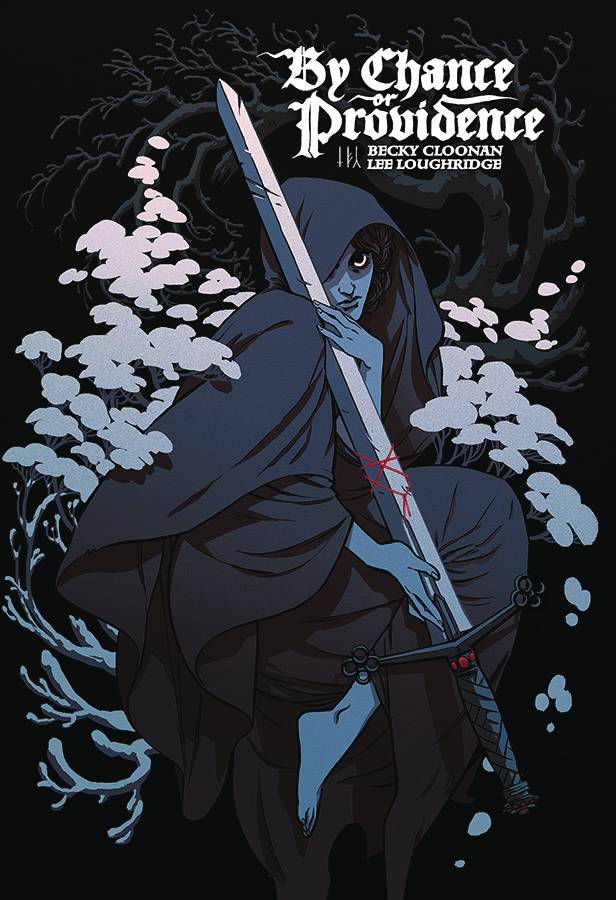 ever an artist so in love with an era? I think not.
Three fiendishly clever, creepy, mesmerising and beguiling short stories which you will want to re-read the moment you finish, for hindsight is a funny old thing.
This also boasts the best selection of back-matter art that I can recall: page after page of lush, sensual, sexually charged portraits of men and women at one with their natural environment. "Tresses" is a word that evokes a particular period in which hair was worn bound for courtly consumption. As to the guys, you can smell the male musk and built-up grease by the way the thick strands fall heavy over their eyes which glare up through their parted curtains in anger or seduction.
Read the full Page 45 review of By Chance Or By Providence s/c and buy if you fancy!
Heathen vol 1 (£14-50) by Natasha Alterici.
Under a cover
as soft to the touch as a horse's hide resides a tale of love, resilience and fortitude told with lithe beauty, great supple strength and the odd dash of light, bright humour.
It's also constructed with precision: nothing extraneous, everything is thought through including Aydis's unconventional construction of her helmet from fallen stag antlers which male deer use in combat for dominance in securing their mates. This is about male hegemony, yes.
Alterici makes everything look effortless, including Aydis's hand-to-horn combat with the bull. The choreography is exceptionally slick with so much energy in a broken line! She doesn't seek to confine her virile steeds, stag or stampeding bull in a rigid outline, so sapping their movement and might; instead she suggests their exterior contours and body mass in relation to their environment with flurries and flashes of instinctive slashes, while her colouring is equally loose and lambent.
Read the full Page 45 review of Heathen vol 1 and buy if you fancy!
Spinning (£14-99) by Tillie Walden.
Think of the
telling title of teenage awakening, not the ostensible, ice-rink subject matter.
Keenly observed, discerning and wise, this eloquent autobiography comes with a mind-bogglingly well balanced sense of perspective which understandably eludes almost all of us aged a mere 21. Or 31 or 41 or 51.
Even more remarkable for someone in her earliest twenties, it is Walden's fifth published graphic novel so far, two of which we made Page 45 Comicbook Of The Month. I am practically begging you to pop her into our search engine.
Unbelievably prolific (read: dedicated to her craft), Walden is the most insightful voice of so many to emerge in her generation of comics, and she communicates it with a quiet, controlled consideration and exquisite beauty.
Read the full Page 45 review of Spinning and buy if you fancy!
One Year Wiser: An Illustrated Guide To Mindfulness (£12-99) by Mike Medaglia.
"Love is everything
. It really is."
A very practical handbook guiding us all towards a greater sense of serenity; nor is it merely for beginners.
In 4 sections titled as seasons, Mike talks us through 24 topics from the all-important Mindfulness and Meditation to diverse jewels like Smiling, Anxiety, The Ego and Impermanence. Each proves powerfully affecting, in subtly different ways, both in their words and accompanying artwork.
For a subject as ineffable as mindfulness, Mike's is an ideal approach for revealing and refreshing our knowledge of the universal truths we manage to so successfully obscure from ourselves on a daily basis, for we do already know deep down that love is everything.
Read the full Page 45 review of One Year Wiser: An Illustrated Guide To Mindfulness and buy if you fancy!
Porcelain: Ivory Tower (Signed Bookplate Ed.) (£14-99) by Benjamin Read & Chris Wildgoose.
Already our
best seller this year, and it's only been out six weeks!
Child came from nothing. Lady built much. But Mother's another proposition altogether.
Mother has surrounded her family and estate full of sentient Porcelain creations with an impenetrable wall and built therein the most enormous tower which casts its imposing shadow over the city, drawing attention to its lofty self-seclusion. She had no choice: the military demanded her Porcelain as weapons for war and would not take "No" for an answer. Now everyone and everything she holds dear comes under assault and siege. She has done things in the interest of expediency which she prays no one will know.
But it's all coming out now, and it's all coming down.
Read the full Page 45 reviews of Porcelain and buy if you fancy!
Grandville: Force Majeure (£18-99) by Bryan Talbot.
The ultimate
Christmas annual for adults!
Fast and furious final of five volumes, with 60 extra pages for a mere 2 quid.
Like Talbot's equally epic LUTHER ARKWRIGHT, it is steampunk in nature and scathing in its socio-political critiques; but its anthropomorphic execution (with many a sly allusion) allows for a great deal of fun and many a pun alongside the visual wit and dexterity.
All unfinished threads are woven together and tied up by the end, along with several you never knew were still dangling. In addition, substantial chunks of LeBrock's, Billie's and sadistic, crime-empire building Tiberius Koenig's most formative years are finally divulged, informing both what has already happened and what, I'm afraid, will come to pass.
"Keep clear of the badger: for he bites."
Read the full Page 45 reviews of Grandville and buy if you fancy!
The Girl From The Other Side vol 1 (£9-99) by Nagabe.
"Never, never
allow yourself to sympathise with Outsiders."
If that doesn't ring wrong with you in this day or any age, then heaven help you. And heaven help the rest of us. Isn't mankind most excellent at scare-mongering – at spreading poison like a virus – and so causing its own self-destruction? It is also exceptional at viewing the world in blinkered black and white. This is how the white soldiers here perceive what is happening to them, perpetuating it through dictatorial legend and lore.
What Nagabe has so very gently fashioned here is a fantastical fable all too pertinent to our times both created and told in black and white. By "created in black and white", I mean this is a black and white comic; by "told in black and white" I mean something else entirely.
Read the full Page 45 review of The Girl From The Other Side vol 1 and buy if you fancy!
The Little Red Wolf h/c (£17-99) by Amélie Fléchais.
Oh,
but the luxurious landscapes stand out a mile! The anthropomorphic forms are delightful, the rich colours delicious and their harmony with a magically enhanced nature reminded me of Isabelle Arsenault's YOU BELONG HERE. There's also a hint of dear Gustav Klimt.
Many have the riffs been on Little Red Riding Hood and I do not "do" trite nor twee. Rejoice, for this is neither! There is a grandmother but she is a wolf; there is a red hood, but that is worn by a wolf; there are sprawling woods and navigation may indeed prove quite treacherous but the similarities to previous iterations end there. So many wicked surprises and a very real reason why the wolves are wearing such fine, woven threads.
It is dark, it is witty and although it is pretty, it has quite the lupine bite to it.
Are you all sitting comfortably? Then we'll begin!
Read the full Page 45 review of The Little Red Wolf h/c and buy if you fancy!
Nick Cave – Mercy On Me (£14-99) by Reinhard Kleist.
My own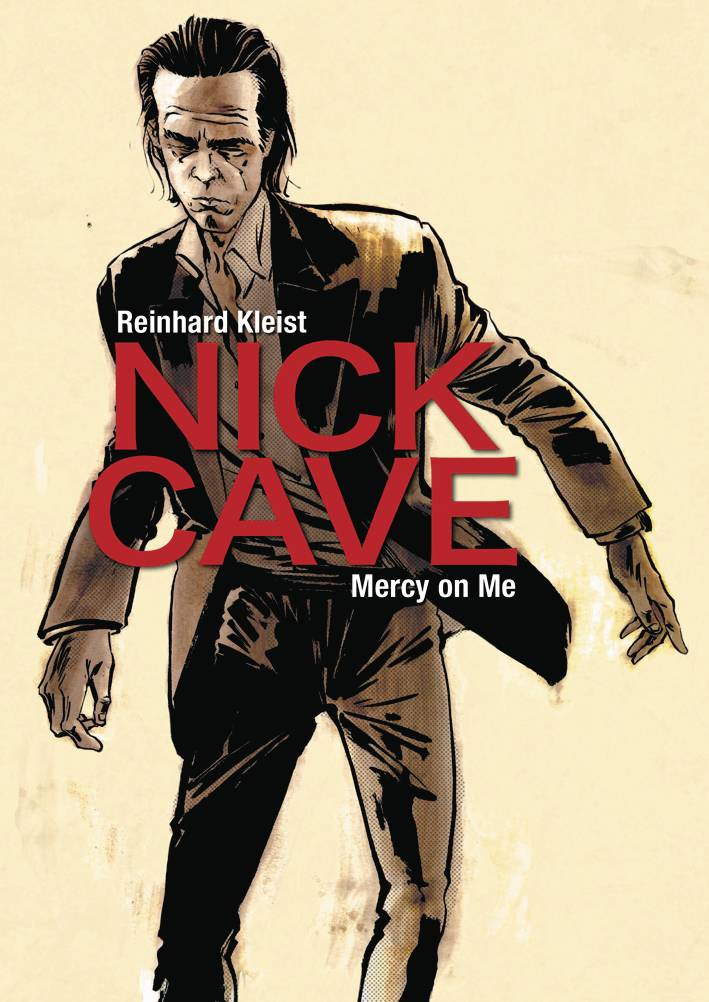 musical Holy Trinity is:
Nick Cave, David Sylvian, Billy McKenzie and Kirsty MacColl.
Because I simply cannot count.
One of our fastest-selling graphic novels this year, this exceptional exploration was (unusually, almost uniquely, for us) reviewed externally by Dr. Matt Green, Associate Professor of Modern English Literature at Nottingham University, and I implore you to read his eloquent, informed and impassioned review in full. It is the single most erudite offering on our website.
He conjures William Blake's past while emphasising Nick Cave's presence, but please believe that, as a fellow fan, you need none of Matt Green's cerebral skills to appreciate Kleist's devotion to this demi-god of dignity, indignity, passion and poignancy.
Read the full Page 45 review of Nick Cave – Mercy On Me and buy if you fancy!
You & A Bike & A Road (£10-99) by Eleanor Davis.
"I like going
further than we tell ourselves is possible."
Eleanor Davis cycles solo across America – 15 to 50 miles a day – at great cost to her knees. There are remarkable encounters: mostly spontaneous acts of generosity we should all aspire to.
Her body forms are beautiful: such enormous weight from so few lines as Davis sets up her tent then sits up inside, filling the bright, cosy space while outside the night and unknown are contrasted in a dense, graphite darkness which radiates, as light might. Superb use is made of the shape of her legs, knees and thighs in black lycra, then the strength of her shoulders and the curve of her arms.
"While you are setting up your tent anything can get you. Inside your tent you are safe." She stares out at us from inside with an expression which implies the qualifying addendum, "arguably".
Read the full Page 45 review of You & A Bike & A Road and buy if you fancy!
SLAM! vol 1 (£10-99) by Pamela Ribon & Veronica Fish.
What a cover!
If you don't relish Roller Derby yet, you will!
Ribon delivers a fun-time comic entirely congruent with this post-patriarchal experience. Men are barely mentioned within. This is entirely about ladies getting together to rediscover themselves and their confidence without comparison points. There's only one, and he's a sweetie.
Fish's art is ebullient yet controlled, depicting real women relaxed in their own space with tall socks , baggy shorts and occasionally war paint. When teams tear round the tracks, Fish's ability to choreograph the balletic jumps of the jammers working their way through the packs (or falling flat on their backs) impresses upon you the players' dexterity: the evident edge and pin-point precision required for such tricky manoeuvres. Love the subtle bruises by Brittany Peer who brings such warm tones to Fish's tender expressions and such rich, vibrant hues to their sports kits.
Read the full Page 45 review of SLAM! vol 1 and buy if you fancy!
Kill Or Be Killed vols 1 & 2 (£8-99/£14-99) by Ed Brubaker & Sean Phillips with Elizabeth Breitweiser.
Psychological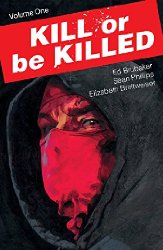 self-examination of one affable young man's descent into mass murder.
It is riveting, full of perfectly reasonable self-justification and practicalities.
For noir you must crave to spend as much time as possible in the protagonists' heads and Brubaker has proved he's the best in CRIMINAL, FATALE and THE FADE OUT. His previous co-conspirators Phillips and Breitweiser unleash their all, for while Phillips maintains his three-tier structure which makes the comics accessible to all – even newcomers – his art's gone full-bleed to the edge of each page, so that you're not longer looking at panels from the outside, but immersed in the action's environment and so fully engaged.
Read the full Page 45 reviews of Kill Or Be Killed and buy if you fancy!
Black Monday Murders vol 1 (£17-99) by Jonathan Hickman & Tomm Coker.
Ignorance is bliss.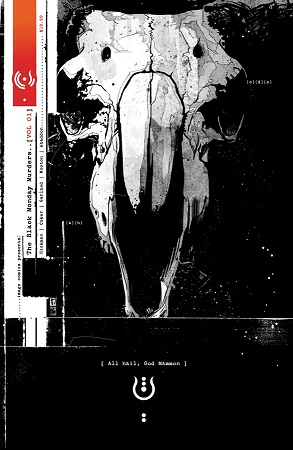 Things once seen cannot be unseen.
Clue: on the cover one of the co-creators is listed as Abaddon…
Big, fat-cat package of occult crime fiction exposing investment banking as a deal with the devil. In it conspiracy theory turns out to be decades of carefully constructed malpractice. Surprising no one.
This is about a cabal of rich dynasties controlling everything including the crashes, and it is all kinds of uncommonly clever. It's only fitting for a crime comic that you're invited to do some detective work yourself, so inside you'll find tarnished, symbol-strewn pages as if hastily photocopied for a secret dossier. Please do with them what you will.
Read the full Page 45 review of Black Monday Murders vol 1 and buy if you fancy!
Beowulf h/c (£26-99) by Santiago García & David Rubín.
An
underground river cascades through a bleak, black cavern below jagged stalactites and knotted, invasive roots. Lurking in the darkness, a pair of glowing, inhuman eyes incarnadine the gristly, reptilian, obsidian flesh surrounding them. Something has already had its fill.
Up above on the snow-swept, pink-dawn plains something hasn't so much raised a dog's hackles as left them buffeted weakly by the wind. A deafening murder of blood-stained carrion crows has formed and is feasting, fighting each other for the most prized pickings: the eyes. There appears to be a lot of carrion.
Please see our review in which I take the art fully apart including some devilishly deployed panel "windows".
Read the full Page 45 review of Beowulf h/c and buy if you fancy!
Moonshine vol 1 s/c (£8-99) by Brian Azzarello & Eduardo Risso.
'Boardwalk Empire'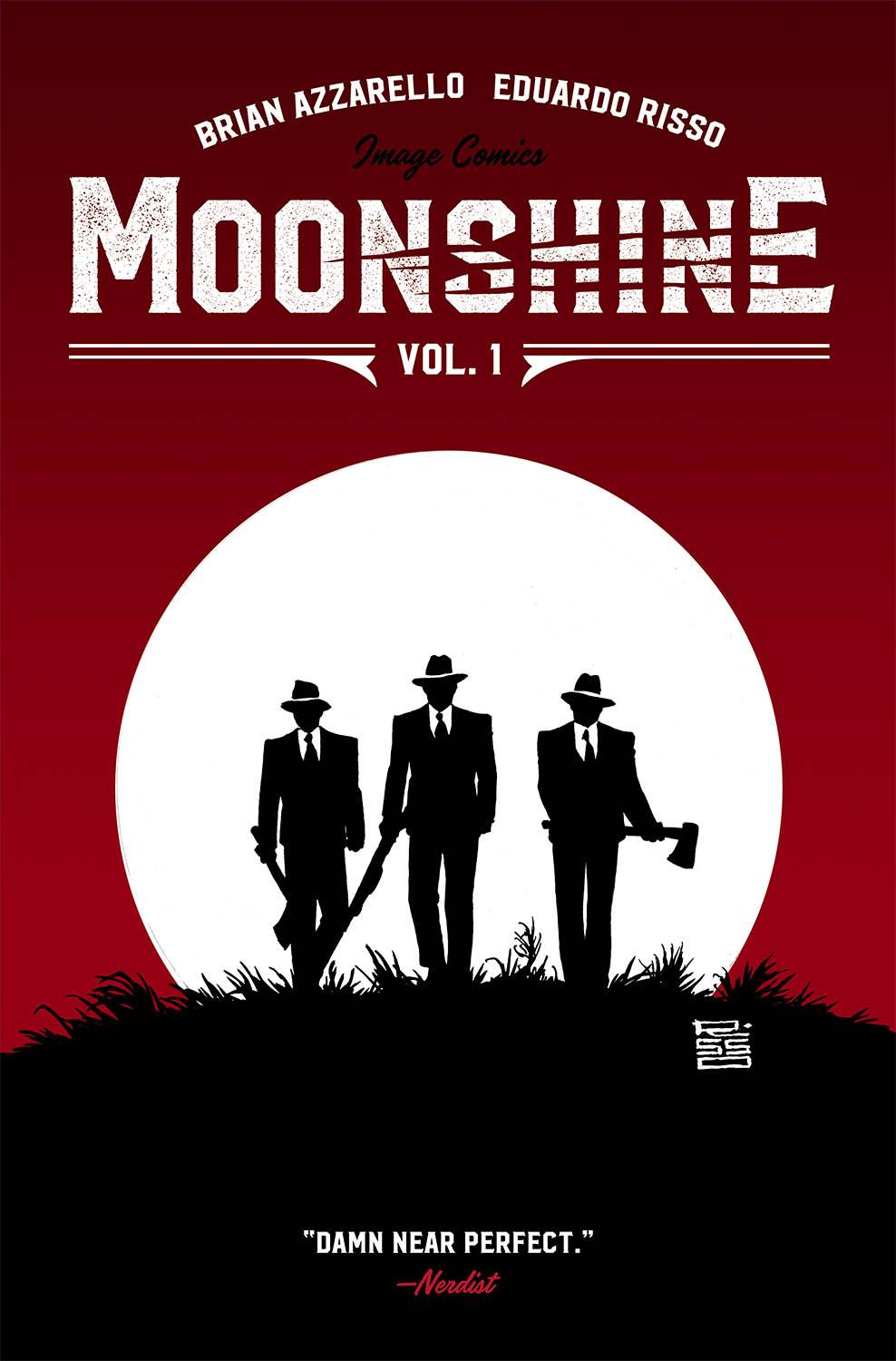 meets 'An American Werewolf In London'.
Do I really need to add anything else? It's brought to you by the same team that produced the wit-ridden, convoluted crime epic 100 BULLETS. At this point if you're not reaching for your wallets, what is wrong with you?!
Messrs. Azzarello and Risso return with a mash-up so exquisitely flavoured, I suspect they've been supping direct from the mash tub. New York gangsters, desperate to get their hands on the good stuff, get a line on some top-notch moonshine being distilled by a clan of Hillbillies out in the sticks up in the Appalachian mountains. One slight problem: werewolves… Actually, there's a whole load of other problems too, but the werewolves are kind of the major one.
Read the full Page 45 review of Moonshine vol 1 s/c and buy if you fancy!
Walking Dead: Here's Negan h/c (£17-99) by Robert Kirkman & Charlie Adlard.
Negan's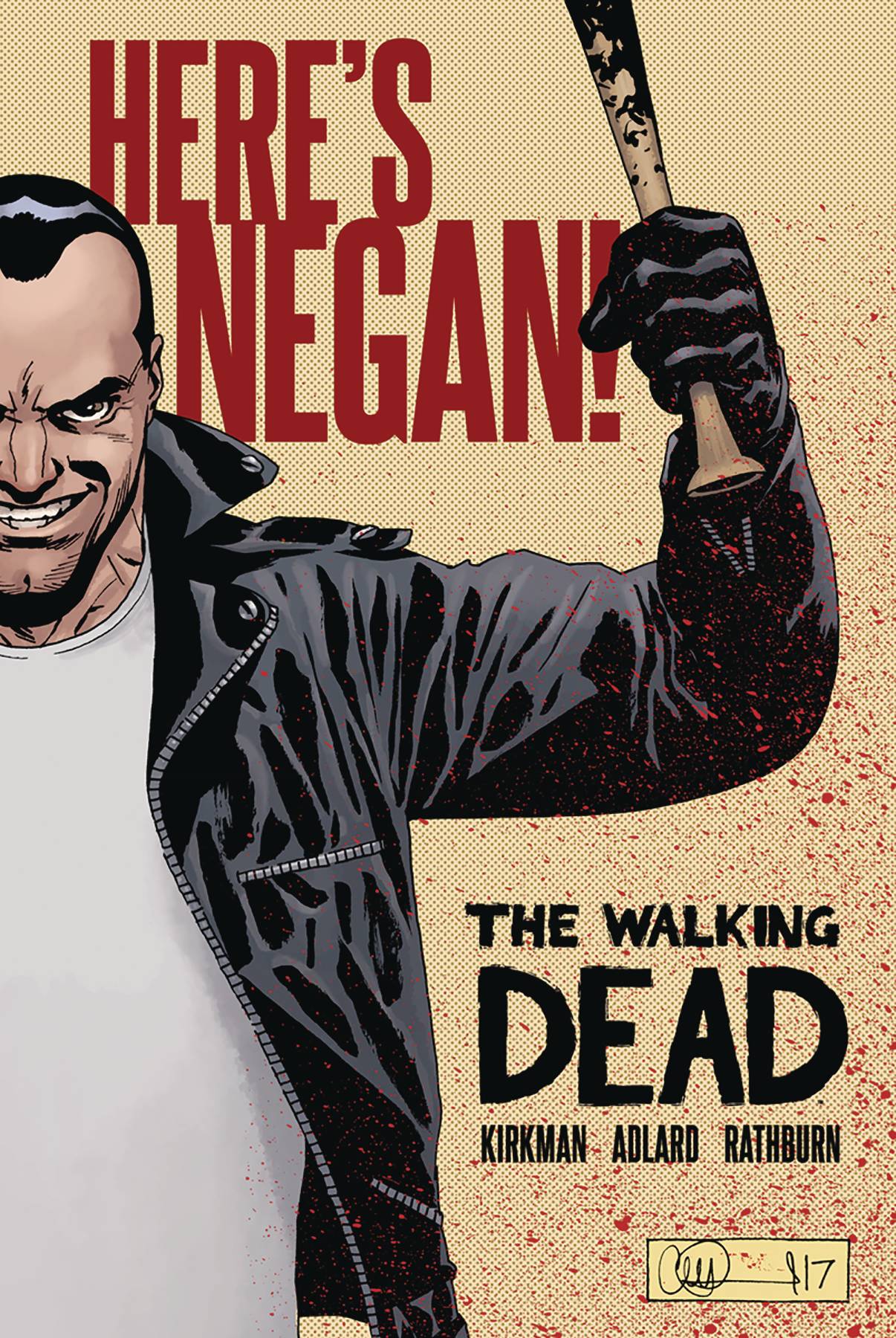 origin story which never appeared in the monthly comics!
Fans of the WALKING DEAD will already know that Negan's favourite skull / piñata smasher was named after his late wife. Here's the heartbreaking end of their marital story, pre-apocalypse, revealing how Negan gradually evolved / devolved, into the chilling yet articulate dictator he subsequently became.
He clearly always had the gags, but was he always such a complete and utter dick, or did he once have a romantic homespun heart of gold? As ever with the man whom we love to despise, it will not surprise you to learn he was always, shall we say, a "complex" character with slightly odious depths.
Read the full Page 45 review of Walking Dead: Here's Negan h/c and buy if you fancy!
Baking With Kafka (£12-99) by Tom Gauld.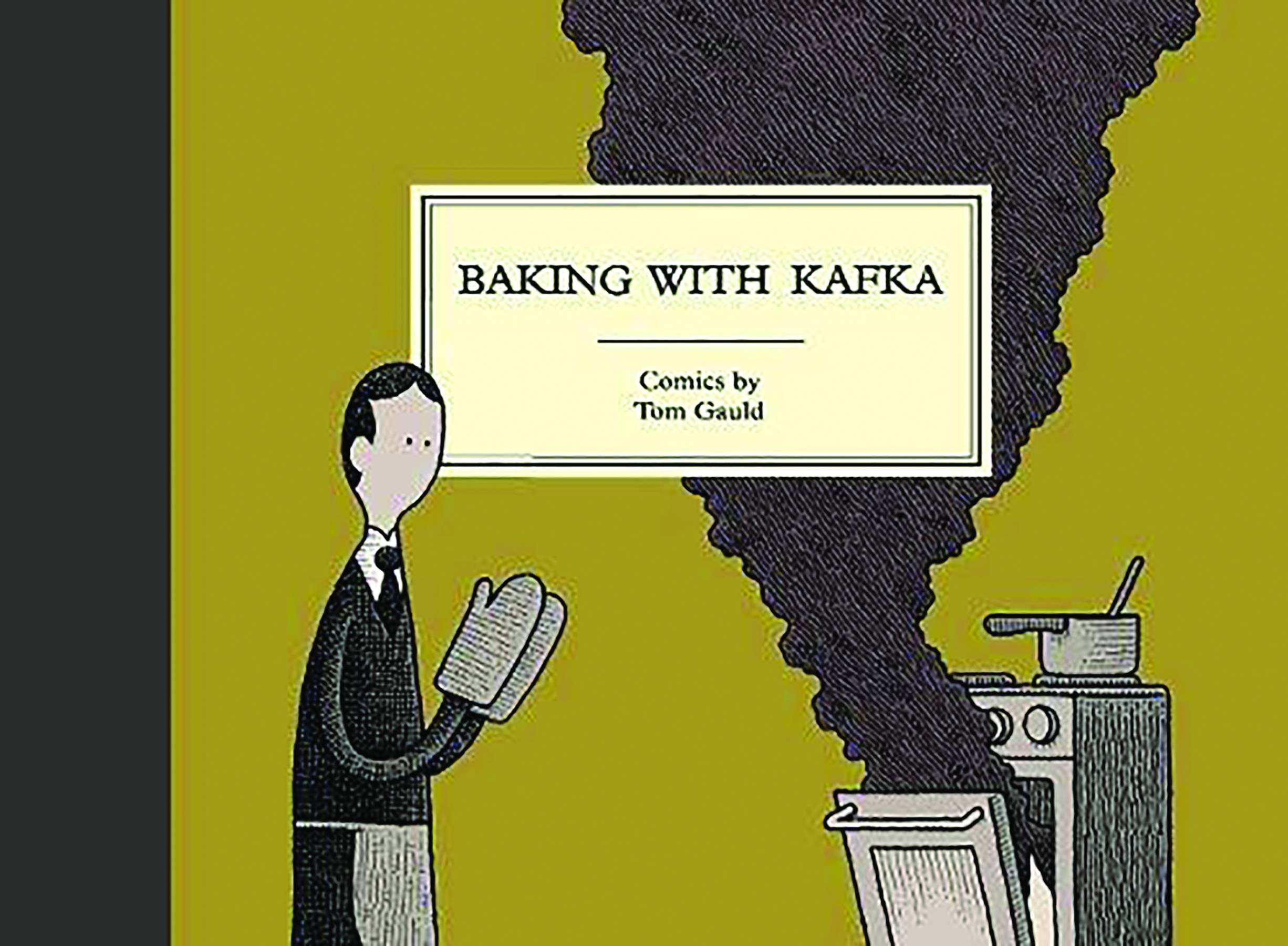 This isn't a cookery book. I don't think you'd want a Kafka cookery book. If you would, can you please back away?
'Last-Minute Changes To The Politician's Speech':
"How's your speech coming along, sir?"
"Almost done. I'm just trying to decide whether to end on the misleading statistics, the gross oversimplification, the glib soundbite or the blatant lie."
The Art of Tom Gauld part one: innocently expressing an almost ubiquitously held derision from the horse's unusually candid mouth. Then there are those little home truths we all secretly share, are already vaguely aware of, but recognise instantly upon their exposure. Take 'My Library'. Is it yours too? Shop-floor guffaws would suggest so!
If I've yet to convert you, please try this, followed by clicking on our link for my fully engaged assessment, getting to grips with the art of Tom Gauld, the man who brought you much mirth in the form of GOLIATH, MOONCOP and YOU'RE ALL JUST JEALOUS OF MY JETPACK.
Read the full Page 45 review of Baking With Kafka and buy if you fancy!
Livestock (£16-99) by Hannah Berry.
Meet Clementine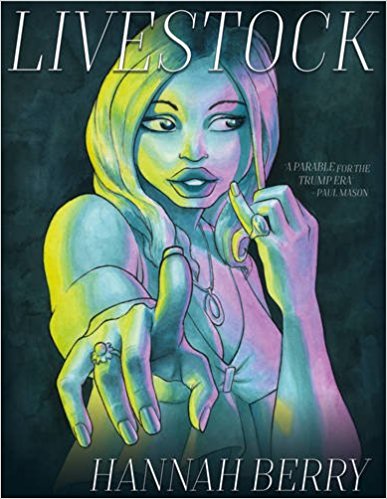 Darling, up for Best Female Singer And Political Spokesperson. It's a single award!
A blisteringly funny, fiercely inventive and scathing satire which doesn't content itself with blasting the blithe disingenuity of transparently mendacious politicians and vapid pop stars, but focuses its ire on their equally unprincipled conspirators: spin-doctors who here have seen fit to combine their machinations in a coordinated affront on the public's intelligence in order to benefit both parties and bury what little remains of the truth.
Free, signed, limited edition bookplate exclusive to Page 45.
Read the full Page 45 review of Livestock and buy if you fancy!
Big Mushy Happy Lump (£9-99) by Sarah Andersen.
Do you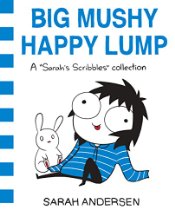 want to feel happier about your hang-ups?
Sarah Anderson is here to make that happen, and hilariously so! Perhaps you don't have any hang-ups, neuroses or self-confidence issues: laugh at Sarah's instead! Recommended to readers of Brosh's HYPERBOLE AND A HALF, those who've read Andersen's ADULTHOOD IS A MYTH will know she's mischievous, open and honest; and honesty is vital for comedy that connects.
Tick your recognition boxes on the cruelty of memory which fixates on mistakes, on the squeeze of time, over-thinking things and jumping to conclusions. Andersen pole-vaults to them!
Read the full Page 45 review of Big Mushy Happy Lump and buy if you fancy!
Deserter's Masquerade (£16-99) by Chloe Cruchaudet.
Aided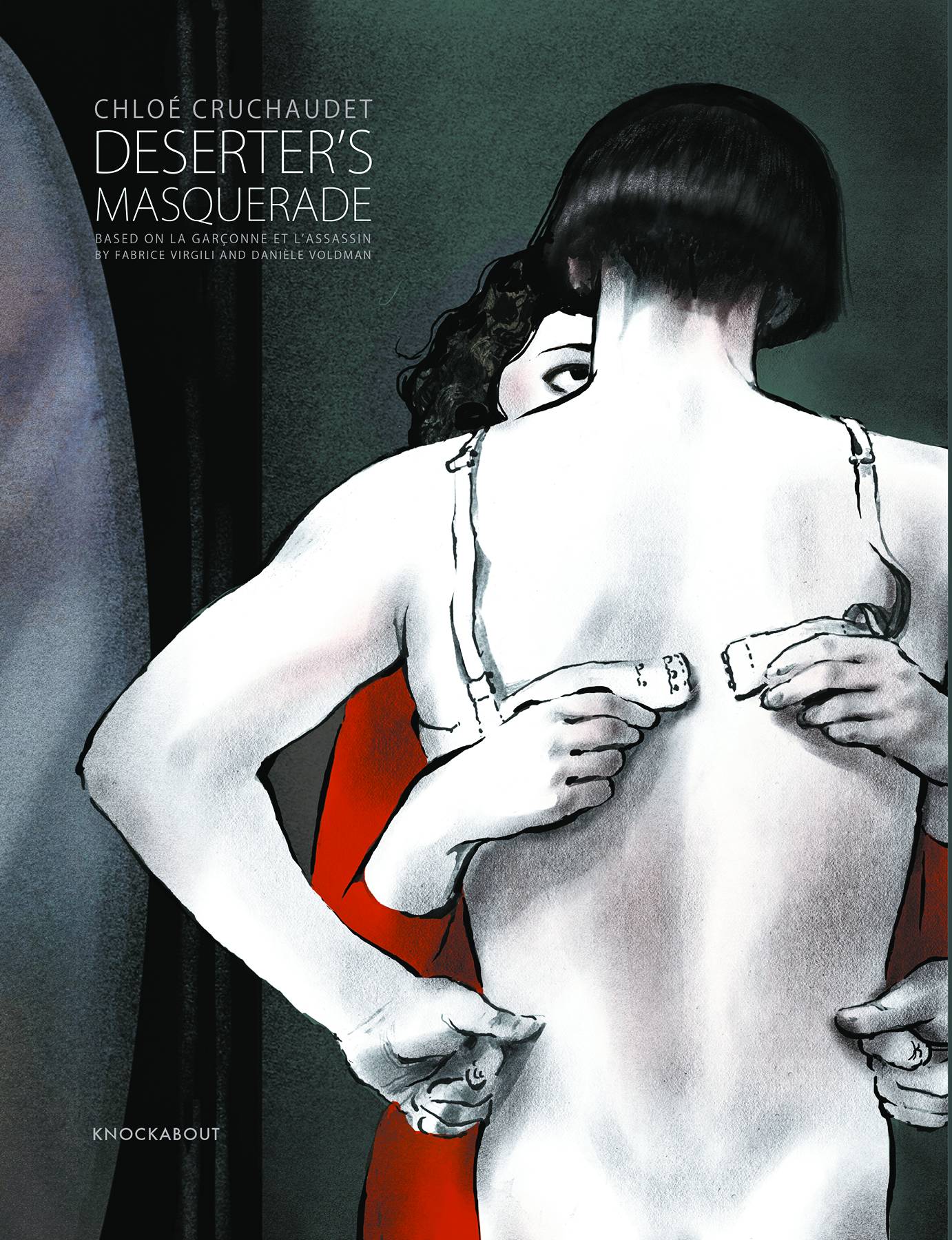 by his wife, Paul becomes Suzanne to avoid being shot for desertion in Paris, post-WWI.
Most panels are borderless in black and white washes, the hazy, cameo effect reminiscent of early film-making. The bright scarlet dresses and scarf could be a more modern tinting, adding extra sensuality. Lines, noses and high Parisian fashion smack of early-mid Disney, while the exquisitely expressive character acting is pure Will Eisner.
Suzanne will act constantly for fear of being found out, but after an initial reluctance to feminise in order to fit in, Suzanne starts to relish it, and more. At which point, the couple's lives grow increasingly complicated… It begins with a courtroom trial which informs everything as you read it: what what went wrong, when and why?
AGE ALERT: includes exotic, libidinous, nocturnal activity down the Bois de Boulogne!
Read the full Page 45 review of Deserter's Masquerade and buy if you fancy!
Love Is Love (£8-99) by Many & Varied.
Love is a positive power which spreads joy.
Hatred is a small, nasty thing which festers inside and destroys all those who harbour it. Hatred is short-sighted, self-destructive and so often counter-productive.
On June 12th 2016 49 individuals were shot dead in a gay nightclub in Orlando. In reaction, comicbook creators from all spheres have much to say in surprising ways about loss, learned behaviour, carelessness, callousness and cruelty. But this overwhelmingly positive and profoundly moving anthology also celebrates courage and commitment and the refusal to be cowed.
All publisher proceeds go to Orlando's victims, survivors and their families
Read the full Page 45 review of Love Is Love and buy if you fancy!
As The Crow Flies (£26-99) by Melanie Gillman.
Something
for Young Adults to make your souls sing!
270 pages of warm, rich, full-colour beauty celebrating the majesty of nature and the impressive ability of young individuals to reach out to one another when people are complex and words can be careless indeed. History and religion are complicated too.
Charlie Lamonte is worried that this was a massive mistake: spending a week at a Christian youth backpacking camp where, it transpires, all the other girls are white. Charlie, you see, is black. She's also self-aware, as painfully self-conscious as any teenager, queer, and beginning to question her formerly firm belief in God.
Read the full Page 45 review of As The Crow Flies and buy if you fancy!
Breaks vol 1 (£15-99) by Malin Ryden & Emma Vieceli.
"A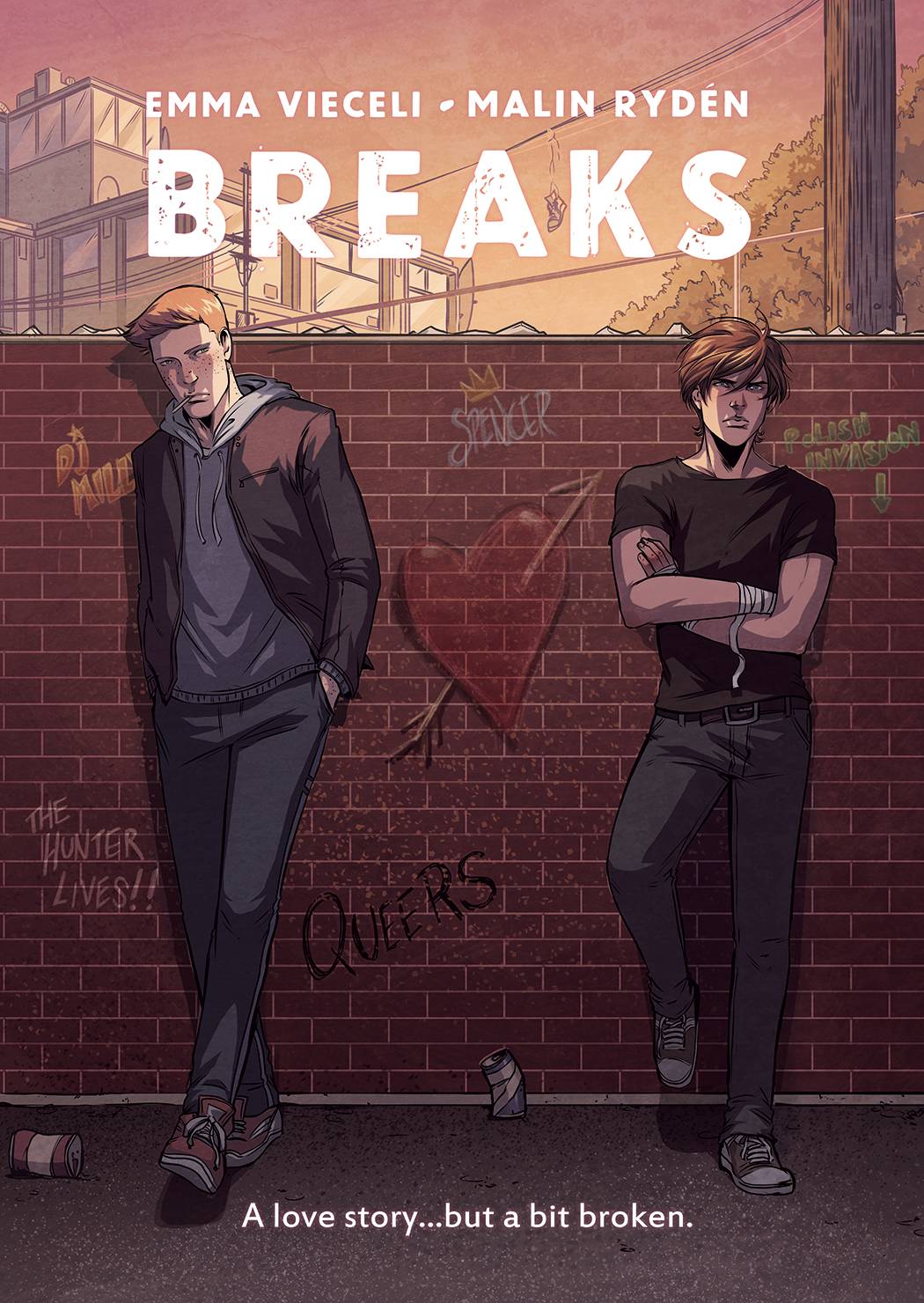 love story… but a bit broken."
BREAKS is an LGBT Young Adult love story: clean so very Mainstream.
It is, however, not remotely coy. There is a very funny toothpaste gag, for a start.
It's brave, bold and urban with tensions that are ever so taut, and it's going to grow dark indeed. But there are also moments so tentative and tender that your cold, black hearts will melt. Oh wait – that's mine. Much love and mischief with some deliciously funny dialogue. I liked the distinction between "secret" and "private".
Read the full Page 45 review of Breaks vol 1 and buy if you fancy!
Close Enough For The Angels h/c (£31-99) by Paul Madonna.
106 lush,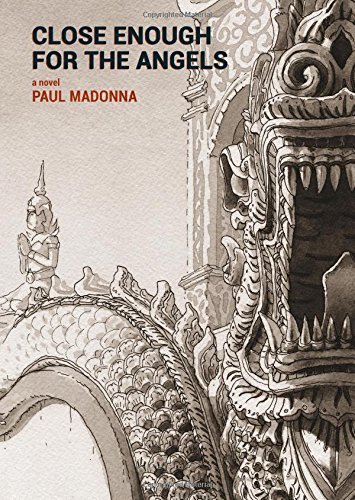 predominantly landscape illustrations in Indian ink – line and wash – on watercolour paper, illuminating 450 pages of prose fiction, much of which takes place, or did take place, in Thailand. It is a mystery.
The endpapers tantalise with a path leading down a higgledy-piggeldy, hand-railed bank of bamboo steps towards an enclosure defined by a barricade of bamboo stakes and wooden planks, and a lychgate-like aperture: a gate off the latch and ajar, leading through to heaven knows where?
So many other drawings portray steps and bridges which beg the same question; as well as lush fronds, carvings and sculpture.
Read the full Page 45 review of Close Enough For The Angels h/c and buy if you fancy!
On To The Next Dream h/c (£11-99) by Paul Madonna.
More richly illustrated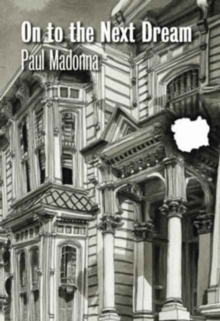 prose, this is Paul Madonna's reaction to the gentrification of San Francisco and his real-life eviction following sky-rocketing prices. This short, surreal and scathingly satirical farce is ever so early Evelyn Waugh, Madonna casting himself as the central naïf in its first-person narrative, buffeted by the cut-throat market forces in this already overheated closed system.
In his search for new accommodation, he is bashed off the pavement into the path of cars, bundled into others, and caught constantly off balance, disorientated by the ever-shifting dream-like sequences.
One residence on offer is a cardboard box in a corner. You couldn't afford it.
Read the full Page 45 review of On To The Next Dream h/c and buy if you fancy!
Katzines (£5-50 each) by Katriona Chapman.
These rich, classy
covers and card stock interior pages have set a new, top-end benchmark for comics as much-treasured art objects.
They are mesmerising.
Chapman always has something to impart born of her considerable, well travelled experience that is so worth your time and attention, and will leave you pondering long after.
She releases these self-contained issues only with careful forethought as to what might command her readers' interest, and with due diligence as to their soft-focus, pencil-shaded and humane execution. By which I mean that Chapman brings individuals alive, giving them their unique depths and perspectives. Pick a cover that you love then see what lies inside!
Read the full Page 45 reviews of Katzine and buy if you fancy!
Mann's Best Friend (£14-99) by Sophie Rickard & Scarlett Rickard.
I turned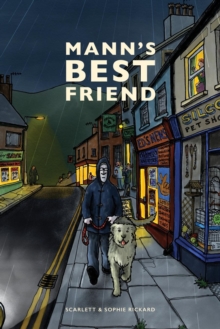 the final pages slowly, closed the cover and thought, "Raymond Briggs would be ever so proud".
Terry Mann owns a beautiful, thick-furred dog called Eric, so massive that he overflows a two-seater sofa. They live in silence, Eric eyeing his taciturn master from outside in the cold, or getting in the way of the FIFA results. He only wants to be talked to. Terry also owns a credit card with a £6,500 credit limit he's maxed out. He's collecting Final Demands. The bank he works for discovers client money missing. "The IP address of that hack traces back to your home, Mr Mann." You will not believe what Terry does next…
I loved Mia Singh's more homely house with its low timber beams, shower that won't work, window seats, thick front-door curtain to keep the cold, and the patchwork of rugs arranged so as to create a corridor along which bare feet might travel to collect morning milk or mail.
Read the full Page 45 review of Mann's Best Friend and buy if you fancy!
A Thousand Coloured Castles h/c (£17-99) by Gareth Brookes.
"Unbelievable."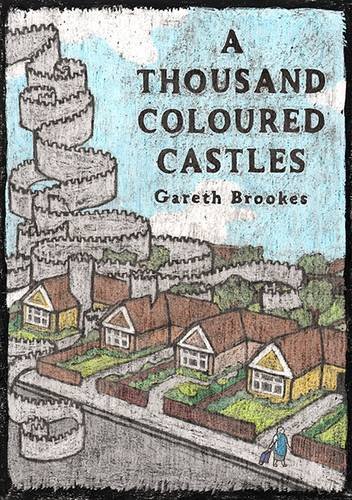 "Absolutely typical."
"Totally outrageous."
And probably beyond the pale.
British tragicomedy full of singularly English gripes, Raymond Briggs devotees will find much to adore here too. Brookes has resurrected that era in the form of an elderly suburban couple in an equally insular environment. Fred is set in his ways, moaning about anything modern, while Myriam is bewildered by wonders galore spawning in the street, bursting from bookcases or sprouting from electricity pylons. Is she losing her sight or her mind?
With empathy and understanding Brookes evokes the bewilderment, frailty and helplessness of being lost or alone in old age, prospects diminishing rapidly.
Read the full Page 45 review of A Thousand Coloured Castles h/c and buy if you fancy!
Crawl Space h/c (£17-99) by Jesse Jacobs.
Jesse Jacobs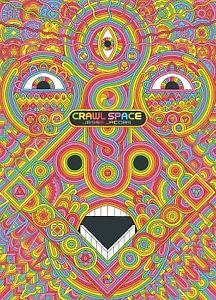 returns to mess with our heads in this full-spectrum spread. I've a suspicion that were I able to see up into ultra-violet and down into infra-red, there would probably be a lot of additional madness happening on the page at those wavelengths too.
However, this is also a story of spiritual growth, of taking a profound journey towards realising an enlightened state of being. Or just getting completely off your proverbial trolley, depending on how you look at it.
A sensuous flow of precise parallel lines, perfectly smooth curves, interspersed with intense contorted shapes and bejewelled with mandala-like creations that combine to beguile and delight. And occasionally terrify!
Read the full Page 45 review of Crawl Space h/c and buy if you fancy!
Pantheon: The True Story of the Egyptian Deities (£12-99) by Hamish Steele.
"Warning: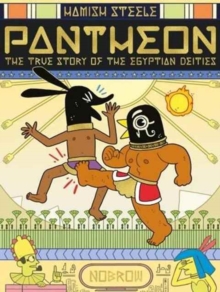 PANTHEON contains incest, decapitation, suspicious salad, fighting hippos, lots of scorpions, and a golden willy."
Believe it or not, the "suspicious salad" is the worst offender of the lot, tossed without any mind to Health & Safety. But believe it or not (reprise), Hamish Steele isn't making this up. Although he's mined the mythology for maximum mirth – lobbing in every anachronistic, artistic armament he can find – this is honestly how the Egyptian legends of creation and indeed procreation played themselves out without any heed to the niceties of familial decorum, marital boundaries, genetic wisdom or avuncular beneficence.
Read the full Page 45 review of Pantheon and buy if you fancy!
Dalston Monsterzz h/c (£14-99) by Dilraj Mann.
Within this fashion
riot and monster romp there is much scathing socio-political satire about the gentrification of East London and the corruption that's come with it – right at the top.
Dilraj has a fine eye for chic urban fashion, be it observed or imagined. His body forms are deliciously atypical while his faces can be so grotesque as to make monsters out of everyone, and it's all so apposite here. The monsters began manifesting during the property development when ugly flats were torn down to make way for luxury accommodation for the stinking rich. Not for the many, but for the few.
Everything here is so masterfully connected. It's only when you ascend this rollercoaster's climax that you will comprehend exactly how each element mirrors, is distorted by, or was always going to engender the other.
Read the full Page 45 review of Dalston Monsterzz and buy if you fancy!
Bad Machinery (£ many prices) by John Allison.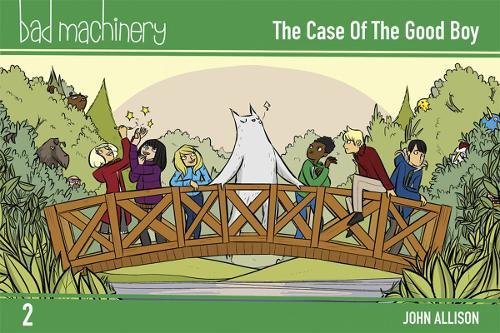 TBH we recommend all things John Allison which you'll find at the link, but BAD MACH is all-ages, and I do mean all-ages: perfectly fun and thrilling for all but largely bought by adults for adults.
Allison's also one of the finest cartoonists we have, his pages bursting with movement and energy, supple forms and exuberant gesticulation. But more than anything its the astutely observed behaviour and friendships – whether of university students in GIANT DAYS, or adults in at a regional newspaper in BOBBINS or sleuthing school chums in BAD MACH – along with language and speech patterns. Lottie's my favourite for that, her pronouncements so intense, elaborate and embroidered with emphasis as to be hyperbolic. "Well evockertive," as she once said.
Read the full Page 45 reviews of Bad Machinery and buy if you fancy!
Snotgirl vol 1: Green Hair Don't Care s/c (£8-99) by Bryan Lee O'Malley & Leslie Hung.
Lottie seems so
serene on the surface.
A fashion blogger with glossy green hair and a high hit rate, her life is pretty much perfect. Her fans are devoted (she knows). Her blogs are the best (she believes). And that goes without saying (she blasés). Under the carefully controlled camera conditions of fashion photography, she radiates, she glistens, she sheens. But a surge in pollen or one moment of stress can render her centre asunder. Also, catch Lottie alone at night with her laptop, her allergies, her issues and her tissues, and you'll discover she is one angry, competitive, social-media mess with raging jealousies.
Also, she has an enemy she doesn't know about.
Read the full Page 45 review of Snotgirl vol 1: Green Hair Don't Care s/c and buy if you fancy!
Relatable Content (£10-00) by Lizz Lunney.
The return of anthropological
expert Professor Lizz Lunney, creator of AT THE THEME PARK, AT THE END OF YOUR GARDEN, STREET DAWGZ: BOX LIFE, TAKE AWAY etc is back with a big batch of full-colour comics you all can relate to. So long as you're a socially awkward, cripplingly self-conscious, over-thinking, agoraphobic, responsibility-shirking, neurotic wreck. Lizz Lunney laughter is a tonic, laced with gin; a potion of a notion which you can administer like lotion and bring a broad grin to your face. It's like physiotherapy for the soul.
We have free Lunney Money to give away at the counter, perfectly valid in Lizzneyland.
Read the full Page 45 review of Relatable Content and buy if you fancy!
The Practical Implications Of Immortality (£4-00) by Matthew Dooley.
14 full-colour,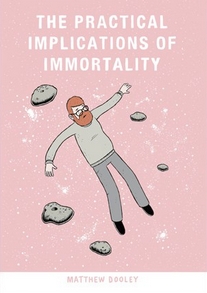 smile-inducing short stories including 'A Series Of Things That I Spent My Childhood Thinking About That Have Barely Featured In My Adult Life' which is astonishingly accurate! 'Eight Potential Existing Threats For You To Consider' sits opposite 'Eight Methods For Distracting Yourself From Possible Existential Catastrophes' and the possibility of civil breakdown is reprised later on. This is the threat which Dooley deems darkest but there are upsides to everything if you inspect enough angles: "affordable London property", "new management opportunities" and "the easing of health and safety regulation".
Other strips explore the gravity of a good night's sleep, the tyranny of the bathroom scales and the lengths some go to minimise their measurement.
Read the full Page 45 review of The Practical Implications Of Immortality and buy if you fancy!
The Shape Of Ideas: An Illustrated Exploration Of Creativity (£11-99) by Grant Snider.
Inspiration,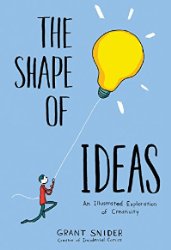 invigoration, encouragement and mirth.
Ideas come in all sorts of shapes and surprises, but you need to fish for them: they're less likely to bob to the surface if you don't. There's a lot of witty wordplay in this collection of success and failure, hurdles and highlights, extreme pain before gain. There's also a certain degree of poetry. 'Imitation' is bursting with novel ways of looking at traditional forms, colours and even art movements.
A pre-emptive approach to avoiding disappointment is to set your sights low or eliminate them completely, but inaction gets you nowhere. Openness to opportunity will prove key, but opportunity doesn't half knock at inopportune moments. Still, dive in! Hanging about will only give you arm ache.
Read the full Page 45 review of The Shape Of Ideas: An Illustrated Exploration Of Creativity and buy if you fancy!
Something City (£10-99) by Ellice Weaver.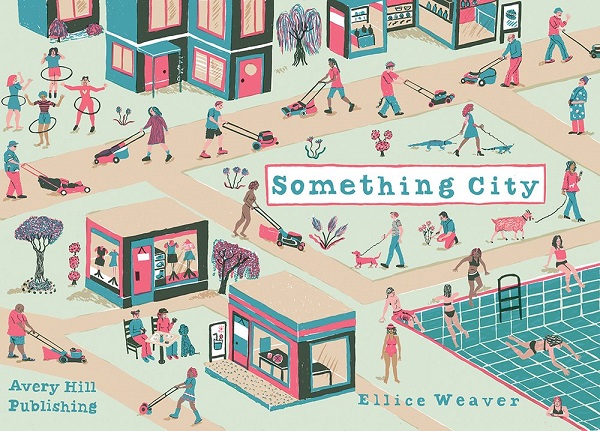 Look how many mowers suburbia holds per square metre! We really should share, don't you think?
Ten interlinked short stories, each with its own colour scheme, the panels are relatively free from lines so that they resemble silk-screen prints. Your eyes are invited to explore the chapters' initial landscapes populated by those going about their daily routines, some dancing, shopping, or stopping to throw up in the street after far too much booze.
The amenities are many and varied, the homes well appointed. There are dogs and cats and fountains and flowerbeds. Any fences or privet hedges are low, with neighbours gaily interacting. It's all ever so relaxed.
Pffft! Beneath its gentle veneer, Something City is a hotbed of bitching, disgruntlement and conflict – except, ironically, in its prison. The book-end chapters come with a bite but otherwise Weaver gleans a great deal of comedy in these surprisingly satirical short stories with deft turns which will delight you.
Read the full Page 45 review of Something City and buy if you fancy!
Motor Girl vol 1: Real Life (£14-50) by Terry Moore.
From
the creator of RACHEL RISING, STRANGERS IN PARADISE and ECHO, who's made a career out of juxtaposing laugh-out-loud comedy with hard-hitting trauma. So it is here.
On the surface it looks like a burlesque starring Sam, a hyperactive desert-based, junkyard mechanic who's tied at the hip to an anthropomorphic wry, dry mountain gorilla called Mike, who sasses and back-chats. Then there are the diminutive, comedy green aliens and Libby, the direct, gum-flapping old-age pensioner is even less likely to "do" intimidation than Sam.
But, as a Marine, Sam spent 10 months in an Iraqi prison, being beaten every day and generally having the back of her skull smashed in. And that's after what she witnessed on her tour of duty which you will find… halting.
Read the full Page 45 review of Motor Girl vol 1: Real Life and buy if you fancy!
Pashmina (£12-99, FirstSecond) by Nidhi Chanani.
It's harder
to be a girl in India than you think.
Teenage Priyanka Das (she prefers "Pri") has been brought up in America by her kind and practical mother, and attentive Uncle Jatin who is the nearest Pri has to a father figure because her own dad is a mystery – as is her mother's past in India. She won't talk about it, and it's creating a rift.
Then Pri discovers a trunk containing loving letters from Auntie Meena (who still lives in India) and a pashmina embroidered with a glowing, golden thread. Its effect is transporting!
Magic realism aside, it is time for Pri to discover India for herself, and with it, her family's past.
Read the full Page 45 review of Pashmina and buy if you fancy!
Tom's Midnight Garden h/c (£12-99) by Philippa Pearce & Edith.
Exceptional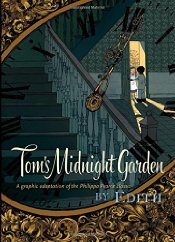 deployment of colour and light!
To avoid catching his brother's measles, frown-faced Tom is dispatched to his Uncle and Auntie's who live in a drab flat in a dingy house in the dark hallway of which stands a grandfather clock belonging to the owner, upstairs. During a sleepless night Tom hears it striking 13! To see its face, Tom opens the back-yard door to let in more light… to be confronted by a sprawling green garden in full summer flower and in daylight!
It's like an orchestra letting rip after mournful, wistful solos. Edith captures not just the scale but the variety of any such rambling estate. There's the walled vegetable garden with its green door, an ornamental pond, formal walkways round mowed lawns and under organic tunnels of foliage, informal thoroughfares through more remote woodland under vast canopies of trees, shrubbery, flower beds, fences and gates, and a large greenhouse.
Read the full Page 45 review of Tom's Midnight Garden h/c and buy if you fancy!
Four Points (£15-99/£17-99) by Hope Larson & Rebecca Mock.

I love that the covers above look like sequential art! More time has elapsed than it looks.
With the first's energy, its urgency and its two young twins, it promises a YA period piece of adventure and opposition, But oh, how complicated the lives of these two individuals will become, with so many factions hot on their heels, hampering their progress and taking what little they have left, while repercussions conspire to keep them apart. One of them is a lass, disguised for a reason beyond gender impediment or safety's sake.
This is no mere A to C while B seems insurmountable, though B does seem a pretty tall order for anyone so short. I was poleaxed by how many threads – and indeed threats – were so intricately woven within these two volumes.
Read the full Page 45 reviews of Four Points and buy if you fancy!
M.F.K. h/c (£16-99) by Nilah Magruder.
Out in
the desert a storm is brewing: a storm of sand, and of confrontation and conflict. Hopelessly through one and haplessly into the other staggers young, wounded Abbie with her beautiful feathered steed.
More all-ages excellence which will thrill, chill and get you right riled up, alongside some slapstick comedy, a running gag about badly made pigeon soup, and one page that had me howling with its pitch-perfect timing involving an unattended window, four hot potato buns and an unfortunate cat.
This also deals sensitively with subjects like loss, loneliness, isolation and independence, and does so with ever such expressive eyes.
Read the full Page 45 review of M.F.K h/c and buy if you fancy!
The Nameless City (£10-99 each) by Faith Erin Hicks.
Faith Erin Hicks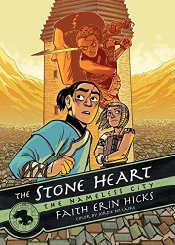 books are at their heart about friendships, and these have so much heart!
Dozens of pages are devoted to exploring their nuances if new, or history if old, and sharing and caring enough to listen. Hicks is a master of natural conversational triggers, and the way confidences then impact on consequent behaviour.
In THE NAMELESS CITY VOL 1 we learned that The Nameless City straddles the River of Lives at the bottom of an unnatural gorge which makes it the prime trade route to the sea. Over and again it has been conquered, and constantly under new threat. Unsurprisingly occupation – and what becomes of those occupied – is one of the series' key issues.
Read the full Page 45 review of The Nameless City: The Stone Heart and buy if you fancy!
4 Kids Walk Into A Bank (£13-99) by Matthew Rosenberg & Tyler Boss.
4 bank
robbers, fresh out of jail, turn up menacingly at Paige's front door. But it turns out these are old mates of her dad, who did him a major solid by keeping him out of jail so he could raise her. Now they've come to enlist him for one last big score, so she decides to take the only sensible course of action to stop him. By robbing the bank first…
All she needs to do is organise her own very motley crew of kids into a well-drilled heist team, plus keep the not-so-bad guys at bay with a crazy selection of diversionary tactics. Oh, did I forget to mention her uncle is a cop? A very good detective as it happens… Fortunately her friends decide they are up to the challenge, and what ensues is one of the most hilariously catastrophic crime capers I've read in years. Strategy sessions frequently take place during online gaming sessions as they play out various scenarios through the medium of their favourite video games.
The general level of mayhem greatly reminded me of Fraction and Aja's HAWKEYE!
Read the full Page 45 review of 4 Kids Walk Into A Bankand buy if you fancy!
Planetary Book 1 s/c (£25-00) by Warren Ellis & John Cassaday with Laura Martin.
Science fiction
at its most wondrous, mysterious and thrilling, this is meticulously composed, vast in scope, broad in appeal and spectacular to look at. It also boasts a mordant wit, with superb cadence in conversation.
Archaeologists of the unknown, Planetary seeks to unearth all the weird science which has been foisted upon the Earth from other dimensions, or which we have visited upon ourselves. Some of their discoveries prove breathtaking treasures, but few are less than horrific, yet Planetary is determined to repurpose as much as they can disinter for the betterment of mankind.
Up against them are The Four, astronauts secretly launched into space in 1961 led by a scientific genius in "disciplines as long as your arm". They returned changed… and they do not have our best interests at heart.
As PLANETARY kicks off, Elijah Snow – grouchy, suspicious but trained by the best in deductive reasoning – is invited to join them, unaware that he has been a member for years.
Read the full Page 45 review of Planetary Book 1 s/c and buy if you fancy!
Empress (£17-99) by Mark Millar & Stuart Immonen.
This is sleek,
it is slick, it is sexy.
Does your friend love STAR WARS? Then this is for them.
It accelerates from nought to warp in under a dozen pages then continues on much the same flight path at spectacular speed. Implacable tyrant: big, burly and thriving on fear; a right old grumpy-chops with a sadistic smile. Disillusioned Missus: miffed that life with said implacable tyrant hasn't turned out to be as exotic or erotic as it seemed. Children, sundry: allegiances varied until fired upon by Daddy's Doberman Punchers. Captain Dane Havelok: loyal to miffed Missus, who effects swift departure from Terminal 5 (inter-planetary, non-domestic) before there's a domestic.
Result: much maniacal spluttering in soup etc.
Read the full Page 45 review of Empress and buy if you fancy!
Brink vol 1 (£12-99) by Dan Abnett & I.N.J. Culbard.
Space-station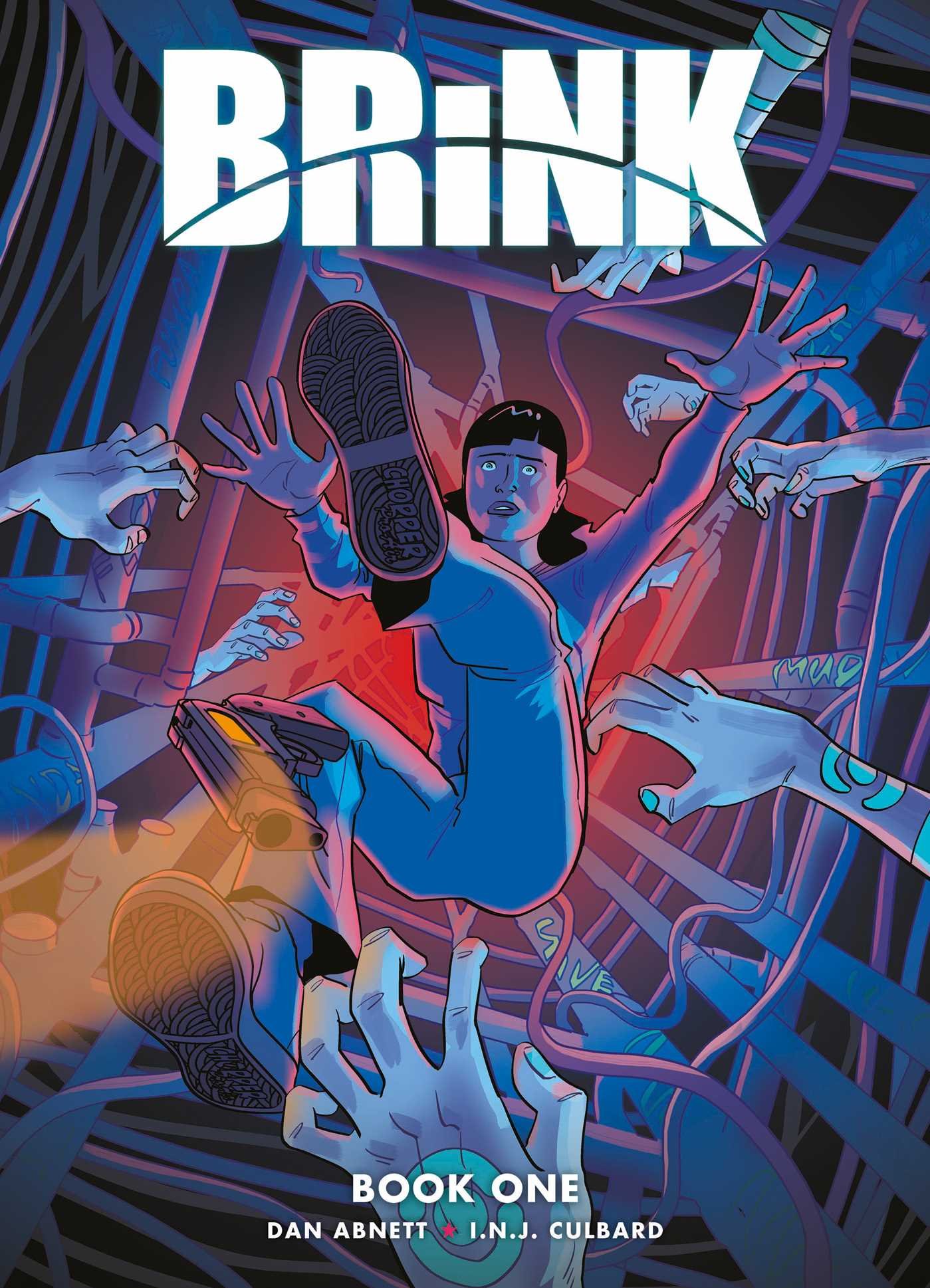 procedural crime (see also THE FUSE), with a touch of pure horror lurking.
The Earth is dead, destroyed by a toxic mixture of pollution and greed. Humanity now lives in scattered, corporation-owned space stations known as Habitats or on the 'Brink' as it's colloquially known. Crammed into such confines, with security provided by private firms, it's not surprising the locals have a tendency to go stir crazy from time to time. Crime gangs run protection and peddle narcotics, cults spring up as people look for anything to grasp onto, no matter how nonsensical.
Under the disorientating cover which foreshadows the psychological component, there are outer-space shots of the vast stations whose crisp exterior beauty belies their squalid interiors. Action scenes are taut and tense and perfectly capture the claustrophobic confines of life in a floating tin can.
Read the full Page 45 review of Brink vol 1 and buy if you fancy!
Ab Irato h/c (£22-99) by Thierry Labrosse.
Science fiction
in which the rich get richer and live even longer… so not actually fiction, then.
The Jouvex company is owned by the megalomaniac Norton who only sells its lifespan-extending vaccine to the select few who that can afford the ridiculous price tag. He had its inventor, Dr. Simon Gomar, murdered to keep it all to himself, but a suspicious Gomar destroyed his perfected formula, leaving only early-stage notes from which Norton's created an inferior version. 26 years later, the efficacy of the vaccine is beginning to fail.
Set against the backdrop of considerable social unrest in what is already a dystopian society struggling with elevated sea levels, a damaged climate and a staggering wealth gap, Montreal is the proverbial fizzing powder keg getting ready to blow. This sucks. It blows.
Read the full Page 45 review of Ab Irato and buy if you fancy!
Gauguin – The Other World (£12-99) by Fabrizio Dori.
In which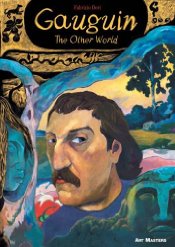 Dori nails Paul Gauguin on every level including visual emulation, and constructs a narrative structure, informed by Gauguin's own art, to reveal the duality of the great painter's heart.
Liberation was everything to Gauguin. In his paintings he sought to liberate himself from traditional, formal, physical composition, by concentrating on instinctive, suggestive harmonies of colour. He sought to liberate himself from the conservative, supercilious snobbery of the Art Establishment, from his financial failings and cold, grey Europe. He achieved all this in uprooting himself to Tahiti, absorbing its mythology and finding a lover too. Gauguin acknowledged that he found his freedom, his peace, his idyll, his Eden and his inspiration… and he threw it all away.
Because the one thing Paul Gauguin could never liberate himself from was the determination to win.
At the graphic novel's centre lies Gauguin's most mysterious celebrated painting 'Spirit Of The Dead Watching' or "Watching The Spirit Of The Dead". You'll see!
Read the full Page 45 review of Gauguin – The Other World and buy if you fancy!
Poppies Of Iraq h/c (£16-99) by Brigitte Findakly & Lewis Trondheim.
Guy Delisle fans
will adore this. So many absurdities encountered!
The 1970s' Iraqi government supplied farmers with wheat seed coated in insect-resistant pesticide, instructing that it to be used strictly for planting only. Instead the farmers fed it to their cattle, which died – and ate it themselves, and died. In disgust, they dumped the rest into rivers. The fish all died.
That's a fair representation of the nature, cameo style and story which Findakly tells so vividly: the gradual extinction of her treasured childhood and family in Iraq, recalled and evoked throughout with sunshine, charm and all-embracing individuality and illustrated with colourful cartooning by her husband, Lewis Trondheim.
Read the full Page 45 review of Poppies Of Iraq h/c and buy if you fancy!
Threads From The Refugee Crisis h/c (£14-99) by Kate Evans.
Personal, painful,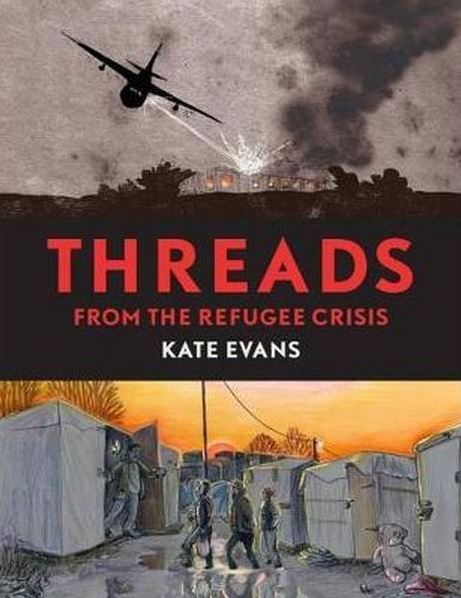 poignant and uplifting.
A reminder that everyone seeking sanctuary is an individual human being.
The most thorough and affecting documentary I've encountered on the refugee crisis, its concise, cause-and-effect analysis is irrefutable except by those with lies on their tongue and hatred in their heart. Contempt for others is never an attractive quality.
Kate Evans concentrates on her hands-on experience of helping out in the camps at Calais and Dunkirk in 2016: on the volunteers' construction and distribution, on a great many asylum seekers she meets trapped there (often children without family), and on the French authorities' atrocities, as when the police moved in en masse for what can only be described as a black-booted massacre.
Read the full Page 45 review of Threads From The Refugee Crisis h/c and buy if you fancy!
Graphic Science: Seven Journeys Of Discovery (£16-99) by Darryl Cunningham.
Seven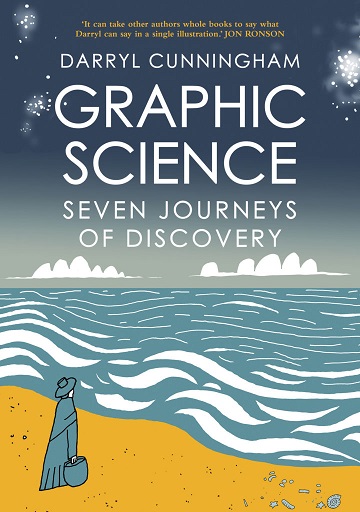 biographies of scientists as fascinating in their everyday lives as they were for their discoveries.
Cunningham clearly expounds the theories for which they were celebrated – though few within their lifetimes – and demonstrates that these very different individuals all had a deep drive to comprehend the world around them despite the paucity of information available. What they struggled with personally and professionally helped shape their formidable minds and thus advance our collective human understanding.
As we move ever further into the modern era of collaborative big science – with huge teams of people working globally on petabytes of data, often provided purely by computer modelling as much as experimental output – it's becoming harder to envisage individuals making such radical leaps in understanding, often against the conventional wisdom of the time.
Read the full Page 45 review of Graphic Science: Seven Journeys Of Discovery and buy if you fancy!
Corpse Talk Ground-Breaking Scientists (£9-99) by Adam Murphy, Lisa Murphy.
"Woo! Yeah! Science!"
– Charles Darwin on discovering the Galapagos Islands
Selected for this year's Blue Peter Award, this gleeful fun-fest is packed with hard history and 100% accurate science history and scientific breakthroughs given a superb sense of context and explained with skill, clarity and a lateral thinking to match their much lauded (or shamefully side-lined) subjects.
Murphy digs up 18 old fossils – just as Mary Anning did before beardy blokes stole all her credit – reanimating their brittle bones to badger from them as much as he can before their corpses collapse under the weight of his truly awful puns.
Also recommended for kids: everything, like this, in Page 45's Phoenix Comic Section.
Read the full Page 45 review of Corpse Talk Ground-Breaking Scientists and buy if you fancy!
A Hundred Billion Trillion Stars h/c (£15-99) by Seth Fishman & Isabel Greenberg.
Want
to know what one sextillion looks like? 100,000,000,000,000,000,000,000.
Sub-titled "Can you imagine so many…of anything?", that is precisely what this book will facilitate in adults and Young Readers alike, along with how to name ridiculously big numbers from hundreds and thousands to millions and billions and trillions and quadrillions and quintillions and sextillions!
Visually it comes with a colossal sense of scale and an endearing diversity, exploring the plethora of life on this planet, and the mind-boggling numbers into which it has grown. Rabbits, raindrops and a slightly random fact about shark's teeth, this is one big insight which will generate much household conversation along with a giggle or two.
https://www.page45.com/store/A-Hundred-Billion-Trillion-Stars-hc.html
Glister (£12-50) by Andi Watson.
Set in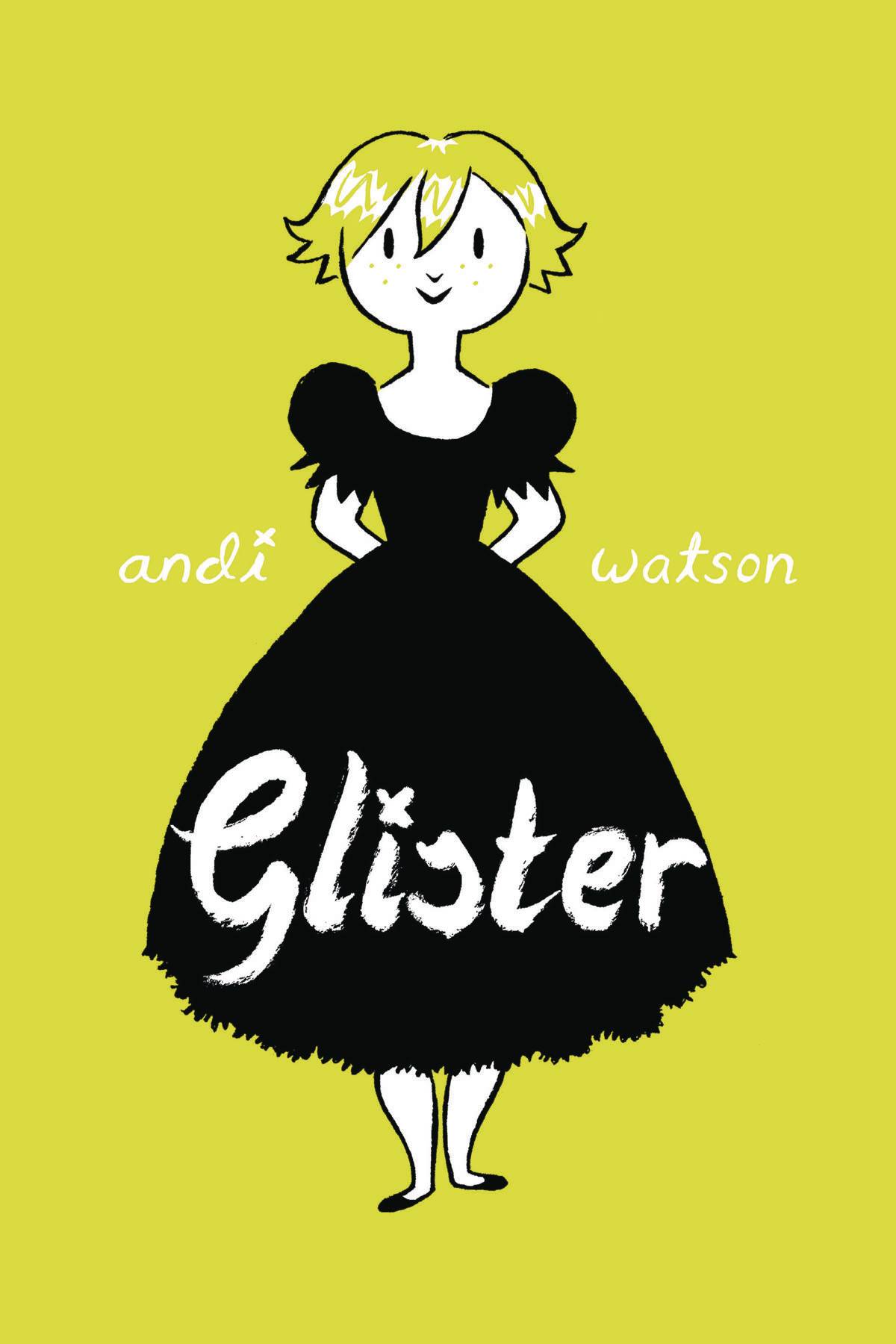 the same sort of English era as Oliver Postgate's 'Bagpuss', Glister lives with her dressing-gowned Dad in Chillblain Hall which has deep-seated feelings, can change shape and teleport, so don't call it rickety or it could go off in a huff, leaving you homeless on the village green.
Immaculate cartooning with its gnarled trees, organic architecture, tufted hair and anything-can-happen exuberance, and the language is far from patronising with words like 'widdershins' 'dyspeptic' and 'philately'. There's also much wit as when a new crowd stumbles upon one of Chilblain Hall's many unusual features: "It's the Abyss, whatever you do, don't look into it."
Extra: things to make or bake along with puzzles, games and an Andi Watson art lesson which comes with the reassurance that even Mr. Watson's drawings go wonky sometimes!
Collects The Haunted Teapot and The House Hunt, The Faerie Host and The Family Tree.
Read the full Page 45 review of Glister and buy if you fancy!
The Wolf, The Duck & The Mouse (£12-99) by Mac Barnett & Jon Klassen.
"I may
have been swallowed," said the duck, "but I have no intention of being eaten."
Comedic collaborators Mac Barnett and Jon Klassen follow on from their previous farcical frolics (SAM & DAVE DIG A HOLE, EXTRA YARN & TRIANGLE) with a most unusual story of symbiosis.
Our titular timid rodent, having been gobbled up in the forest by the roving wolf and fearing his story will thus come to a rather abrupt, early end is astonished to find himself greeted by a dashing duck and promptly introduced to a world of fine dining. It's all inside the wolf's TARDIS-like stomach, complete with a fully equipped kitchen and resplendent dining room…
Read the full Page 45 review of The Wolf, The Duck & The Mouse and buy if you fancy!
Real Friends (£9-99) by Shannon Hale & LeUyen PhaM
"Let's make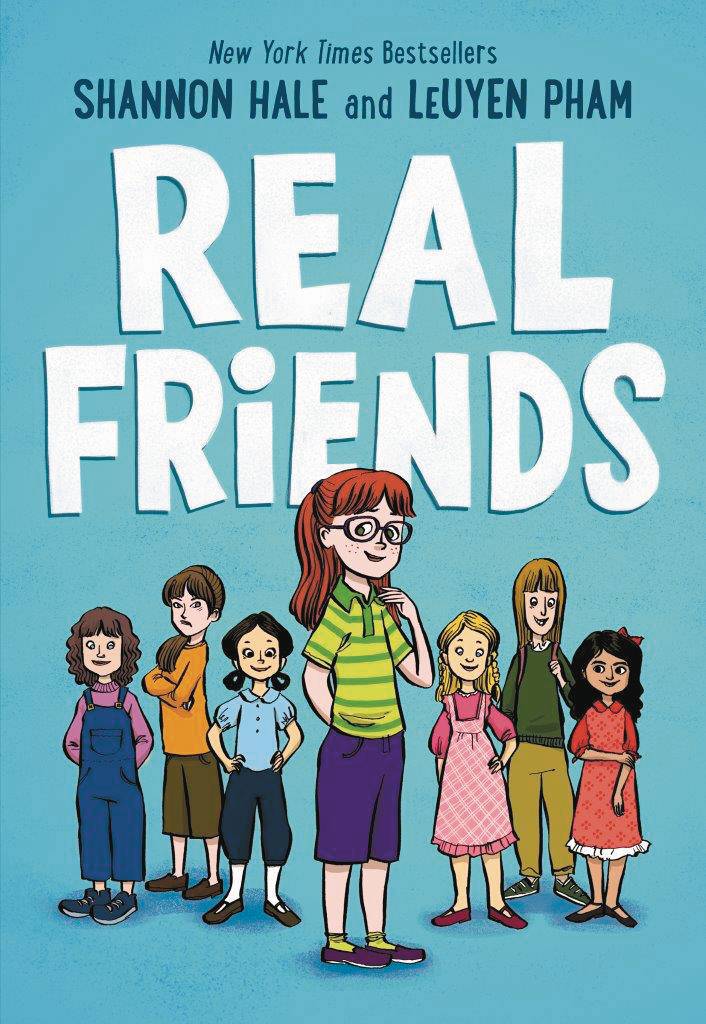 the 'I hate Shannon' club."
Fortunately the 'I hate Shannon' club only lasted one day.
The ups and downs – or rather ins and outs – of being young friends, this insightful, true-to-life study of playground behaviour will prove instantly recognisable to both kids and their parents alike. It can be mean, possessive or divisive, frequently making young Shannon's life miserable, but this focuses just as much on Shannon's true friends as the false ones, and it is interesting to see how those friendships first took root then developed over time, standing the test of it, as well as others' calculating attempts to hijack them.
LeUyen Pham is brilliant at drawing kids with their myriad facial expressions that can go from ecstatic to devastated and back again in the space of three panels.
Read the full Page 45 review of Real Friends and buy if you fancy!
Wild Animals Of The South h/c (£20-00) by Dieter Braun.
Please click on the left-hand cover if your preferred trajectory is North.
You could tell that those animals were all from the North because it tended to be snowing, and several were to be found walking whippets. In the South animals are 80% wealthier, 90% healthier, and far less likely to visit the NHS Drop-In Centre, thanks to having a proper doctor's surgery in every suburb. Generally there's also a great deal more sunshine, although be warned that you can stray too far South and so finish back oop North. (See Antarctica / Eastbourne.)
Although you will honestly learn loads. Did you know, for example, that hippopotamuses aren't especially good swimmers even though we see them doing that all the time with Sir David Attenborough, whereas the African Elephant is a very strong swimmer? I've only ever seen them wading. Perhaps the canal at the bottom of my garden's not deep enough.
Absolute class through and through, these gorgeous all-ages art books have bugger all to do with comics but I am so far past caring because beauty! Please click on either covers for interior art and so see what I mean. Thnx.
Read the full Page 45 review of Wild Animals Of The South h/c and buy if you fancy!
Pug-A-Doodle-Do! (£10-99, Oxford Press) by Sarah McIntyre, Philip Reeve.
"Do you have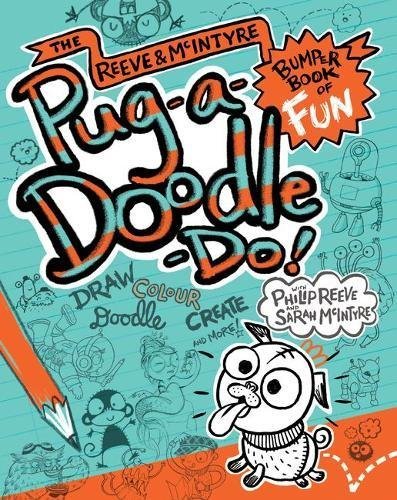 any complaints about this book? Write them in the box provided. Please write clearly."
The box is 5mm squared.
I have never read a funnier kids' activity book in my astonishingly long life.
It is one big monkey-barrel of laughs; an immersive engagement between two co-creators and their soon to be enraptured, educated and inspired young audience. The idiots bounce off each others' bonkers ideas, adding an extra flourish here and a cheeky post-script there until every page is jam-packed with all the irreverent exuberance that your sugar-buzzed bambinos could possibly cope with.
There are comics for you to read then comics for you to create: blank panels for you to fill in between a provocative kick-start and a cuddly conclusion. You'll be encouraged to write, you'll be encouraged to draw! You'll be actively discouraged from flinging poo.
This is art. It's entertainment. It is carefully controlled anarchy.
For fans of Reeve & McIntyre it's like revisiting your favourite friends – then drawing all over them!
Read the full Page 45 review of Pug-A-Doodle-Do! and buy if you fancy!
The Spirit Newspaper (£5-00) by Ed Brubaker & Sean Phillips and many more!
Distributed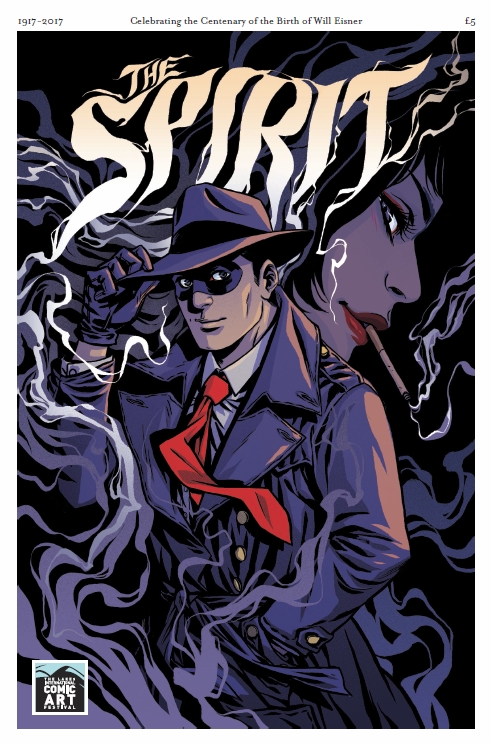 Worldwide exclusively by Page 45!
Part of the art of the single-page story is a good, old-fashioned, unexpected twist, either within the tale itself or – in a homage – on whatever it is a tribute to. With love, respect and a great deal of grin-inducing wit, a stunning array of top-tier creators celebrate the centenary of the birth of Will Eisner (1917-2017) with as many twists as you could wish for in this broadsheet-sized 12-page anthology.
The culprits: Ed Brubaker, Brendan McCarthy, Graham Dury, Chris Samnee, John M Burns, Sergio Aragones, Peter Milligan, Seth, Jason Latour, Jonathan Ross & Sean Phillips, Becky Cloonan, Brendan McCarthy, Simon Thorp, Chris Samnee, John M Burns, Sergio Aragones, Duncan Fegredo, Seth, Jason Latour, Bryan Hitch, Michael Cho. Introduction by Neil Gaiman
Read the full Page 45 review of The Spirit Newspaper 1 and buy if you fancy!
The World Of Moominvalley (£35-00) by Philip Ardagh
We haven't
reviewed this because there were lots of words and I'm an awfully slow reader. But it's bound to be brilliant because we've sold a bunch and Ardagh is ace.
Publisher says: "Filled with illustrated maps and family trees, facts about Moomintroll behaviour and habits, this gorgeous book contains all you could wish to know about the beloved characters from the original Moomin stories [by Tove and Lars Jansson] and the world in which they live."
I have reviewed a bunch of other MOOMIN books, though, and indeed the tote bag which you can't buy anywhere else in the world! Click on the link below for them all! Thanks!
Read full Page 45 reviews of Moonin books and tote and buy if you fancy!
Christmas Present Classics At Page 45
Please click on any covers for reviews!
Or, if on clicking on a cover, you see multiple covers of a whole series, click on any of those for the relevant review.
Also: use our search engine by title or creator, or use the category tree here: http://www.page45.com/store/index.html
We Ship Worldwide!
– Stephen