Featuring Nidhi Chanani, Matteo Farinella, Sophie Rickard, Scarlett Rickard, Tim Bird, Lae Schäfer, Ted Naifeh, Rebecca Morgan, Sara Corbett, Tobias Schalken, Eleanor Davis, Dash Shaw, Gabrielle Bell, J.C. Menu, Noah Van Sciver, Tommi Parrish, Kaela Graham, Daria Tessler, Conxita Hererro, Malachi Ward, Matt Shean, Antoine Cosse, Sammy Harkham, Nick Thorburn
Pashmina (£12-99, FirstSecond) by Nidhi Chanani.
"How come you never talk about your sister?"
Your Meena Mausi?"
"Yeah, were you close?"
"Why this sudden interest in your Meena Mausi?"
"Mom! Just answer!"
"We were close. It's harder to be a girl in India than you think."
Teenage Priyanka Das (she prefers "Pri") has been brought up in America by her doting, level-headed, kind and practical mother, Nimisha. Oh, they don't have material riches and Pri is spitefully nick-named "Thrift Store" by her wealthier, dismissive classmates. But they have a loving extended family in the form of Auntie Deepa and Uncle Jatin. Uncle Jatin in particular is so solicitous that he's prepared to help Pri learn to drive, and she loves him dearly for that and much more besides.
Uncle Jatin, you see, is the nearest that Priyanka has to a father figure because her own biological dad is a mystery – as is her mother's entire past prior to her arrival in America from India around the age of eighteen. Every time that Pri tries to broach either subject with understandable curiosity about her mother and her mother's home country, it is shut down either casually with an evasive verbal manoeuvre or overtly and firmly with "No!"
And this is creating a rift.
Pri has been brought up to believe in the wisdom and empowering beneficence of the Hindu goddess Shakti, a source of great strength, creativity and fertility, and an agent of change. Pri's not so sure, but she does remember the inspiring stories of Shakti and, albeit reluctantly, is prepared to follow the rituals of gratitude which her mother insists on before evening meals. Then Auntie Deepa becomes pregnant, quite late in her life, and Pri is so worried that children of their own might lessen her links to both Auntie and Uncle that, alone at night, she lights the customary incense stick and prays:
"Shakti, I don't ask for much. Please…
"Please don't take Uncle Jatin away from me.
"He doesn't NEED a baby."
Oh! Yes, I know…! And so does Priyanka…
In the very next panel through one halting visual at the bottom of the page, Chanani makes Pri's private guilt and immediate contrition crystal clear. It is an exceptional piece of succinct and communicative cartooning.
I won't tell you what happens immediately after, but I will reveal that a suitcase is soon discovered with old, loving letters from Auntie Meena (who still lives in India) to which Pri's mother has never replied. Also in that suitcase is the most exquisite pashmina that you or I have ever beheld, embroidered with exceptional, female craftsmanship using a glowing, golden thread. And its effect is transporting!
I love the elements of magic realism incorporated into this story of contemporary life both in America and India. The glowing, patterned, pashmina swirls which introduce each colour vision (in contrast with the purplish black, white and greys of the everyday) are delightful. But – here's thing – the visions don't serve only as fantastical entertainment, but a vital part of the evasion, suspense and ultimate revelation involving the Das' family history that goes a little further back than you might imagine while bringing us back up to date in the present day.
No, there is not one single cop-out within this exceptional Young Adult graphic novel. For, above all, what has been left to Pri's uninformed imagination must be – and most certainly is – contrasted with reality when she is finally allowed to visit and experience India for herself, through her loving Meena Mausi, and discovers how different life is for women and children, for women who would have children, and for women who would be wives.
It's gently done, it's deftly done, but without any thought to softening the truth about prevailing power of a patriarchal society and the hypocrisy and superficiality of those who believe that appearance is all.
Auntie Meena has much to show and tell Pri when they visit a school where Meena teaches and Pri's overcome with sadness. Poverty pervades and there are rats.
"Do not look at the dirt. Look at the people."
Appearance is not everything: it is context that's all.
"They are learning and that will change their lives, Priyanka."
Priyanka will return to America with a much greater sense of practicality and perspective, far prouder of her Indian heritage (including her name) and much more understanding of her mother who, whilst only trying to shield Pri from her past, does allude to it early on:
"Sometimes we have to do the hard things."
I really don't want to give too much away, but this:
It's harder to be a girl in India than you might think.
SLH
Buy Pashmina and read the Page 45 review here
Mann's Best Friend (£14-99, Gluepot Books) by Sophie Rickard & Scarlett Rickard.
A very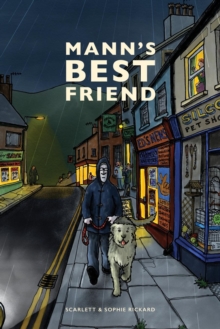 British graphic novel full of very British squabbles, this had me hooked from its opening double-page spread of a northern, rural British town nestled between rolling green hills populated by black-faced, white-wooled sheep, giant gleaming-white wind turbines and the sort of exposed moorland trees which have been buffeted and so sculpted by horizontal gales.
What clinched it for me was the 24% gradient sign on top of the one-track road wending its way down to Oldroyd, a good old-fashioned 1 in 4!
All of this is lit as an early winter's evening sets in, closing on 5pm. I think there's a storm brewing.
As above so below: the modern inhabiting the traditional. Yellow light begins to glow from the tall plate windows of the old stone building complete with corner quoining, as the half a dozen inhabitants of the stark, open-plan office to Berkeleys Corporate Banking start shutting up shop and casting on coats while laughing delightedly. It's all a bit Beryl Cook!
Bespectacled programmer Terry Mann isn't laughing. He's still hunched over his computer terminal, crossly typing in code. He's going to grow increasingly crosser over the next 48 hours, and then Terry Mann will do something truly terrible.
"Animals give you true love when people just let you down."
That's far from an absolute truth, obviously, but the same people who'll let you down are as likely to let their animals down, when dogs in particular seldom given less than 100% of their unwavering, unconditional love.
It's been exactly 60 years since we launched little LAIKA into space, the first animal to orbit the Earth until it promptly died, presumably terrified, five hours after lift-off. Nick Abadzis' graphic novel of the same name will set your fires burning long before re-entry.
Terry owns a big, beautiful, thick-furred, greyish-white dog called Eric, so massive that he overflows a two-seater sofa. Something like a Scottish Deerhound, I'd have thought. He doesn't like the expensive, vitamin-enriched diet he's on, so in Terry's absence, Eric raids the kitchen bin instead and throws up all over the living room carpet.
They live together largely in silence, Eric eyeing his taciturn master through the French windows from outside in the cold, dark garden, or getting in the way of the FIFA results on the television set.
He only wants to be spoken to. Terry switches the lights off and goes to bed instead.
Terry Mann also owns a credit card with a £6,500 credit limit which he's just maxed out. In addition, he's assiduously collected some Reminders and a Final Demand.
Terry's sister Debbie is ebullient! She's engaged to be married to handsome and suave Vikram Singh, recently promoted to management at Berkeleys Bank. They're all going to celebrate tomorrow at some hideous, staid golf club – a meal which Terry can ill-afford.
Terry's parents are overjoyed at the engagement, in the sort of cloying, superficial, success-orientated way that might make any reasonable observer vomit. Vikram's family too are ecstatic, proud of their son, but in the same boastful manner as the Manns while dismissing their daughter Mia as a failure. Right in front of her face.
Here's our preening Debbie, not so much disdainful as utterly incredulous:
"So Mia, you're an actual gardener? Like… outside, digging? Not a florist?"
"Mmm."
Mia keeps her own counsel.
Terry tends to be a quiet one too. He's called into Meeting Room D at Berkeleys Bank to find his own immediate manager, Celine from HR and Mr Frank Grace who's visiting from Internal Audit. Client money is missing – a lot of it.
"Right. I want to get to the bottom of this before I involve the police and the financial services regulators.
"I'm looking for a cunning, highly skilled technician with access to Corporate Banking back-end systems and Secure-Code areas. I'm looking for an indebted, desperate person who made one mistake…. Just once the hacker accessed the system from outside the Bank.
"The IP address of that hack traces back to your home, Mr Mann."
Summarily suspended, Terry is escorted off the premises in front of his co-workers, drives back to the home he cannot afford, picks up a new batch of bills he cannot pay, then treads in more dog vomit.
Eric looks innocently up. You will not believe what Terry does next…
So much of this made me smile with recognition. I loved the contrast between Terry's expensive but clinically appointed flat and Mia's more homely house with its low, exposed timber beams, shower that won't work, window seats, cosy blanket thrown over the old tatty settee, thick curtain to keep the cold out from the wooden front door under which I bet that the wind whistles through, and the patchwork of gradually acquired rugs arranged across the front room so as to create a corridor along which bare feet might travel, perhaps, to collect the morning milk or mail.
The formal, golf-club luncheon sequence is delightfully staged like the top table of a wedding feast or the Last Supper, with the smug couple beaming from its centre, approving parents on either side, then Terry and Mia – the outsiders – sat opposite each other at either end. Both mothers are a treat in body language and expression, while Mia's hair, flopped easily over one eye, is ever so endearing. I like that she doesn't do handshakes.
Scarlett's colours are perfect, particularly at night, out in the countryside or in the rug-orientated confines of Mia's sitting room. She plays deliciously with the 1 in 4 gradient during certain scenes with 45-degree panels!
I've only given you one side to one part of the story, of course, and even then I've resorted to allusion. You might wonder why Terry has such an expensive house in the first place and why he owns such a big hound which he doesn't even like. Sophie has thought it all through, but delivers the goods only at the appropriate hour.
A lot of travelling will be involved before we are done, and there'll be a fair few car conversations.
After enormous satisfaction I turned the final four pages slowly, quietly absorbing their contents, closed the cover with the palm of my hand and thought, "Raymond Briggs would be ever so proud".
SLH
Buy Mann's Best Friend and read the Page 45 review here
The Senses h/c (£14-99, Nobrow) by Matteo Farinella…
"Sometimes we
tend to treat our body as simply a shell, a temporary house for our mind…
"… but the truth is that our body is much more than that: it shapes the way we think."
The co-creator of NEUROCOMIC returns, this time with an assault on our senses. Or is that the other way around… as we learn all about our five primary senses: touch, taste, smell, hearing and vision from the inside out. Yes, once again Dr. Farinella goes all Fantastic Voyage on us, shrinking down our protagonist, a mildly mad scientist, to miniature size through a virtual reality experiment gone awry.
As before we get both a science and a history lesson as various renowned scientists of yesteryear spontaneously pop up to explain all about their discoveries and just how clever they are. As tour guides go, they certainly know their stuff! But as with the brain in his previous work, Dr. Farinella also takes the opportunity to point out there is an enormous amount we still don't really know about how we make… errr… sense of the huge amount of sensory input we are continuously receiving. In fact, the sensory data we process has an enormous influence on how we actually think, which is very neatly presented here.
In terms of explaining relatively complex concepts to us laypeople, I find Matteo Farinella's entertaining artistic approach as wonderfully clear and concise as Darryl Cunningham's GRAPHIC SCIENCE. It's exactly the sort of approach that will leave you wanting to know much more about precisely how our noggins deal with our unique human perception of reality. We just need the scientists to get on with their research!
Yet again, comics like this, plus Darryl's excellent works and also the Cannon Brothers' EVOLUTION: THE STORY OF LIFE ON EARTH and THE STUFF OF LIFE: A GRAPHIC GUIDE TO GENETICS AND DNA plus Adam and Lisa Murphy's CORPSE TALK: GROUND-BREAKING SCIENTISTS make you realise there really could be a much better way to educate and inform kids about what could otherwise be such very, very dry material to young minds.
A final mention for the cover, which with Nobrow's typically glorious production values, all shiny gold and silver printing on beautiful red cloth, has got to be a contender for the most dazzling cover of the year. It's a visual delight and highly satisfying to the touch, which I guess, is entirely appropriate for this work. Gently rubbing it against the ear also produced a mildly satisfying buzzing sound and I have always loved the smell of printed paper. I can't say it tasted particularly nice, though.
JR
Buy The Senses h/c and read the Page 45 review here
Rock & Pop (£4-00) by Tim Bird…
"On Saturdays my dad would listen to Radio Sheffield on the way home from the football.
"They played pop music in between people phoning in to talk about the match."
<"Sheffield Wednesday were awful today, we can't keep playing like that…">
<"Thanks for the call… we'll get back to the football debate after some music… this is the new single from Belinda Carlisle…">
"Heaven Is A Place On Earth is the first song that really stuck with me.
"I remember listening to the radio hoping to hear the song again, but they never seemed to play it after that."
24 pages of pop perfection, and indeed imperfection – really, Tim… Boyzone! I would ask what on earth you were thinking but as you've freely admitted here, you've honestly no idea – from the man whose own talent for wordsmithery I rank amongst the finest in comics today.
It makes perfect sense, therefore, for someone so adroit in their use of the English language to be into such diverse musical offerings as the likes of Belle and Sebastian, Radiohead, Nirvana, Saint Etienne and Neil Young, plus more than a few groups I must confess to being entirely unfamiliar with.
In this brief chronology of Tim's life to date he'll take us on his very own magical musical mystery tour set against the backdrop of some mildly insignificant moments, plus some very significant ones. One scene detailed per page, each with its own particular musical selection. Sometimes the music is the lead, at other times merely the accompaniment.
Thus without giving anything away, the page featuring Tim and his girlfriend April going to see the Magnetic Fields in concert, well, I can completely understand why the track The Luckiest Guy On The Lower East Side is now forever burnt into his consciousness!
Many of the earlier pages are more about Tim discovering and getting into various artistes, reminding me wistfully of an age when we had all the time in the world to discover new aural pleasures, whereas it's the latter pages where the music begins to take a more supporting role of soundtrack to life events.
It's all combined with the typical Bird visual panache, even when baring his (musical) soul for our amusement, that's seen him produce such moving and heart-warming delights as GREY AREA – OUR TOWN. He's such a talented creator I bet he could even do a comic about snooker and make it a fascinating read… wait a minute, he has! Check out THE ROCKET.
Speaking of soundtracks, I'll let Tim and April play you out to the sound of The Bulldozers with their Another Girl, Another Planet…
"You know how we'll have been together ten years this year?"
"Hmmm."
"Why don't we get married?"
"Hmmm."
"I've started putting some wedding ideas together…"
"Hmmm… I'll sort out the music."
"Hmmm."
JR
Buy Rock & Pop and read the Page 45 review here
Now #1 (£8-99, Fantagraphics) by Rebecca Morgan, Sara Corbett, Tobias Schalken, Eleanor Davis, Dash Shaw, Gabrielle Bell, J.C. Menu, Noah Van Sciver, Tommi Parrish, Kaela Graham, Daria Tessler, Conxita Hererro, Malachi Ward, Matt Shean, Antoine Cosse, Sammy Harkham, Nick Thorburn…
"Hi! You must be Noah! The famous cartoonist! Jonah talks about you all the time!"
"Hello."
"Jonah says you're a real biblio-phobe! I am, too! I'm always reading!"
""Biblo-phobe?""
Haha, I'm sure Jonah Van Sciver cannot possibly be the completely sex-crazed younger brother Noah FANTE BUKOWSKI TWO makes him out to be in this delightfully excruciating thirteen-page farce entitled 'Wall Of Shame'. Noah's making a trip home to Denver for an exhibition including his work at the Denver Art Museum and is catching up with his family at the same time, including crashing on his mum's couch. Suffice to say he's not been chez mom too long before he gets a flash of inspiration for a comic which he promptly jots down in his journal…
"Story idea: Held captive by family member(s)."
This is probably my favourite of the fourteen strips contained within this bumper 128-page first issue of the new Fantagraphics anthology, curated by Eric Reynolds who has now spent well over twenty years at the publishing house since he joined them fresh out of college. They range in length between cheeky one-pagers – of which there are four, the pick of those probably being "I, Marlon" by Sammy CRICKETS Harkham about Marlon Brando's <ahem> introspective time on Tahiti, though actually, I did love Gabrielle TRUTH IS FRAGMENTARY Bell's "Dear Naked Guy…" – up to Eleanor YOU & A BIKE & A ROAD Davis's 26-page end-of-the-world reflection on a very odd and perhaps unhealthy proto-romantic relationship entitled "Hurt Or Fuck?"
The vast majority, though, very sensibly range between 4 to 12 pages and cover all manner of shenanigans in a profusion of art styles. There was only one that didn't quite find the mark for me, which out of fourteen strips is a damn splendid hit rate, and I won't name it because I suspect it's probably entirely down my own personal artistic tastes, and surely the point of such a diverse an anthology as this is to broaden readers horizons a bit.
My other absolute pick of the bunch, which much like Noah's cringefest I could have quite happily read ten times as much of, was Malachi Ward and Matt Sheean's alternative history of the space race entitled "Widening Horizons." Which as I type I realise means I really ought to go back and change the last sentence of the previous paragraph… Fans of their ANCESTOR speculative fiction runaway insanity jive will already be aware of just how far out there these two can take something.
It's a very clever piece, actually, combining genuine historical facts and figures liberally sprinkled with fictional content as we gradually deviate further and further from our own timeline. It actually begins in the very first panel, with something casually dropped in regarding H.G. Wells that I was pretty sure was wrong and I was rather puzzled by, before I realised what was going on!
A resoundingly strong start for this exciting new anthology and hopefully the quality of content will be maintained. Flicking ahead to the solicitation for NOW #2 and seeing some of the creators involved like personal favourites Dash COSPLAYERS Shaw, Tommi THE BOOK OF HOPE Musturi and Joshua SKYSCRAPERS OF THE MIDWEST Cotter, plus a pretty bonkers cover, I'm extremely confident that will be the case.
JR
Buy Now #1 and read the Page 45 review here
Secrets (£2-00, self-published) by Lae Schäfer.
"My dad has never told me he loves me."
Snuggled between more exuberant pages extolling the virtues of friendship and sex, the above is all the more poignant for it lying under the stapled-shut cover of a comic called SECRETS, implying that it was difficult to share.
Also moving, somehow: that the words are coming from a small, fragile seahorse.
There are fourteen finger-sized pages for you to thumb through once you've cut across the dotted line to gain entry. And you can: you won't lose a thing, unless you're as accident-prone as our Dee – in which case you should probably live in a hospital.
They're single-panel cartoons, coherently connected almost enough to consider this a comic, delivered to camera by animals ranging from an ant to an armadillo or pangolin. *checks armour-plated animals online* Yup, it's a pangolin.
And I could be wrong, but I strongly suspect their construction is something akin to Nick Park's dear 'Creature Comforts' in that Schäfer was told all these secrets first, then assigned them to an apposite orator. I think it's the honesty and the fact that they're far from obvious. The sex I'll leave you discover for yourselves (always the best option), but here's another entry which, again, I found affecting rather than sad, simply bitter or even pitiful…
"A friend of mine moved abroad some years ago and still calls us best friends.
"It's annoying.
"Clearly we're not."
I'm not sure what that critter is – something racoon-like and feisty.
It's at this point I should note that the packets are a limited edition of 150, we have only 12, and that Lae is Dutch so we won't have further access. She dropped them off in person this Sunday after attending a zine fair and I was so immediately taken that I snapped them up. Their format reminded me of Jeremy Dennis's glorious packages of mini-comics which often exploded with glitter. Oh my days, but I adored them!
Even after snipping the zine open, the balance of art and oratory could not be better judged. The images I have for you here were photographed by me after the "crusts" had been cut off. Such mad skillz – I wish I'd bought more.
"The only thing I really regret is getting 'A's in high school.
"Could've used that time spent studying and energy for more important things."
In the spirit of this endeavour I too share a secret: in order to gain employment I had to remove my degree from my CV. Every manager felt threatened – one overtly said so – when all I ever wanted was to work behind a till of a record or book store.
Or a comic shop.
Hello!
SLH
Till monkey with a typewriter.
Buy Secrets and read the Page 45 review here
New Edition / Substantially Expanded Review
Courtney Crumrin vol 1 s/c (£8-99, Oni) by Ted Naifeh.
First in
the complete, seven-volume, full-colour series of COURTNEY CRUMRIN collections, now available in affordo-vision; I recommend this highly to adult and Young Adult Harry Potter fans, and those desperate for the last two Kazu Kibuishi AMULET books, but be warned in advance that this grows both dark in art and harsh with injustice – especially the second volume – so please don't presume on happy endings for all.
Moving into someone else's house is never easy. When the original occupant turns out to be a warlock, there are additional complications.
Going to a new school in a new area is never easy, either. Starting at school late, when everyone else your age has already paired off or made friends with each other, is next-to-impossible as Faith Erin Hicks makes clear in her phenomenal FRIENDS WITH BOYS and, now that I think of it, THE STONE HEART.
Let's meet Courtney herself, here giving a damn good dressing-down to a doppelganger / impostor who's taken her place and impressed her parents.
Which is shocking: they're neither impressive parents nor easily impressed.
"My Mom would kiss a diseased mollusc if it could get her into a cocktail party. They're both selfish morons."
"You have no friends. I made friends…. Cathy Keller says I'm cool."
"Congrats! You can kiss ass. Don't break your arm patting yourself on the back. Just the fact that your lame performance actually fooled these people should tell you what nitwits they are."
"What do you mean, lame?"
"If you wanted to become Courtney Crumrin, you should have done a little homework. I'm rude, bad-tempered and basically, I don't like people."
That's because of the people poor Courtney finds herself surrounded by. Her new classmates are snobbish and superficial bullies, her parents are clueless and indifferent… only the initially austere Great Uncle Aloysius breaks the spell of utter isolation Miss Crumrin feels, now that they've moved into his creepy old mansion.
Gradually, though, young Courtney discovers that she rather likes creepy, and although she has a knack for biting off more than she can chew, she has a few key qualities on her side: resilience, pluck, and a practical approach to problem solving.
Over the course of four self-contained stories Courtney negotiates her new territory with its goblins, changelings, faeries and night things, and learns the lesson of the The Beguiling Glamour. The lesson being, don't cast it! Becoming too popular brings a whole new set of problems: much better to be yourself!
The pen lines and character designs are bold and beautiful, the lessons sometimes hard (at one point it looked like Crumrin was going to give John Constantine a run for his money with the body count), and if as many people read comics as books, Ted Naifeh might grow almost as rich as the ever-generous, golden-hearted champion of what is right, J. K. Rowling.
He certainly deserves to be.
SLH
Buy Courtney Crumrin vol 1 s/c and read the Page 45 review here
Arrived, Online & Ready To Buy!
New reviews to follow, but if they're new formats of previous books, reviews may already be up; others will retain their Diamond previews information we receive displayed as 'Publisher Blurb'.
4 Kids Walk Into A Bank
(£13-99, Black Mask) by Matthew Rosenberg & Tyler Boss
As The Crow Flies (£26-99, Iron Circus Comics) by Melanie Gillman
Bad Machinery vol 3: The Case Of The Simple Soul s/c Pocket Edition (£11-99, Oni) by John Allison
Broken Frontier 2017 Small Press Year Book – New Horizons (£7-99, Broken Frontier) by Jey Levang, Grace Wilson, Emily Rose Lambert, Tim Bird, Rebecca Bagley, Danny Noble, Rachael Smith, Brigid Deacon, EdieOP, Steven Tillotson, Emma Raby, Ellice Weaver, Rozi Hathaway, John Riordan, Kim Clements
Crawl Space h/c (£17-99, Koyama Press) by Jesse Jacobs
Elenora Mandragora: Daughter Of Merlin h/c (£13-99, IDW) by Severine Gauthier & Thomas Labourot
Mann's Best Friend (£14-99, Gluepot Books) by Sophie Rickard & Scarlett Rickard
Northlanders Book vol 3: The European Saga s/c (£31-99, Vertigo) by Brian Wood & Riccardo Burchelli, Leandro Fernandez, Simon Gane, Vasilis Lolos, Matthew Woodson
POS – Piece Of Sh*t h/c (£22-99, Lion Forge) by Pierre Paquet & Jesus Alonso
Real Life People's Secrets vol 3 (£2-00, ) by Lae Schafer
Rose vol 1 (£8-99, Image) by Meredith Finch & Ig Guara
Star Wars Darth Maul – Son Of Dathomir s/c (£14-50, Marvel) by Jeremy Barlow & Juan Frigeri
Batgirl vol 2: Son Of Penguin s/c (Rebirth) (£14-99, DC) by Hope Larson & Chris Wildgoose
Justice League Of America vol 2: Kingbutcher s/c (Rebirth) (£13-99, DC) by Steve Orlando & Felipe Watanabe, others
Edge Of Venomverse s/c (£15-99, Marvel) by Matthew Rosenberg, Simon Spurrier, various & James Stokoe, various
Secret Empire (UK Edition) s/c (£22-99, Marvel) by Nick Spencer & various including Steve McNiven, Leinil Francis Yu, Daniel Acuna
Spider-Man: Miles Morales vol 3 s/c (£17-99, Marvel) by Brian Michael Bendis & Szymon Kudranksi, Juston Ponsor, Oscar Bazaldua
A Zoo In Winter re-issue by Jiro Taniguchi
Bake Sale restock by Sara Varon