Featuring Chabouté, Alexander Utkin, Tara O'Connor, David Gaffney & Dan Berry, Enrique Fernandez, Christophe Gibelin, Claire Wendling, Christophe Bec, Eric Henninot, Milan Jovanovic, Brad Meltzer, Phil Hester.
The Park Bench (£14-99, Faber & Faber) by Chabouté.
Do you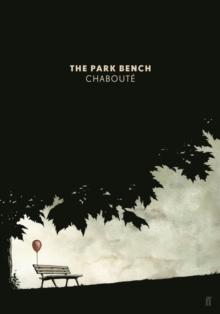 often sit on park benches?
Maybe you just pass them by?
Perhaps you're out jogging and use one to limber up on; rest your hand on its back while stretching. There's a guy on a skateboard who regularly whizzes by, flipping over the length of its seat to land gracefully on the other side.
Another bloke with a briefcase strides first right every morning on his way to work, then later left, a little limp and exhausted. He's been doing that for years: day in, day out, he clocks in, trudges out.
It's part of a dog's daily routine too. Usually it only pauses to mark its territory with pungent spray, but sometimes the rain has set in – torrential rain, at times – and it cowers for cover underneath.
But if you do sometimes sit on park benches, to catch your breath, have a snack or simply gaze at the scenery beyond, do you ever wonder who else was once perched there? Who was its last occupant, and what did they do? Who'll be its next, and whatever will they be thinking?
Over ten seasons and 325 silent but exceptionally communicative black and white pages, Chabouté charts the course of two dozen or so lives whose route regularly takes them via the park bench. A lot can happen in two and a half years. You could find yourself pregnant – twice! People can change, even the most staid or conformist, or have change thrust upon them.
Others will leave their mark. Right at the beginning a girl watches a boy carve a message for posterity: "I ♥ U". I wish he'd watch where his thumb was. It's going to survive the groundsman's next lick of paint, but this graffiti won't:
"THE WORLD'S STUPIDITY IS INFINITE."
Which is fair enough.
A young man plonks himself down so that his t-shirt's slogan artlessly replaces two of the words behind him, while the paper bag in his hand covers a couple letters:
"THE PARTY IS FINITE."
This is equally sobering. Something similar occurs with a newspaper headline.
We are shown the bench from many angles, from many heights, but we never quite see what its visitors see – presumable relatively open civic parkland – just a glimpse of a tree-line beyond. In quick succession two similar women open two very different letters. What they see will change their lives substantially. Their expressions are so very subtle yet telling, but we'll only discover the specifics later on.
Interactions between different parties whose paths you thought would never cross spark surprising results, while older relationships will evolve in astonishing ways. The park warden is bloody-minded, officious – and oh so proud of his cap! – belligerently moving on and issuing written warnings to a quiet old man with a long grey beard and two rucksacks. Sometimes the Methuselah manages to catch a kip, spread out at night, unmolested, but mostly it's one long history of harassment. Where that one goes, eventually, left me in howls of laughter – so well thought out – but I loved how, on first arrival, the itinerant fetches a bottle of wine from one backpack and takes time to inspect its back label. We all deserve dignity and some of us inherently possess it.
Also very funny are the gags involving a child's balloon evidently pumped with the most powerful helium on the planet, and a sequence in which an old man's distraction, lost in private reverie, gives him much more to ponder about the fattening effects of fast food.
However, I am an old softie so couples in love melt my heart, and my favourite, semi-regular park pilgrims are an old couple who have quite obviously doted on each other from day one, their mutual adoration undiminished. Once they are seated (to the left of the carved dedication), the woman looks up into his eyes, over her glasses, with the most tender gaze that I have ever beheld, as her Master of Ceremonies opens the small cardboard box on his lap, takes out his penknife and cuts their shared cream cake in two.
The scene is played out for quite some time as the sun in front of them slides down and they are seen from behind, cast in silhouette. Eventually the gentleman helps her up, and off they slowly stroll, still in silhouette. But they'll be back. They'll buy a different cake next time, and the next.
Under such a commanding conductor, this graphic novel would have brought enough joy had the lives all stayed separate. But they don't, nor do they stay still: the orchestration is interwoven and has a direction with an emphatic end – and then an epilogue. Some stories continue even when you suspect they won't.
The winter sun is out, so I'm going to take a break now, and pop down to the River Trent. It's just a five minute amble from where I live, half of that in the countryside. There's a park bench at the end of the path. I wonder who will be sitting there.
SLH
Buy The Park Bench and read the Page 45 review here
Gamayun Tales vol 1: The King Of Birds (£12-99, Nobrow) by Alexander Utkin.
"Now then, best beloved,
I will tell you an amazing tale: The King Of Birds.
"It all started with an apple.
"No ordinary apple, but a golden apple that grew on a magic tree in the garden of a warrior princess…
"Anyone who ate a golden apple would become young and mighty again."
Ooh, that sounds fab – I'll take two!
It's a beautiful opening to a beautiful book, o'er-brimming with opulence and mesmerising from cover to cover.
Its narrator is Gamayun, a magical, human-faced bird from Slavic mythology, whose blue face, golden tresses and wide, glowing eyes emerge theatrically from behind fanned, feathered wings, all with more than a hint of the Egyptian.
Almost immediately a knight on his steed gallops over the roofed walls and steals an armful of the ripe, restorative fruit in order to cure his ailing father. But Gamayun is a tease, for she will not reveal what happens next; not of the knight and his father, at least.
No, it is the apple which was dropped which proves so pivotal. It's one small accident with collateral consequences whose wide-spanning repercussions are enormous.
For, where once was harmony throughout the realms of the birds and the beasts there will be soon be a battle and blood loss, all because one small bird and one tiny beast break their firm friendship over this fallen treasure. Everything, they shared until now: every morsel of scavenged food. But the mouse is too taken by this golden apple to care, whips it away for herself, and is discovered!
The sparrow is aggrieved and flies far south, thousands and thousands of miles, to the kingdom of animals in search of justice. Had the Lion King only considered the complaint, then that might have been the end of it (yet, admittedly, the end of the mouse), but no! And so the ripples of cause and effect continue to emanate as the bird seeks restitution and revenge from the Bird King not only for the mouse's misdemeanour, but now for the King of Beasts' haughty snub.
And this, best beloved, is but the beginning of a tale that will take you over vast oceans to three sequestered citadels housing great treasure and, within each, a royal relative. It will transform the fortunes of one lowly merchant who finds within him the compassion to forego harming his natural enemies and prey and, if only he can keep his promises, he will reap rewards for his generosity – as well as a fright for an earlier slight.
I promise you the unpredictable.
Where there are temptations they are generally given into – just look at the mouse and the sparrow! – and when dire warnings are issued you know that almost always they will be disobeyed. But don't be so sure. Retaliations will be other than what you expect. Anything could happen. So much of it will!
Always remember not just your manners but, forever more importantly, good will and gratitude!
Well, as you've probably gathered by now, this is all a bit gorgeous. It's one of the most luxurious graphic novels I've ever laid eyes on. The colours don't simply glow, in Africa they radiate heat. While on the wing, you can feel the cool sea breezes that help keep the eagle aloft.
The initial battle is ferocious, full of sharp edges from the lion king's crown of sharpened bones to the talons that scatter them. The eagle's mighty wings are whipped with colour, slashes of it fanned out in feathers: green, blue and black on fire-burning brown. It's all teeth and beak, while all-seeing Gamayun stares you straight in the eye: all because of an apple.
Even more majestic is the first of the three citadels, rising from the deepest blue sea like a gigantic, earthen eyrie. Its copper colour is complemented by clouds billowing above the horizon while the ocean is reflected in the eagle king's wings, just as it reflects the brighter blue sky up above. This is exactly the sort of spectacle of monumental, fantastical antiquity which has lit my imagination since first encountering the films of Ray Harryhausen. Even Gamayun cannot help but gaze in wonder, turning her head to direct your own eyes to its apex, its external "throne".
And this, best beloved, is still just the beginning!
No, really it is. Even this graphic novel is just the beginning, a first instalment to whet your appetite for what is to come. I did warn you that Gamayun is a tease. Over and again she promises to pick a thread up later – and she will, but not yet. No single tale is completed: not the thief's nor the merchant's; not the King of the Beasts' nor the King of the Birds' – although the eagle may believe that his is.
Oh, you will be thoroughly dangled! But you will relish every second!
What is up for discussion here? Loyalty, harmony, generosity; patience and priorities; retribution, to be sure, and the real risks of war. Gratitude is always a good thing.
But, best beloved, I will keep you no longer, for I see that you are eager to begin. So I only add this: make sure you keep turning the pages right unto the very end, and remember that blue-skinned is beautiful. Hmmmm….
To be continued!
SLH
Buy Gamayun Tales vol 1: The King Of The Birds and read the Page 45 review here
The Three Rooms In Valerie's Head (£17-99, Top Shelf) by David Gaffney & Dan Berry.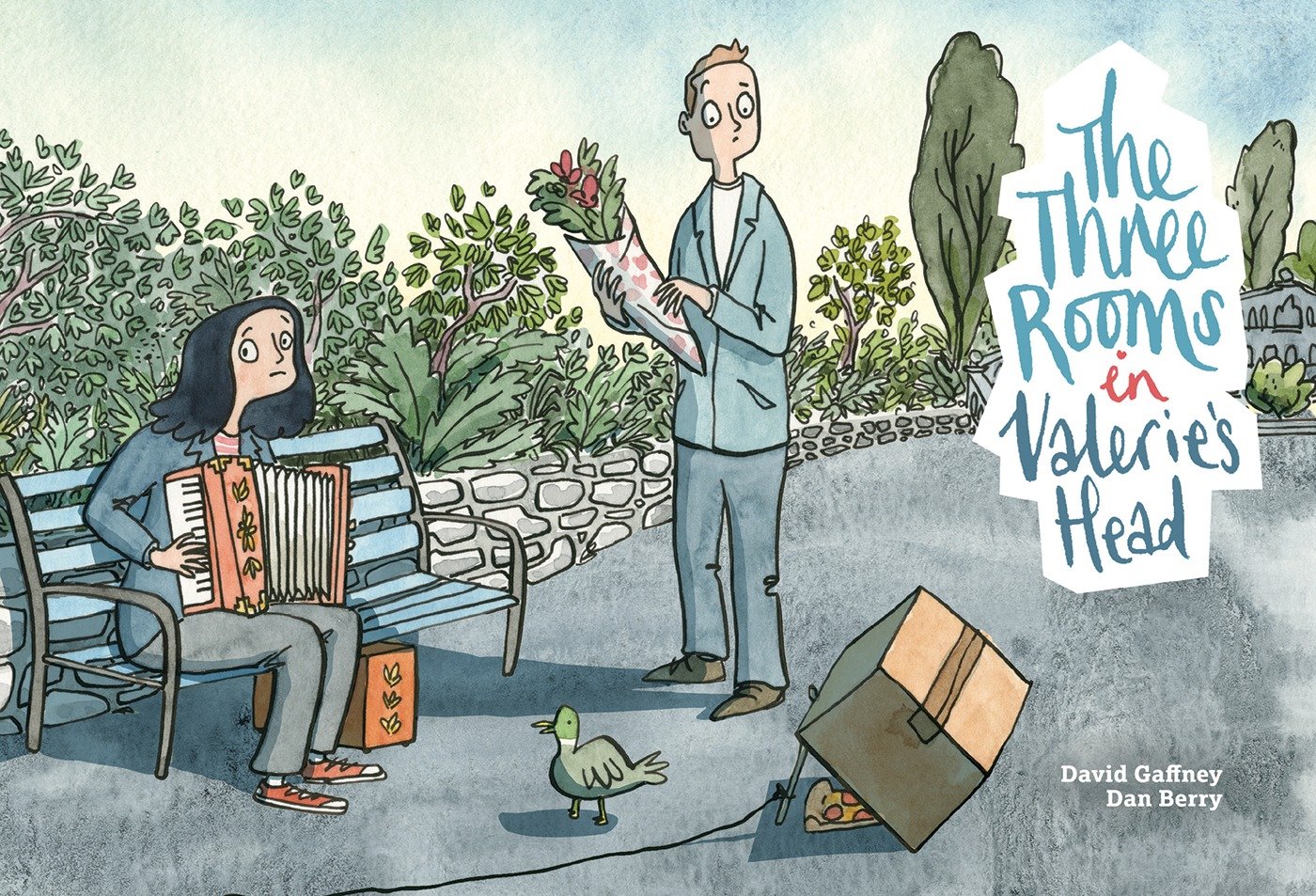 "You can discover everything about your boyfriend by tossing a breakable object at him."
That's such a lovely line, lobbed in as effortlessly and unexpectedly as everything else, taking the reader – and Valerie's boyfriend – completely by surprise. It's not done in anger but out of calm curiosity, and the trajectory of that particular sequence will prove even more startling and funny than you think.
We will return to that anon.
Dan Berry's exceptionally expressive cartooning you may already know from THE END, CARRY ME, SENT / NOT SENT, THROW YOUR KEYS AWAY, BEAR CANYON or THE SUITCASE (a former Page 45 Comicbook Of The Month), plus the Eisner-Award-nominated 24 BY 7 and COELIFER ATLAS, both of which, like THE THREE ROOMS IN VALERIE'S HEAD, were originally commissioned by The Lakes International Comic Art Festival which takes over the entire town of Kendal every year in October. All of these we have reviewed extensively.
The singularly dextrous David Gaffney, meanwhile, will now be shooting to the top of your attention and the forefront of your radar, once the wit in this read has been savoured. It is ever so carefully constructed.
There are three rooms in Valerie's mind: a front, a back, and a cellar. But if you think that the front room's a living room, you are very much mistaken. All she does there is obsess.
What should perhaps command her attention is studiously buried and ignored by banishing it into the back room.
What Valerie takes out to play instead are the ghosts of her former boyfriends, resurrected from the cellar, positioned like a trad-jazz band and articulated by herself. It is they whom she converses with throughout, wondering where it all went wrong.
"The drawback was having no space in the front room for anything else."
Well, quite.
Before you leap to too many conclusions, I promised you surprises and I don't break my promises. There may well be a very good reason why Valerie is so retrospective. And before you go blaming Valerie for being so unlucky in love, the individuals who'll be paraded in front of you will prove to have looked through odd prisms of their own. Ever such odd prisms, and the art will adapt accordingly!
One, for example, invents a car windscreen to compensate for his myopia so that he doesn't have to wear his glasses or corrective lenses while driving. Which is fine for him and it's a genius foil against car thieves. Unless they possess the same prescription as he does, they won't be able to see what's in front of them. On the other hand, it's a wee bit rubbish for any passengers he's carrying and his own rear-view mirror may prove something of a blur.
There's a lot of allusion and metaphor in this comic, but I swear that it's sweet and not half as heavy-handed as my own. "Symbols should not be cymbals," as Edward Albee once wrote.
Music is one of the big ones, specifically Mahler's 2nd Symphony plus Valerie's love of accordions and other bellow-based instruments. Don't think you have to be an all-knowing clever clogs because I'm certainly not. Listen to Gaffney about music instead:
"It's pure. Music doesn't imitate, it doesn't explain, it doesn't try to be like other things."
I'd not thought of that before. Most drawings, paintings, prose, poetry and comics all seek to create, recreate, imitate or elucidate on that which they are not: life, real or imagined. Words convey thoughts, actions or occasions as best they can and I adore them for that, leaving me with the freedom to let my imagination roam. Images imply or are otherwise representational. Music may elicit or imply, but otherwise it is its own beast. In the hands of the Cocteau Twins' Liz Fraser even songs' lyrics are left to be similarly ethereal because she left her voice free to be a musical instrument – no real words at all…
But this is a comic with images which do imitate ever so subtly well, and one of its best is the page in which Valerie responds to a former boyfriend's recollection of their shared, supposedly idyllic past which doesn't chime favourably enough with her own. The colouring aside, which is mood-specific throughout and beyond this specific page, it's the body language and expressions which delight. Jake's finger and closed eyes turn a contradiction – bad enough in Valerie's eyes – into something close to a rebuke. As to those eyes, narrowed in the fourth panel as she leads challengingly forward, they really do seethe and spit daggers.
"Valerie," we learn later, "kept a ball of tissue under her armpit and dropped shreds of it into his food to keep him loyal."
This is an observational gem, more fanciful and energetic than Tomine's but no less perceptive and far more engaging in that the reader is enticed into the recollections as an active observer on the spot, rather than a witness at a distance. Dan has gone to great lengths to make this so, including a sequence which – I was told in complete confidence – he drew with his left hand in order to accentuate the giddiness which worked all too well on myself, giving me an immediate sense of vertigo while lying flat on my back in bed. That's no mean feat.
So we return to the where we came in with the opening quotation and its reprise of the vase on the very second page which Valerie's so intent on remaining oblivious to. I showed you that vase earlier on. Like so many other visual refrains repeated unexpectedly throughout, it's a fab piece of foreshadowing whose exceptional choreography by Dan Berry is surpassed here as Valerie throws caution to the wind and a bouquet at her boyf in an act of abandonment which is – to her – delightful spontaneity.
"You can discover everything about your boyfriend by tossing a breakable object at him."
As the shining white and blue china hurtles towards him, Brett freezes, recoils and cowers in terror, and the leaves and flowers begin to tumble from their fragile, spinning vessel.
"Is he poised?
"Confident in his judgements?
"Does he seem willing to take responsibility for someone else's actions?"
David Gaffney has a way with words which dance around and right off the pages to stick with you forever. There's nothing extraneous or laden. Instead they trill so brightly and lightly like a musical movement that's subtle and always heading somewhere. As often as not, they're headed somewhere far from expected.
"You learn the most if the object belongs to someone else."
SLH
Buy The Three Rooms In Valerie's Head and read the Page 45 review here
The Altered History Of Willow Sparks (£17-99, Oni) by Tara O'Connor.
A cautionary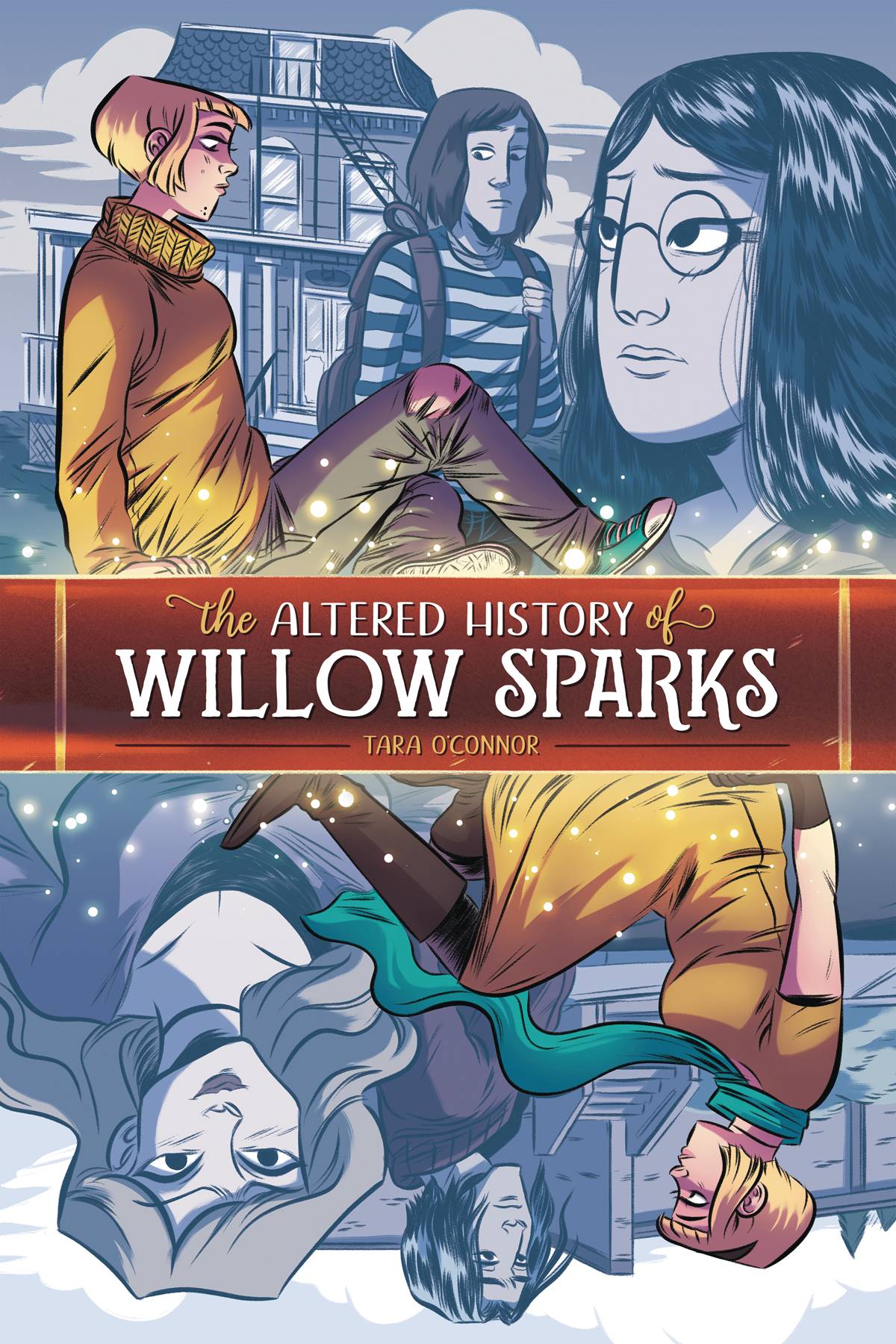 tale for Young Adults about the delicate balance in friendships – of loyalty, listening and shared experiences – this has evolved considerably during its 8 years in construction as O'Connor generously displays in the process pieces that follow.
It has an element of the fantastical, but it's not as extensive as you might as first think.
Willow Sparks and Georgia Pratt make kind and natural best friends, propping each other up when the going gets tough; the going gets rough almost immediately, because that's what their life at High School is like.
It's bad enough for Willow that her acne's flared up just when a new haircut – more severe than she is comfortable with – fails to fall over any of it. She's been invited to cover for Mr. Ages at the local library the next night and close up at 8pm on the dot, and that's very of cool because Mr. Ages is all kinds of quirky. He's rocking the bald, beard and ponytail look, which is brave.
However, before then Willow must endure the day, and what a day!
The school bully, Jenny, has already got it in for her, backed up by Jill and Perry. And if zits weren't enough of an embarrassment, she's rubbish at dodgeball (which seems to me to be a particularly punitive and overtly aggressive sport), fails to dodge said ball which is subsequently slammed right in her face, and develops a whopper of a big purple bruise which makes her pimples all the more livid. Oh, and then there's the sanitary-towel-in-the-classroom debacle. Awkward.
Can this day grow any more humiliating and debilitating?
Yes. The bullies are there when Willow attempts to close up the library, and they refuse, point-blank, to leave. Willow persists, but they get right in her face, and there's an accident. It is actually an accident, but it's – ouch! pretty serious – so they scarper. It won't tell you how, but it's then that Willow discovers a hidden inner library of books and one of them bears her name.
"This must be a joke…"
Within it, what she reads is astonishing: the minutiae of her life which led directly up to that point, followed by dozens of blank pages. Tied into the tome is a nib pen with the warning words "for emergencies only".
Now, I don't know about you, but when I was a teenager, volcanic acne clearly classified as an "emergency", so Willow begins to write and in the morning, the bruise and the pimples are gone.
Willow can re-write her life. Tempting, no?
At a first, superficial glance this looks very much like Bryan Lee O'Malley's SECONDS illustrated by Hope Larson circa CHIGGERS. But, as I suggested, the elements of magic realism are actually surprisingly minimal. It's far more about what the subsequent secrecy and balance of power does to Willow and Georgia's friendship. There's nothing that Willow writes in the book with its pen that is at all destructive or really, in any way, out of order.
It's what she does or does not do with her best friend Georgia – who is undergoing considerable upheavals of her own – that causes the schism, and there's an exceptionally well written scene, born of complete comprehension, about the impact a "free pass" for one, but not for the other, does to what was once equally shared experiences.
The art has loads to recommend it, as you'd expect from any comparison to Hope Larson. O'Connor's use of a light blue hue is perfect for mid-tone light and for shadows which ripple and break towards their edges. Her eyes are inky black pools. Hair waves, the forms are so soft, and I love what she does with the lettering when it comes to a final sigh before falling asleep.
It's on top form too during the wince-inducing, heart-stopping fall. There the jagged, unyielding, cold concrete steps are contrasted both in stark white against black, and with Willow's painfully vulnerable back for which a pullover can prove no adequate protection. There's a cracking dream sequence too, once Willow has discovered the life-changing book, as she is chased buffeted about by its pen.
For there is one added complication that I have so far failed to allude to: what Willow doesn't know is that before she took possession of her own "journal", another similarly singularly titled tome was returned to Mr. Ages in profound contrition by a young man called Samuel.
And Samuel was not looking well.
SLH
Buy The Altered History Of Willow Sparks and read the Page 45 review here
Tales From The Age Of The Cobra (£22-99, IDW) by Enrique Fernandez.
This delivers
everything you'd expect from the cover and more: high-octane, swashbuckling action, romance and skulduggery in an exotic setting.
Passions will be postponed or permanently trodden upon; lovers will be betrayed if not intentionally then by accident or tragic distraction; others will find themselves thwarted either because they cannot comprehend the true, giving nature of love – mistaking it for acquisition – or because the king who should command their marital affection and attention is actually more interested in the un-fairer sex.
Forgive me, but this is going to be a quick one even though the graphic novel itself will fill you up far further than you might understandably expect. The first third is packed beyond all probability with whiplash cause-and-effect actions, inactions, diversions, transformations, repercussions and reversals of fortunes without once relinquishing the author's deep love of language and extraordinary facility in its deployment. It could at any second so easily slide into the pitfalls of purple prose – of which, I own, I am an appalling abuser – but is rescued each and every time with linguistic gymnastics to keep it as free-flowing and exuberant as the art itself.
Throughout the art minded me of mid-period Kyle Baker when he first discovered digital. The art of Kyle Baker is at all times and during all periods a delicious, delirious thing.
From the creator of BRIGADA, a firm favourite of comicbook creators Bill Sienkiewicz, J.H. Williams III and Ben Templesmith: Fernandez is an artist's artist.
The entirety is presented as a piece of theatre by a masked person unknown, to a sometimes sceptical and impatient audience. (I use that comma carefully.) This is entirely apposite given that the finale itself is a similar piece of theatre designed to topple a throne. However, theatrics can be learned when the influence and impulse is right, so please don't suppose that your earlier actors have cracked. When all is revealed – and all will most assuredly be revealed – you may find that someone else entirely has taken the stage and carried the story forth.
We begin with a couple in love: Sian and Irvi, the pair you see snogging on the cover.
Neither is in possession of anything except exquisite beauty on the one hand, and preternatural acrobatic skills on the other – although Irvi is pretty fit on the other front too. They are separated by the cruel existence of The House of Princesses, a guarded hotel for hotties from which brides are bought, to which Sian's parents gladly sell her. Which is nice.
But the couple have come up with a plan. With his keen acrobatic skills, Irvi will invade the House of Princesses in the quiet dead of night to ravish Sian, so stealing her most Prince-prized possession: her virginity. Yeah, that doesn't work out, for others are in similar need and Irvi simply cannot say no. To his credit, he tries to, he really does – to begin with, anyway. But the House has many floors with so many in need and Sian is held right at the top.
I think we're on page twelve.
What follows is the most almighty conflict of interests, intent, emotional advantage-taking, individuality-expunging, socio-political artistic elimination; then potion-guzzling, side-effect exacerbating conflict and craving for international power.
I think we're still on page twenty-four.
And it's still scene-setting. What comes next is one almighty conflagration.
SLH
Buy Tales From The Age Of The Cobra and read the Page 45 review here
Lights Of The Amalou s/c (£35-99, IDW) by Christophe Gibelin & Claire Wendling…
Has a lot
of ferrets… and some incest. Between humans, not ferrets. Though be aware: there are some interspecies goings-on going on…
Just trying to set the tone for the level of peculiar in this enormously entertaining Euro-adventure, translated and republished under IDW's autologically titled 'Euro Comics' imprint. They certainly couldn't be done under trade descriptions, could they?!
I'm not being snarky – or whatever the equivalent French / Spanish / Italian / Esperanto snide aside would be – because I have for many years commented that there must be libraries full of quality 'Euro Comics' that never get translated and should. So let's hope that IDW curator for the imprint chooses wisely. With this and TALES FROM THE AGE OF THE COBRA also fresh out, they are off to a solid start. In fairness, they have been doing various Hugo CORTO MALTESE Pratt for a while, but clearly they want to broaden English comic readers' horizons, which is an excellent agenda.
You can read a little bit about their mission here.
Anyway, I certainly wouldn't classify this as highly peculiar and wilfully esoteric as, say, Benoit Peeters & Francois Schuiten's THE LEANING GIRL. Neither it is remotely in the ilk of some of Humanoids more dungeons and dragons-esque fantasy or science fiction output. It is ultimately an adventure story with some fantastically elements set nominally in our real world, though the action all takes place out of the unknowing view of the human race, who are utterly unaware of the existence of talking ferrets, alternate dimensions, weird creation myth magicks and errr… human-ferret hybrids…
Christophe Gibelin crafts a rather gripping story of a world, and species (plural), in danger from encroaching wooden-based entropic spirits, being defended and further imperilled by various ferret factions, including a couple of dashing adventurers, and indeed a few human (-looking) oddballs too. The closest parallel I could probably draw would be to say it has the fun elements of anthropomorphic action adventure MULP but with additional dreamlike, fairy tale qualities too.
Lovely, charismatic ligne claire art from Claire Wendling that will certainly appeal to Europhiles. I also liked the hand-lettering style. I've seen similar in several other Euro works and it adds to the general rustic, artisan feel of the work. I honestly have no idea how much of an audience IDW will manage to find for their 'Eurocomics'. Hopefully sufficient to persuade them to persist with it.
JR
Buy Lights Of The Amalou s/c and read the Page 45 review here
Carthago s/c (£19-99, Humanoids) by Christophe Bec & Eric Henninot, Milan Jovanovic.
I love
this sense of scale!
Is it okay if I start crying now?
Welcome to a whopping, album-sized, 275-page graphic novel of exceptional light and beauty – and the most enormous, razor-sharp teeth.
Specifically, the most enormous, razor-sharp teeth embedded in a mouth big enough to engulf a bathysphere as if it were a bonbon. That mouth belongs to an eighty-foot long Megalodon, a species of shark which didn't have the decency to die out 2.6 million years ago as we were all promised. Since it didn't die out, you can assume with some certainty that it's not alone. It'll have to have a few honeys to breed with.
How has it survived? That proved quite clever. Not everything here passes the credulity test quite so creditably: like Major Bertrand's decision to dive back into the water once a diving cage has been crushed / mangled / mauled beyond recognition, just to see what enormous subaquatic creature could possibly have done that. It proves a pivotal plot point – on account of what else he spies lurking below which he vows never to impart to anyone – but you really wouldn't do that, would you? "All you can eat" must surely be the default menu of any Megalodon on the move.
I thought it cruel, being made to read and review this, for I am terrified of sharks. Mesmerised, but terrified. I don't really want any species to die out, but the very idea of diving in a cage surrounded by Great White Sharks – or even a solitary soul out for a leisurely, late-afternoon swim-stroll – is insane.
I used to have shark dreams once a week between the ages of eight and thirty-five. They rarely ended well. I would see shadows of sharks even within in-door swimming pools, for which I blame James Bond. Strangely, those dreams ceased once I came face to face with a barracuda while snorkelling in Barbados. It swam, fast as lightning, to within two feet of my nose. Thankfully it executed an equally abrupt about-turn, but not before I was gifted with a true appreciation of how phenomenally hideous its ugly mug was.
All things are relative. It's about to get uglier.
Carthago is the name of the international corporation which trades in both gas and oil, drilling out to sea for both. In 1993 one of their drills penetrated a deep-sea cavern and all four divers disappeared. They couldn't resist investigating this new, exotic environment, and this new, exotic environment couldn't resist investigating them. Nom-nom, etc.
I cannot begin to convey to you how tense and claustrophobic Henninot renders their initial, tentative, reconnoitre, so much hidden in the impenetrable, inky black which their tiny, inadequate flares and torches barely manage to illuminate. Thanks to the two-page prologue 73 years ago, we are anticipating a certain sort of… reception… but it's ever so subtly introduced on the final, small panel of a right-hand page by a free-floating hand and attendant rivulet of blood.
Mr. Snyder, Carthago's chairman of the board who sports a fetching black balaclava, is well aware of what went on way back then. He's had video footage since day one. Now he shares it with his suit-and-tie board members, but with strict instructions that it must never be leaked lest they be hit with multiple law suits, not least for negligence. Further fears include the plug being pulled on further drilling, and their already precarious profits ($90 billion from one rig alone) will go into free-fall.
Unfortunately for Carthago, its chairman is not the only one in possession of that film. A radical environmentalist sub-cell within Greenpeace has copies too and shows one to Dr Kim Melville, fresh from discovering three-foot-long crayfish below the Sarrans Dam in France. Parenthetically her daughter, Lou, has discovered pike three times her size in the freezing waters, 150 feet down without the aid of any breathing apparatus or indeed any facial protection whatsoever.
"Lou's not like other little girls…"
No, indeed, as you will see.
We're still on the first two-dozen pages, but what follows is an ultra-competitive race between multiple factions to a) capture proof of a Megalodon's existence b) expose Carthago's less than ethical cover-up and collusion, then c) get to the very bottom of the sea's hidden depths and secrets sustained over the centuries – improbably so, since photography was invented.
Drop in the ocean? I should say so! I've not even touched on the prime mover, one elderly Mr Feiersinger, confined to a futuristic wheelchair / life-support system. An unimaginably wealthy, ruthless and obsessive collector of the rarest artefacts imaginable, he resides in Eagle's Eyrie atop the Carpathian Mountains of Romania in a vast, Gothic castle whose cathedral-like hallway resembles the central nave of the British Museum. He has in his indebted thrall the graphic novel's action hero, London Donovan. You will learn of this debt and of the expedition which led to Mr Feiersinger's current condition anon, but not here.
All these paths and many more will cross, criss-cross and re-cross again in an increasingly convoluted, full-blown sci-fi experience involving maritime survivors, monomaniacal malfeasance, more monsters than I'm willing to give away here, hereditary hiccups, ancient civilisations and, yes, the most enormous, razor-sharp teeth.
The planet is changing: it's realigning. Ice floes are shifting. Whales and dolphins are beaching themselves in what appears to be a coordinated mass suicide or desperate flight. Forces – both familiar and familial – are coming into play, and if you believe that "the blood-dimmed tide" is already loosed then I swear that you ain't seen nothin' yet.
This is spectacular. It truly is spectacular.
Delphine Rieu's colours in particular complement Eric Henninot's crisp, clean lines to perfection. Her whites and blues are bright and pure, while Henninot's faces are a little like P. Craig Russell's. His sense of scale is as thrilling, particularly when looking up at the dam or Eagle's Eyrie's interior, so rich in vertical detail. Moreover, his sharks are ferocious and, as I've intimated, they are not the only challenge present.
His successor halfway through, Milan Jovanovic, isn't quite all that but only because you've been spoiled rotten beforehand. The tidal waves are still terrifying, the underwater menaces still petrifying and there's one page featuring the most misjudged practical joke of all time which will render one young lad speechless for years.
However, honestly dictates I concede that two-thirds of the way in it threatens to collapse under the weight of increasingly ridiculous coincidences, along with improbable decisions and observational failures on the part of the cast. It doesn't, but it threatens to, especially when those cast members haven't proven so dim in the past. (Apart from Dr Kim Melville, perhaps: "Take your daughter to the seaside!" you will be screaming at her for the hundred odd pages it takes her to do so.)
As to Mr Feiersinger's younger brother… forty years younger? Okay, if he's revealed later on to be a covert catamite instead, I will whoop with penitent joy and enormous respect for the lack of hand-holding clues early on. Otherwise pfft!
SLH
Buy Cartago s/c and read the Page 45 review here
Green Arrow: The Archer's Quest s/c (£14-99, DC) by Brad Meltzer & Phil Hester.
If you were given a
second chance at life, would you be curious about who had attended your funeral? What would be worse: surprise absences, or worryingly unexpected guests?
Oliver Queen, the Green Arrow, wasn't the first of his brightly dressed friends to die, so he made contingency plans for when the inevitable happened also to him.
But now that he's back he finds that those instructions weren't followed to the letter, and his old friends discover exactly whom he entrusted them to.
Brad wrote IDENTITY CRISIS, one of DC's very finest superhero books (suggested 16+) so if you're one of the many who've enjoyed that then you're more than likely to feel at home here, since once more it deals with the importance of privacy and the comfort of friends. There's plenty of mischief on hand when the rest of the DC super-crew put in duper-cameos and, now that I think about it, the patter and a lot of the layouts combined with a more animated-cartoon-art style are as much reminiscent of ALEISTER & ADOLF's Mike Oeming as anyone else.
Oracle is DC's ultimate networker, the crippled daughter of Commissioner Gordon, holed up in a high-tech surveillance tower, from which she works closely with Dinah, the Black Canary. Ollie also works closely with Dinah, but in a different way. Here Green Arrow and Oracle are communicating via Black Canary's earring:
"What are you doing on Dinah's line?"
"She left her earrings on my… uh… kitchen table."
"Don't lie, Oliver. That microphone was switched on all night. I heard everything. Everything. Trick arrows, my rear end."
"You serious?"
"Jeez, Ollie, Clark was right – you have gotten gullible in your old age."
"Listen, you gonna help me or not?"
"Just tell me what you need."
"I'm looking for a positive I.D. on a guy in a photo."
"Now you're singing my song. Just hold it up to the window — And don't block it with your fingers. I'll have one of my satellites scan it from space."
"You can do that?"
"Oh, Ollie… such a sucker."
Fool me twice!
SLH
Buy Green Arrow: The Archer's Quest s/c and read the Page 45 review here
Arrived, Online & Ready To Buy!
New reviews to follow, but if they're new formats of previous books, reviews may already be up; others will retain their Diamond previews information we receive displayed as 'Publisher Blurb'.
Courtney Crumrin vol 2 s/c
(£11-99, Oni) by Ted Naifeh
Maurie Duval h/c (£19-99, Myriad) by Simon Grennan, Roger Sabin, Julian Waite
Eternal (£6-99, Black Mask) by Ryan K Lindsay & Eric Zawadzki
Godshaper s/c (£17-99, Boom!) by Si Spurrier & Jonas Goonface
Briggs Land vol 2: Lone Wolves s/c (£17-99, Dark Horse) by Brian Wood & Mack Chater, Vanesa R. Del Rey, Werther Dell'Edera
John Lord (£11-99, Humanoids) by Denis-Pierre Filippi & Patrick Laumond
Parker: Slayground s/c (£15-99, IDW) by Richard Stark & Darwyn Cooke
Kill The Minotaur s/c (£17-99, Image) by Chris Pasetto, Christian Cantamessa & Lukas Ketner
Wayward vol 5: Tethered Souls (£15-99, Image) by Jim Zub & Steven Cummings
Ant Wars (£10-99, Rebellion) by Gerry Finley-Day, Simon Spurrier & Jose Luis Ferrer, Alfonso Azpiri, Luis Bermejo, Lozano, Pena, Cam Kennedy
Doctor Who: The Twelfth Doctor vol 6: The Terror Beneath (UK Edition) s/c (£13-99, Titan) by George Mann, James Peaty & Warren Pleece, Mariano Laclaustra
DC Super Hero Girls vol 5: Date With Disaster s/c (£8-99, DC) by Shea Fontana & Yancy Labat
Venom vol 3: Blood In The Water s/c (£14-50, Marvel) by various
X-Men: Mutant Genesis 2.0 s/c (£22-99, Marvel) by Chris Claremont, Jim Lee, John Byrne, Scott Lobdell & Jim Lee