Featuring Terry Moore, Sarah McIntyre, Ed Brubaker, Sean Phillips, Elizabeth Breitweiser, Joris Chamberlain, Aurelie Neyret, David Gaffney, Dan Berry, Ales Kot, Danijel Zezelj, Pierre Christin, Olivier Balez, Jason Aaron, Steve Dillon.
Strangers In Paradise XXV #1 (£3-25, Abstract Studio) by Terry Moore.
SEE SOMETHING

SAY SOMETHING
There's a sign on the New York subway accentuated, emphasised and made urgent by piercing eyes. It says:
SEE SOMETHING
SAY SOMETHING
In a pressed white shirt, suit and tie, a smart man on his smart phone is standing. He is sombrely checking for texts or the latest, breaking News Headlines. He would do well to do that. Satisfied, he slips the phone into his overcoat, scowling at the crowd as the carriage doors open. Commuters get on, commuters get off and, once on the open platform, he checks his coat pocket as per habit, pat-pat. It is not well weighted.
"HEY! STOP!
"STOP THAT BOY!
"STOP HIM!"
The boy and the man are dashing up the escalator, the small boy diving between pedestrians while the smart man is impeded and – shit – there's another kid who's tossed the cell phone sideways in passing! It's nimbly caught in a pre-planned relay race, the brat in the hoodie heading up the stairs at speed, swerving right towards the foyer's crossover before throwing this exceptionally mobile phone clean over the gleaming glass balustrade!
It's gone.
Down below a good-looking woman in her thirties, well dressed for winter in a jacket and loose woollen scarf, calmly and casually removes the SIM card from its casement. As she discards the rest, the detritus unnecessary to her purpose, she glares up at the smart man who's not now feeling very smart at all, looks her victim straight in the eye and she gives him a grimace which he will never forget.
Oh my God! It's —
Welcome to Terry Moore's STRANGERS IN PARADISE – or indeed, welcome back! – on this, its 25th Anniversary. You can read our prior reviews if you fancy, but you need know nothing in order to settle straight in to one of the series we have been most phenomenally fond of in all of our years working in comics, for this is a very fresh start.
After surviving all that the world and Katchoo's pitch-black past could throw at them, Katchoo and Francine are now happily – nay, blissfully – married, living out in the dessert with their two delightful daughters in a luxury villa financed by Katchoo's highly successful career in fine art… but probably her previous one too.
Katchoo was a Parker Girl. She "belonged" to Darcy Parker. Darcy Parker was a vicious woman who used other women to infiltrate the government at its highest levels. The Parker Girls were essentially the highest paid prostitutes imaginable, and they never got to leave.
Katchoo left, though I will not say how, and now sits with one of Darcy's former enforcers, the formidable, ever-brooding, stone-faced Tambi, as they watch Francine play, splashing away during the heat of the day, in the extensive garden's swimming pool with one of their beloved daughters.
There is so much laughter!
Katchoo is smiling maternally, lovingly, with all the adoration she has always held in her heart for her now-wife Francine, right from the very first moment we met them. Reciprocation did not come easily and it did not come quickly. STRANGERS IN PARADISE was a very long series: 2,400 pages long! But here they are, and they have arrived.
You'll notice Tambi and Katchoo share a certain look. Darcy Parker liked blondes very much. Tambi is not smiling lovingly and her arms are criss-crossed with scars.
"You know," begins Katchoo, a twinkle in her eye, "I used to think you only had two looks, mean and meaner. Then I saw you hold my babies."
"You fought hard for what you have, Katchoo. Wife, kids, a new life… Nothing came easy for you."
That's very true.
"I don't want to see you lose everything you worked for."
"Why would I lose everything? Tambi?"
I loved the reversal on the first few pages where we came in. Initially I fretted for the smart man with the smart phone (his name's Scott) for we all fear pickpockets and fewer ever say something even if they see something, and fewer still do anything about it. And Terry keeps you going breathlessly for three pages before you discover the phone's final recipient.
Scott's married to a woman called Laura, by the way.
She's called Laura, but that's not her name. Her real name is Stephanie, and she has that certain look too.
"Tambi?"
Oh no.
Please see RACHEL RISING, ECHO and MOTOR GIRL (reviewed rather than narrated, haha!) for more Terry Moore.
Nice reference to the original collection's cover on the subway sign.
SLH
Buy Strangers In Paradise XXV #1 regular cover and read the Page 45 review here
Buy Strangers In Paradise XXV #1 sketch cover and read the Page 45 review here
Kill Or Be Killed vol 3 s/c (£14-99, Image) by Ed Brubaker & Sean Phillips with Elizabeth Breitweiser.
"And suddenly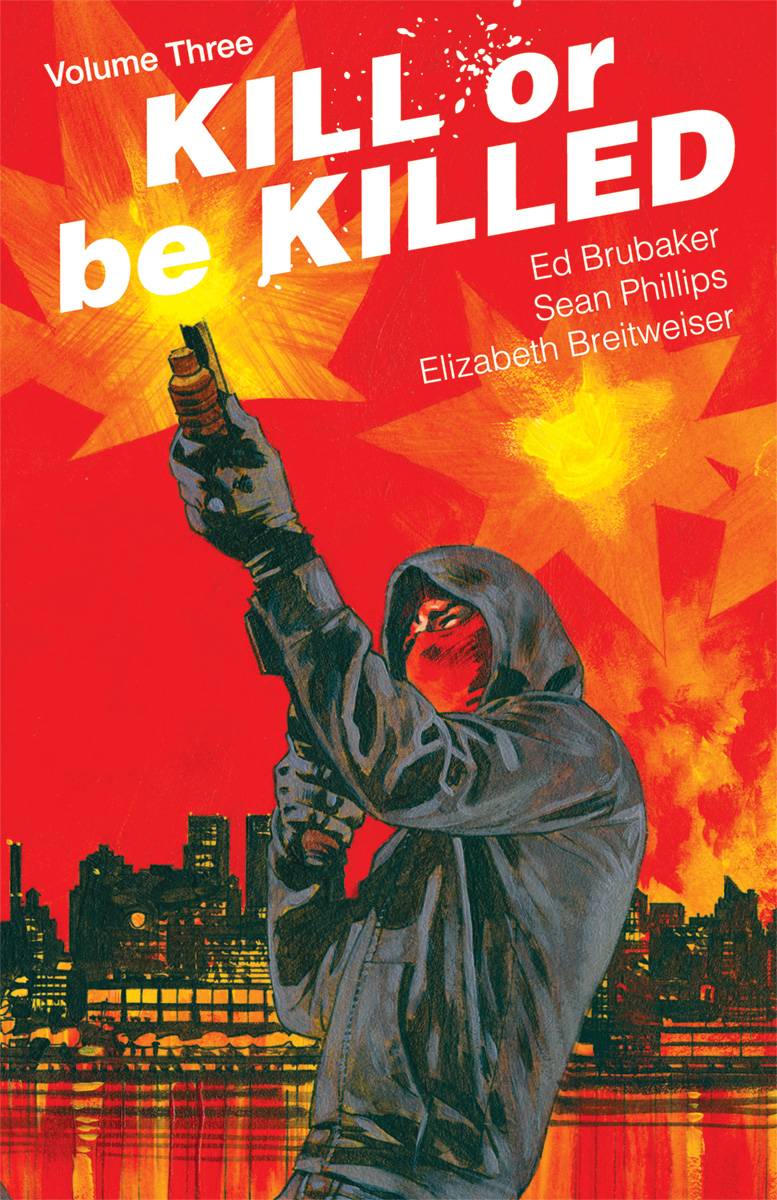 every word that she said was a gift.
"Every smile was a miracle,
"I'd been so stupid… We're all so stupid all the time.
"We stop noticing our miracles."
We do indeed.
And now for the bits you've been waiting for!
KILL OR BE KILLED book one began in blazing gunfire, a sequence we've been promised a return to, and by the end of this volume you will finally see Dylan in that "hotel" with the shotgun, you'll understand exactly why he's so focussed, specifically on social injustice, and it's all but the beginning of a meticulously thought out act-and-distract plan to shut down the local Russian mafia for good.
If he doesn't, they've given every indication that they will come for his girlfriend, Kira.
KILL OR BE KILLED has been the practical and psychological self-examination of one educated young man's descent into mass murder.
It didn't start with the Russian mafia, it began with a suicide attempt and several episodes which he now hopes were psychotic, but I still don't want to give that game away because we're looking for new readers here, and it forms such a substantial strand of the series that will keep you speculating feverishly far beyond this volume and well into the next chapters beginning with KILL OR BE KILLED #15.
As to practicalities, we're most of us more capable than we imagine we are. Dylan is ruminative by nature – which is why it's taken two volumes to get to this point! – thinking things through, though not all the time with a clear head; that, he would be the very first to concede. Here he contemplates courage, and the nature of fear as something self-imposed as well as instilled in us through aphorisms and cautionary tales designed to curtail our curiosity or limit our ambition (Daedalus / Icarus and "A bird in the hand…" etc). We are persuaded to believe not in ourselves, but in our weaknesses, drawing lines in the sand which we dare not cross. But if others have crossed them – if one person can kill a grizzly bear – why cannot we?
He's forever referencing films, is our Dylan, and books. As I say, he's educated and it's his constant self-questioning which in part makes him so very credible and captivating, engaging his audience conversationally – for he is emphatically addressing each one of us – as to his various successes or failures in storytelling and whether we find him frustrating, which is funny. Here is he shown for umpteenth time breaking and entering into the brothel.
"Okay, so look, I promise you we're getting very close to this moment.
"By the end of this chapter… for sure.
"I mean, this is all part of that plan I was formulating…
"As you're going to see soon. Really soon.
"But before we get to this –
"And I know, I know, I'm the worst narrator in history for actually getting to the point…
"Well, maybe after Tristram Shandy…
"But there's just some stuff you have to know before the action gets going again.
"I mean, it can't all be action… right?"
Dylan's also unusually self-aware, constantly rummaging around in his own troubled memories and the physical boxes of published art which his father left behind, whilst musing on Kira's past as well as his father's sad life and suicide.
"I guess it's different for people whose fathers didn't commit suicide, but if yours did, then he's probably a fairly tragic figure in your memory…
"That familial memory that shapes who you are.
"That's how it always was for me. My father was legendary and tragic and sad… all at one time.
"And if I had to pick one word that described him best, it would've been a tie between "lonely" and "isolated".
Dylan has just described himself, and little wonder: "That familial memory that shapes who you are."
He's far from alone but lonely instead, isolated inside his own head. So often there are moments of hope that he will be able to free himself from the shackles of his pragmatic secrecy, this solitary existence, and steer freely away from the desperate trajectory which he has found himself locked on.
One of those is where we came in and he realises that "We stop noticing our miracles." Yet it's these very preoccupations which prevent Dylan from fully engaging and actually existing inside the moment, and those moments of hope do not last long.
All of that is conveyed in the art: in the cinema, for example, with Kira beaming while Dylan sits dead-faced, obsessing over his predicament. And that's after his supposed satori.
Thanks to Phillips and Breitweiser, Dylan is surrounded by so much arboreal beauty which he singularly fails to notice – even as he's strolling through Central Park with the love of his life, lit bright with laughter, which was formerly all that he craved – and it will only become more pronounced in the next volume.
It's not just that he fails to notice it, either: it is that he is entirely removed from its life-affirming balm by his inner demons – the psychotic shit that's going on his head – and by the very real danger that surrounds them both. That Kira is oblivious to the danger (because Dylan has repeatedly refused to communicate for fear of blurting out the rest) makes the gap between them loom even larger. He has built the proverbial brick wall.
Next volume: Dylan attempts to break down the brick wall down and in so doing, finds it built even higher.
Oh, wait…. The shooty bits…? Knock yourself out. Non-consecutive pages, mind, but Lord, how I love Sean Phillips gunfire.
Parenthetically, there's a very funny sequence in which a Russian courier clumsily attempts to flirt with a barmaid who may well be gay by solemnly impressing upon her the virtues not of Charles Portis's novel 'True Grit' (which is a tremendously compelling narrative told by a fourteen-year-old girl of exceptional fortitude), but of its cinematic adaptation which was a travesty, and in particular the manly magnificence of John Wayne's performance which… anyway. The sincerity on that man's face!
For far, far more (gunfire, plus talk about 3-tier grids, full-bleed art, immersion and cleverly colour-coded displacement) please see prior reviews of KILL OR BE KILLED. Thanks!
SLH
Buy Kill Or Be Killed vol 3 s/c and read the Page 45 review here
Kill Or Be Killed #15 (£3-25, Image) by Ed Brubaker & Sean Phillips with Elizabeth Breitweiser.
This follows
immediately on from KILL OR BE KILLED VOLUME 3.
I wouldn't normally do this, but we've been talking about the disconnect there – between Dylan's wretched preoccupations and the beauty which surrounds him which he, cruelly, has no mental access to – and it is only accentuated further on the first two pages here.
It's something that comics can do ever so well under the right writers like Brubaker and artists like Phillips and Breitweisser: the words and the pictures "disagree". Jon Klassen has made a career out of this for comedic, Young Readers purposes. This is tragic instead.
Look at the exquisite silver livery on these idyllic snow-swept scenes and the rapture being relished by those able to fully inhabit those landscapes by being in the moment and sharing between them its gift!
Now read the words of a perceived grinding life and the fall of the world into geopolitical disorder. "Sad" doesn't begin to cover it. In volume three of KILL OR BE KILLED Dylan consciously castigated himself thus:
"I'd been so stupid… We're all so stupid all the time."
"We stop noticing our miracles."
Yet within that same volume he almost immediately failed to retain that self-knowledge. It wasn't wilful, it wasn't negligent. It was because he was trapped, in his own head and his immediate circumstances of needing to act or the love of his life would be dead. Now he is shackled once again, even further removed from this extraordinary, ordinary joy.
The cover may give you a clue, but only on reading this will you understand how he got there. It has nothing to do with volume three whatsoever. This is an entirely new development.
He's not really still wearing his mask, but isn't that ever so telling? Secrets are a terrible thing.
SLH
Buy Kill Or Be Killed #15 and read the Page 45 review here

There's A Shark In The Bath (£6-99, Scholastic) by Sarah McIntyre.
Bed-time reading at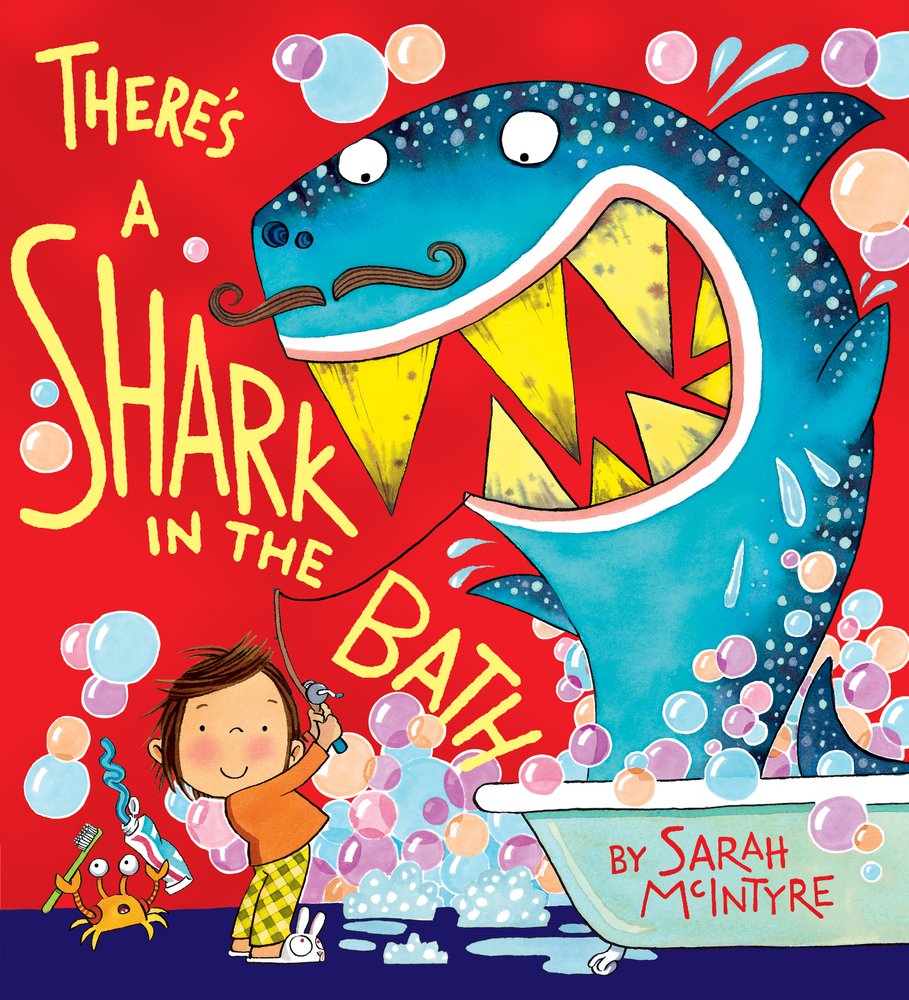 its very best, this new red-ruby-foil edition shines especially bright under lamplight
Plus any book of fish that finishes with "FIN" is bound to be all kinds of pun!
(I'm sorry.)
Did you once have a fly in your soup?
Or a frog in your throat?
What about a shark in your bath? How frightful!
That there might be three is unthinkable: a Papa Shark, a Mama Shark and a Baby Shark. A Baby Shark in dental braces! It's too, too funny! But not for young Dulcie, because Baby Shark's teeth are as sharp as can be, and they are all ever so hungry!
Dad forgot to pull the plug on last night's bath and let out all the water. Now the sea has swum up the house spout and brought all kinds of creatures with it!
I'll show you them soon once they've clogged up the room and made a right mess of the sink. But Dulcie's in deep if she can't think fast on her feet so it's lucky they're curious, don't you think?
Baby Shark wants to know what toothpaste is, and quick-witted Dulcie delights in showing them.
It is time to play the first game!
Oh, this is ever so clever! How do parents persuade reluctant children to do things they might otherwise avoid? Like brushing their teeth or taking a bath! Having greasy hair washed can elicit very loud wails because some girls don't wanna have fun! And oh, boys can be even worse: they'd rather grow as manky as a medieval monkey than have Mummy or Daddy wash under their arms. So how do parents do it? (How do they do anything, to be honest? I am in awe.) They turn everything into a game!
So it is here that little Dulcie has learned their lesson well, successively and successfully staving off the starving sharks in a ONE HUNDRED NIGHTS OF HERO sort of a way – not with stories, but with an elaborate set of bathroom rituals and gleeful games.
Look how they love brushing their teeth! With a tooth brush, a back brush and a – oh, Papa Shark, that is a loo brush, you ridiculous buffoon! Ewwww!
Then it's time for shampoo wigs and, hello, is that a crab?
I did mention, did I not, that the sharks were not the only animals that have swum up from the sea? Very soon the bathroom-based sea-creature carnival is joined by star fish, puffer fish, flying fish, eels, turtles, sea anemones and so many more salt-water critters. And, err, a frog, I think. They play with shaving foam, talcum powder and even lipstick.
Hey, frogs like lipstick! I never knew! (I love the snail's puckered lips, if you spot them.)
And that is what so much of this riotous fun is about: exploration for wide, shiny eyes! That's what delights our young ones: spotting all the oh-so-silly yet ever so witty details. Sarah McIntrye has made a career out of giving families value for money in JAMPIRES, PUG-A-DOODLE-DO and so much more (pop Sarah into our search engine – then please let her out to breathe!), spending days on each illustration which adults may only glance at for minutes but which our more inquisitive, discerning former selves would and will spend hours fixating upon!
I've drawn several diagrams showing how cleverly the three sharks are projected from the bath, aligned like waves or fountains in their "It's time to eat you!" interruptions, but you'll just have to discover those for yourselves.
I leave you instead with this truth: children are inquisitive, bursting with questions, and come fired with a feverish imagination that eludes most of us adults over time. This is precisely what this plays to, and why all your loved ones will relish it over and over again.
I haven't even told you about the elephant in the room, have I? No, not the bathroom; in the kitchen, silly! It's in the cereal – shhhhhh!
Top tip: give every kid's book a similarly wicked reprise!
SLH
Buy There's A Shark In The Bath and read the Page 45 review here
Cici's Journal h/c (£12-99, FirstSecond) by Joris Chamberlain & Aurelie Neyret…
"See you later, Mom!"

"Alex! Wait!! Where are you…? That's so strange! He does this every weekend now! He zips off, he's gone all day, and he comes back covered in dirt and mud!"
"Mine is just the same! And the little girl next door too."
"Hmm… I don't know what they're hiding from us… but it's all very strange!"
"I can't even begin to guess!"
Ah, that's typical Cici! Solving one mystery only to create another, in this case where all the local children keep disappearing off to every spare moment they have, much to the bemusement of their mildly concerned parents. I won't spoil the surprise by telling you, but it all came about from the ever-curious Cici spotting a strange old man in paint-spattered overalls carrying a parrot in a cage…
He was wandering through the woods near the treehouse which Cici and her two best friends Lena and Erica use as their secret clubhouse. As a writer-in-training, Cici fancies herself as a keen student of people, often profiling the locals and creating elaborate stories for them, so the pigment-coated pensioner promptly piqued her inquisitiveness sufficiently enough to begin a covert investigation into his goings-on. The results astonished her.
Unfortunately her propensity towards the secretive spills over into her relationship with her mum, often involving her two friends, who frequently find themselves covering for her whilst she's off investigating solo. It's not that she doesn't want her mum knowing what she's doing per se… she's just got into the bad habit of not telling her, or indeed telling her something else entirely… Understandably, her friends are getting a bit fed up of shoring up Cici's unnecessary fibs and it's putting a strain on their friendship. It also grates considerably on her mother that Cici seems to prefer elderly neighbour and published author Mrs. Flores as her confidante…
There's also a second case in this collection, featuring the widow Ronsin who takes out the exact same book from the local library week after week. All she has to remind her of her late husband Hector are his terse, dry letters from The Front talking about the daily, stark unending reality of war, collected in said book, entitled The Rose And The Mortar, about his troubling times in a secret communications battalion. Hector was so traumatised by what he encountered during the conflict that he came back completely mute, unable to vocalise his feelings for his wife until his death. Yet the widow remains convinced, by the light in his eyes and by his actions, that he still loved her truly and deeply. If only she had something more reflective of his true, caring personality to remember him by…
Enter Cici, fascinated by the widow's repetitive reading of the particular book in question! Before too long she's snooping around the library and once again telling fibs to her mum about her whereabouts and further alienating her friends. Even Mrs. Flores is starting to get fed up with Cici's little deceits. But can Cici discover an emotional treasure trove that's lain hidden for decades and manage to salvage her relationships with her friends and mum before it's too late?
Joris Chamblain completely enchanted me with this partly first-person perspective story-telling style, split between mostly pure comics and pages from Cici's personal journal which is filled with theories regarding her cases and her private thoughts about herself and her friends. Aurelie Neyret illustrates the comics pages in a gorgeously colourful, vibrantly vivid artistic style, very distinct to the journal pages which are chock full of doodles, photographs, crayon drawings and diary entries. It's a fabulous combination, though, that blends absolutely seamlessly together from a reader's perspective. There's even the occasional spot-panel of journal to highlight a certain critical clue or point in the middle of a comics page, which never feels remotely incongruous but only adds to the relentless feel of a young writer-in-training firmly on the sleuthing case! Highly recommended.
JR
Buy Cici's Journal h/c and read the Page 45 review here
Days Of Hate #1 of 12 (£3-25, Image) by Ales Kot & Danijel Zezelj with Jordie Bellaire.
In which
Kot and Zezelj project American socio-politics just a few years down the line from where they are now. As you might suspect, they aren't very pretty.
"The United States of America, 2022.
"The loss that ripped them apart drove one into the arms of the police state and the other towards a guerrilla war against the white supremacy. Now they meet again. This is a story of a war."
No, by the way, you are quite mistaken, as was I. Ales Kot will surprise you.
It's far from dystopian or post-apocalyptic – most of mainstream society's getting on with life as usual, as it generally does. It's not they who've been targeted. Most of mainstream society doesn't care what happens to minorities.
"Remember when we all hated on 2016 online? Called it a "trash fire"?
"And then on 2017? 2018, the elections?
"People don't even hate on 2022. We're catatonic."
But the internment camps are back for the dregs of society, and Peter Freeman, head investigator of the Special National Police Force Unit for the Matters of Domestic Terrorism could not be more delighted. That's what happens when right-wing shit gets normalised.
He's summoned a Person of Interest, by the way, and interrogating her in a most courteous, affable manner. Will she tell him what he wants to know? The chances are, he already knows it.
Meanwhile, some of the white supremacists are holed up in Herbie's American Dining, on the outside as bleak as can be – and deliberately bland – in an open concrete retail park, on the inside oppressively adorned with almost every inch of wall space decked out in red-and-white-striped, nationalistic Americana: giant, overbearing, emblematic bald eagles, wings stretched out proprietarily across flags.
It's a social occasion, and they are far from stupid. Nor are they inhuman: never make that mistake. Dehumanisation is their preferred province. But the ladies will soon be heading out while the men discuss matters of domestic terrorism. Just not the sort that Peter Freeman's interested in investigating: who even cares about the queers?
Fortunately someone else does.
"Multiple molotovs thrown through the windows and someone somehow accidentally left a few well-placed and easily flammable objects in close proximity to specifically those windows. Oh, and the doors got locked from the outside and the bouncers got shot.
"Clearly an accident."
Zezelj excels at the toxic. Not necessarily the chemically toxic, but the socially unsafe, precarious, treacherous. His rough-hewn, shadow-heavy art is haunted. You can see the skulls beneath faces.
Oh, but this sprawling city shines in the dark! Its glossy skyscrapers, glowing with uncaring activity, rear between busy bypasses, overpasses, underpasses, all snaking circuitously in coils round Los Angeles.
Was that a bomb going off?
So yes, with Jordie Bellaire's considerable colour enhancement, Zelzelj can do sleek and slick too. Those freeways are almost wet with light in the night.
We don't yet know what happened in Philly. There's a whole heap of history to explore.
Can we please keep doing our most vocal best to ensure that this never happens? Otherwise it will all begin to look increasingly familiar, normal, mundane.
SLH
Buy Days Of Hate #1 and read the Page 45 review here
Robert Moses – The Master Builder Of New York City s/c (£12-99, Nobrow) by Pierre Christin & Olivier Balez…
"Have no
fear of change as such and, on the other hand, no liking for it merely for its own sake."
– Robert Moses.
"Cities have the capability of providing something for everyone, only because, and only when, they are created by everybody."
– Jane Jacobs.
To build something truly epic in scale, grandiose in both concept and construction, you first need to have a vision, then the indomitable will to carry your plans to completion over a vast stretch of time, no matter what the obstacles or difficulties you encounter. Clearly then, you have to be single-minded, perhaps to the point of being bloodily so, both in terms of your certitude in the face of dissent and disagreement from others, and also in terms of the sacrifices you are prepared to make, on your own part, but also what you will put others through, just to achieve your aims. Robert Moses, a man I would imagine very few of us have ever heard of, was just such a man.
For a period of around forty years, between the mid-1920s and '60s, Robert Moses effectively built up complete control over the planning and implementation of any and all construction in New York City be it housing, civic centres, roads, bridges, tunnels plus all the other general infrastructure that allows a city to function. He managed to head various bodies directly controlling vast amounts of income such as road tolls, millions upon millions of dollars, to effectively have the complete autonomy to create whatever he wanted.
And so he built what we know as modern-day New York. Inevitably, of course, his star ultimately began to fade, as there were the failures as well as the many successes which affected his public popularity, plus his by-then rampant ego causing as much damage for himself as anything else. There were dissenting voices all along the way, not least the strident Jane Jacobs, also accusations of racism against the black communities, but it wasn't really until the mid '70s, when he himself was in his mid-80s, that the wider public opinion, informed by a Pulitzer Prize-winning biography revealing much about the man himself, finally turned vehemently against him. Though over further time that eventually softened and a strong legacy does endure. Undoubtedly he shaped the New York we know, I think most impartial and informed commentators would agree, both for better and for worse, but what we have today is certainly his vision.
I bought this work in without knowing anything about Robert Moses; I did so entirely on viewing a few exquisite pages of the art which Nobrow had posted on social media, of iconic scenes such as Times Square and the Flatiron Building. Ironically, it was at the Flatiron Building – or the Fuller Building to give it its correct name – where a young Moses volunteered his services to the then administration in the early 1920s. It was an invaluable yet frustrating lesson of the quagmire of politics bogging down progress. Something that no doubt played its part in Moses' dogged determination to circumvent any outside interference whatsoever in his grand schemes by those with political power.
It's fitting, actually, that a biography about such an extraordinary man is illustrated so beautifully. I could talk all day about what I've learnt about Robert Moses, when I should be raving about Olivier Balez's art. It has a wonderfully elegant period feel, of a city on the cusp of radical change, both architecturally and also socio-economically with the turbulent forces of the Great Depression of the '30s rapidly followed by World War 2, then cataclysmically shaken up again by the swinging '60s.
Balez neatly encapsulates the enormous divide between the '20s era Gatsby-esque socialites colonising Long Island, oblivious and probably uncaring for the most part, of the deprivations faced by those less fortunate of their not too distant fellow citizens, whose conditions you'll clearly recognise if you've ever read much Eisner. It's also clear that a desire for social justice did drive Robert Moses to a degree, though how much of that was forged purely by his sense of disenfranchisement from the social elite by his own Jewish heritage is debatable.
But one thing is clear, he was an advocate of social change, and that change in his eyes, could only be achieved by rebuilding the city to his design. As we move forward in time, Balez captures the huge changes in the landscape: architectural, politically and socially, shifting seamlessly back and forth between the changing skylines and construction sites, bustling street scenes and character studies of the locals and bigwigs alike in an understated palette of ochre, pastel blue and other such subtle tones. This work is a fitting testament to Robert Moses, I think, because it succeeds so admirably in its epic portrayal of a man and his city, for the long decades it was simply his.
JR
Buy Robert Moses – The Master Builder Of New York City s/c and read the Page 45 review here
Punisher Max Complete Collection vol 7 s/c (£35-99, Marvel) by Jason Aaron & Steve Dillon…
Originally
collected separately as 'Kingpin', Bullseye'. 'Frank' and 'Homeless', this comes to you from the writer of SCALPED (South Dakota crime and grime in the wake of the great Sioux Nation) and the artist on PREACHER (bigger body count than Nick Cave's 'Murder Ballads' LP).
Highly recommended, then, but before we begin, I would remind you that 'Max' indicates 16+
Punisher Max: Kingpin
"My eyes, Jesus Christ… I can't… Are we going to the hospital now?"
"Sure thing, Joey."
"I don't know, do they just… just stuff 'em back in or…?"
"This is far enough."
"What? But we… but this… This isn't the hospital."
"Shut the fuck up, Joey."
<BANG BANG>
"Oh fuck, I been shot, I been shot! Oh fuck! Oh God in heaven, am I… am I dead?"
"Not yet."
Intense, non-continuity punishment to the max as we get an alternative presentation of the rise of the most brutal crime lord of all, Wilson Fisk aka The Kingpin. Except in this spectacularly brutal version of events, even by Punisher Max standards, The Kingpin is initially mythical, a non-existent figurehead created by the bosses of the various families to draw Frank Castle out into the open. After nearly thirty years of taking the war to them he's virtually brought the mob to its knees, and they've finally decided it's time to get together and get smart to take him down. Except, of course, the person who has agreed to be put in the firing line, a bodyguard for one of the bosses, has his own ideas which include that actually being the Kingpin might prove rather rewarding. So as the bosses are playing their game against Castle, little do they realize they're also fighting a war from within against Wilson Fisk until it's far too late to do anything about it.
Fantastic black humour throughout from Jason Aaron, but make no mistake: this is serious stuff, complemented by some squeamishly fiendish finger-chopping, handsaw-wielding, head-squishing, eye-popping, gruesome art from Dillon. Both are on top form, combining to produce a very enjoyably dark tale. And just when you're feeling all sad because it's come to an end, yet another favourite villain with an eye for the target is introduced in the final panel promising an even bigger body count next time.
Punisher Max: Bullseye
"But, how did you…?"
"Your Russians should've never let me through the front door. Doesn't matter if I'm unarmed or not. Hell, I could kill you with this toothpick. See?"
"AAAH!"
"Don't be an idiot. I can't kill you with a toothpick. But I can with this…"
BANG!
After the über-intense retelling of the rise to power of one Wilson Fisk (thinking about the rats scene still gives me the shivers), this equally relentless and brutal volume opens with the new Kingpin of crime looking for some heavy firepower to take Frank Castle out… before the Punisher gets the chance to take him out. Enter Bullseye, here reworked as a rather more disturbingly realistic – though no less psychotic – costume-free hitman for hire with a somewhat… unorthodox approach.
Rather like a method actor, Bullseye feels he can't undertake the act of killing Frank until he understands what makes him tick, and to do so he needs to 'become' the Punisher. This includes kidnapping a mother and her two children (after having shot the father) and taking them to Central Park to be massacred by some of the Kingpin's lackeys in front of Bullseye whilst they're all 'enjoying' a lovely picnic. Unsurprisingly it doesn't work, and the Kingpin begins to increasingly question the wisdom of employing an even more unpredictable headcase to rid himself of the one who's on his case. Mesmerised by Frank's relentless killing ability, Bullseye begins to fall almost in spiritual love with his quarry, and becomes all the more determined that he has to be the one to kill him.
Whilst no one should be surprised that someone writing something as downright mean and moody as the brilliant SCALPED can produce the incessant, ever more innovative violence that should always be on the menu for this title, it's great to see Jason Aaron ladles out the sick humour with just as much gusto as Ennis ever did, which combined with the foil of Dillon's artwork always serves to make Punisher Max a dish best served… from behind a bulletproof serving hatch.
Punisher Max: Frank
"I don't know at exactly what point I first became what it is that I am now.
"Maybe it was Vietnam. Maybe it was that day in the park.
"Or maybe I'd been that way all along.
"All I know is, once I finally embraced it, I quickly realised…
"I was never going to stop."
Okay, it is official that Jason Aaron has now matched Garth Ennis' previously peerless PUNISHER MAX run. This follows straight on from last volume's epic physical and psychological confrontation with Bullseye and sees a battered and broken Frank cooling his heels in the State Penitentiary. As he's laid up in the hospital wing, word spreads of his incapacitated condition and all the cons start sharpening their shivs and daring to dream about becoming a living legend by claiming the biggest scalp of all.
Meanwhile, as Frank's body heals, he finds his mind wandering to his last days in 'Nam after the climatic end to his third tour of duty in the hellhole of Valley Forge, and his subsequent attempt to return to civilian life before he lost his entire family in Central Park. As intense as Ennis's 'Born' in PUNISHER MAX VOL 1, this is Aaron's attempt to further add to the mystery behind the transmogrification of Frank Castle into the killing machine feared, and maybe even a little revered, by the underworld. There's a truly shocking moment too when, just before the fateful carnage in the park begins, we hear Frank's final words to his wife.
Punisher Max: Homeless
A fitting conclusion to Jason Aaron's non-continuity run in which pretty much everybody dies, with the body count reaching truly prodigious levels, as the Kingpin and Frank enter their mutual and most assuredly destructive end game.
JR
Buy Punisher Max Complete Collection vol 7 s/c and read the Page 45 review here
Arrived, Online & Ready To Buy!
New reviews to follow, but if they're new formats of previous books, reviews may already be up; others will retain their Diamond previews information we receive displayed as 'Publisher Blurb'.
Nenetl Of The Forgotten Spirits Part 1 (£4-99, Greentea Publishing) by Vera Greentea & Laura Muller
Nenetl Of The Forgotten Spirits Part 2 (£4-99, Greentea Publishing) by Vera Greentea & Laura Muller
Nenetl Of The Forgotten Spirits Part 3 (£4-99, Greentea Publishing) by Vera Greentea & Laura Muller
Nenetl Of The Forgotten Spirits Part 4 (£4-99, Greentea Publishing) by Vera Greentea & Laura Muller
Recipes For The Dead #1 – Dark Delight With Cranberries (£4-99, Greentea Publishing) by Vera Greentea & Ein Lee
Recipes For The Dead #2 – Apricot Asylum (£4-99, Greentea Publishing) by Vera Greentea & Ein Lee
Recipes For The Dead #3 – Steam Minted Meringue (£4-99, Greentea Publishing) by Vera Greentea & Allison Strom
Wraith: House Of Wicked Creatures (£4-99, Greentea Publishing) by Vera Greentea & Jade Mosch
The Altered History Of Willow Sparks (£17-99, Oni) by Tara O'Connor
Anti-Gone (£12-99, Koyama Press) by Connor Willumsen
Carthago s/c (£19-99, Humanoids) by Christophe Bec & Eric Henninot, Milan Jovanovic
Downward To The Earth h/c (£23-99, Humanoids) by Robert Silverberg & Philippe Thirault, Laura Zuccheri
Hellblazer vol 18: The Gift (£26-99, Vertigo) by Mike Carey & Leonardo Manco, Frazer Irving, Giuseppe Camuncoli, Lorenzo Ruggiero
The Lie And How We Told It h/c (£21-99, Fantagraphics) by Tommi Parrish
Marcy And The Riddle Of The Sphinx h/c (£12-99, Flying Eye) by Joe Todd Stanton
The Park Bench (£14-99, Faber & Faber) by Chaboute
Renato Jones: Freelancer Season 2 s/c (£14-99, Image) by Kaare Andrews
Shirtless Bear-Fighter! (£14-99, Image) by Jody Leheup, Sebastian Girner & Nil Vendrell
Green Arrow: The Archer's Quest s/c (£14-99, DC) by Brad Meltzer & Phil Hester
Amazing Spider-Man vol 7: Worldwide s/c (£17-99, Marvel) by Dan Slott, Christos Gage & Stuart Immonen, Greg Smallwood, others
Punisher vol 3: King Of The New York Streets s/c (£14-50, Marvel) by Becky Cloonan & Kris Anka, Matt Horak
Wolverine: Old Man Logan vol 6: Days Of Anger s/c (£15-99, Marvel) by Ed Brisson & Mike Deodato Jr.
X-Men Gold vol 3: Mojo Worldwide s/c (£15-99, Marvel) by Cullen Bunn, Marc Guggenheim & Jorge Moline, Mike Mayhew, Marc Laming, Diego Bernard
Sweet Blue Flowers vol 1 (£16-99, Viz) by Takako Shimura
Sweet Blue Flowers vol 2 (£16-99, Viz) by Takako Shimura
Fairy Tail vol 63 (£9-99, Kodansha) by Hiro Mashima