Featuring Rian Hughes, Jaime Hernandez, Liz Prince, Warren Ellis, more!
I Am A Number h/c (£17-99, Top Shelf) by Rian Hughes.
Riddled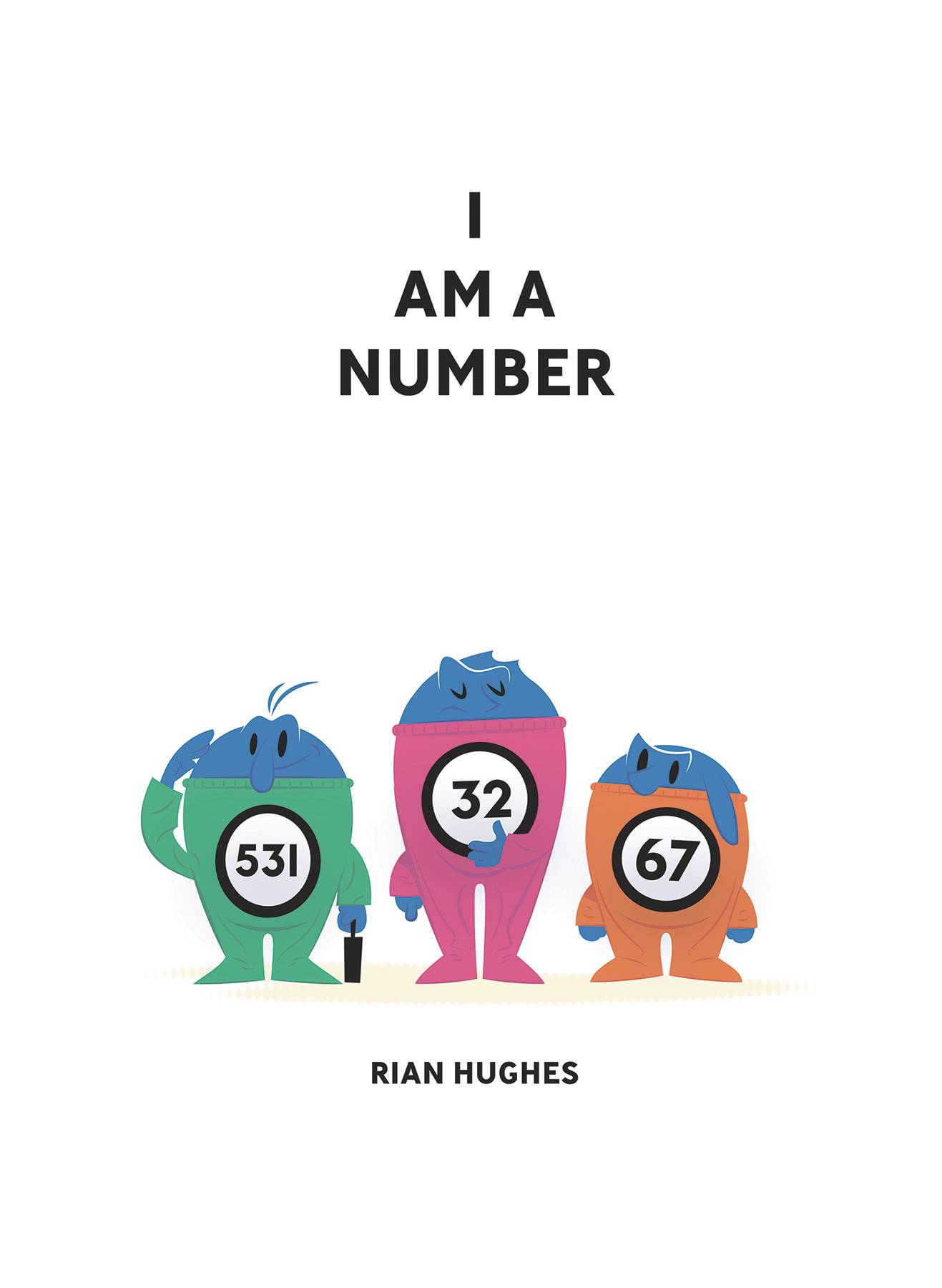 with wit and bursting with as much mischief and behavioural insight as any Kyle Baker book, this collection of short strips and cartoons is exactly the sort of the masterclass in style and colour that you'd expect from the king of comics-orientated logo design.
You're not a number, of course.
But even the most anti-authoritarian among you might be surprised at how quick we are to fall into line, and how disconcerted many become when the boundaries by which we seemingly seek to define ourselves blur, such is our obsession with hierarchy: how we rank others, how we rate ourselves, how we conform and kowtow to this constriction – consciously or subconsciously – and the ways in which we might choose to hop ahead of our given lot by making the most of what we've got.
Before really getting to satirical grips with our social ticks, Hughes begins with a relatively simple, linear demonstration with passengers sat on a bus, each wearing a brightly coloured, numbered onesie. The bloke bearing the highest ranking Number 4 demands the front seat, pushing poor 25 towards the back. Number 25 takes it out on Number 27 and so on. After all this upheaval, the story ends on an ellipsis as a bus stop is approached where waits Number 3.
I suspect that Number 37 will shortly be roused roughly from his sleep in order to stand, and while we don't see the driver's number, I bet you anything you like that it's a long one.
This is immediately followed by a cartoon of a clothes rack hanging with similarly numbered garments, emphasising the implication, in case you missed it, that this hierarchy is by no means a natural order and can be subject to change if we have the means and / or a mind to. Plenty of that will follow in the form of literary allusions, a burning of bras, and a wealthy Starlet being fitted out in a glamorous green frock adorned with a snazzy 29 by Assistant 189 and photographed by Paparazzi 311 and 512, before we flash back to the garment being fashioned by a tired and fretful 13029 in a rat-infested sweatshop.
There's one particularly poignant piece in which three kids splash happily in the mud together as naked and equal as the day they were born. Once clothes are imposed with their attendant numbers by a parent, however…
Speaking of equality, what a noble sentiment and disastrous social experiment was communism! And how rank with hypocrisy it was from the very beginning! No numbers there: instead the despot du jour proudly presides over a parade of minions obediently marching below, all of them decked out in uniforms "=" and identical to their beneficent Chairman's. No numbers, he proclaims from on high, because everyone is is "="!
On the next page he is seen waited on, hand and foot, while he watches Starlet 29 on widescreen TV. Outside the palace the clothes remain the same, but the circumstances are not so similar.
Entirely silent except for symbols, the economy of communication matches its universality, at least to those who understand Western Arabic numerals. Hughes has studied them in such depth that he has even found multiple ways to surprise us with their physical properties – their lines of symmetry, for example – when holding a mirror up to our self-esteem or the calculated connivances of those who would pull the woollen jumper over our eyes.
It always boils down to the numbers but, with a whole lot of lateral thinking, Hughes has managed to mine them for all their worth by deploying them in such different contexts that a trip to the beauty parlour results in a very different sort of make-over, and even a man in meditation, startled to hit the Buddhist jackpot, finds himself embarking on a subsequent search for further answers which may enlighten you both.
SLH
Buy I Am A Number h/c and read the Page 45 review here
Love And Rockets (Locas vol 6): Angels And Magpies (£17-99, Fantagraphics) by Jaime Hernandez.
Poor, poor,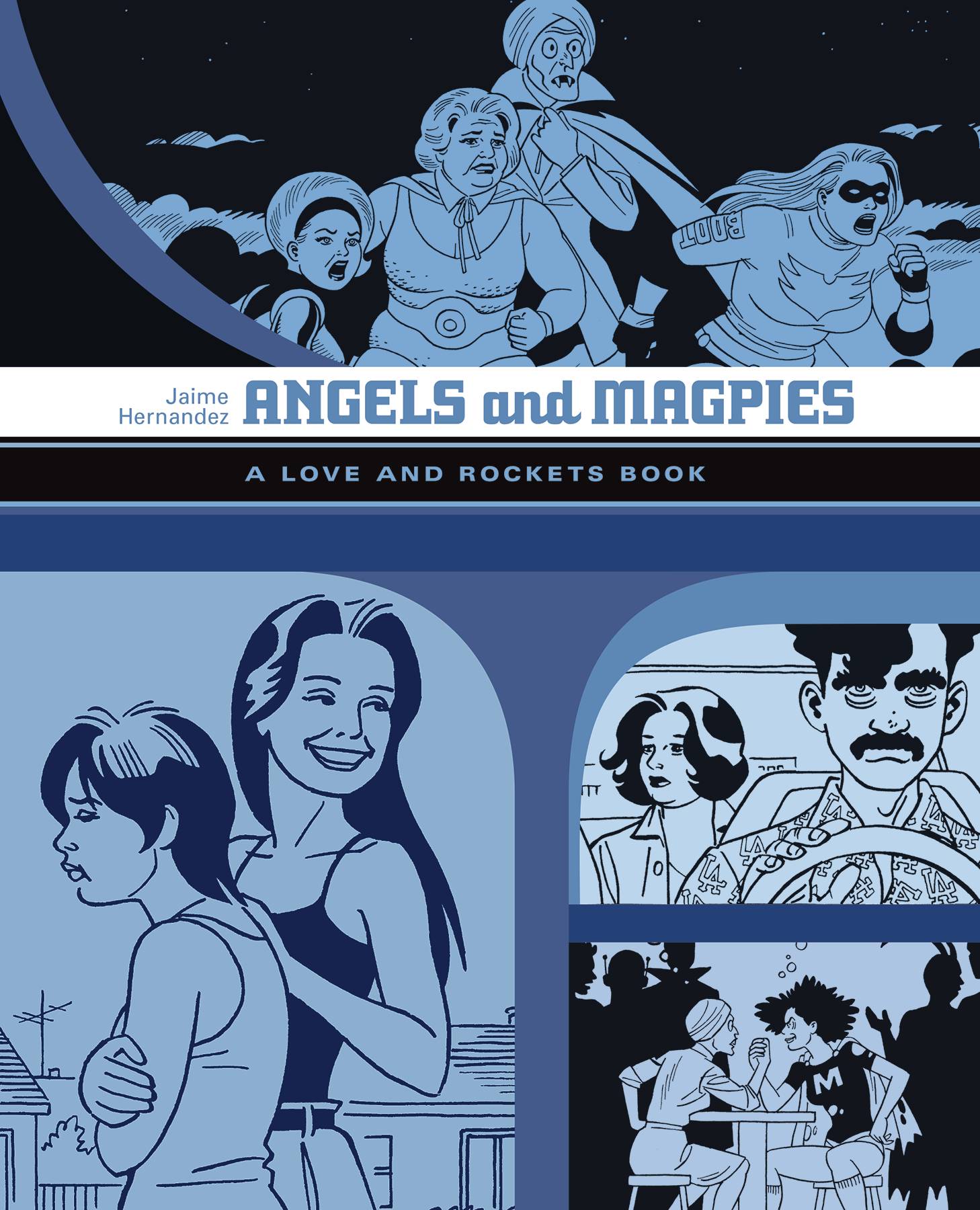 wonderful Maggie…
"You should know by now that if you've spent one fleeting moment with her, it can last with you forever."
I think Maggie may be the most thoroughly realised character in comics. So much has happened to her over the years, yet Jaime appears to have no trouble in unearthing more history still, while moving her stoically endured, arduous journey forward.
Moreover she remains a beautiful, graceful woman in what I imagine to be her mid-to-late forties. It's a soft, vulnerable and everyday beauty. Her hair is more conservative now but it still billows in any breeze, and there is a slight bulge under the chin, yet she carries it all off far more effortlessly than she imagines she does.
I love her comfortable party shirt which Hernandez checks without any account as to its folds, just like our Mark used to.
She has no shortage of suitors – here Reno and Ray – but it never quite works out for her. Indeed she is oblivious to Reno's repeated references to his very first kiss which came from Maggie and which has stayed blazed into his brain forever.
The opening dream sequence is a perfect piece of psychology. In it Maggie finds herself lying face up and naked on a waxy leaf as broad as her outstretched body, exposed to the sun thousands of feet above an endless ocean.
Initially her expression is blissful until she becomes conscious of her precarious situation and vertigo kicks in. She tries to hug the leaf with her back, too fearful at first to risk a fall by finding the better purchase which being on her front would afford her. Gradually she gains enough courage to ease herself onto her stomach and that's all she can manage for a while.
"Then I figure I must have had the courage to get myself up there, so I should be able to get down. Slowly, I move my way backwards to the stem. At least on the stem I feel like I have something to hold onto."
She wraps her legs as well as her arms round the stem.
"The stem feels spongy, yet sturdy so I start to feel more confident as I inch my way down. Even if it takes a lifetime to reach bottom, at least I won't fall to my death."
Of course, the further she slides down, the broader the stem, until its radius is wider than her outstretched arms…
So, 'The Love Bunglers' itself takes place in the present with Maggie making a play to get back into the mechanics business and Ray wondering if he wants to get back into the Maggie business while Reno watches protectively over her. Unsettlingly there is also a stranger whose interest in Maggie borders on stalking.
Within the main body, however, lie two gut-punching flashbacks to a period in Maggie's childhood when her difficult mother moved the family from Hoppers to Cadezza in order to be nearer to Maggie's father whom they were only seeing one weekend a fortnight. Cadezza is where her Dad works. Maggie imparts her gloom at his upheaval by letter to Letty, the friend she left back in Hoppers.
We don't actually see Letty, though we will in the second flashback seen from Letty's point of view entitled 'Return For Me' when Maggie has indeed returned to Hoppers, becomes a mechanics prodigy, and Letty is trying to rekindle their friendship – an effort frustrated by Maggie's mother. It ends with an unfinished sentence and one of the most arresting final panels in comics which rendered me speechless for hours.
This is as nothing however, to what happened in Cadezza; specifically events which Maggie remains ignorant of even to this day. When reviewing that sequence which originally appeared in LOVE AND ROCKETS: NEW STORIES #3 our Tom very wisely eschewed giving you any details at all.
"Suffice to say" he wrote, "that once you have got to the end, you'll go back looking for – and finding – the subtle connections Jaime weaves into the panels. It's in the body language of the characters, and in their facial expressions… You just need to look at how he has his characters interacting, how he subtly directs the reader's eye using the direction the characters are looking in."
Also, I would suggest, what one is wearing and how he is wearing it.
"Any aspiring comic creator would do well just to study his panel composition [and] how he foreshadows events without hitting the reader over the head with it. There's a great example with Maggie's little brother Calvin watching a marching band with the baton-twirling leader, then a full seven pages later playing on his own at being the baton-twirler before a fairly significant event happens; and the baton still has a leading role to play."
Wow. I spot a scrying pool of prescience and at least two major understatements there.
So that's THE LOVE BUNGLERS – almost certainly my favourite LOVE AND ROCKETS material of all time – which you can buy as a separate hardcover and is as good an introduction as anything else. To considering a body of work this vast "daunting" is entirely understandable. Entirely! But it is as accessible and completely self-contained as, say, Gilbert Hernandez's MARBLE SEASON which was an original graphic novel rather than a collected edition.
In addition, this collection includes 'Gods and Science: Return of the Ti-Girls' (Jaime's unique, ever so quirky take on the superhero genre of yore which, TBH, isn't my thing) but also, far more interestingly, his 2006 New York Times serials 'La Maggie La Loca' / 'Gold Diggers of 1969' in which Maggie is, respectively, independent, approaching forty and in single digits, living under the rule of her somewhat ill-tempered pregnant mum. The latter is a straightforward black and white comic, each page told in two tiers of three panels each and not a million miles from Charles Schulz in aspect. The latter's pages are told in three tiers with narration introducing each silent panel, and tone which I think was originally colour. It has all the trappings of an exotic mystery adventure story – with nocturnal excursions on a sequestered island inhabited by a former acquaintance who in some circles is regarded as a peerless superstar, and reached only through covert clues and assignations – all grounded by the calm and colloquial recollections of a comparatively mundane Maggie.
As if Maggie, or Maggie's life, could ever be mundane! Oh, the many worlds which Maggie has inhabited…
SLH
Buy Love And Rockets (Locas vol 6): Angels And Magpies and read the Page 45 review here
Alone Forever: The Singles Collection (£8-99, Top Shelf) by Liz Prince.
Brief bursts
of autobiographical self-denigration as Liz Prince plays the dating game, pitching woo at boys with beards and losing 13-nil.
Comedic gold, she mines both her disasters and non-starters for all their considerable worth, whether it's online with OK Cupid or hanging out in bars with male mate Farhad, effectively cock-blocking each other. Of course people think they're a couple. It seems she can't win, even when approached by one of her readers – one of her bearded readers! – in an art store while obsessing over sketchbooks and pens with one of her female friends who has a flash-thought:
"Oh no! Do you think I'm dyking this up?"
"Hmm."
That's a beautiful piece of cartooning, Liz frowning, fingers on chin, giving the matter the most careful consideration. So is this, with poor Liz left lank at the bar, shouting after a woman who's already made her mind up:
"You remind me of my gay friend Jess: she's short, has glasses, dresses like you… She only falls for straight girls, though."
"Oh, then she'd probably love me."
"No, I said she likes straight girls."
"I… but I am… HEY! CAN'T YOU AT LEAST HAVE THE DECENCY TO STAND HERE WHILE I WEAKLY DEFEND MY SEXUALITY?!"
Men, of course, prove utterly useless, either full of their own self-importance, utterly unable to make decisions, conversation or even the first move. Actually that first move thing seems more like a power-play.
Here, however, is the shocking truth: Liz Prince actually gets some! She gets quite a lot! She gets, dates, snogs and shags! And they make take six minutes of hilarious, hair-tearing wait, but she also gets knock-out replies to flirty texts. Every second of that sequence is emotionally infectious for Prince's lines are as expressive as anyone's in the business, her body language adorable whether she's feeling foolish, deflated or glowing with girly glee.
She doesn't give up, either. There's an absolute champion of a strip in which she appropriates Charles Schulz's famous American football routine whose humour grows cumulatively on each reprise. In it Lucy cajoles a reluctant Charlie Brown into kicking the ball she's holding up for him. He's reluctant because he remembers that each time he gives in to her temptation and has a go against his better judgement, Lucy whips the ball away like someone pulling the rug from under you. Here the roles are reversed, for it is Liz being goaded by Charlie Brown as Cupid.
"Don't you want a chance at love?"
"Every time I take a kick at love you pull it out from under me!"
"Eventually you'll make contact. Everyone does. Odds are this next kick will be the one. I'll do my part and hold it down."
"He's right. This has to be the time I kick that old ball. Lucky at love! SO HERE I GO!"
Hahahaha! Yup.
What cements this book (from the creator of TOMBOY, WILL YOU STILL LOVE ME IF I WET THE BED?), BE YOUR OWN BACKING BAND and writer on COADY AND THE CREEPIES) is that there is, of course, a great deal of truth behind all this mirth – the recognition factor. But also it's the wit in its deployment as above, and so below.
After yet another unsatisfactory – and this time quite protracted courtship crushed by unanswered emails and texts – Liz Prince is reading The Book of Love while considering her options.
"It is hard to say "Bye" when someone asks you to give them a second chance. But part of growing up is learning to remove yourself from undesirable situations."
At the same time her bleating heart is far from still, fighting the wastrel's corner by reminding Liz of how good it once was. She snaps the book shut on it, silencing it, then opens it up to reveal her heart, dead as a doornail.
"When you're not on the same page, it's best to just tear that page out and move on."
As she tears that page out there is a sound effect that doubles as a death knell:
"RIP"
And that's why I love Liz Prince
SLH
Buy Alone Forever: The Singles Collection and read the Page 45 review here
Dark Avengers By Bendis Complete Collection s/c (£31-99, Marvel) by Brian Michael Bendis & Mike Deodato, various.
"Avengers.

"It's time for your meds."
I believe that sums up this beautifully.
With plenty of dark humour to relieve the edge-of-your-seat tension – and two particularly furrowed, perspiring brows – it's like watching the runaway train heading for the collapsed bridge over a very deep canyon whilst impending-calamity piano music plays at ever-increasing speed and volume.
It's a book about manipulation, sanity and power, starring the most sociopathic individuals in the Marvel Universe, all led by the least stable of the lot.
It's a direct follow-on from Warren Ellis & Mike Deodato's THUNDERBOLTS (recommended for its claustrophobic, subterranean sweatiness) which itself was an immediate result of Marvel's original, catastrophic CIVIL WAR.
Traditionally THE AVENGERS is Marvel's flagship title, its lofty, squeaky-clean team consisting of the most altruistic available and closely vetted to answer that vocational call. This is its juicy, perverse antithesis, its ultimate corruption, successfully defiling all that should be dignified, honourable, above board and working towards the public's best interest. The closest equivalent I can offer you is America's real-life White House 2017 commanded by its blatantly lying Loony-In-Chief. He's added a new meaning to the term "self-service".
Behold the precognitive powers of Ellis and Bendis, for the parallels are striking!
Norman Osborn – the monomaniacal Brillo-bonced businessman, nightmare and seething cauldron of insanity also known as the Green Goblin (who once murdered a woman called Gwen Stacy) – has risen to the socio-political top. Media-savvy, he's duped the world with an entirely unexpected conquest and gone on to persuade the public that he is reformed, so all his sins have been not only forgiven but officially pardoned. He's currently and legitimately in charge of US national security plus all things superhuman. He has even created his own team of fiercely formidable Avengers.
They're both fierce and formidable because they are walking, talking monstrosities for whom shoot-to-kill is not just a default setting, it's a pastime and a pleasure.
These criminals – lascivious, devious super-criminals – are all seemingly in thrall to Norman Osborn, although some of them may be making their own predatory moves.
We have Venom posing as Spider-Man, Bullseye posing as Hawkeye, Moonstone as Ms. Marvel, Logan's son as Wolverine, and Ares the god of war simply because there is fighting involved.
The Sentry remains because the Sentry is mentally and emotionally vulnerable and Osborn has been 'courting' him, for want of a better word. They're both in possession of split personalities so Norman understands. Norman can reach him. Norman has him under control. Norman has the ultimate weapon at his side for Bob Reynolds, the Sentry, could black out the sun.
It's not your normal exchange of super-powered fisticuffs by any stretch of the imagination. There are blistering battles and pyrotechnics aplenty during which Deodato excels with a grim, visceral splendour, but they aren't the traditional stand-offs of power sets for we veer into the Biblical and far, far beyond. The curved hips which Deodato likes to emphasise (c.f. Michelangelo's s-shaped teenage lads unfathomably cavorting naked behind 'The Doni Madonna', 1503) are actually apposite here, for Ms. Moonstone is sexually objectifying herself in order to secure her own nocturnal power base within the ranks.
I believe this is where S.H.I.E.L.D.'s former accountant Victoria Hand first appeared, here promoted to the equivalent of Norman Osborn's Chief Of Staff, determined to keep a lid on the multiple bubbling cauldrons and – to her credit (and Bendis's) – doing a commendable job of it under the intimidating circumstances. She doesn't fluster, she doesn't panic; she stands her ground and is not without resources of her own. Again to Bendis's credit, her ultimate fate at the end of this day is far from predictable.
For we all know Norman's machinations are going to implode spectacularly at some point, and we all know that hubris will be his undoing; it's merely a question of just how much chaos and misery he can cause in the meantime. SPOILER: the answer is plenty.
This book mirrors Bendis's NEW AVENGERS VOL 4 and dovetails directly into his seven-year endgame called SIEGE
SLH
Buy Dark Avengers By Bendis Complete Collection s/c and read the Page 45 review here
Frankenstein's Womb (£4-99, Avatar) by Warren Ellis & Marek Oleksicki.
1816,
and Europe is shrouded under a volcanic winter caused by the eruption of Mount Tambora. On their way to meet Lord Byron at Lake Geneva are Mary Wollestonecraft Godwin, her future husband, Percy Bysshe Shelley, and her step-sister, Claire Clairmont, who is pregnant with Byron's child. Thanks to Shelley's peculiar line in conversation, the carriage is feeling quite cramped.
Still in Germany they pass by the ruins of Castle Frankenstein where Mary persuades them to stop. Supposedly abandoned, she finds there a creature born of her own fertile imagination who shows her the past, tells of her future, talks of love, live, death, and introduces her to a modern defibrillator.
It's a neat way of providing a little history lesson à la CRECY, for they were an incestuous lot, utterly fascinating and pretty much doomed.
There's some atmospheric art too, where you get your money's worth of ink in the form of heavy shadows and good old-fashioned texture on the castle's bare stone walls or on the shore under a tempestuous sky.
SLH
Buy Frankenstein's Womb and read the Page 45 review here
Aetheric Mechanics (£4-99, Avatar) by Warren Ellis & Gianluca Pagliarani.
A 44-page
comic with no more than five separate scenes, but what five scenes they are!
With his crisp, intricate art, Gianluca Pagliarani's has nailed each environment asked of him from the Royal Hospital Chelsea to high above the Thames, down in the old brick terraces and inside a meticulously appointed English drawing room with its ornate tables, chairs and bookcases on a period carpet.
The period being 1907, as Captain Doctor Robert Watcham demobilises after barely surviving a stint across the Channel on the warfront in Ruritania with its monstrous, humanoid war engines, and returns to his digs in a house shared with a certain Sax Raker, gentleman detective and loquacious stickler for detail. He's ruminating on his current case of The Man Who Wasn't There, a man seen by scientists flickering in and out of vision like a faulty transmission as he murders an expert in Aetheric Mechanics. But who is The Man Who Wasn't There? And why do those chasing him seem strangely familiar?
Concise and clever, it's a cool little number with a very different voice for Ellis as he affects an upper crust Queen's English so convincing you'll be hearing it in your head.
With additional WWI connotations, this is another slice of steampunk to set alongside Ellis' CAPTAIN SWING, or indeed the lush, album-sized CASTLE IN THE STARS VOL 1 by Alex Alice which also involves that fabled fifth Greek element, aether.
Our second image here isn't included (a similar shot "taken" 10 minutes later is, instead) but I thought you'd like to see it.
SLH
Buy Aetheric Mechanics and read the Page 45 review here
Wonder Woman: The True Amazon s/c (£14-99, DC) by Jill Thompson…
"Diana grew
from adorable baby to lovely girl as if overnight.
"The tears of the Gods had enchanted this girl and she possessed beauty, intelligence, strength and wondrous powers.
"Handsome and graceful with thick flowing hair, she mesmerised all who met her.
"Weavers spun ethereal threads and tailors stitched night and day to design her the most delicate of robes.
"Clever thinkers invented machines to amuse her.
"Sweet delights were served to her on golden platters at every meal.
"Musicians composed melodies to serenade her as she played or slept.
"Gardeners grew the flowers that were most pleasing to her nose.
"Theatrical performances were created in her honour…
"… and no one ever told her "no.""
Oh dear.
"So the beautiful princess who was so doted upon not only was striking and elegant, but also conceited and arrogant, as well."
Yes, before the Amazonian Wonder Woman who – as Jill so eloquently puts it towards the conclusion of this exquisitely beautiful exploration of Diana's early years – 'wanders the world, defending the weak, righting wrongs and fighting evil', there was a right over-indulged spoilt little madam. Which in a small child is perhaps mildly amusing, at times at least (especially if they're not your own), but not in a full-grown woman.
No, such character traits, if unchecked or unameliorated by adulthood, are obviously going to lead to the tears of many a person, not just the brat themselves when their every whim isn't catered for instantly. And so it proves here with disastrous consequences for the delightful denizens of the hidden isle of Themyscira, as there are some very valuable life lessons which are belatedly going to have to be learnt the hard way…
But first Jill recounts just how the Queen Hippolyta and her Amazons came to sequester themselves away from mankind, Hippolyta's poignant longing for a child, and the Gods' answer to that fervent clarion call of desire. It's a version that will satisfy the comic purists and the scholars of classics alike, told as it is with an elegance and grace to match Jill's glorious watercolour painted artwork, particularly the Mediterranean palette of olive, terracota and aquamarine divinely invoking the heady sensations of an endless summer in paradise. Why would anyone leave such a veritable heaven on earth to brave the base outside world with all its sins and suffering…?
Fans of Jill's SCARY GODMOTHER and BEAST OF BURDEN material, and also her take another comics classic, the Sandman and his family, with the hilarious THE LITTLE ENDLESS STORYBOOK and DELIRIUM'S PARTY, will know precisely what to expect. But for people, perhaps Wonder Woman fans, new to Jill's majestic touch with the brushes and indeed lyrical weaving of words, I think it will be quite the revelation. There's a fantastic few extra pages of process (I would have loved more!) at the end where she takes us through from pencils to finished colours on a few pages, and it's quite the visual feast.
JR
Buy Wonder Woman: The True Amazon s/c and read the Page 45 review here
Arrived, Online & Ready To Buy!
New reviews to follow, but if they're new formats of previous books, reviews may already be up; others will retain their Diamond previews information we receive displayed as 'Publisher Blurb'.
Saga vol 8 s/c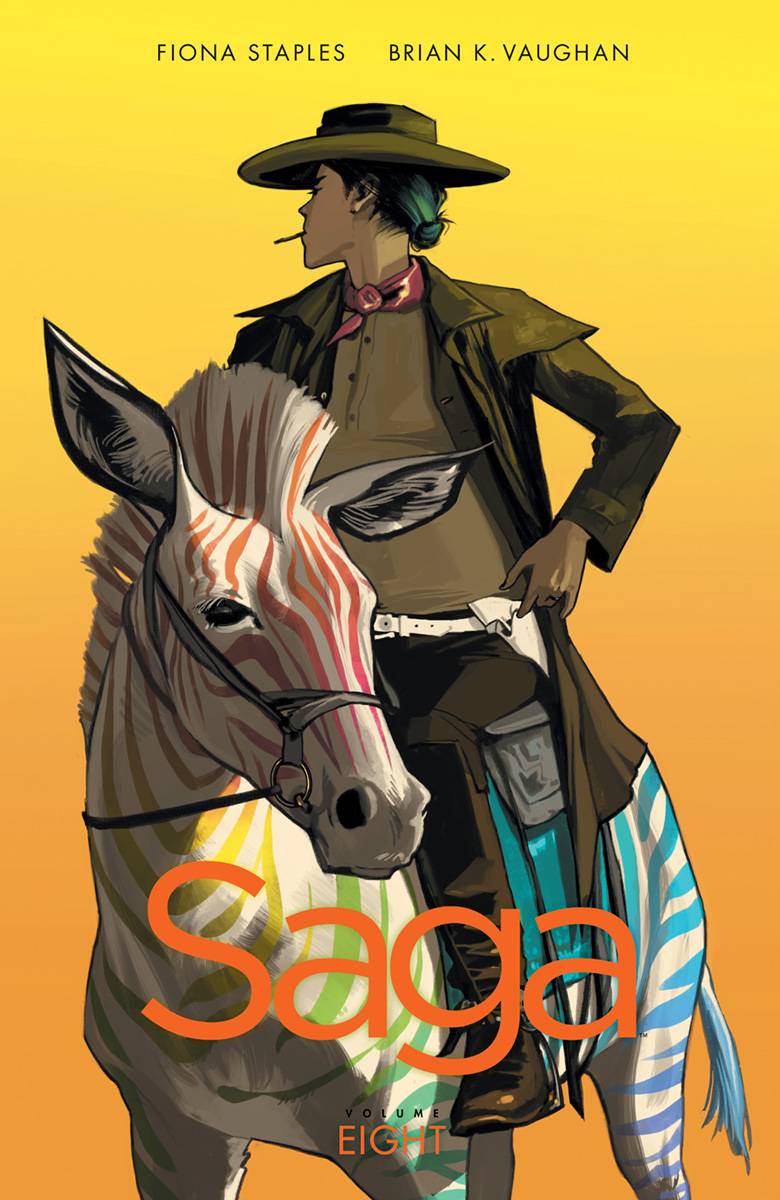 (£13-99, Image) by Brian K. Vaughan & Fiona Staples
Dragonseed h/c (£22-99, Humanoids) by Kurt McClung & Mateo Guerrero
Tamsin And The Dark (£9-99, David Fickling Books) by Neill Cameron & Kate Brown
The Silence Of Our Friends (£8-99, Square Fish) by Mark Long, Jim Demonakos & Nate Powell
Injustice Ground Zero vol 1 s/c (£14-99, DC) by Christopher Sebela, Brian Buccellato & Pop Mhan, various
Black Bolt vol 1 (£15-99, Marvel) by Saladin Ahmed & Christian Ward, Frazer Irving
Iceman vol 1: Thawing Out s/c (£14-50, Marvel) by Sina Grace & Alessandro Vitti, Edgar Salazar, Ibraim Roberson
Venomverse s/c (£14-50, Marvel) by Cullen Bunn & Iban Coello
Inuyashiki vol 10 (£10-99, Kodansha) by Hiroya Oku
Spider-Man Deadpool vol 4: Serious Business s/c (£14-50, Marvel) by Joshua Corin & Will Robson
Hal Jordan & The Green Lantern Corps vol 4: Fracture s/c (£17-99, DC) by Robert Venditti & Ethan Van Sciver, Rafa Sandoval, Jordi Tarragona
Generation Gone vol 1 (£15-99, Image) by Ales Kot & Andre Araujo
Kill 6 Billion Demons vol 2 (£13-99, Image) by Tom Parkinson-Morgan
Flowers of Evil Complete vol 1 (£19-50, Vertical) by Shuzo Oshimi
Thanos vol 1: Thanos Returns s/c (£15-99, Marvel) by Jeff Lemire & Mike Deodato Jr.
Thanos vol 2: The God Guarry s/c (£15-99, Marvel) by Jeff Lemire & Germen Peralta
Hard Boiled h/c (£17-99, Dark Horse) by Frank Miller & Geof Darrow, Dave Stewart
Rick And Morty (UK Edition) vol 5: Tiny Rick (£17-99, Oni Press) by Kyle Starks & C J Cannon, Marc Ellerby
Judge Dredd Classics: The Dark Judges (£17-99, IDW) by John Wagner, Alan Grant & Brian Bolland, various
First Year Out: A Transition Story (£15-99, Singing Dragon) by Sabrina Symington
Dark Judges Book 1: Fall of Deadworld h/c (£18-99, Rebellion) by Kek-W & Dave Kendall