Marazano, Luo Yin, Kieron Gillen, Jamie McKelvie, Matt Wilson, Ales Kot, Andre Araujo, Jeff Lemire, Dustin Nguyen, Dean Ormston, McClung, Guerrero
The Wicked + The Divine vol 6: Imperial Phase Part 2 s/c (£14-99 each, Image) by Kieron Gillen & Jamie McKelvie with Matt Wilson.
"Mortals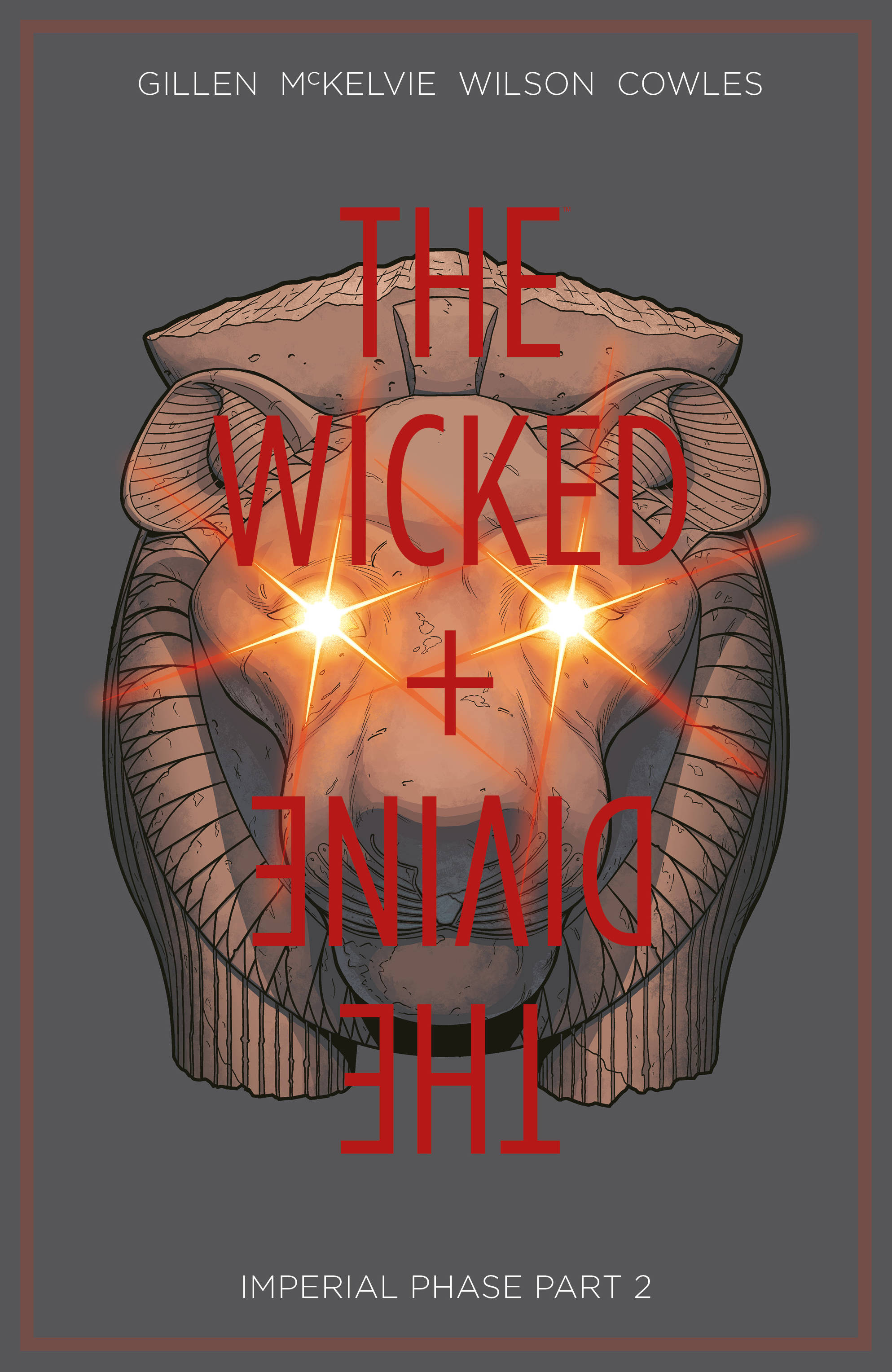 have always shown more interest in gods ever have in mortals.
"Generally speaking, gods desire nothing but adoration."
Every 90 years a Pantheon of a dozen gods is born anew, activated and guided by ancient Ananke who finds them in overwhelmingly young individuals previously oblivious to their potential or fate. This is to be loved and be hated and to shine like stars and – within two years – to be quite, quite dead.
In this modern incarnation one element in that equation has now changed irrevocably, so that none of that sentence remains necessarily true, except this: they were each born anew. They retain none of their previous experience on which to formulate priorities or base a sense of perspective.
Now a balance has been broken, the trajectory changed. Warnings have gone unheard or unheeded. Those who are left behind are flailing in their newfound freedom, some falling into unthinking, untempered hedonism regardless of the cost to others' hearts, and fighting each other because they can. And because power.
All of that power is intoxicating and addictive, both to witness and to wield.
Even the mildest among them are flashing their metaphorical teeth.
Also, can you imagine having been someone else? Perhaps you once were. Perhaps all of us once were, to some extent, after a teenage transmogrification, but few of us have survived this sort of schism.
That is one of the keys to Kieron's success in making this pantheon of elevated individuals so very familiar and therefore intriguing: they are as emotionally vulnerable as those of us less exalted. Conflicts aren't just battles you have with other people.
That is radically different to the way I've previously sold THE WICKED + THE DIVINE both on the shop floor and in extensive reviews. Do please check those reviews out if you are new and intrigued, because by this point we are trying our best to avoid spoilers while still luring new readers in to what is already one of our biggest selling series of graphic novels alongside SAGA, LAZARUS and anything by Brubaker & Phillips like CRIMINAL, FATALE, THE FADE OUT or KILL OR BE KILLED (all reviewed too).
Speaking or Rucka and Lark's LAZARUS, however, that series contains within (I will not say where) the most successful sleight of hand I have ever encountered in comics so that, upon reading the final page of volume four, you will be compelled to re-read everything up to that point. Similarly (similarly – ha!), THE WICKED + THE DIVINE contains a dozen such sleights of hand to this date. Let me elucidate without explaining: there are a good half a dozen sequences which, as you read them, you will take as read; but what you have witnessed is not what occurred. Then there's the retrospective reveal and each one holds water: hindsight can be a miraculous thing.
However, let us return to power as "intoxicating and addictive, both to witness and to wield".
None of this intoxication – of modern mortals relishing gods in their midst, or of these petulant powerhouses getting high on their own supply – would be remotely credible were it not for McKelvie and Wilson delivering on the awe-inspiring wonder front.
Between them they have managed to channel what is chemically psychotropic into its visual equivalent and equal. I once saw Goldfrapp perform while I was stone-cold sober, yet I could swear that I had necked ecstasy on top of elephantine quantities of speed. So it is here: what McKelvie and Wilson present on the pages is mind-altering and mood-altering, yet legal.
Almost every volume of THE WICKED + THE DIVINE comes with an extensive back-matter process piece wherein you are given a glimpse as to how the creators between them conjure (and I use that word with precision) effect after effect whose affect is nothing short of alchemical.
It's far easier to talk of this in terms of adrenaline effect than it is to specifically parse or prise apart its constituent catalysts. Or at least, it is for someone like me: I'm a writer, not an artist. I'm still reeling from the day-glo.
But its day-glo is colour-coded, for example, to each individual's propensity or power set, subconsciously informing you whence it came: its instance of origin. See Dionysius's crowd-leap of faith.
Letter artist Clayton Cowles manages much the same thing in his cuing and so cluing: each individual has a unique signature speech which leaves the combined creators room to keep the free-flow show rolling without having to provide expository asides that would otherwise ruin your immersion.
What I am trying to impress upon you is that this is the most modern of multi-creator comics. It is all-embracing and all-inclusive not only in terms of its protagonists and audience, but in its cooperative cohesion when it comes to sequential-art storytelling: each element is understood as equally important and each uniquely-skilled contributor invited to give of their therefore informed and very best.
This is generous storytelling. It reaps rewards.
Which would be a fine note on which to finish any review but there's a couple of action panels that I am particularly fond of this issue, when it is usually the nuanced conversations which I enjoy most, accompanied by equally subtle shifts in expressions which are evidence of an actor/director (the best artists are both) at their peak.
In the first, lightning strikes, in the form of Baal punching down on a bed. A split-second earlier, on it lay Sakhmet and Persephone. Persephone is thrown back by the force, but she wasn't Baal's target: his fist was aimed squarely at Sakhmet. Sakhmet is a lion-warrior goddess and I don't believe that Baal was downwind. Such are her instincts and agility that she is already back-flipping behind Baal like the lithest of Olympic-level athletes on high-jump. That image alone is a triumph of action/reaction kinetic form and balletic grace, never mind its immediate, skin-shredding successor.
But that's not actually my point. My point is the contrast between that and a panel in the second, earlier chapter when another woman is discovered by Baal in bed, dressed in tribute to Sakhmet. She is beautiful in her own right, but neither her build nor her poise possess any of the prowess that it would take to elude a similar strike. Nothing needs explaining: the visual is all you need to alert you in an instant to this mistaken identity.
Still, she does have quick enough wits to ask for an autograph.
SLH
Buy The Wicked + The Divine vol 6: Imperial Phase Part 2 s/c and read the Page 45 review here
Descender vol 5: Rise Of The Robots (£14-99, Image) by Jeff Lemire & Dustin Nguyen.
"You are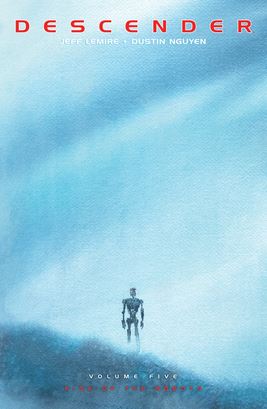 a liar, Quon. You are a good liar, but a liar nonetheless."
TIM-22 is right, of course: Dr. Quon's entire career has been built upon one key deceit.
"Robots never lied before you created the TIM series… before you gave robotkind the upgrades that made us more human and more like you."
Dr. Quon's stellar success followed his creation of the companion machines called TIM, each resembling an angelic human boy. It was a huge advance in robotics which he claimed as his own, but he stole the technology; and when the celestial, planet-sized Harvesters arrived ten years ago to wipe out vast swathes of organic life and so catalyse a war on all robots, it was discovered that they bore the same machine codex – the robotic DNA – of the TIMs.
We still don't know why.
This is the penultimate volume.
Please see previous reviews of DESCENDER for more. The watercolours on the inside are every bit as beautiful as the covers.
SLH
Buy Descender vol 5: Rise Of The Robots and read the Page 45 review here
The Dream Of The Butterfly vol 1: Rabbits On The Moon (£11-99, Lion Forge) by Richard Marazano & Luo Yin.
"Once upon
a time, I dreamt I was a butterfly. Now I do not know whether I was then a man dreaming I was a butterfly, or whether I am now a butterfly, dreaming I am a man…"
– Zhuangzi
It remains to be seen whether that famous, quizzical, open-minded perspective – quoted halfway through this first beautiful blizzard – carries any pertinence to the proceedings whatsoever, but if in any chaotic doubt, quote someone profound: it looks ever so impressive.
This too looks ever so impressive from cover to cover and the first three sky-bright, green-grass pages will have young eyes hooked. It's all exceedingly Hayao Miyazaki, isn't it? Those landscapes are lush!
It is quite evidently Spring, with pink cherry blossom blowing on the breeze before being buffeted further, almost psycho-kinetically, by Tutu's first temper tantrum. Upon her second outburst at the position she has found herself in – away from home, her potential return coming only at a cost – those feathery flakes are then joined in the cerulean splendour by a cloud of radiant white butterflies on some elusive, migratory path. This isn't accidental, but it is all quite, quite magical.
I love that the three-page sequence begins looking up from the verdant meadow as if kneeling (c.f. Monet's 'Woman With The Parasol') with majestic, snow-capped mountains rising in the distance under breathless, billowing clouds, and concludes in gazing down into the valley town whither she and her talking cat must evidently, so reluctantly return and such is the delicate detail that it almost demands a double-page spread of its own:
A clean and crisp island citadel surrounded by deep blue water, joined by bridges to its adjacent concentric rings and other outlying areas, all encompassed by more glacial mountains but, in between, similarly sweet Spring pastures.
Six months earlier, and what Tutu has accidentally tumbled into instead is a city, albeit extraordinary, which lies gripped under a bizarre dictatorship and in an eons-old winter, whose consequent, insatiable demands for heat energy has enslaved so much of its population to a daily grind of, umm… hamster-handling.
I'm not even kidding you.
Earlier that day, on a bright winter's morning:
"Hurry up, children. Today we're going to explore outside…"
Out into the snow dash a dozen children lead by their teacher. They are excited! Strangely, they have left Tutu behind. She emerges from her comfy bed in the shared dormitory (evidently this is a boarding school) to dress and discover that the only occupants left are the cooks.
"Yes! Yes! Yes! A whole day of freedom! Finally!"
And out into the snowscape strides Tutu too. Except that an un-forecasted storm suddenly closes in, the teacher finally thinks to do a head-count (because you always do that halfway through your field trip, don't you?) and Tutu who's solo is lost in the freezing-cold gale and wanders into that previously undiscovered town.
It's an odd place indeed, populated by hostile, anthropomorphic animals which don't appear to like little girls, not one jot. Ugly little girls aren't allowed to have names, and they're certainly not allowed out at night. They aren't actually allowed, basically. And no one, it seems, likes strangers.
"Just what do you have against people who aren't from here?"
"Well… they're not from here, right?"
"Yes, that's it! They're not from here!"
Possibly the finest creation here, these are the Emperor's Secret Police, initially arriving to arrest her. Ears flopping all over the place, they're a bumbling bunch of albino rabbits which reappear over and over again to cause chaos wherever they go. Conversational and kindly, but largely clueless, they take her to court whereupon Tutu is billeted with a maternal budgerigar who is immediately on hand to meet and greet her and put her to bed. It is, at least, a very efficient care system!
The next morning she's promptly pushed out on the street and told to work at The Factory. What Tutu isn't told, in this archetypal lost-dream scenario, is how to get there, but it's here that the Secret Police begin to come into their own because they're the least Secret Police of all time! Sent by the Emperor to spy on her, they instead break cover continually to help Tutu catch the right bus or boat on her way while trying to keep tabs on what she might be up to.
Most of the townsfolk remain far from friendly, scattering from the bus in horror, but a giant panda – himself on his way to work – is on hand to introduce Tutu to her new daily routine. Unlike the rest of this candy-like city, the industrial waterways are a grim, smog- and soot-clogged nightmare. This is odd, given that the whole system is powered organically by hamsters running frantically in tiny, treadmill wheels. It's a bit barbaric, to be sure, but there's no carbon or coal being burned, so why all the smoke? From an environmental viewpoint, it's ecologically ideal, while its distribution system seems to be a stream of self-powering, air-borne Chinese lanterns.
If you haven't yet twigged then, beyond the beauty, I am having a fair few problems here.
In my review of Joe Todd-Stanton's excellent ARTHUR AND THE GOLDEN ROPE I opined that "In every all-ages / young-readers' great graphic novel there must be certain things present including wit, rules and exploration for eyes." Rules can be broken – they almost demand to be broken – but without establishing these boundaries first, dramatic tension quickly dissipates.
And I can see that the chaos of this city brings with it the most unexpected delights – you never know what to expect in this endless series of odd interventions! – but so much here does not add up. The only rule that seems to apply here is that Tutu needs to sleep every night in her bed (and so dream of Spring) but she doesn't appear to need to eat: everything offered is so revolting that I don't think she's eaten for a week.
I think I've figured out the environmental conceit: the lost butterflies which Tutu's been charged with finding and why this city is in perpetual winter. I think it's something similar to Daishu Ma's silent graphic novel LEAF but I could be wrong.
Look, this is lovely. It's pretty. There's certainly no lack of exploration for eyes. I like that the city looks like Bratislava with all its candy-coloured domiciles and exceedingly hostile inhabitants. (Trust me: I've been there.) I love that the Budgie's house is built around a living tree topped with a giant nest, and that bath time at Mrs B's comes with bog-eyed, sentient suds. I adore that some of the civilians are automatons – one a bipedal gas lamp in a raincoat and hat.
But in this first of four parts at least, it lacks a certain degree of grist and that vital credibility needed to ground the otherwise fantastical. Still, first of four parts: hopefully the second will give me good cause to eat, then rewrite my words.
SLH
Buy The Dream Of The Butterfly vol 1: Rabbits Of The Moon and read the Page 45 review here
Generation Gone vol 1 (£15-99, Image) by Ales Kot & Andre Lima Araujo.
News headline: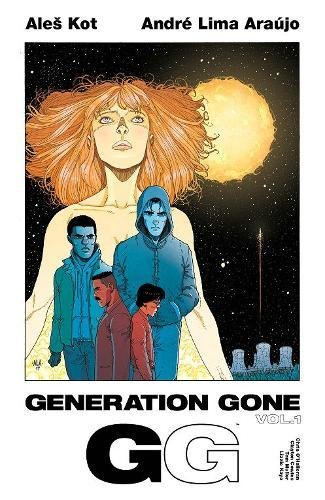 "African American Shot After Offering Help To Lost Driver.
"Driver assumed man was going to rob him."
Welcome to Generation Gone.
Most of our best comics' covers contain some narrative element but few exceed snapshots or an elegant, perhaps impassioned distillation of what lies within. Almost all of my favourite graphic novels fall into those categories. I find no fault in that marketing strategy: please give me maximum impact.
But this collection's cover speaks of so much more if you study it closely, and it contains not one lie.
However, were you to flip through this after a first read then you'd find page after page of unbridled anger, furious displays of once repressed rage; now empowered and unleashed: flashing eyes and screams of injustice bursting from previously gritted teeth.
"General… with all due respect, I don't think you understand what I did…
"I know you are like me. You want to succeed at what you do.
"What I do is evolution…
"What you do is war.
"So I built you a perfect war machine."
Ummm… no, you didn't, Mr Akio: perfect war machines don't have minds of their own. Perfect war machines aren't already embittered towards their governments through acts of police brutality, endemic racism and authorities mismanaging that which they know to be toxic. Perfect war machines don't already harbour long-standing grudges towards each other as well as the world and, in simple terms, are uncomplicated.
This is going to get complicated.
We begin on the other side of the Military Science fence with three young friends who have lives and ambitions of their own.
Two of them are a couple, late at night, flat-on-their-backs, and wishing upon stars. Elena wishes that her boyfriend Nick would reciprocate her love for him, vocally. Nick wishes that his "babe" would just shut the fuck up. Actually Elena's aspirations aren't even that high: she's all apologies for her open declaration of unequivocal affection, while Nick insists that she should feel gratitude for his indulgence of (and tolerance towards) her pathetic, needy, cloying emotions. Sadly, she does.
"Are you ready for tomorrow?"
"Born ready. Born to make a mark."
They're really not ready for anything that will follow but, yes, Nick wants to make a mark. Delighting in his own ego, he is unable to meaningfully engage with any degree of comprehension; he's a big fan of the film 'Taxi Driver', but I'm not sure that he's learned the right lessons. I don't think you'll like him at all.
Nick, Elena and Baldwin are also consummate code-breaking hackers. They've already broken into the Defence Advanced Research Projects Agency's exceptionally well protected website twice and, in a trial run for their real end-goal which is money, they are about to do it a third time.
Baldwin is alone, organised, disciplined but driven. You may discern what drives him right at the top of this review. He exercises at the crack of dawn then blends nutritious juice to sustain his peak physical and mental acuity. Then he wipes the surfaces clean. He is meticulous.
Elena is loving and doting, not only on dismissive prick Nick to whom she is loyal, but on her mother who is undergoing treatment for cancer. Constantly they cuddle up on the coach. They tease each other too.
Nick eats with what's left of his family in silence before skulking upstairs – to his childishly door-declared exclusive domain – to draw his own bath. Perched on the toilet and staring into his smart phone while the water runs, his finger is idly pressed between his big toe and second, and you just know that he'll sniff himself before getting in.
How each behaves during their final trial (but still live) run at code-hacking is telling, excruciating even.
They think they've gone undetected. They haven't. They've been hooked.
So let's flick back to the military's perspective:
"Everything in the world is code…
"The human genome. The computers. Your phones. The traffic. The movements of the oceans, the movements between our neurones.
"Everything is code. Including our flesh.
"So how do we rewrite it?"
This is young, bespectacled Mr. Akio, working for S.T.A.R., a subsection of D.A.R.P.A., tasked with helping to re-establish America's global dominance which, as he perceives it, has been eroded "at an increasingly rapid rate since 1970s". He has contributed to this military endeavour by building ideas, codes and machines, all part of Project Airstrip. We are shown some very big mechs indeed.
Now he unveils to the military board his own private ideal, Project Utopia. It is code-based and clever, pertaining to humans. But how do we rewrite that code in humans which generally takes multiple generations of genetic evolution?
"Have you ever read a book that changed your life? I bet you have. The content of the book changed the way you processed information. Then it changed the way your brain processed the information. Then it changed the way you interacted with the world."
I don't think the General is much into reading.
Mr Akio is ordered to stand down, but he doesn't and is discovered. The General is infuriated.
"Project Utopia is dead.
"Please point out all hard drives containing anything pertaining to Project Utopia to the soldiers. We are confiscating everything related to the project effective immediately. Why the hell would you think, even for a second, that you can do this behind our backs? We own everything you make.
"We own you."
From the writer of WOLF, ZERO and MATERIAL comes what seems on the surface to be a far more traditional comic about power and powerlessness but it still packs a political punch and has many an unusual angle to explore. You don't generally associate Generals with powerlessness, do you? Yet over and again – and in spite of his iron-fisted rule – you will find this military man wrong-footed both by those under his immediate command and mere civilians whom he believes he can intimidate.
It begins from the outset, for once more behind his superiors' backs, Mr. Akio throws the book full of life-changing code at our three hackers. Alter the code, upgrade the human – physically, anyway.
The immediate transformation at the end of the first chapter – and almost everything that follows born of multiple miscalculations – is a pretty grim ordeal, but the single Araujo image that haunted me most – and does still – is Mr. Akio's eyes when threatened and dismissed.
SLH
Buy Generation Gone vol 1 and read the Page 45 review here
Dragonseed h/c (£22-99, Humanoids) by Kurt McClung & Mateo Guerrero…
"You
saved me… you don't even know me. Be mine, little hero… all mine!"
Steady on, I only recommended you some great comics! This doesn't quite hit those heights, though it is certainly enjoyable enough, particularly for fans of Euro-fantasy fiction.
It proved a fascinating read, actually, from a reviewing perspective. I started off rather enjoying the story and the setting out of the characters, as we all know that can be the weak point with Euro-fantasy, yet struggling with the art slightly, which is certainly not on the ligne claire levels of other Humanoids output such as THE SWORDS OF GLASS. That soon past, however, although I did find it eventually became somewhat excessive on the Euro-boobage score for my tastes.
The plot revolves around the denizens of Krath and the uneasy, millennia-old truce that holds between humans and dragons. Our hero Adam Spittleseed, a half-man, half-dragon known as a Dragonseed is charged with finding the teardrop stone, a mythical relic that has the power to stave off the impending conflict by continuing to power a prophecy machine. Such stones are incredibly rare, mind, formed only when a dragon sheds a tear, an event occurring just once in each dragon's lifetime. I should add, in case you are wondering about the eye-watering improbability of such an inter-species offspring, that dragons, in addition to their various other abilities, are also shape-changers…
By the end, however, I have to confess I was wearying of the continually over-dramatic language and slightly disjointed story-telling. It all makes sense story-wise, I just found myself having to concentrate a bit harder than I would have liked to follow the flow of the action for some reason, which is a shame, because it is an enjoyable romp with a decent, in-depth plot and some cracking characters. Still, as I say, if you fancy a bit of swords and sorcery with hordes of dwarves, elves, orcs, ogres and of course dragons, or are just likely to be titillated by some <ahem> robust figure-work, this could be for you.
JR
Buy Dragonseed h/c and read the Page 45 review here
Black Hammer vol 2: The Event s/c (£17-99, Dark Horse) by Jeff Lemire & Dean Ormston…
STOP… HAMMER TIME!!!
So I did just that, and read volume two of Jeff & Dean's Pindaric ode to superheroes. What a resounding celebration, indeed homage, to many a classic cape 'n' tights character it is. It's just that it is so much better than most of the DC and Marvel output which inspired it!
We pick up with our disparate group of bickering superchums still trapped in the surreal small town in the veritable middle of nowhere that increasingly seems more like a prison constructed to trap them forever than mere alternate reality. Being mangled as they are through Jeff's trademarked wringer of angst at their temporally testing fate, their collective patience is getting stretched ever-tighter than Mr. Fantastic's Y-fronts, and someone is about to snap…
We also learn precisely how Joseph Weber, the headstrong Black Hammer, managed to get himself disintegrated trying to affect an immediate escape to get back to his family. Which blows my own personal theory about precisely where they are totally out of the water… We also get his origin story in a glorious little nod to Jack Kirby.
Black Hammer's then ten year old daughter Lucy was one of the few back in Spiral City who never stopped believing her dad and his friends are still out there somewhere. Ten years on, now a young woman who's spent the last decade desperately missing her hero dad, she's never stopped searching and her patience is about to be, at least, partially rewarded. That old adage about being careful what you wish for is what springs to mind, though…
Look closely at the single issue covers, by the way, included here in this collection as chapter breaks, and I suspect you may well 'recognise' some of them. Reading this title is just such fun, albeit rather punishing for our poor cast. What a double team Lemire and Ormston are! If Jeff is dour and downbeat Bruce, gradually grinding his characters into the proverbial chiropteran guano then Dean is showy and ostentatious Dick, all flashy lines and gaudy colours livening up the show!
For far, far more, please see BLACK HAMMER VOL 1.
JR
Buy Black Hammer vol 2: The Event s/c and read the Page 45 review here
Arrived, Online & Ready To Buy!
New reviews to follow, but if they're new formats of previous books, reviews may already be up; others will retain their Diamond previews information we receive displayed as 'Publisher Blurb'.
Kill Or Be Killed vol 3 s/c
(£14-99, Image) by Ed Brubaker & Sean Phillips, Elizabeth Breitweiser
The King Of The Birds (£12-99, Nobrow) by Alexander Utkin
Lights Of The Amalou s/c (£35-99, IDW) by Christophe Gibelin & Claire Wendling
Robert Moses – The Master Builder Of New York City s/c (£12-99, Nobrow) by Pierre Christin & Olivier Balez
Sketches From A Nameless Land – The Arrival Companion (£14-99, Lothian) by Shaun Tan
Tales From The Age Of The Cobra (£22-99, IDW) by Enrique Fernandez
The Three Rooms In Valerie's Head (£17-99, Top Shelf) by David Gaffney & Dan Berry
Nightwing vol 4: Blockbuster s/c (Rebirth) (£14-99, DC) by Tim Seeley & Javier Fernandez, others
Punisher Max Complete Collection vol 7 s/c (£35-99, Marvel) by Jason Aaron & Steve Dillon
X-Men: Legion – Shadow King Rising s/c (£31-99, Marvel) by Chris Claremont, Fabian Nicieza, Peter David, Jim Lee & Bill Sienkiewicz, Butch Guice, Marco Silvestri, Andy Kubert, Whilce Portacio, others
Mobile Suit Gundam Wing vol 4 (£11-99, Vertical) by Katsuyuki Sumizawa & Tomofumi Ogasawara
There's A Shark In The Bath (£6-99, Scholastic) by Sarah McIntyre