Featuring Neill Cameron, Kate Brown, Mark Long, Jim Demonakos, Nate Powell, Frank Miller, Geof Darrow, Shuzo Oshimi, Jeff Lemire, Mike Deodato.
The Silence Of Our Friends (£8-99, Square Fish) by Mark Long, Jim Demonakos & Nate Powell.
"Men
of conscience have got to stick together…
"Or nothing is going to change."
It may be of use to you to learn, going in, that co-author Mark Long is indeed the son of camera journalist Jack Long depicted on the cover shoulder to shoulder with civil rights activist Larry Thompson. I mention this from the outset to impress upon you that this is a personal recollection of real events surrounding Texas Southern University in 1968 and – with its artist in common – this graphic memoir therefore sits comfortably beside Congressman John Lewis's MARCH trilogy memoirs, about which we wrote with a passion.
I say "comfortably", but of course it is far from comfortable watching any of man's many and ever so varied inhumanities towards man, and it is particularly painful to watch peaceful protesters sitting on the ground and therefore at their least offensive let alone defensive, being brutally beaten by police from behind with batons and gun butts, then framed for crimes which they were transparently incapable of committing by those decrying the very violence that they themselves had overtly, officially sanctioned.
Nonetheless – and in spite of so much more within, from venomously spat neighbourly racism and so much subsequently learned behaviour manifesting itself in their susceptible children, to hit-and-run truck drivers targeting black children on Wheeler Avenue – this is an overwhelmingly uplifting book about solidarity with a final few pages to make your hearts soar at the proven potential in all of us to do some much better by standing up for others, not just ourselves, overcoming the odds and effecting that change.
On the subject of solidarity, here's something that made me stop and think: a scene in which families pull up in cars on a hillock overlooking a shore so that some of them can go coastal crabbing. Nate Powell has a way with song, both here and in MARCH, so that it swirls through the air in old-school ecclesiastical ribbons from singers or speakers and, once elsewhere here, into the very camera / microphone by which Jack Long records it. On this afternoon the sound emanates through the open doors from each car radio: the very same tune playing at the same time in the same wide, open space in harmony and unison.
Now, I ask you: when is that ever likely to happen these days when we choose our own soundtracks with stereo CD-players? It won't even necessarily happen in a shop like ours, when so many choose to wear their own private headphones and so fail to hear our gently welcoming interaction, "If you have any questions, just shout".
Music bonds elsewhere when Jack Long reciprocates Larry Thompson's initial invitation to cross his threshold (virtually unheard of and far from approved) by inviting his entire family (wife Barbara, children Danny and Cecilia) to his Sharpstown residence much to the slack-jawed shock of his curtain-twitching neighbours, but also to the almost immediately inquisitive delight of his son Mark and daughters Michelle and Julie who'd never before met any children of colour, let alone ruffled through their hair and vice-versa.
Not everyone will react as you'll fear here, because the courage of some emboldens others. But you'll find disappointment aplenty too, for racism was rampant and America in the late 1960s came with another obsession and fall-out: The Vietnam War.
The era is later than the majority of MARCH and it's evoked ever so well through furnishings and technology and play.
It's a different perspective from MARCH's because it's predominantly white and middle class at that. But it comes with its own lessons and aspirations never to be forgotten, and if the risks to the likes of the Longs are comparatively slight (comparatively, but not necessarily negligible, as you will see), it's a story which comes with its own fortitudes too.
Once last time in the spirit of encouraging support and solidarity, I leave you with this, by one of the most eloquent individuals of any century, who knows exactly of what he speaks.
"In the end, we will remember not the words of our enemies, but the silence of our friends."
– Dr Martin Luther King, Jr.
SLH
Buy The Silence Of Our Friends and read the Page 45 review here
Tamsin And The Dark (£9-99, David Fickling Books) by Neill Cameron & Kate Brown.
"What are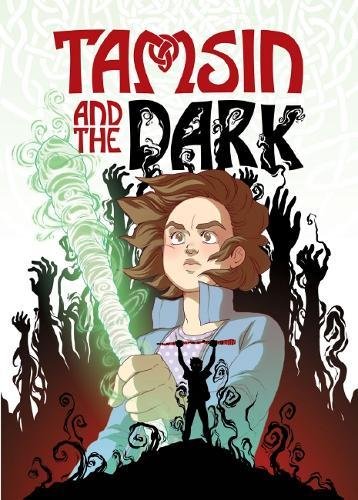 you doing?! Someone lives there!"
"They don't, though. That's the point. People used to live here. Fishermen and their sons. But one by one, all the houses got bought up by… rich bankers from Surrey. They come here for two weeks in the summer, and the rest of the year it's just empty.
"Uncared-for, deserted.
"Dark."
Poor Tamsin!
The neighbour's baby boy has been snatched from its cot, she's out searching at night amongst all the posh houses, her older brother's just angrily smashed his way into one of them and is now proceeding to deliver a National Housing Federation report. She's only 11, and she's missing Coronation Street!
From the creators of TAMSIN AND THE DEEP comes the first follow-up which I'd consider a transition piece – preparatory work and the gathering of forces for what lies ahead – if its ominous epilogue is anything to go by.
What lies here is a shift from underwater to underground, for if Cornwall is famous for its rugged rocks and mighty waves, it's equally renowned for its clotted cream teas. Mmmm… Clotted cream teas… No, wait! It's equally renowned for its ancient tin mines where they dug up the ore called cassiterite, as we discover on a school field trip.
"It's a fascinating mineral. This area in particular is known for its pseudomorphs, where the tin actually replaces and takes the shape of another mineral."
Are you paying attention at the back? This is hard science!
It's also a subplot.
Oh, I'm not taking you any further down that route – the props have come loose. You'll have to negotiate that for yourselves; don't take your hardhats off, for it's not the faint- hearted.
Instead I'd point you in the direction of the introductory legend about the chief of the indigenous giants being bested and cast underground, and the tradition of mine workers to give a little back to the land, be it a lump of iron ore or the final portion of their lunchtime pasties (true!). Now, admittedly, little is being removed any longer – except affordable housing for the local population – but nothing's being given back, either, to the Small Folk, the Buccas who looked out for the miners. The natural balance is off-kilter. Babies don't go missing on their own…
I covered TAMSIN AND THE DEEP in depth (you'll find it in Page 45's Phoenix Books Section) so I heartily encourage you to look that way for an exploration of all the neat little devices that Cameron and Brown make much use of, as well as Tamsin Thomas's role as last in the line of Pellars, and wielder of ancient thought-power through the psychic operating interface that is her stick.
She's getting a bit cocky as this kicks off, but there's no one like a big brother to bring you back down to earth.
"He's always "out" these days. What's he doing?"
"He's a teenage boy, Tamsin. So basically, I dread to think."
Morgan is beautifully portrayed. He's getting gangly now, and watching him writhe on the settee in front of a console game, wrestling the controller up and across, then down to the ground with emergency reflexes and zero dignity (while Tamsin keeps herself centred) is hilarious.
What does register as a danger to his dignity is delivering baby clothes next door to young Sharon or doing research for his sister on Small Folk and Fairies. That isn't going to happen – not this time, anyway – but thankfully some families are better than others at the oral tradition of storytelling.
I also love that Morgan desperately needs a haircut in the way that a lot of early teens do, and his face is still slightly shy of full-on adult masculine. It's a bit pudgy, the more chiselled bits very much in the making, and when either sibling gets grumpy or frets you can tell immediately that they are cut from the same genetic cloth.
In Sesame Street terms, this episode is brought to your by the colour purple, but the condition called red eye, when you finally encounter it, will not be a bout of conjunctivitis. Brrr…..
SLH
Buy Tamsin And The Dark and read the Page 45 review here
Hard Boiled h/c (£17-99, Dark Horse) by Frank Miller & Geof Darrow, Dave Stewart.
The Darrow is in the detail!
Carl Seltz is a devoted family man with a loving wife and two angelic children. Carl Seltz is a traditionalist who drives out of his quiet suburban neighbourhood every morning in an American classic to a car-congested, smog-ridden city of consumerist hell. Carl Seltz is an insurance fraud investigator.
Nixon, on the other hand, is an enthusiastic, pro-active tax man who aims to collect. Have you seen what he aims with? He has a license for that.
Actually both Nixon and Carl Seltz are para-personalities encoded into the same, deranged, homicidal robot who's being both covertly and overtly goaded into destroying everything that built him by a girl pretending to have been kidnapped by a homely old lady who bears a striking similarity to Mary Whitehouse.
Mary Whitehouse was the UK wizened sourpuss who took it upon herself to be the nation's moral guardian, insisting there be no bare bottoms or boobage before bedtime on British TV. I cannot imagine that her impact was felt across The Pond, but then I cannot believe that this is a coincidence given that HARD BOILED is one great big book of nudity, copulation and carnage.
Extreme carnage, relentless carnage, car-crash carnage: comedic carnage, meted out on the motorway and crashing through supermarket aisles where the shoppers are so intent on shopping that they remain oblivious.
The first is a masterpiece of scene-setting:
The first panel introduces all the dirt where we would expect instead clinical, futuristic cleanliness; a robotic dog with a surely redundant male lower carriage; an overweight technician in a lab coat and jumper bearing a barcode. Then there are the two armed guards with 3 holstered pistols on either padded shoulder saddle, grenades strapped onto each, a further pair pinned on either side of their night-vision helmets, gloves with finger-tip razorblades and phalange-mounted missiles… "Nuke" Nike patches and a CND logo!
This first landed on our shelves long before Geof Darrow's SHAOLIN COWBOY: SHEMP BUFFET and SHAOLIN COWBOY: WHO'LL STOP THE REIGN and you can file this too under social satire, toxic excess and consumerist dystopia. Look at all the litter!
At the end of the cybernetic industry stands Mr. Willeford. Ummm, no he doesn't! His repulsive, flabby form floats pink and naked in a bath, his waste automatically removed through tubes while his body is pumped by Body Buddy 2000 with the pulverised soup of Cola, 7-Up, frankfurters, fries and there are even a few naked babies lined up for processing.
Details, details, details: you cab pick any page and stare at it for hours!
Even at all the earrings are ridiculous.
SLH
Buy Hard Boiled h/c and read the Page 45 review here
Thanos vol 1: Thanos Returns s/c (£15-99, Marvel) by Jeff Lemire & Mike Deodato Jr.
I am reliably
informed that old craggy-chops is destined to become the next villain in the Avengers film franchise.
If you want a Recommended Reading List concerning Thanos to date then I am more than happy to oblige at the tail end of this review. You lucky things!
If you want a quick history lesson, however, this will serve you well for within Thanos's opponents reminisce on what fun he was at school (they don't; he wasn't) before taking advantage of the fact that he is, for once, feeling a wee bit peaky. After slamming seven shades of shit out of the Titan (he literally does come from Saturn's moon Titan), they lock Thanos up in the most secure prison in the universe.
Yes, I laughed when I read that line too.
Also intent on taking advantage of Thanos feeling under the weather are: his thankless child Thane, his bacchanalian brother Eros, spaceship burglar Nebula, a big bloke I've never heard of… and Death. Thanos and Death have had a complicated relationship over the years. Oh yes, all the jokes!
Unfortunately one of them is being Donald Trump about their true objective, and Theresa May about the truth.
There is one excellent sequence of storytelling which opens chapter two following an exquisite cover by Deodato. The cover is of an ancient tree under starlight, at the base of which stands the squat powerhouse that is Thanos, holding up his thick mitt towards a flame-coloured butterfly.
Inside we hear of the planet Nulla which has an unbroken history of tranquillity and – rich in natural, medicinal resources – has long been a haven for the ill and the needy: serene and majestic etc. Inside we see the planet Nulla, first from space, then from ground-level as an Arcadian idyll, its pastures bathed in an early sunset haze as less familiar, more exotic winged insects with translucent sapphire-blue wings dart amongst its feathered fronds. Only gradually and gently does a single dissonant note start to appear in the art which otherwise maintains its hazy, golden glow through crinkled leaves.
In other words, the pictures and the script subtly stop agreeing. Ever so Jon Klassen, that.
Otherwise, Mike Deodato's art is always a joy to behold when you need something sturdy, sombre and ominous (see Ellis's THUNDERBOLTS and Bendis' DARK AVENGERS), and Thanos at his best is all three. Deodato also does pulverised wear and tear very well, and there is plenty of that on offer, from first-to-face impact to white-hot-laser-beam prison-wall endurance. Lots and lots of Letratone (or its computerised equivalent) too: very bold!
Eros is played like a British aristocratic ("my dear") which works well for me – he was ever the self-pampering sybarite – but Lemire fails to convey his fabled powers of persuasion at a crucial juncture. Yes, I can quite see that suspicions need be aroused eventually when delays deplete his dwindling options, but before he runs out of steam surely we should first hear such eloquent oratory designed to distract, fitting that renowned reputation? Nope…? Okay, just a lazily offered, broken-promise plot point, then. No need to actually deliver. Lastly, I doubt there is a single comicbook collection in any genre during which protagonists address each other more often as this in the familial terms "Father!" "Brother!" "Nephew!" "Uncle!"
"Ah, Uncle, you do make sport of me!"
"Why, Nephew, you don't half deserve it!"
"But, Uncle, your Brother, my Father, he is bloody rubbish, you know!"
"Yes, Nephew, your Father, my Brother is bad. This dialogue's a bit dodgy too."
Not actual dialogue, although it swings close.
For prospective friends of Thanos I personally and emphatically recommend his first appearances when created by drug-addled Jim Starlin in the COMPLETE CAPTAIN MARVEL and COMPLETE WARLOCK way back in the '70s. Then I implore you to fast-forward to Hickman's NEW AVENGERS whose storyline leads directly into the two exceptional, modern INFINITY books and you're done!
There's much more you can buy in between and we cannot stop you. In fact we implore you to buy far more product. See, therefore, AVENGERS VS. THANOS, SILVER SURFER: THE REBIRTH OF THANOS, INFINITY GAUNTLET plus its ever diminishing returns should you fancy. We're just ever so careful about what we personally hand-on-heart recommend so that your trust in us is maintained undiminished.
[Now that we're done, I will just add that Hickman's NEW AVENGERS and INFINITY books do lead directly into the endgame that was Marvel's second SECRET WARS. Nothing to do with Thanos, but clear directions are always handy in negotiating Marvel's ever meandering maze. Happy to help!]
SLH
Buy Thanos vol 1: Thanos Returns s/c and read the Page 45 review here

Flowers of Evil Complete vol 1 (£19-50, Vertical) by Shuzo Oshimi…
Collects the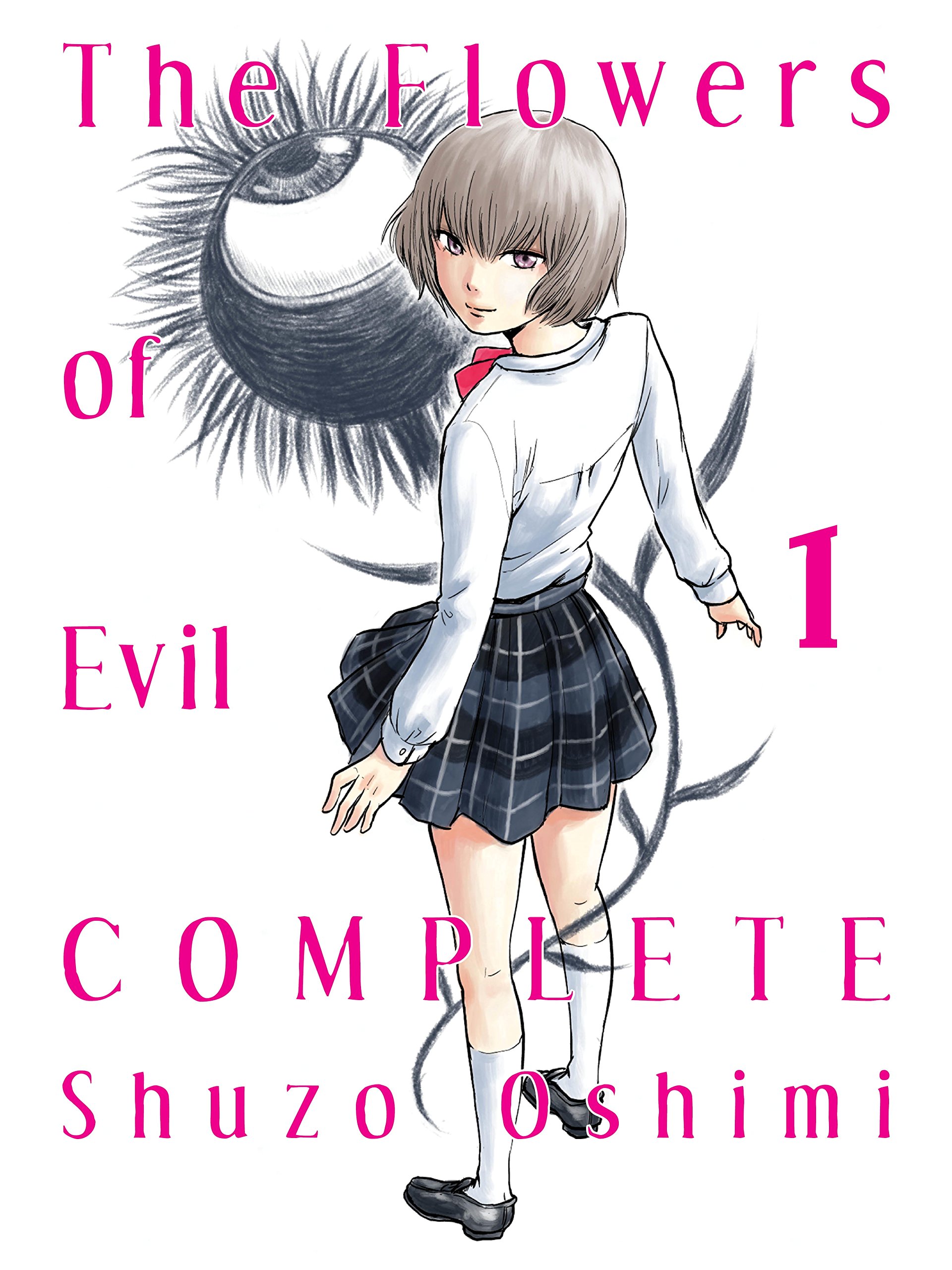 original first three volumes.
Of volume one, our Jonathan wrote:
"You perv."
I was somewhat intrigued by the synopsis for this manga, wondering how the French poet Charles Baudelaire could possibly fit in with a high school romance / coming of age tale which might well also have some mild sado-masochistic elements. After reading this first volume I see exactly how so now, and it proved a mildly titillating read, I must say!
Our story begins as the hero, on the face of it just a very typical high school student, Takao, flunks his maths test. However, he then already begins to prove himself slightly deviated from the standard norm as his deep obsession with literature becomes clear and – at this particular moment – his utterly rapt absorption with Charles Beaudelaire's 'The Flowers Of Evil'.
(At this point, in a typically pointless, rambling aside, can I just add that whilst by no means being a connoisseur of poetry – in fact finding much of it rather dreary except from a good slap to the head style haiku – Beaudelaire's The Flowers Of Evil is one of the few 'worthy' traditional works of poetry I did enjoy reading at school. Beaudelaire was a bit of a louche character, it must be said, loving his opium, drink and loose women, but what made his work interesting was much of his output revolved around the rapidly changing pace of life taking place in the 'modern' urban world of the big cities like Paris at the time, and how an individual was inevitably no more than merely a tiny fleeting part of that. It was probably the first poetry I was exposed to that didn't involve copious amount of vales, hills and daffodils etc. etc. and thus was of infinitely more interest to myself. Right, digression over.)
So, after demonstrating his complete lack of interest in long division, Takao, possibly moved by Beaudelaire's heady words, has a moment of madness and pinches the gym kit of his attractive classmate Nanako, whom he secretly has the hots for, of course! Unfortunately for him, his perverted pilfering is observed by the class outsider Nakamura, who begins to blackmail him into a distinctly one-sided friendship, which also appears to have some as yet unclear sexual element to it, culminating in making Takao wear the gym kit under his clothes when he takes the demure Nanako out on a date.
It's well written stuff and rather slyly amusing in places as Takao is increasingly put through the wringer by the delightfully devious Nakamura, when all he wants to do is forget his indiscretion ever happened; particularly now it appears he might actually be able to start a relationship with the girl of his dreams.
Guaranteed to remind anyone of what their early teenage years were probably like when it comes to the often excruciating subject of burgeoning sexual attraction. I'll definitely be reading the next volume as I'm keen to find out exactly what nightmares Nakamura has got lined up next for Takao – if he actually makes it through his first date with Nanako – unscathed and unexposed, that is!
You can carry straight on after this with the original FLOWERS OF EVIL vols 4, 5 and 6.
JR
Buy Flowers of Evil Complete vol 1 and read the Page 45 review here
Arrived, Online & Ready To Buy!
New reviews to follow, but if they're new formats of previous books, reviews may already be up; others will retain their Diamond previews information we receive displayed as 'Publisher Blurb'.
Descender vol 5: Rise Of The Robots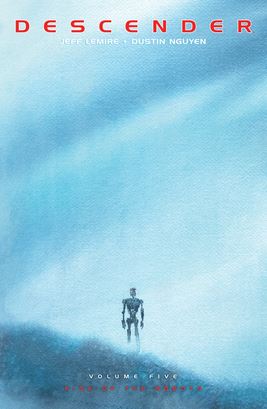 (£14-99, Image) by Jeff Lemire & Dustin Nguyen
The Wicked + The Divine vol 6: Imperial Phase Part 2 s/c (£14-99, Image) by Kieron Gillen & Jamie McKelvie
Cowboy Ninja Viking s/c (£17-99, Image) by A. J. Lieberman & Riley Rossmo
The Dream Of The Butterfly vol 1: Rabbits Of The Moon (£11-99, Lion Forge) by Richard Marazano & Luo Yin
Hellboy And The BPRD – 1954 (£17-99, Dark Horse) by Mike Mignola, Chris Roberson & Stephen Green, Patric Reynolds, Brian Churilla, Richard Corben
Injustice Gods Among Us: Year Three Complete Collection s/c (£22-99, DC) by Tom Taylor, Brian Buccellato, Ray Fawkes & various
I Am A Hero Omnibus vol 5 (£17-99, Dark Horse) by Kengo Hanazawa
A Strange & Mystifying Story vol 1 (£8-99, Sublime) by Tsuta Suzuki