Featuring Tee Franklin, Jenn St-Onge, Joy San, Box Brown, Adam Murphy, Lisa Murphy, Nicola Davies, Cathy Fisher. Neil Gaiman, P. Craig Russell, Scott Hampton, Colleen Doran, Glenn Fabry, Walter Simonson, Andy Kubert, Yuki Fumino, Carlo Zen, Chika Tono, more!
American Gods vol 1 h/c (£20-00, Headline) by Neil Gaiman & P. Craig Russell, Scott Hampton with Colleen Doran, Glenn Fabry, Walter Simonson. Cover by David Mack.
"These are
the gods who have been forgotten, and now they might as well be dead. They are gone. All gone…. Even their names have been forgotten. Gods die and when they die, they are unmourned and unremembered.
"Ideas are more difficult to kill than people, but they can be killed in the end."
So, let us remember, can people. Many a woman has died at a god's decree; many a man too. They have been known to use us as pawns, and there is a game to end all games afoot here, before the lights finally go out.
First of three books – each containing nine sequential-art chapters – in which Gaiman elaborates on an element which he first explored during his epic SANDMAN mythology: that of faith, and the dwindling of gods' power if followers fall by the wayside. If ancient gods are no longer believed in or worshipped, what power have they left?
And how did they come to America at all from lands so far away? Each was carried in the hearts and minds of immigrants, and mortals have been landing on America's shores long before Christopher Columbus mistakenly believed he'd reached the Indies. Which gods of many faiths you will meet under most unexpected circumstances, I shall not say, for half the fun is in spotting them, but there are history lessons aplenty interjected – along with rude discoveries – and both Colleen Doran and Glenn Fabry have produced my favourite art of their substantial careers for these brief interludes.
The former illuminates the tumultuous history of one resourceful Essie Tregowan who once worked as a scullery maid on the shores of Cornwall and whose days ended – after many marriages, children and much meandering, up-and-down fortune – on the other side of the Atlantic. She never forgot the Piskies and the Spriggans, she always paid tribute, and it seems they never forgot Essie. Doran's lines are as delicate as her softly lit colours, and her knowledge of historical fashion in hair and costume spot-on.
In a more modern setting, poor Salim is dispatched by his brother-in-law from Oman to cold New York City in order to sell cheap copper trinkets from a suitcase. His meetings with business owners are wholly unsuccessful and his funds, like his spirits, drain away until he strays into a taxi whose driver displays certain attributes which Salim finds fearfully familiar. Adam Brown's colours on Glenn Fabry's line art are quite extraordinary: I've never seen rain on a windscreen in a neon-lit city quite like it.
For these acts of worship in storytelling, story-spreading, acknowledgement and sexual congress, the gods will show their… gratitude? … to differing degrees and in many different ways. Top tip: I'd probably avoid reading this on public transport, though, for my own adjoining seat wasn't empty.
So we come to the central narrative. It's so long since I read Gaiman's AMERICAN GODS prose novel that much of this came as a pleasant surprise: it was like being reacquainted with an old friend who was as charming and witty as ever yet – thanks to P. Craig Russell on crystal clear layouts and Scott Hampton on hyper-real art – had grown even more handsome in the interim.
It also triggered recollections of further down this long and winding road which reminded me that – as any SANDMAN reader knows – Neil Gaiman is a master of foreshadowing. P. Craig Russell, whose exceptional adaptations to comics include Wagner's RING OF THE NIBELUNG and THE FAIRY TALES OF OSCAR WILDE is no slouch on the foreshadowing front, either, and has distilled Gaiman's prose to its vital essence while retaining so much of the original words' key cadence, along with ideas like this which would be much missed had they ended up on the cutting room floor:
"The short service ended. The people went away. Shadow did not leave. There was something he wanted to say to Laura, and he was prepared to wait until he knew what it was."
As to structure, sleight-of-hand stepping stones are one of Neil Gaiman's fortes. I've spoken of this at least twice before in HOW TO TALK TO GIRLS AT PARTIES and THE OCEAN AT THE END OF THE LANE wherein Neil's stories begin grounded firmly in our shared reality but then his protagonists pass over a subtle, metaphorical bridge – or some sequestered, sun-dappled stepping stones – into another. It's as though a rarely spotted signpost has popped up, redirecting you down a road less travelled, a side-path to somewhere else, somewhere other.
This is why Hampton's hyper-real yet not-real art works so well from the start, for Mr Wednesday's ever so many sleights of hand have already begun from the get-go. It is Shadow's path that we follow, and it has an eerie, distanced quality to it, the protagonists not quite inhabiting their landscapes which, as you see, have a mutable quality to them anyway. Shadow has so little control over his environment, his circumstances or indeed his entire trajectory, and this will prove all the more disconcerting to someone who considers himself a pragmatist.
"Shadow had done three years in prison.
"He was big enough and looked don't-fuck-with-me enough that his biggest problem was killing time.
"So he kept himself in shape, and taught himself coin tricks and thought a lot about how much he loved his wife…
"He did not awake in prison with a feeling of dread; he was no longer scared of what tomorrow might bring because yesterday had brought it."
Instead he keeps himself to himself and marks the days off on a certain calendar until he will see his wife once again. During these three years of calm incarceration Shadow's cellmate, Low Key Lyesmith, introduced him to Herodotus' 'Histories' (circa 425 B.C.) and the self-professed reluctant reader became hooked. What happened to Lyesmith? Transferred without warning, apparently; vanished into thin air.
"Shadow did not believe in anything he could not see.
"Still, he could feel disaster hovering in those final weeks, just as he had felt it in the days before the robbery. He was more paranoid than usual, and in prison, usual is very, and is a survival skill."
With five days to go before his release, after a collect-call to his beaming wife who enthuses about the last leaves of autumn, Shadow is warned of an approaching storm: something cataclysmic waiting outside. There's no audible thunder in the figurative air but then lightning strikes: Shadow is told that although he was due to be released on Friday… he will in fact be released a whole two days early. His wife has been killed in a car accident.
In an instant everything Shadow had mapped out for himself after his three years in prison is gone. He still has a future but it is empty, unfurnished, unforeseeable and so unimaginable. Numb, he boards the bus to the airport, then his plane home, but home is not what he thought it would be. Shadow falls asleep in the storm.
"Where am I?"
"In the earth and under the earth. You are where the forgotten wait. If you are to survive, you must believe."
"Believe what? What should I believe?"
"Everything."
When he dozes once again he is back in prison.
"Someone has put out a contract on your life."
Then when he wakes up, Shadow's nightmare begins.
I don't know about you, but I am constantly lost, late and disorientated in my dreams. But that is now Shadow's reality. He's at the wrong airport: the plane was redirected because of the storm. He misses its replacement; the next one is cancelled; but if he's quick there is one he can catch.
"Shadow felt like a pea being flicked between three cups."
And that's precisely what he is. Now, following the death of his wife, his early release, the redirected plane, the plane that he missed, the one that was cancelled and the seat which taken, Shadow is finally where he needs to be. Well, he's where Mr. Wednesday needs him to be: right across the aisle.
"You're late."
"Sorry?"
"I said… you're late."
For someone inhabiting this Age of Information, Mr Wednesday is far from forthcoming, but he's on a mission and to fulfil that mission they must journey across America, gathering allies as they go. It is of course Shadow who will attract the one-eyed man's enemies, receiving forewarning not from Mr Wednesday but from others who crossed their path.
"You're walking on gallows ground, and there's a hempen rope around your neck and a raven-bird on each shoulder waiting for your eyes, and the gallows tree has deep roots, for it stretches from Heaven to Hell, and our world is only the branch from which the rope is swinging."
Over and again, Shadow will receive visitors – mostly late at night – and some are more welcome than others. Animals and birds may not be quite what they seem, but then, are they ever? Names will have meaning, coins will gain currency and promises will hold power. Beware whom you worship.
"Now there are new gods in America: gods of credit cards, of internet and telephone and beeper. Proud gods, puffed up with their own newness and importance. They are aware of us and they fear us, and they hate us. They will destroy us if they can."
I'm sure you've gathered by now from all the references who and what Mr Wednesday is.
If so, you will be unsurprised to learn that Wednesday means war.
SLH
Buy American Gods vol 1 h/c and read the Page 45 review here
Bingo Love (£8-99, Image) by Tee Franklin & Jenn St-Onge with Joy San.
Beautiful!
What luxurious forms, deliciously drawn, delicately poised, full of innocence, joy and mutual, unequivocal adoration. Eyes fixed on each other – except when closed whilst kissing – the couple's arms are entwined as the many years roll by, the bingo sheets passing like the pages of a calendar.
I love the cover's narrative: hair greys, fashions change, but not their love for, nor loyalty to each other. Hazel Johnson and Mari McCray, two women of colour, and eventually of some considerable age, able to share their affection and relish their relationship, free from outside adversity and —
If only.
I'm afraid the real world has a habit of intruding and it does so, dramatically, inside. But don't give up hope, for hope this has in abundance. Whatever hostilities Hazel and Mari may face, I promise you that the cover doesn't lie.
We begin in 2033 with a young girl kicked out by her parents simply because she is gay. If you think it's disheartening that this would still happen in 2033, yes, it is. But I'd remind you that racism remains rife even though the Civil Rights Movement (detailed in the MARCH trilogy and THE SILENCE OF OUR FRIENDS) kicked off long before the Gay Rights Movement, and progress unfortunately isn't a one-way street, as evidenced in America today under racist hate-enabler President Donald Trump.
Aaaanyway, the good news is that the girl is comforted by an elderly lady who recalls her own childhood back in 1963 when a younger Hazel Johnson first spotted, at church bingo, a girl who also turns up at school. It is, of course, Mari McCray, newly moved to this more conservative area from California, bursting with an energy that has her stretching her arms and an exuberance which Hazel finds immediately infectious.
"Mari was on my mind for the rest of the day.
"We didn't have any other classes together so I kept replaying our interactions over and over in my head."
That's ever so true! The feeling that someone is so close that they could be glimpsed at any sense, yearning for such another meeting, yet frustrated by incompatible timetables and a big crowd. Instead you are indeed left to replay the last encounter in search of signs and nuances that you'd made a new friend.
Franklin is forever presenting us what is familiar. Here comes another instance, after the pair has bonded over hot chocolate, an instinct for generosity, and a new nickname offered with affection which helps cement any new friendship with its personal, private stamp. Over the following, St-Onge provides us with a montage of further shared endearments as Mari and Hazel root for each other, dance with each other, play each other their favourite songs and sympathise when spice in the food proves too hot.
"From that first hot chocolate, Mari and I were best friends.
"My mother used to say we were joined at the hip.
"Between school and sports, we spent every moment we could together.
"We really loved each other as friends…
"But I wanted something more.
"I wrestled with my feelings for Mari for years. Was it worth ruining our friendship if she didn't feel the same way?"
So there you go: the terrible dilemma which faces so many of us who establish a friendship first, then worry about the risk when you don't know if someone wants something which you do, too.
There's so much which is wonderfully universal about this love story.
In multiple ways it reminds me of Jade Sarson's equally embracing, era-spanning, gorgeous graphic novel, FOR THE LOVE OF GOD, MARIE. That one's 16+ with discretion, but there's nothing here that should signify that BINGO LOVE isn't for all. It's not preachy; it's kind and the celebrations, once they start, will induce big, beaming smiles galore.
Its colours by Joy San are as rich and warm inside as they are on cover and I know that I've a habit of harping on about hair, but St-Onge for me is right up there with Emma Vieceli, Kyle Baker et al. Hazel's young, star-struck wide eyes also put me in mind of Sophie Campbell. My favourite bits, however, were the little fingers clasping each other, sometimes in sight, sometimes not.
Representation is important in its own right, as Chris Roberson makes so eloquently clear in his foreward to THE SECRET LOVES OF GEEKS because "people find it easier to become who they are when they see themselves reflected in media and stories". If you've experienced a lifetime of seeing yourselves reflected in media and stories, then this may not occur to you. And, hey, good for you too!
But there isn't enough old age in comics, for a start, and I'm getting on.
SLH
Buy Bingo Love and read the Page 45 review here
Corpse Talk Ground-Breaking Women (£9-99, David Fickling Books) by Adam Murphy, Lisa Murphy.
Hello, and welcome
back to another attack of the dead who are well read, the bodies that begat break-throughs, and the worm-riddled women who were once a lot less lived in.
I guarantee 100% Putrefaction Satisfaction, as well as whole lot of learning.
I reviewed at coffin-creaking length and in burial depth CORPSE TALK: GROUND-BREAKING SCIENTISTS, the two previous volumes, plus these very creators' LOST TALES, all of which you can find along with so much in Page 45's Phoenix Comic Book Section.
Having exhausted my musings on the craft of these two crazies – and the ever-so-clever conceit of interviewing reanimated corpses with modern-day irreverence rather than simply dishing out lacklustre history lessons – I'm going to resort this time to succinct bullet points in the hope of satisfying those with Attention Deficit Disorder (which is basically the entire human race in this multi-channel / internet age), then I'm going to have me some fun with Princess Caraboo's interactive exercise on creating your own real-life fictional character. It's not as much of a paradox as it may sound.
But first, the bullet points:
The cartooning is exquisite. Just glance at Adam Murphy's puckered mouth and eyebrows, and those hands, hands, hands, bringing so much to gesticulatory life during the talking heads sequences!
Each page contains even more unnecessary alliteration than my longest-lasting reviews.*
* An independent analysts protests
These books are 100% historically and scientifically accurate, packed with hard facts which you could honestly pass exams on. (Caveat: apart from the bit about Adam ever interviewing a single one of these spectral specimens, let alone any lesser-known cadavers for pastime pleasure. Oh, and Granny Nanny's precise details on buggering up the Jamaican slave trade which were passed down through the oral traditional – bit more of a mythology, that, but she sure showed the culprits what's what. Princess Pocahontas' legend will come into a much needed de-Disneyfication, though!)
They are laugh-out-loud funny with anachronistic banter from the bone idols ("Not chuffing likely!") and puns galore including 'The Sails of the Century' and 'A Killer Look'.
This collection of overwhelmingly new material also reprints the Queen Elizabeth pages from CORPSE TALK II which were so rip-roaringly brilliant that I spent the entire first half of that review fixated upon them, especially the double-spread 'A Killer Look' because OMG but Queen Bess didn't do herself any favours whatsoever when it came to keeping young with cosmetics!
Here's Adam introducing Queen Bess:
"This week, one of history's feistiest fighting females! It's the Tudor Tigress, the lean, mean Virgin Queen, Elizabeth I!
"Elizabeth, you might be the world record holder for the most insane family drama of all time!"
Our corpse-questioning host then catalogues what probably is "the most insane family drama of all time" by hailing two Marys (sister and cousin), a furious father bent on beheading (Henry VIII: amongst those on the chopping block, Liz's own mum), family fights over the throne, further bumpings-off and finally Philip II of Spain, former husband to her dead sister, asking for Betty's hand in marriage, then not taking rejection too well. Most young men would have slunk off sheepishly and ordered in pizza. Philip II ordered out the Spanish bloody Armada! Elizabeth:
"First we blasted them with cannons! Then we sailed shops of fire into them! Then God got in on the action, and stormed them to death! Don't mess with The Bess – she gon' open up a can of whoop-ass!"
"Aw yeah!"
You may have noticed that I haven't quite grasped the concept of "bullet points".
So we finally return to Princess Caraboo (1791-1864) who appeared penniless on the doorstep of one Mrs Worral, the local magistrate's wife in the sleepy Gloucester village of Almondsbury which was about to wake up to its newly arrived, exotic occupant.
Princess Caraboo hailed from they knew not where, to begin with, for she knew not one word of the English language, and so they could not converse. She could mime. She could dance, in an Indian continent way. And she could speak in some foreign tongue which no one could identify until one bright spark suggested the language of Malay and offered to translate. Then they learned of her capture by pirates from the remote Island of Javasu, her bitter ordeals at their hands and her eventual escape, overboard, when Britain's shores were in sight. Oh, how she was paraded and celebrated throughout England's High Society, this regal, oriental princess!
In actual fact, she was a serving maid from Devon called Mary Baker.
All power to her! England 1791-1864: not much chance of a legal leg-up on the social or employment ladder for a woman, as Jane Austen's tale will make clear. Socio-political context is ever so important in examining either history or literature, and the four-page condensation of 'Pride And Prejudice' (which is a triumph of salient points and satire) kicks off with just such a reminder.
So what is my point and where am I going to have some fun? As I've mentioned, each of these trailblazer's tales is followed by a double-page diagrammatical spread whereon we are privileged to witness the extent of their legacy, the science or boat-building skills behind their stories, the details behind the slave-saving underground railroads (no trains, train times or consequent delays involved, how to dance the Charleston as performed, step by step, by none other than Josephine Baker, plus the extraordinary revelation that is the Golden Ratio found throughout nature and denoted by the Greek letter Phi. I actually think that Adam and Lisa did a better job of explaining that than Terry Moore did in his tension-drenched ECHO.
The 'Brief History Of Women's Rights' timeline is given a full six pages, which is only right given the subject of this volume and the appalling length of time it took for women to actually achieve some.
And so at last to the fun!
Following Princess Caraboo's wool-over-eyes antics, Lisa and Adam forsake their customary post-mortem spread for an interactive opportunity to hone your own lying skills, and to create your own real-life counterfeit / deceit with the help of some very silly suggestions from themselves.
Before that, however, 'Try Writing Down Your Translations For These Common Words'
Hello: Monaye!
I'm hungry: Give'till monaye
Thank you: Multi monaye!
Good-bye: Theresa
Good-bye forever: Theresa-May
There's plenty more, but you get the idea, and I'm sure you can do better!
Out March 1st 2018.
SLH
Buy Corpse Talk Ground-Breaking Women and read the Page 45 review here
The Pond (£11-99, Graffeg) by Nicola Davies & Cathy Fisher.
"Just you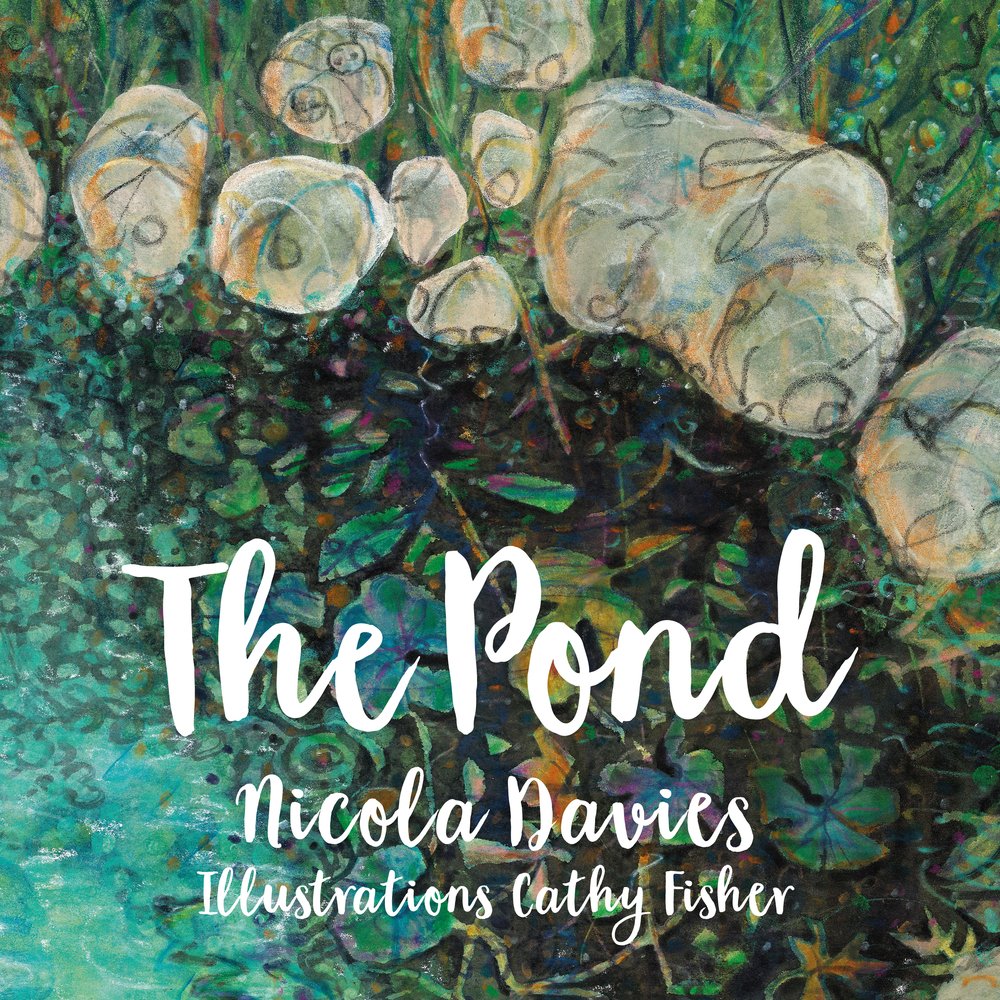 wait until you see the water lilies."
Oh yes, just you wait!
It's Dad who looks to the future for his family.
He can foresee their shared joy in the nature and teeming wildlife which they will attract to their new pond once it is built, and he inspires them with his enthusiasm.
It's so very good to have a project!
"There will be tadpoles," he said, "and dragonflies."
Mum told him that our garden was too tiny and my brother said that ponds were gross and stinky.
Dad took no notice.
He just smiled and whispered,
"Wait until you see the water lilies!"
And yes, you just wait!
"Dad never got his tadpoles of his dragonflies.
"He died and left a muddy, messy hole that filled our garden.
"Dead leaves blew in, tin cans, all sorts of rubblish.
"Ugly weeds grew tall.
"We all stared out at it: the muddy, messy hole that filled our hearts."
I'm sorry to do this to you yet again but, just as with the same creators' PERFECT, Nicola Davies and Cathy Fisher have something important to say – this time about bereavement – and they do so honestly and eloquently.
Kindness and communication is everything, and so often our young ones don't know where to start. And it is so very important to start, otherwise they (or we) are left lost and alone, with no one to talk to about what is a very bewildering experience, violent in its finality.
Adults find it difficult enough to talk about bereavement when they have years of experience with which to make a good go of it. We have a certain sense of context, at least. Children don't.
We all need a way of seeing through abysmal loss to some form of future that will shine the light back into our lives without feeling disloyal: something to carry us through, like a promise to ourselves and to those we still miss. We need a way to honour their memory and so carry it forward in order that they will never, ever be forgotten.
"Just you wait until you see the water lilies."
So yes, just you wait! They'll be here.
As improbably as last time with PERFECT, Davies and Fisher have united to synthesise a pictorial story which openly owns to the understandable eruptions of outright anger at being left behind – at feeling betrayed – without which it would be as shallow as the first pond and so speak to no one.
Instead, this encompasses all of that, on day after disappointing day.
But also it projects forward, so that even the initially reluctant then obdurate brother sees the promise in a new spring ahead.
And. It. Is. Celebrated!
Cathy Fisher pulls no punches during the bleakest days. Those pages are dark and raw and as muddy as the hole in the ground left by Dad's absence. But they're still accompanied by the same sense of cocooning – of encircling – which forms a comforting motif throughout: there are hugs and swirling leaves, there's the looping hosepipe and the pond life framing the family and joining the siblings together when once they were at odds. Finally there's the finished oval-shaped pond itself, which forms a heart through being bisected by the book's spine and binding, as the pages rise from its centre. Which is clever.
I don't think that pond was ever going to be big enough for ducks, but ambition is a beautiful thing.
SLH
Buy The Pond and read the Page 45 review here
Is This Guy For Real? The Unbelievable Andy Kaufman (£14-99, FirstSecond) by Box Brown…
"Andy, how
come you like the bad guys? They're mean and they cheat."
"Yeah… they're mean… They can get away with anything!"
I first came across Andy Kaufman in the very late seventies in his role as the loveable Latka Gravas in the sitcom Taxi. I remember being fascinated as a very young kid by this oddball character that everybody seemed to like. There was something childlike and otherworldly about the character than instantly made you warm to him. But because Kaufman died so young in 1984, aged 35, I never really knew that much else about him, probably like most people outside of the US, where he was infamous.
In fact, Kaufman became almost universally reviled and disliked in America for his various other appearances on television and his seemingly strange wrestling career that saw him wrestle only women including declaring himself the Women's World Wrestling Champion. It wasn't until I watched the Jim Carrey-helmed biopic Man On The Moon from 1999 that the genius of Andy Kaufman started to make some sense. The man wasn't a madcap comedian in archetypal American sense, he was a performance artist who from a very early age understood that playing the heel, in wrestling parlance, was going to get you a far more visceral response and fervent engagement from the audience, than simply being a nice guy, however talented.
Andy Kaufman took that performance art to such a level with his obnoxious characters, always staying in character whilst in public, that only his very close friends and family knew who he really was, a loveable, gentle man who didn't drink or do drugs and practiced transcendental meditation every day without fail. Obsessed with Elvis, magic and in particular wrestling from a very young age, he quickly decided he wanted to entertain people, and then set about building his own unique path to stardom.
This work, from a creator who would probably relish in the title oddball himself, Box AN ENTITY OBSERVES ALL THINGS, TETRIS, ANDRE THE GIANT Brown, chronicles the short, spectacular life and career of a man who delighted in being misunderstood and revelled in the rage he could induce in people. It's a little ironic, therefore, that he probably remains best known by the general public for the one character that everyone did love, Latka Graves, who in emotional terms was the closest Andy came to portraying and revealing any element of himself to the world at large.
When I heard Box Brown was doing this particular autobiography, I wasn't remotely surprised as he makes no secret of the fact he loves wrestling as much as Andy Kaufman did. In fact this time around Box wanted to explore the make-up of a man who loved fooling people even more. But you don't remotely have to be a wrestling fan, or indeed even an Andy Kaufman fan to love this work. Knowing practically nothing about him I was utterly engrossed by every aspect of his existence as brought to life by Box. Truly one of the late twentieth century's strangest stars. As penned by one of the twenty first's!
JR
Buy Is This Guy For Real? The Unbelievable Andy Kaufman and read the Page 45 review here
I Hear The Sunspot vol 2: Theory Of Happiness (£12-99, One Peace Books) by Yuki Fumino…
Of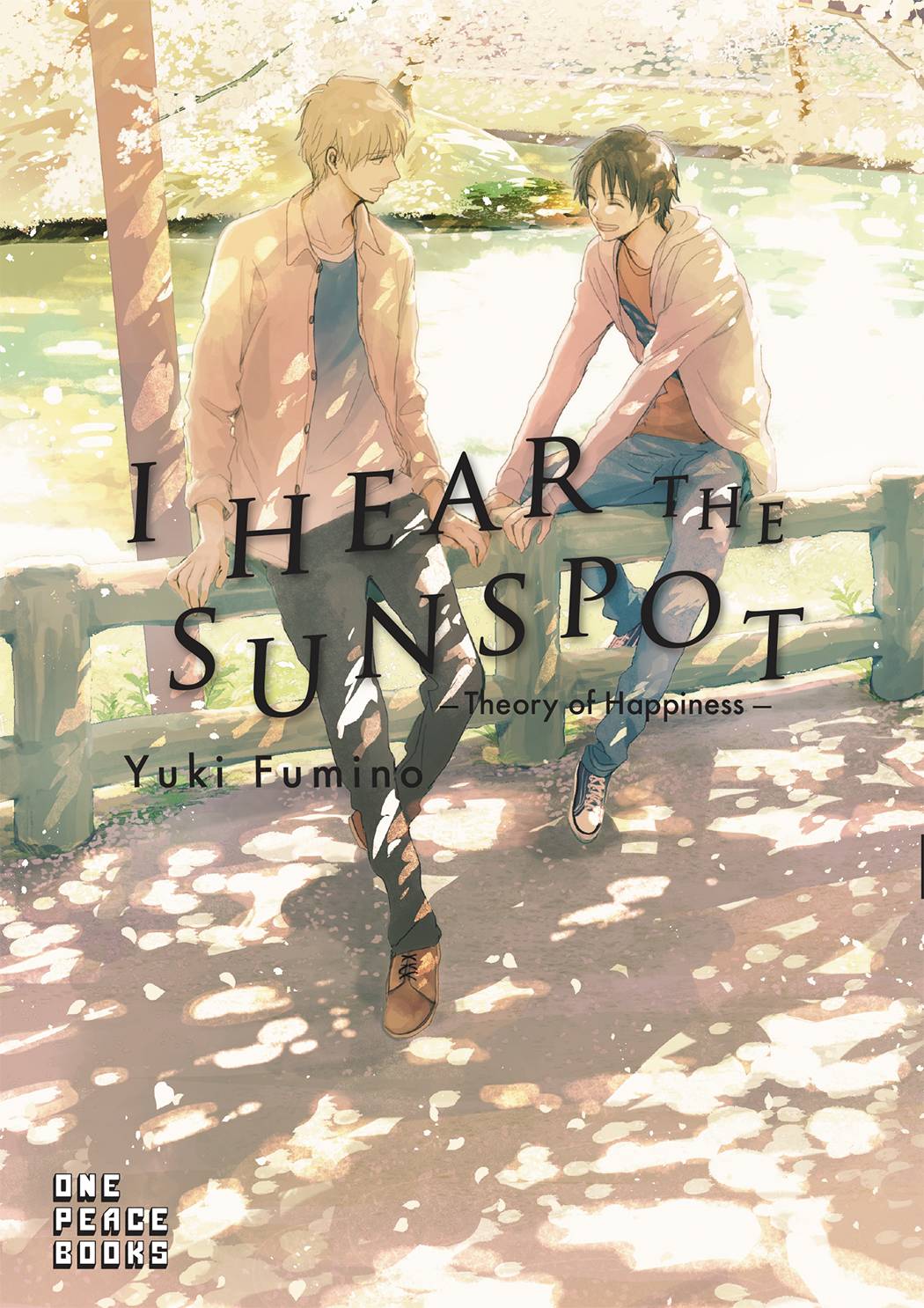 I HEAR THE SUNSPOT VOL 1 I wrote…
"Will they?
Won't they?
Are they?
I don't know!
Even after finishing I'm not sure! When they talk about a gentle romantic comedy, this is like being oh so teasingly tickled with a feather duster. You don't know whether you actually like it, but it does feel rather pleasant. Or so they tell me…"
So… after finishing this sequel which, following the smash success of the original manga and its subsequent film adaptation, apparently only came about due to the huge public demand in Japan from people absolutely desperate to know the answers to those questions above… I really can only begin my review of this volume with…
Will they?
Won't they?
Are they?
Well, I guess you can imagine that all those enchanted members of the public weren't after an unhappy ending… so you can probably take a good guess at how this mixed-up matter of the heart ends up…
Or maybe not… HAHAHAHA!!
Yes, volume two is just as teasingly, tantalisingly frustrating for all those who are grappling with Kohei and Taichi's lack of err… grappling… as they continue their "more than friends, less than lovers…" pas de deux routine.
There will be no third volume. I can at least be kind enough to tell you that…!
Meanwhile,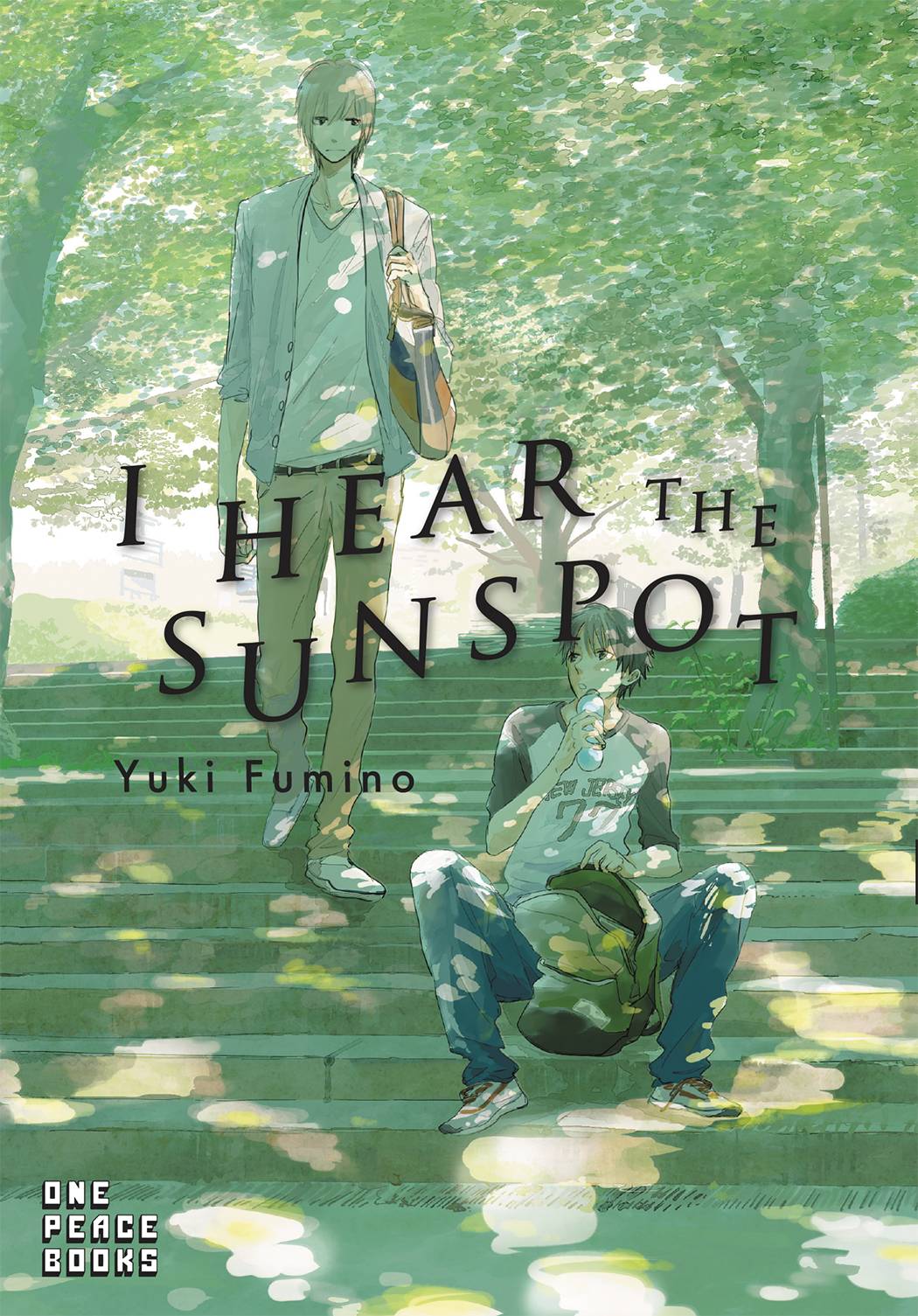 Taichi has seemingly grown up somewhat since the last volume and is behaving considerably more like a responsible adult. He's always had a big heart and now he's trying to do his best to help more people like Kohei, who despite becoming ever more independent, continues to struggle in the world at large with his profound hearing impairment. In fact, between Taichi's good works and Kohei's increasing self-reliance, the friends are spending less and less time in each other's company. Plus there's a new friend on the scene…
When they do get a bit of quality time together, once again the hard of hearing Kohei repeatedly fails, or chooses not to see, the subtle yet semaphore-sized romantic signalling of the boisterous, bellowing Taichi, much to Taichi's agonising dismay. Scene after scene of mildly comedic misunderstandings, unfortunate mishaps and missed / botched opportunities for pronouncing said feelings will practically have you screaming at the page. It's like being a love-struck incompetent teenager all over again!!
As the two continue to be like ships that pass in the night, one does begin to wonder if their 'relationship' will ever find safe harbour or end up dashed on the rocks once and for all. Or even just continue drifting aimlessly on and on without actually ever getting anywhere…? For I did also comment of volume one that I never knew non-romance romance was actually a sub-genre…
(PSSST!!! No volume three remember… Don't give up hope just yet!!!)
JR
Buy I Hear The Sunspot vol 2: Theory Of Happiness and read the Page 45 review here
The Saga Of Tanya Evil vol 1 (£9-99, Yen Press) by Carlo Zen & Chika Tono…
"You will be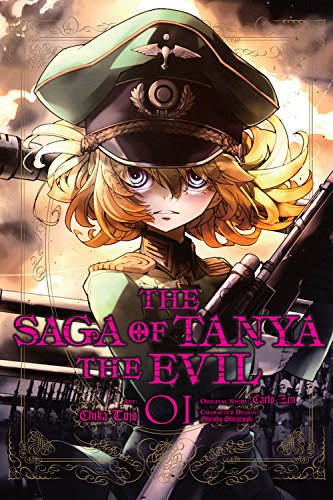 born into an unscientific world…
"…as a woman…
"… come to know war…
"… and be driven to your limits!!!"
No, not a real-life story, but a marvellously complicated piece of fantasy with a couple of salient points to make. But mainly just madcap mayhem.
An obnoxious Japanese salaryman manages to get pushed under a train by someone he's just taken great delight in making redundant and finds himself, to his surprise, getting admonished by what appears to be God. Being the sort of irritating smartarse he is, he starts talking back to said deity, and then to his even greater shock, gets told he's going to be reincarnated as a female child soldier in a war torn alternate version of Europe.
Now, Tanya, as he subsequently becomes, does have some magical military abilities, but it's clearly no picnic of a life for a nine year old. However, applying the same sort of ruthless Machiavellian stratagems and ruthless approach to his, sorry her, new career, as he did to his carving through the rank and file and up the greasy corporate pole, she soon becomes a lauded, decorated war hero with several bloody victories to her name at the front. Despite the fact that what she's actually trying to do is simply get a safe posting behind the lines. It's almost like someone has got it in for her…
Meanwhile, it turns out there are several Gods, of all the flavours you would expect. Who are bickering and tinkering away with their various creations behind the scenes, playing games with each other and just generally abusing their omnipotence.
Where it's all going I have absolutely no idea, but it's as fun as it sounds daft. Which is very and completely, respectively.
JR
Buy The Saga Of Tanya Evil vol 1 and read the Page 45 review here
The DC Universe By Neil Gaiman s/c (£17-99, DC) by Neil Gaiman, Alan Grant, Mark Verheiden & Andy Kubert, Arthur Adams, Michael Alred, Simon Bisley, Sam Keith, Mark Buckingham, Matt Wagner, John Totleben, Eddie Campbell, others.
In which we
concentrate on the question "Whatever Happened To The Caped Crusader?"
I'll tell you what happens when you finish a great story by Neil Gaiman: you go Very Quiet and Very Still. Nothing else happens except in your mind, and perhaps not even there for a few seconds. It needs time to process, to percolate. Shhh…
From the literary magician who can transform a motorcycle manual into something that not only sounds but is profound, comes another story about telling stories and indeed about stories told. Or, as Alan Moore might put it with particular application here, "All stories are true".
After Lord knows how many fingers tapping on Lord knows how many keys, and so many wrists rendering different shades of pencil, there are so very many tales told about Batman in so many different ways that not all of them join up. How could they? Why even should they? Does it actually matter? The only important thing is that The Batman never gives up: "There's always something you can do." He'll live, he'll die and he'll live again in animation on the television, in live action on the silver screen and on the page in prose and in comicbook form: revised, re-envisioned, reinvented.
This is Gaiman and Kubert's answer to the question of discontinuity, embracing it all in word, in form and in deed. And celebrating it by paying tribute. Kubert's pencils are glorious, and his ability to mimic Mazzucchelli, Lee, Kane, Adams, McKean et al is stupendous. In addition, can I confess that I guffawed at Two Face's car?
As the story opens, Batman lies dead in a casket. His friends and adversaries from across the last several decades gather round in the back of the Dew Drop Inn (and you should, you really should) tended by the man who killed Bruce's parents in Crime Alley.
Each stands up to tell a different story of his demise or recall what the driven dark knight said about life. As they do so, the man they are mourning listens to them closely and watches unseen, unsure of what he is witnessing. Is Bruce dead? And if so, who is his female fellow shade?
"This is Crime Alley."
"Yes. Very good."
"But it hasn't looked like this for sixty years or more. This is crazy… Why are we here?"
"Why? Bruce, you never left."
The finest pages are most certainly the last, but my secular self very much enjoyed this exchange edited to safeguard your own discovery, summing up exactly why I just don't care whether or not there is an afterlife. It's one of the best explanations of and exhortations to altruism that occurs to me right now:
"Are you ready to let it go now? To move on?"
"To go to my final reward? I told you, I don't believe in –"
"You don't get Heaven, or Hell. Do you know the only reward you get from being Batman? You get to be Batman."
Contains WHATEVER HAPPENED TO THE CAPED CRUSADER plus SECRET ORIGINS #36, SECRET ORIGINS SPECIAL #1, WEDNESDAY COMICS #1-12, BATMAN #686, DETECTIVE COMICS #853 and GREEN LANTERN/SUPERMAN: LEGEND OF THE GREEN FLAME #1.
SLH
Buy The DC Universe By Neil Gaiman s/c and read the Page 45 review here
Arrived, Online & Ready To Buy!
New reviews to follow, but if they're new formats of previous books, reviews may already be up; others will retain their Diamond previews information we receive displayed as 'Publisher Blurb'.
Pizzeria Kamikaze h/c (£22-99, Archaia) by Etgar Keret & Asaf Hanuka
Compulsive Comics Sc (£17-99, Fantagraphics) by Eric Haven
Crosswind vol 1 s/c (£8-99, Image) by Gail Simone & Cat Staggs
Exo h/c (£18-99, Humanoids) by Jerry Frissen & Philippe Scoffoni
Yellow Negroes And Other Imaginary Creatures (£14-99, New York Review Comics) by Yvan Alagbe
The Inking Women: 250 Years Of Women Cartoon And Comic Artists In Britain h/c (£19-99, Myriad) by Nicola Streeten & Cath Tate
Little Sid: The Tiny Prince Who Became Buddha h/c (£13-99, FirstSecond) by Ian Lendler & Xanthe Bouma
Motor Girl Omnibus s/c (£24-99, Abstract Studio) by Terry Moore
A Game Of Thrones vol 1 h/c UK Edition (£14-99, Harper Collins) by George R. R. Martin, Daniel Abraham & Tommy Patterson
Angel Catbird vol 3: The Catbird Roars h/c (£12-50, Dark Horse) by Margaret Atwood & Johnnie Christmas
Brody's Ghost Collected Edition (£20-99, Dark Horse) by Mark Crilley
Star Wars: Jedi Of The Republic – Mace Windu s/c (£14-50, Marvel) by Matt Owens & Denys Cowan, Edgar Salazar
Troll Hunters: Tales Of Arcadia – The Secret History Of Trollkind (£9-99, Dark Horse) by Marc Guggenheim, Richard Hamilton & Timothy Green II
Justice League vol 5 s/c: Legacy (Rebirth) s/c (£14-99, DC) by Bryan Hitch & Fernando Pasarin
Teen Titans vol 2: The Rise Of Aqualad s/c (Rebirth) (£13-99, DC) by Ben Percy & Khoi Pham, Pop Mhan
Amazing Spider-Man: Epic Collection vol 1 – Great Power s/c (£31-99, Marvel) by Stan Lee & Steve Ditko, Jack Kirby
Amazing Spider-Man: Epic Collection vol 2 – Great Responsibility s/c (£35-99, Marvel) by Stan Lee & Steve Ditko
Avengers: Epic Collection vol 1 – Earth's Mightiest Heroes s/c (£31-99, Marvel) by Stan Lee, Larry Lieber, Larry Ivie & Jack Kirby, Don Heck, Dick Ayers
Avengers: Epic Collection vol 2 – Once An Avenger… s/c (£35-99, Marvel) by Roy Thomas, Gary Friedrich & John Buscema, Don Heck, Werner Roth, George Tuska, Gene Colan
Avengers: Epic Collection vol 3 – The Masters Of Evil s/c (£35-99, Marvel) by Roy Thomas, Gary Friedrich & John Buscema, Don Heck, Werner Roth, George Tuska, Gene Colan
Avengers: Epic Collection vol 4 – Behold… The Vision s/c (£31-99, Marvel) by Roy Thomas & John Buscema, Sal Buscema, Gene Colan, Barry Windsor-Smith, Frank Giacoia, Howard Purcell
The Unbeatable Squirrel Girl vol 7: I've Been Waiting For Squirrel Like You s/c (£15-99, Marvel) by Ryan North & Erica Henderson plus Anders Nilsen, Michael Cho, Carla Speed McNeil, Chip Zdarsky, others
Weapon X vol 2: Hunt For Weapon H s/c (£14-50, Marvel) by Greg Pak, Fred Van Lente & Marc Borstel, Ibraim Roberson
Fire Punch vol 1 (£8-99, Viz) by Tatsuki Fujimoto