The New Neighbours PAGE 45 EXCLUSIVE SIGNED BOOKPLATE EDITION (s/c £6-99; h/c £11-99, David Fickling Books) by Sarah McIntyre.
Yes, our first 100 copies of either hardcover or softcover come with a free, signed bookplate designed by Sarah McIntyre exclusively for Page 45!
We could not be more grateful or proud.
Not only has Page 45 long been in love with Sarah McIntyre's exuberant and kind-hearted craft, but here she delivers a big fluffy bundle of witty, exuberant joy for Young Readers which also wraps its warm heart around the welcoming of strangers, whoever they are and from wherever they've roamed.
Look, there's a welcoming mat on the cover for just such a purpose as Sarah invites you in for tea, cake, and quite the cacophony! It's going to grow ever so riotous inside, and the stairs are going to take quite the thumping. I love that the carrier pigeon which breaks the big news is dressed like the landed gentry who shoot grouse!
"Guess what!" shouted Piper.
"We have RATS in our flats!"
They really do! And Piper is beyond all containment.
Oh how the young bunnies bounce around any and all flats which open their doors to their din!
"RATS!
"We've got RATS!"
"WAHEY!
"YIPPEE!"
Brick towers tumble, a game of draughts is disabled and someone's stuffed their head right into an upturned saucepan full of spaghetti. You can't really blame them.
Their elder sister Lettuce is the first they encounter. She considers this development and responds with that which is right:
"Hmm… RATS! I've never lived with RATS before…
"We should go and say hi."
Of course they should! So off they all hop down the stairs!
But their next neighbour Vern casts one note of slight caution:
"I don't think rats are very tidy neighbours. We need to make sure they keep the place clean. Let's gather everyone in the building and figure out what to do."
And that seems okaaaaaay… But without giving too much awaaaaaay…
This is the crossroads. This is where excitement, enthusiasm and inquisitiveness begin to descend from "I don't think" and "I am not sure" into accumulated, ill-informed gossip.
Each successive floor reveals itself to be inhabited by animals from all over the globe – like polar bears and great big buffalo bison – and they are all adored by each other now that they are established neighbours. But what of the brand-new, whose put-about reputation precedes them?! First rats are untidy, then they are dirty, then they are stinky and finally they supposedly steal!
The stairs become more crowded, dingier then darker as what began as a welcoming rush turns into a veritable lynch mob, and each time McIntyre adds a new verb until…
"Everyone HOPPED and TROTTED and TOTTERED and PADDED and CLATTERED downstairs…"
… And lastly they tumble, tripped up by their own unnecessary panic, into one chaotic heap on the floor.
But who's going to knock on the door? No one dares!
Now, I've given far more away than I would ordinarily within any review, but my guess is that there are very few Young Readers who'll be reading our blog themselves, so all the secrets will stay surprises for those with wide eyes who will read or be read to. Oh, how this demands to be read aloud like all Reeve & McIntyre books! I adore doing exactly that on Page 45's shop floor, when I present families with any of our Young Readers illustrated books and graphic novels.
I will leave the final reveal to Sarah, but you can rest assured that there will be much contrite and sticky egg on many embarrassed faces.
Sarah is an immigrant herself, you see, from America, so understands how important it is that we all embrace each other's individuality with open arms.
The legendary Will Eisner promoted the same message to adults throughout his career, specifically documenting various communities' comings and goings in 'Dropsie Avenue' contained in A CONTRACT WITH GOD TRILOGY, while YOU BELONG HERE, THE JOURNEY and THE ARRIVAL all spread the same love for all ages.
Before we wind up, there is so much more to recommend this on a visual level. McIntyre has eschewed her usual strident pen lines and primary colours for softer watercolour pencils which are fabulous for bunny fur – but also for a more comforting feel throughout – along with pastel shades (and indeed pastel textures here and there) for a more carefully controlled atmosphere which, as I've said, subtly shifts as events take their course. Wait – no, they don't! I mean, as the characters' trajectory is dictated by their own over-anxious hand-wringing then mutually amplified, increasingly thought-free sensationalism.
There is enormous energy on every page which propels readers through the story while those who would linger will relish exquisite background details like the pigs proclaiming rats to be messy while their own pots and pans pile up in the sink, unwashed.
I loved all the wallpaper and '70s decor. It speaks of the safe, comforting and homely. It also says everything about renting accommodation, and not having enough dosh to redecorate – clever!
There is also a wonderful sense of shared community here and a rich harmony which will be restored. You can sense the rejuvenation of spirits on the penultimate double-page spread where (once again, like the opening rooftop) you can see the light from outside flooding in.
The funny thing is that creators – writers, artists and illustrators – like Sarah McIntyre will have taken months thinking all these things through, weeks structuring the whole, and days deploying their skills on these ideas and each individual page… and we, the readers, simply tear straight through them in nano-seconds because we cannot help but desperately crave reading what happens next! It's their own fault, of course. If these authors weren't so good at what they do, then we wouldn't give a tinker's cuss.
For more Sarah McIntyre and indeed Philip Reeve please see their dedicated section within our Young Readers enclave.
To guarantee your free signed bookplate, drawn exclusively for Page 45 by Sarah McIntyre, please pre-order ASAP for collection in-store or delivery to your home or workplace. Released March 1st 2018.
We Ship Worldwide!
SLH
Pre-order The New Neighbours s/c and read the Page 45 review here
Pre-order The New Neighbours h/c and read the Page 45 review here
Read Sarah McIntyre's blog on Creating The Artwork for The New Neighbours
Read Sarah McInture's blog on Stories Behind The New Neighbours
For more on migration, please see SKETCHES FROM A NAMELESS LAND – THE ARRIVAL COMPANION reviewed for the first time below.
Marcy And The Riddle Of The Sphinx h/c (£12-99, Flying Eye) by Joe Todd-Stanton…
"Every evening, Marcy loved to listen to the tales of her father's adventures. She never quite believed him… After all, he was very old and far too portly.
"But at night, everything changed. The creatures from her father's amazing tales turned into terrifying monsters in the shadows. Marcy felt utterly lost and alone in the dark. All she could do was close her eyes tight and wait for sunrise."
Yes! After reading all about the adventures of Marcy's dad, when he was just a slim whippersnapper himself in the fabulous ARTHUR AND THE GOLDEN ROPE I can state two things with certainty. Firstly, I can vouch that he was indeed a formidable hero and secondly, that I was desperately hoping for more of the family Brownstone from Joe Todd-Stanton!
Once again, this time narrating from the splendour of the Brownstone family's observatory, complete with a kaleidoscopically coloured telescope and a gigantic clockwork mobile of a galaxy spinning away merrily, the elder bearded Brownstone of the modern era has returned to reprise his introductory preamble to another member of his adventurous ancestors.
Before too long Marcy is plunged into a death-defying adventure of her own that will see her gamely battle ancient Gods in dusty Egypt for high stakes indeed. But first we see the replete, grey-bearded Arthur, complete with eye patch, attempting to take Marcy on her first gentle adventurous excursion into a cave, to surprise her by meeting the benevolent King of the Water Spirits, who looks like a sort of free-floating giant waterfall complete with beatific smile and a tiny crown.
However, upon reaching the entrance, surrounded by spooky shadows that look very much like the ones that plague her bedroom ceiling at night, little Marcy is frozen with fear and unable to proceed any further… But when Arthur disappears off on an errand to find a mysterious book and doesn't return, Marcy decides she's brave enough to head off after him to save the day. After all, in her eyes, her dad has trouble just bending over when he's dropped his glasses!
Donning the cap Arthur always told her would summon the mighty bird Wind Weaver, more in hope than belief, Marcy is delighted to see the giant red-feathered friend waiting to whisk her away to lands far, far away in search of her father. And so, her first adventure truly begins! She's going to encounter dangerous deities bent on world domination, stowaway on a flying boat floating through stunning night skies, brave terrible traps in subterranean, stygian depths, and of course, get to play a round of riddle-me-ree with the mysterious Sphinx itself!! But can Marcy manage to conquer her fear of the dark to rescue her dad…?
Of course she can!!
What a triumphant follow-up to the brilliant ARTHUR AND THE GOLDEN ROPE this is! This has all the attention to detail in the exquisite art and madcap mayhem in its plotting that made its predecessor so swoon-worthy and gallantly gripping in my eyes. Once again, reading with Whackers, little fingers continually stopped me from turning the pages so she could take in each page in all its glorious detail, spotting hidden delights and tracing trails of potential doom narrowly avoided!
I can only add I'm already avidly awaiting the next instalment of the epic endeavours of the brave Brownstone brood!
JR
Buy Marcy And The Riddle Of The Sphinx h/c and read the Page 45 review here
Wraith: House Of Wicked Creatures (£4-99, Greentea Publishing) by Vera Greentea & ELK.
"Yes, Bean, it's true.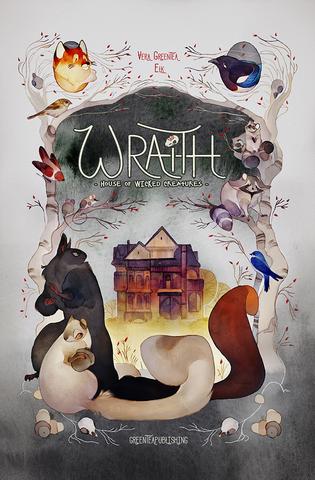 "We spent some time investigating.
"Humans are moving in."
Ladies and gentlemen, Page 45 presents its Greentea Publishing collection: eight beautiful comics imported direct from Vera Greentea herself in America.
I was always going to review this one first because, what a cover! An immaculate composition using the late autumn silver birch trees with their very last leaves to frame a remote country mansion which is in need of considerable renovation, so proving the perfect home for foxes, racoons, magpies and mice and the most exotic squirrels the world will ever see.
I think they're squirrels. One of their families has cross-bred with a Siamese cat, the other is anyone's guess – but, oh my, they're gorgeous! The former is Pan, the latter is Wraith who's not been a part of their cosy community for a while now.
"Humans came to her previous home and killed her entire family… using food."
Using food!
The fox is called Frida and she too boasts the bushiest of tails and ever such glossy, well-washed fur.
Within the abandoned home, still fully furnished, some of the plaster has cracked and come down, and the odd weed have taken root, but nests have been built and there's still the odd thing to forage. Just as a gentle mist hangs low outside, so the inside is suffused in soft, floating light and shadow.
ELK's forms are lithe and the animals acrobatic, but are they up to defending their home from human beings when determined? A little lateral thinking may be required.
Greentea generously gives ELK all the room required to both charm and alarm the reader: a self-contained story like this could so easily be overwritten when what we want most is to bathe in its beauty. Instead we are shown all that we need to know, like the alarming arrival of very large lorries, wending their way through the scrubland.
Coming back to the cover, it sang to me of my childhood: of William Backhouse's endpapers to Jane Shaw's retelling of Joel Chandler Harris's 'Uncle Remus Stories'.
These were read to me by an Aunt who wasn't an Aunt, but a nurse from Northern Ireland and I'm so sorry she never read to you, because her accent was everything.
"And Br'er Fox, he lay low!"
SLH
Buy Wraith: House Of Wicked Creatures and read the Page 45 review here
Courtney Crumrin vol 2 s/c: The Coven Of Mystics (£11-99, Oni) by Ted Naifeh.
Second of seven
COURTNEY CRUMRIN volumes to receive the softcover treatment, it's one of my favourites which will rob you once and for all of the illusion that every Young Adult book necessarily comes with a cosy conclusion. I should also emphasise that this series is equally treasured by Old Adults alike: hello!
Courtney Crumrin desperately needs help to save the innocent faun-like Skarrow from summary execution at the hands of The Coven Of Mystics. That information may rest in the shadows of Radley Hall and the mind of dead demon Tommy Rawhead. But how to get in? Leave it to mystic moggie and actual cat burglar Tobermory – he's getting intruder window.
"As ray of moonlight passes glass, so shall Tobermory pass.
"Take a note, Miss Crumrin. It's much simpler to trick a spell than to break it."
Young Courtney Crumrin will be taking a lot of notes here about how the world works around her: it's full of self-interest and hate in the human heart. For those in love, the worst sin is silence, inaction the absolute killer. The good news is that Courtney and silence are far from synonymous, but will she be listened to in time?
Love, love, love this series, now in full colour. Ted Naifeh's moonlit Council of Cats is like Kelley Jones' equivalent work in SANDMAN: DREAM COUNTRY after an infusion of Mike Mignola and a wide- and shiny-eyed dose of his own design flair for a Crumrin transformed into cat.
That which she finds sheltering in fear from two arcane archers is quite magical and long been the stuff of my dreams. Naifeh does soft, sleek and otherworldly to perfection; his monsters are hideously twisted. He is exceptional at making you believe in impossibly large things lurking in improbably small cabinets, like the next one you'll foolishly open.
Following COURTNEY CRUMRIN VOL 1, this finds our belligerent young lady in her second year at school and under close supervision from Ms Crisp, a teacher with close ties to Uncle Aloysius but who understands that isolating yourself from the real world comes at a cost. That is a lesson which will be most painfully learned by all.
A demon has been summoned which dispatches whole families. A curse has been placed on witch Madam Harker, rendering spoken words into a cascade of frogs. When she tries to write, her hands become wriggling serpents. Someone is silencing all and sundry, while a mute woodland creature called Skarrow seeks sanctuary in Uncle Aloysius's once well respected domain. Instead the villagers move in, their metaphorical pitchforks in danger of becoming cold steel. What under earth is going on?!
It's time to convene the Coven Of Mystics, the council by whom all will abide. Wrap up warm, my lovelies; because I'm afraid it's about to grow chilly.
SLH
Buy Courtney Crumrin vol 2 s/c and read the Page 45 review here
Sketches From A Nameless Land – The Arrival Companion (£14-99, Lothian) by Shaun Tan.
"Who was I, in this place?

"Everything and nothing."
From a spread of notes taken by Tan from interviews and biographies in which migrants spoke about their lives, embellished with the sketches they inspired.
"Often, the most difficult experiences were described by migrants in a very concise, understated way, partly because of poor English skills, but also due to the more general inadequacy of language to convey complex feelings and impressions."
It's one of the many reasons why the final graphic novel is silent, using instead the universal language of pictures whose tones are transformed according to the emotional highs and lows of its protagonists.
Shaun Tan's THE ARRIVAL has to be one of the most beloved books at Page 45, bought then bought again as its readers are inspired, galvanised into spreading its empathy towards those most in need of understanding and help, but who are often the most ostracised and even vilified by the right-wing press, opportunist politicians, and the thoughtless, with hate in their hearts.
This is the story of the graphic novel's evolution then construction, full of preliminary art and process pieces, photographs of friends posing for pictures etc which Shaun reproduces with extensive explanations or brief annotations, like the Registry Room or 'Great Hall' at Ellis Island in America circa 1907-1912, through which each new arrival had to pass in order to enter the country.
"Here, I tried to amplify the subtle 'poetry' of the original image: the huddled darkness of massed people, the bench-lines receding towards a flag in the centre (a strange symbol of authority and freedom) and the protective embrace of the cathedral-like vaulting. The over-exposure of the upper-storey window suggests a land of luminous opportunity just beyond the gates."
In his final piece Shaun replaces the blinding light with vast, distant towers from which those who have been accepted – after intrusive inspections by military surgeons – are dispersed in balloons. In place of the flag hangs a gigantic sign in a fictional language indecipherable both to the book's readers and those queuing for admission. So it is that throughout we walk these miles in their shoes. Later on Tan will demonstrate the construction of this script from a rearrangement of Roman letters and numbers using scissors and transparent tape.
Of his choice to use a shadowy serpent coiling round bleak, dilapidated housing in the asylum-seeker's homeland, Shaun suggests it was "an ideal metaphor for many unspoken fears: political oppression, religious persecution and even ecological collapse. At the same time, they escape such specific interpretation, and I think that is the most important thing in illustration: that an image feels truthful beyond any explanation."
For someone who's fashioned a career largely from silent, pictorial narratives, Shaun Tan is ever so eloquent, as anyone who's read his TALES FROM OUTER SUBURBIA, BIRD KING art book and THE SINGING BONES, inspired by the Brothers Grimm. He writes about his own complex international heritage, and this made me sit up and think because, when one casts one's mind over the creator's catalogue, it rings perfectly true:
"Consciously or otherwise, I've always been attracted to stories about characters who find themselves lost, displaced, in an unfamiliar world, or experiencing some other troubled sense of belonging."
Please pop Shaun Tan into our search engine to discover his range for yourself.
SLH
Buy Sketches From A Nameless Land – The Arrival Companion and read the Page 45 review here
Arrived, Online & Ready To Buy!
New reviews to follow, but if they're new formats of previous books, reviews may already be up; others will retain their Diamond previews information we receive displayed as 'Publisher Blurb'.
Almost Silent h/c (£22-99, Fantagraphics) by Jason
Only The End Of The World Again h/c (£17-99, Dark Horse) by Neil Gaiman & P. Craig Russell, Tory Nixey
Get Naked (£22-99, Image) by Steven T. Seagle, various
Incognegro: A Graphic Mystery h/c (£17-99, Dark Horse) by Mat Johnson & Warren Pleece
Perfect h/c (£8-99, Graffeg) by Nicola Davies & Cathy Fisher
Red Winter (£16-99, Drawn & Quarterly) by Anneli Furmark
Scales & Scoundrels vol 1: Into The Dragon's Maw s/c (£8-99, Image) by Sebastian Girner & Galaad
The Legend Of Korra: Turf Wars Part Two (£9-50, Dark Horse) by Michael Dante DiMartino & Irene Koh
Crisis On Infinite Earth s/c (£26-99, DC) by Marv Wolfmann & George Perez
Avengers & Champions: Worlds Collide s/c (£15-99, Marvel) by Mark Waid & Jesus Saiz, Humberto Ramos
Inhumans: Once & Future Kings s/c (£14-50, Marvel) by Christopher Priest, Ryan North & Phil Noto, Gustavo Duarte