Featuring Tove Jansson, Nicola Davies, Cathy Fisher, Vera Greentea, Laura Muller, Kirsten Wild, Zara Slattery. Sebastian Girner, Galaad, and Jason
Nenetl Of The Forgotten Spirits Parts 1-4 (£4-99 each, Greentea Publishing) by Vera Greentea & Laura Muller.
"This
is where the forgotten spirits wait, hoping that someone finds an old photo and lights a candle for them.
"They smell like the rain. No, like a flood."
No one has truly died until they're forgotten.
Their spirits survive in our recollections of how they affected our lives.
Throughout Mexico, families gather to celebrate and remember their immediate loved ones and older ancestors during the Day of the Innocents and the Day of the Dead, so keeping their legacies alive in their hearts and minds.
But some stories slip through the cracks – along with unfinished business – for not everyone leaves a living relative behind to keep that flame alive. Those spirits are restless, those spirits are pained.
Some of us cannot bear to be forgotten.
Emotional investment: do you know what 'Nenetl' means?
My second review of our Greentea Publishing comics imported direct from Vera herself is of this complete four-part fantasy which is immaculately structured and ever so satisfying once the true nature of Nena becomes clear, and her remaining ties to this world are disentangled, revealed, both to us and to the tight tale's young cast. I wasn't expecting anything quite so clever, but one should never underestimate Vera Greentea.
We first meet Nena in a bustling market square bathed in late-afternoon shadows – already decked out with street-straddling flags and sugar skulls galore – bumped into by tiny Jonah who's sporting some short-legged, bright orange dungarees. I don't think I've ever typed the word "dungarees" before. There are a lot more collisions to come, and I don't mean that merely metaphorically. Laura Muller loves drawing multiple "strobe shots" of figures in flight across a single environment, thrusting them forward with a much greater sense of momentum than had they been split between panels. Almost always they are then brought to an abrupt halt, either by themselves on coming to the edge of a rooftop, or by being thumped into by someone else in a hurry. During the first issue alone that happens three times, and it's very effectively done.
So what's Jonah carrying? You'll have to wait for part three. Why's he in such a rush? Again, see part three! Why is Nena waiting there and where did she come from? I'd suggest patience until the middle of part two – that which takes place several hours earlier. I did promise you clever structure, didn't I?
So exactly who is our Nena? Ah-hah! The secrets will all eventually out, for now you'll only learn where she's heading: an assignation with older Bastian, friend of Jonah, thence an ancestral vault which leads to a catacomb of skulls.
However, have you studied the cover to part one properly? There Nena dances, arms perfectly poised mid-air for balance, her lower leg striding daintily out from under her dress, revealing… Oh.
It's another of those classic rhombus compositions like Caravaggio's 'David With The Head Of Goliath' (Villa Borghese version), this time using the line of the leg rather than a sword to complete the circuit between hands, arms, head and foot.
And don't you just love the luminous quality of Nena's red dress?
Material like that shifts in colour depending on the quality of light falling across it; material like that shifts in colour depending on what lights shines through it, as Nena drops down from the rooftop, her dress fanning out, all seen from below with the sun up above, not transparent but translucent. Then there's the forward / sideways roll upon landing and, yup, carmine joins the crimson.
Muller will later show you what she can do with blue hues too, both in the candle-lit catacombs and in the graveyard where confident, ambitious Violetta (sister of Eli, all part of the same set of friends as Jonah and Bastian, as tutored by Father Eduardo) makes a terrible mistake in a ceremony whose consequences she doesn't fully understand.
"The spirits are waiting…"
Oh yes! That, they are!
As with WRAITH, Greentea generously allows her visual storyteller, Muller, to do so much of the immediately obvious fancy work. A less judicious or self-confident author might be tempted to clog up the shape- and colour-driven pages with extraneous dialogue and hideous exposition simply to show that they're working. Some people get paid by the paragraph, you see. However, when you're self-publishing and you've had the good fortune to secure an artist like Muller on your comic, then it would a crime to clutter it up.
I can assure you that, instead, Vera has set all the tale's hidden vertebrae into interlocking perfection.
SLH
Buy Nenetl Of The Forgotten Spirits Part 1 and read the Page 45 review here
Buy Nenetl Of The Forgotten Spirits Part 2 and read the Page 45 review here
Buy Nenetl Of The Forgotten Spirits Part 3 and read the Page 45 review here
Buy Nenetl Of The Forgotten Spirits Part 4 and read the Page 45 review here
Don't Call Me A Tomboy (£6-99, WildSlattern) by Kirsten Wild & Zara Slattery.
"Don't call me a tomboy,
"I'm made of girly stuff
"like grazes, mud
"and tatty curls
"and toxic belly fluff."
Artfully done!
I adore the entire attitude here, deftly delivered with a degree of defiance but also grace, as the young girls' energy blasts unapologetically from the pages.
At 4" x 12" tall, I also adore the format which, on its first two of sixteen story pages, emphasises the other Winsor McCay elements: the lines, forms, the colours, the traditional rocking horse and the fierce, fantastical imagination of childhood, as well as the rhyme itself.
"Don't call me a tomboy,
"my name is Lily-Lou,
"I love jumping through the treetops
"and hunting like a Sioux."
Plus I adore the production values: thick card cover and silky-smooth pages.
What's not to love?
Hurrah for individuals!
SLH
Buy Don't Call Me A Tomboy and read the Page 45 review here
Scales & Scoundrels vol 1: Into The Dragon's Maw s/c (£8-99, Image) by Sebastian Girner & Galaad.
The fire has
been lit, the stew has been eaten. It's time for a friendly battle of wits.
"I am greater than a dragon and stronger than a Titan.
"The rich need me. The poor have me.
"And if you eat me, you die.
"What am I?"
Oh no, no, no, you're going to have to buy the book to find out, but I can honestly say that I have seldom strayed across a more satisfying riddle.
I imagine we'll be selling this fast-paced fantasy predominantly to adults, but you can also rack this safely next to LUMBERJANES, HILDA and BAD MACHINERY for the most excellent All-Ages adventure. The colours on the cover could not be fresher, while within you fill find rustic town roofs and windows lit like jewels in the night, forests given the most enormous depth with mixed sandy hues in the foreground spotlighted between greens which dominate the furthest stretches before glimpses, between tree trunks, of a blue sky beyond.
And then our small, gradually gathered crew discover The Dragon's Maw, an ancient and vast labyrinthine citadel whose precarious stone steps spiral deep underground, taking them past warnings carved on the walls in a strange dwarven dialect, then across rickety old rope bridges spanning seemingly bottomless chasms.
I think, if it's okay, I'll turn back now; I'm not one for heights.
The initial, full-page reveal of the citadel which concludes chapter two (after two pages of groping blindly through darkness) is pure Tombraider. Glorious! I don't mind sending Lara Croft into danger on my behalf.
We open late one evening in a tavern with war-painted, white-tufted Luvander delivering her finishing move with a flourish, winning hands-down at Dragon's Horde: lots of lovely coinage to scoop up and spend! Ummm… not so much.
"You lousy cheat!"
Ooooh, such a sore loser!
He's going to be very sore soon – they all are – for when they duff up then corner Luvander she responds with… is that's dragonfire?! They're going to need another tavern.
So that's a mystery for another time. Normally she wouldn't need it. She's a nimble as anything, eluding the angry, armed townsfolk at her own leisurely pace with effortless acrobatics, but it does mean she's back to sleeping in a barrel of smelly onions and down to one copper coin. Oh wait, there's an urchin who hasn't eaten for days. Back down to nothing, then.
It matters not, for Luvander is as tireless an optimist as she is an adventurer, forever smitten with a wanderlust which takes her out into the countryside and straight into the middle of a robbery. Instinctively she sides with the victims: Prince Aki, royal bodyguard Koro and Dorma Ironweed, a stocky young dwarf whom they've hired as a guide to The Dragon's Maw. Her grandmother's recipe for stew is quite spicy.
Prince Aki is only sixteen and embarking on his first quest, as is tradition. He may not match Luvander's strength or cerebral dexterity, but he too is inextinguishably up-tempo, while Koro is ever suspicious. I suppose it's her job.
Down they all go into darkness, seeking the Maw's secrets and perhaps ancient gold. The stone stairs and passageways are littered with skeletons, so they're not the first by any means. Unfortunately there's someone hot on Luvander's heels, and he brings with him two very big dogs. Also: none of them have noticed that there are braziers lit, and presumably kept fuelled…
Terrific stuff, with huge energy and humour, frantic, abyss-edge battles and, how I love a good dream sequence! Lots to try to interpret there: a stained-glass window, chains, padlock, temple ruins, treasure, a young Luvander… and what's up with her eyes on occasion, anyway?
Do you like dragons? I do!
SLH
Buy Scales & Scoundrels vol 1: Into The Dragon's Maw s/c and read the Page 45 review here
Perfect h/c (£8-99, Graffeg) by Nicola Davies & Cathy Fisher.
"I loved the
little bedroom on the top floor of our pointy house. In summer, swifts nested in the roof above it and I watched their fledglings' first flights from its window. They were perfect from the very start, soaring high to slice the sky with crescent wings."
What superbly weighted cadence that final clause carries, darting up twice on "high" and "sky", suggesting the power, speed and reach of the swifts' sweeping trajectory, as well as their agile ability to "slice" with energy and precision.
That the fledglings were "perfect from the very start" is equally well worded. First sentences, I'm sure, are far from easy; but as more challenging third sentences go, that is a belter. Everything that follows is informed by it.
You'd be forgiven for thinking – given the manner in which I've chosen to introduce this eloquently expressed, profoundly moving and finally uplifting picture book – that you were about to launch into an idyllic memory of childhood delight, inspired by (and a tribute to) the almost inexpressible wonders of nature. You'd be forgiven because you're not entirely wrong, but this is far more than that.
Cathy Fisher's illuminations will make your souls soar as high as these birds' constant, life-long flight; and your heart dip and twist, then beat again, in time to Nicola Davies' almost impossibly successful evocation of what it can mean for a young child to anticipate the birth of a sibling with whom they long keenly and excitedly to share all things ebullient…
"That's how it will be, I thought, me and my sister, racing and chasing, screaming with laughter and delight."
… Only to discover, abruptly, that their newborn brother or sister doesn't seem so immediately perfect after all.
"I could see that she would never race or chase. She didn't even scream. Her dark eyes looked at me and she lay quite still."
Here the air-borne freedom of the swifts lies in stark visual contrast to a baby who is beautiful, cocooned in soft cloth, but seen from behind the bars of her cradle, with wire-like coils of black and white scrawled above, then dragging the whole down into potential darkness.
As she gazes up into sky from the grass which bursts with dappled flecks of gentle summer colour, the older sibling's initial, outright rejection is expressed with heartfelt regret but a candour which is vital, for this tale is told to "open up the subject of disability for young readers" so that communication can begin.
Where it takes you several pages later, however, after the swifts continue to screech, sweep and circle while the baby sister lies still, is… well, it's perfect.
The reunification through understanding is inspired by the discovery of fledgling beached, as it were, on the lawn. It lies there, stranded, for swifts are incapable of taking flight except from above.
Clearly, the bird is going to need a helping hand… But that's all it will take.
I wish I had even more interior art for you here. There's a close-up against black of the fledgling's head and winged shoulder, its glistening black eye reflecting the white-clouds and blue sky it yearns for once again, and the face of its new friend. The image is echoed a few pages later, and that one I do have for you, life and love radiating from the soft skin, lips and eyes.
Such immaculate structure!
I'm sorry it took me a couple of years to find this book for you. You may well have already discovered it for yourself. Our primary focus – for which we have more vocation than a monastery full of monks – is on comics and graphic novels, and so is the focus of the solicitations sent to us by our suppliers. But we are equally passionate about all forms of art, especially when created by those who have something important to say and the skills with which to say it. So occasionally I stray upon something new, outside our immediate arena, to add to our burgeoning selection of illustrated prose within our Young Readers already established graphic novel section. For this one, I'm indebted to our dear friend Helena Pielichaty, Page 45 customer, author and passionate patron of reading.
For another all-ages picture book which has something vital to say (albeit in a completely different tone!), please Sarah McIntyre's THE NEW NEIGHBOURS, reviewed.
SLH
Buy Perfect h/c and read the Page 45 review here
The Dangerous Journey (£9-99, Sort Of Books) by Tove Jansson.
"Susanna woke one morning
"Bored and confused and cross.
"She gave her cat a warning.
"She told it who was boss."
Oh, that will work out well – as anyone who's ever been owned by a cat will know well.
"You're old, Cat, and you're lazy –
"Too peaceful, too serene.
"Not me! I'm wild and crazy
"And I'm sick of all this green."
Okay, but be careful what you wish for, Susannah…! Uh-oh.
"I'd love it if some vandal
"Turned green to sparkling gold –
"Danger, disaster, scandal!
"What might our future hold?"
Danger and disaster as it happens, for when Susannah discovers a second pair of glasses in her green and pleasant land, it stops being either green or pleasant, but becomes a nightmare terrain of slimy swamps, eerie landscapes full of "hot red clouds", erupting volcanoes and birds flying backwards, upside down. There follows a frightful but also funny flight through a world turned topsy-turvy, but fortunately she encounters some familiar friends from Moomin Valley in the form of Hemulen, Snufkin, Sniff, Thingummy and Bob, and together, through foul weather, they plough their way back to the sanctuary of home.
I'm informed that this was the last picture book completed by MOOMIN's Tove Jansson (see also WHO WILL COMFORT TOFFLE etc) and, as before, British poet Sophie Hannah has worked her magic on a literal translation by Silvester Mazzarella to render the most extraordinary thing: a beat-perfect English-language version which manages to replicate the specific, mischievous wit and linguistic prowess of Jansson's original, and still it rhymes!

In fact it rhymes beautifully. Astonishing, really, especially given Thingummy and Bob's predilection for swapping bits of words round (clue – they've just encountered the volcano):
"Thingummy muttered, 'Flazing blame'.
"Bob said, 'It's hed hed rot!
"Smorld up in woke – a sheadful drame,
"When smorld is all we've got!'"
Shades of Lewis Carroll there, and that last line is particularly clever in retaining "smorld", for it makes no sense without its earlier accompanying swapsie, yet every sense, encapsulating their entire predicament: a world that's gone up in smoke.
If this is Jansson's very last picture book then in some ways she's come full circle, for MOOMINS AND THE GREAT FLOOD, her first, also featured a fearful journey outside of the safety zone of Moomin Valley as Moominmamma leads Moomintroll through equally unnerving, spooky and potentially dangerous landscapes in search of a lost Moominpappa.
THE DANGEROUS JOURNEY comes with a quite traditional structure: tranquillity enjoyed, tranquillity lost (well, actively rejected) then tranquillity ultimately restored after much penitence and strife, with the unspecified verdant meadows replaced by and upgraded to the tulip blooms of magical Moomin Valley. You'll note that the visual treatment of the two idylls is markedly different too: the first is serene, sedate, quaint, picturesque – what I might call country cottage – whereas Moomin Valley is a riot of cartoon effervescence.
There's no further mention of the strange second pair of glasses – they're not taken off – but the cat's back, still sleeping soundly, and is treated and greeted with a great deal more appreciation.
Sorry? Yes, belated spoiler warning, possibly, but as with many things it's very much the journey, not the destination.
SLH
Buy The Dangerous Journey and read the Page 45 review here
Almost Silent h/c (£22-99, Fantagraphics) by Jason.
Classy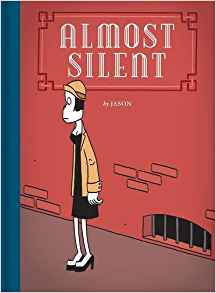 collection of four silent books, previously available separately, from the creator of I KILLED ADOLF HITLER, LOW MOON, IF YOU STEAL, ON THE CAMINO all reviewed with interior art so that you can get an idea of what Mark's talking about.
Of Tell Me Something, Mark wrote:
Two conventions, one from comics, one from film, both from the same ear. All the faces here have blank eyes, no pupils (think Harold Gray). This tempers the expressions and makes each face (whether bird-like or dog-like) a mask. This is added to the use of (silent) film titles and the characters' actions (hard) boiled down to archetypes. You've got the femme fatale with the two rival suitors, one from the wrong side of the tracks, a disappearing father and hired goons. Very refreshing to see Jason keep the 'beauty' drawn in the same style as the rest of the cast. Too many times I see an artist abandon a (for instance) gritty style to up the cheesecake on the dame. Just a pet peeve.
Of You Can't There From Here [one of my favourite titles to any book — think about it!], Mark wrote:
Two evil henchmen take time off from fetching fresh brains for the evil scientist masters to have lunch in town. While they complain about the hours and the pay there is bedlam and love happening around them. The mad scientist has fallen for the bride of the monster but the monster doesn't want to give her up. Jason adds a mundane layer to the horror story.
Of The Living And The Dead, Tom wrote:
Second instalment in the Norwegian cartoonist's horror/comedy trilogy which started with 'You Can't Get There From Here'. This time he offers flesh-eating funnies with a George A. Romeo by way of Buster Keaton Zom-Rom-Com. Truly original twist at the end too, but I won't give that away. This is carried once again by Jason's intrepid use of timing, each panel perfectly captures the motion and the meaning of each second. Being almost silent – the little dialogue there is interrupts the visuals by stealing its own panel much like a silent film would give a few frames for the same effect – this almost invites you to steam through the action until you're flying through the pages like a flip-book. More please, sir!
Fun, short, mostly silent tales about Jason's non-specific anthropomorphic versions of Hammer Horror staples Elvis, Godzilla, Godzilla's mum, The Terminator, a caveman, a '50s-esque Alien, a lynch-mob and an ice-cream vendor. Difficult to convey just how visually funny these are, but if you've read his more sombre tomes such as HEY WAIT, imagine the same heart-rending, understated timing applied to comedy. It's pitch-perfect.
And of Almost Silent, Stephen wrote:
Classy collection of four silent books previously available separately.
Never let it be said that I don't do my research.
SLH
Buy Almost Silent and read the Page 45 review here
Arrived, Online & Ready To Buy!
New reviews to follow, but if they're new formats of previous books, reviews may already be up; others will retain their Diamond previews information we receive displayed as 'Publisher Blurb'.
American Gods vol 1 h/c
(£20-00, Headline) by Neil Gaiman & P. Craig Russell
Is This Guy For Real? The Unbelievable Andy Kaufman (£14-99, FirstSecond) by Box Brown
Bible Of Filth h/c (£30-00, David Zwirner Books) by Robert Crumb
Capture Creatures (£13-99, Kaboom!) by Frank Gibson & Becky Dreistadt
Nick Cave & The Bad Seeds: An Art Book h/c (£24-99, SelfMadeHero) by Reinhard Kleist
Uber vol 6 s/c (£17-99, Avatar) by Kieron Gillen & Daniel Gete
White Sand vol 2 h/c (£22-99, Dynamite) by Brandon Sanderson, Rik Hoskin & Julius Gopez
Yellow Kayak h/c (£12-99, Simon & Schuster) by Nina Laden & Melissa Castrillon
The DC Universe By Neil Gaiman s/c (£17-99, DC) by Neil Gaiman, Alan Grant, Mark Verheiden & Arthur Adams, Michael Alred, Simon Bisley, Sam Keith, Mark Buckingham, Matt Wagner, John Totleben, Eddie Campbell, others
Astonishing X-Men vol 1: Life Of X s/c (£15-99, Marvel) by Charles Soule & Jim Cheung
Invincible Iron Man: Ironheart vol: 1 Riri Williams s/c (£17-99, Marvel) by Brian Michael Bendis & Stefano Caselli