Featuring Audrey Niffenegger, Eddie Campbell, Tommi Parrish, Eric Haven, Jerry Frissen, Philippe Scoffoni, Reinhard Kleist, more.
Bizarre Romance h/c (£16-99, Jonathan Cape) by Audrey Niffenegger & Eddie Campbell.
"The attic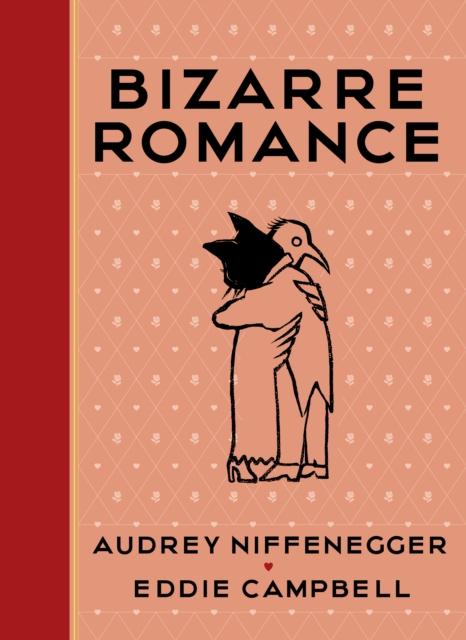 was infested with angels again. I could hear them bumping around above the ceiling. Plus, the harp music made it pretty obvious."
If my name were Jacob, I probably wouldn't go climbing any ladders. You never know what you'll encounter.
What Jakob Wywialowski discovers, once he's stuck his head over the proverbial parapet and up through the attic hatch, is a small orchestra of Byzantine angels sat on the floorboards or upon the carved antique chairs belonging to his great-aunt Rachel. Now, harp music would probably prove soothing to most, but there's a lute, a lyre and some sort of trumpet. That's sure going to carry. And although they stop strumming the second they see Jakob (and stare him down coldly), they strike right up again the second he's popped the lid back.
Have you ever had noisy neighbours? Plus, you know, if you don't take action, things can escalate.
"One thing leads to another, and before you know it, you've got Seraphim."
The angels are rendered, as per Byzantine tradition, faces turned but in bodily profile, even when all hell breaks loose later on. There's an exquisitely funny, ornately framed, two-dimensional tableau of this (wherein the angels remain coloured in flat olive hues in contrast to their contemporary assailants) which can be viewed from all angles, as you might a church ceiling from the same period. For the same effect, hold the book above your head then turn it round.
The tale takes a truly upsetting twist (which is sadly familiar if you transpose it), but the punchline is perfectly judged for maximum, serves-you-right mirth.
So, twelve short stories and a sermon (!), some of which have seen the light of day before but in different ways, some of which haven't except as one-off performance pieces, with one which is brand-new to the public. Apart from a couple which were co-created by the couple for comics, all are written by Audrey Niffenegger ('The Time Traveller's Wife', 'Her Fearful Symmetry' etc), and each has been transformed into illustrated prose or full-blown comics by Eddie Campbell of ALEC OMNIBUS, BACCHUS, FROM HELL, FROM HELL COMPANION, THE TRUTH IS A CAVE IN THE BLACK MOUNTAINS, THE PLAYWRIGHT etc, all reviewed.
Kicking a piece of prose fiction off with a double-page illustration is a risky business, but the specific shimmering imagery preceding 'Secret Life, with Cats' (note the exact title including punctuation) could not anticipate and complement what follows better and Campbell's contribution to 'The Composite Boyfriend' is a stroke of mischievous genius. It's a paper-doll dress-up of a naked, bald man with slots through which you can stick the tabs attached to the various mix-and-match head gear, shirts, jackets, boots, high-heeled shoes, pants and panties. There's additional lateral thinking I'll leave you to discover yourself, but only Eddie Campbell would think to include a variety of genitalia for preferences' sake or a fig leaf for the prudish, deeply religious or asexual.
The short story itself is a free-flowing composite too:
"I met him at the Isabella Stewart Gardner Museum in Boston, where he worked as a guard. I met him in a class I was taking. I met him at a school where we both taught. I met him at a party; we smiled at each other across a crowded room. We were introduced to each other by our mutual friend Paula, an Austrian immigrant who had escaped from the Nazis as a young girl."
"…I gave him my phone number but accidentally transposed two digits because I had just changed it. He managed to call anyway."
The sex was largely problematic.
So, what are you in for thematically? The title would suggest bizarre romances, and there are plenty of relationships here (romances, family, friendships) which either begin bizarrely or take quite the startling turn at the transdimensional traffic lights. There are initial connections, strange transformations and passages through mirrors, hatches and doors, whether you can see all of them or not. Offers, for examples, are doorways; agreements are you stepping through.
There are also a great many cats, some living, some dead, one dead-and-buried and about-to-be-exhumed, while others were never alive. See juggled ocelots. That they were specifically ocelots is funny in its own right.
Originally written between 2003 and 2014, I note that 'Secret Life, with Cats' was originally published in 2006, three years prior to Niffenegger's novel 'Her Fearful Symmetry' and I wonder which more informed the other, for they share more than a few of the same elements. It's a story about houses, one of which is bequeathed to the narrator by a friend called Ruth whom she met while they worked together at a cat rescue, rehabilitation and re-housing centre after Ruth disappears. The narrator finds that she too would like to disappear and does so, twice – the first time in order to escape life with a neglectful husband by moving into her new house; the second time in order to escape what she finds there. After an extended, predominantly tender tale, the narrator abruptly signs off, over and out with a shockingly ruthless expediency which is so completely in keeping with her quiet, resigned pragmatism that it is comical.
Ever and always, throughout this collection, you can see the creators' eyes twinkle.
As well as the humour, there's an unworldly eeriness to some of Eddie's art here, not least in 'The Ruin of Grant Lowery' which begins in the very fixed and concrete location of "the Village Tap on Rancine" before some of those dangerous doors begin beckoning. At that bar an imperious-looking lady accosts him, her face a too perfectly beautiful, impassive mask. She asks Grant Lowery to settle a bet between her friends, but that invitation too is a mask for what she really wants. It's a clever approach, to offer alternatives. One of her friends has a facade which exhibits slightly feral features; the other's smile is so asymmetrical that "Grant wondered if she had been in some sort of accident". I liked this: "Migly, as he looked at her, seemed to become subtly more asymmetrical, until she was almost cubist." Wait until you see what Campbell does with that! Wait until you learn what Grant Lowery doesn't: he doesn't run away.
The eeriness is in evidence too in 'Backwards in Seville'. There the pages open right up with vacuums of white: silent space in which only five sentences are actually uttered and upon which each panel seems to hang as if suspended in space, but more accurately time.
The effect is that within fluid prose – as the narrator talks herself out of an existence she no longer cherishes in favour of her frail, aging father – each solitary reflection is given its due. It's difficult not to linger. It also divorces a blur-faced Helene from the world she perceives and the life she has led which she reflects upon remotely, dispassionately and disappointedly as their boat backs away from Seville.
"She had met Evan when she was twenty-eight and he was thirty-six. He's always seemed on the verge of marrying her; she was patient.
"When he broke up with her fourteen years later and married a girl half her age, she understood that she'd been gullible and that he was a jerk, but, oh, well, and so she had lapsed into a quiet, permanent rage."
Helene's father has been recently widowed, you see, and she has taken her mother's place on their traditional Mediterranean cruise holiday. Slowly but surely as Helene reflects upon what little she has made of her own life, she comes to the conclusion that her more interactive, proactive, still-smiling father could make far better use of her extra time which she – being too timid and ineffectual to date – wouldn't have the first clue what to do with. Almost anyone other than Audrey Niffenegger would have then turned this into a cautionary tale of being careful what you wish for. But such proscriptive stifling is really not her style.
So we come, appropriately enough, to the 'Gaeia Manchester Sermon' which Niffenegger originally delivered in a cathedral to a congregation celebrating the Manchester Literary Festival in October 2014. Yes, it was a real sermon delivered in a real cathedral to a real congregation, even though the writer had long abandoned organised religion in favour of Art, and all of their interests lay firmly and fervently focussed thataway!
She is diplomatic.
"The thing that makes us want God is the same thing that makes us want Art – we want meaning. We want there to be more than meets the eye."
She is honest.
"I am an inappropriate person to be giving a sermon. I have spent thirty-six years of my life avoiding sermons. I might even be allergic to sermons; they make me itch."
Not rich. Her mother left the Catholic Church shortly after Audrey left art school upon graduation. Her Mum realised that she didn't like the way the church treated women, and more. Her local church's pastor wrote her a letter in which he said he was sorry she was leaving, but that he prayed that she would please still continue to give them the same stipend of money. That was his priority.
What is so very clever about the sermon is that does address the ecclesiastical, marries rather than divorces it from the history of art, argues with evidence that its scriptures and strictures are contradictory, hypocritical with respect to said art, and then humbly enounces a far more inspiring, communicative and so constructive potential focus for our shared devotion.
Art.
As has now become laughably traditional at Page 45 – but never once regretted or rescinded – I now pronounce this my book of the year, once again as early as March. Hahahahahaha!
SLH
Buy Bizarre Romance h/c and read the Page 45 review here
The Lie And How We Told It h/c (£21-99, Fantagraphics) by Tommi Parrish.
"That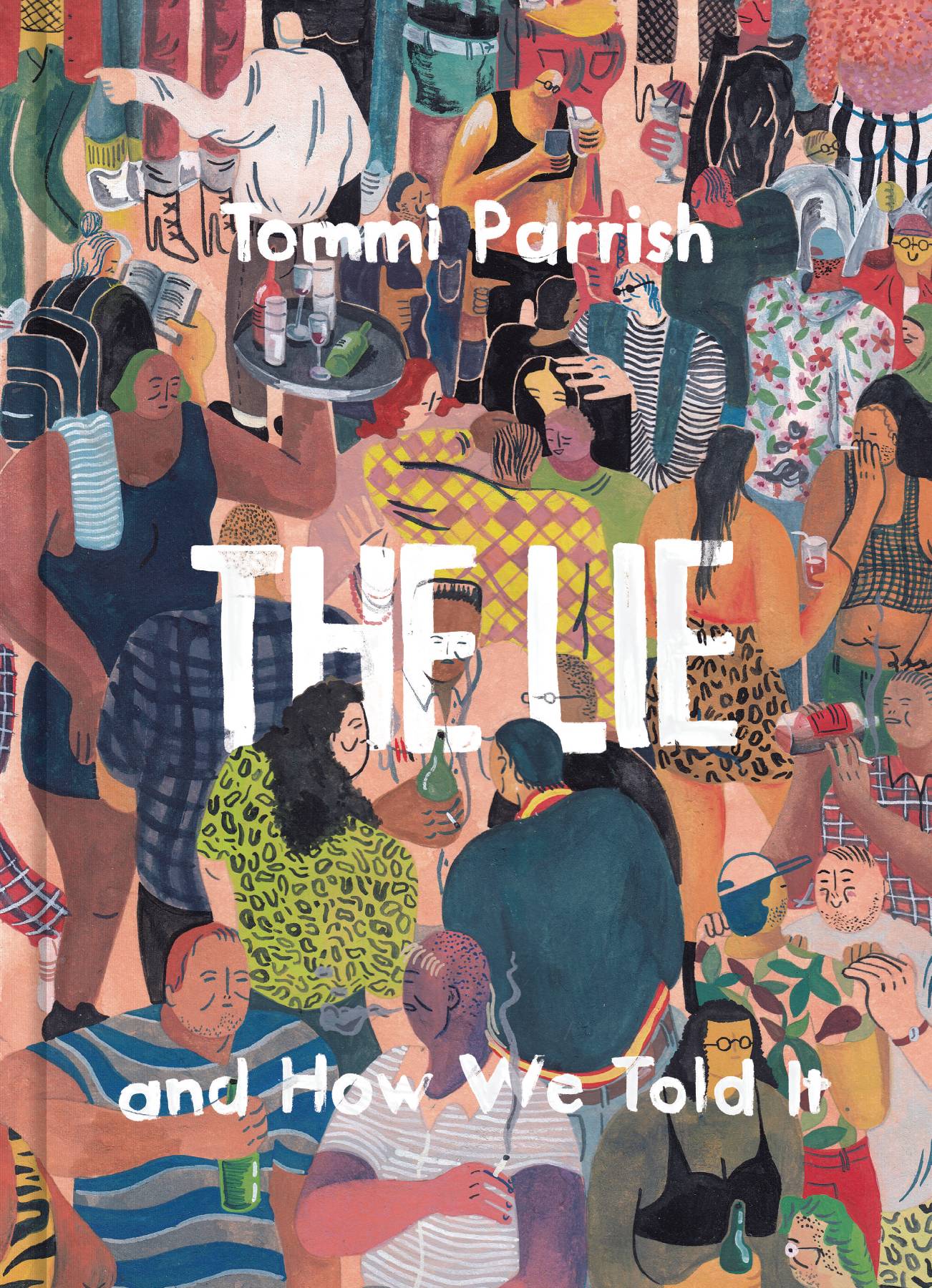 friendship was my whole world once."
"People change."
Oh how they do!
Bar-staff wisdom, there: never underestimate it. They observe everything and everyone – except me when I'm attempting to buy a round on a heaving Saturday night. It's those propping up that bar whose advice you should be wary of.
Cleary and Tim haven't seen each other in years, but bump into each other again because Cleary is working at the local supermarket's check-out and Tim has brought some produce to buy.
Awkward.
Uncommitted small talk ensues then Tim signals his intention to leave, but Cleary thinks she should give it a go: she finishes in 5, and she says they should catch up. Tim's caught, as startled as a deer in her headlights, and automatically agrees. Outside, he waits for her. Reveries or perhaps memories seep in.
And then, when they walk and talk, it's far from a meeting of minds.
Yes, it's going to be awkward. Parrish does "awkward" ever so well, as you shall see. In fact, why don't we start again?
THE LIE AND HOW WE TOLD IT is an essay in awkward: awkward bodies, uncomfortable environments, and a mis-meeting of minds engaged elsewhere or else-when; they're certainly no longer on the same wavelength, if they ever were.
The figures are hulking, extended, exceptionally physical and when one pushes someone else away literally or metaphorically, they do with a palpable, tangible physicality.
The bar scenes are visually, colourfully crowd-loud, dense and intense.
Have you ever been led to a new pub, bar or club by someone totally used and inured to its charms: someone at least familiar with its regular denizens and accustomed to its customs? But you find it oppressive, overwhelming and so hostile, even if it isn't? If the music or chatter is so loud that you cannot communicate with the one who brought you there and so find solace in their familiarity amongst this alien environment, then that's even worse. They stand there, relaxed, beaming and proud of themselves, while you shudder silently inside.
But Parrish takes this one step further, for although Tim leads Cleary to a bar he perhaps honestly believes she'll enjoy because of its sexuality diverse population (alternatively, to prove he's so very cool), in spite of all his ostensible equanimity, he's about to squirm too in its toilets.
There's nothing awful or untoward going on in its toilets. Everyone there is perfectly friendly; it is Tim who imperfectly is not.
Cleary finds a book along their way, and we are privy to its text.
"How can someone learn so little in all those years?"
Distance, it seems to me, is not only a matter of miles.
SLH
Buy The Lie And How We Told It h/c and read the Page 45 review here
Compulsive Comics s/c (£17-99, Fantagraphics) by Eric Haven…
"Hell-ooo!
Helloo-HUH? DAN?"
"Eh…?"
"Wow! I can't believe it!"
"ADRIAN?! It's great to see you, lad! Although I wish our circumstances were different… I think we're dead."
They are. Dead, that is. Yes, EIGHTBALL's Dan Clowes and OPTIC NERVE's Adrian Tomine are conversing in the afterlife and discover to their mutual outrage that the same blithering idiot has managed to knock them both down in rapid succession in his black VW bug! The idiot in question being the creator of Compulsive Comics, Eric Haven, who is now having a complete meltdown over how to dispose of their bodies because he doesn't want to go to prison…
Meanwhile, the dynamic duo of Dan and Adrian are about to negotiate with the Creator – capital C, note – to get sent back on a mission of vengeance to deal with the lower-case one… Quite why Eric Haven felt the need to bump those two off, only he knows, but he does have the manners to apologise to both of them at the end of the strip, and thank them in the credits at the back of the collection, in addition to letting them gain their revenge with the pages of his comic as well. So he can't be all bad! Also, his conceit of having Dan call Adrian "lad' totally cracked me up. I'd love to know where that came from.
It is as bizarre as it sounds, not least because God is not quite what you'd expect, neither in appearance nor in fashion sensibilities, as He insists Dan and Adrian get dressed as superheroes before their resurrection. Dan's a little concerned the outfits look a bit "sheer" but God insists they'll hit the spot in striking terror into mortal men… As I say, at least Eric had the good grace to say sorry to them!
That surreal short is but one of eleven strips of varying levels of insane that make up this collection drawn from various sources penned between 1996 to 2006. Some are little more than one or two page gag strips, in a nervous laughter sense that is, whereas others are psychotic, surreal affairs that just seem to ramble dangerously on in a random fashion over several pages. I think my favourite is possibly 'It's Okay… I'm Wearing A Tie' which as you can probably guess features Eric in a number of… situations… that no normal person would remotely consider okay, whether one was fully suited and booted or not. It's all very deadpan humour throughout and wonderfully absurd.
Content-wise and artistically I can make comparisons with Charles LAST LOOK Burns, Joe HIGHBONE THEATER Daly, Tim LONESOME GO Lane and I'm even going to throw Fletcher Hanks in there on the basis of the one strip that is in colour entitled Mammology, featuring Eric slumped in an armchair watching a TV show starring a deliberately period superhero called the Mongoose. Also, there's more than a touch of Joe SPENT Matt in how Eric draws himself, which is probably somewhat revealing!
On the basis of this excellent selection of shorts I'd love to have a look at Eric's longer form work. Apparently he did one last year, also for Fantagraphics, entitled VAGUE TALES about a man (presumably Eric!) telepathically visiting other worlds whilst sitting in his apartment. I can certainly identify with that… but that's the power of comics for you!!
JR
Buy Compulsive Comics s/c and read the Page 45 review here
The Secret Loves Of Geeks (£13-99, Dark Horse) by Margaret Atwood, Hope Larson, Cecil Castellucci, Gerard Way, Levi Hasting, Jamie McKelvie, Katie West, JP Laroque, Marley Zarcone and more.
Unexpectedly
enormous fun! Apart from the bits that will tear your heart in two.
But, predominantly, this is unexpectedly enormous fun in which comicbook creators are generous enough to have a good old laugh at themselves, and in doing so go some not inconsiderable way to demonstrate that we're far from alone if we act a bit wonky in love, lust or dear old infatuation.
But first a few words about the collection's inclusivity so that none of you feel you're being left on the shelf. *sobs*
"Representation matters, and people find it easier to become who they are when they see themselves reflected in media and stories."
– Chris Roberson, from the foreward.
If you're still not sure whether representation matters, Roberson's own history is almost certain to convince you, and you may end up researching demisexual and indeed graysexual which, sadly, isn't an attraction to crumblies like me. Terms like that aren't about pigeon-holing and labels, but about a vocabulary that allows greater understanding of others and more communicative self-expression in conversation. Hooray!
As suggested on the cover by Becky Cloonan, there's a full spectrum of representation here "of diverse genders, orientations and cultural backgrounds" – also of art styles and narrative approaches from the era-spanning and the era-straddling to a weekend whirlwind romance.
As the word 'Geek' might suggest, unusually fervent obsessions are also very much to the fore, whether it's Katie West's collection of Vampire Lestat editions (not different books in the series, but different editions of the same book; and you for the punchline!!!) or Marley Zarcone's startling moment of waking disassociation from reality in front of boyfriend James Stokoe following waaaaaaaaaaaay too much video-game bingeing. Hello? Yes, I saw a lot of hands going up there. Me too! Unfortunately, however much Bryan Lee O'Malley might suggest it in SECONDS, most of us can't simply reload an old save.
Other contributors manage to combine tales of their obsessions with stories of their love lives in extraordinarily powerful, extremely elaborate or completely ridiculous ways, two of the very best being Levi Hastings's sequential-art heartbreak and JP Laroque's pun-tastically titled 'Love In Alderaan Places'.
It's a Star Wars reference, and a surprisingly clever one at that, for Laroque once had a boyf for whom Star Wars was sacrosanct. It was sacred to the point that even the suggestion that a single celluloid frame might be imperfect was a relationship deal-breaker, let alone all the prequels. And Mr Laroque, he held no love for the Star Wars franchise whatsoever; indeed, he hated it all.
So he lied. Oh, how he lied! Such was his love / lust / infatuation that he willingly subjected himself to entire evenings and repeated sittings of wall-to-wall Star Wars to please his boyfriend and then, to earn extra points, extolled the virtues of what he had seen at length, in depth and with a passion. I can't recall whether this lasted weeks or for months, but I am slightly in awe. The key to all this is how Laroque sets it up – the crash, burn and inevitable, cataclysmic parting of ways when the truth comes out, after which he goes Solo – for Laroque is not without his own passions including the Alien franchise, he's a great deal more candid than he was during this pantomime, and he's a very funny writer with immaculate timing.
On an infinitely more poignant note, Levi Hastings fell for a guy while sojourning in a small, remote town which was thinly populated by those with even smaller minds. No matter. He still fell for this guy who loved the socio-political remake of Battlestar Galactica, so on their weekends, they watched it together and Levi found himself hooked on both fronts.
"The show became our date-night ritual, and I started to equate the drumbeats of the opening credits to the thumping of my eager heart."
Awwww. The couple are all cuddled up on the sofa (this one's comics). But here's where it gets really interesting:
"I soon began to draw parallels between our progress in the show and the stages of our relationship."
And parallels he draws, season to season, are absolutely remarkable and ever so telling. Or, as our own Battlestar expert Dee put it when I told her of this trajectory: "Uh-oh!" Uh-oh indeed! I'm not going to go any further, but that one's a poignant must-read.
What else did I make notes on? Oh yes, Hope Larson's 'Cosplay'. A bit disappointed that it was prose, for I love Larson's art, but the prose itself does not disappoint. She's meeting someone at a bar for the first time:
"I got there early, like I always do, to buy my own drink and avoid the dance over the check. I call this move the Conflict-Averse Feminist. I moved around the bar trying out different seating options, like one of Goldilocks's bears, until I located a spot that would allow for close conversation but didn't invite too much coziness."
Actually it was Goldilocks who tried out all the furniture and the bears who discovered her, but it's a terrific analogy. Anyway, the convention-break date goes swimmingly well and Larson is exceptionally self-aware.
"I trotted out my best material: my most charming stories, my greatest hits." It's at this point I'm usually either tongue-tied or self-deprecating; I find the latter charming, but I might as well just stick a post-it note to my forehead with "LOSER" scrawled across it. "There was no rationing it out, or worrying that I'd built myself up to a sum greater than my parts. I'm not the type to dress up like Wonder Woman and trot about conventions, slipping into character for every amateur photographer, but I understand the impulse. This was my own brand of cosplay, and I was in disguise as myself."
Everything that follows is equally eloquent with a superb sense of stock-taking when it comes to the stage in her life she had found herself at, and he in his. It's the sort of thing you can gauge by your living conditions, love life or work responsibilities.
I count 37 pieces and I haven't read all of them, but I will over time.
One last piece of wit is the 8-bit love hearts between each prose story's chapter break. Neat!
SLH
Buy The Secret Loves Of Geeks and read the Page 45 review here
Exo h/c (£18-99, Humanoids) by Jerry Frissen & Philippe Scoffoni…
"We're nearly there."

"What?! "We're nearly there?" Does the lieutenant come here a lot?"
"Maybe he knows some cool bar behind that big boulder over there?"
I'd be up for visiting a bar on the moon…
It's not a bar, obviously…
Jerry Frisson, who collaborated on writing duties with Alexandro Jodorowsky on the recent new METABARON material returns solo here with a hard sci-fi yarn about a covert alien invasion of Earth, and all manner of other lunar-based malarky.
In the best tradition of covert alien invasions of Earth, the extraterrestrial excursionists are bodysnatchers, but it's not long before the visitors come to the attention of NASA. Partly because an orbital space station gets attacked by a mysterious weapon fired from the dark side of the moon, thus requiring a cadre of marines to be dispatched to investigate, setting everyone on high alert for anything unusual. Like, you know, a covert alien invasion. How are the two events connected? And what on Earth, and the Moon, is going on?
Can it all possibly have anything to do with NASA's recent announcement that they've discovered an exoplanet so likely to harbour life they've named it Darwin II? By reprogramming an existing probe already out in the big beyond since 1996 to get there within a mere 2 years, rather than the 40 years it would take a new mission, they are utterly convinced they will finally discover alien life. Too late, it's already here!!
It's up to John Koenig (surely a cheeky nod to Walter?), the 'bad boy of NASA himself' to puzzle it all out! I should probably add that John didn't award himself that particular honorific, it was in fact his daughter Io's ex-boyfriend, the fabulously bemulleted Peter, just before he medicined John good and proper with some peyote tea, to prevent him from retrieving his daughter. This stupid, seemingly random action will in fact prove to be a pivotal plot point…
John's subsequent intuitive flashbacks are probably where my suspension of disbelief was most tested during this work, which is saying something given the epic journey Frisson takes us on, but overall it's an fabulously entertaining romp which is in the best traditions of a huge (good) Hollywood sci-fi blockbuster, so I guess I can forgive the odd tenuous plot device that makes all the crazy stuff hang together.
The parallel strands of tension on terra firma – and then underwater just for a bit of additional Abyss-style alien action – and the moon that develop, kept me completely intrigued before they dovetailed neatly, as we get the big reveals piling up rapidly during the conclusion. Though, the final few pages did feel slightly rushed, almost as though a couple of key explicative scenes were missing. I'm not one for unnecessary exposition, but we really could have done with a touch more here right at the death. I actually checked to see whether I hadn't turned over a few pages at the same time by mistake in my excitement. A case of rapidly diminishing page count, I suspect! Anyway, a very minor gripe.
The art from Phillippe Scoffoni, who is new to me, I must confess, is truly excellent, exactly what you'd want and expect from a Humanoids book. Precise ligne claire, really detailed linework, with a wonderfully natural colour palette. I'm probably most minded of François BOUNCER Boucq as a point of comparison, but I really hope Scoffoni does more for Humanoids, his art is an absolute pleasure to look at.
JR
Buy Exo h/c and read the Page 45 review here
Nick Cave & The Bad Seeds: An Art Book h/c (£24-99, SelfMadeHero) by Reinhard Kleist.
"Closer to
the truth than any biography, that's for sure!"
– Nick Cave on Reinhard Kleist's graphic novel, NICK CAVE: MERCY ON ME.
We have sold a shed load of those at Page 45.
It's a dilapidated shed, to be sure, half-hidden by undergrowth, with a rusted padlock and a suspicious smell seeping through the cracks in one of its windows. Betty Coltrane no longer lives here; we strongly suggest you stop looking for her.
You might already know Kleist from his JOHNNY CASH graphic novel. Kleist doesn't do straight biographies. How boring would that be? He tells stories instead, weaving mythologies from already twined thread, and that's what Cave relished so much in Kleist's approach.
Reinhard also enjoys storyboarding songs and here, amongst all the glorious, liberated, free-form art that didn't have to be saddled to his story but was drawn simply for pleasure, you will find 'Deanna', 'The Good Son' and 'Stagger Lee' given a decidedly different treatment to – well, in the case of 'Deanna', different to what would have been technically possible with a camera.
I'm not that fussed about those. I have a turbulent, piping-hot / ice-cold relationship with pop promo videos; I've always sensed from the resultant emissions that so has Cave. I used to have 60+ hours of pop promos on VHS cassette (including all of Nick Cave's) but they can kill a song dead. All that ethereal imagery and associations which you, individually, connect to a song that makes it your own is overwritten by someone other than you, then set in concrete.
You cannot un-see stuff; un-learning it is barely more practicable without the onset of age.
With Cave, the clue is probably in the word "promotional": a necessary evil, like interviews. Oh, Cave does love to tell stories, so give him an interesting subject (i.e. interviewer – they really are not in control) and he'll have him some dry, laconic or ironic, arched-eyebrow fun; give him an inspired storyboard and up-for-it co-star like Kylie Minogue and Blixa Bargeld and he will act his Australian socks off or mess about with glee. Otherwise, he's bored. You just know that he'd rather be on stage, doing what he does best: performing the stories which he's already written, direct to his audience.
Yes, I'm writing whatever comes into my head so that I have enough paragraphs of prose to justify showing you a few delicious photographs snapped from this beautiful art book.
Along with preparatory material for the graphic novel itself, this is Kleist breathing out from all the hard work and letting his brush have some fun: portrait after portrait of Nick Cave strutting his stuff from sixteen to sixty with or without his Bad Seeds, his Antipodean Boys Next Door, The Birthday Party, Grinderman etc.
It is at its best when it's at its loosest, capturing all the energy and swaggering staggering movement of Cave on stage. He nails Warren Ellis (the other one) with all his furrow-browed intensity, dedication, inspiration and throw-it-forward drive which transformed a live performance of 'The Weeping Song' from something I could only associate with Blixa Bargeld into an almost military yet eerie drummer-boy assault / defiant lament.
Anyway, in order to impress upon you that St Nick wasn't merely being flippant about NICK CAVE: MERCY ON ME (reviewed for us by Dr Matt Green with infinitely more erudition), here is Cave's full assessment:
"Reinhard Kleist, master graphic novelist and myth-maker has – yet again – blown apart the conventions of the graphic novel by concocting a terrifying conflation of Cave songs, biographical half-truths and complete fabulations and creating a complex, chilling and completely bizarre journey into Cave World. Closer to the truth than any biography, that's for sure! But for the record, I never killed Elisa Day."
I wouldn't bet on that.
This comes with Kleist's account of the projects. Out March 15th 2018.
SLH
Buy Nick Cave & The Bad Seeds: An Art Book h/c and read the Page 45 review here
Fire Punch vol 1 (£8-99, Viz) by Tatsuki Fujimoto.
"You're delicious, brother."
All things are relative, including repugnance and (arf!) appetite, but it's not quite as bad it seems.
Almost, but not quite.
Those born with the ability to perform miracles are called "The Blessed". Everyone else might as well be called "The Cursed" because one of "The Blessed" has turned the entire planet into a spherical ice cube. I'm not quite sure how long that's been going on, but teenage Agni remembers summer days in a flowering wood and flowing streams, even if his younger sister Luna doesn't.
They were found outside the village three years ago and cared for using already scarce resources, since when Agni has been providing the village with sustenance of his own making.
The second page shows Luna wielding an axe above Agni's arm; the third depicts its downswing and "Aaaaaaaaaaaaargh!" she's gone and chopped her own brother's arm off! Does it have frostbite or gangrene? No, it does not! It's perfectly healthy for a little light broth or stew, then.
Don't worry, there's plenty more where that came from – he has an entire village to feed, after all – because Agni is one of "The Blessed", able to re-grow a limb or fully regenerate after being reduced a cinder. It doesn't half smart, though.
Yes, the entire village consists of cannibals now, ever so grateful for Agni's tender flesh. It's okay, they don't tend to receive visitors, so – ah, they have visitors! A military plane has landed while Agni was shooting a deer (?) and out steps Doma who's disappointed to find only pensioners. He was kind of hoping to find children, so when Agni arrives he is offered citizenship in Behemborg, a new "city of freedom" – except for the slaves. Unfortunately the villagers' breakfast, lunch and dinner menu slips out during casual conversation and Doma is so horrified that he immolates the entire settlement and its population using his own power as one of "The Blessed", which is a fire that will not die until its fuel has completely perished.
Now, remember Agni's own regenerative abilities? Remember the cover too? Correct: Agni is the fuel that will never completely perish, so he is now a walking, talking, human firebrand. That smarts too. And he is determined to have his revenge.
I've no idea why this is one Viz's 'Signature' imprint which is supposed to denote quality (Inio Asano, Junji Ito, SUNNY etc), because it's mindless, sensationalist gubbins with excruciatingly incoherent visual storytelling in places and science / logic / plot holes wide enough so that even I could putt a golf ball into the them. And by sensationalist, I mean that children are under constant threat of rape.
Also, Luna does find Agni delicious in exactly that way:
"Will you make a baby with me?"
I'm not making this up.
SLH
Buy Fire Punch vol 1 and read the Page 45 review here
Baccano! vol 1 (£9-99, Yen Press) by Ryohgo Narita & Shinta Fujimoto…
"Let the crazy ruckus begin!"
No, not the Page 45 refit! The more observant of you will have noticed it hasn't. Begun, that is. As it was supposed to, the other weekend… Suffice to say (to mangle the old military adage), no plan ever survives contact with a builder! We'll keep you advised. Having had a sneak preview of the plans (what, you haven't read Stephen's Page 45 Refit Blog Special?) I'm sure you know it'll be worth the wait.
Right, digression over, what's BACCANO! all about? Well, the presence of the exclamation mark in the title might give you a clue, if you know your manga titular fetishes, for it's the new acclaimed series by the creator of the surprisingly difficult to type DURARARA!! Now, obviously, Ryohgo Narita has restrained himself to a mere one dramatic punctuation stopper this time around but, fret ye not, he's managed to shoo-in his trademark dashes of random oddball plot devices that make this not just a mere period mafia knockabout, but something else entirely.
I should probably add for the organised crime pedants amongst you it's actually the Camorra that feature in this work rather than the Mafia, the Camorra originating from the Naples along with thin-crust pizzas, rather than Sicily where the Mafiosi originated chewing away on their inch-thick pizza crusts, but let's not be picky. Except in the case of pizzas, where anything other than thin and crispy is a crime against humanity. Or I'll measure you up for a concrete comic box… Baccano, by the way, just in case you were wondering, is Italian for ruckus…
So… I really have finished waffling on now, I think…
Set in 1927 New York City, our central protagonist, pretty boy pugilist Firo Prochainezo is determined to make his mark and move up the ranks in the Martillo family. The Martillo's are a small outfit, but they've got certain… advantages… which they use to great effect. Like their accountant seems to possess a healing factor Logan would be proud of. Nope, he's not a mutant, there's a more alchemical reason for his prodigious coagulative powers, thus providing a nice side plot involving a mysterious group including a similarly robust priest. And errr… clearly, he's not your typical accountant, though he does seem quite good at racking up a body count…
Yes, just like DURARARA!! what starts off seemingly like a straightforward premise ends up being something far more entertaining entirely, though that series did end up have more tangents than hedgehogs have spines. The modern day headless horseman equivalent who rode a motorcycle being my favourite. Anyway, this also seems like it's going to be a heap of bonkers fun, so indeed, why not pick up a copy and let the ruckus begin?
JR
Buy Baccano! vol 1 and read the Page 45 review here
Demon vol 4 (£15-99, FirstSecond) by Jason Shiga.
This is the
fourth and final volume of DEMON in which you will see no ostensible demons, because it's not that sort book, but they're there both in spirit (increasingly more people are behaving in a diabolical fashion – this book comes with a higher corpse count than PREACHER) and in their more Biblical sense, I guess.
For three volumes now I have attempted to review a series whose biggest selling point is its secret, and the way in which Shiga extrapolates from that, which is more than a little problematic given that the first half of book one is one big puzzle for you – and the protagonist – to figure out for yourselves.
I therefore refer you to the spoiler-free review of DEMON VOL 1 which begins thus:
"Wickedly crafty, the extent of Shiga's ingenuity will only begin to become clear during chapter four, and then it will blow your brains out. Which is apposite enough.
"Up until then, you're going to have trust him."
And me.
I'll only add that unlike most books from First Second this is most sincerely 16+ or parents will experience some very awkward conversations around the kitchen table.
I would strongly suggest that First Second inaugurates the opposite of Nobrow in its Young Readers' Flying Eye imprint, and gets itself a Mature Readers label.
SLH
Buy Demon vol 4 and read the Page 45 review here
Arrived, Online & Ready To Buy!
New reviews to follow, but if they're new formats of previous books, reviews may already be up; others will retain their Diamond previews information we receive displayed as 'Publisher Blurb'.
Why Art?
(£12-99, Fantagraphics) by Eleanor Davis
Chimichanga: The Sorrow Of The World's Worst Face h/c (£13-99, Dark Horse) by Eric Powell & Stephanie Buscema
Firebug s/c (£14-99, Image) by Johnnie Christmas
Hellblazer vol 3: The Inspiration Game (Rebirth) s/c (£14-99, DC) by Tim Seeley, Richard Kadrey & Jesus Merino, Davide Fabbri, Jose Marzan Jr
Inside Moebius Part 1 h/c (£33-50, Dark Horse) by Moebius
Motor Girl Omnibus h/c (£35-99, Abstract Studio) by Terry Moore
Nightlights h/c (£14-99, Nobrow) by Lorena Alvarez
Walking Dead vol 29: Lines We Cross (£14-99, Image) by Robert Kirkman & Charlie Adlard
Fantastic Four: Epic Collection vol 1 – The World's Greatest Comic Magazine s/c (£31-99, Marvel) by Stan Lee & Jack Kirby
Fantastic Four: Epic Collection vol 2 – The Master Plan Of Doctor Doom s/c (£35-99, Marvel) by Stan Lee & Jack Kirby
Marvel Legacy (UK Edition) s/c (£18-99, Marvel) by Jason Aaron, Robbie Thompson & various
Planet Hulk Omnibus (UK Edition) s/c (£14-99, Marvel) by Greg Pak & Carlo Pagulayan, Aaron Lopresti
The Flowers of Evil Complete vol 2 (£19-50, Vertical) by Shuzo Oshimi
Battle Angel Alita – Mars Chronicle vol 1 (£9-99, Kodansha) by Yukito Kishiro
Battle Angel Alita vol 2 Deluxe Edition h/c (£25-00, Kodansha) by Yukito Kishiro
Cardcaptor Sakura: Clear Card vol 2 (£9-99, Kodansha) by Clamp