Featuring Sophie Burrows, Chris Forsman, Pornsak Pichetshote, Aaron Campbell, José Villarrubia, Rich Tommaso, Jason Aaron, R. M. Guera, Davide Furno, John Paul Leno, James Kochalka, more.
Infidel #1 (£3-25, Image) by Pornsak Pichetshote & Aaron Campbell with José Villarrubia.
"My
mother's all about obsessing over shadows in a room full of light. We're not doing that to Leslie."
There's so much humanity and individuality in Aisha's face, there. Her mouth lies slightly open and gentle, but her eyes gaze into the distance, the future, determined. On the previous page – in recollection of her mother – Aisha's shoulders were slumped while leaning forward, with the weight of having been rejected. But she will not give up on her mother-in-law.
One of the many wonders of this – one of my two favourite new series of 2018 – is that the evidence remains deeply ambiguous as to whether Aisha's being too trusting and optimistic, or whether her fiancé Tom knows his own mum better than she does.
What could any of this possibly have to do with a horror comic?
Well, there are so many more horrors other than the occult or the alien. There is uncertainty and vulnerability, not knowing if you can trust someone: the threat of harm, physical or otherwise, can be just as frightening as its actuality. Ask anyone who's ever worried about being bullied at school the next day. Aisha is confident that Leslie's no threat, either to herself or to her step-daughter, Kris, even in the knowledge of what's gone before, but her university friend also has substantial doubts and we, the audience, are privy to some extra moments which they are not.
Secondly, there's the very real and all too current horror of racism, xenophobia and Islamophobia: ignorance voiced with pride, spread sheep-like by osmosis or deliberately through disinformation as a virus which currently culminates increasingly not decreasingly in America, England and some parts of wider Europe in extreme intimidation and outright violence: beatings, acid attacks, murder and mass terrorism.
But equally there is the horror for Aisha of being rejected by her mother simply for becoming engaged to a non-Muslim, Tom, no matter how devout she's remained.
What's this series called again?
Then, of course, there is absolutely the horror of the creeping, the intangible and supernatural against which we have no defence. Worse still, if only you see it, feel it or smell it, no one may believe you. If no one else experiences what you do, then you go through it alone. That, I would suggest, is the ultimate horror.
Aisha is experiencing nightmares. They're growing increasingly vivid and intense. A corpse-white cadaver wraps itself around her, draining her sleep and suffocating what's left with its cloying stench of rotting meat. Ghastly grey hands creep over her shoulders and thighs, an intimacy of the unknown, invading her like an incubus with cold hands, cold fingers, cold heart.
Ah yes, that which cannot be fought or reasoned with. With that we come back again to real-life horror: those who are violent that cannot be reasoned with on the street, at work, in your home. It's chilling.
Aisha, Tom and Kris have relatively recently moved into Tom's mother's apartment on the top floor of a tenement building on the Lower East Side which was the target of a bombing attack. I spotted the smoke stains on the very first page past the prologue, rising from the top of the fourth-storey windows.
It's there on the metal shutters on the ground floor too. The bomber was verified by law enforcement as a lone wolf, but they had once glanced at an ISIS website, so you know how that goes… Now the tenement has few tenants left for it is far from repaired, and some of those that remain, well, they don't like seeing a brown Muslim of Pakistani origin climbing their rickety stairs. There is still so much anger, and even if hatred is suppressed then it will usually out somewhere, somehow.
I swear to whatever (if any) god you believe in that INFIDEL has been ridiculously well thought through and comes with a sophisticated balance and so many unexpected perspectives, for the final irony is that it is non-Muslim Tom, Aisha's fiancé, who is so determined to protect Aisha and respect her faith along with its sacred traditions that he is the one fighting her corner against his own mother, Leslie. He was reluctant to move his family in because Leslie used to poison his daughter with sweeping Islamophobic slurs, as if all Muslims obeyed barbaric laws, condoned or actively encouraged terrorism. For example when Kris once played with Aisha's hijab:
"Women who wear this let people get killed for drawing cartoons. They let men throw rocks at girls like you!"
But to Aisha that was two years ago, she believes Leslie has learned and that it's vital that Kris know her grandmother because her biological mother died so early that Kris can't even remember her.
The first chapter begins in paranormal terror and it climaxes in paranormal terror, before an even more awful real-world ellipsis of a cliff-hanger which could go any number of ways that I am so very desperate to read next month's instalment.
HELLBLAZER used to combine occult and socio-political horror to successful, cathartic effect, but it was always a little bit burlesque because its star, John Constantine was a dabbler in diabolism et al. This is a very different beast, being grounded firmly in the street-level, down in the subway or on the park bench: on what we see all around us right now. I would suggest that the exceptionally uncomfortable paranormal aspect is merely a symptom, side-effect or result of the rot, not its cause.
It doesn't make it any less pants-wettingly terrifying or grotesque.
I'm sure that I read somewhere that artists and co-collaborators on all aspects of the comic, Campbell and Villarrubia, chose to illustrate all the everyday elements in digital while pulling back to the traditional, more physical art process for the psychically parasitic. They rendered that on Bristol board.
It may seem perverse, but I've seen so many other offerings where the purportedly real has been rendered in pen and ink and the preternatural given a computer-driven day-glo and gloss. The result has always been a distancing disassociation between the two elements: here is the real world, but the other is freaky, immaterial so won't matter to you – they're special effects, so you don't empathise.
What Campbell and Villarrubia have achieved, by contrast, is an unholy marriage which makes what would otherwise be ethereal all too sensually and so immediately repugnant, overwhelming and nasty.
So, you know, thanks for that.
SLH
Buy Infidel #1 and read the Page 45 review here
Crushing (£7-50, self-published) by Sophie Burrows.
I adore the little love heart which adorns the cover, replacing the diacritic dot above the 'i' (true fact: it's called a "tittle").
Behold! This silent, A4-sized comic set up on top of a summer's Hampstead Heath, the London Tube system, then somewhere within the Capital's sprawling outer conurbation, is an astutely observed, tender joy!
CRUSHING could not have been more aptly titled, for within the rich blue, early evening covers you will discover vast landscapes to swoon over, crowded commuters all crammed together, and telltale little blushes and flushes that give our game away when we're a wee bit, briefly smitten.
Yes, this is all about crushing.
Oh, but we're British! So what do we do?
Do we receive such often involuntarily leaked, sweet signals as an opportunity to return the kindly meant compliment, perhaps strike up a conversation or at least smile, maybe wave? Oh, how much happier this world would be, were we all to give a little light love back!
But we do not: we react by looking embarrassedly away or hiding behind newspapers in annoyance.
The poor love has already been snubbed up on Hampstead Heath. Yes, she has: by a pigeon!
Pigeons aren't backwards in coming forth and strutting themselves as close as possible in the hope of being thrown a stale crumb. One alights on the back of her park bench, so she generously offers it a whole triangle of fresh, tasty goodness…
Glossy magazines are equally insulting.
Lord, but this is so rich and clever. It will speak volumes to those who are single and seeking love, however inactively.
It will also remind those who have been lucky enough to find it of what it was once like to so solitarily stare from a park bench at a beautiful view which you wished you could share. Maybe you saw other couples, perhaps even their progeny, and wondered what you were missing out on and why? Have you ever felt awkwardly, self-consciously alone in a crowd?
Burrows nails that particular isolation on a double-page spread while waiting for the train to arrive. For a start, there are a hundred-odd commuters as equally crammed together as they will be in the carriage, but there is a markedly massive, empty gap between them and the edge of the platform (mind it!), after which loom the tracks down below. Everyone else is depicted, individualistically to be sure, but in soft grey shading; not so, our solo single lady.
There is a blindingly clever use of colour throughout: each panel bears examining to see what it says.
Later that day (which has since turned to night), our pretty-in-pink protagonist becomes hungry but finds her Hubbard cupboards all bare. She fancies a slice of pizza or two, so ventures out to the local takeaway. Beautifully set up by Sophie in advance, what happens next?
I've just scratched the surface: underneath you will find all sorts of wistful, alone-at-home pining for love.
Top Tip: if you'd like to give a little love back but – like silly old me – become dazed, confused and so discombobulated by compliments, why not carry a copy of CRUSHING around with you? That way, whenever you find yourself the lucky recipient of such affection but cannot quite bring yourself to accept the attention, you could open up its A4 covers and hide behind its sheets, so suggesting by the title that you too may be crushing!
Advanced Skills Option: open up CRUSHING, inside out, to display the pages on which this exact behavioural exchange is occurring. Then look up again, with a bashful smile.
Awwwww!
SLH
Buy Crushing and read the Page 45 review here
Dry County #1 (£3-25, Image) by Rich Tommaso.
"I could
hear the yells and curses coming from the roof, but couldn't stop myself hurling into the hydrangea."
Hilarious! It wouldn't have been half so funny had it not been a hydrangea.
Set in the Sunshine State's boat-floating playground that glows neon at night, this is the most colourful noir that you'll ever know. By day – as Lou Rossi cycles home from the Miami Herald where he works part-time as a comic strip artist – the city bridge gleams a lemon yellow while the bright white clouds blow below a fresh blue sky and leafy green trees stand out against pale pink hotels.
There is so much light and so much space, with lines as clean as the waterfronts themselves.
And yes, by night, there will be that oh-so familiar neon on the balconied apartment buildings in contrasting pink and mint green.
But what possible crimes could a comic artist bear witness to? Apart from blaring House Music, I mean?
Ah, well, it's all in embracing 'Everyman Crime Series' to which DRY COUNTY belongs: quotidian crimes you stumble upon occasionally in conversation with someone you may have just met, like abusive boyfriends, perchance. Although there is the possibility that a potential drive-by alluded to briefly by Lou's raucous mate Robert might tie in somewhere. And where might you meet someone new…? In an apartment block's communal laundry room!
It's there, after despairing at the lack of potential pulls at a nightclub which he cannot abide ("seething pit of vipers"), that Lou Rossi finds Janet reading alone while waiting for her spin cycle to end. Alas, she is not a new tenant. She's only staying over at a friend's flat for the night… or for the weekend… "I'm not sure yet", but she does at least work in town, gives him her business card and proffers the possibility of having lunch one afternoon.
From there it only gets better: her employers turn out to be brothers, the rental firm like a family, and at lunch they make plans for dinner later that very same week. Finally, after six solitary months in Miami, things are looking up for Lou, and there's more fresh air and open skies and passenger planes flying overhead as he strolls home, a spring in his step, allowing himself to feel jaunty.
Oh dear.
I'm going to stop there while noting only that what I loved most about what is revealed is that so often we escape from one thing by a route which only turns out to be the very same thing. Is that vague enough for you? That's what Tommaso's come up with, giving the blow so much more of a punch.
Whereas most noir slinks about in an environment alien to most of us, in circumstances most of us would never encounter, Tommaso sticks to his promise of filling Rossi's account with the familiar routines of walks round town, showers, settling down to basic meal from whatever we find in our fridge, perhaps a few beers and so TV. Then there's the not wanting to look like you're trying too hard by dressing to impress and making that first phone call too early.
"Man, I couldn't wait… But then later, once I got home, I decided I should wait, possibly a week…
"This was based on advice that my old friends in high school gave me: "Don't ever call a girl up right away, you gotta wait like, a week or so, or else she'll think you're a desperate loser!" …So, I decided to wait at least a week…"
Beat.
"Two days later, I called."
What makes the pages even more visually brilliant is that the first-person narration is hand-written on blue-lined, yellow legal pad paper like a story you might stumble upon rather than one being told directly to you. It's not that big a drama. He's not a professional P.I. typing up his notes to keep on file, either.
As to the title, nowhere I know of in Florida is a Dry County – certainly not Miami, and Lou doesn't half neck beers throughout, hence the well deserved fate of those hideous hydrangeas – nor is El Paso, whence Janet hails and where all her troubles first began. My off-the-cuff guess, therefore, is it's somewhere we're headed or a direction from which trouble's coming.
SLH
Buy Dry County #1 and read the Page 45 review here
Scalped Book 2 (£22-99, Vertigo) by Jason Aaron & R. M. Guera, Davide Furno, John Paul Leno.
I've plenty more
to say about SCALPED below, which was the first series from Vertigo, I believe, to reduce me to tears, and within this very volume. However, for the moment from SCALPED BOOK 1:
"Yet, here we are, still forgotten, still a third world nation in the heart of America."
Crime and grime on the Prairie Rose Indian Reservation, South Dakota, "where the great Sioux Nation came to die".
Gone is the majesty, the beauty, the health, the wealth and the freedom to roam. They've been replaced by grinding poverty enforced by unyielding societal shackles, dilapidated housing patched up with corrugated iron, refuse-strewn streets, gutted car wrecks abandoned on pock-marked asphalt and a burned-out people deprived of any opportunity but to drink themselves to death.
That's all that we – the colonising, genocidal White Eyes – have given back to them, in lieu of their true heritage and of the bounty which was already their own. For more of that history, please see the great graphic novel INDEH by Ewan Hawke and Greg Ruth: it will tear your heart out.
What ripped mine to shreds here wasn't the strange death of main protagonist Dashiell Bad Horse's campaigning mother, Gina, which hangs over this volume like an enigmatic shroud, challenging the degenerate Dashiell to actually give a fuck about his own mother. (You will be surprised to learn that it is the ostensible central villain of series, Chief Red Crow, who is most devastated by her murder, unexpectedly prepared to risk all to find out who did it.)
No, it's the reaction of Shelton, the eldest of five children of another murdered mother, which got to me, several times.
It also gets to Dashiell who swears blind that he will bring the perpetrator to justice until he takes its news to his FBI boss – whose sole dogmatic focus lies in the discrediting of Chief Red Crow – and in so doing learns the full and sometimes ugly meaning of the word 'compromise'.
Young Dashiell, you see, is undercover for the FBI, posing as a cop in the pocket of crooked casino-owner Red Crow in order to bring him down. What he doesn't know is that another FBI agent has been assigned undercover to the Reservation, and how much of a callous, ruthless bastard their shared boss is.
But then Dashiell was by no means the perfect son, as you'll learn in flashback. In fact, rearing the ungrateful little brat was a particularly thankless task, something brought home to him only too clearly by Shelton's unwavering fidelity, and the realisation that it's now way too late to make amends.
R.M. Guera is fast becoming a favourite illustrator of mine: fully fleshed-out figures in relentless (yet not murky) shadow, even if it's cast at high noon. There is tremendous humanity in the faces, and his mouths are particularly expressive, whether they're old and pursed in barely controlled anger, or young and trembling with barely controlled grief.
As always with SCALPED, for me it's the combination of the story structure and the art in its telling. The opening scene in the third story, 'The Gravel In Your Gurs' takes place in three weeks time, at night, as Chief Red Crow pulls up outside the Badlands Cafe.
He apologises to the cloth bag on the back seat, then enters under the bar's distinctive neon sign before there's a final, four-panel page as the sign goes out, shots are fired, and the neon reignites. It's so visually distinctive that it will lurk in your head throughout the next several issues until – having since witnessed the events leading up to that scene and knowing now exactly who's in the cafe – the bar front reappears, when your heart will sink.
This is a key turning point in the Indian Reservation power struggle, but it's also the story of how silk-haired Dino, father to a toddler, through a single encounter with a speeding ticket, descends into running with bent cops, selling drugs, collecting debts and inadvertently stabbing an old man through his lower jaw. There's an arresting panel after he's dropped off at home, the house owned by Granny, from which she has sworn to eject him if ever he once again got into trouble with the police. Having snuck past his baby, his forearms splattered with blood, he makes it back to his own room… and it's still full of remote-controlled cars and Tonker Toys, reminding you just how young he still is.
I love 100 BULLETS but the characters here are more than albeit blindingly directed ciphers for Azzarello's witty wordplay: they're living, breathing individual and fallible human beings broken by their environment then damned by their decisions. Very highly recommended.
This larger "book 2" takes you up to end of the old, smaller "volume 4" exactly.
SLH
Buy Scalped Book 2 and read the Page 45 review here
The End Of The Fucking World (s/c £12-99; h/c, £17-99) by Charles Forsman.
"At 15, I stuck my hand into the garbage disposal."
James is not like other boys.
Curiosity is one of the few traits he shares with other people. Other than that he is an emotional void.
He discovers a porn magazine in a draw, opens it open, sees a naked woman, and after a few seconds tosses it over his shoulder. There's no connection; nothing there.
He and Alyssa have adopted each other after James decided to pretend to fall in love with her. Alyssa's more direct. She is very direct.
"God I want you."
He considers strangling her. But he doesn't.
"James and I still haven't done it all the way.
"I want to, but it's complicated.
"He seems so far away."
Later, in the passenger seat of a car which he and Alyssa have flagged down, James allows an old man, the driver, to grope him: to slide his hand under James's jeans and let it lie there. Alyssa is dumbfounded.
"What's wrong with you?"
To himself:
"I guess I thought I might feel something. Something other than nothing."
Bonnie and Clyde, Thelma and Louise, James and Alyssa: you're in for a very different sort of road trip.
Dispassionately told in eight-page instalments alternating between James's and Alyssa's point of view (originally published as individual mini-comics), this clusterfuck of a journey also alternates between the mundane and abrupt, sometimes comical violence. It is exceptionally well controlled, especially James's blank face, registering nothing, and his minimal responses when prodded.
"Alyssa, that man – he was a bad man."
It also defies expectations. The first chapter climaxes before they set off with James punching his dad in the face and stealing his car. They're off! No, they're not: the opening page of chapter two finds the car upside down in a dried-up gorge after being run off the road. Above, the crash barrier stands broken. Huge economy: we've no need to see the crash. It's not that sort of comic, as you'd anticipate if you've read Forsman's CELEBRATED SUMMER.
If you're coming to this from the Channel 4 series now on Netflix, I'm not sure what you'll make of this. You're going to have to do your best to blank Alex Lawther's commanding performance as James right out of your head. Just remember that this is the source material without which none of what you loved would have been possible: the ideas were all conceived and first executed to perfection right here.
"Did you do it inside of me?"
"I'm not sure."
SLH
Buy The End Of The Fucking World s/c and read the Page 45 review here
Buy The End Of The Fucking World h/c and read the Page 45 review here
Mechaboys (£17-99, Top Shelf) by James Kochalka…
"I'm sorry,
Zachery."
"Don't call me that. My name is Zeus now. I told you to call me Zeus."
"Oh, yeah. Sorry, Zeus. But in this part Spider-Man is just about to…"
"WHAT?! Spider-Manchild. You should read a comic about ME. I'm the damn Thunder God. I mean, listen. Who owns Spider-Man?"
"Well, Disney owns Marvel, but Sony owns the…"
"Exactly. No one owns ME."
"Well no one owns me either, Zachery."
"Bullsugar. Spider-Man owns you. Now stop being a slave to your corporate overlords and help me take apart your dead dad's stupid lawnmower."
Haha, there's a great reprise of this conversation later on where Zachery, sorry Zeus, takes Jamie's collection of Marvel and DC comics – "all corporate crap" – as he kindly refers to them, and… well… I'm not going to spoil that little scene for you, but suffice to say, it had me giggling for a good few minutes.
I should explain they're taking apart Jamie's late father's lawnmower to build a 'mecha battle suit'. To their great surprise, as much as anyone else's, they succeed, which is where the chaos really begins. Bullied at school by the jocks and ignored by the girls, they hatch a crackpot scheme to crash a keg party in the woods and astound everyone with their cool armour.
I probably needn't add it goes badly wrong, particularly for Zachery. Sorry! Zeus. Soon, he's heading well and truly for the dark side with a plan to crash the forthcoming prom and annihilate everyone. Just one teeny-weeny problem, he's in traction and needs Jamie to carry out his dastardly plan. Jamie, having managed to sneak in his first kiss at the party before it all kicked off, just kind of likes the idea of going and having a dance, maybe squeezing in a bit more romancing. And then there's Mr. B, the recently fired teacher covertly stalking our duo. How does he figure into all this?!
Ah, there's so much delightfully ridiculous humour going on in this work, which is like a glorious mash-up of many a high school movie, with added mecha battle suit, of course. I've not even touched upon the trio of ladies who Jamie has the hots for. They're equally nutty in their own right, most uproariously in a scene that manages to reference the Bechdel-Wallace test before ending in a rather politically incorrect manner.
But, before you think Kochalka is having a sly dig at Alison Bechdel, I must add she's one of the big names pullquoted on the inside front French flap lauding James as her 'autobiographical icon'. Frank Miller, meanwhile, states of James "He brings the joy back to comics" and I really can't argue with that. Quite the incongruous pair, there, Alison and Frank! But Kochalka has his ardent comics fans and for me, the former cartoonist laureate of Vermont has made a triumphant return with his finest work since MONKEY VS. ROBOT and the original run of SUPERF*CKERS.
Art-wise, James seemingly hasn't changed his style one iota since he began either. He still looks like he effortlessly dashes his creations off with a sharpie. I'm sure it's nowhere near as straightforward as that but I admire the seeming economy of effort and big fat chunky line that he employs. There might not be a surfeit of detail, but it's all placed to perfection. Here, I continually found myself shaking my head at Zeus' resplendent bumfluff. All six tufts of it!
Long-term Kolchalka devotees will adore this return to top form and for anyone looking to try something new that is, in its own way, as delightful daft and titter-worthy a parody of and homage to school days and all that attendant angst, as John Allison's BAD MACHINERY, why not give this a try? Now, if I could just get Teenage Dirtbag by Weezer out of my head…
JR
Buy Mechaboys and read the Page 45 review here
Archival Quality (£17-99, Oni Press) by Ivy Noelle Weir & Steenz.
"I loved it.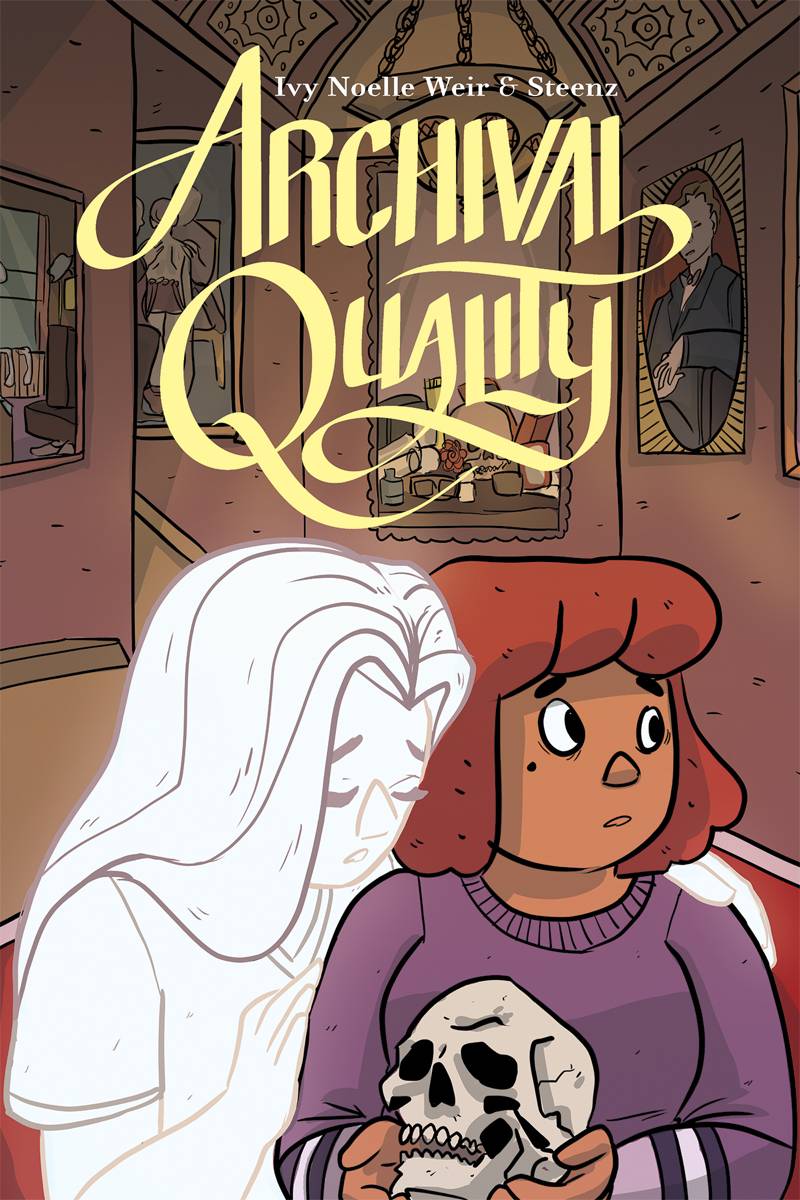 I loved the quiet. The order. Everything in its right place. There's a system, y'know? And you can always count on the system."
Usually, yes, but not if there's something else – something "other" – messing around with the material world.
A deliciously drawn Young Adult graphic novel, this has thrilling colours, fabulous hair and a big heart of gold. Both its main cast and background characters sat around cafes are casually, naturally and fully diverse without shouting about the inclusivity, so normalising it. It also deals with the vital issue of Mental Health with great understanding to begin with, and the nightmare of not being believed, drawing a very clever parallel with Celeste's new co-workers' repeated scepticism about her experiences with supernatural forces and some of society's often dismissive or disbelieving attitude towards depression, extreme agoraphobia etc.
There's plenty of comedy in the form of museum curator Abayomi Abiola super-serious hyper-formality which, when combined with the odd arched eyebrow, put me in mind of Star Trek: Voyager's Tuvok. After which, I couldn't stop hearing his voice. I never saw Tuvok tending a flowerbed in full uniform / pristine 3-piece suit while wearing purple gardening gloves, though. Top marks.
My problems lie in the limping lack of momentum (50 pages of repetition could have been culled), the cringe-inducingly stiff, right-on speeches instead of conversation about choosing to believe Celeste, the confused (not conflicted) motivations, and finally the massive plot credibility chasms. For example, you won't know what I mean when I mention the acquisition of the key to the boardroom, but there is no way one of the board members would surrender it voluntarily under these circumstances to anyone, not even [redacted].
It's a huge shame, because there are moments which are genuinely chilling, especially as the past starts seeping through to the present, plus her boyfriend successfully rendered as is a suffocating idiot.
Here's the publisher's blurb:
"After losing her job at the library, Celeste Walden starts working at the haunting Logan Museum as an archivist. But the job may not be the second chance she was hoping for, and she finds herself confronting her mental health, her relationships, and before long, her grasp on reality as she begins to dream of a young woman she's never met, but feels strangely drawn to. Especially after she asks Cel for help… As Cel attempts to learn more about the woman, she begins losing time, misplacing things, passing out-the job is becoming dangerous, but she can't let go of this mysterious woman. Who is she? Why is she so fixated on Cel? And does Cel have the power to save her when she's still trying to save herself?"
Finally, you are sure to feel Celeste's frustration with ancient computer equipment taking an eon to scan a single photo.
SLH
Buy Archival Quality and read the Page 45 review here
Green Lantern: Earth One vol 1 h/c (£22-99, DC) by Corinna Bechko & Gabriel Hardman…
Ah… finally,
another decent Green Lantern story. No, let me rephrase that, finally an excellent GREEN LANTERN story. After the peerless Geoff Johns 'rainbow run' that dazzled us with the entire spectrum of ring-slinging, I have to say I've found what followed more a little lacklustre and, dare I say, low on charge. And actually, even the Johns run was fading slightly towards the very end.
Consequently all the various associated Lantern titles have long since dropped off my DC reading list, so my expectations were somewhat low for this Earth One spin-off that seemed somewhat late to the other-dimensional party. Surely the time for this was at peak illumination when the dazzling light show from the DC shelves and kerchinging of Lantern-related comics through the till made it seem like a continual trip to Blackpool Illuminations, all hyped up on candy floss.
We even had people desperate to load up their mitts with coloured plastic rings that were about as tasteful as a chav's full set of sovereigns, such was the allure of Johns' story-telling. If they'd got something out back then, it would have sold more copies than Guy Gardner's had temper tantrums. Which, let me tell you, if you're not familiar with the man who still holds the record for worst-ever superhero haircut with his classic original bowl, is quite a few.
So, following on as this does from the excellent J. Michael Straczynski penned SUPERMAN: EARTH ONE trilogy, the rather disappointing BATMAN: EARTH ONE duology (a rare miss from Geoff Johns though Gary Franks's art, as always, was exceptional), the very different TEEN TITANS: EARTH ONE jaunt from Jeff Lemire & Terry Dodson and last but not least the fabulously indulgent WONDER WOMAN: EARTH ONE offering from Grant Morrison & Yanick Paquette, I did kind of think, is there really any point to a GREEN LANTERN: EARTH ONE offering?
Well, I was completely wrong, wasn't I? Husband and wife team Corinna Bechko & Gabriel Hardman, probably best known for their sci-fi epic INVISIBLE REPUBLIC published by Image have nailed it. This is therefore, as you might expect, a yarn that relies heavily on the sci-fi angle. In this alternate universe, Hal Jordan is a former disgraced NASA employee now working for the Ferris Galactic mining corporation out in the asteroid belt, chasing the dwindling supply of elements needed to meet our ever-burgeoning demand for smartphones. It's not quite the reaching for the stars an idealistic young Harold had in mind when he joined NASA all those years ago, but at least he's out in space not stuck on an Earth that's run by a virtual dictatorship.
Unfortunately he's just had his contract pulled and been told to head back to Earth after eight long years when he finally strikes paydirt and finds an alien ship and a certain piece of jewellery… So: all good, right? Nope. In this universe the Manhunters have entirely eliminated the Green Lantern Corps, the Guardians themselves, and turned what remains of Oa into a slave world. All that remains are a few scattered rings across the various galaxies. Just the sort of doomsday scenario all Hal Jordans in all dimensions everywhere would relish: assemble a ragtag new corps, overthrow the Manhunters, save the universe. But is that realistically possible? Maybe not.
Hardmans' hard-edged artwork neatly compliments the gritty storyline. His style reminds me of Mack BRIGGS LAND Chater. It's note-perfect for this bleak, dystopian yarn. As ever, when these alternate reality tales are done well, they are excellent. A few plot points are neatly left open for a second volume, of course, which, on this showing, I'm looking forward to.
Buy Green Lantern: Earth One vol 1 h/c and read the Page 45 review here
The Inking Woman: 250 Years Of Women Cartoon And Comic Artists In Britain h/c (£19-99, Myriad) by Nicola Streeten & Cath Tate.
Out 29th March.
Hands up, who knew that Rupert the Bear was created by a woman?
Okay, I see half a dozen of you there; and five of you are comicbook creators.
Can you name her? Rupert the Bear was created by Mary Tourtel in 1920, and drawn by Tourtel for fifteen years. Originally Rupert was brown, but the Daily Express cut back on printing expenses, hence the iconic white fur.
See? You will learn stuff. Oh, how you will learn stuff!
The publisher's blurb in this instance is fulsome in both senses, so for once I will leave you in their more than capable hands. All you really need to know is are they singing their own praises louder than they ought? Nope.
It's embracing, engaging, lavishly illustrated, clearly and cleverly structured with a commendable sense of context.
"For many years, the world of cartoons and comics was seen as a male preserve. The reality is that women have been drawing and publishing cartoons for longer than most people realise. In the early 1760s, Mary Darly illustrated, wrote and published the first book on caricature drawing published in England, A Book of Caricaturas.
"In the nineteenth century, Britain's first comic character, Ally Sloper, was developed by the actress and cartoonist Marie Duval (1847-1890). Cartoons were used by the suffragettes, and, during the "Great War, artists such as Flora White and Agnes Richardson produced light-hearted propaganda comic postcards.; From the 1920s, a few women cartoonists began to appear regularly in newspapers. The practice was for artists to sign with their surname, so most readers were unaware of the cartoonist's gender.
"In 1920, Mary Tourtel created Rupert Bear for the Daily Express, and nearly a hundred years later her character is still going strong. From the 1960s, feminism inspired cartoonists to question the roles assigned to them and address subjects such as patriarchy, equal rights, sexuality and child rearing, previously unseen in cartoons. Over the last thirty years, women have come increasingly to the fore in comics, zines and particularly graphic novels; This wide-ranging curation of women's comics work includes prints, caricatures, joke, editorial and strip cartoons, postcards, comics, zines, graphic novels and digital comics, covering all genres and topics.
"It addresses inclusion of art by women of underrepresented backgrounds. Based on an exhibition of the same name, held at the Cartoon Museum in 2017, this book demonstrates that women have always had a wicked sense of humour and a perceptive view of the world."
SLH
Buy The Inking Woman: 250 Years Of Women Cartoon And Comic Artists In Britain h/ and read the Page 45 review here
Arrived, Online & Ready To Buy!
New reviews to follow, but if they're new formats of previous books, reviews may already be up; others will retain their Diamond previews information we receive displayed as 'Publisher Blurb'.
Akissi: Tales Of Mischief
(£12-99, Flying Eye Books) by Marguerite Abouet & Mathieu Sapin
Mudbite (£16-99, Fantagraphics) by Dave Cooper
Aliens: Dead Orbit s/c (£15-99, Dark Horse) by James Stokoe
Anxiety Is Really Strange (£7-99, Singing Dragon) by Steve Haines & Sophie Standing
Black Science vol 7: Extinction Is The Rule s/c (£14-99, Image) by Rick Remender & Matteo Scalera
Cucumber Quest vol 2: The Ripple Kingdom s/c (£11-99, FirstSecond) by Gigi Dee
The End Of The F***ing World s/c (£12-99, Faber & Faber) by Charles Forsman
Fukushima Devil Fish: Critical & Biographical Essays (£24-99, Breakdown Press) by Katsumata Susumu
Giant Days vol 7 (£13-99, Boom!) by John Allison & Max Sarin
Harrow County vol 7: Dark Times A Coming s/c (£15-99, Dark Horse) by Cullen Bunn & Tyler Crook
Mean Girls Club: Pink Dawn h/c (£14-99, Nobrow) by Ryan Heshka
Moonstruck vol 1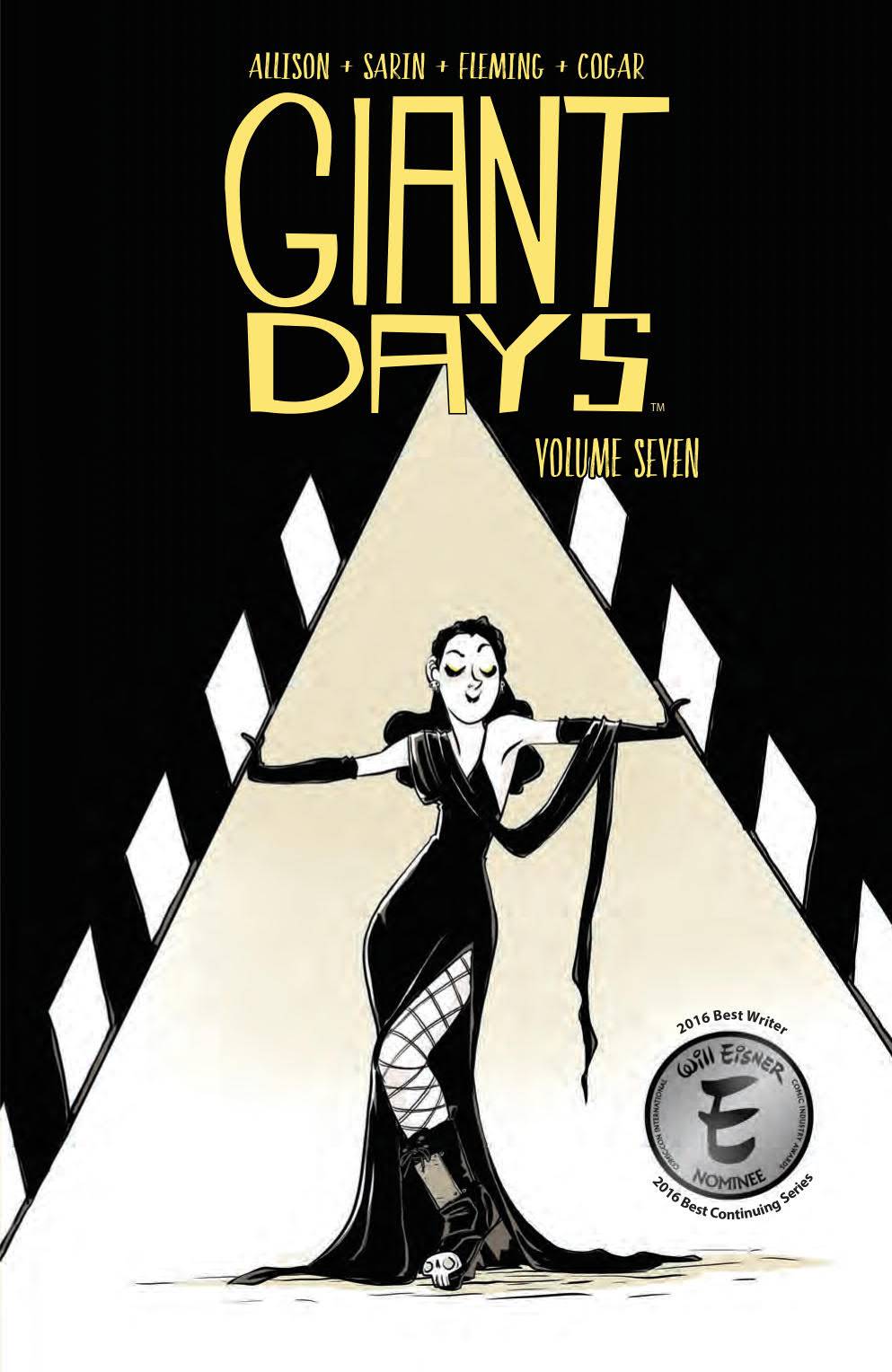 (£8-99, Image) by Grace Ellis & Shae Beagle
The Realm vol 1 (£8-99, Image) by Seth Peck & Jeremy Haun
Warhammer 40,000 vol 3: Dawn Of War s/c (£14-99, Titan) by Ryan O'Sullivan & Daniel Indro, Kevin Enhart
Flash vol 5: Negative Rebirth s/c (£12-99, DC) by Joshua Williamson & Carmine Di Giandomenico, Christian Duce, Neil Googe
Planetary Book 2 s/c (£22-99, DC) by Warren Ellis & John Cassaday
Spider-Men II s/c (£15-99, Marvel) by Brian Michael Bendis & Sara Pichelli
X-Men Blue vol 3: Cross Time Capers s/c (£14-50, Marvel) by Cullen Bunn & Thony Silas
X-Men Gold vol 4: Negative War Zone s/c (£14-50, Marvel) by Marc Guggenheim & Luke Ross
X-Men: Mutant Massacre s/c (£29-50, Marvel) by Chris Claremont, Louise Simonson, Walter Simonson, Ann Nocenti & John Romita Jr., Walter Simonson, Alan Davis, Barry Windsor-Smith, others
Invincible vol 25: End Of All Things Part 2 s/c (£14-99, Image) by Robert Kirkman & Ryan Ottley