Featuring Eleanor Davis, Anneli Furmark, Moebius, Etgar Keret, Asaf Hanuka, Jeff Lemire, Andrea Sorrentino, Robert Kirkman, Lorenzo De Felici, Terry Moore, Stan Lee, Jack Kirby and more!
Gideon Falls #1 (£3-25, Image) by Jeff Lemire & Andrea Sorrentino, Dave Stewart…
"Actually,
Mrs. Tremblay… there is one thing."
"Of course, Father. Anything."
"In all the rush to get to Gideon Falls, I don't think the Bishop ever told me… how did Father Tom die?"
"Oh. I… I had thought you would have known."
"No. Was it his heart?"
"I… I'd rather not talk about it."
Hmm… I have a sneaking suspicion that wasn't an accidental omission on the Bishop's part, the lack of details on the sudden demise of Father Tom. Still, Father Wilfred has now arrived in the rural, backwater town of Gideon Falls, against his wishes, to take up the suddenly vacant position of their pastor. He'd have preferred to remain in the seminary, teaching, but the Bishop felt he was the man to answer the call so off he went.
What precisely Father Fred, as he likes to be known, or indeed Gideon Falls, has to do with the lunatic Norton obsessively cataloguing and cross-referencing specific pieces of garbage across the distant, big city remains to be seen. We see Norton interacting with, and deceiving his therapist, in a bid to avoid being sectioned again, but it would seem, to him at least, that he senses the presence of something or someone he regards as evil incarnate in the vicinity.
Norton's collection of disparate refuse is not remotely random, either, to him, for he senses a common source to his slivers of wood, rusty nails, shards of glass and bent hinges, which he unerringly homes in on, however implausible that seems. The thought occurs as I type, and I have absolutely no way of knowing whether this is correct or not for it is pure supposition on my part, that he is finding all the components you might expect to compose a door…
Yes, mystery, murder and suspense abound, both in the urban environment and the dusty countryside, plus most certainly within the pages of this comic book. And horror, genuine blood-curdling horror too, by the end of this first issue. For Father Tom's death isn't the only one in Gideon Falls by the time this opener concludes.
So, what are we, the readers left with? An absolute mystery. What is the connection or connections, between the places and / or the protagonists? I very much doubt Jeff is going to give too much away too soon either.
Andrea Sorrentino, probably best known for his gritty, fine linework on Lemire's OLD MAN LOGAN is an ideal foil for such a tense, taut story that slides straight into psychologically perturbing territory right from the off like the veritable knife between the ribs. His panel and page composition in the Norton sequences particularly – complete with two spectacular double-page spreads, one featuring a mind-bending fish-eye lens effect and the other a collage of scattered Polaroids over a time-lapsed, anguished Norton rocking in a chair against a cityscape – plus inverted pages and crafty use of symmetry contribute immensely to the disorientating, fractured feel and a very rapidly building sense of unease.
Then, when the spine goes from mild tingling to collapsing in complete terror back in Gideon Falls, with immense amounts of the colour red involved, I had a strong suspicion I recognised the exact shade from BPRD and BALTIMORE, and yes indeed, it is Dave Stewart providing the colour palette in his own inimitable fashion. It's a sure sign you've probably read too many comics when you can identify a colourist from just one colour… He also seems to have employed a vertical texturing technique on practically every section of black shading which is also cumulatively… troubling… to the eye, and mind… in an artistically positive sense, as if something is persistently scratching away at what you are experiencing. Spooky.
I now eagerly wait to see how messers. Lemire, Sorrentino and Stewart will continue to torment and disturb us further in the next issue. In the meantime, I'm left to ponder my door theory…
JR
Buy Gideon Falls #1 and read the Page 45 review here
Why Art? (£12-99, Fantagraphics) by Eleanor Davis.
"If you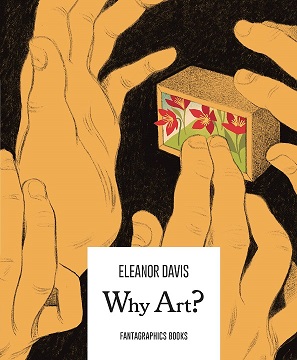 don't mind my asking, what are you reading?"
I've never been stopped like this on the bus before, but the first dozen pages of WHY ART? had so intrigued a middle-aged man peering over my shoulder from behind and above, that he needed to know. My explanation then so intrigued the passenger immediately to my right that she, too, needed to know.
So what do you need to know?
Well, eventually the cover's Shadowbox miniature art object / working world – which contains the same flowers as those on the cover to Davis' HOW TO BE HAPPY, and whose sense of scale is emphasised by the hands which are exactly the same size as yours (try matching them on a physical copy!) – will come into play in a deliciously recursive narrative via the most extraordinary act of escapology. Into the Shadowbox itself!
However, the initial pages which had so amused their admirer bear Davis's helpful hints for amateur art critics so that each individual expression can be classified and so catalogued by its most essential qualities for a more profound understanding. It begins thus:
"Why Art?
"Before we can answer that question, let's explore some examples of different kinds of artworks. The most basic category of artwork is, of course, Colour."
Of course it is.
That her "orange artworks" and "blue ones" are presented in black and white is priceless.
We are then treated to 'Big' artworks and 'Small' artworks, with the human form in attendance for sense of scale, anticipating what is to come. Do you feel that you are learning the language that will enable you to talk authoritatively about art? Excellent! Then we come to explore those objects which involve "the intent of the artist or the response of the audience" which is eloquently summarised thus: "MAKES YA THINK".
The masks are amusing, the warped mirrors are funny, but the 'Ordinary Mirror' is even funnier: "continues to fascinate both artist and audience alike".
Like the sense of scale between creator and creation, this pre-amble too is far from irrelevant.
After we witness different audiences responding rather powerfully (!) to various works of art, we meet Dolores, a performance artist who is by definition both artist and the art itself, and who incorporates her audience too for good measure. She stands very still then tells them "I love you".
"Some responses get very intense."
I don't have those pages for you, but that's just as well, for I like to imagine you all guffawing out loud on your buses instead, then we will each of us create a self-sustaining chain reaction of sales which will ensure that WHY ART? becomes this year's Page 45 chart-topper.
It is Davis's cartooning which contributes so substantially to the comedy. I adore her forms which are so satisfying physical, and so sleekly drawn in smooth, extended lines which dip at the necks, blossom out at the shoulders, bloom round curved hips, then the slide down the thighs to be pinched together with immaculate, dainty feet. Arms hang heavy or flop like flippers, but always there is poise and harmony. There was a phenomenal use of space inside a tent within Davis's YOU & A BIKE & A ROAD, and there's an exquisite page here of one of Dolores' most ardent admirers reciprocating her performance with a love letter posted through the letter box of her front door. She is crouched on her haunches to do so (in high heels!) and the single sweep incorporating her back, buttocks and thighs, before another line projects diagonally back down her calves with perfect balance, is magnificent.
Doroles looks down through the door's window, probably on the phone to the police.
A little earlier we are introduced to a group of artists, which includes Dolores, specialising in different disciplines from papier mâché and fabrics to talismans and massive multi-media. José specialises in concrete and fondant. It's Richard who's into papier mâché which can be prone to water damage. As can Richard: he has an oversized fibreglass head and oversized papier mâché body and hands.
Together they will be presenting their very latest triumphs in a joint exhibition. "They're pushing boundaries and breaking barriers – psychological, physical, metaphysical and temporal." They're blithely unaware, however, at just how successful they will be.
We were warned about the type of art which can terrify, presented as an abyss of solid black. Now, another abyss beckons. The creators have completed their creations…
"But there's a storm raging outside."
It is raging and it is roaring and there is shouting and wailing and it is so deafening and suddenly the outside seeps in.
Now, about those Shadowboxes…
SLH
Buy Why Art? and read the Page 45 review here
Pizzeria Kamikaze h/c (£22-99, Archaia) by Etgar Keret & Asaf Hanuka with Dan Jackson.
"Two days after
I killed myself, I found a job at some pizza joint called Kamikaze."
What an exceptional opening sentence.
Unfortunately it's the ninth, so I made it my own first instead.
Pizzas are not important to this weird and wonderful twilight tale. Unless I'm missing something, they're incidental. The fact that Mordy committed suicide is not.
Our man Mordy offed himself a short while ago, and has since been reborn into a world which is much like our own, with two key differences: everyone here committed suicide; but the pressure is all gone.
No one seems to be in actual need of a job or its income, nor do they harbour the same worries or insecurities which might have catalysed their crises in the first place, or the sort of judgemental prejudices which could have once been redirected at them. Oh, Mordy has more than a passing curiosity in spotting any tell-tale scars which might denote how others killed themselves, but that really is the extent of it. No one is blaming each other; and nobody cares… about anything, really. Apart from musing on who may have made it to his funeral and what they'd have thought, Mordy is fairly equanimous to it all.
It's just a bit dull and disappointing, to be honest.
"Whenever people used to talk about life after death and go through the "is-there-isn't-there" routine, I'd always imagine beeping sounds and people floating around in space and stuff. But now that I'm here, it reminds me of Tel Aviv.
"My German roommate says the place could just as well be Frankfurt. I guess Frankfurt's a dump too."
Uzi Gelfand has a great big bullet hole in his head, but he's much happier now, having found his parents reincarnated in this shared limbo because they'd reacted similarly to the anxieties that life had in store for them. Plus his little brother is newly arrived, having offed himself during Basic Training in the conscriptive Israeli army, so now they're all living together, bonded in the afterlife as never before through their shared exiting option.
I think the bullet through the brain must have taken his internal editor with it, because Uzi isn't half the opinionated, contrarian bore.
So yes, it's a life of dark bars (one's called Stiff Drinks!), playing at pool, and perhaps pulling if you care to. But Mordy shares none of Uzi's interest in girls, for his libido's been lost in this limbo too. Until Mordy discovers, via a previous room-mate, that the girlfriend Desirée – whom he adored and who survived him in life to mourn at his graveside – has arrived in this afterlife too. Now, there is a new, unexpected impetus: locating Desirée and discovering why she committed suicide. Clue: it wasn't over Mordy.
So it is that Mordy persuades a reluctant Uzi to join him on a journey in a car with no headlights into a countryside which could well be endless, in a world without maps. It's not just topography that's absent; it may well be topologically unstable too.
Along the way they pick up young Leehee, a woman who shows no overt evidence of having offed herself at all. Unlike the others, she misses everything about her prior existence and is on a hunt of her own – for whoever's in charge – and with very good reason.
When Leehee takes her turn to drive the headlights start working.
Eventually, in the middle of nowhere, they meet a man called Kneller who does show some sort of impetus – to entertain – and this draws its itinerant crowd. But then, in search of Kneller's cat, they discover an extravagant, plush mansion bathed in sunshine, with a swimming pool. There, even larger crowds have gathered, permanently round a pied-piper-like figure and self-proclaimed Messiah. But in a world in which no one else feels the need to repeat their suicide, why does this bloke want to give it a second ceremonial go?
You may be familiar with Etgar Keret now from 'The Seven Good Years' and 'Jellyfish'. Connoisseurs of comics are more likely to have relished Asaf Hanuka's solo explosions of fierce creativity and wit-ridden lateral thinking within THE REALIST and THE REALIST: PLUG AND PLAY as well as his work with Tomer Hanuka on THE DIVINE. If so, you will take the most enormous delight in seeing that most accomplished of comicbook creators evolving as a young artist on the pages right in front of you, for this work originally appeared in the periodical BI-POLAR some 15 years ago prior to reappearing in a collection in 2006.
Compare the first chapter with the third, then the fourth: it's illuminating! The lines become cleaner, the light brighter, no longer bogged down by extraneous, haggard texture. The colours become lambent thanks to Dan Jackson (the original printings were black and white) and the space opens up, figures better framed in their environment. Or maybe everyone's having more fun!
It's a privilege to witness this sort of personal evolution, and artists new to this medium should take note: never refrain from publishing until you believe you have achieved perfection, because you – in your own mind – never will; also, never go back and waste time on fixing too much earlier material which you could otherwise employ to create your next work. Martin Wagner did precisely that on his anthropomorphic HEPCATS, and we have never heard from him since.
The logic of this particular afterlife isn't watertight (I've no idea why condoms might be deployed when you're already dead, no one seems to become pregnant or suffer from disease; then Kurt Cobain makes a cameo appearance, face intact) but, jeepers, this is an afterlife, so it's all up for grabs, and there's almost a perverse pleasure in mulling over what Etgar Keret has come up with and wondering what you might substitute instead. What matters is this: does Keret come up with ideas that make you think, and does his world serve its specific story?
It does.
Thought For Day / Review Addendum
You can probably stop reading now.
We often hear of the "afterlife" as some carrot dangled before us – with its attendant, punitive stick habitually waiting in the sermonic wings – in order to make us behave ourselves better on this mortal coil. Not just in authoritarian religions organised to control us through brainwashing, but also in the infinitely more liberating Buddhist teachings too.
For, yes, you will be reincarnated so watch what you do, otherwise options include returning as cat, bat, rat, stoat or snail, or even another human being.
Heaven forfend that we should love, comfort, enable and empower each other because it's A Good Thing To Do, which will make us all quantifiably happier ourselves right here, right now, along with those whom we've helped.
Buddhists, I'm curious: can you be reincarnated backwards in time? Could I be reincarnated as a medieval monk? Related: has any enlightened Buddhist found themselves in possession of memories from the future rather than a past life? I ask, because what happens when someone like Trump pushes the big red button and there are no more human beings to look forward to in our abruptly curtailed timeline?
This 'Thought For Today' was presented by Stephen L. Holland. Now make yourself a hot mug of Horlicks and pop off to bed! We'll see you in the morning.
Sweet dreams!
SLH
Buy Pizzeria Kamikaze h/c and read the Page 45 review here
Red Winter (£16-99, Drawn & Quarterly) by Anneli Furmark.
"I have to go.
It's late."
"Siv, when can I see you again? We're not done talking."
"I'll call you when I can."
That won't be easy.
Siv and Ulrik are in love.
Ulrik is single and only twenty-four, but Siv is thirty-eight, married, with a son of fourteen called Peter and two younger children, Lars and Marita. They live in big, squat concrete block of flats in subarctic Sweden.
Ulrik lodges with Ralf, his local Communist party leader. Such a dalliance as Ulrik and Siv's would be looked down on sternly, especially given Siv's status as Social Democrat.
There would be repercussions.
"Hello, comrades!"
"Hi, Ralf!"
"No, no. You answer, Hello, comrade!
"Hello, comrade!"
"Ha ha can't you tell I'm joking?"
Not really.
"New sweater? Did your mom knit it?"
"Yes."
Calling each other isn't easy; the opportunities to meet, few and far between. The secretive couple's current options and future prospects are limited and bleak. Instead Siv pours her heart out in a badly hidden journal; Ulrik professes his passion in love letters he never sends.
Peter spends too much time in the back of a car owned and driven by delinquents, one of whom doesn't really like him.
Lars is often out at practice and Dad works long hours, so when Siv sneaks out for her assignations, Marita is left alone to experiment with adult toiletries and Tampax. She may rummage through drawers, but she probably won't understand what she finds there.
Poor Siv.
This is a quiet book; a sad, dark, stark mid-winter book as cold as its climate and Ulrik's humourless, intransigent, dogmatic, revolutionary associates. I'm guessing from the fashions – and in particular from a knitting pattern for a jumper with stripes the colours of a Zoom ice lolly – that this is set in the seventies; it's certainly before the dissolution of the U.S.S.R..
But – and this is vital – the sense of both time and place are enveloping, and the colours emanating from the perfunctory, concrete blocks of flats glow with a yolk-yellow warmth against the black and pale blue night.
The same light illuminates the family table from under a central shade, and burgundies are deployed on that table's cloth, the occasional skirt, shirt and jumper, and Marita's woollen hat and jeans.
For maximum immersion, I heartily recommend you read it after dark.
"What do we do now? When can I see you again?"
"I'll call you when I can."
SLH
Buy Red Winter and read the Page 45 review here
Oblivion Song #1 (£3-25, Image) by Robert Kirkman & Lorenzo De Felici…
"It's okay,
it's okay… I know it's disorientating, but you're safe now. You hear me? You're safe."
"Him! What did you do to him?!"
"He's asleep. He's going to be okay. You're going to be okay. Just calm d…"
SKRAKK!
"Sedative! Hurry! Bridget! I can't hold her much longer!"
"I can't believe she scratched you."
"She was over there almost a decade. She's scared… how could she not be?"
"Still… I need to look at those scratches… there's no telling what's under those fingernails."
I don't know what Bridget is worried about. It's not like the lady they've just rescued is a zombie…
I should probably clarify that she really isn't a zombie. Or indeed possessed. Sorry, I was always going to try and get at least one WALKING DEAD gag in there. And then I had to go and over-egg matters even further with an OUTCAST rejoinder… I really can't be arsed to try and shoehorn an INVINCIBLE gag in, though…
Moving on… yes, Robert Kirkman returns to terrify us once more, this time with a science-fiction / horror hybrid that owes as much to Quantum Leap as it does to Alien. Well, technically it's more like Sliders rather than Quantum Leap, but let's be honest, you'd probably forgotten all about that particular show until I mentioned it.
Anyway… Mr. Kirkman very kindly printed an advance copy of the first four issues or so, in a not-for-sale advance copy trade for retailers, and let me tell you, it was all utterly brilliant. What it actually reminded me of most in comics terms would be Jeff Smith's RASL with its dimensional hopping, but with lots of added monsters and intrigue. Also because of Lorenzo de Felici's exceptional art which definitely has a touch of Mr. Smith about it too.
Fabulous colouring from Annalisa Leoni also, who manages to combine an astonishing variety of shades and hues in a remarkably understated, subtle way. Quite the masterclass in the use of contrasting and complimentary colours to spot highlight and draw attention to detail and so take the illustrations to another level altogether. Very clever.
Very unusual for me to get this far into a review without rambling on about the plot, so I'd better get on with it, I guess! A decade ago there was an… incident. The city centre of Philadelphia was wiped out in an instant, replaced in the blink of an eye with 30 square miles of a huge vegetative ecosystem and its incumbent voracious predators. Almost 20,000 people were seemingly wiped out of existence in a moment.
Eventually, once the 'invasion' was brought under control after a not inconsiderable number of additional casualties and the area quarantined, a scientist named Nathan Cole worked out what had happened. The 30 square miles of Philadelphia which vanished, had in fact, merely swapped places with the new terrain. Suddenly hope was raised that somewhere on an alien world, that promptly became named Oblivion, there were possibly thousands of presumably terrified survivors.
Technology was quickly developed to allow incursions to Oblivion and search and rescue missions launched to retrieve many of the missing Philadelphians cowering in the ruins of their city, which itself was rapidly being assailed and assimilated by the native fauna and flora. After ten years, however, the last few of which proved completely fruitless in finding any remaining survivors, government funding inevitably dried up and public interest waned. A monument to the remaining lost souls was built, inscribed with each of their names, and a museum built in their honour.
Nathan Cole, however, remains convinced further humans remain on Oblivion, including his brother. In fact, he believes that there is a whole community hidden away somewhere, possibly even thriving. And so, he continues to make unauthorised, dangerous solo excursions with his own technology. When he manages to find a husband and wife and successfully retrieves them, to much understandable public fanfare, he consequently expects to be given a new remit and improved budget to conduct further missions. To his surprise and anger, he finds all the government really wants is to move on and draw a line under the whole Transference as it ultimately became known. Lest the public continue to fret the mysterious, spontaneous occurrence could suddenly happen again. Nathan, of course, has got other ideas…
JR
Buy Oblivion Song #1 and read the Page 45 review here
Inside Moebius Part 1 h/c (£33-50, Dark Horse) by Moebius…
"Arzak! The Major!
And Blueberry! They're all against me. Only John DiFool has left me alone. I hope he doesn't have it in for Jodorowsky…"
Haha. INSIDE MOEBIUS is precisely that as Jean Giraud takes himself, and us, on an inner journey through his soul desert, simply known as "Desert B", where he documents his final attempt to quit smoking weed once and for all, whilst being continually harangued by many of his creations such as Major Grubert of The Airtight Garage fame, but also the likes of Osama Bin Laden, all of whom seem determined to convince him to keep toking away.
Probably the worst offender he'll encounter in his attempt to defeat his recidivistic behaviour is his younger self, replete with flowing black, wavy hair and moustache. Plus ever-present spliff! As Moebius continues to rationalise his desires to knock off the pot, his characters talk about him disparagingly behind his back and, in the case of Jean Giraud Jr., to his face. Moebius Prime, meanwhile, continues to torture himself both existentially, and also artistically, as we see him grapple with his creative process on the likes of Blueberry.
And that, really, in a nutshell is it. If you are expecting fantastical megalopolis cityscapes and weird colourful alien worlds in the style of THE INCAL, you are likely to be disappointed. The backdrop for virtually all the conversations that take place is quite literally a barren desert. On the other hand it's a fantastic conceit for what is by turns insightful and hilarious biographical jaunt through the psyche of one of comics' greatest ever creators. In that respect, the psychodrama that unfolds is closer to the likes of (Jodorowsky's and) his MADWOMAN OF THE SACRED HEART. But it is all quite, quite real. At least inside Moebius…
JR
Buy Inside Moebius Part 1 h/c and read the Page 45 review here
Motor Girl Omnibus s/c (s/c £24-99; h/c £35-99, Abstract Studio) by Terry Moore.
Complete,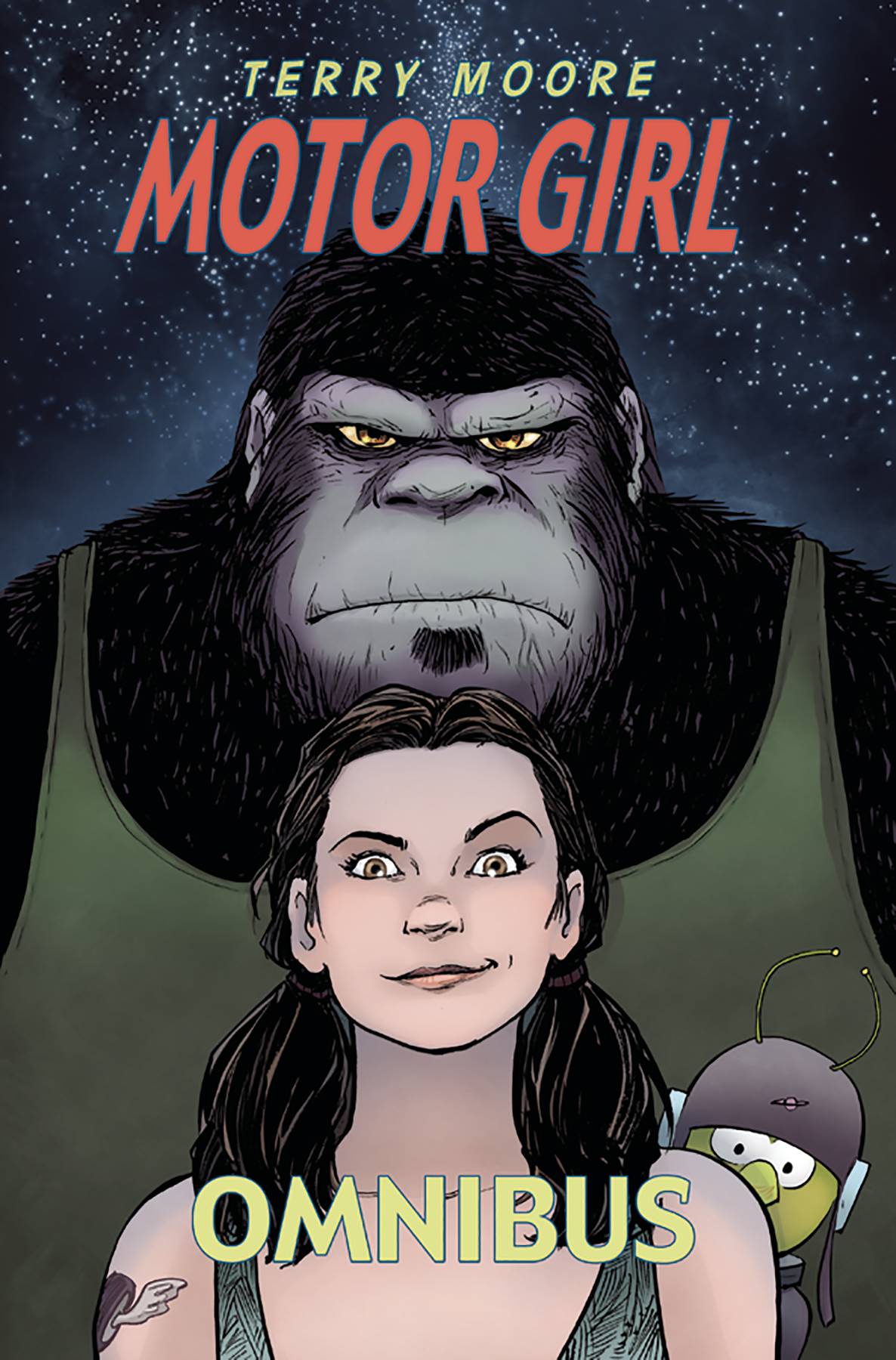 twelve-chapter collection available in hardcover and softcover, originally reviewed in two halves.
"Samantha?
"Are you okay?"
She really isn't.
So you think you know what to expect from this comic: a burlesque comedy starring a hyperactive desert-based, junkyard mechanic who's tied at the hip to an anthropomorphic wry, dry mountain gorilla who sasses and back-chats, right? And there were diminutive, comedy, green aliens on the first chapter's cover, so we knew we were in for those too. Sure enough, they were all present and correct, along with Terry's persistent, consistent campaign against cretins who use cell phones whilst driving, which is deadly and ever so slightly illegal.
But is that really all you'd expect from the creator of RACHEL RISING, STRANGERS IN PARADISE and ECHO? The man who's made a career out of juxtaposing comedy with hard-hitting trauma? All it takes is a single, early, un-signposted panel to suggest that you're in for a lot more than you first bargained for. This would fit comfortably on Page 45's Mental Health Awareness Counter: Post-traumatic Stress Disorder.
"What happened here?
"Iraqi prison."
"You were in the military?"
"Marines."
"I was in the navy. Six years. Did you suffer any head injuries?"
"I guess. They hit me every day for ten months."
Sam's recurring headaches are excruciating, and when you finally begin to witness the flashbacks, they will flatten you.
Now former Sergeant Samantha Locklear works virtually alone in a desert junkyard owned by ancient but far from frail Libby who is determined Sam should at least wear a hat and shades. It's almost unbearably hot, but its isolation and practical purpose provides Sam with the stability she needs not to stay sane, but to survive.
Walking that tightrope alongside her is Mike the mountain gorilla, her constant companion who is more than just a figment of Sam's imagination, but a coping mechanism, a projection she knows isn't real. So if Mike isn't real, what about the UFO and the comedy green aliens who crash-land on the doorstep? Only Sam and Mike see those, late at night, fixing up their stereotypical flying-saucer's engine, to be thanked by an almighty embrace, the alien's antennae bending into the shape of a heart, his oil-stained hands planted firmly on Sam's boxer-shorted buttocks. The stain's still there in the morning, as plain as plain can be… unless Sam's imagining that too?
Nope. There's a very real reason why Mr Walden is prepared to pay a ridiculous sum of money to purchase the land, then up the ante with intimidation. Nice visual reference to Hergé's TINTIN: DESTINATION MOON.
I love that Libby, the direct, gum-flapping old-age pensioner is even less likely to "do" intimidation than Sam; that she understands Sam's needs and treats her like a daughter. She won't sell unless Sam's ready to move on, and she isn't. She has a family that worries about her, but she's simply not ready.
I can hear Libby's "Ooo dogey!" drawl distinctly in my head which, weirdly enough, I am positive is partly due to the cartooning.
As well as wearing a hat and shades, Libby's also determined that Sam, to stave off dehydration, should drink more.
"DRINK!" Drink or you're going straight to bed with no supper!
"That's what Momma used to say, she could really bring the pain.
"Now I drink a Martini every day at five…
"And toast to Momma."
Fab, flapping hair once flying about on a quad bike, suitably matted and ill-conditioned when not, superb use of grey tones at night, and there's an exquisite slow-motion scene in which a certain party's launch through the air is virtually halted as Sam and Mike weigh up the situation calmly, unhurriedly, before Sam demonstrates quite ably why ex-Marines don't need to carry firearms.
Part Two
"She just wants to help."
"I don't need any help! Okay?
"I carry my own load! No one has to help me!
"I help them!
"I'm the strongest person in the room! That's how it works!"
"Really?"
"Damn straight!"
"Then why am I here?"
In which you will learn precisely why Mike's in Sam's mind, and why he is specifically a mountain gorilla.
It involves a young boy in Iraq who was chained with steel braid to a big bundle of explosives, then left in an upstairs window to lure in someone just like Sergeant Samantha Locklear. It worked. The sequences in Iraq are halting and horrific, rendered without any of the cartoon galumphing exhibited by Walden's paid goons.
The stark contrast is bridged by the quiet solemnity of Sam's current, consequent medical condition when Libby goes silent and Sam and Mike finally begin to address each other seriously. And I found the sincere respect due to veterans so deftly done, for example paid here by a barman after yet another drunken altercation between Sam and Mike – or, to any observer, thin air.
"What's her problem?"
"Sam? She did three tours in Iraq. Captured, tortured, survived two bomb attacks."
"Damn."
"If she wants to come in here and yell at the back wall, I say yes ma'am, thank you for your service and would you like a beer for your 'friend'."
I don't have any of the Iraqi pages to show you, but perhaps that's for the best: they should come out of the blue and blow you to bits. But even during its comedic confrontations MOTOR GIRL is more than just mouth and mania: it's about the little guys getting trampled on by the big boys with money and clout; about those under threat looking out for each other. Eh, it's also about slapstick, soap-sudded aliens in your bath.
"I know how the military works, Libby."
"I know you do. I'm just saying…"
"There's more to it than duty."
"Like what?"
"Like caring what happens to people who can't defend themselves."
STRANGERS IN PARADISE has now returned for its 25th Anniversary with STRANGERS IN PARADISE XXV #1 and SiP XXV #2.
SLH
Buy Motor Girl Omnibus s/c and read the Page 45 review here
Buy Motor Girl Omnibus h/c and read the Page 45 review here
Fantastic Four: Epic Collection vol 1 – The World's Greatest Comic Magazine s/c (£31-99, Marvel) by Stan Lee & Jack Kirby.
Saying "No, sir!
" to NASA, four thieves steal a space rocket, and strangely we applaud.
"No time for official clearance!"
Or a countdown – I used to love pre-launch NASA countdowns.
"Conditions are right tonight!"
You can see stars! So at least they'll know which way to go.
There's a single guard on duty. I'm not even kidding you.
We even sympathise, then respect this delinquent family of anarchists ("property is theft" – but then so is theft) as they're bombarded with cosmic rays, crash, and are transformed into earth (the lumpy orange Thing – rocks to follow), wind (as Invisible as a Woman in those days) and fire (car-driving dreamboat Johnny 'clueless' Storm). Oh, and I guess water too, if you consider Mr. Fantastic's ability to flow. But maybe that's stretching it.
These arm-crossing Four Musketeers then proceed to fight off invading shape-shifting Skrulls, a time-travelling tyrant (Victor von Doom, again and again) and the Moleman, a mop-topped minger with no sense of hygiene and a terrible pair of sunglasses ill-equipped to deal properly with the modern menace of U.V. rays.
As well as a blatant disregard for federal property, feminism and his fiancée in particular, Reed Richards also demonstrates a surprisingly strange sense of humour in using Skrulls' shape-shifting ability against them by hypnotising them into believing they're cows. He's essentially immigrant-averse Donald Trump, six decades early, and this is a legacy which will lead to upset stomachs around fast food chains everywhere once Grant Morrison and Mark Millar find out.
Hot-headed and easily bedded Johnny Storm quits quite early on so that he no longer has to moonlight as a mechanic, but can show-off fool time (sic) by using his powers as the Human Torch to weld random bits of metal together which he claims are car components.
The Full Frontal Lobotomy then burns the beard off an already bullied bum with deep-seated amnesia to see if it's really Prince Namor, Marvel's Golden Age Sub-Mariner.
It's Namor, Marvel's Golden Age Sub-Mariner!
Now, Namor (Marvel's Golden Age Sub-Mariner) had two temperaments back in 1939 – tetchy and very tetchy indeed – and wasn't particularly disposed towards due care and consideration when it came to collateral damage whilst on an anti-land-dweller rampage. Fortunately, his memory loss holds after this initial close shave and he has in any case been out of his beloved, strength-sustaining sea-water for decades. So far, so phew!
But Johnny "I Can't Even Spell Health & Safety" Storm has a very cunning plan: he drops Prince Namor into the ocean.
"If he is the Sub-Mariner, the water will bring back his memory and his full powers! If not, I'll dive in and save him!"
It may or may not surprise you to learn that Johnny Storm also flunked history.
Cue immediate memory and full-power restoration, plus subsequent anti-land-dweller rampage with absolutely colossal property damage throughout Manhattan courtesy of Giganto, a 70-storey-high, amphibious, bipedal Sperm Whale, summoned by a sea shell. Okay, a sea-shell horn.
An invisible Sue Storm grabs the horn, but then Namor grabs Sue Storm. Instantly the high tide is turned, for Namor has Sue Storm, the horn and the horn for Sue Storm.
That mess will play itself out for decades.
This collection reprints all the clever little cross-pollination marketing teasers that used to run underneath Marvel Comics' pages:
WHAT IS THE HULK?
WHO IS THE HULK?
THE HULK IS COMING
To his own comic, obviously, but also to next volume's titanic pages of FANTASTIC FOUR, 'The World's Most Chauvinist Comic Magazine Until We Invented The Avengers'.
Next volume, I'll actually be talking about the excellence of artist Jack Kirby, including yet another Caravaggio rhombus composition. I know this because I wrote those paragraphs over a decade ago.
But really, I'll still be ripping the piss out of Stan Lee's truly awful storytelling logic and utterly outrageous sexism.
You wait until Reed and Sue get married and then have a kid: they're the worst parents ever. I've written all that too.
SLH
Buy Fantastic Four: Epic Collection vol 1 – The World's Greatest Comic Magazine s/c and read the Page 45 review here
Avengers: Epic Collection vol 1 – Earth's Mightiest Heroes s/c (£31-99, Marvel) by Stan Lee, Larry Lieber, Larry Ivie & Jack Kirby, Don Heck, Dick Ayers.
A review of
the first 20 issues told in two 45-minute halves, with an interlude so you can suck oranges before switching sides.
Part, The First:
Welcome to the very first adventures of Earth's Most Mightiest of Heroes!
Iron Man, the Golden Avenger!
Thor, the Norse God of Thunder!
Captain America, WWII Super-Soldier!
Hulk: Incredible, but a Bit Mardy!
Giant-Man / Ant-Man / Amazing Identity Crisis Man!
Janet van Dyne, the "winsome" Wasp, whose only job here appears to be flirting outrageously with everyone in sight, and calling everything else "silly".
Suspect I'm being a bit hard on super-sexist Stan 'The Man' Lee? All these utterances are real:
"Know something, handsome? You look like the poor man's Ben Hur on that silly ant!"
"Personally, I think it's silly not to have a permanent leader!"
"Couldn't you have made these silly things taste better while you were inventing them?"
"I'm as all right as any girl could be who had her make-up smudged by a silly ol' collapsing ant hill!"
"You, sir, are about as romantic as the rotor blade on this silly ol' plane."
It's a helicopter, Jan!
"Did anyone ever tell you that you have the most deliciously blue eyes, Henry Pym?"
"I'll bet he's not bad-looking under that silly head-gear he's wearing!"
"Hmm… he'd be real dreamy if he was a little huskier!"
"Look! An intruder is coming! Hmmm… he's not bad looking!"
OMG, she wants to hump the intruder! Nevertheless, it's team-mate Thor she's truly stuck on:
"He sounds like a burlesque of a comic hero in MAD Magazine! But with those shoulders… those eyes — who cares how corny he talks!!!"
All this swooning comes right in front of her boyfriend, Hank Pym / Giant-Man / Ant-Man. No wonder he has size issues. But then that's what happens when the world's most sophisticated biochemist dates a flying clothes horse with a brain the size of a butterfly's.
"That whirling shield of yours is a like an all-purpose detergent, Cap!!"
Janet, in what possible way…?!?
A feminist tract, this is not. Covers aside, it's not much to look at, either (it honestly isn't): tiny figures all boxed in, largely by Stan Lee's insane over-writing. There's a scene wherein the duplicitous Wonder Man swats a boulder back at Giant-Man, and you can just tell from the art (drawn before Stan's written his script) that it's intended to back-fire on the traitor by smashing into his leader's machinery, yet Stan feels the need to append this off-panel bobbins:
"But, though wracked with pain, the valiant Giant-Man again lifts the boulder and, before Wonder Man can stop him, sends it smashing into Zemo's Magnet Mechanism!"
That's not what happened! You've ruined a perfectly decent irony, Stan!
So yes, villains include Wonder Man, Zemo, The Enchantress, The Executioner, Kang The Conqueror (himself conquered here by the ludicrous, Rick Jones-led Teen Brigade of random ruffians), The Hulk (conflicted), The Space Ghost, The Radioactive Man, The Black Knight, Immortus, Namor The Sub-Mariner, some Lava Men, Janet Van Dyne's sex drive and the chap what unwittingly brought them all together in the first place: Loki, Norse God of unbelievably half-assed cock-ups.
Phenomenal, really. I love it to bits.
Interlude:
I adored THE AVENGERS.
From the age of seven or so, I grew up on Marvel Comics. No others would do. I lapped them up, one and all.
But THE AVENGERS had a colourful, iconoclastic, rough-and-tumble cast whereas the FF and original X-Men wore homogenous uniforms and were each lead by a fun-free, dominating patriarch. I thrilled seeing Iron Man's armour evolve early on, and totally geeked-out each time Hank Pym / Ant-Man / Giant-Man / Amazing Identity Crisis Man (coming soon: Goliath and Yellow Jacket plus multiple mental breakdowns) changed his costume.
My favourite eras as a kid were the early adventures drawn by John Buscema (coming shortly) then Neal Adams (KREE-SKRULL WAR), plus George Perez and John Byrne's 50-odd issues. Later, as an adult, my kiddie thrills all paid off during writer Brian Michael Bendis's NEW AVENGERS run which I recommend to any modern sensibility seriously interested in superheroes with all my heart and none of this naughty nit-picking.
Have you finished your oranges? Excellent!
Part, The Second:
Another pulse-pounding pageant of pugilism, but also the end of an era as the Wasp runs out of compact, so opts to resign. Thor and Iron Man follow suit (as does her boyfriend Giant-Man, somewhat defensively) leaving no one for the recently resurrected Captain America to bark orders at. Handily Hawkeye the marksman offers his services, as do siblings Quicksilver (Pietro) and Wanda, The Scarlet Witch, which gives Stan Lee a fresh opportunity to demonstrate his sterling credentials as a forward-thinking feminist:
"You are the oldest, Pietro, and I shall so as you say!"
Obviously the outgoing Avengers must first ascertain how qualified each applicant is to take over by judging their strength, stamina and skill-set with a rigorous and impartial eye, beginning with Hawkeye who ties up their butler in order to play William Tell.
"I'm sold! How about you, Wasp?"
"Va va voom! Oh >eh< I mean — he ought to do fine!"
Left to their own devices, the boys begin bickering immediately, each one jockeying for position of leader in a tidal wave of testosterone that would threaten to drown poor Wanda if she wasn't perpetually falling through trap-doors. It's funny how the lads start walking on opposite sides of the street.
Fortunately statesman Captain America is above it all:
"Stay out of this, Wanda! It's between Hawkeye and myself!"
"You're blamed right it is! I'm sick of the way you try to push your weight around all the time! Do ya read me?"
"Loud and clear, feather-brain! And get your finger out of my face before you lose it!"
Well, almost above it all.
What they can unite behind is their righteous disgust towards evil foreigners like The Mandarin and The Commissar of the Communist-ruled puppet state of Sin-Cong. One which Captain America invades (without so much as a phone call to the United Nations, let alone a Resolution), overthrows those squalid Commie bastards, then issues this stern warning to all right-minded Marvel readers:
"Be always on your guard! Their goal is nothing less than total world conquest, and world enslavement! Only constant vigilance and devotion to freedom can stop them! And remember — The Avengers always stand ready to do their part!"
"Cap, did you take lessons on how to be a cornball, or does it come natural?"
"Sorry, Hawkeye! Guess I got carried away by my own convictions!"
"With convictions such as those, one has a right to be carried away!"
Yes, right away.
Some terrific covers, though, including this exceptional Jack Kirby composition, its perspective and narrative enhanced by an upright triangle, its base the row of heads, gazing up on both sides at the Swordsman and his sword (further emphasised by Wanda and Hawkeye's gesticulations), on the left via Cap & the plank from which he jumped. (He did actually jump.)
SLH
Buy Avengers: Epic Collection vol 1 – Earth's Mightiest Heroes s/c and read the Page 45 review here
Arrived, Online & Ready To Buy!
New reviews to follow, but if they're new formats of previous books, reviews may already be up; others will retain their Diamond previews information we receive displayed as 'Publisher Blurb'.
Crushing
(£7-50, self-published ) by Sophie Burrows
Archival Quality (£17-99, Oni Press) by Ivy Noelle Weir & Steenz
It's All Absolutely Fine: Life Is Complicated So I've Drawn It Instead (£14-99, Andrews McMeel Publishing) by Ruby Elliot
Mechaboys (£17-99, Top Shelf) by James Kochalka
Mobile Suit Gundam Wing vol 5 (£11-99, Vertical) by Katsuyuki Sumizawa & Tomofumi Ogasawara
Port Of Earth vol 1 (£8-99, Image) by Zack Kaplan & Andrea Mutti
Puerto Rico Strong: A Comics Anthology Supporting Puerto Rico Disaster Relief And Recovery (£11-99, Lion Forge) by various
Scalped Book 2 (£22-99, Vertigo) by Jason Aaron & R. M. Guera, Davide Furno, John Paul Leno
The End Of The Fucking World h/c (£17-99, Fantagraphics) by Charles Forsman
Vague Tales h/c (£14-99, Fantagraphics) by Eric Haven
We Ate Wonder Bread (£20-99, Fantagraphics) by Nicole Hollander
White Sand vol 1 s/c (£17-99, Dynamite) by Brandon Sanderson, Rik Hoskin & Julius Gopez
All-Star Batman vol 2: Ends Of The Earth s/c (Rebirth) (£13-99, DC) by Scott Snyder & Jock, Francesco Francavilla, Tula Lotay, Giuseppe Camuncoli, Mark Morales
Green Lantern: Earth One vol 1 h/c (£22-99, DC) by Corinna Bechko & Gabriel Hardman
X-Men: X-Cutioner's Song s/c (£33-50, Marvel) by Peter David, Scott Lobdell, Fabian Nicieza & Greg Capullo, Andy Kubert, Jae Lee, Brandon Peterson, Larry Stroman
Monster Hunter Flash Hunter vol 3 (£6-99, Viz) by Keiichi Hikami & Shin Yamamoto
Monster Hunter Flash Hunter vol 4 (£6-99, Viz) by Keiichi Hikami & Shin Yamamoto
Monster Hunter Flash Hunter vol 5 (£6-99, Viz) by Keiichi Hikami & Shin Yamamoto
Monster Hunter Flash Hunter vol 6 (£6-99, Viz) by Keiichi Hikami & Shin Yamamoto