Featuring Amélie Fléchais, Jonathan Garnier, Dave Shelton, Anna Haifisch, Dupuy & Berberian, John Allison, Ryan Heshka, Giffen, Abnett, Lanning, Mitch Breitweiser, more

The Lost Path h/c (£17-99, Lion Forge Cub House) by Amélie Fléchais, Jonathan Garnier & Amélie Fléchais.
"It is said
that far from the world of man, lies a cruel and mysterious forest. It lures in lost travellers with the promise of safety, only to devour them for all eternity."
We begin with a brief, animistic fable of a man and a woman who were indeed so enchanted, and discovered within the forest a majestic mansion which they decided to make their home. But dancing, singing shadows soon plagued the woman while "the roots played sinister melodies". This divided the couple, for only the woman perceived the threat, and she was so terrified that she panicked and ran, to be swallowed whole by a "deep and thorny ravine". Too late, the husband woke up to the reality of his situation and "collapsed, filled with guilt, and withered away at the centre of their home, unwilling to forget her."
On the page, his hair becomes threaded with leafy shoots, sprouting from his skull, which break through the roof into branches, while below his feet sink deep into water, toes spreading down as roots in the soil.
"The trap had closed around them, like it had done to so many others. Their bodies were swallowed, their memories digested, and their identities consumed."
Three boys have set out on a treasure hunt!
They wend their way across a mountain range's meandering path, striding out east!
If you check the elaborate, ornate end-paper map, it might suggest to you that they should be heading north. You'll quickly discover that you can follow their circuitous progress into the forest which promises the most extraordinary encounters ahead. Yup, those early broken branches are there, then all manner of strange birds and beasts.
Their leader is bursting with confidence! To be honest, he is bursting with a boastful confidence about his ability to navigate, eyes closed with self-satisfied pride. His superior route, his most ingenious shortcut, will have them safely back at the camp hours before anyone else!
His thick-hatted companion thinks their leader thick-headed, and is more than a little sceptical about his plotted course.
The third member of their party is the leader's small, younger brother. He's gaily jumping and thumping about, oblivious to everything, lost in a world of his own. He likes to make beeping-booping sounds. When you're five, you can be a robot whenever you like.
Golly, how I love the leader's intense eyes, fiercely studying his map, cheeks flushed with determination. He kind of reminds me of Philippa Rice's portraits of Luke Pearson in SOPPY. That works so well in black and white, while in full colour the high-altitude track is satisfyingly smooth and flat in contrast to the sheer drops on both sides, as well as the trees which gradually begin to bloom then loom over them, their branches spreading like multi-coloured coral fronds.
I don't know why – unlike Fléchais' THE LITTLE RED WOLF – half of this is in colour, and half in rugged black and white, or why specific pages haven been chosen for the full-colour treatment. People have thought themselves into suppositional knots over Lindsay Anderson's 'If', but personally I liked the suggestion that Anderson simply ran out of colour film. My guess in this instance is that Fléchais had some much fun with the forms and textures in black and white, while the full-colour flourishes are reserved for fantastical emphasis, as when the lads discover the corpse of a fallen stag in their path, wearing a bowler hat.
Some things should be left well alone.
Immediately afterwards (again, as foretold on our map), a bipedal fox in a smart white mackintosh introduces himself, apologising for intruding into "this sacred space", and draws their attention to the trail of his bicycle which appears to have got away from him. The trail looks like a slithering tail and the fox is covered not in fur but the scales of a snake.
Now, how did that fable go?
One of my favourite episodes comes as rain starts to cascade down upon them, and they take shelter under a natural awning.
"What is your weirdo brother doing?"
"He thinks it's his job as a super robot to hold the roots up."
When you're five, you hold up giant roots whenever you like.
It rang such a bell that I'm pretty sure I've done this myself.
You still have much more in store – as do our boys – all of it the stuff of dreams or nightmares as you burrow underground, or meet magical woodland beasties, knowing not which to follow, believe or firmly distance yourself from.
They even happen upon the couple's now-empty mansion, into which nature has encroached in the form of fungi and branches and little white birds. Judging by the chandelier, the mansion's on the electricity grid, which is unexpected. Don't you think the tiled floor is ever so Bill Sienkiewicz? The lighting is too, streaming through the vast windows towering above them.
SLH
Buy The Lost Path h/c and read the Page 45 review here
Von Spatz (£12-99, Drawn & Quarterly) by Anna Haifisch…
"2pm.
Penguin service. I hate touching fish.
"One of the penguins wanted me to slap him with a herring.
"Earlier I saw a little yellow leg peeping from under the blanket.
"Is it possible that Spongebob is here?
"If I wasn't drawing, I would live vicious and would be a danger to society. Thus, I'm drawing."
Walt Disney is having a nervous breakdown which requires hospitalisation in a mental institution – sorry, recuperating mini-break – at the Von Spatz Rehab Centre, entirely populated by other sensitive, artistic types, such as Tomi Ungerer and Saul Steinberg. Both of whom, I will be perfectly honest, I needed to Google…
The fact that Walt seems to be imagining himself dispensing a fishy spanking to a penguin probably is the clincher that he's not quite in his right mind. That he believes he has spied Spongebob Squarepants, hiding away depressed under a duvet, should be the giveaway that this is a not a real biographical chapter in the life of the pioneering animator.
I don't know exactly what this is. I don't know why Walt is portrayed with an enormous cowboy hat, either. I like it a lot though.
Anna Haifisch is definitely not all there, in the best possible tradition of celebrated comics obscurants like Michael STICKS ANGELICA, FOLK HERO DeForge and George GHOSTS, ETC. Wysol. In fact, if you are a fan of their gloriously incongruent, clashing colour palettes and determinedly unreconstructed illustration styles, you will love this work. It's a real talent to make such unusual artwork seem perfectly normal and flow pleasingly across the eye, before then smashing your synapses to smithereens once lodged in the grey matter.
If your brain, like mine, is so inclined to allow such weirdness in, you will certainly find yourself delighted and perplexed in equal measure as Walt's struggle to find his way back to normality becomes an increasingly surreal odyssey of testing artistic endeavours such as making a mini-comic and bemused, apathetic self-reflective commentary on his condition.
I also believe there is a wonderfully solipsistic aspect to the Von Spatz Clinic, if I have understood a certain clue and interpreted the ending correctly. Which I probably haven't. It's more likely I'm seeing something that isn't there, like a pervy penguin, but I think I might be right. In any event, once Walt is sufficiently… recovered… to return to the real world and the Disney studios, is he prepared for what he will find…?
JR
Buy Von Spatz and read the Page 45 review here
It Don't Come Easy (£16-99, Drawn & Quarterly) by Dupuy & Berberian…
"What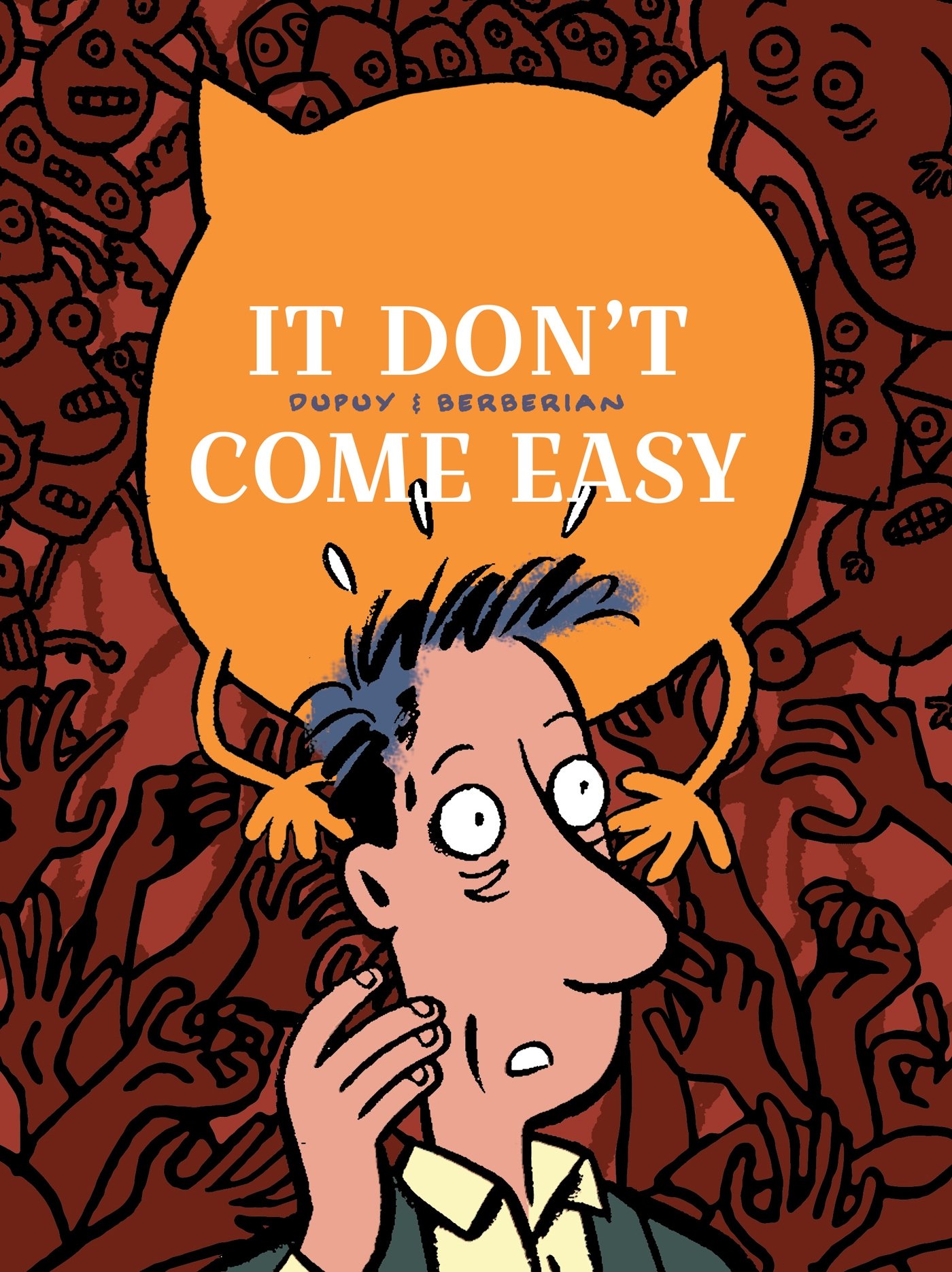 will it take to get Dupuy & Berberian the respect they deserve?" – Publisher's Weekly.
A very valid question posed on the rear cover of this most recent collection of Monsieur Jean material which sees a shift away from the whimsical – well okay, whinging – story-telling of his dating disasters into a more serious, yet still frequently very amusing, exploration of his moderately disastrous long-term relationship with Cathy. Yes, believe it or not, Monsieur Jean is finally growing up! Mind you, the back cover does also features the following quote…
"A French version of an early Woody Allen film." – NPR
Now, obviously, no one particularly wants to hear their name used in conjunction with Woody Allen these days, but it is a very apt analogy. For this work is all about the subtle interactions and emotional interplay between the characters, including inter-generational relationships as Jean finds himself all too frequently playing surrogate dad to his best mate (and mildly degenerate) Felix's son Eugene, or Freddie Mercury as they persist on calling him, for reasons I never could quite puzzle out.
This work covers a good few years of Monsieur Jean material as eventually he makes an honest woman of Cathy and they have a daughter Julie, which of course, only serves to introduce a new chaotic element into Jean's apparently relentlessly stressful life. As contemporary fiction goes, it is extremely well observed, feels completely real and minded me somewhat of Alex Robinson's most recent work, OUR EXPANDING UNIVERSE for its frequently amusing take on the travails of a man fighting the loss of his bachelor lifestyle to the very bitter-sweet end.
Artistically, fans of Michael Rabagliati's exceptional fictionalised autobiographical PAUL material really should check this out as this is very much on the same page stylistically. Plus, this is an all-colour work to boot!
It is exceptional value for money too as the final quarter features a huge selection of what are effectively two-page gag strips, each on a different topic. Some, I suspect, may well be excerpts which didn't make it into the final script, purely for reasons of smooth editing of the primary storyline. Others are just out and out rib-ticklers. But they certainly make for a very funny set of 'after the credits' bonus scenes.
So, what will it take for Dupuy & Berberian to get the respect they deserve? Well, I've done my bit with this review. Now you need to do your bit by parting with your hard-earned cash!
JR
Buy It Don't Come Easy and read the Page 45 review here
The Book Case – An Emily Lime Mystery h/c (£10-99, David Fickling Books) by Dave Shelton.
"You survived
your first day?"
"Oh, more or less, yes. The only problem is, I spent so long cleaning in the chemistry lab that I managed to miss dinner."
"Well, that would explain why you survived."
You won't be so lucky come lunchtime, I'm afraid.
You can smell the stench coming off the pages. It hits Daphne "like a brick in a fetid sock" and that's before what passes for the food has been served! You're in for a merciless twelve pages of malodorous school dinner, described in such stomach-curdling detail that I strongly suggest you avoid eating immediately before reading chapter twenty-two, certainly not during it, and trust me when I tell you that you won't want to risk anything for at least two hours afterwards.
As George suggests, it's been Daphne's first day at St Rita's School for Spirited Girls, and that she survived Chemistry was nothing short of a minor miracle. Mrs Klinghoffer is as blind as a bat.
"Mrs Klinghoffer!"
"Yes, yes, child. Do not be worrying. Everything is being quite all right and I am being fine." Mrs Klinghoffer raised her voice. "But if anyone is finding the fire extinguisher, then can they please be bringing it me so that I can be putting out my hair. Thank you."
The long drive leading up to the school now boasts a substantial crater the size of a bomb blast. George explains:
"Chemistry experiment. Couple of girls messing about with stolen supplies. Mr. Klinghoffer was furious."
"I'm not surprised! Were they all right?"
"Dunno. Nobody saw where they landed."
George has a lot of explaining to do about St Rita's School for Spirited Girls – not least, why he's the only boy there. He doesn't, nor does the author, which is exactly as it should be: far funnier to leave the oddity in this anarchic asylum for barely contained idiocy alone. It's a private boarding school, by the way, during a time when trains still ran on steam, had porters to help you on board, and conductors with the power to throw you off – while in motion, apparently.
From the creator of the wonderful prose whimsy A BOY AND A BEAR IN A BOAT and the far more fearful THIRTEEN CHAIRS and the ridiculous graphic novel GOOD DOG, BAD DOG: DOUBLE IDENTITY (all in stock and reviewed) comes this very first 'Emily Lime Mystery'. They're all aimed at readers aged a few years either side of 11, but I'm the proud adult owner of both books of illustrated prose which we rack alongside all things Reeve & McIntyre, Gary Northfield's JULIUS ZEBRA and Simone Lia's THEY DIDN'T TEACH THIS AT WORM SCHOOL.
Whether or not it first appears so, every single scene here lies in service to the story – to the mystery itself – while other individual elements which you may initially imagine merely mined for their comedy gold will prove pivotal either to the unravelling of the crime or the unravelling of those caught in it. There is absolutely no fatty tissue (except served as meat), you won't be subjected to every cross-country run, nor will you be sitting through every lesson. You'll be out of your seat quite quickly during chemistry, either voluntarily or vertically propelled.
The only hours that may prove pointless are during detention. But then they usually are, aren't they? Detention will be in Room 101, by the way, and at 4am. You've got to put some serious effort into being detained at 4am.
What's so brilliant about this as an introductory case is that it's a running comedic contrast between the naive and the new, so not knowing what to expect (us as readers, stumbling several miles in poor, bewildered Daphne's shoes) and the blithely inured (George and Emily Lime). It's all quite quotidian to them.
It seems we're back in the dining hall. Do hold your breath.
"The younger girls were relatively subdued: loud and unruly, but mostly remaining seated and only occasionally indulging in petty acts of violence. The older girls, though, were wild. There were a number of minor food fights going on, one major fight with no food involved, and an improvised game of hockey using a bread roll as the ball. A chorus line of four sixth formers were dancing raucously on top of one table, which was annoying the girls trying to play poker beneath it."
The very last thing you would want is to meet these miscreants on caffeine. You will, but you won't want to again.
Every student and teacher seems on steroids. One of them is a nun who talks like a gangster. (She's may well be a gangster.) Even Matron's a force to be reckoned with. Actually, all school matrons are a force to be reckoned with.
"[She] possessed no shred of medical knowledge, training, or indeed sympathy, compassion or humanity. One of the less fanciful rumours about Matron was that she had only come to St Rita's after her international wrestling career had come to a controversial end following the death of (depending on which version of the story you heard) an opponent, a referee or both. Certainly the force of her slap gave George no reason to disbelieve any of these theories."
She has the touch. I'm not sure it's a healing touch, but you certainly feel it.
"See?" said Matron to Emily Lime. "I told you he'd be fine. I am proper good at my job, you know. When I make someone better well, they stay well. Do you know, I don't think I've ever treated the same girl twice."
As well as his immaculate comedy timing, ("The bus was old, dirty and noisy; the seats were old, dirty and uncomfortable; the driver was old, dirty and terrible at driving.") I love Shelton's descriptive playfulness. George's hair is "enthusiastically berserk", head girl Cynthia click-clacks in "important-sounding shoes" and Emily Lime's face "seemed to be built from twitches".
There are also plenty of linguistic flourishes ("An expanse of cloud blocked out the moon and the darkness deepened and bloomed…") and a theatre to it all which is so infectious that I defy you not to want to act this out to yourself:
"Yes. You know: accounts. Money and arithmetic. Numbers and so on." She pronounced the word numbers with a mixture of bafflement and disgust.
I tried 'numbers' with disgust my first time round, then added 'bafflement'. Brilliant!
That's the semi-titular Emily Lime herself (never just 'Emily', but 'Emily Lime'), ultra-studious, ultra-serious, hardcore Assistant Librarian. Aged 13 or something. She's just peevishly (and unnecessarily) interviewed our Daphne and now reluctantly offers her a contact. This is what I mean about comedic timing:
"What's this for?" said Daphne.
"Standard Assistant Assistant Librarian's contract. Absolutely normal procedure. Just sign it. I haven't got all day."
"But it's blank."
"No, it's not."
"Well, yes. It is."
"No, it's not. There's a dotted line. See? There."
"Well, yes, I can see there's a dotted line. But there's nothing else."
"Oh, don't worry, I'll put the rest in later."
"That," said Daphne, "doesn't sound right."
"It's fine. Trust me. Or don't trust me and sign it anyway, I don't care. And once you've signed, you get a badge. Two, in fact."
Daphne considered this for a moment. She did like badges.
All of this is, as I've said, spun around a central mystery whose thread is sewn through each and every scene, whether you can see its narrative needle in action your first time through or not.
Daphne Blakeway has been offered a scholarship to St. Rita's School for Spirited Girls. Which is a bit odd, since she didn't even apply. Also, Daphne's just been expelled from her own, local school because of an "incident". No matter, the school's librarian, Mrs Crump, believes that Daphne has qualities which may be of benefit St Rita's.
So Daphne, although reluctant to leave home, sets off solo by train. But on the very first page the station's porter passes her a book called 'Scarlet Fury: A Smeeton Westerby Mystery' by J. H. Buchanan' which was handed to him by an unseen, older lady who was apparently en route to St. Rita's herself, but thought Daphne could save her the bother. This is also a bit odd, because Daphne wasn't wearing an A-sign saying "I am en route to St. Rita's". Perhaps it was her school uniform that gave this away… worn on the opposite side of the country.
On arrival, Daphne discovers that St Rita's is severely dilapidated in the way that most fee-paying schools actually were back then, has the cheapest and most foul cuisine, lesson attendance on a voluntary basis, and a remarkably lackadaisical attitude towards Health & Safety.
What it does boast, however, is an extraordinarily vast library. Or at least, it boasts an extraordinarily vast array of library bookshelves, largely empty on account of most of the books having been burnt to a crisp during a recent fire, except for an almost complete run of 'Smeeton Westerby Mysteries'. Only Daphne's recently acquired copy is missing from that collection.
What. Even.
Things have already occurred. More events will take place. And they will do so in a thunderous, five-thousand-mile-an-hour stampede which will make you wonder how you could possibly read 300+ pages of addictive, so very satisfying Young Adult prose in fewer than five hours.
SLH
Buy The Book Case – An Emily Lime Mystery h/c and read the Page 45 review here
Bad Machinery vol 4: The Case Of The Lonely One s/c (£11-99, Oni) by John Allison.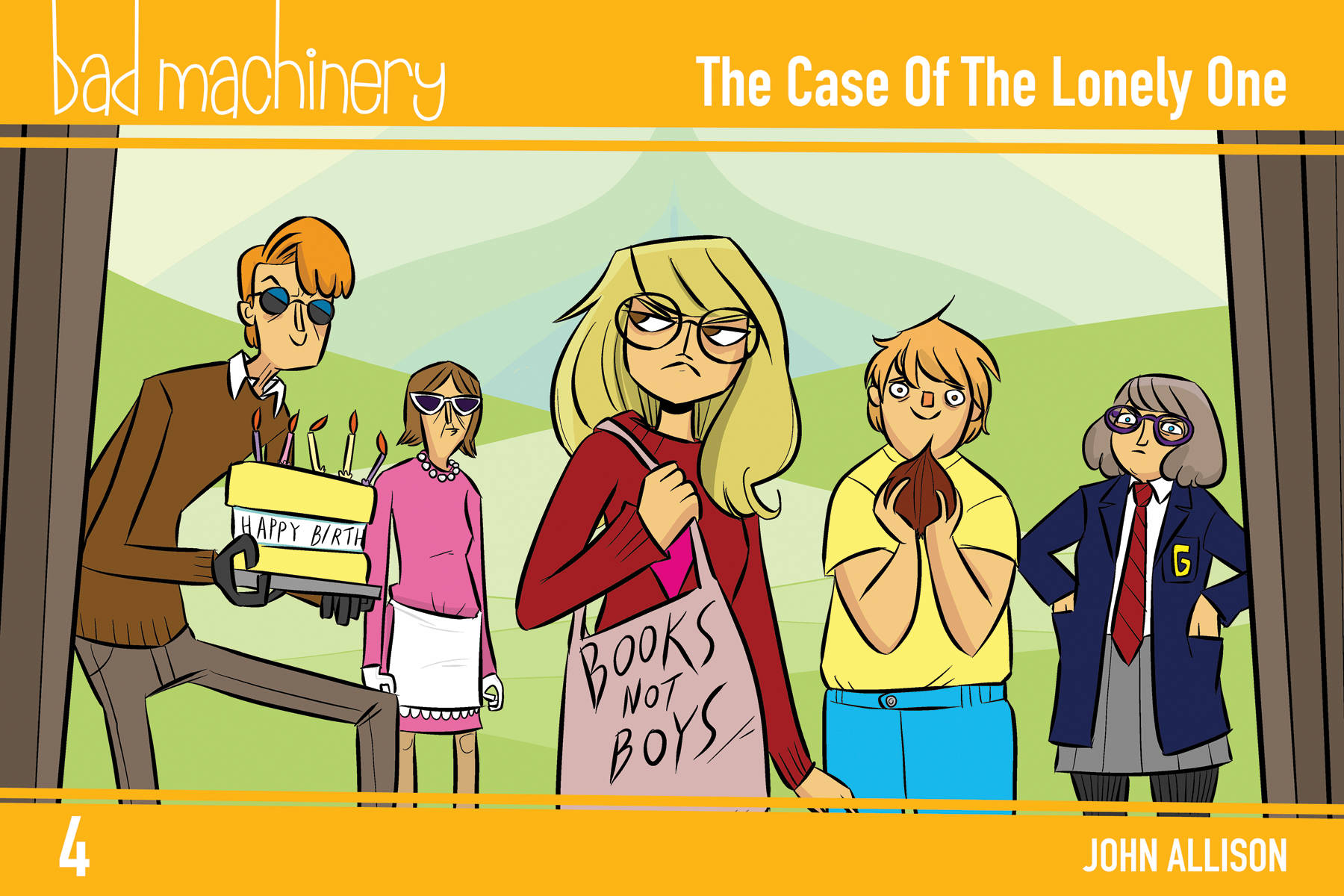 New, small-hands edition! Yup, BAD MACHINERY is perfectly suitable for all ages!
It's bought mainly by adults, mind.
"Is he your boyfriend now? Because pet food isn't the only aisle in the supermarket."
Some comedies are cleverer than others, and there are few out there who can spring from one sentence to another with such nimble dexterity as the UK's John Allison who eschews the obvious cheap barb in favour of an unexpected epigram for life.
Allison is ever so good at observing and understanding the unspoken rules of school and young-teenage codes of practice over the last couple of decades. Then he's ever so clever at transplanting them.
When new boy Lem arrives at the school gates, the girls hold back from tainting him with their company for fear that he'd be rejected by the boys, just as a fledgling bird might be rejected by its mother if handled too closely by humans.
"He's wandering off."
"He seeks the company of his own kind."
"Are you sure we shouldn't have spoken to him?"
"No! We'd have put the stink of girls on him. The boys would have rejected him. Pecked him to bits."
He's also very good at remembering our priorities, like Little Claire's horror at the school-wide one-ply toilet-tissue travesty!
On top of all that John gives voice to our wider silliness at any age when sizing someone up at a glance. Parents are particularly funny, aren't they?
"He was very polite on the phone. Sounded very handsome."
It's a brand-new school year at Griswalds Grammar in the town of Tackleford and our six young sleuths are in gleeful form. Together Shauna, Lottie, Mildred, Jack, Linton and Sonny are a force to be reckoned with, but almost immediately the most exuberant of them all, Lottie, is separated from the group.
First, she simply doodled over the memo she was supposed to sign to join the others in Latin class and so finds herself sitting instead next to Little Claire whose "lithp" makes her sound like a bothersome wasp.
Secondly, she's the first to fall for the charms of that peculiar new boy Lem who doesn't appear to others to have any charm at all: he eats onions and only onions all day! Yet one by one the mystery-fixated group comes to the improbable conclusion that "He's a right laugh once you get to know him". Then their breath starts to smell weird.
"I've blown up like a dead sheep in a river, Shauna."
"I told you! Onions are a sometimes food!"
Effectively ostracised from her friends as they start being led by Lem to some very odd games at his onion farm, Shauna finds herself alone and in need of new, unlikely allies like Corky, Blossom and Tuan of the role playing club. Desperate times call for Desperate Measures and Shauna may have bitten off more than she can chew. But at least she's not gnashing down on onions. Yet.
As ever, the body language on offer is exquisite, like Tuan gesticulating wildly over Corky, casting a
"Break Enchantment" spell, or one of the brand-new pages (there are always new pages upon printed publication) depicting team captain Linton on the soccer pitch in his pristine white kit, hands on hips as he wiggles the football beneath one boot. Judging by the various other stances, though, I'm not sure that it's going to be the most coordinated of matches.
Blossom has a face like thunder throughout ("I never really thought of Blossom as a girl. More of an unhappy cloud."), Lem's nose is as raw as the onions he's eating, and when someone shelters under an umbrella one gets a very real sense of huddling and what's still getting wet.
The comic kicks off late at night and halfway in, as Shauna clack-clacks and huffs-huffs her way hurriedly down an eerie, empty school corridor which echoes like an indoor swimming pool. She turns to face her enemy… and betrayal from within!
Allison's comics and comedy are ever so British and each one is self-contained so you can start anywhere you like. BAD MACHINERY VOL 3 which we made Page 45 Comicbook Of The Month is drenched in our national, default meteorological condition (the drains "GLUG GLUG GLUG" in the background here), while his self-published BOBBINS one-shot (another Page 45 CBOTM) was our biggest-selling comic of its year.
Lastly: What's up with the word 'lisp', eh? Why would you invent a word which those who suffer from it find impossible to pronounce? You are monsters, all of you.
SLH
Buy Bad Machinery vol 4: The Case Of The Lonely One s/c and read the Page 45 review here
Mean Girls Club: Pink Dawn h/c (£14-99, Nobrow) by Ryan Heshka.
Page 45
has been with us now (At the Time of Typing) for twenty-three years and five months.
I was seven when we opened, obviously.
During that time I have, on average, enthusiastically presented some 50 shop-floor show-and-tells per week. You do the maths.
What happens is this: whenever someone asks for recommendations, if I've yet to become intimately acquainted with their taste in comics and memorised their credit card pin number, I ask them what they've already enjoyed in this medium or, if new to it, what they've adored in prose, television, cinema or interpretive dance. After considering their reply I whoosh round the shop like a seasoned contestant on Supermarket Sweep, snapping up between three and six comics or graphic novels tailored to their specific tastes, then proceed to show and tell them just enough about each to intrigue!
I know exactly which punchline to pull back on for maximum impact and the immediate induction of such seriously severe withdrawal symptoms that you'd think I'd mainlined them crack cocaine then kicked 'em through a locked door whose only key lies in the depths of our till.
Did you do the maths…?
I've performed this task approximately 60,000 times. I am actually quite good at it, otherwise you wouldn't have taken out your second mortgage (so sorry about that),"sexy" Jamie McKelvie wouldn't have continued to read comics long enough to become one of this medium's most lauded artists and dear Lenny Henry – an infinitely superior performer to me – wouldn't keep popping back to Page 45 every time he's on tour.
Yet occasionally the recipient will cut me off, a mere three sentences in, with "No Spoilers, please!"
It's an entirely understandable worry but a wee bit insulting: I don't even spoil the first collection of a series when reviewing its fifth! I want to intrigue you to buy, not impress upon you how much I know.
In the spirit of which, however, (because it just happened to me again today, but hey, he bought the book in question anyway), I present you with a tweaked review of Ryan Heshka's previous MEAN GIRLS CLUB anarchic away-day (still stocked!) while telling you zilch about this brand-new material.
You make think this lazy. And it is.
But there's bugger-all interior art online for this book that I could have used to illustrate it with anyway. All bar one image is from the previous pamphlet. So I told you a story instead.
Original MEAN GIRLS CLUB, then:
"Lurid, burlesque, groovy and grotesque!
"Meet the vamps of the Mean Girls Club: Wanda, Wendy, Pinkie, Blackie, Sweets and McQualude!
"Hahahaha!
"You'll only do it once.
"These sisters are most emphatically doing it for themselves: self-examination, self-medication, on-the-spot diagnoses followed by auto-operations and even instant euthanasia, if you define euthanasia as putting someone else out of your misery.
"This is a pill-popping, binge-drinking, hallucinogenic adrenaline rush / overdose with snakes, rats, bats and Venus Flytraps everywhere. Innocence is upended, boutiques are broken into and lingerie scattered all over the road. Guns, clubs, hypodermic needles and, err, dress-up paper dolls.
"Imagine Bettie Page in a rage and you're pretty much there."
Suggested Soundtrack: The Cramps' entire back catalogue.
If you love The Cramps, you'll be ravished by this.
I constructed that sentence quite carefully.
SLH
Buy Mean Girls Club: Pink Dawn h/c and read the Page 45 review here
Annihilation Book One (£16-99, Marvel) by Keith Giffen, Dan Abnett, Andy Lanning & Mitch Breitweiser, Scott Kolins, Kev Walker, Renato Arlem.
Nova: "Drax?"

Drax: "Yeah?"
Nova: "Any relation to Drax The Destroyer?"
Drax "No. That's some other guy."
Cammi: "Taller dude. Much taller."
Nova: "So, no history of destroying in your past?"
The first collection of Marvel's decade-old foray into outer space crash-lands on Earth, as Drax The Destroyer escapes from a space prison along with a shape-shifting Skrull and a couple of monstrous purple twins to cause a certain degree of upheaval in small-town Alaska. There Drax undergoes a bit of an evolution after he bumps into Cammi, a young girl with a fine line in pithy put-downs. She ends up accompanying him across the universe which is where the Annihilation saga properly kicks off. Nova himself gets a make-over when his base of operations is wiped out, and cautiously accepts Drax and Cammi as companions.
Mitch Breitweiser's contribution to the first chapters (coloured to complementary perfection by Brian Reber) is an equally sturdy but grainy version of PLANETARY's John Cassady, and Renato Arlem (coloured with well chose contrasts by June Chung) in no slouch in space, with a terrific sense of scale when the Silvered One surfs over a dirty-brown industrial planet or when the insatiable, drink-'em-dry Devourer of Worlds comes to call.
Seriously, Mars Confectionary missed out on quite the trick when they failed to secure Galactus's endorsement for the Milky Way, which he at least can eat between meals in its entirety without ruining his appetite.
Meanwhile Lanning and Abnett turn Drax's old reputation into a highly diverting running gag:
Nova: "This is Drax."
Quasar: "Drax?"
Drax: "Just Drax."
Nova: "Who may or may not have a past in destroying."
Quasar: "Didn't you used to be taller?"
Cammi: "It was a phase. He grew out of it."
I've not read the rest, sorry, and wrote the skeletal structure of this ten years ago.
It's always sold very well in the meantime, though!
Reprints DRAX THE DESTROYER #1-4, ANNIHILATION PROLOGUE then ANNIHILATION: NOVA #1-4, ANNIHILATION: SILVER SURFER #1-4 and ANNIHILATION: SUPER-SKRULL #1-4.
SLH
Buy Annihilation vol 1: Complete Collection s/c and read the Page 45 review here
Arrived, Online & Ready To Buy!
New reviews to follow, but if they're new formats of previous books, reviews may already be up; others will retain their Diamond previews information we receive displayed as 'Publisher Blurb'.
The Goat Getters h/c (£44-99, IDW) by Eddie Campbell
From Lone Mountain (£16-99, Drawn & Quarterly) by John Porcellino
Dinosaur Firefighters h/c (£12-99, Scholastic) by Sarah McIntyre
Dinosaur Firefighters s/c (£6-99, Scholastic) by Sarah McIntyre
Out In The Open h/c (£14-99, SelfMadeHero) by Jesus Carrasco & Javi Rey
Head Lopper vol 2: The Crimson Tower (£14-99, Image) by Andrew MacLean
Kabul Disco vol 1: How I Managed Not To Get Abducted In Afghanistan (£14-99, Humanoids) by Nicolas Wild
Kingsman vol 2: Red Diamond s/c (£14-99, Image) by Rob Williams & Simon Fraser
Your Black Friend And Other Strangers h/c (£17-99, Silver Sprocket) by Ben Passmore
Paper Girls vol 4 s/c (£13-99, Image) by Brian K. Vaughan & Cliff Chiang
Redlands vol 1: Sisters By Blood (£8-99, Image) by Jordie Bellaire & Vanesa Del Rey
Six (£22-99, 451 Media Group) by George Pelecanos, Andi Ewington & Mack Chater
Star Wars vol 7: Ashes Of Jedha (£15-99, Marvel) by Kieron Gillen & Salvador Larroca
Batman: Detective Comics vol 5: A Lonely Place Of Living s/c (Rebirth) (£14-99, DC) by James Tynion IV, Christopher Sebela & Eddy Barrows, Alvaro Martinez, Eber Ferreira
X-Men: Grand Design (Treasury Edition) s/c (£26-99, Marvel) by Ed Piskor
Devilman Vs. Hades vol 1 (£9-99, Seven Seas) by Go Nagai & Team Moon
My Hero Academia vol 11 (£6-99, Viz) by Kohei Horikoshi
Princess Mononoke Picture Book h/c (£20-99, Viz) by Hayao Miyazaki