Featuring Javi Rey, B. Mure, Ben Passmore, Tillie Walden, Greg Rucka and friends, Brian K. Vaughan, Cliff Chiang, Jack Kirby, Stan Lee, Don Heck, Big Brother.
Out In The Open h/c (£14-99, SelfMadeHero) by Javi Rey, based on the novel by Jesύs Carrasco.
"He sharpened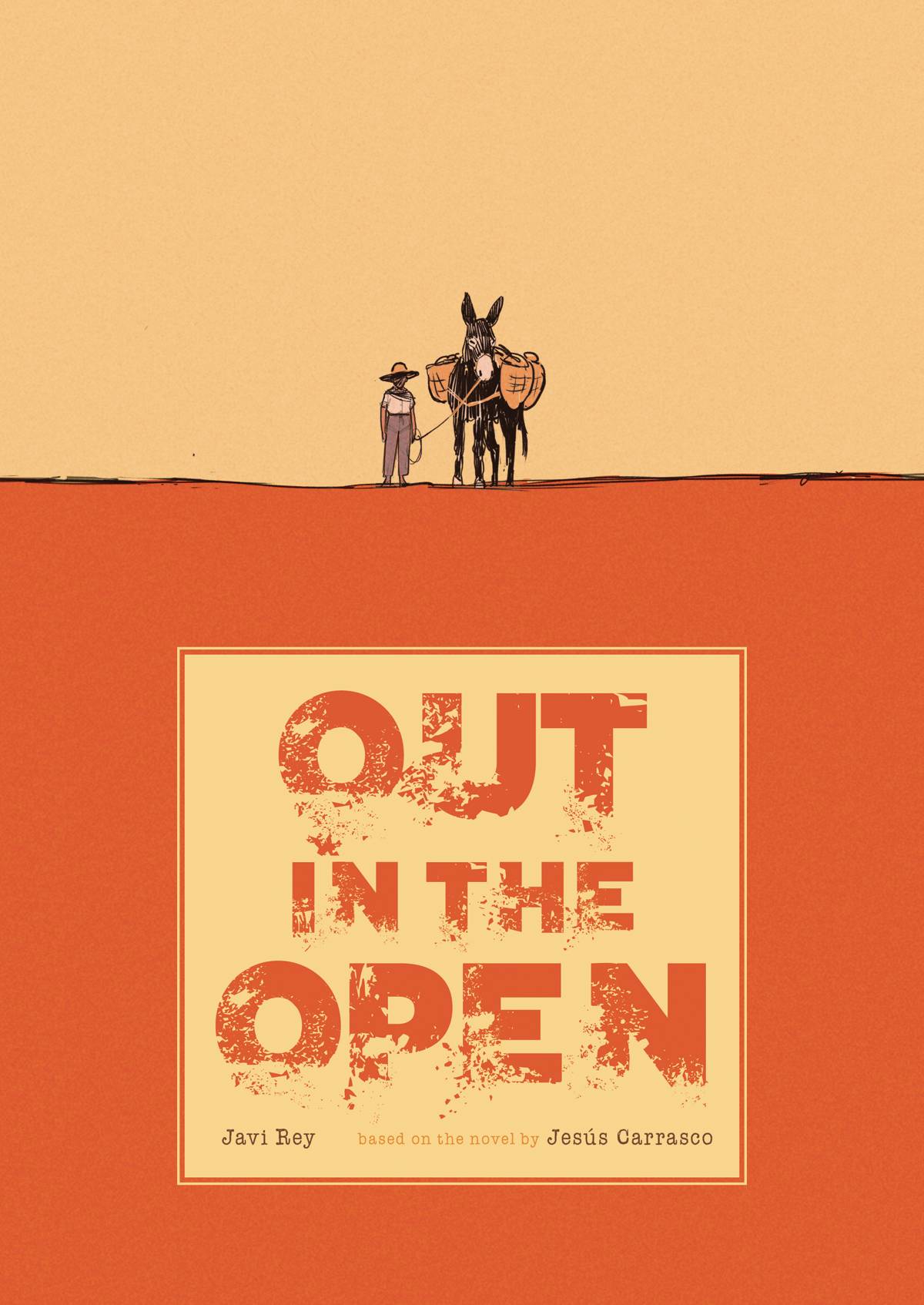 his senses, searching for the voice that had forced him to flee."
A boy lies cowering in a dark burrow amongst the roots of the olive grove, one arm on the dusty earth, the other clasped protectively around his own torso. He is as still and as silent as possible; but you can almost feel him shivering in the suffocating heat as he strains to hear the one sound that he so desperately never wants to again.
His eyes are wide, black dots of terror.
And they stay like that for hours, until the sun finally sets.
This is a beautiful book full of soft pinks and bruise-purple shadows upon bright, straw-coloured, grass plains and arid desert. Craggy outcrops appear in the distance. Under the succour of rare, sparsely leafed tree, there are dappled shadows which I doubt could afford much relief from the noon-day heat, but it must be some comfort, some sanctuary.
Where the boy escaped from there was no sanctuary, not even at home. But there were worse things than his father's beatings. There was the sheriff. And what would a sheriff want with a young boy like him?
Yes, it's a beautiful book full of vistas and sunsets, and the surprise of a sunrise when you were convinced you'd never make it… But it is devastating.
The prologue speaks of promise lost.
"There was a time when that plain was a sea of grain. On windy spring days, the wheat undulated just like the surface of the ocean. Green and fragrant waves awaiting the summer sun. The same sun that now baked the clay, pulverising it until it turned into dust."
What was once wholesome and full of potential to sustain and nurture life has now been drained of it by the sun which should also be life-giving but in this instance proved otherwise. In the cameo panel above, what was once a sea of green or golden wheat has now been survived by desiccated, sharp, brown needles.
It's based on a novel of prose from a Spanish writer called Jesύs Carrasco. 'Novel', I'm told, not 'novella', nor three-page short story, but if you did away with all the art and lined up the prose here, then it probably wouldn't fill many more pages than four. So yes: very much "based on", no mere "adaptation".
The images are profoundly communicative, not just of the radiating heat round the small fire of a temporary camp site when the night must be freezing, but of fear and of wariness. The boy's arms are once more clasped protectively, this time round his knees and not just for the cold: the goatherd seems kindly enough, but trust will not come easily to the boy, ever again.
There too the colours do so much of the work: salmon pink for the glow and the warmth of the crackling fire on flesh and clothing, while the night is slate blue.
The solitary, wizened goatherd who has little of his own intuitively understands at least some of the plight of the young boy who initially hovers round the camp site. Even after the kid attempts to steal the old man's satchel, he is invited to share food and the comfort of the fire. But, as I say, trust will never be offered or earned easily again, even through guileless kindness. Ulterior motives have been this boy's experience.
I'm afraid that you're shown those in memories more like dream sequences when a chillingly cold blue drifts in.
When the sheriff first appears he does so as a prancing dandy smoking a cigarette, precise features eroded to a jauntily hat–topped, yellow-eyed, satanic-red grinning skull. He seems perfectly pleased with himself.
In some ways this reminded me of Craig Thompson's HABIBI. Not stylistically in the slightest, but in that it is also a tale of survival, endurance and provision for others in the wake of man's inhumanity to man. Provision for others is so often offered by those who have least. The goatherd offers the boy what little he has in the way of protection and nutrition; but the goats are themselves parched and so produce little milk.
Also: the goatherd may be out of his depth.
SLH
Buy Out In The Open h/c and read the Page 45 review here
Ismyre (£8-99, Avery Hill) by B. Mure.
"So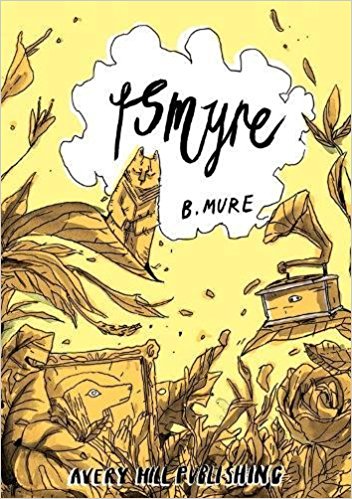 what's the next step in your master plan?"
"Genius never tells. Or sleeps. But snacks are very important."
Agreed!
Also important are colours, and you're in for an eye-full!
This charming, fantastical, anthropomorphic mystery and call to floral arms bursts with warmth and spectacle, along with a delightfully daft political powder keg waiting to explode.
The Prime Minister of an old, rustic European country is planning a grand event to celebrate ushering in a new age of prosperity (for the already wealthy, at least), and is determined to have an ice sculpture as its centre-piece, carved by one Edward Goodwill. Unfortunately, in its run-up, citizens are going missing and a cell of masked Eco Anarchists has embarked on a campaign of urban vegetation detonations. The Prime Minister is convinced that the two are not unrelated.
Crocodilian art dealer Evelyn rather likes the Eco Anarchists which she calls Flower Wizards instead: "Such aesthetically daring activism!"
Edward Goodwill, meanwhile, one of her best-selling sculptors, discovers that it's not only people who are disappearing. The sculptor's decorated wooden figurines are vanishing too. Edward takes to a bar to ponder both the puzzle and the Prime Minister's commission in private, only to be befriended by a fox called Faustine who is self-assured, extremely assertive and exceedingly resourceful. She is determined to get to the bottom of the twin mysteries, help a faltering Goodwill complete his governmental commission, then perhaps have a right old cackle into the bargain.
Good golly but the pages vibrate with light and colour, right off the electromagnetic spectrum.
The colour, washed over such delicate thin and crisp lines, provides so much depth and energy that you won't even notice the eschewing of spot-blacks or textures.
We begin with an essay in aqueous blue and lemon yellow for an opening page of nocturnal tranquillity, harmony and indeed melody as Edward's widower neighbour, on the opposite side of the street, sings to herself about love. Edward decides to call it a day, and pops a work in progress onto the shelves only to discover that another one's gone missing. Cleverly, there, red is first introduced.
Bathed in blue, Goodwill falls sound asleep as we pan up above the city to see a silent, paved, solitary street with one particularly grandiose house with its equally ornate facade jutting out from its peers, and so focussing our attention upon it. Yellow and red washes re-emerge quietly, so quietly, shhhh….
Then BOOOOOOOM!
That's going to take some pruning.
But back to Faustine the fox, and her cunning plan to solve all of the city's mysteries in one fell swoop:
"There, do you see?"
"I thought genius never told."
"Genius is showing you. Shut your face."
SLH
Buy Ismyre and read the Page 45 review here
Your Black Friend And Other Strangers h/c (£17-99, Silver Sprocket) by Ben Passmore.
Fabulous title,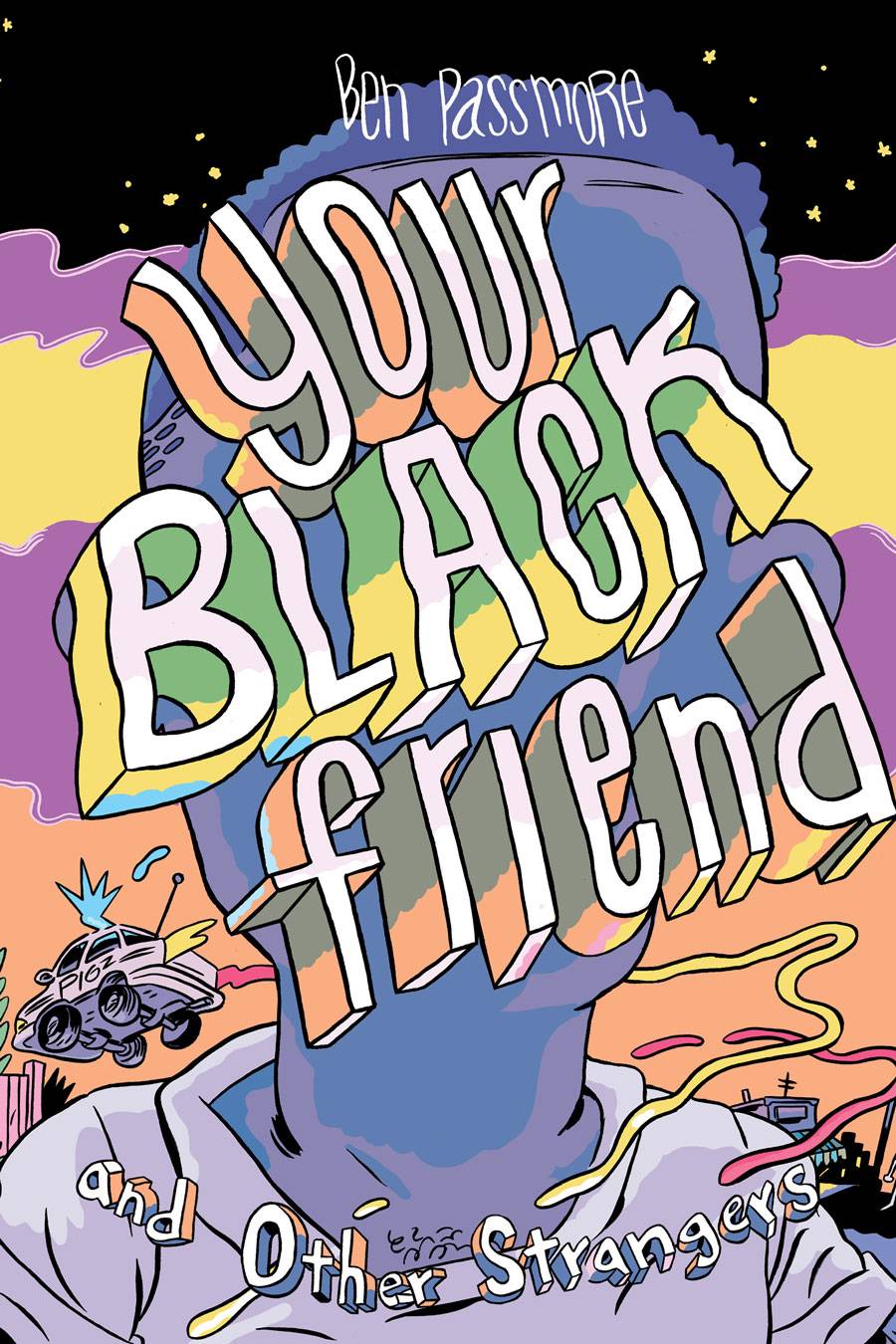 glorious cover, you'll find the contents equally colourful.
"After Charlottesville, tons of Confederate monuments have come down around the country – but we still have the largest monument to white-supremacy in the country: the presidency of Donald Trump."
Vastly expanded hardcover edition of the former pamphlet – which was potent enough in its own right – this is ten times as long, with a far wider remit.
Within, Ben Passmore observes an America in which vocal, overt, organised racism – with its attendant intimidating, gun-toting marches further radicalising the easily brainwashed into acts of murderous terrorism – has been "legitimised" by Trump's refusal to decry it as criminal, instead embracing some of its thugs as "decent folks". Instead, it's the Antifascists who are cast as violent while the Klan classes itself as the oppressed underdogs under attack. "There's a war on whiteness!" screams one boss-eyed white-supremacist woman.
In the wake of which, Passmore also assesses the state of counter-racist political activism in the form of protests, and finds it lacking and inadequate to the task. ""Freedom of Speech" isn't worth much if it facilitates inactivity." Of Trump he goes on to say, "If the fight to remove racists made of stone and metal is any indication, we will have to use just as diverse tactics to overcome the real one."
"The spirit of this collection of comics," he writes, "is more a reflection of ideas… about how to be dangerous, how to be a failure, and how to laugh in the face of a world that wants to crush us… And we all fail, homies, it's okay. We just have to learn how to fail upward."
Personally I like it best when Passmore addresses us directly about politics and social politics, with a clarity, conviction and eloquence that is infectious. Partly because some of the more surreal stuff I simply didn't understand.
However, I did gross out mightily at the 'OK Stoopd!" hook-up featuring a feckless, defeatist, cannibalistic chicken, gobbling drumsticks from a bucket as grease drools from its quivering gullet. The cat asks:
"I gotta ask… you're chicken, which is solid, but isn't it weird to be like eating chicken?"
"These CAGE MONKEYS!? I was smart enough ta stay outta the fryer! It's their own lazy-ass faults! CAGE MONKEYS!"
So I don't suppose the chicken will be joining the protests.
I also laughed heartily at the Hand of God chatting to Jesus:
"Why doesn't anyone want to hang-out with us?"
"Cause you do weird shit."
The Hand of God does indeed do weird shit; right on the page, too.
The autobiographical 'Ally I Need is Love' from Passmore's time as a pedicab driver includes two glorious caricatures when he picks up a "tomb-faced" old white lady with an imploded head and a "tween smoke cloud". It doesn't matter how fast he pedals, that thick cigarette smoke encircling the girl's head – like clouds round a mountain – is not going to be blown away.
Instead, it is Ben who is blown away when the old woman tries to pick him up, persistently, eventually coming out with…
"It's just that itz my birthday and I haven't been with a black man in so long…"
"THA WHAT? Get off my cab!!!"
But what happens next is as profoundly moving as it is unexpected. (I'm not sure we can entirely trust the final panel, but it is the most perfect and passionate punchline, rendered with love).
Basically, this: just because Passmore is laudably and necessarily blunt and uncompromising in his politics, please don't presume that he is either self-righteously self-satisfied or humourless. Above all, however, he exhorts: "Stay dangerous".
So back to 'Your Black Friend' which I originally reviewed thus:
A densely worded eleven-page opportunity to listen to a fresh perspective we'd all do well to see the world from, lest we assume that we all experience it the same way.
Your titular black friend has much on his mind from his extensive experience of being your black friend. He has plenty to say about that experience and he does so with commendable clarity, directness and level-headed balance; but he's not about to waste what little space he has by mincing his words, either.
He's going to say what he means and mean what he says.
The comic is bookended by your black friend "sitting in a coffee shop, your favourite coffee shop", eating a sandwich he's bought elsewhere "hoping that white guilt will keep the barista from confrontin' him about."
Let's see if that will work in his favour. Let's see if anything does, frankly.
"Your black friend listens to a conversation between a nicely dressed white woman and the barista."
The nicely dressed white woman is boasting about her speed in calling the cops after seeing a "sketchy guy" coming out of a backyard with a bike. The barista asks the nicely dressed white woman to describe the man.
"I dunno… black, tall, dreads, the bike was a 98 Gary Fisher w/ a big marlin on it, drop bars, disc breaks, a broken spoke and one of those Brookes racing saddles instead of the factory seat."
The nicely dressed white woman is curiously well informed, but no matter.
"Was that house on France Street? Did he have a big nose ring?"
"Yeah…"
"That sounds like Darren, he comes here all the time. That's his house. That's his bike."
The barista, beautifully drawn to be of a certain age yet far from behind the times, is shown to be more than a little alarmed. You could add exclamation marks to her protests.
However, this is what I mean by the calm clarity and level-headedness which runs like a vein or hallmark right through Passmore's many cultural and social observations exemplified by his own interactions:
"This is an important moment, your black friend has seen this many times: a white person unaware of their racism, blunders into a moment in which it is undeniable. He knows that this woman still will not see it, she is both afraid of black people and the realization of that fear. It will take the barista, seeming race savvy and familiar to the rich lady, to clarify what has just happened. But, your black friend knows the barista will say nothing. What white ppl fear most is "making things awkward"."
It gets better.
"Your black friend would like to say something but doesn't want to appear "angry". He knows this type of person expects that from him and he will lose before he begins. This' why he has white friends, he thinks. White ppl are allowed to be "angry" when he is expected to be calm and reasonable. He wishes he could make you understand this, and many other things…
"For example: your black friend wishes you understood why he hates it when the barista calls him "baby" like she is his "auntie", or any other black woman over the age of 50."
He has a damn good go at providing illumination during the nine packed pages that follow, in which he recounts numerous examples of feeling uncomfortable on both sides of the racial divide, even managing to fall through the cracks of fitting in when that division is narrowed. I liked this:
"Your black friend's black friends tell him that black-owned businesses will end racism but your black friend is sceptical that scented afro picks can be utilized as a political apparatus."
So will our black friend speak up in the coffee shop, do you think?
This comes with an exceptionally well timed ending, every element of which is set up right at the beginning.
SLH
Buy Your Black Friend And Other Strangers h/c and read the Page 45 review here
I Love This Part h/c (£12-99, Avery Hill) by Tilly Walden.
It's my favourite part.
"Can we ever tell anybody?"
"Probably not."
Simple, subtle, sublime.
Two girls share experiences, confide in each other and reassure each other gently.
They explore landscapes together, looking out, over or nestling within them. This is the sweet languor of youth when you still have time to rest supine and stare at the sky up above you.
There's an intimacy right from the start in the way they inhabit those landscapes, absorbing a song, one ear-bud each, or crouched under a duvet in front of a laptop with a night-time cityscape rising behind them, its tiny, square, skyscraper windows brightly lit while their monumental silhouettes stand out, crisp and bold, against white and purple-tinged clouds.
"I got an ipod Shuffle once for Hanukkah and it really stressed me out that I never knew what song was next."
That made me smile. It's true, isn't it, that we enjoy the segue from one song to another on an album we love, subconsciously anticipating what we know will come next as the final chords on the current one fade or when it concludes in a blistering crescendo? It's the same with any mix-tape you've made.
So here's the thing: the story is told in single-panel pages and if the landscapes are so often majestic – mountains, canyons, valleys – then the two girls are equally epic and so completely at one with them.
Their positioning is perfect and the sense of scale is breathtaking. Tillie Walden already demonstrated an adoration of Windsor McCay's LITTLE NEMO in THE END OF SUMMER; here she takes that influence and makes of it something uniquely her own. Winsor thought like this, but he never did this. There's also that dreamlike comfort to it. Or at least there is to begin with.
Initially each full-page panel features both girls in synch, either side by side or opposite each other, but then there's a brief falling-out over a photo uploaded onto social media without the expressed consent of the other. It's still gentle and the kindness – the reassurance – remains. But there follows a telling page in which they're no longer completely as one but staring in different directions and, oh, the art is exquisite as one girl's swimsuit hugs tight while the other's dress billows carefree in a breeze.
Gradually there encroach pages in which only one or neither girl features, silence falls and texting begins instead.
Never forever, I promise you, for this is far from linear but it's in marked contrast to what went before when their relationship morphs as they tentatively explores new territories, not necessarily successfully.
Aaaaaand we're still only a fraction of a way in.
The comic's not long but it's still substantial, begging you to linger and rewarding you if you do.
It's fiercely well observed with incredible understanding and empathy but without demanding you recognise that, for so much is left to be said by the silences. I'm in awe of that confidence. And if it isn't confidence then it's one massive leap of faith in an approach which is an unequivocal success.
I could type ten more paragraphs precisely proving in which ways Walden has achieved that – I honestly could – but I'm here to intrigue you to discover the rest for yourselves rather present evidence for my assertions once again for the university examining board.
Since the original softcover of I LOVE THIS PART, Tillie went on to produce A CITY INSIDE which includes one of the most romantic lines ever written:
"You gave up the sky for her."
Then, aged all of 21, she produced the autobiographical SPINNING, one of Page 45's fastest-selling graphic memoirs of all time, which provides a personal context to I LOVE THIS PART and, most unexpectedly, an answer to what happened next.
SLH
Buy I Love This Part h/c and read the Page 45 review here
Lazarus: X Plus 66 s/c (£14-99, Image) by Greg Rucka with Eric Trautman, Aaron Duran, Neal Bailey & Steve Lieber, Mack Chater, Justin Greenwood, Alitha Martinez, Bilquis Evely, Tristan Jones; colours by Santi Arcas.
"Family Above All."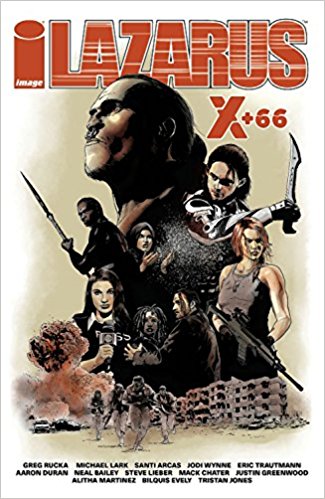 LAZARUS is one of my favourite current comic series: gripping intrigue, balletic action and phenomenally intelligent extrapolation from recent scientific developments, as well as a thorough exploration of the socio-political ramifications of a societal reversal. Each of the first four volumes is reviewed, including the two-in-one hardcovers, with attention to regular artist Michael Lark who here provides the cover.
Spoiler-free summary, for it's important to what follows:
In the far from distance future the world's economies didn't just collapse, they imploded, taking all nation states with them.
The entire globe has reverted to a feudal society ruled by 16 Families: the Families with the most money, because money buys people, money buys science and money buys guns.
Underneath them lies a slim stratum of society with key skills vital for the Families' prosperity and hegemony. These Serfs are richly rewarded, their needs taken care of. Everyone else is Waste.
All Families have a Lazarus, each augmented by differing means according to the individual Family's scientific resources, to the extent that – although they cannot rise from the dead – their bodies can withstand and recover from the most brutal physical punishments. They are then rigorously trained to become the Families' bodyguards, military commanders and ultimate assassins.
In the Carlyle Family's case it is their youngest daughter, Forever. Ever since she can remember she has been told, "Family Above All". And by 'told', I mean 'indoctrinated'. And by 'indoctrinated', I mean lied to.
LAZARUS: X PLUS 66 is a book about loyalty. It's about loyalty within families, but above all loyalty to The Family in whose domain you are permitted to reside. Those loyalties will all be sorely tested.
X Plus 66 is a year. It's the year immediately following LAZARUS VOL 5, marking just over six and a half decades since the Families met in Macau to carve up the world and its riches between themselves. To give Michael Lark a well earned breather, the collection's comprised of six short stories drawn by different artists, each of which picks up on ancillary – but by no means peripheral – characters and their fortunes which there would have been little room to have covered within the central series. In doing so, it provides a wealth of extra flesh on the main body's bone, so I would urge you not to skip it.
There are some superb neologisms for new scientific research and development, like "sleeving": the ability to slot an archived personality, complete with its memories, from one Lazarus into its successor. Not yet possible, but they've achieved the next best thing with Sir Thomas Huston of the Armitage Family taking advantage of all his predecessor's internally recorded and externally archived experiences.
"As experience is the best teacher, each new Sir Thomas benefits from the life of the last."
I think you'll especially want to learn the fate that befalls the Morray Family's Lazarus, Joacquim Morray, given the horrifying swerve in his fate last volume. You'll also discover exactly what relation he is within the Morray Family Tree. This has no small bearing on his past, present and dubious future. Mack Chater (BRIGGS LAND) draws a halting first-page panel which could not have present Joacquim as more vulnerable, his shaved pubic area making it all the more clinical.
Tristan Jones gives the grizzliest chapter the grizzliest of dirty, detailed texture set in The Dragon's lair (The Dragon is the least pleasant Lazarus of the lot – I mean, bwwaaaaar). He's holed away in a remote, claustrophobically dark subterranean bunker with mauled dolls dangling from chains. Unnervingly, there's also one in a rib cage directly outside the entrance to the snow-swept cave entrance and more with cameras for eyes inside.
Surprising, then, that there's a fine piece of painted portraiture framed on a wall. All to do with his upbringing, as you shall see…
The media's plight under feudal control is examined, and the lives of some of those newly elevated from Waste to Serfdom is shown with an extra vantage over a shanty town of those left behind, drawn by Justin Greenwood. You may want to smack one mother.
Lastly, I do know why the elite army training episode comes first, in order to re-introduce and re-emphasise the main theme – loyalty and Family Above All – but it isn't in all honesty quite as gripping as the rest, so do please soldier on.
Next: Michael Lark returns in LAZARUS #27 any day now.
SLH
Buy Lazarus: X Plus 66 s/c and read the Page 45 review here
Paper Girls vol 4 s/c (£13-99, Image) by Brian K. Vaughan & Cliff Chiang.
Four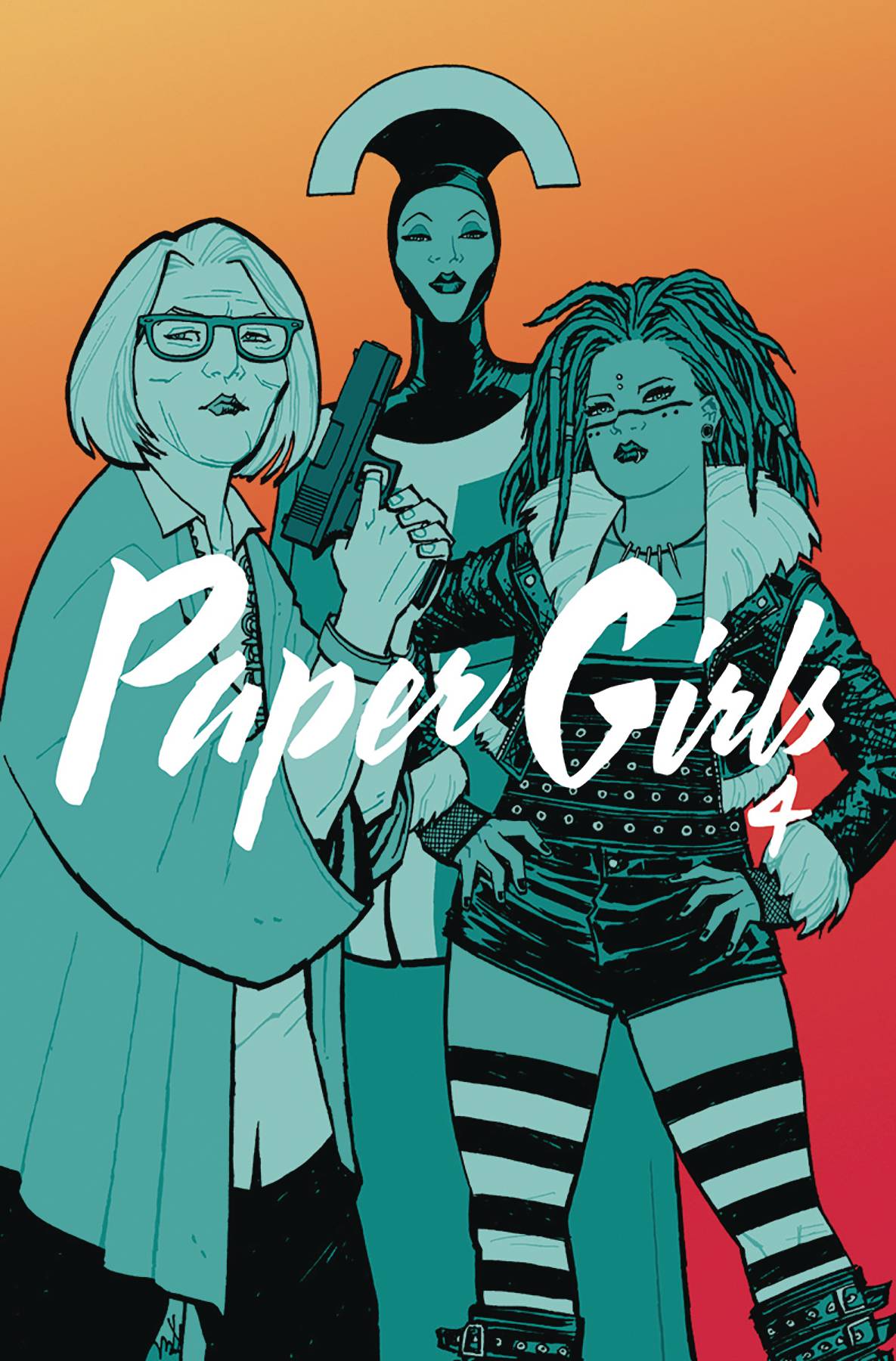 '80s schoolgirls lost in time.
They're lost many times in many times, each volume shooting them into their own future or far into our past – very far, in one instance.
If you love the idiosyncrasies of any era – obsessions, slang, popular culture, outdated technology and lack of technology we now take for granted – then you will love PAPER GIRLS. Cliff Chiang has done an enormous amount of research and the temporal locations are immediately identifiable to readers at least, while the girls' reactions to each era's customs are priceless.
Here, for example, you will laugh loads at the Armageddon anti-climax that was the Millennium Bug, when Y2K doomsters warned you to switch off your computer before midnight on 31st December 2000, lest it explode or take control of your kettle or something. The actual turning of the millennium and century, a year later, was pretty much ignored.
Remember too that the young ladies are the products of their past, and that this is from the writer of EX MACHINA, SAGA etc, who's not renowned for white-washing realities which some other authors would find awkward to tackle. One of these girls is a bigot. She is. She's a victim of '80s AIDS scare-mongering along with other ill-informed societal bullshit and she takes it out on one of her friends. Some exceptionally deft and comical character-acting is on offer from Cliff Chiang there.
Also, the girls are going to be visiting their futures: not all of them are going to have made it there in one healthy piece. Others' lives may also have taken unexpected, uncharacteristic turns. Would you want to know what happens to you?!
For more, please see previous PAPER GIRLS reviews, much more in depth. Cheers!
SLH
Buy Paper Girls vol 4 s/c and read the Page 45 review here
Avengers: Epic Collection vol 2 – Once An Avenger… s/c (£35-99, Marvel) by Roy Thomas, Gary Friedrich & John Buscema, Don Heck, Werner Roth, George Tuska, Gene Colan.
I enjoy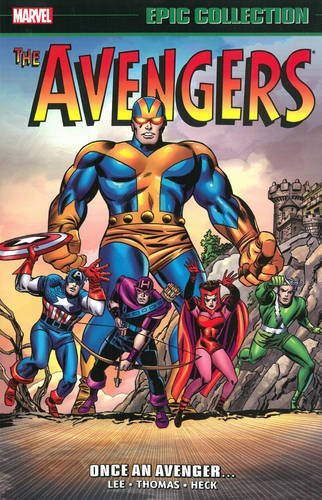 Jack Kirby composition analyses and this cover, right, is no slouch. Unusually, there is no foreground, only mid-ground and background. The four paper dolls are caught mid-gesticulation before they thrust forward towards the inviting, intervening space: Captain America, Hawkeye, The Scarlet Witch and Quicksilver, all in glowing, rich, complementary colours. Immediate action is implied in each. This leaves Goliath, behind them, in contrasting sky-blue and gold, not to dominate the whole but impress upon you his weight and comparative, sheer strength of scale, his thick arms fanning out to defend the whole of his cohorts with fists, the rising then bifurcating, central yellow stripe of his costume keeping the organic triangle in motion.
If only there were such sturdy Roman strength and reciprocal teamwork inside.
"Avengers Assemble! Mayday! Mayday!"
"It's from Cap! He's been imprisoned in a dungeon! Into your costume, Wanda… quickly!"
"Imprisoned, Pietro? By whom?"
"No time for that now!"
Or, you could have just answered: "The Swordsman". It's a little more informative, a lot less dismissive, and two seconds swifter to say.
Following the team's earliest experiences in AVENGERS: EPIC COLLECTION VOL 1, our Avenging Assemblers by now consist of Hawkeye and siblings the Scarlet Witch and Quicksilver, led by a Captain America wrestling with self-doubt under the weight of responsibility and the isolation which comes of having been trapped an oceanic ice cube since WWII. He doesn't have any mates outside of Avengers Mansion, you see. But then nor do any of the others because Stan hadn't thought to write about them.
The Captain is desperate for some of the original members to return, the original members being The Wasp, Ant-Man, Iron Man, Thor and the Hulk. Yeah, he's not so keen on the Hulk.
"Hulk happy to keep Flag-Man company. Hulk give you big hug."
"Sorry, wrong address."
Good news cometh, however, as both the Wasp and Ant-Man return early on in this volume, the latter as the much enlarged Goliath in a blue and yellow costume which my child-eyes adored, the former in a swimsuit to resume her former career as professional prisoner / bait. With Hawkeye still envious of Captain America's leadership, they're bickering among themselves incessantly. It's like Big Brother in muscular fancy dress, the Diary Room located somewhere in Steve Rogers' head.
"Hello, Steve. How are you feeling today?"
"Hello, Big Brother. I'm feeling a bit low, to be honest. Hawkeye hates me. He's keeps calling me Methuselah."
"I bet he can't spell that, and who knew he could read? Anyway, he's only jealous."
"Yes, I can read that much in his thought bubbles, but it's demoralising when all he does in speech balloons is bitch, bitch, bitch. I think the Scarlet Witch has a crush on me. If Quicksilver found out, he'd skin me alive before I could even utter the word 'incest'."
"They are quite close, aren't they?"
"Yeah, but we're going to have to wait until Mark Millar and Bryan Hitch's ULTIMATES for readers to realise that."

"Steve, is there anything else you wish to discuss with Big Brother?"
"I still haven't had my suitcase back. From 1944."
"Big Brother is looking into that. Anything else?"
"Can I get a flag?"
"A flag…?"
"I'd like something to wave."
"Why?"
"There could be Commies."
"…"
*sobs*
"Thank you, Steve."
What I've so far failed to mention is that amongst the household's weekly tasks (in order to ensure a shopping budget big enough to keep Hank Pym / Ant-Man / Giant-Man / Multiple Identity Crisis Man in Temazepam) is getting Dr. Victor Von Doom struck off the medical practitioners' list. His bedside manner is appalling, and I swear to God that unlike the above these are actual quotes:
"Here is a gold farthing for you, my boy! I, too, have known what it is to be… a cripple!"
"There is a great surgeon in the Zurich, across the border! He can cure our child! But he leaves for America soon!"
"We beg you, good master… open the dome, so we can bring our son the doctor before it is too late!"
"Impossible! It must remain sealed… until the four enemies of Latveria have been disposed of!"
"But what of the boy…?"
"Silence! This audience has ended!"
You'd ask for a second opinion, wouldn't you?
Frankly, I have no idea how Doctor Doom's surgery remains open: he's not exactly renowned for his patience or patient care, and his prescriptions are unorthodox to say the least.
It's all enormous fun, of course, as are the appliances of sciences: World-Wide Scanner-Scopes, Protecto-Shields, Vibra-Rays, Spectro-Waves, Visi-Projectors, Giant Plastithene Domes and a Temporal Assimilator which means it's only taken you a tenth of the time to read this than I wasted in writing it.
However, hope lies high on the horizon in the second half, both for the team's cohesion upon Goliath's return, and for readers' more rounded socio-political nurturing.
"Beware of the man who sets you against your neighbour!"
"For, whenever the deadly poison of bigotry touches us, the flame of freedom will burn a little dimmer."
Bravo!
In 1966 Stan Lee took a brief break from his own screaming stream-of-subconscious sexism to tackle racism instead, and did so with bold, unequivocal directness and robust language which I commend without one iota of irony. In AVENGERS #32 and 33 he introduced the Sons of the Serpent, Marvel's version of the Ku Klux Klan, seen here spitting their white supremacist venom out to a crowd which laps it so deliriously up:
"Our enemies must know we will show them no mercy! As the original serpent drove Adam and Eve from Eden… so shall we drive all foreigners from the land!"
Err, no really, that was God. The serpent poisoned the mind of innocents – and with that double whammy we'll notch the scene up to a Serendipitous Stan because these are racists, so they're inherently stupid.
Coming back to the commendable directness there's another scene in which the hate-mongering tosspots set about ethnically cleansing a section of the city by beating the living crap out of a man while successfully intimidating neighbours into doing absolutely nothing:
"We warned you not to move into this neighbourhood!"
"But it's a free country! I'm a law-abiding citizen! You have no right –"
"You dare speak to us of rights? You – who were not even born here!"
Up above:
"Henry! What's the commotion outside the window?"
"It's the Sons of the Serpent! They've cornered Mr. Gonzales! We – we have to do something –!"
"No! Come away from there! It's dangerous to get involved! It's none of our business!"
Well, isn't that so often the way? Lest some of his readers learn the wrong lesson (bear in mind a lot of them were young and impressionable), Stan takes a moment to emphatically sneer at the couple's cowardice:
"Thus we take our leave of Henry and his wife – two less-than-admirable citizens who feared to get involved…"
Again, bravo! This is, after all, a book about getting "involved" – that's what the Avengers do – and they're not slow off the mark voicing their own disgust after Goliath catches the bigots attacking Bill Foster, who's black, outside his lab. I think that may be the first appearance of Bill Foster (he went on to become one of several Goliaths himself), and it's certainly Steve Rogers' first trip to the S.H.I.E.L.D. H.Q. which was buried under a barber's shop. This is also the era when Hercules signed up as an Avenger and former Soviet spy Black Widow signed up to S.H.I.E.L.D. having spectacularly failed to win anyone other than old flame Hawkeye's trust with the Avengers. Meanwhile Quicksilver and the Scarlet Witch have lost their powers but Stan The Man has lost none of his way with women. The Wasp speaks last:
"If you wish to see Captain America alive once more, you are to follow these instructions to the letter! You will report to the next meeting of the Sons Of The Serpent, at the following address – "
"They can bet on it – we'll be there!"
"I'd like to see someone try to keep me away!"
"Oh dear! I haven't a thing to wear!"
*sigh*
SLH
Buy Avengers: Epic Collection vol 2 – Once An Avenger… s/c and read the Page 45 review here
Arrived, Online & Ready To Buy!
New reviews to follow, but if they're new formats of previous books, reviews may already be up; others will retain their Diamond previews information we receive displayed as 'Publisher Blurb'.
The Best We Could Do s/c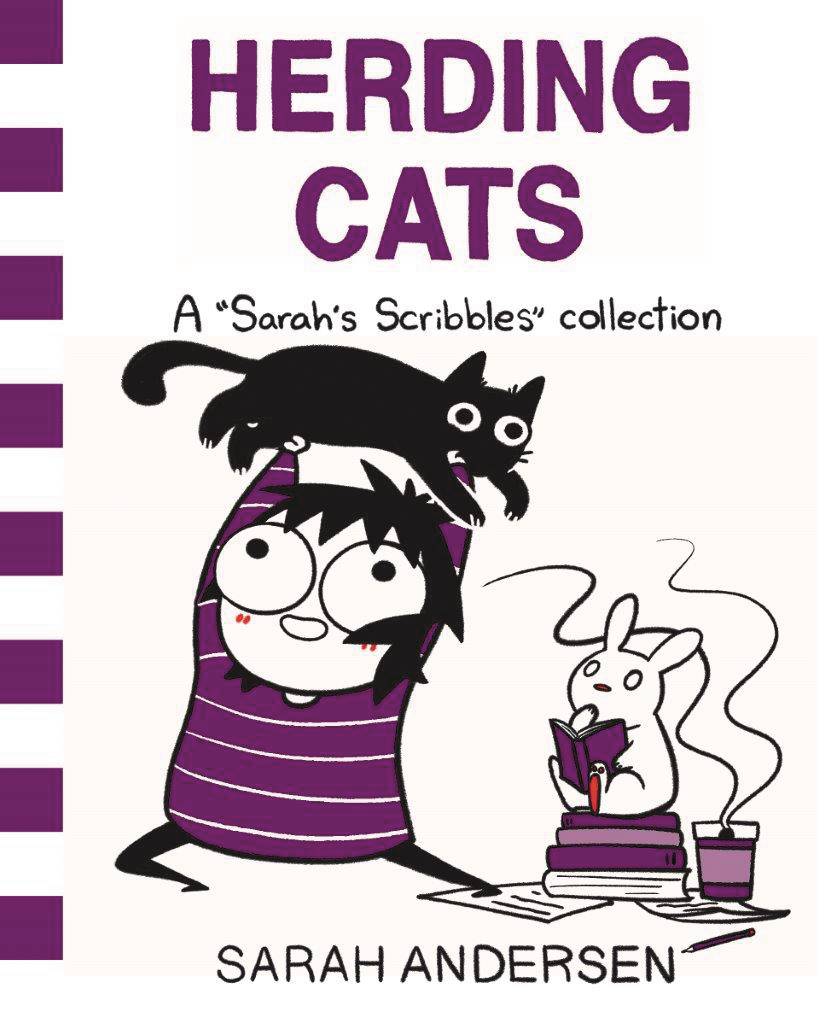 (£12-99, Abrams) by Thi Bui
Herding Cats (£9-99, Andrews McMeel Publishing) by Sarah Andersen
Black Monday Murders vol 2: The Scales s/c (£17-99, Image) by Jonathan Hickman & Tomm Coker
The Bridge: How The Roeblings Connected Brooklyn To New York h/c (£17-99, Abrams) by Peter J. Tomasi & Sara Duvall
The American Way: Those Above And Those Below s/c (£14-99, Vertigo) by John Ridley & Georges Jeanty, various
Cyanide & Happiness: A Guide To Parenting By Three Guys With No Kids (£8-99, Boom!) by Kris, Rob, Dave
Dinosaur Firefighters h/c (£12-99, Scholastic) by Sarah McIntyre
Dinosaur Firefighters s/c (£6-99, Scholastic) by Sarah McIntyre
Fence vol 1 s/c
(£8-99, Boom!) by C.S. Pacat & Johanna the Mad
Fight Club 2 s/c (£17-99, Dark Horse) by Chuck Palahniuk & Cameron Stewart
Hound vol 3: Liberator h/c (Signed & Numbered) (£29-99, Cuchulkin Entertainment) by Paul Bolger & Barry Devlin
Jim Henson's The Power Of The Dark Crystal vol 2 h/c (£22-99, Boom!) by Simon Spurrier, Philip Kennedy Johnson & Kelly Matthews, Nicole Matthews
Looshkin (£8-99, David Fickling Books) by Jamie Smart
Me And My Cat? (£6-99, Andersen Press) by Satoshi Kitamura
Stone Age Boy (£6-99, Walker Books) by Satoshi Kitamura
Royal City vol 2: Sonic Youth s/c (£14-99, Image) by Jeff Lemire
Black Panther: Complete Reginald Hudlin Collection vol 1 s/c (£35-99, Marvel) by Reginald Hudlin, Peter Milligan & John Romita Jr., Trevor Hairsine, Salvador Larroca, David Yardin, Scot Eaton, Kaare Andrews
Black Panther: Complete Reginald Hudlin Collection vol 2 s/c (£35-99, Marvel) by Reginald Hudlin & Scot Eaton, Manuel Garcia, Koi Turnbull, Marcus To, Francis Portela, Andrea Di Vito, Cafu
Phoenix Resurrection: The Return Of Jean Grey s/c (£15-99, Marvel) by Matthew Rosenberg & various
Punisher: The Platoon s/c (£15-99, Marvel) by Garth Ennis & Goran Parlov
Bleach vol 72 (£6-99, Viz) by Tite Kubo
Cardcaptor Sakura: Clear Card vol 3 (£9-99, Kodansha) by Clamp
Legend Of Zelda vol 13: Twilight Princess vol 3 (£6-99, Viz) by Akira Himekawa
Sweet Blue Flowers vol 3 (£16-99, Viz) by Takako Shimura
Your Name vol 1 (£9-99, Yen Press) by Makoto Shinkai & Ranmaaru Kotone
Your Name vol 2 (£9-99, Yen Press) by Makoto Shinkai & Ranmaaru Kotone
Your Name vol 3 (£9-99, Yen Press) by Makoto Shinkai & Ranmaaru Kotone