Featuring John Porcellino, Jason, Nicolas Wild, Brendan Fletcher, Karl Kerschl, Jordie Bellaire, Vanesa Del Rey and even Eddie Campbell, after a fashion.
From Lone Mountain (£16-99, Drawn & Quarterly) by John Porcellino.
KING-CAT is such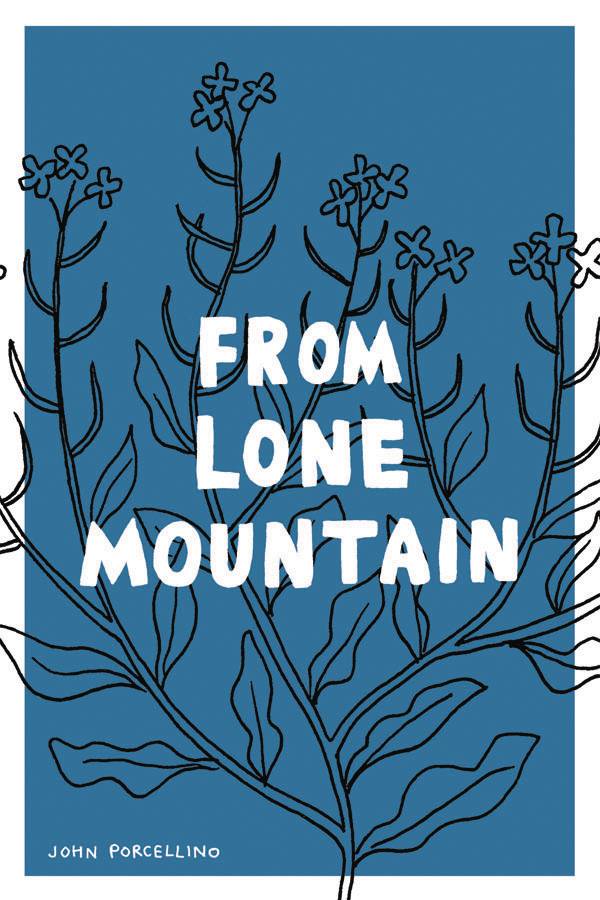 a kind comic.
It is clear, concise and enormously thoughtful.
It's also very brave and astonishingly intimate.
Yet it's not without its moments of comedy, especially where insight's involved.
"One day Diogenes was sorting through a pile of bones…
"Alexander the Great came along and asked him what he was doing…
"Diogenes said:"I'm searching for the bones of your father, but I can't tell them apart from those of a slave.""
Porcellino gives Diogenes a couple of tattoos: an anchor on his right arm, a love heart on his left. You may think that whimsical. I think it's perfect, both for Diogenes and for John.
Throughout these pure, direct and above all honest, mostly autobiographical short stories, John receives love from his wife Misun and his cat Maisie in a quiet, unfussy and far from cloying fashion, and he returns this adoration to Misun, Maisie and – with awe and appreciation – to the abundant wonder which he perceives all around him.
Light comes constantly under his appreciative gaze, during the day and at night and those hours of spectacle in between. The weather, as well: sunshine, wind, rain and snow. Sometimes he evokes them verbally, poetically; often he leaves his clean and precise pictures, already full of space, to do that instead. Breezes carry scents and he notes those too.
Foxes, skunks and squirrels are observed, sometimes sought after, and flora is cherished as much as fauna. He likes to list their Latin names. Sometimes he'll simply tell you about a tree.
Porcellino also lists his 'King-Cat Top 40's, scattered with more tiny hearts, as a positive way of acknowledging and publicly appreciating anyone and anything that has brought him joy in the making of each semi-annual KING-CAT comic or during their intervening months: friends, music, pictures, books, places, sensations, more light, more nature, more moments, and memories too.
John is as likely to recall memories from many moons ago as he is to tell you more recent tales. They're almost always dated, both the memories and their commitment to paper. Sometimes they're pivotal moments, like his history with drinking (it wasn't good; he stopped); sometimes they're reflections that have since taken on new meaning to him along his journey.
"I'm looking for those winter evenings
"I'm looking for those autumn nights
"That warm light inside that tells you it's safe
"I'm looking for that old feeling
"The going within
"The soft arms of fall"
Other times they're brand-new discoveries, and it is quite the journey, both spiritually and geographically as John uproots himself, his wife and his cat to move house such vast distances that they take five full days of self-driving.
And that's where the anchor comes in, because John needs anchors like Maisie and Misun and his Dad so desperately, and that's where the love comes back too: giving this love and appreciation is John's way of staying sane, of holding on hard to hope when the crushing adversity is so crippling at times that he cannot create.
You're going to witness remarkably little of that in his comics – which is as extraordinarily restrained as the comics are controlled – but it's ever so real as the notes in the back and the whole of his HOSPITAL SUITE make abundantly clear. Indeed, his very occasional allusions to his mental health within the body of KING-CAT itself cause him nothing but more grief and guilt. The one-page prologue, 'Hippie Girl', is highly unusual except in its retrospective self-recrimination at his anger after being ravaged by OCD (it was drawn last year, but occurred during this period circa 2006) emphasised by the love heart between "Hippie" and "Girl" and its direct, cut-through-the-bullshit, priority punchline:
"Brother," asks the Hippie Girl, innocently, "What happened to your smile??!"
Vilification met with genuine care and compassion.
Moving home is a double-edged sword for someone with John's OCD as he explains succinctly in the back of his move early on here to San Francisco:
"OCD is a disease of familiarity. New surroundings, while fear-inducing at first, often-times relieved my symptoms – everything was fresh and hadn't yet taken on a multi-layered patina of anxiety. So those early days in SF were open and free, and the creative spirit of the city inspired me."
John also does a lot of walking to stave off or alleviate those symptoms, by day and at night, popping down alleys purely because he's never done so before. I used to like to explore; so often I don't make the time anymore.
Unfortunately two of his most solid anchors disappear during the course of this retrospective work, and there are eulogies of remembrance, of moments shared – yet more acknowledgement and appreciation – that are beautiful to behold.
As I say, KING-CAT is a very kind comic, very brave and very intimate. It's never maudlin, but it is at times inevitably sad all the same, with a huge sense of loss as John searches for somewhere once more to call home. It's not necessarily geographical, although that would help.
Anyway, I promised you comedy too, so let's bow out on 'Squirrel Acrobat'. Sorry I can't supply you with John's diagrams!
"SQUIRREL A is confronted by aggressive SQUIRREL B, on the power-line wire across the street.
"'B' threatens, stamps, chatters; 'A' steps back but doesn't want to give up ground. SQUIRREL B repeatedly charges SQUIRREL A, then retreats.
"Finally, both squirrels have had enough. They race toward each other at high speed, in what appears to be an inevitable head-on collision. I watch in disbelief as, just before the moment of impact, SQUIRREL A suddenly spins upside down on the wire, runs past SQUIRREL B underneath, and jumps into a nearby tree.
"SQUIRREL B puts on the brakes and looks visibly confused.
"Leaves fall."
Collects KING-CAT COMICS #62-68 (2003-2007), one and a half dozen extra pages of comics and just under a dozen pages of highly Illuminating, contextual notes plus a delicious, only partially used alternative, landscape KING-CAT cover.
SLH
Buy From Lone Mountain and read the Page 45 review here
What I Did h/c (£22-99, Fantagraphics) by Jason.
"Hey, wait…"
In life, there are Moments that Matter.
In life, there are Moments that Matter the Most, but so many of these crossroads can only be perceived while staring back down the road with the benefit of hindsight.
I pray you find most of them joyous because, if they are otherwise, the terrible truth is that retrospect can prove a very cruel mistress, in that although you can finally see what was once at stake, you are powerless to change your choice.
This collection reprints 'Hey Wait…', 'Sshhhh!' and 'The Iron Wagon', which were my own first encounters with Jason, the now-legendary creator of a unique brand of anthropomorphic, deadpan comicbook comedy responsible for the subsequent IF YOU STEAL, LOW MOON, I KILLED ADOLF HITLER, ALMOST SILENT and most recently the autobiographical ON THE CAMINO.
He is so funny!
There aren't many laughs in 'Hey Wait…', however. Instead, it is the single most affecting thing that I have ever read in comics.
I used to believe that to speak about it at all would ruin any reading of it for others, but it's such an important, landmark work that I'm going to attempt it now, for the very first time, without reference to the exact moment or nature of the crossroads. And I'm going to do it with a little help from my dear friend Mark who, nearly two decades ago, succinctly wrote:
"The first half tells of a pair of friends during their childhood without any of the sub-Spielberg mawkishness that's been endemic over the past couple of years. The second instalment is the aftermath of an occurrence and the distance between your initial belief in the world and the outcome."
Young Bjorn and Jon stroll up to a front door with all the nonchalance they can muster. Bjorn looks back to make sure that they haven't been spotted, and Jon rings the doorbell. Both their mouths crack to great big grins of childish glee as they scarper away in the full knowledge of how naughty they've been!
The door is answered by a baffled Creature From The Lost Lagoon.
What follows in Part One is a series of joyful, single-page vignettes, immaculately portraying exactly what life was like for me as a relatively care-free six-year-old with my best mate, although I think these two are slightly older.
Firstly, "Can Bjorn come out to play?"
Then buying sweets from the corner shop with what little pocket money you have; maybe sharing or swapping some. Ludicrously unsubstantiated gossip spread in the playground ("How do you know?" "Heard it from someone."). Territorial teenagers forbidding you passage down an alley, then telling you a sex-joke you don't understand: of course they look like impossibly old, wizened men to you! Fumbling the ball in gym class, the ball being passed by a girl you maybe fancied; spying her in the park later on, then hiding, embarrassed. Asking your friend if they think she is pretty – he's not sure, either; he has no terms of reference – agreeing instead on who was the best-ever artist on Batman! Now that's Terra Firma!
Perhaps you created a secret society with a dedicated den? We did! You'd have to pass some sort of initiation test to join in. Then members would have to learn code words etcetera in order to gain access to the shack! It was idyllic: just the two of you, always together, even whenever apart!
Part Two is otherwise.
***
The second offering is 'Sshhhh!', a completely different beast but one that more recent Jason fans will find far more familiar: surreal, absurd, funny and ridiculous, but equally imaginative in different ways. Nothing is predictable, anything can happen.
For a start there are nine silent chapters of varying length, during each of which the same man leads his parallel love lives in differing directions, is the object of affection / rejection or, in at least one instance, has multiple walk-on parts in another woman's love life. Sometimes with a gun; or a fist; or simply as a desperate daydream at the very last minute – basically, she wishes she'd gone with him, not the hunk. They aren't contiguous chapters, is what I'm trying to say: the story reboots after each, but it will end, more or less, where it began.
In the first, a man plays a flute, busking for money. He earns a single coin, tossing it from thumb to palm: life is a game of chance? He spends it on a hot dog which he eats on a park bench before retiring alone to his nest. (Note: this is the only instance that I can recall in which any of Jason's anthropomorphic birds spend any time in a nest – they live in houses. I don't think this implies homelessness. Given how the whole of 'Sshhhh!' ends, I reckon it represents freedom from the daily grind and romantic rat race. But I am obtuse, so do please forgive if I'm wrong. All interpretations are surely valid.)
Anyway, he sure is lonely and after a snooze he spies several other occupants of the park being romantically involved. He retires mournfully to the park bridge, alone, and drops a stone idly into the water. SPLASH! And a woman appears right beside him. They look meaningfully into each others' eyes as a vulture looks down on them through a telescope from an old castle turret…
Their romance blossoms, but a nest seems not enough, so they rent a flat. He attends a job interview to pay for the flat and their groceries. He begins sorting mail, she begins buying groceries. Nice little visual reflection of each others' cubby holes, there.
I'd remind you that all this is silent: Jason is extraordinarily communicative as well as economical in his storytelling.
Anyway, shit happens (thanks, vulture) and you fear for their future, but both you and they are given a most unexpected reprieve. After which, obviously, shit happens.
The man stands mournfully at the park bridge, alone, and drops a stone into the water – this time hopefully, in remembrance of what happened before. SPLASH!
Nothing happens, except that the autumnal leaves are blown from the trees.
So that's chapter one.
In chapter two the same bloke is pursued by a skeleton.
You immediately jump to the conclusion that it's the impassive shadow of death, stalking him at the bus stop, following him onto the bus, thence relentlessly home. He tries to outrun it on several occasions, but surely you can't escape death? Haha! Actually, this too is a courtship. They end up in bed together. Death brings him breakfast in bed. Together they do the dishes, watch TV and they take turns in the toilet.
I'm not going to spoil it for you, for the climax is almost as laugh-out-loud funny as the aftermath. But pity poor Death! Hey, you have to move on…
There are seven more chapters.
***
So to 'The Iron Wagon', this time an adaptation of a 1909 Norwegian prose murder mystery unless Jason is having us on. One never quite knows.
It's ever so clever, but I've lost my notes and am well past my deadline tonight.
Particularly sly is the sound-effect lettering when you first hear The Iron Wagon pass by. You don't see The Iron Wagon: it's a superstitious local legend, intimating that something awful is about to occur.
Something awful occurs.
But the second time you read this through after the final reveal, and look at the lettering again, you will smack your forehead in hindsight.
Please drink a bottle of Bourbon and so forget that you ever read this.
I certainly won't remember writing it.
SLH
Buy What I Did h/c and read the Page 45 review here
Kabul Disco vol 1: How I Managed Not To Get Abducted In Afghanistan (£14-99, Humanoids) by Nicolas Wild.
"Are you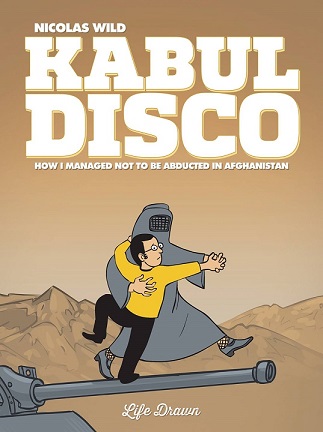 an alcoholic, Mr Wild?
"If not, you soon will be."
Guy Delisle fans of the overseas absurd are going to lap this up! It's an autobiographical scream from start to finish.
And I do mean finish, for on his bizarrely circuitous way back to France – having managed to not get abducted in Afghanistan – Nicolas Wild stops off in Dubai, then Moscow where he discovers a souvenir shop selling Soviet propaganda posters from the 1930s.
"How much for the 'Death To Capitalism' poster?"
"350 roubles."
"Can I pay in dollars?"
"Of course."
Indeed Guy Delisle was so enamoured that he wrote its introduction. It's pretty effervescent.
Coming from the critically acclaimed creator of the similarly wit-ridden travelogues PYONGYANG, SHENZHEN, BURMA CHRONICLES, JERUSALEM (as well as HOSTAGE), that is the most massive endorsement, and I'd also recommend this heartily to those who've enjoyed Riad Sattouf's ARAB OF THE FUTURE VOL 1 and VOL 2 and Brigitte Findakly & Lewis Trondheim's POPPIES OF IRAQ, all of which manage to incorporate warm-hearted humour while they explore the customs of their countries of origin or migration.
The sly difference is that Wild goes one comedic step further to mess with our minds with a few minor, mischievous embellishments. That they're embellishments will be clear either during or immediately after their deployment, but each serves to make exceptional salient, satirical points to make you stop and think. Otherwise, all of this happened, and I love to learn loads from first-hand accounts which humanise and bring much closer to home what can otherwise seem like overly distant struggles being endured by others a long way away when, jeepers, we're all human beings and every life matters.
As the comic kicks off, it's early 2005 and Nicolas Wild has been crashing at the flat of fellow French cartoonist Boulet (NOTES: BORN TO BE A LARVE) without paying any rent or bills. The rent and bills become due. Wild is without money or inspiration (or, impending: a home) when what should pop into his in-box but an email offering him a full-paid job and a pad… in Kabul, Afghanistan.
Afghanistan in 2005 wasn't the safest place in the world: they were still in the process of building their own army after their most recent war.
The gig is a couple of months' contract with a private communications agency called Zendagui Media founded by two French folk, chain-smoking Valentin and perpetually skiing Edouard, who are in equal measures charming, disarming and infuriating; and Diego, an extreme adventurer from Argentina:
"That table is the graphic design department. We'll clear some space for your laptop… That's Quentin's desk – the logistics department. The Civic Educational Theatre Department," says Valentin, gesturing right. "And that desk's the radio studio."
"So which drawer's the toilet in?"
Nicolas is introduced to Tristan, the grumpy guy he'll be joining along with Harun in creating a series of comics to educate the country's population on its most recent Constitution and therefore their human rights. One of those rights is to a free education rather than illegally enforced child labour, but since 80% of Afghanistan's population is effectively illiterate, they wouldn't be able to read those rights and thereby acquire that education without comics. The medium of silent comics is an international language so perfect for this project. (See also: passenger airplanes' laminated safety instruction cards and Ikea's self-assembly range of Mission Impossibles.)
They have six weeks to create these comics from scratch, so no time to leave the office to make preparatory sketches. Edouard lends them his external hard drive full of photo references instead, but mostly they're of him holidaying in Bamiyan, Salang and Wardak Province etc.
"I bet sending this hard drive to France would've cost less than flying us out to Kabul."
"Dubai looks cool!"
Over the course of a nine-panel page Tristan explains to Nicolas and Harun another shortcut they can use via a graphics tablet:
"We'll only draw each character three times: full-face, profile and three-quarter views. Then we can copy / paste them as much as we like."
"Aren't you afraid it'll be obviously fake?"
"Nah. We'll be clever, by flipping the image horizontally, for example."
"That's smart."
"Or we can throw in a detail from time to time, to cover our tracks. Like hats for example…"
It was only when Tristan thinks, on the final panel, "I've got a cramp in my finger" that I realised he'd been pointing at the computer screen all the time; that he, Nicolas and Harun had been drawn in full-face, profile and three-quarter views from the start; that they had been copied and pasted throughout; that the image had indeed been flipped horizontally in one panel and – oh look – they're now wearing hats!
They might just get away with it.
The Afghan Constitution is a pretty hefty tome and Tristan advises Nicolas to read it on his first night back at the guest house shared by all of Zendagui's English-speaking expats. ("So what architectural style is this?" "Dunno. Soviet Swiss Chalet?") They only get electricity every other day, the pipes have burst from the cold, and Nicolas's bedroom is heated by a Bokhâri stove. It's neither lit nor fuelled and there is an exquisite sequence, when the temperature drops to -15 degrees Celsius, as Nicolas searches his suitcase for some flammable paper, finds none, then spots the Afghan Constitution, glances as the stove, then eyes the Afghan Constitution again, desperately.
He should probably have got the guard to light it, using Kerosene.
Zendagui has 4 guards, 3 drivers, 2 cleaning ladies and 2 very enthusiastic cooks. For some reason there's a boot and a spider in the fridge. Nicolas wakes up and takes to the terrace, wrapped in a blanket. There's the melodious sound emanating from a mosque of Muslims being called to prayer… followed by the beating blades of five military helicopters.
"Goooooood morning, Afghanistan!!!"
Later you're treated to a day in the life of a street in Kabul:
Early a.m. is for the herding of goats, holding up traffic.
Midday means buses and kids flying kites.
By mid-afternoon it is overrun by gun-mounted, armoured jeeps.
There are some seriously beautiful buildings on offer, but on the whole Wild's cartooning is flamboyantly fun, some of the eyes reminding me of Simone Lia's until a single page, after Zendagui's communication skills have been commandeered to help the Afghan government recruit civilians for its army, and Nicolas is taking photos of men of all ages in training.
"Poor guys. To think that some of them will be sent to the front to fight the Taliban…"
The style shifts abruptly, haltingly into fully fledged, highly individualistic portraits, the last one looking quite young and more than a little worried.
Later it transpires that some of their claims, the lures being used on their recruitment posters, aren't entirely true: wages aren't being paid on time or in full for a start…
So equally my own claim that this was "an autobiographical scream from start to finish" isn't entirely true, either, especially when one Clementina Cantoni, working for the Care International NGO helping Afghan widows to reintegrate into society, is kidnapped. Then a very sobering curtain comes down and a curfew is imposed as Nicolas Wild and his co-workers begin praying she is freed, start contributing to that campaign, and hope that they are not next. Diego announces that the company has gone to Security Level 2.
Wild provides a diagram (which I am about to translate for you!):
"Security Level 1
"Afghanistan's a cool place. You can even go out in the streets to buy cigarettes.
"Security Level 2
"Yikes, the situation in the country's kinda rough. I'd be better off staying at home and the sending the guard for cigarettes.
"Security Level 3
"We all stay at home and pray to God that nobody's touched the Level 3 cigarette supply. The worse thing about all this is that, the higher the Security Level, the less you want to quit smoking.
"Security Level 4
"In theory, you should already have been repatriated to France. The tobacco shop was probably bombed anyway, and the guard's been temporarily laid off."
Sometimes you have to find your comedy where you can.
Things I learned:
Azerbaijan actually exists. Until now I had presumed it was merely an imagined Eddie Izzard punch-line. Apparently Timbuktu is real as well. My geography is appalling.
Azerbaijan seems almost identical to Bratislava, of which I have first-hand knowledge, in that its suburbs remain semi-Soviet and its population abrasive bordering on hostile.
Wild gets stuck there for a whole week while waiting for Kabul's airport to be cleared of snow. So that's something else I learned: Afghanistan is not perpetually arid. There is seasonal snow, and it globs gloriously across the page so that you can almost reach out and touch it. One woman wears ear muffs over her hijab. Why would you not?
Cell phones are a ubiquitous annoyance wherever you go, and your friends' will go off at the precise moment you need to ask them an urgent question the most, possibly after you've just asked it.
The Afghan Constitution had a lot of less liberal predecessors. Its writers / rulers from 1964 are paraded in front of you in a history of revolving-door revenge and reprisal very similar to POPPIES OF IRAQ's.
Religious self-flagellation is alive and well. Related: Muslims take and commemorate their Prophet's suffering a lot more seriously and with a lot more sympathy than most Christians do theirs at Easter. It's a long time since we carried wooden crosses down the street, but it's not that many years since my last Easter Egg Hunt.
According to the Persian calendar, 2005 was actually the year 1483. This explains which the internet never worked in Afghanistan. Chairs are a lot less common there, making room for more floor space.
I already knew of the self-defeating stupidity surrounding America's arming of various, successive opposing factions, but if you didn't, it's here, along with the astonishingly absurd way Afghan voting slips attempt to sell various candidates to a population, 80% of whom wouldn't be able to identify them by name. You'll have to buy the book.
Lastly, I learned how to surprise a "SUR-PRISE!!!" party. I hope one day to use it myself: that's worth the price of admission alone.
SLH
Buy Kabul Disco vol 1: How I Managed Not To Get Abducted In Afghanistan and read the Page 45 review here
Redlands vol 1: Sisters By Blood (£8-99, Image) by Jordie Bellaire & Vanesa Del Rey.
In which
a serial killer seeks to expose the truth.
This book is going to surprise you – and in so many ways.
Like INFIDEL, it is a terrifying ordeal which fuses the occult with real-world horrors like racism and, here, misogyny: the treatment of women as witches and bitches and cattle; to be burned, slaughtered, used and abused for sexual gratification, or as part of a serial killer's pretentious art project. Okay, there may be another motive there too, but only "too" not "instead".
"This is serious, Bridget. This weirdo can ruin us. He's making a scene and we haven't caught him yet. Why aren't you annoyed about this? I'm annoyed about this. Be more annoyed about this."
"You're annoying me right now, does that count?"
Firstly, there is that deft dialogue, reprised a dozen or so pages later when the present-day Redlands-ruling trio of Roo, Alice and Bridget are called out to witness the attention-seeking murderer's latest nasty little tableau of three dead, naked women on display, chosen to resemble each of them in turn.
"Alright, I'm annoyed now."
"Welcome to the party."
Secondly, do you suspect there is something that I haven't told you? There is plenty that I haven't told you. You should probably be getting used to that: I want to intrigue you to buy.
Although, here's a hint: "This is serious, Bridget. This weirdo can ruin us." Not, you will note, "This is serious, Bridget. All these women are being murdered." ("On our watch," optional.)
The opening chapter is set in Redlands, Florida, forty years earlier, at night.
It blasts like a furnace roaring into your face as a local police precinct, heavily manned, lies under siege from three women (unseen), while outside the base of a sizeable tree has begun to burn. The red-neck sheriff and his deputy son are bullish but already on the defensive. They all have shotguns. They also have a crowded jail down below full of we-don't-like-your-sorts-around-here". Their public lynching has apparently gone a little awry. Awwwwww.
What occurs next is vicious, startling and ever so cathartic if you happen to dislike bigots and bullies.
Del Ray keeps the multiple manipulations and subsequent, sleight-of-hand interventions swift, dramatic and emphatically out-of-the-blue, while Bellaire ensures that justice proves ever so poetic.
And Redlands is burned to the ground.
Forty years on, chapter two sees those same three women in charge of a Redlands rebuilt from its foundations up. But "in charge" in what capacity, exactly…? And why are they less concerned with the evisceration of women than they are of their own hegemony? When the dead ladies' corpses are counted, DNA-sampled and found to be delinquents with no surviving family, they are relieved.
"It is good news, Alice. At least we don't need to bother with concerned parents, notably the worst human creatures God could have created."
It's a surprising priority for law-enforcement ladies. But then they're not really law enforcement.
Other surprises include that the main mysteries and histories and even alliances are not going to be what you will at first suspect. This is no linear, A to B to C tale at all. I promise you startling developments, abrupt forks in the road, diversions aplenty, sub-plots galore, and even more fire before we're finished!
The first chapter's colours are all old wood and fire, except for the cage below which is the sort of putrescent, dysentery green you might associate with equally crowded, below-decks slave holds. There's lots of lovely red in chapter two (roses, sacrificial blood, that sort of thing), while Miami at night is all kinds of lurid, clashing neon, inside and out.
Del Ray's figures are fulsome and wholesome, except when they're dead. Actually there are loads of different body forms but I liked that line, so it stays. She does emaciated very well too, but I liked the sense of weight, especially when being lifted, naked, from a deck, then dangled above a dozen leathery alligators lurking in the river. Don't try that at home.
The clothes are heavily creased – I don't iron, either – and largely loose as you'd expect at those temperatures, and there's a grainy feel throughout, with lots of texture lines providing additional perspective and depth, or in Roo's case, a sense of great age in spite of her tight skin and clear complexion.
She has long, spindly, claw-like hands and a daughter called Itsy who's… (Don't spoil the surprise, Stephen.)
But honestly, the dialogue:
"Why do I have to go? High school kids never stop talking. It's the worst."
"We do not choose our abilities, Alice. They choose us. Perhaps you enjoy listening to others – "
"Stop talking."
SLH
Buy Redlands vol 1: Sisters By Blood and read the Page 45 review here
Isola #1 (£3-25, Image) by Brendan Fletcher, Karl Kerschl & Karl Keschl with Michele Assarasakorn.
The cat and the captain have a long way to travel.
Stealthily they prowl across wetlands, through meadow valleys lush with summer-green trees, and over buzzing forest floors which prickle with humidity during daylight, then fall to dark, dank and dangerous at night.
The fabled island of Isola lies far, far away and, they say, is surrounded by vast stretches of water. It is also said that the souls of the dead reside there. But no one knows if it actually exists.
The cat and the captain have a long way to travel, without any guarantee that they'll ever get there.
That's one of the reasons. There are so many more.
This first issue opens on a night of natural indigo, high up on a mountain range commanding spectacular views which are obliterated by sheets of driving rain.
The soldier sits guard outside the tarpaulin tent in a Moebius hat, fur-trimmed cloak, leather boots and leggings. Her lance-like spear is struck, up-ended and so ready in the ground. Under the tarpaulin sleeps the adult tiger, but its rump and tail stick out the back, so the loyal soldier shelters its hind with her shawl.
A ssssss-ssssssound from one side attracts her attention, luring the Captain from her vigil. Repeated, she falls for its call, cautiously following it, bent-over under gnarled, twisted tree-trunks which look more like roots rising from the craggy terrain. And there sits a fox with eyes glowing gold, perched upon what…? A stone seat upon a stone pole? There are others. Did they once house a feral parliament or perhaps a raised rail?
She follows the fox down into a major brook and the colours shift subtly, introducing more than a hint of lambent green. And there lies her charge: the tiger, shot dead on the river-bank with a flash-flurry of arrows.
"No! No! This is all my fault!"
"Yyyyyyessssss" the sound seems to say, backwards, upside down.
"I'll kill you for this! You hear me?"
Then the tiger disappears… The arrows disappear… And she's left standing all alone in the water.
Hello! How are you doing? This is terrific!
Don't worry, come morning, the big cat rises from the tent and braces itself against itself, stretching its back/spine and sinews under the more golden glow of an early dawn.
It leaps up the rocks to gain the best vantage point and take in the lie – and so lay – of the land. But it looks back. Back to an island from whose distant, highest peak rises a dark plume of dense, ugly smoke in front of the breath-taking aurora.
And it laments.
It doesn't speak – this creature cannot speak – but it laments. It's all evident in its ever so suggestive but underplayed body language.
Time and again, I've written about artist Sean Phillips as an exceptional character actor (most recently in KILL OR BE KILLED and THE FADE OUT reviews), and that's what our best comicbook artists are. Karl Keschl does the same here for the feline, and it is done with quiet and controlled dignity but also decisiveness as befits the tiger's true nature.
Like me, you too will be bursting with delirious conjecture yourselves. That's exactly how it should be. This is both exquisitely beautiful and so supremely well judged, not least for throwing you in half-way through chapter two without a clue as to what has transpired so far. You are now embarked – and so invested – with the captain and the cat on their journey.
Neat trick #1: I love the luminous glow of the tiger's inverse stripes once the sun hits their spots. But only then, for the lighting and shadow do so much to illuminate the big cat's muscular form. There is a degree of tranquillity and calm which others would have jettisoned in favour of spectacle and show.
Neat trick #2: they're a party of two, but only one of them can speak. This is pretty brave storytelling, and it is impressively successful. The Captain can only infer from the cat's cool, calm but occasionally halting stares and glares, how she / he / it is reacting to what's thrust against them. Nor can the captain know for sure that what she suggests is fully understood, though I think it is.
You will encounter others on your way, for they will encounter others on their way.
But you just know that they can never go home.
SLH
Buy Isola #1 and read the Page 45 review here
The Goat Getters h/c (£44-99, IDW) by Eddie Campbell.
This is enormous and I am such a slow reader that I cannot possibly do more than present you with the publisher blurb. I just can't. It would take me over a month to read this anyway, which would leave you four weeks with no reviews.
If you want to know how highly I rate Eddie Campbell, please read my review of BIZARRE ROMANCE created with Audrey Niffenegger (it's only my book of the year), the ALEC OMNIBUS (I've only proclaimed it the greatest body of work ever in comics), BACCHUS (Lord, I wrote loads), FROM HELL, FROM HELL COMPANION, THE TRUTH IS A CAVE IN THE BLACK MOUNTAINS, THE PLAYWRIGHT, all of which I've reviewed so this time you'll simply have to excuse me.
It's going to be a wealth of wit and a treasure trove of wonders.
"With more than 500 period cartoons, THE GOAT GETTERS illustrates how comics were developed by such luminaries as Rube Goldberg, Tad Dorgan, and George Herriman in the sports and lurid crime pages of the daily newspaper. This wild bunch of West Coast-based cartoonists established the dynamic anatomy and bold, tough style that continue to influence comics today, as well as their own goofy slang that enriched the popular lexicon. The Goats Getters also captures early twentieth century-history through the lens of the newspaper comics: the landmark 1910 boxing match in Reno, Nevada between Jim Jeffries, the 'Great White Hope,' and Jack Johnson, the first African-American heavyweight champion; the nationwide race riots that followed; the San Francisco graft trials that culminated in the shooting of the Federal Prosecutor; and the trial of Harry Thaw for the murder of architect Stanford White, a crime of passion that centered on Thaw's wife, show-girl Evelyn Nesbitt Thaw-all were venerated or vilified by Nell Brinkley, Jimmy Swinnerton, and their fellow directors of the ink and newsprint stage."
SLH
Buy The Goat Getters h/c and read the Page 45 review here
Arrived, Online & Ready To Buy!
New reviews to follow, but if they're new formats of previous books, reviews may already be up; others will retain their Diamond previews information we receive displayed as 'Publisher Blurb'.
The Art Of Edena h/c
(£31-99, Dark Horse) by Moebius
Lazarus: X Plus 66 s/c (£14-99, Image) by Greg Rucka, Eric Trautman, various & Steve Lieber, Michael Lark, various
Family Trade vol 1 s/c (£14-99, Image ) by Justin Jordan, Nikki Ryan & Morgan Beem
Ismyre (£8-99, Avery Hill) by B. Mure
They Didn't Teach This In Worm School (£8-99, Walker Books) by Simone Lia
BPRD Devil You Know vol 1 (£17-99, Dark Horse) by Mike Mignola, Scott Allie & Laurence Campbell, Dave Stewart
Aliens Predator Prometheus AVP: Fire And Stone (£22-99, Dark Horse ) by Chris Roberson, Kelly Sue Deconnick & Paul Tobin
Attack On Titan vol 24 (£9-99, Kodansha) by Hajime Isayama
Battle Angel Alita vol 3 Deluxe Edition h/c (£25-00, Kodansha) by Yukito Kishiro
Deadpool vs Old Man Logan s/c (£14-50, Marvel) by Declan Shalvey & Mike Henderson, Declan Shalvey
Unbelievable Gwenpool vol 5: Lost In The Plot s/c (£14-50, Marvel) by Christopher Hastings & Irene Strychalsk, Gurihiru
Spider-Man Deadpool vol 5: Arms Race s/c (£15-99, Marvel ) by Robbie Thompson & Chris Bachalo, Scott Hepburn
Superman vol 5: Hope And Fears s/c (Rebirth) (£14-99, DC) by Peter J. Tomasi, various & Scott Godlewski, various
Action Comics: 80 Years of Superman Deluxe H/C (£24-99, DC) by Jerry Siegel, various & Joe Shuster, various