Featuring Jen Wang, Vera Brosgol, Jon Klassen, Mac Barnett, Loic Locatelli-Kournwsky, Hope Larson, Rebecca Mock, Paul Jenkins, Jae Lee, Scott Snyder, more. It's a bit of a Young Adult / Young Readers special!

The Prince And The Dressmaker (£14-99, FirstSecond) by Jen Wang…
Well,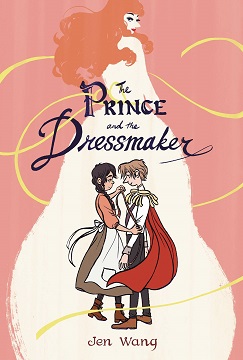 it happened again… A graphic novel made me cry on public transport… I thought I had it under control and then just as the i4 started ascending Derby Road I could feel the old tear ducts start to tingle… Must have been the altitude…
Jen IN REAL LIFE Wang returns, this time on art and writing duties, just as she did with her excellent KOKO BE GOOD, with another captivating story that as before deep in its bold, beating heart is all about identity. Here she explores the nature of public and also familial prejudice against a particular type of person, plus the intolerable pressures they themselves endure from keeping their secret under wraps. Except, in this instance, it's that the person in question likes wrapping themselves up in their secret… For Prince Sebastian likes to wear dresses, and indeed makeup, to present himself as a lady.
Which is a tricky one for the lad, because his father is the King of Belgium and determined to marry the Crown Prince off and get him popping out heirs and spares to continue their lineage as soon as unreasonably possible. Which is why he's brought Sebastian and the family to Paris: to throw a grand ball and introduce him to society, and hopefully a few eligible female members of the European aristocracy. It's not that Sebastian doesn't like the ladies, for he does, it's just that he can't imagine any future Queens possibly wanting to marry one…
In any event, he's getting a little fed up wearing the somewhat staid and outdated ball gowns he's managed to purloin from his mother's wardrobe and has decided to seek out a seamstress with talent (and, of course, discretion) to design him some killer outfits worthy of a Lady. For Lady Crystallia is the name by which Sebastian chooses to go when dressed up in finery for a covert night out on the tiles. The only person at court who is aware of his liking for court shoes is his trusted aide-de-camp Emile, and it is to Emile he entrusts the task of finding him such a skilled dressmaker.
This is how Frances enters Sebastian's very small circle of trust. For her, it's a dream chance to escape her life of drudgery working for a pittance at a local sweatshop and she seizes it with both her talented hands. Before too long Lady Crystallia and her glamorous gowns are the hot topic of the Parisian social scene. Frances doesn't just hurry Sebastian's wardrobe up to an à la mode status, soon she's setting the trend as knock-offs of her creations start to appear on the streets.
But whilst that is as immensely satisfying to her personally as Sebastian's newfound confidence in his alter ego and her evening appearances, Frances is also a little frustrated that their private arrangement means that no one can ever know she is responsible for the dresses. For Sebastian is convinced that if anyone were to realise that Frances was also Lady Crystallia's personal seamstresses as well as his own, it wouldn't be long before someone stitched the pieces together and outed him. As the tension begins to build in their professional affiliation, both start to realise there might be another burgeoning aspect to their relationship which neither of them are prepared to admit to themselves, never mind each other…
And that's all waaaay before I got to the bit that made me teary!
What a fabulously modern tale this is, dropped into a period class-strictured setting. That conceit actually makes the central theme all more the powerful and relevant, if one takes the view that Sebastian's parents are also a representation of society at large, in addition to being his mum and dad. Particularly when you get the pay-off… Get your monogrammed hankies at the ready!
Jen's art lends itself to gold-leaf encrusted ballrooms just as well as it did to Chinese virtual goldfarms in IN REAL LIFE. And some of the outfits are truly wondrous. The one that brings Frances to the attention of Sebastian early on, which she creates for a Lady Sophia for the grand ball to make her look like "the devil's wench…" had as genuinely a jaw-dropping effect on me as it does to all the dazed debutantes. My favourite, though, was probably the dappled and dimpled orange creation with which Lady Crystallia makes her own stunning debut and wins the title, and three cases of Maldon's finest preserves, of Miss Marmalade in a sponsored beauty pageant. I genuinely think Jen could make a living as a dress designer if she ever gets bored of creating comics. Which, I really hope she doesn't.
Actually… that dress is probably my second favourite. My favourite would have to be the one that made the waterworks start trickling. It's just not one which Sebastian is wearing…
JR
Buy The Prince And The Dressmaker and read the Page 45 review here
Be Prepared (£9-99, FirstSecond) by Vera Brosgol…
"I knew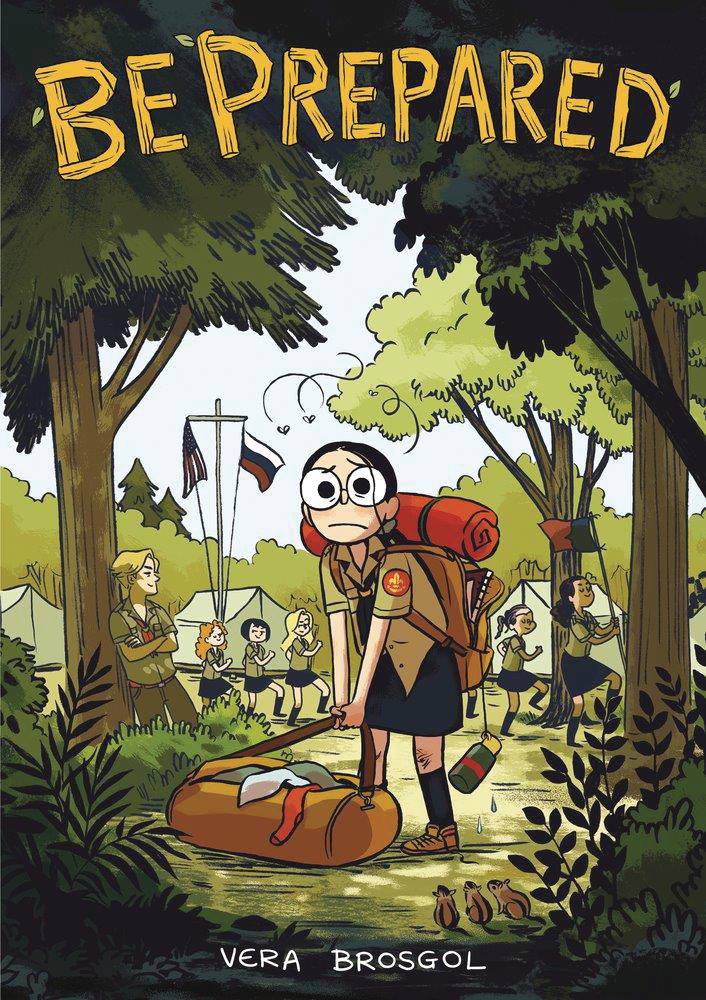 the party wasn't right.
"It was too poor. It was too Russian. It was too different.
"I was never going to fit in with American kids."
Following on from her spooky debut ANYA'S GHOST back in 2011, which is currently being made into a film, Vera Brosgol finally returns with an autobiographical tale all about cultural identity, being the perennial outsider and how you should go about the tricky task of making new friends, with the right people, and courageously showing us how she got it all wrong several times. (For more on that particular subject the brilliant autobiographical REAL FRIENDS by Shannon Hale & Leuyen Pham is a must-read.)
Growing up, Vera felt different from the other kids. Of Russian heritage, with her single mum studying to be an accountant and struggling for money, she never felt that she and her younger brother were the equals of their American 'friends', with their seemingly endless supply of top toys and lavish sleepover birthday parties. She soon began to feel like the tolerated outsider, rather than a central part of the gang, especially after a particularly underwhelming attempt at finally hosting her own sleepover.
Then, every summer, just to exemplify the disparity even more, her 'friends' would disappear off for the whole of July to various camps, leaving Vera behind, bored and counting the days until they returned. So, when she hears about a summer camp for kids of Russian extraction, organised by the Orthodox Church she's forced to attend, she begs and pleads with her mother to let her and her brother go. Her mother reluctant accedes much to Vera's delight, but insists on the compromise that they can only go for two weeks because that's all she can possibly afford. It is at this point, autumn…
As another school year tediously rolls by, instead of watching her friends get prepared and packed for their various extended summer excursions, it's Vera who's assembling all her necessary implements and accoutrements until finally she's ready to go. It is, however, at this point only the start of June… Do you think she's excited about it?!
Finally July comes around and the Brosgols are off. When Vera gets there, though, and is deposited into a tent with fourteen-year-old Sasha & Sasha (no relation), two long-term camp buddies who seem to delight in the fact that they've never had to put up with the same third wheel in their tent two years running, she begins to realise that some people are the same negative types wherever you go.
Despite her best attempts to make friends and become part of the 'in crowd' it seems likes she's only ever further exacerbating her social isolation with her continual faux pas. It's certainly no LUMBERJANES with their exuberant motto "Friendship To The Max!!" Plus, this particular camp… well, let's just say it feels more like a military boot camp with early rising, onerous chores, Orthodox Russian church services and forced marches. When the two weeks are up and her mum arrives to collect her, Vera is ecstatic, having endured a torrid fortnight, to say the least. And then promptly horrified to discover her mum, presuming she'd be loving her much begged for camp experience, has scraped together the money to sign her and her brother up for the remaining two weeks…
It's at that tipping point, that Vera finally realises she needs to change her approach, both to camp life and also making friends. Happily for her, the remaining fortnight proves far more fulfilling on both fronts. Sometimes, it really does pay just to be yourself, and let the (wood) chips fall where they may.
I've just flicked back through ANYA'S GHOST to see what changes or evolutions there have been in Vera's storytelling and it's only served to remind me of how accomplished her art and character development was even back then. I had actually forgotten that Anya was of Russian extraction and had a younger brother, so presumably she modelled Anya and her family on her own, which I never realised. Art-wise the main difference is that there is considerably more background detail here, which actually makes a huge difference in drawing the reader into the story and Vera's arduous experiences!
Definitely one for fans of Hope Larson's CHIGGERS due to the exploration of the trials and tribulations of friendship under the open skies, though I think – because this is a much more substantial work which also gets right into the particular rigours and rituals of summer camp life – it also strongly minded me of both Michel Rabagliati's PAUL JOINS THE SCOUTS and PAUL HAS A SUMMER JOB, which hilariously and very sweetly shows him semi-autobiographically experiencing the delights of life under the canvas from both sides of it, as excitable youngster and also emphatically wet-behind-the-eyes teenage camp counsellor. Consequently I really enjoyed BE PREPARED, and hopefully Vera won't leave it another seven years before her next work!
JR
Buy Be Prepared and read the Page 45 review here
Square h/c (£12-99, Walker Books) by Mac Barnett & Jon Klassen.
The eyes have it.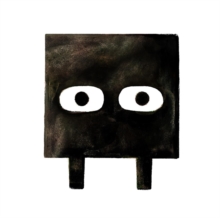 They surely do!
They're so expressive that the faces don't need a mouth; that would lessen their impact considerably. They stare out at you, in this case more than a little anxiously, making a contact with yours that is remarkably difficult to break.
And I love that Klassen's covers can be so iconic that a title's unnecessary. What else would this book be called, and how on earth could possibly you resist it?
From the creators of the deliciously mischievous SAM & DAVE DIG A HOLE – and so much more that you can find in our all-encompassing Page 45's Jon Klassen section for Young Readers – comes a second helping of shapely shenanigans, this time starring Square and Circle.
Shapes are indeed what this is all about. That, and finding yourself a little out of your depth after compliments are given, based on erroneous assumptions, and you haven't quite found it within your heart to come clean. Hmmm. Tricky one!
Square is a simple soul whose life is relatively straightforward.
"Every day, Square goes down to his cave and takes a block from the pile below ground.
"He pushes the block up and out of the cave.
"He brings the block to the pile at the top of the hill.
"This is his work."
I'm sorry?
"This is his work."
Square stands next to his square blocks of stone, staring out at us, as if to say, "What?"
It's an exquisite moment of engagement between the reader and the protagonist. "This is his work." That's it. That's what he does. It is his Purpose. Look at Square again! He's definitely asking you, "What?!"
Anyway, one day while Square is hard at work, Circle floats by.
"Square!" said Circle. "You are a genius! I did not know that you were a sculptor!"
"Ah yes," said Square. "What is a sculptor?"
"A sculptor shapes blocks into art," said Circle.
"Ah, yes," said Square. "I see what you mean."
But he did not really see what she meant.
"This is a wonderful sculpture," said Circle. It looks just like you!"
And it does! It's even the same colour and texture as Square. And Circle, as it happens. Square looks at his block of rock, dubiously.
Now would probably be a good time to come clean, before…
"Now," said Circle, "you must do one of me."
"Oh," said Square.
Yes, before that. Square eyes Circle and his square block of rock quite anxiously. They're very different shapes.
"I will come back for it tomorrow! Good-bye, genius!"
"Circle," said Square, "I think I should tell you something."
But he doesn't.
Now, I'm not going to take you any further but Square does seem in a right pickle, doesn't he? He's in for quite the night.
Aside for Klassen's laugh-out-loud expressions, part of the comedy lies in the economy of Mac Barnett's storytelling: simple sentences eschewing contractions, direct and honest, contrasting with the other economy here – that with the truth!
Returning to the expressions, though, there is a final note of exasperation which I deliberately don't have for you here because I don't want you to see what becomes of the stone under Square's ham-fisted administrations. But there he stands in the pouring rain, his arms thrown out in… well, exasperation really is the only word for it… a leafy twig on his lodged on his noggin, looking for all the world like the ultimate in tetchy vexation, Sage the Owl from The Herb Garden.
So, whatever will happen in the morning?
Rarely have I encountered such a successfully sprung surprise which, as with most Klassen creations and collaboration could only be accomplished visually, reflecting Barnett's extraordinary stroke of lateral thinking for – as so very often, I've found – salvation lies in serendipity.
SLH
Buy Square h/c and read the Page 45 review here
Sam & Dave Dig A Hole s/c (£6-99, Walker Books) by Mac Barnett & Jon Klassen.
Now out
in softcover! Yippee!
Young Readers graphic novel from the headwear-conscious creator of THIS IS NOT MY HAT, I WANT MY HAT BACK and WE FOUND A HAT; but with writer Mac Barnett on board, hats are no longer the issue.
Nothing here is missing, but an awful lot is missed.
On Monday, you see, Sam and Dave dug a hole.
"When should we stop digging?" asked Sam.
"We are on a mission," said Dave.
"We won't stop digging until we find something spectacular."
And so, dig they do. They dig and dig deep. They dig so deep that their heads disappear underground, and then they dig deeper still. They are, I would remind you, on a mission!
So intent are they on this Important Excavation, what they don't seem to have noticed is that their dog has embarked on this mission too. Or they've forgotten. The dog happened to be standing between them when work first commenced and looked a little dubious from the start. On the cover his eyes are to camera, as if to say, "What a bunch of buffoons".
Yes, Sam and Dave should probably take a little more notice of their dog. Their dog has already found something spectacular. And oh look, there's something even more spectacular.
Amazingly, Sam and Dave seem to miss everything spectacular 'in spite of' changing direction, splitting up and reconvening.
Still, they do have a lot of digging to do…
Brilliant! As with the HAT trick trilogy the words tell one story while the images reveal the truth! That's what makes this comics: without the images you wouldn't understand what was actually happening.
What they also share is a comedic oblivion.
For much more Mac Barnett & Jon Klassen, please see Page 45's Jon Klassen section for Young Readers.
SLH
Buy Sam & Dave Dig A Hole s/c and read the Page 45 review here
Persephone h/c (£17-99, Archaia / Boom!) by Loic Locatelli-Kournwsky.
Far more
devious than I initially gave this credit for, with clues scattered throughout in seemingly spurious asides, this tale of two worlds – one above, the other below – plays with the Eleusinian Mysteries, recasting the roles and relationships of Persephone, Demeter and Hades. What I originally thought were plot holes transpired to be omissions intentionally left open so that when the right (or wrong) person finally walks through the doors it all makes a great deal of terribly sad sense.
In a book which will confound preconceptions, the opening and closing of gates, or portals with prove pivotal to the proceedings.
Thirteen years ago there was a war that should never have happened.
It was waged between the realms of fertile Eleusis which prospered in light above ground and cold, dark infernal Hades where nothing green ever grows. The two realms, linked by a magic portal, had had their fair share of misunderstandings, suspicion and strife, but nonetheless conducted a mutually beneficial, thriving trade and prospects for future peace looked bright when the youngest princess of Eleusis was married to Hades, Lord of the Underworld and, truth be told, they did love each other dearly.
Alas, Hades' happiness was destroyed when his queen died, and the new trust between the two nations was shattered too, a fission only widened by bitter Hades' increasingly unfathomable behaviour and obsession with what lay behind the forbidden gates of Tartarus in his own realm. From there he gained vast power and you know what they say about power. He craved more magic power, but there was none to be had down below. Only Eleusis had mages. They fought the Lord and his hoards tooth and nail, finally beating him back after two years of carnage and ended his life. Specifically it was sorceress Demeter of Eleusis who killed him, but at a cost, and as the graphic novel begins we find her distraught, holding a bloodied babe in her arms. She seals two vast doors, then crosses the River Styx, carrying the child up hundreds of echoing stone steps, through a vast golden arch and the Eleusinian soldier who tries to stop her will never forget the moment he tried.
The portal between the Hades and Eleusis is closed from above ground forever. Only magic can open it, and there is no magic below.
Thirteen years later and will look at the light!
Centropolis appears to be a prospering European city some half a century ago judging by the cars and fashions, and boasts some lovely Baroque architecture.
I wonder what happened to Hades?
No matter, school's out for summer and Persephone and her friends have had their exam results back. Botany aside, Persephone is hardly a grade-A student. Remember, if you went on to Sixth Form, when you had start specialising, deciding which subjects to study? Big life decision, and it seems to come earlier in Eleusis.
One of the friends is being pressured by her Dad to go into the family bakery business instead; she assumes Persephone will want to join her mother Demeter in magic, and eventually take over her potion shop.
"You're lucky you're a witch's daughter. My mom says that it's getting rarer, since it's hereditary. So it'll always be in demand!"
Yes, but there you have it: magic is hereditary. Persephone hasn't told her friends that she is adopted. And Demeter hasn't told Persephone why.
We're only a dozen or so pages in, but I'm not going to go that much further. Except… something surely impossible happens. The city square is attacked by Shades. A soldier from Hades has been rumoured to have been roaming Centropolis and here lies the proof. But how could the portal have been breached?
I wonder once more: what has been happening in Hades?
You'll find out, because that's where the vast majority of the book's set, and it won't be what you expect. Propaganda abounds wherever you roam and do remember that Lord Hades went mad. Don't believe everything you read about a country: you certainly can't judge its inhabitants by their rulers. Also, you can't judge all daughters or sons by their parents.
Damn. I really don't think I can write much more, and I've so many pieces of glorious interior art to show you.
The colours and light are phenomenal and there's all the contrast you'd expect between above and below, but yet again, don't imagine Hades will be all gloom and doom and unkindness. If bright summer light falls upon objects upstairs, then it radiates from them below decks. At one point we're shown some astronomy telescopes down there which did make me laugh.
The art owes a little to Hayao Miyazaki and more to Joann Sfar with lots of GLISTER's Andi Watson thrown in, especially when it comes to Hades' architecture and crowd scenes, but I couldn't stop thinking of Kevin O'Neill, especially when it came to Demeter who does love her hats. There's a wee bit of manga melodrama and an element of anthropomorphism is Azrael, but however much he looks like a cat, he is human as you'll discover.
You'll get plenty of action and fair few more rules will come into play that I don't want to clutter you up with here. Magic needs its rules or else it's all hocus pocus, devoid of dramatic tension, and it will all prove very clever, I promise.
SLH
Buy Persephone h/c and read the Page 45 review here
More softcovers have arrived (h/cs still in stock if you prefer):
Four Points Book 1: Compass South s/c (£11-99, Square Fish) by Hope Larson & Rebecca Mock.
A cover makes a
promise, but only the contents can deliver.
With its energy, its urgency and its two young twins, this fine-line cover promises a period piece of adventure and opposition akin to Tony Cliff's teen treasures DELILAH DIRK AND THE TURKISH LIEUTENANT and DELILAH DIRK AND THE KING'S SHILLING, both of which have been knock-out successes at Page 45 with teenagers and adults alike.
I had every confidence, but not even the first clue as to how much would be packed into its 225 pages, how complicated the lives of these two individuals would become from so many different factions intent on tracking them down, hampering their progress and taking what little they have left, while consequent repercussions conspire to keep them apart.
Sorry…? No, they're not both lads; one of them is a lass, disguised for a reason beyond gender impediment or safety's sake.
What I want to impress upon you above all is that this is no mere A to C while B seems insurmountable, though B does seem a pretty tall order for anyone so short. For a start, this is but Book One of FOUR POINTS so C is far from the final object, but even so I was poleaxed by how many individual threads were so intricately woven within this single volume.
It begins in Manhattan, 1860, with Cleo waiting with Luther, leader of a street-gang of youths, outside an opulent mansion for her brother, Alex, to rob it at night. He fails. Well no, he succeeds in lobbing the silver stash out of the window for Luther to abscond with it, but Alex is caught and sent with his sister to a police station. They're to be split, Alex remanded to Randall's Island prison, Cleo dispatched to the nun-run House of Mercy unless they betray Luther's trust in exchange for a train out of town.
Alex finds an added incentive in the Daily Tribune advertising for information regarding another set of twins, male but both missing after their father's long absence, which fit their description. There's a reward of $200 and that's a sum they both desperately need. The snag is that they'd need to find their way to San Francisco on America's west coast and New Orleans on its east is as far as their train ride will carry them.
So far, so insurmountable, and Luther won't be happy. But I lied.
It begins in Manhattan, 1848, with the twins being bequeathed to a man, Mr. Dodge, by their mother whom he loved. Alas, he'd been parted from Hester for a span of five years. They are not his, but he has no hesitation in adopting the babes even though his own prospects are small and he must travel in order to provide. The stranger also bears two objects from which they must never be parted: a pen-knife and a compass.
But in 1860 Mr. Dodge has failed to return from his most recent travels and wind of what he's inherited has reached far further than a mere gang of youths…
I haven't. Even. Started.
Okay I've finished, but Larson and Mock haven't.
Cleo and Alex are going to face many dangers and many challenges: practical, geographical, judgemental, legal, nautical and hierarchical. But not least among them is their own outlook on life. There are two key players they will share so much time with whose sense of perspective – of values, of priorities – differs from Alex's own at least. It's not all about the money.
Being only twelve, they have a lot of growing up to do and it's not just the uncharted physical terrain which will prove problematic, but emotional awakenings too.
Mock's inner art is actually much denser than displayed on the cover, and much thicker of line. It's closer to Hope Larson's own. I see she supplies colours also and, combined, there is a rich sense of time and space, and how little there may be of either. The rain outside will be ferocious, the lamp-lit intimacy within will have you willing those trapped together into acts of honesty and confessional confidence which Larson won't let you off easily with. Always there is this tension. Words unsaid are pretty powerful.
So superb is Mock's New Orleans seen from a seagull's point of view that you'll crave more panoramas. Sorry, you won't get those, but there's always Book 2.
Instead you will marvel at how convincing Cleo and Alex are as male twins, without either of them ever losing their individuality. Not once does Mock give the game away, otherwise Cleo's game would be given away too, both to those around her and to the readers. That's no mean feat.
This is precisely why I want to tell you about the missing element I've so studiously avoided and redacted time after time from this review. It forms at least one whole half of the considerable complications which Cleo and Alex will be forced to deal with directly, each in their own way.
But hey, I had only this cover to go on before I launched in and now so do you.
SLH
Buy Four Points Book 1: Compass South s/c and read the Page 45 review here
Four Points Book 2: Knife's Edge s/c (£11-99, Square Fish) by Hope Larson & Rebecca Mock.
Delicious!
Even the covers to these FOUR POINTS Young Adult graphic novels are providing some thrilling sequential-art narrative with the identical twins now firmly set sail, for most of book two sees them at sea – though a lot less confused about their true, biological parentage.
COMPASS SOUTH was packed. It was fast, furious and reactive, its cover conveying both energy and urgency as Cleo and Alex escaped across America while attempting to elude the multiple factions intent on tracking them down, hampering their progress and taking what little they have left, while consequent repercussions conspired to keep them apart.
Cleverly, Rebecca Mock enables you to tell the two individuals apart through one of them wearing a waistcoat, and it's Cleo.
COMPASS SOUTH began in Manhattan, 1848, with the twins being bequeathed to a man, Mr. Dodge, by their mother whom he once loved and in all probability still does. Alas, he'd been parted from Hester for a span of five years. They are not his, but he had no hesitation in adopting the babes even though his own prospects were small and he had to travel in order to provide. The stranger also bore two objects from which, Dodge was told, they must never be parted: a pen-knife and a compass.
But in 1860 Mr. Dodge had failed to return from his most recent travels and wind of what he'd inherited had reached ruthless pirate Felix Worley who had known Alex and Cleo's mother, Hester, all too well.
Finally the two twelve-year-olds will discover why Dodge failed to return at their key moment in their lives, who Hester really was and what became of their father, as well as the true purpose of that pen-knife and compass.
They'll also discover why Worley wants what is now theirs and why he's being so tenacious about it. Everyone has a childhood, you know; some are bleaker than others.
As with Vaughan and Chiang's PAPER GIRLS, a second instalment reveals a certain structure by its conclusion, but just as I didn't give away COMPASS SOUTH's, so there'll be no spoilers here – for either volume.
KNIFE'S EDGE is a much brighter, more spacious affair with a lot more open, ocean sky and a lot less confinement below decks to cargo holds. Alex and Cleo are now comparatively in command of their own destinies, even if they need Captain Tarboro and his galleon The Almira to steer them in the right direction. For that Alex will have to agree to take Tarboro's direction to begin at the bottom, swabbing decks, while Cleo resents being assigned to the cook as a girl and is determined to take what she considers far more practical and potentially life-saving instruction from the Captain on sword-fighting.
It rankles still further when, at a vital moment, Alex is handed a sword without any training simply because he is the lad. Cleo wouldn't have survived so far if she hadn't proved perfectly capable of looking after herself. She has grown a lot given that which they have so far endured, and no one is noticing, so there will be tensions, complicated further by the return of… well, quite a few unexpected personages from their past. As I've said before, words unsaid are pretty powerful.
Their first stop for supplies is Honolulu, Hawaii, with its submerged reefs, virtually invisible but for the small, gentle breakers, requiring some unusual assistance in navigating. The island itself won't be easy to negotiate without causing trouble.
Thence it's the Marshall Islands which Captain Tarboro has had prior experience with, well aware to his cost that the inhabitants are hostile and its seas swarming with sharks. There too lurk reefs…
You've lots of the lush to look forward to, all lit to time-specific perfection, and plenty of action too once the puzzles start being solved. Picking up speed will require some extreme measures, while lessons learned early on will prove vital but not necessarily completely successful.
There are some terrific aerial and subaquatic shots and one full-page panel in particular at the end of chapter two had me staring at it for ages, wondering why is was so particularly effective: it managed to be both dramatic and intimate whilst set at a remove.
Lastly, the importance of the oral tradition is explored (see MEZOLITH), once more set up in advance so that when it comes into its own we are reminded that stories, when passed along, do have a way of travelling very long distances indeed.
I do wish I could reveal this book's punchline!
SLH
Buy Four Points Book 2: Knife's Edge s/c and read the Page 45 review here
The Sentry s/c (£20-99, Marvel) by Paul Jenkins & Jae Lee.
"Reed… I've got
to admit, the hairs are standing up on the back of my neck. I feel as though someone just told me a secret and I've forgotten it…"
Yes, Sue, along with key moments from your own wedding.
In which the creative team behind THE INHUMANS, one of the most eloquent graphic novels ever to grace the superhero shelves, play mischievous mind-games both with the lead character and with the Marvel Universe and even its readers to boot.
Is the man waking up in the middle of a thunderstorm an amnesiac? Was he really once, at the very beginning of the Marvel Age, the world's most powerful superhuman? Or is Bob Reynolds just a sorry excuse for a husband and hopeless drunk?
No one seems to remember The Sentry. Not his friends, his powered peers, nor the million readers who adored his tireless fights against an increasingly powerful Void. Not even Stan Lee, The Sentry's original writer back in 1961, could remember much about his creation until Marvel's then-editor-in-chief Joe Quesada unearthed a few rough sketches Artie Rosen had drawn way back in the early '60s. Why has everyone forgotten him, and how bad could it get if they all began to remember?
Answer: very bad indeed.
Jenkins and Lee craft a dark and often disturbing tale of mystery and suspense, full of raw, jagged gothic edges, chiaroscuro and penumbral washes juxtaposed against Rosen's more naïve four-colour pages of the original comicbook which we can no longer recall.
A second reading alerts you early on to Jenkins's carefully chosen metaphors, but the first read will surely keep you guessing.
This book collects the entire package on top the mini-series including Sienkiewicz's 'Hulk / Sentry' which fits in well, along with the other three extra one-shots which only served to hold up the dénouement for me.
Plus, last but most certainly not least, you can read the whole publicity machine as originally presented to the comicbook press (Joe Quesada supposedly interviewing a befuddled Stan Lee) which formed a very effective and ridiculously witty prank. Clue: Artie Rosen doesn't exist and definitely never did. If he does sound vaguely familiar, Sam Rosen and Artie Simek were calligraphers for Marvel during the so-called Silver Age.
The Sentry's story more recently continued in Brian Michael Bendis and Mike Deodato's DARK AVENGERS.
SLH
Buy The Sentry s/c and read the Page 45 review here
Dark Days: The Road To Metal h/c (£24-99, DC) by Scott Snyder, James Tynion IV, Grant Morrison, Tim Seeley & Andy Kubert, John Romita Jr., Jim Lee, Greg Capullo, Chris Sprouse, Rian Hughes, various…
"Oh, Mr.
Green Lantern. Are you afraid?"
"I don't get afraid."
"Oh, I think you do… I think we all do… it's all in that moment of discovery…
"When you're about to learn something you will never be able to unlearn.
"Something that puts all the pieces together, and you finally see the truth, and the world changes.
"And you know it'll never go back the way it was before.
"But if you're so very brave, then just open the door."
Just open the bloody door, Hal!! So we can find out precisely who, and what, is in the secret cave inside the Bat Cave.
"Seriously. Only Batman would have a secret cave inside his secret cave."
Obviously. Not forgetting the secret Lunar Batcave on the moon…
Bats has actually installed a hidden room in the Fortress Of Solitude as well, just for good measure. I mean, he did have the good grace to ask Clark's permission first, though he made him promise not to peek inside it at what he'd put there for ultra-safe keeping…
Yes, I can promise you more than a certain degree of mystery in these two intriguing set up one-shot issues of DARK DAYS: THE FORGE and DARK DAYS: THE CASTING that is already a million times better than the execrable mess that was CONVERGENCE. I probably shouldn't be surprised this was great, given the writers are the long-time Bat-scribes Snyder and Tynion IV, plus the stellar trio of artists Jim Lee, Andy Kubert & John Romita Jr. on the pencils. But still, I've been burnt far too often with these big summer events.
Basically, Batman is trying to solve a mystery, one that has disturbed him so much, for so long, that whilst he's had to call upon the likes of Mr. Terrific, Mister Miracle and of course old blue tights himself for assistance, he's given precisely nothing away to anyone else whatsoever about the nature of this troubling conundrum. That, however, is all about to change and not entirely through his own choice…
Piece by piece, what little information Batman has acquired is laid out for us, along with some cautionary insights from Carter Hall a.k.a. Hawkman, who has his own particular clandestine parallel interest to Batman's investigations.
At the time of reading the one-shots, I thought there was a little nod to Grant Morrison's BATMAN: THE RETURN OF BRUCE WAYNE that had Bats twizzling through time following the climax of FINAL CRISIS, which also seemed to be alluded to. So very kind of DC therefore to bolster these two new issues by including BATMAN: THE RETURN OF BRUCE WAYNE #1, FINAL CRISIS #6-#7, BATMAN (New 52 era) #38-#39, NIGHTWING (again New 52 era) #17 and more!
That concluding exclamation mark being DC's, I should add. Not mine. No, mine would come at the end of "You're reprinting FIVE issues of old material in a hardcover collection of TWO new issues? You greedy gits!" Actually, they are reprinting nearly six, because the 'more!' is actually merely an excerpt from DETECTIVE COMICS #950 and then they also throw in Morrison's double-page spread Map Of The Multiverse for 'added value'…
Just utter corporate greed. There is absolutely no reason why these new two one-shots, which are basically issues #00 and #0 of DARK DAYS METAL could not have been included in one hardcover with the six issues that formed the 'main' series. They are printing (nearly) eight issues in this volume after all… It is disappointing because it is exactly the sort of nonsense I would fully expect Marvel to pull, and charge twice as much whilst they are at it, but I had felt in recent years DC were actually about giving readers better value for money than Marvel. Hey ho.
Anyway, the new material is an enjoyably complex and riveting set-up for the impending DARK DAYS METAL HC event that piqued my curiosity sufficiently to want to read the whole shebang. Not least because of whom Hal finds behind the green door… It's an old piano, and Shakin' Stevens is playing it hot… Okay, well, the door isn't green, and it isn't Shakey banging out '80s classics, but it is a shocker, certainly… Precisely how that person fits into it all, is just another perplexing part of this three pothole problem, Watson… Oh, do stop with the bad jokes…
NOTE: Also forthcoming very shortly are the collection of bad guy one-shot tie-ins DARK NIGHTS METAL: THE NIGHTMARE BATMEN HC which whilst not essential were certainly entertaining and rather decent. Plus there's the usual utterly spurious sidebar material in various ongoing titles collected in DARK NIGHTS METAL: THE RESISTANCE SC, which despite that all being new material DC obviously realised people wouldn't be mug enough to buy in a hardcover and have put straight into softcover format…
Can I just add, above grumble aside, I did rather enjoy the Metal event.
JR
Buy Dark Days: The Road To Metal h/c and read the Page 45 review here
Arrived, Online & Ready To Buy!
New reviews to follow, but if they're new formats of previous books, reviews may already be up; others will retain their Diamond previews information we receive displayed as 'Publisher Blurb'.
Snotgirl vol 2: California Screaming
(£14-50, Image) by Bryan Lee O'Malley & Leslie Hung
Redneck vol 2: Eyes Upon You (£14-99, Image) by Donny Cates & Lisandro Estherren
Coin Op Comics Anthology 1997-2017 h/c (£26-99, Top Shelf) by Peter Hoey & Maria Hoey
Kid Lobotomy vol 1: A Lad Insane (£17-99, IDW) by Peter Milligan & Tess Fowler
The Curse Of Charley Butters s/c (£17-99, Conundrum Press) by Zach Worton
Udon Noodle Soup: Little Tales For Little Things (£11-99, Fanfare Ponent Mon) by Yani Hu
Joe Golem Occult Detective vol 2: Outer Dark h/c (£22-99, Dark Horse) by Mike Mignola, Christopher Golden & Patric Reynolds
Adventure Time x Regular Show s/c (£14-99, Titan) by Conor McCreery & Mattia Di Meo
Misfit City vol 2 (£13-99, BOOM! ) by Kirsten "Kiwi" Smith, Kurt Lustgarten & Naomi Franquiz
Sabrina (£16-99, Granta) by Nick Drnaso
Wormwood Saga vol 1: The Journey Begins (£8-99, Cubhouse) by Daniel Lieske
Golosseum vol 1 (£10-99, Kondansha) by Yasushi Baba
Saga Of Tanya Evil vol 2 (£9-99, Yen Press) by Carlo Zen & Chika Tono
Happy s/c (£13-99, Image) by Grant Morrison & Darick Robertson
Apollo (£15-99, Self Made Hero) by Matt Fitch, Chris Baker & Mike Collins
Bone: Tall Tales (£11-99, Scholastic) by Jeff Smith & Tom Sniegoski
DeadEndia: The Watcher's Test (£12-99, Nobrow) by Hamish Steele
Asterix the Gladiator (£7-99, Orion) by Rene Goscinny & Albert Uderzo
Asterix and the Banquet (£7-99, Orion) by Rene Goscinny & Albert Uderzo
Daredevil: Back In Black vol 4: Identity (£15-99, Marvel) by Charles Soule & Goran Sudzuka, Mark Laming, various
New Avengers vol 4: A Perfect World (£17-99, Marvel) by Jonathan Hickman & Valerio Schiti, Kev Walker, various
Venom & X-Men: Poison-X s/c (£15-99, Marvel) by Cullen Bunn & Edgar Delgado, Jacopo Camagni
The Wild Storm vol 2 s/c (£14-99, DC) by Warren Ellis & Jon Davis-Hunt