Featuring Gipi, Manuele Fior, Michelle Perez & Remy Boydell, Ed Brubaker, Sean Phillips, Colin Wilson, Jeff Lemire, Tom King, Joëlle Jones, Clay Mann, Lee Weeks, Michael Lark, Seth Mann, Steve Ditko, Stan Lee.
Land Of The Sons h/c (£24-99, Fantagraphics) by Gipi…
"What
does the notebook say?"
"Notebooks don't say anything. They don't have mouths."
"He never taught us to read."
"I know."
The man from Pisa returns with his darkest work yet, following two young brothers scavenging and scrabbling to survive in a post-apocalyptic world. Where they live, on a house in the middle of a lake with their father, would be idyllic, where it not for the poisoned waters, the bloated floating corpses, a paranoid survivalist who is probably the most normal of their neighbours, plus the ever-present threat of the marauding mob of the uberpriest, following the word of God Kool.
The brothers are managing, getting by, just, and growing up on the job under the extremely stern eye of their father, who has decided the best way to make sure they actually hit puberty is to hit them every time they misbehave. Or at least when he catches them, which they're getting increasingly better at avoiding, unsurprisingly. Avoiding a battering is clearly a great incentive to improve your sneaking around and parent-deception skills.
It's impossible to decide whether their father does have any affection for them, actually, certainly they no idea whatsoever. What also infuriates them, particularly the hot-headed younger brother Lino, is that their father writes about them in his journal. Given he's never bothered to teach them to read, and he refuses to tell them what he's writing, Lino has absolutely no idea what his father's private thoughts might be. But after his unexpected death, Lino is determined to find out. He just needs to find somebody who can read. And that… obsession… is going to get the brothers into some serious trouble. A whole post-apocalyptical world of it.
Ah, he's never been one to play it for laughs, our Gipi, and this is certainly no exception. Here, he's crafted what I reckon is a pretty good approximation of just how bleak life would be if civilisation collapsed. What is different this time around is that this is purely a black and white work. I'll freely confess, I was a tad disappointed when I opened this up and saw a lack of colour, because I think his watercolour palette is exceptional. But actually, the absence of colour only goes to highlight his excellent line work, minimal as it is.
He's not even chosen to employ any real shading, either, it's just perfectly placed thin, scratchy lines that build up to dramatic, powerful panels, often pulsing with palpable tension. It's quite striking how if you flick through the pages very quickly, the artwork seems like it should feel weak, not least because there seems such an expanse of white, blank space. But once you actually start reading, the illustrations captivate your attention completely.
Also, whereas with many other creators, anything unusual such as seemingly strangely drawn facial details would immediately break my concentration, here I found myself fascinated by the composition and thus drawn deeper into the characters. It's powerful stuff. He's clearly a man entirely at ease with his own economy of detail. Most of the characters simply have black pin-sized dots for eyes, for example. Which ought to serve to remove such a degree of connection to the individuals yet somehow instead manages to accentuate every other aspect of their facial emotions. The level of expression he gets into eyebrows in particular would make even Roger Moore proud. So very, very clever.
He might not be particularly prodigious, but when Gipi does get something out, you know it's probably nailed on to be a masterpiece.
JR
Buy Land Of The Sons h/c and read the Page 45 review here
Blackbird Days (£21-99, Fantagraphics) by Manuele Fior…
"The
question you've gotta ask yourself at this point is:
"Why, of all people, me?"
There are a lot of answers to that question. For Mr. Marcuzzi, that particular query is about to be the least of his worries, as his day is about to get a whole lot weirder. Mr. Marcuzzi is actually the chap pictured on the front cover, by the way, with his snazzy space age car. He also has a haircut that Mick Miller would be proud of but I'm not sure how many of you will get that demi-hirsute reference. Anyway… he's off to visit a quarry where, well, let's just say the laws of physics might just be having a holiday. A very relaxing holiday…
The question I was asking the universe at large when I finished this fabulous collection of ten short stories was what was going to happen next in half of them. Always the sign of a great short story, that, when you are desperate to know what happens next. The only reason the other half didn't provoke the same response, I should add, is they are they are perfectly self-contained little nuggets.
This top ten are an extremely eclectic collection, both in terms of story and artistically. A couple would certainly immediately identify Fior to anyone who lapped up 5000KM PER SECOND which we made a Page 45 Comicbook Of The Month, but unfortunately currently remains stubbornly out of print.
But let me take a quick run through what you can expect here! So we have: parental anguish at losing a child in Berlin airport, obnoxious film students on a trip to Paris, an Italian girl visiting a small Norwegian town on an exchange, a couple on a driving holiday in Italy, a French soldier in the Napoleanic era who goes mutilatingly mad, the Swiss painter Arnold Böcklin attempting to relax in the thermal baths near Naples, third-generation Laotian immigrants examining cultural self-sequestration versus integration in France, the aforementioned strange goings-on in a quarry including a telepathic deaf mute, a two-page commentary on racial diversity in France, and errr… giant robots fighting outside the Gare de l'Est in Paris. Yep, this collection really does have something for everyone.
With a plethora of differing art styles too, some radically more so than others, Fior more than capably demonstrates he's as versatile with the pens and brushes as Eleanor HOW TO BE HAPPY Davis. This work would undoubtedly be an ideal way to familiarise yourself with an exceptional Italian creator who is only going to go on to create more fumetti meravigliosi.
JR
Buy Blackbird Days and read the Page 45 review here
The Pervert (£15-99, Image) by Michelle Perez & Remy Boydell.
"I don't
want to do any of this sort of work as a girl.
"No amount of money, okay."
Oh, this is such a lonely book, however populated.
The pale-coloured panels in their rigid grid are surrounded by so much white space that it echoes, while the snapshot short stories from Felina's first-person perspective are themselves broken up by monochromatic landscapes, some rural, others suburban, but always eerie and empty. They are cold, often beautiful but bleak.
"Each day of this. I'm just part of someone else's day."
There is a huge sense of isolation, for not all conversations can be classed as communication, and Felina has erected barriers or set herself boundaries like the above to protect her. Some things she simply does not want to talk about. We don't even learn her real name until close to the end: she only lets Tom in while on her way out, waiting on a plane to take her back home to Michigan.
Earlier:
"I came here because you only know what I let you know about me, yeah?
"You don't know enough to hurt me."
And Felina is indeed so very vulnerable throughout. Don't get me wrong, she can take care of herself – physically at least, thank god – but the very fact that she has to eye a lampshade and assess its efficacy as a weapon in case her client gets violent says it all.
Felina, I should probably point out, is a trans woman earning her way in Seattle as a sex worker, and this graphic novel – some of which you might already have come across in the pages of the ISLAND anthology curated by Emma Rios and Brandon Graham – is as explicit as that implies, far more so than OMAHA THE CAT DANCER to which artist Remy Boydell pays tribute in the back.
Thankfully none of Felina's nightmare scenarios manifest themselves, but you cannot help but fear for her safety because even off work – walking down the pavement, head bowed after being stared at and muttered about in a diner – she receives bigoted abuse from some stupid car mechanic who, like any bully, presumes that they'll get away with it, almost certainly because he has in the past. This time he doesn't, but any sense of temporary victory which Felina or the reader may or may not feel from the outburst of violence is both short-lived and pyrrhic, for the damage has been done and the final few panels alone in the shower are devastating.
'Cut Throat' is a particularly powerful piece of storytelling, carefully composed from start to finish. It begins so promisingly, so positively in friendship, kind words and sex for pleasure. It's not all idyllic, as you'll see, but hey. It's on the fourth transitional page that Felina finds herself sitting alone, comfortable in her nakedness, reminding us exactly where she is in her own transition. But as she makes her way to that diner – initially through warm, autumnal colours – we're shown a close-up of her cheek which is very closely shaved but still peppered with tiny flecks of black stubble. The final panel on the page pulls out to reveal the effect of its feel on Felina as she strokes it, gingerly. Thanks to Boydell's immaculately judged portrait we are left in no doubt as to the severity of the blow, both to her immediate ease and long-term optimism.
It is then that we enter the diner with is whispering clientele, thence the pavement and the malicious mechanic.
It's not all melancholy, though, I promise. Your expectations will be overturned again and again. Tom's first encounter with Felina, for example, proves him to be as comically dim-witted as he is later determined to be kind, supportive and attempting to understand Felina's complexity. People are complicated, relationships are complicated and that argument on holiday hit home. Keeping everyone happy can be difficult. Experiences will be revisited (like that argument on holiday) because the structure of the whole is not necessarily linear.
What Perez and Boydell have crafted is candid, explicit, humane, tender, painful and actually quite deliciously blunt.
I've mentioned before the importance of representation (THE SECRET LOVES OF GEEKS and BINGO LOVE, for example) and why it matters so much, but in addition diverse perspectives are essential if we're going to understand and so empathise with each other a bit better.
SLH
Buy The Pervert and read the Page 45 review here
Royal City vol 2: Sonic Youth s/c (£14-99, Image) by Jeff Lemire…
"I start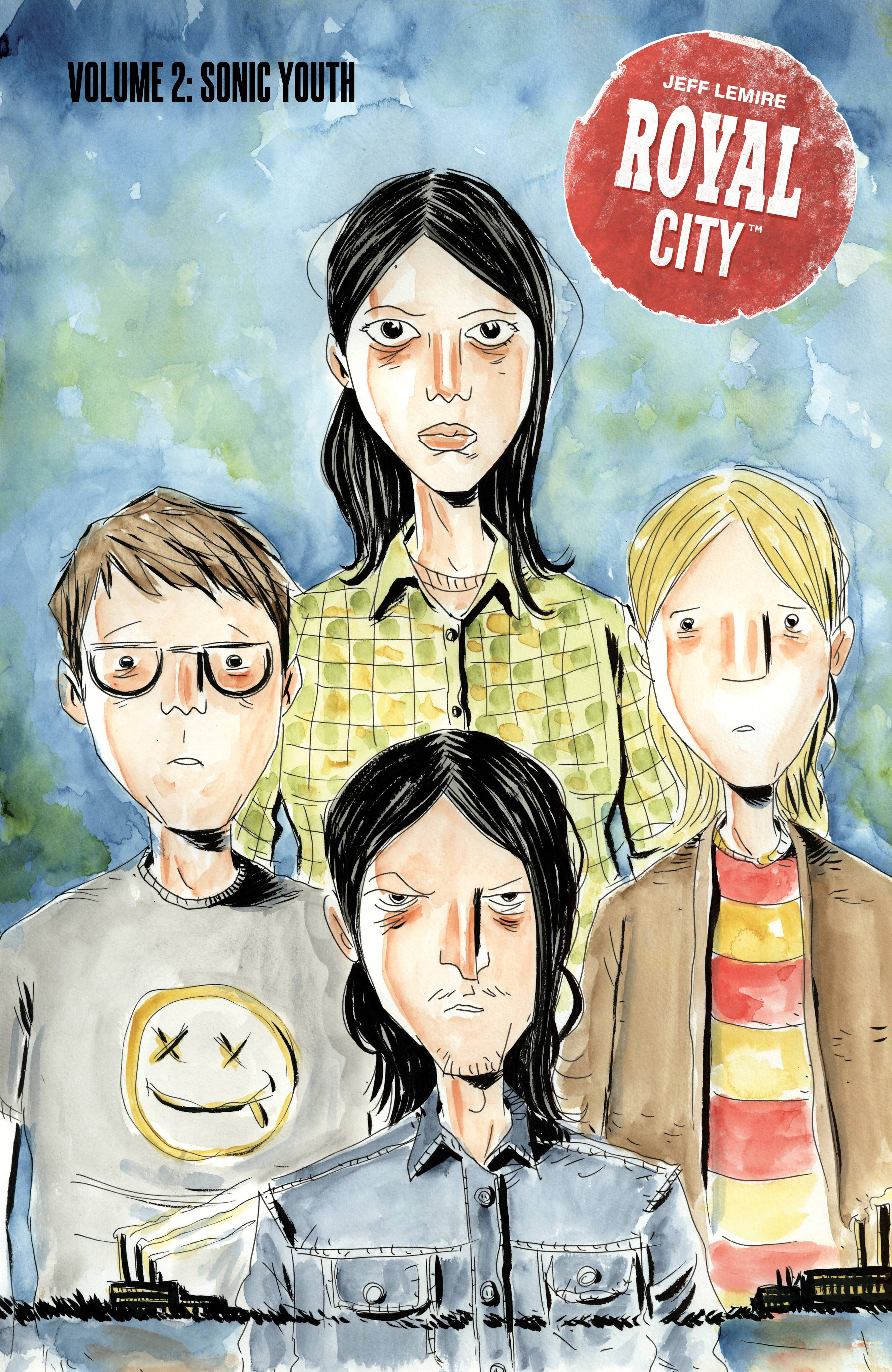 to feel really weird.
"I start to feel like the colour is being drained out of everything.
"I start to feel like I'm finally really all alone.
"That's when I hear someone out in the woods…
"That's when I find her. And for the first time I realise that maybe two people can be all alone together."
Royal City returns for a mesmerising second arc, transporting us back in time to 1993 to afford young Tommy the luxury of recounting the story of his last few months. The rest of the then teenage Pike brood are as individually and collectively dysfunctional as ever, I should add, though nowhere near as emotionally damaged and inept as their future shelves will become. Just typical, normal teenagers in other words.
As Tommy takes us through the events leading up to his untimely death, what struck me most was how utterly unsuspecting and therefore completely unprepared the family are for the tragic shattering event that is shortly to follow. Which is entirely understandable, particularly given that Tommy seems to be the one that all the others have the most affection for. His passing is going to leave a very big hole in all their lives.
Also absent is the mystery of the opening volume, in that Jeff chooses not to reveal a single iota more regarding precisely how it is that Tommy is acting as our narrator or how his grown up siblings can occasionally see him. Though… perhaps a sketch in Tommy's notebook following a doctor's appointment may reveal a clue of sorts in that respect. A CT scan shows something in Tommy's brain that the doctor finds puzzling and he's scheduled him for a follow-up with an out-of-town specialist.
I found Tommy's drawing, whilst being driven home by his mum – naively assuring him everything would be alright – tantalising for its content… Particularly whilst bearing in mind what his father begins to obsessively collect, something we see the very beginnings of here. Actually, now there's a scene which upon re-reading I do wonder whether there isn't a little more to it than first meets the eye. Hmm…
Much like everything he writes, Lemire here is all about the characters and their frequently excruciating interactions. ROYAL CITY is shaping up to be a fascinating character study of the individuals that nominally form this 'family', riven by the tragedy of the sudden erosion of their emotional centre.
For some of the Pikes, I have a degree of hope that they can finally overcome this loss and achieve happiness. For one in particular, though, I'm not sure that is ever going to be possible. But then I very much doubt Lemire would let everyone have a happy ending… I really don't think that's in his nature! As for the part Tommy will undoubtedly play in directing the course of his siblings' futures, or at least attempting to, for that, we will have to wait for volume three.
JR
Buy Royal City vol 2: Sonic Youth s/c and read the Page 45 review here
Sleeper Book 1 s/c (£26-99, DC) by Ed Brubaker & Sean Phillips, Colin Wilson.
"But just
as I'm trying to focus and push my worries about Peter Grimm's suspicions out of my head, a face in the crowd jumps out at me…
"And then mine jumps out at her.
"And everything falls to pieces."
Hair-tearingly tense espionage thriller deftly conducted by the creators of CRIMINAL, THE FADE OUT, KILL OR BE KILLED, THE SCENE OF THE CRIME plus the noir-horror hybrid FATALE, this doesn't just avoid the pothole cop-outs of most superhero tales when it comes to crime and consequence, it pole-vaults over them and plunges the protagonist into a world where there's no soothing alternative to ruthless expediency.
Field agent Holden Carver was sent deep undercover just before his boss was sent deep into a coma.
Unfortunately a) the cover in question is as hired thuggery for Tao, a ruthless powerbroker who is preternaturally perceptive, b) his comatose boss, John Lynch, was the only one who knew he'd been sent undercover so c) there's no one around to extract him. With no light at the end of the tunnel that doesn't turn out to be a train, Carver's only option is to complete the missions for the slime he now works for without killing his conscience or his former friends who now think he's defected. Not a lot of recourse, there.
Carver has to convince one of the most astute manipulators on the planet that he has sincerely switched sides and isn't a double-agent; he has to earn and maintain the trust of his new, vicious and suspicious peers; he cannot forewarn his former cohorts of what's up to (they'd never believe him anyway), so he must somehow either sabotage some of the assignments whilst making it look like someone else's fault, or carry them out correctly without killing too many innocents, and hope that the results don't tip the scales irreversibly in the terrorists' favour.
How many innocents can Holden kill before the total begins to chime with his moral concept of "too many"? What happens when he's sent up against the love of his life and her new husband? And how long can he keep this up before his new boss discovers the truth, Carver gives up completely or – worse still – throws in with the other side? He has, after all, made friends in that camp.
Sean Phillips's intense, brooding, twilight pages are full of a palpable sense of foreboding, on which anything can come round the corner, and because so many faces are cast in half-shadow, no one's at all sure what the others are really thinking. This includes the reader. I found myself so successfully immersed in this deadly, murky and often angry arena that I was fretting throughout and trying to peer round corners and up flights of stairs on Carver's behalf. I actually angled my head!
Best of all, while his visual storytelling is so fluent and fluid, he's also as brutally solid as anyone else, seen here – 15 years ago – with more jaggedly angular faces than we're used to by now, perfect for people this raw. He hasn't yet settled on the three-tiered grid as seen in the books above; instead the panels cascade down over the background, and that contributes a more disorientating, action-driven tension.
Meanwhile, Brubaker's tour de force here lies not only in the plotting, but in the internal monologues wherein Holden Carver attempts to justify his actions to himself, wriggle his way out of inconsistencies and uncover as much as he can, whilst staying alive – albeit battered – in the process. Wrestling to make the right choices isn't easy, either, right up until the last minute.
Along the way there are some very funny superhero origin parodies, and you'll love Ms. Misery for whom happiness is a life-threatening disease.
Lastly, prepare yourself for the most excruciatingly ironic final few pages while you wait for the second half. It should be noted that we were never guaranteed its second season, so it could all have ended here.
Point Blank:
Never argue with the woman serving you at the bar!
"And who said I wasn't already post-human? You guys always assume just 'cuz I'm tending bar that I'm normal…"
"Oh really, so what are your powers?"
"Honey, I get better looking every drink."
The prologue to Brubaker and Phillips' SLEEPER, I found a second reading of POINT BLANK infinitely more enjoyable for having since relished the nail-biting noir of the main series itself. I own, however, that they are on two completely different levels. SLEEPER is the mature, fully formed Brubaker you know now, operating in his own theatre on creations that are almost all his; POINT BLANK is him negotiating his way there, having to use characters which – other than the lead and chief antagonist – really don't suit him. It's good but not great, so DC's decision to repackage it at the front of this book comes with the warning that you should please not judge the main meal by its entrée.
Cole Cash is drinking at a bar.
He really doesn't want to be there, but he made his old colleague a promise, so here he is. His old colleague is John Lynch, former head of International Operations, the Wildstorm universe's covert anti-terrorism organisation. But Lynch is late and something's not right. For a start, Lynch is never late – that's usually Cash. But it's not just that: he hears echoes of a past conversation he can't place.
It's as if Cole's forgotten something…
As Cole tries to recall the last several nights, some bits come back easier than others: Lynch on the trail of someone called Carver, erasing the memories of those he catches up with in case they recall the encounter. But when he finally quits the bar to investigate, he finds Lynch shot and deep in a coma. No one can get the drop on Lynch – probably not even Cash – it's how he's survived all these decades in the most dangerous job on the planet.
So who finally did the job, who is this Holden Carver and why was Lynch so desperate to find him? Ah, now you see why I mean about hindsight!
As Cash delves deeper, he gradually realises that he's running the very real risk of buggering up the biggest subterfuge of them all, but nothing will prepare him for the final blow.
Set on the periphery of the Wildstorm Universe, there are very few capes. Oh wait, there's The Midnighter from THE AUTHORITY, but then that black leather costume to him is just casual clothing. It's what Brubaker does better than anyone else: genre-splicing action / espionage with powers.
Colin Wilson provides decidedly European-style art (I know, I know, that's a sweeping generalisation) which manages to be both exceptionally clean yet rugged at the same time. I'd probably classify it as "cinematic, ne'er do well chic".
SLH
Buy Sleeper Book 1 s/c and read the Page 45 review here
Batman vol 5: Rules Of Engagement s/c (Rebirth) (£14-99, DC) by Tom King & Joëlle Jones, Clay Mann, Lee Weeks, Michael Lark, Seth Mann.
"Shall we?"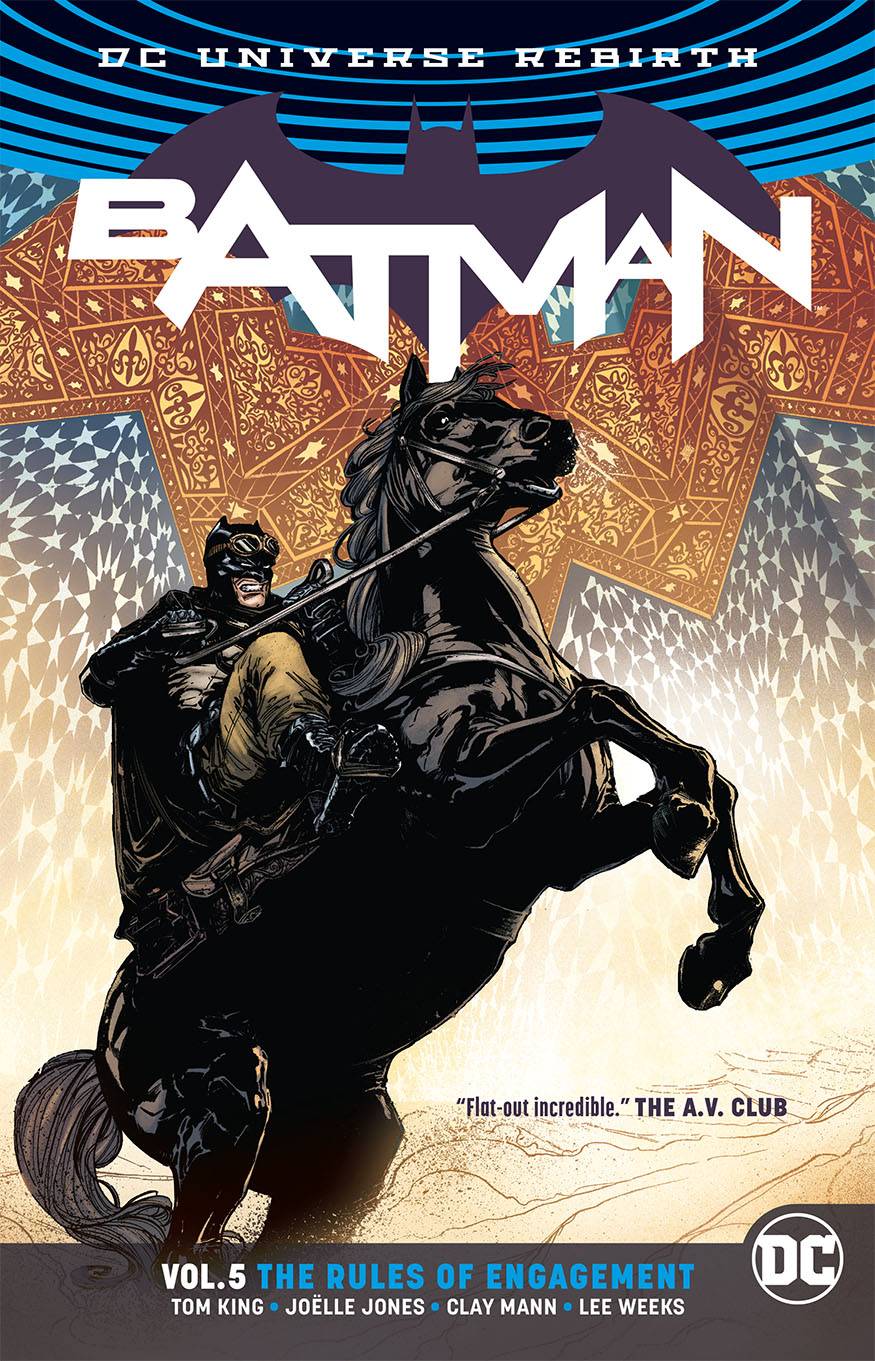 "This… could be fun."
"This will be fun."
"No."
For once I'm going to have a little think now before I write something truly contentious.
While I'm cogitating, please note that should I persuade you to read this book, the fifth in a series, you honestly won't have to have read the other four. I haven't.
Okay, I'm done.
This is the best BATMAN book that I have ever read.
It's also the best SUPERMAN book that I've ever read.
You may have enjoyed many for the spectacle of acrobatics and of combat; there have been some boasting extensive, razor-sharp plots realised with beat-perfect timing and thematic hearts which have been eloquently expressed, like IDENTITY CRISIS. But few superhero books – so focussed on fisticuffs – are renowned for being joyful, for being fun.
Whereas this, I swear, is a scream, bursting with character-driven wit, fulsome affection and fun. I've long made a joke about how you're unlikely to see a superhero comic in which everyone settles down in a park for an uninterrupted picnic, but that is almost exactly what happens for the whole of one chapter here when Lois Lane, Clark Kent, Bruce Wayne and Selina Kyle (Catwoman) decide to visit Gotham County Fair in their civvies. It's taken them a whole hour to agree on this venue and Selina is starving. But there's a slight problem: it's superhero cosplay night. Says the spod at the entrance, "And you all ain't superheroes."
Back at the car park, Lois observes, "Well, there is a solution, right? It's not as if you don't have costumes."
Bruce: "No."
Clark's rather worried that they might look too much like the real things (!!!), so Lois suggests that they switch costumes.
Bruce: "No."
Selina, one hand on Bruce's shoulder, the other on his lapel:
"What my kind, patient, fiancé means is that he sees that his kind, patient fiancée is tired and hungry.
"And he'll do what he needs to do to remedy that situation.
"Isn't that you mean?
"Darling."
Bruce: "No."
With all the comedic timing of Gerald Durrell's family house-moves in Corfu, the very next page shows Bruce having resentfully given in. He's donning Clark's red, yellow and blue in a changing room cubicle while Lois slips into Selina's slinky black ("It stretches." "It better.") and Clark contemplates the Kevlar. Selina is going to wear Lois's sharp purple dress which obviously isn't a superhero costume, but she has a solution.
"It's… subtle."
It isn't, but it was always going to work.
Which is where we came in, on a magnificent, full-page, Clay and Seth Mann masterpiece of Lois and Selina escorting Bruce, unshaven and so stubbly (clever – I've never seen Superman unshaven) striding out, fists as tight as Superman's often are, and Clark bringing up the rear in Batman's full cape and cowl with glasses on top: glasses which he does not need.
There is enormous humanity in Clay and Seth Mann's figures and faces – exceptional stature too, reflecting their capability. The ladies are precisely that: soft-faced and exceptionally attractive but in no way sexualised in their postures. Well, you know, apart from the page in which Lois and Clark then Selina and Bruce react somewhat differently to their times in The Tunnel of Love!
There's an increasingly tender intimacy between Lois and Selina as the evening progresses, until they're sneaking a few snifters from a hipflask they share and Lois cracks a joke designed to boost Selina's sense of identity. Then they collapse to the floor in laughter, Selina nestling her head against the Catwoman mask worn by Lois: two new friends completely at ease, enjoying the moment to its fullest.
If I've so far failed to mention that Batman and Catwoman have recently become engaged, I do apologise. That evidently happened in another book. These are the immediate ramifications including Bruce's current and former wards finding out (not via Bruce but from Alfred the butler, which irks them something chronic) and this evening which is primarily about the girls getting to know each other better by exchanging confidences after meeting for the very first time in the preceding chapter.
It's also about Superman taking it all as graciously in his stride as he can, because that's in his nature, and Batman feeling extremely awkward because he's about as far out of his comfort zone as you can imagine! Haven't you always wanted to see that? Out of his comfort zone, I would emphasise, without there being any clear or present danger.
In that preceding issue Lois and Clark and Bruce and Selina do approach a clear and present danger from different directions, unknowingly, until they eventually bump into each other after exiting elevators halfway inside a skyscraper. Lois and Clark have taken an elevator up; Bruce and Selina have opted for descending down its twin shaft.
On their way there, the action flips between each party's perspective in very brief bursts, with one couple's conversation often being continued by the other. Yes, they are working on their investigative goals, but more interestingly they're focussed on friendship. Specifically, they are focussed on why Bruce is not picking up the phone to talk to Clark about his engagement to Selina, and why Clark isn't making the first move, either. Both Lois and Selina take the maternal role in trying to cajole the obstinate 'children' into communicative action. It's not as if either Bruce or Clark is being churlish, they're just being obdurate, tight-lipped men!
But while describing each other to their loved ones, both display the most moving awe, respect and deep-seated admiration, as well as a far greater understanding of each other than they have of themselves.
I've seen this reflective and reflected to-and-fro attempted in a prior series over a decade ago which I will not name and shame even though it was a toe-curling, cringe-inducing, cliché-ridden, heavy-handed and mawkish atrocity. This, by comparison, is light, bright, poignant and beautiful.
The final stroke of genius, however, is that although both Bruce and Clark erroneously conclude by declaring that you cannot possibly be best friends – or any friend at all – with someone like the other (because they're simply far too remote and impressive), the consequent funfair fiasco proves the exact opposite, while Selina and Lois – curious about each other's choice in men – hit it off big time.
This is possibly my favourite line, in which Selina Kyle (career criminal now on the rocky road to reform) confides what lies so deep in her heart that she has committed to a man who has made it his partial mission to bring her in. This to Lois Lane, who has spent half her adult life being defenestrated:
"It's just when I fall, he catches me.
"I know. It's stupid.
"Does that make any sense at all?"
All of this proves part of a refreshingly new dynamic even during the first three combat chapters after the newly engaged couple encounter Talia Al Ghul, Bruce Wayne's potentially a-mortal and decidedly lethal ex-lover, mother to his own son, Damian. Once more King eschews the obvious on all counts, so don't expect petty jealousies: Selina Kyle is far too self-confident.
You can count on Damian for that instead.
It's called 'Rules Of Engagement', one of which, obviously, is that you have to keep your loved one happy, and it's funny witnessing Batman (very much Batman, rather than Bruce) deferring, back-tracking, almost apologising, and attempting to master the art of flattery when his fiancée can see straight through him.
Bellaire's colours initially contrast the cool of the study with the heat of the dessert as Batman and Catwoman approach Khadym while Alfred breaks the news of the engagement, artfully preceding this task with a seemingly unrelated "The mansion, like this family, is as large as it needs to be". He has complete command of every situation in that first chapter, including the seemingly uncontrollable dog. But will you notice, I wonder, Bellaire subtly controlling the oranges then reds of the dessert until the unseen sun finally sets and the fight continues well into the night?
King finds time to further explore the relationship between the current Robin, Damian, and the original, Dick Grayson (now Nightwing but at one point Batman to Damian's Robin), which is very much as little / big brothers. Damian, aged all of thirteen, has a habit of superciliously chiding others as "children", and Joëlle Jones provides an exquisite panel of expression when Damian tries it on Grayson, eyes and eyebrow disdainful, but lower lip jutting out with boyish petulance.
I'm going to leave the final story for you to discover for yourselves because you really shouldn't see it coming especially Michael Lark's quiet, tender and quite deliberate, crisp-leafed, autumnal contrast to Lee Weeks' energetic early-days engagements of a completely different nature… although Catwoman is quite clearly flirting from the very beginning.
Weeks pumps the pages to bursting point with cat-and-mouse, catch-me-if-you-can, youthful balletics and such torrential, driving rain that you'll feel both drenched and exhausted by the time they catch up with each other. Watch out for the wine glass as well.
SLH
Buy Batman vol 5: Rules Of Engagement s/c (Rebirth) and read the Page 45 review here
Amazing Spider-Man: Epic Collection vol 2 – Great Responsibility s/c (£35-99, Marvel) by Stan Lee & Steve Ditko.
"I did it! I'm free!"
Quite an iconic moment there as Ditko's Spider-Man lifts himself from under tonnes of steel fallen into the water of Doc Ock's subaquatic dome. The willpower comes from the certain knowledge that without the serum he's stolen, Aunt May will surely die.
The truth is, metaphysically speaking, that poor Peter will never be free, no matter how much he tries to atone for the death of Uncle Ben. And Aunt May has more trips to the hospital bed ahead of her than Florence Nightingale managed in her medical career.
If you look carefully you'll find some exemplary body language and facial expressions in Steve Ditko's art.
Just take pages 8 and 9 of #31. Page 8, panel four, shows a college student gesturing over and away from his head with an "I've clocked you" hand signal whilst the girl catching up with him reaches out to grab his attention instead. In panel six, meanwhile, Gwen Stacy's eyelashes are Rimmelled up to the Max Factor, far more of a vamp than John Romita's imminent swinging-sixties' doll which is what she needed to be to attract poor Peter later on. Meanwhile, Flash and Harry's contempt for poor Peter (I'm not sure it's possible to type "Peter" without "poor") in the following panel is obvious (Flash's is a face-palm "D'Oh!" whereas Harry's sneer is simply withering), but on page 9 panel six shows Peter in a phone booth asking the hospital about his Aunt's condition, and his expression is one of forlorn, selfless anxiety, no weaker for its puppyish purity.
As a bonus Ditko's pencils to #31 are reprinted in the back, along with his original cover to #35. Here's that iconic sequence I mentioned earlier, by the way, in full, after the cover. Note how Peter's weighted down not just by the machinery (and pressure) but also by the number of panels which gradually give way as he exerts increasing upward pressure.
The Green Goblin becomes a virtual co-star in a substantial subplot which will explode next volume when John Romita Sr. takes over the art.
In the meantime, Peter Parker finds his first love affair swimming swiftly down the swanny when Ned Leeds returns to the arms of Betty Brant who's always looked a bit weird, no more so than on page 15 of #25 in her frosty face-off with Liz Allan, her blonde twin / clone with a perm.
"Well! Fancy meeting you here, Miss Allan! Do you always travel in a pack like that??"
"Why, no, Miss Brant! But sometimes it's hard to get rid of all my admirers! I'm sure you don't have that problem!"
They've both come to see Peter and they're actually fighting over him. And yes, that is indeed the first appearance of Mary Jane Watson, her face hidden behind a drooping dahlia, her hair within a headscarf, introduced to Liz and Betty by Auntie May:
"Mary Jane, this is Betty Brant, and this is Liz Allan! Girls, I'd like you to meet Mary Jane Watson! She just dropped in to visit my nephew!"
"Hel-lo, girls!" she sings, musical notes floating to emphasise her self-confidence.
"She's a friend of Peter's??" thinks Betty, incredulously. "She looks like a screen star!"
"He's been hiding her from us??" puzzles Liz. "Our shy, bashful, studious Peter Parker??!"
No, he's never met her and won't for many more issues as Mary Jane continues to "drop in" to visit Aunt May's nephew while (poor) Peter Parker is otherwise engaged as a metahuman punch-bag. That's what he's been hiding from you, ladies. Ooooh, the irony of it all!
Contains AMAZING SPIDER-MAN #18-38 and Annual #2.
The first page of #27 looks a little bit dodgy. I wonder what the title means?
For far more substantial Stan-Lee satire (I was gentle here, but normally I really cannot help myself), please see AMAZING SPIDER-MAN EPIC VOL 1, FANTASTIC FOUR EPIC VOL 1 plus AVENGERS EPIC VOL 1 and VOL 2 which does actually contain a commendable tirade about racism.
SLH
Buy Amazing Spider-Man: Epic Collection vol 2 – Great Responsibility s/c and read the Page 45 review here
Arrived, Online & Ready To Buy!
New reviews to follow, but if they're new formats of previous books, reviews may already be up; others will retain their Diamond previews information we receive displayed as 'Publisher Blurb'.
The Ghost & The Owl h/c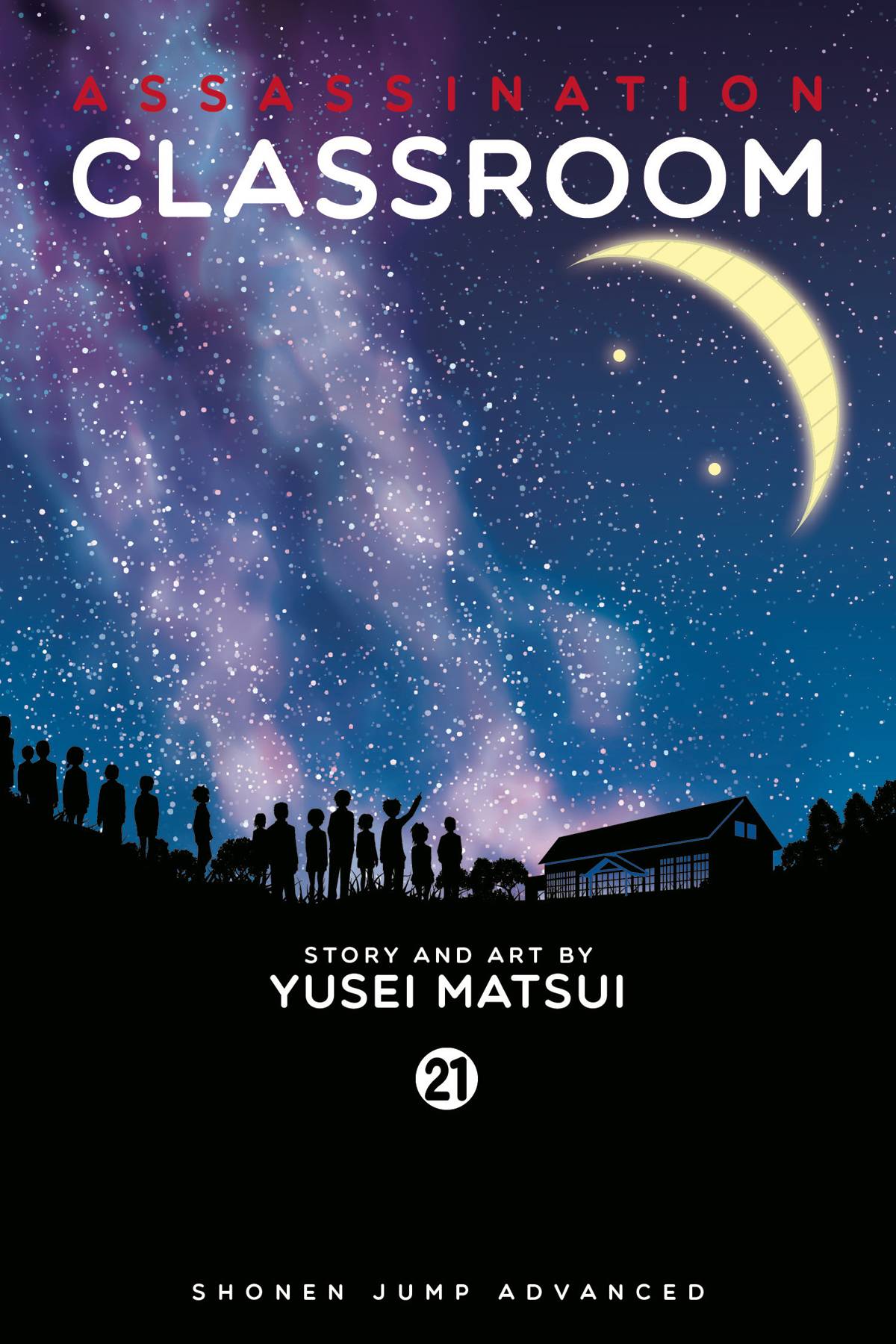 (£8-99, ActionLabComics) by Franco & Sara Richard
The Interview h/c (£21-99, Fantagraphics) by Manuele Fior
Permanent Press (£10-99, Avery Hill) by Luke Healy
Stray Bullets – Sunshine & Roses vol 1: Kretchmeyer (£17-99, El Capitan) by David Lapham
League Of Extraordinary Gentlemen: Black Dossier s/c (£16-99, Vertigo) by Alan Moore & Kevin O'Neill
Norse Myths – Tales Of Odin, Thor And Loki h/c (£18-99, Walker Studio) by Kevin Crossley-Holland & Jeffrey Alan Love
Reborn s/c (£14-99, Image) by Mark Millar & Greg Capullo
Green Arrow vol 5: Hard-Travelling Hero s/c (£14-99, DC) by Benjamin Percy & various
Doctor Who: The Lost Dimension (£13-99, Titan) by George Mann, Cavan Scott, Nick Abadzis & various
Assassination Classroom vol 21 (£6-99, Viz) by Yusei Matsui
Berserk vol 10 (£13-99, Dark Horse) by Kentaro Miura
Berserk vol 7 (£13-99, Dark Horse) by Kentaro Miura
Berserk vol 8 (£13-99, Dark Horse) by Kentaro Miura
Berserk vol 9 (£13-99, Dark Horse) by Kentaro Miura
Chi's Sweet Adventures vol 1 (£10-99, Vertical) by Konami Kanata
Erased vol 4 h/c (£21-99, Yen Press) by Kei Sanabe
My Hero Academica vol 12 (£6-99, Viz) by Kohei Horikoshi
Platinum End vol 5 (£6-99, Viz) by Tsugumi Ohba & Takeshi Obata
The Promised Neverland vol 3 (£6-99, Viz) by Kaiu Shirai & Posuka Demizu
Tokyo Ghoul re: vol 4 (£8-99, Viz) by Sui Ishida