Featuring David Lapham, Graham Annable, Inio Asano , Rick Remender, Bengal, Evan Dorkin, Jill Thompson, Christophe Bec, Stefano Raffaele, Garth Ennis, Steve Dillon, Alan Moore, Ian Gibson.

Stray Bullets – Sunshine & Roses vol 1: Kretchmeyer (£17-99, El Capitan) by David Lapham.
"Trust me.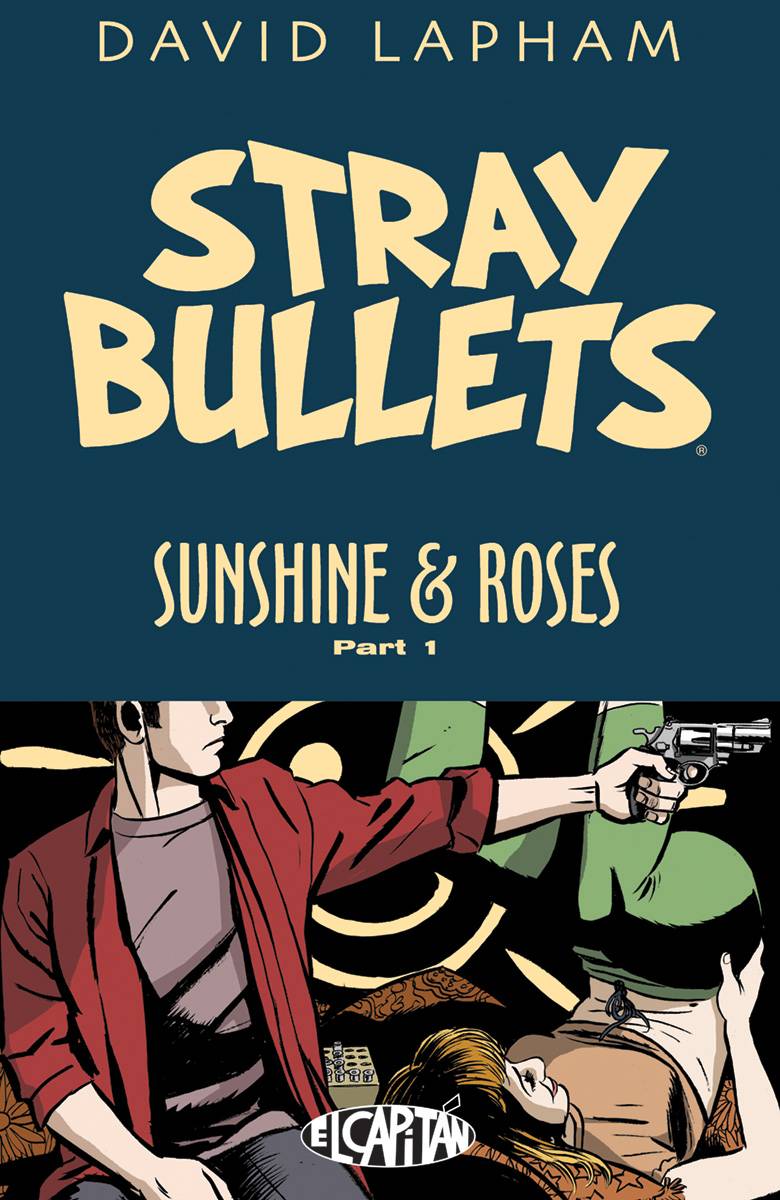 You are not going to raise this girl up. She'll drag you down."
That's to Orson, from his sister, about Beth.
And to be fair, on the very first night that he met Beth, naive, clean-living Orson attempted to rob a liquor store at gunpoint (he failed) after being slipped two aspirin (they weren't) and ended up catching crabs (not the shellfish) (and not from Beth).
Orson's subsequent attempts to recall that evening, persuade others to elaborate on it and discover from whom he caught pubic lice are mercilessly funny. One can forget that, as well as being one of the most mesmerising and brutal crime comics on the shelves, STRAY BULLETS is run through with a rich seam of verbal and visual comedy. Here it's more fecund than ever before.
One of the title's other strengths – and in this it is incomparable – is its improbably complex, cat's-cradle structure. By this I mean that Lapham has already crafted the most extraordinarily tight timeline, anchoring almost every single episode, its constituent scenes and so their individual protagonists in very specific places on very specific days during the late 1900s. In the original series, Lapham would dart back and forth, filling in gaps, creating brand-new connections and demonstrating cause and effect, action and repercussion, however far in the future or way back in the past.
That Lapham has found space within that cat's cradle to dovetail all this in too is remarkable, but I promise that new readers need have read nothing before, because David knows what he's doing. In fact, if were new to STRAY BULLETS I would start here.
For a start, SUNSHINE & ROSES is much more linear, beginning in Baltimore on May 15th 1979 then careening at breakneck speed before its second chapter fast-forwards to the fall-out two years later. But… early on Lapham pulls back to the pivotal party in between those years, which we originally witnessed a thousand pages earlier way back in STRAY BULLETS VOL 1. He does so because it played the single most influential part on where Beth's best friend Nina is now in 1981: under virtual home arrest to her sugar daddy Harry. Harry rules Baltimore's crime scene via the services of handsome, long-haired, Hawaiian-shirt-loving Spanish Scott who makes most of the actual play from The Cock's Crow strip club, with the assistance of the massive, bespectacled enforcer they call Monster.
Monster is usually both impassive and implacable, but has doted on Beth since childhood, which gives her just a little leeway and wiggle room when she needs it the most. It's not that Beth is a blunderer – she has quite the reputation for capability and cojones – it's that she lives half within these crime circles and half without, owes money to the wrong people like Dez 'Finger', plus her friendship with cocaine-addict Nina, whom she's no longer allowed to even see, will bring out her decidedly non-compliant streak. It will catalyse so much of what comes next.
KRETCHMEYER kicks off with a masterful opening page, striking in its structural departure and its initial meeting of minds between the two chief protagonists: STRAY BULLETS mainstay Beth and newcomer (both to town and to us), the ever-cautious, ever-suspicious, always observant Kretch. The scenario will be answered, in no uncertain fashion, in the volume's final few pages.
STRAY BULLETS is traditionally told in crystal-clear variations built around a 4-tier, 8-panel grid, but here we are presented with three equal tiers, each devoted to a single wide panel which together create a symmetry of sorts. At the top and the bottom we're treated to close-ups of Beth then Kretch, while in the middle we're shown their actual interaction plus an onlooker evidently in awe: "Holy shit. That's Beth." Beth has form, you immediately infer, and indeed she seems fearless. Here's the full exchange minus the onlooker:
"Hi…"
"Hmmm…?"
"I saw you pretending not to stare at me from across the room…. I'm Beth, by the way. And your name is…?"
"Kretchmeyer."
Each facial close-up is on the one hand a character study, on the other a projection or mask, for both will prove consummate actors while each is attempting to read the other and so size them up. Beth is all self-confidence, making the first move with a radiant, smile and seductively sparkling eyes. She'll often twirl her blonde hair through her fingers like this to create an air of idle lack of guile at the precise point when she's going to be at her most manipulative.
But Kretch is unflustered by the playful remonstration, by his companion's quietly voiced concern and indeed by Beth's proactive challenge. Look at that face! It's insouciant but beguiling with soft skin, soft mouth (which might or might not be a smile) and soft, hooded eyes: soft, knowing, hooded eyes. He has been patiently waiting for Beth to introduce herself for quite some time…
Boom! Page 2, and Kretchmeyer is suddenly clambering up a staircase, out of breath, some twelve days on. Panting, he pauses to retrieve the rifle with telescopic sights which he'd weeks earlier stashed away. Brushing back the sweat streaming down his eyes, he takes aim at the three men exiting Bobby's Donuts and pulls the trigger. A man called Lonnie's head explodes.
With this unauthorised assassination, Kretch has surreptitiously kick-started a turf war. Two pages and two nights later, he's found his way "in" by seducing Beth.
I wouldn't underestimate anyone here, if I were you. Not Beth, not Kretchmeyer, nor even young, loyal and fast-thinking Orson who's hopelessly fallen for Beth and so tries his best to keep up with her drinking and pull her fat out of a fire which he is completely unfamiliar with but not necessarily ill-equipped to deal with. She may drag him down with her, but he'll love almost every second of it.
Certainly never underestimate Spanish Scott or Monster. Beth loves to believe that she can manipulate Monster, her childhood knight in shining armour, but it's his clear, cold-logic simplicity that allows him to see through to the truth. I love that his apartment is as clean, uncluttered and austere as his mind is. Monster in some ways (and out of everyone) has the truest moral compass even if it points to Magnetic South, for he boasts a direct sincerity which others apart from Orson don't.
How you estimate Spanish Scott's sister Rose or 'Roses' with her delinquent son Joey is entirely up to you. Possibly the: worst mother ever and tireless nymphomaniac, it is she who gave an off-his-face Orson the crabs (very funny scene between Orson and his sister, on discovery) and she won't stop pursuing him. Beth:
"What do you have to offer besides sloppy seconds?"
"I got a lot to offer!"
"Diseases don't count, Roses."
Lapham's eyes and mouths are amongst the most expressive in the business: besotted, disdainful, malicious, dismissive, defiant, charming, flirtatious, cantankerous, conspiratorial, determined, drunk-as-a-skunk and angry as hell. Even the eyelashes set the cast apart: Beth's are more natural and therefore tinier than Nina's or Rose's makeup-enhanced whoppers, doomed as they are to drip kohl, while the men evidence none except Kretch whose upper eyelids come with a sensual, sybaritic flourish which is immensely attractive to both women and men… as he knows full well.
Lapham's also in complete control of his periods too: even the flashbacks to Beth and Monster's shared childhood come with the 1970s t-shirts of their time.
His use of spot-blacks is up there with Los Bros Hernandez'seses (I'm not sure where to finish that possession), with shadow on walls used to highlight what's in front of them, like a car. That instance minded me of EXIT's and THE DROWNERS' Nabiel Kanan who kindly supplied our website's original line art. But it's softer in both instances: take any single page I've gleaned for you here and drink in how much more malleable humanity there is in evidence than, say, Frank Miller's brutish SIN CITY.
But don't presume there isn't a cruel streak to STRAY BULLETS or even David himself. Every single chapter he writes comes with "The End" and a couple here conclude idyllically in a happy-ever-after-fashion for our favourite characters.
Wonderful! They've earned it! We've earned it too!
But it isn't.
The End.
Far from it, as you shall see.
SLH
Buy Stray Bullets – Sunshine & Roses vol 1: Kretchmeyer and read the Page 45 review here
Beasts Of Burden: Animal Rites s/c (£17-99, Dark Horse) by Evan Dorkin & Jill Thompson.
Considering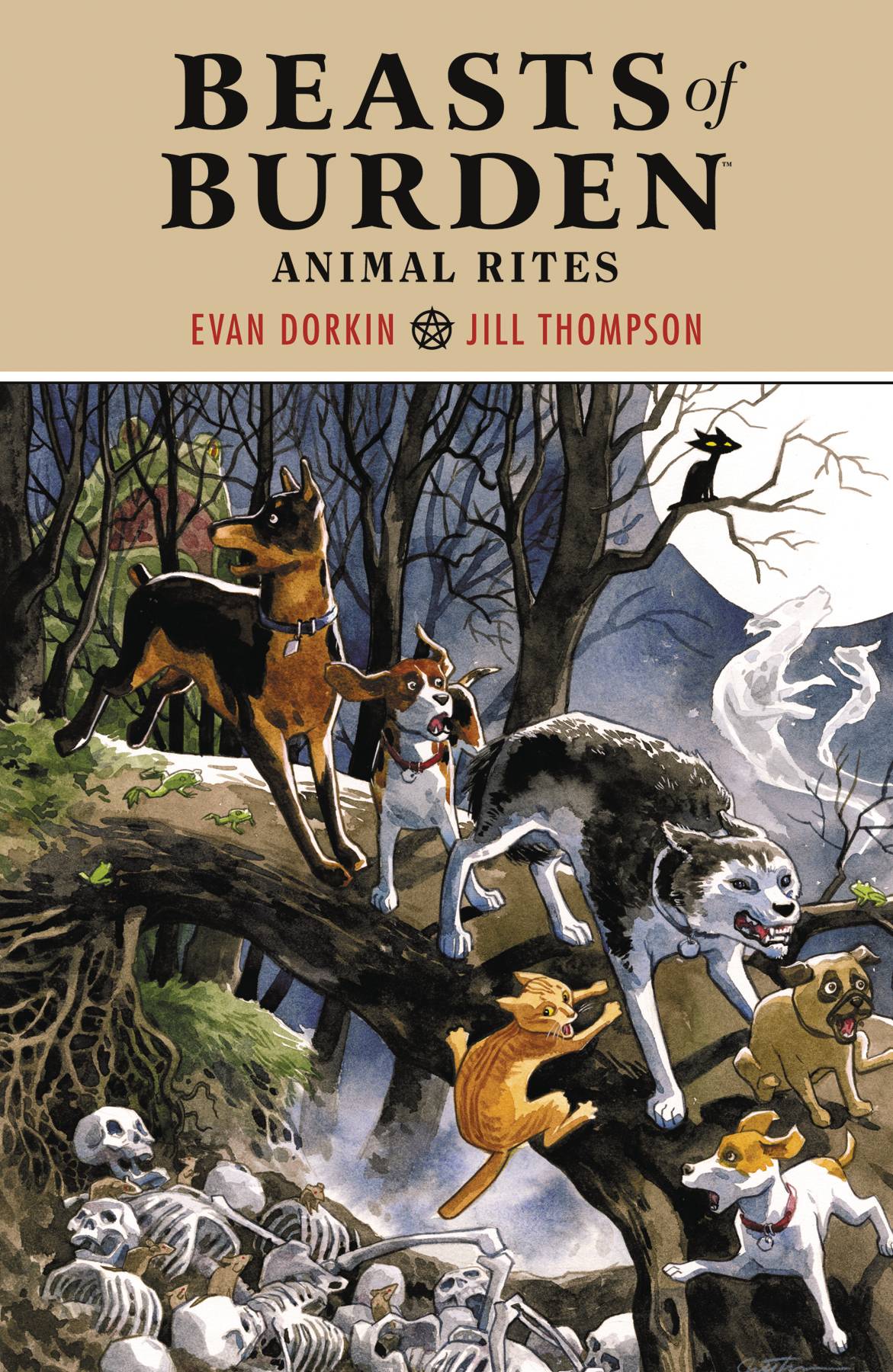 what our canine and feline friends have to deal with here, a sky full of freefalling frogs feels like a stroll in the Green Thumb organic-produce park.
Pugs says it best:
"Oh crap. Looks like stupid's back in season."
But holy heck, this is one hell of a horror comic!
It looks clean and cute enough at a very superficial first glance: dogs, pups, cats, rats, racoons and, err, twelve-foot-tall bloated bullfrogs all beautifully painted by Jill Thompson in verdant watercolour wash and (my guess) gouache.
I particularly loved her Green Thumb garden-nursery splash page, for its fresh and joyous choice of Spring and Summer colours put me so much in mind of Diana Fegredo's swoonaway prints, cushions and lampshades: https://www.dianafegredo.com/ You would love to languish there!
So would our gang of growling, gawping and determined defence league of cats and dogs. But that which they are made to endure within is demonically driven by Evan Dorkin.
One chapter, for example, sees a mother frantically searching for her pups which went missing in the scant seconds during which she obediently answered her call to be inside by her owners. When she was finally let out, they were gone.
"My children are missing."
Dorkin doesn't miss a linguistic trick – "children" – while Thompson's greyhound is grief-stricken not melodramatically but penetratingly wide-eyed, almost blank-eyed at the enormity and helpless incomprehensibility of her separation and loss. It's a fine and well judged line that Thompson travels there and throughout: the anthropomorphism is relatively minimal. When a cat hisses, spits and snarls it is most definitely a cat. There's no hint of Walt Disney at all.
And then that tale grows darker, because some human beings do not deserve to be classified 'Sapiens'. Our dog detectives do what they can to track down Hazel's missing children, but they fail and so fall back instead on their training in the occult to perform a summoning to see if the pups are dead, on the other side, and therefore available to pick up the miasmatic, ectoplasmic phone. But they're still novices, barely initiated and, without a Wise Dog on hand, it goes hideously, indescribably wrong.
Worse still is when you first find out what really happened. It's implied through visuals only in a single, haunting panel if you care to look closely for so very many clues – and fuck the teenager's parents for failing to do so. There is a wealth of storytelling about this family's history there when you think about it: the shared culpability in the crimes which the kid has committed.
What is reported, after the fact, comes in terms which we associate with loners going postal in American schools. Everything about that episode will make you so sad, so very angry.
Another episode I've already touched upon brings a shower of frogs that start gorging on their own kind until they form one massive, carnivorous amphibian. And when you find yourself facing the zombie dogs, let me tell you, they are terrifying but that's not really the point: it's more about tragedy instead.
It's about tragedy because, at its heart, this is a book about courage, kindness and compassion for others – about friendship, honour and loyalty ("After all, dogs are nothing if not loyal") – and although there are uplifting instances of unexpected redemption through exceptional self-sacrifice, there are moments where, I'm afraid, that proves desperately insufficient.
And it will pull so hard on your heartstrings because Dorkin and Thompson have kindly turned each of our muttley crew into individuals whom you cannot help but care for. My mum tells me I bawled my eyes out during 'Bambi', aged 5. This will hit you even harder.
"Big or small…
"Short or tall…
"Here's what happens to us all…
"We go to sleep, we close our eyes…
"And leave behind a nest of flies."
In case you're wondering, that short verse accompanies someone's dearly beloved best friend / dog turned into hit-and-run road kill.
An improbable collaboration between the creators of MILK & CHEESE, THE ELTINGVILLE CLUB and WONDER WOMAN: THE TRUE AMAZON, MAGIC TRIXIE (someone please reprint them!), this is entirely other from what you'd expect of its constituent authors. They've forged something completely different from either of their individual oeuvres, and that deserves the loudest round of applause.
SLH
Buy Beasts Of Burden: Animal Rites s/c and read the Page 45 review here
Peter & Ernesto: A Tale Of Two Sloths h/c (£13-99, FirstSecond) by Graham Annable.
Isn't the sky amazing?
When you look at it properly, really absorb its infinite blue enormity, it's mind-blowing.
Also, clouds: they're so unrealistic. I love them!
So it is with Peter and Ernesto, two BFF sloths who are stuck up a tree. They love to wend their way slowly to the top-most branches and pick out animal cloud-shapes in the sky.
Except they're not "stuck" at all: it's only their lack of adventure and ambition that's kept them so sedentary, and Ernesto has had enough – probably of Peter's singing. I can't say I blame him. Fancy sharing a tree with someone who thinks they're in a musical. *shudders*
"In this tree live you and me!
"We always see what we always see!
"Probably will till we're a hundred and three!
"Nothing ever changes for you and me!"
Those last two lines give Ernesto pause for thought. He glances down, then at Peter, worried about how best to broach his thoughts. He doesn't want to hurt his friend.
"I like this piece of sky, Peter!"
"Me too!"
"And I like this tree we live in."
"Me too, Ernesto!"
"But I must go, Peter."
"W-what?!"
"This is only one piece of the sky, Peter. I want to see ALL of the sky!"
And so off he trots, just like that, leave poor Peter quaking with worry.
And Ernesto doesn't just trot, he races fearlessly across a rope bridge which is all "sh-sh-sh-hhak-e-e-ey" and positively relishes it. Then "Wooo…" he's all "…wobbly!" afterwards, and so tumbles delighted down into the river, SPLOOSH! "Ha! Ha!" Oh, he is having such liberated fun!
"Splish! Splash!
"Splish! Splash!"
Ernesto shakes himself dry.
Does that remind you of your young ones? They're forever shrieking uninhibitedly away in our Market Square's accessible water feature without a care in the world for anything other than the thrilling, physical sensation of splishing and splashing in water. They don't need towels; they'll race themselves dry! Brilliant!
That it's a painfully slow sloth prancing gaily around like a fat-furry Dr Seuss creation is, of course, half the humour. Surely never has such a creakingly creeping creature crossed the ocean, either, to take in the wonders of the desert sky, then the Aurora Borealis!
Eventually Peter's anxiety for Ernesto becomes such that he is determined to find him, distracting himself from his own trepidation with song. Folks, if you're going to be reading this at bedtime to your dearest sproglets, you're going to have to burst into song – quite a lot! I'd probably start practising now. Also, how's your whale song? Watch a documentary like 'Star Trek IV' if it's rusty, because you'll be needing to wail that too.
Everywhere they go, both friends encounter others who are happy to help. Cooperation garners greater results and experience enriches – I think they're the things here. Also, it empowers or, as I always say, it takes a little initial courage to acquire further courage.
There's lots of open white space between thick, fuzzy panel borders and beautiful, complementary colour palettes: first green and blue, then blue, white and blue; purple in the dessert and gorgeous green for the Northern Lights.
Returning to the sky, this time at night, aren't constellations utterly random? Now, they really are unrealistic: Aries is a very badly drawn ram indeed.
SLH
Buy Peter & Ernesto: A Tale Of Two Sloths h/c and read the Page 45 review here
Death Or Glory #1 (£4-25, Image) by Rick Remender & Bengal…
"What did
the doctor say?"
"Won't see us. Owe 'em too much money."
"How the hell do we live in a world where some fuckers at an insurance company get to decide who lives and dies?"
Quite. Action and misadventure abounds in this double-length high-octane opener of a crime caper from Rick THE LAST DAYS OF AMERICAN CRIME Remender and artist Bengal. Plus a bit of relevant social commentary too!
So… Glory Owen needs copious amounts of hard cash fast, like yesterday, to get her adoptive father Red a new liver. Red's lived his life off the grid, free from the system, in fact, not even Glory knows his real name. Just that he looked after her when her mother died and now it is time to repay him in his dying hours of need. Because no paperwork, no social security number and certainly no health insurance means without serious amounts of hard cash to buy a new organ, he's on his way out. Glory's pretty sure Red wouldn't want her to do what she's about to do, but in her eyes, it's time to repay the debt of a lifetime of love he's shown to her.
She's about to rob her ex-husband and big time drug dealer Toby of a briefcase full of his illicit lolly… Well, not him technically, just his couriers, who happen to be the local sheriff and his deputy. She has a plan, kind of, which mainly seems to involve a wing and a prey and a very fast car. It's not going to go well, clearly, which of course it doesn't. Which is pretty much where we finish this first issue: in a state of chaotic flux.
Special mention should also be made of the hitman who has one of the most novel ways of killing people I've seen since Javier Bardem went around knocking on doors and nailing people with his pneumatic captive bolt pistol in No Country For Old Men. This lunatic's weapon of choice is liquid nitrogen…
Fans of car chases are going to enjoy this series, I suspect, if what we've seen so far and forthcoming covers are anything to go by. Set out in what feels like the Midwest somewhere, it all has a touch of the Dukes of Hazard about it so far, though the stakes and consequences are clearly somewhat higher.
Artist Bengal, probably best known for the likes of NAJA / MEKA / LUMINAE for Magnetic Press has a lovely crisp style with a cinematically vibrant colour palette. I've seen him comment online that he thinks he's a considerably better inker than penciller but I think he's being incredibly harsh on himself as it all looks as immaculate and highly polished as a freshly washed, polished and buffed car bonnet.
Remender only ever seems to work with top quality artists who love a clean line: Sean Murphy on TOKYO GHOST, Matteo Scalera on BLACK SCIENCE, Greg Tocchini on LOW, Jerome Opena on FROM SEVEN TO ETERNITY and I think Bengal is right up there with those folks.
JR
Buy Death Or Glory #1 and read the Page 45 review here
Dead Dead Demon's Dededede Destruction vol 1 (£9-99, Viz) by Inio Asano…
"I bet you're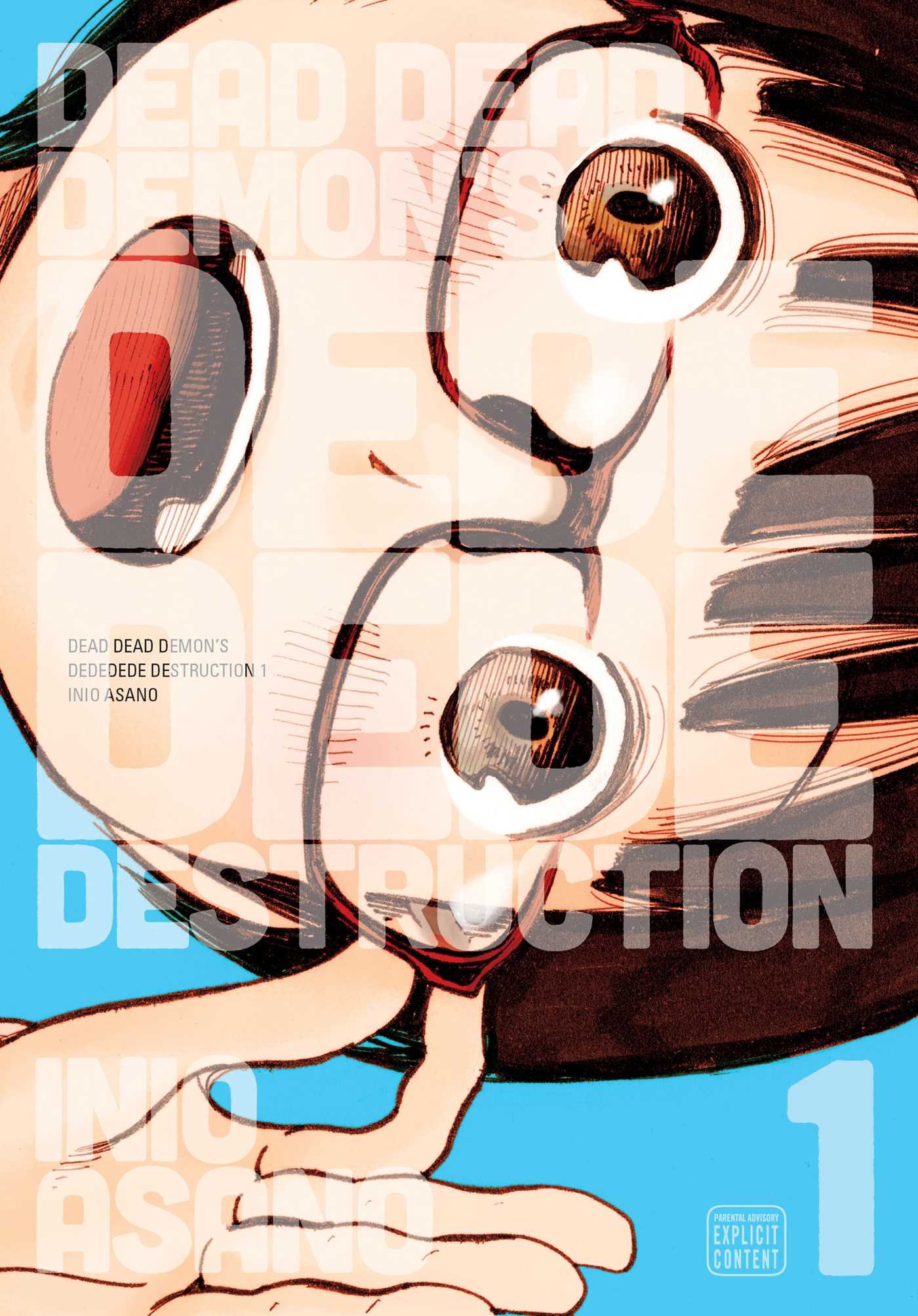 thinking… "What's life all about, anyway?" But it's fruitless to ask such things."
"Yeah. I should just do my homework instead."
Well, I wouldn't go that far. I'd probably read some comics…
So… much like volume one of Inio Asano's everyday mind-scrambler GOODBYE PUNPUN, by the time I closed this opener's front / rear cover (depending on your perspective) I genuinely still had no clue as to what conceivable direction the main story is going in, no matter which way I flipped the pages. I know a fair bit more about our characters, though, with our high school ladies Kadode Koyama and Oran Nakagawa, their cacophonous circle of chums, Kadode's weird Munchausen's-afflicted mother and crush-worthy teacher Mr. Watarase leading the cast.
But as to how and why it all intersects with the gigantic, implacable, immovable alien mothership casting shade over several districts of Tokyo, generally depressing the national mood and the perversely, almost comedic, pathetically easily repulsed mini-flying-saucer invasions dispensed from it on a daily basis, I truly have no idea. I suspect we will eventually find out given part of the typically irreverent Asano asides on the rear cover. Other creators need pull quotes; Asano just treats it as an extra bonus page to mess with us even further:
"The Japan Self-Defence Forces are STILL looking for a way to combat the alien threat, but so far conventional weapons have had no effect. Maybe it's time to try something UNCONVENTIONAL."
But actually being completely in the dark it does not matter in the slightest because, like me, you'll be too busy being entertained and occasionally mildly appalled by the gloriously relentless send up of myriad manga tropes such as schoolgirl panties, Yaoi fanatics, inappropriate teacher-pupil behaviour, blaming the American government for everything (surely a nod to Naoki PLUTO / 20th CENTURY BOYS / MONSTER Urasawa, that last one?) and many, many more besides.
The characters clash and collide, verbally joust and jest, in the most delightfully ridiculous of ways that you almost feel an ensemble musical number could spontaneously burst out at any moment. Knowing Asano, that's not something I would rule out for a future volume, either… But overall it really does feel like Kiyohiko Azuma's classic high school yarn AZUMANGA DIOH has been taken as the starting point and then sprinkled with some classic high-concept, esoteric Asano lunacy. Make that a lot of it.
There is possibly one clue thrown out about what said 'unconventional' methods might be, which I think might have nothing to do with the Japanese Self-Defence Forces and everything to do with Oran, but, again, with Asano, he is the master of faux red herrings. Or just making the reader so deliriously confused they start trying to read something significant into every little thing to attempt to glean some semblance of sense as to what is going on. It's a very clever trick and a truly unconventional storytelling technique that few can pull off. Personally, I've found the best thing to do with Asano is just strap in and enjoy the swirling mental Waltzer ride.
JR
Buy Dead Dead Demon's Dededede Destruction vol 1 and read the Page 45 review here
Under: Scourge Of The Sewer (£14-99, Titan) by Christophe Bec & Stefano Raffaele.
Stefano Raffaele
knows how to do 'cavernous'.
He can draw a mighty sewer complete with credible stone strength and darkness both in the depths of the distance and the viewer's immediate confines as those reckless enough to explore or even set up domestic shop in Megalopolis's sewers approach us. The wisest carry flame throwers or at the very least rifles, for what lurks in its furthest reaches has developed unusual, unsavoury breeding habits and a certain degree of gigantism. And by "a certain degree", I mean they are bloody enormous.
Christophe Bec is no stranger to bloody enormous. Have you read his CARTHAGO? It featured Megalodons in the modern age, and I might have done a little wee.
Now, Megalopolis is a bloody stupid name for a city, not least because it's impossible to pronounce without sounding like Bill and Ben, The Flowerpot Men – either that, or pissed. On the surface – quite literally above ground – it doesn't seem much more mega than any other city, so I suspect it was named after its sewers which are ridiculously vast not in their sprawl but in their stature. I've seen film footage of sewers and most have a diameter twice the height of a human. You could fly the world's largest jumbo jet down these, leaving ample room for another to pass the other way safely. Blackpool Tower could be relocated here without bending its apex like some wonky Christmas tree.
Why did Megalopolis build such formidably sized sewers?
So it could accommodate crocodilian monstrosities larger than a nuclear submarine and spiders the size of Mount Rushmore. They knew they were coming! (They didn't.) The first Mayor had evidently studied evolution thoroughly and calculated that most species of animal took no more than a couple of generations to a) lose all their pigmentation and b) expand in size one thousand-fold. It's basic science, especially when excrement's involved, and this sewer has sure gone to shit.
I did, however, like the logic of our resident scientist Sandra Yeatman's explanation for the queen spider's new egg-laying habits "in a sanitary environment despite the filth and contamination". There is a genuinely repulsive scene in which they discover babies floating in the effluence which are still moving. They've been jettisoned down the toilet by an ethically questionable hospital whose plumbing evidently aspires to the sewer's in size, because you won't get that many babies round the average u-bend. Presuming it's still alive, Dr Sandra Yeatman opts to give it mouth-to-mouth resuscitation, because every doctor knows that you don't just resuscitate the dead (you do).
And it is still alive, after a fashion: it's alive with baby spiders. Brrrrrr….
Now, our resident scientist is a woman so that she can experience overt chauvinism at the hands of the all-male Sewer Police. Every sewage system has its own police force: this is an historical fact. They're led by Lieutenant Wilson Jericho whose career took a decidedly downward trajectory after buggering up a hostage situation in a bank which had modelled itself after a funfair Hall of Mirrors.
It's an unorthodox city, Megalopolis, isn't it? Most of its urban planning seems to have fallen to Bill and Ben, The Flowerpot Men.
Don't worry, though, its Mayor is corrupt (obviously) and he has his own private army led by one Kotzwinkle who, like all self-respecting henchmen is bald (check), burly (check) and is always seen looming from below (check). Plus, although he was born Norman Postlethwaite, his school career advisor saw the signs early on and suggested he try something a little more Germanic.
Once the Mayor is informed that there massive mutations down below he immediately initiates the standard political procedure of a cover up and sends his private army to do what the city already pays the police for and wouldn't you just know that the city's Carnival is imminent?
Now, I don't know about you, but when I was at school in the mid-sixteenth century, our favourite day of the year was the field trip. One year we visited a nuclear reactor, on another we toured a morgue, and the ultimate outing was to an abattoir. So where do you think Megalopolis's educational authority sends its kiddywinks for their annual jolly…?
Yup!
SLH
Buy Under: Scourge Of The Sewer and read the Page 45 review here
Punisher: Welcome Back, Frank s/c (£22-99, Marvel) by Garth Ennis & Steve Dillon.
"I can't
believe you're actually doing this…!"
"You're a monster and I'm killing you. It's not complicated."
The Punisher's reason for living is to eliminate people he doesn't like. Not for Frank, the moral vagaries of two wrongs and a right. He's not here to soliloquise, he's here to blow people's heads off, and time wasted weighing the scales of justice is time that could be far more effectively and satisfying spent with an Uzi, a six-pack of hand-grenades and a mortuary full of Mafiosi.
For the creators of PREACHER, this laugh-out-loud burlesque was one long opportunity for some seriously black comedy as deadpan Frank slaughters his way to the top, both disarming and dismembering an increasingly grotesque crime lord, Ma Gnucci. Yes, it's Ennis's trademark Loss of Limbs Motif.
His first stint on Frank Castle, this is a far cry from what he went on to accomplish in the far more socio-political PUNISHER MAX, but sometimes you have to eat the hamburger to appreciate the steak* and this is the Linda McCartney Vegetarian Mozzarella quarter pounder of burgers for which product placement I'd appreciate a lifetime's supply: very, very tasty.
Anything and everything is a weapon to Frank, so imagine what he can do in a zoo.
As with PREACHER, it's friendship and loyalty which form the heart of the book, coming this time courtesy of the unsuspecting naïfs he's shacked up with in rented accommodation: punk Spacker Dave, the over-excitable man of so many piercings that he's become a human curtain rail…
"Doing the town, huh?" he asks, as Frank leaves their home.
"It's tempting."
… Mr. Bumpo the balloon-shaped pizza addict constantly stuck in his own doorway, and shy young Joan who brings Frank freshly baked cookies as tokens of her timid affection.
Steve Dillon acts his heart out, playing Frank imperturbably straight in the even most ludicrous circumstances, pulling bloated Mr. Bumpo through his own doorway without breaking his stride, constantly emphasising the man's efficiency. Dillon is a master of communicating emotion through expression, so that although anger appears to come easily to artists (on the page!), few do pants-wettingly worried as well as Dillon. And there's plenty to worry the wrong people here.
You're in for twelve full chapters which I concede I haven't read for a couple of decades or so, but Jonathan recalls Frank being less than impressed by three copy-cat vigilantes who want to join forces with him and I once referred to this as "the comicbook equivalent of an Arnie film, but with fewer plot holes and a lot less overacting". Sounds about right.
* Thank you, Marc Almond ('Ugly Head')
SLH
Buy Punisher: Welcome Back, Frank s/c and read the Page 45 review here
From the Page 45 Archives may we proudly present our beardly beloved Mr Mark Simpson who wrote the following – including a personal revelation you will never see coming! – over a decade and a half ago.
The Ballad Of Halo Jones (Colour Edition) vol 1 s/c (£9-99, Rebellion) by Alan Moore & Ian Gibson –
There are
books like this that you've got to leave alone for a few years if you're after the same kiddy rush that you got way back when. Just finished the second book, and I've still got the goosebumps. Does that make it any good? Well, Terry Jack's 'Seasons In The Sun' will do the same for me but that's no real measure of quality either way. It still feels special.
The story for those who've not read it before: far off into the future, Manhattan Island is dominated by the Hoop, a giant floating ring of slum housing for the terminally unemployable. And in this future that's a lot of people. There's dream of escape but there are precious few jobs. This is where we find Halo, an ordinary spod who, almost by accident, becomes something else, something legendary. The first chunk covers life on the Hoop, the almost military planning of a simple shopping expedition, the various forms of entertainment, racial tensions and ways of opting out. By the second book she has a waitress job on a ship heading far off into space. And her experiences change her.
The original tagline went thus:
"Where did she go? OUT! What did she do? EVERYTHING!"
The three books (there were ten planned) show her losing her charm and innocence in a similar way to Evey from V FOR VENDETTA. At the end of each book she moves on to the next situation, one quite removed from the last. Such character development was a marked change in the usual 2000 AD stasis.
Ian Gibson's marvellous clutter and sharp, dark technology were perfect to delineate the shadowy corners of the plot.
It's early Alan Moore; he probably hates it.
MAS
Buy The Ballad Of Halo Jones (Colour Edition) vol 1 s/c and read the Page 45 review here
Arrived, Online & Ready To Buy!
New reviews to follow, but if they're new formats of previous books, reviews may already be up; others will retain their Diamond previews information we receive displayed as 'Publisher Blurb'.
Black Magick vol 2: Awakening II
(£14-99, Image) by Greg Rucka & Nicola Scott
Four Points Book 1: Compass South s/c (£11-99, Square Fish) by Hope Larson & Rebecca Mock
Four Points Book 2: Knife's Edge s/c (£11-99, Square Fish) by Hope Larson & Rebecca Mock
I Am A Hero Omnibus vol 6 (£17-99, Dark Horse) by Kengo Hanazawa
Nobrow 10: Studio Dreams (£18-00, Nobrow) by various
Disquiet (£17-99, Fantagraphics) by Noah Van Sciver
Triangle s/c (£6-99, Walker Books) by Mac Barnet & Jon Klassen
Square h/c (£12-99, Walker Books) by Mac Barnet & Jon Klassen
Sam & Dave Dig A Hole s/c (£6-99, Walker Books) by Mac Barnet & Jon Klassen
Paradiso vol 1: Essential Singularity (£8-99, Image) by Ram V. & Dev Pramanik
Persephone h/c
(£17-99, Archaia / Boom!) by Loic Locatelli-Kournwsky
The Prince And The Dressmaker (£14-99, FirstSecond) by Jen Wang
Young Frances – A Pope Hats Collection h/c (£17-99, AdHouse Books) by Hartley Lin
The Artist Behind Superman – The Joe Schuster Story s/c (£17-99, Super Genius) by Julian Voloj & Thomas Campi
Dark Days: The Road To Metal h/c (£24-99, DC) by Scott Snyder, James Tynion IV, Grant Morrison, Tim Seeley & Andy Kubert, John Romita Jr., Jim Lee, Greg Capullo, Chris Sprouse, Rian Hughes, various
Amazing Spider-Man: Epic Collection vol 3 – Spider-Man No More s/c (£35-99, Marvel) by Stan Lee & John Romita Sr. With Larry Lieber, Don Heck, Marie Severin
Moon Knight vol 1: Crazy Runs In The Family s/c (£15-99, Marvel) by Max Bemis & Jacen Burrows
The Sentry s/c (£20-99, Marvel) by Paul Jenkins & Jae Lee
Cutie Honey A Go Go! (£10-99, Seven Seas) by Shimpei Itoh & Hideaki Anno
Mobile Suit Gundam Wing vol 6 (£11-99, Vertical) by Katsuyuki Sumizawa & Tomofumi Ogasawara
One Piece vol 86 (£6-99, Viz) by Eiichiro Oda