Featuring Jamie Smart, Manuele Fior, Luke Healy, Alan Moore, Kevin O'Neill, Marcus Sedgwick, Thomas Taylor, Greg Rucka, Matthew Southwark, Tom King, Clay Mann, Mark Millar, Greg Capullo, Dan Slott, more.
The Interview h/c (£21-99, Fantagraphics) by Manuele Fior…
"So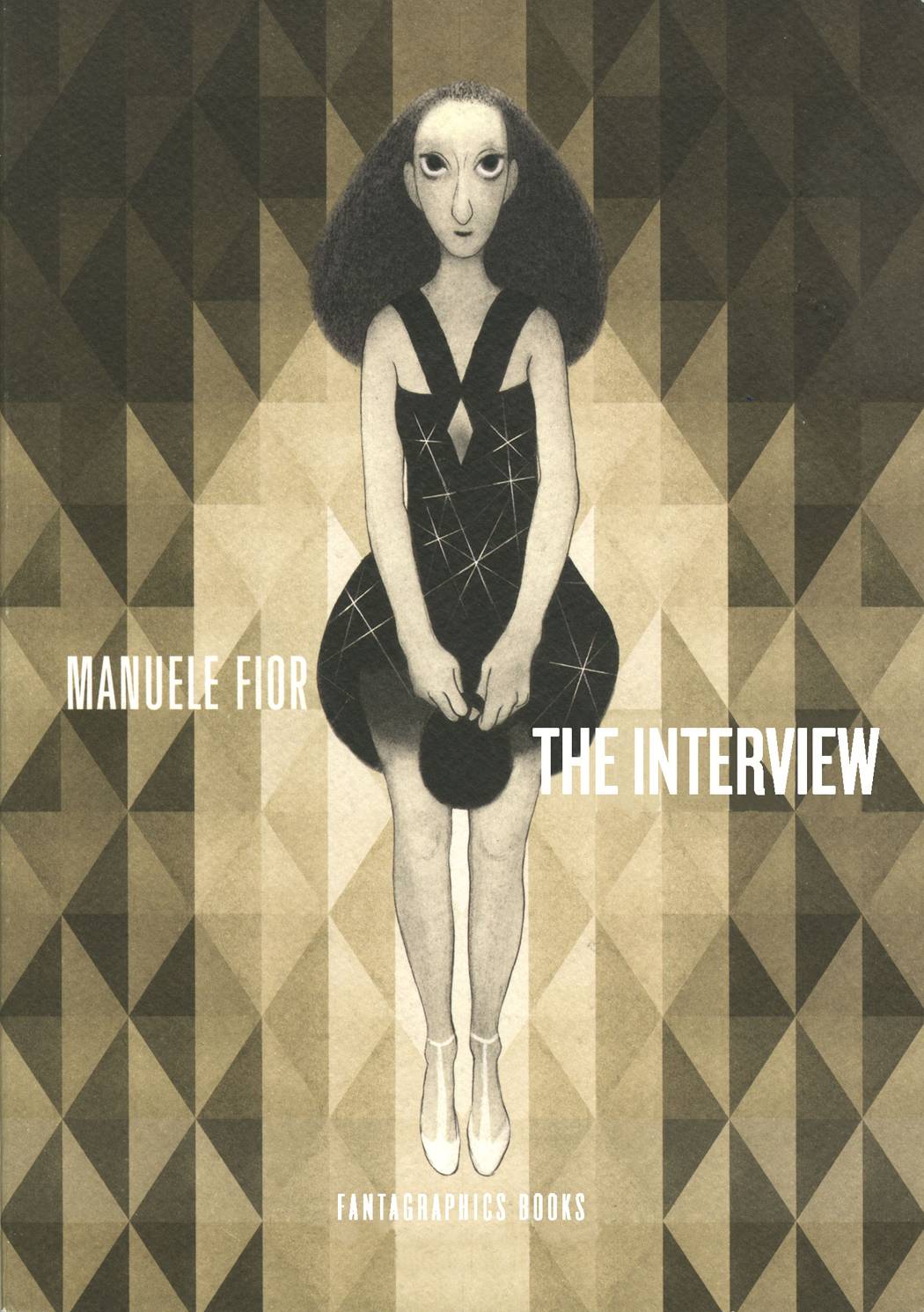 there must be something else, right? I mean another reason why you're here. Something you see sometimes. Something unusual."
"Do you believe in the existence of extra-terrestrial civilisations?"
"Off the top I'm not sure."
"What if I told you that I was in contact with them?"
"Hm."
"You don't believe me."
"Since you say so, I'm obliged at least to take it into consideration."
"How are you in contact with them?"
"Telepathy. I think they choose to instruct me."
"And why would they choose you?"
"Because I can see the signals. Not everybody is able to."
"When was your last 'contact'?"
"Last night. It was unbelievable. Do you understand what I am saying?"
Raniero does understand indeed. As a psychologist at the hospital where Dora is being 'treated' at her parents' behest, primarily because they are disgusted / concerned about her membership of a cult called the New Convention, which is rapidly rising in popularity amongst the youth championing emotional and sexual non-exclusivity, polyamory, he might be inclined to think her somewhat unhinged. But after his late-night car crash and subsequent strange experience in a field involving an inexplicable triangular light show, well, let's just say his mind is somewhat suddenly open to the possibility that Dora could be telling the whole truth and nothing but the truth.
Ahhh… we all adore Fior, the creator of former Page 45 Comicbook Of The Month 5000KM PER SECOND and recent collection of shorts BLACKBIRD DAYS. This full-length work, was actually published about a year ago, but we just didn't get round to reviewing it at the time. Set in 2048, it tells the unlikely proto-romance of Raniero and Dora who are drawn together during a period of intense uncertainty in both their lives. As Raniero's beloved wife prepares to leave him, primarily for his stubborn, steadfast refusal to move from the tranquil countryside to the bustling city, it seems, the chaos that the arrival of Dora, and the lights, brings into his life precipitates an unexpected transformation of his world. And indeed the world…
With a strong cast of additional characters such as Raniero's wife Nadia, consultant friend and philanderer Walter, local farmer and fixer Franco and Dora's odd friend from the New Convention Rossella, I found this work utterly brilliant in every respect. It strongly minded me of the prose work 'Atomised' by Michel Houellebecq, for its themes, general tone and its quirky characters. I was absolutely captivated from start to finish, and much like 'Atomised', I didn't see the ending, or endings, for the characters coming at all.
Art-wise, the chameleonic genius is at it again. I commented in my review of BLACKBIRD DAYS about his impressive ability to employ a myriad art styles masterfully. Well, here he is once more with yet another different approach, a black and white treatment that manages to combine ligne claire line work and smudgy black charcoal shading. It gives the most seductive art house cinema feel to it all, and indeed the depiction of Raniero's wife makes me think of the delightful Italian actress Monica Bellucci.
I think the cover alone manages to sum up practically every aspect of what you are about to experience on the pages within, which is no mean feat in itself. The image of Dora, both simultaneously vulnerable and alluring, looking directly out at the reader, standing in a posture that indicates she is yearning for acceptance yet possessing a deep wisdom, with her sparkling dress and the disorientatingly kaleidoscopically triangular background, is a masterpiece in and of itself.
Another contender for my favourite book I've read this year!
JR
Buy The Interview h/c and read the Page 45 review here
Looshkin (£8-99, David Fickling Books) by Jamie Smart.
"IT'S
COMING OUT OF MY BUM!!"
Irrepressible blue cat Looshkin has just scoffed a big wedge of King Mouse's most prized possession, Firecracker Cheese, offered in truce with humble sincerity and a great big rocket with a fizzing fuse stuffed inside. Now he's achieved lift-off, blasting round the mice's tunnels behind the family skirting board. There are a couple of pink-and-purple lightning bolts emanating from Looshkin's noggin suggesting some degree of alarm but – really? – he's relishing it!
The role of any decent pull quote is to evoke the distilled essence of what lies within. Sometimes it's possible to peel back the complex layers of a carefully crafted collection of comics and also strike at its sophisticated thematic core. So let's hear that again.
"IT'S COMING OUT OF MY BUM!!"
Mission accomplished.
Jamie Smart – the creator of FISH HEAD STEVE and four BUNNY VS MONKEY books whose full-colour bombast you can revel in alongside the other all-ages excellence in Page 45' PHOENIX COMICS collection section – knows exactly what makes kids gurgle with over-excitable, uncontainable, mad-screaming glee and that's this: fart jokes, toilet references, appalling misbehaviour, unbridled chaos and the most massive collateral damage while raging round a home shouting stupid strings of silly-sounding syllables!
Here's Looshkin terrorising all and sundry with a frying pan and a few choice words:
"FOOT FUDGE!
"WOBBLY BOBBLY!
"FISH FINGERS!
"OFFICER DIBBLES! SERGEANT PLOP-PLOPS!
"MONKEY SOCKS!
"MONKEY…
"SOCKS!"
Knock-out, smack-down CLANG!
The timing – both verbal and visual – is neither random nor irrelevant to the comedy. It may be instinctive to Smart, but a simple string of words isn't enough for the anarchy to hit home with maximum skillet-smacking impact. In the last two panels there, Looshkin launches himself back over the arch of a green settee to position himself behind a beleaguered Bear whose default setting throughout these 64 pages is wailing, wide-mouthed terror.
On the subject of timing, the immediate family find themselves on the receiving end of a visit / inspection from perpetually scowling Great Auntie Frank (who could have stropped her way from a Giles cartoon) and all the fun of the riotous fare to follow is laid out with exceptional economy in the three-panel pre-credits prologue:
"Ah, Great (rich) Auntie Frank! I'm so glad you could come around for a morning coffee!"
"Hmph! I HEAR you have recently purchased a CAT."
"Well…"
"Well, nothing. You keep it away from us. My prize-winning poodle PRINCESS TRIXIBELL has a very delicate constitution. The slightest fright, and her fur begins to fall out."
"Uh. Oh…" murmurs Mum in a tiny inset panel to herself. Uh-oh indeed.
Prize-winning, pampered poodle Princess Trixibell is presented to the readers on a gold-tasselled burgundy velvet cushion, a shivering and shaking big bag of nerves. Even though nothing has happened yet, it is almost impossible not to start laughing immediately at the oh-so inevitable which Jamie is, of course, smart enough to leave well alone for three more pages because a) anticipation is everything b) instead of dropping a single water balloon on a UKIP member's head, it is much, much funnier to build up a supply of two dozen water balloons, fill them to bursting point (preferably from a toilet), then carry them five storeys further up before launching the entire barrage down at once.
And that is precisely what Jamie does, upstairs, where the kids and cat have supposedly been locked up safely. My analogy wasn't random, either: it will involve water – toilet water, obviously – and squirrels.
"THEY'RE EATING MY FACE!"
Key to all this is Looshkin's insatiable appetite for everything: he cannot help himself and will not be stopped. In his determination to catch a bumblebee in a jam jar to steer it safely out of the window, he fails to notice his own success when the bee buzzes out of the window of its own accord, so he carries on pursuing it right up onto the rooftop because he hasn't caught it yet!
Utterly oblivious and determinedly in denial, Looshkin doesn't just refuse to take responsibility for his actions and their consequences, he refuses to acknowledge that his actions have any consequences that can't be considered tip-top results! There's a terrific running gag involving "Dial-A-Pig" (it's… a service) because cats clearly have access to mobile phones, but for once Looshkin opts for something a little more esoteric:
"Ding Dong! Delivery! Here's that baby shark you ordered."
He's holding it, out of water, in his bare hands.
"Looshkin, did you order a SHARK?"
"It's NOT a shark! It's an OTTER!"
Is it that Looshkin believes he can change the truth by sheer force of will?
"You'd better not be running through my house with a shark!"
"Nope! Otter!"
"Well, okay then."
Or is that he simply doesn't know the difference?
Here's the son:
"Whatever you think it is, what on earth are you planning to do with it?"
"All the things that otters are known to love doing!"
The genius of what follows is that neither a shark nor an otter are known to love dodgems, thick, creamy milkshakes or dressing up like Santa Claus half as much as Looshkin does. He looks particular fine in full Father Christmas ensemble and a winter-white beard.
"But it's July!"
"Hey! You can't argue with nature!"
Haha! So clever! Here's the daughter:
"Did Looshkin get a SHARK?"
"OTT-TTER. You're all going to give him identity issues."
Looshkin is the ultimate child running wild, craving action, attention, adventure, brand-new experiences (preferably dangerous), unorthodox experiments ("We can do a science!") and, above all, delicious, brightly coloured, sugar-coated cereal. What the family craves is peace and quiet; failing that, they'd quite like to comprehend their new cat so they call for an expert, Professor Lionel F. Frumples who has written himself a résumé.
"Cats! What are cats?
"Cats are cats.
"Zat is right, I'm an expert at cats.
"I am brilliant at cats. BRILLIANT at zem.
"I understand everything about cats. If you told me you were a cat, I'd INSTANTLY know you were lying. I don't recognise your scent. Get out of my office."
Unfortunately Looshkin has mistaken Professor Frumples for Cap'n Fruitcakes ("inside Looshkin's brain…" is a frequent refrain here, translating what is into what Looshkin deliriously perceives) whose treasure chest contains delicious, brightly coloured, sugar-coated cereal. To get to the heart of the cat's psychology, Professor Frumples is determined to discover what Looshkin really wants. What Looshkin really wants is delicious, brightly coloured, sugar-coated cereal. Mum:
"This is a bad idea. Looshkin doesn't handle sugar very well at all!"
"SILENCE! Who is more likely to know about your cat? You, with your cat? Or me, with my beard?"
He holds up one finger with authority.
"It is ME."
Smart blasts every panel on every page with energy, exuberance, excitable lettering (emphatically hand-drawn, and old-school in its sound effects and titles, the sort which any child could copy), delicious colouring which sorely tempts you to lick it, and Looshkin's big, blue head with its pointy ears, cat-narrow eye-slits and that gleefully gaping, manic maw. Irrepressible, as I say, he will not stop even after disaster has struck and then struck again. The strip may come to a close, but Looshkin won't have that, each catastrophe seen by him as the most thrilling theme-park ride:
"AGAIN! AGAIN!"
I liked the extra anti-deflation device at THE ENNNNDDD.
SLH
Buy Looshkin and read the Page 45 review here
Permanent Press (£10-99, Avery Hill) by Luke Healy…
"Look,
can I be frank here?"
"S-sure. Of c-course."
"I'm just worried that…
"I'm just worried the audience won't know how to react.
"After sitting, watching this thing for hours.
"To have it end just like that?
"I'm worried they might feel ripped off."
Haha!! There's a delicious irony at play there, which I will leave you to discover for yourselves… The quote itself is taken from the exceptionally clever extended story, The Unofficial Cuckoo's Nest Study Companion, which forms the main part of this collection. It's actually one of the most deftly nested set of stories within a story I've read for some time, starting with stage notes explaining how we are about to play the role of the Reader. Which apparently can "often attract positive attention from cute boys wearing glasses, sitting across from them on the train, and you can only hope for similarly positive reviews".
It revolves around our lead of Robin Huang, a stage director whose meteoric rise to superstardom and West End luvviehood was abruptly halted by an ill-received reworking of 'Macbeth' focusing almost entirely on Lady Macbeth. She's been tapped by a rather laissez-faire BBC producer called Benjamin to adapt the equally ill-received titular novel by A.B. Cadbury. Thrown in for good measure is Robin's mildly delinquent teenage daughter Natalie, whose primary focus seems to be winding up her teacher Mr. King whilst studying said book, which presumably explains the wider title itself.
The Cuckoo's Nest novel has suddenly made it onto Natalie's school syllabus due to A.B. Cadbury receiving the annual BBC Fine Fellowship, which in addition to a small stipend means for the period of a year the corporation will focus on promoting the winner's works in a myriad of ways. Hence the commissioning of the stage play. Oh, and did I mention it is going to be broadcast live on BBC4 and Benjamin wants opening night to be in a mere six weeks time…? Which is not taken well by Wally the set designer, a man obsessed with perfection, and so who is therefore insisting on hand making it all himself. Good job he's not planning on building a full sized house with various moving and revolving elements… Ah.
As a study in what is, I am sure, a veritable pressure-cooker environment, directing a play, the additional farcical elements Luke squeezes into this situational comedy are absolute gold. (I should add, by the way, that upon finishing this it has made me really want to watch Christopher Guest's 'Waiting For Guffman' again soon.) As Robin begins to feel the pressure rising ever further, convinced everyone is going to hate her adaptation, presuming by some miracle she somehow manages to get it ready by opening night, the last things she needs are her daughter managing to get suspended by pushing poor Mr. King just a wee bit too far this time, and Wally managing to mangle yet another potential leading man with his hazardous over-elaborate set.
When the various story elements begin to overlap and intertwine you will be wondering what on earth is going to happen next. There was one twist I certainly didn't see coming, which produces a hilarious life-imitating-art moment referencing events in the novel. It's not the only one either… As I say, very clever.
Fleshing this collection out exquisitely are some of Luke's auto-biographical woes on the emotional trials and tribulations of being a comics creator and his father's repeated attempts to persuade him that becoming an accountant and joining the family firm would be a considerably better career option. Interspersed with those mildly excruciating excerpts are a series of fictional strips about two prickly neighbours, and only moderately social misfits, Amir and Mo, who are like ships that pass in the night in their apartment block, barely aware of each other's existence, their primary interaction being Amir banging on the ceiling to stop Mo playing his trumpet. Except for the time they get stuck in the lift together, which despite finally giving them the time to get to know each other, only serves to eventually end up driving even more of a wedge between them.
It's like some people just don't know how to be happy! Luke does. Though he apparently isn't, judging by his black shadow of doom following him around, but he's convinced being nominated for another comics awards would help! The Unofficial Cuckoo's Nest Study Companion was very deservedly up for an Ignatz.
Art-wise, this is an equally wonderfully constructed affair, with a rolling mixture of sequences of small panels, excerpts of text á la TAMARA DREWE, borderless panels and various other cheeky conceits such as having the occasional conversation displayed typed-out as if in a script using a classic old-school typewriter font. Plus even the odd photo crafted in for good measure, which actually works perfectly both times it is used as a conceit.
In fact, I suspect the first instance, which is very amusing in its own right, is purely to set up and prepare the reader for the later, much more spectacular use which provokes an entirely appropriate response from Robin that tickled me greatly. The art itself due to the neat and minimal thin line work minded me a little bit of early Chester Brown with a bit less inking and shading. I love to see such apparently simple yet intricately detailed work. Whilst I can't promise an eventual West End stage adaptation of this for Luke, I think I certainly can guarantee him considerable sales off the shelves of the Page 45 retail theatre.
JR
Buy Permanent Press and read the Page 45 review here
League Of Extraordinary Gentlemen: Black Dossier s/c (£16-99, Vertigo) by Alan Moore & Kevin O'Neill.
1958,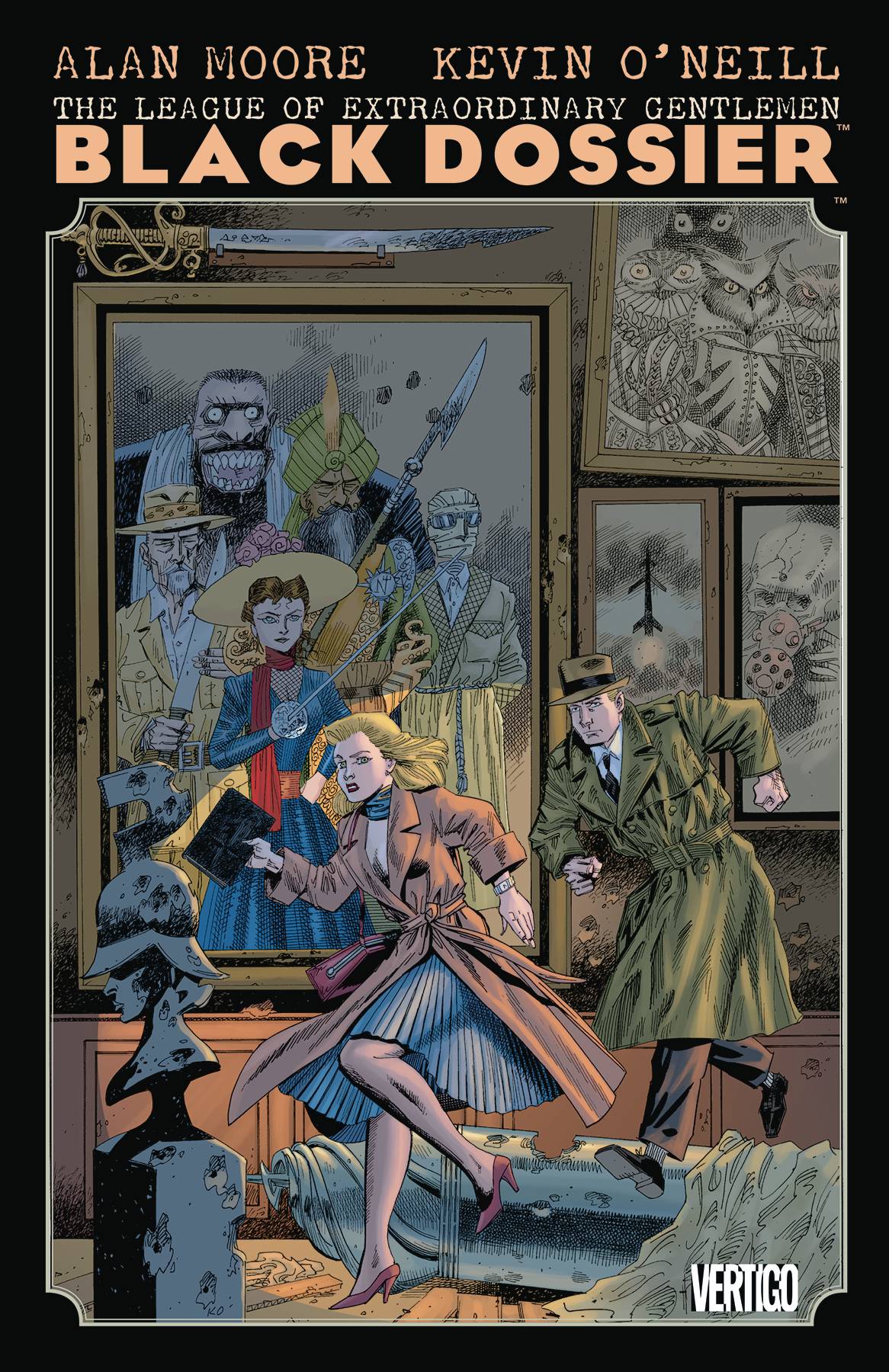 and Britain has only just rid itself of Big Brother (booting it back to the Netherlands after 43 increasingly excruciating series).
Mina Murray and Allan Quartermain have severed their ties with MI5 and are currently considered rogue agents. Now they are back, sent to steal the Black Dossier secretly stashed in MI5's Military Intelligence Vauxhall HQ. The Black Dossier, compiled from intelligence records and fragments of fiction, contains every known record of The League of Extraordinary Gentlemen's various incarnations and its constituent members across the centuries.
Disguised as actress Oodles O'Quim, Miss Murray plays on the vanity of a womanising Secret Service agent licensed to thrill, who can't keeps his hands off her. Snatch it they do, and from that moment on it's one long chase up the Thirty-Nine Steps to Greyfriars, the boarded-up boarding school cared for by one William Bunter, then onto Birmingham's spaceport where Roger The Robot awaits. Unfortunately so do the agents dispatched by the mysterious M. Will you recognise them before they recognise Mina? And what national secrets can the Dossier possibly contain that MI5 is so desperate for it back?
As you've probably inferred, like all the other LEAGUE OF EXTRAORDINARY GENTLEMEN books, everything here is a cut-and-paste collage of previously published fiction, and half the fun is spotting the references. No one other than Alan can be expected to get them all, but merely catching a nod to one of your favourite books like Evelyn Waugh's Vile Bodies is quite the fuzzy thrill. What is utterly mind-boggling is not only Uncle Alan's breadth and depth of cultural knowledge, but the ingenuity with which he's reweaved his unpicked threads into a brand new tapestry which holds so well together. Also, Moore's ability as a literary chameleon and mimic.
For within THE BLACK DOSSIER lies The Black Dossier containing, amongst many gems, part of a previously undiscovered piece of Shakespearian bawdiness called 'Faerie's Fortunes Founded' starring Masters Shytte and Pysse; 'What Ho, Gods Of The Abyss' by Bertie Wooster; the erotic 'New Adventures of Fanny Hill'; and 'A Prospectus Of London (1901)' from which this description of Freemasons Hall, Vauxhall made me laugh:
"While architecturally an acquired taste, this riverside landmark is an undoubted benefit to the community, as the worthy fraternity within are believed to occupy themselves mainly with organising charitable jumble-sales and similar altruistic activities."
Naturally Orlando is as ubiquitous as he always claimed!
Also included is a set of 3-D glasses for when Alan and Mina reach Ye Blazing Worlde with its extra dimension, and at this point we really do doff our battered top hats to artist Kevin O'Neill whose art on this series has always been riddled with detail worthy of what must be the most gargantuan scripts imaginable. The 3-D sequences, however, with the like of the Effervator (an effervescent elevator travelled on via bubbles) is a triumph on another level entirely.
Finally, big love to Knockabout who finally published this in the UK after DC's Paul Levitz banned it from our shores to spite Alan Moore, thereby rewarding all DC's loyal readers – and their loved ones buying presents – with petulant contempt, and depriving Page 45 alone of thousands of pounds worth of Christmas revenue. Oh yes. The book gets pretty pugnacious too:
"What's that he's wrestling with?
"I – I think it's poetry. They must be rehearsing for later. Ooh, look at that! It dazzled him with imagery, then beat him over the head with a blunt metaphor!"
Hmmm… looks like we can now access the DC edition. Here it is!
SLH
Buy League Of Extraordinary Gentlemen: Black Dossier s/c and read the Page 45 review here
Scarlett Hart – Monster Hunter (£13-99, FirstSecond) by Marcus Sedgwick & Thomas Taylor…
"Anyway,
I've got a plan. It's very simple. We wait until the monster appears, I throw the bomb, it blows up, you take the photos. Then we put our feet up.
"Leaping lizards!"
"The monster, miss?"
"No! Look! The Count! Come to steal our monster, no doubt!"
Ah, very quickly we are left in no doubt as to whom the real bad guy is! It's not any of the myriad monsters that fourteen-year-old orphan Scarlett Hart and her trusted butler Napoleon are attempting to bag for bounty to keep hold of the family pile Ravenwood Hall. No, it's the dastardly Count Stankovic, who once salaciously sought the hand of Scarlett's mother in her days as a debutante only to be quite rightly slighted, and then publically embarrassed by Scarlett's father just for good measure. He's never forgotten it, and since the passing of Scarlett's parents some four years ago in a monster-hunting-related incident, he's gunning for revenge against their offspring by bankrupting Scarlett and forcing her to sell the family estate for peanuts. What a cad!
Fortunately, she's more than capable of looking after herself. Throw in the wily Napoleon and his wife, the redoubtable Mrs White, taking care of matters back at the mansion, including the necessary mechanical upkeep of their monster hunting equipment, and she's more than a match for stinky old Count Stankovic. She's still going to have to worry about the monsters, though, and there are rather a lot of them all of a sudden. I wonder if the Count might have something to do with that…?
Acclaimed children's author Marcus Segdwick turns his hand to writing comics for the first time and it's a pretty good debut, actually. I thought the characters were well rounded and the overall story entertaining enough. This isn't anything remotely different or new, indeed I can think of a certain other red-haired young lady monster hunter who really needs to make another appearance soon (hint hint, Mr. Ellerby), but for a first foray into comics I can't really fault it. This is billed as being for the 'middle grade' audience, which is apparently for those age 8 to 12 and I would say that is spot on.
I wasn't familiar with artist Thomas Taylor, either, who apparently illustrated the original prose edition of Harry Potter and the Philosopher's Stone, but he's pretty good too, minding me of Joan THE RABBI'S CAT Sfar with the pointy chins and large eyes, and indeed perhaps a dash of David THE ENCHANTED CHEST Sala with some of the thin, almost spindly figures and random swooshing curves.
JR
Buy Scarlett Hart – Monster Hunter and read the Page 45 review here
Stumptown vol 2 s/c (£17-99, Oni) by Greg Rucka & Matthew Southwark…
"One-ten."

"What does that mean!?!?"
"It's the seconds you have left before every cop in southeast Portland is crawling up your ass in response to this little home invasion of yours. Average response time in this part of town is about three minutes. Which means you got about half that time left to vanish."
"Brad! We gotta…"
"SHUT UP!
"You… you're full of shit."
"Time the time to stab me and you'll to find out."
"Braaaaaaad…"
"Get to the truck… deal with them later… especially you, bitch."
"Uh-oh! Hear that? That sounds like sirens! Bye bye.
"Skinheads. What're you gonna do?"
Volume two of STUMPTOWN wasn't what I was expecting at all, either in terms of the story or the art, but I enjoyed it immensely nonetheless. I guess I expected the story to focus much more directly on Dex and her continuing personal and professional travails, particularly with the crooked casino owner / crime boss from first time around, who I presumed was being set up as some sort of arch-nemesis. But this, to start with at least, is much of a straight gumshoe case, revolving about a professional musician and her stolen guitar… until the skinheads turn up looking for their stolen methamphetamine.
I wasn't remotely disappointed, but something I absolutely loved about STUMPTOWN VOL 1 was its real emotional heart, and this was just different in tone and indeed colour palette. Still, once I'd made the mental shift I got into the story itself, and one thing that was exactly the same this time around, Dex's ability to irritate just about everyone she meets from skinhead thug to DEA detective, is just a pleasure to behold. And that crooked casino boss, well maybe she's not quite so absent from this story as I first presumed and Mr. Rucka is just playing the long game. I hope so!
Also STUMPTOWN fans who are not aware, please note, it shares the same continuity as the Rucka prose novel 'Fistful of Rain' and also his seven 'Atticus Kodiak' prose novels, as apparently several secondary characters crop up in both. For anyone who hasn't read any Rucka prose, I can highly recommend it, including his 'Queen & Country' books, which intertwine with the QUEEN & COUNTRY graphic novels.
JR
Buy Stumptown vol 2 s/c and read the Page 45 review here
DC Nation #0 (25p, DC) by Tom King & Clay Mann; Brian Michael Bendis & Jose Luis Garcia Lopez; Scott Snyder, James Tynion IV, Joshua Williamson & Jorge Jimenez.
Attention!
This is a superhero readers' alert, not a review. But still, attention!
1) 25 pence!
2) 3 stories leading into DC's next big events which will not be reprinted until their respective collected editions i.e.
3) These are prologues, not previews.
"First, find out how The Joker reacts when he discovers Catwoman has turned her back on crime and plans to marry his archnemesis. Can the Clown Prince of Crime stand to see Batman happy? Writer Tom King and artist Clay Mann set up the events that lead to BATMAN #48, BATMAN #49, BATMAN #50!"
It's genuinely funny, and this is the same team who brought you that which in last week's Page 45 Reviews blog I declared the best Batman book of all time.
"Then, DARK NIGHTS: METAL shook the DC Universe to its deepest foundations – now it's time to rejoin legendary writer Scott Snyder, along with all-star artist Jorge Jimenez and co-writers James Tynion IV and Joshua Williamson, for the prelude to JUSTICE LEAGUE: NO JUSTICE #1 of 4! Discover what universe-shattering mysteries have emerged from the most wondrous and chaotic corners of the cosmos to hunt the Justice League in DC's summer blockbuster event!"
Four themed teams take on the most massive, planet-devouring entities in the hope that they'll never reach Earth. They reach Earth. Ooops, spoilers! Attention once more: this is a weekly comic beginning this very week! Gasp!
"And get your first glimpse at Superman's new world in this exclusive preview of the upcoming six-issue miniseries MAN OF STEEL, written by Brian Michael Bendis with art by José Luis García-López. With Truth, Justice and the American Way all under attack, both Superman and Clark Kent find there's never been a more important time to stand up for what they believe in."
That too will be a weekly comic. Stop it with the weekly comics, corporations! You're only doing it so retailers can't reduce their orders for subsequent issues if the first one turns out to be a big ball of cretin.
There was also a prologue to that in ACTION COMICS #1,000, back in stock.
SLH
Buy DC Nation #0 and read the Page 45 review here
Reborn s/c (£14-99, Image) by Mark Millar & Greg Capullo.
"Don't you
believe in anything, Mrs. Black?"
"No, Danita. It's all just fairy tales. I don't think God would allow us all this suffering and tragedy we endure.
"I only believe what I can see with my eyes, Family and friends. Grandchildren and schoolchildren. Anything promised beyond all this was just made up to get us through the night.
"Do you really think any of us really make a difference?"
"Of course I do, Ma'am. Our lives are a constant series of random interactions, each changing things a million times a day.
"The longer we're here, the more we have an impact. The world would be a different place, if it hadn't been for you."
"You know, that might just be the sweetest thing I've ever heard."
Elderly Bonnie Black doesn't want to die. She's lived a good life, outliving her beloved husband Harry by fourteen years, who was killed by the infamous Minneapolis sniper along with a number of others, but still has a loving daughter and grown up granddaughter whom she adores. Bonnie's just not ready to leave this world behind, particularly with no great faith in there being anything whatsoever afterwards. She's going to die, obviously, very shortly, of a stroke. So it would be fair to say she's not expecting what happens next: waking up in her twenty-year-old body in a fantasy land locked in a perpetual war between good and evil, being anointed the saviour of the free folk.
Which, when you put it like that, sounds a rather trite premise, I will grant you, but it's the (re-) appearance of family like her father, high school friends (and enemies), and even her old cat and dog, which take this story in a stranger, altogether more interesting direction. Some, like Bonnie, are in their own youthful forms, whereas others have become more… representative… versions of themselves.
What is certain, though, is that much like in the real world, or at least the pre-death world, there are those who are intent on ruining it for everyone else through the usual megalomaniacal desires for total domination. Remember that pesky Minneapolis sniper? Well, he committed suicide at the end of his killing spree… Plus, if everyone else Bonnie knew is present in this new realm, for whatever strange reason, just where is her hubby Harry? I feel an epic quest coming on…
Speaking of epic, this is storming art from Greg Capullo who really throws absolutely everything at this. The battle sequences particularly are a visual feast of the utterly fantastical. As with a number of Millarworld works, this is merely billed as book one, but it feels complete to me. Still, given your chum Mark has just sold Millarworld to Netflix for a probably not unsubstantial sum, I suspect he'll be rapidly revisiting more than a few of his properties for another volume or two…
I would quite like it if he started writing more comics with a view to them being adapted for longer form series actually, rather than to be adapted for films, as I sometimes feel the stories are getting wrapped up before they've barely got started e.g. CHRONONAUTS and MPH. I just want something with a bit more meat like the JUPITER'S LEGACY and JUPITER'S CIRCLE series, which are really great, and going a little bit further back, WANTED, which despite being self-contained had so much to it in terms of plot and character development.
It's a lower risk approach, I get that, and it has produced some really great standalone stories like SUPERIOR, SECRET SERVICE and STARLIGHT, so I probably shouldn't complain. Overall Millar's quality hit rate is pretty damn good. Plus you can't fault his commitment to single-handedly enrich the cream of comics artists! I always love hearing who he is going to work with next.
JR
Buy Reborn s/c and read the Page 45 review here
The Superior Spider-Man: The Complete Collection vol 1 s/c (£35-99, Marvel) by Dan Slott, Christos Gage, J.M. DeMatteis, Jen Van Meter & Richard Elson, Humberto Ramos, Giuseppe Camuncoli, Stephanie, Buscema, Ryan Stegman,
The
first thing you should know is that this wasn't a sideshow spin-off.
This was the main Spider-title replacing AMAZING SPIDER-MAN for approximately three years. The first of two hefty volumes, this repackages AMAZING SPIDER-MAN #698-700 and SUPERIOR SPIDER-MAN #1-16 previously collected as 'Dying Wish', 'My Own Worst Enemy' (a very clever title under the circumstances, and you shall see), 'Troubled Min' and 'No Escape'.
Amazing Spider-Man: Dying Wish
Oooooh, the final few issues of AMAZING SPIDER-MAN* leading up and including #700!
What's left of mop-topped minger Doc Ock has been knocking on death's door for quite a few years. Now it looks like it's about to open up and swallow him whole, tentacles and all. Yes, Doctor Octopus has mere hours to live, but is determined to have the last laugh over the quipping, thwipping pain in the arse who's been beating his backside for over five decades.
And that's when he discovers Spider-Man is Peter Parker, nephew of that sweet old woman whom he once had the hots for, and to whom he was briefly engaged. Doc Ock and Aunt May made it as far as the altar, I kid you not! Boy, this new knowledge has sure got to rankle!
Ah, but the man has a plan, and it is a cunning one. He's going to swap minds with Spider-Man and leave Peter Parker in his old, ravaged shell to face the funereal music instead.
All sorts of ironies abound in this final tussle, and although I was emotionally ejected from the proceedings by Ramos' plinky plonky artwork, the surprise ending was certainly very different from what anyone could have expected, and set the stage a very new, very different SUPERIOR SPIDER-MAN.
*The final few issues, that is, until Marvel inevitably relaunches with a fresh AMAZING SPIDER-MAN #1 next year, before reinstating the old issue numbers as soon as they approach 750. You mark my words.
[Editor's note: I was three years out, but that prediction otherwise proved 100% accurate. There was indeed another AMAZING SPIDER-MAN #1 before Marvel reinstated its old issue numbers. As I type this, AMAZING SPIDER-MAN is about to celebrate its 800th issue next week. Then, of course, there will be yet another #1 because Marvel – currently a desperate, clueless, headless chicken – simply cannot help itself.]
Superior Spider-Man: My Own Worst Enemy
"Ahhh! I can't take this anymore! It's – It's crazy-town banana-pants!"
In 'Dying Wish' Doctor Octopus side-stepped certain death by swapping minds with Peter Parker as his own sorry, saggy old carcass expired. Now he inhabits Peter's youthful body and pretty face whilst inheriting his memories, his relatives and acquaintances, including a very confused Mary Jane Watson.
Unexpectedly, this fusion has catalysed a reformation of sorts, for Otto Octavius is now determined to fight crime as Spider-Man but with his own, warped set of priorities and a new, more methodical approach which somehow eluded our Peter.
Doctor Octavius has a very different modus operandi
And this is the delight: some of Otto's innovations are genuinely clever and infinitely more practical; some of his quick thinking has already paid dividends which poor Peter never saw; some of his strategies risk ruining Spider-Man's reputation for good; because some of his costume modifications are dangerously diabolical.
Meanwhile, some of the much older man's moves on Peter's young loved ones are positively icky. And all Peter Parker can do is float there in some sort of astral plane and watch…
Oh, he is far from gone, I can assure you! There is enormous comedy potential to be had here and Dan Slott has seized it, revelling in the dramatic irony that is everyone's ignorance except Carlie Cooper's.
Moreover, the longer this goes on, the more it makes sense that it was Dr. Octopus who finally seized control of Peter Parker's life, for they share so much in scientific background and acumen. Otto can take full advantage of Peter's position at Horizon Labs, he's just far less likely to share. He can be convincingly savvy in all of these spheres and, in addition, his arrogance comes across to those not in the know merely as renewed self-confidence: the diffident ditherer is gone, and some women find that attractive.
Pretty much impressed by the art as well which comes across as Eric Larsen inked by Howard Chaykin on Ryan Stegman's part, then with Giuseppe Camuncoli it becomes something more akin to mid-John Romita Jr inked by Eric Larsen.
Above all, this is far from assembly-line fisticuffs. It is very well thought-through. The condition which could so easily have been treated as a mere gimmick has instead been thoroughly seized by the horns and ridden as a rodeo, and an opportunity to surprise.
It is bananas, for sure, but it is far from pants. It is instead, crazy-town banana-pants.
And I think that is where we came in.
Superior Spider-Man: Troubled Mind
Above all else, what Doc Ock has brought with him is a lifetime of resentment which began with being bullied at school and which was exacerbated each time he decided to twist tentacles with the friendly neighbourhood Spider-Man. The end result is a decidedly less friendly Spider-Man whose temper is triggered during almost every confrontation, resulting in the death of one villain so far. The Avengers – initially merely baffled by the sudden mood shift from merry rejoinders to snide superciliousness – have finally taken note that something's a little off and call him in for a brain scan.
Meanwhile, Peter is beginning to make tiny steps to reassert his own identity: small note-book doodles when the doctor is distracted, and he's desperately hoping that the brain scan will secure the Avengers' help. And the brain scan does reveal an anomaly, but who's best qualified to judge what it is?
There are significant developments here, but not necessarily those you'll be expecting. The irony of any secret identity is dramatic enough, but it's substantially heightened by this double deception, and Dan Slott milks this for all that it's worth. Better still is the gradual reformation, in certain areas at least, of the bitter old whinger; something which I pray isn't dropped when this has all sorted itself out (which it will the very second another film looms onto the horizon).
I'd also like to single out Edgar Delgado's colouring which in places is far from obvious. I stared at the second page of issue #9 for quite some time, particularly the bottom right panel where instead of enhancing the curves of the Ryan Stegman's beautifully drawn nose, Delgado opts to emphasise the shadow of the helmet over Peter's cheeks.
I like what he chose for the flesh tones there as well. In fact a round of applause for Ryan Stegman generally who melds all the melodrama of Humberto Ramos with a softer, gentler humanity. At dinner with Aunt May, for example, you can see a genuinely appreciative if slightly smug Otto Octavius shine through Peter's fresh-faced puppy-dom. These little things are important.
Superior Spider-Man: No Escape
The premise for SUPERIOR SPIDER-MAN is relatively simple but its execution has proved surprisingly thorough: in 'Dying Wish' one of Spider-Man's oldest, ugliest foes, Otto Octavious (PhD and at death's door), finally won the day by switching his consciousness with Peter Parker's just before his own body expired.
For a while Peter's own memories lingered on as did his spirit, ever so slightly alarmed about what Dr Octopus was doing with his body, to his friends and even his vilest villains. This niggling nuisance was swiftly purged but not before Peter's psyche had imprinted itself on Otto's to the extent that, along with the power, he was indeed going to accept the responsibility of fighting on the other side of the law while ignoring even more of its letters.
The villains weren't just banged up, they were banged about first: the vulture was [redacted], the Scorpion lost his [excised] and J. Jonah Jameson was most impressed. To him this is indeed a far superior Spider-Man. Smug and disdainful as well, I might add, and although some have accepted this as maybe a mid-life crisis, others have since grown suspicious.
Here we return to The Raft (maximum security penitentiary for less than penitent supervillains) which in the process of being decommissioned, but not before the Spider-Slayer, sentenced to death, has been executed.
"Spider-Man. Come to supervise the slaying of the Spider-Slayer, eh? I'm sure you're thoroughly enjoying the irony of that."
He's actually more preoccupied with his own past there, when once locked up as a criminal.
These are the sorts of things this series has dealt with: Octavius's fresh-found perspective on those he once allied himself with, and the irony of J. Jonah Jameson finally coming round to Spider-Man's cause based on the actions of someone who isn't even Peter. Do you think he's going to regret that?
Now, I'm merely thinking aloud here, but if there was one individual above all who would begin to take counter-measures given Spider-Man's increasing superior success, it would be a certain brillo-bonced psychopath for whom every day of the year is a lime-green and purple opportunity to trick, never treat.
SLH
Buy The Superior Spider-Man: The Complete Collection vol 1 s/c and read the Page 45 review here
Arrived, Online & Ready To Buy!
New reviews to follow, but if they're new formats of previous books, reviews may already be up; others will retain their Diamond previews information we receive displayed as 'Publisher Blurb'.

Be Prepared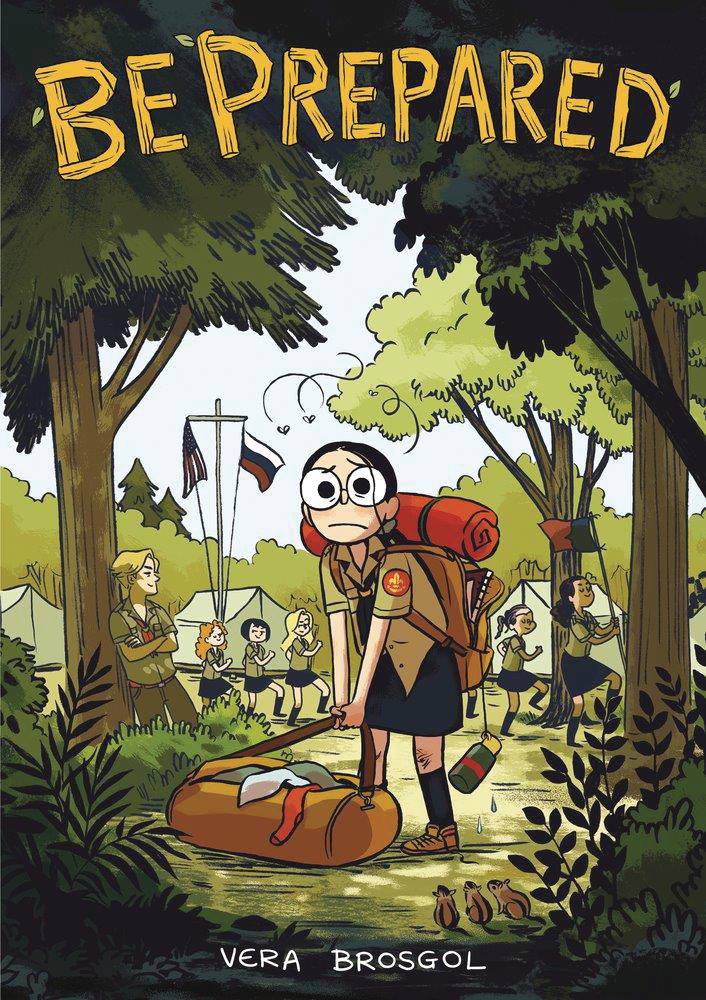 (£9-99, FirstSecond) by Vera Brosgol
Beasts Of Burden: Animal Rites s/c (£17-99, Dark Horse) by Evan Dorkin & Jill Thompson
The Breadwinner: A Graphic Novel (£8-99, Oxford Press) by Deborah Ellis, Nora Twomey & various
Hellboy Omnibus vol 1 s/c (£22-99, Dark Horse) by Mike Mignola with John Byrne
The Ballad Of Halo Jones (Colour Edition) vol 1 s/c (£9-99, Rebellion) by Alan Moore & Ian Gibson
New Shoes h/c (£13-99, FirstSecond) by Sara Varon
The New World – Comics From Mauretania h/c (£24-99, New York Review Comics) by Chris Reynolds
Peter & Ernesto: A Tale Of Two Sloths h/c (£13-99, FirstSecond) by Graham Annable
Sherlock Frankenstein And The Legion Of Evil s/c (£15-99, Dark Horse) by Jeff Lemire & David Rubin
Under: Scourge Of The Sewer (£14-99, Titan) by Christophe Bec & Stefano Raffaele
Amazing Spider-Man: Venom Inc. s/c (£17-99, Marvel) by Dan Slott, Mike Costa & Ryan Stegman, Gerardo Sandoval
Hawkeye: Kate Bishop vol 3: Family Reunion s/c (£14-50, Marvel) by Kelly Thompson & Leonardo Romero, Stefano Raffaele
Punisher: Welcome Back, Frank s/c (£22-99, Marvel) by Garth Ennis & Steve Dillon, Jimmy Palmiotti
Venom: Carnage Unleashed s/c (£31-99, Marvel) by Dan Slott, Marv Wolfman, Larry Hama, David Micheline & various
The Ancient Magus Bride vol 8 (£11-99, Seven Seas) by Kore Yamazaki
Dead Dead Demon's Dededede Destruction vol 1 (£9-99, Viz) by Inio Asano
Fire Punch vol 2 (£8-99, Manga) by Tatsuki Fujimoto
The Girl From The Other Side vol 4 (£9-99, Seven Seas) by Nagabe
Happiness vol 7 (£10-99, Kodansha) by Shuzo Oshimi