Includes seven Young Adult / Young Reader graphic beauties, one by Jillian Tamaki, another by the aptly named Jessica Love!
Cloud Hotel (£17-99, Top Shelf) by Julian Hanshaw…
"Happy place.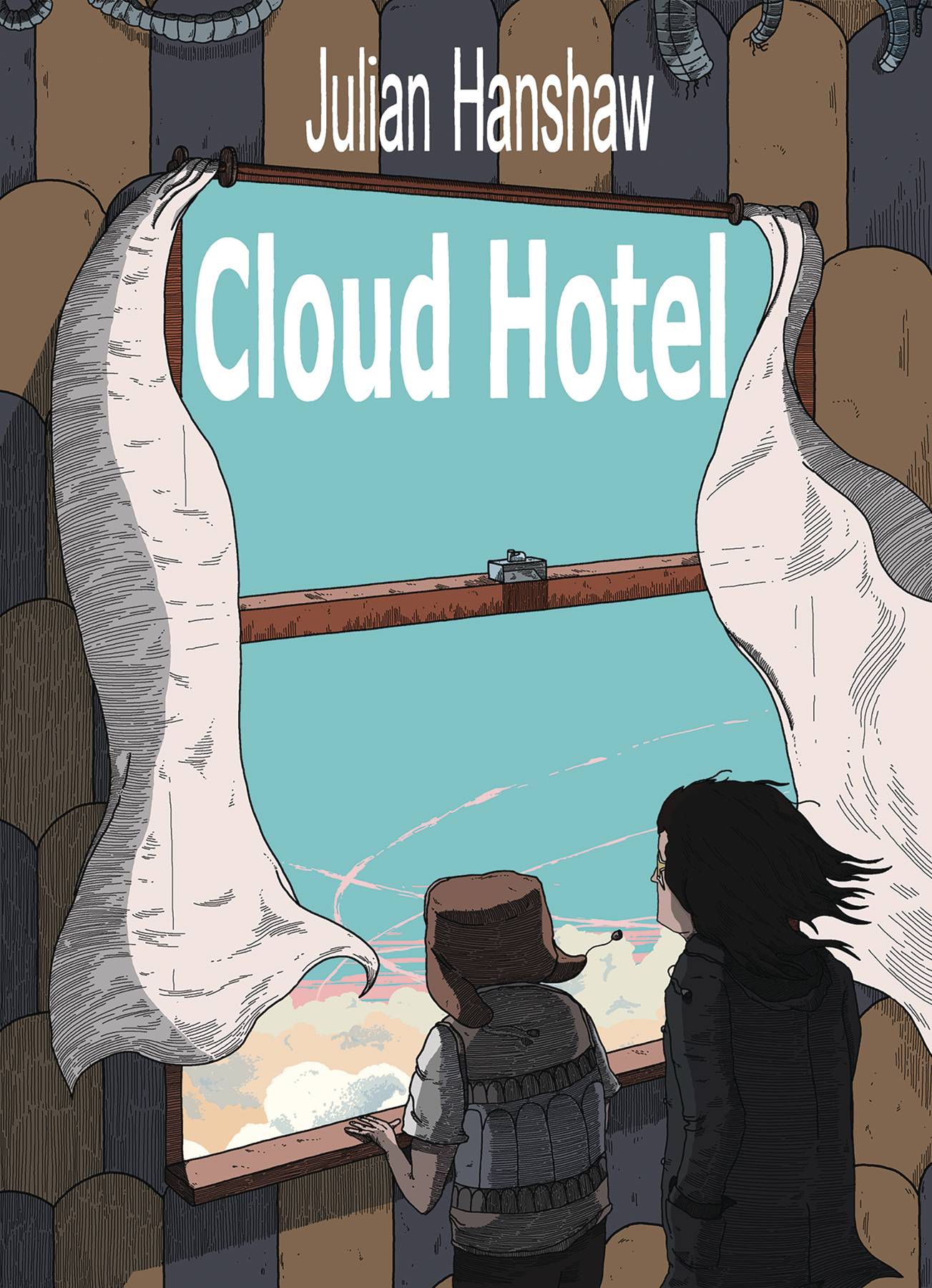 Happy place. Happy place. Happy place."
"Oh no. Not here. Please."
Nope, not me having to calm down Stephen after another month of grinding through the PREVIEWS order form, but, poor young Remco, an unwilling repeat patron of the peculiar titular establishment which is most assuredly not a destination that is ever going to make a list of top tourist destinations, despite every room having a spectacular view.
No, after being apparently abducted by a UFO on the 1st March 1981 and promptly returned back to terra firma safely, if not entirely intact, Remco's having a very specific issue. For he keeps finding himself zoning out and seemingly waking up back in the cloud hotel, a strange morphing building floating gently on the surface of the cumulus, with the vertical stabilisers of passing aeroplanes poking through, and inhabited by other kids who have also been taken.
At least to start with… For as time passes, one by one the residents answer a phone call from the old-style pay phone in a horrifically retro wallpapered room, receiving their summons to be called through the similarly papered double doors, never to be seen again, until only Remco and the sunglasses-wearing Emma remain. They are fabulous sunglasses actually, I must add, with a magic all of their own that immediately transported me back in time myself to 1982 and a certain Tizer advert, which, I'm quite sure more than a few others of you of a certain age will still have burnt into the back of the brains somewhere. You can keep your Fanta and your Irn Bru, Tizer was always the top of the t-shirt staining pops for me.
Right, I appear to have digressed… So, there are two burning questions, one each for Emma and Remco. Remco, who having seen people willingly perambulate through those disorientatingly decorated doors and promptly disappear, steadfastedly refuses to answer the phone when the bell tolls for him. That might be why he is the only person who dissipates back to Earth, but also possibly why he keeps re-materialising in the hotel. Walking through that exit might solve his conundrum for him, but he's not prepared to take the risk that he might end up… somewhere else. Emma, on the other hand, is utterly baffled as to why the phone never rings for her at all… Clearly there is something different about them both, but what?! What they are finding it increasingly hard to ignore, however, is that the hotel is gradually changing and becoming ever more distorted and unstable…
Back on the ground meanwhile, the one person who is convinced that Remco hasn't gone a bit doolalley, and believes him completely about the aliens and the cloud hotel, is his Granddad, but sadly he's about to take a certain, somewhat final, journey of his own… Not that he's remotely sad about it at all, no. Not least because he has his own theories about Remco's little excursions…
Ahhh… the auteur behind one of my favourite graphic novels of all time, TIM GINGER, returns with another unfathomable and perplexing work to beguile us! Yes, Julian Hanshaw has once again produced a story that takes us in entirely unexpected and unsignposted directions which is precisely what great writers do. Inspired by an encounter of his own as a young lad with a UFO on the 26th October 1980 near the implausible named market town of Tring in leafy Hertfordshire (I always knew there was something about the Chiltern Hills…) this tale of blurred states of consciousness vibrating between imagination and reality will make you want to believe!
The fact that Remco during his initial… encounter… manages to bring back a shred of the offending wallpaper only serves to deepen the mystery about precisely where it is that he keeps going. That disconcerting of wallpaper, by the way, is lovingly recreated under the front and rear French flaps for your pleasure… I love to see that, not a single bit of space wasted in transporting the reader somewhere else entirely too!
As before, Julian's meticulous attention to detail with his unique style of fine-lined art, combined with the muted yet almost luminous colour palette, plus some ingenious panel and page compositional devices thrown in for good measure make this a strong contender for my top book of the year.
JR
Buy Cloud Hotel and read the Page 45 review here
They Say Blue h/c (£12-99, Abrams) by Jillian Tamaki.
Truly,
a book of wonders and of wonderment!
Crows on the cover, seagulls underneath, and throughout the movement, energy and enthusiasm is phenomenal.
Birds whirl in the wind, a field of golden grass billows in waves, and a young girl swirls as she casts off her coat and breathes in the unfettered freedom before wriggling out of her thick, woollen sweater, then bouncing off the page.
That spread reminded me of young Wendy's jigging in the Tamaki cousins' bilberry blue THIS ONE SUMMER.
There is swimming and splashing and a sea breeze blowing through her hair, and the bright blue sky swoops up above as far as the eyes can see from a sandy beach promontory, while the choppy, white-horse ocean ripples all around.
Yellows and reds ripple too, emanating from the infant like a Japanese Zen garden raked in the sand, then rugby, soccer and tennis balls are tossed between friends in the bustling primary school playground.
Even at rest there is movement in the lines that cocoon the girl just like the blanket in her sleep, or the brushing of hair in the morning.
And oh, how these colours do glow!
Thick, wet washes of yellow bleed into complementary reds to form orange; blue into red to form purple. Or there's that early morning contrast in the contact between cool, night-time blue in the bedroom giving way to a burst of yolk-yellow sunrise as "the black crows bob and chatter in the field outside". Spring is all avocado green and bark brown on crisp white paper during an imagined, celebratory, arborescent page!
From the creator of adults-orientated BOUNDLESS collection and the co-creator of THIS ONE SUMMER graphic novel, (both of which we made Page 45 Comicbook Of The Month), a young girl wonders at the bounty of life all around and within her, embraces nature and marvels at the majesty of it all.
Seasons cycle and colour is questioned.
"They say blue is the colour of the sky.
"Which is true today!
"They say the sea is blue, too.
"It certainly looks like it from here.
"But when I hold the water in my hands, it's as clear as glass.
"I toss it up in the air to make diamonds."
Wow.
SLH
Buy They Say Blue h/c and read the Page 45 review here
Julian Is A Mermaid h/c (£11-99, Walker Books) by Jessica Love.
Well, this
brought a tear to Neil Gaiman's eye.
Even my own cold, black heart has been warmed thoroughly through, and has burst into every colour of the rainbow.
It's a very quiet book in which actions speak louder than words.
"This is a boy named Julian. And this is his Nana.
"And those are some mermaids.
"Julian LOVES mermaids."
Are they mermaids? Look a little closer.
By this very first page I'd already fallen in love, particularly with Nana, firstly because of her body form which fills her voluminous clothes and – along with her hooded eyes and slightly sagging jowls – suggests a weight as well as wealth of experience; also on account of her silent, attentive gaze which is far from cloying but instead watchful and wise.
But you're not at all sure what Nana is thinking.
One suspects that she is given to keeping her own counsel.
Julian drifts into an aqueous reverie in which he sinks slowly into water, jettisoning his clothes to swim up and unconstrained with a wave of schooling sea life, thrilling in their vibrant colours and exhilarating diversity! I'm no marine biologist, but I'm pretty sure that only the same species of fish school together in such a coordinated fashion. Here, however, swim are all manner of rays, jellyfish, a rich red and orange octopus then a deep blue eel whose tail suggests that Julian might be a mermaid too.
Indeed, he tells Nana precisely that, as they walk from the train to Nana's front door.
"Nana, did you see the mermaids?"
"I saw them, honey."
"Nana, I am also a mermaid."
He looks up at his Nana, gingerly, unsure what to expect.
Her eyes look deep into his.
"I'm going to take a bath," she says when inside. "You be good."
Will Julian be good…?
I love the choice of a smooth but subtly pulp-textured cardboard brown as the book's paper base on which the paint rests and glows, so that the story is permeated with warmth and outright heat in the noon-day streets where an old man is understandably sedentary while a trio of giggling girls plays in the spray of a water hydrant. It's especially effective for the intricately laced edges of the diaphanous cream curtains which at first billow in the breeze then form a trail like a tail.
Because no, Julian isn't going to be good, exactly, and I'm not sure at all what Nana is going to make of her potted fern being cropped, her mirrored dresser's tulips being redeployed, her lipstick being borrowed and her curtain taken down then repurposed!
Actually, her initial reaction is quite the picture of quietly controlled, cheek-flushed, scowling indignation!
Without a word, she walks off to dress, leaving Julian to silently contemplate his ceremonial self in the mirror. Still, he does look radiant.
Aaaaaaaaaaaaand that's where I'll leave you.
I'll also leave you with the promise that the last dozen pages are going to bring big, beaming smiles to your beautiful faces because you are all inclusive wonders with love in your hearts!
As is our Nana, for she has been listening.
SLH
Buy Julian Is A Mermaid h/c and read the Page 45 review here
The Day The Crayons Quit s/c (£7-99, Harper Collins) by Drew Daywalt & Oliver Jeffers.
In which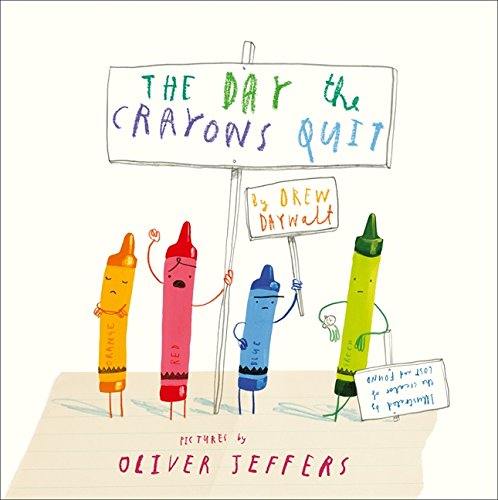 each of young Duncan's differently coloured wax crayons takes its turn to petition him for leniency, variety, precedence, fulfilment or, in one instance, a new set of clothes!
You'll see: a little bit of lateral thinking goes a long way.
Unequivocally excellent, I see exactly how this must make for much merry bedtime discussion after each page, then probably an impatient desire to draw more immediately!
So it's probably best read to your young ones during daylight instead, just before you want them to entertain themselves for three hours. Oh yes, parental strategy there from someone who doesn't have a paternal bone in his body. Okay, not remotely true, but from someone who's never had a kid of his own. I'll be offering you unsolicited advice on your love life, next!
Let's return to the picture book's picket-line protest:
Some of the crayons crave more work, some would prefer far less: one has been rubbed right down to a nub. Beige Crayon would very much like to be called by its proper name of which it is proud (not "light brown" or "dark tan", thank you very much indeed) while another upstart urges Duncan to calm down and be much tidier between the lines or IT WILL COMPLETELY LOSE IT.
Grey Crayon has an issue with being used for all the big beasts like elephants and rhinos and hippos and humpback whales, and suggests more dainty deployment. Green Crayon, on the other hand, is very satisfied indeed:
"Dear Duncan,
"As Green Crayon, I am writing for two reasons. One is to say that I like my work – loads of crocodiles, trees, dinosaurs and frogs."
Yes, that does sound like fun! Go, Green!
"I have no problems and wish to congratulate you on a very successful "colouring things green" career so far."
That's very kind. So what's the second reason?
"The second reason I write is for my friends, Yellow Crayon and Orange Crayon, who are no longer speaking to each other. Both crayons feel THEY should be the colour of the sun. Please settle this soon because they're driving the rest of us CRAZY!"
Guess which two will be writing in next? That argument needs settling, Solomon!
Peach's predicament is something else entirely, and if as a child you have never insensitively violated a crayon's personal modesty in this particular way, then I would be very surprised indeed. Clue: it starts when you've used that colour so often that the tip of the wax is in danger of disappearing beneath its paper-band wrapper. So you strip a little off the top at first, but before you know it you have unravelled it all (then probably taken a bite).
Lastly, however, poor Pink Crayon is feeling that Duncan has perhaps fallen prey to the learned behaviour of gender stereotyping because, unlike his sister, not once has Duncan even used him during the past calendar year. Dinosaurs can be pink, he submits, as can monsters and cowboys. He's quite right, of course: down with the dogma of literal depiction, and up with the anarchy of self-expression!
Utterly ingenious, this is sure to spark maximum creativity.
I'd like to congratulate each of the Crayons on their very neat handwriting, with few crossings-out.
Have a gold star, each!
SLH
Buy The Day The Crayons Quit s/c and read the Page 45 review here
Space Boy vol 1 s/c (£9-99, Dark Horse) by Stephen McCranie.
Amy and
Jemmah are teenage best friends who've grown up together on a mining colony way out in deep space. They've developed special secret signals to confirm they'll be best friends forever! But when Amy's dad loses his job, the family are forced to board a spaceship back to Earth to begin a new life. Worse still is this killer catch: they'll all need to spend 30 years frozen in cryogenic suspension so that when Amy steps out, Jemmah will have grown up without her.
"All I can think about is how, when I arrive on Earth, Jemmah will be thirty years older than me."
Water wells up in her eye.
And then she is frozen.
When she wakes up, her arms feel heavy because of the increased gravity on Earth compared to the asteroid. Then she discovers something equally unexpected.
"I wipe my eye and a jewel falls out – a cold, sparkling diamond.
"No. Not a diamond. A tear.
"A tear that's been frozen for thirty years. It melts in my hand."
Ouch.
Throughout the book there is exactly that level of attention to detail – it's been very well thought through. They're all wheelchair-bound while they adjust to the gravity, exercising in swimming pools which are a novelty for Amy because water was understandably a scarce commodity back home.
Oh wait, this is home now, and the spaceport city the family are initially confined to proves to be a big disappointment. Amy had at least been promised big blue skies, but every long day is smog-ridden instead. Her parents still have each other, which makes any new challenge like moving more manageable, but Amy has now lost her best friend. She can't bear to call Jemmah because she's going to be forty-five now and can you imagine the alienation you'd feel yourself? Thirty years of extra experience and perspective – she'll be an adult, perhaps with a family of her own your age – while you're still fifteen.
There's also this: while Amy's been asleep, technology's moved on. When she arrives at her new school she discovers that everyone is on this new "net" – they're wearing glasses with access to stuff which I'll leave to surprise you – and at first they look as they're all living in their own world and sharing experiences Amy simply doesn't understand. McCranie does a bang-up job of emphasising this extra isolation on the page.
However, there are blue skies ahead and indeed overhead and here too McCranie excels at communicating the almost unimaginable wonder of seeing your first ever wide, blue sky with big white birds matching the train for speed. There the bright-as-a-button art really comes into its own, panels replaced by two double-page eye-poppers which bleed right to their bright blue edges.
For yes, Amy gets to move to Baltissippi Bay by the water, where she discovers snails (snails! Everything is brand-new!), makes friends far faster than she expected and… she still won't contact Jemmah…
Now can you imagine being Jemmah, and having waited thirty long years to hear from your best childhood friend again, those days drawing nearer and nearer and then nothing?
The deepest isolation is yet to come, however, for Amy has synesthesia: she has always associated people with flavours, sensing different flavours "emanating" from different individuals, and for the very first time she encounters someone with none. He's a silver-haired lad who keeps himself to himself, often skipping class, and his peers are all very wary of him.
Only once does Amy sense anything other than a void, in art class, when the boy begins painting, and then there is something other than a terrible, overwhelming emptiness.
A seven-page prologue (yes, prologue, not epilogue!) hints at a very new direction for the next instalment in this series which, let's remember, isn't called AMY but SPACE BOY.
Oh, and there's a criminal subplot so subtly hinted at that I was forever forgetting it existed.
SLH
Buy Space Boy vol 1 s/c and read the Page 45 review here
Bad Machinery vol 5: The Case Of The Fire Inside (£14-99, Oni) by John Allison…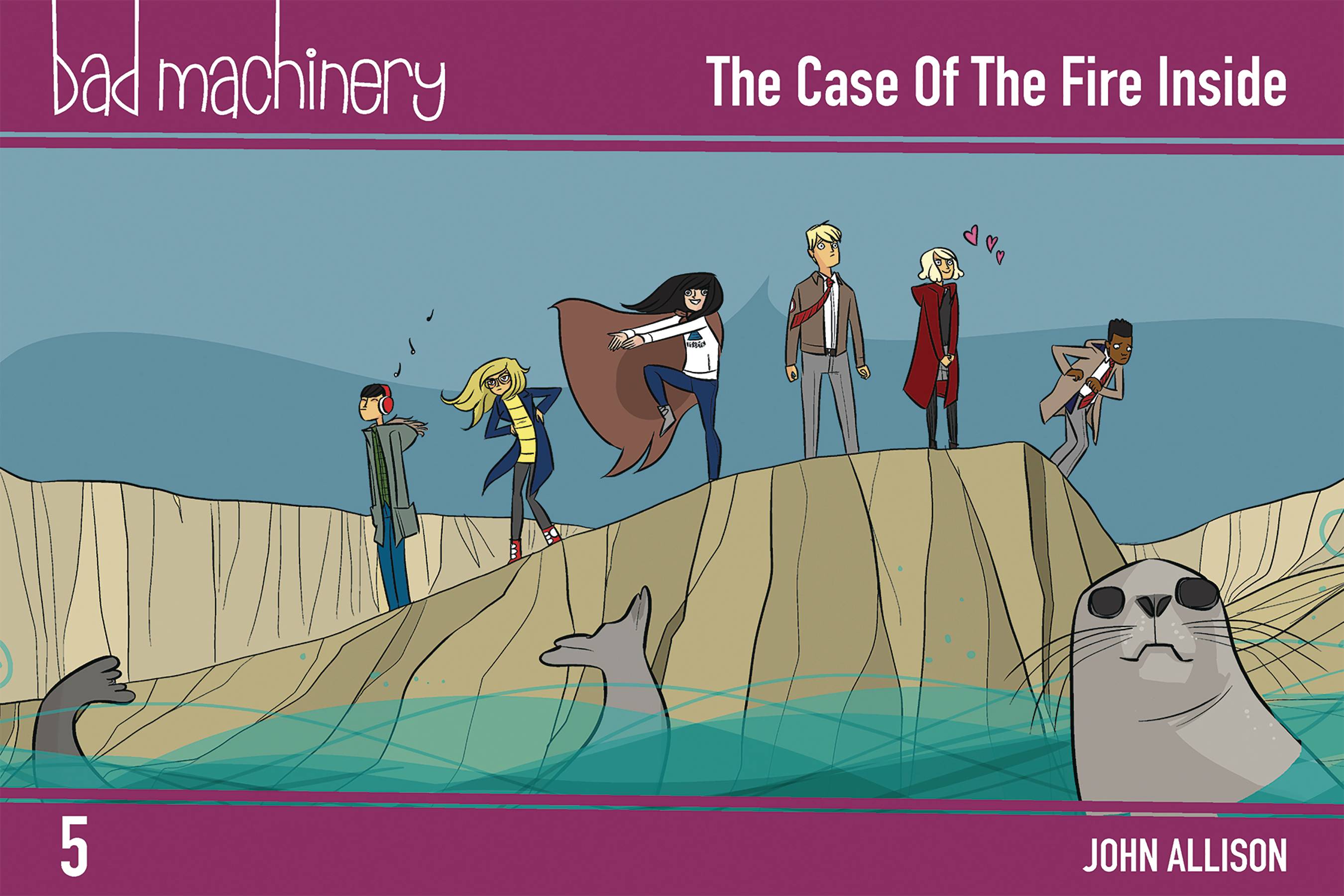 Yet another "small-hands" edition. Yay!
"Lottie, put that yogurt away."
"Street yogurt's the best Shauna, well nang."
"You're not even using a spoon? You're using the lid?"
"Yum."
Hahahaha, I read that page very shortly after a quick lunch on the hoof in Market Square, where upon discovering I hadn't picked up a disposable spoon for my coconut milk yogurt, I was forced to fashion a makeshift one from the foil lid… It was, indeed, well nang! Not sure what it says about me that the BAD MACHINERY character I seem to have most in common with is Charlotte Grote, though!
So, the tween detectives of Griswalds Grammar School return with more musings on life, love and lessons, whilst attempting to crack another confounding case. This time around Sonny is besotted with a mysterious new girl who has just arrived at school, and possibly on land… Mildred, meanwhile, is falling for the charms of bad boy Lee Chaplin, though there's the slight problem of a not-quite-yet-ex who is ready to fight Mildred to the death for her man! Good job Grandpa Joe is on hand to dispense some pearls of hard-won pensioner wisdom on the subject of romance and ill-advised beachcombing…
"Mildred, if the first thing a lad tells you is a lie, you've no reason to ever trust him."
"But he's so handsome and strong."
"Lies are like a flower, the truth's like a brick."
"Eh?"
"What about you Sonny?"
"I saw a girl swimming in the sea one day. I couldn't stop dreaming about her. Think she… I think she… turned up at school and sat next to me."
"You've flummoxed him. "Girls who come out of the sea are like… are like a… like…""
"Sonny, listen to me carefully. Did you take anything from the beach?"
"An… unshakeable sense of melancholy?"
"That wasn't what I was thinking of."
This is British farce at its finest. John sets up verbal punchline after punchline, page after page. I think possibly the episodic nature of BAD MACHINERY's initial release in webcomic form, one page at a time, has finely honed John's ability to be able to deliver pugilistic punctuation to world heavyweight championship standards. Not sure if that makes him the Rocky Balboa of British humour comics, but I do know that there are at least three more rounds of BAD MACHINERY material already out there on t'interweb for Oni to collect. Knockout!
What really makes BAD MACHINERY (and John's university-based GIANT DAYS) such a gleeful pleasure to read, though, over and above the bonkers Scooby Doo-style sleuthery, is it will transport you back in time, to when all you really had to worry about was the sheer terror of working out just how to talk to the object of your erupting adolescent desires, avoiding flailing fisticuffs and torment at the hands of psychotic bullies who are probably now practising corporate law, and coming up with ever more imaginative excuses as to precisely why your homework seemed to have mysteriously not accompanied you to your seat of learning once again…
John must have an eidetic memory of his formative years, though, because there's so much I had forgotten about that comes flooding back every time I read BAD MACHINERY. Truly was life ever once so simple but simultaneously so fantastically complicated in such an emotionally jumbled up, hormone-infused manner? Indeed it was and what a pleasure it is to vicariously read all about it without actually having to go through it all again!
In terms of his art, I continue to marvel at how deceptively simple it looks. He's refined it to an amazing degree now, it's so smooth on the eye, yet packed with expression and detail, plus random hilarious visual background gags. (I truly want to believe there is an arcade game called King Beaver in which it is possible to enter Beavergeddon Mode!) It would be fair to say his style has attracted more than a few imitators in recent years, yet they are mere contenders compared to John. Whereas his art feels seamlessly put together, the wannabes are going to need to put in a lot more hours in the illustrative ring before they're ready to take him on. Cue training montage. Or not.
JR
Buy Bad Machinery vol 5: The Case Of The Fire Inside s/c and read the Page 45 review here
Giant Days: Extra Credit s/c (£13-99, Boom!) by John Allison & Caanan Grall, Lissa Treiman, Jenn St-Onge…
Collects the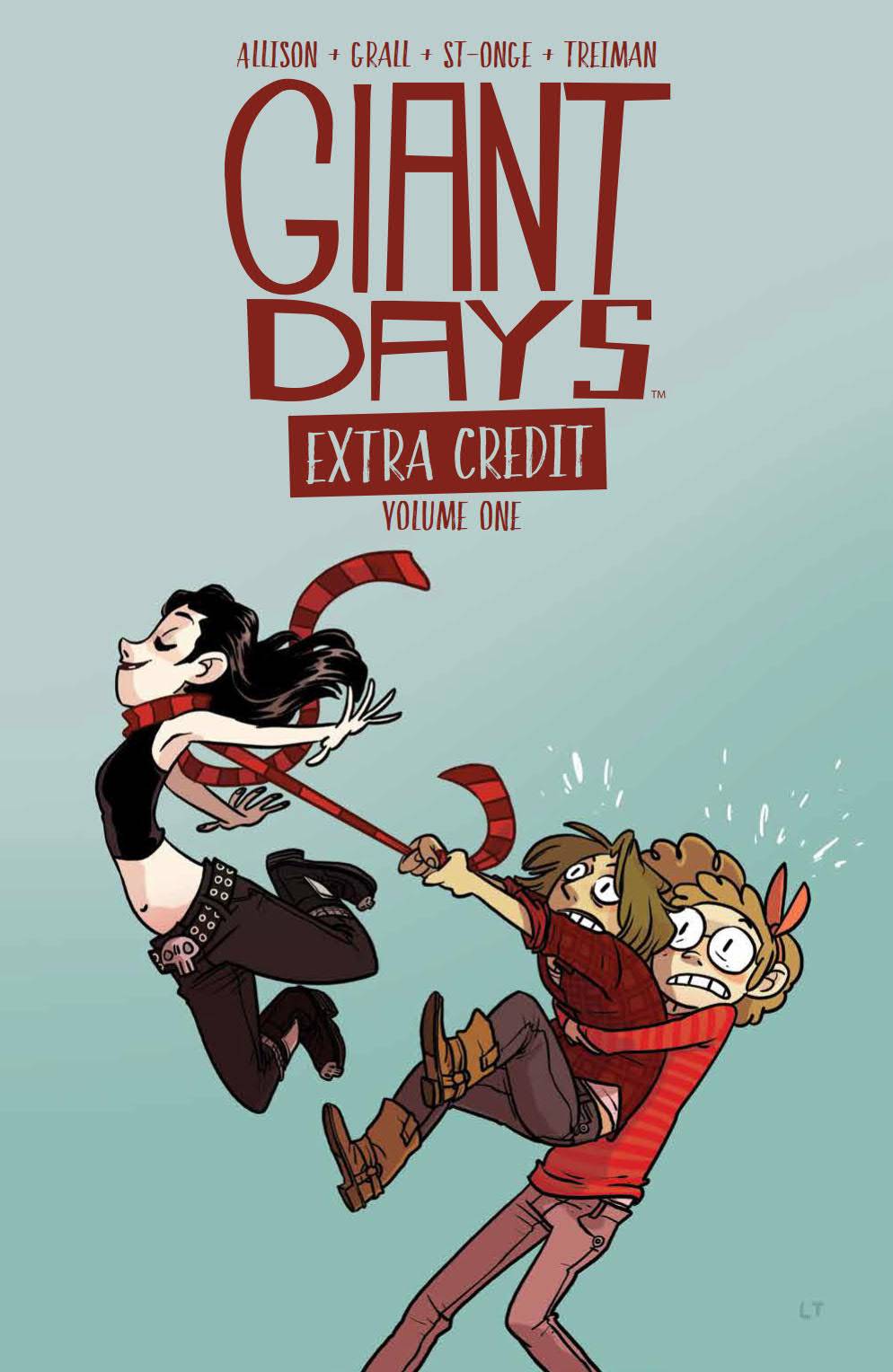 Giant Days 2016 & 2017 Holiday Specials and the material featured only in the BOOM! Box 2015 & 2016 Mix Tapes. Result!
But given that all sounds rather prosaic considering the madcap merriment contained within, let's throw the story titles out there for your titillation: 'What Would Have Happened If Esther, Daisy & Susan Hadn't Become Friends (And It Was Christmas)?', the back-up strip 'How The Fishman Despoiled Christmas' and 'Love? Ack, Shelly!' all penned John and illustrated by various artists. Plus three shorts written and drawn by the man himself, featuring the intrepid reporter Shelly Winters: 'Fridge Raider', 'Music Is Important' and 'Destroy History'.
In fact, Shelly Winters also co-stars in one of the main stories as Esther, Susan and Daisy head down to London for a festive visit to stay with Shelly and Ester takes it upon herself to sort out Shelly's tangled love life… Given what a car crash De Groot is in the romance stakes herself, should she really actually be playing matchmaker or can she actually somehow manage spark up a romance, or two, for Winters?
The other main story opens proceedings, and it is a classic What If? yarn, including an all-seeing, all-knowing cosmic Daisy depicted as The Watcher seeing how John's alternative take on the girls first days at Uni would have panned out if they hadn't hit it off instantly and become first friends.
If you've been picking up GIANT DAYS in trades, make sure you don't miss out on this bonus material. It should be on everyone's required reading list, as should All Things John Allison!
Also, please, please note: this does not contain the additional GIANT DAYS 3-ISSUE SELF-PUBLISHED MINI-SERIES drawn by John Allison himself which has never been collected in book form. Fortunately Page 45 has complete sets for sale. It's like we're in love, or something.
JR
Buy Giant Days: Extra Credit s/c and read the Page 45 review here
Courtney Crumrin vol 3 s/c (£11-99, Oni) by Ted Naifeh.
"He'll be lonely
without me."
"He'll get over it. We all do. There are worse things than loneliness."
After months spent exploring the inexplicable at her uncle's house, young Courtney finally revisits her old neighbourhood while her worn-out parents try unsuccessfully to sell their old home. In Courtney's absence her former best friend Malcolm has fallen under the influence of two house-breaking idiots, because there's really nothing else for him left. Why, I will keep schtum on, but Malcolm falls out with Courtney painfully as she tries her best to steer him away from the delinquents – again, unsuccessfully.
It's all very tenderly done, but only the prologue to a tale which will take Courtney on a reluctant journey from the grounds of her school to the Twilight Kingdom in order to find the cure for a curse so carelessly cast on one brother by the other. Now with the benefit of hindsight, I can confirm that it won't be the last time she ventures there.
Friendship and responsibility are as ever the key themes on offer, all concealed under a gothic facade of fantasy and danger, and portrayed with the lushest of artwork now in full colour which has drawn, unsurprisingly, the admiration of Charles Vess.
It's the third in the series and does touch upon old plot points, but can be read independently and is heartily recommended to the 500+ of you to have already purchased PORCELAIN.
A quietly touching ending, and a very cool read.
SLH
Buy Courtney Crumrin vol 3 s/c and read the Page 45 review here
Multiple Warheads vol 2: Ghost Town s/c (£15-99, Image) by Brandon Graham…
Reprints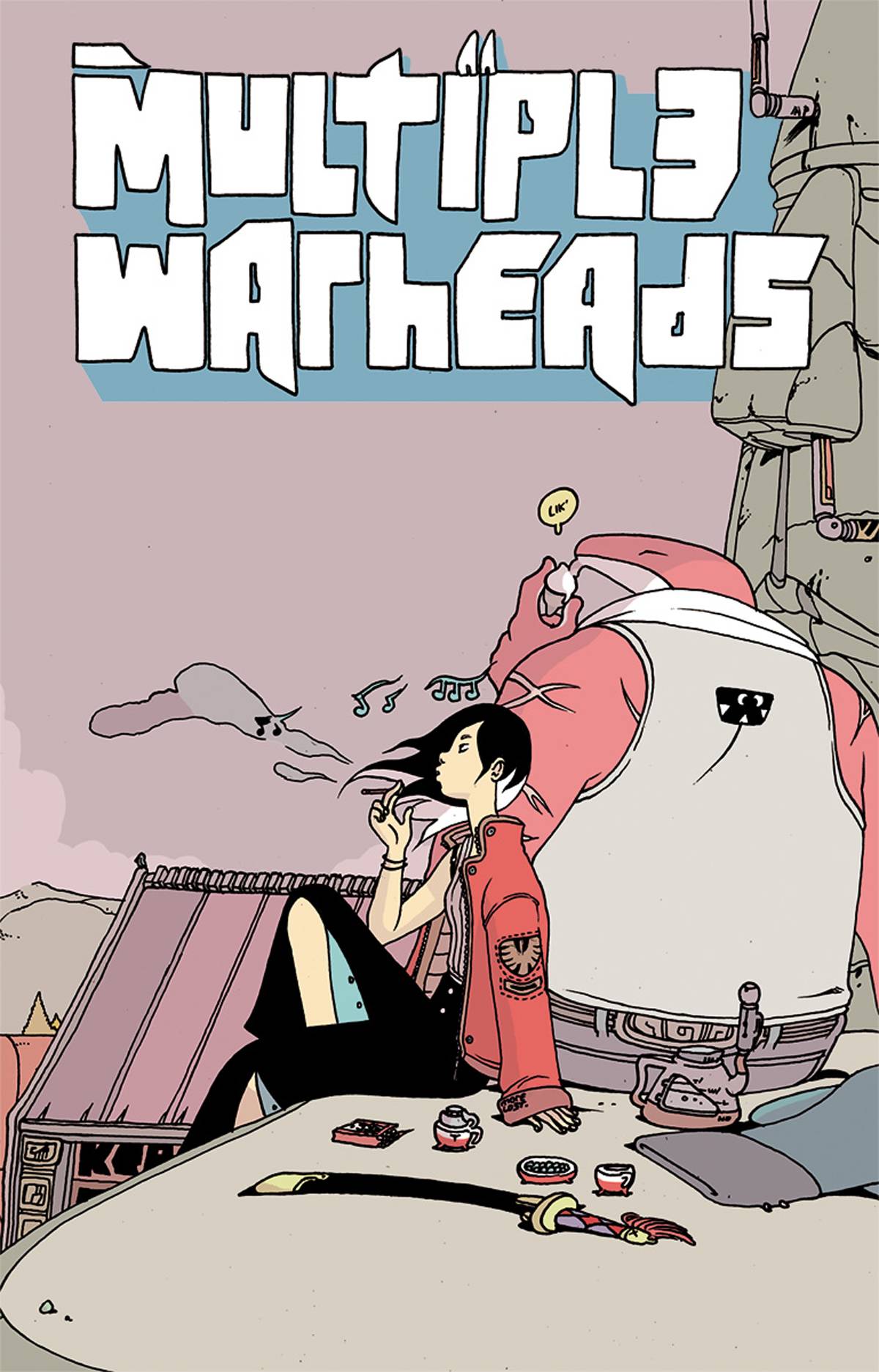 material originally published in the excellent ISLAND anthology curated by Emma Rios and Brandon Graham himself, along with the MULTIPLE WARHEADS GHOST THRONE one-shot. I had thought Brandon had said he had no intentions of doing any more, but I guess he just couldn't help himself, which is great news for fans of the series.
The publisher's sweet whisperings reveal that…
"Black market smuggler of magic organs, Sexica plans to rob the larder of an ancient alligator wizard whose lair hides somewhere within the cliffs of the Waleing wall, while her boyfriend Nikoli searches for clues into the past of the wolf he's were-bonded to."
… which sums matters up pretty neatly. This isn't really a jumping on point for new readers but more of a continuation. If you're intrigued by how bonkers it all sounds from that one sentence of publisher blurb, you really should read Stephen's extensive review of MULTIPLE WARHEADS VOLUME ONE which also features some beautiful interior art. Brandon is definitely not trying to be Moebius, but if absurdist, saucy, comedy sci-fi with a distinctive and subtly surreal art style is your thing, this could also be for you!
I do note with mild bemusement that this volume contains about half the page count of the previous volume for the same price. Page deflation, it's a terrible thing… But also weirdly this volume is not standard Image trade size, like volume one, but slightly taller and wider. Though, thinking about it, that will be because Island was magazine-sized.
Still, seems odd to not reduce it by what is a fractional amount for consistency in the trades, but hey ho. Maybe Brandon is going for some sort of multistage rocket design, with a slightly wider, larger second section sitting underneath the first warhead and then the third volume* will be a gigantic over-sized booster which when the three are put together will launch the reader into orbit. Maybe.
*I have no idea whether there ever will be a third volume, but I hope so.
JR
Buy Multiple Warheads vol 2: Ghost Town s/c and read the Page 45 review here
The Extraordinary Adventures Of Adele Blanc-Sec vol 1 h/c (£22-99, Fantagraphics) by Jacques Tardi…
Finally
back in print! More Tardi reprints to follow.
"I have just noticed something both extraordinary and troubling which I would prefer to disbelieve… Yesterday, walking through the museum, I paused before this 136-million-year-old pterodactyl egg, which I know as if I had laid it myself, and I realised it had hatched! Yes, hatched! Incredible as it may seem! Scientifically impossible, but the evidence is incontrovertible: it has hatched. Observe the hole in the roof."
"Heavens! Might this have anything to do with the pterodactyl that is all over the papers? What do you think?"
I'd hazard a guess it's quite likely, myself. Nice to see Fantagraphics going slightly off the wall with their next tranche of Tardi material. Apparently ADELE BLANC-SEC is one of Tardi's own favourite creations and you can see just from this first volume, collecting together the first two of the nine published works featuring the character, that he's really thrown himself into creating some wonderfully complex and bizarre stories for the eponymous and somewhat cynical protagonist Miss Blanc-Sec.
Indeed the series editor at Fantagraphics has commented that they were deliberately holding back on (re-)translating and releasing this material until after they'd put out what they perceived to be some of the more accessible Tardi material (for the American market) such as IT WAS THE WAR OF THE TRENCHES and WEST COAST BLUES. I can understand why they would have taken that route, but I'm pleased that this material is getting its turn, although that is very probably due to the well received Luc Besson-helmed movie The Extraordinary Adventures of Adele Blanc-Sec already released across most of Europe this year, and very shortly to be released in the UK and US.
The Adele Blanc-Sec material has some common themes running throughout with occultism, mysticism, mentalism and pseudo science-fiction of the Houdini-esque type prevalent in the pre-WWI era, frequently being the driving force behind the stories, but Tardi also takes the opportunity to take a few satirical swipes and occasionally make a serious point about themes such as corruption and nationalism. He also continues the great French theme in comics of portraying the police as a bunch of bumbling idiots which, let's be honest, is always good amusement value when done well.
What is really great about this particular Fantagraphics release is we get Tardi in colour again for the first time, with a rather eclectic palette of colours (I'm not sure pterodactyls really were burgundy) enriching some outstanding fine line penmanship. The ligne claire school of artistry, including the typically detailed backgrounds and slightly cartoonish aspect to the characters, is therefore considerably more evident here than on the more heavily penned black and white material released by Fantagraphics before now.
I'm not making a statement that one style is better than the other, far from it. What it does demonstrate though is that Tardi is obviously an extremely accomplished artist as well as writer. Still, one could spot his hand at a distance of a thousand yards, irrespective of the particular stylistic approach he has chosen to employ. The nice thing though for those of us who've come to appreciate his work, is that we know it to be the hallmark of quality.
JR
Buy The Extraordinary Adventures Of Adele Blanc-Sec vol 1 h/c and read the Page 45 review here
The Extraordinary Adventures Of Adele Blanc-Sec vol 2 h/c (£22-99, Fantagraphics) by Jacques Tardi.
The no-nonsense
mademoiselle Blanc-Sec returns for another round or two of occult mentalism and monster-mash madness as first we have the Frankenstein-esque resurrection of a surprisingly suave and well spoken Palaeolithic man demanding vintage cognac and fine cigars upon his wakening, rapidly followed by the escape of all the mummies in the Louvre, plus the one Adele keeps in a display case in her lounge! Don't expect it to make any sense, you clearly won't if you read and loved VOLUME ONE of Adele's extraordinary adventures as I did. Indeed much like, what seems an odd comparison on the face of it I'll grant you, UMBRELLA ACADEMY you just have to enjoy the ever mounting sense of the ridiculous jammed in page after page, which Tardi is an absolute master at. I also now know why there was no sequel to the ARCTIC MARAUDER as I pondered after reading that fantastic work, as several characters make a brief Benny Hill-style chase reprise here, which has absolutely nothing whatsoever to do with the plot, but did make me chuckle.
JR
Buy The Extraordinary Adventures Of Adele Blanc-Sec vol 2 h/c and read the Page 45 review here
Hellboy Omnibus vol 2 s/c (£22-99, Dark Horse) by Mike Mignola with Gary Gianni & Mike Mignola with Richard Corben.
"The four-volume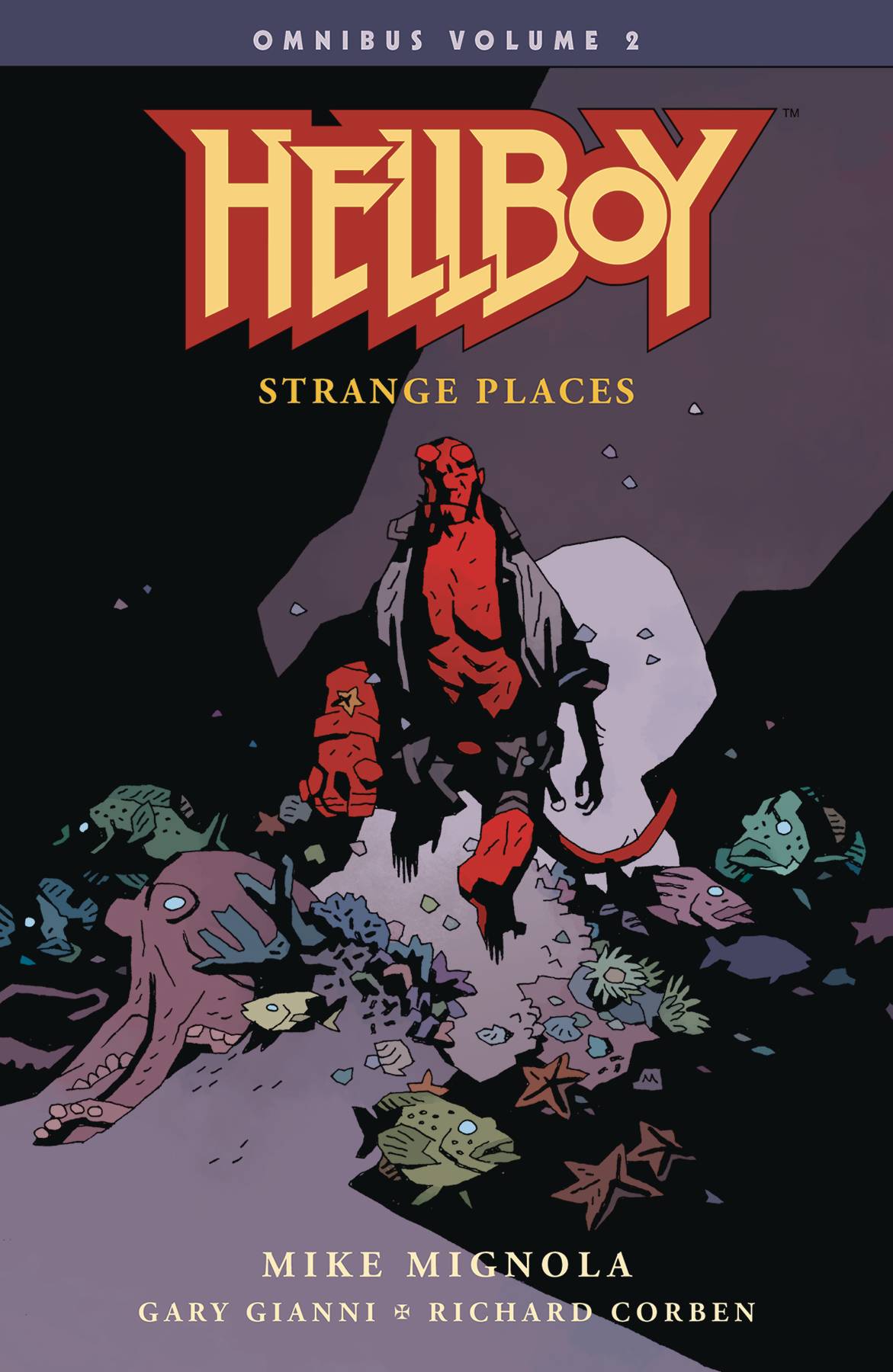 Omnibus series along with the two volumes of The Complete Short Stories collect all of Mignola's award-winning HELLBOY stories in chronological order for a definitive reading experience.
"This 416-page volume covers Hellboy's adventures from 1998 to 2005, reprinting 'Conqueror Worm', 'Strange Places', 'Into the Silent Sea', and 'The Right Hand of Doom,' 'Box Full of Evil,' and 'Being Human'."
HELLBOY: STRANGE PLACES contained 'The Third Wish' and 'The Island' which I once reviewed thus:
Hellboy is standing at the edge of the ocean, and, he's told, the crossroads of his life. Five seconds later and he's many leagues under the sea and assaulted by weremaids. Should have taken a left, dude.
Try this book if you like portentous dream sequences, demands with consequences and the chill of the ominous, and we haven't even begun to speak of the art which has, if at all possible, taken another leap. Mike keeps it dark and spooky with the boldest silhouettes in the business, yet opens it up with majestic design and subtle inlay.
Also [perhaps earlier – it's over a decade since I read this]:
Hellboy arrives in Africa, but he's been expected there longer than he's lived, and although the beasts don't want him, the ocean does. Three little wishes for three fishes. Who will be leaving alive?
SLH
Buy Hellboy Omnibus vol 2 s/c and read the Page 45 review here
The Adventures Of John Blake: Mystery Of The Ghost Ship s/c (£9-99, David Fickling Books) by Philip Pullman & Fred Fordham…
"I believe you
were a member of the 1929 Einstein-Carmichael expedition."
"Well?"
"There was a scientist in the party."
"That's right."
"What was he investigating?"
"He didn't talk much. Was only interested in the experiment. And his son. James, was it?"
"No, John. Very bright boy…"
Rip-snorting, high-seas, high-octane, time-travel, all-ages, hyphen-heavy yarn penned originally for The Phoenix Comic by His Dark Materials author (first and second volumes of the first part of that trilogy, NORTHERN LIGHTS, have been adapted for comics) and adeptly illustrated by able seaman Fred Fordham, who I must admit I wasn't familiar with, but certainly is a talent with his neat and tidy shipshape ligne claire linework.
I note, actually, it has just been announced Fred is going to adapt Harper Lee's 'To Kill A Mockingbird' as a graphic novel for Harper Collins, who clearly view him as a safe pair of hands on the proverbial tiller for tackling such a heavyweight literary title. I think that is probably more than enough sailing puns now…
Cast adrift on the oceans of eternity, buffeted by the ever-changing tides of temporal instability, boy genius John Blake is determined to get his millennia-spanning motley crew back home to their respective eras safely. There are others, however, who covet his time-travelling vessel, the Mary Alice, and will stop at nothing to get their dastardly hands on it!
Ah, this is a great bit of fun, speculative fiction with Bond-style delightfully preposterous 'espionage' elements, courtesy of secret agent Roger <ahem> Blake, and the main bad guy, multi-squillionnaire tech giant Carlos Dahlberg and his enormous super yacht and gigantic guided missiles. I would make allusions to him making up for some inadequacy perhaps, but let's keep this review as all-ages as the work itself!
Adults will undoubtedly love this boy's and girl's own adventure, as John teams up with a young lady called Serena whose daft dad managed to dump her in the drink without a life jacket in the middle of the South Pacific. Now she's part of the ghost ship's crew, criss-crossing time in search of safe harbour and answers to explain their peculiar odyssey.
Can John keep his crew, with the assistance of the eponymously named suave naval intelligence officer, out of Dahlberg's megalomaniacal clutches?! Or will Carlos finally break the maxim that money can't buy you everything and achieve his tyrannical ambitions of global, and temporal, total domination?! Why am I using a question mark as well as an exclamation mark?! The answer to the last question, dear reader, is that I am an idiot. For a resolution to the other two queries, however, you will have to read the book…
JR
Buy The Adventures Of John Blake: Mystery Of The Ghost Ship s/c and read the Page 45 review here
Dark Nights: Metal – Dark Knights Rising h/c (£24-99, DC) by Scott Snyder, James Tynion IV, Grant Morrison, Dan Abnett, various & Carmine DiGiandomenico, Philip Tan, Tony S. Daniel, Doug Mahnke…
""D.C." You
wondered what it means, but think about it Bobo… brother…
""Detective Chimp."
"We've watched your life. Immortality has its rewards. We got this fixed back in 2067. The 53rd world is here to help. So… ready to save the Universe, Bobo?"
So that's what DC means… And obviously Bobo is, now he's not losing his marbles. The concluding issue in this collection, DARK KNIGHTS RISING: THE WILD HUNT #1, is a glorious rip-snorting ruckus of MULTIVERSITY-inspired madness featuring everyone's favourite simian Sherlock. Errr… what do you mean you've never heard of him? You'll be telling me you thought DC stood for something else next.
As I was reading this, I thought it felt very much like a Morrison-penned portion of malarkey, so wasn't remotely surprised to find him co-credited on this issue. No idea of precisely how much he was involved, or if it is purely to acknowledge the use of several of his concepts and characters, but it has the feel of being touched by Morrison at least… which is the typically rum and uncanny sensation you would expect.
The other seven issues: BATMAN: THE RED DEATH #1, BATMAN: THE DEVASTATOR #1, BATMAN: THE MERCILESS #1, BATMAN: THE MURDER MACHINE #1, BATMAN: THE DROWNED #1, BATMAN: THE DAWNBREAKER #1, THE BATMAN WHO LAUGHS #1 are essentially mad What If? – or perhaps I should say Evil Elseworld – mash-ups each featuring a Batman, and in one case a Batwoman, from an Earth in the Multiversity already lost to the dark, who has somehow merged or blended or become corrupted with someone else, those unfortunates being: Flash, Superman, Wonder Woman, Cyborg, Aqua Woman, Green Lantern and just for good measure, the Joker.
So, in other words, these are the origin stories of all the bad guys deployed by the demon Barbatos in the main DARK NIGHTS: METAL series. These creation cameos are all, I must add, fabulously good fun and tortuously and frankly quite sadistically well thought out. So whilst you absolutely do not need this volume to help you understand the metallic mayhem, I can certainly recommend it.
JR
Buy Dark Nights: Metal – Dark Knights Rising h/c and read the Page 45 review here
Arrived, Online & Ready To Buy!
New reviews to follow, but if they're new formats of previous books, reviews may already be up; others will retain their Diamond previews information we receive displayed as 'Publisher Blurb'.
Beanworld Omnibus vol 1 s/c
(£22-99, Dark Horse) by Larry Marder
Cottons Book 1: The Secret Of The Wind h/c (£16-99, FirstSecond) by Jim Pascoe & Heidi Arnhold
Dressing (£14-99, Koyama) by Michael DeForge
Dumb – Living Without A Voice (£19-99, Fantagraphics) by Georgia Webber
The Complete Future Shocks vol 1 (£19-99, Rebellion) by Alan Moore, Various & Brian Bolland, Various
In The Future, We Are Dead (£14-99, Birdcage Bottom Books) by Eva Muller
The Great North Wood (£9-99, Avery Hill) by Tim Bird
The Hypo – The Melancholic Young Lincoln h/c (£22-99, Fantagraphics) by Noah Van Sciver
Izuna Book 2 h/c (£18-99, Humanoids) by Saverio Tenuta & Carita Lupattelli
The Complete Killer s/c (£35-99, Archaia) by Matz & Luc Jacamon
Moon Face h/c (£29-99, Humanoids) by Alejandro Jodorowsky & Francois Boucq
The Phoenix Colossal Comics Collection vol 1 (£9-99, David Fickling Books) by Jamie Smart, Robert Deas, Laura Ellen Anderson, Dan Boultwood, Joe List, Jess Bradley, Chris Riddell, Mike Smith
Rivers Of London: Cry Fox (£13-99, Titan) by Andrew Cartmel, Ben Aaronovitch & Lee Sullivan
Sandman Overture: Absolute Edition (£110-00, Vertigo) by Neil Gaiman & J.H. Williams III
Southern Bastards vol 4: Gut Check s/c (£14-99, Image) by Jason Aaron & Jason LaTour
Wild's End vol 3: Journey's End (£17-99, Boom!) by Dan Abnett & I.N.J. Culbard
Bombshells United vol 1 s/c (£14-99, DC) by Marguerite Bennett & Marguerite Sauvage, various
Dark Nights: Metal – The Resistance s/c (£22-99, DC) by Scott Snyder, James Tynion IV, various & Howard Porter, Liam Sharp, various
Thanos Wins s/c (£17-99, Marvel) by Donny Cates & Geoff Shaw
The Flowers of Evil Complete vol 3 (£19-50, Kodansha) by Shuzo Oshimi
Gantz: G vol 1 (£12-99, Dark Horse) by Hiroya Oku & Keita Lizuka
My Hero Academica vol 13 (£6-99, Viz) by Kohei Horikoshi
Tokyo Ghoul re: vol 5 (£8-99, Viz) by Sui Ishida