Featuring Ellen Forney, Karl Marx (!), Friedrich Engels (!!), Martin Rowson (!!!), JH Williams III, Gary Spencer Millidge, Julian Voloj, Thomas Campi, Grant Morrison, Darick Robertson, Stan Lee, Jack Kirby, Kevin Crossley-Holland, Jeffrey Alan Love and so very many more in such a good cause!
Where We Live: A Benefit For The Survivors In Las Vegas s/c (£17-99, Image) by various, edited by JH Williams III…
"Guns
are bad. The world is madness. Being a victim sucks. Conspiracy is strangling the truth.
"How am I supposed to poetically dramatize that in a couple of f%@*! comicbook pages?
"And to people who already know this.
"Everyone buying this book is doing it because they feel the same silent rage.
"It's not like I'm going to shock and surprise them with my unique take!
"Vegas happened because we've tilted off our axis. And we all know it. We know!"
That's Brian Michael Bendis, there. Please don't worry, Brian, we are just so very, very grateful that there are people as eloquent and caring as you and the other 100+ writers and artists that gave their time and energy to espouse not just what we all know, but what we all feel.
Before we go any further, let me give thanks by listing them in full, not least because to put them at the top where we normally do would break both our initial blog and the product page itself:
Rafael Albuquerque, Laura Allred, Michael Allred, Paul Azaceta, Henry Barajas, Jennifer Battisti, Brian Michael Bendis, Deron Bennett, Aditya Bidikar, W. Haden Blackman, Jeff Boison, Tyler Boss, Simon Bowland, Ivan Brandon, Bernardo Brice, John Broglia, Giulia Brusco, Ryan Burton, Kurt Busiek, Aaron Campbell, Mike Cavallaro, Craig Cermak, Cliff Chiang, Janice Chiang, Amy Chu, Sal Cipriano, Jeromy Cox, Christopher Crank, Rachel Crosby, Dee Cunniffe, Andrew Dalhouse, Nelson Daniel, Geof Darrow, Al Davison, Kelly Sue DeConnick, J. M. DeMatteis, Will Dennis, Michael J. DiMotta, Gustavo Duarte, Aaron Duran, Joshua Dysart, Pierce Elliott, Joshua Ellis, Mark Englert, Taylor Esposito, Triano Farrell, Lucia Fasano, Ray Fawkes, Joshua Hale Fialkov, Marco Finnegan, Tim Fish, Kelly Fitzpatrick, Tess Fowler, Tom Fowler, Rachael Fulton, Neil Gaiman, Monica Gallagher, Eric Gapstur, Michael Gaydos, Kieron Gillen, Isaac Goodhart, Sina Grace, Brandon Graham, Justin Gray, Stefano Gaudiano, Lela Gwenn, Brian Haberlin, Jason Harris, Matt Hawkins, Ray-Anthony Height, Daniel Hernandez, Talia Hershewe, Phil Hester, David Hine, Joe Illidge, Van Jensen, Jocks, Scott David Johnson, Joëlle Jones, Justin Jordan, Liana Kangas, Jarret Keene, Ryan Kelly, Eric Kim, Neil Kleid, Todd Klein, Dean Kotz, Ariel Kristiana, R. Eric Lieb, Jeff Lemire, Matt Lesniewski, Greg Lockard, Lee Loughridge, Marissa Louise, Andrew MacLean, Ollie Masters, Mariah McCourt, Jamie McKelvie, Mike Mignola, Mark Millar, Gary Spencer Millidge, Fábio Moon, B. Clay Moore, Moritat, Joe Mulvey, Patricia Mulvihill, Andrea Mutti, Chris O'Halloran, Michael Avon Oeming, Hassan Otsmane-Elhaou, Richard Pace, Greg Pak, Alex Paknadel, Chas! Pangburn, Tony Parker, Michael Perlman, Pere Perez, Alex Petretich, Sean Phillips, Curt Pires, Nick Pitarra, Vladimir Popov, Javier Pulido, Cardinal Rae, Christina Rice, Jules Rivera, Darick Robertson, James Robinson, Gabriel Rodriguez, Robert Rose, John Roshell, Chris Ryall, Rafael Scavone, Erica Sthultz, Alex Segura, Kelsey Shannon, Alex Sheikman, Bill Sienkiewicz, Casey Silver, Gail Simone, Damon Smith, Matthew Dow Smith, Taki Soma, Matt Sorvillo, Jason Starr, Cameron Stewart, Dave Stewart, Matt Strackbein, Shaun Steven Struble, Ken Syd, Larime Taylor, Sylv Taylor, Paul Tobin, Noel Tuazon, Bryan Valenza, Geirrod Van Dyke, David Walker, Gabriel Hernández Walta, Malachi Ward, Dustin Weaver, Chris Wildgoose, J. H. Williams III, Kelly Williams, Scott Bryan Wilson, Chris Wisnia, Wendy Wright-Williams, Warren Wucinich
In addition, J.H. Williams III (PROMETHEA, SANDMAN OVERTURE), resident of Las Vegas, has acted as the curating editor, which must have been quite the task given that the 75 contributions contained within the covers – the front one featuring a logo which is an inspired reworking of the iconic Welcome To Fabulous Las Vegas Nevada sign combined with a thought-provoking vista – are an extremely varied mixture of eye-witness accounts brought to harrowing life, plus fictional stories and factual works which hauntingly illustrate this tragic shooting, currently the most deadly in modern US history with 58 fatalities and over 500 injured, and also the wider issues, be that the political football of gun control, comparative global statistics on spree-killers, mental and physical health issues for traumatised survivors, and so much more.
For example, Brian Michael Bendis's contribution from which the pull quote above is taken (illustrated by Michael Avon Oeming, Taki Soma and lettered by Bernardo Brice), covers his own frustration at wishing he had done more personally to overtly oppose the lack of gun control in the US and his admiration for the teenage survivors of the Parkland shooting who are bravely standing up to be counted, and consequently viciously attacked for it by the right-media media, plus clueless vile trolls both online and in the real world.
I note for example that the family home of Parkland survivor, and subsequent vocal activist, David Hogg – who has even been accused of being a paid-for actor not even present at the shooting by conspiracy theorists – was recently 'swatted'. A troubling and highly dangerous new phenomenon whereby someone falsely (and anonymously) reports a serious crime in progress at a particular address hoping that the householders will be hugely inconvenienced, if not indeed fatally shot (as has happened) by the rapid and heavily armed law enforcement response, typically involving SWAT teams, hence the slang term. Fortunately for David and his family, and perhaps not a little ironically, they were in Washington D.C. where David was receiving the Robert F. Kennedy Humanitarian Award. Only in America…
You can do your bit, though, however small that seems, by buying this work as 100% of the net proceeds for the WHERE WE LIVE anthology will be donated to Route 91 Strong, a non-profit organization set up to help survivors of gun violence.
It is such a diverse selection that it is tricky to put forward a favourite, if that's the right word to use concerning such material, but Gary STRANGEHAVEN Spencer Millidge's 'The Watershed', really stuck with me. It features a gun-toting action film hero plucked from the big screen to be educated by the ghost of a young girl about the recent history of mass shootings, both in the US and worldwide, including Dunblaine in Scotland, and the widely varying governmental responses and consequent statistical results.
It also finishes with a couple of very salient observations concerning the Second Amendment, including that the arms which citizens should have the right to bare were of entirely lesser orders of magnitude in terms of killing power when it was originally written. The readily available precision-made modern assault rifle, replete with targeting scopes and bumpstocks for firing up to 120 rounds per minute, bares absolutely no comparison with a muzzle-loaded single-shot 'long arm' rifle. Thus, surely, the Second Amendment should be errr… amended?
One day, maybe…
Actually, just putting my future hat on again, and stepping into 2000AD-esque territory for a minute, what might hopefully ultimately make lethal weaponry irrelevant – aside from better mental health services, improved background checks on people wanting to buy guns, and if we can get carried away for a moment, the demise of the military-industrial complex – is improved non-lethal weaponry.
If cops could actually take down criminals in any and every given situation without needing to employ lethal force, be that through disorientating sonic weapons, ultra-fast acting sedative darts or indeed instantly hardening riot foam or some other crazy futuristic devices, then there is no excuse whatsoever for private individuals to legally have lethal weapons. Tasers are a start, clearly, but it seems like police, some poorly trained American ones certainly, just think they are there to be used on unarmed people to execute a quick arrest, rather than actually trying to talk to people and understand what the problem is. So true, effective, 100% safe, non-lethal weaponry, meaning guns can be dispensed with by everyone, including the majority of law enforcement – given a certain other burning issue of the day in the US currently – would be a good and helpful thing.
As I say, one day maybe… Not so fussed about having Judges passing instant sentences and dispensing <ahem> righteous justice, though. But surely at some point, common sense in the US will begin to prevail amongst the majority of the population, even if it takes another generation or two, and then gun crime statistics and spree killings may finally begin to decrease.
JR
Buy Where We Live: A Benefit For The Survivors In Las Vegas s/c and read the Page 45 review here
The Artist Behind Superman – The Joe Schuster Story s/c (£17-99, Super Genius) by Julian Voloj & Thomas Campi…
"You
look like you haven't eaten in days."
"Ah…"
"No worries. My treat."
"Maybe some soup?"
"Soup it is. What didya do for a living?"
"I did comics."
"Oh nice. Anything I would know?"
"Well…"
Our opening prologue commences on a beautiful sunny day in a tree-lined park in Queens, New York, in 1975. An elderly man sleeping rough on a bench is taken by a kindly young cop to have some much needed breakfast, only to find to his surprise that he's eating with one of the creators of Superman. The cop is obviously puzzled as to how Joe Schuster could have possibly ended up like this and when he asks him the question our story proper begins, narrated in the first person, with a subtle shift to a more period art style, right back to when Joe was a lad.
In fact, this starts slightly beforehand as we get the story of how Joe's mother moved to North America from Russia with her sister. Along the way in Rotterdam they fell in love with the Russian Jewish owners' sons of the hotel they were staying in and got married, before all heading off to Toronto together. Eventually, Joe and his mother and father would end up in Cleveland, which is where Joe would meet Jerry Siegel at Alexander Hamilton Junior High School where both were contributors to the school paper, The Federalist.
The two chums hit it off instantly and were soon collaborating on stories for the paper, before beginning to dream of finding a wider syndicated circulation for their creations. After some initial trial and error, both in terms of content and carrier, their fledging Superman character was snapped up by Nicholson Publications for inclusion in their Action Comics publication.
This was when Joe and Jerry made their fatal mistake by signing a contract which waived all future rights to the Superman character in exchange for a cheque for $130. A cheque which had the ignominy of both their names being spelt incorrectly, ensuring much embarrassment at the bank when they went to cash it. That contract proved to be an extremely costly error which haunted Siegel and Schuster for the rest of their lives.
The subsequent chapters of this fascinating work shows their toiling endeavours to eke out a living in the industry, firstly working on ACTION COMICS and SUPERMAN, all the whilst mentally calculating and crucifying themselves over how much the publishers were creaming in, and their unsuccessful efforts to create another winner. Plus, every time another piece of merchandise appeared, or the 1950s TV adaptation and finally the smash 1978 film starring Christopher Reeves, it was like another hammer blow to their hearts and indeed, mental well being.
Eventually a compromise deal was reached, which provided them with a very belated stipend and credit for their creation, but it took a lot of pressure from within the industry, led by Neal Adams, to make it happen and even then, it was little more than a token nod from Warner Brothers, nervous that the bad press whipped up might affect box-office takings.
If you're a true fan of comics and are aware of some of the various injustices perpetuated on creators by publishers over the years (and I note with some interest that the name DC Comics never actually appears anywhere in this work, presumably to avoid any litigious issues), you'll find this a heartbreaking if informative and entertaining read.
Art-wise, the watercolour style palette and illustrative style reminded me rather of some Kyle Baker, but generally it provides the perfect historical feel for the work. The lack of pencils neatly and dreamily captures the sense of bygone days and a mythical American golden era. When the art shifts back to the pencilled, slightly more focussed style, in the mid-seventies for the wrap-up pages, it only serves as a further jarring reminder that for Siegel and Schuster, their creation, so universally beloved by the public, had been little more than a waking nightmare for them their entire careers, a ubiquitous omnipresent reminder of their youthful moment of naivety.
JR
Buy The Artist Behind Superman – The Joe Schuster Story s/c and read the Page 45 review here
The Communist Manifesto (£12-99, SelfMadeHero) by Karl Marx, Friedrich Engels & Martin Rowson…
"In this sense, the theory of the communists may be summed up in the single sentence…
… abolition of private property!"
Thereafter follows an intense Q&A discussion with the crowd at the Boojie Nights Kapitalist Komedy Club Open Mic Nite as Karl Marx performs his routine for the assembled Proletariat and Bourgeoisie. This particular line, as you perhaps might expect, provokes a disgruntled reaction from both sides of the crowd as rich and poor alike attempt to justify the continued existence of private property whilst Karl counters their arguments.
The thorny issue of private property, particularly land or dwellings, is something I have pondered myself before, but whilst envisaging a Star Trek-esque future where humankind has hopefully evolved past money completely. Presumably because automation of work has forced us all onto the dole to start with, but then assuming we manage to achieve some sort of utopia where there is a plentiful surplus supply of food and energy for all (through nuclear fission, I would imagine), hopefully currencies will subsequently experience the ultimate devaluation.
3D printers (basically replicators!) should mean people can produce pretty much anything they need, or indeed want, on the spot. All that would remain for debate in this new world… is who gets to live where… In this glorious new age of equality, if no one has to work, surely everyone is going to want the best weather and views? Unless the private ownership of all land and dwellings is removed and the right to live somewhere decided entirely at random, and perhaps not in perpetuity, people who owned said land are going to want to live on it. Or indeed charge someone else for the privilege. Hmm…
Of course, where the utopian Star-Trek model I referred to earlier will go totally tits up is when the ultra-rich start to hoard life-extending technology at the expense of everyone else, if they haven't already… Currently they spend their money on maintaining their outward appearances, but once the process of avoiding errors creeping into RNA replication is cracked, near-immortality beckons, and do you seriously believe that will be shared with everyone? Apologies if you have heard me rant on about this before.
No, of course not, and the excuse will be that the limited resources of our planet couldn't possibly sustain everybody suddenly not dying. Which is a fair point actually. So, probably the best for all concerned, which is what they will tell us, is if the great and good, the leaders of men, keep said technology for themselves (see LAZARUS), to help humankind steer the tricky course out to colonising the stars. And presumably exporting rapacious capitalism to the rest of the solar system and beyond…
You can make the case, despite Martin Rowson's assertions in his foreword that at one point in time since Marx's death in 1883 nearly "half of humanity would be governed nominally according to the ideas and aspirations originally expounded in The Communist Manifesto…" and that "…in the 21st century over a fifth of us, for good or ill, would be still." that true Communism, in its purest sense as envisaged in this manifesto, has never been practiced. I would personally concur with that, because to my mind, until we have limitless energy, and by extension, thus an abundance of resources of all kinds, and thus need and want are completely eliminated, we can't evolve past Capitalism. Of course, we should still try to be kind to everyone and practice compassion in the meanwhile. Which could very easily lead me on to a discussion regarding the Venn diagram of Buddhism and Communism, but that's for another time…
Wonder what Karl Marx and Engels would have had to say about all that down the pub…? Which is actually where they spent most of their time fomenting and indeed fermenting this document that upon its completion, sat virtually ignored for thirty years, before being rediscovered and championed as a blueprint for egality.
Also, what would Martin Rowson say? I'd be very interested in hearing that actually. He's done an excellent job adapting what is, in essence, a very dry polemic, for entertainment as well as our education. Marx is our ever-ebullient narrator figuratively and quite literally walking us through numerous full-page spreads with his exuberant overlaid exhortations, along with a handful of more discursive pages of panelled comics, such as in the Komedy Club, when Marx needs an audience to further his lecture. Overall, partly due to Rowson's choice of spidery handwritten lettering, seemingly done with a quill, it has the feel of an extended political cartoon. Which isn't remotely surprising, given he's an editorial cartoonist by trade.
I think this is a very worthy adaptation, purely because anything which further disseminates important ideas to a hopefully new, as well as knowing and already appreciative audience, in such a satirically amusing manner, is a good thing. As would be pure Communism, if we ever get there.
JR
Buy The Communist Manifesto and read the Page 45 review here
Rock Steady – Brilliant Advice From My Bipolar Life (£16-99, Fantagraphics) by Ellen Forney…
"How are you?"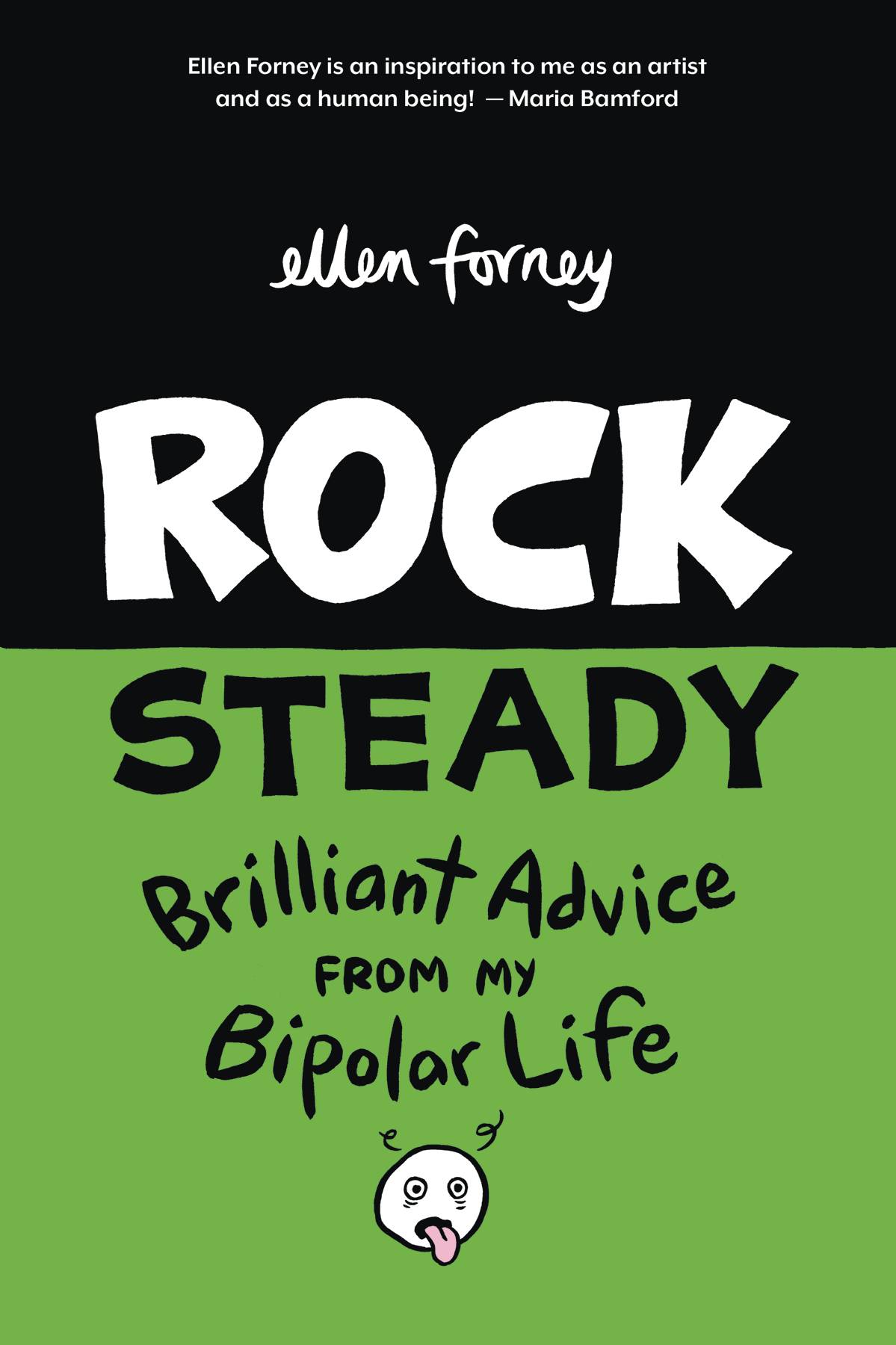 "I'm okay."
"What's going on?"
"I don't know. Things are just… overwhelming."
Following on from her MARBLES: MANIA, DEPRESSION, MICHAELANGELO & ME in which she talked about her experiences with mental illness with remarkable candour, Ellen Forney returns, this time with the aim of providing fellow suffers with an insight into her own personal blueprint for surviving, indeed thriving, in the face of such adversity.
We still get some revealing personal anecdotes in comics form to help illustrate a pertinent painful point or two, often surprisingly humorous in nature, but the accompanying primary body of material here is squarely aimed at directly helping people through analysing Ellen's own experiences and what has, and hasn't, worked for her.
Thus, with chapters on therapy, coping tools and strategies, dealing with insomnia, medication, warning signs, where to engage with like-minded people and book-ending chapters covering the basics and some general encouragement, this is effectively Ellen's own survival guide to Bipolar Disorder, though as she comments in the first chapter, it is also relevant for any mood disturbance.
The physiological wheres and whyfores surrounding the causes of such issues are dealt with just as clearly here as in Steve Haines' and Sophie Standing's excellent ANXIETY IS REALLY STRANGE. But where ROCK STEADY really comes into its own is in the practical, often hard-won, insight and advice Ellen is then able to offer on the various topics mentioned above. It's extensive in scope, and should provide a useful toolkit for anyone needing to tinker under their own proverbial hoods, either independently or under the guidance of an appropriate medical professional – something which Ellen also touches on.
I would heartily concur that, as the sub-title proclaims, this advice is indeed brilliant.
I think that knowing one isn't alone is an important part of having the confidence to try and deal with one's mental suffering. Yes, it can be incredibly difficult to even conceive of trying to open up and look forward, go deeper into one's problems, instead of turning away and hiding from them, but knowing that other people have been where you have been before, and managed to progress towards a degree of stability, is an immensely important fillip. There is indeed an entire chapter devoted to that subject. The whole book will form another very valuable part of the ever burgeoning canon of comics and graphic novels dedicated to helping educate about and support our mental health.
Into Page 45's Mental Health Section this, therefore, goes.
JR
Buy Rock Steady – Brilliant Advice From My Bipolar Life and read the Page 45 review here
Happy s/c (£9-99, Image) by Grant Morrison & Darick Robertson.
"AS SEEN ON TV!"
as hastily repackaged collections are so quick to squeal.
But hey, the middle-aged bloke who served me at Sainsbury's had seen the series, taken note that it was based on a comic, and he knew who'd written it. Never read a comic before in his adult life. That's pretty cool, so however shall I sell it to you…?
Profanity, hot bullets and blue Brony action!
Many sarcastic thanks to whichever of my sympathisers on Twitter explained the term 'Brony' to me before the launch of MY LITTLE PONY comics, following a flock of five adult fellows in a single swoop pre-ordering the MY LITTLE PONY #1 COMPLETE BOXED SET at £18-99 each. I cannot unlearn what I now know to be true, so I may never fully recover. What I learned was this:
There has been a surge of what could loosely be called man-love for that saccharine pink pony, and those enjoying such a wayward cultural misalignment are called Bronies. Now, I'm hardly the butchest boy in the box and obviously Page 45 is an all-inclusive, non-judgemental love-in for all manner of diverse penchants and pleasures… but there are fucking limits.
By which I mean: "That'll be £18-99, please. Thank you very much! You are so loved!"
And honestly, you are.
I'm just being cheap and I deserve any / all flack that I get.
But how could this possibly be of any relevance to a Grant Morrison and Darick Robertson comic?
Well, Happy here is a feathered blue pony with big, bulbous, bright shiny eyes, a purple unicorn horn and accentuated, goofy front teeth. Knowing Grant Morrison you may seriously doubt this, but potentially he's the product of a delirious imagination as ex-Detective Nick Sax is sped across town in an ambulance after receiving several gunshot wounds in part-exchange for having murdered the four Fratelli brothers. They thought they were on a mission to axe our Sax, but it was no-nonsense Nick who hired them in the first place. The police are swift to the scene but that's good news for no one except the Fratellis' Uncle Stefano who's determined to keep it all in the family – "it" being the Fratelli fortune. Unfortunately no one bothered to tell him the password and the only person still alive who knows that now is Nick.
Corruption is the order of the day on the snowy streets of God Only Knows and torture/interrogation will follow, all kindly overseen and endorsed by New Jersey's Finest in the form of Maireadh McCarthy who's firmly in Uncle Stefano's pockets. Time to send in arch-information extractor Mr. Smoothie:
"I feel like the ghost of a hard-on that will not die."
Along the way we meet a drunken paedophile dressed up as Santa (you'll meet him again – and, after Nick knows where, you'll know when), while Sax quite casually and coincidentally dispatches a serial murderer in a prawn costume smoking a spliff from a back end of a hammer which was five seconds away from coming down on the head of a prostitute blowing him to blissful oblivion. Did I mention it's Christmas?
From the writer of WE3, NAMELESS, JOE THE BARBARIAN, THE INVISIBLES and DOOM PATROL etc. comes something akin to THE FILTH only without the giant, flying spermatozoa. Profanity abounds and he's set out to sully the holiday season whilst lobbing in the incongruity of bright-eyed chirpy-pants Happy The Horse who claims to be Hailey's imaginary friend sent to Sax to rescue her from the plastered paedo.
TRANSMETROPOLITAN's Darick Robertson is on his best form ever with masterfully slick choreography, the sturdiest of figure work and eye-popping street scenes all beautifully lit and then coloured to perfection by Richard P. Clark.
SLH
Buy Happy s/c and read the Page 45 review here
Fantastic Four: Epic Collection vol 2 – The Master Plan Of Doctor Doom s/c (£35-99, Marvel) by Stan Lee & Jack Kirby.
Welcome
back to sixteen more issues of very weird science!
See the Fantastic Four fly the Fantasti-car without first deciding on a designated driver… straight into a giant milk bottle!
Gasp as Mr. Fantastic stretches high in the sky to pluck a couple of missiles off the bottom of a fighter plane going at, oh I don't know, a thousand miles an hour!! He doesn't even have to unlock them!
Laugh as poor Johnny – the Human Torch whose flame can melt through rock and metal – is put out by a single vase of water!
"Put out of action by a plant pot!" he gasps.
It's a vase, you dimwit.
"I'll never live it down!" he wails. And he won't.
It's key material, with all the regulars from The Mole Man, Doctor Doom and Diablo to Namor the Submariner making another of his oh so many seductive moves on Susan Storm. You may want to read about his first foray in FANTASTIC FOUR EPIC COLLECTION VOL 1 during which I had a field day because, honestly, distil their origin:
Saying "No, sir!" to NASA, four thieves steal a space rocket, and strangely we applaud.
The X-Men guest-star as does Dr. Strange, and even Nick Fury in what might be his first appearance as Colonel as opposed to Sergeant. He's working for the C.I.A. rather than S.H.I.E.L.D. which hadn't yet formed, and is mightily concerned about America's investment in San Gusto, a "showplace of democracy" surrounded by commies into which the US has sunk billions. Apparently the citizens are revolting, so Fury enlists the Fantastic Four's aid to interfere with yet another nation's affairs because, as he so righteously pronounces, "We couldn't interfere in another nation's affairs!"
Not until the C.I.A. or George Bush Jr. told him to, anyway.
What I haven't mentioned yet is that this is all the result of the Hate Monger who has set up shop in San Gusto before travelling to New York to spread his racial hatred in mass rallies that incite the crowd to violence. This was Stan Lee's first full issue tackling that most "un-American" of American sentiments upon which the country was virtually founded and which it has systematically practised or endorsed ever since (in an overt nod to the KKK, the Hate Monger is wearing a purple version of their cowardly cowl).
[Oh dear god, I wrote all of the above, verbatim, over a decade ago, and now we have Donald Trump as American President, praising white supremacists as "fine people", while Nazi swastikas were ignited, just the other night, in Georgia without any arrests that I'm aware of.]
Lee is, of course, to be unequivocally commended for this first and his future attempts to liberate his readers from the predominant social attitudes around them by having his heroes vocally reject racism for the poison that it is, as he went on to do in AVENGERS EPIC VOL 2. It's just a shame that it had to involve a fictional hypnotic Hate Ray, for the human race is perfectly capable of being swept away by the likes of Moseley, Trump and Hitler, the BNP, UKIP and the British Tory Party as it stands, without anything more conducive to racism than its own ignorance, ill-founded fear and desperate desire for conformity.
Where Stan Lee hasn't yet seen the light, however, is with Women's Lib. For although for the first time here Sue Storm begins to discover and experiment with turning objects other than herself invisible and utilising an extended invisible force field, she is overwhelmingly still in thrall to wigs and dresses and, well…
"You know, Reed, this measuring device to test my invisibility would make the kookiest hat!"
"Just as I thought! You have greater powers of vapidity than you suspect, Sue!"
Sorry, what he actually says is "invisibility" not "vapidity", although you can see what he's thinking. In fact you can read what he's thinking half a dozen pages later when he snaps at his go-to girlfriend:
"Just like a woman!! Everything I do is for your own good, but you're too scatterbrained to realise it!"
But wait, perhaps Stan is having a go at the dismissive male by condemning him, Jane Austen-stylee, through words from his own mouth?! Ummm… no.
"That man!!" she seethes. "I know he's right… and that's why I'm angry!"
The undoubted highlight, however, is when the Hulk hits New York in a rage of rejected jealousy when he discovers a newspaper clipping Dr. Bob Banner has left crumpled in his giant purple pants: news that The Avengers have replaced him with Captain America for whom he's been forsaken by BFF Rick Jones. If memory serves, the Hulk had actually told The Avengers to fuck off in no uncertain terms, but that Rick thing's sure gotta sting.
Unfortunately The Avengers are hunting the Hulk down in New Mexico, and as the Hulk hits town (and the town's subway system, its subway trains, its skyscrapers, its news vendors, water hydrants and anything else that gets in his way) Reed Richards succumbs to a bout of man-flu. Neither the Human Torch nor the Invisible Girl survive long under the viridian vandal's relentless assault, so the way is paved for the biggest one-on-one slug-athon so far to determine the answer to that immortalised question:
"Who is stronger, the Thing or The Hulk?"
And it is truly epic. There's a speedboat chase, a battle on top of the Washington Bridge, plus buses, buildings and electric cables all play their part as improvised hand-weapons while Ben Grimm (The Thing) valiantly soldiers on well into the second issue without a hope in hell of winning. It is, however, when The Avengers finally show up… that they get in each others' way. Of course they do!
Except Captain America who's smart on tactics, quick on his wits and, unlike the pill-popping Ant-Man / Giant Man / Amazing Identity Crisis Man, totally drug-free. Here's the Hulk:
"Try to lecture me will ya?? I'll — Hey!! How can you move so fast??"
"Clean livin' does it, Sonny!"
Yes, the Captain is Straight Edge!
I was so impressed with that pronouncement aged 6 that I used it everywhere: in the playground, right round The Rough with my mates… even when my Mum wondered how I could possibly eat so much ice-cream: "Clean livin' does it, Sonny!"
Better still is the cover to that second issue (#26) set high on a nascent skyscraper's skeletal girders, the Hulk at its apex and Rick holding on precariously to a corner, while all nine of our colourful combatants fly or climb towards them both. Structurally, it is magnificent, Giant Man no more than twice the size of the others for fear of tipping the balance of the composition too far in his favour and destroying the framing rhomboid which moves your eye around the piece in exactly the same way as the most famous of Caravaggio's three 'David With The Head Of Goliath' paintings.
I'm not making this shit up.
Nor for once am I making this up when the raging hormone that is Johnny Storm, zapped by the Hate Ray mentioned earlier, gets his emotions confused after his sister Sue Storm douses his flame:
"Try that again, and I'll forget you're my sister — which would be a pleasure!"
Johnny!
Bonus Jack Kirby cover / Caravaggio comparison point:
Follow the Torch's fiery trail from left to right, then right to left as he turns towards the Hulk; your eye then moves a little further along the girder the Hulk's holding up before dropping down towards Rick Jones then further left along the girder falling diagonally towards the street; finally Thor completes the loop as your eye moves back towards the Torch's trail and the artfully placed yellow-on-green caption at the bottom. Repeat: you won't be able to help yourself.
With Caravaggio, it's not quite a rhombus but certainly a right-angled quadrilateral similarly pitched. Follow the slant of the left-hand side of David's head down to his shoulder and thence through the shadow to the shine of the sword at its hilt; then down the length of the sword, tellingly, to the crotch; up and to the right is the object of his victory and desire, Goliath's head, then the shape is completed back up to the head via the length of the boy's visible, outstretched arm.
You're welcome.
Contains FANTASTIC FOUR #19-32 and Annual 1-2
SLH
Buy Fantastic Four: Epic Collection vol 2 – The Master Plan Of Doctor Doom s/c and read the Page 45 review here
Norse Myths – Tales Of Odin, Thor And Loki h/c (£18-99, Walker Studio) by Kevin Crossley-Holland & Jeffrey Alan Love.
"Kevin
Crossley-Holland is the master."
– Neil Gaiman
I don't have any evaluation for you here, so sorry, because it's illustrated prose, and I'm currently addicted to Yuval Noah Harari's 'Homo Deus', his sequel to 'Sapiens' which was so stunning that I read it twice, back-to-back in order to assimilate its revelations. Eloquent and entertaining, the books thoroughly and thoughtfully contextualise the history (then potential trajectory) of human life over the last 70,000 years ever since our Cognitive Revolution. Expect to be mind-blown every other page.
We can order prose in for you too, if you like. It's as easy as pie, and all available within the week as one-off requests or to pop in your Page 45 Standing Orders.
Anyway, every spread here is strikingly illustrated by Jeffrey Alan Love and if today's Young Adults are anything like me, they'll still be lapping up epic mythologies. The photos I have for you are Love's own from home, taken from Twitter.
While reminding you of what Neil 'Norse Mythology' Himself wrote, above, here's the publisher instead:
"An extraordinary and enthralling illustrated anthology of Norse Myths from a Carnegie-Medal winning author. The gods of the Vikings come to life as never before in this extraordinary illustrated anthology by Carnegie Medal-winning author Kevin Crossley-Holland and artist Jeffrey Alan Love. These dramatic, enthralling and atmospheric tales are based on the Scandinavian myth cycle – one of the greatest and most culturally significant stories in the world – and tell of Odin with his one eye, Thor with his mighty hammer and Loki, the red-haired, shape-shifting trickster.
"In this stunning collection of myths, the strange world of ancient magic, giants, dwarfs and monsters is unforgettably imagined."
SLH
Buy Norse Myths – Tales Of Odin, Thor And Loki h/c and read the Page 45 review here
Arrived, Online & Ready To Buy!
New reviews to follow, but if they're new formats of previous books, reviews may already be up; others will retain their Diamond previews information we receive displayed as 'Publisher Blurb'.
About Betty's Boob h/c
(£26-99, Archaia) by Vero Cazot & Julie Rocheleau
The City On The Other Side (£12-99, FirstSecond) by Mairghread Scott & Robin Robinson
The Day The Crayons Quit s/c (£7-99, Harper Collins) by Drew Daywalt & Oliver Jeffers
The Day The Crayons Came Home s/c (£7-99, Harper Collins) by Drew Daywalt & Oliver Jeffers
Gumballs s/c (£17-99, Top Shelf) by Erin Nations
Hellboy And The BPRD – 1955 (£17-99, Dark Horse) by Mike Mignola, Chris Roberson & Shawn Martinbrough, Brian Churilla, Paolo Rivera
John Carpenter's Tales Of Science Fiction – Vault (£8-99, Storm King Productions) by James Ninness & Andres Esparza
Tomorrow (£7-99, BHP Comics) by Jack Lothian & Garry Mac
Wet Moon vol 6: Yesterday's Gone (New Edition) (£17-99, Oni) by Sophie Campbell
Dark Nights: Metal h/c (£24-99, DC) by Scott Snyder, James Tynion IV & Greg Capullo, Mikel Janin, Alvaro Martinez
Hal Jordan And The Green Lantern Corps vol 5: Twilight Of The Guardians s/c (Rebirth) (£14-99, DC) by Robert Venditti & Patrick Zircher, various
Tales Of Suspense: Hawkeye And The Winter Soldier s/c (£14-50, Marvel) by Matthew Rosenberg & Travel Foreman
Mouse Guard: Autumn 1152 h/c (US Edition) (£18-99, Archaia) by David Petersen
Battle Angel Alita – Mars Chronicle vol 3 (£9-99, Kodansha) by Yukito Kishiro