Featuring Gareth Brookes, Carole Maurel, Mariko Tamaki, Clement Baloup, Farel Dalrymple, Mathieu Bablet, Mairghread Scott, Robin Robinson, Joe Todd-Stanton, Mike Mignola, Duncan Fegredo, Mark Millar, Olivier Coipel.
Afterwords (£5-99, self-published) by Gareth Brookes.
In which
Brookes reprises both THE BLACK PROJECT and A THOUSAND COLOURED CASTLES, neither of which you need read before these deeply satisfying self-contained stories, each delirious in its own different way.
On the other hand, if you have already relished either of those graphic novels then you are in for two wildly witty departures / re-treatments, building on what's gone before, so let's call them "sequels of sorts".
I'm far from surprised because Brookes does love to experiment, not just with style and presentation, but with the very media he employs to produce them. Eschewing both digital art and pen on paper, Gareth has a penchant for selecting the least obvious and seemingly most difficult but fascinatingly physical means of construction, each apposite to what's going down.
"There are things I leave out of course, because I don't want the trouble to start again."
Very wise, Richard, very wise. First dates can be a tentative minefield, can't they?
THE BLACK PROJECT (which we made Page 45 Comicbook Of The Month) featured scratchboard panels within often elaborate cloth-embroidered frames. Why cloth-embroidered? Well, teenage Richard was stitching his girlfriends. Not stitched them up, but stitching them together. He was creating them from bits and bobs which he found lying around. And then he, ummm, you know… courted them? Wooed them…? Made love to them…?
It was a black comedy, yes.
Now Richard has grown up, found gainful employment, and he thinks he has a better handle on life. Actually, I think he does. He's kind and considerate, and has certainly a lot lovelier outlook than his boss's and his boss's best mate's. These are two leering, lager-lout lads of a certain hair-receding age whom he works with, along with his dearest Denise whom Richard has been in love with for four years. She's presented on the page as a radiant if scowling and quite haggard Madonna; or, on another page, as Medusa. Still, eye of the beholder and each to their own, right? I admire everyone who sees beneath the surface.
Anyway, they all invite a very reluctant Richard out for birthday drinks. He was right to be reluctant on so many levels, but I'm going to leave that for you to discover yourselves. Let us just say that there are developments. There are multiple developments.
Compared to the original, we're given a little more colour in the green, blue and tangerine stitching on dowdy beige hessian fabric, while the quite hideous, nightmare-co-worker cast, rendered in block black-and-white, glow with a seam of unsettling, vampiric red, slightly off-set as if you're looking at 3-D pages without the glasses… or as if you've been drugged.
The self-contained "sequel of sorts" to A THOUSAND COLOURED CASTLES is in some ways even cleverer, for in the original, rubbed out on the page in wax crayon, elderly couple Fred and Myriam were living out their quiet, retirement in tranquil suburbia. Fred was and remains profoundly stick-in-the-mud, constantly complaining conservative whereas Myriam's life seemed far more colourful if alarming, beset as it was with the most vivid and elaborate hallucinations brought on not by a thankfully rare but very real vision impairment called Charles Bonnet Syndrome.
Now Myriam is seeing things for what they really are – tanks in the tree-lined street, bludgeoning the neighbourhood to bits – whereas Fred's in a world of his own, deliberately filtering reality through a virtual, rose-tinted one: a headset which you can tweak to your heart's desire. Fred's heart's desire is to be reassured / placated / sedated by the increasingly reactionary, culpably oblivious BBC News embodied here by Fiona Bruce. They both see bombshells, but very different ones.
When Fred is finally persuaded to take a break from virtual reality he still "sees" what he's been taught to by our manipulative media:
"Ah, oh dear. What a mess.
"But I'm sure the authorities have it all in hand.
"Must stop terrorism, Myriam."
There's nothing like a patriotic Royal Jubilee or Wedding street-party celebration for lifting the embattled spirits, is there? It's all about the art of distraction.
Meanwhile, whoops, there goes the neighbourhood – quite literally! – along with this politically apathetic and morally bankrupt, blinkered, blinded, heads-in-the-sand, self-centred and so sad excuse for a country.
SLH
Buy Afterwords and read the Page 45 review here
Luisa: Now And Then (£22-99, Humanoids) by Carole Maurel, adapted by Mariko Tamaki.
Here's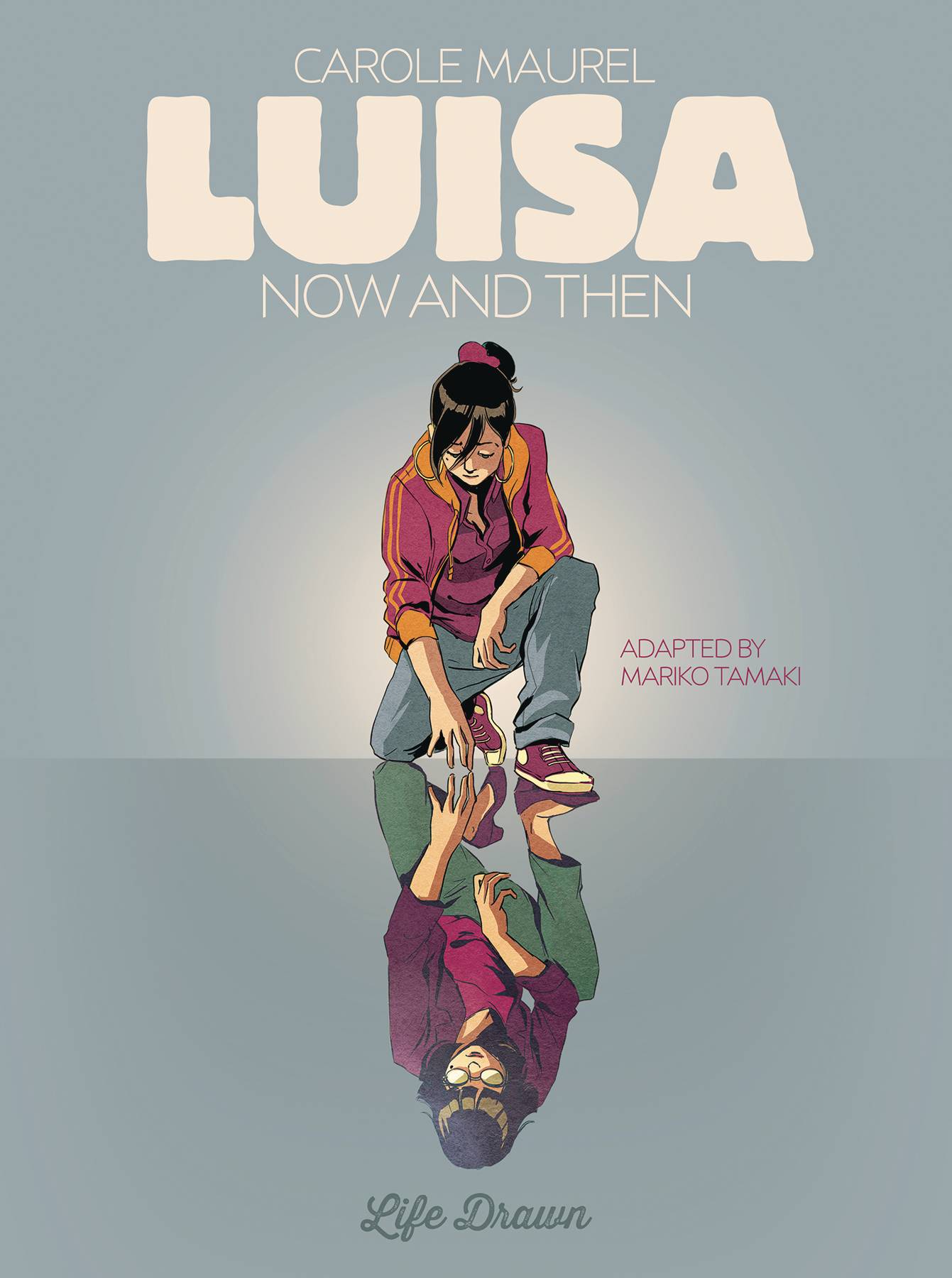 an intriguing hypothetical for you:
"What would you do if your fifteen-year-old self showed up at your door?"
Would you, for a start, recognise them immediately and instinctively realise that, however improbable, there must have been some time / space seepage? Would you wince at their lame sense of fashion, chronic acne and well wonky hair? Would you balk at the very possibility that it could even be you, or welcome their arrival as an opportunity to educate, give them great solace or even a kick up the arse?
Let's flip that a little:
"What would that teenager think of what you'd become?"
Unless you are a teenager reading this review, of course, in which case: can you imagine meeting your 33-year-old self? Who do you imagine you'd be by that age, and what do you think you'd be doing? I mean: for friendship, self-fulfilment and for a living?
It's worth having a good old cogitation upon all that before reading this book or even this review, because creator Carole Maurel is going to propel this in a completely different direction from anything that I'd anticipated other than this: modern technology, socio-political progress on the sexuality front will indeed prove satisfyingly pivotal to the proceedings.
Meanwhile, both perspectives are explored here as 15-year-old Luisa Arambol from Chartres wakes one morning on a bus which she'd boarded the night before back in 1995, and is told in no uncertain terms to dismount. She has absolutely no idea where she is, but quickly discovers she's in Paris.
She attempts to phone home using a credit card at a public call box, but the card is rejected. She tries to buy a phone card in the nearest tabac / café only to be ridiculed for not being in possession of a smart phone. She earnestly tries to pay for the phone card in Francs.
"Is this a joke?"
This is no joke. Poor young Luisa may now know that she is in Paris, but she still has no clue that it's 2013, a good ten years after Francs in France were discarded for Euros. She's at her wit's end.
Naughtily enough, that's where I'm going to leave you on that thread.
33-year-old Luisa Arambol, meanwhile, is living in that self-same city in that self-same time, which is 2013. She has inherited the flat which she lives in from her Aunt Aurelia. Although Luisa once had more fulfilling dreams of being an inventive, arty photographer like 23 Envelope's Vaughan Oliver, she's perfectly happy with her paid work, photographing foodstuffs to look fancy with dear friend Farid for glossy magazine advertisements. What she's disgruntled about is her love life: a succession of men she dates enthusiastically at first, but who prove way too mundane once they're shacked up with together. To be honest, it's not just them: it really is her. They're good for a fling, but the reality is really not pressing her buttons at all.
Now, as my early questions suggest, the two are going to come into contact and everything up to that point is perfect, especially young Luisa's protracted confusion (no one is going come straight out like Doctor Who and ask "Wait – what year is this?"), what she makes of modern technology ("Crazy, Paris is so high tech."), and the means by which she discovers the date. Also impressive is how credibly Good Samaritan Sasha, who temporarily adopts Luisa in order to help her track down local relatives, reacts to Luisa's predicament and the personal possessions she finds in her duffel bag. And finally there's that search for local relatives which of course would be Aunt Aurelia who was still alive back in 1995, and you already know who's living in that flat now!
Perfect!
The colours don't half glow on the page, and the portraiture throughout is delicious, reminding me of SAGA's Fiona Staples, particularly the double-page spread when each Luisa finally realises the truth about the other's identity. The clothes all hang just-so off the bodies, the lines are soft, the skin smooth, and the hair fulsome and silky. Everyone's conditioning regimen is admirable.
But it quickly becomes clear that the questions should have been "What would you do if your fifteen-year-old self showed up at your door and what would that teenager think of what you'd become if you'd long denied your sexuality partly because of an incident during which your fifteen-year-old self failed to support another girl she had a pash on when that other girl was subjected to some seriously vilifying homophobic abuse and ostracism which was then compounded by your mother?"
That's a very specific question.
What's on the page is pretty powerful stuff – and is cleverly tied in to further family history – but it's what's not on the page which left me disappointed, which is everything else. None of the other ever so many questions and answers I'd seek of the other are explored, and I found that so frustrating.
There's also one hell of a lot of incomprehensible crotchetiness throughout on adult Luisa's part, and she chastises her younger self unforgivingly for being unsure of her leanings when we all know that a fifteen-year-old's life is both confusing and restrictive. Okay, we can perhaps put that down to adult guilt, but does everyone in Paris treat waiters like dirt? That really rankled.
However, the good news is that a) you'll like chic Sasha, and b) there are more surprises to come, for although neither of them realises it at first things are still alarmingly in flux, and there is a stunning scene involving a reflection on a restaurant's floor.
By the way, that is indeed Mariko Tamaki, the co-creator with cousin Jillian Tamaki of THIS ONE SUMMER and SKIM, whom you see credited for the book's "English Language Adaptation".
For more non-genre time travel (i.e. gentle fiction in which the only science-fiction is that you have returned in time to your childhood, please see also Jiro Taniguchi's flawlessly contemplative A DISTANT NEIGHBOURHOOD.
Lastly, since I posed those two hypotheticals, I think it's only fair that I append answers of my own.
"What would you do if your teenage self showed up at your door?"
I'd start by reassuring the poor boy – bewildered by what on earth life might be like beyond school – that it'll all be all right in the end. I don't know about you, but aged 15 I could not imagine being capable enough of anything to independently earn a living.
"What would that teenager think of what you'd become?"
I believe he'd say, "That makes perfect sense".
On all counts.
SLH
Buy Luisa: Now And Then and read the Page 45 review here
Vietnamese Memories Book 1: Leaving Saigon (£14-99, Humanoids) by Clement Baloup…
"There were G.I.s everywhere. We used to collect the cartridges they were always dropping…
"…Then we'd whack them to make them explode. They'd go off like firecrackers.
"When you're a kid, you never think about the dangers. One of us could have gotten killed!"
When us Anglophones hear the word Vietnam, we are so inculcated to think of the ill-fated US war, that often we forget that the roots of that particular conflict actually began several generations before with the French colonial occupation. Well, occupations plural technically, as having been kicked out of what was then named French Indochina by the Japanese towards the end of WW2, the French had the temerity to then try and reoccupy it. The Viet Minh led by Hồ Chí Minh eventually put paid to that after nearly ten bloody years in 1954, before the Americans decided they could do better, and well, we all know how that turned out…
Anyway, as a child born in France in 1978, Clément Baloup only heard the story of his father's life as a youngster back in Vietnam, and his subsequent emigration to France, some twenty years later whilst being taught to cook a traditional prawn curry in his dad's kitchen. That's the opening 'memory' very touchingly portrayed here and which subsequently set Clément on the path of collecting other such stories of the Vietnamese Diaspora to France. A process that actually began long before, you might suspect, ahead of the main waves of the pejoratively named 'boat people' in the seventies, with several thousand immigrants being torn from their families and forcibly shipped to France to work in munitions factories very shortly after the start of WW2. Whilst some were eventually repatriated back to Vietnam several years after the war ended, after repeated requests to the French government who seemed oblivious or perhaps simply not remotely bothered about their plight, others chose to stay behind and forge new lives for themselves.
All the stories are illustrated in extremely impressive fashion, some in black and white, and some in watercolour and cover a wide variety of experiences, both good and bad. Frequently they touch on both life in Vietnam and then France for the Vietnamese who made the arduous and often dangerous journey to Europe. For most, there was little choice to their sudden exodus, be it forced, or to avoid the impending change in political regime. But it certainly always caused unimaginable upheaval and suffering which often took years to overcome in the face of poverty and prejudice in the new homeland.
For more Vietnam history, please see Thi Bui's profoundly moving story of her parents in THE BEST WE COULD DO.
JR
Buy Vietnamese Memories Book 1: Leaving Saigon and read the Page 45 review here
It Will All Hurt (£16-99, Image) by Farel Dalrymple.
"And
Almendra feels an ill in the air."
From the creator of THE WRENCHIES, POP GUN WAR VOL 1, both extensively reviewed, plus POP GUN WAR VOL 2 and – just in – PROXIMA CENTAURI.
The publisher writes:
"A weird, sad, silly, sketchy, and dreamy watercolour fantasy-action quest in which Alemendra Clementine and her crew of anti-social adventurers all come together on a psych-apocalyptic world to take down an evil wizard.
"This Eisner Award-nominated webcomic began as a loose stream-of-consciousness exercise and exploration of the comicbook medium and takes place in the same world as Farel Dalrymple's THE WRENCHIES. Collects IT WILL ALL HURT #1-3, plus all six chapters of the webcomic."
That's a very fair assessment. There is indeed a loose, sketchbook-like quality to the narrative as likely to drift towards old stones standing round a raised burial mound, the site itself surrounded by the ruins of ancient battlements, as it is to encompass a spherical space capsule whose vulnerable glass viewing screen comes under attack from a long-taloned vampire in a top hat.
And yes, it is indeed the stuff of disorientating nightmares.
"I'm getting that weird feeling again.
"Like watching myself in a bad dream.
"The house is on fire and I am screaming at myself to get out before it's too late."
The crew of anti-social adventurers embark on the sort of fantastical quest you might imagine acting out as seven-year-olds, making it up as you go along. They're dressed both strange and mundane, brandishing weapons like flaming sticks and heavy iron axes while looking lanky, disconsolate, maybe stoned. Some seem younger and sullen, however belted, booted, suited and caped-up for action. Others practise falconry, magic or martial arts.
There's a talking cat (I've just doubled the sales), and a rat too.
SLH
Buy It Will All Hurt and read the Page 45 review here
Proxima Centauri #1 of 6 (£3-25, Image) by Farel Dalrymple.
"Get behind
the blast glass!"
*
"Don't freaking lecture me."
*
"Everything's so stinking annoying today."
*
"That thing ate my ride! What a jerk."
New series from the creator of THE WRENCHIES, POP GUN WAR VOL 1, both extensively reviewed, plus POP GUN WAR VOL 2 and – just in – IT WILL ALL HURT which I also dipped into.
If you enjoyed THE WRENCHIES, then it's time to rejoin The Scientist and indeed fractious Sherwood, still fretting about his lost brother Orson while frowning and drowning in post-pubescent hormones.
"Don't forget to drink water, Sherwood."
"I know."
Here's the publisher:
"4.243 light-years from Earth, the teenage wizard adventurer Sherwood Breadcoat is stuck in the confounding spectral zone on the manufactured dimensional sphere, Proxima Centauri, looking for escape and a way back to his brother while dealing with his confusing emotions, alien creatures, and all sorts of unknown, fantastic dangers. In this issue The Scientist H. Duke sends Sherwood on a salvage mission and gives counsel to the troubled boy in his charge.
"PROXIMA CENTAURI will be six issues of psychedelic science fantasy action comicbook drama starring Sherwood Breadcoat, 'The Scientist' Duke Herzog, Dr. EXT the Time Traveler, the ghost M. Parasol, Shakey the Space Wizard, and Dhog Dahog."
Dalrymple nails Sherwood's teenage obstreperousness with giant, proclamatory speech balloons and defiant, sword-brandishing impatience to which The Scientist issues sage and scholarly advice without any thought to the certainty that it'll mean nothing whatsoever to a self-obsessed teenager:
"Why so impatient to grow up? Learn to be present and your anxiety will subside."
It's hard to be present while under assault from sewer-swarms of monstrous, sharp-toothed insectoids while racing through gravity-shifting concrete jungles and spectacular, architectural retro-futuristic collisions.
There's some Basil Wolverton about the bloating of the beasts' heads, and a big love of Moebius in some of the floating landscapes.
File under "all kinds of crazy" and drink in the varied colour treatments.
SLH
Buy Proxima Centauri #1 and read the Page 45 review here
The Beautiful Death h/c (£21-99, Titan) by Mathieu Bablet.
Oh, this
is ever so French!
It's not so much the poor lone man with the haunted eyes staring out over the lifeless concrete city, weeping inconsolably… for himself, I suspect!
I can't say that I blame him. It's been four years or so of unbroken solitary… what's the opposite of confinement? Sometimes four small walls must seem a mercy.
It's all there before him, stretching endlessly, emptily, dirtily and a bit broken.
What else is there to do other than rock on a chair, mind-numb, or roam the echoing avenues, passing abandoned communal play areas, unattended gardens, crashed cars and lank electricity lines?
It's as desolate and derelict as an empty outdoor municipal swimming pool – with some of the same, lame, tiny mosaic tiles.
There are small trails of encroaching vegetation in the cracked concrete. I bet the buddleias got there first – they're the worst.
Eventually he finds himself back at his equally unpopulated apartment with its lo-tech radio & car battery attached, calling out to anyone else who isn't there. No reply, obviously.
It wasn't zombies, by the way. It was the insects.
"I just can't get rid of it. That taste of ash in my mouth.
"It reminds me… Reminds me of those Wednesday afternoons.
"My mother would take me over to Mrs. Jones for her madeleines. She was terrifying. So were the madeleines."
Okay, so that's pretty French.
"Burnt to ash. Just like any love for my dad still left in my mother's heart."
Bit of a downer!
"Sadly, for the culinary world, the gentle Mrs. Jones perished in a tragic mishap at the zoo, determined to save a poor adventurous child from the hands of a rutting orang-utan."
No, what's so French about this are the three bickering idiots who "supersede" him.
I don't want to spoil the moment for you, but even his exit is French. Too funny!
There's Jeremiah, the shouty one with spiky blonde hair like some escapee from NARUTO; stern leader Wayne who has set rules and demands discipline except from Soham who doesn't seem to give a shit about anyone or anything anymore. Soham seems to have lost all sense of humanity or connection to it. Although he still looks both ways before crossing a road, even though there hasn't been any traffic for years.
They scour the shops and loot every can that they can. Cans are all that's left. And even they have their sell-by dates.
"Four years… according to this can that's all we have left."
"Say what?"
"We never talk about it, but no matter how you cut it, the days on these cans are our expiration date too."
There appear to be no viable crops and no edible animals. Although insects are edible, aren't they? There are an awful lot of those.
It's very much two against one: they almost abandon Jeremiah at one point.
It's a very quiet comic to begin with. Even the "incident" is more of a situation, simply presented to us without any preceding narrative or the most obvious dramatic action that would have got us all going.
The rescue goes unacknowledged. Instead they stand there in silence, in the needle-sharp rain under coloured umbrellas – very French.
Other roof-top, table-top umbrellas blow poetically away in the squall.
That's some seriously lovely rain, that is.
SLH
Buy The Beautiful Death h/c and read the Page 45 review here
The City On The Other Side (£12-99, FirstSecond) by Mairghread Scott & Robin Robinson…
"War and pain raged in the world of Fairy. On both sides.
"But the fairy world is not the only world. The human world continued… unaware of the war that was destroying them as well."
The publisher blurb burbles…
"The first decade of the twentieth century is coming to a close, and San Francisco is still recovering from the great earthquake of 1906. Isabel watched the destruction safely from her window, sheltered within her high-society world. Isabel isn't the kind of girl who goes on adventures.
"But that all changes when she stumbles through the invisible barrier that separates the human world from the fairy world. She quickly finds herself caught up in an age-old war and fighting on the side of the Seelie – the good fairies."
You see, Isabel might not be the kind of girl who goes on adventures, but she desperately wants to be. However, between her over-protective snob of a high society mother and her absent workaholic sculptor father, she's completely ignored and stuck oh-so-safely in her room. So when adventure accidentally beckons, she seizes it with both hands and leaps through the Veil, which separates our world from the Fairy realm. With a Fairy civil war raging and the only hope of stopping it being to return an enchanted necklace to its rightful owner, Isabel will soon be getting all the action-packed antics she could ever wish for.
Definitely one for fans of the likes of AMULET, with its cast of weird and wonderful characters including a feisty talking mushroom called Button, and NAMELESS CITY, for its relentless breakneck pace and desire to make a few pertinent social comments suitable for any time too, this is a very well-written self-contained slice of all-ages fun.
JR
Buy The City On The Other Side and read the Page 45 review here
Arthur And The Golden Rope s/c (£7-99, Flying Eye Books) by Joe Todd-Stanton.
A huge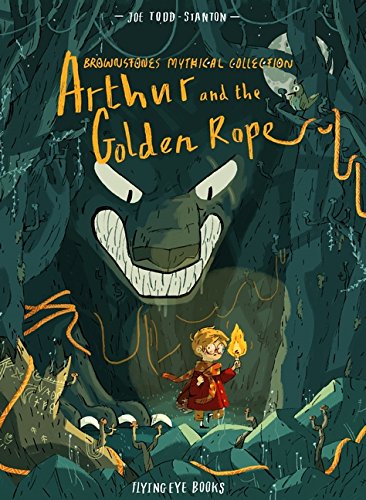 endeavour for a tiny person, this is now out in softcover!
I love a good quest, and this is a most excellent quest involving Thor, Odin and Fenrir, the enormous, sable-coated wolf sired by the trickster god, Loki. It is ever so black and bad tempered!
Rich in the warmest of colours and with a superb sense of scale, HILDA fans are going to lap this up; ZELDA fans too because young Arthur is essentially an Icelandic Link, addicted to exploration and a certain degree of pilfering, forever adding artefacts to his arsenal of treasured possessions.
This includes the Hand of Time, an actual hand (a bit creepy!) which Arthur once discovered high up in an ancient tower, sat on an ancient stone column at the top of some ancient stone steps and bathed from behind in moonlight cascading though a window in the shape of a stopped clock. I imagine Arthur must have successfully interpreted this clue before whipping it away, for the Hand of Time has the power to freeze anyone who touches it – which is a neat piece of self-defence, when you think about it.
It's probably best to use gloves.
Arthur's also adept at making friends in high places, like the mighty red rooster Wind Weaver, nested towards the top of even more ancient, tall, craggy cliffs. Such was Arthur's fortitude and determination that he managed to climb that nigh-vertical escarpment and return to Wind Weaver her missing egg, against all odds unbroken.
He also once rescued a cat from a tree.
Arthur is going to need to summon all his courage and command his quickest of wits, however, in this daring quest to restore fire to his otherwise frozen town after its gigantic brazier is knocked down and extinguished by Fenrir. I told you it had a bad temper.
To be honest, the townsfolk aren't that much better, especially the adults. They scowled at Arthur and his adventures, his trophies and trinkets and the little goblin folk who followed him in rootin', tootin' celebration after he mediated an end to their war with the fairies. But, battered by Fenrir's assault, the citizens are sure going to need our young Arthur now, for the only way to restore fire to the town's brazier is to curry the favour of Thor, and the only way to curry Thor's favour is to help him defeat the five-hundred-foot Fenrir.
For this meticulous Arthur will need three things: to capture a cat's footfall, to snip off the roots of a mountain, and remember old lessons learned.
The Asgardians have tried to vanquish the beast by themselves, but Fenrir nearly squished Frejja, barely missed breaking Baldr between its teeth and successfully bit poor Tyr's arm off. Can frail Arthur triumph where the mighty gods have failed?
In every all-ages / young-readers' great graphic novel there must be certain things present including wit, rules and exploration for eyes.
Oh, you tut at the term "rules" but I didn't write that they couldn't be broken! What I mean is that a child will see through any gaps in narrative logic just as easily as an adult would, and might even be far less forgiving. They are ever so astute! This is a beauty, so casually foreshadowing whatever will follow so that its pay-off is perfect and caught me completely by surprise. But it's all there! All of it!
The wit lies both in the background details, the denouement above, and in the keep-them-guessing intrigue which is scattered throughout. How can Arthur possibly capture a cat's footfall? It's insane! And a mountain doesn't have any roots: that had me stumped.
As to the eye-candy, there are maps – yes, maps! – and so many pages which reward real inspection, from old-duffer Brownstone's armchair introduction contrasted with his hours-later adieu (look at what's happened to those bookshelves behind him in the intervening time!) to the mapped-out meandering's of Arthur's double-page sea-voyage. There tiny fingers will love to trace the serpentine path of our diminutive hero's trials and tribulations past pirate ships and old beardy Neptune, through the coils of undulating sea monsters and battling a giant squid which is ever so intent on wrestling Arthur's oars from him.
Then there's beardy Brownstone's initial, proud appearance inside his family vault of exotic heirlooms bathed in a spotlight. Young eyes are immediately invited to scan every shadow-strewn corner for curiosities: there are chests and chalices, a deep-sea diving suit, skulls and statues, a one-eyed owl, things floating in jars, swords, stones, and swords in stones. Oh wait – I think the second one is stuck in a giant eyeball!
There are swords stuck everywhere in Valhalla's hall. Can you find them all?
I mentioned Todd-Stanton's sense of scale – vital for making a quest like this seem as daunting as possible – and it's everywhere from the fearsome Fenrir who towers over the brazier, and the brazier itself, so vast that it looms large in comparison to the rest of the town when seen from afar. On that very same shot, so high in the sky, you'll spy that ancient tower which housed The Hand of Time and, on the mountainside opposite, Wind Weaver perched on her nest. Furthermore, Arthur may be small when standing beside adults and smaller still in Thor's imposing presence, but compared to the goblin folk he's a giant.
Finally we come to the gods' hall library and it is as vast as vast can be. Poor Arthur most read every dusty tome in his research for find the roots of a mountain. You can see him scampering up ladders, balancing books on his head, receiving a nasty surprise, but if you look really, really carefully…
I love it. I love this to bits.
SLH
Buy Arthur And The Golden Rope s/c and read the Page 45 review here
Hellboy: The Complete Short Stories vol 1 s/c (£22-99, Dark Horse) by Mike Mignola & Richard Corben, Duncan Fegredo, Mick McMahon, Fabio Moon, Gabriel Ba, Dave Stewart, Matt Hollingsworth, James Sinclair, Clem Robins, Pat Brosseau.
A whopping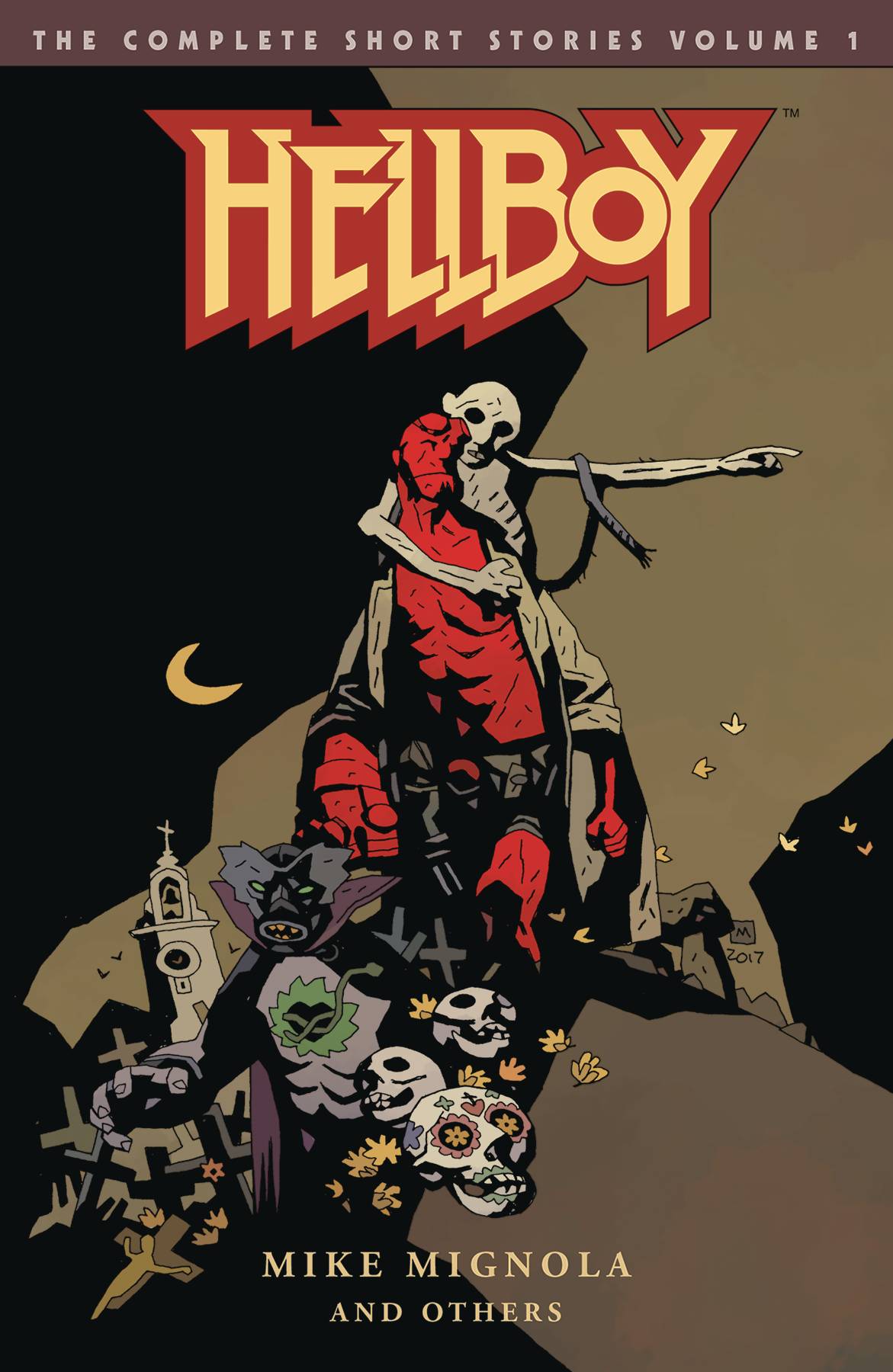 368-page volume which covers Hellboy's adventures from 1947 to 1961 in chronological order (as do all the HELLBOY omnibus editions) kicking almost immediately off with 'Midnight Circus' drawn and painted with enormous panache by Duncan Fegredo.
"But he wanted to be a real boy."
1948 at the Bureau for Paranormal Research and Defence, it's late at night and quiet.
Scampering secretly through the sleepy, well appointed HQ, a very young Hellboy, his horns still intact, overhears himself being talked of as a terrible threat. It's all there in the Visions & Revelations of one Arnot De Falvy:
"I saw a city, silent as a tomb, barren as dry bones, and the angel said, "This is Desolation". And I went down into it and the only living thing there was the creature… In most ways it had the shape and character of a man and was not terrible to look upon… But then I saw in its right hand it held the key to the bottomless pit."
So young Hellboy does what you would do at this covert equivalent of a boarding school: he runs away. And something is there to greet him, to entreat him, to seduce and reduce the poor boy to tears.
When the Midnight Circus first appears, the impact is halting. Young Hellboy crouches overlooking through a dry-stone wall the valley the circus' gigantic tent has been erected in. He's inked in Fegredo's Mingola-inspired trademark stark shadows, whereas the circus itself is swathed in misty, miasmatic watercolours as will be everything that transpires within. It's mesmerising.
And, oh, what the young boy discovers inside. Whom the young Hellboy discovers inside!
Have you read Pinnochio?
There is so much to commend this, not least of all Duncan Fegredo's swoonaway art. Long have I compared his gesticulations, dramatically angled wrists and hefty, heavy, laden hands to the mighty French sculptor Rodin. That's not something I do lightly. But here it suddenly struck me how similar his women are to that of FATALE's Sean Phillips.
You wait until you see the sunken Galleon.
If you've never read HELLBOY before in your life, this is the perfect introduction. It will leave you with questions, yes, but then you have a whole library to explore, all in print and in stock right here, right now.
Mignola has built up a legend which is why this works so well. There has been foreshadowing aplenty and this is another key part of the puzzle.
You're just a young lad. All you want to do is what's best, especially as you grow up. Okay, you shouldn't have had that smoke, you shouldn't have made that joke and maybe you shouldn't have run away. But they are your decisions, surely? They can't affect anyone else.
"Oh, my boy… what have you done?"
Brrrr….
Also included: 'The Crooked Man', 'Double Feature of Evil,' the complete 'Hellboy in Mexico' saga, as well as 'The Corpse.' 'The Iron Shoes' and more.
SLH
Buy Hellboy: The Complete Short Stories vol 1 s/c and read the Page 45 review here
The Magic Order #1 (£3-25, Image) by Mark Millar & Olivier Coipel…
"They've
just finished copulating. He's dreaming about a train journey from his teenage years. She's just closed her eyes."
"Is their home secured with any defences?"
"Yes, but I can work around them. There's a child sleeping at the end of the corridor, and I think I'll be able to go through him."
Mark Millar returns with a story in which a magician with a way with words manages to sell his fêted comics company to a large entertainment giant for megabucks and lives happily ever after. Wait a minute… his autobiography isn't out yet!
Millar is back, though, with his first 'Netflix' comic, featuring a story about five clans of undercover magicians who have protected our world from unseen magical threats for generations who are now about to fall out big style. So, sort of like a mash-up between Doctor Strange and East Enders then?
Fortunately not, but this is certainly no tale of happy families as one of the prestidigitators boldly begins a power grab and starts bumping off the others in a not-so covert fashion with the aid of a shadowy, sinister figure wearing a highwayman's hat. Perhaps a cheeky nod to 2000AD's Brigand Doom?
Plus, even within the various households, it seems that whilst there are those who embrace the thrill of waving their wands about, both publically and in private, there are some adepts who want to ditch the glamours and live a life more ordinary. Unfortunately, a declaration of being out of the game doesn't mean there isn't still going to be a target on your head.
After this opener, I have to say I'm totally entranced by Millar's new top hat of tricks. Ah, that hoodoo that you do, Mark, when you're on top form. There's sufficient depth to the story and the characters right from the off which convinces me this six issue series will be on the level of the likes of JUPITER'S LEGACY and SUPERIOR. I trust this won't prove to be an illusion.
Phenomenally fabulous art from Marvel stalwart Oliver HOUSE OF M Coipel only adds to the spectacle, and either Coipel or colourist Dave Stewart have given it a softer, smudged feel which renders it all suitably ethereal. Bravo gentlemen!
JR
Buy The Magic Order #1 and read the Page 45 review here
Voices Of A Distant Star (£10-99, Vertical) by Makoto Shinkai & Mizu Sahara…
"Award-winning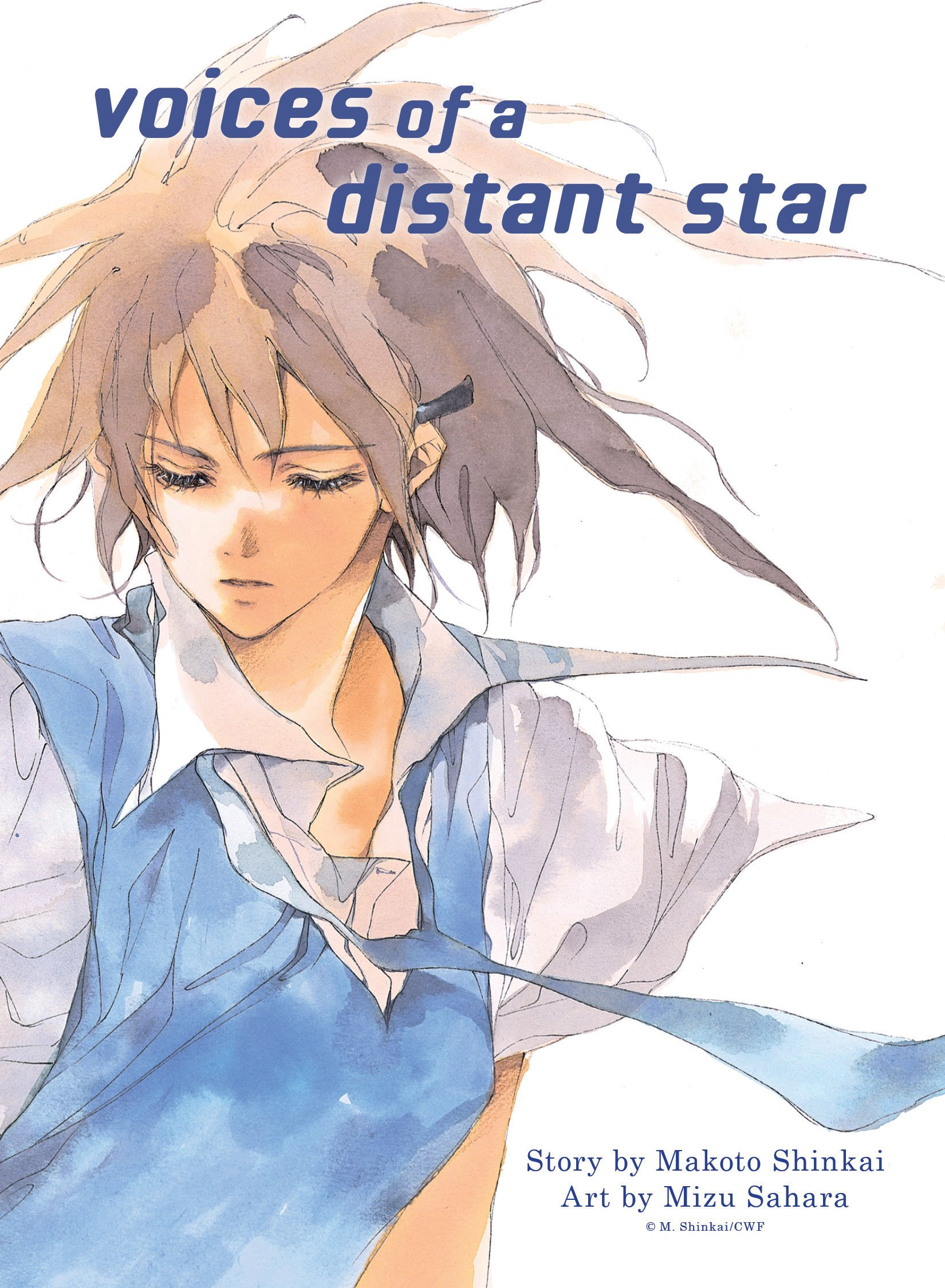 director and author Makoto Shinkai offers a romantic sci-fi tale about young love and space adventure, based on his 2003 animated film. Sixteen-year-old Mikako Nagamine enlists as a pilot to fight in the interstellar war against a force of alien invaders, leaving behind her one true love. Mikako's only connection to Noboru Terao, who's living the life of an ordinary high school student, is through cell-phone text messages. As Mikoko travels farther away, it starts to take longer and longer for Noboru to receive her messages, until finally one arrives eight years and seven months after she sent it. When at last the fighting ends, she is left stranded on the spacecraft carrier."
I've actually excised the final couple of sentences of the publisher's blurb as I felt we were drifting dangerously into spoiler territory faster than Mikoko was last seen drifting into deep space. If you like your romance to smoulder at a low injection burn rather than going straight to escape velocity this could possibly be for you. I haven't seen the film, which came first, so I can't comment on the similarities / differences though the artist comments in his "sort of an afterword" that he imagines fans of the film will feel there are some aspects lacking or disappointing.
I have to say there is very, very little actually going on in terms of plot here. It is, in essence, two people clinging on to the single thread of the teenage romance that they never actually had. Now, separated increasingly by space and time, it seems like they never, ever will. But still they keep in touch, in classically ultra-restrained Japanese fashion, because neither is willing to let go.
The final chapter or two hint at more to come (again, maybe there is in the film by the sounds of it) and there's a decision which perhaps really could have been made a lot sooner, if only one of the star-blocked lovers had spent a bit more time thinking about things rationally instead of mooching around aimlessly waiting for angst-ridden interstellar text messages.
JR
Buy Voices Of A Distant Star and read the Page 45 review here
Arrived, Online & Ready To Buy!
New reviews to follow, but if they're new formats of previous books, reviews may already be up; others will retain their Diamond previews information we receive displayed as 'Publisher Blurb'.
Bad Machinery vol 5: The Case Of The Fire Inside s/c (£11-99, Oni) by John Allison
Giant Days: Extra Credit s/c (£13-99, Boom!) by John Allison & Caanan Grall, Lissa Treiman, Jenn St-Onge
Cerebus vol 10: Minds (Remastered Edition) (£26-99, Aardvark Vanaheim Inc.) by Dave Sim & Gerhard
Courtney Crumrin vol 3 s/c (£11-99, Oni) by Ted Naifeh
Cucumber Quest vol 3: The Melody Kingdom s/c (£11-99, FirstSecond) by Gigi D.G.
Escaping Wars And Waves: Encounters With Syrian Refugees (£19-99, Myriad) by Olivier Kugler
Escapo h/c (£22-99, Z2 Comics) by Paul Pope
Hellboy Omnibus vol 2 s/c (£22-99, Dark Horse) by Mike Mignola, Gary Gianni
Hit-Girl vol 1: In Colombia s/c (£13-99, Image) by Mark Millar & Ricardo Lopez Ortiz
Julian Is A Mermaid h/c (£11-99, Walker Books) by Jessica Love
Legend Of Zelda Encyclopedia h/c (£35-50, Dark Horse) by various
Multiple Warheads vol 2: Ghost Town s/c (£15-99, Image) by Brandon Graham
Space Boy vol 1 s/c (£9-99, Dark Horse) by Stephen McCranie
The Extraordinary Adventures Of Adele Blanc-Sec vol 1 h/c (£22-99, Fantagraphics) by Jacques Tardi
The Extraordinary Adventures Of Adele Blanc-Sec vol 2 h/c (£22-99, Fantagraphics) by Jacques Tardi
They Say Blue h/c (£12-99, Abrams) by Jillian Tamaki
Batman: Detective Comics vol 6: Fall Of The Batmen s/c (Rebirth) (£16-99, DC) by James Tynion IV & Joe Bennett, various
Dark Nights: Metal – Dark Knights Rising h/c (£24-99, DC) by Scott Snyder, James Tynion IV, Grant Morrison, Dan Abnett, various & Carmine DiGiandomenico, Philip Tan, Tony S. Daniel, Doug Mahnke
Justice League vol 6: People Vs The Justice League s/c (Rebirth) (£12-99, DC) by Christopher Priest & Pete Woods, Philippe Briones, Marco Santucci
Trinity vol 2: Dead Space s/c (£12-99, DC) by Francis Manapul, Cullen Bunn & various
Amazing Spider-Man vol 8: Worldwide s/c (£14-50, Marvel) by Dan Slott, Christos Gage, David Hein & Stuart Immonen, Cory Smith, Mike Hawthorne, Todd Nauck, Marcus To
The Unbeatable Squirrel Girl vol 8: My Best Friend's Squirrel s/c (£14-50, Marvel) by Ryan North & Erica Henderson
Weapon X vol 3: Modern Warfare s/c (£14-50, Marvel) by Greg Pak, Fred Van Lente & Yildiray Cinar, Roland Boschi, Andrea Sorrentino