Featuring Peter Hoey, Maria Hoey, Nick Drnaso, Erin Nations, Vero Cazot, Julie Rocheleau, Bryan Lee O'Malley, Leslie Hung, Sophie Campbell, Scott Snyder, James Tynion IV, Greg Capullo, Mikel Janin, Alvaro Martinez
Coin-Op Comics Anthology h/c 1997-2017 (£26-99, Top Shelf) by Peter Hoey, Maria Hoey.
"They say that the best things in life are free, but being stuck on a videotape isn't one of them."
We will return to that anon, but I hope it's introduced the requisite element of intrigue.
The finest collection of comics that I have seen since BUILDING STORIES, I rate this right up there with Chris Ware for craft, composition and complexity, but the variety of treatments is staggering, and it messes with the medium – with the very possibilities of sequential-art narrative – like nothing at all that I can recall.
And there are dozens of other contenders, I know, but the Hoeys do it in such depth, over and over again. I recall seeing their 'Anatomy of a Pratfall' in BEST AMERICAN COMICS, curated by Alison Bechdel in 2011 when I wrote, not very clearly so I've rearranged it a little:
"Six silent pages of a single street seen from the same vantage point, each page is divided into 12 separate grey and peach panels within which something significant is happening. After successive disasters strike in a domino effect you'll want to go back and laugh yourself senseless at the window cleaner's seemingly unfinished artistry."
X marks the spot. And isn't a piano always involved?
Time isn't passing between panels in the traditional way, only between pages: the grid is used instead to focus your attention on the individual elements coming catastrophically into play.
'Jingle In July' and 'The Slippery Lobster' work in much the same way, the latter being a maritime cross-lane collision-fest which only the dolphins and storks survive, so after a few of these the opening scenarios become akin to a puzzle, a quiz or a question: an opening tableau inviting you to wonder what on earth will happen next.
Far more mischievous, however, is their most recent iteration and evolution of this game, 'The Windy Parade', in which there is a hell of a lot more going on. It bundles together several separate stories, many of which converge, and some of whose protagonists seem to contravene quite defiantly what we in the west consider to be the rules of reading comics (left-to-right, then down a row with a type-writer "ting!" before proceeding left-to-right once more) but it is just an illusion predicated upon the strength of long-ingrained predisposition… (pause)… apart from the very final tier in which time does indeed pass between panels, as the pigeons tell the last of their cumulatively funny jokes and, ridiculously, one of the parade's human onlookers, oblivious to everything else, gets a good guffaw out of it.
Shall we take an inventory of that six-page story? Two different love affairs, two wallets in diverse jeopardy, two defenestrations, police pursuit, dinner and drinks, a graphic novel first pitched then being pitched out of the window, and a giant, inflatable rabbit being ravished from behind by a blown-up superhero.
If you're a cinephile or into jazz, you'll find this even more up your alley, for the Hoeys too are fixated on both, and are fiercely well informed. They present individual histories and portraits of jazz musicians, but when it comes to the movies they truly triumph. 'The Trials Of Orson Welles' features not Orson Welles himself but half a dozen fictional characters, portrayed by Orson Welles in different films, interacting.
Even more impressive, however, 'The People vs Nicholas Ray' is a meticulously researched snap-shot documentary of the director of 'Rebel Without A Cause'. By cross-referencing Ray's own proclamations with quotes from his peers and protégés like Elia Kazan, François Truggaut and Jim Jarmush, then the films' various stars like estranged wife Gloria Grahame (why were they estranged? oh good grief!) plus Natalie Wood who went up against a vindictive Joan Crawford in 'Johnny Guitar', Peter and Maria form a singularly affecting insight into the director's personal and professional direction.
"'I'm A Stranger Here Myself' was the working title for nearly all my films."
They also have a rich love of rhymes, and this pairing of clichés is artfully arranged on the page with their ever-present and often concentric circles, here spooling film:
"Double talk, forward leaning,
"Writers block, hidden meaning.
"Split screen, close up smile,
"The way you walk the longest mile.
"Eye line, hand in glove,
"Running time, sea of love.
"Two shot cutaway,
"Look here comes that raining day."
When reading it, I cannot get out of my head Billy McKenzie's dead-tone intonation during the Associates' 'Fever In The Shadows' b-side, along with his female co-conspirator. No? Try Grace Jones's dead-pan instead.
"Conspiracies" is a word I underlined three times in my notes, and although I could not begin to match Josh O'Neill's exceptionally eloquent introduction to this album, if I were to characterise this collection further I'd choose words like circles and circuits, connections, reflections, control, contradictions and confrontations; that which lurks so substantially beneath the surface, that which lurks unseen without and beyond, collapse into chaos and that dear old chestnut, mortality.
There are two particularly poignant stories involving the extinction of obsolete automata.
'I Built You First', written by C.P. Freund (a journalist with decidedly recondite interests) is infused with a giddy, M.C. Escher sensibility. In it, one robot, above, repeatedly challenges its suicidal predecessor below and is each time rebutted with an insistent reminder of its precedence. Here on the first page, the challenge is issued upside down from a boat being rowed on the watery ceiling:
"You are wrecked, my dear robot (his old friend said),
"And your sensory data's dispersed!
"What's the shape of the world that you've built in your head?"
Shot the other: "I built you first"."
As to "shot", he's just put a gun to his own head.
Similarly, the last line on the third page, "Snapped the other: "I suspended you first"", is issued as the android breaks its neck by hanging. It's all pretty tight in COIN-OP.
'Valse Mechanique' is a less formal affair except in its dress code which is strictly black tie. A steampunk waltz as if seen on sepia film footage a century ago, it's set in a ballroom full of robots so run down that their time has almost run out. Maria sings her final song to the assembled throng, then sacrifices her head and its constituent cogs so that the others can go on a little longer.
You've heard of cannibalizing a machine for spare parts…?
A couple of strips – when this landscape hardcover is folded out, it is hard to think of them in terms other than strips – the Hoeys present parallel narratives (the inner and outer life) layered in tandem along with the accompanying illustrations.
'The Inter-Office Memo' is where you will first come in, and it is entirely up to you how you read it: one page at a time in full, or each individual thread at a time from start to finish. The first page is surrounded by old-fashioned city skyscrapers (think Seth), while our protagonist strides through the open-office call centre, each of whose operatives being very specific about the numbers involved. Without, you will find another numbered narrative which starts off all concrete (about the workers, the interconnected office space and the building which houses it), but becomes increasingly and insidiously abstract as we move into the shadowy hidden corporate world or shell companies etc:
"25. Their unseen hands guided and shaped a seemingly disparate group of companies to the completion of their singular intention, one that still remains beyond the prying eyes of the outside world, its limits known only to its creators."
The final numbers in the circled narrative are 27, then 3¹, 3² and 3³ – which is 27.
Meanwhile, the city begins to give way to a jungle while the endless corridors become flooded with rising water until a small boat steams by, our protagonist desperately hitches a life-saving lift, only to discover a waterfall ahead…
Please see "if I were to characterise this collection…"
Before you begin this book, you should probably be aware that the original COIN-OP comics are collected in reverse chronological order, culminating in Peter and Maria's collaborations within the pages of the old BLAB! anthology. I mention this now, because I don't want it to be the review's final sentence, which I've already settled upon with a very self-indulgent chortle.
Finally for now, let's return to where we came in with the recurrent, forever hapless, down-and-out dogs, Saltz & Pepz, who have found themselves trapped in a loop on a videotape. More specifically, they've become trapped on one of those two-person handcars you used to see so often in silent black and white films, often involving a chase in which time's running out.
It's called 'Now Available On VHS' and time is indeed running out, for although each time the tape is played they become more self-aware, they're only becoming self-aware because the tape is degrading, and soon it will degrade so far that it snaps.
For the first three pages the top tier of narrative only alternates between two images, Saltz then Pepz pushing down to propel the handcar against a monotonously identical landscape. The endless track is identical in third tier too, obscured only when Saltz's or Pepz's heads pop up on the other's push.
However, the remote appears to be losing control too, and eventually – finally after all this time of being at the mercy of outside forces they have no agency over (they're homeless throughout the stories) – there is a tiny aperture, an opportunity for action.
SLH
Buy Coin Op Comics Anthology h/c 1997-2017 and read the Page 45 review here
About Betty's Boob h/c (£26-99, Archaia) by Vero Cazot & Julie Rocheleau.
An exhilarating,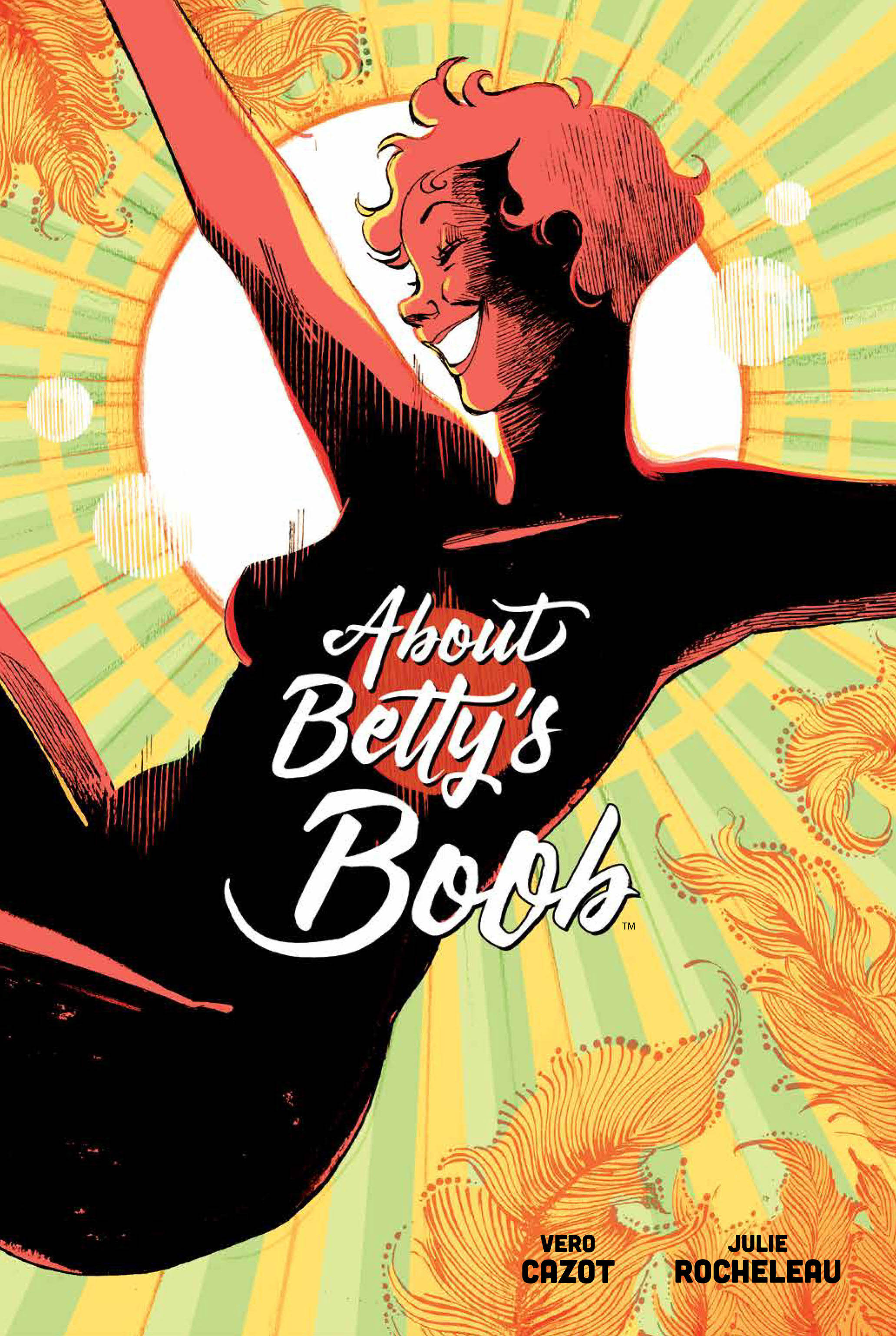 fast-moving, heart-palpitating gala performance, I hereby fill the auditorium with thunderous applause!
Songs sung aside, it's a largely wordless graphic novel full of exotic sights, dextrous dances and so many sounds in which Elisabeth is adopted by a creative community of burlesque cabaret artists who are as supportive and nurturing off stage as they are flamboyant, inventive and cheeky. Got to love a lyric like this:
"My love button's poking
"Its head out for a stroking!"
That would be your gently suggested adults-only advisement, for this features a glorious amount of equal-opportunities full-frontal nudity which is absolutely essential to its celebratory message about being proud of your body.
Alas, it'll take Elisabeth a long and emotionally tumultuous journey to get there, but get there she shall!
"If you cannot look at me anymore,
"I do not want to see you anymore!"
The beginning is blunt and quite brutal for our protagonist, who wakes up in a hospital bed, clothed in a clinical gown, her head shaved, her energy depleted, and one breast missing post-mastectomy.
Frantically searching the ward in a flurry of motion, Betty demands her old boob back. The nipple-ringed breast is retrieved, presented to her in a gift-wrapped, ribboned box and lovingly admired by both patient and nurse. But in the box it stays, and you won't discover its final fate until late into the graphic novel. Instead, Elisabeth is immediately determined to move on and adjust as best she can, dressing herself up smartly, applying make-up and a wig and marching her frazzled man back home. Yes, her lover has passed out in shock twice already.
Oh so positively, she dolls herself up further, while he uncorks wine, and dances twirling back into the living room, a rosy red apple popped into the cup of her bra. A tender kiss later and there's a love-heart and laughter and everything seems to be going so much better…
But then – although there are ever so many more ups and downs yet to come – the most poignant moment for me is almost immediately afterwards, when the man, after inviting her into the bed with a reassuring pat on the sheets, kisses Elisabeth not on the lovingly presented and puckered lips, but on the forehead. Alarmed, she reaches out, but he lunges for the lamp, switches it off and rolls over, leaving her alone on the very far side of the bed.
Already the individuals' moods have been colourfully controlled with lots of rich reds and fresh, healthy creams, but also back in the ward with queasy greens and more sickly yellows for when our male visitor becomes instead the passed-out patient, and needs to have his own blood pressure taken!
Now the graphic novel grows even more satirical, for where do you suppose she works? Elisabeth is a cashier at a parfumier which is so upmarket that its central chandelier cascades with crystals, spotlit from above. Security cameras are trained on the department floor to search out shoplifters, for sure, but so many are trained on the staff too, with close-ups on their chests, and these screens are overseen by a Cruella Deville-like lady with enormous, dangling, dollar-sign earrings. The shop assistants, meanwhile, are all decked out in t-shirts adorned by the retailer's logo, which is a symmetrical, stylised heart as if mounted on a pedestal. This, of course, sits over their supposedly symmetrical breasts – wouldn't you just know it? – that company's contract stipulates that all employees must have "two boobs" (each of a certain weight!) otherwise it is "termination" time.
I wouldn't call it too much of stretch to call this corporation somewhat superficial.
Our obsession with symmetry (I only ever had one dagger earring on the left; now one eyebrow ring instead) is part of the heart of this story. Wait until Liz's lover returns home, the maid immediately spotting his one-sided parting and correcting it with a comb in a corridor which is improbably symmetrical in its ornaments, before presenting him to his parents! They are not amused (nor are their two dogs) for kerfuffle that causes their mirrored seating arrangements is extreme!
We've only just begun – Elisabeth has a lot of chaotic leaping and running round to do, initially after her wig which takes to the wing – but I'm still going to leave it there.
Golly, but there's a lot of energy on offer, so much sweeping movement and gay abandon, from arms outstretched and tassled tits a-twisting to robes flying high and flung off, and the gesticulations during the dazzling routines are thrilling (Elisabeth's contrastingly tentative to begin with, but once her confidence is boosted, she'll get there). Red wine will be drunk and high heels will be kicked off, for there are far happier times ahead.
"No body is perfect, Elisabeth" is a chapter I loved dearly – if you love female forms in particular in all their diversity, you are in for a spellbinding treat – along with this sentiment towards the end:
"What are you doing now?"
"Whatever I want."
Before we conclude, however, I highly recommend Jennifer Hayden's autobiographical THE STORY OF MY TITS, which in spite of its most excellent title is a lot less glib than it looks. Much considered thought with some considerable scope, Hayden comes to terms with a double-mastectomy, and covers to much that led up to it and what follows.
SLH
Buy About Betty's Boob h/c and read the Page 45 review here
Sabrina (£16-99, Granta) by Nick Drnaso..
"What did you think?"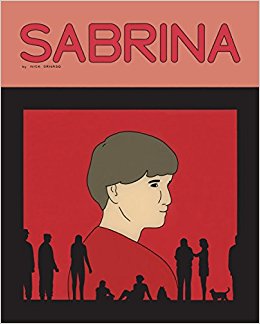 "There were some interesting ideas, but I felt empty when it was over."
"Yeah, it was a good kind of empty feeling though, did Teddy read it?"
"Oh no, he's not much of a reader."
From the creator of BEVERLY which I loved and seemingly everyone else ignored – okay, it did win an L.A. Times Book Prize, but despite that prize and my review it didn't seem to translate into huge sales – comes a work you're all now falling over yourselves to pick up in store and online. Amazing what a glowing review in Guardian by Chris Ware can do. Just for the record, for what it's worth, I loved this too. Allow me to elaborate…
Firstly, that pull quote above sums up exactly how I felt when I finished. Though I don't know anyone called Teddy, bibliophobe or otherwise. This work is an extraordinary overlapping and blending of so many fascinating ideas, issues and concepts including dealing with loss, being utterly unable to help someone deal with loss, mental illness, conspiracy theories, the seemingly uncontrollable spread of indistinguishable information and misinformation with which the internet is now saturated on mainstream news sites, on social media and in chatrooms, plus so much more besides. It's a psychologically degrading, powerful mix that may well leave you feeling quite fatigued and perhaps a little more defenceless in face of the seemingly relentless and unpredictable insanity of the modern world. Well, that was my vibe.
But, despite feeling empty and also slightly emotionally blended myself when it was over, it was indeed a good kind of empty feeling. Though, I will categorically and emphatically restate for the record I don't know anyone called Teddy. Actually, I do, thinking about it. He plays jazz trumpet professionally, but he doesn't read comics. As least as far as I am aware. Which is a shame, because I think he might quite like them. Now, only I know at this point whether I am talking complete bullshit or dealing in facts*. Much like the deluge of both one receives when encountering any topic whatsoever on the internet these days. Though anything involving a degree of criminality, politics and medical advice seem particularly prone to, shall we say, wide-ranging opinions.
The empty feeling arose because I was left bemused by the ending. On the bare face of it, it is one of the most anti-climatic and perhaps unresolved endings I think I've ever read. The 'perhaps' is partly because of an ever-more sneaking suspicion I had building through the entire work was not addressed or resolved in any way. It is entirely possible, though, I had been led right up the proverbial garden path, quite deliberately so by Mr. Drnaso. Possibly paths plural. In fact, maybe even something akin to Hampton Court Maze for all I know. However, the more I reflected on it, the two-page epilogue that concludes this work was highly appropriate and probably note perfect.
The pull quote, by the way, comes from the last conversation between the titular Sabrina, domiciled in Chicago and shortly about to vanish off the face of the earth, and her younger sister Sandra. The Teddy in question is Sabrina's boyfriend, who, rendered utterly dysfunctional, well, non-functional pretty much, in the face of her disappearance has decided to take off for Colorado to go stay with marginal childhood school friend Calvin, now in the US Air Force working at Cheyenne Mountain in Colorado in some nebulous security position.
All Teddy does pretty much all day is sit around Calvin's house whilst he's at work, listening to talk radio, one particular conspiracy theory slinger in particular being his rabid host of choice. Calvin, meanwhile, puzzled by the placid behaviour of his almost forgotten friend, whom, frankly, he was astonished called him at all, has started surfing the internet to try and get a handle on Sabrina's disappearance and Teddy's sudden arrival.
When a disturbing video hits the news and the media finally learn of Teddy's whereabouts, Calvin finds not only his apartment and online presence being targeted by the legitimate broadcast media, but also those who have already got their minds firmly made up and equally firmly closed about Sabrina's whereabouts. And those loony tunes aren't above a few not-so-thinly veiled threats to try and ensure the, sorry their, truth comes to light…
One of the many clever little tricks to this work, was that alongside the clearly photoshopped / edited / blatantly made-up fake news evidence that finds its way into the wider public, and our own consciousness, is that I'm sure I spotted some odd inconsistencies amongst the supposed verified facts. It set me thinking, and kept me thinking, that I knew what was really happening. Right up until that ending…
In some ways, Calvin, grappling with being apart from his estranged wife and child in Florida and whether to take some covert black ops job he's apparently a shoe-in for if he wants it, is the main character. He is our appointed representative in this world, with direct insight into Teddy's very small one. Which is a very strange, and at times, very strained place to be. But once Calvin starts coming under direct electronic attack from the trolls, he finds his own peace of mind rapidly frazzling too. By the time the pre-ending ending rolled around, I was actually far more engaged in hoping Calvin got a happy ending than Teddy. Well, he gets an ending… And this is yours.
JR
Buy Sabrina and read the Page 45 review here
Gumballs s/c (£17-99, Top Shelf) by Erin Nations.
"My face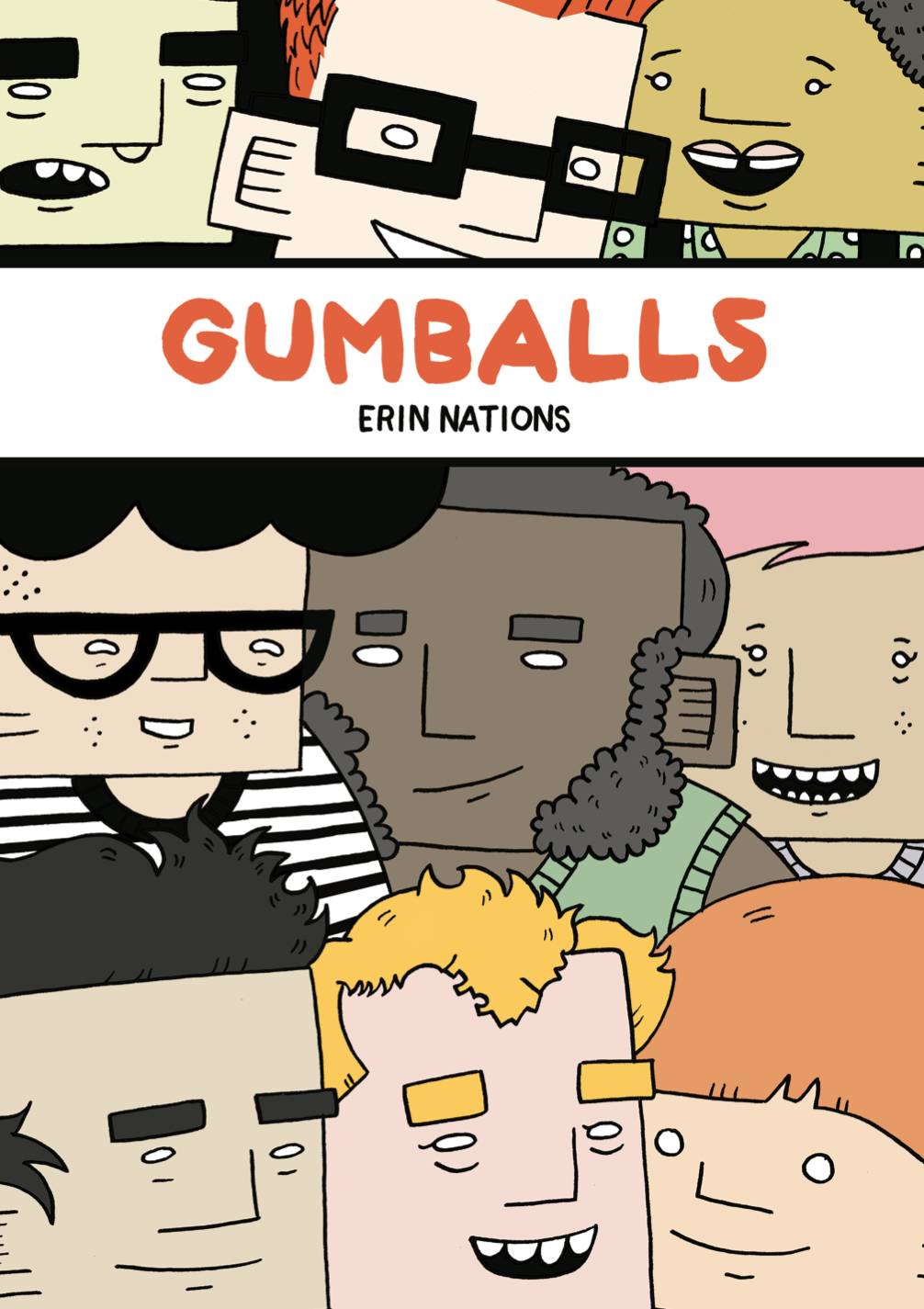 has exploded in zits. I haven't been this zitty since I was thirteen."
"Let's play connect the dots! At least let me drawn some constellations. I think I see Orion on your cheek."
Helpfully, that playful observation came from the creator's cat.
Erin Nations is a very funny guy!
He also has that knack for recalling absurd interactions which can only leave you scratching your head. Sometimes he's stopped in the middle of the street by complete randos who appear compelled to draw him into the sort of conversations you never asked for, debates you don't want, and a barrage of personal questions you most certainly didn't invite. Against all odds, Erin answers with a degree of bemused courtesy and restraint that they don't deserve.
"The devil…"
"What?"
"The devil knows where you are going."
"What are you implying?"
"The devil… he knows… prayer helps…"
"Good to know."
Often they're with customers at the grocery store where he's worked in for 16 years.
"Can I get 24 balloons?"
"Yeah, what colours would you like?"
"Primary colours. Don't forget orange and green."
As Erin slightly more wryly observes, the customer always know best. 16 years of 40-hours-a-week experience does not make you an expert – or even 25+. I remember a media student kindly informing me that Marjane Satrapi's PERSEPOLIS wasn't a comic.
"Umm, it honestly is."
"No, it's autobiography."
"I think you're confused the medium with the genre."
"Well, I'm studying it, so I should know."
Peppered with fictional, speculative portraits of people posting personal ads, and the equally fictional poor, gay Tobias attempting to strike up conversations with dreamboats (badly – his proposed pick-up methods / messages are hilarious!), these are mostly autobiographical musings with clean, sharp lines, invitingly cool, bright, breezy colours and remarkably square jaws. Some of the memories are about being born a triplet (invited to a birthday party, they're expected to each give a gift; when inviting a friend themselves, they only receive one present between the three of them), others are daily cycling journeys round Portland or trips further afield.
Mostly, however, they're about anxieties in general like the crippling paralysis before picking up a phone and social awkwardness in a crowd (so into Page 45's ever-expanding Mental Health Section this so usefully goes; no one need think they're alone), and about so many of the all-too-real additional difficulties involved in being trans and the process of transitioning itself.
As such, it's an invaluable eye-opener about so much that so many of us take for granted including restrooms, obviously, but far less obviously when the best time is to come out to your colleagues when you've worked with the same company for so many years. Before you begin? Before they notice? After they've noticed? It's equally invaluable reference for those who've yet to begin this process, for in additional Erin is commendably candid about what to expect physically and mentally during Hormone Replacement Therapy, taking you through the first seven weeks, then later the first seven months. Without removing his clothes ("It's just not gonna happen").
"How do you feel?"
"I feel like I'm going through menopause and puberty at the same time."
Ooooh, you get to do spots twice in your life – lovely! Hey, no pain, no gain, and there is everything to gain here, especially decreasing dysphoria. Responsibly, Erin considers the potential long-term effects testosterone could have on his health, but there are enormous benefits too including an almost immediate energy boost and an increased sex drive as well as a gradual surge in self-confidence. I'll leave all the details to Erin: he'd probably like you to buy his book.
Some people are going to be dicks about it – haters gonna hate – but there's a glorious short story called 'Dive Bar' in a dinner where an old lady with hunched shoulders, serving Erin and his mate, asks for ID. Erin's is a driving licence still categorically classifying him "sex: F".
"You cut your hair," the old lady observes.
"Yeah."
"So, what can I get you gentlemen?"
She totally got it, but in other instances, not so much: a woman on a bus is just plain weird and spoiling for a fight, while someone wizened, on a walking stick, begins thus:
"You're not a guy, are you?"
"Why do you ask?"
"That guy was calling you sir."
"Yeah."
"I guess it's none of my business."
Hmmm…. Maybe you should have had that last thought first.
Other tales include failing to fit in at a comicbook convention simply because you've never having seen Star Wars (a fellow comics creator: "You should leave." "I made sure to not tell them that I've never read Harry Potter, I'm clueless about anime, and I'm not a fan of superhero comics."), plus childhood recollections about the triplets fighting (I had entirely forgotten about carpet burns!) and a seemingly haunted board game called Mall Madness (you'd be pretty spooked too).
There is, understandably, an awful lot of terrible, pained handwringing about using gender-specific public restrooms and indeed workplace restrooms when you've yet to come out, and if you've not considered how profoundly that would impact on your life, think about how often you urinate every day! Imagine, then, all the worry you'd experience, daily, in anticipation, during and after.
I want to emphasise, however, that this is no heavy read full of targeted anger but an honest-to-god entertainment along with astute behavioural observations which are seriously worth contemplating. Plus I adore any work which opens windows onto other people's lives for the greater empathy through understanding they afford me. Lord knows, we need more of that in this world. But also, I'm instinctively curious which is why conversation is right up there for me with the best things on earth.
I won't lie to you, though: 'Breakroom' hit home. As Erin later notes, "I try to call people out when they treat women (or anyone marginalised) as inferior. It's not easy because it's uncomfortable, but being silent is just as bad as being compliant". No, it's not always easy, especially when you risk compromising yourself in a battle you're not yet quite fit to fight, so 'Breakroom' – when Erin fails to stand up and be counted after a co-worker proves deeply insensitive, not knowing that Erin's transitioning – will give you much pause for hopefully compassionate thought.
SLH
Buy Gumballs s/c and read the Page 45 review here
Snotgirl vol 2: California Screaming (£14-50, Image) by Bryan Lee O'Malley & Leslie Hung.
"They don't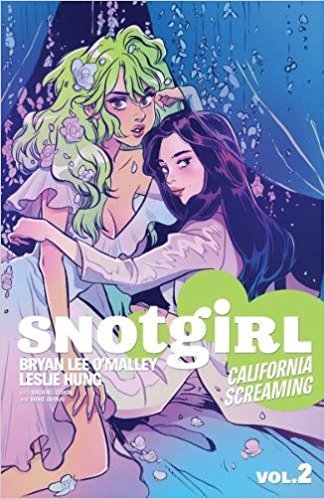 trust me to be on my own."
If you got a slight shiver there, and a lick of whiplash at the arresting end to book one, this pursues this increasingly dark path further; and if you thought that the manipulative Caroline, above, was the real problem, then I'm no longer so sure.
I believe, in that scene, that she's been sedated. It's all in Leslie Hung's art: in normally effusive Caroline's more languid body language. Plus those particular pages seem to swim in the sort of colour quality you'd find refracted and reflected throughout an aquarium.
Are you wondering who "they" may be?
What I'm attempting to convey is that this series isn't necessarily all that it appears on the surface.
Its surface is shiny enough – let's call it magazine gloss – and vastly entertaining it is too with its up-to-date take on superficial social trends and ridiculous slang which SECONDS, SCOTT PILGRIM and LOST AT SEA's Bryan Lee O'Malley delights in contributing to. When introducing the various strands of your extracurricular life to each other, for example, you're practising "friendtegration", and this is the sort of set who never phone, only text each other (even from the other side of plate glass windows), and proclaim "We have a mutual" rather than "We have a mutual acquaintance".
They'll be going to a self-serving convention called Thankstravaganza soon, built on the same site where a fashion blogger was recently murdered. Well, she's not going to take that lying down.
I'll be back on that track in a second. In the meantime, here's how I introduced SNOTGIRL VOL 1: GREEN HAIR DON'T CARE…
This is the sort of comic in which the line "Ok, back to reality" will have you snorting at its delusion. It's fresh, full of fun, and has more jokes per page than anything other than a John Allison comic.
Meet Lottie Person, who seems so serene on the surface.
"I'm fresh. I'm fun. It's just who I am."
A fashion blogger with glossy green hair and a high hit rate, her life is pretty much perfect.
Her fans are devoted (she knows).
Her blogs are the best (she believes).
And that goes without saying (she blasés).
New verb!
"Except my friends are all horrible people.
"And my boyfriend decided we're on a break.
"And oh yeah -"
OH NO!
"I have allergies."
Also: huge hang-ups, such a thick catalogue of insecurities that it would need indexing, and a public veneer to sustain which is very high maintenance during any substantial pollen count.
It was (and continues to be) roaringly good fun, but then Caroline crept spellbindingly into her life and Lottie became fixated. There was an accident – which might have had something to do with Lottie's trial run of a new anti-allergenic medication – and then there was another – which most certainly didn't. It wasn't even an accident. Caroline pushed Lottie's ex-boyfriend's new girlfriend, Charlene, off the top of a roof terrace.
TBH she was being ever so annoying, LOLZ.
But someone else was there too on both occasions.
It's Caroline's brother or cousin, depending on whom you believe, and in volume two Virgil is positively ubiquitous.
There's a very funny recurring joke about Virgil scurrying around on the floor to mop up any spilled coffee as if he's Caroline's butler…
"I am not!"
She spills coffee once again; Virgil flashes forward to clean.
Caroline, hand cupped around mouth conspiratorially: "His word against mine".
… but predominantly Virgil's ministrations are far more sinister, like dipping into a wallet left in a sports hall's changing locker to acquire Lottie's ex-boyfriend's I.D.
Lottie's ex-boyfriend is called Sunny. He's pretty buff. Lottie's fashion-friend Meg has a new fiancé called Ashley. He's pretty brash, boastful, loud and lewd. Fidelity score: 1 of out 10 (if you're being generous). He's already brandished his zord in front of Lottie at his and Meg's engagement party; now he's quite keen, all sweaty post-squash-match, to show off his zord to Sunny. He snaps a cell-phone photo of the two of them together and posts it so swiftly online that a bewildered Sunny doesn't even have time to draw breath. He does, however, spot Virgil lurking in the photograph's background.
Sunny: "Was there a delivery guy in here?"
Ashley: "Why? You expecting a package? …Cuz I got one right here! Haha! It's huge! C'mon, let's hit the showers."
They get into a rough-and-tumble altercation in the sauna during which both their towels fall off, only interrupted at the last minute by another of Lottie's obsessive stalkers, a cop.( Let's not get into any of that, but you could file him under "fashion police".) Catching his breath, Ashley apologises ever so breezily:
"I'm sorry, dude! No hard feelings, man!"
"Hard feelings? What's up with your zord?!?"
Have you worked out what his zord is yet? It's standing to attention. I couldn't possibly publish Ashley's excuse. Virgil might wish he'd lingered longer, however.
It's all so deliciously and comically homoerotic, Leslie Hung proving herself to be a master of both priapic pixilation and but also tight buttocks fully on show. I'd have typed "tight, rosy buttocks" but would have looked far too fixated myself. (I was.)
The question is this, however: who wants what? Not just in the shower or sauna, but throughout: who is manipulating whom, why, and to what end? Who is in on it? Who is out of it?
Well, almost all of them if you're talking about their skulls, drugged up in the desert during the cover's sapphic photo-shoot.
Again, what I am attempting to convey in this review which only dips its tentative toes into the series' much more substantial and murky waters is that this is no mere comedy of manners. And hey, I love me a comedy of manners! In such a dexterously performed piece such as this, that would be quite enough to satisfy my soul.
But this is a much more open-air theatre with additional, decidedly closed confines which I suspect will only open up its other stalls when [You're fired – ed.]
SLH
Buy Snotgirl vol 2: California Screaming and read the Page 45 review here
Wet Moon vol 6: Yesterday's Gone (New Edition) (£17-99, Oni) by Sophie Campbell.
The darkest
hours aren't necessarily at midnight.
GHOST WORLD for goths with pvc, piercings and hair dye – that's how WET MOON started out: an empathic exploration of the uneasy friendships between a group of hesitant, second-guessing, slightly paranoid girls at college, and a celebration of their far-from-standard body forms with the silkiest, most tender of art. Over five previous volumes those friendships have expanded and blossomed or withered and died. Some have shared secrets, as do more here.
But all along there were intimations of heart-ache and horror lurking beneath the surface, as if something was simmering in the swamp all around them, and then someone they never noticed stewing within. In WET MOON VOL 5 she finally erupted, her seething psychosis taken out on one of those friends in act of extreme violence which made everyone I know truly wince.
This is the emotional fall-out, and it's handled with all the depth it deserves.
So many other creators would have cut all too quickly to the chase – the pursuit of the culprit concerned – but that's not what happens in real life. Instead they are left dazed, bewildered by a butchery they could never see coming and still, throughout, oblivious to its source. All they care about is their friend. She's the only person who knows who did it, and I'm afraid she's deep in a coma.
Six volumes in, I have to be ever so careful what I say, but I hope I've intrigued potential new readers. I love this series so much that I've reviewed every volume and this isn't my best shot, I know.
Everyone handles grief differently, unpredictably, depending on where they are right then in their lives. Sophie Campbell has entirely understood that. Her humanity and sympathy leaps from every page. No one is judged, and as they struggle to console each other whilst needing consolation themselves, we wait for our woman to wake up. Will she?
"I hate this waiting, Mara. Waiting an' waiting for somethin' to happen. Takes so much energy."
Lots of lingering silence and exceptional use of clothing…
Once again, this is far from predictable. Not everyone wears their true hearts on their sleeves.
SLH
Buy Wet Moon vol 6: Yesterday's Gone (New Edition) and read the Page 45 review here
Dark Nights: Metal h/c (£24-99, DC) by Scott Snyder, James Tynion IV & Greg Capullo, Mikel Janin, Alvaro Martinez…
"Whoa. Big door.
Vic, I'm sending you over the image…"
"Got it, Barry. I've run it over a thousand times already. But it keeps coming up unknown…"
Said big door being on the entrance to the hidden bunker in the centre of the huge mountain that has just materialised in the middle of Gotham City… destroying most of the city centre, sky scrapers and all…
Long-time DC fans will immediately recognise it as the base of the Challengers Of The Unknown, who these days work for… ah, well that would be telling. I enjoyed how Snyder weaved in all sorts of DC history into this tale right from the off, be it references to individual bat-books such as BATMAN: THE RETURN OF BRUCE WAYNE written by Grant Morrison, or lesser-used third-string characters like the C.O.T.U.
It is a bit weird having to remember in this current version of the DC Universe that the Justice League has no idea who the Challengers are yet (Batman aside, obviously, being his usual know-it-all self). I think there was also a very odd, brief-lived, New 52 incarnation involving reality TV 'stars' as the Challengers if the memory serves.
Anyway, DC never particularly worried about re-writing their history with the various Crises and other events over the years. There are also a couple of much more familiar characters who crop up in this issue too, who will be very well known to even casual DC readers. If not the Justice League, yet…
So… following on from events in the Dark Days: The Forge and Dark Days: The Casting one-shots, now collected with a host of relevant reprinted New 52 issues in DARK DAYS: THE ROAD TO METAL, something not so fun and cuddy from… elsewhere… is on the way, apparently being drawn to this reality in some strange way by Bruce Wayne, who could actually do with a good cuddle, so that's a shame.
There's a nifty and amusing explanation involving a certain poster of the New 52 Multiverse (also thrown in DARK DAYS: THE ROAD TO METAL as back matter) that probably graced more than a few comic shop walls a few years back which sheds an absence of light on the situation, and that's probably all I should really say by way of plot explanation at the moment.
I was, and still am, perplexed by the prologue battle that will titillate fans of enormous, transforming Japanese robots… I'm still oblivious as to precisely what wider purpose that served. I commented in my review of the first issue that this event had the potential to get completely preposterous, but hopefully Snyder could keep it on track. He did, just about, but only just.
There are a few conceits in there that test the old suspense of disbelief, it must be said. It's certainly big, convoluted, bombastic fun, though, and truly an infinite number of times better than the crisis of writing that was CONVERGENCE. I think I can safely rank this up there with CRISIS ON INFINITE EARTHS and FINAL CRISIS in pure madcap superhero event enjoyment terms.
Capullo, meanwhile, continues to dish out his impressive linework. He and Snyder, the team primarily responsible for the BATMAN DC NEW 52 run, are excellent foils for each other. If as a writer you are going to try and cram in that much action, you do need someone that can deliver clean, precise mayhem.
JR
Buy Dark Nights: Metal h/c and read the Page 45 review here
Arrived, Online & Ready To Buy!
New reviews to follow, but if they're new formats of previous books, reviews may already be up; others will retain their Diamond previews information we receive displayed as 'Publisher Blurb'.
Cloud Hotel
(£17-99, Top Shelf) by Julian Hanshaw
The Adventures Of John Blake: Mystery Of The Ghost Ship s/c (£9-99, David Fickling Books) by Philip Pullman & Fred Fordham
Arthur And The Golden Rope s/c (£7-99, Flying Eye Books) by Joe Todd-Stanton
The Heart And The Bottle (£6-99, HarperCollins) by Oliver Jeffers
This Moose Belongs To Me (£6-99, HarperCollins) by Oliver Jeffers
It Will All Hurt (£16-99, Image) by Farel Dalrymple
Rumble vol 4: Soul Without Pity s/c (£14-99, Image) by John Arcudi & David Rubin
The Beauty vol 4 s/c (£14-99, Image) by Jeremy Haun, Jason A. Hurley & Matthew Dow Smith, Thomas Nachlik
Luisa: Now And Then (£22-99, Humanoids) by Carole Maurel, adapated by Mariko Tamaki
Madame Cat (£9-99, Humanoids) by Nancy Pena
Vietnamese Memories Book 1: Leaving Saigon (£14-99, Humanoids) by Clement Baloup
Hellboy: The Complete Short Stories vol 1 s/c (£22-99, Dark Horse) by Mike Mignola & Richard Corben, Duncan Fegredo, Mick McMahon, Fabio Moon, Gabriel Ba, Dave Stewart, Matt Hollingsworth, James Sinclair, Clem Robins, Pat Brosseau
A Quick & Easy Guide To They / Them Pronouns (£6-99, Limerence Press) by Archie Bongiovanni, Tristan Jimerson
Flash vol 6: Cold Day In Hell s/c (Rebirth) (£14-99, DC) by Joshua Williamson, Michael Moreci & Howard Porter, Scott Kolins, Mick Gray, Pop Mahn, Christian Duce, Scott McDaniel
DC / Young Animal: Milk Wars s/c (£16-99, DC / Young Animals) by Steve Orlando, Gerard Way, Jody Houser, Cecil Castellucci, Jon Rivera, Magdalene Visaggio & Aco, Ty Templeton, Mirka Andolfo, Langdon Foss, Dale Eaglesham, Nick Derigton, Sonny Liew
Defenders vol 2: Kingpins Of New York s/c (£14-50, Marvel) by Brian Michael Bendis & David Marquez, Micheal Avon Oeming
Invincible Iron Man: Ironheart vol 2: Choices s/c (£17-99, Marvel) by Brian Michael Bendis & Stefano Caselli, various
Dark Souls Covers Collection (£26-99, Titan) by various
The Beautiful Death h/c (£21-99, Titan) by Mathieu Bablet
Voices Of A Distant Star (£10-99, Vertical) by Makoto Shinkai & Mizu Sahara