Featuring Tim Bird, Eva Müller, Georgia Webber, Jim Pascoe, Heidi Arnhold, Alejandro Jodorowsky, Francois Boucq, Matz, Luc Jacamon, Neil Gaiman, J.H. Williams III, Larry Marder, Hiroya Oku, Keita Iizuka, Joe List, more!
The Great North Wood (£9-99, Avery Hill) by Tim Bird.
"Long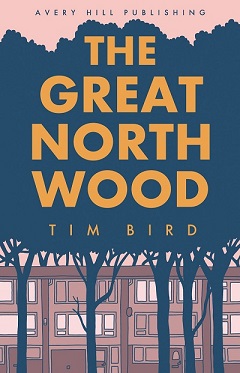 ago, this was all rock and ice.
"Then the trees began to grow.
"Oak.
"And Ash.
"And Thorn.
"And the trees became a forest.
"And the forest filled with magic."
It floats in the air like semi-sentient pollen, a collective consciousness, a hive mind of history.
If you stay still, you can hear it calling. For history echoes: it ripples through time.
"Norwood.
"Forest Hill.
"Honor Oak.
"A forest remembered in place names.
"A ghost of the Great North Wood.
"Eldritch mysteries covered by tarmac."
And barely a tree in sight.
A stealthy fox forages through South London city suburbs for food found in the discarded boxes of finger-lickin' chicken, at night.
"The sylvan wildwood stretched from sea to sea.
"England slumbered beneath a canopy of leaves."
And then it woke up.
It parcelled out the commons into private ownership, did England. The forest became fields. Settlements were built. These turned into towns and then, oh!
From Tim Bird, creator of GREY AREA – FROM THE CITY TO THE SEA, GREY AREA – OUR TOWN, comes his most eloquent offering yet, a quiet and contemplative lament for a long-lost wood which once covered South-East London, barely blemished from Croydon to Deptford, close to the Thames. The early roads which later ran through were unsafe to travel, for brigands lurked in the cover of darkness.
Clambering over a plastic wheelie bin then wall, our nocturnal fox strays into the arboreal past then slips back into the far starker present. Back and forth, back and forth, it will be our witness to stories still being told of what once happened in the Great North Wood.
It's an elegy whose rhythms are masterfully controlled, along with the ebb and flow of time, refrains resonating throughout; its economy focuses us on every carefully constructed sentence, every astutely chosen image, so that you're likely to linger longer over each.
Like the last oak left standing, defiantly, at the centre of a suburban roundabout.
Or the one which isn't, its ancient, deep-ridged bark and natural spread of shelter replaced by a sheer metal traffic light.
As to the architecture of time – those echoes I mentioned earlier – we're not a million miles from Alan Moore and Eddie Campbell's FROM HELL, as you'll see in who boards the night bus back home. Bird's geographical and historical interests parallel those of Oliver East's, while his buildings mind one of Darryl Cunningham.
Salmon pinks pick out the billowing, cloud-like canopies over cool slate grey and early morning blue, while orange makes the fox and firefly magic glow. It also proves handy for a cameo by Queen Elizabeth I, who gets a little squiffy then knights an oak.
"These days estate agents talk about Honor Oak as a leafy suburb."
So it's not without its comedy, either.
"Now only small patches of ancient woodland remain amidst the suburban sprawl of south-east London.
"Oaks lining pathways behind tower blocks.
"Or roundabouts marking forgotten parish boundaries.
"Standing proudly in back gardens.
"Intruding on landed marked for development.
"The subjects of town planning meetings."
There's an 'X' cut into its bark, marking the solitary tree for felling.
SLH
Buy The Great North Wood and read the Page 45 review here
In The Future, We Are Dead (£14-99, Birdcage Bottom Books) by Eva Müller.
"Clearly,
Catholicism was not a good means of dealing with my fear of dying."
At which point, like water from a whale's blow hole, a mouth full of tea gushed through my nose.
Should you be in any doubt at all about Catholicism's fixation upon all things infernal, Müller will make it perfectly clear – with her multiple, magnificent, open-wounded, blood-streaming, fire-and-brimstone pastiche tableaux – precisely why The Organised Religion of Ultimate Suffering is the least likely of all to allay her fears of death and indeed what is claimed to lie thereafter.
They're no more gruesome than the originals.
However, what made me howl with laughter – and this a screamingly funny book in places – was how Buddhism and yoga managed to fit that moribund bill as well.
The Buddhist practice of Sokushinbutsu, or self-mummification, makes Christian monks' masochistic self-flagellation look like a mild form of exfoliation. It involves three phases of a thousand days each, and an increasingly austere diet plan which begins with nuts and seeds only, then descends into Urushi tea from a tree whose juice is usually used for varnish. This induces vomiting, perspiration and excessive urination (with no extra-glossy coat to show for it) and – oh dear – it all grows so much morbidly worse. You'll never look at the lotus position in quite the same way. Indeed, should you decide to practise Sokushinbutsu, you'll never look at anything at all, ever again.
"Reportedly, Yoga has many benefits," the chapter begins benignly enough, although that Buddha's a bit boss-eyed! "It helps me to relax," she continues, crammed into a train carriage you can almost smell. "Yoga gives me the feeling of being taller…" she reports, straddled over an autobahn like a deutsch dominatrix version of 'The Attack Of The 50ft Woman' "… and I don't know how I was able to lead a life without abdominal muscles before."
Shame they don't come covered with a layer of skin. Apparently yoga sessions culminate in the corpse pose, which certainly leaves you with something to meditate upon.
If the graphic novel's general gist hasn't struck you yet, let me elucidate: nine semi-satirical, autobiographical essays in which Eva dwells on death. Unexpectedly, one is narrated by herself as a pensioner (she isn't), another from her younger brother's point of view. Their parents are violent, squabbling nightmares.
"Stop eating," nags her mother (quite quietly for her). "You're getting fatter and fatter."
Müller declines to sign-post this, but she's actually slicing a cucumber.
It's easy to see why Eva grew up with an obsessive fear of death. Even though Catholicism got its insidiously grim grip on her (through her grandparents; her grandmother collected obituaries, her granddad attended every funeral on offer, regardless of whether he was acquainted with the deceased), this was the era of appalling African famine, broadcast internationally, and Eva began musing on a worldwide food shortage which might extend to Germany. Oh, and her Aunt contracted polio at Eva's early age and do you remember that grimmest of grim things which we called the Iron Lung AKA Steel Coffin? It instilled in her the certain knowledge that children can die.
She stopped sleeping, so they took her to a doctor.
"Well, young lady, tell me, what's going on? Why don't you want to fall asleep at night? Are you afraid of monsters?"
"No! I'm afraid I won't wake up again."
Which is inarguably more rational.
Eva soon found an expanded wealth of things to fret about, then there's this:
"As a child, I was very sure I was going to Hell."
The pre-teen holds her hand out to the horn-ed one:
"Hello, Satan,
"Last week I took a dead mouse out of a mouse-trap and put it into grandpa's hat…
"I smashed a cellar window with a football…
"I secretly took sweets from Mama's hiding place without asking her. I gave the cat Papa's beer. I rode my bike much further than I'm allowed. I bought four cigarettes with my lunch money and smoked them behind the church."
Satan genially reaches out to shake Eva's hand. He's very smart in his Sunday best!
"Hello, nice to meet you. As you know, these are all sins. Please follow me."
Little details, like his tie matching the red of his hands, hair, face and tail, made me smile.
Same goes for the Terminator eyes of the German Chancellor boring bright red out of his campaign poster preaching "Liberty, Prosperity, Security".
I learned words like 'Angslust' for when fear becomes exciting. This explains Alton Towers.
But I'm not even going to talk about the teeth episode.
SLH
Buy In The Future, We Are Dead and read the Page 45 review here
Dumb – Living Without A Voice (£19-99, Fantagraphics) by Georgia Webber…
"So the
doctor said you have to stop talking altogether?
"Whoa, really?
"So how long will it be?
"Oh yeah! Are you still hosting New Year's if you can't talk?
"Ha ha, of course you are.
"You're not going to stop doing anything, are you?
"Of course not! Why would you?"
The other half of this conversation, Georgia Webber's responses, were scribbled down on paper…
I left those out to give you the full effect of how Georgia has to interact with the world at large. For after seemingly straining her voice through over-use, she's been advised that six months without talking at all is the best remedy to resolve her particular painful issue.
Here's the publisher's own scribblings to oh so quietly tell you a little more…
"Part memoir, part medical cautionary tale, Dumb tells the story of how the author copes with the everyday challenges that come with voicelessness. Webber adroitly uses the comics medium to convey the hurdles she faced as well as the fear and dread that accompanied her journey to regain her life. She learns to lean on the support of her close friends, finds self-expression in creating comics, and comes to understand and appreciate how deeply her voice and identity are intertwined."
That she does. Aside from the obvious day-to-day problems not being able to speak would create, which Georgia experienced, not least it necessitating her giving up her job and seeking welfare assistance to be able to survive financially, Georgia also conveys extremely well the deeply unsettling emotional effects of such a malady. From the general anxiety and depression it caused her, to even being plagued by doubts and uncertainties that her voice would ever return to its full functionality, it made her question whether she could be the same person without it.
Told in bold strokes of black and grey against a white background with additional lashings of bright red, including for all the speech and thought balloons, which was particularly striking, this is an art style which is impressively detailed yet seemingly remarkably casual in nature. You can vividly see Georgia's tension displayed in the style itself at times, not just in her facial expressions.
A wonderfully candid and affecting first-hand account of a particularly peculiar illness that I suspect no one could possibly begin to imagine how it would feel unless they experienced it themselves.
JR
Buy Dumb – Living Without A Voice and read the Page 45 review here
Cottons Book 1: The Secret Of The Wind h/c (£16-99, FirstSecond) by Jim Pascoe & Heidi Arnhold.
"You've weaponized art?"

"Oh, Wampu, all art is a weapon… in the right hands."
This is entirely true. Here, quite literally so.
A glance under this book's dustjacket hints at how, and it is breathtakingly beautiful, like a modern stained glass window, as a fox and a rabbit do desperate, whirlwind battle.
A further glance inside the cover itself is rewarded by endpaper maps of the countryside surrounding the rabbits' warren beside The Blue Heart Lake, in a valley between craggy ridges: Goldenseed Meadow and the Wavering Wood overlooked by Stillbreeze Peak.
You'd be forgiven if by now you're expecting something akin to 'Watership Down' but, prologue aside, it's actually much closer to MOUSE GUARD, the animals and their habitat more anthropomorphised, their burrows quite habitable to humans.
While we're on the subject of MOUSE GUARD, however, if you thought the world-building was impressive there, this is on another level entirely, and you'll find a rabbit scholar's notes on Lavender's known history, industry, religion and magic.
Ah yes, magic.
Magic, art and the potential to weaponize it.
The rabbits' industry involves refining their natural source of energy, carrots, into another source of energy entirely, called cha. This heats and lights their warren, but in skilled paws like Bridgebelle's and her former tutor Thom Crocket's, can turn sticks and stones into beautiful and intricate glass artefacts called thokchas. To those more pragmatic and less inspired, this is regarded as a frittering waste of raw material. To others, the crystalline thockchas are merely a halfway house, for 'detonating' them with a twist causes a dazzling and potentially hallucinogenic display. It's possible to become addicted. At a pivotal moment, however, Bridgebelle will discover another use for them entirely.
There's supposed to be a truce between the rabbits and the foxes, but the bluntest and seemingly most brutal of the foxes breaks that truce almost immediately, by snapping poor Soozie's neck. However, as Soozie and Bridgebell dash as fast as they can from the threat, Soozie reveals a key secret:
"Help me, Bridgebelle!
"I hid something. Find it before they do. Go where the flow is slow."
I really do think that's all you need.
The rabbits in flight are fluid as you like, and lithe when turning at breakneck speed. The detonated thockcha visions are truly blinding, and you'll love the skeletal Scapegraces whose feathers are formed from a purple, miasmatic mist.
This is a trilogy and so far it holds together very well indeed, with one full-length, satisfyingly resolved campaign leaving us still in a spine-tinglingly ominous place.
"Everyone is afraid of something."
SLH
Buy Cottons Book 1: The Secret Of The Wind h/c and read the Page 45 review here
Moon Face h/c (£29-99, Humanoids) by Alejandro Jodorowsky & Francois Boucq…
"We must reach the Palace Of Pleasures before the doors close!"
"You two go in! I'll try and stop the Carnival Of Fools before they're all massacred."
Cut off from the world and ruled without any dissent whatsoever by the mad dictator Oscar Lazo, absolute head of a quasi-religious order known as the Kondukators and their madcap Ovarian system (whatever that is), complete with his troublesome, aggravating comedy haemorrhoids, the island Damanuestra is about to undergo a tumultuous time under the surging surf courtesy of the mysterious 'wave tamer' Moon Face. The established, and ferociously guarded socio-political order is about to be well and truly dunked and disrupted by the arrival of this catalyst of change who will silently foment revolution with some serious white caps that make the Great Wave off Kanagawa look like end of the pier ripples…
This work is classic Jodorowsky, setting up a world under the influence of an all-controlling, all-perverse, all-most-definitely-unpleasant-and-odious-power and promptly setting about bringing it all crashing down. Originally released in 3 or 5 volumes in French, depending on how you look at it (trust me, it had a bit of an odd publication history…) we are fortunate to get the whole lunar body in this one translated collection.
Another major plus is the incredible artwork. Reunited with his sidekick from his BOUNCER saga, Francois Boucq, you can feel the immense power of Moon Face's waves and their equally impactful influence on the regime, and by extension, Lazo's bumhole raisins! Surreal, satirical, utterly preposterous and equally ridiculous, this is an extremely amusing examination of the desperate lengths people will go to hold onto power even when the proverbial tide is turning against them faster than King Canute. So surely it's no surprise to see what looks like a young Margaret Thatcher depicted as one of the authoritarian figures! I suspect there may well be a few European politicians of that era and religious figures getting lampooned in there too.
If I had one criticism to make, it would be the same one I level at what is probably my favourite work of Jodorowsky's (after THE INCAL which stands alone in its near perfection), which is MADWOMAN OF THE SACRED HEART, in that the concluding part is the weakest in terms of the story-telling. Not by much, but it does feel slightly like Jodorowsky's managed to get his characters and by extension himself so magnificently metaphysically tangled up that he's concentrating on writing a clever way out rather than being as seemingly spontaneously entertaining as the opening two-thirds is. Which is clearly written with relish and gradually just lets the chaos build and build in a gloriously discordant manner. I guess it's always harder to rein it all back in than just let it go. It is a most satisfying conclusion however.
JR
Buy Moon Face h/c and read the Page 45 review here
The Complete Killer s/c (£35-99, Archaia) by Matz & Luc Jacamon.
A book so
big that you could brain someone with it.
750 pages!
Slick and intense European thriller in which we get inside the head of a hitman who seems so disengaged from humanity that it's all facts and figures, an endless stream of self-justification for being a cool-hearted killer without a care in the world.
"Don't talk to me about justice or morals. Even God himself I wouldn't listen to. Not with His track record. I take orders from no one. I report to no one. I have a single motive for what I'm doing: money… I help rich people kill one another. Poor people, they can't afford me. They handle it themselves. And they end up in jail for life."
Normally he researches then executes his assignments calmly, methodically, all around the world. Patience is the one virtue he would own to possessing, but this time his target hasn't even shown, and it's starting to unsettle him…
Like CRIMINAL, this gets right under the skin of the individual in question who makes more than a few valid points about our own culpabilities, whilst the art is lush with jagged jungle leaves, classily coloured and it splinters expressionistically as the pressure builds to force this most dispassionate of men to make a critical blunder. At which point everything unravels, and he's forced from his natural comfort zone into an environment he does not control.
Of book two, I wrote:
Welcome to the return of the ruminative assassin. Here he's particularly preoccupied with the disadvantages of dying in your sleep. And whom it is wise to hang out with.
"The hard part is not the loneliness. The hard part is choosing the right people to have around you, when you finally decide to have people around you. Loneliness offers guarantees that vanish as soon as you try and trust someone. Stepping away from it is running a risk. Especially for me."
You never do know whom he should trust. It's a source of suspense which builds and builds.
Previously even the man he'd always placed the greatest trust in, long-time accountant Edward, turned out to be capable of treachery – and pretty stupid into the bargain. Edward had been the conduit in a contract on a man called Martini, and then gone one further and tried to take out The Killer himself. It didn't really work out for Edward, no.
Now lying low in luxurious seclusion, our anti-hero is visited by a man called Mariano, god-son to a Columbian drug baron called Padrino. Seems Martini was one of three men Padrino had set up in high society Paris in order to distribute his wares. The way Padrino sees it, taking out Martini has caused him some serious inconvenience even though The Killer saw the man under police surveillance and may have done Padrino a favour in silencing him. Unconvinced, Padrino insists The Killer accepts contracts of his own in exchange for forgiveness. It remains a lucrative deal so although the worryingly talkative and inexperienced Mariano is foisted upon him, The Killer accepts.
From Buenos Aires to New York City things go (sort of) well until, while cruising down the Amazon, there's a vicious attack back home on his lover. Instinct leads him to question whether it was Padrino, but that simply doesn't add up and The Killer hates it when things don't add up. He doesn't like coincidences, either, like the assassination of a second of those three drug dealers in Paris, or being befriended by a cop who's being investigated for police brutality. Who's after him now, and what connection does it have to Martini and Edward?
There, I think I've accurately set the scene whilst leading you all astray! Your turn now to grow as paranoid on The Killer's behalf as I was this sunny Sunday afternoon.
That you will all fear for this hitman's safety is a telling testament to Matz's skills as a writer. The Killer's cogitations on his career and craft and its implication for life in general play a substantial part in this. They're well reasoned and betray a heart he denies having, as do his new sentiments towards the woman he's chosen to trust. I think you'll like the cop too.
As to Luc Jacamon, his colouring has always impressed me no end, particularly when it comes to the dappled shadows under a boulevard of trees, and I love the way that there's this constant presence throughout, even outlined in negative on the side of a building, of an Orinoco Crocodile – the very essence of patient, predatory guile. He excels at details others would never think to incorporate like scaffolding, netted in green, supporting the side of already impressive edifices. There's a gorgeous sense of space no matter what he's asked to draw, in whichever country, and there's plenty of globe-trotting to be done here. I'm an enormous fan of the wit-ridden 100 BULLETS, but it can become bogged down by words whereas Matz never allows any self-indulgence to crowd out Luc Jacamon, maintaining a perfect equilibrium for a pleasurable read as smooth as the operator himself.
Of books three and four, I typed:
"Poor Mexico – so far from God and so close to the USA."
– Diaz Ordiz, Mexican President, 1960
And so we start afresh with the titular assassin three years into retirement, lazing on the beaches of Venezuela. Lazing – that really doesn't sound like him, does it? On the other hand he might well have stayed there had Mariano not sent fresh clients his way. Maybe they were the itch he couldn't help scratching as they fed him a succession of contracts, one after the other.
The first seemed relatively straightforward: a Spanish oil broker living in Venezuela but thankfully staying in Mexico. Then an assistant manager of the Venezuelan National Bank: a little close to home but another easy target because riding a scooter in Caracas is tantamount to suicide anyway. But it's the third target which begins to rattle our unflappable killer who hasn't been as calculating as he should have been. Her name is Madre Luisa, much loved in Latin America as a nun working the shunned slums of Columbia. He's basically been asked to off Mother Teresa. Why?
With the help of Mariano and his Padrino, the connections become as clear as they prove crude. This is Venezuela, after all, the third-largest supplier of the USA's oil. Its President Hugo Chavez is determined to nationalise the industry. Unfortunately that doesn't change anything except the likely identity of his clients and their potential reach: if he doesn't kill Madre Luisa someone else will, and then they'll come looking for him.
As topical right now as I'm afraid it's likely to prove for quite some time, events spiral out of control on a national level and when Cuba's interest is revealed the cold cogitations inevitably take a turn for the political. Here's our man in Havana:
"There were fewer people sleeping outside and dying of hunger in the streets of Havana than in New York or Bombay. Not bad for a country strangled by American embargos for more than forty years. They weren't rolling in dough and might not eat their fill every day, but they weren't America's whore or flunky, or anyone else's and they knew it.
"Why is Fidel criticised? 'Cause Cuba isn't a democracy? What country is? The USA and Europe are in name only. And they impose their so-called superiority on the rest of the world. Easy enough when you rape and pillage, when you grow rich off other men's work, when you don't respect the rules you force on them. Bolivar said in 1823: "Providence seems to have destined the United States to rain all sorts of calamities on South America in the name of liberty." Seeing that far ahead is really something…
"Castro's funny too. He once said Christ's sermons would make for good radical socialism, whether or not you were a believer. At the UN, 184 out of 192 countries voted to lift the embargo on Cuba. Only Israel, the US, the Marshall Islands, and Palau voted no… and won. Democracy in action."
There's plenty more where that came from in a thriller whose killer has much more to say about foreign intervention and genocide throughout the ages and across the globe. You might say it's his specialist subject and once more it's that part of his nature he denies having that lands him in trouble: he can't help but question everything he's told, everything he sees around him, and in spite of his protestations he does actually care. In his line of work, nobody likes a troublemaker.
It's the light that readers comment on most. Whether it's the dappled shade at a corner café or looking up from the forest floor to the canopy above, the foliage growing fainter as more sunlight shines through, the colouring's a joy. Plenty of Cuban sunsets this time, and Miami's glorious aquamarine coastline is yet another of Jacamon's flourishes which will have you gasping. His mirrored sunglasses are out of this world – you'd think the paper had been chemically treated. Also, I love the way a puff of dusty sand, kicked up by the Cuban heels of our Killer's cowboy boots as he strides across the Mexican desert, curls into the clouds on the very next panel.
Further "negotiations" will eventually take him to London and Paris where, of course, he will bide his time in boulevard bars, musing on human nature.
"Optimism can sometimes seem like naïveté, but pessimism is often a fruitless affectation. I'm all for clear-sightedness. Not wearing blinders, not getting hoodwinked by pretenders and received ideas.
"Meanwhile, I wait and watch. I want to see what's coming."
The fifth hardcover is reprinted here too.
SLH
Buy The Complete Killer s/c and read the Page 45 review here
Sandman Overture: Absolute Edition (£110-00, Vertigo) by Neil Gaiman & J.H. Williams III.
"Everyone
kills, little brother.
"They even kill their dreams.
"And you have waited too long."
Everything is ending: life and afterlife, birth and rebirth. Eternity will be extinguished because Morpheus made a mistake born of compassion. When he failed to cauterise the chaos in time the universe itself went mad.
He has one last Hope and an unexpected ally. But then what greater driving force is there than the will to live?
Neil Gaiman returns to SANDMAN with a prequel which is integral and reminiscent in so many ways of Alan Moore's PROMETHEA whose metaphysical musings on the nature, power and achievements of the human imagination weren't just illustrated but illuminated by one of comics' most inventive artists, J.H. Williams III. Once more Williams brings his very best to bear on a script which would have overwhelmed many others and sheds the most spectacular light on some pretty dark matter.
SANDMAN Synopsis: Morpheus is the Lord of Dreams, his family are The Endless. Each of them is older than you can comprehend, though some are older than others. They are as gods to mortals, though they can surely die, and they change as we change for they are aspects of our everyday existence. Drawing on so many elements of prior mythologies, this was one of the 20th Century's very best comics and Neil Gaiman's prose readers will love it.
In a story which leads straight into the original book, SANDMAN VOL 1: PRELUDES AND NOCTURNES, long-time devotees will discover so many answers to questions they may not have realised existed. For example, if Destiny holds in his hands the book of everything that was, is, and ever will be, then who gave that legacy to him? Who gave birth to the Endless? You will finally meet Morpheus' mother and you will meet his father. So will Morpheus after such a long time. Their last encounters didn't necessarily end too well. Parents and their children, eh?
You'll meet Delirium when she was once known as Delight. Indeed, you'll meet all of The Endless once again but before you first did so. Including the one they don't speak of who went away.
I promise you a complete and satisfying pay-off during the fourth, fifth and sixth chapters regarding the siblings, their relationships with each other, themselves ("Despair is now another aspect of herself") and with those who gave them birth. Their parents have very specific names and very specific roles and they both make so much sense.
But perhaps most satisfying is the further exploration of Morpheus. Both of his nature as Dream itself…
"It is the nature of Dreams, and only Dreams, to define Reality."
… and as an individual, and how that impacts, has impacted and will impact on his role both here and hereafter.
"Am I always like this?"
"Like what?"
"Self-satisfied. Irritating. Self-possessed, and unwilling to concede centre stage to anyone but myself."
"I believe so, yes. In my experience."
And he of all people should know.
I'd love to about talk responsibility – which is key both here and throughout SANDMAN – and specifically about someone whom Dream deems his self-serving opposite in that respect. I'd like to talk about promises too which are not unconnected, but I made you a promise and I keep them.
As for this comic's exquisite beauty, I remind you of the most inspired choice of artists imaginable in J.H. Williams III.
Like Will Eisner, Jim Steranko and Dave Sim, Williams truly experiments when constructing individual pages or sequences of pages from the most unusual, often organic panel compositions which are additionally apposite to the proceedings. As in, you'll be presented with a defiant predator on the prowl through panels constructed from teeth when teeth are both that protagonist's signature aspect and the enamelled elements between which he literally perceives what surrounds him. You'll see!
Then, like David Mazzucchelli, within and beyond that backbone Williams also ensures that as many constituent components of comics storytelling as possible serve the story itself.
Please don't think that colour artist Dave Stewart of lettering legend Todd Klein have been slacking, either.
You'll relish being astonished by Williams', Stewart's and Klein's contributions while immersing yourself in this book. That's all you could really want. But when you turn to this edition's considerable back-matter material including the whole story's original, uncoloured art by J.H. Williams III in the ABSOLUTE edition, plus interviews with the entire artistic orchestra and composer Neil himself, you will surely need to reacquaint yourself with that misplaced mandible currently residing on your carpet.
Such are the elaborate lengths they all went to achieve specific effects for individual sequences as a team that you will wonder no longer why this series took so long to materialise before you as one of the pinnacles of comics' construction.
As I always say on the shop floor when a project's delayed, quality is worth the wait.
No one wants to read something cobbled together without caring for the sake of a corporate cash-cow. No one wants their treasured dreams diluted by the shoved-out second-best when what we desire above all is a comic which lives up what we once loved.
Prepare to have your expectations exceeded.
You will travel through time and you will travel will space, as will Morpheus himself. If not of his own volition.
That's how this begins and that's how it ends, which is where it all began in the first place.
"And I am pulled halfway across the universe in one fraction of forever, with a pain that feels like birth…"
Don't miss the epilogue. *shivers*
SLH
Buy Sandman Overture: Absolute Edition and read the Page 45 review here
Beanworld Omnibus vol 1 s/c (£22-99, Dark Horse) by Larry Marder.
"The
search party departs. The adoration continues."
The whole of the original series in one massive chunk.
Just occasionally something comes along in the comics medium that is so completely unique and different to anything else you've ever read that it makes you stop and just marvel. BEANWORLD is just such a creation.
Mark rated this right next to Jim Woodring's work (THE FRANK BOOK, WEATHERCRAFT, FRAN, JIM etc) as one of those inspired visions so personal and peculiar that most other creative industries would neither support nor understand its genius. I'm with him on that.
Larry Marder created a unique world with a fully realised, sustainable ecosystem which operated with its own radically viable laws for construction, reproduction and sustenance. Its several species of inhabitants had their own hierarchy, its individuals their own roles, aspirations and priorities. They even had their own terminology/slang. With their passion for play, exploration, art and invention, if I were to try to capture the series in a single word, I'd try "Celebration". If I were allowed a second word, it would be "Cooperation".
Both those concepts lie at the heart of any healthy and fecund friendship or community, so there were lessons to be learned way back then that would have put the human race much further ahead of the game than it currently stands. I'm going to stick my neck out to say something typically stupid too: it's like a platform game. The Beans' learning process is like a platform game. "Oh, this is what I need to find/create and fit in there in order to make progress…!"
Many moons ago the far sager Mark wrote this:
"I've read this work for a decade now and I find something new each year I try it again. First it was a cute little story of two races in an imaginary world and the antagonistic/symbiotic way they lived with each other. Then I noticed that the three leads were Beanish, an artist, Professor Garbanzo, an inventor, and Mr Spook, a protector, so it lead to their place in society and their growing knowledge about their role and the work of the others. Everyone has a ritual and everything's there for a reason. When a new element is added we get to see each reaction, either for or against.
"There are nods to native American art and mythology, Jack Kirby and Marcel Duchamp (sooner or later Beanish is going to hit on The Large Glass although he's a long way off yet). Both art and writing are pared down to the bare minimum; symbols are one of Marder's favourite subjects (he once worked in advertising, but forgive him that)."
More recently the far fitter Jonathan wrote:
"Larry Marder succeeds in creating a whole bizarre new reality, or in fact The Four Realities of Slots, Hoops, Twinks and Chips which you might just fall into if you leap off The Legendary Edge whilst on a chow mission amongst the Hoi-Polloi Ring Herd! He then proceeds to populate it with an ever increasingly weird set of individuals who just happen to be beans such as Beanish, an artist and creator of the Fabulous Look-See Shows, Mr. Spook, hero and leader of the Chow Soljer army, and Professor Garbanzo, problem solver and generally deep thinker. And certainly not forgetting the musical Boom'r Band who try to keep everyone entertained.
"The only way I can do justice to BEANWORLD is to say reading it feels like you are a spectator to a very different version of Universe creation unfolding before your very eyes, piece by surreal piece. You never guess who or what is going to appear next and what it may mean for the Beans and their reality, and therein lies the beauty of it. All disbelief is suspended, anything is possible, but don't imagine you'll ever guess what's coming next – because you honestly won't!!
SLH, MAS, JR
Buy Beanworld Omnibus vol 1 s/c and read the Page 45 review here
Gantz G: vol 1 (£12-99, Dark Horse) by Hiroya Oku & Keita Iizuka…
"There's a lot this time."

"Yeah."
"Must have been a school trip."
"Whatever."
"Shall we get things started?"
"Whatever."
"OKAY! EVERYONE LISTEN UP!!"
"In a few moments… you will all… be transported somewhere else against your will.
"There you will find yourself in a weird hunting game.
"This black sphere is going to start giving out orders.
"We call this sphere… GANTZ."
"You are going to hunt… that is, kill… living things called aliens.
"You will continue to be forced to do so unless you kill a bunch and earn points.
"If you are killed by an alien, this time you die for real."
"Inside Gantz are highly tailored suits for each of you.
"You must put this suit on. If you don't, you will die."
Yep. The confusing and indeed confused, massively entertaining sci-fi killathon returns!! I think the explanation above to the bewildered rookies who died in a bus crash only to find themselves resurrected in a strange room with a large black sphere and a pair of know-it-all teens probably just about covers it. Though, technically, even being killed by an alien needn't be the end, if someone is altruistic enough to use their hard-won 100 points to bring you back again (again) instead of choosing to be set free, but you know, there's time for the newbs to find that out. Well, for the small percentage of them who will become our main characters, that is… The majority are just going to be complete and utter cannon fodder…
For those wondering why GANTZ is back, I have absolutely no idea whatsoever. I note with wry amusement that Hiroya Oku is only writing this time around, instead young turk Keita Iizuka has been brought in to handle the pencils. Given how long Oku took to apparently finish GANTZ, with earlier volumes actually going out of print before the final few even came out (good old Dark Horse), this is only a good thing. And if you didn't know Oku wasn't illustrating you'd actually have no idea as Iizuka has managed to recreate Oku's style near perfectly.
Main point to note is this is apparently a parallel team whose story runs concurrently to the team in GANTZ, meaning that the major apocalyptic alien invasion etc. etc. is in the future, but I suspect this series won't get into all that. Instead, though, both long-time GANTZ fan Stephen Mortiboy and myself had exactly the same response when we heard about this series.
"Maybe we'll finally find out what the vampires were all about."
Omnibus editions of the previous GANTZ series are on their way.
JR
Buy Gantz G: vol 1 and read the Page 45 review here
The Phoenix Colossal Comics Collection vol 1 (£9-99, David Fickling Books) by Jamie Smart, Robert Deas, Laura Ellen Anderson, Dan Boultwood, Joe List, Jess Bradley, Chris Riddell, Mike Smith.
Junior
jollity and top-notch action, we've had the most monumental success with Page 45's Phoenix Comic Collection Section comprised of some 24 graphic novels culled from the kids' weekly comic, plus Neill Cameron's galvanising, practical entertainment HOW TO MAKE AWESOME COMICS,
Now the publisher is trying something a little different akin to an old-school anthology annual with multiple creators offering up their diverse series for you to get a feel for the overall breadth of The Phoenix Comic Weekly or as springboard for you to try more of their collected wares.
If you already own the likes of LOOSHKIN, I do advise you that you'll already have all of Jamie Smart's material here, but I don't think any of the EVIL EMPEROR PENGUIN stories are in either of those collections.
Moreover, this anthology format has afforded the publisher to present some creative gems which wouldn't have filled more than a very slim pamphlet of their own.
Topmost for me are Joe List's absurdist, wavy-armed, bendy-legged single-page stories starring 'Doug Slugman P.I.' which – entertaining enough in their own right – benefit substantially from being gathered together so that you can revel in the diverse permutations of Slugman's increasingly insane then mundane (and quite contradictory) Marvel-style origin / introductions. I shall attempt to explain. Spider-Man comics open with something like:
"Accidentally bitten by a radioactive spider, Peter Parker gained the proportional powers of a spider, learned that with great power comes great responsibility, and now fights crime as the AMAZING SPIDER-MAN." I'm not looking it up.
Joe's begin:
"A normal garden slug found his way into a mystic shoe that gave him crime-solving powers… DOUG SLUGMAN P.I." Or:
"After an enchanted detective novel was dropped on a slug, it gave him the mystical powers of detection. DOUG SLUGMAN P.I." Or even:
"After accidentally finding and returning a lost kitten, a slug decided to dedicate his life to detection. DOUG SLUGMAN P.I."
Hilariously, within these nine stories there is not one single act of detection and no crimes are solved.
Woes are witnessed, conundrums encountered and in one instance a couple hiking round the hills asks Doug the slug simply to take a picture of them enjoying the pastoral beauty. In each instance the solutions Doug deploys are over-elaborate and, by any stretch of the imagination, bonkers. But please do remember that a) a book was once dropped on his small squidgy, shell-free head, and b) he is just a mollusc, however "enhanced" by eating nothing but peanut butter sandwiches for two weeks.
As to "wavy-armed" and "bendy-legged", gastropods are not renowned for having too many of those.
My favourite experience of the surreal was one which began by being ever so cleverly anchored in logic which is absurdist humour's antithesis. A magician finds himself floundering in water, his cards all soaking wet. How will he now perform his magic tricks?
"I can fix that!" declares Doug, unexpectedly surfacing above water. "What you need is a waterproof alternative…"
Yes, laminate those suckers!
No.
"Fish!"
Which is a fabulous absurdist echo in and of itself.
They're all the same size, and blue. What's he to do for his next trick? Haha! You'll see!
Each episode ends in "Case closed!" and "Next…" Some of the cases are closed, but "Next" never happens.
Look, he's a detective, not a psychic.
SLH
Buy The Phoenix Colossal Comics Collection vol 1 and read the Page 45 review here
Arrived, Online & Ready To Buy!
New reviews to follow, but if they're new formats of previous books, reviews may already be up; others will retain their Diamond previews information we receive displayed as 'Publisher Blurb'.
The Artist h/c (£12-99, Breakdown Press) by Anna Haifisch
The Dream Of The Butterfly vol 2: Dreaming A Revolution (£11-99, Cub House) by Richard Marazano & Luo Yin
Entropy (£17-99, Secret Acres) by Aaron Costain
Hasib & The Queen Of Serpents (£21-99, NBM) by David B.
Hilda And The Stone Forest (vol 5) s/c (£7-99, Flying Eye) by Luke Pearson
Mister Morgen (£21-99, Conundrum) by Igor Hofbauer
Skin And Earth vol 1: Lights s/c (£22-99, Dynamite) by Lights
The Times I Knew I Was Gay (£9-99, Good Comics) by Eleanor Crewes
The Weaver Festival Phenomenon h/c (£17-99, Fantagraphics) by Ron Rege
We Shall Fight Until We Win: A Century Of Pioneering Political Women (£9-99, @404ink / @BHP_Comics) by various
Hellblazer vol 19: Red Right Hand (£22-99, Vertigo) by Denise Mina, Mike Carey & Leonardo Manco, Cristiano Cucina, John Paul Leon
Batman: The Dark Prince Charming vol 2 h/c (£11-99, DC) by Marini
Spider-Gwen vol 5: Gwenom s/c (£15-99, Marvel) by Jason Latour & Robbi Rodriguez, Veronica Fish, Olivia Margraf
Spider-Man: Miles Morales vol 4 s/c (£15-99, Marvel) by Brian Michael Bendis & Oscar Bazaldua
Doctor Who: The Lost Dimension vol 2 (£13-99, Titan) by Gordon Rennie, Emma Beeby, George Mann, Cavan Scott & Ivan Rodriguez, Wellington Diaz, Rachael Stott, Mariano Laclaustra
Black Clover vol 1 (£6-99, Viz) by Yuki Tabata
Cardcaptor Sakura: Clear Card vol 4 (£9-99, Kodansha) by Clamp
Devilman: The Classic Collection vol 1 h/c (£22-99, Seven Seas) by Go Nagai
Monster Hunter Flash Hunter vol 7 (£6-99, Viz) by Keiichi Hikami & Shin Yamamoto
Monster Hunter Flash Hunter vol 8 (£6-99, Viz) by Keiichi Hikami & Shin Yamamoto
Monster Hunter Flash Hunter vol 9 (£6-99, Viz) by Keiichi Hikami & Shin Yamamoto
Monster Hunter Flash Hunter vol 10 (£6-99, Viz) by Keiichi Hikami & Shin Yamamoto
So Much Love For You Card (£2-50, Paper Pipit) by Jodie Paterson
Hooray! Card (£2-50, Paper Pipit) by Jodie Paterson
Thank You Kindly (£2-50, Paper Pipit) by Jodie Paterson
Most Brilliant Birthday! Card (£2-50, Paper Pipit) by Jodie Paterson
So Very Proud Of You Card (£2-50, Paper Pipit) by Jodie Paterson
You Are Loved Card (£2-50, Paper Pipit) by Jodie Paterson
I Am So Gonna Catch The Bouquet Card (£2-50, Paper Pipit) by Jodie Paterson
All Of Me Loves All Of You Card (£2-50, Paper Pipit) by Jodie Paterson
Best News Ever! Card (£2-50, Paper Pipit) by Jodie Paterson
I Am Always Here For You Card (£2-50, Paper Pipit) by Jodie Paterson
You Give Me Life Card (£2-50, Paper Pipit) by Jodie Paterson
Let's Get Through This Together Card (£2-50, Paper Pipit) by Jodie Paterson
Go Get 'Em Tiger! Card (£2-50, Paper Pipit) by Jodie Paterson
Get Drunk Eat Cake Celebrate! Card (£2-50, Paper Pipit) by Jodie Paterson
Over The Moon Card (£2-50, Paper Pipit) by Jodie Paterson