Featuring David B., Luke Pearson. Olivier Kugler, Dan Abnett, I.N.J. Culbard, Ron Regé Jr., Igor Hofbauer, Anna Haifisch, Richard Marazano & Luo Yin, Hannah Berry, Denise Mina, Kathryn Briggs, Sabeena Ahktar, more!
Hasib & The Queen Of Serpents (£21-99, NBM) by David B.
Luxurious
hardcover with gold-foil finishes from the creator of EPILEPTIIC.
If you love your epic mythological journeys like THE KING OF THE BIRDS, this will fill your cup right to its brim, and it comes with the same, intricate story baton-passing, for this is all about unexpected encounters in which one revelation leads to another, one complication leads to several more, and there are prices to be paid for love, treachery, deceit, ingratitude, servitude and – what else would you expect? – the dismissal of warnings and the breaking of promises, taboos.
Not only that but, blissfully, I can promise you that however far the meandering narrative, full of digressions, takes us from its initial thread, its path is circular, you will return whence you came, and every single element will be resolved.
Even more satisfyingly, answers which could not and should not have been provided during the diversions are provided later on, and antagonists who appear within them will reappear most unexpectedly but quite, quite, brilliantly during the final furlong to fuck up things further, but not forever.
Why is it so circuitous? This is taken from 'The Thousand And One Nights' in which the narrator is essentially telling stories to postpone her execution. It's one long delaying tactic. For a very cool riff on that, please see Isabel Greenberg's wit-ridden, glorious graphic novel THE ONE HUNDRED NIGHTS OF HERO.
It begins simply enough with Hâsib, who isn't half as wise or well versed in the ways of the world as his departed dad, an ancient sage called Daniel. Hâsib's mother is persuaded to buy him an axe and a donkey so he can join three woodcutters in a forest and learn this new craft. But when they discover a well of honey in a cave, Daniel is abandoned at the bottom on it while his greedy companions make more money from the honey than they'd ever dreamed. They tell his mother that Hâsib was eaten, but they do continue to provide for her from their ill-gained goods.
Well, seemingly trapped at the bottom of the now-empty well beneath the cave, Daniel encounters a talking scorpion – the very constellation of Scorpius in the sky, made flesh, blood and stingy bit! – and so realises that there must be another way out. He claws back rubble to find himself in a chamber with an underground lake at the centre of which is a bed on an island. Lying down, he soon finds himself in the company of the Queen of the Serpents. It's then that the succession of stories truly begins, from Kabul to Cairo, before they return full circle, then onwards!
You are in for an orgy of opulent spectacle, for David B makes the visual most of every literary opportunity afforded him, and oh the opportunities! There's an aviary of every bird imaginable in King Solomon's castle, a mountain-top tree full of faces, and a constellation of stars is illuminated at its most magnificent.
Talking plants communicate in ever such clever picture-clues, a coffin-maker's enterprise is given a right medieval and morbid rendition, while a battle between apes and djinns is Mesoamerican in nature, coiling round then into the page like a snake.
Demons await in the woods as if to corrupt the woodcutters, a river doesn't just rage and roar but actually exclaims, anything can happen then actually does and essentially this: it's like an acid trip without fear of flashbacks or prosecution.
As I've written of Jim Woodring's work: "It's mind-altering, yet legal!"
Here's an important component, however, which is easy to overlook: although grave personal betrayals occur, genuine contrition can be rewarded by forgiveness if it's backed up with restitution and remedial action, especially if unsolicited. By which I mean: you realise you've done wrong, you concede you've done wrong, you actively apologise and then set things right without being asked to in advance.
The reason this is vital in any morality tale is that it provides hope in its option for action: we all make mistakes, but believing that we are damned forever because of them doesn't exactly encourage a change of heart.
Or, as 'The Cock, The Mouse And The Little Red Hen' would contend: "It's never too late to mend".
Although sometimes it is.
SLH
Buy Hasib & The Queen Of Serpents and read the Page 45 review here
Escaping Wars And Waves: Encounters With Syrian Refugees (£19-99, Myriad) by Olivier Kugler.
"Imagine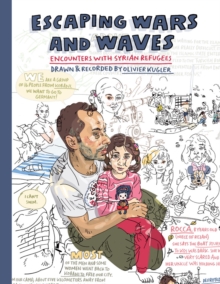 you've got a family: a wife, three children… you come home and there is nobody there."
Two bombs were dropped on their house.
"They all died in the same room. The oldest one was five years old, the next one four… and the little one was three years old."
This is an album full of spectacularly beautiful, delicate line art: portraits of brave, stoical and astonishingly resourceful individuals who are facing nebulous futures after enduring unimaginable atrocities, so forcing them to flee for their very lives only to enjoy temporary living conditions which are challenging, to say the least.
It won the European Design Awards Jury Prize, 2018.
It's coloured with exceptional finesse, an unusual treatment which instinctively selects certain areas of skin and clothing (while leaving others unfilled) so that one's eyes are drawn to the humanity, warmth and individuality of those telling their stories in very brief bursts, while their current context – their surrounding environment, inside or out, and their few possessions – is largely left white or in lighter tones, with small but important details picked out for emphasis, like all the plastic flowers and vine leaves used to brighten a tent, shack or barber's shop.
Oh yes, I told you they were resourceful: so many of those who found themselves marooned in the Domiz refugee camp in Iraqi Kurdistan, 2013, had begun to earn themselves a new if meagre living as barbers, carpenters, electrical appliance repairmen, sound system rental suppliers for weddings, births and birthdays or even, in Djwan's case, a breakdancing teacher. That's quite the career change from Syrian Army sniper.
It wasn't a career choice. In Syria, military service is mandatory, and Djwan was randomly selected to be a sniper, from which vantage point he was able to see his friends blown to smithereens or burn to death in a tank. One of Djwan's close friends and fellow soldiers who had suffered considerable family loss (outside of the army but very much within the warzone – Syria, basically) committed suicide by shooting himself with a rifle. The authorities decided Djwan had killed him, so he was tortured.
His saga of suffering is far longer than that, but like every individual whom Kugler met, he was fleeing the war. Plenty were fleeing conscription, many had their homes and livelihoods destroyed, others weren't sticking around long enough to see that happen within personal blast range. I'm pretty sure you'd flee too. I know I certainly would. It's worth reiterating:
"Imagine you've got a family: a wife, three children… you come home and there is nobody there."
So many of these stories are the same, whether told in Domiz, Kos (a Greek island where there's no refugee camp or governmental provision at all) or the "Jungle" in Calais where you really wouldn't want the sort of provision the local police like to provide.
"Because of the war there is not work in the area. Food, electricity and fuel are scarce and expensive."
"The economy broke down."
"This is what is left of the school where I used to give painting lessons. It got hit by an American warplane."
Some of them have climbed over corpses.
When Kugler.visited, refugee Ahin was lending her fully qualified services as a postgraduate psychologist to the Mental Health team in the Domiz camp. (You can imagine there's quite the demand if men in particular feel able to suffer the stigma of needing mental health counselling – and then think of the kids there!) She had to give up her masters is Damascus when the Free Syrian Army began bombing the neighbourhood indiscriminately.
"During my studies I worked in a centre for autistic children. I wanted to do practical treatment and help the children. It wasn't easy but I enjoyed it."
The centre's now being used as a military base.
Meanwhile, of course, dear old Islamic State is destroying all art it can find and even chopped down an orchard because obviously.
On fleeing, the parties had to negotiate numerous checkpoints in their own country before getting anywhere near another's borders. Those checkpoints could be manned by the Syrian Army, the Free Syrian Army or even Jihadist groups, which is quite the combination to please or appease. It's especially tricky if you're someone who could be shot for desertion or being an ex-enemy combatant.
This is all so thoroughly digestible because Kugler provides snippets of conversations, distilling them to the really important sentences, but never once separating them from the individual in question. There are no anonymous statements.
And, of course, you are surrounded by the physical beauty of the lines and colour on each page, however higgledy-piggledy, wet or freezing cold the actual environs were. Details you wouldn't necessarily think of are picked out, like the cinder blocks one bloke is standing on to keep his feet out of the mud. The island of Kos stands in marked contrast to Domiz, being comparatively warm, lush and green.
Originally, to save time, I was simply going to refer you to Kate Evans's equally excellent first-hand account of her time helping out in Calais which is THREADS, but I found myself so moved by what I learned here, and so impressed with its communicative skills, that I couldn't. Joe Sacco is a huge fan of this work, of course, because he's made a career out of giving a voice to those who have none, just like Kugler does here. They're like megaphones for the otherwise muted.
And while I'm making reference to other works, albeit with a completely different structure and style, may I commend Thi Bui's THE BEST WE COULD DO? Belle Yang's FORGET SORROW? Shaun Tan's THE ARRIVAL, obviously, but also his SKETCHES FROM A NAMELESS LAND which too contains snippets of conversation taken from those seeking refuge, as well as reflecting on THE ARRIVAL, itself.
I'm well past being sick of the demonization of those so desperately seeking sanctuary by the likes of Farage and the Daily Fail, and the betrayal by our own government under Theresa May of the Windrush Generation who were invited here because we do desperately needed them, and they came and they gave of themselves for decades in spite of such loathsome societal racism. Over and over, we are bludgeoned with lies about scrounging when immigrants contribute their skills then boost our economy by paying tax.
But not only are so many fleeing for their very lives – from wars often of the West's making in the case of Iraq, or exacerbating in the case of Syria – but in doing so they are sacrificing so much.
Almost always they are leaving family behind, but also their daily joys – the colour and culture in their lives – which we take for granted, obliterated by the outbreak of war: music, singing, art and books. Casual conversation in comfort! One elderly gentleman called Saadwin says "I miss village life… Hanging out with the other old men… We used to sit outside and talk all the time."
He's standing, shivering, in mud-strewn Iraqi Kurdistan, in spite of wearing seven jackets.
"I wouldn't trade living in my village for all the money in the world."
And yet, he has had to leave.
SLH
Buy Escaping Wars And Waves: Encounters With Syrian Refugees and read the Page 45 review here
Wild's End vol 3: Journey's End (£17-99, Boom!) by Dan Abnett & I.N.J. Culbard…
""Fire doesn't
burn that way." Your words.
"You said in the incident report several times. And I've heard you say it since."
You may yourselves recall Clive Slipaway telling us more than once about the wartime incident in which his ship was dramatically set aflame and promptly sunk with substantial loss of life, though he himself manage to survive only to be captured by the enemy. Well, it seems there may have been more to the incident than meets the eye… at least according to intelligence officer Major Upton, who you would think might be in the know about that sort of stuff.
Now… where else have we seen strange flaming weapons that instantly incinerate things recently…? Ah yes…
Our anthropomorphic chums return, well, except for poor old Fawkes, who was last seen getting roasted alive to a degree that a Gruffalo would heartily approve of after finally going against a lifetime of conniving and chicanery and generally surviving just fine and dandy thank you to play the hero! Thanks to a lovely little amusing conceit though, you'll almost be convinced he managed to survive. It's like Messrs. Abnett & Culbard weren't quite ready to let go of the foxy blighter! But local journalist Peter Minks, feline Susan Peardew and Alphie the piglet are all back safe and sound. Well, they're back.
So, is there any hope at all of turning the proverbial tide against the global alien invasion of fire-breathing, flexible-limbed, giant streetlights? Indeed is there even anyone else left with the gumption to fight aside from our ragtag bunch of survivors? And even if there were, what on Earth could they possibly do? Or does the answer perhaps… [CENSORED]. Well… again, any chance they do have might be down to information that Major Upton is in possession of… Just how is it that she seems to know so much about this mysterious alien menace and what possibly represents the Earth's last, incredibly slim hope for survival…?
Yes, the concluding third of this amusing take on the classic retro-alien invasion theme is finally here! Straight out in graphic novel form this time, no messing about with the penny dreadful periodicals! As before, much interesting between-papers such as diary entries, government announcements, maps etc. flesh out the fun. At least until it's seared off… For much, much more on this fabulous series see our Stephen's reviews of WILD'S END VOL 1 and WILD'S END VOL 2.
JR
Buy Wild's End vol 3: Journey's End and read the Page 45 review here
The Weaver Festival Phenomenon h/c (£17-99, Fantagraphics) by Ron Regé Jr.
"There
was an electric shock between our hearts and the conduit was the sound of the bell."
Ding dong! What a wonderfully witty and warm-hearted work this is. As the publisher blurb yodels…
"A funny and romantic teenage ghost story that marks a departure from the author's more abstract and esoteric work, The Weaver Festival Phenomenon is a touching story of love & loss that retains a sense of magic that readers have come to expect from Regé."
The primary reason for that departure is not mentioned above, oddly enough, which is that this is based on the short story 'Moonlight Shadow' by the celebrated Japanese prose author Banana Yoshimoto. Whose sister, is I think, a manga artist, so she's clearly familiar with comics. But apparently, according to an interview I read, Ron had been wanting to draw this story for over a decade. He had contacted Banana to request permission but hadn't heard anything back, at least at the time of the interview. Presumably he subsequently did at some point. Now, I am totally unfamiliar with the original source material so I can't comment how close an adaptation it is. She isn't formally credited, though, instead there is a note right at the end explaining this is based on said novella.
Anyway, long time Rege Jr. devotees will indeed note that this is radically different to his other works in a number of ways. Visually, whilst it still has his trademark ecstatically psychedelic wavy art style punctuated with the occasional burst of intense geometric activity, instead of the profusion of surrounding white space that normally accompanies his work, here we have stark, if glossy black.
Now, Stephen pointed out this inky backdrop may well be because this story involves a death, well two actually, okay, three thinking about it, though we never find out the identity of the third deceased individual. And the more I think about it, I think he's absolutely right. Which all sounds rather gloomy. This is, however, precisely as the blurb states, funny and romantic, which aren't really things I associate with Ron. Though hopefully his significant other, if he has one, would disagree!
But this, whimsical and waggish in tone, this had me chuckling in places at some of the mildly absurd behaviour of the central protagonists. Although the blurb states this is a ghost story, it really isn't, it's actually about two people left behind, picking up the pieces, after a tragic accident that took the lives of their loved ones. Though with that said, there are indeed apparitions…
Right, I've danced around the bush like I've just had an electric shock quite enough, so I'm off to jangle my bell. If you're a fan of Japanese prose or an unusual art style I implore you to give Ron a go. You will be delighted by this. Existing Rege Jr. fans will, I believe, see this as another tingling example that he is an underappreciated maestro.
I have absolutely no idea what the cover is a reference to. Anyone know? It seems like it must be a nod to something, because it doesn't really pertain to the contents at all! Colour me intrigued. Which I'd be quite happy to let Ron do upon my torso with a set of sharpies…
JR
Buy The Weaver Festival Phenomenon h/c and read the Page 45 review here
Hilda And The Stone Forest (vol 5) s/c (£7-99, Flying Eye) by Luke Pearson.
Animated
series debuting on Netflix on September 21st 2018!
Gorgeous composition of a cover for the fifth HILDA outing, and you may have already spotted a clue to one of this all-ages book's many marked departures!
We've no time to talk of that yet, for Hilda's hurried home to a less than impressed mother.
"Hey, I'm sorry I'm late!
"I totally lost track of time. I think my watch is broken.
"And I forgot to take it out with me, so that didn't help, either.
"And then Twig wouldn't stop chasing this dog…"
That's a cracking last panel with poor Twig looking round in the background, alarmed at her barefaced lie. With the raised brows and exclamation mark, he looks like George Herriman's KRAZY KAT after being hit by a brick thrown by Ignatz.
But if you think Hilda's excuses are exhausting (they did go on…!), then the pages preceding them will leave you completely out of breath. For our adventure opens immediately with Hilda and Twig giving chase to a long-legged clump of semi-sentient turf which a family of tiny Hidden People from HILDA AND THE MIDNIGHT GIANT has unknowingly built their house on.
Off it gallops across a double-page spread of long, landscape panels accentuating the speed and distance travelled, as Hilda hurtles through a hole in the fence, over the top of a steep, sandy bank and tumbles downhill into a steam train terminus. Instantly then they're off again, leaping across country in pursuit of the agile and unexpectedly mobile home.
Ooof! Only when they've finally caught up with the critter do they realise how far from the city they've strayed, deep into Stone Troll territory. Now, Stone Trolls are sedentary during daylight so that's reassuring, but overnight the local farmer's fields have been plundered, his fields ransacked of their juicy crops and his goat stolen too. So that's new. As are all the fires on the mountain late at night – they haven't been seen for many years. It seems the Stone Trolls are growing increasingly active…
Now to the nub of the matter: this isn't the first time Hilda's been late or gone AWOL. There's a glorious, extended montage of past adventures – some of which we haven't been privy to yet – climaxing in some seriously sorry excuses for the states she comes back in, hilariously contradicted by the action-packed snapshots above them.
"It's these dusty streets. It just seems to stick to me."
You're going to get covered in mud if you're chased by wild onions underground.
"The puddles around here are outrageous."
So was that porkie-pie, Miss Bedraggled and Be-drenched!
"Whatever you're thinking it's not that."
Actually true: I doubt her Mum would have imagined a giant white rose splurting her daughter with bright-yellow gloop.
"Yeah, the library was fine."
It wasn't.
Now, Hilda's Mum is no control freak (she gives her a lot of leeway) but she worries about her daughter's safety because that's what Mums do, and she just wants to spend a little quality time with her on a picnic or playing games. And they do have a lovely picnic (after a certain degree of misjudged spot-picking) but I'm afraid things come to a head when Mum denies her one night away and Hilda goes mental. Complete temper-tantrum meltdown, and she says some terrible, terrible things that made me vicariously ashamed.
But even through Hilda's mother finally puts her foot down, Hilda's never been good with temptation and the lure of a good old curiosity quest, and it's a tug of war which has radical ramifications for both Hilda and her Mum, who will be far from reassured by what follows…
On that, I shall attempt to say as little as possible, but you saw that cover, didn't you?
There's so much to relish here, not least the perils of a countryside picnic. Our Jonathan remarked, with great amusement, on how well Luke had observed all the stroppiness and backchat of a right young madam or little man in full flow.
There are brand-new creatures with fascinating and potentially useful diets to discover, and wait until you get a load of the eerie Stone Forest itself, coloured ever so exotically! There will be "Oooh!"s And there will be "Aaaah!"s when the central cavern is revealed, as vast as the vastest cathedral you've never seen.
I will say one thing: the stakes will be raised when it comes to the level of danger, but it will serve to prove that Hilda and her Mum are very much cut from the same cloth in their resilience, resourcefulness and their indefatigability.
Anyone who spoils the ending for you, in any way shape or form, should be sent to bed early and grounded for a fortnight or more.
SLH
Buy Hilda And The Stone Forest (vol 5) s/c and read the Page 45 review here
Mister Morgen (£21-99, Conundrum) by Igor Hofbauer…
"Igor
Hofbauer is the Charles Burns of the Balkans."
– Nina Bunjevac (creator of 'Fatherland')
A little unusual to start a review with someone else's quote about a work, taken from the front French flap, which in addition to the creepy cover ought to be fair warning of precisely what to expect inside, but I genuinely couldn't think of a better way to sum this work up. When I read said pull quote before commencing reading I thought to myself, "That's a very bold statement, we'll see…"
But do you like Charles BLACK HOLE / LAST LOOK Burns? If, in particular, you are a fan of BLACK HOLE I feel you do need this. The bold, strident artwork is solid blacks paired with stark white backgrounds and dose highlights of red – frequently blood – and has that ever so slightly uneven looseness around the edges stylistically that simultaneously softens it up to the eye, then works on similarly softening up your sanity. It all helps to engender the feel of an early twentieth century period horror film involving characters that manage to come across as both terrifying and pitiful in equal measure.
This is a collection of shorts, I must add, rather than a single, longer form story, all with disturbing elements of surreal… whether that's a train full of zombies…
"The situation is beyond our control."
"Quarantine the train. You know where to direct it."
… or a man wielding a broom with his eyes, ears and mouth stitched up…
"I am well aware that my appearance scares people but still. It didn't seem to have an effect on him."
Or indeed the secret police ferrets who you really don't want a visit from…
"And we are from social services."
"Do you have any ID?"
"Of course we do."
… their ID being straight-edge razors to slash your face open with.
Like I said, that perturbing cover ought to have given sufficient cause for concern if you are of nervous disposition. The level of phantasmagorical within, combined with the art style, certainly should also appeal heavily to fans of Tim ABANDONED CARS Lane, by the way.
What the front and also rear cover neatly portrays is a strong element of old school East European design, with the cover title for example channelling a Soviet-era propaganda poster. That specific tone, which gives this work its own distinct flavour is something that continues throughout, particularly with some imposing concrete, Brutalist, monolithic architecture topped with similar angular blocky signage.
Though as I type I am also conscious that there are strong design elements of what I can only describe '60s Floridian Americana with palm trees and beaches, skyscrapers and sunsets, pop art wallpaper and TVs. It's a frankly hypnopompic blend, the austere East and the wacky West, like the ultimate bad dream in which you know are asleep and fighting frantically to wake from but just can't manage it…
And then the hooded fizzy pop bottle deliverymen arrive…
JR
Buy Mister Morgen and read the Page 45 review here
The Artist h/c (£12-99, Breakdown Press) by Anna Haifisch…
"When
the stone martens in deep Bavaria gather to too their picturesque horns,
"The falcons of Arabia resist the orders of their masters,
"And the foxes of Leipzig congregate for a sexual cult dance,
"The world is about to receive a new artist.
"In the moment of an artist's birth British scientists succeeded to detect an…
"Atypical phenomenon which came to be known as 'the sigh of the Universe."
"For a fraction of a second, a wave of extremely high frequency was measured.
"Which also seems to be the cause of human hiccoughs.
"This insignificant discovery is certainly leading the way for an artist's life.
"As soon as the embryo hatches,
"The young artist is ready to absorb the sadness of the world."
I decided to go with that pull quote rather than my first choice, though, I really did agonise about it. Oh what the hell, here's this one as well. See what you would have chosen…
"Oh, heyyy Lucy. Hrmm… Sorry I missed you last night at Pat's show.
"Yeah… no… I left when Carlos shoved acid up his butt and hell broke loose.
"…Alrighty, talk to you soon."
Anna Haifisch, creator of the utterly bizarre and truly insane VON SPATZ, a fake biography about Walt Disney having a nervous breakdown and going to a very peculiar sanatorium for artistic types to recover, produced this collection of shorts back in 2016. Given you've all been studiously ignoring picking VON SPATZ up, despite my best attempts to sell it to you, I thought I'd double down and get this in as well. I think I prefer this, actually.
The humour on display here, at times hilariously, outrageously crude, in the depiction of the life of the titular aspiring but perennially failing artist, is so satirically on point that I found myself giggling out loud on the bus on several occasions. Always comforting for fellow passengers, that, observing one of their number on the verge of mild hysteria…
I said it about VON SPATZ, and I'll say it again, fans of Michael STICKS ANGELICA, FOLK HERO DeForge and George GHOSTS, ETC. Wysol need Anna Haifisch's material. As I commented in my review of that work about all their art styles…
"In fact, if you are a fan of their gloriously incongruent, clashing colour palettes and determinedly unreconstructed illustration styles, you will love this work. It's a real talent to make such unusual artwork seem perfectly normal and flow pleasingly across the eye, before then smashing your synapses to smithereens once lodged in the grey matter."
Look, it's completely weird and stupidly funny. What more do you want?
JR
Buy The Artist h/c and read the Page 45 review here
Dressing (£14-99, Koyama Press) by Michael DeForge…
"Can I join you?"

"Sure."
"What are you doing?"
"Waiting for a flirting fish."
"What's that?"
"Just a type of fish. They're a thing here."
Ha, do you know, I think Michael DeForge might be the uncrowned king of surreal comics, I really do. Yes, Hans COCHLEA & EUSTACHIA Rickheit is right out there ploughing his own dark furrow of oddness, and Jim FRAN Woodring is always able to upset your mental equilibrium, but Michael can seemingly do every genre of fiction, from contemporary, romantic, speculative, fantasy, you name it. All the whilst maintaining the surrealistic flavour with a nonchalance and breezy ease that makes flirting fish, miniature opticians living inside your eyes, transforming into a Martian lifeform, jumping over one billion miles, and a mermaid dating site seem like mere everyday occurrences.
Much like Box Brown's brilliant recent AN ENTITY OBSERVES ALL THINGS, Michael presents us with a eclectic selection of shorts pulled together from various mini-comics, zines, anthology contributions, each taking a single rum and uncanny conceit as its central premise and just running zig-zag, eyes closed, with it to see where the hell it goes and what walls he bounces off along the way. I'm pretty sure he has absolutely no idea where a story will end up when he starts each one, but boy does it work.
Often the characters are just trying their darndest to live normal lives amidst the maelstrom of mad that Michael is testing their (and our) mental mettle with, but what always amazes me about his work is how much poignancy he manages to weave in. Now, you would think with a story involving flirting fish, it's not got much potential to tug on your heartstrings, but you would be completely wrong. It doesn't end well, not for the piscine playa, and certainly not for the unlucky lady.
A quick mention also for Koyama Press who are based in Toronto. In the eight or so years since they started, they have done a fantastic job championing and publishing the works of both emerging and more established creators. Unfortunately we can only manage to get hold of a relatively small selection of their wider output, usually via John Porcellino's excellent Spit And A Half distribution channel, as only the more well known creators' works like Michael's are distributed by Diamond.
JR
Buy Dressing and read the Page 45 review here
The Dream Of The Butterfly vol 2: Dreaming A Revolution (£11-99, Cub House) by Richard Marazano & Luo Yin.
It's still snowing!
"Tutu is trapped in a valley of eternal winter, populated by talking animals and ruled by an oil-sputtering robot Emperor. She's sick of toiling in the Emperor's factory, which only hurts the valley with its pollution. If she can band together with a grouchy cat, rabbit spies, and a masked daredevil known as the Flying Bandit, her dreams could have the power to shape the world!"
Please see DREAM OF THE BUTTERLY VOL 1 for a fulsome review with loads of lush interior art which will scream Hayao Miyazaki at you, then mop your brow.
I don't have a second review in me – and we'd only run into spoiler territory – but that first one is extensive and TBH I'm only trying to type as many words as I can now so that we've room in the Page 45 Reviews blog for some more interior art.
Have I written enough yet?
Please say I have!
SLH
Buy The Dream Of The Butterfly vol 2: Dreaming A Revolution and read the Page 45 review here
We Shall Fight Until We Win: A Century Of Pioneering Political Women (£9-99, 404 Ink / BHP Comics) by various including Hannah Berry, Denise Mina, Kathryn Briggs, Sabeena Ahktar, Maria Stoian, Grace Wilson, Wei Ming Kam, Shazleen Khan, and many more.
"100 years of pioneering political women. 404 Ink and BHP Comics have teamed up to bring you WE SHALL FIGHT UNTIL WE WIN, a graphic novel anthology celebrating a century since women gained the right to vote in the UK, and the many pioneering women who are part of the ongoing fight since 1918. We'll be taking a few women from each decade in the last 100 years and telling their stories in colourful, illustrated snapshots. Some stories are well known, some less so, all worthy of note."
Agreed!
Jayaben Desai's entry by Hannah Berry – whose ingenious, wit-riddled and ever so scathing socio-political satire LIVESTOCK comes with our highest recommendation – is succinct without stinting on any detail at all, comes with all the social context you could crave and is astute in its truth that what could be seen as a failure – as a social injustice – at the time, has had a profound impact since.
You might think that a firm whose workforce was 10% Afro-Caribbean and 80% South Asian in the 1970s was the height of positive, progressive, non-discriminatory behaviour, especially during that hideously racist, Enoch Powell era, but "exploitable workforce", everyone. Big bunch of bullies, backed up in the end by a bunch of Tory politicians undermining the strike led by Desai.
Five perfect pages of storytelling, there.
Also, I was delighted that the appalling, unimaginable torrent of misogynistic* and racist* abuse Diane Abbott suffered (and almost certainly still suffers) on social media is turned around into 'The Vindication of Diane Abbott' when on 9th June 2017 she went on to win 75% of the vote in her constituency, increasing her majority by over 11,000 to 35,000, thereby winning the war and hopefully infuriating the white, thumb-sucking men-children online.
That care package delivered to her, too: so kind!
But I wanted to learn more about Diane!
And this, I'm afraid, is where some of the stories fail: they're so painfully short or specific that I was left unsatisfied. You can't adequately vilify or undermine Margaret Thatcher in four pages. Nice try, though!
Let's call this a primer, then, a catalyst to send you scurrying to learn more about those you may hear of for the first time in this 60-page booklet!
And you can learn more, for example, in Talbot, Talbot and Charlesworth's SALLY HEATHCOTE, SUFFRAGETTE and Murphy & Murphy's CORPSE TALK: GROUND-BREAKING WOMEN, CORPSE TALK: GROUND-BREAKING SCIENTISTS.
Wrong cover design, BTW: for comics, there's too little art, way too much typography, and even then you have to concentrate to decipher the title.
*Statistics bear that out in full.
SLH
Buy We Shall Fight Until We Win: A Century Of Pioneering Political Women and read the Page 45 review here
Page 45 Speech Balloon Enamel Pin Badge (£4-50) by Stephen L. Holland & Jodie Paterson…
Would you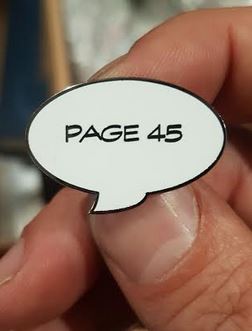 like an inch of pico-sized perfection sat on your shoulder? Sorry, but our Jodie's not for sale…
But… she has extracted the very essence of Stephen's original and timeless classic Page 45 logo for this sublime specimen of bespoke costume jewellery which quite literally says it all by itself. Well, it actually says "Page 45", obviously, but you get my point.
Now it's time for you to get yours…
With any random birthday / holiday festival / just-because-you-really-should-buy-something-special-for-someone-you-love day fast approaching, don't miss out on this summer's MUST HAVE accessory.
Otherwise just imagine how distraught your special one will feel when they see the cognoscenti of comics-associated fashion-wear pass them by, sporting this dazzling number, forcing them to squint in distress at the sheer splendour burning through their optic nerves if they don't one…
Like Beyoncé never sang (but she would have if she'd seen this pin):
"Cause if you liked it, then you should have put a pin on it."
Instead you'll be able to picture their joy as they give a cheeky wink of recognition to the passing bepinned stranger that, they too, are indeed in the club. But hopefully not that club, unless, you know, that's what you're after… Please be aware, though, a Page 45 pin is not a proper alternative to planned parenthood, though the gifting thereof may lead to unintended amorous affection out of a sheer over-vogue of delight, so please, take precautions. Always make sure you place that pin carefully…
But wait! What's that?!! Then you'd feel left out watching the proverbial apple of your eye swank down the street parading their credentials…? Simple solution, my comics-loving chums. Buy two! Then drive all your graphic novel knowing friends jealous with accesso-rage before pointing them in the direction of this page…
Don't just wear the trend, be the trend… Just like Bruce Banner single-handedly brought ripped jeans to the forefront of the public consciousness, we can do this!
Even the leaf motif paper backing card is swoonworthy! Our Mark added that, almost immediately after we opened. In fact if you have any miniature picture frames kicking around, I recommend framing yours for posterity. Alternatively, go all-out comics crazy and pin the backing to your lapel as well!
JR
Buy Page 45 Speech Balloon Enamel Pin Badge and read the Page 45 review here
Arrived, Online & Ready To Buy!
New reviews to follow, but if they're new formats of previous books, reviews may already be up; others will retain their Diamond previews information we receive displayed as 'Publisher Blurb'.
Poochytown h/c (£17-99, Fantagraphics) by Jim Woodring
The Academic Hour (£17-99, Secret Acres) by Keren Ketz
Agency s/c (£22-99, Fantagraphics) by Katie Skelly
A Bubble (£9-99, Drawn & Quarterly) by Genevieve Castree
Come Again h/c (£22-99, Top Shelf) by Nate Powell
Delilah Dirk And The Pillars Of Hercules (£13-99, FirstSecond) by Tony Cliff
Dull Margaret h/c (£25-99, Fantagraphics) by Jim Broadbent & Dix
Francine (£15-99, Secret Acres) by Michiel Budel
Gear (£13-99, Image) by Doug TenNapel
I, Parrot (£16-99, Black Balloon / Catapult) by Deb Olin Unferth & Elizabeth Haidle
Long Red Hair (£14-99, Conundrum Press) by Meags Fitzgerald
Memoirs Of A Very Stable Genius (£17-99, Image) by Shannon Wheeler
Monsters (£17-99, Secret Acres) by Ken Dahl
The Collected Works Of Filler Bunny (£10-99, SLG Publishing) by Jhonen Vasquez
Rick & Morty vol 7: National Rickpoon's Family Vacation (Titan) (£14-99, Titan) by Kyle Starks, Magdalene Vissagio & CJ Cannon, Marc Ellerby
Scales & Scoundrels vol 2: Treasurehearts s/c (£14-99, Image) by Sebastian Girner & Galaad
A Study In Emerald h/c (£15-99, Dark Horse) by Neil Gaiman & Rafael Albuquerque
Sleepless vol 1 s/c (£14-99, Image) by Sarah Vaughn & Leila del Duca
Wasteland Compendium vol 2 (£35-99, Oni) by Antony Johnston & Christopher Mitten, Justin Greenwood, others
Avengers: No Surrender (UK Edition) s/c (£23-99, Marvel) by Al Ewing, Mark Waid, Jim Zub & Pepe Larraz, Kim Jacinto, Mike Perkins, Sean Izaakse, Paco Medina, Joe Bennett, Stefano Caselli
Nova By Abnett & Lanning Complete Collection vol 1 s/c (£35-99, Marvel) by Dan Abnett, Andy Lanning & various
Wolverine: Old Man Logan vol 7: Scarlet Samurai s/c (£14-50, Marvel) by Ed Brisson & Mike Deodato Jr., Ibraim Roberson
Attack On Titan vol 25 (£9-99, Viz) by Hajime Isayama
My Solo Exchange Diary vol 1 (£13-99, Manga) by Kabi Nagata