Featuring Jason Lutes, Shaun Tan, Tillie Walden, Julian Hanshaw, Box Brown, Krent Able, Erik Svetoft, Tom Manning, Benjamin Dickson, Eric Shanower, Terry Moore, Rich Tommaso, Robert Kirkman, Lorenzo De Felici, more…

I Feel Machine (£14-99, SelfMadeHero) by Krent Able, Box Brown, Julian Hanshaw, Erik Svetoft, Shaun Tan, Tillie Walden…
"Sometimes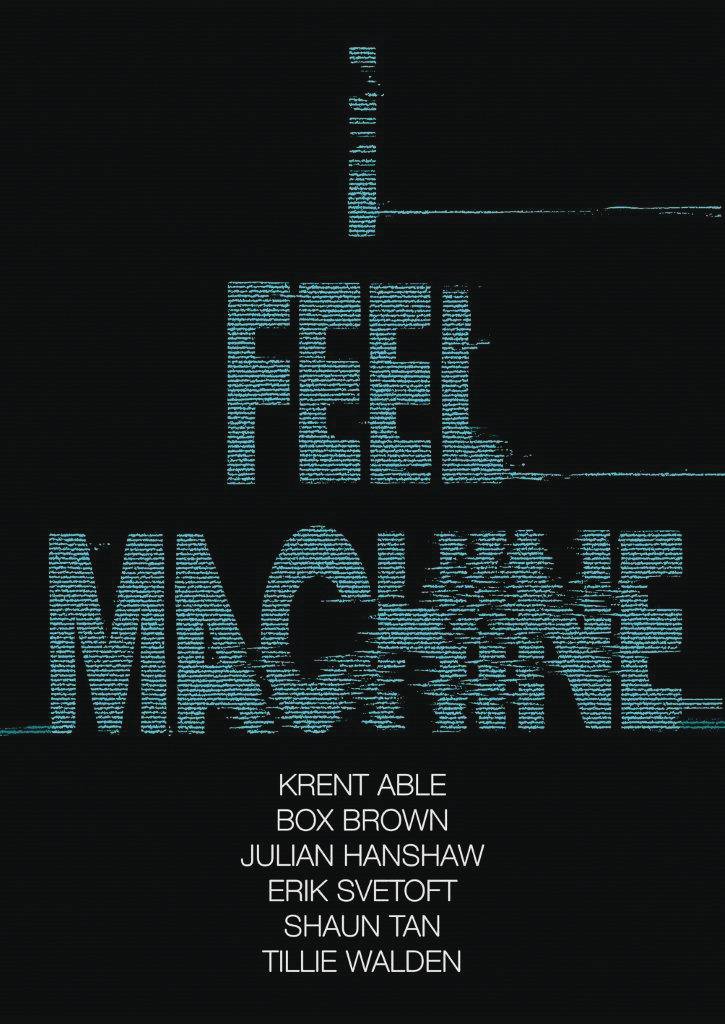 I miss the rhythm of it.
"That sweet mindless staring,
"…going from this to that,
"…that to this,
"…over and over.
"That doesn't happen any more."
Can you imagine a world where all technology: phones, laptops, even televisions just turned off and never turned on again? Tillie ON A SUNBEAM (EXCLUSIVE PAGE 45 BOOKPLATE EDITION) Walden can, and I have to say, it sounds idyllic to me.
Suddenly people are forced to communicate using the old-fashioned tried and tested ways again. Speech… and touch. For some it's a boon, others a curse…. It's definitely unfortunate when two such people share a relationship, for sure, as Tillie elucidates for us.
It would certainly increase comic sales too, I reckon…
Can you imagine an anthology where six top comics creators each come up with a very different take on the myriad interfaces and interplays between technology and humanity? You don't have to. Because curators of the curious Krent Able and Julian Hanshaw have done it for you. Happily, they even had it printed courtesy of the kind folks at SelfMadeHero, just in case there is such a technology outage…
The result is six very different vignettes approaching this broad topic from utterly different perspectives. We open with a typically bonkers look at how physical death might soon not be an end but merely a stepping stone from Box AN ENTITY OBSERVES ALL THINGS Brown.
Followed by Erik Svetoft's crackpot take on how vintage jpgs and mp3s might become a hot black market item in the future for digital smugglers. Completing the first half of our scheduled programming is Shaun TALES FROM OUTER SUBURBIA Tan, (YES, that Shaun Tan!!!) with his equivalent of a 2000AD Future Shock about an astronaut looking for a lost girl done in his own inimitable sweet, gorgeous way. It is as mesmerisingly beautiful as it is subtly surreal, both in the art and the storytelling.
Then we recommence with Tillie's poignant tale of the heart… If you know someone that really ought to put their tech away and engage their loved ones a bit more, you could do worse than push this under their nose! Julian CLOUD HOTEL Hanshaw then immediately presents us with a complete change of tone by means of a very special projector and a chicken… Nothing salacious or unsavoury I hasten to add, but there is a bit of fowl play, I have to warn you…
Speaking of foul play, Krent Able concludes matters, very finally for most of his cast, with some rather disturbing horror. It's like a modern day House Of Hammer story. Very British, very wrong, very Krent and left me feeling more than a little perturbed. The more I reflected on it, though, and it did stay with me as I am sure it will you, the more I liked it. It would make a very good episode of Black Mirror, actually.
Between the six stories here, you will get all your proverbial buttons well and truly pushed. You will laugh, you will want to cry, you may want to run and hide. But you can't outrun the advance of technology. A superbly crafted and wonderfully eclectic selection, I must say. Kudos to Krent and Julian for organising it all in addition to their own contributions.
I will finish simply by commenting on the cover, which I was initially rather underwhelmed by upon first inspection. I thought to myself, when you have all that talent contained within, bursting to get out, isn't it a little underwhelming, indeed perhaps bland? However the material within is so diverse both visually and plot-wise, that the cover is actually perfect in its own unique simplicity, utterly distinct from everything that lies within. It's the equivalent of a loading screen – I'm talking old-school Spectrum standard not modern movie-quality cut scenes – nothing more, nothing less. A very clever piece of well thought through graphic design.
JR
Buy I Feel Machine and read the Page 45 review here
A City Inside h/c (£12-99, Avery Hill) by Tillie Walden.
"You gave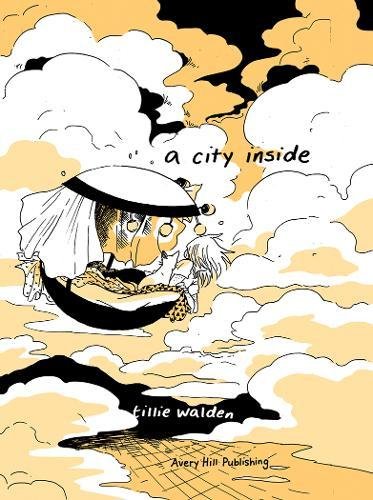 up the sky for her."
That's possibly the most romantic sentence ever written.
Another quiet, contemplative and sublime gem from Tillie Walden, creator of I LOVE THIS PART, a former Page 45 Comicbook Of The Month and one of my favourite little books in the shop.
Along with her autobiographical SPINNING – released aged 21 in 2017 and another Page 45 Comicbook Of The Month – this, from 2016 and now in hardcover, also comes with a sense of perspective which no one of Tillie's relatively tender years should possess.
Told in the second person singular, a young woman casts her mind across her life. It's so engrossing, so cleverly done that you won't notice the switch in tenses the first time around, and as it concludes you'll have forgotten where you came in so that the final three pages are truly startling.
The lines are crisp, the shadows deep and the night sky positively glows.
There's always something truly magical in Walden's work and at one point, as the pull quote suggests, the woman finds herself suspended in the sky, living in the cup of a hollow sphere, from the top of which billow curtains which are never truly closed. Can you imagine the view? Can you imagine the tranquillity, reading and writing and sleeping with your supine cat?
"Then one day, you met her."
She was cycling through the sky.
"She was beautiful, wasn't she?"
Yes, so what did you do?
"You gave up the sky for her." Obviously.
Bittersweet does not even begin to cover this tale.
Only once is there more than a single sentence per panel – quite often there is silence instead – and within the recollection itself those panels are bordered only by what lies within.
High in the sky, with the wind tossing the lanterns and tousling her hair, there are no borders at all.
Out next week, Tillie Walden's epic ON A SUNBEAM, the first 100 copies of which will come with a free, exclusive and exquisite Page 45 bookmark drawn, designed and signed by Tillie Walden herself.
SLH
Buy A City Inside h/c and read the Page 45 review here
Berlin (Complete) h/c (£35-00, Drawn & Quarterly) by Jason Lutes…
"In Berlin
I have found the world – the great, messy, beautiful world beyond the hedge surrounding the haute-bourgeois home of my youth. Sometimes it frightens me, sometimes it terrifies me – but I still wake every morning in anticipation of the city's next surprise. I will remain where I have found love; where people fight in the street; where I can feel the world spinning underfoot."
Back in April 1996 issue #1 of what was destined to become a true comics classic arrived on comics retailers' shelves, with absolutely no idea of what stoic patience would be required of the loyal faithful that read it, adored it and decided to sign on for the long haul. A mere twenty-two years later, ironically matching the number of single issues the series comprised in that time, we have finally arrived at its conclusion.
Jason Lute's BERLIN is an epic endeavour with an exceptional scope of detailed storytelling and a beautiful black and white, clean-line drawing style that makes an absolute truism of the term graphic novel. This is undoubtedly the most impressive work of historical fiction I have come across in our medium to date.
Set in the final years of the failed Weimar Republic, in a Berlin gradually being torn apart by the ideologically opposed Communist and fascist National Socialist factions and their street-level thugs and militias, this work perfectly captures and conveys the polar opposites of bare survival and nihilistic hedonism variously endured and enjoyed by the city's many citizens.
We follow the lives of an extremely varied and engaging set of characters from all walks of life illustrating the very different social strata of Berlin between the wars. Their stories are inevitably intertwined, both with each other and the historical events occurring rapidly around them: a journalist, ill at ease with the growing sense of German nationalism and apparent abuses of the Versailles treaty by the Weimar leadership; an art student who is gradually drawn into a decadent, hidden high society scene determinedly trying their hardest to ignore the reality of what is happening around them; a Jewish family concerned only about the increasingly bitter political struggles and its implications for them; a gentleman tramp, trying his hardest to simply survive by bartering anything he can find for food; and a poor working class family, brutally torn apart as the parents choose conflicting sides in the escalating struggle between the Communist and Nationalist Socialist grass roots movements.
In a story crammed with fascinating historical factual detail, Lutes perfectly captures the growing sense of impending dread and potential civil cataclysm that starts to penetrate the lives of Berlin's citizens on a more frequent basis as gradually, it seems, everyone is eventually forced to choose a side.
A special mention must be given to the artwork which allows the city itself to come to life as another character in the story. Dramatic views across the beautiful city are interspersed with close-up street portraits of the daily hustle and bustle of a vibrant if troubled populace. In whole, it has the feel of a beautifully and lovingly directed film. Even the choice of an ivory coloured paper rather than stark white adds to the atmospheric period flavour of the work.
Also available as three separate volumes for those who have been collecting this in trade paperback form instead of ad-hoc periodical as it has been coming out, BERLIN VOL 1: CITY OF STONES is set against the backdrop of the events of September 1928 to May Day 1929, culminating with the massacre at the May Day march concluding the first book. BERLIN VOL 2: CITY OF SMOKE takes up the story immediately after May Day 1929 through to September 1930 when the National Socialists are brought to power in a then surprising landslide election victory. The concluding BERLIN VOL 3: CITY OF LIGHT takes us through a somewhat tumultuous additional three and a bit years to mid-1933, when a certain Adolf Hitler was appointed Chancellor of Germany, formally signalling the end of the Weimar Republic and the rise of the inglorious Third Reich…
If, however, you are brand new to the series, or indeed just fancy an upgrade for the ages, this expansive hardcover containing the complete series is the one to go for. With an ominous cover, replete with a close up partial Nazi Swastika starting to obscure the peaceful bustling cityscape of the Alexanderplatz central square, bathed in rays of glorious sparkling sunlight, it perfectly visually foreshadows and bookends what dramatic upheavals the city and inhabitants were about to experience. A true triumph of comics. I'd just like take a moment to personally applaud and thank Jason Lutes for his own stoicism and will power in seeing this project through to its completion.
JR
Buy Berlin (Complete) h/c and read the Page 45 review here
A New Jerusalem (£12-99, New Internationalist) by Benjamin Dickson…
"Feels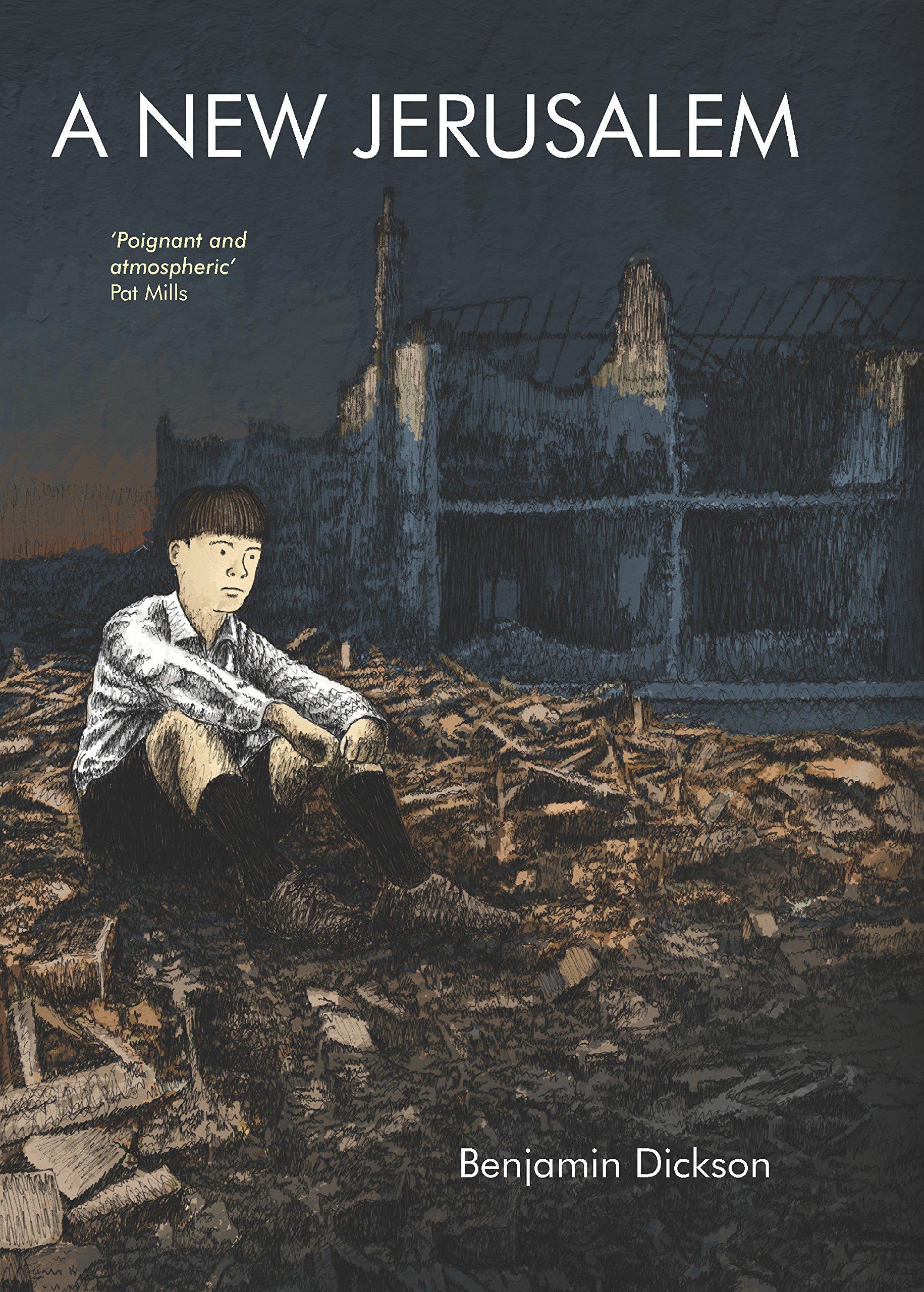 strange that the war is over."
"Yeah. The soldiers must be on their way home by now."
"Mum said they won't be back for a while. They've got to go to Japan first."
"Japan? Yeah. The Japanese are still fighting, aren't they?"
"Do you think that's where our dads are?"
"Probably."
Ralph's dad is actually already on his way back to Blighty after six years at war. Dave's dad… that's a different matter entirely… Here's a dispatch from the publisher to give us our reading orders…
"1945. The war is over. Eleven-year-old Ralph lives with his mother, plays in bombed-out buildings, and dreams of the day his father will come home and tell him all about his heroic battles.
"But when his father actually does return, he's far from what Ralph expected: his father is sullen, withdrawn and refuses to discuss the war at all. As Britain looks to a future fit for heroes, Ralph's father struggles to adjust to civilian life. Susceptible to fits of crying and uncontrollable rages, his behaviour starts to directly impact Ralph and his mother, and the community around them."
Not sensationalist in any way, nor over-sentimental or remotely mawkish, this work deals with the harsh realities faced by a returning soldier attempting to re-assimilate back into his family and everyday working life without first being able to deal with the extreme traumas they experienced during the long conflict. It has the feel of a classic kitchen sink drama in that both Ralph's dad, and then by extension Ralph, are the archetypal angry disillusioned man. For Ralph's dad, it's abundantly clear to our modern minds he's suffering from PTSD, but Ralph simply can't understand why he's taking it out on those closest to him. Violently.
An immensely informative and engrossing drama about the lives of those left behind when their husbands and fathers went off to war for King and country, and the extremely disturbed dynamics many a family must have had to endure, to some degree at least, when, indeed if, their loved ones returned home. It's a painful topic that Jacques Tardi also attempted to process for us with the recent I, RENE TARDI, PRISONER OF WAR IN STALAG IIB concerning his dad's time as a prisoner of war and subsequently trying to come to terms with his incarceration and attempts to reintegrate into society.
Artistically you'll spot strong comparisons to Bryan Talbot in his DOTTER OF HER FATHER'S EYES mode, which isn't too much of a surprise as I believe Bryan has mentored Benjamin in the past. It's a style that works perfectly for this bleak, bombed-out story. A highly recommended addition to the realistic war story canon that's just as dramatic as any bullet-ridden conflict zone yarn.
JR
Buy A New Jerusalem and read the Page 45 review here
Eric (£24-99, Robots & Monkey Publishing) by Tom Manning…
"Theeeeeere
you are. Well, hello… I'm Carmelita."
"I… uh… I'm Phil."
"Phil, huh? Well, Phil, what brings you to the Hollywood Hawaiian?"
"I gotta…lay low, you know. I don't think I should… leave."
"Heaven help the one who leaves."
"There's some people looking for me. And… um… OWLS. I, uh…"
"HEY, don't worry. I get it. I come here for the piña coladas, myself."
"I'm a normal guy…"
"Hey… we're all normal and we want our freedom, right?"
"E-excuse me?"
"But you know, except in dreams? You'll never really be free."
"Don't the sun look angry at me? I… I gotta go."
"Well, then… take care, Phil. Or was that Bill?"
"Oh… it's… uh Phil. Phil.
….
"Except…
"In…
"Dreams…
"Except…
"In…
"Dreams…"
'Phil' really did need to go. And he really isn't a normal guy. Not least because his name is actually Eric…
Eric is… confused or drug-damaged or both. Both, definitely. Unfortunately for him, or possibly fortunately for him, the only way he can see to get out of his current predicament is get right out of it. So he decides to call Carloan Eddie. Not about a car loan, clearly. No, he wants to travel Route 87 and he'll need fifty gallons of gas to get to where he wants to go. Route 87 isn't a road, clearly. Nor is fifty gallons a quantity of gasoline, either. Meanwhile, Eddie tells Phil, I mean Eric, that Trout needs to get a hold of him. Now, Trout is a real person, not a fish, and that really is his name. The owls, though… those folk no one is particularly sure about. Not yet, anyway.
Confused? Don't worry, that's entirely the point, and we've barely got started. Eric was a 'pioneer of beach bum culture and psychedelic surf rock' from the early sixties. He was big for a while, huge in fact, before he burnt out spectacularly. Now he's ready for a comeback. And another gigantic breakdown, seemingly…
Our story doesn't actually open with Eric. It opens with a peculiar magic ritual performed by cloaked figures with owl masks in front of an audience of besuited, wealthy-looking capitalist types in the woods. Their ritual does not go entirely according to plan… It goes to someone's plan, though.
Still confused? Don't worry, that's really is entirely the point, and trust me, we've barely got started…
So after reading the opening couple of chapters I was thinking ah-huh, Bohemian Grove dialled up a notch, yep, got that, coupled with a Brian Wilson-esque figure in Eric. I understand what this is. Then it all started getting really, really strange in a Grant Morrison's INVISIBLES fashion. For Eric is about to find himself embroiled in a reality shifting conflict. Or is just completely off his nut? Or both? Possibly both… Definitely both.
As the scenery keeps shifting, as well as the proverbial ground beneath Eric's feet, plus just plain old real honest to goodness reality itself, you'll find yourself drawn into a labyrinthine rabbit hole of lunacy. There is an epic conflict afoot, I'll give you that much to go on. As for Eric's chosen role in it, not chosen by him that is, well, that will take some time and space to unfold it. What it will reveal when it does is anyone's guess…
One of the most deliberately complicated and fabulously convoluted works I've ever read. Eric's role as the damaged idiot savant, the unconscious potential saviour, and the mental tortures he is put through and puts himself through, makes for surprisingly emotional reading. He is the very definition of a complex character. With is a shame for him because he could really do with a simple life just to be able to survive. He's not going to get it.
It's wonderful to see self-publishing on this epic scope with such excellent production values. If you didn't know this 392-page walk on the weird side(s) wasn't published by the likes of Fantagraphics you'd have no idea. The intense mind-frazzling orange and white cover featuring Eric's face, with his deeply haunted eyes staring out at you, is part entreaty to / part warning against opening this up and being dragged into something completely beyond your rational comprehension.
Inside, by complete contrast, the art style is dark, by which I mean its black and grey with some white elements, frequently the foreground characters or the lettering, which provides a stark, quite deliberate almost jarring effect in addition to depth. Combined with a certain looseness of line, heavy inking and the odd dash of faux Letratone for added texture, it is quite its own beast stylistically. The dense shadow only adds to the obtuse sense of it all. You feel like the next plot twist or tangle could be lurking in practically every panel. Which it frequently is… No wonder poor old Eric doesn't know what to make of it all… I guess he's going to have to put that comeback on hold. The breakdown… not so much.
JR
Buy Eric and read the Page 45 review here
Age Of Bronze vol 1 s/c (£17-99, Image) by Eric Shanower.
Now in full colour.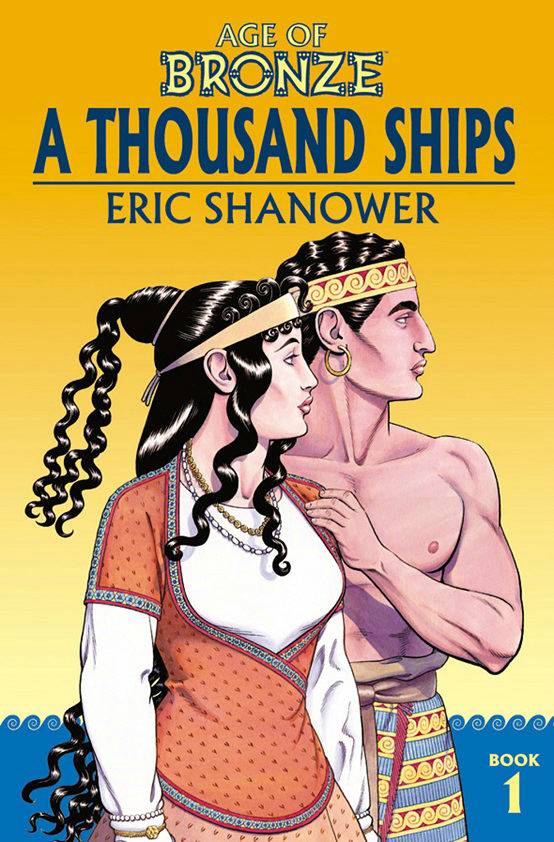 "I saw a ship sailing far out on the water – too far to turn back. It carries a man – a boy, really – who burns with a flame that will consume all he touches. A woman rides with him. She is proud and beautiful… but where she treads, death follows."
First of seven award-winning volumes interpreting the story of Troy most famously propagated by Greek poet Homer. They are bursting with passion, epic in scope and astonishingly rich in detail.
Visual detail comes in the form of beautifully delineated bodies clothed in meticulously researched period clothing and gently nuanced expressions, all of which I'd compare to P. Craig Russell (SANDMAN: DREAM HUNTERS, FAIRY TALES OF OSCAR WILDE etc.) as inked by Art Adams. i.e. Thin, crisp lines but with a far softer touch. There is, however, no clutter at all, the panels composed in a joyous variety of forms all of which are thoroughly accessible to newcomers. There is nothing too tricksy and, in spite of the scope, nothing extraneous nor laborious. It is what they call "a real-page turner".
It opens in the pastoral calm of the verdant cow-grazing pastures not far from the city of Troy. There young Paris awakes from a dream, about which we will learn only later, to find messengers demanding the family's highly prized bull for King Priam of Troy's next Festival Games. Determined to be the one to sacrifice the bull to the gods, Paris persuades his father to take him to the Games but discovers, after victory in a race, that his real father is King Priam himself. Priam embraces his long-lost son and Paris' new brothers, formally hostile during the competition, all rally round.
Alas, aging King Priam is still smarting from Herakles' sacking of Troy when he was but a child. It was then that his older sister Hesione was taken and given to the King of Salamis. Now that Troy has been rebuilt, Priam sends envoys demanding her return and although Hesione claims to be perfectly happy where she is, Priam suspects against all evidence to the contrary that she may have said so under duress. His sons suggest war, but they are too young to know war's terrible cost and wisely King Priam rebuffs them. But when Paris suggests a stealthy raid instead, Priam likes the idea and dispatches Paris along with Aeneas to call on King Menelaus of Sparta first, in order to gain his support and so test recent treaties.
And this is where. It goes horribly. Wrong.
Although brother Hektor attempts to impress upon the inexperienced Paris (but four months at court) the complexity of the current geographical and so commercial context of this already dodgy endeavour, Paris' eyes already blaze with a much greater ambition than the task he's been given. So it is that when Paris lands and spies King Menelaus' wife Helen of Sparta, he determines to make her his Helen of Troy.
The seduction sequence is breath-taking. Told in retrospect, Shanower repeats a single panel of Menelaus' warning "Do you know what he's here for?" over and over again, even though, ironically, Menelaus hasn't the first fucking clue.
Dramatic irony abounds throughout, even for a modern reader. For although today we may not take oracles or horoscopes seriously, we know well enough to trust their eventual unfolding in Greek literature. As to the ancient Greeks – both the cast and the story's original readership – they believed fervently. They believed so fervently that Menelaus' older brother Agamemnon, leading the multinational retaliation for Helen's abduction, risks his army's starvation in order to wait for Achilles to show his girl-disguised face because only with Achilles on board, it is foretold, will Troy be left burning in ruins. Shame no one listens to the women, then, (same as it ever was) in this case both Kassandra and Helenus. They're pretty prescient and very, very specific.
As to the prophecies surrounding Achilles, they open up a whole new can of calamari…
Every library should have one. Or two. Or three. School libraries should be a little cautious when it comes to younger readers because this isn't some simplistic white-wash and there are scenes both of a sexual nature and of child-birth.
It's one of the very best treatments of Homer I've read (although please do see Gareth Hinds' THE ODYSSEY – especially schools, you're on safer ground there) and far more than a mere adaptation but an integration of so many different sources – often conflicting – as Shanower details in the extensive resources in the back. It is, in short, the version Shanower wants to tell, in considerable depth and with exceptionally keen judgement.
It's also a lot more fun than my old classics lessons aged 12 when I was forced to translate and study the original. The original is fab, but translating passages aged 12 before reading them outloud in front of your class and a very "volatile" headmaster was far from fun.
Still, I did learn the origin of words like "euphemism".
SLH
Buy Age Of Bronze vol 1 s/c and read the Page 45 review here
Strangers In Paradise XXV vol 1: The Chase s/c (£14-50, Abstract Studio) by Terry Moore.
SEE SOMETHING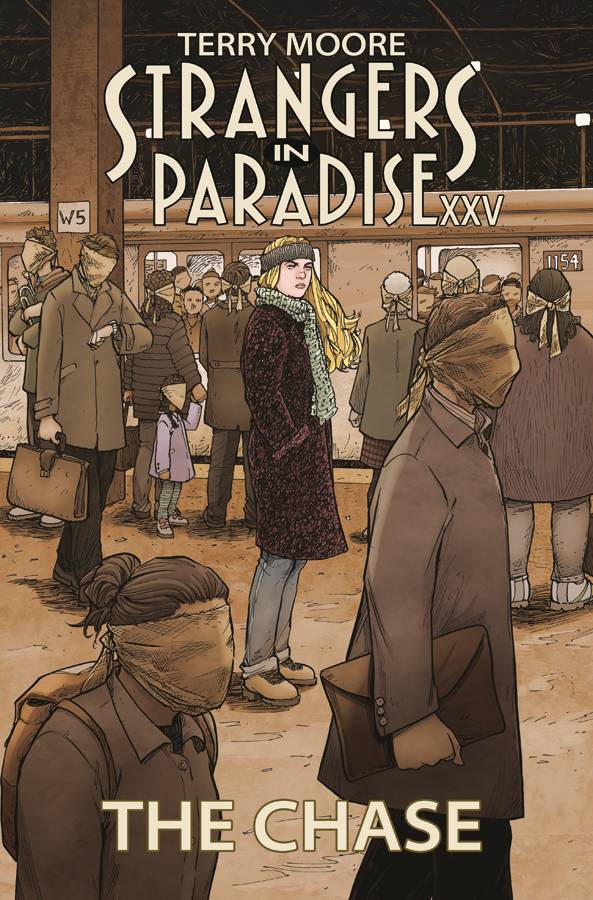 SAY SOMETHING
There's a sign on the New York subway accentuated, emphasised and made urgent by piercing eyes. It says:
SEE SOMETHING
SAY SOMETHING
In a pressed white shirt, suit and tie, a smart man on his smart phone is standing. He is sombrely checking for texts or the latest, breaking News Headlines. He would do well to do that. Satisfied, he slips the phone into his overcoat, scowling at the crowd as the carriage doors open. Commuters get on, commuters get off and, once on the open platform, he checks his coat pocket as per habit, pat-pat. It is not well weighted.
"HEY! STOP!
"STOP THAT BOY!
"STOP HIM!"
The boy and the man are dashing up the escalator, the small boy diving between pedestrians while the smart man is impeded and – shit – there's another kid who's tossed the cell phone sideways in passing! It's nimbly caught in a pre-planned relay race, the brat in the hoodie heading up the stairs at speed, swerving right towards the foyer's crossover before throwing this exceptionally mobile phone clean over the gleaming glass balustrade!
It's gone.
Down below a good-looking woman in her thirties, well dressed for winter in a jacket and loose woollen scarf, calmly and casually removes the SIM card from its casement. As she discards the rest, the detritus unnecessary to her purpose, she glares up at the smart man who's not now feeling very smart at all, looks her victim straight in the eye and she gives him a grimace which he will never forget.
Oh my God! It's — !
Welcome to Terry Moore's STRANGERS IN PARADISE – or indeed, welcome back! – on this, its 25th Anniversary, recently celebrated with a whopping SiP GALLERY EDITION which will not fit through your letter box. You can read our prior reviews if you fancy, but you need know nothing in order to settle straight in to one of the series we have been most phenomenally fond of in all of our years working in comics, for this is a very fresh start.
After surviving all that the world and Katchoo's pitch-black past could throw at them, Katchoo and Francine are now happily – nay, blissfully – married, living out in the dessert with their two delightful daughters in a luxury villa financed by Katchoo's highly successful career in fine art… but probably her previous one too.
Katchoo was a Parker Girl. She "belonged" to Darcy Parker. Darcy Parker was a vicious woman who used other women to infiltrate the government at its highest levels. The Parker Girls were essentially the highest paid prostitutes imaginable, and they never got to leave.
Katchoo left, though I will not say how, and now sits with one of Darcy's former enforcers, the formidable, ever-brooding, stone-faced Tambi, as they watch Francine play, splashing away during the heat of the day, in the extensive garden's swimming pool with one of their beloved daughters.
There is so much laughter!
Katchoo is smiling maternally, lovingly, with all the adoration she has always held in her heart for her now-wife Francine, right from the very first moment we met them. Reciprocation did not come easily and it did not come quickly. STRANGERS IN PARADISE was a very long series: 2,400 pages long! But here they are, and they have arrived!
You'll notice Tambi and Katchoo share a certain look. Darcy Parker liked blondes very much. Tambi is not smiling lovingly and her arms are criss-crossed with scars.
"You know," begins Katchoo, a twinkle in her eye, "I used to think you only had two looks, mean and meaner. Then I saw you hold my babies."
"You fought hard for what you have, Katchoo. Wife, kids, a new life… Nothing came easy for you."
That's very true.
"I don't want to see you lose everything you worked for."
"Why would I lose everything? Tambi?"
I loved the reversal on the first few pages where we came in. Initially I fretted for the smart man with the smart phone (his name's Scott) for we all fear pickpockets and fewer ever say something even if they see something, and fewer still do anything about it. And Terry keeps you going breathlessly for three pages before you discover the phone's final recipient.
Scott's married to a woman called Laura, by the way.
She's called Laura, but that's not her name. Her real name is Stephanie, and she has that certain look too.
"Tambi?"
Oh no.
For more Terry Moore, please see RACHEL RISING, ECHO and MOTOR GIRL (reviewed rather than narrated!).
Nice reference to the original collection's cover on the subway sign. Believe it or not, within a few chapters you will be visiting the Isle of Skye. Breathtaking landscapes both in real life and on the printed page.
SLH
Buy Strangers In Paradise XXV vol 1: The Chase s/c and read the Page 45 review here
Dry County s/c (£14-99, Image) by Rich Tommaso.
"I could
hear the yells and curses coming from the roof, but couldn't stop myself hurling into the hydrangea."
Hilarious! It wouldn't have been half so funny had it not been a hydrangea.
Set in the Sunshine State's boat-floating playground that glows neon at night, this is the most colourful noir that you'll ever know. By day – as Lou Rossi cycles home from the Miami Herald where he works part-time as a comic strip artist – the city bridge gleams a lemon yellow while the bright white clouds blow below a fresh blue sky and leafy green trees stand out against pale pink hotels.
There is so much light and so much space, with lines as clean as the waterfronts themselves.
And yes, by night, there will be that oh-so familiar neon on the balconied apartment buildings in contrasting pink and mint green.
But what possible crimes could a comic artist bear witness to? Apart from blaring House Music, I mean?
Ah, well, it's all in embracing 'Everyman Crime Series' to which DRY COUNTY belongs: quotidian crimes you stumble upon occasionally in conversation with someone you may have just met, like abusive boyfriends, perchance. Although there is the possibility that a potential drive-by alluded to briefly by Lou's raucous mate Robert might tie in somewhere. And where might you meet someone new…? In an apartment block's communal laundry room!
It's there, after despairing at the lack of potential pulls at a nightclub which he cannot abide ("seething pit of vipers"), that Lou Rossi finds Janet reading alone while waiting for her spin cycle to end. Alas, she is not a new tenant. She's only staying over at a friend's flat for the night… or for the weekend… "I'm not sure yet", but she does at least work in town, gives him her business card and proffers the possibility of having lunch one afternoon.
From there it only gets better: her employers turn out to be brothers, the rental firm like a family, and at lunch they make plans for dinner later that very same week. Finally, after six solitary months in Miami, things are looking up for Lou, and there's more fresh air and open skies and passenger planes flying overhead as he strolls home, a spring in his step, allowing himself to feel jaunty.
Oh dear.
I'm going to stop there while noting only that what I loved most about what is revealed is that so often we escape from one thing by a route which only turns out to be the very same thing. Is that vague enough for you? That's what Tommaso's come up with, giving the blow so much more of a punch.
Whereas most noir slinks about in an environment alien to most of us, in circumstances most of us would never encounter, Tommaso sticks to his promise of filling Rossi's account with the familiar routines of walks round town, showers, settling down to basic meal from whatever we find in our fridge, perhaps a few beers and so TV. Then there's the not wanting to look like you're trying too hard by dressing to impress and making that first phone call too early.
"Man, I couldn't wait… But then later, once I got home, I decided I should wait, possibly a week…
"This was based on advice that my old friends in high school gave me:
"Don't ever call a girl up right away, you gotta wait like, a week or so, or else she'll think you're a desperate loser!" …So, I decided to wait at least a week…"
Beat.
"Two days later, I called…"
Brilliant!
What makes the pages even more visually brilliant is that the first-person narration is hand-written on blue-lined, yellow legal pad paper like a story you might stumble upon rather than one being told directly to you. It's not that big a drama. He's not a professional P.I. typing up his notes to keep on file, either.
As to the title, nowhere I know of in Florida is a Dry County – certainly not Miami, and Lou doesn't half neck beers throughout, hence the well deserved fate of those hideous hydrangeas – nor is El Paso, whence Janet hails and where all her troubles first began. My off-the-cuff guess, therefore, is it's somewhere we're headed or a direction from which trouble's coming.
SLH
Buy Dry County s/c and read the Page 45 review here
Oblivion Song vol 1 s/c (£8-99, Image) by Robert Kirkman & Lorenzo De Felici…
"It's okay,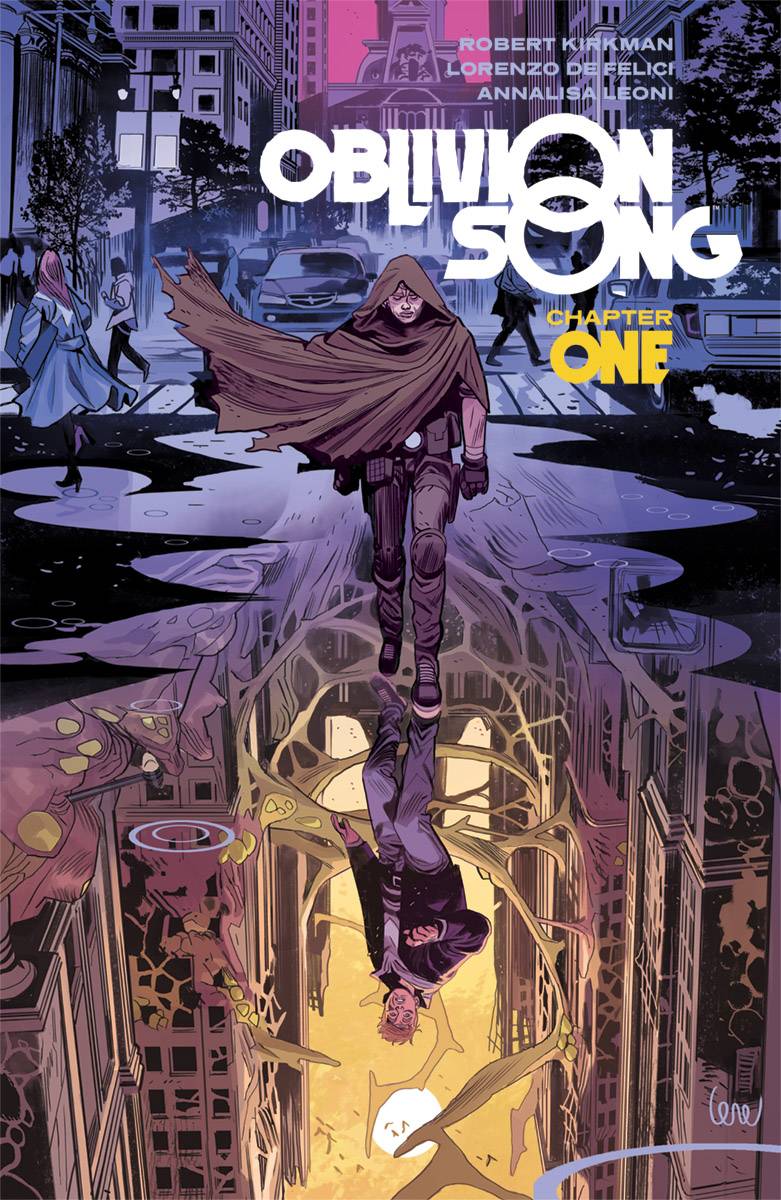 it's okay… I know it's disorientating, but you're safe now. You hear me? You're safe."
"Him! What did you do to him?!"
"He's asleep. He's going to be okay. You're going to be okay. Just calm d…"
SKRAKK!
"Sedative! Hurry! Bridget! I can't hold her much longer!"
"I can't believe she scratched you."
"She was over there almost a decade. She's scared… how could she not be?"
"Still… I need to look at those scratches… there's no telling what's under those fingernails."
I don't know what Bridget is worried about. It's not like the lady they've just rescued is a zombie…
I should probably clarify that she really isn't a zombie. Or indeed possessed. Sorry, I was always going to try and get at least one WALKING DEAD gag in there. And then I had to go and over-egg matters even further with an OUTCAST rejoinder… I really can't be arsed to try and shoehorn an INVINCIBLE gag in, though…
Moving on… yes, Robert Kirkman returns to terrify us once more, this time with a science-fiction / horror hybrid that owes as much to Quantum Leap as it does to Alien. Well, technically it's more like Sliders rather than Quantum Leap, but let's be honest, you'd probably forgotten all about that particular show until I mentioned it.
What it actually reminded me of most in comics terms would be Jeff Smith's RASL with its dimensional hopping, but with lots of added monsters and intrigue. Also because of Lorenzo de Felici's exceptional art which definitely has a touch of Mr. Smith about it too.
Fabulous colouring from Annalisa Leoni also, who manages to combine an astonishing variety of shades and hues in a remarkably understated, subtle way. Quite the masterclass in the use of contrasting and complimentary colours to spot highlight and draw attention to detail and so take the illustrations to another level altogether. Very clever.
Very unusual for me to get this far into a review without rambling on about the plot, so I'd better get on with it, I guess! A decade ago there was an… incident. The city centre of Philadelphia was wiped out in an instant, replaced in the blink of an eye with 30 square miles of a huge vegetative ecosystem and its incumbent voracious predators. Almost 20,000 people were seemingly wiped out of existence in a moment.
Eventually, once the 'invasion' was brought under control after a not inconsiderable number of additional casualties and the area quarantined, a scientist named Nathan Cole worked out what had happened. The 30 square miles of Philadelphia which vanished, had in fact, merely swapped places with the new terrain. Suddenly hope was raised that somewhere on an alien world, that promptly became named Oblivion, there were possibly thousands of presumably terrified survivors.
Technology was quickly developed to allow incursions to Oblivion and search and rescue missions launched to retrieve many of the missing Philadelphians cowering in the ruins of their city, which itself was rapidly being assailed and assimilated by the native fauna and flora. After ten years, however, the last few of which proved completely fruitless in finding any remaining survivors, government funding inevitably dried up and public interest waned. A monument to the remaining lost souls was built, inscribed with each of their names, and a museum built in their honour.
Nathan Cole, however, remains convinced further humans remain on Oblivion, including his brother. In fact, he believes that there is a whole community hidden away somewhere, possibly even thriving. And so, he continues to make unauthorised, dangerous solo excursions with his own technology. When he manages to find a husband and wife and successfully retrieves them, to much understandable public fanfare, he consequently expects to be given a new remit and improved budget to conduct further missions.
To his surprise and anger, he finds all the government really wants is to move on and draw a line under the whole Transference as it ultimately became known. Lest the public continue to fret the mysterious, spontaneous occurrence could suddenly happen again. Nathan, of course, has got other ideas… including for one very shocking reason which is revealed at the climax of this first volume…
JR
Buy Oblivion Song vol 1 s/c and read the Page 45 review here
Superman And The Legion Of Superheroes s/c (£13-99, DC) by Geoff Johns & Gary Franks.
Superman's
best when you just dip in.
Actually, I'd go further: all superheroes are best dipped into. Their artificially long-term life leads to so much silliness, padding, inconsistency, strains of credulity above and beyond their basic premise, and after 80 years (condensed into 10 or so in DC Land) it's more than a little odd to find Clark Kent still being barked at by would-be father figure Perry after all that they've gone through together. Let's not even get into Jimmy Olsen in any way, shape or form. But if you ignore almost everything that has gone before in this space-chap's history (and I have as much as possible over my years of reading comics), it then doesn't matter. Okay, Perry is barking at Clark – that's what he does. Fine.
Now that I've got that out of my system, this is meatier than most Superman stories (outside of ALL-STAR SUPERMAN and KINGDOM COME), both because it boasts slick visuals by DOOMSDAY CLOCK's Gary Frank (the man who has made an art out of depicting well-weighted levitation), and through having something to say.
Several things, actually.
Imagine a childhood in which you're unable to interact with your peers properly, for fear of breaking them. Also because you're lying to them every single day, hiding the fact that you're an alien.
Childhood is a very physical experience full of rough and tumble, be it sports, climbing trees or wrestling your best friend to the ground because he said something stupid, then hitting him over the head with a metal-topped cricket stump. For young Clark Kent that would come with its risks. But then into his life came The Legion Of Superheroes: kids from the future built of much sturdier stock who don't break so easily, and don't care if you're an alien because they're from numerous different planets themselves. Suddenly you can play because they open up a temporary temporal doorway to fantastical adventures in which Clark can be all that he is without destroying all that he loves. Under such circumstances, you're going to bond…
Since then life on Earth has changed. I don't mean now, I mean in the future where The Legion Of Superheroes reside.
For a start, they're on the run, specifically because they're aliens. Earth is no longer so welcome to aliens as it used to be, as the baby boy of a dying alien race finds out, catapulted into space (as the last son of Krypton was) in the hope that he could be received and fostered as warmly as his predecessor.
Nope. Earth has united in its xenophobia (it's nice to know we can unite over something, however paradoxical), dispelled the myth through archaeological evidence that Superman was anything other than a super-human born in Smallville, and used this to twist everything that Kal-El ever stood for, which is embracing diversity and helping all others around you, regardless of whether they're your own kind. Instead it's now detention camps for "foreigners" – a bit like those we don't like to talk about in England and America right now – and justice is upheld by a group of strictly Earth-born superheroes who… hmmm… did they fail their auditions for the Legion Of Superheroes? There's nothing quite as human as a chip on your shoulder.
What's Superman going to make of this perversion? Well, he's going to be awfully polite, obviously. I wish for once he'd just lose his temper.
But why exactly do the Legion, his friends since childhood, not want him there? It may have something to do with that old shepherds' proverb:
Red sky at night…? Shepherd's delight!
Red sun in the morning then all day long? That's fairly deleterious for your average Kryptonian, son.
SLH
Buy Superman And The Legion Of Superheroes s/c and read the Page 45 review here
The Superior Spider-Man: The Complete Collection vol 2 s/c (£35-99, Marvel) by Dan Slott, Christos Gage & Ryan Stegman, Humberto Ramos, Javier Rodriguez, various.
The second
of two halves, this reprints the fourth, fifth and sixth softcover, and for some reason I happen to have copy for the fourth instalment which I reviewed thus:
The premise for SUPERIOR SPIDER-MAN was relatively simple but its execution proved surprisingly thorough: in SPIDER-MAN: DYING WISH one of Spider-Man's oldest, ugliest foes – mop-topped minger Otto Octavius PhD – finally won the day by switching his consciousness with Peter Parker's just before his own body expired.
Dr. Octopus has made maximum use of this fitter new body and inflicted maximum abuse on both Spider-Man's villains and Peter's own family and friends. He's been very resourceful, and so it proves here as Peter's employer, Horizon Labs, comes under temporal assault when they attempt to shake off a corporate take-over by Peter's old friend Liz Allan (once married to Norman Osborn's son and now with one of her own) and Tiberius Stone, Horizon Labs' ex-employee and past saboteur. Cue Spider-Man 2099 comin' atcha and possibly here to stay.
It's complicated to describe here, but perfectly clear if you read the book itself, revel in its fireball, nail-biting, game-changing climax so well illustrated in all its time-bubble, eye-popping glory by Ryan Stegman, and then move on to part two involving one of Dr. Octopus' old flames, newly rekindled, who believes he was killed by Spider-Man. Oh.
This is proceeding at a cracking pace and I can finally confirm that this series will be six volumes long before Peter finally wrestles his way back through Marvels' revolving death's-door, as was corporately inevitable. Make no mistake, though: for once this has been no mere gimmick and the journey has proved thoroughly entertaining, rammed to the rafters with dramatic irony and "Why didn't Peter do that?" Plus I wonder what Peter will finally come back to? He can't explain these months away to everyone: not everyone knows he is Spider-Man!
Two people do: Forensics Officer Carlie Cooper whom Peter once attempted to date with all the suave sophistication of a highly conflicted and emergency-afflicted Alice-In-Wonderland White Rabbit (it went tits-up, yeah) and Police Officer Yuri Someone-Or-Other AKA The Wraith. Suspicious of this supposedly superior Spider-Man with his bottomless resources and knowing that Peter was broke, they are following the money trail. Unfortunately Carlie is being followed by somebody else.
And, all this while, the Green Goblin lies in wait, biding his time and building…
SLH
Buy The Superior Spider-Man: The Complete Collection vol 2 s/c and read the Page 45 review here
Arrived, Online & Ready To Buy!
Firstly, all these beautiful comics and glorious graphic novels are fresh in from John Porcellino's Spit And A Half distribution in America. Not distributed by Diamond, we've given them their very own section for now. Good luck finding them elsewhere in the UK!
https://www.page45.com/store/New-in-from-Spit-And-A-Half-Septemeber-2018.html
Also… New reviews to follow, but if they're new formats of previous books, reviews may already be up; others will retain their Diamond previews information we receive displayed as 'Publisher Blurb'.
Agrippina Arithmetic
(£2-99) by Andi Watson
Rose (£2-99) by Andi Watson
As The Crow Flies (£26-99, Iron Circus Comics) by Melanie Gillman
Beowulf s/c (£17-99, Image) by Santiago García & David Rubin
Berlin vol 3: City Of Smoke (£22-99, Drawn & Quarterly) by Jason Lutes
Coda vol 1 s/c (£8-99, Boom!) by Simon Spurrier & Matias Bergara
Descender vol 6: War Machine s/c (£14-99, Image) by Jeff Lemire & Dustin Nguyen
Flocks s/c (£19-99, Other A-Z) by L. Nichols
Follow Me In (£18-99, Avery Hill) by Katriona Chapman
Jim Henson's Labyrinth Shortcuts vol 1 h/c (£22-99, Archaia) by various
Marilyn's Monsters (£22-99, Humanoids) by Tommy Redolfi
Nocturne h/c (£13-99, Umber) by Tara Booth
Skyward vol 1: My Low-G Life s/c (£8-99, Image) by Joe Henderson & Lee Garbett
Hal Jordan And The Green Lantern Corps vol 6: Zod's Will s/c (Rebirth) (£12-99, DC) by Robert Venditti & Rafa Sandoval
Justice League: No Justice s/c (Rebirth) (£14-99, DC) by Scott Snyder,James Tynion IV, Joshua Williamson & Francis Manapul, Jorge Jimenez, Riley Rossmo, Marcus To
Amazing Spider-Man: Red Goblin h/c (£31-99, Marvel) by Dan Slott, Christos Gage & Stuart Immonen, Mike Hawthorne, various
Infinity Countdown s/c (UK Edition) (£16-99, Marvel) by Gerry Duggan & Mike Deodato. Jr, Aaron Kuder, Mike Hawkthorne, Mike Allred
Marvel Knights: Fantastic Four 1234 s/c (£14-50, Marvel) by Grant Morrison & Jae Lee, Manuel Gutierrez
Mighty Thor vol 4: The War Thor s/c (£17-99, Marvel) by Jason Aaron & Russell Dauterman, Valerio Schiti
Venom By Daniel Way Complete Collection s/c (£31-99, Marvel) by Daniel Way & Francisco Herrera, various
Venom vol 4: Nativity s/c (£14-50, Marvel) by Mike Costa, David Michelinie & Javi Garron, Mark Bagley, Ryan Stegman
Wonder Woman vol 5: Heart Of The Amazon s/c (Rebirth) (£14-99, Marvel) by Shea Fontone, various & various
Legend Of Zelda vol 14: Twilight Princess vol 4 (£6-99, Viz) by Akira Himekara
That Blue Sky Feeling vol 1 (£6-99, Viz) by Okura & Coma Hashii