Featuring Philip Reeve, Sarah McIntyre, Francesca Sanna, Carles Porta, Terry Moore, Jean-Claude Forest, Jacques Tardi, Gilbert Hernandez, Hiroya Oku, Federico Rossi Edrighi, Adam Murphy, Lisa Murphy, more.

The Legend Of Kevin h/c (£8-99, Oxford University Press) by Philip Reeve & Sarah McIntyre.
First 100 copies come with a Free Limited Edition Bookplate Exclusive to Page 45, drawn by Sarah then signed by them both!
At the time of typing 27 /100 copies remain!
Welcome to Stephen's New All-Ages Taste Test in which I declare that if you can imagine a book being read aloud by Alan Bennett, with his dry yet full-mouthed, fruit-jam-flavoured, deadpan delivery, then you are onto a winner!
So it is here, with the most perfect preamble that I can recall, setting you in very good stead for all that will follow.
"Kevin lives in the wild, wet hills of the Outermost West, where he has built a large, untidy nest for himself in the branches of an old oak tree."
Kevin – if you hadn't gathered from the so-spangly cover – is a Roly-Poly Flying Pony. As David Attenborough once noted, their nests can be famously dishevelled.
Kevin comes from the "wild, wet hills of the Outermost West". Not Plymouth, nor Basingstoke, nor even the Dartmoor plains; but somewhere wilder, wetter and even more westerly. This is Important, as you shall see.
"His favourite things to eat are:
"1. Grass
"2. Apples
"3. Biscuits
"… only not in that order."
Why, Philip, why?
"Grass is quite easy to come by, because it grows all over the wild, wet hills of the Outermost West. Apples are grown on the trees in the orchards, and Kevin often flies down to eat them. (You can imagine how delighted the farmers are when they see him coming.) Biscuits are a bit harder to get hold of, but sometimes Kevin makes friends with a hiker, and if he's lucky they share their biscuits with him. So if you ever visit the wild, wet hills of the Outermost West, be sure to take plenty of biscuits. Kevin's favourites are:
"1. Pink wafers
"2. Bourbons
"3. Custard creams
"… only not in that order."
Reeve is a master of playful repetition and the cumulatively funny joke, and that won't be the last of his winking, tongue-in-cheek, parenthetical asides, either.
You are now fully prepped for the latest deliciously mischievous all-ages, illustrated and fully integrated prose from the award-winning creators of PUGS OF THE FROZEN NORTH, OLIVER AND THE SEAWIGS, CAKES IN SPACE, JINKS AND O'HARE FUNFAIR REPAIR and the creation inspiration that is the PUG-A-DOODLE-DOO BUMPER BOOK OF FUN. Never have I read a funnier kids' activity book in my astonishingly long life.
It was there that I first acquired the sneaking suspicion that Philip and Sarah were building a subtly shared universe in which – at any unexpected moment! – you might meet much beloved, long-lost friends from previous adventures as guest stars in brand-new ones. Oh, my lovelies, that moment is now! Perhaps Kevin is not alone in living around the nebulous "wild, wet hills of the Outermost West" with its Outermost Coast and Outermost Sea. Who do you think you might become reacquainted with here?!
Clue: please bring shampoo! They're all stinky and eww!
The blustery, rain-soaked action begins immediately as a preternaturally turbulent storm blows in from the Outermost Sea, scooping poor corpulent Kevin up out of his messy nest, and sweeping him far, far away to the towns and cities where ordinary people live until he bumps into the side of a very tall building. "Doof"! It's a good job there's a balcony.
Inside that building, in its topmost flat, live Max, his dad, his mum and his older sister Daisy who would prefer you call her Elivira, please, because she's going through her gothic period (don't we all).
Now, Max had always wanted a pet – a dog or a cat, or a bird-eating spider (guess who suggested that one) – but the flat was always deemed too cramped and tiny, without so much as a garden for even a small dog to do its 'doings' in. It's the perfect size of a roly-poly flying pony, though, right?!
Of course, to begin with Max doesn't know that it's a roly-poly flying pony that's landed like a hefty haggis outside his bedroom window. For a moment he's fearful that it might be a fearsome polar bear.
"Don't be silly, he told himself, how could a fearsome polar bear have got all the way up here?"
Or a pony, to be fair.
McIntyre's startled, bright white, limp-winged, shivering and sopping-wet Kevin – eyes wide and clueless while caught in the flashlight – is a dripping masterpiece of lost and lonely forlorn fauna and I defy any of you with your melted hearts not to invite the poor creature indoors immediately, towel him down then wrap him in your duvet.
You might want to find him some biscuits.
"Quiet as a mouse, he opened the cupboard, opened the biscuit tin, and took out a custard cream. Then he took another one, because he thought a flying pony as far as Kevin might be able to manage two biscuits. Then he took a third, because he thought maybe he should have one himself to keep Kevin company. (Max was very thoughtful like that.)"
Of course Max's torch battery is "going" – as in, dying – that's what torch batteries do. Reeve nails this sort of everyday family life, like the biscuit tin (I'd forgotten we had one of those), Max's "Swimming Things bag", and that fact that parents have been saying "Yes dear" while paying no attention whatsoever to what you've been saying ever since Gerald Durrell's mum. I love the animism in Reeve's weather as well: the way the wind "leaned" against a window, or, later the sunlight coming down in "silvery fingers through the wave tops and tickled the shop signs" (italics, mine).
Ah, yes, the wave tops. I did mention, didn't I, that this was a preternaturally turbulent storm
Well, it was, for it blew in from the wild, wet Outermost Ocean flooding the city from its sewers to its shops, its bike lanes and its bus stops, almost to the rooftops, and sweeping in all sorts of strange sea creatures.
From very first page McIntyre effortlessly integrates her illustrations with the type-set prose so that it is not just a balanced, harmonious whole but a narrative fusion, seamlessly incorporating both into a single fluid stream. Here, however, she instinctively and strategically leaves areas of space in her illuminations, so that the words artfully framed by the sides of the skyscraper, forming what actually looks like substructure to the building!
Elsewhere she uses colour to consolidate an image so that it has no need for a line-drawn frame, but melds the individual components into a single, unified coherent whole, as if the Sea Monkeys were caught in a mousse mould then plonked out on the page, set in a gelatinous or at least aqueous blue mass.
Haha yes! The bickering Sea Monkeys are back! Those chittering, chattering, smelly little mentalists from OLIVER AND THE SEAWIGS have returned to pull faces, blow underwater raspberries and throw whiteboard rubbers at Mr. Mould, Max's headmaster, now stranded on the school roof. Personally I'd leave him to it, but Max isn't that sort of a lad, so it's action stations, rescue elevations once the winged wonder's got his old strength back. Because, honestly, if Mr. Mould thought that the little human monkeys he was used to teaching were loud and ill-disciplined, then this lot are totally bananas.
"The monkeys threw a few pencil sharpeners and things after him, just to make themselves feel better. Then they went back underwater and started writing rude words on the school walls, and they didn't even spell them properly or bother to use capital letters and full stops; it was an absolute disgrace."
Quite a lot of this takes place underwater as Max attempts to rescue some resuscitating custard creams from the supermarket biscuit aisle, encountering a granny down there in an aqualung, I kid you not. It's underwater that I first spied our old mate Colin the Crab, who is renowned for getting around, admiring himself in a circular compact's mirror. Page 67 – perhaps you can spot him earlier?
This is a carnival of cooped up, flood-fleeing neighbours, a romp and a riot, and a minor misadventure for Beyoncé and Neville, two guinea pigs caught in a tide of their own. It's also a book about newly found friendship – about looking after each other and pulling together whatever the weather, for that's what Max and Kevin do!
And it's a little bit about belonging too.
Kevin, you see, comes from "wild, wet hills of the Outermost West". Not Plymouth, nor Basingstoke, nor even the Dartmoor plains.
But somewhere wilder, wetter and even more westerly. Somewhere that's way, way beyond.
He doesn't belong in a city. Not really.
It's here that Reeve and McIntyre's early decision to set limits on Kevin's anthropomorphic qualities pays true dividends. To begin with, it's comical hearing Kevin do little more than repeat "Biscuits!" or "Custard Creams!" oh so covetously. Oh what a funny fella! But that's just about the extent of his ability to communicate verbally, and I'm afraid that when you first find the poor pony pining near the flat-roof railing – staring out at the sunset, tail still, ears drooping, without the first clue as to where he actually came from, a full fifteen pages from the end – you'll know instinctively where his silent animal instincts are taking him, and you might remember that Reeve and McIntyre did this to you once before, in PUGS OF THE FROZEN NORTH.
The teary, heart-break stuff, I mean.
For many more reviews, pleases see Page 45's Philip Reeve & Sarah McIntyre section, especially THE NEW NEIGHBOURS hardcover and THE NEW NEIGHBOURS softcover for which we still have a few signed editions of a completely different bookplate also drawn by Sarah.
SLH
Buy The Legend Of Kevin h/c and read the Page 45 review here
Me And My Fear (£12-99, Flying Eye Books) by Francesca Sanna.
"I have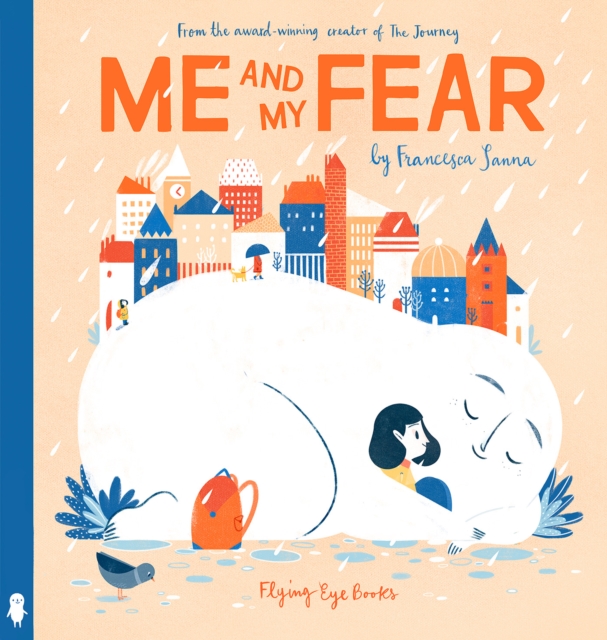 always had a secret.
"A tiny friend called Fear."
From the creator of THE JOURNEY, one of my go-to Young Readers books for empathy and understanding, specifically about those seeking sanctuary.
As you'd expect, its successor is no less astutely observed or eloquent – and at times hard-hitting – in its communication.
Let's begin again, while the grown-ups are nattering away in the shade by the seafront, sipping wine while our narrator explores contentedly, inquisitively a little farther afield.
"I have always had a secret.
"A tiny friend called Fear."
And Fear is, at this point, ever so tiny, decidedly manageable and really quite cute. It looks like the squidgy Adipose squealers from Doctor Who. And certainly it's still a friend, enabling the young girl to venture a ways from her mum while protecting her from the likes of heights.
A little fear is healthy.
"But since we came to this new country,
"Fear isn't so little anymore."
At which point I would sincerely and unequivocally like to apologise for the current state of my country, Little England. And, really, the rest of Europe TBH: we all need to be a lot more welcoming to those already disconcerted by the upheaval of travel and separation, not less.
Fear is still tender and loving on that page, but growing all too rapidly and already effectively smothering as something being clung to too tightly. By the next page it is scowling at the autumnal rain (apologies once more, but not a lot we can do about that bit!!!) and has then grown so massive that it blocks off the exits completely.
Ah, and then there's school. Can there be anything more terrifying than a new school?
You can probably see where this is going: too much fear can prove overwhelming, paralysing, and a self-sustaining barrier which doesn't just protect but pushes away others – perhaps equally under siege – who might like to help.
Our young lady is surrounded by potential friends – girls and boys in every sort of colourful winter-wear – enjoying themselves outside of Fear's seemingly soft but intransigent grip. Others are puzzled, concerned, as she struggles….
The secret is that everyone has a little fear; and the solution is to share.
Someone has to make the first move; my hugest hugs to those who do.
Lots of orange and blue, which is brave.
For more heart and humanity for Young Readers, please see THE NEW NEIGHBOURS hardcover or THE NEW NEIGHBOURS softcover; for adults, see THREADS and ESCAPING WARS AND WAVES or – for something far more poetic, and for all – please see YOU BELONG HERE.
SLH
Buy Me And My Fear and read the Page 45 review here
Tales From The Hidden Valley vol 1: The Artists (£12-99, Flying Eye Books) by Carles Porta…
"The leaves
were turning different colours and saying goodbye to the trees. The wind was tumbling and leaping, like a wild horse that could not be tamed.
"After the lazy days of summer, it was time for a change.
"As the wind played with her hair, Sara had a curious idea.
"What if all the leaves are flying to the same place?"
Portas doesn't mean into my porch, which is where all the leaves usually seem to end up… No, because these particular detached, dancing decoratives, vibrant with the signalling beacon colours of the harvest season, are being pirouetted around and gyrated into a most unusual place. Here are the evocative entreaties of the fine folk of Flying Eye Books to take us into their confidence…
"Hidden in a remote place surrounded by high mountains, there lies a secret valley. There is an entrance, but you could pass by it a hundred times and still not see it… It's autumn in the hidden valley and there's a sense of change in the air.
"Ticky is about to fly away to warmer places, and Yula is painting him a farewell gift. But when Yula draws, she loses all sense of the world around her… Welcome to Carles Porta's beautifully imagined world, where tiny onion-headed ballerinas dance among multicoloured autumn leaves, and new friends are found in the strangest ways."
Indeed they are! In fact, that concluding line could send me off on innumerable implausible tangents regarding how new chums can come unexpectedly cavorting into one's life, but let's not go there today, because, if we do, it'll be winter next year by the time I conclude my review of this wonderfully heart-warming and exquisitely beautiful all-ages work, which has a charming, captivating enchantment all of its own.
Through gorgeous expressive artwork and poetic prose Carles crafts a stylish swirling story with the message of friendship fixed firmly at its core. Both of honouring old friendships and forging new ones. I could wax lyrical about Porta's amazing art with its riotous chaos of carefully orchestrated colours for several paragraphs but his carefully chosen words are just as powerfully moving.
I see that there are already three further volumes slated for publication before the end of next year, which I gain the impression from their titles and publisher blurb are meant to mirror the seasons, so I'm avidly looking forward to being transported back to Ticky and Yula's hidden valley already!
JR
Buy Tales From The Hidden Valley vol 1: The Artists and read the Page 45 review here
Strangers In Paradise Gallery Edition h/c (£110-99, Abstract Studios) by Terry Moore.
It's a love story: a phenomenally funny love story to melt your cold, black hearts.
Frustrated by complications and shot through with tragedy, though, it was never likely to end well.
Spoilers: it did… but only for some.
If you've no idea what all the fuss is about, STRANGERS IN PARADISE is possibly the single series that I'm fondest of. Try the OMNIBUS there to read the best overview, or the first couple of softcovers. Oh, and the recent relaunch of STRANGERS IN PARADISE XXV #1 is still in stock and comes with a brand-new review.
And if 12" x 17" really does mean nothing to you in terms of scale, then amongst the many photos that I have for you is one of the cover, taken with a regular US-sized comicbook (above).
Whereas most comics are printed far smaller than the original art, these Gallery Editions reproduce original art at high resolution and at its original size all the fascinating blemishes and corrections in paste-over and white-out.
"Celebrate the 25th Anniversary of SIP with this presentation of Moore's art spanning the entire Eisner Award-winning series. The evolution of Terry together with Francine, Katchoo, David and all of the other characters that inhabit the SIP world is captured in this 248-page, large-format, hardcover edition. The artwork contained in this Smythe-sewn deluxe edition is framed by the original 20-page version of the very first SIP story and SIP #90, the series' 2007 finale."
I will have notes for you on what that means in a second.
"Included between these "bookends" is a representational page from each of the 105 issues published between issues #1 and #90. Also included is an extensive Gallery section containing covers and miscellaneous SIP art from the last 25 years. Sourced from high-resolution scans from the original art and reproduced at the actual size, this 12″ x 17″ deluxe volume is printed at 200 line-screen on heavy paper stock to approximate the look and feel of the original art itself."
Firstly, then, the very first issue reprinted here is not the one that you've read!
Nope, the original version of #1 which was hastily redrawn and rewritten in part for publication and this edition has never been seen before. David, for one, sure looks different!!!
All this and more, Terry will talk about in the introduction, including the very first sketch Terry ever drew which cemented the SiP series in his head. The sketch itself is also reprinted but not in this very review because hahahahahahaha! Here's Mr Moore:
"Francine was sipping on a milkshake on the couch. I began thinking about her weight problem and why she eats. I drew Freddie [her fiancé] next to her, probably saying something snarky, and I realized that's why she eats. Then I began wondering how Katchoo reacts when she sees this pressure put on the woman she secretly loves and… BAM!!!! Suddenly I wasn't drawing "characters" anymore, I was drawing human beings with complex personalities and lives that intertwine and turn on a dime according to the decisions they make – and how they handle the decisions of others forced upon them."
I'll shut up now, and just show you photos.
I love that you can even see how much ink is being laid down on the close-ups of Katchoo and Francine.
SLH
Buy Strangers In Paradise Gallery Edition h/c and read the Page 45 review here
You Are There (£26-99, Fantagraphics) by Jean-Claude Forest & Jacques Tardi.
A grand
farce from the French master which hasn't aged one jot since it first appeared thirty years ago.
It puts me in mind of Evelyn Waugh's more outrageous works like Black Mischief, with naïfs being caught helplessly in a pincer movement of regal egos and state machinations, here in the form of a French President staring electoral disaster in the face and forging an insane plan for self-preservation that will ultimately prove more successful than anyone dared to hope.
Far from the grotesqueries of government, meanwhile, we find young Arthur There who's been driven up the wall by the loss of his family's ancestral land, his last remaining refuge being said walls that divide his old properties and their inhabitants.
Throughout the days of wind, rain and snow, he's summoned across this interconnected raised maze by bells to extract meagre tolls for opening the gates whilst dancing over obstacles like fallen trees and avoiding the dogs below. It's these coins that he pours into the bottomless dustbins of his lawyer, who has the art of procrastination and prevarication down to perfection whilst holding out just enough hope of Arthur's obsession: the legal reclamation of his land. But Arthur's been alone too long. Riddled with persecution complexes, he overthinks everything. And where exactly is his Mummy to whom he telephones daily reports of his progress?
It's all quite absurd, from Arthur's diminutive domicile (an elegant stone hut perched precariously on the wall that can't measure more than 3 feet by 6 and its exterior stove for frying morning eggs) to his loquacious exchanges over the edge of the lake with the visiting grocer-sailor, and the truly bizarre Julie Maillard, daughter of one of the denizens whose legs are splayed in a sexual association of rain and urination, and who offers herself up to Arthur in a manner he finds mind-frazzling. Never less than innocent, she's still managed to get around, which brings us back to Paris…
Thanks to more than a little madness the proceedings are presented on the page with a flourish of surrealism matched by the actions of the protagonists.
The acrobatics (visual and verbal) are a joy while the weather is magnificent, though I do concede that, for some, it may go on a bit! Here's a typical pronouncement from the floating grocer which kicks off with four words that are irrefutable:
"Customers are sacred creatures, and fragile too…. One little misstep, and the days of eating and drinking are over! And then the grocer takes it on the chin! You see, everything is connected, Mister There, everything is connected. And because everything is connected, one should avoid ever touching anything… And to avoid touching anything one should avoid ever saying anything: Speech is harmful!
"Now, I know I just said "speech is harmful," but on the other hand, silence isn't much better. That way lie boredom, suspicion, gangrene. Eventually it eats away at you, from the ground up."
That's not going to do Arthur's paranoia any good.
SLH
Buy You Are There and read the Page 45 review here
Love And Rockets (Palomar & Luba vol 7): Three Sisters (£16-99, Fantagraphics) by Gilbert Hernandez.
Reprints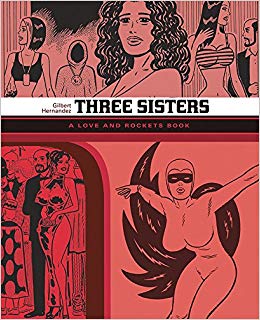 material which originally appeared in LUBA'S COMICS & STORIES #3-4, 6-8, LOVE AND ROCKETS VOL II #3-9, 11-18, 20, LUBA: THREE DAUGHTERS, that enormous LUBA OMNIBUS from yonks ago and HIGH SOFT LISP.
HIGH SOFT LISP is a mischievous journey through the intertwined fortunes of successful motivational speaker Mark Herrera and "Fritz" Martinez, former marriage guidance counsellor turned straight-to-DVD movie star and half-sister to Luba, He is her first husband, she is his fourth wife.
He has had six, and is broke.
"She wept when I asked her to marry me. I wept when she asked for a pre-nuptial agreement!"
Fritz is a voluptuous, gullible romantic with an appetite for sex which is so often taken advantage of. She also has a penchant for sci-fi conventions, dressing up, and guns.
"Most people prefer a cigarette or a sandwich after lovemaking, Fritz."
She prefers target practice.
It's very much a series of snapshots with Hernandez weaving in other lives in the background, like Petra's memories of Joel whom we see first in person when they're all very young, then later in a High School Yearbook, then later still in an obituary notice. A subtle scene closes that particular story in which Petra's daughter finds what she assumes to be Petra's High School jacket gathering dust in the closet. It isn't, but Gilbert doesn't rub it in.
Enrique too, so close to becoming Fritz's third husband, has been simmering over the years with a rather unhealthy obsession, and I don't think I even want to write about self-centred slob and husband number two, Scott "The Hog", whom the punk rocker in Fritz adored. Meanwhile all bar one of Mark's wives leave only to return in one role or another, often when he needs a favour, and it's funny how so many of them end up writing children's stories! You'll also meet Pipo who becomes Fritz's girlfriend and produces her films (see LOVE FROM THE SHADOWS, TROUBLEMAKERS and CHANCE IN HELL).
As ever with Gilbert there are elements of the surreal and supernatural and a lot of this is delivered as if to camera. Hernandez refuses to conform to any narrative rules except his own, liberating him to tell the story he wants to tell in the way he wants to tell it, and I admire that unequivocally – so, so refreshing.
There's also a great deal of sex that would once have set him at odds with British Customs & Excise, though thankfully not any longer.
It's kind of what adults do, or there'd never be any children for us to get so worried about.
SLH
Buy Love And Rockets (Palomar & Luba vol 7): Three Sisters and read the Page 45 review here
Gantz Omnibus vol 1 (£22-99, Dark Horse) by Hiroya Oku…
"Tokyo teens
Kei and Masaru are killed by a subway train but awaken in a room with an ominous black orb that gives them weapons, suits . . . and orders. Fighting bizarre alien monstrosities in a deadly game, will they win their freedom or die for the final time?"
That, my comics friends, is a publisher warbling that can't possibly even begin to come close to encapsulating the excitement of one of the most celebrated and gloriously confusing hot messes of a science fiction manga series that there has ever been.
Well, actually, it does begin to describe it, I suppose, because it does indeed all start with school acquaintances Kei and Masaru taking a fatal header under a train, before being resurrected atom by atom in a strange room, surrounded by equally perplexed strangers and staring at the titular Gantz.
Taking a massive thirteen years, and 37 single volumes, for Hiroya Oku to complete, this is one of the most intense series I have ever read. It's ultra-violent, well, ultra-everything, frankly. Sure it takes some bizarre inexplicable plot diversions at times, cul-de-sacs really, including one that never gets explained, but always upping the danger ante ever further for the characters. Those that survive, that is, or those get killed and promptly resurrected. But it all ultimately concludes in the most spectacularly satisfying and ultra-surreal manner. I don't mind mentioning I shed a tear or two during the concluding chapters.
Is it perfect? Artistically, for a relentless sugar buzz sci-fi manga, certainly. No doubt. Oku is a master mangaka. The action scenes, which probably comprise three-quarters plus of the series are mind-blowingly brilliant. Plot-wise… I realise I keep coming back to this… it isn't perfect, though not far off, but I don't think it actually matters. By his own admission Oku never expected GANTZ to be so successful (including spawning the inevitable anime, but also two live-action films, a video game and a prose novel series) and felt under extreme pressure to keep the series going. I suspect at times he was plucking new plot devices from the increasingly thinning air.
Which almost certainly explains the detours… Also, without getting into spoilers, well, one super-huge spoiler in particular, there is one central aspect of the whole Gantz set-up that never made sense to me at all. But… without it… no GANTZ… However, I'm being churlish now, because frankly I didn't care one iota. I devoured each volume of GANTZ as it came out, frantically flicking the action-packed pages over like an adrenaline junkie, consuming each volume in a matter of minutes, before having to wait months for the next one…
And… I'm hopeful the, well… what do you call a subsequent series that is set at the same time as the original? Not a sequel, a parallelaquel perhaps? Anyway, I am hoping GANTZ G: (just one volume out so far!) might just answer at least that one particular burning question for me and millions of other Gantz devotees.
For people intending to commence hostilities with these reprints, I can see three major advantages. Firstly, it looks like they are on a four-monthly publication schedule, so presuming they wrap the 37 volumes into 12 omnibi, you only have to wait for roughly four years to get the lot. Plus they work out at about two-thirds of the price. Also, you will be able to read GANTZ G: simultaneously for double the insanity and perhaps twice the comprehensibility!
JR
Buy Gantz Omnibus vol 1 and read the Page 45 review here
The Scarecrow Princess (£13-99, Roar) by Federico Rossi Edrighi…
"When
the fields thrive, the sky becomes peat and the earth turns into gold. At the time of the richest harvests, he cometh.
"The deceiver, the thief, the drinker of eyes. The all-devouring black cloud.
"The King Of Crows.
"The earth is stripped bare by the insatiable shadow of his wings. And only the awakening of The Scarecrow Prince shall contain his hunger."
…
"Then what?"
"Then nothing! There's barely a page on the subject here! Perhaps we could have chosen a better-documented myth, mum."
"Well, it's a great opportunity to get our creative juices flowing! For the illustrations, I'm already thinking of a synthetic and dirty stroke, without any pointless virtuosities."
"And make readers hate?"
"It's not the job of an author to give the readers what they want… it is the job of author to give the reader what they need."
"And today's readers need superficial illustrations, right?"
"It was just an idea. When did you become so negative?"
Federico Rossi Edrighi is either a total wag or blissfully unaware of the irony he's just perpetuated. For your first impression of the art here may very well be that it is comprised "of a synthetic and dirty stroke, without any pointless virtuosities".
We'll just get this one out of the way right now. The art style won't spoil anything at all for you. In fact, by the end of this work, particularly whenthe King Of Crows finally arrives in full effect, all distressingly angular and midnight black of raiment, I found myself rather appreciating it. It is, however, going to prove a stumbling block for some, I suspect. Which is a real shame because this is a very gripping, bum-squeakingly suspenseful all-ages story full of spite and mystery…
Here's the altogether natural and rather virtuous publisher pith to put you in the peculiarly drawn picture…
"Morrigan Moore has always been moody, but her new home is the worst. Her novelist mother has dragged her to the countryside, drawn by the lost myth of the King of Crows, a dark figure of theft and deceit, and the Scarecrow Prince, the only one who can stand against him. When Morrigan finds herself swept up in the legend, she'll have no choice but to take on the Scarecrow Prince's mantel, and to stand and fight. For her town, her family, and her own future. This… will pull you into its sinister secrets and not let go till the final page. For fans of Coraline…"
Yes, I definitely get the CORALINE reference. It certainly has that menacing, brooding feel to it. And that's just to start with. Then the tension and peril really begins to ratchet up with increasing rapidity as Morrigan gradually starts to realise just how much trouble she's really in. But, that's what you get for being moody!! If Morrigan manages to survive, and somehow save her dysfunctional family and the unappreciative townsfolk in the process, maybe she'll lighten up a bit! Recommended.
JR
Buy The Scarecrow Princess and read the Page 45 review here
Corpse Talk Queens & Kings And Other Royal Rotters (£9-99, David Fickling Books) by Adam Murphy, Lisa Murphy.
Haha!
Even the title's an additional pun! Brilliant!
And this humour-lit history lesson is indeed brilliant, like all former CORPSE TALKs you'll find reviewed at so much length in Page 45's Phoenix Comic Collection Section that I have honestly now run out of words.
Off you trot that away, please! And make sure you take a good gander at my review of Adam and Lisa's LOST TALES too: it won a Blue Peter Award and they're not dished out lightly.
"The third amazing thematic Corpse Talk book – all about the most astonishing rulers from history ever! Adam Murphy interviews the high-and-mighty men and women who changed the world – getting their stories straight from the corpses' mouths! Reading Corpse Talk: Queens and Kings is like having history turned upside-down! It guarantees laughs, surprises, and a whole host of facts told to you by the rulers from all over the world, themselves. From Cleopatra to Queen Vic to Moctezuma, these are some royals with stunning tales to tell…"
It is all 100% historically accurate. The comedy lies in the telling, not messing around with recorded facts.
SLH
Buy Corpse Talk Queens & Kings And Other Royal Rotters and read the Page 45 review here
Batman: Dark Knight Master Race s/c (£22-99, DC) by Frank Miller, Brian Azzarello & Andy Kubert.
Now out in softcover.
"Hey, good-looking!"
"What?"
"You make a pretty convincing Batman."
"You think so?"
"You got mad game. Did he train you?"
"Who?"
"Bruce Wayne. What's your name?"
"Bruce Wayne."
"Bruce Wayne?"
"Bruce Wayne is dead! BRUCE WAYNE IS DEAD! BRUCE…WAYNE… IS…"
…
"Dead. That's what you said. How?"
Sequels. Whether it be film or comics, it's very rare that a sequel matches or even surpasses the original. You might actually wonder why they bother, but I'm not going to pop open that particular can of shark repellent… I mean worms…
BATMAN: DARK KNIGHT RETURNS, from way back in 1986, I hope we can all agree, is a classic of the modern superhero sub-genre. Along with Miller's DAREDEVIL: BORN AGAIN also from 1986, (soon to be completely bastardised no doubt for the third season of Marvel's Netflix Daredevil… sigh…), and that other book with the blue person with the funny tattooed forehead in, from yes you guessed it, 1986 (wasn't that a rather pivotal year in superhero comics?), who will be popping up again in DOOMSDAY CLOCK, they helped shatter the paradigm of what people expected from superhero comics. And thus instantly redefined what people wanted. Shame we've had so relatively little of that level of quality since in this niche comics sub-genre.
Its loose sequel, BATMAN: DARK KNIGHT STRIKES AGAIN, from 2001, I would argue, falls into the mis-understood classic category. People wanted more of the same, and Frank dared to give them something different. Thus many people didn't get it initially, like myself I will very freely admit, but then upon a second read I loved it, because it had something very distinct of its own to say.
Fast forward to 2011 and the Threequel that wasn't, when we had HOLY TERROR, originally intended to be Holy Terror, Batman! Frank had something to get off his chest post-9/11, it was just that DC wasn't comfortable with it being a Dark Knight Bat-book, so Batman became The Fixer, taking out Al Qaeda wholesale in New York City. I found it a bit one-dimensional, frankly, veering dangerously towards crypto-fascism and possibly even a teeny-weeny bit racist (just a personal opinion…) and I think the safest thing I can say about it… is that probably absolutely no one regards it as a classic… Given Frank's well-documented wider health struggles over recent years, I genuinely wonder how he himself regards it now.
So, rolling forward to 2017… What has Frank got to say this time? Well… interestingly he was paired up with Brian Azzarello for the storytelling. I have absolutely no idea who has done exactly what but I'm guessing Frank came up with the plot outline and Brian helped whip the script into shape. Probably like Ben Hur riding a chariot. Before we go any further on that score, I will say Andy Kubert on pencils, Klaus Janson on inks and indeed Brad Anderson on colours are all superb, hitting the heights you want on a book as much anticipated as this. Right, back to the writing…
I read this initially as it was coming out in issues and my thoughts at the time were it got off to an exceptionally strong start in the first couple of issues, neatly reprising certain conceits from BATMAN: DARK KNIGHT RETURNS like the talk show hosts providing their own one-eyed politicised commentaries, plus updating neat little devices like the television-framed footage to mobile hand-held devices so indicative of our modern social-media sharing society. It then seemed to sag somewhat in the middle, but that was in part definitely due to the delays in release, before seeming to finish strongly enough. It definitely benefitted hugely from being re-read in one go.
In terms of the story, Superman and Wonder Woman now have two children, the teenage Lara and the infant Jonathan, neatly paying a sweet nomenclaturical tribute to both Clark's Kryptonian and human roots. Though old Big Blue himself has skulked off the Fortress of Solitude to wallow in self-pity, partly due to the events of BATMAN: DARK KNIGHT STRIKES AGAIN, entirely encasing himself in ice, leaving Diana to take on the parenting duties alone! Consequently she's struggling with rebellious teen Lara, who definitely sees herself as old-school Kryptonian and not remotely compassionate towards humanity. Carrie Kelly, meanwhile, Robin from the previous two Dark Knight works you may recall, seems to have replaced the late Bruce Wayne, finally killed in action three years previously, as Batman. He's not dead, obviously.
"This mean you're not dead anymore, Boss?"
'This' being the thousand Kandorians, let loose entirely due to the good intentions of Dr. Ray Palmer aka The Atom and rather less so of Lara, who led by the murderous Quar have decided to take over the Earth and if mankind doesn't start worshipping them and doing exactly what Quar wants, be wiped off the face of the globe. If only Bruce Wayne wasn't dead, if only someone could persuade Clark out of his self-imposed isolation, if only Diana wasn't too busy looking after the baby to help… The rest of the Justice League might be useful too, I reckon… If only someone could do some additional tie-in mini-comics about them…
This is definitely a more straightforward work than either of its two predecessors. It does however have some distinct on-point things to say about the current state of the world we live in. And the current orange President makes a typically excruciating appearance. For the most part, it says them very eloquently, often rather amusingly and with some considerable degree of wit, and rather even-handedly. There are only two things I wish had been done differently. I wish Quar had had a less Arabic sounding name. And that his 'wives' weren't wearing garb akin to that you would see a Saudi prince dressed in. Those two points just made me slightly uncomfortable.
Miller obviously wishes to very overtly draw the analogy with ISIS and their insane desire for hegemony at all costs. He clearly does, and actually, I suppose that is fine, but it just felt slightly unnecessary for those two strident embellishments to make it so obvious. If it weren't for HOLY TERROR, and also some of his previous statements, they might not have bothered me at all, but because of that, I was probably subconsciously looking for something of that ilk, which I consequently found. I am aware he still feels very strongly about the events of 9/11 and he clearly still wants to express that in his comics, so perhaps it wasn't surprising.
Where any such imbalance, real or not, is entirely redressed, at least in comics terms, is in that which was entirely lacking in HOLY TERROR, for this work has humanity and heart by the bucket load. There are some big emotional swings and personal journeys for various characters in this work, not least one stinging betrayal and dramatic redemption in particular, but this book also feels like Frank Miller's redemption, partial or whole depending on your viewpoint, to me, again, in comics terms. He can still clearly write good comics, even with the unquantifiable assistance of Brian Azarello, which for all I know was something DC insisted upon for editorial control reasons. Anyway, as a team they certainly worked very well together.
This delightfully chunky softocover collects all nine issues of the main Master Race series, plus the additional very enjoyable mini-comics that came stapled into the middle of the issues, featuring all the various major old school Justice League members in a full set of cameos, with art from Eduardo Risso and John Romita Jr. How's that for two fill-in artists?! There are also a few sketch pages and pin ups chucked in for good measure. Shame they didn't include the 57-page DARK KNIGHT RETURNS prequel one-shot THE LAST CRUSADE, also co-written with Azarello, with its delightfully twisted, exquisitely painful ending, that came out in the middle of this run of issues. Still, at £22-99 for all that material, which Marvel would no doubt have been trying to charge at least another fifteen quid for, it's very good value indeed.
Will this go down as a classic? I'm not sure, but it's certainly an extremely good sequel well worth the price of admission.
JR
Buy Batman: Dark Knight Master Race s/c and read the Page 45 review here
Arrived, Online & Ready To Buy!
New reviews to follow, but if they're new formats of previous books, reviews may already be up; others will retain their Diamond previews information we receive displayed as 'Publisher Blurb'.
Berlin (Complete) h/c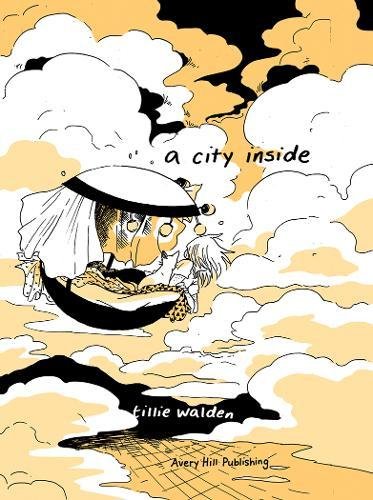 (£35-00, Drawn & Quarterly) by Jason Lutes
Woman World (£17-99, Drawn & Quarterly) by Aminder Dhaliwal
Roly Poly: Phanta's Story h/c (£17-99, Fantagraphics) by Daniel Semanas
A City Inside h/c (£12-99, Avery Hill) by Tillie Walden
A New Jerusalem (£12-99, New Internationalist) by Benjamin Dickson
Age Of Bronze vol 1 s/c (£17-99, Image) by Eric Shanower
Dry County s/c (£14-99, Image) by Rich Tommaso
Eric (£24-99, Robots & Monkey Publishing) by Tom Manning
Hilda And The Hidden People h/c (Prose) (£9-99, Flying Eye Books) by Stephen Davis, Luke Pearson
I Feel Machine (£14-99, SelfMadeHero) by Krent Able, Box Brown, Julian Hanshaw, Erik Svetoft, Shaun Tan, Tillie Walden
Kick-Ass: The New Girl vol 1 s/c (£14-99, Image) by Mark Millar & John Romita Jr.
Oblivion Song vol 1 s/c (£8-99, Image) by Robert Kirkman & Lorenzo De Felici
Penguins (£22-99, Fantagraphics) by Nick Thorburn
Slam! vol 2: The Next Jam (£13-99, Image) by Pamela Ribon & Veronica Fish
Strangers In Paradise XXV vol 1: The Chase s/c (£14-50, Abstract Studio) by Terry Moore
Darth Vader: Dark Lord Of The Sith vol 3: Burning Seas s/c (£17-99, Marvel) by Charles Soule & Giuseppe Camuncoli
Star Wars: Thrawn s/c (£15-99, Marvel) by Jody Houser & Luke Ross
All-Star Batman vol 3: The First Ally s/c (£14-99, DC) by Scott Snyder, Rafae Scavone & Rafael Albuquerque, Sebastian Fiumara
Justice League vol 7: Justice Lost s/c (Rebirth) (£12-99, DC) by Christopher Priest & Pete Woods, Ian Churchill, Philippe Briones
Nightwing vol 6: The Untouchable s/c (£16-99, DC) by Sam Humphries, various & Bernard Chang, various
Superman And The Legion Of Superheroes s/c (£13-99, DC) by Geoff Johns & Gary Franks
Wonder Woman vol 6: Children Of The Gods s/c (Rebirth) (£14-99, DC) by James Robinson & Carlo Pagulayan, various
Fragments Of Horror h/c (£10-99, Viz) by Junji Ito