Featuring Una, Dave McKean, Brenden Fletcher, Karl Kerschl, Msassyk, Brian Michael Bendis, Michael Avon Oeming, Brian Froud, Joshua Dysart, Matthew Dow Smith, Alex Sherman
Cree (Sketched & Signed) (£12-99, Mayfly) by Una…
"There was
a time I felt completely alone… Now I'm among friends I wonder how I lived like that for so long.
"Joy cuts through every day like a sunbeam. I see beauty everywhere.
"When I finally turned to face the world with a sense of honesty and courage, I found it less fearsome than I'd imagined and much more ordinary."
Now, just in case you don't know, and I certainly didn't, I will let Una explain what a 'Cree' is, which she kindly does in her afterword, "…a Cree is a place you go to escape the world, make and fix things and find peace…" Now, for Una, that's her garden shed, but for the ladies portrayed here in the North East it's their group where they get together at the Just For Women Centre in Stanley, County Durham to do some crafting and just be themselves.
It's a real place, the Just For Women Centre in Stanley, County Durham. A social enterprise run by women, for women, offering all kinds of support and services, advice and education. As you might well imagine, it's a vital lifeline for women who have, and continue to, endure some tough times. The main character, here, Jolene, is just one such woman. We don't find out about her particular circumstances that bring her to catch the bus into Stanley from the countryside, attend the Cree, before making the return journey home again, but that's not what's important.
No, it's the transformational power of the Cree to change a person's state of mind for the better that is the key thing to take away from this work. Through shared experience and communication in a safe and stimulating environment. We see this profound effect for ourselves as evidenced by the uplift in Jolene's private thoughts on the return leg of her commute, empowered and reinvigorated by her crafting session and natter with her confidantes…
"Starting again… It's not easy, but it's possible.
"I don't where I'm headed next, but I'll not go round in circles again. Not now. Not ever."
What a wonderfully uplifting work! And brilliantly constructed, or should I say, crafted. Firstly, I found Una's use of words during Jolene's two bus-ride soliloquies immensely moving, which combined beautifully with the imagery, such as an overhead shot of a roundabout juxtaposed with the circles quote above. Comics perfection! On that poetic point, I would put this work up there with Tim Bird's award winning FROM THE CITY TO THE SEA.
The art style is a mix of vibrant foreground colours and little to no background throughout, which gives this work a very much handcrafted and therefore personal feel. As with her other works like BECOMING UNBECOMING and ON SANITY there are also several panel and page compositional devices that further draw you in. For example, there is a very clever use of perspective and vanishing points going on in several pages of Jolene's journey where often she isn't visible to the reader. The sense of motion, of moving towards a destination, is tangible. Those sections are deliberately minimal in their content, with immense stretches of white background, but have an almost cubist feel in their layout and use of blocks of colour. There are also a couple of expansive foldout pages that welcome you into the Cree itself as Jolene arrives at the Centre and greets her friends. It's abundantly clear throughout just how much thought Una has put into this work, of the combination of words and images.
On that note, Una also leaves us with something to think about on the nature of thinking. It's not something that had ever occurred to me before but I reckon she's onto something, you know. It's also presented in a rather hilarious manner that actually makes you start to realise probably just how very true it is. I'm not going to spoil it for you by revealing it, I'll let you discover it for yourselves, but it just goes to show what an accomplished comics creator Una is.
As well as a wonderful human being whom it was a pleasure to play host to in Page 45's Georgian Room at the Lakes International Comics Art Festival 2018.
JR
Buy Cree (Sketched & Signed) and read the Page 45 review here

Isola vol 1 s/c (£8-99, Image) by Brenden Fletcher, Karl Kerschl & Karl Kerschl, Msassyk.
The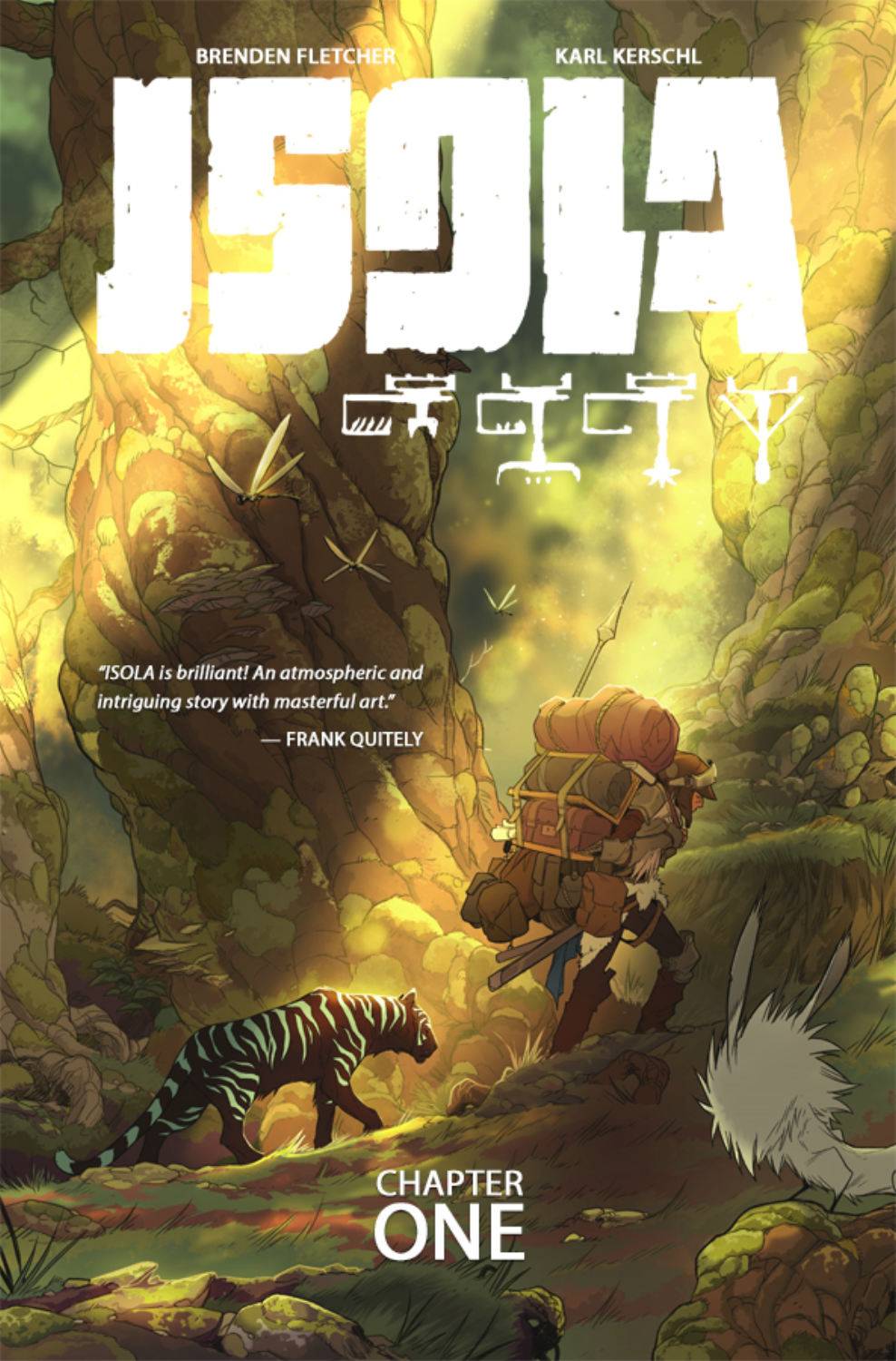 cat and the captain have a long way to travel.
Stealthily they prowl across wetlands, through meadow valleys lush with summer-green trees, and over buzzing forest floors which prickle with humidity during daylight, then fall to dark, dank and dangerous at night.
The fabled island of Isola lies far, far away and, they say, is surrounded by vast stretches of water. It is also said that the souls of the dead reside there. But no one knows if it actually exists.
The cat and the captain have a long way to travel, without any guarantee that they'll ever get there.
That's one of the reasons. There are so many more.
This first issue opens on a night of natural indigo, high up on a mountain range commanding spectacular views which are obliterated by sheets of driving rain.
The soldier sits guard outside the tarpaulin tent in a Moebius hat, fur-trimmed cloak, leather boots and leggings. Her lance-like spear is struck, up-ended and so ready in the ground. Under the tarpaulin sleeps the adult tiger, but its rump and tail stick out the back, so the loyal soldier shelters its hind with her shawl.
A ssssss-ssssssound from one side attracts her attention, luring the Captain from her vigil. Repeated, she falls for its call, cautiously following it, bent-over under gnarled, twisted tree-trunks which look more like roots rising from the craggy terrain. And there sits a fox with eyes glowing gold, perched upon what…? A stone seat upon a stone pole? There are others. Did they once house a feral parliament or perhaps a raised rail?
She follows the fox down into a major brook and the colours shift subtly, introducing more than a hint of lambent green. And there lies her charge: the tiger, shot dead on the river-bank with a flash-flurry of arrows.
"No! No! This is all my fault!"
"Yyyyyyessssss" the sound seems to say, backwards, upside down.
"I'll kill you for this! You hear me?"
Then the tiger disappears… The arrows disappear… And she's left standing all alone in the water.
Hello! How are you doing? This is terrific!
Don't worry, come morning, the big cat rises from the tent and braces itself against itself, stretching its back/spine and sinews under the more golden glow of an early dawn.
It leaps up the rocks to gain the best vantage point and take in the lie – and so lay – of the land. But it looks back. Back to an island from whose distant, highest peak rises a dark plume of dense, ugly smoke in front of the breath-taking aurora.
And it laments.
It doesn't speak – this creature cannot speak – but it laments. It's all evident in its ever so suggestive but underplayed body language.
Time and again, I've written about artist Sean Phillips as an exceptional character actor (most recently in KILL OR BE KILLED and THE FADE OUT reviews), and that's what our best comicbook artists are. Karl Keschl does the same here for the feline, and it is done with quiet and controlled dignity but also decisiveness as befits the tiger's true nature.
Like me, you too will be bursting with delirious conjecture yourselves. That's exactly how it should be. This is both exquisitely beautiful and so supremely well judged, not least for throwing you in half-way through the equivalent of any other chapter two without a clue as to what has transpired so far. You are now embarked – and so invested – with the captain and the cat on their journey.
Neat trick #1: I love the luminous glow of the tiger's inverse stripes once the sun hits their spots. But only then, for the lighting and shadow do so much to illuminate the big cat's muscular form. There is a degree of tranquillity and calm which others would have jettisoned in favour of spectacle and show.
Neat trick #2: they're a party of two, but only one of them can speak. This is pretty brave storytelling, and it is impressively successful. The Captain can only infer from the cat's cool, calm but occasionally halting stares and glares, how she / he / it is reacting to what's thrust against them. Nor can the captain know for sure that what she suggests is fully understood, though I think it is.
You will encounter others on your way, for they will encounter others on their way.
But you just know that they can never go home.
Top tip: 'isola' (ee-so-lah) is Italian for 'island'.
Due to deference paid by the soldier to the big cat, you may by now have guessed that she isn't simply a tiger, but that personal pronoun is all I'm giving away. As their perilous journey progresses and they become separated, you will discover other denizens of this world who may not be entirely human either.
You're going to be treated to the lushes of landscapes in every weather, and I, for one, am a sucker for rain under canvas as anyone who's read Luke Pearson's all-ages HILDA AND THE TROLL will already know.
SLH
Buy Isola vol 1 s/c and read the Page 45 review here
Dave McKean's Short Films h/c & Blu-Ray (£22-99, Dark Horse) by Dave McKean…
"Dave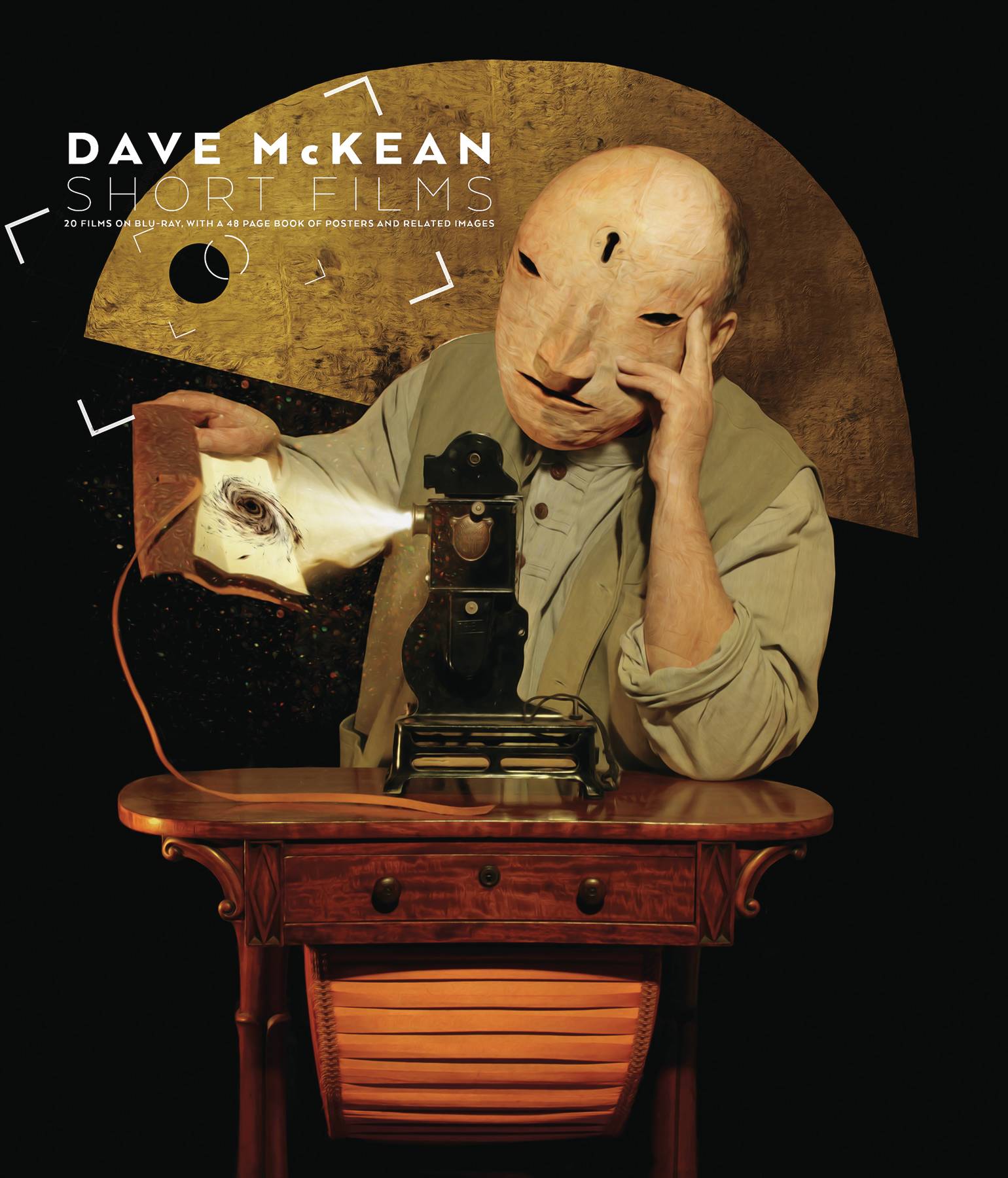 demands his characters agonize over the meaning of life but he forces us to take the roller-coaster ride as well… right to the heart of the creative process–his words and drawings cascading across the page in perfectly structured cacophony. Beautiful!"–Terry Gilliam
Indeed!
So what mixed-media madness do you get for your moolah then? I shall let the publisher proudly proclaim all. And I do mean all…
"Dark Horse proudly presents Dave McKean's short cinema on Blu-Ray included in a behind the scenes 9 1/2′ x 11′ hardcover book featuring photos, posters, stills, drawings, and more. A must-have for McKean fans!"
Yes, from the creator of CAGES, BLACK DOG etc, and contributor to 2018's TRACES OF THE GREAT WAR anthology, here is the Blu-Ray breakdown:
"Week Before – 23 minutes – Inspired by the music of Django Reinhardt, a story about two neighbours, God and The Devil.
Neon – 27 minutes – This film is narrated by Velvet Underground founder John Cale and was first prize winner at Clermont-Ferrand (one of most prestigious short film festivals in the world).
Whack! – 14 minutes – Based on Mr. Punch graphic novel by Neil Gaiman and Dave McKean.
Displacements – 14 minutes – A combination of three short films featuring Michael Moorcock, Iain Sinclair, and Ed Dorn.
Dawn – 9 minutes – Filmed after McKeans's work on the movie Mirrormask, this short is based on the Dark Horse Comics graphic novel Pictures that Tick.
Iain Ballamy & Stian Carstensen – 3 1/2 minutes – A video short of jazz musicians Iain Ballamy & Stian Carstensen.
Sonnet No. 138 – 1 minute – An animated version of one of Shakespeare's sonnets as part of a large project to turn all of them into short films, the project was subsequently cancelled and all that remains is this short film.
MTV-9/11 Reason – 1 minute – Reason was created to play on Sept. 11th 2002, a year after the terrorist attack in New York in 2001. McKean made this image as an illustration for a memorial book published by Dark Horse, and turned it into a film shortly after.
MTV-World Aids Day – 1 minute – McKean's short film for MTV on World Aids Day.
Visitors – 15 minutes – Created to be a video shown during live performances for the band Food, this film was shot at the Pacific coastline at Pebble Beach, Point Lobos, Big Sur, Pacific Grove, and at the Monterrey Bay Aquarium.
A short film for Adobe – 4 minutes – Short film of the making of an image, which was the cover of The Particle Tarot.
Signal to Noise – 4 minutes – Based of his own Graphic Novel Signal to Noise.
RAINDANCE 7 – 1 minute – Trailer/Advert for the Raindance Film Festival.
KODAK: TAKE PICTURES FURTHER – 40 minutes – Commissioned by Kodak to launch a new film stock, and consisted of a lavish book, featuring several photographer/ artists, and accompanying 'making of' films for each contributor.
BUCKETHEAD -THE BALLAD OF BUCKETHEAD – 4.5 minutes – Dave's ode to the musician Buckethead
Izzy – 3.5 minutes – Film dedicated to opera singer Izzy, featured on MTV's Classical Channel.
Lowcraft – 1 minute – A music video made for the band Lowcraft, inspired by the artist Lorenzo Mattotti.
The Old Monkey – 4 minutes – A performance by McKean of a song he wrote for jazz composer Iain Ballamy and poet Matthew Sweeney.
9 Lives: Sheepdip, Johnson and Dupree; 9 Lives: The Cathedral of Trees – 4 minutes – Two short films from a show by McKean called Nine Lives."
So now you know you're getting a pretty sizeable bang for your proverbial buck. Which is all well and good, but what do the films actually look like? At this point, we would normally show you a bit of interior art, but that's clearly not going to cut it on its own… So I think the best thing to do is link to Dave's own trailer for this book, which is a glorious dada-esque coruscating spin through most of the shorts on the Blu-Ray. You will be utterly mesmerised I promise. I can now see precisely why Terry Gilliam is a fan. As is actor Michael Sheen, who provides an insightful foreword that posits that Dave's short films are the answer to "How do you fit an elephant into an egg-cup?"
In terms of the paper-based content, each film is introduced in the first person by Dave, explaining its conception and gestation, accompanied by stills and some trademark McKean constructions of imagery. There is also an occasional in-depth article about a particular piece from relevant others.
As a companion to the films themselves, this material all serves to provide a deep insight into Dave's thought processes and working methods. It certainly gave me pause for thought on a few occasions. The notes accompanying the Whack! film, which originally was intended to add to the classic McKean and Gaiman collaboration THE COMICAL TRAGEDY OR TRAGICAL COMEDY OF MR. PUNCH were utterly fascinating and also disturbing in equal measure!
Certainly one for anyone interested in the art of short film making, but also for anyone interested in learning more about one of this country's most imaginative and inventive artists and this particular celluloid-flavoured slice of his many, many talents.
JR
Buy Dave McKean's Short Films h/c & Blu-Ray and read the Page 45 review here
The United States Of Murder Inc. vol 1: Truth s/c (£14-99, DC) by Brian Michael Bendis & Michael Avon Oeming.
I won't fuck about.
If you love the fuck out of Mafia movies then this fucking fuck will have you sweating like fuck, then running for fucking cover, the fucker.
There may also be the occasional expletive.
I don't know about you but few things terrify me more than the Mafia or its equivalents, like the IRA. I don't want to get sucked into worlds which leave me impotent and exposed yet from which there is no hope of escape. People with power who are way beyond accountability who can use you and abuse you and demand your submission.
From the creative team who brought you POWERS comes something equally dark but completely free from capes. In a power struggle between some very dangerous men it is so, so tense. I highly recommend it to readers of CRIMINAL.
Here the Mafia were never subdued in America. Instead a considerable portion of the country was conceded to them to rule semi-surreptitiously and with impunity as long as they left the rest of the politicians alone.
Handsome young Valentine is sworn in as a Made Man long before his few years of service would generally merit it. But his father – and his father's father before him – was of such stock that he was effectively fast-tracked. And Valentine is equally committed to the family.
His first duty is to deliver a message to a Senator in Washington DC. The message was in the form of a briefcase and that, however cryptic to others, would speak for itself. Valentine asked for his cousin to accompany him and reluctantly that was agreed. He didn't ask for hitwoman Jagger Rose to accompany him but she was persuasive, effective, so reluctantly he agreed.
The message was seemingly delivered but another was sent in its place: the detonation of a bomb, blowing up said Senator. Nobody knows what it means. Or at least, no one will admit to knowing or to being its messenger.
The hunt for the truth behind the bomb blast is on and it's a race against time because Valentine and Jagger Rose – although caught in its path – are the most obvious prime suspects. They're wanted more dead than alive by the government, the families in general and their very own family in particular who claim to their faces that Valentine and Jagger have betrayed them.
Whom do they trust? Whom do you trust? Who has set whom up and why?
Oeming and Soma have delivered something dark, stark, brooding and sweaty: claustrophobic and unsettlingly lit. The colours are far from naturalistic and occasionally venomous – I'm thinking the intrusion of Valentine's Ma on her son and Jagger Rose – while the first page's flashback in chapter two was a wee bit Hernandez. Lots and lots of silhouettes. Quite a lot of crimson.
It's jagged and nasty and grotesque. The faces are like masks when you can see them at all. So often all you get are the eyes, burning with bitterness or hatred. So much of this is instinctively delivered, expressionistic, like lines of reverse silhouettes or tiny side-panels offering background chatter, the rolling of dice and the cocking or firing of guns.
I haven't told you everything. Valentine has been set up, I can assure you of that. But was it by his own don, another family, Rose herself or another party? Because in the very first chapter immediately after being sworn in to the mafia family and its innermost circle whom Valentine has been raised to love with all his heart, he is called to one side by his mother.
And she tells him a secret.
I've never known a series with so many reversals so early on then repeated throughout right to the very last page. I rated POWERS. I rated it very highly. I am big fan of Bendis to a degree that is almost unseemly. Pop him in our search engine and see for yourself!
But this is on another level from POWERS completely.
SLH
Buy The United States Of Murder Inc. vol 1: Truth s/c and read the Page 45 review here
Jim Henson's Dark Crystal Creation Myths Trilogy s/c Box Set (£26-99, Archaia) by Brian Froud, Joshua Dysart, Matthew Dow Smith & Alex Sherman.
All
three softcovers in a sturdy slipcase, this shouldn't be confused with THE POWER OF THE DARK CRYSTAL three-piece series which, against all odds and prior history, we do have in stock and in depth. Never once before have we managed to acquire all three DARK CRYSTAL CREATION MYTHS for the shelves at the same time!
Five years ago, Tom wrote of volume one:
Has it really been thirty years since this beautiful fantasy first came to the cinema?
Brian Froud's designs for this film gave the story a weight the technical skill of the Jim Henson Co. couldn't carry alone. While in the film we see a dying world populated by mysterious characters, the world they inhabited was by far the most intriguing aspect the whole. Its ruined structures hinted at past prowess through the undergrowth, and a lot of thought went into what exactly they meant. The strange glyphs and diagrams carved into the buildings and stones weren't just throwaway aesthetic garnish, but based upon an understanding of the astronomical knowledge of this fictional world's tri-star system. Which if you remember from the film, orbited the planet Thra and "sung" to the Crystal deep in its bowels. This is symbolised by a series of concentric circles encasing an inverted triangle. From this emblem Henson & Co created not only a world, but a religion, a complex society. Then they destroyed it, leaving us with arcane hints in the fantastic dystopia of Thra."
In lieu of a review for volume two, I wrote (decidedly off-topic, feel free to ignore):
One of my many nicknames over the years was Gelflin. I know it's hard to believe these days, what with me looking like the sickly child of Uncle Fester and Nosferatu but with my ski-slope nose I was pretty once… after the artful application of much slap and kohl.
My primary pseudonym is Peter. It endures to this day in post-punk circles, possibly because it doesn't sound like a nickname. It was so prevalent in the '80s that even the closest of friends sometimes took ten years to realise that my real name was Beelzebub. Peter also owes itself to my ski-slope nose and consequent youthful demeanour: it was Peter as in Peter Pan.
"IT WAS NEVER YOUR NOSE: IT WAS YOUR OBLIVIOUS SELF-ABSORBTION, STEPHEN!"
Shut up.
Other nicknames have included Jimmy Dean (must be pronounced in a broad Glaswegian accent), "boss" (no one has actually ever regarded me as their boss – it was pure mockery on Tom's part) and, when my mother is so often infuriated with me, it's Herbert Henry Arthur George.
You have to really bellow that one.
All the above is true.
SLH
Buy Jim Henson's Dark Crystal Creation Myths Trilogy s/c Box Set and read the Page 45 review here
Arrived, Online & Ready To Buy!
New reviews to follow, but if they're new formats of previous books, reviews may already be up; others will retain their Diamond previews information we receive displayed as 'Publisher Blurb'.
Mort Cinder h/c
(£26-99, Fantagraphics) by Hector German Oesterheld & Alberto Breccia
Black Science vol 8: Later Than You Think s/c (£14-99, Image) by Rick Remender & Matteo Scalera
Cucumber Quest vol 4: Flower Kingdom s/c (£11-99, FirstSecond) by Gigi D.G.
Dark Justice: Dominion h/c (£19-99, Rebellion) by John Wagner & Nick Percival
Frankenstein Alive, Alive! The Complete Collection h/c (£22-99, IDW) by Steve Niles, Bernie Wrightson, Kelly Jones
Frankenstein Story Collection (£15-99, Viz) by Junji Ito
Last Pick vol 1 (£13-99, FirstSecond) by Jason Walz
Lost Soul, Be At Peace h/c (£10-99, Candlewick Press) by Maggie Thrash
Maestros vol 1 s/c
(£14-99, Image) by Steve Skroce
Moonshine vol 2 s/c (£14-99, Image) by Brian Azzarello & Eduardo Risso
Optic Nerve: Killing And Dying s/c (£12-99, Faber & Faber) by Adrian Tomine
Space Boy vol 2 s/c (£9-99, Dark Horse) by Stephen McCranie
The Snooty Bookshop: Fifty Literary Postcards (£12-99, Canongate) by Tom Gauld
Through A Life h/c (£16-99, Nobrow) by Tom Haugomat
Batman: The Dark Prince Charming h/c (£29-99, DC) by Enrico Marini
Man Of Steel By Brian Michael Bendis h/c (£22-99, DC) by Brian Michael Bendis & Ivan Reis, various
Bleach vol 74 (£6-99, Viz) by Tite Kubo