Featuring Jon McNaught. Juan Díaz Canales, Jose-Luis Munuera, Andi Watson, Pornsak Pichetshote, Aaron Campbell, José Villarrubia, Kago, and Posy Simmonds with news of her next graphic novel!
Kingdom h/c (£16-99, Nobrow) by Jon McNaught.
This is sublime.
And it is going to resonate profoundly with almost every single one of you, for it's the most astutely observed and skilful evocation on paper – through light, colour, carefully regulated pacing and that which is said and sometimes left sullenly unsaid – of sights, sounds, sensations and behavioural moments during a key time common to us all.
These are the four chapters: 'To the Sea', 'Landmarks', 'Passing Time', 'The Waves'.
So how were your family holidays, as a child aged perhaps seven, ten or thirteen, and what lasting memories of them do you retain?
They're about to come flooding back in the most minutely discerned detail!
'To the Sea'
They set off in silence – the mum, son and daughter – though you can almost hear the drone of the traffic on the morning motorway.
McNaught nails the temperature and time of day through the angle of the shadows cast by the sun, the cars almost hovering over asphalt which is as pitted in the sunshine as it is pock-marked in the shade. And cars do glide now, don't they, such is their suspension? We hear so much less of our own vehicle's engine while inside, and although we are looking down from without on that page, it is the senses of the drivers and passengers which are paramount in successfully communicating this experience.
And, oh, the colours!
They may not actually set out in silence, but it's that lull-time part of the journey which we come in on. Gazing out of the car window as a child on such a long journey, we see exactly what we did or would now of Britain's countryside from a motorway: glimpses of grazing sheep between monumental overpasses or gigantic pylons overhead, their arms outstretched, perhaps a brief glimpse of oh no it's gone! When you're young (so reasonably unseasonably travelled) that which is mundane to adults all seems so much stranger, more exotic and even exciting.
You know, for the first few furlongs, at least.
Then there'll be rain. Of course there'll be rain! It's British Summertime and you're off on your holibobs! There'll be lashings more of that later, I'm sure! So there's the odd horse suffering in water-drenched silence and you look into the back seat of the family saloon and it's already cluttered with empty Haribo packets and a bottle of juice just lolling about, back and forth on the floor. The windscreen wipers reveal what they can rhythmically, then eventually there's drowsiness, sleep. Mum checks her rear-view mirror….
"Four more hours!?" the son bleated earlier. "Why're we going somewhere so far away?"
"Well, it's a great place! You guys will love it! … It was my favourite place in the world when I was your age."
Ah, but so much more has changed in the two or three decades than it had when I were a lad. A mobile phone signal wasn't exactly a priority back then.
Their destination is a coastal caravan park. And, oh, the colours (reprise)!
How do you think they'll get on?
As the sun sets on their first night and the lights go on one by one, through like intimate orange heat sensors below the vast purple heavens, that too is rendered magnificently, with a majesty or melancholy, you take your pick.
The next morning Mum takes Suzie on An Expedition (capitals courtesy of 'Winnie The Pooh') because Andy's "being awkward". The boy's now just a little too old to be interested in a family holiday and wants to be left to his own devices.
"If we keep heading this way, we'll get to the Mermaid's Cave! That's what your Grandpa used to call it! He used to tell us about the mermaids who lived there… guarding the treasure. He said you could hear them singing at night. If you listened carefully."
Suzie's spotted a crab.
"Eugh."
"What?"
"This one's had its legs bitten off."
Way to ruin the romance! But the Mermaid's Cave, when they reach it, will surprise you and twice. It's priceless, really.
It's all very pertinent, poignant, bitter-sweet and of course some aspects of magic are, one prays, immutable and universal, like the sparkles of sun on wavering water when the sun lies so low in front of you.
Just the other day I sat staring at a long stretch of river, then lapping lakes, in precisely those dazzling conditions, absorbed by the sun falling full on my face while the cool blowing breeze set my spine off all tingling. McNaught's diamond-shaped spangles of light capture that very specific, sensual beauty to nothing short of a thrilling perfection. There are even whole sheets of white light when the brilliance of sun upon water becomes almost too much for the unshielded eye to bear, and we love it!
It is oh so familiar, all of this – an almost impossible task, you would have thought, given the different configurations of diverse family dynamics and destinations, but McNaught has improbably succeeded through an extraordinarily keen eye, judicious selection and an uncanny ability to render with exquisite precision what to most of us would be fleeting and ephemeral or at least not quite communicable – and I am desperately looking forward to comparing notes with as many of you as possible, page by page and perhaps over a glass of wine, to see which instances you recognise most as well.
This, for example:
Visiting an elderly Great Auntie whom you've never met, with their drab rooms and fuddy-duddy old ornaments; your Mum and her Aunt chatting away about people you've no clue nor a care about. You're left to look around the room, idly. Ah, but a tin of biscuits will be opened to go with the tea!
"There we go… There might be some chocolate ones in there… if you dig down deep enough."
Over and over again, McNaught nails it. These are my memories. Only with more moths and spiders, and I don't I ever saw the ramshackle roof of an ancient local museum glass cabinet, with its stray wires etc.
That it's a single mum makes for a particular dynamic which is really quite sad, for there's no sharing of the onus to keep the kids constantly entertained, but nevertheless it all rings so very true.
"Suzie, don't waste your fries."
"I'm not."
She is. She's flinging them at the crows. But don't you just love the way that kids are so very contrary that they will blatantly lie to your face?
"Stop kicking my chair!"
It's the back of Suzie's big brother's passenger seat.
"I'm not!"
She is.
What do you think Andy's been up to?
Few creators pack the page with as many panels as this (Chris Ware, quite often, within the likes of BUILDING STORIES) but then there's so much to see when you do have the time to stop and look around you, or when times stops to pass so seemingly slowly when you're very young. Nature is forever getting on with its own thing, whatever you're doing or not.
There are also some spectacular full-page phenomena which I won't give away here for fear of ruining your surprise. But you mark my words: you'll remember it all.
You'll remember the rain, especially. It's a staple of every British holiday, holed up in a tent, caravan or rented cottage and – once on the road, decisively – cramped in the confines of car, having beaten a hasty retreat from a harbour or seafront to eat your boiled eggs while staring out of the increasingly steamed-up windows.
And this will be remembered forever, as an all-time British classic.
Jon McNaught has exceptional award-winning form already, but at the time of typing all his other graphic novels – like Andi Watson's and Nabiel Kanan's mainstream British fiction – languish sadly out of print. Here's hoping that this is the book which will catalyse a mass resurrection so that we can proudly create an entire Jon McNaught counter-corner display!
SLH
Buy Kingdom h/c and read the Page 45 review here
Rose (£2-99, self-published) by Andi Watson ~
"You rent a new place.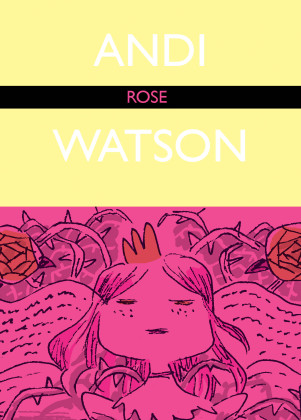 "It is conspicuously cheap."
Who could resist? Especially in this housing market! I'll take whatever I can get my hands on, personally, and if that turned out to be a monolithic European-style castle I certainly wouldn't say no. But first the garden may need tending, just a little, and the rooms will certainly need a thorough dusting. With a new home this vast, exploring is a must; who knows what secrets a building like this could hold?
"She doesn't know you're here.
"She had a shiny bead of blood on the tip of her finger.
"No need to tiptoe around."
At first glance this is seemingly merely a fresh take on 'The Sleeping Beauty' fable. We are presented with the familiar story from the perspective of an unsuspecting chap who simply needs a place to rent. Bemused by the sheer amount of dusting, and entirely clueless as to what, or more precisely who, lies hidden within his new home… until he stumbles across her… he nevertheless takes it all in his stride, over time finding himself becoming her valiant caretaker.
But this is a society with the slight quirk of having princes in abundance, all of whom are now attempting to break into our young protagonist's new digs for their chance to awaken the fair maiden and claim her as their own. At first he simply calls the police and lets the flowers grow back a bit, but soon the princes start pushing their luck…
Deceptively gentle, you'll be drawn in by wonderfully tender moments such as the perfectly content dormouse nestled in the snoozing beauty's hair. But don't be fooled as this is not a love story, for it wouldn't be an Andi Watson comic if things were as straightforward as that! Consider it more of a cautionary tale of the potent effects of falling in love, of obsession, and of possession. Tread carefully, new renter, or you might not get your deposit back…
For another view-askew of 'Sleeping Beauty', please see Neil Gaiman and Chris Riddell's THE SLEEPER AND THE SPINDLE.
For more of his mini-comics, please see our burgeoning Andi Watson Collection, the first of which we made our last Page 45 Comicbook Of The Month.
JP
Buy Rose and read the Page 45 review here
Infidel (£14-99, Image) by Pornsak Pichetshote & Aaron Campbell with José Villarrubia.
"My mother's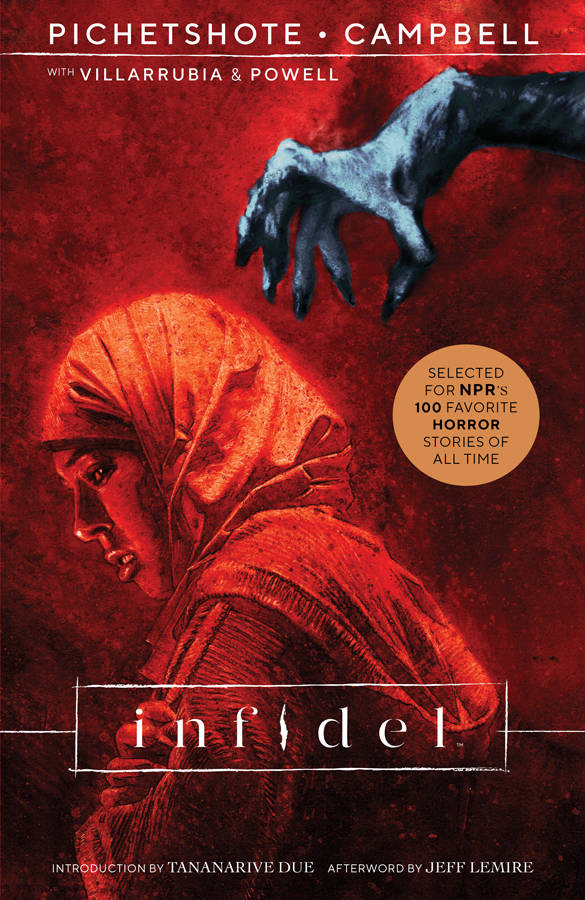 all about obsessing over shadows in a room full of light. We're not doing that to Leslie."
There's so much humanity and individuality in Aisha's face, there, as she talks to her best friend, Medina. Her mouth lies slightly open and gentle, but her eyes gaze into the distance, the future, determined. On the previous page – in recollection of her mother – Aisha's shoulders were slumped while leaning forward, with the weight of having been rejected. But she will not give up on her mother-in-law.
One of the many wonders of this is that the evidence remains deeply ambiguous as to whether Aisha is being too trusting and optimistic, or whether her fiancé Tom knows his own mum better than she does.
What could any of this possibly have to do with a horror comic?
Well, there are so many more horrors other than the occult or the alien. There is uncertainty and vulnerability, not knowing if you can trust someone: the threat of harm, physical or otherwise, can be just as frightening as its actuality. Ask anyone who's ever worried about being bullied at school the next day, for hours upon end, day after day. Or read JANE, THE FOX & ME.
Aisha is confident that Leslie's no threat, either to herself or to her step-daughter, Kris, even in the knowledge of what's gone before, but her university friend also has substantial doubts and we, the audience, are privy to some extra moments which they are not.
Secondly, there's the very real, current and all too enduring horror of racism, xenophobia and Islamophobia: ignorance voiced with pride, spread sheep-like by osmosis or deliberately through disinformation as a virus which currently culminates increasingly not decreasingly in America, England and some parts of wider Europe in extreme intimidation and outright violence: beatings, acid attacks, murder and mass, white-supremacist terrorism.
But equally there is the horror for Aisha of being rejected by her mother simply for becoming engaged to a non-Muslim, Tom, no matter how devout she's remained.
What's this series called again?
Then, of course, there is absolutely the horror of the creeping, the intangible and supernatural against which we have no defence. Worse still, if only you see it, feel it or smell it, no one may believe you. If no one else experiences what you do, then you go through it alone. That, I would suggest, is the ultimate horror, and this book racks that up to almost unbearable degrees, on multiple occasions, in from several different viewpoints, as you shall see.
Aisha is experiencing nightmares. They're growing increasingly vivid and intense. A corpse-white cadaver wraps itself around her, draining her sleep and suffocating what's left with its cloying stench of rotting meat. Ghastly grey hands creep over her shoulders and thighs, an intimacy of the unknown, invading her like an incubus with cold hands, cold fingers, cold heart.
Ah yes, that which cannot be fought or reasoned with. With that we come back again to real-life horror: those who are violent that cannot be reasoned with on the street, at work, in your home. It's chilling.
Aisha, Tom and Kris have relatively recently moved into Tom's mother's apartment on the top floor of a tenement building on the Lower East Side which was the target of a bombing attack. I spotted the smoke stains on the very first page past the prologue, rising from the top of the fourth-storey windows.
It's there on the metal shutters on the ground floor too. The bomber was verified by law enforcement as a lone wolf, but they had once glanced at an ISIS website, so you know how that goes… Now the tenement has few tenants left for it is far from repaired, and some of those that remain, well, they don't like seeing a Muslim of colour and Pakistani origin climbing their rickety stairs. There is still so much anger, and even if hatred is suppressed then it will usually out somewhere, somehow.
I swear to whatever (if any) god you believe in that INFIDEL has been ridiculously well thought through and comes with a sophisticated balance and so many unexpected perspectives, for the final irony is that it is non-Muslim Tom, Aisha's fiancé, who is so determined to protect Aisha and respect her faith along with its sacred traditions that he is the one fighting her corner against his own mother, Leslie. He was reluctant to move his family in because Leslie used to poison his daughter with sweeping Islamophobic slurs, as if all Muslims obeyed barbaric laws, condoned or actively encouraged terrorism. For example when Kris once played with Aisha's hijab:
"Women who wear this let people get killed for drawing cartoons. They let men throw rocks at girls like you!"
But to Aisha that was two years ago, she believes Leslie has learned and that it's vital that Kris know her grandmother because her biological mother died so early that Kris can't even remember her.
The first chapter begins in paranormal terror and it climaxes in paranormal terror, before an even more awful real-world ellipsis of a cliff-hanger which could have gone any number of ways, but it is completely eclipsed by the second chapter's real-world ramifications, which will have you screaming in vicarious terror. Now that is emotional investment.
There's a sequence in the third chapter which perfectly exemplifies the "sophisticated balance and so many unexpected perspectives" I mentioned earlier which especially needs commending without, I hope, giving away that gut-wrenching ending to chapter two.
It involves Haley, one of the tenement's other occupants whom Aaron Campbell does a masterful job of depicting at her most genuine, natural, open, friendly – in fact bubbly – as she meets and greets Medina, Aisha's best friend and fellow Muslim, thanking effusively her helping to carry in shopping. Haley is blonde; Haley is white. The dialogue is so cleverly directed during a single page from the brightest of bright which should lift anyone's soul when it comes to kindness and inclusivity… to the darkest of dark, at its most abrupt, in the most awful accusation of racism, at its most personal.
Haley, you see (and this is where I have to be careful not to give the game away), has accused Aisha – to others – of something truly hideous. But the thing is, Haley doesn't have a racist bone in her body and has only reported precisely that which she's seen. She just didn't see what Aisha saw.
At which point I'd remind you of what I wrote earlier, for it applies to Aisha, to Hayley and will soon to Medina, and it forms the whole heart of the horror here:
"Worse still, if only you see it, feel it or smell it, no one may believe you."
The argument is reprised six pages later on. Huge props to Pichetshote for giving both scenes – and perspectives – so much punch.
HELLBLAZER used to combine occult and socio-political horror to successful, cathartic effect, but it was always a little bit burlesque because its star, John Constantine was a dabbler in diabolism et al. This is a very different beast, being grounded firmly in the street-level, down in the subway or on the park bench: on what we see all around us right now. I would suggest that the exceptionally uncomfortable paranormal aspect is merely a symptom, side-effect or result of the rot, not its cause, but that which it will come to catalyse only fuels it further.
So it doesn't make it any less pants-wettingly terrifying or grotesque.
I'm sure that I read somewhere that artists and co-collaborators on all aspects of the comic, Campbell and Villarrubia, chose to illustrate all the everyday elements in digital while pulling back to the traditional, more physical art process for the psychically parasitic. They rendered that on Bristol board.
It may seem perverse, but I've seen so many other offerings where the purportedly real has been rendered in pen and ink and the preternatural given a computer-driven day-glo and gloss. The result has always been a distancing disassociation between the two elements: here is the real world, but the other is freaky, immaterial so won't matter to you – they're special effects, so you don't empathise.
What Campbell and Villarrubia have achieved, by contrast, is an unholy marriage which makes what would otherwise be ethereal all too sensually and so immediately repugnant, overwhelming and nasty.
So, you know, thanks for that.
SLH
Buy Infidel and read the Page 45 review here
Fraternity h/c (£17-99, Lion Forge) by Juan Díaz Canales & Jose-Luis Munuera…
Whilst the world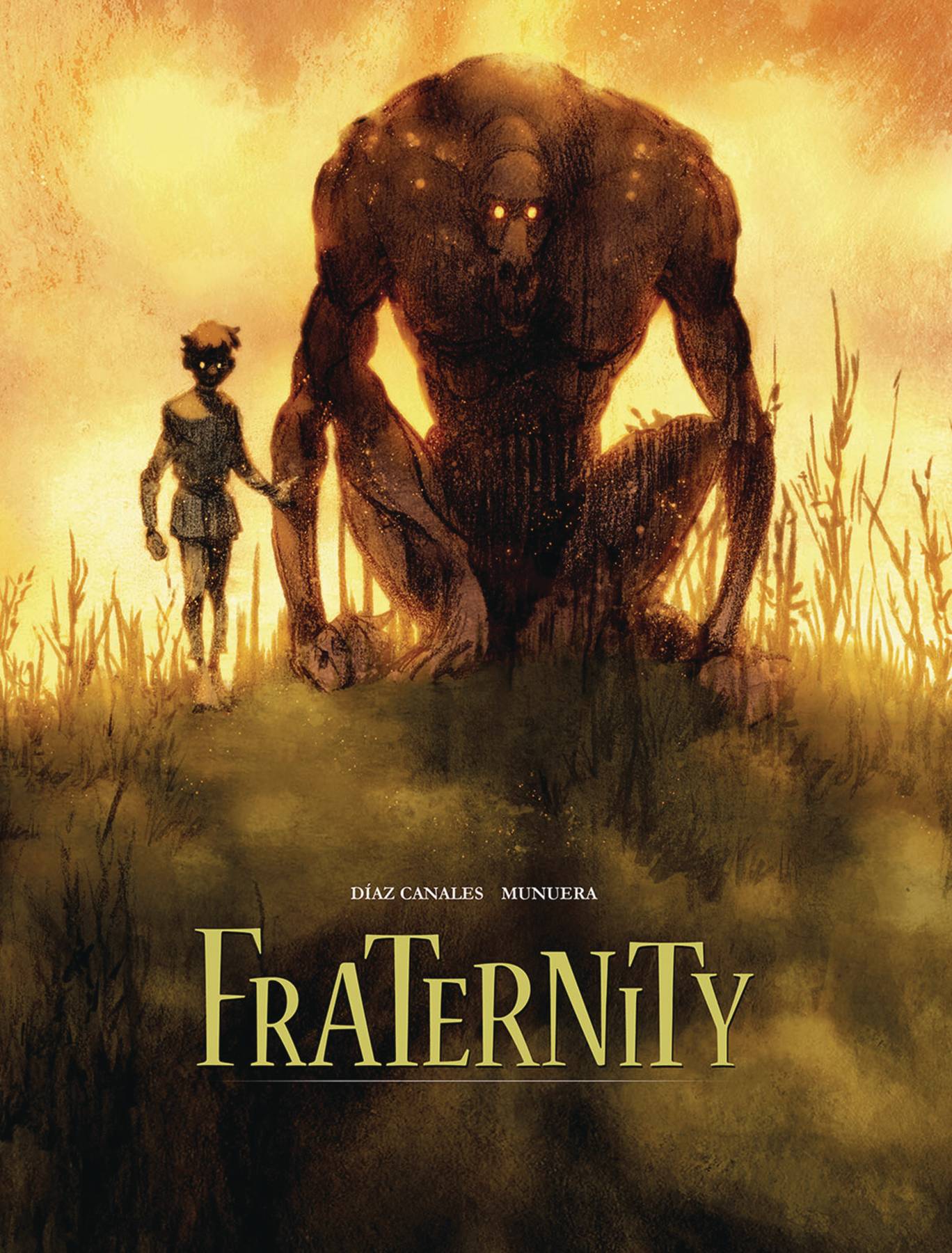 waits patiently for the concluding volumes six and seven of BLACKSAD (which were meant to be out in French already though there is absolutely no sign of them, so goodness knows how long us Anglophones will have to wait…) at least we have… the forthcoming BLACKSAD UNDER THE SKIN animated movie…
Sorry, got a bit excited there! Doesn't that trailer look glorious?! Not as remotely fabulous as Juanjo Guarnido's artwork in the comics, I have to say, but then I don't believe that would be possible. Anyway, what I meant to say is at least we have this… Here is the rallying call to arms of the publisher to tell us more…
"Fraternity is a haunting horror story written by Juan Diaz Canales the co-creator of the popular BLACKSAD series and illustrated by the talented Jose-Luis Munuera. During the [American] Civil War, the inhabitants of a small frontier town discover a mysterious beast is prowling the forest around them, a beast that may have a connection to a feral child found several years earlier. Fraternity is perfect for fans of the monster genre and people who have a love for the classic universal monster movies as this tale feels like it would have been right at home amount them."
What that little nugget doesn't tell you is anything about the small town of New Fraternity, Indiana, where this story takes place. It was founded as a social utopia by a well-meaning idealist where everyone would share in the collective bounty of the community, but the fragile experiment now finds itself on the verge of collapse as food begins to run scarce and those of a more capitalistic mindset start to decide that perhaps a less egalitarian approach is what's required. To benefit themselves at least… Throw in some hardcore communists, a few American Civil War deserters and of course that mysterious beast and feral child and it's probably no great surprise when the proverbial powder keg finally ignites.
This is certainly no BLACKSAD, but it is still a well-written western horror mash-up that is far more to do with the malaises afflicting society and the population at large than a lurking monster, who in fact seems to have a far larger heart than pretty much any of the townsfolk.
Art-wise, it's a nice clean, crisp Euro-ligne combined with a very subdued palette of primarily light brown and pale blue. It's actually probably more one for those who enjoyed the likes of THE LIGHTS OF THE AMALOU by Christophe Gibelin & Claire Wendling.
JR
Buy Fraternity h/c and read the Page 45 review here
Dementia 21 (£20-99, Fantagraphics) by Kago…
"I… I don't understand…
There must be some kind of mistake!"
"We've had a lot of complaints from your former clients. Mixing up medicines, miscounting calories, allergic reactions… These have cancelled out your high scores."
"There must be some kind of mistake!"
"At this rate we'll have to cut your pay. And your bonus."
"Let me care for them again. I'll clear this up!"
"Sorry, but they say they never want to see you again. I can't let you go back now."
"But… but…"
"So I'm sending you to another client. This is your chance to redeem yourself. Don't let me down."
"Yes, sir! I'll pour my heart and soul into this job!"
…
"Heh heh. Nice work."
"Are you happy now? Don't you think this is a bit cruel? Sending her there?"
"I relish the thought. I hope she turns into a basket case."
As you might now already suspect, there has indeed been "some kind of mistake"… A dastardly rival to the delightful, devoted Yukie Sakai, beloved by her clients and always winning the coveted Employee of the Month title and bonus, has managed to sexually blackmail the area sales manager into fixing the customer feedback. Gasp!!! So now Yukie's being sent out on the 'special' jobs, the ones that have caused the demise of more than a fair few care assistants…
Fortunately for Yukie, she's not just got a heart of gold, she's got nerves of steel to boot. She's sure going to need them, though, as the various jobs she's forced to take by the idiotic area sales manager become ever more surreal and testing on her sanity, not to mention increasingly dangerous to life and limb! We very quickly step out of the realm of realistic horror and into Junji Ito-style darkly comedic shenanigans and indeed full-on body horror. If you are an Ito fan impatiently waiting for his FRANKENSTEIN STORY COLLECTION (later this month!) trust me, this will more than fill the contorted, twisted gap in your head, I mean life…
Apparently Shintaro Kago refers to his genre of storytelling as 'fashionable paranoia'. Not entirely sure if something has been lost in translation there or he's just been hitting the ketamine a bit too hard but if you enjoy seeing others being put through the proverbial meat grinder rather than yourself, this will be perfect for you. I also highly recommend the zombie apocalypse with a twist I AM A HERO, including some very twisted zombies, for body horror fans.
JR
Buy Dementia 21 and read the Page 45 review here
Mrs Weber's Omnibus (£20-00, Jonathan Cape) by Posy Simmonds.
Rejoice, rejoice! All my Christmas quandaries have been answered once again, in one fell swoop, for this is back in print! I do hope no relatives read my reviews.
"No one reads your reviews, Stephen!"
From Posy Simmonds MBE, the creator of LITERARY LIFE, TAMARA DREWE and GEMMA BOVERY, I commend to you without equivocation one great big brick of a book, collecting Britain's best-ever series of self-contained newspaper comic pages. I promise you unfaltering brilliance from cover to cover: a body of work which is both timeless and yet a time capsule of cultural mores as seen in Britain during the 1980s. Improbable, yes; impossible, no – not in the right hands.
Let us take a stroll down any street and eavesdrop on 'Well Known Facts'. From the mouths of babes…
"But why can't you walk on the cracks?"
"Because my mum says if you tread on the lines, bears will get you.
"And my mum says if you make a face like that & the wind changes, you'll get stuck like that for ever & ever!
"And my mummy says if you swallow pips like that, an apple tree'll grow out of your mouth & suffocate you to death!
"And my mum says if you pick a guinea pig up by its tail, its eyes drop out…"
"Liar!"
"And my mum said if I'm good, the tooth fairy will put 50p under my pillow."
"Liar Liar! Pants on fire! Nose as long as a Telegraph wire!"
"And my mum says if you unscrew your tummy button, your bottom falls off."
… and adults alike…
"And my mum says if we have another baby, it'll bring Mike & me together again."
"And my doctor says if I had a more positive attitude to motherhood I wouldn't feel so sick!"
"But my mother said if we stay together, it'll be better for the children…"
"And my architect friend says if we knock down the front & back, it'll give us more privacy."
"And my husband says if he gave up smoking he'd only eat and then die of a fatty heart…"
"… and Peter said if we kept it discreet, Eric wouldn't suspect a thing!"
That, my friends, is the perfect page of Posy Simmonds: searingly well observed, beautifully composed, artfully juxtaposed, and rammed to its riotous rafters with timeless truths, even when they're lies. Like husbands fobbing off their wives with transparent lies about where they are and why they're not home from work on time. God help you, morons.
There will always be children's parties to be endured, full of fun, tears and trauma; family holidays with their preparation, packing and inevitable rain-drenched afternoons; the innuendo-obsessed and overenthusiastic soul of the party; editors bleaching authors' individuality to oblivion in search of commercial conformity; mother-in-laws (and indeed mothers) unsubtly critiquing your house and domestic endeavours; parents judging other people's parental skills via the behaviour of their children; mothers taking on all the worries of their children, their husbands, their own mothers, their babysitters… even their cats!
But Posy presents all these so wittily, so deftly, so mischievously, and with a lot of lateral thinking!
Take 'Lonely Heart', the heartbreaking ballad of Action Man and his Trudi-Doll – such a sad state of affairs! Once she lay up his manly torso at the top of the toy box, as sexy as a supermodel, then she started wearing his clothes, carrying his gun, and "Finally, last week, she moved into a gyro-powered assault craft, with rotating gun turret". Truly their fate was in the tiny hands of playful Gods toying with their lives. "I have now moved in with a duck. It is far from ideal."
There's also an extended sequence involving Stanhope Wright, advertising executive and serial philanderer (hmm, there's always one, isn't there? See TAMARA DREWE), preparing to shoot a soup commercial, and the secretary he ignores in favour of the more flamboyant members of his creative team. Entitled 'True Love' (with a softly arched eyebrow), within Janice Brady wistfully daydreams of the boss she believes will one day notice her – the boss who one party did notice her when she nearly caught him snogging at the Christmas works do, and fobbed her off with a jar of stilton. Oh, the jar of stilton – she carries it around with her everywhere! In her dreams she is the irresistible queen of comicbook romance, Posy adroitly shifting styles to nail the hair, the mascara and then, once scorned, the blonde-haired beau who swoops in to make all around jealous, then carry her off into the sunset once tragedy has struck and she lies dying (in her mind) after a triumphant moment of self-sacrifice, trampled to death by a flock of satanic-eyed sheep sent stampeding by a jar of mint sauce.
Wonderfully ridiculous and yet, if we're honest, once more absolutely true! I love the predatory Stanhope's hooked nose and jutting chin, and the addition of red to the black and white pages works wonders.
The real draw and central stars, however, are ex-nurse and aspiring children's author Wendy Webber and her husband George, a lecturer in Liberal Studies at an unnamed Polytechnic. Here George queues at the student canteen to be served by Marie and prepares a farewell speech in his head. Ah, and the things we dream of saying, but never do and never would!
"As one of the longer-serving lecturers here at the Poly… it is my great pleasure to remind the Staff & students that, after 15 years' survive, Marie is going to New Zealand… and, therefore, things in the canteen can only get better…
"I think one can say that, during Marie's despotic reign, never in the field of institutional cooking has so much food been left by so many… I for one will not miss her air of truculence, her fault finding, her inability to give the right change… I won't miss her rudeness, her racism, her petty economies & above all, her congealing food, cooked & served in PURE BILE!"
"Go on! Take it! What d'you think I am??"
Lethal, I'd have thought.
Wendy and George are children of the '60s with children in the '80s, striving to live lives informed by those original ideals while passing them on to their children. Dispelling the taboo of boozums comes back to bite George when on the bus with young Benji, who can't help but speak his little mind! Wendy despairs at the ignorance, petty parental prejudices and outright racism she sees outside the school gates when the scandal of headlice and nits starts doing the rounds. They are dismayed as city dwellers buy up seaside cottages and visit for just three weeks a year. They cater for neighbourly street parties while teenage Belinda, post-punk as you like, scowls at her parents disdainfully, resentfully, critically. Belinda is full of wrong-headed rebellion – a superficial elitist spouting social reform while practising none of it, snapping at her parents' community-orientated offerings like their home-made wine and striding off to drink Pimms instead.
Simmonds' layouts are impeccable: she always manages to pack in far more information on a page than you'd imagine possible whilst clearing the deck off all clutter – no extraneous self-indulgence here. Her characters are never caricatures – not even the boisterous and bulbous-nosed whisky salesman Edmund Heep – but full of humanity and individuality, and I particularly love Wendy Weber's eyes drawn as dots on her glasses. The prevailing fashions and fabrics of the day are nailed, as are the day-to-day details of domestic routine on the early diary pages: appointments, phone numbers, rotas and little money sums. "Yes, yes, yes!" I cried when I saw the table keeping track of which of offspring had encountered which childhood diseases (chicken pox, measles, German measles and mumps) and so grown immunity.
So much here will strike familiar family chords: burst pipes, nativity plays, learning lines for school – the days when banks kept the hours they pleased rather than actually catering for their customers.
On top of that, over-analytical George is a hoot, seeing complex socio-political messages in a simple bourgeois and bucolic fabric pattern. Here an old friend from the sixties is over, hoping to join George on his faculty, and George cannot resist another opportunity for purple pontification:
"Wear a suit by all means, but don't cut your hair! The Dean & the interviewing panel may draw probalistic inferences from your hair… Seen structurally, the pig tails signifies an identification with the North American Indian – giving you a political dimension. And you've got a rubber band round your hair… Rubber is a symbol of the mechano-cultural colonisation, compounded by rape, of the Amazon by Europeans! And your pigtail will link you in the Dean's mind with his interdisciplinary here: Benjamin Franklin."
"But, Dad, the student representatives on the panel will look at his hair & think: Boring, Geriatric old Hippy."
That was indeed Belinda, yes. Her boyfriend Jasper is pretty exasperating too, but also prone to bursts of eloquence which may miss the point but certainly hit the mark. What a way to speak to your in-laws, eh?
"That's a typical remark of you woolly liberals! Look at you! All your soft, frayed, faded, patched, ethnic, woolly, comfortable, old clothes sum up your attitude to life!
"Whenever controversy comes you way, you swaddle it in woolly deference and smother it in a cushion of irreproachable tolerance!
"You bile never bubbles! Your gorge never rises… your blood never boils! …because you sit on the bloody fence. You're… TEPID!"
Exit Jasper & Belinda. I leave the last word to Mrs. Weber.
"That Belinda's metallic pants & Dagger heels… Jasper's piranha-teethed zips & crushing boots point to a life of unrestrained aggression? People like that meet violent ends!"
"And what happens to woolly liberals?"
"Ah, woolly liberals! An agonising death… We get moth eaten…"
Posy Simmonds' CASSANDRA DARKE arrives on November 11th 2018, and it's brand-new, not previously serialised, as others have been, in The Guardian.
SLH
Buy Mrs Weber's Omnibus and read the Page 45 review here
Arrived, Online & Ready To Buy!
New reviews to follow, but if they're new formats of previous books, reviews may already be up; others will retain their Diamond previews information we receive displayed as 'Publisher Blurb'.
Tales From The Inner City h/c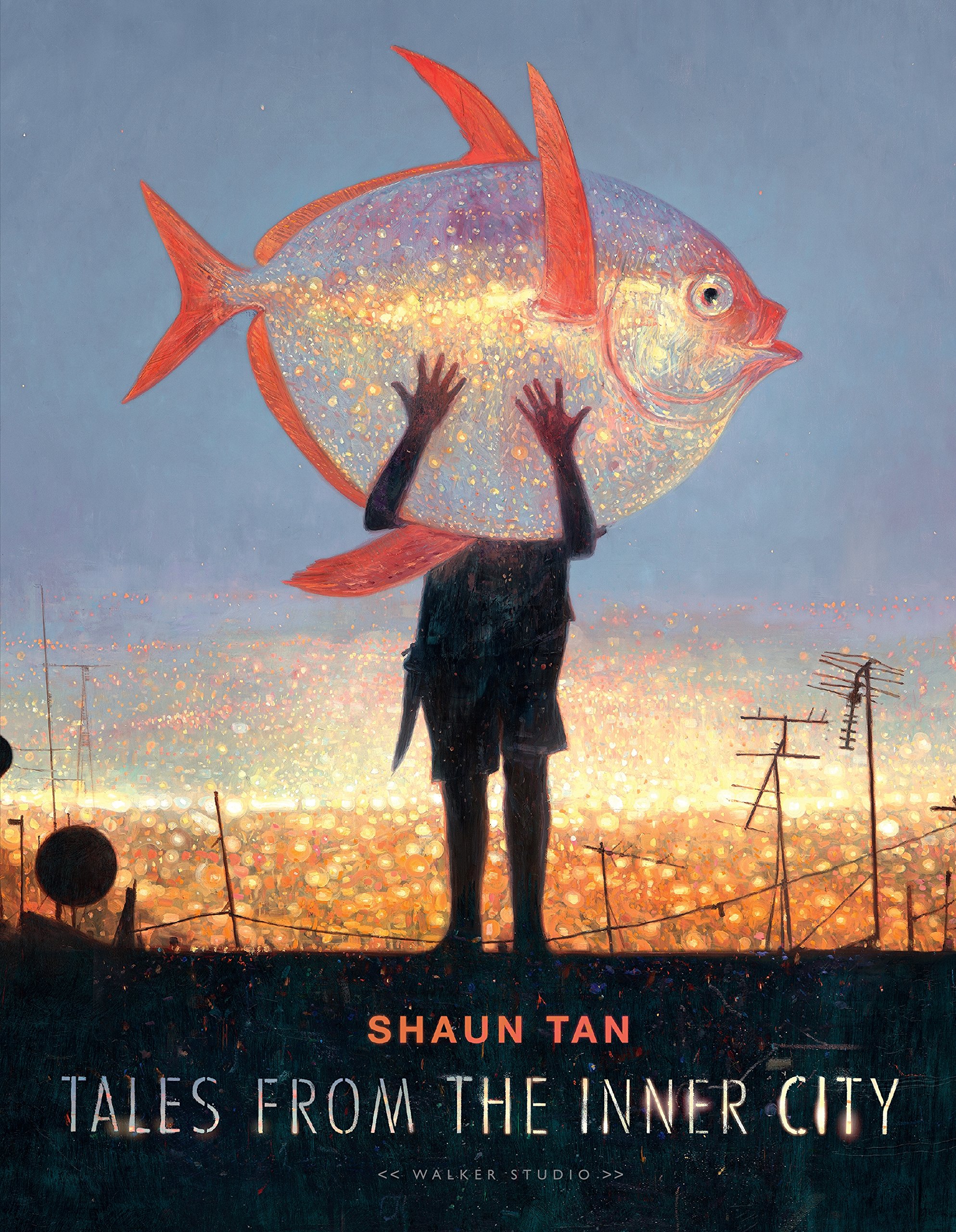 (£19-99, Walker Studio) by Shaun Tan
Conspiracy Of Ravens h/c WITH FREE, EXCLUSIVE PAGE 45 SIGNED BOOKPLATE (£13-99, Dark Horse) by Leah Moore, John Reppion & Sally Jane Thompson
The Wicked + The Divine vol 7: Mothering Invention s/c (£15-99, Image) by Kieron Gillen & Jamie McKelvie
Annie Sullivan & The Trials Of Helen Keller s/c (£10-99, Disney) by Joseph Lambert
Bastard (£13-99, Fantagraphics) by Max de Radigues
Brat h/c (£17-99, Koyama Press) by Michael DeForge
Bunny vs. Monkey Book Five (£8-99, David Fickling Books) by Jamie Smart
Castle In The Stars vol 2: The Moon-King h/c (£14-99, FirstSecond) by Alex Alice
The Complete Angel Catbird s/c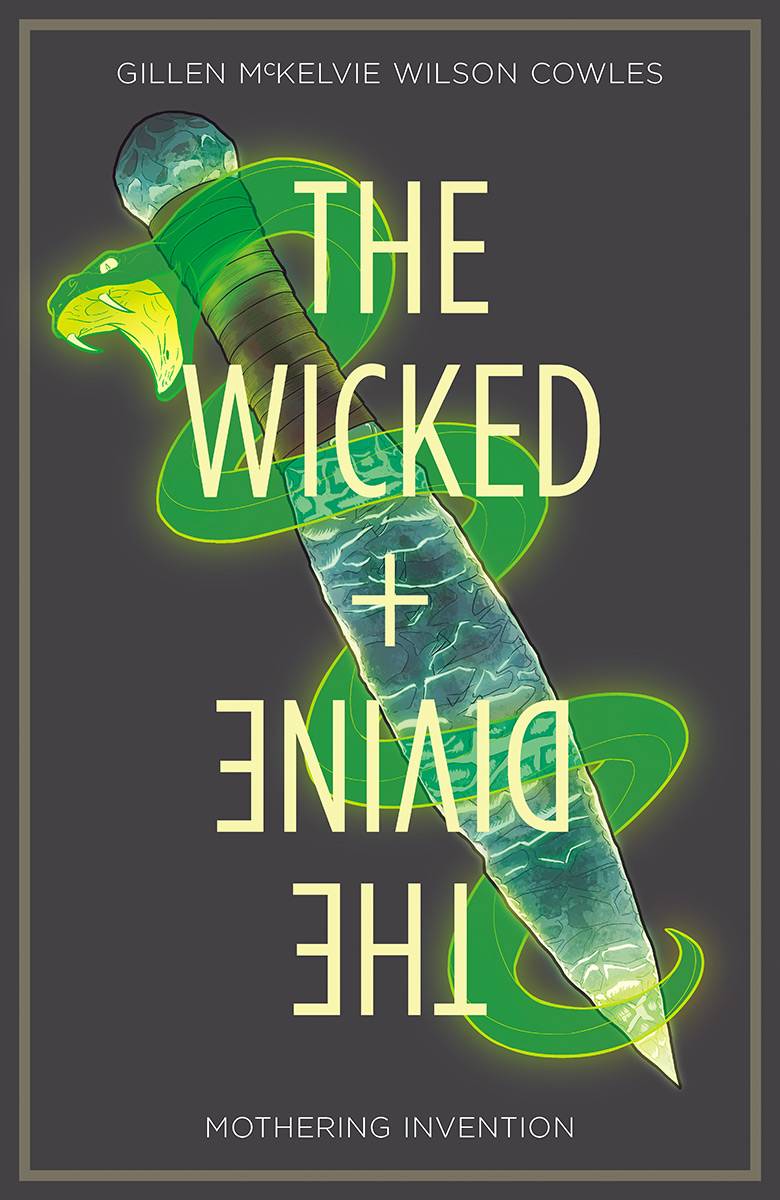 (£22-99, Dark Horse) by Margaret Atwood & Johnnie Christmas
Harrow County vol 8: Done Come Back s/c (£15-99, Dark Horse) by Cullen Bunn & Tyler Crook
The Nameless City vol 3: Divided Earth (£11-99, FirstSecond) by Faith Erin Hicks
Passing For Human h/c (£18-99, Jonathan Cape) by Liana Finck
Square Eyes h/c (£18-99, Jonathan Cape) by Luke Jones & Anna Mill
Stumptown vol 3 s/c (£17-99, Oni) by Greg Rucka & Justin Greenwood
Batman: White Knight s/c (£16-99, DC) by Sean Murphy
Teen Titans vol 3: The Return Of Kid Flash s/c (Rebirth) (£14-99, DC) by various
Wonder Woman: Earth One vol 2 h/c (£22-99, DC) by Grant Morrison & Yanick Paquette
Avengers vol 1: The Final Host s/c (£15-99, Marvel) by Jason Aaron & Sara Pichelli
Doctor Strange vol 2: City Of Sin s/c (£14-50, Marvel) by Donny Cates & Niko Henrichon, Frazer Irving
Devilman Vs. Hades vol 2 (£9-99, Seven Seas) by Go Nagai & Team Moon
Erased vol 5 h/c (£12-99, Yen Press) by Kei Sanbe
Your Lie In April vol 1 (£9-99, Kodansha) by Naoshi Arakawa
Your Lie In April vol 2 (£9-99, Kodansha) by Naoshi Arakawa
Your Lie In April vol 3 (£9-99, Kodansha) by Naoshi Arakawa