Featuring Tillie Walden, I.N.J Culbard, Luke Jones, Anna Mill, Greg Rucka, Justin Greenwood.
On A Sunbeam h/c Exclusive Page 45 Signed Bookplate Edition (£24-99, Avery Hill Publishing) by Tillie Walden…
"Gracie.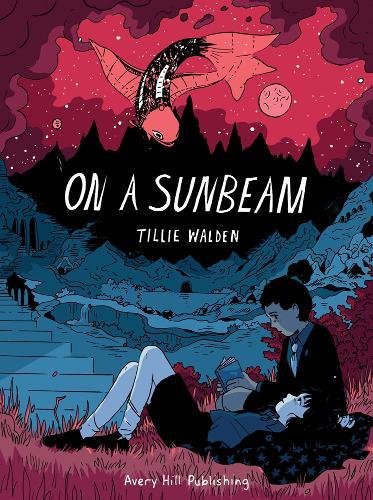 Time to go."
"Not yet. Mia is coming to say good-bye."
Arrrrgghhhhh. 271 pages in to this 534-page tome, just past the halfway point, and I could feel a little tickle in the tear ducts beginning… I'll give no spoilers – which is actually going to be impossible, thinking about it so forget that – but suffice to say, some goodbyes will haunt you… Even if it's only one you're reading about rather than experiencing first hand… I then spent the remaining 263 pages desperately hoping that Mia would… could… somehow… sniff… where's my hanky…?
Speaking of moist moments, I have to say, as a complete digression, I almost had another one reading the afterword. It is one of the sweetest, most complimentary ones I think I might ever have read. It is certainly one that only Tillie could have written. Bless her, just when you thought you couldn't love her any more than you already did!
Right, what to expect from this epic interstellar romance set in two time periods a mere five yet interminably long years apart…?
Well, we will see the budding romance between moderately tough-nut fourteen-year-old Mia and the mysterious new girl at school Gracie. They are quite literally worlds, if not galaxies apart, and yet… there's a mutual attraction which neither can deny. Mia doesn't particularly want to. Gracie it seems might, but then all that's to do with the whopper of a secret she's hiding…
"You're an IDIOT."
"Excuse me?"
"I said you're an IDIOT. You don't get it, do you?"
"Um, I…"
"I like ALL of you, Grace. Even the parts I don't get yet. I'm not dating the 12% of you that I understand, I'm dating 100% of you. Including all your secrets that I don't know. So don't EVER say I'd hate you because that's stupid and not true."
"Oh, Mia. I'll tell you everything someday…"
And that sad day will come dear reader… But fast-forward five years and Mia is cast adrift, emotionally at least, on the spaceship Aktis. Well, I say spaceship, imagine a beautiful tropical fish with a huge caudal fin and vast wing-like pelvic fins, all dazzling of colour, twizzling friskily through the vacuum like a salmon desperate to get upstream for some fun and games and you should get the picture. I seriously think Tillie Walden should design spaceships. Perhaps someone can have a word with Elon Musk? She's also very good at naming them too…
This time(-period) around it's Mia's turn to be the newbie, joining a rag-tag crew assigned to renovating weird old buildings like abandoned churches that just happen to be merrily floating in space. They're an extremely tight bunch, yet over time, as she proves herself to be just as much of an oddball as the rest of them, Jules, Charlotte, Elliott and Alma welcome Mia into their little family of sorts. Indeed when she reveals her secret to them, she finds to her complete surprise they are more than amenable to help her with an epic quest of the heart… not least because of a couple of guilty secrets of their own…
Ahhh… so many secrets! I wish Tillie would let us into the one of how she keeps getting better and better! For this is, for me, her finest work yet. Not just in the storytelling, which will both melt and break your heart over and over, but also artistically. The trademark gentle, almost too delicate, linework, is still very much in evidence, but she's given her imagination full rein in terms of design and expression. This work brings together and incorporates all the different aspects of her pencilling we've seen so far, from the architectural grandiosity evident in THE END OF SUMMER to the quiet intimacy between characters that proved so moving in I LOVE THIS PART to the sudden flights of the fantastical that made A CITY INSIDE so compelling a read.
Here she seamlessly visually blends profound emotional drama and high concept fantasy with such ease that at differing times you could very easily forget this is both science fiction and romance. Because at one moment you'll be quietly observing star-crossed lovers looking intently into each other's eyes and the next simply marvelling at an intricately constructed landscape. So very cleverly done.
Colours-wise, I think this is also the most I have ever seen her use in a single work and the shifts back and forth between the few subtly different palettes is used to great effect, not least when Mia's quest takes her to the strange region of space known as The Staircase where there's a wondrously alien yet comfortingly animistic feel to the world we encounter. The textures and depths she manages to achieve with complimentary pale colours such as lilac, pastel blue, cornflower yellow and burnt ochre are spectacular.
I genuinely wonder how on earth, or indeed space, she can possibly top this work. I will wait with bated breath to find out. The brilliant thing about the prolific Miss Walden, though, is that I will probably only have to wait a few months! Which is a very good thing, because I don't believe I could hold my breath much longer than that…
Were the above exhortation of excellence not enough to entice you to purchase this work Tillie has also produced an exclusive Page 45 signed and numbered bookplate for us, available whilst stock last. Oh, and don't forget to read that afterword. It will truly make your heart melt one last time.
For more Tillie Walden, please see her autobiographical SPINNING which sheds new light on I LOVE THIS PART, and her recent contribution to I FEEL MACHINE.
THIS IS THE SIGNED BOOKPLATE:
JR
Buy On A Sunbeam h/c Exclusive Page 45 Bookplate Edition and read the Page 45 review here
Square Eyes h/c (£18-99, Jonathan Cape) by Luke Jones & Anna Mill ~
"Picture it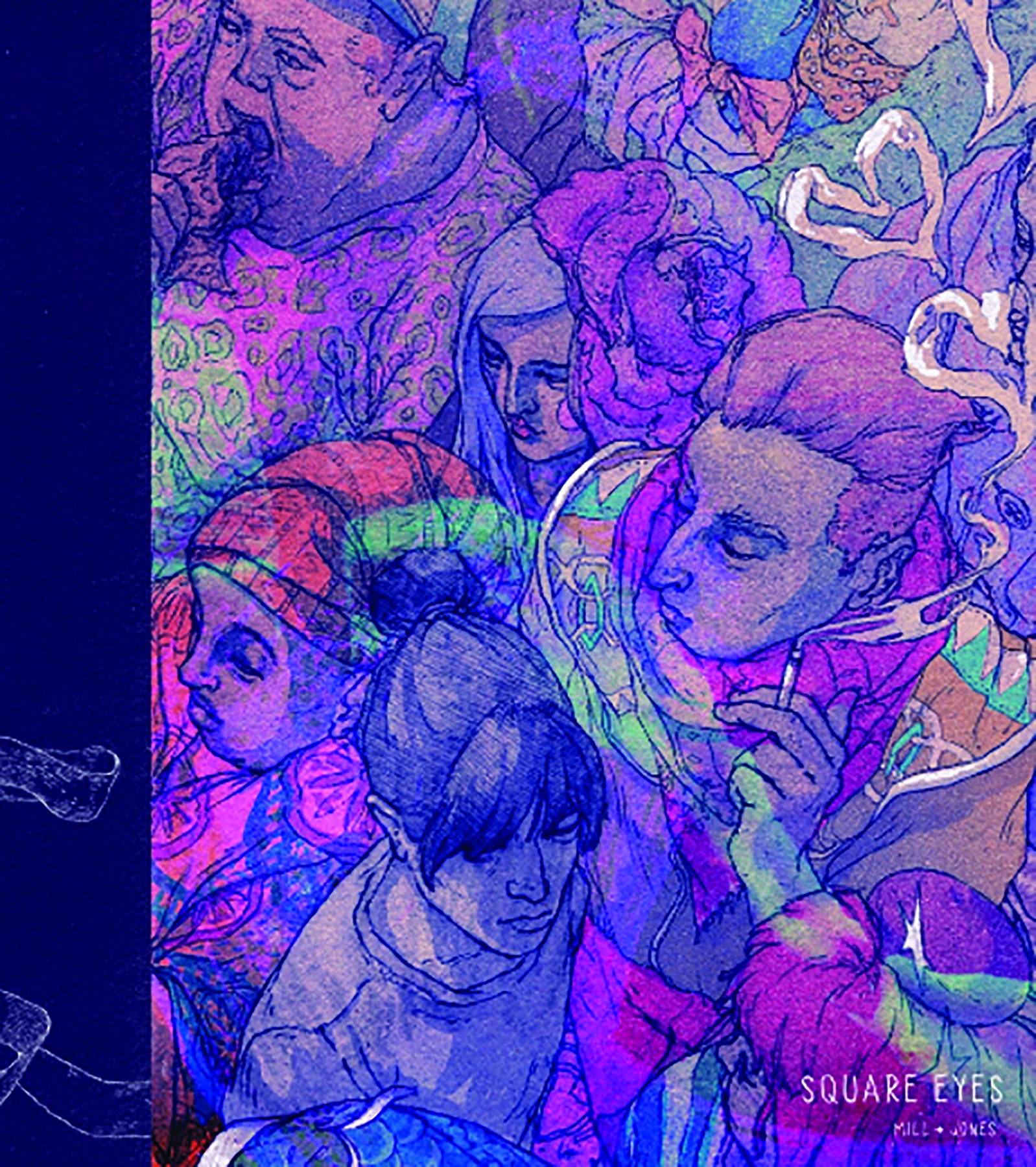 in your mind… think about its shape, its texture.
"… Not too hard…
"Don't injure yourself…
"It just starts to take shape on its own… reading the impression you mentally project.
"See how it starts to emerge kind of hazy at first but your mind starts to populate it…
"… Now it's sharpening.
"Can you see it?"
Fin is the creator of a cutting-edge computer programme that blurs the boundaries between the real world and the digital by creating an interface between the visualisation space and the brain. Called 'Corvis', it's an incredibly powerful piece of technology that allows its users a collective, visual experience, which just a few days ago Fin was demonstrating live-on-air to a completely captivated studio audience.
But now Fin has woken up disoriented and disconnected. There is a strange woman living in her apartment – at least she thinks that's her apartment – and her memories are vague and unrecognisable, if indeed they even are her memories at all…?
SQUARE EYES is a cyberdelic mind-melt of a mystery, set in an entirely plausible, indeed rapidly approaching, near-future of augmented reality and constant connectivity; where technology is a part of your very being, and every piece of information you would ever need is literally at your finger tips. But when the most talented programmer out there finds herself cut off from the world and her code stolen, it becomes a race to find out who has it, before such incredible power falls into the wrong hands.
Visually stunning, you'll certainly be fully immersed in this overwhelming, holographic world, no headset required! Overlapping imagery and choice colours of reds, blues and purples create a gently kaleidoscopic aesthetic, which might leave you thinking that perhaps you were missing a set of cardboard 3D specs. I'm actually intrigued to see what difference they would make!
You will also be treated to an elegant interface of carefully constructed chaos, looking as though it has been hacked directly from the dreamy depths of Chris Ware's sleeping mind, and the most intelligent use of negative space as a storytelling device I have ever seen in comics. Square Eyes truly is an outstanding achievement of design.
Runner Up in the 2010 Observer / Cape Graphic Short Story prize to a certain Stephen THE GIGANTIC BEARD THAT WAS EVIL Collins, it is absolutely fascinating how this story has evolved, both artistically and in plot terms, beyond practically all recognition from that comparatively sparse initial concept. You can see for yourselves from this article. It's certainly makes a compelling case for believing in your artistic vision and persevering with a good idea.
JP
Buy Square Eyes h/c and read the Page 45 review here
HP Lovecraft: Four Classic Horror Stories h/c SIGNED & SKETCHED IN (£24-99, SelfMadeHero) by I.N.J. Culbard…
I.N.J.
Culbard gives terrifying form to four classic tales by H.P. Lovecraft: 'The Dream-Quest of Unknown Kadath', 'The Case of Charles Dexter Ward,' 'At The Mountains of Madness' and 'The Shadow Out of Time' in a gorgeous hardcover collection priced lower than two of its constituent softcovers!
Here are all my original reviews in the order the softcovers appeared.
At The Mountains Of Madness
"Do you have a name for them yet?"
"Yes I do. Remember the book that Professor Armitage kept under lock and key in the university library? The Necronomicon?"
"I… I do."
"Then you'll understand when I speak of Elder Things."
"Bill?"
"I'm here."
"I think… err… think we should tone down reports to the outside world for now… until at least until we've substantiated these findings."
On the face of it Ian Culbard's well rounded style of art so ably demonstrated on the four recent SHERLOCK HOLMES adaptations is not perhaps the most obvious for adapting a classic horror story, probably one of the two finest works within Lovecraft's Cthulhu canon along with (in my opinion) The Silver Key. Except in fact in this case, it is absolutely perfect, because MOUNTAINS OF MADNESS is nothing to do with gore and everything to do with a very unsettling story that moves the reader inch by imperceptible inch nearer to an uneasy psychological state. This is classic horror, in that fear of the unknown, "What exactly is it lurking in the hidden depths?" type of horror. Or in this case, within the Mountains Of Madness, a virtually impenetrable mountain range right in the heart of the frozen Antarctic wastes.
I can certainly understand why they've picked this particular work for adaptation as it is in some ways the most straightforward and comprehensible of Lovecraft's books, simply because whatever else it is, it's also a great Boy's Own adventure tale. To set the scene it's September 1930 and an expedition from Miskatonic University is in the Antarctic taking deep geological samples when they make some rather puzzling and shocking finds. These inexplicable discoveries quickly change the planned intent and indeed course of the expedition, taking the learned explorers into hitherto unexplored and inaccessible territories. Discoveries and geography which start to seem disturbingly familiar to some of the explorers who have read the fabled Necronomicon, kept safely under lock and key by a colleague back at the university.
Indeed the marked similarities of what they find, compared to the widely considered fictional rantings of a madman suggest the world may have a rather longer, darker and most disturbing pre-history than current academic wisdom would opine. As things take a sinister and even more suspenseful turn with the disappearance of part of the exploration party, those that remain at base camp feel compelled, against all good sense and reason, ever nearer the soaring jagged mountain range ahead.
If you like intelligent horror, do take a look at this. It's been very cleverly adapted by Culbard who works in the more fantastical elements in a manner than never seems completely outlandish or utterly unbelievable. Indeed his warm art style and vibrant colours perfectly counterpoint the bleak locale of the situation, where it's all too easy to believe, in a time where the world still had some unexplored and remote regions, that such a place could just possibly exist.
The Case Of Charles Dexter Ward
What a wonderfully evocative opening two pages, as we pan in from the depths of frigid outer space very gradually down to the surface of Earth at night, reminding us, lest we forget, how small and insignificant we are in the grand scheme of things, before finally reaching an empty cell in a sanatorium. The perfect beginning for a Cthulu story, though at the risk of mixing my authors for a moment I could almost hear Richard Burton intoning "slowly and surely they drew their plans against us" from H.G. Wells' War Of The Worlds whilst Jeff Wayne begins to play in the background. Anyway, it sets the atmosphere straight to spooky levels instantaneously, which is my point!
What follows is the finest H.P. Lovecraft adaptation in comics to date bar none, as a most curious case of nocturnal nefariousness and ghoulish experimentation is uncovered by the family physician to the Ward family, Dr. Willett. Asked to investigate by Charles' father, growing increasingly concerned about his son Charles' mental state and obsession with an ancestor named Joseph Curwen (who apparently practiced alchemy of a most unwholesome kind some two hundred years previously), what Dr. Willard begins to uncover scarcely seems believable, with suggestions of reincarnation or reanimation of ancient cadavers by a cabal of individuals of greatly extended lifespans seeking arcane knowledge of mysterious rituals. Yet, the further Dr. Willett progresses in his search for answers, the more likely it seems that such a cabal is still active today, and that Charles is slowly being drawn into their midst, for reasons yet unknown.
Ian Culbard has done a truly sterling job adapting this work, essentially a detective story, which is in complete contrast to the innate Boy's Own adventure flavour of his previous Lovecraft adaption AT THE MOUNTAINS OF MADNESS (which I also loved), and again, his unique art style is perfect for a creeping tale of eldritch horror. It's entirely credible art, yet sufficiently dissembled from a realist approach that we are little by little unnervingly tugged towards the inevitably unpleasant conclusion (good old H.P. just did NOT do happy endings) as the emotional intensity of the story is gradually ratcheted up to, then well beyond, breaking point.
The whole point about Lovecraft's monsters (and indeed his approach to horror) was that they were amorphous, indescribably alien, completely incomprehensible to the human eye and mind, so when they do finally make an appearance how on earth do you actually draw them?! Well, no spoilers but suffice to say, were you ever to see in real life what Ian has drawn, I think your sanity would go in an instant. I know mine would! And once you have finished reading and are left to make your own conclusions about the… resolution… of Charles Dexter Ward's curious case, Ian then pulls the masterstroke of reversing his initial opening page, panning back out to show the Earth as a tiny, helpless marble in the vast stygian depths of dark, very dark, space, in case we'd momentarily forgotten the Elder ones are still out there watching us, just biding their time…
The Shadow Out of Time
"Oh dear God, no!"
PLINK
"NO, NO, NO! Remember, for God's sake, remember."
Yes, yes, yes! Another gloriously sanity-shaking adaptation from Mr. Culbard to tip us even further into a state of irreparable discombobulation. I really do marvel at his ability to produce such cogent works from such… steeped… source material. The original novella is probably one of my favourite Lovecraft works, simply because so much is revealed of the various Elder races and the prehistory of Earth before humanity became the dominant lifeform. It isn't that straightforward a read, though, and I think Ian has done an exceptional job portraying what is revealed to the main protagonist, Professor Nathaniel Peaslee of Miskatonic University, as his mind is snatched from his body and replaced by that of another.
There is some speculation amongst Lovecraft biographers that certain elements of this character are auto-biographical or perhaps inspired by Lovecraft's father, or that the idea for this story came from repeatedly watching a 1933 science fiction film called Berkley Square. In any case, what he wrote is one of the most chilling pieces of speculative horror fiction I have ever read. One of Lovecraft's great talents lay in his unparalleled ability to make the reader feel truly insignificant, a veritable speck in a total alien and unfathomable universe, which in turn induces a genuine sense of trepidation in the reader. It's horrific because of its very subtlety to infiltrate your mind, engendering a sense of unease.
Ian has captured that perfectly here as poor old Peaslee is well and truly put through the wringer both physically and mentally. The PLINK sound effect above, for example, is the sound of a torch going out leaving the poor chap very old in the dark, in somewhere he really, really doesn't want to linger. Then, the sequences during which we learn precisely where Peaslee's mind was during the period his body was occupied by… the other… are truly stygian in their alienness. It's a quite literally mind-blowing reveal and you really get the grandiose sense of scale involved from the artwork, which is a real feat. I keep thinking Ian can't raise the bar even further with Lovecraft material, but he keeps on managing it.
I am therefore delighted to report Ian has already agreed to do at least one more Lovecraft adapation for Self Made Hero, though I was unable to prise from him precisely which work it will be. I am planning on bodysnatching him, though, with a mind-swap device I keep in my laboratory on the fourth floor of the shop, so rest assured, dear readers, I will let you know more soon enough <fiendish cackles repeated with mild reverb tapering off in a most disturbing fashion>…
The Dream-Quest Of Unknown Kadath
One of my favourite Lovecraft yarns, this, featuring heavily as it does Nyarlathotep, he of a thousand forms and indeed mangled pronunciations.
Ian did try and instruct me in the correct pronunciation when he popped in to sketch in all our copies but unfortunately my dulcet northern tones were not able to effect the correct enunciation, which is probably just as well as I have insufficient sanity points to begin with and can scarce afford to lose any more through an injudicious summoning of the emissary of the Outer Gods…
I do like how each of these four Lovecraft adaptations demonstrate a very different aspect of the Cthulu mythos and H.P.'s writing. I have commented upon it before but AT THE MOUNTAINS OF MADNESS is a real Boys' Own Adventure, THE CASE OF CHARLES DEXTER WARD a puzzling whodunit, THE SHADOW OUT OF TIME a piece of pure science fiction and a real Rosetta Stone to understanding the mythos, and this a veritable hallucinogenic Alice in Wonderland nightmare of a trip to the darkest recesses of the human mind, to the dimensional spaces beyond those we can normally access in our waking lives.
I think this tremendous variety in the scope of his writing is partly the reason why Lovecraft has endured. That and we all love being scared senseless. In many ways, though he is not beyond some outright in-your-face horror when required, Lovecraft frequently taps into humanity's deepest and most complex subconscious fears, that of losing the sense of self, one's sense of identity, our very coherence of reason itself, by the mere suggestion that there is far more to this world, this unimaginably vast, cold universe, than meets the eye. That in those spaces which we can sense but cannot see, there are beings that lurk, so alien, to encounter them directly would be enough to destroy the delicate balance of one's mind forever. At least one such victim does shop at Page 45, I think, and he once engaged me in a conversation regarding Lovecraftian characters in such a manner I was left thinking he quite believed they were absolutely real… I kid you not.
[Editor: he told me he began reading Lovecraft aged 4. It showed.]
That very variety and complexity also means Lovecraft is very hard to adapt, of course. In every case I think Ian has done an incredible job deconstructing the work, really allowing the core story to stand out in a manner which makes it sufficiently rich and rewarding enough for the aficionados but also completely accessible for the neophytes. I would be astonished were there not readers out there who have been occasioned to commence reading Lovecraft prose on the basis of encountering these adaptations.
So… Randolph Carter begins to search for the hidden city of Kadath because he has dreamt three times of its glorious spires but awoken each time abruptly just before he can reach it. Repeated prayers to the gods of dream go unanswered, even for the next issue of SANDMAN: OVERTURE to finally arrive, but Carter resolves to find Kadath, no matter what the cost.
What follows is a strange, shifting journey, that on the face of it makes no sense at all, but viewed within the confines of the sleeping world seems not so fanciful at all. Along the way he will encounter strange entities and apparitions, some rather less friendly to travellers than others, and also the sinister Nyarlathotep in more than one of his many guises. Carter, desperate to tread the streets of the hidden city at last, is rather more trusting than he really ought to be. Obsessed, he starts to believe that there could be no possible fate worse than not reaching Kadath. He ought not to be so sure about that…
I can imagine this may well have been the most fun of the adaptations for Ian to undertake, from the perspective of the illustration, because there are the elaborate soaring sequences of pure fantasy which must have been a true delight to envisage. In fact, the book is arguably simply one long fantasy sequence. It's certainly not as dense or intricate a story as many of his others, a fact which Lovecraft acknowledged during his lifetime, but it is an immensely vibrant, fevered construction, which engenders a sense of both wonderment and unease in the reader, and Ian captures this beautifully with his stygian, soporific cast and wild dreamscapes and netherworlds.
The wonderment comes because we are willing Carter along on his extraordinary journey, but also significant unease because we can see his most fervent desire is blinding him to both obvious dangers at virtually every turn, but also the malevolent, manipulative wiles of others, not least Nyarathotep. Will Carter finally reach Kadath? Well, you wouldn't want me to spoil it for you would you? Suffice to say nothing is quite as it seems, with an ending that is in some ways as puzzling as it is enlightening, which I think is very appropriate indeed for the resolution to this most unusual of quests.
A true triumph once again, this adaptation, and I personally think Ian deserves great praise indeed for his own unique addition to the Cthulu mythos, which I believe all true Lovecraft fans will rightly hold in the highest regard.
JR
Buy HP Lovecraft: Four Classic Horror Stories h/c SIGNED & SKETCHED IN and read the Page 45 review here
Stumptown vol 3 s/c (£17-99, Oni) by Greg Rucka & Justin Greenwood…
"That was a total flop.
You saw the way she was holding me?"
"Oh, I saw it… Now I'm wondering when you'll finally get over yourself and ask her out?"
"Fuck you."
"Hot sweaty bodies colliding roughly… if it's not love, it's lust, admit it."
"She's from Seattle. I do not date Flounders. The way you let her score on you, you're one to talk."
"That sounds like jealousy to me."
P.I. Dex Parios returns, and in a football-related story to boot! Sorry, couldn't resist that one, I'll give myself a stern talking to, and a yellow card…
Ah, I really wish Rucka would make this an ongoing monthly series, his characterisation and dialogue are superb. He's also got an artist to match his talents in Justin Greenwood, who also illustrated Antony Johnston's THE FUSE.
This case opens with Dex playing in goal against the lovely ladies of Seattle Muddy Balls. Still, her team is called Reál Pain, which isn't much better frankly, but considerably more classy than FC Vagisil, which was the name of my friend's Sunday league team for a number of years… But, as Dex has to point out to her teammate Hoffman, it's just a game. Hoffman, in the vein of Shankly, disagrees vehemently, and if you know the rest of Bill's famous quote you might have half an idea where things are going…
After her kickabout, Dex is off to take her younger brother Ansell to the Portland Timbers vs. Seattle Flounders local derby. It's a fiery affair to be sure, as much off the pitch as on it, I hadn't realised Americans soccer crowds had become so skilled in the art of verbally abusing the opposition supporters as their transatlantic cousins. It quite took me back to my own salad days of terrace serenading. The first issue of this volume concludes with Dex's friend Mike being found near the stadium, having taking a serious beating. On the face of it, it's a simple case of hooliganism, but of course there's much more to it than that.
I really feel like Rucka is back on track with the emotional components of this series again after STUMPTOWN VOLUME TWO where I can't say I really warmed to anyone, and Dex herself felt somewhat peripheral to the main action. Dex and her brother are key elements of what makes this title so interesting so I'm pleased the focus, for this first issue at least, is squarely on them.
I am also extremely happy Justin Greenwood is on board for this arc. It's exactly what this title required art-wise to bring it back to the forefront of crime comics. Clearly they've decided to go for a less gritty and more colourful approach, but Justin's style still adds a hard-nosed edge to proceedings.
All that remains now is to leave you with that classic parting shot by Bexsy (Gary Oldman) from what remains to this day, hands down my favourite football hooligan film, The Firm. The original from 1989, not the wishy-washy remake from a few years ago. As a young lad skirting around the periphery of football related violence back in the late 80s, early 90s, well, trying to avoid it at all costs frankly, his terrifying performance was seared into my mind's eye creating a football hooligan bogeyman potentially lurking around every corner at away games, tooled up with hammer and Stanley knife, ready to smash me up then cut me to ribbons…
"I come in peace. I leave you in pieces…"
JR
Buy Stumptown vol 3 s/c and read the Page 45 review here
Arrived, Online & Ready To Buy!
New reviews to follow, but if they're new formats of previous books, reviews may already be up; others will retain their Diamond previews information we receive displayed as 'Publisher Blurb'.
Hellboy: The Wild Hunt s/c (£13-99, Dark Horse) by Mike Mignola & Duncan Fegredo
Iron Maiden: Legacy Of The Beast s/c (£8-99, Heavy Metal) by Lexi Leon, Ian Edginton & Kevin West
Konungar: War Of The Crowns s/c (£17-99, Titan) by Sylvain Runberg & Juzhen
Retrogade Orbit (£11-99, Avery Hill Publishing) by Kristyna Baczykski
Royal City vol 3: We All Float On s/c (£14-99, Image) by Jeff Lemire
Doctor Strange vol 1: God Of Magic s/c (£14-50, Marvel) by Donny Cates & Gabriel Hernandez Walta
Terrifics vol 1: Meet The Terrifics s/c (£14-99, DC) by Jeff Lemire & Ivan Reis, others
Aposimz vol 1 (£10-99, Vertical) by Tsutomu Nihei
Escape Journey vol 1 (£8-99, Sublime) by Ogeretsu Tanaka