Featuring 24 Panels, Illegal, Traces Of The Great War, Tiger Vs. Nightmare, Fante Bukowski Three, Versailles Of The Dead vol 1, Immortal Hulk vol 1
Traces Of The Great War h/c (£14-99, Image) by Marguerite Abouet, Charlie Adlard, Simon Armitage, Edmond Baudoin, Juan Díaz Canales, Aurélien Ducoudray, Efa, Ergün Gündüz, Régis Hautière, O. Hiroyuki, Joe Kelly, Kris, Denis Lapière, Virtuel L'Atelier, Victoria Lomasko, Maël, Dave McKean, Mikiko, Robbie Morrison, J.D. Morvan, Ken Niimura, Sean Phillips, Ian Rankin, Riff Reb's, A. Samama, Scie-Tronc. Orijit Sen, Bryan Talbot, Mary Talbot, Thomas Von Kummant.
"An eye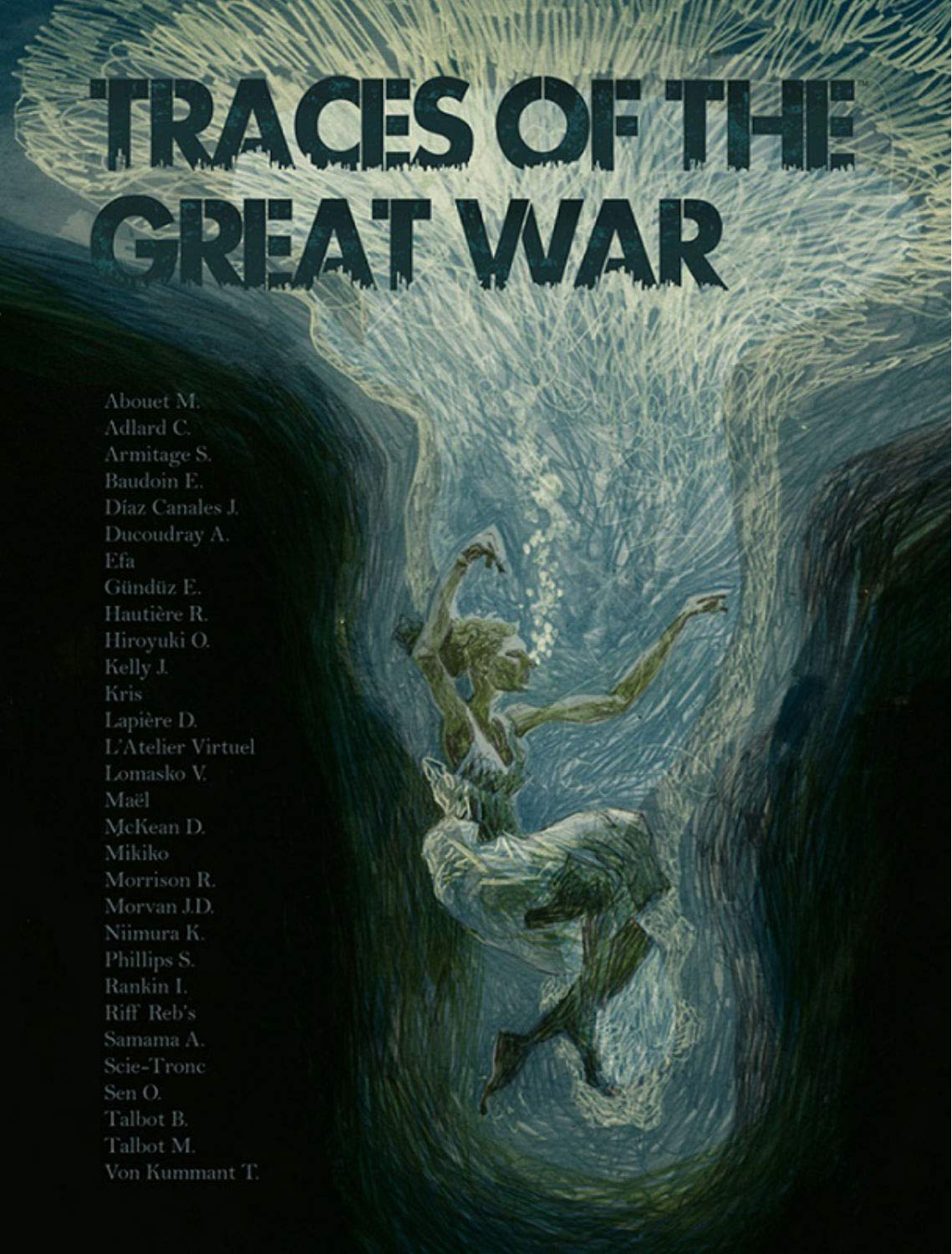 for an eye only ends up with the whole world blind."
– Mahatma Ghandi
So begins Mary Talbot and Bryan Talbot's exceptionally eloquent, direct, pithy and masterfully controlled contribution to this potent anthology so desperately deserving your attention.
Priced at a ridiculously affordable £14-99 for a 150-page, album-sized hardcover, TRACES OF THE GREAT WAR is part of 14-18 NOW and the Lakes International Comic Art Festival's continued campaign to keep the impact and legacy of WWI alive in our minds, just as Dave McKean's BLACK DOG did so successfully before it; to make us sit up and think once again about so much that was endured by those caught in the merciless clutches of a physically horrific and mentally shattering First World War before being left mind-blinded, angry and exhausted in its wake.
The Talbots' post-war 'Make Germany Pay' is an improbably calm and well weighted excoriation of the British public's understandably vindictive demand (egged on as always by the likes of the Daily Mail hate-rag and by opportunistic politicians who could see ever so clearly which way the ballot-wind was blowing) for such extreme, punitive reparations against a drained Germany in the aftermath of World War I that the country-cleaving Treaty of Versailles inevitably – not even almost, but inevitably – led to a Second World War.
So much for the War To End All Wars.
Balanced against this short-sighted slavering is the Talbots' knowledge of what the Suffragette Movement sought to so stridently educate into the public's collective mind (their publicly pronounced prescience as to where it would lead: WWII), in authentic, historically documented detail, and who were their greatest supporters…? The returning Allied soldiers: those who knew first-hand, so much more keenly than anyone else, the cruel cost of war. It was they who understood most clearly that their children must never have to witness what they did, to lose so many and so much.
It carries with it a punchline which is as powerful as that of their SALLY HEATHCOTE SUFFRAGETTE graphic novel – and equally pertinent – for the Talbots draw a parallel with our next big mistake for precisely the same reason and with exactly the same collaborative entities which is looming so large as I type: Britain's imminent withdrawal from Europe.
Brexit.
As to gender inequality, you might want to inspect the rationing cards reproduced here from 1918 (above).
There is so much in these diverse perspectives from some of international comics' finest – along with fellow craftsmen from outside this medium like author Ian Rankin illustrated by Sean Phillips and Oxford Professor of Poetry, Simon Armitage, illustrated by Dave McKean – that is surprising, reflective, intense and affecting, rendered in highly personal and so re-arresting detail.
TRACES OF THE GREAT WAR has also been artfully arranged in its order.
Jean-David Morvain, Scie-Tronc and Hiroyuki Ooshima's 'Mines for the miner!' and Maël's 'A Pretty Little Village' are the perfect examples of all of this. Both deliver fictional first-hand accounts of very real mine-related explosions which occurred at 7:28am on July 1st 1916 (marking the beginning of the Battle of the Somme) and at 16:30pm May 14th 1916, respectively.
On the surface it seems counter-intuitive to run the two stories in reverse chronological order, but the former not only explains the role of the former Welsh miner turned war-time sapper digging deep down underneath enemy trenches, but brings that awful horror alive in personal, self-sacrificial detail.
Then, several stories later, Maël plays a particularly powerful visual trick as two of the troops talk in the French trenches where once stood the village of Vauquois. It is an idle moment during a pause in hostilities, as the two soldiers together conjure in each others' mind's eye the idyll of a quiet café life.
"How sad! No birds signing in the trees on a day like this! Mind you, there aren't any trees left, either… But this place must have been so nice, before the war.."
"Oh yes, it was! I came here once, as a kid – I had some relatives near here. Vauquois.was very pretty, and there were plenty of trees!"
The man lights a tobacco pipe.
"There was a church, too – can you see, just over there? That heap of stones?"
"Right in front of the German machine-gun?"
"That's it. That's all that's left of the bell tower."
From the muddy bottom of the now-amorphous trenches from which vantage point there are no longer any landmarks to speak of, they imagine / recall beautiful buildings in architectural, sandy-orange line super-imposed on the painted page. Gradually, they then repopulate Vauquois with its joyous villagers, productive, contented or at play. Their imaginations running exuberantly rampant!
But then, in a flash, their minds are no more…
There follows a pastoral page in gorgeous green.
What else can I promise you? Brothers fighting on opposite sides, early strife without any end perceived in sight, and a quiet contemplative story by Ian Rankin and Sean Phillips called 'War Games' in which the creator of a video game company which makes interactive entertainment "for people who like to kill things", and directs a designer called Helmut who's working on one of those set in the trenches WWI to see if he can dig into the history of a metal hip flask engraved with the name 'Reiner Iser' which was salvaged from the battlefield as a trophy by his grandfather. Helmut's from Berlin and speaks German. He is a little more successful in his research than perhaps proves comfortable.
There's so much more that I haven't covered like the halting Haiku of Julien Vocance discovered by Riff Reb's (although by "discovered" I mean pilfered from someone's party) in The Book Of Haï-Kaï.
Also, the dreadful cost of the 1918-1919 Spanish Flu will astound you; mortality in such numbers as to be incomprehensible to me, but isn't it always the way that civilian deaths – as in our recent illegal invasion of Iraq – outweigh those of the combatants?
The cost of the "Great" War: 5 million soldiers; 13 million civilians.
It can't happen here, it can't happen now, and it cannot happen again: that's what Edmond Baudoin is emphatically not trying to tell you in 'Really?' There are logistical reasons why this would never happen again, a young boy patiently explains.
"Really?" replies his childhood sweetheart, at the end of every page.
Because, I'm afraid, he is wrong.
Also recommended on the subject of WWI: AFTER THE DREAMLESS DEAD anthology with Eddie Campbell, Simon Gane, Hannah Berry etc and THE GREAT WAR by Joe Sacco.
SLH
Buy Traces Of The Great War h/c and read the Page 45 review here
Illegal (£10-99, Hodder) by Eoin Colfer, Andrew Donkin & Giovanni Rigano…
"So far,
this is not much of a new life."
I've said it before, and I will say it again. If I were living in extreme poverty in, for example, certain places in Africa, I am pretty sure I would be attempting to get into Europe by any means possible, no matter how long it took.
We can debate all day about what has to happen in those poverty-stricken countries, both economically and socially, to dissuade people from needing to leave, but the fact remains, when someone has literally nothing, and certainly nothing to lose, you are not going to prevent them from trying to reach somewhere where they earnestly believe they might be able to build a new and better life. Whatever it takes…
That people are willing to risk their lives trying should give you some indication of just how bad their situations are. We hear stories of treks on crammed jeeps, indeed even on foot, through the searing heat of the deserts and overloaded cargo ships to Europe organised at great expense by people traffickers, but I don't think we can actually understand what is really involved in undertaking such an arduous, dangerous journey.
To be those people so desperate to change their lives that they are willing to put them at such extreme, sustained risk. Even if those new lives aren't exactly what they expected, or wanted.
Please see Olivier Kugler's ESCAPING WARS AND WAVES and Kate Evans's THREADS: FROM THE REFUGEE CRISIS first-hand accounts for some of these individuals' lives.
This graphic novel attempts to show us their stories through the big, emotion-laden eyes of one young child.
Here is the publisher's information and some pull quotes from the broadsheets' reviewers to tell us more about this very worthy work…
"This is a powerful and timely story about one boy's epic journey across Africa to Europe, a graphic novel for all children with glorious colour artwork throughout. From Eoin Colfer, previously Irish Children's Laureate, and the team behind his bestselling Artemis Fowl graphic novels. Ebo: alone.
His sister left months ago. Now his brother has disappeared too, and Ebo knows it can only be to make the hazardous journey to Europe. Ebo's epic journey takes him across the Sahara Desert to the dangerous streets of Tripoli, and finally out to the merciless sea.
But with every step he holds on to his hope for a new life, and a reunion with his sister.
Winner of the Judges' Special Award at the Children's Books Ireland Book of the Year Awards 'Beautifully realised and punchily told.' Alex O'Connell, The Times Children's Book of the Week
'A powerful, compelling work, evocatively illustrated … It would take a hard heart not to be moved by this book.' Financial Times"
It's difficult to know what to add, really. I can only suggest picking up this work, having a look for yourself, and I suspect if you have any soul at all, you'll be entranced and appalled in equal measures. It's sensitive and intelligent writing from Eoin Colfer and Andrew Donkin, who put poor young Ebo and his older brother through hazardous situation after situation. It's never sensationalist or hyperbolic in tone, instead focussing on capturing the humanity of the people who undertake these odysseys.
In that sense, artistically, they have found the perfect foil in Giovanni Rigano. If you don't find yourself rooting for Ebo, portrayed note-perfectly as the innocent child he is, trapped in the most horrendous and continually trying of crazy circumstances, with his big soulful eyes, that actually save the day upon one occasion, well, then, I suspect you have no soul of your own. Prepared to be moved…
JR
Buy Illegal and read the Page 45 review here
24 Panels: An Anthology Comic To Aid PTSD Needs Of Survivors Of The Grenfell Tower Fire (£14-99, Image) by Kieron Gillen, Sean Azzopardi, Alan Moore, Melinda Gebbie, Al Ewing, Sara Kenney, Alex De Campi, Laurie Penny, Paul Cornell, Dilraj Mann, Antony Johnston, Lizz Lunney, Leigh Alexander, Tom Humberstone, Dan Watters, Ram V, Doug Braithwaite, Caspar Wijngaard, Ted Brandt, Ro Stein, Gavin Mitchell, Paul Cornell, Rachael Smith, Trevor Boyd, Bev Johnson, Robin Hoelzemann, Eshrieka Price, Mike Garley, Sarah Gordon, Deshan Tennekoon, Linki Brand, Tula Lotay, Dee Cunniffe, more.
"In
June 2017, the Grenfell fire killed 72 people in a 24-storey tower block in West London. 24 PANELS is an anthology comic to support the PTSD needs of the survivors. Curated by Kieron Gillen (THE WICKED + THE DIVINE), it features 24 stories, each no longer than 24 panels. Half drawn from professional creators who volunteered their time and half drawn from open submissions, 24 PANELS is about community, hope, and (most of all) raising as much money as possible."
It was the local council skimping in its fire protection by using cheap cladding What Dunnit.
As Alan Moore and Melinda Gebbie note within, this saved but "a piddling thirty thousand pounds", which looks like a pretty (and petty) false fucking economy right now, doesn't it?
That comes in 'If Einstein's right…' which is indeed a celebration of community and hope within the first four panels of its first three pages which evoke the sort of time-caught-in-amber Eternalism that Moore discussed in depth in A DISEASE OF LANGUAGE with its artist Eddie Campbell. Succinctly put, time has already happened – all of it – and is continually happening all at the same time, therefore nothing, and no one is truly lost.
'If Einstein's right…" begins thus:
"Don't fret. If Einstein's right then time is wrong,
"A shadow that our minds cast as they pass
"Through solid spacetime's changeless 4D glass,
"Where every moment's an eternal song
"And nothing dies, and nothing goes away.
"Each life's held sage amidst the centuries,
"An archived film with every frame on freeze
"In which our legends endlessly replay."
Then, as I say, Moore and Gebbie go on to celebrate those individual lives within a community in all its colour before a final, horizontal black and white panel on each of the first three pages outlines the guilty as ghosts, like Boris bloody Johnson.
"But that same year a Bullingdon Club clown
"Swears that he'll leave fire services alone,
"Then, three years late, cuts them to the bone,
"Says "get stuffed" as ten stations as closed down
"And twenty-seven engines fade from view.
"He also shall endure forevermore,
"His treacheries caught in time's amber, for
"Disgrace and shame are both eternal too."
Pertinently enough, he also touched on Eternalism in Alan Moore's 2017 interview conducted by the Daily Grail, right under the paragraphs in which he lamented "the move from companionable terraced streets to ugly and alienating high-rise blocks, a move made for entirely commercial reasons to maximise the value of a plot of land by building high". In that context too £30,000 is a pittance.
Accentuating the positive, however, the final full-page flourish is a modest tower of building blocks bursting with colour and diversity united in harmony.
'Silhouette Titans' by Ram V (GRAFITY'S WALL) and Pablo Clark doubles as a history lesson in all things high-rise from a pillar in India circa 200BC to the very first tower blocks in Chicago in 1885 (after most of the city burned down in 1871), supposedly inspired by the architect's wife piling a stack of heavy books on a bird cage. Hmmm… There's one particularly startling fact in that from the highest occupied floor of the world's tallest building you can't even see people on the ground anymore.
Anyway, that tale being told to a youngster comes with quite the surprise.
Sticking with buildings and communities (I can't cover all of these 24 stories, so I set myself a theme) my favourite was possibly 'They Say' by Alex de Campi (BAD GIRLS etc) and Ro Stein, Ted Brandt. You could consider it in so many ways an adult-orientated companion to Sarah McIntyre's all-ages THE NEW NEIGHBOURS. Both feature a block of flats, a journey down through them, and the rebuttal of rumours wherein scurrilous gossip is exposed as not merely idle but also erroneous.
Here we are told what "They say" about half a dozen of its inhabitants, and what They say isn't very nice at all. For example, "They say Mrs Abdullah just came here for the benefits. She doesn't even speak English", and "They say Kell is on drugs. She hardly comes out of her flat, and when she does, she's pale and shaking".
We are, of course, looking from outside (not even in from the outside) – as a family cat makes its escape from our main protagonists' top-floor flat via the flat roof then leaps down the terraced verandas – from which vantage point you cannot possibly have any information relevant to judging someone's history, motivation, pastime pleasures or character. Then in a matching double-page spread in cross-section, as the cat saunters back in through a window then makes its way up the interior stairwell, we are entrusted with the truth behind the outsiders' prejudices by peering into each panel / flat and, oh look:
"Mrs Abdullah fled her country after her husband and parents were killed. She works two jobs, ones They don't want to do, and speaks enough English to know what They call her."
That final clause was the line that impressed me the most, but you mark my words, there are plenty more revelations in store before our framing family brings kindness and community firmly back into a more balanced equation.
At 100+ pages I think you can imagine that I too have merely skimmed the surface here.
SLH
Buy 24 Panels: An Anthology Comic To Aid PTSD Needs Of Survivors Of The Grenfell Tower Fire and read the Page 45 review here
Tiger Vs. Nightmare h/c (£13-99, FirstSecond) by Emily Tetri ~
"The grown-ups
think you're just in my imagination."
"Do you really think we'd get to hang out and play every night if they knew I was real?"
"Hmm, yeah. Good point."
Monster is very wise.
Monster lives under Tiger's bed, a not untypical place for monsters to reside. But this particular monster is a little different. For this monster is a fierce fighter against one of the most frightening things of all: nightmares. Monster is Tiger's best friend.
Monster also loves curry.
Monster is one half of a perfect friendship, the other half, of course, being Tiger: a charming kid who is a lover of board games and the owner of a particularly active imagination, and that is what makes their friendship so special. You see, Monster was meant to scare Tiger when she was a baby, but thought it all very unsportsmanlike to scare such a tiny cub, so decided to be her friend instead.
Monsters have got to scare something, though, so Monster assumes the role of valiant night-time protector, scaring away Tiger's nightmares so she has a lovely, peaceful sleep every night without fail. In return for fending off the frighteners, Tiger feeds Monster delicious homemade food. This arrangement continues swimmingly until one evening a nightmare so big and so scary appears that even Monster bottles it!
Monster scurries away terrified to hide under Tiger's bed, all sad and remorseful at being unable to keep her friend safe that evening. The next day, after a motivational chat, the two find themselves joining forces to take on the nightmare together. It's time for Tiger to learn to be brave and to stand up to her fears!
A story of friendship, kindness, and team work, what's not to love?! Tiger and Monster are two very loveable (and cute!) characters, full of happiness and bursting with personality. Emily's expressions on Tiger are absolutely perfect and often had me grinning from ear to ear, especially at moments of particular determination from Tiger. She has also infused the two characters' personalities with wonderful little details, such as Tiger's tail poofing up like a domesticated house cat when she gets scared, or Monster stretching and limbering up before a long night of frightening. The nightmares themselves are delightfully dark and creepy, with the biggest nightmare being the spookiest of all, of course, and are perfectly designed to be just scary enough to give your little ones a buzz without being so overwhelmingly spooky a trip under the covers is needed!
As for the artwork itself, Emily has flooded the pages with lush, rich watercolour, with additional little details in crayon. It has real honesty, and I would hope upon seeing this that wide-eyed children will be inspired to crack out the paints and crayons themselves to imagine what their monster BFF would look like.
Tiger Vs Nightmare is a great rationalisation of what nightmares actually are and how they are really nothing to be afraid of. It's a wonderful advocating of bravery and friendship, plus a fantastic example of how through complete determination you can take charge of your own destiny!
JP
Buy Tiger Vs. Nightmare h/c and read the Page 45 review here
Fante Bukowski Three: A Perfect Failure (£14-99, Fantagraphics) by Noah Van Sciver ~
"Bret Easton
Ellis wrote 'Less Than Zero' when he was 21!
"Of course, he was hated by 22…
"I was somehow able to jump right to being hated.
"I win that round."
Yes, Fante, because that's the real achievement to take away here <sigh>…
We're back in Ohio to catch up with the future literary legend himself, as he sees it at least, Fante Bukowski. He's being interviewed by The Dispatch – the oldest paper in town, as he boasts to his father in a ranting email – as a "notable voice" about the upcoming Zine Fest.
The Fest itself is an "ocean of amateurs" (Fante's words, not mine), with glorious cameos from Noah Van Sciver himself, selling "…a graphic novel. It's the comic book of the future!" titled 'Sad Lincoln' (THE HYPO – A MELANCHOLIC YOUNG LINCOLN), and a completely haggard and unflattering portrayal of John (KING CAT) Porcellino all burnt-out with a thousand yard stare peering straight out of the panel at us readers.
Fante, meanwhile, does make a grand total of 25 dollars at the Fest, but maybe if there hadn't been quite so much glitter involved in 'Love Songs From Extinction' he might have been able to snag a few more sales! But the Zine Fest is just the beginning, once again, for Fante. He's after the big bucks and for once even has a lead on a paying gig! But is the world finally ready for the greatest book of all time? If he actually gets around to writing it that is…
Accompanying Fante as he drunkenly fumbles his way through life is the sunny, albeit slightly unhinged Norma, an inadvertently hilarious performance artist with her own struggles in the so-called creative industries. Though completely away with the fairies most of the time, she is at least a little more grounded than Fante, knowing that to survive in the real world you need to have an actual paying job on the side and not just <ahem> drink whisky in a prostitute's back yard. She is a thoroughly delightful contrast to our bitter, downtrodden protagonist; I actually couldn't get enough of her. I would love to see to have her own book, but maybe that's because as a former art student she was an all too familiar character for me!
In this third and final volume, we also learn how Kelly Perkins became Fante Bukowski. The journey from angsty teen Emo, desperately trying to carry on the legacy of a musical movement that even his dad knew was over fifteen years ago, through to his very brief corporate days of interning at his father's law firm before 'recreating' himself. But even knowing his self-inflicted shambolic back story of family wealth-ridden faux woe doesn't make you one iota more sympathetic towards the delusional, self-titled literary genius. I know you're probably wondering whether Noah is going to let Fante have an entirely undeserved happy ending, but let's just say he gets an appropriate one…
Every part of this book is dripping with Fante's personality. From the less than enthusiastic pull quotes on the back, to the "Emerging Genius" award from a certain Firewater Press (see FANTE BUKOWSKI BOOK 1) emblazoned on the cover. Which itself is even a gag, being a take on the cover of David Foster Wallace's 'Infinite Jest'! No doubt Fante considers it one of the greatest modern literary classics – outside of the treasured work of Charles Bukowski, of course – though I have a sneaking suspicion that he may never have quite got around to tackling the full 1104-page tome. He's probably skimmed it and got the gist so he can wax lyrically about it, for a true literary genius can capture the essence of a great novel with merely a few quick glances. Now if only he could write one as fast…
JP
Buy Fante Bukowski Three: A Perfect Failure and read the Page 45 review here
Versailles Of The Dead vol 1 (£9-99, Seven Seas) by Kumiko Suekane…
Presumably
inspired by a manga creator who read or watched PRIDE AND PREJUDICE AND ZOMBIES – just taking a wild machete swing in the zombie-filled moaning dark there – and decided to put their own slash on it… Here's the emergency broadcast from the publisher to inform us all how to avoid infection by thinly-disguised rip-offs, I mean reworkings…
Actually, before that, can I just say, copyright-fringe-trimming joking aside, I rather enjoyed this…
"The French Revolution with zombies? A slick, gender-bending twist on history! While en route from Austria to marry Louis XVI and become the Queen of France, Marie Antoinette's carriage is intercepted by bloodthirsty zombies. The sole survivor of the attack is Marie's twin brother, Albert. He heads for Versailles in his sister's gown – and instead of continuing life as himself, decides to take his sister's place. Now at the heart of the French royal court, Albert must face the undead horrors as the man who would be queen."
Yep, this really is as daft as that suggests. Played entirely tongue-in-powdered-cheek, heavy on the comedy of manners as the twin stories of the zombie apocalypse and royal court based rumblings intertwine causing a spontaneous outbreak of preposterously bewigged yet strangely amusing nonsensical fright-fest, I couldn't help but smile. Even the bold legend on the rear cover of "LET THEM EAT BRAINS!" only further serves to indicate what a frightful mash-up creation lies within.
One sometimes feels in the relentless churn-'em-out-world of mainstream manga publishing that there is a mentality of 'gotta publish them all' and just see what sticks. Somehow this has with me!
JR
Buy Versailles Of The Dead vol 1 and read the Page 45 review here
Immortal Hulk vol 1 Or Is He Both? s/c (£14-50, Marvel) by Al Ewing, various & Joe Bennett…
"Dad… I… I can see…"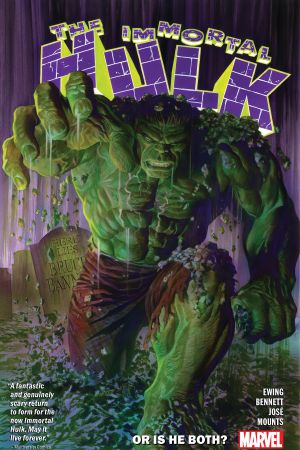 "Del?"
"I can see a door. A… a green door… and… and there's someone looking through it."
Well, it's obvious isn't it? It's Shakin' Stevens clearly.
No?
Hmm… I wonder who it could be…? How about we let the mighty marketing juggernaut (no relation to Cain Marko, I should add) clue us in…
"Horror has a name. You'd never notice the man. He doesn't like to be noticed. He's quiet. Calm. If someone were to shoot him in the head…all he'd do is die. Until night falls – and someone else gets up again. The man's name is Banner. The horror is the Immortal Hulk! And trouble has a way of following them both. As reporter Jackie McGee tries to put together the pieces, Banner treads a lonely path from town to town, finding murder, mystery and tragedy as he goes. And what Banner finds, the Hulk smashes! Elsewhere, the hero called Sasquatch can't help but feel involved. In many ways, he's Banner's equal – and his opposite. Sasquatch is about to risk his life by looking for the man – and finding the monster! Collecting IMMORTAL HULK #1-5 and material from AVENGERS (2016) #684 by Jim Zub and Mark Waid."
Actually, it's not the Hulk either, immortal or otherwise, behind the green door…
No, it's… something else entirely…
Which brings me neatly to my main point. As you might have just gathered, this is not a superhero comic. No, it really is a horror comic masquerading as a superhero comic and it is so, so much better for it. Yes, the Hulk is a monster, and monstrously drawn too by Joe Bennett, all bulging of vein, sinew and also eyes atop the requisite mountain of muscle. And he does bring some of the horror. (In that sense, this version of the old gamma grouch has much more in common with the classic Lein Wein, Herb Trimpe and Sal Buscema material and I welcome it whole-heartedly.)
At least at night time anyway, as the blurb suggests. For by day it's Bruce "Danger Magnet" Banner who goes around allegedly trying to stay out of trouble but of course ending up in a whole Hulk-sized heap of it. Even occasionally getting killed just for good measure. But when the sun sets, the Hulk rises once more and starts playing vigilante smashing criminals left, right, centre and underneath him, plus a fair few of those crazy enough to try and take him down.
Of course, no self-respecting run on the radioactive wrecking ball would be complete without a roving reporter trying to track him down and this is no exception, with the fearlessly foolish Jackie McGee on the crushed-up case. Who is of course a cheeky nod to the great Kenneth Johnson who played the supremely irritating Jack McGee in the 70s/80s TV version. As a kid I wanted Hulk to squish that particular puny human soooo badly. I mean, Banner warned him enough times… Anyway, issue #3 of this run sees Jackie take centre stage as she interviews three eye witnesses to a recent rampage, all illustrated very differently stylistically by three guest artists, which I thought was a great little additional conceit.
This is certainly not the comedy cretin Hulk of the Marvel movies, either. No, he's as devious and dangerously intelligent as he's almost ever been. He is also seemingly really immortal which of course presents a rather large and tricky problem to the particular authorities who rightly or wrongly view him as one.
As to precisely how that seems to be the case, I sincerely hope it isn't anything to do with the couple of flim-flam quasi-resurrections during SECRET EMPIRE and NO SURRENDER.
I doubt it given how slickly Al Ewing is writing this so far, plus the presence of a certain… apparition… of which I shall say no more for the moment, suggests otherwise. No, I suspect it's far more to do with that green door…
The apparition isn't Shakin' Stevens by the way… No, come on, even horror has to have some limits…
JR
Buy Immortal Hulk vol 1 Or Is He Both? s/c and read the Page 45 review here
Arrived, Online & Ready To Buy!
New reviews to follow, but if they're new formats of previous books, reviews may already be up; others will retain their Diamond previews information we receive displayed as 'Publisher Blurb'
I Am Not Okay With This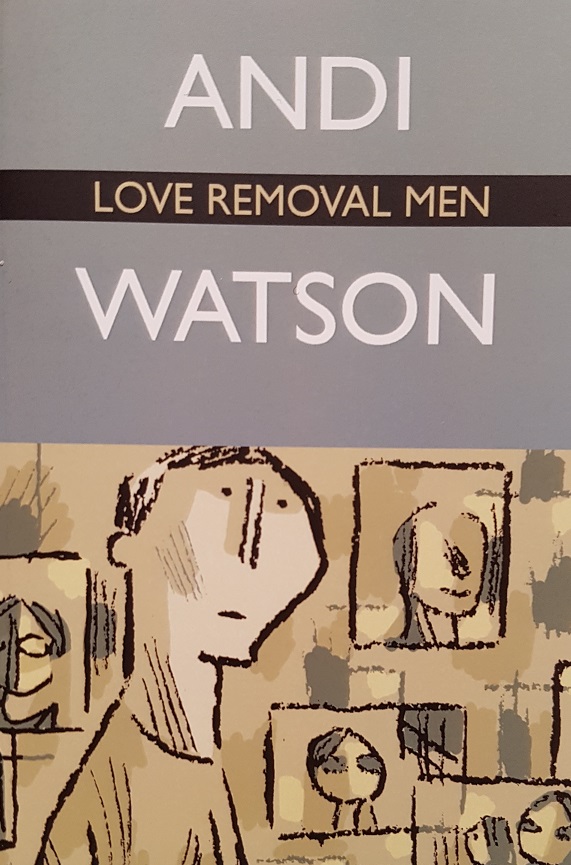 (£12-99, Faber & Faber) by Charles Forsman
Love Removal Men (Sketched & Signed In) (£2-99, ) by Andi Watson
A Dreadful Battle (Sketched & Signed In) (£2-99, ) by Andi Watson
The Herring's Head (Sketched & Signed In) (£2-99, ) by Andi Watson
@kafkapathy (Sketched & Signed In) (£2-99, ) by Andi Watson
Dinosaur Police s/c (£6-99, Scholastic) by Sarah McIntyre
The Highest House s/c (£22-99, IDW) by Mike Carey & Peter Gross
Jimmy's Bastards vol 2 s/c (£13-99, Aftershock) by Garth Ennis & Russ Braun
The Making Of s/c (£16-99, Jonathan Cape) by Brecht Evens
One Dirty Tree h/c (£17-99, Uncivilised Books) by Noah Van Sicver
Pandora's Legacy vol 1 s/c
(£7-50, Kaboom!) by Kara Leopard & Kelly Matthews
The Realm vol 2 (£14-99, Image) by Seth Peck & Jeremy Haun
Signal To Noise (£12-99, Bloomsbury) by Neil Gaiman & Dave McKean
Sword Daughter vol 1: She Brightly Burns h/c (£17-99, Dark Horse) by Brian Wood & Mack Chater
A Walk Through Hell vol 1: The Warehouse s/c (£13-99, Aftershock) by Garth Ennis & Goran Sudzuka
Green Arrow vol 6: Trial Of Two Cities s/c (Rebirth) (£14-99, DC) by Ben Percy & Stephen Byrne
Superman vol 7: Bizarroverse s/c (Rebirth) (£14-99, DC) by Peter J. Tomasi & Patrick Gleason, Doug Mahnke, Scott Godlewski
The Brave And The Bold: Batman And Wonder Woman h/c (£22-99, DC) by Liam Sharp
Amazing Spider-Man vol 1: Back To Basics s/c (£14-50, Marvel) by Nick Spencer & Ryan Ottley, Humberto Ramos
Mighty Thor vol 5: The Death Of The Mighty Thor s/c (£22-99, Marvel) by Jason Aaron & Russell Dauterman, various
X-Men: Marauders s/c (£35-99, Marvel) by Mike Carey & Chris Bachalo, Humberto Ramos, various
The Ancient Magus Bride vol 9 (£9-99, Seven Seas) by Kore Yamazaki
Barefoot Gen vol 1 (£13-99, Last Gasp) by Keiji Nakazawa
Dragon Ball: That Time I Got Reincarnated As Yamcha (£6-99, Viz) by Dragongarow Lee
Fruits Basket Another vol 2 (£11-99, Yen Press) by Natsuki Takaya
The Girl From The Other Side vol 5 (£9-99, Seven Seas) by Nagabe
Inside Mari vol 1 (£11-99, Den Pa) by Shuzo Oshimi
Pez (£22-99, Den Pa) by Hiroyuki Asada
RWBY Anthology vol 3: From Shadows (£8-99, Viz) by various