Featuring Posy Simmonds, Tom Gauld, Adrian Tomine, Tom Haugomat, David Small, Hector German Oesterheld, Alberto Breccia, Brian Azzarello, Eduardo Risso, Steve Skroce, Stephen McCranie
Cassandra Darke (£16-99, Jonathan Cape) by Posy Simmonds.
On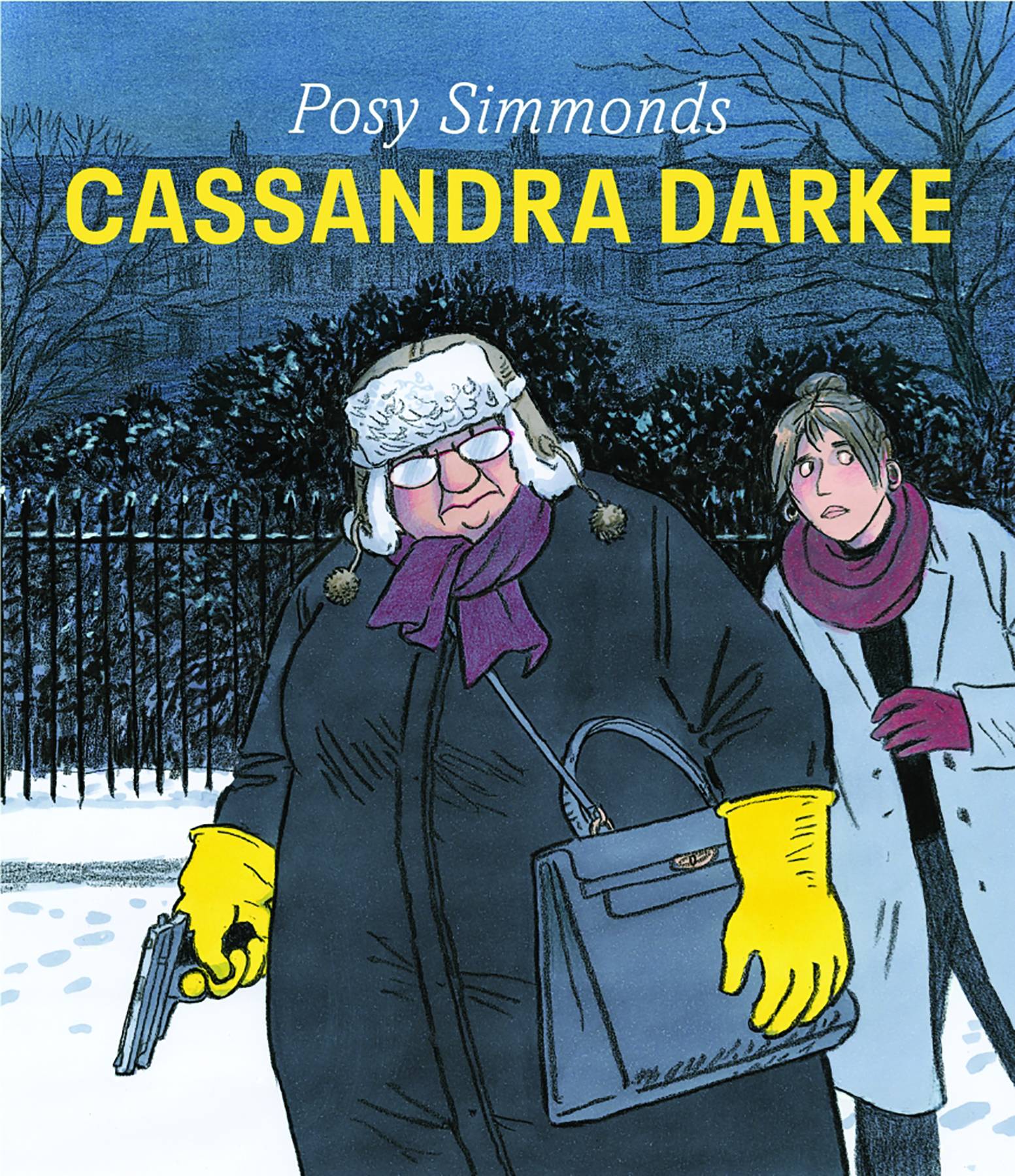 Friday November 17th 2017 a woman's body was discovered in Surrey woodland by a couple who were walking their dog.
This we are shown in a newspaper clipping on the very first page.
It will not impact immediately upon disgraced and perpetually disgruntled London art dealer Cassandra Darke, her estranged family or her increasingly far fewer friends, for they are all, each one of them, obliviously unconnected.
For the moment.
A gripping, warmly and flavourfully rendered master-class in behavioural self-justification, plot precision, dramatic irony and visually delicious comicbook craft, this comes courtesy of entertainer Posy Simmonds MBE, the creator of British classics TAMARA DREWE, GEMMA BOVERY, LITERARY LIFE and MRS WEBER'S OMNIBUS. And this, her first new work in a decade, is another belter, with the most exquisite and varied tableaux.
Set in the run-up to two London Christmases – and flashing back to a year's crucial events before either – the pages glow in the December snow, with store-front window displays luring in bag-burdened shoppers, all clad in scarves or clutching their collars closed.
One of those is Cassandra Darke, decked out in a boiler suit, thick boots and Trapper Hat, though she was only in search of macaroons from Piccadilly's Burlington Arcade, on a brief break from the gallery which she manages for her ex-husband. He's been semi-retired for a while now, with Alzheimer's. Cassandra agreed to return even though Freddie had run off with her stepsister Margot – hence the divorce – because she'd got over him (and it) almost immediately. Still, things aren't so serene when it comes to Margot, the sons they had together, and especially not their daughter Nikki. That… became personal last year.
Things aren't so serene, either, once Cassandra spots Jane McMullen – wife of a deceased sculptor whose works Cassandra has traded in – crossing the road on the way to the gallery. Jane had been pestering her all day with emails and phone calls (so far evaded) after a dinner during which an art collector and his wife had cut Cassandra cold then spent all evening muttering in Jane McMullen's ear. And Cassandra knows exactly what that's all about: her "jiggery-pokery", as she puts it, has finally been rumbled.
We'll return to the plot twice more, but I love the contrast between the two women, both of a certain age. Stocky Cassandra's tightly dressed like a Giles character, grimacing away, her sour, disapproving mouth with its pressed, thin lips forming a central beak beneath glasses worn so as to signify a disdain of their own. Jane on the other hand is hat-free with long, jumbled grey tresses which her quarry refers to as a "rats' nest", her dress, jumper and loose woollen overcoat all flowing more freely: lots of comfortable, more natural textiles.
And then we're treated to pedestrian congestion, a crowd-scene which perfectly portrays the nightmarishly crammed and cramped London high street Christmas shopping phenomenon, all in aid of the great god Mammon. It's lovely and peaceful at Page 45, I promise, where we're on hand to help you with recommendations and – [Snip! That's enough – ed.]
I remember when Comics Laureate Hannah Berry was drawing her own exceptional, packed crowd scenes towards the climax of her wicked media, socio-political and pop-culture satire LIVESTOCK, and the sheer masochism, as she saw it, of doing so. Blow up the final page of interior art accompanying that review for one of those crowd scenes and oh dear, there's me, bottom left, beaming with enrapt adulation!
My point is, look at this full-page Posy Simmonds accomplishment, with its vanishing-point perspective, and its detail which only diminishes as the human eye can take in no more! At the flock's front, instead, it's almost as if the human flood is upon you, about to sweep you away down the street when actually you desperately need to get to the fourth shop ahead on the left-hand side.
Back to the plot and, as she predicts of herself, Cassandra comes a-cropper, busted for selling two collectors the same numbered cast. Fast-forward a year to December 2017 and although she avoided a jail sentence, the disgraced gallery has closed, she's been forced to sell her second home in France to pay for the damages and legal fees, jettison her driver and housekeeper / cook, and been reduced from nipping down to The Wolsey for eggs Benedict to eating ready meals alone, taking public transport and walking her own dog.
Still, on the whole, she is contentedly self-contained. Until, that is, her ex-husband's Memorial is announced. Cassandra didn't attend the funeral for multiple reasons that Simmonds is so astute in understanding – Posy's very good at getting into people's heads – but she is tempted into attending the Memorial, albeit covertly, watching from the gallery above the main congregation. Once more the social observation flows freely – one of the wealthy, for example, has a "glue-do" of hairspray – but mostly Cassandra is left to reflect and it is here where we begin to learn her true heart.
For yes, she is mean-spirited and mercenary enough to swindle art collectors, but only the investors: the Speculators whom she despises for their "ignorance, vulgarity and itchy palms". This is what I meant about Posy being a master of the way we justify our less laudable thoughts and deeds. Cassandra also dismissively refuses to give to the freezing homeless ("that's the job of the Government… charities… to get them off the street"), and as to those charities themselves, while still a dealer she once berated Jane McMullen for donating her deceased husband's work to their auctions: "… but don't you understand? … it lowers Ken's market price! It hurts your pocket – and MINE."
However, in spite of the stream of self-justifications, she's not self-delusional. During the eulogy to her ex-husband's Memorial's eulogy, she observes of her stepsister whom she acknowledges was always the kinder one, the comforter…
"The paean to Margot rolls on. So many virtues! None of which I possess. If I'd been the widow today he'd be pushed to find a fitting cliché. "They broke the mould" (thank God); "Larger than life" (obese); "Blessed with a wonderful imagination" (Liar. Utter crook.)"
In her own words she's "old and fat" and actively contemplates suicide in forensic detail, by freezing to death in her now derelict garden, so as to avoid her ex-husband's Alzheimer's, and the hoists, ramps and grab bars she would need during her slow, lingering death in any twilight home.
It's when Cassandra gets home that the shocker occurs, when the true plot finally reveals itself. The alarm to her front door doesn't bleat (so isn't set), there are granite chips from the garden which she crunches on down the hall, as well as inside the back door to the garden which is, thankfully, locked. Immediately she suspects burglary and tears round the house but nothing is missing. Then, with relief, she imagines it must be her weekly cleaner, nipping outside for a cigarette and dragging the gravel in on her shoes… except that she hadn't noticed until now. Then a more paranoid explanation kicks in – one involving Nikki, her ex-husband's daughter who in 2016 had begged her for lodgings in the separate basement flat, and money to finance her art projects. As I have intimated, that didn't end well.
Perhaps Nikki had returned with copied keys? So Cassandra tentatively journeys downstairs. Nothing seems out of place since it was cleaned up a year ago. But there's a grubby towel in the bathroom bin… and, under it, lies a glove, a gun and several rounds of ammunition.
I've seen Posy Simmonds described best by Antony Quinn, thus: "Posy Simminds is the laureate of English middle-class muddle, a peerless observer of their romantic confusions, emotional insecurities and professional vicissitudes. She gets to the heart of them more incisively and wittily than any number of her contemporaries…"
By contemporaries, Quinn was referring to Posy's prose counterparts (Posy is overwhelmingly read by prose readers who don't imagine or often acknowledge that they're reading comics!), and he is 100% on the money. To this I would only add that Simmonds here also excels her peers in television in terms of the behavioural and crime-driven, evidential logic. This is immaculate.
As we flash back to those crucial events of 2016 involving Nikki, her imaginative, crusading art projects, a pivotal hen night and its multiple repercussions, then flow consequently back to the present, every element laid early on comes into play, from text messages sent to the wrong mobile phone (sent erroneously but not accidentally, and that is so key!) to Cassandra Darke's initial, privileged and self-serving dismissal of charities, and the homeless, her contempt for Nikki's specific staged social media campaign, yet also Darke's renowned skills when it comes to analysing clues as to a painting's provenance, its origin and so authorship.
That the gun (and other vital items) had, we discover, come into her hands through such complex, convoluted and unorthodox ownership – along with her own previous conviction for crime – means that this could not play itself out in anything close to an easy conclusion by calling the police. It does so instead through such deviousness and daring that only a woman who has outgrown self-interest and caution for her own physical safety could muster. Even her own physical weight, of which she is self-conscious, pulls its own here.
Let us say nothing of her dog.
Yes, you will see and come to understand Nikki's side of things in full, and I warn you that it grows pretty grim when men become involved.
We may begin in posh Piccadilly and cosy Chelsea, in the sort of society for which a funeral is not enough and a Memorial must be held too, but that body was found in Surrey.
SLH
Buy Cassandra Darke and read the Page 45 review here
Through A Life h/c (£16-99, Nobrow) by Tom Haugomat ~
Rodney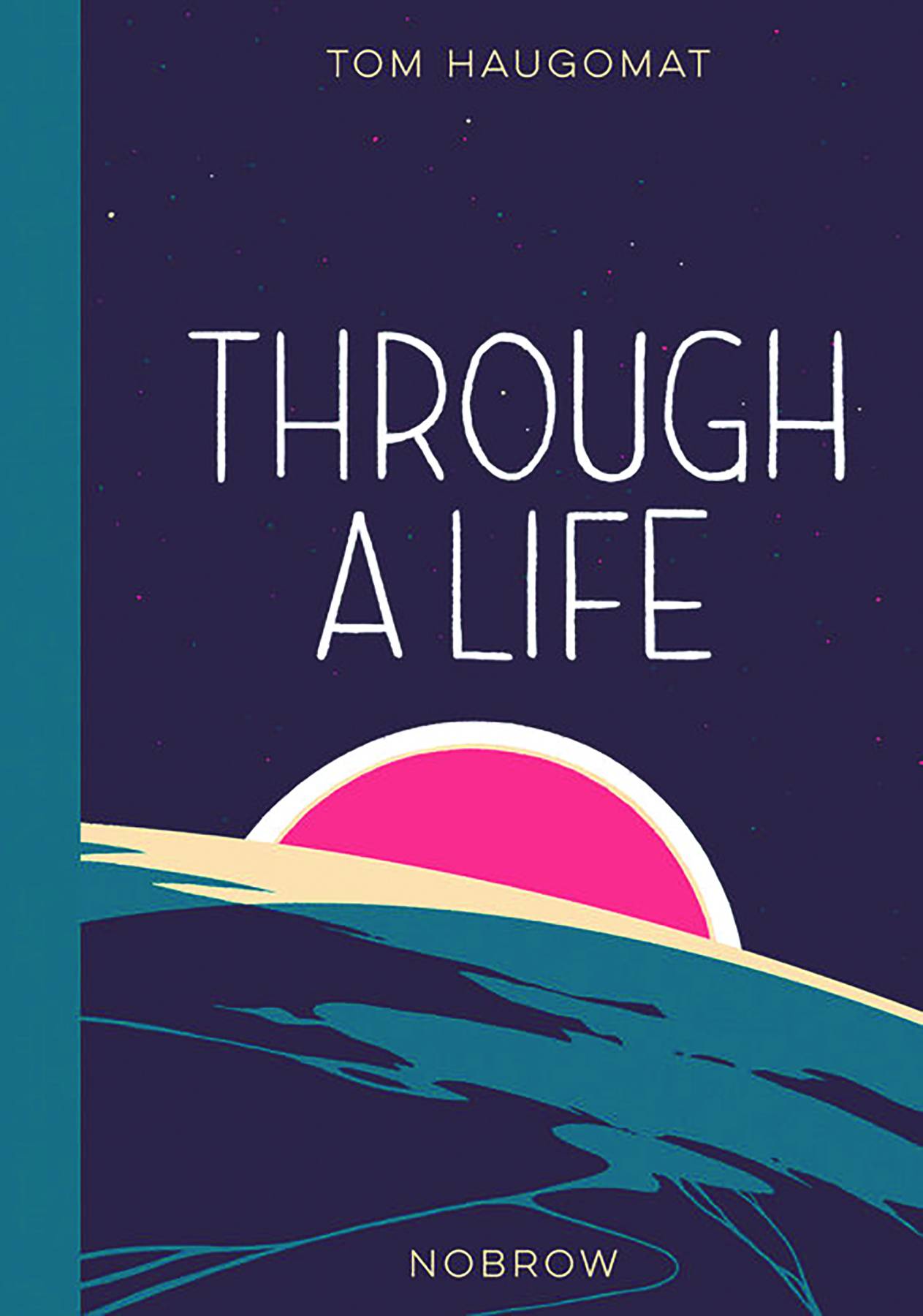 is a very curious young boy. If he's not examining creepy crawlies with a magnifying glass he's usually watching the seaplanes landing on the nearby lake through his binoculars. Sometimes he's covertly peeking at the neighbour hanging out washing through the gap in the fence, or standing on tip-toes, peering through the keyhole, to try and see what's happening on the other side of a door.
But what captures his imagination the most is the moment he gets to view the stars through a telescope, guided by his father. That is in September 1967. Then in July 1969, sat cross-legged on the floor, glued to the television, he gets to watch the first lunar landing. It's no wonder this lad turns out to be a Trekkie, but that's just the beginning of his obsession with the final frontier…
Sparsely illustrated pages of crisp design plot the trajectory of Rodney's life at approximately a page per year: the discoveries, the successes, the failures, the high points and the lows, each a perfectly encapsulated point of time that we get to witness in its entirety. You see, this is a very unique take on a life story for we the readers are not simply there to watch, but also to experience it exactly as Rodney does… to partake through his eyes.
Presented in a simple yet ingenuous format throughout, with a scene on the left and then Rodney's view of it on the right, each double-page spread is a construction that gives us the perspective from both outside and also within, which only when viewed together gives us the whole.
Sometimes it is Rodney peering through a door on the left hand page over to what he can see on the right, other times it is him intently reading a book on the left, with a close up of the page itself on the right. Thus you get to see what Rodney himself is experiencing in each moment, but also the bigger picture, which on occasion reveals a crucial aspect that Rodney himself may have missed.
Being presented with both perspectives like this sounds like it should be intrusive, voyeuristic even, but in actual fact it is far from it, instead creating a real sense of intimacy. More like a story being told to you in hushed tones, almost a whisper, by a close companion while you're both sequestered away in a secluded spot.
Punctuated with real life events such as the Challenger shuttle disaster the story is grounded in a familiar time and place, and therefore brings with it a real sense of honesty. Its seemingly simplistic art style and subdued palette of crimson, teal and warm, blond yellow holds an abundance of elegant detailing which you'll discover with delight. A triumph of storytelling through design, fans of Chris Ware should definitely take a look. Also, remember what I said about trajectory…
JP
Buy Through A Life h/c and read the Page 45 review here
The Snooty Bookshop: Fifty Literary Postcards (£12-99, Canongate) by Tom Gauld.
From the creator of the longer-form GOLIATH and MOONCOP comes a booklet of fifty literary postcards to puncture our pretensions or wilful dim-wittedness with cartoons and short comics, accompanied where required with the deftest of timing.
The problem with that is it's almost impossible to convey through quotation, so I selected some choice interior art for you instead. Some of all-time favourites are in here.
"But Stephen, we've already read some of these in Gauld's BAKING WITH KAFKA and YOU'RE ALL JUST JEALOUS OF MY JETPACK!"
Well, tear them out and send them to somebody! It's a book of postcards!
Alternatively frame the fiends, and arrange them artfully around your house where they can cause the most mischief: convulsive with laughter is ill-conducive to an accurate aim in the loo. Hmmmm. Arrange them around someone else's house, then.
All the above titles reviewed in much greater length and depth. You'd never fit this on the back of a postcard as it is.
SLH
Buy The Snooty Bookshop: Fifty Literary Postcards and read the Page 45 review here
Home After Dark h/c (£19-99, Liveright) by David Small…
"Wait.
I think I've got a quarter. Will you blow me for a quarter?
"Come on, man! I'm all ready!
"What did I say?"
"I'll see you retards later."
"Russ! Pal! Don't leave me here with blue balls! It's not nice!"
I think face of thunder would best describe Russ' face in response to his 'friend' Kurt's, as he perceives it, hilarious banter. In retrospect, Russ probably didn't do himself any favours drunkenly mentioning how their school friend Warren had paid Russ to lie on top of him and hug him. But then neither does Kurt know that Russ is in fact gay, albeit very much in the closet, unlike Warren, who is about to be forcibly evicted. Still, with 'friends' like Kurt and his sidekick asshat Willie, who for some reason best known to himself (and us the reader) Russ has chosen to hang around with during the summer, Russ is going to have learn to keep his secret under wraps if he wants an easy life. Here's the publisher's slightly hyperbolic synopsis of David Small's latest tale of emotional character torture.
"David Small's long-awaited graphic novel is a savage portrayal of male adolescence gone awry like no other work of recent fiction or film. Thirteen-year-old Russell Pruitt, abandoned by his mother, follows his father to sun-splashed California in search of a dream. Suddenly forced to fend for himself, Russell struggles to survive in Marshfield, a dilapidated town haunted by a sadistic animal killer and a ring of malicious boys who bully Russell for being 'queer.' Rescued from his booze-swilling father by Wen and Jian Mah, a Chinese immigrant couple who long for a child, Russell betrays their generosity by running away with their restaurant's proceeds. HOME AFTER DARK becomes a new form of literature in this shocking graphic interpretation of cinéma verité."
Now, in case you are wondering what cinéma verité or indeed 'blue balls' are, dear readers, allow me to enlighten you… Cinéma verité literally translated as "truthful cinema" is apparently "a style of documentary filmmaking, invented by Jean Rouch, inspired by Dziga Vertov's theory about Kino-Pravda and influenced by Robert Flaherty's films. It combines improvisation with the use of the camera to unveil truth or highlight subjects hidden behind crude reality. It is sometimes called observational cinema, if understood as pure direct cinema: mainly without a narrator's voice-over."
Sounds a lot like a not inconsiderable number of comics to me… Did the publisher really need to make the obscure cinema correlation? Maybe the hypewriter is a cinema buff?
Blue balls, on the other hand, was a term I'd never heard of until I lived in the USA for a couple of years. It's, well, let's just say it's a highly dangerous condition that if not treated rapidly can lead to the sufferers, usually immature young males, exploding. So no bad thing, then, if they are idiots like Kurt.
Anyway… all you really need to know is that David STITCHES Small is back once again putting his characters through the wringer. All of them, pretty much. I certainly think you'll be able to gather from the above blurb that Russell is not having an easy time of it. Indeed, the prologue of a young Russell just staring vacantly at his own reflection in a bauble on the Christmas tree – whilst his parents' climatic argument rages on right before his mother runs off with the local football star – is pretty much the tip of the emotional trauma iceberg that is come for poor old Russell.
With zero in the way of a positive parental role model from his alcoholic dad either, who promptly drags him halfway across the country for a failed fresh start and struggling with his sexual identity, Russell is about learn about life for himself the hard way.
If only he had some decent friends to help him through it all…
If only Russell was better at choosing his friends…
Russell is actually going to come out of this particularly troubled summer better than some, though, I will give you that…
For those that like their contemporary fiction more than a little dark and troubling, and their art style black and white, with lashings of grey shading and oh so heartbreakingly expressive, this is for you. This very nearly triggered the Rigby tear threshold, I have to say.
JR
Buy Home After Dark h/c and read the Page 45 review here
Mort Cinder h/c (£26-99, Fantagraphics) by Hector German Oesterheld & Alberto Breccia…
"It's a
pleasure… to see you again, Ezra… Ezra Winston."
"For me, too, Mort."
"Someone's coming, Mort! Sounds like a lot of them."
"Breathing again… It's incredible…"
"They're coming, Mort! The leaden-eyed men!"
You know the type… the ones that don't set up a standing order and then expect the latest issue of Deadpool Kills Off All Good Comics to be sat waiting for them on the shelves and blink their leaden-eyes in disbelief when it's not…
Right, without further ado, let us allow Fantagraphics to resuscitate some proverbial reprinted life into the man who could not be killed. Well, he could be killed, but then he kept coming back to life again…
"The great Alberto Breccia, in collaboration with the Argentine writer Hector German THE ETERNAUT Oesterheld present MORT CINDER, a horror story with political overtones that follows the wanderings through time of a man who rises from the grave each time he is killed, bearing witness to the darkest sides of humanity. American comics creators such as Frank Miller (300, SIN CITY) and Mike Mignola (HELLBOY) owe Breccia a great debt; these horror-adventure tales are as thrilling, dread-inducing, and accessible as when they were created a half a century ago."
Verbosely dramatic, intensely pencilled with vast quantities of black shading and shadows casting themselves around dangerously in every direction, this is indeed pulp horror of the finest vintage. It's a very dense, intense read, which is primarily due to Breccia's relentless, pressurising style. He never lets up on Mort, the reader, or indeed himself, judging from the amount of effort you can see that's gone into the artwork, not to overlook the note-perfect feel of the writing and dialogue. He manages to put the reader firmly right into the ever-perilous place of the world-weary Mort Cinder. If you're reading this late at night in the gloom you might catch yourself nervously looking over your shoulder for a man with leaden eyes… weeping silently over a lack of DEADPOOL first printings…
In terms of ability, Breccia's right up there with Sergio THE COLLECTOR / SHARAZ-DE: TALES FROM THE ARABIAN NIGHTS H/C Toppi for me. Fans of Tiziano Sclavi's DYLAN DOG, a title that's never really gained any traction in the English-speaking world – despite again the likes of Mignola being a self-proclaimed massive fan – would undoubtedly appreciate this. In terms of contemporary horror this is just as good as the likes of WYTCHES and HARROW COUNTY.
JR
Buy Mort Cinder h/c and read the Page 45 review here
Optic Nerve: Killing And Dying s/c (£12-99, Faber & Faber) by Adrian Tomine.
It's an
odd title for an Adrian Tomine collection, I grant you, but Jonathan and I are completely convinced it refers to the young woman who insists on performing stand-up comedy. You'll see for yourself whether she metaphorically kills or dies there.
From one of comics' most astute observers of human behaviour – quite often rifts in relationships – this reprints OPTIC NERVE #12, 13, 14 (OPTIC NERVE #14 still in stock) and a substantially revised version of Tomine's contribution to KRAMER'S ERGOT #7. We've all Tomine's other OPTIC NERVE books in stock and reviewed.
Let the foibles begin!
Optic Nerve #12
"What is it?"
"This is just a proto-type. But it's a sculpture that I made, with a live plant growing through it.
"In this case, sweet Myrtle, it's a synthesis of nature and craft, a marriage of the wild and the man-made; a living breathing objet d'art.
"It's my life's calling."
What it really is, I'm afraid, is a rather bad idea which Harold the gardener has chanced upon whilst reading about Japanese horticulture in the bath. It's an idea so bad in conception that everyone else except poor Harold can see it straight away. But with the type of deluded confidence in his invention you regularly see in the comedy round-up sequence of ridiculous ideas on Dragons' Den, he presses ahead into fiscal oblivion. The story is told primarily as continuous, four-panel black and white shorts, two per page, with the occasional full-page colour short story, which works well given that it's spread over a number of years in an episodic manner. The art is as wonderful as you'd expect from Adrian, though it looks far more like Sammy Harkham's style in this particular tale.
The second story is called 'Amber Sweet' and here the full-colour art is more typically Tomine, though the colour palette and odd side-profile facial expression can also make you think momentarily of Chris Ware. Our nameless female lead bares a rather uncanny resemblance to adult entertainment actress Amber Sweet, and it's making her college experience rather unpleasant to say the least, as everyone seems pretty convinced they're one and the same person and Amber Sweet is merely her stage name.
This is a great little short story, which if the theory that everyone really does have a doppelgänger out there is true and that encountering them will only bring you misfortune, then having them be a porn actress certainly isn't going to help matters! In the end, our Jane Doe feels the only way she can ever get closure is to take a road trip and confront Ms. Sweet.
JR
Optic Nerve #13
"Opportunity is… what? Something we create, not something that happens. Right? And there's always going to be hurdles, but what do we do when He hands us a challenge?"
"Utilize, don't analyze!"
"That's right."
Our protagonist walks out at that point, and I can't say I blame her. It's not actually a prayer meeting, though: it's Alcoholics Anonymous. She's a young-ish woman, more than a little worn by what life has thrown at her. At the moment it's housing problems.
The woman is pursued by another attendee who looks older than he says he is. He has a certain self-confidence – some would say the gift of the gab – though I would have punched him two pages in. But he offers to buy her coffee, and then puts her up at his gaffe. He probably shouldn't have snapped at her in bed, but he apologises. He's very contrite and as good as his word.
"Your key, Madame."
"I told you… this is just until I get everything squared away."
"Yeah, yeah. Just… go ahead!"
She opens the front door and there's a vase of fresh flowers on the coffee table, and a banner saying "Welcome Home". She stands, stunned, in the doorway.
"Hello…?"
"Sorry, I'm… trying not to cry."
The OPTIC NERVE graphic novels are amongst Page 45's biggest sellers. It was fascinating watching Adrian's style develop so swiftly during his teens in 32 STORIES (such a beautiful package, at the moment: facsimile editions of all the original mini-comics with extras) then, as he refined his line, he settled in for a recognisable Tomine style, similar to mid-Dan Clowes. OPTIC NERVE #12, however, proved to be a marked departure, and so is the lead story here wherein we witness colour-coded snapshots of a relationship as it develops from consolation and practical assistance into something else entirely. What is the word so often used about addiction? Oh, yes, "dependency".
I promise you this: a degree of hilarity, a great many lies and one massive surprise. It will also keep you on the edge of your seat.
The brief snapshot effect works beautifully, throwing you through their story, and Tomine's famous observational skills are once more in full evidence. For all that chapter's shenanigans, I found it no less true to life (I am afraid) than Adrian's previous, gentler work.
I can see some Beto in the woman's expressions and some Chris Ware in our other, paunchy protagonist, softened by a less regimented line – particularly when the man high-tails it across the park.
The second story is in full, flat colour as a woman narrates her return to California from Japan to her child. She leaves her parents who do not approve of her decision to fly to San Francisco. She is met at the airport by her estranged husband who has secured them a tiny apartment. It is quiet, measured, profoundly moving and ends on an enigmatic ellipsis.
SLH
Optic Nerve #14
'Killing And Dying' covers the budding but excruciating comedy career of Jesse, a rather introverted young lady with a debilitating stutter. Her parents – having seen many a new obsession come and go with perturbingly repetitive frequency – fall into their habitual roles and cycle of enthusiasm / pessimism / argument, before letting nature run its ever-turbulent course where their daughter is concerned.
What follows is another shot of Tomine's classic blend of wince-worthy humour. I was practically peeking through my fingers when I got to Jesse's first stand-up gig as her parents sit in the audience waiting in a state of hyper-tension for the inevitable car crash to occur. It doesn't, for reasons I won't elaborate on for fear of a spoil a great joke, but, rest assured, it's a merely the metaphorical mother of all multiple-car pile-ups deferred…
The second story, told in a somewhat looser art style with lots of black shading and a single, secondary, light olive tone, tells the story of a divorced military veteran, living out of cheap motels, who unexpectedly bumps into a girl who house-sat an apartment he and his wife were renting when they were on vacation. Having recently cleaned out her car, she finds a set of keys she'd forgotten to give back to them. Pulled perhaps in equal part by memories past, the curiosity of who had replaced them as tenants, and the thrill of doing something illicit, he stakes out the apartment, making note of the comings and goings of the occupant, and when he finally feels safe he lets himself in.
It might be breaking and entering more on a scale of adult hedge-hopping, no maliciousness intended, but obviously it's not going to end well. That's the thrill with Tomine: bracing yourself for the moments the characters well and truly splash down in the fire, often before even realising they've been daft enough to leap from the comparative safety of the proverbial frying pan. As always, one comes away from an issue of OPTIC NERVE feeling a strange mixture of sadness and relief, the latter being purely for not having such a sad life as a Tomine character!
JR
Buy Optic Nerve: Killing And Dying s/c and read the Page 45 review here
Maestros vol 1 s/c (£14-99, Image) by Steve Skroce.
Of the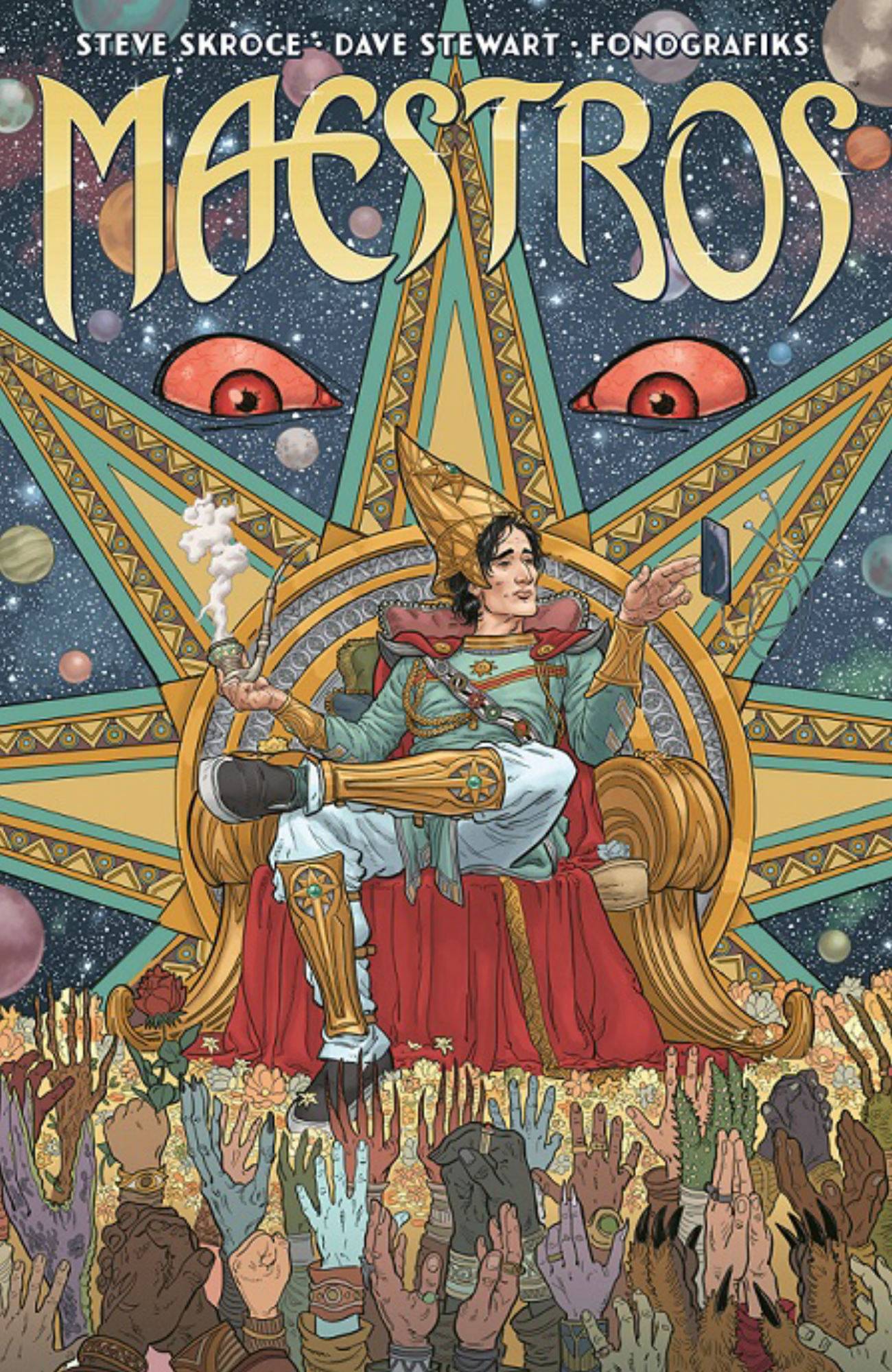 very first chapter, I wrote:
Irreverent High Fantasy melded with funny Low Filth, this unsurprisingly appealed enormously to Brian K. Vaughan who gleefully ran a preview in the latest issue of SAGA, although emphatically not the pages which require us to bag every copy so that no eyes younger than sixteen years old stray unexpectedly across the transformational excess of a Personal Legend elixir.
There's at least one moment like that in every collection of SAGA, reminding you – however lovely Brian K. Vaughan and Fiona Staples are – why you thought better of lending the series to your mother, your grand-mother or your youngest nephew or godson.
With detailed blood, guts, gore that will score highly with any Geoff Darrow fan (see SHAOLIN COWBOY: START TREK SHAOLIN COWBOY: SHEMP BUFFET, SHAOLIN COWBOY: WHO'LL STOP THE REIGN and HARDBOILED), we open with a splendid, skull-crushing, infernal massacre as the wizard Mardok and his minions stage a surprise assault on the reigning Maestro, eviscerating him, his oh so many wives, and the entire royal family to boot – those who are still residing within the Realms, anyway.
One of his wives, Margaret, divorced the now former Maestro on the grounds of gross depravity and was consigned to a comfy cage for her troubles, but at least she secured the exile of her son. This saved both their souls, but now they are the only members of the royal line left alive so Margaret is dispatched by a walking, talking, bipedal sunflower to rescue full-grown Willy from his own low-grade, magical, ill-gotten gains before Mardok and his minions (do not forget them!) catch up with him in a strip joint.
Before you can holler "Too late!" we are treated to an extreme late-night viewing of The Little Shop Of Horrors and a page which I do wish I had for you involving the interior view of a floral gullet which would make a man-eating shark look all gummy and toothless.
Later, we learn about the origins of our planet, as a smaller Willy first discovers that Earth's creator was in fact his great grand-father…
"We watched your people crawl out of the mud without the help of any magic or gods except what your imagination created. Your will and ingenuity amazed me."
… And we are presented with a glorious panel of our gradual and deeply impressive evolution, rising up from hunched-over ape to homo erectus thence homo sapiens, to comic-carrying, fizzy-pop-guzzling, puppy-fatted, mid-teen Willy.
After the more earthly exploits, the vast majority of this collection follows Willy's accession to his father's throne and all the internal – and external – politics / skulduggery that comes with it. Expect extreme and unusual forms of torture, both physical and mental.
SLH
Buy Maestros vol 1 s/c and read the Page 45 review here
Moonshine vol 2 s/c (£14-99, Image) by Brian Azzarello & Eduardo Risso…
Previously in MOONSHINE VOL 1…
"Speaking from experience…
"A lot of experience…
"It ain't easy to describe the feeling of waking up in the unknown.
"Being in a spot you have no idea how you got to.
"It's disorienting, a hole in the memory.
"And while the most immediate bit is to get your legs under you, it's what's missing that's overwhelming. The hole…
"Did I dig it myself?"
Like 'Boardwalk Empire' meets 'An American Werewolf In London'. Do I really need to add anything else?
[Nope! – ed.]
Well, perhaps that it's brought to you by the same team that produced the mesmeric, convoluted crime epic 100 BULLETS. At this point if you're not reaching for your wallets, what is wrong with you?!
For far more, please see MOONSHINE VOL 1
JR
Buy Moonshine vol 2 and read the Page 45 review here
Space Boy vol 2 s/c (£9-99, Dark Horse) by Stephen McCranie.
Amy and Jemmah grew up together on a mining colony way out in deep space, but when Amy's dad lost his job, the family was forced to travel back to Earth and begin a new life there, so separating the best friends in both space and time. For Amy knew that she would spend her 30 years on the spaceship in suspended animation and, on waking up, Jemmah would be in her mid-forties and, in all likelihood, with a family of her own.
SPACEBOY VOL 1 (reviewed at length) told of that separation, so agonising to Amy that she couldn't bear to even contact Jemmah. Instead, she gradually made new friends at a new school in a new city on the coast of a new country on a new planet.
Now, can you imagine being Jemmah, and having waited thirty long years to hear from your best childhood friend again, those days drawing nearer and nearer… and then nothing?
It's pretty poignant stuff.
However, as I observed at the time, the title of the series wasn't AMY but SPACE BOY, and this second volume's cover suggests, the following, late-developing subplot is almost certainly going to come to fruition, for the deepest isolation was yet to come.
Amy has synesthesia: she has always associated people with flavours, sensing different flavours "emanating" from different individuals, and for the very first time she encountered someone with none.
He's a silver-haired lad who keeps himself to himself, often skipping class, and his peers are all very wary of him. Only once did Amy sense anything other than a void, in art class, when the boy began painting, and then there was something other than a terrible, overwhelming emptiness.
SLH
Buy Space Boy vol 2 s/c and read the Page 45 review here
Arrived, Online & Ready To Buy!

New reviews to follow, but if they're new formats of previous books, reviews may already be up; others will retain their Diamond previews information we receive displayed as 'Publisher Blurb'.

Bad Friends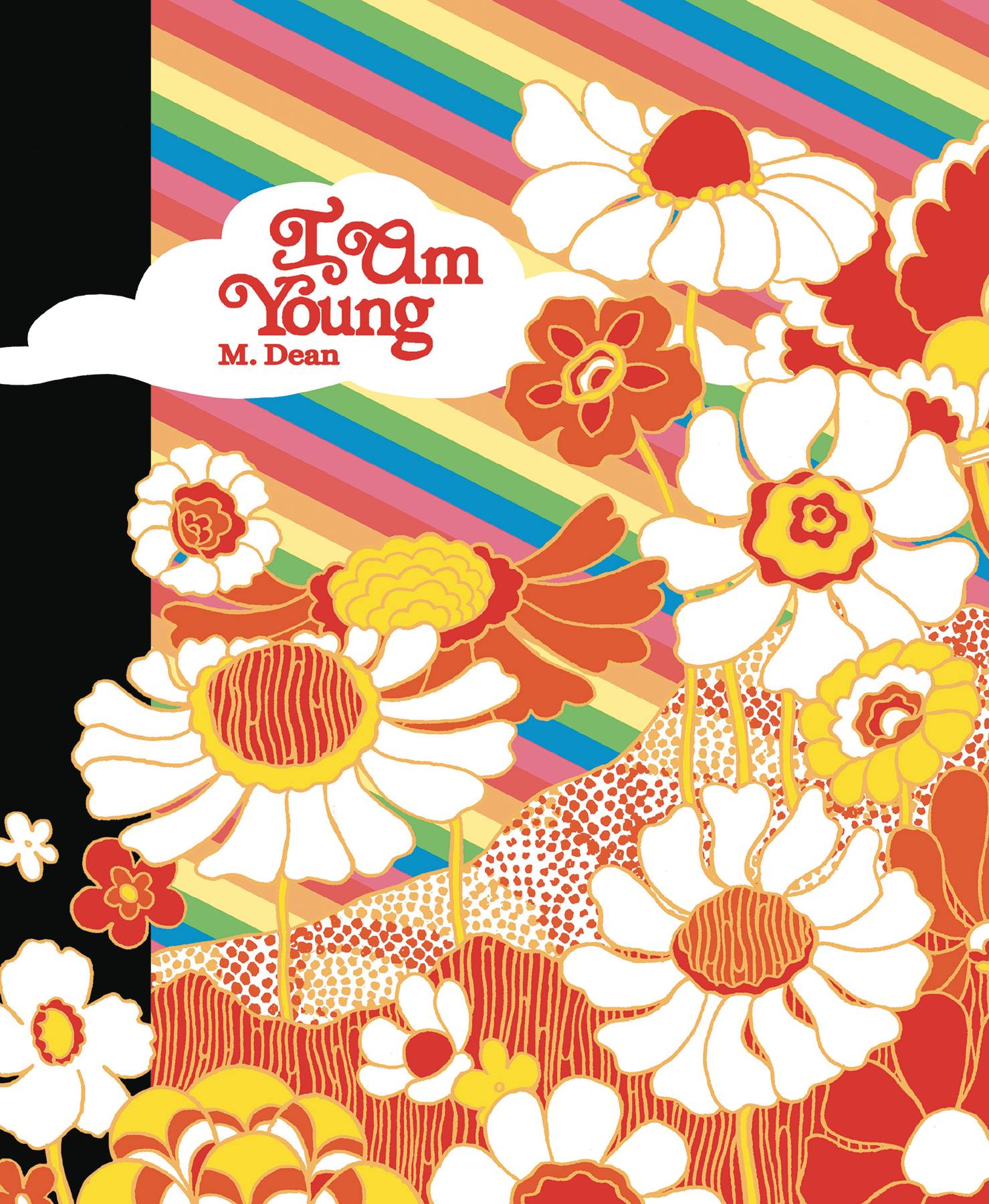 (£16-99, Drawn & Quarterly) by Ancco
Grafity's Wall h/c (£14-99, Unbound) by Ram V & Anand Radhakrishnan
The Hidden Witch (£11-99, Scholastic) by Molly Knox Ostertag
I Am Young h/c (£16-99, Fantagraphics) by M. Dean
Jim Henson's Labyrinth Coronation vol 1 h/c (£22-99, Archaia) by Simon Spurrier & Daniel Bayliss
Mirenda (£15-99, Image) by Grim Wilkins
My New York Marathon (£14-99, Humanoids) by Sebastien Samson
Star Wars Lando: Double Or Nothing s/c (£14-50, Marvel) by Rodney Barnes & Paolo Villanelli
Twists Of Fate h/c
(£33-99, Fantagraphics) by Paco Roca
The Unsinkable Walker Bean And The Knights Of The Waxing Moon (£14-99, FirstSecond) by Aaron Renier
Watersnakes h/c (£17-99, Roar) by Tony Sandoval
Champions vol 4: Northern Lights s/c (£14-50, Marvel) by Jim Zub & Sean Izaakse, Emilio Laiso
Happiness vol 8 (£10-99, Kodansha) by Shuzo Oshimi
I Am A Hero Omnibus vol 8 (£17-99, Dark Horse) by Kengo Hanazawa
RWBY Anthology vol 1: Red Like Roses (£8-99, Viz) by various
Satoko And Nada vol 1 (£9-99, Seven Seas) by Yupechika, Marie Nishimori