Featuring Shaun Tan, Joe Decie, John Allison, Aaron Renier, Sophie Campbell, Paco Roca, Riad Sattouf, Ed Brubaker, Sean Phillips, Elizabeth Breitweiser, Kurt Busiek, Alex Ross.
Telepathy Practice (Sketched In) (£5-00) by Joe Decie…
"Here's let's
practice our telepathy. I'm thinking of an object. Try to picture it…"
"Ok. It's working."
"I was thinking of a square."
"I saw an ice cream."
"Shall we try again?"
"Or shall we buy an ice cream?"
Haha, the prince of punch lines returns with another twenty single-page strips that will have you gagging on your cuppa. Note: never drink whilst reading Joe's work or you risk unleashing a mirthy maelstrom of nasally projected beverage. You have been warned!
As ever Joe covers an eclectic range of topics including almost entirely truthful nuggets about family time with his mum, his take on a breakfast classic, worrying (a classic Joe pastime), peculiar British Spring Bank holiday traditions, through to the odd outrageously entirely false fabrication such as his time spent working in the fashion houses of Paris and New York…
Yes, you can't beat a good four-panel fandango! Joe is the master of taking a mundane everyday scenario… his time as the King of Couture aside… and grinding out our grimaces and groans as he takes one step beyond into the fringes of frippery and frivolity ending up somewhere entirely unexpected and utterly implausible, Occasioning you to realise the boy Decie has done it to you again…
Well, not the boy Decie, for the boy Decie is of course Joe's son, who as long-time Decie devotees will know is frequently wheeled out to provide yet another deadpan delivery to torpedo Joe's proverbial ship. It's a lovely conceit that as the owner of an inadvertent child comedian myself, I recognise all too well. I just hope the boy Decie has negotiated image rights with his dad… An ice cream or two at least…
There are some lovely little extras hidden around a Decie book too, if you keep your eyes peeled. Hint: interior covers, front and rear, including this time around some disturbing tasting notes, highly dubious advice on comic storage, plus a sketch of a dripping cone of cold, creamy goodness, complete with flake, apparently sent back in time from the future… How does he do that? Still, good to know that Old Man Decie will still be fracking the nature reserves of domestic comedy for years to come!
Don't forget the back cover either! The back cover in particular cracked me up as Joe tries one last gambit to ensnare the browsing customer by employing a telepathic suggestion implanting selling technique I have occasionally been known to try on a customer myself…
You will, you really will.
Please see Joe's COLLECTING STICKS graphic novel for Decie's long-form family antics, and for more four-panel brilliance, please see DOGS DISCO and POCKET FULL OF COFFEE, then I BLAME GRANDMA and THERE'S NO BATH IN THIS BATHROOM for something inbetween.
JR
Buy Telepathy Practice and read the Page 45 review here
Twists Of Fate h/c (£33-99, Fantagraphics) by Paco Roca…
"Some took
the opportunity to change their name."
"Those name changes have made it very difficult for the scholars to follow your tracks."
"That's exactly why it was done."
"But why did they do that?"
"Some out of fear from deserting the Foreign Legion, some of us were afraid that our families would suffer reprisals if we fell into German hands."
"Wait…! Miguel Campos? Then what my historian friend suspected is true. You… you're a legendary member of La Nueve."
Attention! Right you horrible lot, here are the despatches from the publisher HQ to give you your marching orders… straight to the bookshelves of your favourite comics retailer. Which would be us, hopefully…
"Eisner-award winner Paco Roca (Wrinkles) reconstructs World War II through the memories of Miguel Ruiz, a member of 'La Nueve,' a company of men that went from fighting against the Franco regime in the Spanish Civil War to battles across Europe and Africa, spurred on by their patriotism and hate for brutal dictatorships.
Ruiz's stories are filled with horror and humour but Twists of Fate is much more than a forgotten hero's personal story. It's a timely look into what we remember and why we forget, a reminder that everyone has a tale to tell, and an ode to a generation that stood up to, and beat back, violent fascism."
I was utterly gripped, dear reader, for Spaniard Miguel Ruiz aka Miguel Campos was indeed a true war hero. The fact that he managed to somehow disappear entirely at the conclusion of hostilities and live a very quiet life in France is another story entirely. Paco Roca, having managed to track him down through some determined detective work, regales us with both.
This is simply one of the finest 'war story' works I have ever read. We see Paco gently interviewing the initially very reluctant Miguel daily over a number of weeks, conversing patiently with him, gradually teasing his remarkable reminiscences out of him.
During those sessions Paco frequently puts us into the first person perspective of Miguel, allowing us to see through his eyes, which ensures that the reader is fully transported back to those dark, tumultuous days. Of course for the men who had been unsuccessfully fighting Franco's fascist rule in Spain during their civil war that ran from 1936 to 1939, those days started earlier than for most in Western Europe.
We see Miguel's own personal odyssey and also the similar sad stories of a group of very brave individuals who longed to believe that once the Axis powers were dealt with, the Allies would then turn their attention squarely upon the fascist Franco and help them liberate Spain. We see their war, beginning with being outcast and exiled from their homeland, then unwanted and unwelcome in Vichy France and its territories, so having their refugee status promptly revoked and effectively made prisoners of war, toiling as slave labour in coal mines and railroads in the burning heat of Saharan Africa. Eventually they were freed by the advancing Allies, before mostly deciding to join up with the Free Corps of Africa French forces along with deserters from the then Vichy controlled French Foreign Legion and head to mainland France as liberators, indeed ending up as part of the very first group arriving in Paris itself.
Of course, after overthrowing the Nazis, the Allies decided to let Franco stay in power, being willing to accept Spain's politically 'neutral' position during WW2 as reason to do so, despite Franco letting the German and Italian navies use Spanish ports and various other low grade support for the Axis powers, presumably out of fear that Hitler would prove victorious. To Miguel and his friends, though, it felt like an unforgiveable betrayal. Some former La Nueve fighters tried to start an insurrection, but following one particularly brutal, haunting, personal loss, Miguel decided that enough was enough, his war was over.
Until Paco tracked him down and stirred it all up again… Ultimately, though, Miguel was very glad he did. As, of course, so should we be. So the sacrifices these exceptional people made for our freedom are never forgotten. Plus in this case, the long overdue recognition due to one particularly unassuming individual be made public in this exceptional graphic memoir.
JR
Buy Twists Of Fate h/c and read the Page 45 review here
The Unsinkable Walker Bean And The Knights Of The Waxing Moon (£14-99, FirstSecond) by Aaron Renier…
"…Is this for
real? I am beyond excited if so…"
"Yes! It is a thing. I'm sorry it took so long."
"No need to apologise that is amazing news."
No, not anything that appears within the pages of this thrilling follow-up to what I had long believed was my all-time favourite ever self-contained all-ages graphic novel (and former Page 45 Comicbook Of The Month) THE UNSINKABLE WALKER BEAN.
No. In fact, this was a conversation between myself and the ridiculously polite Aaron Renier shortly after I had spotted the advance solicitation on the Ingram website earlier this year. Ten long years after poor old Walker Bean and his chums had been left high and dry with us all wondering what might happen next, my prayers to the comics gods had been finally answered… there would be more!!!!
So… now there is a sequel… I can no longer officially call THE UNSINKABLE WALKER BEAN my all-time favourite ever self-contained all-ages graphic novel… I'll guess have to start thinking about what the new title holder might be! In the meanwhile, just to get you up to speed, whether you have read THE UNSINKABLE WALKER BEAN or not, because, you know, ten years is a long time, here's the publisher's sea-shanty to test out the proverbial cut of your jib, Jim lad…
"SHIPWRECKED! After their perilous encounter with the sea-witches, Walker and the pirate crew of the Jacklight find refuge on a deserted island. But it might not be as deserted as it seems–shadowy creatures have been spotted in the jungle, and strange animal tracks appear overnight. When Walker, Shiv, and Genoa discover a secret passage and mysterious ruins, the dark history of the archipelago begins to unravel. Legend tells of a mad king, a fallen civilization, and a powerful royal family in search of their lost sister. And for reasons Walker can't understand, Genoa seems to be at the centre of it all.
In this triumphant follow-up to the epic graphic novel The Unsinkable Walker Bean, Aaron Renier is back with more breathtaking art and high-sea adventure."
Oh my word, he is. Just let me catch my breath and stop my timbers shivering me hearties! I can't begin to tell you the joy I felt upon reading this work. You can see once again just how much effort Aaron has put into the story-telling, the character development and oh my goodness the art.
When something is going to be this amazing, nay spectacular, you don't mind waiting for it. I mean, it would have been nice to know it was actually happening, instead of just daring to dream like a stranded shipwreck survivor, and I did email his publisher twice without reply during the long interval, I was that desperate to know, but still, now it matters not. For salvation is at hand.
Everything I adored about the first book – the sheer vibrant grandiose detail of the art (including a dash of glorious shiny signature gold on the cover once more!), the deliberately, rewardingly, complex plot, plus the sheer satisfying depth of the machinations and motivations of all the characters, all so well fleshed out – is all here on show for us once again.
If you didn't know there was a decade of distress between the publication of the two volumes, you would never know. It is seamless. Indeed, for Walker Bean and his chums, plus some brand-new enemies, nary a moment has passed. So this is in essence a continuation of the first work, not a separate story. You will need to have read what was for ten long years my all-time favourite ever self-contained all-ages graphic novel (did I mention that by the way?) THE UNSINKABLE WALKER BEAN before starting on this volume.
But guess what? That is just double the comics joy for you! Will there be more…? I'm not sure…
Certainly there are some plot threads left tentatively dangling… Dare I ask, perhaps press-gang, Aaron? Because I'm sure what has seemed like a long ten years to us has felt like an eternity to him! But this second book could also very easily and very neatly wrap things up perfectly, and I do mean perfectly. In any event these two books together set the bar for all-ages action fiction as high as a crow's nest of the maritime variety. In fact… they might just be my all-time favourite ever all-ages graphic novel duology…
JR
Buy The Unsinkable Walker Bean And The Knights Of The Waxing Moon and read the Page 45 review here
Cicada h/c (£14-99, Hatchette) by Shaun Tan.
"Cicada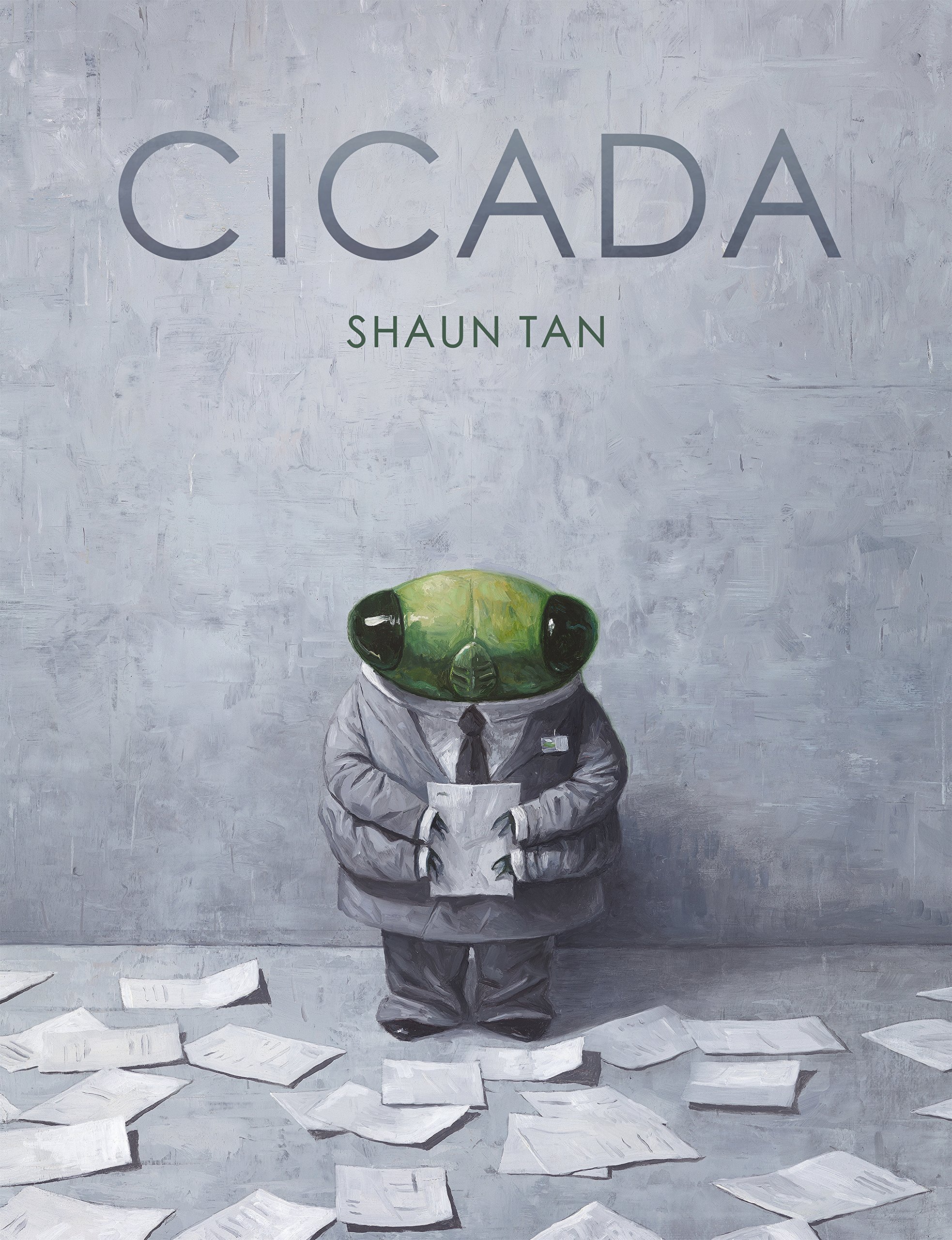 work in tall building.
"Data entry clerk. Seventeen year.
"No sick day. No mistake.
"Tok Tok Tok!"
Deep inside one of a thousand, grey windowless skyscrapers – identical save for the amount of sky that they scrape – sits a solitary cicada, dutifully at his desk.
That grey disk sits within a grey cubicle, within a seeming maze of other grey cubicles, identical save for the fact that the rest are all empty.
"Seventeen year. No promotion.
"Human resources say cicada not human.
"Need no resources.
"Tok Tok Tok!
Quite evidently he needs no appreciation, either. Literally, it has been a thankless task.
While the humans clock off work on time whether their work is finished or not, our cicada remains until his work is done. He is diligent.
He's also homeless, living hidden in one of the walls. He's not paid enough to afford rent.
Nor is he allowed in the human washroom. Instead he has to scuttle downtown, twelve blocks, the timed docked from his wages.
Then there are the beatings.
"Human co-worker no like cicada.
"Say things. Do things.
"Think cicada stupid.
"Tok Tok Tok!"
That painting is particularly clever. The humans tower above the cicada, knocked down on his back and therefore helpless to move. The co-worker who doesn't like our cicada presses his highly polished shoe down on the data entry clerk's chest, bringing his full weight to bear, while the other bears silent, collaborative witness. We're looking in, as if through a door, as if in collusion.
That element's ambiguous: it could be other workers or even the boss observing; or it could be signalling that the beating is being meted out in secret. Either way, that door or cubicle wall adds another unsettlingly element to the evidence.
"Seventeen year. Cicada retire.
"No party. No handshake.
"Boss say clean desk.
"Tok! Tok! Tok!"
And then it really grows worrying as the cicada, now homeless, heads for the rooftop, alone.
This being Shaun Tan, however, you're in for quite the surprise. In fact, you're in for several.
From the creator of THE ARRIVAL (also available as a smaller softcover), ERIC, TALES FROM OUTER SUBURBIA, TALES FROM THE INNER CITY, THE RABBITS, THE SINGING BONES and so much more (please pop him into our search engine, and don't forget his sequential-art story in I FEEL MACHINE!), what is no surprise either is another poignant approach to how we treat each other, especially when they are 'other'.
That our cicada is not allowed in the human restroom and is made to travel miles speaks of segregation, of racism, as seen in the film 'Hidden Figures' starring Taraji P. Henson, Octavia Spencer and Janelle Monáe.
Anyway, dear, dear soulless corporations, and their dehumanization and dismissal of those who work hardest to make them all their lovely money! Ingratitude is to take others for granted, and to fail to appreciate what they contribute to the world – even that of the workplace – and in this world of grey only the cicada harbours any colour, although he's had to hide most of it inside his shirt, suit and tie.
For now…
SLH
Buy Cicada h/c and read the Page 45 review here
Wet Moon vol 7: Morning Cold (£17-99, Oni) by Sophie Campbell.
"There
are way worse things than you."
That's not intended as a comforting balm; it's a realisation, and an empowering expression of self-liberation after living under someone's shadow for so long.
Welcome to the WET MOON finale, lord knows how many years in the making, and it is perfect!
After the angriest opening page that I can ever recall, watering with newly released rage, a face so contorted and scrunched up with righteous fury that it almost distorts the paper page, I can promise you closure: so many moments of quiet, intimate closure as things held silently unsaid are finally spoken, at long last shared, and the young women who have endured so much turmoil and conflict and grief, finally find a peace that's as soft and serene as freshly fallen snow.
Oh, not immediately. There's so much in WET MOON that's so far unresolved to be worked through first, including pieces of the past you may well have forgotten, now picked up and put into place. But after all they've struggled with, there will be peace and understanding, the mending of ways and the minding if not of manners then of something far more important: each others' often fractured feelings. Some scars aren't going to heal or fade away overnight – there will be repercussions – but they maybe they can be lived with.
There will be no spoilers here, as there weren't throughout our substantial WET MOON reviews; I only hope to intrigue to you.
Except for this: Campbell has unexpectedly burst into colour! Only tinctures, mind, to highlight hair or some clothing, then a snow-speckled sky at night, and it works beautifully.
What have I loved most about this series?
Its inclusivity, its diverse body forms, its compassion, psychological depth and oh dear god the series came drowning in dramatic irony as this close community of emotionally vulnerable, largely female friends remained unaware until recently of the seething cauldron of hate which lurked within, grinding its teeth with festering, barely contained rage.
I've relished the art from the very first edition of book one, then adored seeing Campbell develop visually in public on the page, thanking god that she never saw fit (as others have) to go back and redraw what to me was pretty damn perfect in the first place.
So yes, "There are way worse things than you."
What are they? What have they done?
SLH
Buy Wet Moon vol 7: Morning Cold and read the Page 45 review here
The Arab Of The Future vol 3: 1985-1987 (£18-99, Two Roads) by Riad Sattouf.
I adore
this autobiographical series about Riad Sattouf's early childhood years following his family as they moved to Libya and Syria, and wrote extensive reviews of THE ARAB OF THE FUTURE 1978-1984 and THE ARAB OF THE FUTURE 1984-1985.
They are two of the funniest books in comics, bursting with Guy Delisle-like observations of the absurd, so astute observed in one so young, then recalled with astonishing precision.
Alas, sales have been so astonishing flat here – while Guy Delisle's et al soar – that a third review makes no sense at all: it's simply not cost-effective.
Read the other two instead, please, and let's double their distribution in Nottingham. Or even the Middle East: We Ship Worldwide!
SLH
Buy The Arab Of The Future vol 3: 1985-1987 and read the Page 45 review here
Brand-New Editions, Classic Reviews:
The Fade Out s/c (£22-99, Image) by Ed Brubaker & Sean Phillips, Elizabeth Breitweiser.
"All he'd been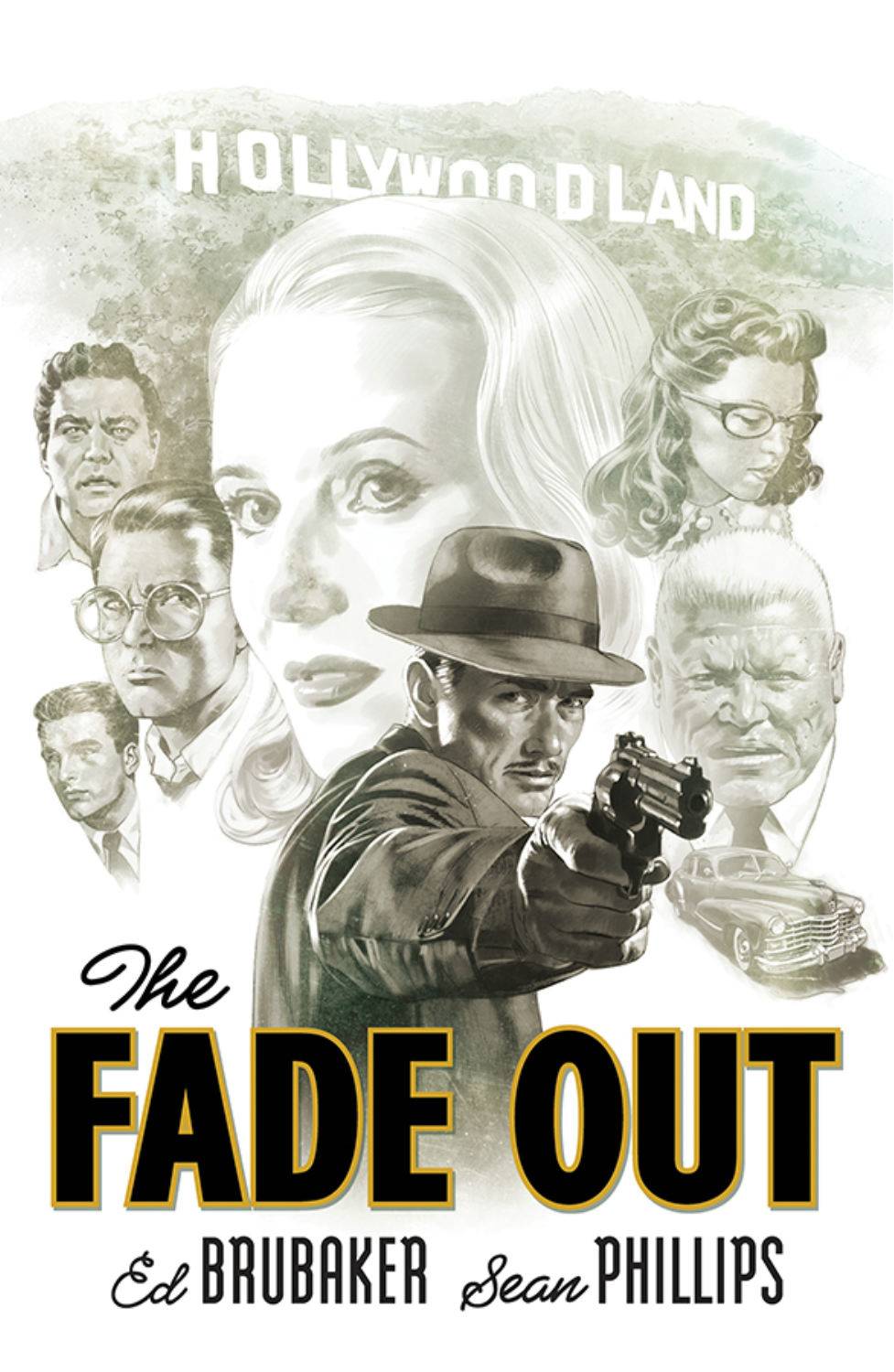 thinking about the past few weeks is who could've murdered Val…
"He'd forgotten to ask why."
He'd forgotten to ask why.
In which I begin to understand what an exceptionally vivid character actor Sean Phillips truly is.
Oh, I've written thousands of words about specific, expressive elements of Sean Phillips' craft in reviews for CRIMINAL, FATALE, KILL OR BE KILLED, THE FADE OUT softcovers, MY HEROES HAVE ALWAYS BEEN JUNKIES and THE ART OF SEAN PHILLIPS etc, but here we are in Hollywoodland so it strikes me as apposite that I finally speak about the acting involved on the part of our favourite artists.
Give me love! Give me lust! Give me conflicted ambivalence and emotional exhaustion! Now give me terrified out of my bloody mind. Sean Phillips delivers on every single page.
It's Los Angeles, 1948.
Cinema screenwriter Charlie wakes up in the bath of a bungalow in Studio City, built to keep stars close to the set. The night before is an alcohol-induced mystery to him, but there's a lipstick kiss on the bathroom mirror that reminds him of a smile, the smile leads to a face, and that face belongs to the woman lying dead on the living room floor.
It's Valeria Sommers, young starlet of the film Charlie's working on. She's been strangled while Charlie was sleeping. Slowly, assiduously, Charlie begins to remove all trace of his and anyone else's presence. But that's nothing compared to the cover-up the studio's about to embark on. They're going to make out it was suicide, smearing the poor girl's name, and it's going to make Charlie, now complicit, sick to the stomach.
"Studios had been covering up murder and rape and everything in between since at least the Roaring Twenties. That's what men like Brodsky were there for… to prevent scandals.
"And he'd helped them this time. He'd helped them."
As for Gil, it's going to make Charlie's old friend, mentor and covert co-writer very angry indeed. It's going to make him drunk and dangerous – especially to himself.
Period crime from the creators of FATALE and KILL OR BE KILLED and the writer and artist of CRIMINAL and MY HEROES HAVE ALWAYS BEEN JUNKIES, this homes in on Hollywoodland, famous for its writing and acting and myth-spinning slights of hand. They're lying professionally before they've begun to be truly mendacious.
Acting itself is a form of lying – creating the semblance of someone else – but so often stars extend this dissemblance off-screen as well, aided and abetted by elaborate campaigns to make actors more attractive to their idolatrous fans. Take the profile of dreamboat actor Tyler Graves, concocted by bright publicity girl Dotty Quinn, playing up his years as a manly ranch-hand in Texas.
"Dotty, you're a riot… I've never ridden a horse in my life."
"I know, I still prefer the first one we came up with…"
"Oh right. I was a mechanic Selznick discovered when he broke down in Palm Springs."
"It was your own little Cinderella story."
There's a telling line in Posy Simmond's British classic TAMARA DREWE from the horse's mouth of successful crime novelist, Nicholas Hardiman: "I think the real secret of being a writer is learning to be a convincing liar… I mean, that's what we are: story tellers… liars…"
He should know: he's a serial philanderer.
This complete twelve-chapter graphic novel gives room for Brubaker to examine relationships in detail. Gil and Charlie's co-dependent career ties them inextricably together. Gil has been blacklisted while Charlie's lost his literary spark so the former dictates to the latter. This should make them allies for they both seek the same thing, albeit searching in different directions. But since both abuse booze for different reasons – Charlie for oblivion, belligerent Gil for release – they're set on a collision course instead. What one does will inevitably impact upon the other but, as I say, they're not working together: Charlie doesn't trust Gil to act rationally, with restraint; Gil doesn't trust Charlie to act at all.
"They were two broken-down writers, running on desperation and booze….
"And they'd written their story wrong."
Actual plot points I'm steering well clear of. We don't do spoilers around here. But, boy, there are some pretty brutal (if strategically brilliant) scenes of intimidation and one huge misstep when intimidation gives way to condescension.
The recasting of Valeria Sommers with the similarly styled Maya Silver – and the subsequent reshooting of the film – allows Brubaker to examine the worst of Hollywood and its interminable, often last-minute rewrites ruining what was originally inspired. It's cleverly done with the film's eloquent and affecting first shoot recalled, immediately juxtaposed by the second lacklustre effort.
As to Phillips, an early morning beach scene gives him a rare opportunity to show what he can do in full sunlight rather than the twilight or midnight he normally resides in.
Here the lines unfettered from their shadows are unusually crisp, smooth and delicate. Lit more lambently still by Breitweiser with a palette of sand, green and aquamarine, and the sea becomes virtually irresistible. Both their endeavours enhance what is a similarly rare stretch of innocent play free from subterfuge. Of course, that would also be the perfect time to lob in an equally innocent question and a guileless answer which will nonetheless send your mind spinning right back to the beginning.
Because Charlie remains haunted by Valeria there are also some scenes depicting both actresses. Maya was cast partly on account of her striking similarity to Val, but thanks to Phillips you couldn't mistake one for the other for a second, either on the beach or on set. Maya is beautiful, talented, intelligent and caring; so was Val, but her deportment is instantly recognisable as far more experienced, confident and – there's no other word for it – classier.
As I say, it's a period piece, the period being rife with tight-knit nepotism, closed-doors studios and overtly voiced bigotry. Wisely Brubaker has refrained from redacting that. Some people are shits – they just are – and there is such a thing as the non-authorial voice. So much here is tied to the Congressional Hearings just before McCarthyism really hit its stride including a role for Ronald Reagan. Thankfully Sean Phillips is a dab hand at likenesses for Reagan is joined in this fiction by the likes of Clark Gable.
Phillips' eye for period detail is exceptional, whether it's the way skirts hang or fly at an angle during a dance, the home furnishings or a buffet banquet. It's perhaps there that Breitweiser's decision to avoid local colour shines best, refusing to let your eye settle but dazzling you instead. I can't imagine how dull and lifeless the spread of food would have looked had it been lit literally instead. Instead it's both impressionist and expressionist, concerned with the colour and quality of light not as it actually falls or what it falls on but as it might dance on the brain. It's rendered in free-form, panes of light and slabs of colour with scant regard for the line on the page and every regard for your eye and emotional impact.
As to Brubaker, as ever he excels at making you want to linger as long as possible in each of his characters' heads. I challenge anyone to foresee what's coming. Certainly Charlie doesn't. He hasn't been able to for ages. It's no coincidence that for the entire book Charlie's been looking through cracked glasses which Phillips has turned into yet another of his fortes. There have been bits of Charlie missing, both as a man and as a writer, ever since he saw combat, and this is the brilliance of Brubaker, tying the two together:
"In that moment, he saw why things always went wrong for him now.
"He understood his problem.
"It was that he'd lost the ability to imagine what happened next."
IMPORTANT:
This complete, all-3-in-1 softcover collection of THE FADE OUT also contains Sean Phillips' cover gallery – fully painted portraits of each of the protagonists – but it doesn't (does NOT) contain the following which you will find in THE FADE OUT DELUXE h/c edition:
An exceptional wealth of extra back-matter as you'll find in all this team's deluxe hardcovers. Sean Phillips introduces his cover gallery – fully painted portraits of each of the protagonists – with an exploration of how he came up with their linking logo / motif. Ed Brubaker's on hand with an explanation of why he teases each of his series with a fully-fledged trailer rather than a random splattering of preview pages, and it makes so much narrative sense. And yes, you get that trailer too.
There are some of the essays and which only appeared in the twelve monthly periodicals, along with all their illustrations; Brubaker presents his research; then Phillips and Breitweiser each introduce then demonstrate so much of their process from thumbnails to finished colour pages.
On the other hand, this softcover is half its price!
SLH
Buy The Fade Out s/c and read the Page 45 review here
Bad Machinery vol 6: The Case Of The Unwelcome Visitor (Pocket Edition) (£11-99, Oni) by John Allison.
In which our six sleuths from school have almost got their next mystery licked by the time the book opens.
"I can't believe we have to stay here and hold the ladder."
"Safety is important, Linton. The instructions are printed on the side of it, look."
Sure enough there is a safety message sticker from the British Ladder Council printed in black on bright yellow with an incautious ascendant plummeting to his doom:
"WARNING: DON'T TIT ABOUT ON LADDERS."
From the creator of BOBBINS, GIANT DAYS etc comes more of the best of British which we've reviewed extensively – and in the case of BOBBINS in great depth as to its mechanics – so I'll restrict myself to a brief introduction, then a look at two specific elements of its art and craft I've not yet covered.
It's summertime, and Jack, Linton and Charlotte have been left behind in Tackleford while Mildred, Sonny and Shauna swan off abroad.
"Maybe this will be your summer of love," suggests Shauna.
"I am sorry to report that my skull has just filled up with sick."
Lottie is having none of it. Her eyes blaze into the distance with a ferocious passion and earnestness:
"Mystery is my boyfriend."
Lottie's greatest mystery at the moment is what her Mum sees in her new "special companion" Colin who is as dull as three-day-old dishwater but who has been invited to live with them, leading to incredibly violent toilet visits and incredibly dull conversation.
Linton's greatest mystery is how his newly promoted police Dad is going to cope with the Gravel Pit estate crime rate whose graph is soaring so stratospherically high that, as Linton says, "I wouldn't want to ride my bike up that."
Meanwhile at the Tackleford Cormorant offices, Paula's unyielding reign of inertia at the local gazette continues to confine its fields of interest – and so interest in it – to the unbridled anarchy that is dog mess. Sales have sunk so low that staff reporters have to buy their own tea bags. Except now Paula has taken an unprecedented leave of absence due to "nervous exhaustion, stress and St Vitus' Dance", leaving Mike in charge… to do Erin's bidding. Erin is… ambitious.
So when "retired" children's TV puppeteer Don 'Gravy' Wilkins is discovered in a ditch at night, catatonic with a rictus grin on his face, then two yoofs are found similarly afflicted and flung up in a tree, Erin smells headline news, Linton's Dad sees the writing on the wall, and Jack, Lottie and Linton set about solving the mystery of the Night Stalker / Night Hero with some sense of urgency before Linton's dear Dad is fired.
Unfortunately they are only thirteen with pre-determined bed times.
It is the age of cast in BAD MACHINERY which Allison nails over and over again, wringing a seemingly ceaseless stream of liquid comedy gold from their restricted circumstances, behaviour, body language and speech patterns. It will be recognised by adults, young adults, even younger adults alike (for, unlike GIANT DAYS with its recreational drug references, BAD MACHINERY is highly recommended to families and essential to school libraries), and I love that that Jack and co are still just young enough to do some of their most serious thinking on slides.
There is the passion – often inversely proportioned to whatever merits it – the petulance, the pouts and the way everything is taken so personally. Not just serious disagreements but mere differences of opinion on, for example, whether their unwelcome nocturnal visitor is indeed a hero or a villain. Conversely, there's the love. Jack looks not just worried but potentially heart-broken at his friend Linton's concern for his Dad:
"Come on, Linton! Punch me in the arm! A free punch! Don't cry!"
Awww….
"I'm not crying! ALL RIGHT? I've just got HOT EYES!"
"Do you know who else has hot eyes? Erin Winters."
"You sicken me."
Again, the passion – the disproportionate outrage – in Linton's eyes when he states that is too funny for words (it's a reprise, and grows funnier each time), while Jack is clasping his hands in adulation. Erin Winters, it should be pointed out, has a chequered past with our sleuths and Linton in particular. It might involve the selling of his soul or something. But Jack's reached that age when he has begun to have certain "thoughts" and certain "feelings".
This brings us neatly to an episode in which Jack and Linton meet Lottie in a lingerie department because she's been grounded.
"I only got out of the house by saying I was rude because I was worried about bras. So, me and mum are having a bonding trip. BRAS FOR ALL. We'd better be quick, they're measurin' her up and strappin' her in right now."
There's a perfect beat which isn't even a pause but a reversal of camera angles from Lottie's physical gesticulation across her chest in both directions to Jack, embarrassedly bursting with barely self-contained steam, whom Linton and Lottie both pat-pat on the shoulders with beautifully expressed, unstated understanding:
"Jack, maybe you should go and sit down in kitchenware for a bit."
What you should understand is that – although these printed editions are embellished with extra pages and substantial tweaks – Allison publishes most of his stories initially online, page by page on a daily basis, which means each must tell a little story of its own complete with a comedic punchline which is sometimes verbal, sometimes visual and so often both. I cannot conjure in my admittedly addled mind a single other creator with such a high hit rate in that department except Charles Schultz. And although Schultz often mined a vein of an extended storyline, he wasn't creating such long-form works as these with beginnings, middles and ends.
The upshot of this is that every solo John Allison work is almost incomparably rich and dense in entertainment while this hard-learned discipline has informed his offline collaborative projects too, regardless of whether each page must obey the same "rules".
So here's the other element I was just going to "touch on" before leaving you to read or re-read other John Allison Page 45 reviews (best to read BOBBINS as originally published in our blog so that the meticulously chosen illustrations are in synch: http://www.page45.com/world/2016/11/page-45-comic-graphic-novel-reviews-november-week-one/), and that's Lottie's language.
Her pronouncements are so intense, elaborate and embroidered with emphasis as to be hyperbolic. I'm struggling to analyse Allison's skill and its effect precisely, but it's as if they are definitive statements. Example the first:
"Whoa, is Erin Winters prayin'?
"Maybe her heart is not pure evil, Jack.
"Maybe she does not have a TAIL as I have LONG SUSPECTED."
The additional dropping 'g's, the phonetic and the slang compounds the comedy with its contrast to the precociously eloquent. Here's adult Erin followed by Charlotte, carefully chosen so as not to give the game away.
"His face was flickering on and off with the Creeper's, like a pirate radio station cutting in and out."
"Worr you can tell she's a writer. Well evockertive."
I will leave you to discover Jack's pride in being "BEST AT COMPUTERS" and his more hubristic declaration, with attendant celebratory dance, to be "Best at Google. Best at Google. Best at Google" as well as subtle details like him bearing multiple cups of coffee while pushing door open with his foot (recognition button pushed!) and instead finish on his department-store horror at Linton's suggestion.
"Let's try CAMI-KNICKERS."
"Erk, let's NOT!"
SLH
Buy Bad Machinery vol 6: The Case Of The Unwelcome Visitor (Pocket Edition) and read the Page 45 review here
Marvels (Remastered Edition) s/c (£22-99, Marvel) by Kurt Busiek & Alex Ross.
A thoughtful
and poignant history of the innocent age of the Marvel Universe, as America at large and a photojournalist in particular witness the arrival in their midst of hybrids, aliens, metahumans, mutants and a brave young man in a black-ribbed, red and blue suit who was destined to see the love of his life die after being thrown from a bridge, her neck snapped by his very own web line.
At which point the innocence is over.
Long before Paul Jenkins and Jae Lee's INHUMANS, this was one of the very first comics which Marvel released with an ounce of literacy (other than projects published on its Epic label, Jim Starlin's WARLOCK and THE DEATH OF CAPTAIN MARVEL).
In addition, it saw painter Alex Ross's rise to critical claim, and justly so. Unlike many painters who've brought their brush to this medium, Alex Ross has a deft, luminous touch which allows your eye to drift across even his most intricate pages as sequential art is supposed to.
Along with ASTRO CITY and SUPERMAN: SECRET IDENTITY this has also been Kurt Busiek's finest hour to date, as he observed the plight of individuals from ground-level, looking upwards into the sky.
It's a beautiful book which manages, extraordinarily, to recapture the absolute awe one felt as a four-year-old on first beholding a superhero, and wondering what on earth they were.
SLH
Buy Marvels (Remastered Edition) s/c and read the Page 45 review here
Arrived, Online & Ready To Buy!
New reviews to follow, but if they're new formats of previous books, reviews may already be up; others will retain their Diamond previews information we receive displayed as 'Publisher Blurb'
Illegal (£10-99, Hodder)
by Eoin Colfer, Andrew Donkin & Giovanni Rigano
24 Panels: An Anthology Comic To Aid PTSD Needs Of Survivors Of The Grenfell Tower Fire (£14-99, Image) by various
The Order Of The Stick: Good Deeds Gone Unpunished (£22-99, Giant In The Playground) by Rich Burlew
Piero (£11-99, New York Review) by Edmond Baudoin
Stray Bullets – Sunshine & Roses vol 3: The Queen Of Palm Court (£17-99, Image) by David Lapham
Tiger Vs. Nightmare h/c (£13-99, FirstSecond) by Emily Tetri
Unnatural vol 1: Awakening s/c (£8-99, Image) by Mirka Andolfo
Justice League vol 1: The Totality s/c (£15-99, DC) by Scott Snyder, James Tynion IV & Jorge Jimenez, Jim Cheung, Doug Mahnke
Immortal Hulk s/c vol 1 Or Is He Both (£14-50, Marvel) by Al Ewing, various & Joe Bennett
The Unbeatable Squirrel Girl vol 9: Squirrels Fall Like Dominoes s/c (£14-50, Marvel) by Ryan North & Derek Charm
Venom vol 1: Rex s/c (£15-99, Marvel) by Donny Cates & Ryan Stegman
X-Men: Grand Design – Second Genesis (Treasury Edition) s/c (£26-99, Marvel) by Ed Piskor
Battle Angel Alita: Holy Night & Other Stories h/c (£25-00, Kodansha) by Yukito Kishiro
Cardcaptor Sakura: Clear Card vol 5 (£9-99, Kodansha) by Clamp
My Brother's Husband vol 2 h/c (£16-99, Little Brown Book) by Gengoroh Tagame
One Piece vol 88 (£6-99, Viz) by Eiichiro Oda
Saga Of Tanya Evil vol 4 (£9-99, Manga) by Carlo Zen & Chika Tono
Versailles Of The Dead vol 1 (£9-99, Seven Seas) by Kumiko Suekane