Featuring Lizz Lunney, Kieron Gillen, Stephanie Hans, Charles Vess, Zidrou, Edith, Joe Latham, Garth Ennis, Darrick Robertson, Stan Lee, John Romita Sr.
Die #1 (£3-25, Image) by Kieron Gillen & Stephanie Hans.
"… Are you okay?
What's wrong?"
"I can't say."
"Wait… where's her arm? What happened to you?"
"I… I can't say."
"It's been twenty-seven years, Dominic. Please. After all this time, show a mother some mercy. I have no hope. I just want to bury Solomon before they bury me."
"I can't… say… anything."
Construe Dominic's exact words how you will, but those of you who've read Alexis Deacon's GEIS may have a better clue than most.
Like MY HEROES HAVE ALWAYS BEEN JUNKIES' Ed Brubaker, THE WICKED + THE DIVINE's Kieron Gillen is a master at directing a gripping tease of a trailer, here splicing Stephanie Hans' sequential art to deliver something sharp, slick and guaranteed to make you shiver.
Rather than typing out something less skilled, therefore, I present you instead with that very visual trailer below or, if you're reading this in the comicbook's product page, to your right.
All I will only add – because it's come up on the shop floor – that Kieron himself has already succinctly summarised the plot's premise as 'Goth Jumanji'. But you know what Kieron's like: he'll give you flippant, off-the -cuff distillations (so that you can make easily arrived-at associations) when he knows full well that what he has contrived is infinitely richer and broader in scope.
You've read the trailer, then…? Excellent!
So yes, two years after they first disappeared, five of the six role-players reappeared minus one arm and their games master, Solomon, he who had taken the single 20-sided die to play with himself. Obvious questions were asked. Where had they been? What had happened? And where was Solomon?
But… they couldn't say.
Brilliantly, after but two pages we immediately flash-forward another 25 years to the point where the former sixteen-year-olds are now all over forty. Some have married, some have divorced and one at least has found a certain degree of commercial success. Dominic and his sister Angela, not so much: they are tired, battle-wearied, and Stephanie Hans excels at depicting their exhaustion then the varying degrees or trepidation or congratulation when the five are forced once more to meet up.
They're forced to meet up because – while drinking down a London pub whose pavement outside is being lashed with rain – Dominic and Angela are presented with a package which the barman found on the doorstep. In it is a box, and within that box lies Solomon's prized D20, covered in blood.
The subsequent page outside the pub is one of Hans' most accomplished of so very many. The light at night emanating from the street lamps and closed retail outlets still blasting out come-look-at-me-luminosity cascades through the deluge onto the rain-soaked stone, and there is so much red carried over from the previous page's blood-bathed die. In spite of all that occurs later on, it is the most violent page in the comic, as Dominic attempts to [redacted]
Both impressionistic and expressionistic, it is a scene that will stay for you forever.
Likewise, I believe, a panel which I thankfully do have for you, but which I will decline from putting into any context whatsoever.
It bears all the neo-classical grandeur and majesty of a scene from PS4's 'God of War'. It's worth scanning the rich, lambent background for details, because in any other context like animation this glorious landscape would not be just a single-panel scene-setter, but the backdrop to so much more super-imposed art to follow.
Once more, a reminder that red features prominently.
But wait until you see what's become of the celestial body that is this Earth's spherical globe! Now that is a moment of pictorial genius.
I leave those of you reading Page 45's Weekly Reviews Blog with the first eight pages of what is undoubtedly going to be this year's most epic new release. Sales have so far exceeded any other first issue's here, and we're only one week in.
SLH
Buy Die #1 and read the Page 45 review here
#Instabunnies (Sketched In) (£8-00) by Lizz Lunney…
"Did you
like the food I cooked yesterday?"
"Of course. I told you I liked it yesterday."
"So you liked the meal, but you didn't like the photo I put online of it??"
"WHAT?"
"78 other people liked it."
"Does it matter?"
"A bit of public appreciation wouldn't go amiss."
Haha, Janet and Jason are two rabbits who go at it with a passion. 'It' being arguing – what did you think I was referring to? Frequently (anti-)social media or some other element of the online world will be the root cause of their endless bickering. Whether that's having a pop at each other over who is the most photogenic (online, obviously), every aspect of holidays in general, drinking preposterously priced, pretentious Brazilian coffee, almost attending art exhibitions and, last but not least, their social (media) rivalry with 'best friends' Maureen and Tony, two cats who are just as obsessed with keeping up their online appearances as Janet and Jason. Who, I have to say, feel like a much gentler, considerably saner, but no less amusing version of those dairy products gone bad themselves, MILK AND CHEESE. It's just got that same deliciously mildly mean edge to it.
Indeed, this is so, so acutely, and indeed cutely, socially and satirically well observed, it's almost like it might be partially based on personal experience… Surely not, though. I couldn't imagine our lovely Lizz tongue-lashing anyone! Although with that said I note on the inner back cover there is a dedication…
"For Wilm, I know you like to think this isn't based on us, but, it is. XXX"
Haha, well in that case… I want to know who Maureen and Tony are… as probably do most of Lizz and Wilm's mates!!
I think we must still be in Lizz's good books, though, because each first interior page has the following conversation between our undynamic duo hand-scribed to complete the scene of one of them bellowing at the phone-in-hand inattentive other…
"I just want a new comicbook!"
"Fine. We'll go to Page 45."
JR
Buy #Instabunnies (Sketched In) and read the Page 45 review here
Emma G. Wildford h/c (£21-99, Titan) by Zidrou & Edith…
"To be
honest, Mister Hansen… I'd imagined Lapland… differently."
"Ha! Ha! Welcome to Kautokeino!"
"In winter temperatures can fall below -40°C, whereas in summer they frequently climb close to 25°C. Take into account the ten thousand lakes scattered in the region… and you'll understand why the mosquitoes have made this their place of choice."
"Ten thousand? To top it all someone amused themselves counting them all?!"
I suspect the titular Emma G. Wildford, as game, nay redoubtable as she is, might be starting to suspect her expedition up to the nether regions of the Arctic Circle could be a little bit harder than she previously thought…
Here's a telegram from the publisher to tell all, as handed to me by a very smartly dressed footman who of course I dismissed with a snobbish wave of my aristocratic hand…
Actually, I got it off the internet. Well, I got my butler to do it, but you know what I mean… He'll read it out for you now…
"Journey back in time to the roaring twenties, and across England and Lapland, to experience the charming and thrilling adventure of Emma G. Wildford, a tale that mixes mystery, grand adventure, and love.
It's been fourteen months since Emma G. Wildford's fiancé, Roald Hodges, a member of the National Geographic Society boarded the good ship Kinship and set sail for Norway… and she has had no news of him since. Every day, she questions the other members of the Society about his whereabouts, and his current situation, whether good or ill, but to no avail.
Before he left, Roald gave Emma a mysterious envelope to open, but only in case something happened to him. Rejecting the very thought of Roald's death, Emma decides to leave behind everything – her life, her comfort, her England, to go to Lapland in pursuit.
Along the way, Emma's certainties and beliefs will be challenged in every way, changing this quest for her fiancé into a quest for her true, essential self. Beautifully illustrated and rivetingly written, Emma G. Wildford is a character that will imprint herself on your mind and memory forever!"
Thank you, Jeeves.
Yes, expect adventure aplenty as Emma treks to furthest reaches of the planet in search of her missing love! But also an endearing character who despite believing she knows everything about herself is indeed about to embark on a voyage of profound self-discovery. That course she's so carefully charted in life… well… she's not going to end up where she expects!
It is indeed also beautifully illustrated in a suitably tasteful manner, from the blue and gold Art Deco front and back endpapers and their flyleaves, through to the period feel of the gently quirky artwork style and slightly subdued yet rich colour palette.
Edith, who did an equally enchanting adaptation of the classic TOM'S MIDNIGHT GARDEN, perfectly captures the feel of the roaring twenties with the fashions and looks of the time. I found myself rather captivated by Ms. Wildford and her story which is both sensitively and sensationally penned by Zidrou.
I'll not spoil the ending for you, but suffice to say, it is one which took several minutes after I had closed the cover to fully sink in with me. But when I did, it made me smile a great deal.
JR
Buy Emma G. Wildford h/c and read the Page 45 review here
The Book Of Ballads And Sagas h/c (£21-99, Titan) by Charles Vess, Neil Gaiman, various & Charles Vess.
Ah, such bucolic beauty!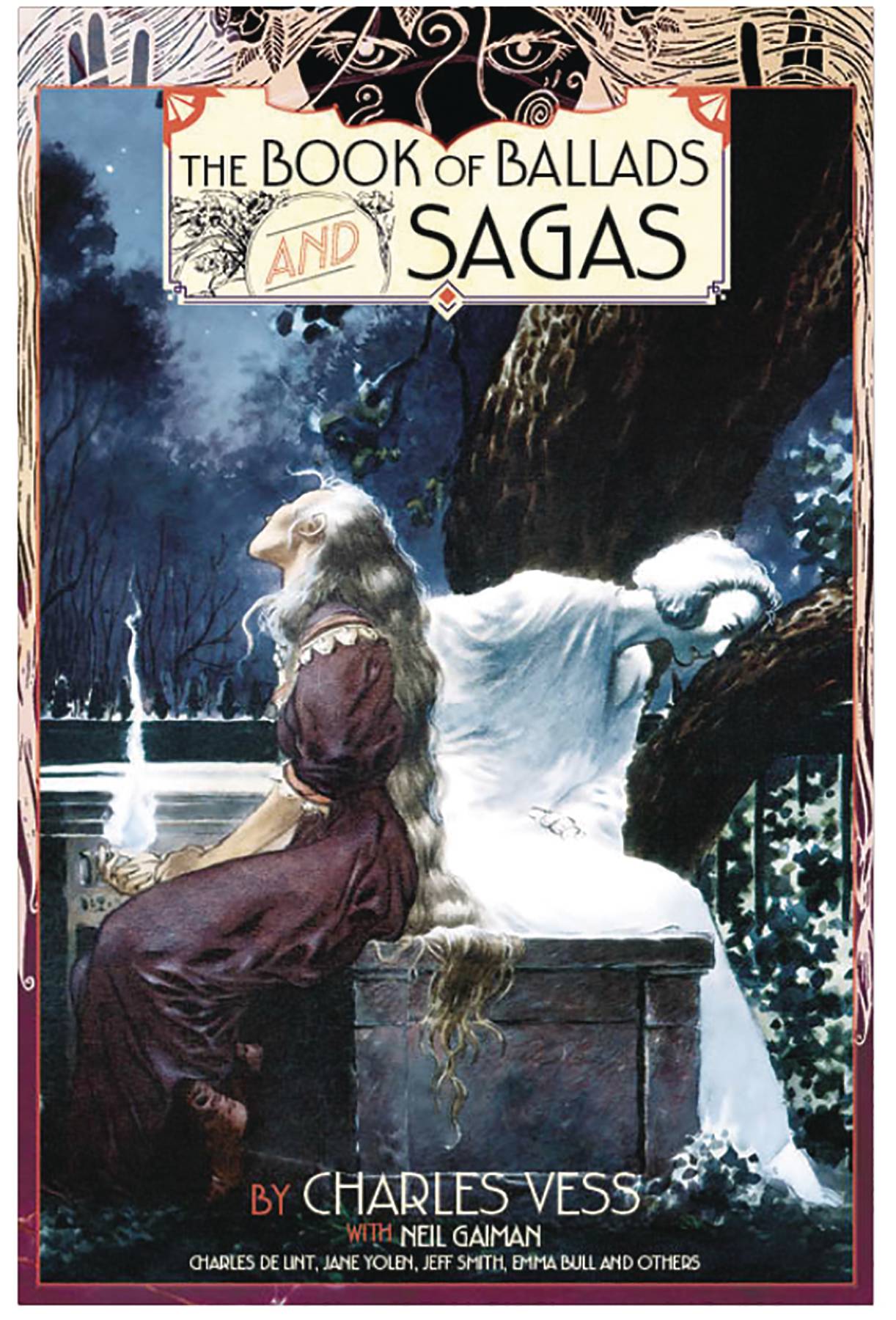 Specifically old woodland and all those ancient forests of which we have since been denuded!
You might want to check out Tim Bird's magical, lyrical THE GREAT NORTH WOOD for that.
The rustic idyll where man and woman can join hands in partaking of the beauty of nature, fill their hearts with love, their lungs with sweet fresh air, and feel the breeze sweep softly through their so recently washed, fragrant hair.
Or, as folklore would have it: where they'll be robbed, raped and cursed for all eternity.
Charles Vess (SANDMAN, STARDUST and FABLES: 1001 NIGHTS OF SNOWFALL etc), master of gnarled, knotted trees illustrates a variety of myths, often in verse, which overwhelmingly conjure up a landscape haunted by tricksters, shape-shifters and other assorted demons.
But enough about the British Countryside Alliance.
Powerful! Majestic! Heart-rending!
Fated – and of course fêted too!
Black and white, I hasten to add, with some excellent lettering, this is perfect for autumnal evening reading with a bottle of Burgundy, snuggled up by the fire.
I know it's now December, but that works equally well.
I promise you that on the boiled-up, seasoned, then reduced coulis of my grandmother's plump and once-beating heart.
SLH
Buy The Book Of Ballads And Sagas h/c and read the Page 45 review here
I Am Winter, I Am Blight (£5-00) by Joe Latham…
"I travel by night,

"I revel in pestilence,
"And cherish in spite,
"For I am winter, I am blight!"
Joe Latham, creator of the triple treasure trove that is THE FOX / THE WOLF / THE WOODSMAN returns with a meditation on the meanness of most people's least favourite season. Yes, yes, I know we all love a good crisp, sunny winter's day, the odd slippery slope or two of sledging shenanigans and building snowmen who look like they could do to go on a diet, and yes, Christmas is usually good entertainment value. But let's be honest, we're all really just impatiently shivering through January and February waiting for Spring to arrive.
Here Joe gives voice to Winter itself, in all its curmudgeonly, creeping cruelty. Fortunately that's offset by the beautiful landscapes and nature he lays out for us: the chirpy birds, tall pine forests, wide mountain ranges and running rivers. But… as Winter attempts to take charge and crush the spirit of natural life under its cold covers, we soon mercifully see it isn't going to have it all its own way…
Part of a limited one-off print run on uncoated recycled paper, which as Joe comments, "…so it feels nice…" which it really does, I have to say, with a very slight velvety, moleskine feel to it, there will be no second chance to pick this up. It's a seasonal purchase! So do act quick because they're sure to be gone in a flash. Unlike Winter…
JR
Buy I Am Winter, I Am Blight and read the Page 45 review here
The Boys vol 1: The Name Of The Game (£14-99, Dynamite) by Garth Ennis & Darick Robertson.
Back in
print in time for the prime-time TV series…
"Unadulterated carnage"
Yeah, that pretty much sums it up, cheers.
From the writer of PREACHER, PUNISHER MAX and WAR STORIES and the artist on Warren Ellis's TRANSMETROPOLITAN comes a darkly satirical series of ten adults-only books from the POV of a Machiavellian British bruiser who is exceedingly angry at everything regarding the nature of above-the-law superheroes, their suffocating male hegemony, and their history of publication along with the genre's real-life, attendant, corporate propaganda.
Writer and comedian Simon Pegg provides the introduction in which he offers the experience that, as an actor, you rarely switch on the TV to find yourself starring in a series you hadn't performed for. Errrmmm… will he, now that this has been commissioned for that very medium? He could probably name his price.
I mention all this because Simon Pegg – or rather a character with his exact likeness – is the star of this particular sequential-art show in which his love-life( or the love of his life) is quite literally torn apart by a couple of squabbling super-freaks in the first few pages.
Great timing, that panel, but I'll leave you to see its exceptional execution for yourselves.
This makes him easy pickings for Billy Butcher, a man with a mission to bring down the high-and-mighty but secretly down-and-dirty super-thugs and super-sluts who enjoy the adulation of millions along with the support of the authorities, yet whose team leaders like The Homelander emotionally and sexually abuse their fresher female and indeed male cohorts.
Together with The Frenchman, Mother's Milk, The Female and Wee Hughie (the naive Pegg-alike), Billy Butcher embarks on his first new mission to covertly film a team of teens in the all-together, doing the unmentionable.
Billy Butcher's not going to expose them, though. Not in the way that they expose themselves. He's going to blackmail them into self-destructing in mass-media public. It's about making these nasty, hypocritical, conceited celebrities with their polished media profiles squirm and turn on each other.
So it's still rather topical, I would have thought.
Little is left to the imagination as both Garth and Ennis trawl through an A-to-Z of what Wertham worried about, and which Marvel and DC have never allowed to be shown in superhero comics. It's little surprise, therefore, that DC – originally slated to publish THE BOYS – dropped this title. The only astonishing thing is that it took them so long.
It's crude, it's lewd, but the lascivious relish is infectious, and you wait to see what happens when The Boys start climbing the ladder to take on the equivalent of the Justice League of America.
Now they won't go down so easily – except on each other.
SLH
Buy The Boys vol 1: The Name Of The Game and read the Page 45 review here
Amazing Spider-Man: Epic Collection vol 3 – Spider-Man No More s/c (£35-99, Marvel) by Stan Lee & John Romita Sr. with Larry Lieber, Don Heck, Marie Severin.
"Face it, tiger…

"You just hit the jackpot!"
Oh yes, that immortal line is first uttered here by the beaming ray of beatnik sunshine that is Mary Jane Watson.
For several issues Peter's been swooning over Gwen Stacy whilst sweating it over Aunt May's constantly proposed but perpetually postponed introduction her friend Anna Watson's niece, Mary Jane, whom he's convinced will turn out to be a wallflower, a dud.
Err, no.
She's drop-dead gorgeous, up for some action and in marked contrast to the rest of the cast here she doesn't worry about how she's perceived, nor does she second-guess other people's motives.
Speaking of which, one forgets how accurately Stan Lee used to nail neuroses. I don't mean the melodrama of "What's wrong with me? I've defeated some of the most powerful supervillains of all time – without batting an eye! But why do I have such trouble – just managing my own life…?", I mean the little things like conversations that become unusually and unexpectedly awkward, stilted, and difficult to engage in as Peter's does with former flame Betty Brant. They haven't seen each other in ages and the connection is gone, Peter groaning his way through a casual cup of coffee, fully aware that neither of them is comfortable.
This is the point where I first came on board through the Marvel UK black and white prints, spoiled on John Romita Sr.'s contemporarily hip art and MJ's ludicrously hip dialogue:
"I never thought a tiger who wore his hair so short could be so dreamy! And you've got a bouncin' bike too! Dad – you're the end!"
Plus, this era boasted some of the most exquisite cover compositions in Marvel's history. #50 in particular is that classic portrait of Peter walking towards us, face-down in dejection as above him looms the back-turned spectre of the Spider-Man identity he's given up for good.
You might have seen this paid tribute to, expertly, by Sean Phillips on his cover of KILL OR BE KILLED #20.
Issues #42, #43, #45 and #46 boast perfectly arranged and thrillingly dynamic one-on-one confrontations between Spider-Man and J. Jonah Jameson's son, then the Rhino, the Lizard and the Shocker, respectively. And although the adult in me is no longer that interested in superhero fist-fights – I'm more about the relationships – John Romita Sr. manages to find a surprising variety of ways to choreograph them, even if throughout these early years a bizarre proportion end in the death of a brick chimney.
Famously, of course, one will later end with the death of a central character buried beneath a brick chimney… and an avalanche of deeply unnecessary explosion.
It's also refreshing to see how smoothly some single stories flow through into each other over the course of several issues, one event catalysing another: J. Jonah Jameson's son is exposed to space spores bringing about his first but not last transformation (roughly 150 or so issues later he becomes a moonstone-metamorphosed werewolf!); the Rhino kidnaps him so that the spores can be analysed by foreign military scientists; then Peter seeks help from scientist Dr. Curt Connors to dissolve the Rhino's hide and Curt Connors once more transforms into the Lizard.
There's a lot of J.J.J. Junior on offer, whilst his dad struts about furiously, impotently, puffing on his cigar and glowering around like a manically mardy Groucho Marx:
"That blasted wall-crawler sabotaged your capsule himself, in order to make everyone think he's a hero by later saving you!"
"Dad! Who told you such a ridiculous story?"
"Nobody! I made it up!"
Spoken like a true tabloid journalist! And I didn't make it up. If the Daily Bugle ever stops parping, Jonah would fit like a glove onto a poisonous appendage or the Daily Fail.
Anyway, as we kick off, Romita takes the artistic helm from Ditko just in time for the so-far substantial Green Goblin sub-plot to burst wide-open, and covers don't come much more iconic than #39's in which plain-clothes Peter, his Spider-Man top and tights exposed for the whole world to sea underneath his torn shirt and trousers, is dragged through the air against an azure sky, arms bound to his side, the very essence of helplessness in spite of his virile frame.
As a superhero artist you couldn't make a more immediate first impression, and in that single issue alone Peter finally bonds for life with Harry Osborn when his father Norman pushes him away, Peter's secret is exposed right outside the house where Aunt May is convalescing, and we finally find out after months of wondering who the Green Goblin himself is. It might have come as a shock to Ditko purists, Romita's faces and frames being far sturdier affairs, but to my mind it's precisely what the title needed at the time, fleshing out Ditko's seemingly limitless imagination with the weight of Romita's forms.
Finally, also included is Spider-Man's famous audition for membership in the Avengers wherein Captain America sends him out to capture the Hulk, and the Wasp brings all her customary wits to bear on assessing his potential as a team-mate objectively, scientifically and with good grace:
"I vote no! I hate anything to do with spiders!"
For more nostalgic nonsense from silly old me, please see my more satirical (yet ever so fond) reviews of AVENGERS EPIC and FANTASTIC FOUR EPIC and SPIDER-MAN EPIC collections.
This one was relatively serious!
SLH
Buy Amazing Spider-Man: Epic Collection vol 3 – Spider-Man No More s/c and read the Page 45 review here
Arrived, Online & Ready To Buy!
New reviews to follow, but if they're new formats of previous books, reviews may already be up; others will retain their Diamond previews information we receive displayed as 'Publisher Blurb'
Giant Days: Early Registration s/c (£10-99, Boom!) by John Allison
Invisibles Book 4
(£19-99, Vertigo) by Grant Morrison & various
The Metabaron Book 3: The Meta-Guardianess & The Techno-Baron h/c (£22-99, Humanoids) by Alexandro Jodorowsky & Jerry Frissen, Valentin Secher
Parallel Lives (£21-99, Fantagraphics) by Oliver Schrauwen
Spectrum vol 25 s/c (£24-99, Flesk) by various
The Sons Of El Topo vol 1: Cain h/c (£14-99, Archaia) by Alejandro Jodorowsky & Jose Ladronn
Wilson h/c (£12-99, Fantagraphics) by Daniel Clowes
Flash vol 8: Flash War s/c (Rebirth) (£14-99, DC) by Joshua Williamson & Scott Kolins, Howard Porter
Amazing Spider-Man vol 9: Worldwide s/c (£17-99, Marvel) by Dan Slott & various
Star Wars vol 9: Hope Burns (£17-99, Marvel) by Kieron Gillen, Cullen Bunn & Salvador Larroca, various
X-Men: Gambit – Complete Collection vol 2 s/c (£31-99, Marvel) by Fabian Nicieza, various & various
Coyote vol 1 (£8-99, Sublime) by Ranmaru Zariya
My Hero Academia vol 16 (£6-99, Viz) by Kohei Horikoshi
Platinum End vol 7 (£6-99, Viz) by Tsugumi Ohba & Takeshi Obata