"The perfect primer for those young and old alike wanting to learn more about the mighty Mesoamerican marauders who had it all before some psychopathic Spanish pendejo arrived and promptly took it all away from them."

– Jonathan on Discover… the Aztec Empire by Imogen and Isabel Greenberg.
The Collected Toppi vol 1: The Enchanted World h/c (£22-99, Lion Forge) by Sergio Toppi…
"You have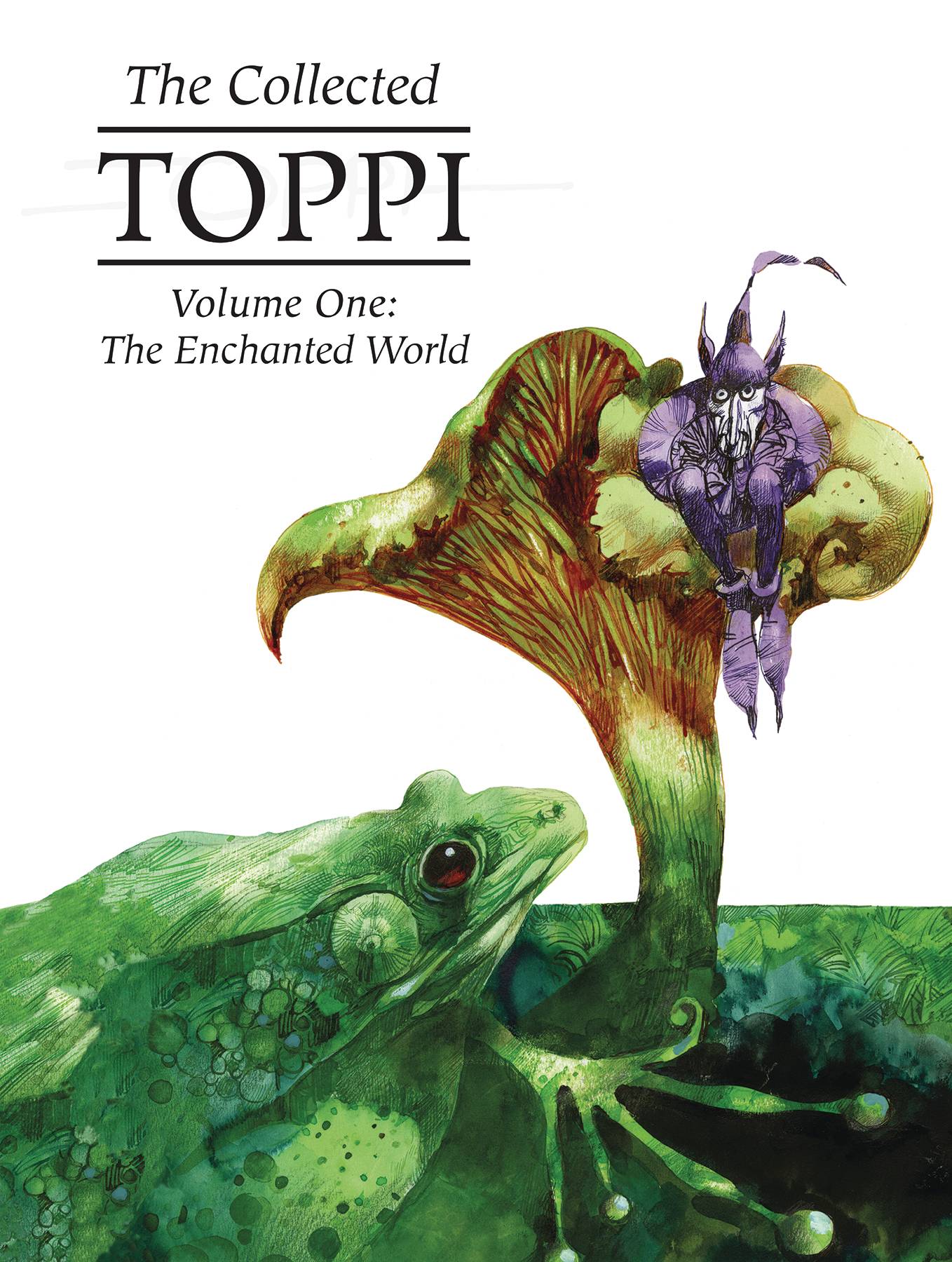 only one thing to do: Listen to me!
"That's it!
"Just do what I say!"
Are you listening? That's Toppi talking, by the way not me. You tell 'em, Toppi! If it was me, I'd be telling you to buy this. I am just about to do that shortly, by the way, I feel I have to warn you…
Anyway, it's not Toppi himself, of course, but one of his creations giving you the hard word. Well, giving another of his creations a stern talking to, but you see what I mean. If you don't, and I wouldn't blame you, because I am blathering on rather, just have a look at the amazing art inside this first of seven planned works collecting eleven of his shorts which have appeared in various publications over the years.
I think, given that the subtitle of the second collection due later this year is 'North America' and it apparently "contains eleven tales set in historical periods within the early United States, Canada, and Alaska" and judging from the content here, which ranges from a vengeful Celtic god to a mushroom-hating gnome and all manner of magical, fantastical malarkey in-between, usually with a cynically dark, if not deadly, edge going on somewhere, the seven books are all going to have rather different themes.
I must say, as brilliant and stylistically unique an artist as Toppi is, and he truly is, I therefore tend, much like with Paul ESCAPO Pope, to forget just how fabulous a writer he is too. There were many of these shorts which I would have loved him to expand upon. Don't get me wrong, the pieces here are no throwaway half-formed shorts, even the shortest is ten superlative pages, but each is such a gem of an idea that they could all have easily been expanded / worked into longer-form works. My two favourites were probably 'Solitudinis Morbus' about a very, very peculiar sickness that afflicts only lighthouse keepers…
…and 'Aioranguaq' about an Inuit who loses his name whilst out hunting and has to earn it back.
As mentioned, I note this volume also contains eleven stories. Now, I have no idea if that is some sort of mystical thematic numerical congruency the editor is trying to achieve, and each of the other five volumes will also contain eleven yarns making a grand total of seventy-seven. Possibly upon completing reading the seventy seventh story, a large portal will open up, Toppi will appear and drag the reader off to the comics underworld. Given how enjoyable reading this particular set was, I'm willing to take that risk…
If you want a more sensible review of some Toppi material, please check out THE COLLECTOR, as unfortunately SHARAZ-DE is seemingly out of print for good now. One more thing… like I said…
Buy this! That's me telling you.
JR
Buy The Collected Toppi vol 1: The Enchanted World h/c and read the Page 45 review here
Supers: A Little Star Past Cassiopeia (£13-99, Top Shelf) by Frédéric Maupomé and Dawid.
Starting
a new school is tough. What with large buildings housing a labyrinth of corridors, confusing timetables, and countless new people – none of whom seem particularly interested in helping you find your way around. Oh, not to mention this is a whole new planet to get used to…
Matt, Lily and Benji spent the early years of their lives on a space station in the asteroid belt surrounding a distant star, but when the local situation got dangerous they were promptly whisked away, out of harm's reach. Now, they find themselves on planet Earth and the three siblings are the only family they have. So whilst they may have Al, a rather unimaginatively named green, space age A.I. Assistant, it has fallen on Matt's shoulders to keep them all together.
Benji is headstrong, and Lily is still a little naïve, and neither can see the point in keeping their super powers entirely secret. Did I mention they had superpowers? Little do they know how much danger they could potentially be putting their tiny family unit in, were some unsuspecting human to spot them levitating the shopping away through the kitchen window.
In this first volume we get to follow the three as they settle into their new home and get used to school life. They make a few new friends along the way, but also an enemy or two, for as with every school, there is always the school bully.
Dawid's artwork glows with an autumnal warmth throughout, whether it's the chaotic buzz of a school day, or a pensive moment of our three siblings sat nestled on a rooftop, gazing longingly at the night sky. But no place has quite the same exuberant amount of warmth as Matt's new friend Jeanne's room does. It glows with shade of orange as a golden sunlight gently touches the clutter and keepsakes decorating her room. It is a space every bit as embracing as Jeanne herself, and I can't help but get the feeling that she is going to become a wonderfully positive ally to the tiny family unit.
Maupomé has beautifully blended the super with the ordinary to create a relatable and heartfelt story of adolescence, self-discovery, and finding your place in life with a fun, exciting twist.
For another excellent example about the travails but also potential delights of starting a new school, please see FRIENDS WITH BOYS by Faith Erin Hicks.
JP
Buy Supers: A Little Star Past Cassiopeia and read the Page 45 review here
Discover… the Aztec Empire h/c (£8-99, Frances Lincoln) by Imogen Greenberg & Isabel Greenberg…
"On their
way, they discovered that the Aztec Empire was made up of many cities, and that there were many rivalries between those cities. The Spaniards began to take advantage of this."
…
"We want their money. You want their money. Let's take their money together. It's win-win!"
"That sounds suspiciously simple…"
"There's nothing to it. You do all the fighting, and we'll split all the profits."
Which is sadly where it all started to go wrong for the mighty Aztecs, when Hernán Cortés and the good old conquistadors arrived in search of the mythical El Dorado and had to settle for destroying an empire instead. Prior to that, for nigh on two hundred years, the Aztecs managed to conquer most of Central America themselves, establishing grand cities and of course indulging in the odd human sacrifice or two… thousand.
Read all about it from the pen and pencils of Greenberg and Greenberg who also brought you DISCOVER… THE ANCIENT EGYPTIANS and DISCOVER… THE ROMAN EMPIRE. (Isabel Greenberg even brought you THE ENCYCLOPEDIA OF EARLY EARTH and THE ONE HUNDRED NIGHTS OF HERO, both of which we made Page 45 Comicbook Of The Month.)
If you need some fun historical learning, then these creators have the low-down on everything you need to know to enjoy an empire: right-uppity royal rulers, grand cities constructed by slave labour, a complicated calendar, a suitably plausible creation story complete with scary gods that need to be obeyed, thereby neatly providing a justification for sacrifice and a rewarding heavenly afterlife, bloody wars that simply had to be fought and the warriors that waged them, plus the basic structures of society and routines of daily life themselves.
Jovially illustrated complete with fold-out map and timeline (because why not?!) this titter-worthy treatise is the perfect primer for those young and old alike wanting to learn more about the mighty Mesoamerican marauders who had it all before some psychopathic Spanish pendejo arrived and promptly took it all away from them.
You win some, you lose some…
JR
Buy Discover… the Aztec Empire h/c and read the Page 45 review here
Dungeons & Dragons: Art & Arcana – A Visual History h/c (£35-00, Ten Speed Press) by Michael Winter, Kyle Newman, Jon Peterson, Sam Witwer…
Well,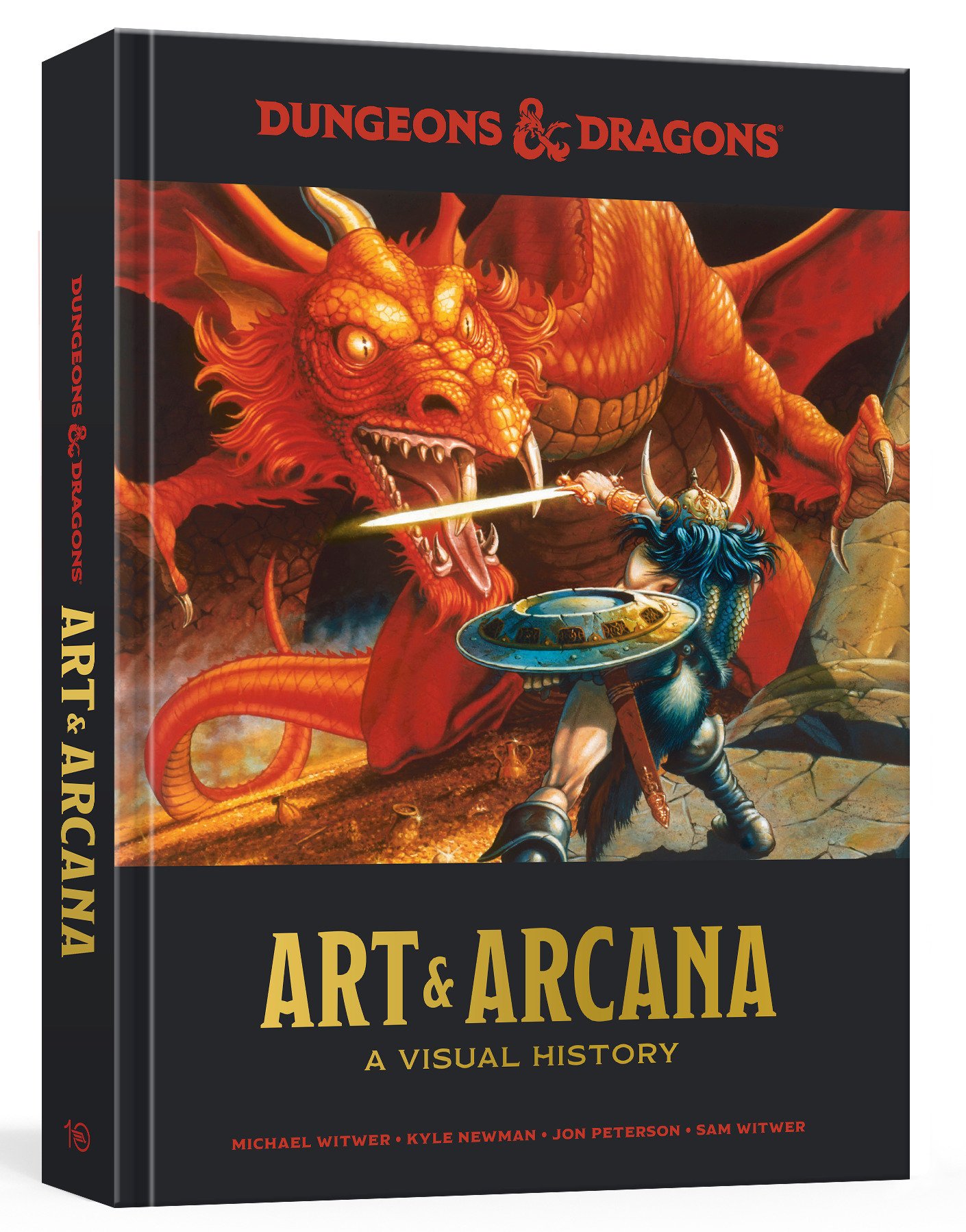 it isn't comics, but we thought more than a few of you might be interested in this insightful integration of information on the iconic icosahedronic… oh dear, I seem to be suffering from alliteration breakdown…
Anyway, here are the sage words of wisdom from the DM, okay the publisher, to clue you in before you turn the virtual page by scrolling down slightly and start adventuring, I mean, reading…
"Dungeons and Dragons is the most iconic and pervasive gaming franchise in the world. This officially licensed illustrated history provides an unprecedented look at the visual evolution of the game, showing its continued influence on the worlds of pop culture and fantasy. It features more than 700 pieces of artwork-from each edition of the game's core books, supplements, and modules; decades of Dragon and Dungeon magazines; classic advertisements and merchandise; and never-before-seen sketches, large-format canvases, rare photographs, one-of-a-kind drafts, and more from the now-famous designers and artists associated with the game. This is the most comprehensive collection of D&D imagery ever assembled, making this the ultimate collectible for the game's millions of fans around the world."
Slightly on the hyperbolic side perhaps, but I have to say that this is a truly epic work. I wholeheartedly applaud the immense amount of research and curative care that has gone into putting this tome together. For anyone with an interest in the back story of what I think we can agree is the RPG daddy of them all, this will more than satisfy. One man's mountain of minutiae is a treasure trove of tantalising trivia to another. I was certainly in the latter camp with this work. It was darker than a goblin's privy before I finally managed to stop reading yet another fascinating chapter and close the lid, I mean covers.
Every aspect of the creation and subsequent evolution of the RPG itself and its playing materials and so much more besides is covered in extensive depth, including the nonsensical negative media attention it attracted, foolishly believed by many paranoid parents, following the mysterious disappearance of Michigan State student James Dallas Egbert III <casts spell of bewilderment – 5 common sense> who subsequently re-appeared to rather less media sensationalism a month later. His decision to run away had everything to with academic pressure and nothing to do with Dungeons & Dragons…
It also covers the myriad spin-off merchandise and media tie-ins, such as the much beloved cartoon series that cashed in on the game's popularity. Though I notice the brief cameo appearance D&D made to much faux-derision in the Grange Hill spin-off Tucker's Luck somehow escaped the editor's attention… The perhaps inevitable politics, in-fighting and consequent legal shenanigans that occurred following D&D's runaway exponential success is also walked through for the record.
If you haven't got the time to read this, for a brief potted history of the early days of D&D and its DM-in-chief, there is RISE OF THE DUNGEON MASTER: GARY GYGAX & THE CREATION OF D&D which is indeed comics, but if learning about the lore of the game itself is what you're after, rather than the characters involved in its inception, this behemoth is the one you need.
If you just want RPG-related fictional comics by the way, then look no further than Kieron Gillen's magnificent, multifaceted DIE, which after a mere two single issues is already shaping up to be a classic.
If you want comics about people playing RPGs then perhaps THE ADVENTURE ZONE: HERE BE GERBLINS by the Brothers Elroy of apparently some degree of podcast fame may take your fancy.
If you want to play D&D… well, I can't help you there, just pick up the dice and get rolling…
JR
Buy Dungeons & Dragons: Art & Arcana – A Visual History h/c and read the Page 45 review here
The Art Of Charlie Chan Hock Chye s/c (£19-99, Epigram) by Sonny Liew…
My Book
of the Year 2016, now out in softcover.
"In the beginning, there was Tezuka. They called him the God of manga."
"I've got that book of his over here…
"As for me, I was born in the year of nothing. 1938.
"Well, as far as Singapore's history is concerned, anyway… 1938… It was before the war, not a year of any particular significance…
"But it was the year that The Beano first appeared in the UK…and Superman made his debut in the United States."
I never knew that. Perhaps someone needs to organise a Dennis The Menace vs. Superman centennial crossover for 2038? I can just imagine the put-upon Clark Kent being best chums with Weedy Walter. It wouldn't be the weirdest match up, surely; I mean SUPERMAN VS. MUHAMMED ALI was pretty odd, though I would contend BJORN BORG VS. PLUG of The Bash Street Kids, with the toothsome teen thrashing the great tennis maestro, is probably more bizarre still.
Hmm… not sure if one can technically have said to digressed before you've actually started something, but I'd best get on with the review! Or at least provide some background first…
Singapore, the "Crown Jewel of the British Empire", is arguably the most successful former colonial territory, of any of the 'great' 19th and 20th Century European empires, in terms of its transition to independence. It's economic prosperity and increased living standards enjoyed by its citizens were the envy of all its Asian neighbours in the latter half of the 20th Century. Most of the plaudits for that progress can be laid at the feet of The People's Action Party which has formed the democratically elected and re-elected incumbent government since 1959, and its first Prime Minister Lee Kuan Yew, who actually held the position until 1990.
That progress, guided by Lee who is regarded as the founding father of modern Singapore, from "third world to first world in a single generation", is clearly impressive. As ever, of course, along the way, there were certain dissenting voices who were, shall we say, removed as obstacles, by a combination of political chicanery, state abuse of power (particularly in the sphere of silencing dissenting journalists) and a disturbing use of extended internment without charge for radicals. It is probably testament to the relatively small scale and generally bloodless nature of these measures, that the vast majority of Singaporeans regard them as having been a necessary evil.
That moral conundrum, plus the history of this island from colonial trading outpost to fully fledged Asian tiger and much more besides is explored through the eyes, and art, of Singapore's greatest comics artist: Charlie Chan Hock Chye. Except… such a person never existed…
Sonny Liew has created a truly fascinating proxy to allow him to take us on the Singaporean independence journey, warts and all. That story in and of itself is immaculately laid out, very objectively, without shying away from any of the darker elements. But it's the retrospective of the faux career of Charlie Chan Hock Chye, shown in snippets of chapters and sketches, à la mode of Seth's THE GREAT NORTHERN BROTHERHOOD OF CANADIAN CARTOONISTS, which elevates this to a work of genius. Because Charlie Chan Hock Chye was always a man who expressed himself through his comics, and was someone who had much to say. With the arm's length remove of anthropomorphic satirical gag strips or a speculative fiction premise about a fascistic future regime of hegemonistic alien overlords, his comics allowed him far more freedom of speech than the oppressed journalistic press itself enjoyed.
Thus Sonny Liew is very neatly able to provide a much more personal and subjective commentary on the never changing political landscape and various tumultuous events as they affected the typical man in the street. As with Seth's masterpiece, you'll be left wishing that some of Charlie Chan Hock Chye's works actually existed because you'll be wanting to read them in full!
There is an additional comedic level revolving around Charlie Chan Hock Chye's entirely self-appointed status as "Singapore's greatest comics artist" and his complete lack of any substantial commercial success, including his attempts to crack America, which is almost certainly a bit of personal commentary on Sonny's part on working as a comics creator I would imagine, but which only serves to season our appreciation of this fake master even further.
Sonny employs a truly enormous range of art styles throughout this work, which is undoubtedly his magnum opus, demonstrating the various creative twists and turns (and cul-de-sacs) a comics artist might take during such an extensive and varied career. Fake or not, he's had to draw them all! I seriously hope this work serves as a springboard to greater widespread recognition and rewards for Sonny though, because he truly deserves it. I can't imagine how he can top this creatively, mind you, but I'm fascinated to see how he'll try.
JR
Buy The Art Of Charlie Chan Hock Chye s/c and read the Page 45 review here
Proxima Centauri s/c (£14-99, Image) by Farel Dalrymple.
"Get
behind the blast glass!"
* * *
"Don't freaking lecture me."
* * *
"Everything's so stinking annoying today."
* * *
"That thing ate my ride! What a jerk."
* * *
From the creator of THE WRENCHIES, POP GUN WAR VOL 1, both extensively reviewed, plus POP GUN WAR VOL 2, and IT WILL ALL HURT which I also dipped into.
If you enjoyed THE WRENCHIES, then it's time to rejoin The Scientist and indeed fractious Sherwood, still fretting about his lost brother Orson while frowning and drowning in post-pubescent hormones.
"Don't forget to drink water, Sherwood."
"I know."
Here's the publisher:
"4.243 light-years from Earth, the teenage wizard adventurer Sherwood Breadcoat is stuck in the confounding spectral zone on the manufactured dimensional sphere, Proxima Centauri, looking for escape and a way back to his brother while dealing with his confusing emotions, alien creatures, and all sorts of unknown, fantastic dangers. The Scientist H. Duke sends Sherwood on a salvage mission and gives counsel to the troubled boy in his charge.
"PROXIMA CENTAURI is six issues of psychedelic science fantasy action comicbook drama starring Sherwood Breadcoat, 'The Scientist' Duke Herzog, Dr. EXT the Time Traveler, the ghost M. Parasol, Shakey the Space Wizard, and Dhog Dahog."
Dalrymple nails Sherwood's teenage obstreperousness with giant, proclamatory speech balloons and defiant, sword-brandishing impatience to which The Scientist issues sage and scholarly advice without any thought to the certainty that it'll mean nothing whatsoever to a self-obsessed teenager:
"Why so impatient to grow up? Learn to be present and your anxiety will subside."
It's hard to be present while under assault from sewer-swarms of monstrous, sharp-toothed insectoids while racing through gravity-shifting concrete jungles and spectacular, architectural retro-futuristic collisions.
There's some Basil Wolverton about the bloating of the beasts' heads, and a big love of Moebius in some of the floating landscapes.
File under "all kinds of crazy" and drink in the varied colour treatments.
SLH
Buy Proxima Centauri s/c and read the Page 45 review here
Dropped Off Our System / Now Reinstated
The Book Of Mr. Natural h/c (£14-99, Fantagraphics) by Robert Crumb.
"You're
just a crazed old man… that's what you are! And I'm half crazy for ever taking you seriously!"
"Now we're getting somewhere! Come here, I'll let ya in on a secret! THE WHOLE UNIVERSE IS COMPLETELY INSANE!"
Meet Mr. Natural, all shoes and beard, finger perpetually raised, poised to pronounce advice to those like Flakey Foont who are too feckless to think for themselves. It's like some sort of lovers' battle as Foont oscillates between adoration and desperation to declaring his mentor a fraud; the same goes equally for Mr. Natural as he lectures his acolytes then refuses to say a word, rejecting the fawning Foont as he hops about him maddeningly. Getting back to nature and away from cars, television sets and household appliances is what Mr. Natural is all about – which is odd for someone so fixated on washing the dishes.
It's all about private meditation, not the ostentation of "Omm"ing on the streets of Sham Francisco. Sex too is a top priority, but not at the cost of commitment which infuriates the insatiably horny Devil Girl ("I want to merge with you!").
So is Mr. Natural a sage or a charlatan? Absolutely.
He's also, if you believe one version, an ex-taxi driver from Afghanistan.
Classic underground material from way back then.
SLH
Buy The Book Of Mr. Natural h/c and read the Page 45 review here
Hippopotamister (£13-50, FirstSecond) by John Patrick Green.
The joy of
learning job skills and finding your personal calling!
Packed with wit and delivered with relish, this is a delightful Young Readers surprise told in three acts during which every aspect of the initial decay is, most unexpectedly, dealt with. I love a good structure and this is ever so neat – unlike these entropic enclosures.
"The old City Zoo was falling apart.
"No one was buying tickets.
"No one was managing the office.
"The habitats needed repair.
"The monkeys had no energy.
"The lion's mane wasn't very regal.
"The walrus's smile wasn't very bright.
"And in the centre of it all lived Red Panda and Hippopotamus."
To be honest, the whole thing needs relocating and a thorough Gerald Durrell or Chester Zoo make-over. But it's an old City Zoo and I think we can leave matters of a breeding programme to one side with 3 to 5 year olds.
Red Panda is thoroughly bored of it all and leaves to live amongst humans, returning each season to impress Hippopotamus with a dazzling array of jobs he claims are "awesome". Indeed they may be, but either Red Panda has the attention span of a bluebottle on Benzedrine or… well, we'll see shortly, won't we?
Finally his friend becomes fed up too, and asks Red Panda if he could find him a job too. Ever enthusiastic, Red Panda immediately agrees, for to live amongst humans you must learn to stand on your own two feet. And they do, quite literally, hence Hippopotamister!
Together they try their hands at construction, banking, hairdressing… and it swiftly becomes clear that although Hippopotamister has an aptitude for almost everything, well, here's what happens when they attempt to cook up something suitable in the kitchen.
Hippopasta Primavera:
Pasta al dente tossed with garlic and olive oil.
Steamed broccoli, crisp bell peppers, and grape tomatoes.
Sprinkling of parmesan over sautéed onions.
Antipasto A La Red Panda:
Critters, insects and assorted bugs.
Twigs, pebbles and burnt rocks.
Lint and mismatched buttons.
Red vine liquorice, mushrooms and car keys.
Car keys! I love that the rocks are burnt.
No matter, what Red Panda lacks in finesse, he more than makes up for with inexhaustible optimism. "This is going to be the best job ever!" he declares each and every time. You too will probably wince when they enter the dental practice. Particularly funny was the accelerated four-page montage during which Red Panda manages to make such a spectacular – and I mean catastrophic – mess of absolutely everything that he turns failure into an extreme sport. I adored their fling at being firemen!
However, if there's one thing Red Panda excels at, it's energy and enthusiasm and he doesn't know how to give up. Where there's a will, there's a way!
It's at this point I leave you for fear of having to type "Hippopotamister" again with any accuracy, but it will all fit together – a lot better than Red Panda's plumbing, anyway.
SLH
Buy Hippopotamister and read the Page 45 review here
You Are A Cat Pick A Plot vol 2 Zombie Apocalypse (£13-50, Conundrum Press) by Sherwin Tjia.
What was that sound?!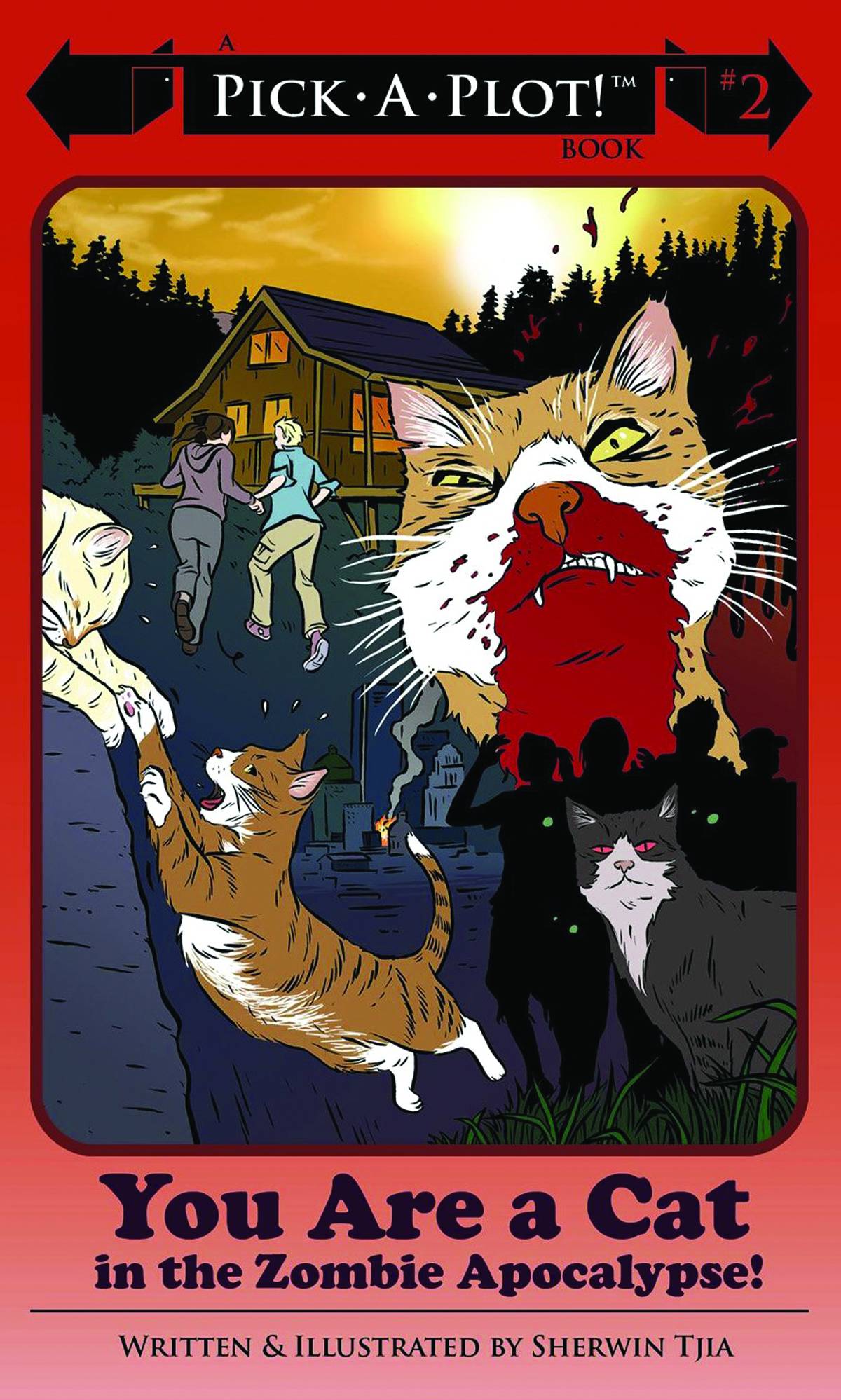 Imagine you're a cat curled up on lounge sofa, merrily moulting ginger hair all over your gothic owners' black cushions after having scratched several shades of shit out of their floor-length, velveteen curtains. It was exhausting – you deserve a nap.
But just as you'd settled down to doze, contemplating the decapitated frog you'd left beside the bed upstairs (exactly where the mother will soon place her naked foot), there's a jangling of keys and the teenage lady of the house laughs her way through the front door accompanied by her new girlfriend. And that's okay, but when her father staggers in a few minutes later and slumps like a drunk against the hall wall… that's when your life changes forever.
Before we launch properly in I should emphasise that, unlike the two self-determining graphic novels we stock (KNIGHT & DRAGON and Jason Shiga's enormously inventive MEANWHILE), this and YOU ARE A CAT VOL 1 are both illustrated prose brought to our comicbook attention on account of Tija's magnificent short-story collection HIPLESS BOY which I described as "early Tomine if Adrian was an optimist." Of the seemingly innocuous YOU ARE A CAT VOL 1 I wrote:
"WARNING: most certainly not suitable for kids! Oh, I know it looks as if it should be: for a start it's a cat, secondly it's riffing off and indeed mimicking your childhood favourites where you controlled the narrative by becoming the protagonist, making her or his decision for them, and then turning backwards or forwards to the duly prescribed page."
What it actually contained was all manner of mischief involving moments of a dysfunctional family that only a cat would witness. This time the warning's in the title and the cover, but nothing there could possibly prepare you for the true horror within. And we're not even talking about the zombies: there are worse fates than getting your neck nibbled on by a bunch of hive-minded shamblers.
"The next two hours are awful."
That, I promise you, is an understatement, for Sherwin Tija has put his thinking cap on sideways and come up with all manner of fucked-up futures for a cat caught in the midst of a zombie apocalypse, several strands involving you being bitten and infected yourself.
I am no expert in zombies, myself, but I consulted with Dominique and it appears that there are indeed very few strains which involve a zombie's perspective, let alone a zombified cat, and Tija's take is far from obvious because, to his mind, every animal would react differently. At one point when fresh human flesh is on offer you're given three options, one of which is "Will you teach them your love?" * Funny.
There are a substantial two hundred and fifty pocket-sized pages here which Sherwin has packed with enormous fight-or-flight variety involving your bit of fluff down the road, her aging owner, a fenced-off enclave surrounded by snipers, a helicopter, outrageously ruthless scientists and some brand-new means of infection which I would never have imagined in a million years. Hint: you may never breast-feed again.
As to the myriad of final fates, they are soooooooooooooo dark that the brightest is almost the opportunity to throw yourself off a roof without having even attempted to negotiate DC's juddering, advert-stuffed website.
"But, Stephen, is there no hope of happiness?"
Maybe. Define "happiness". Hahahahaha!
THE END.
* That was a hand-written note and I can no longer find the relevant page so it may not be verbatim. Also, I made the decapitated frog's head up from an all-too-true personal, cold, clammy, squelch-crunch experience for which I never forgave my own Mr Bob-San, God rest his perpetually stoned so insatiably hungry but oh so photogenic, fat, feline soul.
SLH
Buy You Are A Cat Pick A Plot vol 2 Zombie Apocalypse and read the Page 45 review here
Arrived, Online & Ready To Buy!
New reviews to follow, but if they're new formats of previous books, reviews may already be up; others will retain their Diamond previews information we receive displayed as 'Publisher Blurb'
Shanghai Red s/c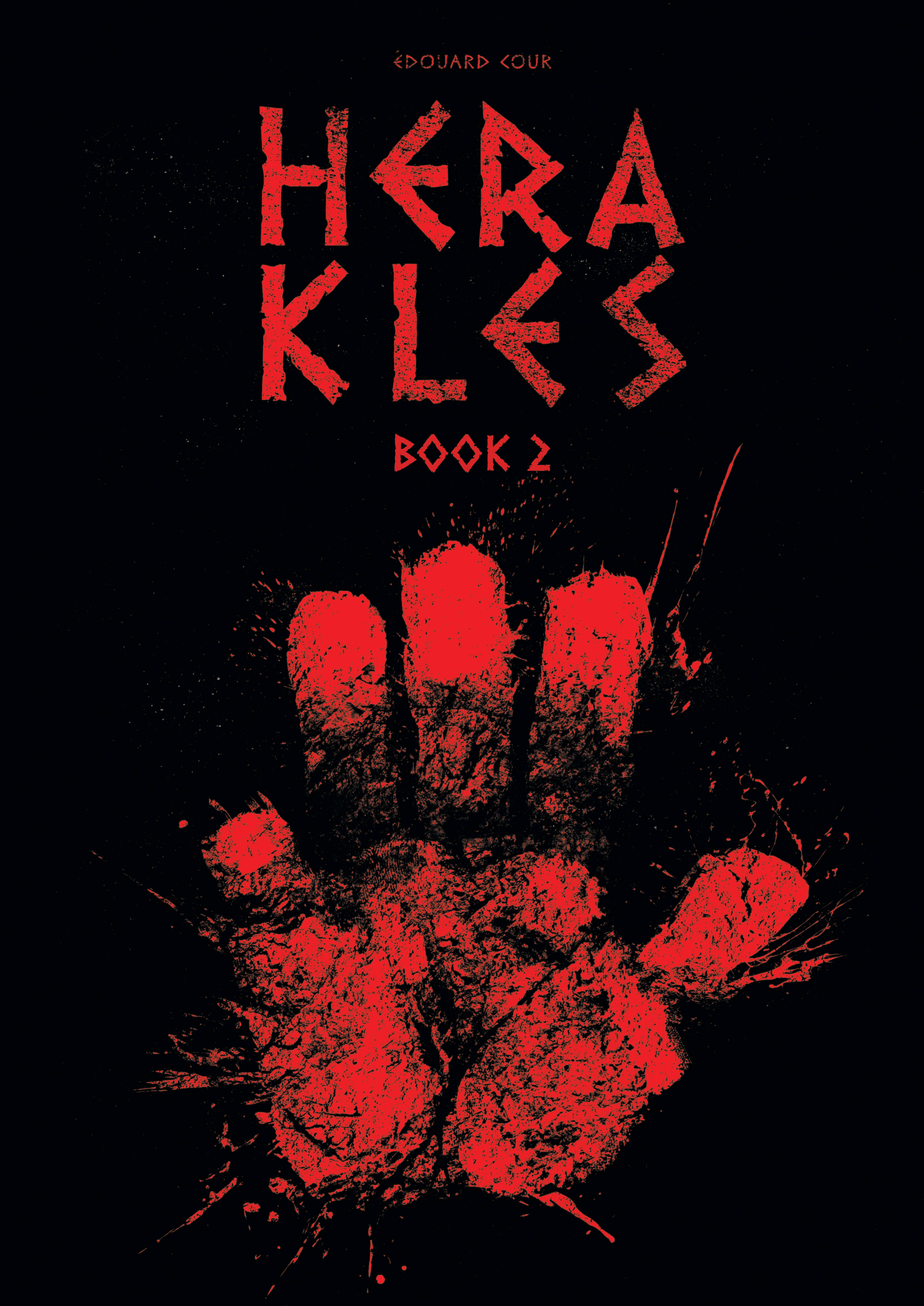 (£14-99, Image) by Christopher Sebela & Josh Hixson
Submerged vol 1 (£13-99, Vault) by Vita Ayala & Lisa Sterle
To Drink & To Eat vol 1 h/c (£22-99, Lion Forge) by Guillaume Long
Bad Machinery vol 7: The Case Of The Forked Road (Pocket Slipcase Edition) (£11-99, Oni) by John Allison
Cicada h/c (US Edition) (£17-99, AAL) by Shaun Tan
Herakles Book 2 h/c (£17-99, Lion Forge) by Edouard Cour
Iron Or The War After s/c (£14-99, Archaia) by Shane-Michael Vidaurri
My Cardboard Life (Signed & Sketched In) (£10-00, ) by Philippa Rice
Courtney Crumrin vol 4 s/c (£11-99, Oni) by Ted Naifeh
Darth Vader: Dark Lord Of The Sith vol 4: Fortress Vader s/c (£17-99, Marvel) by Charles Soule & Giuseppe Camuncoli