"Wow, that is one tough YTS scheme."

– Jonathan on Shanghai Red by Christopher Sebela & Josh Hixson

To Drink & To Eat vol 1 h/c (£22-99, Lion Forge) by Guillaume Long…
"Don't
confuse letting an idea marinate and marinating pickles."
"Because anyone can make mistakes."
Haha, like ever-attentive waiter, there is a gag strip that pops up with wonderful frequency throughout this work featuring "Pepe Roni's Good Advice." That the punchline is always, but always, "Because anyone can make mistakes" (delivered by Pepe Roni from the comfort of his armchair, knocking back what looks like a fine Armagnac, presumably for its renowned therapeutic benefits), only serves to add to the delight of these tasty amuse-bouches.
Right, so what's on the menu then? Here's the publisher to tell us all about this particular special…
"Hungry for help in the kitchen? Go from basic cook to master chef with Guillaume Long's clever and charming lessons in French food. Cooking blogs and comics come together in TO EAT & TO DRINK, the newest and most unique cookbook to add to your kitchen shelf."
What a fabulous work this is!
Served à la carte in sixty or so delightful dégustations, it comprises an eclectic collection of culinary delights such as recipes presented by Guillaume…
…though not necessarily all for their taste presumably, given one includes raven – also various sage advice like 'The Ten Commandments Of Raclette', many an absurd anecdote regarding some mild kitchen chaos or indeed culinary near-catastrophe…
…plus extended tasting notes from trips to Budapest, Venice and errr… a local Chinese restaurant. All flavoured with Guillaume's self-deprecating trademark sense of humour. Here he is regaling us with his take on dealing with the aftermath of a moment of silliness whilst shopping in the supermarket…
"The other day in the supermarket you had a flash, a moment of weakness… of craziness… during which you entered the Fourth Dimension… that is to say, you bought some broccoli. Now alone in your kitchen, you have returned to reason and you ask yourself: "Shit. Why did I buy this thing?""
Served up with finesse, I found much to salivate over here. This is no mere junk food to be gobbled down unappreciatively. No, you will want to savour it, a bite or two at a time. A feast for both the eyes and the soul, this will appeal both to foodies and those who simply have good taste in comics. Well, that my professional advice anyway. Speaking of which…
Plus, there's plenty of variety in its presentation, from said visit to Venice in free-floating panels in delicate line on parchment-coloured paper to full-colour sequential-art narrative which glows on the glossy page, then straight-up illustrated guides to kitchen utensils, a trip to a fishmongers and its fruits of the river and sea, or those you'll find hanging from trees. Sexy spot-varnish cover, too! Handy for wiping cooking oil off!
JR
Buy To Drink & To Eat vol 1 h/c and read the Page 45 review here
Shanghai Red (£14-99, Image) by Christopher Sebela & Josh Hixson…
"Get your
lazy asses up, you filthy rats. Your useless lives just became worth something again.
"You're free. Contracts is up.
"The captain took on your debts when he bought you, a fair bit of coin. Now you're all paid up.
"Started with a dozen of you. I been cracking the whip across your backs, trying to teach you somethin' and now comes the day of reckoning. You got a choice to make, boys."
"One, ya stay on the Bellwood. Sign up for another go-round. Only now you'd be pulling wages, equal with the rest of the men. No more sleeping in the hold.
"Two, soon as we land in Shanghai, you walk. Make your own way home. Though I'm not sure how you'd be able to, skint as you all are.
"You got two minutes to decide. Captain wants me back on deck. Smile boys. You're sailors now. Just need all five of your names on…"
Wow, that is one tough YTS scheme.
Get shanghaied in Portland, be locked up in a ship's hold for two full years with a mortality rate of over fifty percent, repeatedly getting hell thrashed out of you, before being told you're free to go if you want when you land – oh irony of ironies – in Shanghai… It's almost like the Captain and his first mate aren't really giving you that much of a choice, right?
Well, "Jack" certainly thinks so.
It's just that her choice to kill the Captain and the entire crew, seize the ship and set sail back for Portland to deal with the people who put her on the Bellwood in the first place in a similarly rewarding manner might not be the most obvious one. Unless of course getting kidnapped and effectively kept in slavery on the high seas for two years is the holiday you've always been dreaming of… Because nothing says "thank you" for giving someone the opportunity to see the world quite like slitting their throat.
Yes, that's right, for "Jack" is in fact Molly, or Red as she now prefers to be known.
Here is the sad sea shanty from the publisher to make you salty seadogs shed a tear or two as they clue you in on Red's revenge mission…
"Red is one of hundreds of people who were shanghaied out of Portland in the late 1800s. Drugged, kidnapped, and sold to a ship's captain for $50, she wakes up on a boat headed out to sea, unable to escape or reveal who she is. Now, she's coming back in a blood-soaked boat to find her family and track down the men responsible for stealing her life out from under her. Eisner-nominated writer Christopher CROWDED Sebela & Joshua Hixson bring you a tale of revenge, family, and identity that stretches from the deck of a ship outside Shanghai all the way to the bleak streets and secret tunnels beneath Portland, Oregon."
Oh yeah, it is ON! I love me a good bit of retaliation, retribution and reprisal. So do remember to pick your standing orders up won't you, me hearties…? It's just that finding those responsible for the shanghaing shenanigans shore-side and dealing with them is going to be a lot harder than clearing the decks of the not-so-good Captain and his lackeys.
No, the second part of Red's equalising errand is going to take considerably more guile and cunning. Good job for her she's got those skills in abundance. Perhaps she'd like to take on those responsible for Brexit next?
There's a lot of the suitably rough and ragged about the art for the bruising fist-fights, comfortless conditions and blood pooling over the floorboards. And, I kid you not, everyone is glaring at each other throughout with such effectively depicted ice-cold hostility and suspicion that you may find your own eyes narrowing, however subconsciously.
If you have a need to see wrongs righted and wrongs 'un sent off to sleep with the fishes (who presumably might have a little nibble on them after they wake to find breakfast has been kindly served up), this is for you. Brutal, nasty, probably exactly what life in 1800s Portland was like, both on ship and shore, this is a cautionary tale awash with all shades of pale blues and bright reds that a tot or two too much rum in a less than salubrious local can lead a to – a hangover that might last a very long time indeed…
JR
Buy Shanghai Red s/c and read the Page 45 review here
Bad Machinery vol 7: The Case Of The Forked Road (Pocket Slipcase Edition) (£11-99, Oni) by John Allison.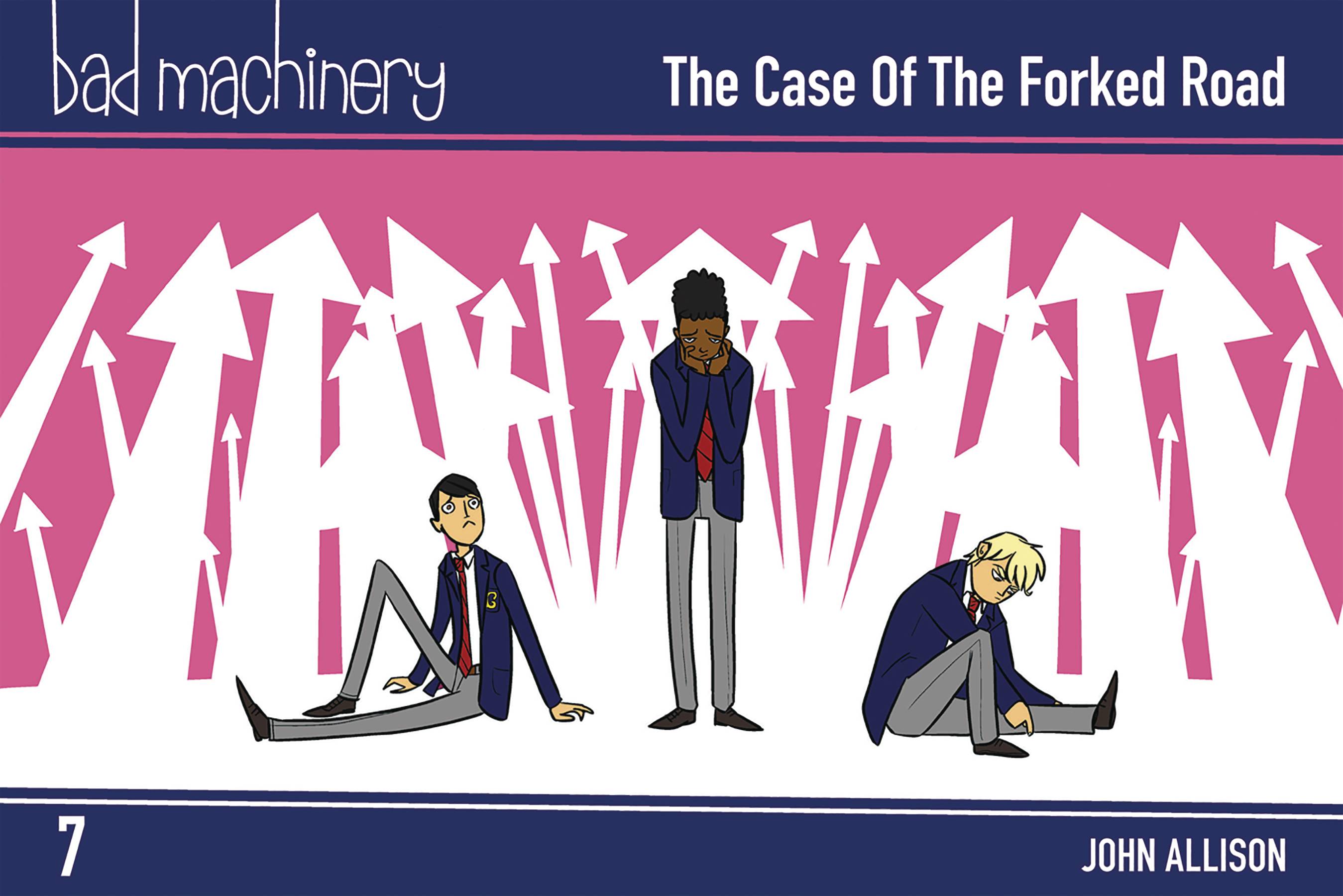 It's actually exactly the same original, portrait-orientated graphic novel, except housed in a landscape slipcase so that it's perfectly aligned with your other small-hands editions.
"FLIP! Ole Knotty's coming!"
"Get in there! Quick!"
"Oof, move up!"
"HEY!"
"Which one of you touched my bum?"
"SHUT UP, MAN"
"I NEVER"
The bad boys have hidden in the science lab's fume cupboard. There's something very strange about that fume cupboard, and it will lead to a forked road – but a forked road to where?!?
We've written extensively and in depth about all things John Allison (GIANT DAYS etc) so if you want a more detailed analysis of Allison's comedy craft try BAD MACH 6 or the BOBBINS one-shot, Page 45's biggest-selling comic of 2016. He is the British king of gesticulation, whether it's arms aloft in exaggerated exasperation / despair, hands clasped round cheeks for wide-eyed adoration / wistful daydream or Linton tugging at his own tie, just below the knot, in preparation for some action /super-sleuthing, like the proverbial girding of loins.
That particular added-extra would have occurred to so few other artists, and it's what keeps the pages of clean, crisp lines so vibrantly active and alive. Speaking of added extras, you won't find that Linton page online – it's one of many new story pages which Allison creates specifically for each printed collection.
It's all very British and ever so brilliant and BAD MACHINERY itself is all-ages, perfect for those who've grown up reading the likes of LOOSHKIN and BUNNY VS MONKEY by Jamie Smart.
However, kids do grow up, don't they, and speaking of fumes one of my favourite albeit brief sequences this time involves Sonny's bedroom.
"So, Mildred… did you get much out of him?"
"No."
"Sorry. He's a bit… you know."
"That's all right, Uncle Tom. I opened a window."
Sonny lurches out, shoulders hulked high, in nothing but his boxers and vest, a blonde, teenage, monosyllabic Neanderthal, to spray deodorant under his armpits in the bathroom then return, equally unresponsive, to sit cross-legged, frowning at a screen.
"Just going to play video games in your pants, then, son? I'll shut the door."
In fact, not to disrespect the central mystery – which is ingenious and comes with quite the sly epilogue involving The Beetles (sic) – but most of my favourite sequences this time involve the three lads, Linton, Jack and Sonny, who sit most of this session out while they hit or "catch" puberty, experiencing its own mysteries in hilarious single-panel growth spurts, beautifully drawn, before coming out of their hormonal chrysalises as three different varieties of a classic subculture. In this, as in everything, Allison actually thinks to maintain their distinct individuality where other, lesser creators would have dressed them all up the same. And it all works so well: of course Linton, Jack and Sonny – specifically they – would emerge into young adulthood as modern iterations of that particular British subculture!
Now, you may think puberty an unsuitable topic for what has been so far an all-ages comic but a) I don't think so (there was way too much misinformation in my day filling the void that is British reserve, reticence and outright embarrassment), but also b) the references are both fleeting and innocent, plus 3) the youngest most people start in on BAD MACHINERY is aged 12, and even if you begin aged 10, most kids will be 12 by the time they reach volume 7. See also a) and b) if they can't really wait.
It's very much like Jeff Smith's BONE in that what starts off as a light-hearted comedy comic which children as young as 6 adore grows ever darker as it gets older, but its readers grow with it too.
As to the girls, Charlotte, Shauna and Mildred, of course they handle things better – with books and the like – but then they've got their mystery-orientated minds focussed elsewhere. Haven't they?
"Mildred. I… are you all right?"
"I saw something strange yesterday evening. But I need to ask my dad about it."
"What? Mildred, what?"
"Was it a daddy cow on top of a mummy cow in a field? Because you don't need to ask your dad. I will lay it on the line for you."
"No, Lottie."
"S-R-S-L-Y. Strickly scientific."
Again, see BAD MACH 6 for what I love about Lottie's language (it amuses me to refer to this series as BAD MACH – it sounds like a blunt and so defunct razor, or a hypersonic speed completely out of control), but here we are treated to "Britane", "Laaa!", "MENTILE!" and "the BECHAMEL test".
"Right, so if you make a film with two ladies in it, and all they do is talk about MEN… it fails the BECHAMEL test."
"… the bechamel test!"
"Yeah. It means your film is bland and cheesy."
"Lottie, you are ruddy treasure trove of culture." *
Hmmm….!
Meanwhile there are as ever strange "doings" to discern, cogitate upon and pursue to their logical conclusions, like why a young boy has appeared at Griswalds Grammar School in Tackleford wearing a school cap and shorts when nobody wears shorts and even Shauna wears full-length trousers rather than a skirt.
Did you spot that she wears trousers? Details! John Allison's characters are all individuals, and he is all about the details. Pay attention to Occam's Razor early on too!
"Why is this case 80% CROSS COUNTRY RUNNING? We were so close to CAKE!"
* It's the Bechdel test. As in comics' Alison Bechdel of FUN HOME etc.
SLH
Buy Bad Machinery vol 7: The Case Of The Forked Road (Pocket Slipcase Edition) and read the Page 45 review here
Iron Or The War After s/c (£14-99, Archaia) by Shane-Michael Vidaurri…
Gripping,
slow-burning espionage thriller clothed in delightfully wan and moodily atmospheric watercolours.
The rabbit Hardin has stolen some vital information from the victors of a civil war. He's part of the Resistance that haven't given up battling the Regime, though others' loyalties, on both sides, are less clear cut. There's a plan afoot to do something spectacular, to prove to the masses the good fight is still worth fighting, but will the Resistance get the chance to bring their plot to fruition, or will the intelligence agents of the Regime, combined with the incompetence of some of Resistance members, manage to foil their scheme? And when the dust settles who will be regarded as a hero, and who as a traitor?
A truly beautifully illustrated work, also poignantly penned by S.M. Vidaurri, which neatly showcases his burgeoning talents in both areas. He's clearly a talented chap, and I've no doubt we will be seeing much more from him in the future. Storywise, this has much in common tone-wise with DUNCAN THE WONDER DOG, though that is a much more complex work.
If he plans to stick with anthropomorphics, though, he's someone we could be talking about in the future in the same breath as Juan Diaz Canales & Juanjo Guarnido, the creators of BLACKSAD, but I've no doubt whatever he turns his hand to next is going to be visually spectacular.
For more anthropomorphics, highly recommended, please see Bryan Talbot's five-volume GRANDVILLE.
JR
Buy Iron Or The War After s/c and read the Page 45 review here
Submerged vol 1 (£13-99, Vault) by Vita Ayala & Lisa Sterle…
"There's
something else, girl. What is it that you want?"
A slightly better attempt at hiding something rather significant early on, I would have thought. Oh no sorry, that's what I wanted…
Here's the publisher to apprise us (and Elysia) of what the hell is going on…
"On the night of the biggest storm in New York City history, Elysia Puente gets a call from her estranged little brother Angel, terrified and begging for help. When the call cuts out suddenly, despite the bad feelings between them, Ellie rushes into the night. Finding his broken phone in front of a barricaded subway station, Ellie follows echoes of her brother into the sinister darkness of the underground, desperate to find him before it's too late."
I'm having to restrain myself here. It's very tempting to throw out a spoiler. After all, the writer seems to fling out a truly huge one very early on for me. Nobody likes a spoiler, particularly when it is penned by the writer themselves… Unless, perhaps the whole point is that we are supposed to realise precisely what the hell is going on, even if Elysia doesn't…? I'm not sure that makes it any cleverer, if so.
It just struck me as a little bit of a shame, because the real reason behind Elysia and Angel's woes is only gradually revealed over the course of the whole story, in a manner that I thought was expertly done making that side of the story very interesting with some real depth. I just knew what the ultimate ending had to be all along. But, as I say, possibly that was the point; I just would have been tempted to hide it for longer myself. Allowing for that, I will certainly concede that this is cleverly written. The more I think about it, it must be that writer Vita Ayala intends us the readers to be aware of one very important fact that Elysia is most certainly not. Still, that not knowing is certainly going to ensure she'll confront some serious demons, both figurative and literal.
For this curious mix of madcap mythology and criminal misdeeds serves to tell us of a journey in a most surreal subway that seems entirely designed to draw out one's worst fears and where nightmares are made all-too-real. It's a journey that despite me having a pretty good idea of the final destination, at least for one of our protagonists, is worth taking. For despite my comments above I was soon sinking into the sofa squirming along with Elysia as the veritable tortures of the damned are visited upon her.
That the art is rather good helped a lot with that too. It struck me as having elements of Faith Erin THE NAMELESS CITY Hicks, particularly in the facial features, and also Tula SUPREME: BLUE ROSE Lotay both in pencils and palette terms. I'll certainly be keeping an eye out for artist Lisa Sterle in the future.
JR
Buy Submerged vol 1 and read the Page 45 review here
Dark Nights: Metal s/c (£16-99, DC) by Scott Snyder, various & Greg Capullo, various…
"Whoa.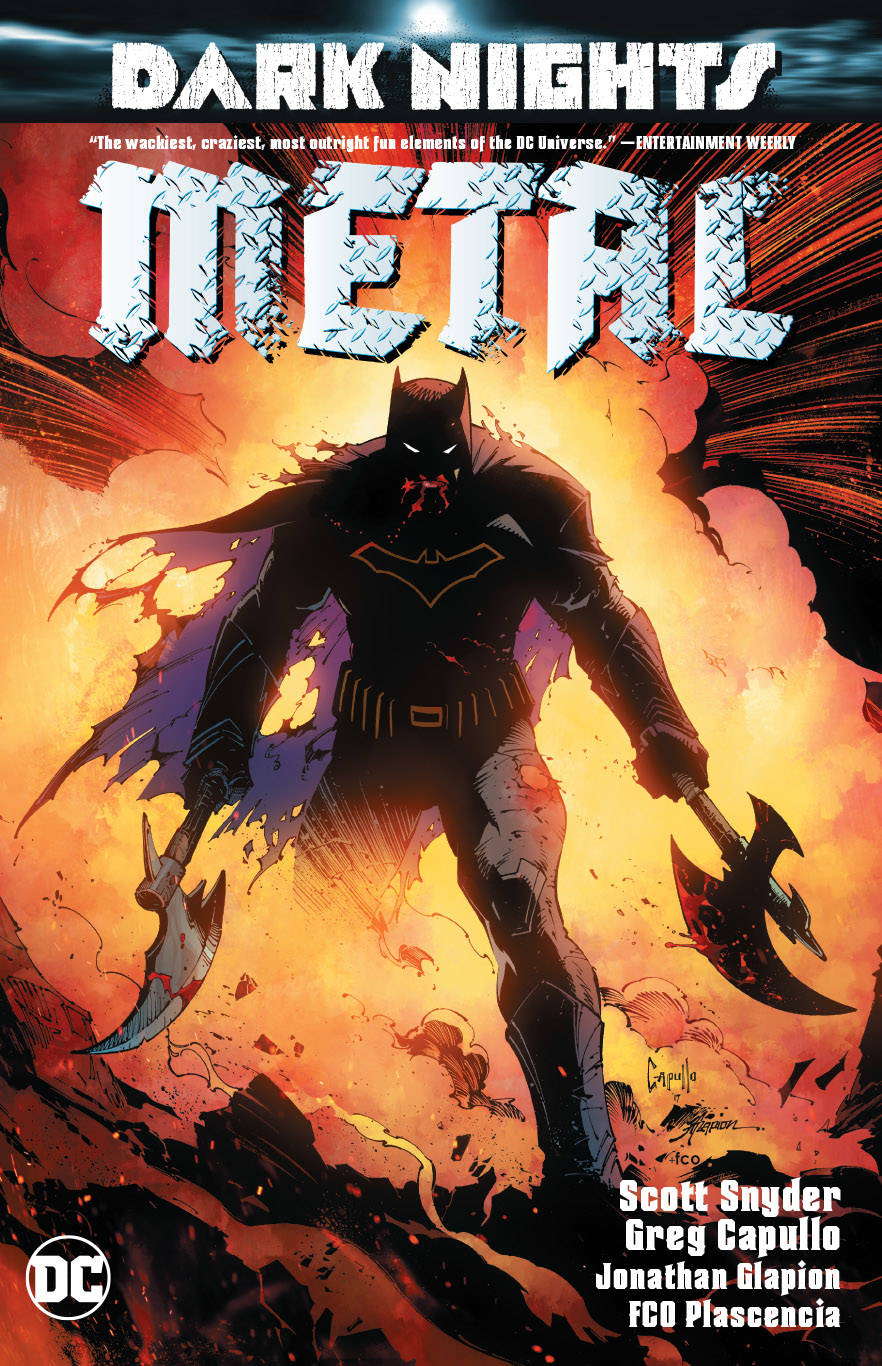 Big door. Vic, I'm sending you over the image…"
"Got it, Barry. I've run it over a thousand times already. But it keeps coming up unknown…"
Said big door being on the entrance to the hidden bunker in the centre of the huge mountain that has just materialised in the middle of Gotham City… destroying most of the city centre, sky scrapers and all…
Long-time DC fans will immediately recognise it as the base of the Challengers Of The Unknown, who these days work for… ah, well that would be telling. I enjoyed how Snyder weaved in all sorts of DC history into this tale right from the off, be it references to individual bat-books such as BATMAN: THE RETURN OF BRUCE WAYNE written by Grant Morrison, or lesser-used third-string characters like the C.O.T.U.
It is a bit weird having to remember in this current version of the DC Universe that the Justice League has no idea who the Challengers are yet (Batman aside, obviously, being his usual know-it-all self). I think there was also a very odd, brief-lived, New 52 incarnation involving reality TV 'stars' as the Challengers if the memory serves.
Anyway, DC never particularly worried about re-writing their history with the various Crises and other events over the years. There are also a couple of much more familiar characters who crop up in this issue too, who will be very well known to even casual DC readers. If not the Justice League, yet…
So… following on from events in the Dark Days: The Forge and Dark Days: The Casting one-shots, now collected with a host of relevant reprinted New 52 issues in DARK DAYS: THE ROAD TO METAL, something not so fun and cuddy from… elsewhere… is on the way, apparently being drawn to this reality in some strange way by Bruce Wayne, who could actually do with a good cuddle, so that's a shame.
There's a nifty and amusing explanation involving a certain poster of the New 52 Multiverse (also thrown in DARK DAYS: THE ROAD TO METAL back matter) that probably graced more than a few comic shop walls a few years back which sheds an absence of light on the situation, and that's probably all I should really say by way of plot explanation at the moment.
I was, and still am, perplexed by the prologue battle that will titillate fans of enormous, transforming Japanese robots… I'm still oblivious as to precisely what wider purpose that served. I commented in my review of the first issue that this event had the potential to get completely preposterous, but hopefully Snyder could keep it on track. He did, just about, but only just.
There are a few conceits in there that test the old suspense of disbelief, it must be said. It's certainly big, convoluted, bombastic fun, though, and truly an infinite number of times better than the crisis of writing that was CONVERGENCE. I think I can safely rank this up there with CRISIS ON INFINITE EARTHS and FINAL CRISIS in pure madcap superhero event enjoyment terms.
Capullo, meanwhile, continues to dish out his impressive linework. He and Snyder, the team primarily responsible for the BATMAN DC NEW 52 run, are excellent foils for each other. If as a writer you are going to try and cram in that much action, you do need someone that can deliver clean, precise mayhem.
DARK NIGHTS: METAL – DARK KNIGHTS RISING, to be read perhaps before the final chapter, expands on ne'er-do-wellings of the seven glass-darkly permutations of a certain lead protagonist.
JR
Buy Dark Nights: Metal s/c and read the Page 45 review here
Arrived, Online & Ready To Buy!
New reviews to follow, but if they're new formats of previous books, reviews may already be up; others will retain their Diamond previews information we receive displayed as 'Publisher Blurb'
Darwin – An Exceptional Voyage
(£16-99, Nobrow) by Fabien Grolleau & Jeremie Royer
BPRD Devil You Know vol 2 – Pandemonium (£17-99, Dark Horse) by Mike Mignola, Scott Allie & Sebastian Fiumara, Laurence Campbell, Laurence Campbell
The Chilling Adventures Of Sabrina vol 1: The Crucible s/c (£14-99, Archie) by Roberto-Aguirre-Sacasa
Eightball: Pussey! (£11-99, Fantagraphics) by Daniel Clowes
Firefly Legacy Edition vol 2 s/c (£22-50, Boom!) by Joss Whedon, Chris Roberson & Georges Jeanty, Karl Story, Stephen Byrne
The Great Northern Brotherhood Of Canadian Cartoonists (£16-99, Drawn & Quarterly) by Seth
Lone Sloane: Salammbo h/c (£35-99, Titan) by Philippe Druillet, Gustave Flaubert
Pip And The Bamboo Path h/c (£11-99, Flying Eye Books) by Jesse Hodgson
Reel Love – The Complete Collection (£14-99, Unbound) by Owen Michael Johnson
The Wrath Of Fantomas h/c (£26-99, Titan) by Oliver Bouquet & Julie Rocheleau
Berserk vol 9 (£13-99, Dark Horse) by Kentaro Miura