"Cat Getting Out Of A Bag mashed up with 'Alien' and served in a cute, full-colour kitty bowl of joy, complete with all those horrible bits of congealed jelly on top to queasify the unsuspecting stomach."

– Jonathan on Jonesy – Nine Lives On The Nostromo h/c by Rory Lucey
Hicotea: Nightlights Book 2 h/c (£14-99, Nobrow) by Lorena Alvarez.
"This
place is not yours to understand.
"It is mine to devour!"
Ooooooooh, it's going to grow proper scary, shortly!
At that moment, the warm, rich palette of organic oranges, greens, browns and blues will abruptly give way to a pale purple void and a dark, blackcurrant vacuum: a roost ruled over by an enormous, yellow-eyed agent of destruction and despoiler of spaces, a sharp-beaked bird that can transform itself into a vast, black flapping flock, stealing away Sandy's sketchbook and the wetlands of this world.
Nature itself is under assault, as we all know too well.
Lorena Alvarez – the creator of NIGHTLIGHTS, now out in softcover – returns with some of the most gorgeous sequential-art spreads you will ever behold, some earthly, some unearthly but always with such a command of form and colour that adults and youngsters alike will fall mesmerised until their spell!
The wide, misty wetland being explored by Sandy and her school friends invites wide eyes to roam around its outer reaches, spotting brightly coloured birds hopping between early autumnal berries, the leaves just beginning their senescent switch from dark summer-green to a rusty golden brown. Yet, like Joe Todd-Stanton's MARCY AND THE RIDDLE OF THE SPHINX, these landscapes also lead the eye round the page through carefully choreographed conversation, perfectly balanced in its visual timing.
Okay, the first one here is more of an argument than a conversation, and Sandy's so concerned for the wellbeing of all the critters being captured and collected – being removed from their natural, safe, life-sustaining environment and dropped into empty jam jars without any thought as to what they might eat – that on the very next page she kicks out in frustration before realising it wasn't some sort of rugby ball she'd punted into mid-air, thence the brook's waters, but a small turtle, hiding in its shell… and she is devastated.
I adore Alvarez's eyes: pools of circular black ink so solid that you could, paradoxically, dive into then swim in them. It's as if you can see straight through to Sandy's emotional core, and a brain actively generating questions.
"Hello?" being an odd opening gambit to an amphibious reptile but sure enough, after a Lewis Carroll rabbit-hole segue, we discover that the shell's inhabitant, curating a collection, is indeed entirely sentient with questions of its own.
Once more, those children's eyes, they are going to wander!
At first the picture frames appear to contain birds, beasts and relatives in portrait mode; flora and fauna and full-blown landscapes, with the odd geometric arrangement.
But then there are colour wheels, solar systems, inventors and inventions like Da Vinci's design for a bird-like flying machine! Hicotea, you see (a Colombian turtle), has been on a quest, a quest for knowledge but I'm afraid her source has dried up. We'll get to that in a bit.
"I've been collecting these things for a while. Each of them represents a question that someone asked, and their journey to find an answer… an answer that might show the world in a different light. Take my home, for example. Something that you thought was small is in fact almost infinite… or if you look at a marble, perhaps there is a whole universe inside!"
On the subject of spotting details, I adored how the spiral staircase is carved out of a gnarled, ancient tree, and I admired all the clambering involved in Sandy and Hicotea's journey through the found objects.
"You just have to ask the questions to find out, don't you?"
"I… I don't know. I guess. Sometimes it is easier to stay quiet. People get tired of questions that can't be answered."
"Or scared of the answers they find…"
Hicotea had been exploring the wetlands where she felt comfortable, safe and quite at home, but now they appear to have vanished along with all their vibrancy, life, variety and colour, the portal reduced to a blank space.
"There's something out there that won't let me through."
Sandy manages to topple through, though.
Unfortunately she might not like what is waiting for her.
We haven't even reached page 20. There is far, far more to explore, and along with all the scary stuff – whose compositions with the spaces and holes also manages to evoke a strong sense of emptiness and loss – there are some delightfully funny moments, as when Sandy, in a panic, fleetingly thinks that she's been invited by new friends into their home as dinner, rather than guest.
Alvarez's decision to concentrate on a specific natural ecosystem is very wise, especially one which many schoolchildren will be more likely to have discovered for themselves. We certainly took jam jars down to a big pond at infant school. If you try to communicate to Young Readers all our self-inflicted problems on a global scale, it all grows a bit too enormous, even nebulous rather than, ummm, concrete. This approach, by contrast, makes it more involved and personal.
From Flying Eye / Nobrow, the publisher responsible for Luke Pearson's HILDA, ANIMALS OF THE NORTH, ANIMALS OF THE SOUTH, ARTHUR AND THE GOLDEN ROPE, AKISSI, THE JOURNEY and oh so very much more!
SLH
Buy Hicotea: Nightlights Book 2 h/c and read the Page 45 review here
Little Bear's Spring (£6-99, Macmillan) by Elli Woollard & Briony May Smith.
It's the light, basically.
I bought this in for the light inside which is absolutely exquisite!
Over and over again, Briony May Smith captures – as perfectly as anything I've seen – the warm glow of a weak winter sun, low in the sky, on otherwise freezing cold snow. The dappled purple shadows are also present and correct. There's one page in that respect that I'd rank right up there with Monet.
Contentious!
The solitary bear cub waking up alone after hibernation is as cuddly as can be. He's feeling so small in this vast wintry landscape, but finds a little stone looking sad, lost alone, and so adopts it. It's good to have friends, isn't it?
Mind you, I also relish a good rhyme, and Woollard delivers that too. I can already hear you reading this to your kids. The cadence is perfect, and we are in a good old gambol up and down dell (okay, it's more of a mountainous forest), leaping about with some hares racing round, excited for spring and its much softer ground; or birds flitting high with no time to rest, each in search of twigs for their nest.
"Oh," the bear muttered. "So what is the spring?"
"Spring," said the birds, "is a magical thing!
"The sun shimmers out through the cold winter's gloom,
"And the buds open up and burst forth into bloom."
"Oh!" said the bear. "I could help build a nest!"
But although the bear tried, his attempts weren't the best.
So the bear lolloped off down the track all alone,
Saying, "Oh… well at least I have you, dear Stone."
Slight mistaken identity there, mate, as soon you shall see.
It's all so ridiculously pretty that I do wish I had more interior art for you but couldn't find that much online, and what I could find was mostly, lamentably, cropped. However, this will only serve to enhance your own wonder when you open the book up for yourself.
Three gasps and you are legally obliged to buy the book.
I will be listening from behind our counter.
SLH
Buy Little Bear's Spring and read the Page 45 review here
Guantanamo Kid – The True Story Of Mohammed El-Gharani (£14-99, SelfMadeHero) by Jérôme Tubiana & Alexandre Franc…
"We know you
were working with Al-Qaida in London in 1993. You were part of a clandestine cell led by Abu Qatada Al-Masri."
"Are you sure?"
"Look: 1993."
"You should be smart and say 1998 or 1999. In 1993, I was six."
"HA HA HA."
Ever wondered precisely what it would be like to be a detainee in Guantanamo Bay? If so, this work will shed some light on the shady incarceration practices of the U.S. government perpetuated in the name of the war on terror. Here's the rap sheet from the publisher to lay out the charges…
"Saudi Arabia offers few prospects for the bright young Mohammed El-Gharani. His access to healthcare and education are restricted; nor can he make the most of his entrepreneurial spirit. At the age of 14, Mohammed seizes an opportunity to study in Pakistan.
One Friday in Karachi, Mohammed is detained during a raid on his local mosque. After being beaten and interrogated, he is sold to the American government by the Pakistani forces as a member of Al-Qaida with links to Osama Bin Laden, but Mohammed has heard of neither. The Americans fly him first to Kandahar and then to Guantánamo Bay. GUANTANAMO KID tells the story of one of Guantanamo Bay's youngest detainees."
Yes, if we are to believe Mohammed El-Gharani's story, as the Americans obviously didn't, he was merely in the wrong place at the wrong time, having chosen to fly under an illegal passport to Pakistan to study I.T. The illegal passport being necessary because his parents didn't want him to leave Saudi Arabia.
Sold on to the Americans for the not inconsiderable sum of $5000, which perhaps explains why the local Pakistani authorities on the ground might have been happy to provide an endless production line of potential jihadis for enhanced interrogation at Camp X-Ray, Mohammed was about to lose several years of his life, indeed probably his entire potential future, at least as he foresaw it. Do make sure you read the writer Jérôme Tubiana's afterword, because Mohammed's problems with various security services continue to this day.
With a strength belying his tender teenage years, or perhaps because of it, Mohammed adapts, survives and possibly even thrives during his imprisonment with a surprising degree of stoicism and indeed even more astonishing displays of defiance.
It's very difficult to know precisely just how one would react in such a situation. I'm not sure I would have responded with such defiance the way Mohammed apparently did, but then I'm not expecting to be hauled off the streets and forcibly rendered halfway around the world for the ultimate surprise getaway. Mind you, neither did he…
Along the way he befriends someone who most politically aware people in the UK will probably have heard of, the Saudi citizen and British resident Shaker Aamer, who was held at Guantanamo without charge for more than thirteen years, considerably longer than Mohammed's not insubstantial seven, and became an unofficial spokesperson for his fellow detainees, though Mohammed too frequently advocated and agitated for better conditions at the camp.
I found Mohammed's sad story incredibly upsetting. That seemingly pure sheer unfortunate circumstance can lead to such destruction of a life, indeed lives, because of course his family was devastated too. And yet, given the judicial injustices we see frequently repeated on domestic soil, particularly American, by law enforcement agencies, is it really so hard to believe Mohammed, and indeed Shaker Aamer's stories, amongst so many others?
I thought Alexandre Franc's black and white, relatively straightforward art style, worked well for disseminating Mohammed's hardships without making it overly-dramatic or indeed too emotionally difficult to digest. It's punchy enough, though, and it also works perfectly in conveying the humour the inmates manage to find, and also the mischief they managed to make, in even the most trying of circumstances.
JR
Buy Guantanamo Kid – The True Story Of Mohammed El-Gharani and read the Page 45 review here
Jonesy – Nine Lives On The Nostromo h/c (£9-99, Titan Books) by Rory Lucey…
Haha,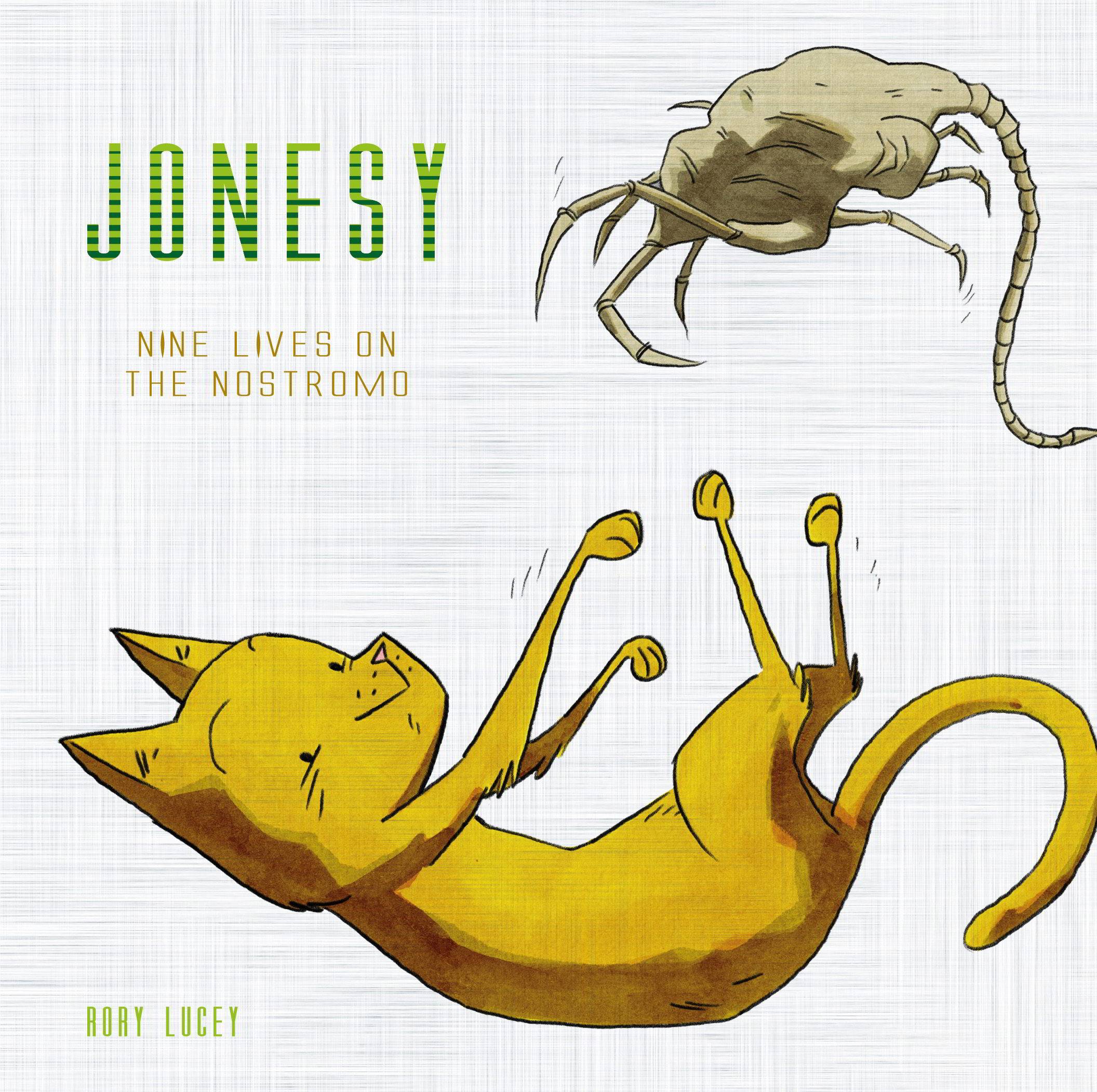 this is basically CAT GETTING OUT OF A BAG AND OTHER OBSERVATIONS mashed up with ALIEN and served in a cute, full-colour kitty bowl of joy, complete with all those horrible bits of congealed jelly on top to queasify the unsuspecting stomach. Let me allow the publisher to give you fair warning of the playful trip of terror you're about to embark on…
"Aboard the USCSS Nostromo, Jonesy leads a simple life enjoying The Company cat food and chasing space rodents. Until one day, his cryostasis catnap is rudely interrupted. The humans have a new pet and it's definitely not house-trained.
In space, no one can hear you meow."
True, that final point, if a little unimaginative. I think my favourite rework on the classic Alien movie poster simply has to be the tagline for the surprisingly good horror film Killer Clowns From Outer Space which proclaimed that… "In space, no one can eat ice cream."
Anyway, I dairily digress, because this is hilariously brilliant. From the moment Jonesy wakes up yawning and stretching and promptly attaches herself to Ripley's still sleeping head like an alien facehugger that simply will not be shaken off, I was chortling away.
This work follows the plot of the film faithfully, just from the very puzzled feline eye of Jonesy who wonders who in space this shiny, spindly interloper might be and how they can be chased off. At least to start with…
You'll recognise many of this movie's iconic moments, such as the exploding chest and the acid dissolving through the floors, but just not quite how you remember them.
However, you might still find yourself watching, I mean reading, through your fingers (which does make it rather tricky to hold onto the book, I have to say) as Jonesy continues to burn through his allotted lives quicker than a squadron of suicidally gung-ho space marines confronted by a gaggle of excited Xenomorphs. Sorry, unnecessary sequel reference.
I liked the little intro from the creator who comments after finally convincing his wife to watch the film with him that there was only one thing she wanted to know before it started: did the cat survive?! Well, according to Jonesy's own version of events, it was an extremely close call indeed! Repeatedly!
JR
Buy Jonesy – Nine Lives On The Nostromo h/c and read the Page 45 review here
Hobo Mom h/c (£12-99, Fantagraphics) by Charles Forsman & Max de Radigues…
"Sissy, go
inside. What are you doing here, Tasha?"
"I just wanted to see her… Get to know her."
"You don't have the right. Did you tell her?"
"No. 'Course not."
"And you're not going to. Why… what do you want?"
"Nothing. I swear."
"I don't have no money."
"Like I said, I just want to get to know her."
"You don't have that right!"
Charles THE END OF THE F*CKING WORLD Forsman and Max MOOSE De Radigues combine their own unique talents to produce this mysterious low-key tale of a lady riding the rails instead of running the family home.
I say mysterious, because in true Forsman fashion, the main characters don't offer up all the answers to their current motivations and precisely how they ended up in the collective and individual messes they find themselves in. Well, any answers really. Instead we are left wondering how this particular family hit the buffers and why Mom decided a life on the open road was the solution to her personal problems. We get feelings, though, albeit mainly of the intensely repressed kind. Some will out quite spectacularly. For a while at least…
Max De Radigues captures this sense of subdued yet strained inhibition very neatly with minimal linework combined with red letratone shading. For folks not familiar with his work I can see bits and pieces of Kevin FIELDER Huizenga, Hartley YOUNG FRANCES Lin and even a touch of Box AN ENTITY OBSERVES ALL THINGS Brown.
There's a tangible sense of space in the artwork here which probably accurately reflects the emotional distance between the roving, restless mother and her sad, sweet husband and unsuspecting daughter.
JR
Buy Hobo Mom h/c and read the Page 45 review here
The Weatherman s/c (£15-99, Image) by Jody LeHeup & Nathan Fox…
"You
woke up in the hospital with a bump on your head and no memory of life before the accident. Sound about right? Nyseth's people call it a "springboard". Meant to keep you from asking questions about your previous life."
"You're lying."
"Your D.N.A. matches his."
"I'm not him! You hear me!"
"We found records of the operation when we raided Nyseth's lab two months ago."
"I'M NOT HIM!"
Oh, but you are, Nathan. Well, you're not Nathan actually. You're the most wanted man in existence called Ian Black. That's a bit dull isn't it…? Not the most wanted man bit, obviously, I meant the name.
Here's the future fiction forecast from the publisher for the incoming sequential storm front about to blight Nathan Bright's life…
"The future's only hope… has a zero percent chance. Nathan Bright had it all: an awesome girlfriend, a kickass dog, and a job as the #1 weatherman on terraformed Mars. But when he's accused of carrying out the worst terrorist attack in human history – an event that wiped out nearly the entire population of Earth – Nathan becomes the target of a manhunt that spans the galaxy.
But is Nathan truly responsible for such a horrific crime? And why can't he remember? Confused, terrified, and totally unprepared for life on the run, Nathan's fate lies in the hands of Amanda Cross, the disavowed government agent assigned to his case.
Together the unlikely duo will have to rely on each other as they battle their way through the solar system in search of the truth, and the key to stopping a second extinction-level attack.
A full-throttle, wide-screen, science-fiction epic about the damage we do in the name of justice and what it truly means to be redeemed."
They didn't mention the ridiculous humour for some reason! I think I'd have been tempted to label this as a full-throttle absurdist science-fiction romp as it's definitely played for laughs… The initial character of Nathan Bright, before his entire world falls apart, you know, like he apparently did to the Earth when he was Ian Black, is just so incessantly cheerfully chirpy you want to punch him in the face repeatedly. He's just one of those people who is so happy it hurts everyone else. Hahaha, it's not going to last. Oodles of daft dialogue too, that'll have you shaking your head in disbelief whilst smiling away merrily.
We don't get to do it – punch him, that is – but plenty of others, both the good guys and bad guys, do. Good. Even though it really isn't Nathan's fault. Good job he's got the lovely Amanda Cross, who definitely enjoys punching Nathan in the face, to keep him safe from practically everyone while they try and sort it all out.
I predict trouble aplenty ahead for one of the most entertaining and quite literally throwaway characters I've wanted to punch, I mean read, for a while! I actually started to wonder if writer Jody LeHeup might have a deep-seated pathological hatred of weathermen he gives Nathan such a proverbial buffeting. Maybe one ran off with his girlfriend or something…
Strong art too, from Nathan Fox, bursting with angular energy and vibrant colour. It's a little bit Paul BATTLING BOY Pope in places and most definitely a dash of Jim STREET ANGEL Rugg too. Actually, maybe a bit of Alan TANK GIRL Martin as well, now I come to think of it. It matches the writing perfectly.
If you fancy reading something that doesn't take itself remotely seriously, like MAESTROS, but with far less profanity and a sci-fi twist instead, this could be for you. I believe this is one and done too. It says volume one on the side, but it seems all blown over to me by the end.
JR
Buy The Weatherman s/c and read the Page 45 review here
Cold Spots s/c (£14-99, Image) by Cullen Bunn & Mark Torres.
An SUV
drives through the wrought iron gates of an estate substantial enough to have a sizeable spread of trees, yet close enough to a major city that its light pollution taints the sky purple at night.
It pulls up at the imposing entrance to an even more imposing mansion.
"Mr. Warren values punctuality.
"You're late."
It's always a good idea to establish the hierarchy of employment early on, isn't it?
A man much younger than the snow-haired butler steps out of the vehicle.
"Is that right?
"Because your boss once told me that he never wanted to see me again.
"By my watch, that makes me early."
It's a good line in itself, but also a careful clue artfully slipped in early on, which is why I haven't quoted you the publisher's own blurb which is one big blunder-headed spoiler. Instead, I'll leave you to join your own dots because, quite rightly, they aren't in the comic itself.
Mr. Warren has reluctantly summoned this Mr. Kerr back after 8 years of absence, for he values his ability to find those who've gone missing. And Mr. Warren's daughter Alyssa went missing, a month ago. There's a photograph of her in an envelope laden with cash.
"Seems like there was an envelope full of money on the desk the last time I was here."
"And tell me… how long did those funds last?"
It's the second photograph which first ruffles Mr. Kerr's cool, of a girl nearly 8 years old.
"Her name is Grace. She vanished along with her mother. She's a special child, Mr Kerr, and the courts have seen fit to make me her legal guardian.
"Alyssa was never one to make good decisions.
"I'm concerned for my grand-daughter… for Grace… and I want her brought back to me, where I can protect her. If Alyssa doesn't want to return… well… It wouldn't be the first time she's used poor judgement."
It's a scene well played by Mark Torres, for at that last implied sleight, Mr Kerr's eyes shoot daggers.
Have you figured it out yet? One final clue: Mr Kerr calls Mr Warren "Arthur".
It's pretty cold where Mr. Kerr's headed, to the coast which is close to an offshore island whose inhabitants have recently chosen to dispense with a ferry altogether.
It was preternaturally cold when we first and last saw that island, during the first four pages. Even inside with the thermostat turned up, the breath of the bearded man hangs in the air. His shoulders hang heavy too. He sits alone and pallid in the bungalow's colourless lounge, overly empty save for some family portraits, also hanging, on the wall.
His wife in the kitchen's stopped washing the dishes. Instead she's staring out of the window.
"Louise? What are you doing?"
"Hmm? I'm sorry. I wasn't paying attention. I was just watching the boys play."
"The.. the boys? What are you talking about? You can't watch them play. The boys are –"
The boys are in the garden, one standing on a swing, the other racing towards a football.
But you can see right through them. And then there are those faces and eyes…
Beautifully judged by Torres for maximum eeriness, there will be more temperamental temperature during the second half of this first issue which I've not even touched on.
From the writer of HARROW COUNTY (first two volumes reviewed).
SLH
Buy Cold Spots s/c and read the Page 45 review here
Shazam s/c (Movie Cover Edition) (£11-99, DC) by Geoff Johns & Gary Frank.
"You don't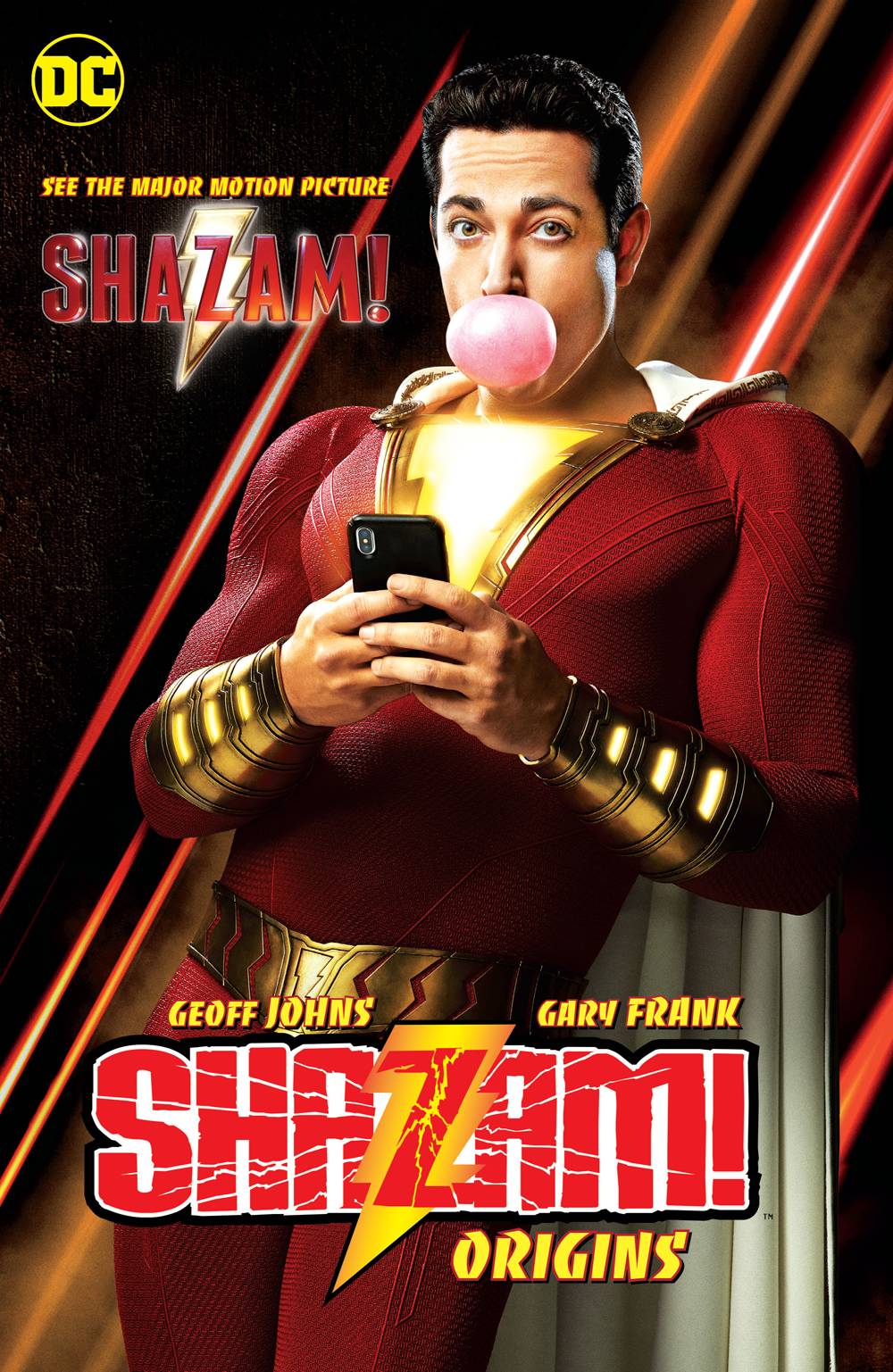 care about anyone but yourself, do you? How sad is that?"
Another reboot yarn this time featuring Billy Batson, here updated for the 21st century as a right royal pain in the arse. A problem child who is unwanted and unloved, stuck in foster homes for most of his life, and consequently has a gargantuan chip to carry on his young shoulders. If only he could turn into someone super-strong to take the weight of all his woes… Gosh, that'd be magic wouldn't it?
It works though, because the character of Billy is given real depth by Johns and there is an excellent supporting cast of goodies and baddies that flesh the story out perfectly. Excellent art from Gary Frank, who as usual has provided a masterclass of exactly how superhero books can and should be drawn. Every single face he has drawn here shows emotional content which adds an extra dimension to the storytelling.
Wonderful.
Apart from the new cover.
JR
[Editor's note: collects the back-up strips from JUSTICE LEAGUE (NEW 52) #7-11, 0, 14-16 and 18-21. I love Gary Frank. See DOOMSDAY CLOCK etc. He makes you believe that a muscular, 15-stone man can fly – or even float in mid-air.]
Buy Shazam s/c (Movie Cover Edition) and read the Page 45 review here
Arrived, Online & Ready To Buy!
New reviews to follow, but if they're new formats of previous books, reviews may already be up; others will retain their Diamond previews information we receive displayed as 'Publisher Blurb'
Blossoms In Autumn h/c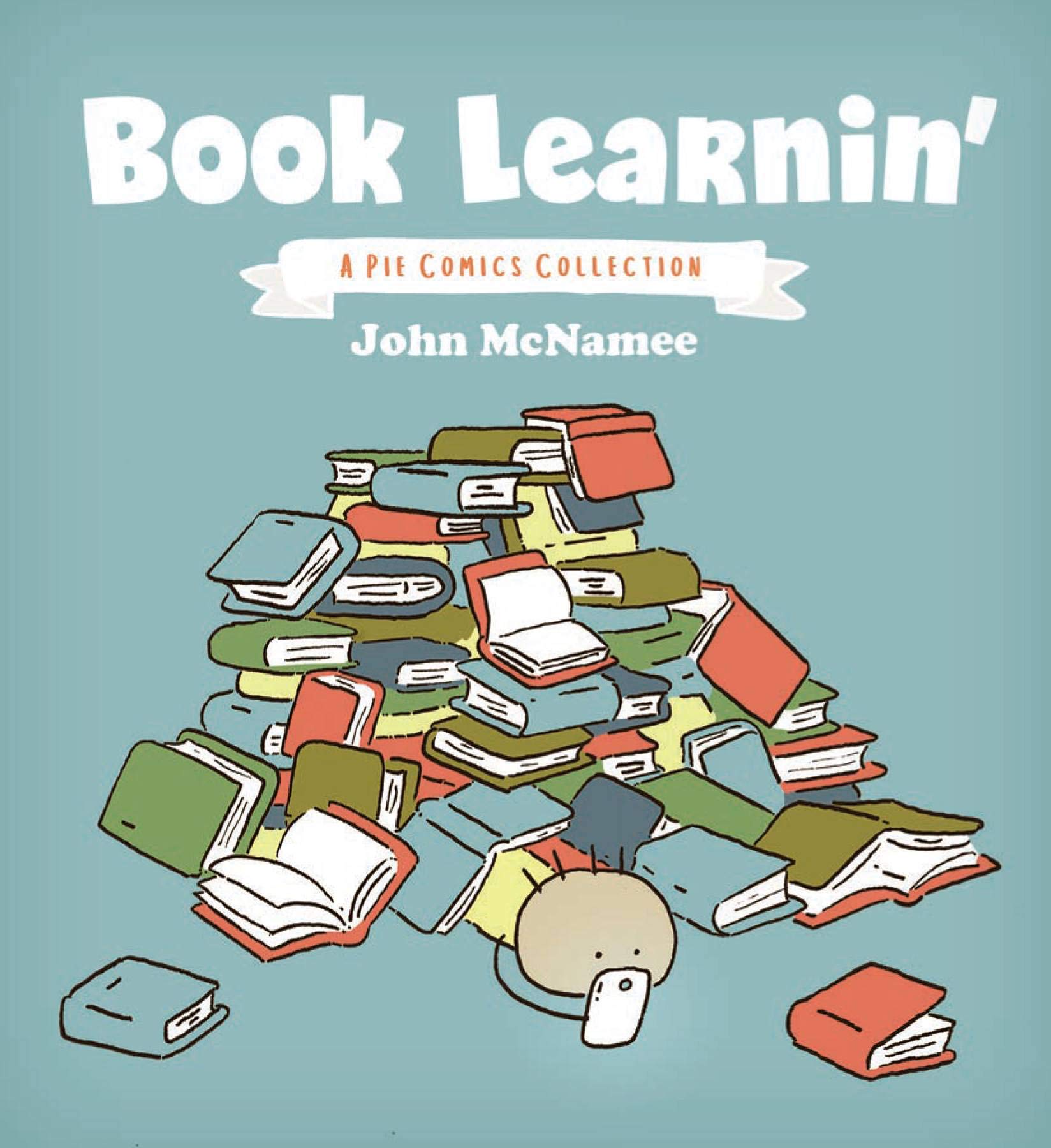 (£14-99, SelfMadeHero) by Zidrou & Aimee De Jongh
Book Learnin' – A Pie Comics Collection (£13-99, Lion Forge) by John McNamee
Brazen – Rebel Ladies Who Rocked The World h/c (£17-99, Ebury Press) by Penelope Bagieu
Girl Town (£17-99, Top Shelf) by Carolyn Nowak
Kid Gloves – Nine Months Of Careful Chaos (£15-99, FirstSecond) by Lucy Knisley
Kill 6 Billion Demons vol 3 (£14-99, Image) by Tom Parkinson-Morgan
Last Siege s/c (£17-99, Image) by Landry Quinn Walker & Justin Greenwood
Man-Eaters vol 1 (£11-99, Image) by Chelsea Cain & Kate Niemczyk
The Perineum Technique h/c (£17-99, Fantagraphics) by Jerome Mult & Florent Ruppert
Star Bright (£11-99, ) by Rob Zwetsloot & Alice Clarke
Walking Dead vol 31: The Rotten Core (£14-99, Image) by Robert Kirkman & Charlie Adlard
The Wicked + The Divine vol 8: Old Is The New New s/c (£15-99, Image) by Kieron Gillen & Stephanie Hans, Andre Araujo, Ryan Kelly, Aud Koch, various
The Wild Storm vol 3 s/c (£14-99, DC) by Warren Ellis & Jon Davis-Hunt
This Woman's Work (£18-99, Drawn + Quarterly) by Julie Delporte
Xerxes: The Fall Of The House Of Darius And The Rise Of Alexander h/c (£26-99, Dark Horse) by Frank Miller
Avengers vol 2: World Tour s/c (£15-99, Marvel) by Jason Aaron & Sara Pichelli, David Marquez, Ed McGuinness
Fantastic Four vol 1: Fourever s/c (£14-50, Marvel) by Dan Slott & Sara Pichelli, various
Abara – Complete Deluxe Edition h/c (£20-00, Viz) by Tsutomu Nihei
RWBY Anthology vol 4: I Burn (£8-99, Viz) by various
That Time I Got Reincarnated As A Slime vol 4 (£10-99, Kodansha) by Fuse, Taiki Kawakami
That Time I Got Reincarnated As A Slime vol 5 (£10-99, Kodansha) by Fuse, Taiki Kawakami
That Time I Got Reincarnated As A Slime vol 6 (£10-99, Kodansha) by Fuse, Taiki Kawakami
That Time I Got Reincarnated As A Slime vol 7 (£10-99, Kodansha) by Fuse, Taiki Kawakami
That Time I Got Reincarnated As A Slime vol 8 (£10-99, Kodansha) by Fuse, Taiki Kawakami
That Time I Got Reincarnated As A Slime vol 9 (£10-99, Kodansha) by Fuse, Taiki Kawakami