In which we issue a Neil Gaiman Sandman alert….
Asleep In The Back (£5-00) by Tim Bird…
"Lindum Drive

"Goose Lane
"Bawtry Road
"Towards the motorway
"Hypnotised by traffic rhythms
"And monotone radio."
The master of comics psychogeography returns, in part, to the theme where he and I first met. I remember very well just how entranced I was upon reading his GREY AREA #2 – THE OLD STRAIGHT TRACK, a paean to the much maligned and misunderstood Great British motorway network. It's sadly out of print now, but happily this work brings back wistful memories of my first Tim Bird experience, and indeed also long car journeys as a child.
If you'd like to be touched by Tim Bird then I heartily recommend GREY AREA – FROM THE CITY TO THE SEA, GREY AREA – OUR TOWN, THE GREAT NORTH WOOD, ROCK & POP and THE ROCKET. Go on, you won't regret it, trust me.
So here, first we see young Tim's experiences as a nipper being taken by his parents along with his sister to visit his grandparents for Sunday lunch…
…or more precisely the soothing, sleep-inducing vehicular voyage back to Oughtibridge before finally being carried upstairs oh so gently to bed by his dad.
Awwww…
Then we get some trademark temporal juxtaposition with a twist as adult Tim and his wife load their car up with their two kids and set off up the motorway for his parents. But immediately before that, there's a page which, to me, perfectly sums up the magic Tim wields as we see him age from boy to man in three small square panels, superimposed over a motorway flyover bedecked in a continuous red line of sped-up car breaklights, with a full lunar cycle sequence bisecting the page.
The whole image alone is perfect, but there are also two sentences that neatly serve to underscore that Tim is also a master of words. He has a lyrical quality that flows so naturally creating its own imagery that perfectly complements the visual. His choice of words never fails to captivate me.
"Time drives onwards. Year after year like a constant stream of traffic flowing endlessly along the motorway."
That it does.
He also does something I've never seen him do before, on the final page. I'm not going to spoil it, and I very much doubt it is something he will make a habit of, but if there was a more perfect, heart-meltingly beautiful way to end this work, I can't think of it.
JR
Buy Asleep In The Back and read the Page 45 review here
Rock & Pop (£4-00, self-published) by Tim Bird…
"On Saturdays my dad would listen to Radio Sheffield on the way home from the football.
"They played pop music in between people phoning in to talk about the match."
<"Sheffield Wednesday were awful today, we can't keep playing like that…">
<"Thanks for the call… we'll get back to the football debate after some music… this is the new single from Belinda Carlisle…">
"Heaven Is A Place On Earth is the first song that really stuck with me.
"I remember listening to the radio hoping to hear the song again, but they never seemed to play it after that."
24 pages of pop perfection, and indeed imperfection (really, Tim… Boyzone! I would ask what on earth you were thinking but as you've freely admitted here, you've honestly no idea) from the man whose own talent for wordsmithery I rank amongst the finest in comics today.
It makes perfect sense, therefore, for someone so adroit in their use of the English language to be into such diverse musical offerings as the likes of Belle and Sebastian, Radiohead, Nirvana, Saint Etienne and Neil Young, plus more than a few groups I must confess to being entirely unfamiliar with.
In this brief chronology of Tim's life to date he'll take us on his very own magical musical mystery tour set against the backdrop of some mildly insignificant moments, plus some very significant ones. One scene detailed per page, each with its own particular musical selection. Sometimes the music is the lead, at other times merely the accompaniment.
Thus without giving anything away, the page featuring Tim and his girlfriend April going to see the Magnetic Fields in concert, well, I can completely understand why the track The Luckiest Guy On The Lower East Side is now forever burnt into his consciousness!
Many of the earlier pages are more about Tim discovering and getting into various artistes, reminding me wistfully of an age when we had all the time in the world to discover new aural pleasures, whereas it's the latter pages where the music begins to take a more supporting role of soundtrack to life events.
It's all combined with the typical Bird visual panache, even when baring his (musical) soul for our amusement, that's seen him produce such moving and heart-warming delights as THE GREAT NORTH WOOD, GREY AREA – OUR TOWN and GREY AREA – FROM THE CITY TO THE SEA. He's such a talented creator I bet he could even do a comic about snooker and make it a fascinating read… wait a minute, he has! Check out THE ROCKET.
Speaking of soundtracks, I'll let Tim and April play you out to the sound of The Bulldozers with their Another Girl, Another Planet…
"You know how we'll have been together ten years this year?"
"Hmmm."
"Why don't we get married?"
"Hmmm."
"I've started putting some wedding ideas together…"
"Hmmm… I'll sort out the music."
"Hmmm."
JR
Buy Rock & Pop and read the Page 45 review here
Brazen – Rebel Ladies Who Rocked The World h/c (£17-99, Ebury Press) by Penelope Bagieu…
A heartfelt
homage to women throughout history who never feared to stand out from the crowd and stand up for what they believe in. And with 30 fabulously ferocious woman ensconced in this 296 page book, it packs just as much punch as its cover suggests.
In celebration of women from all walks of life, these are stories that exude passion and determination, whilst still being full of heart and loving humour. Each one as pleasurable to read as the last, this is a book you'll want to have on standby, ready to plunge back into at a moment's notice when the inspiration strikes.
I adore the opening choice of Clémentine Delait, a bearded lady living life to the fullest and giving zero fucks. What a babe! Another personal favourite included Margaret Hamilton, who embraced her unique appearance by giving a terrifying portrayal of the Wicked Witch of the West in the 1939 film The Wizard of Oz. But it was a line about her career following the dramatic events of the film that had me happily chuckling away in admiration: "When it comes to being scary, she is the best. She appears in an episode of Sesame Street. An episode the network takes off air for good after parents complain."
As an illustrator and a comicbook lover, taking a huge chunk of my heart, of course, is the tribute to Tove Jansson. I've always had a special love for the woman and this beautifully succinct story of her life, in the familiar primary pop colours of THE MOOMINS, is a small slice of perfection, only improved by its end page illustration of Tove and Tuulikki snuggled together reading a paper out on the lake surrounding their secluded cottage. Oh, how my heart did soar!
Danielle Ceccolini deserves a shout out of her own for the brilliant cover design. Emblazoned front and centre is a clenched fist raised high and powerful, gold and bold, almost trophy-like, the emanating rays highlighting its wonder. Portraits of some of the fantastic women depicted inside are artfully arranged around in bubblegum pink bubbles, which only just manage to contain their uniquely exuberant personalities.
A peppermint green background complements and highlights the pink wonderfully, which in this case is being used as a celebration of femininity and female identity. Pink is a powerful colour. It is bold, brash, vibrant and fun, much like the women whom you're about to discover within the pages of this book. I'll let Janelle Monáe sing us out… "We got the pink!"
JP
Buy Brazen and read the Page 45 Review here
Cult Of The Ibis h/c (£24-99, Fantagraphics) by Daria Tessler…
It's like stereo surrealists Hans THE SQUIRREL MACHINE Rickheit and Theo THE UNDERSTANDING MONSTER Ellsworth have had their DNA combined in a terrible accident involving a riso printer and decided the only thing they could possibly do was to carry on making comics. Or something. Here is the marginally more coherent explanation from the publisher for this madness…
"This exquisite and mostly silent graphic novel takes place in a fantasy cityscape loosely inspired by German expressionist films. Cult of the Ibis tells the story of an occultist getaway-driver who, after escaping with the loot from a bank robbery gone wrong, orders a build-your-own-homunculus kit and goes on the lam. Steeped in architecture and atmosphere, Tessler's gorgeous cartooning fuels this strangely gripping yarn, which is packaged in a gorgeous hardcover design."
Despite my recombinant ratiocination the closest singular point of comparison would have to be A. Degen's MIGHTY STAR AND THE CASTLE OF THE CANCATERVATER.
It's all so clear to you now isn't it?
…
Could you explain it to me please?
JR
Buy Cult Of The Ibis h/c and read the Page 45 review here
Sandman vol 1: Preludes & Nocturnes (30th Anniversary Ed'n) (£14-99, Vertigo) by Neil Gaiman & Sam Kieth, Mike Dringenberg, Malcolm Jones III.
Every bit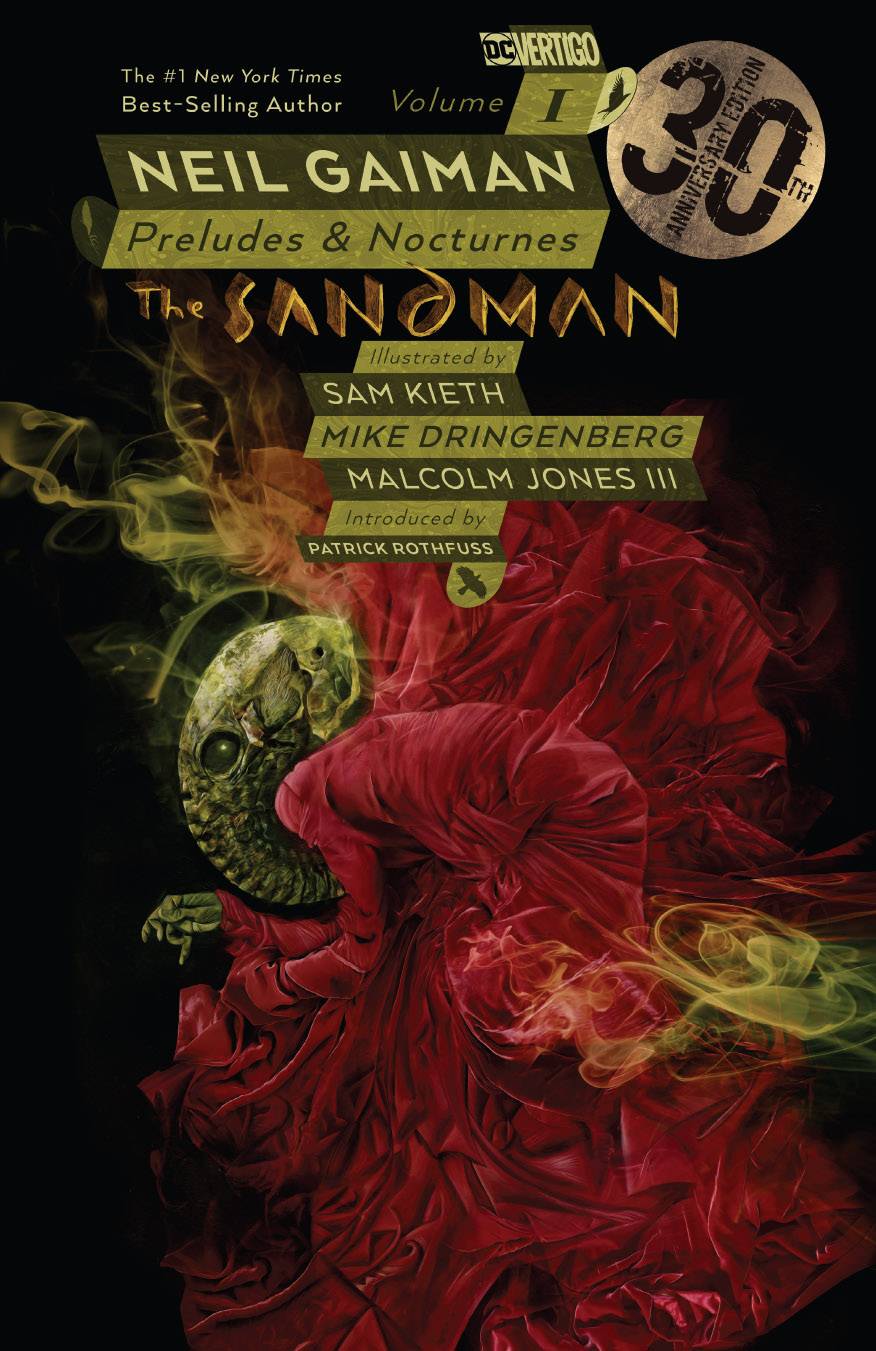 as brilliant as you've been told, I honestly do consider this the finest mythology of the last century in any medium.
ALERT: the first re-coloured trade dress of SANDMAN volumes 1 to 10 is fast slipping out of print, so if you're halfway through I strongly suggest you pick the rest up right now. At the time of typing we still have volumes 2 to 10, and will keep them in stock for as long as they remain available.
If you've yet to experience this exceptional epic, there have been five 30th Anniversary Edition volumes so far, all in stock. Gaiman's most recent return to the series, SANDMAN: OVERTURE with PROMEHEA's JH Williams III on art matches neither trade dress, so you can add that whenever you fancy.
Right, if you're all tucked up comfortably in bed, here's my introduction written a decade or so ago. Interior art by Mike Dringenberg from SANDMAN VOL 4: SEASON OF MISTS…
Morpheus is the Lord of Dreams, his family are The Endless. Each of them is older than you can comprehend, though some are older than others. They are as gods to mortals – though they can surely die – and they change as we change, for they are reflections of our everyday existence.
Destiny, cowled and quiet, holds in his hands the book of all that is, all that was, and all that will ever be.
Dream, his skin as white as the moon, his clothes the colour of midnight, is remote and cold and unforgiving, meticulous in his duties, obsessive when in love.
By contrast, Death, his older sister, is kind and compassionate and far better company than you'd image, although one day you'll discover that for yourself.
Desire is fickle but irresistible: he/she will appear as the most beautiful woman or man you have ever seen, whereas their twin, Despair, is terrible to behold and terrible to endure.
Delirium doesn't know what she is for most of the time, but in her rare, lucid moments she remembers many things, most tragically, perhaps, that she used to be Delight. But we are no longer content with mere joy – we demand it on drugs – and so Delirium she has become.
They are a family, like the Greek gods, and like most families they squabble, they fight and fall out.
One member of the Endless is missing. Who that is I will not tell you, nor why they went away or what might happen if they ever returned. All I will impart is that one member of The Endless is playing a very dangerous game, as another will soon discover…
Over the course of ten books and now prequel Neil Gaiman introduces us to The Endless and their roles in Morpheus' story. This will draw him to Hell and back via ancient Africa, the East and Greece, Elizabethan England, the dreams of cats, a city preserved inside a bottle, and an American serial killer convention. It's quite like a comicbook convention, only for psychopaths who get together and swap top tips.
You'll meet Norse and Egyptian deities, demons and angels, Lucifer, Shakespeare, Barbie and Ken, Orpheus, the Faerie, and a host of contemporary individuals as they come into contact with Dream and his siblings, for The Endless have always played a role in our lives – often benign, sometimes less so – and none of them are above making mistakes.
Overwhelmingly this is a story about stories and story telling, about decisions and consequences, responsibility, growth and the power of dreams.
It opens in Britain in 1916 where an obsessive occultist, Roderick Burgess, is planning to live forever. In order to do that he must capture Death herself. He fails. He captures someone else instead, and it has ramifications all over the world until Roderick's son makes a fateful error in 1988…
SLH
Buy Sandman vol 1: Preludes & Nocturnes (30th Anniversary Ed'n) and read the Page 45 review here
Infinite Dark vol 1 s/c (£14-99, Image) by Ryan Cady & Andrea Mutti…
"What
were we seeing back there? That was an incredibly violent reaction, Deva… Do you want to talk to me about it?"
"The simulation degraded and a fucking shadow monster attacked me… what did you expect me to do?"
"You know that nothing in the sims can hurt us. I think there's more to your reaction than just fight or flight. You just came face-to-face with The Black. Pure entropy. And it's affected you."
It's hard to read in the dark, particularly the infinite kind of dark after the heat death of the universe, I would imagine. But it wasn't hard to read this horror sci-fi mash-up; in fact I rather enjoyed it. Here is the invitation to the grand finale of existence and the after party from the publisher…
"The universe ended, but humanity survived. And for years, the passengers and crew of the vessel Orpheus found the endless void between realities to be a surprisingly peaceful home. Then they found a body – bloodied, brutalized, and surrounded by inscrutable runes. As Security Director Deva Karrell investigates the Orpheus' first murder, she'll come face-to-face with a horror from beyond the confines of time itself…"
If you are a fan of the likes of the classic schlock horror sci-fi film Event Horizon from 1997 with its tagline "Infinite Space, Infinite Terror", this will be perfect for you. In comics sci-fi horror terms, I would say this falls between Garth Ennis and Facundo Percio's CALIBAN and Dan Abnett and Ian Culbard's BRINK. In horror terms, it is much more brooding and involved than the all-out gutripper that is CALIBAN, but isn't as mysteriously engrossing and indeed clever as BRINK.
But it's jolly good fun for what it is. Except for the characters trapped on the vessel Orpheus, obviously… with what appears to be their imaginations running riot and meltdowns occurring with increasing rapidity. No, it's becoming a total living nightmare for them. Surely there couldn't be anything else out there could there, because there is no out there…?
I thought the premise was genuinely creepy, how can the end of all reality as we know it possibly not be? The science aspects of how a tiny fraction of humanity has managed to survive it was well thought through, being sufficiently plausible (in science fiction terms at least) to suspend my disbelief. The horror element, when we finally get the explanation of that, works, just about, but then most horror of this type usually has some aspect of the preposterous to it, once you get right down to it. Ultimately this is reasonably well written entertaining slightly middle of the road fright-fun from Ryan Cady.
It actually feels like the end of this arc should be the end of the whole thing as it has a certain finality to it. Yet I note a new arc has been solicited and I can say I will be reading it. So he clearly has done enough to hook me.
Art-wise, Andrea ROME WEST / REBELS Mutti has also turned his hand to science fiction before on Zack Kaplan's PORT EARTH, which I also note is finally coming back for more issues later this year. His crisp art combined with an eerie palette of aquamarine, cyan, pale blues and many other such colours in which dark shadows can hide and murderously emerge from – if they were real, that is – only add to the spooky atmosphere.
JR
Buy Infinite Dark vol 1 s/c and read the Page 45 review here
Marcy And The Riddle Of The Sphinx s/c (£7-99, Flying Eye Books) by Joe Todd-Stanton…
"Every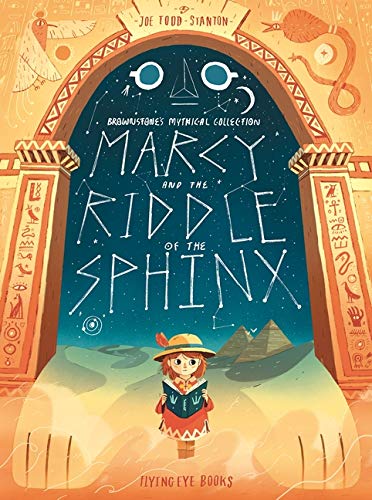 evening, Marcy loved to listen to the tales of her father's adventures. She never quite believed him… After all, he was very old and far too portly.
"But at night, everything changed. The creatures from her father's amazing tales turned into terrifying monsters in the shadows. Marcy felt utterly lost and alone in the dark. All she could do was close her eyes tight and wait for sunrise."
Yes! After reading all about the adventures of Marcy's dad, when he was just a slim whippersnapper himself in the fabulous ARTHUR AND THE GOLDEN ROPE I can state two things with certainty. Firstly, I can vouch that he was indeed a formidable hero and secondly, that I was desperately hoping for more of the family Brownstone from Joe Todd-Stanton!
Once again, this time narrating from the splendour of the Brownstone family's observatory, complete with a kaleidoscopically coloured telescope and a gigantic clockwork mobile of a galaxy spinning away merrily, the elder bearded Brownstone of the modern era has returned to reprise his introductory preamble to another member of his adventurous ancestors.
Before too long Marcy is plunged into a death-defying adventure of her own that will see her gamely battle ancient Gods in dusty Egypt for high stakes indeed. But first we see the replete, grey-bearded Arthur, complete with eye patch, attempting to take Marcy on her first gentle adventurous excursion into a cave, to surprise her by meeting the benevolent King of the Water Spirits, who looks like a sort of free-floating giant waterfall complete with beatific smile and a tiny crown.
However, upon reaching the entrance, surrounded by spooky shadows that look very much like the ones that plague her bedroom ceiling at night, little Marcy is frozen with fear and unable to proceed any further… But when Arthur disappears off on an errand to find a mysterious book and doesn't return, Marcy decides she's brave enough to head off after him to save the day. After all, in her eyes, her dad has trouble just bending over when he's dropped his glasses!
Donning the cap Arthur always told her would summon the mighty bird Wind Weaver, more in hope than belief, Marcy is delighted to see the giant red-feathered friend waiting to whisk her away to lands far, far away in search of her father. And so, her first adventure truly begins! She's going to encounter dangerous deities bent on world domination, stowaway on a flying boat floating through stunning night skies, brave terrible traps in subterranean, stygian depths, and of course, get to play a round of riddle-me-ree with the mysterious Sphinx itself!! But can Marcy manage to conquer her fear of the dark to rescue her dad…?
Of course she can!!
What a triumphant follow-up to the brilliant ARTHUR AND THE GOLDEN ROPE this is! This has all the attention to detail in the exquisite art and madcap mayhem in its plotting that made its predecessor so swoon-worthy and gallantly gripping in my eyes. Once again, reading with Whackers, little fingers continually stopped me from turning the pages so she could take in each page in all its glorious detail, spotting hidden delights and tracing trails of potential doom narrowly avoided!
I can only add I'm already avidly awaiting the next instalment of the epic endeavours of the brave Brownstone brood!
JR
Buy Marcy And The Riddle Of The Sphinx s/c and read the Page 45 review here
Marvel Knights Punisher Complete Collection vol 2 s/c (£35-99, Marvel) by Garth Ennis & Steve Dillon, Joe Quesada, Darick Robertson, Tom Mandrake.
Before
the more hard-hitting, real-world PUNISHER MAX series written by PREACHER's Garth Ennis came his more burlesque stab at the PUNISHER which occasionally incorporated the Marvel Universe. But in several stories here you could see him testing the waters for a broader and more poignant approach to how humanity treats itself.
'Do Not Fall In New York City (Noone's Going To Catch You When You Do)', for example, lucidly demarcates the limits of U.S. social compassion, whilst Dillon's solo outing, as part of Marvel's silent month, is all the more impressive because I was completely oblivious to its deliberate wordlessness until halfway through. PREACHER's Steve Dillon: quite the master storyteller.
Much to my surprise I found several ancient paragraphs like the above in our vaults on the original, thinner volumes which this collects and I reproduce edited highlights here with apologies for their scattershot nature.
Punisher: Business As Usual was an aptly titled third volume of Ennis' take on the implacable crime cruncher whose perpetual, straight-faced impassivity, especially under Dillon's pen line, is all part of the humour. For those who care – amongst whom I do not count myself – Wolverine guest stars in a two-parter, but the recent Northern Ireland issue, grimly concise, rounded off the volume on a high if hardly up-tempo note, with something to say and something well said.
Punisher Streets of Laredo took the Punisher out West for some old fashioned shootin' with a new fangled sheriff who's just lost his boyfriend to a bunch of militia. The best single story was drawn by Steve Dillon in which Frank drops in – unexpectedly and much the worse for wear – on the sweet, timid and doting Joan who used to bake him cookies then sigh herself to love-stricken sleep back in MARVEL KNIGHTS PUNISHER VOl 1 . Unfortunately out-of-commission Frank Castle is being pursued by some less-than-savouries, so it's up to Joan instead to fend them off as best she can.
Steve plays her bit lips and shy smiles to perfection, as the duo improvise with a penknife, some culinary spoons, a gardening fork and a duck pond.
Here are the bullet points of the fabled Marvel Bullpen which exists neither now nor ever (see MARVEL COMICS THE UNTOLD STORY) howsoever effective the illusion:
"Nobody writes the Punisher like Garth Ennis – and these brutal tales prove it!
When ex-Marine Frank Castle saw his wife and children murdered by the mob, he began a war on crime! So why is he trying to rescue a Mafia don from angry guerrilla fighters in South Africa?
And Frank faces off against Wolverine as the two compete to take down a bizarre underworld predator who's cutting off crime at the knees!
Plus: Belfast-born Ennis brings Frank face-to-face with terrorism in Northern Ireland.
The Punisher investigates a drug ring – and the cops meant to be dismantling it.
Frank helps a social worker who has discovered a dark secret beneath the streets…and does a little dental work in a tale drawn by Joe Quesada!
Collecting PUNISHER (2001) #6-7 and #13-26, and material from MARVEL KNIGHTS DOUBLE-SHOT #1.2"
SLH
Buy Marvel Knights Punisher Complete Collection vol 2 s/c and read the Page 45 review here
Arrived, Online & Ready To Buy!
New reviews to follow, but if they're new formats of previous books, reviews may already be up; others will retain their Diamond previews information we receive displayed as 'Publisher Blurb'
Belzebubs h/c (£13-99, IDW) by JP Ahonen
Beasts Of Burden: Wise Dogs & Eldritch Men h/c (£20-99, Dark Horse) by Evan Dorkin & Benjamin Dewey
Crowded vol 1 s/c (£11-99, Image) by Christopher Sebela & Ro Stein, Ted Brandt
Angel Claws h/c (£18-99, Humanoids) by Alejandro Jodorowsky & Moebius
Roaming Foliage (£9-99, Koyama Press) by Patrick Kyle
Seven To Eternity s/c vol 3 (£14-99, Image) by Rick Remender & Jerome Opena, Matt Hollingsworth
The Prisoner vol 1: Shattered Visage s/c (£21-99, Titan) by Dean R. Motter, Mark Askwith & Dean R. Motter
Tyler Cross: Angola h/c (£21-99, Titan) by Fabien Nury & Bruno
Vei vol 1 h/c (£16-99, Insight Press) by Sara B. Elfgreen & Karl Johnsson
Batman vol 9: The Tyrant Wing s/c (Rebirth) (£14-99, DC) by Tom King, various & Mikel Janin, Otto Schmidt
Dark Nights Metal – Dark Knights Rising s/c (£22-99, DC) by Scott Snyder, James Tynion IV, Grant Morrison, Dan Abnett, various & Carmine DiGiandomenico, Philip Tan, Tony S. Daniel, Doug Mahnke
Black Panther Vs Deadpool s/c (£14-50, Marvel) by Daniel Kibblesmith & Ricardo Lopez Ortiz
Return Of Wolverine s/c (£15-99, Marvel) by Charles Soule & Steve McNiven, Declan Shalvey
Uncanny X-Men vol 1: X-Men Disassembled s/c (£35-99, Marvel) by Ed Brisson, Matthew Rosenberg, Kelly Thompson & Mahmud A. Asrar, R.B. Silva, Adriano Di Benedetto, Yildiray Cinar, Pere Perez
Hitorijime My Hero vol 2 (£10-99, Kodansha) by Memeco Arii