Featuring Lewis Trondheim, Stephane Oiry, Stuart Kolakovic, Francesco Artibani, Alessandro Barbucci, Mai K. Nguyen, Gene Luen Yang, Carla Speed McNeil and many more besides…

Lichen h/c (£14-99, Blank Slate) by Stuart Kolakovic…
"You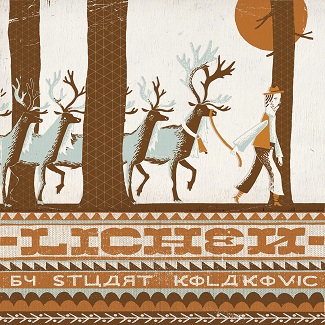 know we don't have to climb these mountains don't you?
"I could make you a tunnel that goes straight through it.
"I could even give you wings so you could just fly over it.
"All you have to do is wish for it.
"This silent treatment is really starting to wear thin.
"Do you think you're so high and mighty that you can just ignore me?
"Or do you think I'm some sort of evil demon or something?
"Most people would kill to have the opportunity I'm offering you…
"Why can't you just wish for something already?"
I think perhaps the deer herdsman just wishes you would shut up, Mister motormouth woodland spirit! Yes, yes he did do you a good turn and you did offer to grant him a single wish of absolutely anything his heart desired in return. But stalking him, hounding him, perpetually pestering him to make said wish is all just a little bit needy, don't you think? I get it that no one has ever turned down a wish from you before, but maybe the herdsman is just a laid back sort of chap that doesn't need or want for anything…?
Which… isn't entirely true of course! It's just that one probably shouldn't use wishes or indeed any other sort of magic when it is true love you are after, I reckon… As does the herdsman.
For a chance encounter with a local lady, whilst in the undignified and instantly distressed state of being caught half-undressed washing in a stream, has set his heart-a-flutter. Her left behind scarf, carelessly snagged on a tree as she departed the scene with a hearty chuckle and a cheery wave, only serves as a continuous reminder to him of her all-too-brief sublime presence. But alas, the moment to pursue and woo elapsed, forever escaping our abluting shepherd, caught as he was in the catastrophic claws of all-consuming embarrassment…
Speaking of claws… there's a bear out there too… One that really ought to be hibernating along with all the others, but instead is tracking the herdsman, his faithful canine chum and his voyaging venison, bells-a-ringing as they make their way from his isolated island camp all the way over the mountain tops to market. This bear seems utterly obsessed with our deer drover to the extent that it makes you wonder if there isn't something… different… about this particular grizzly grouser.
Stuart Kolakovic's has certainly set the bar high with his first graphic novel! For to my mind, this is no work of a callow beginner finding their artistic feet Bambi-style, if you'll permit me a deer-based pun, but an immensely accomplished work, both visually and in terms of storytelling.
On that latter point, I found this as engrossing, enchanting and downright amusing as Isabella Greenberg's THE ENCYCLOPEDIA OF EARLY EARTH. It just has that same slightly naughty, mischievous charm, particularly once the woodland spirit joins our trooping troupe which coupled with the faux fairy tale feel makes for a delightfully amusing yarn packed with hart (sic). I really will stop with the deer jokes now I promise.
Artistically, you'll be fawning (okay, okay, but that one seemed too good to miss) all over this if you are a fan of the likes of Jon KINGDOM McNaught. It is a different style, certainly, but it has that same attention to intricate detail liberally and seemingly effortlessly applied with beautifully muted, distinct colour palettes that just makes the panels feel like they are bursting with life and activity.
There is some superb design work going on throughout this tale which is apparently partly inspired by the creator's Serbian ancestry. Indeed, this is as beautifully designed and illustrated as many a Nobrow published book.
You can see some slight hints of Eastern Europe flavour actually, and thus two works which only sprang to mind for very spurious comparative reasons would be MISTER MORGEN by Igor Hofbauer and William Goldsmith's VIGNETTES OF YSTOV. But, as I say, they are a wee bit spurious.
So will the herdsman get his heart's most fervent desire, either with or without resorting to magical means, or will the big, bad bear ensure that there's no happy ending for anyone? Well, except the bear obviously. If you wish you could find out the antler, sorry answer, you know what to do, don't you?
JR
Buy Lichen and read the Page 45 review here
Maggy Garrisson (£14-99, Self Made Hero) by Lewis Trondheim & Stephane Oiry…
KNO
CK KNOCK
…
"I don't know you."
"Well, we know you Maggy Garrisson. Tell us what we want to know and we'll leave."
"Sure. No problem. You're a pair of druggy morons. You both have a history of juvenile delinquency. Right now, you're playing tough guys. But really you're just sent here by someone who actually finished school and now gives the orders.
…
"Was there anything else you wanted to know?"
Haha, I do so like Maggy Garrisson. Here's the rap sheet from the publisher to tell us all about this bad-mouthing bad ass…
"After two years of unemployment, Maggy Garrisson lands a secretarial job. Too bad her new boss is the shady, chaotic Anthony Wight: private detective and alcoholic. But a job is a job, and Maggy could use the cash.
Five days into her new role, Wight is beaten to a pulp and Maggy is tasked with returning his wallet. With this seemingly innocuous request, Maggy enters a sinister underworld of corrupt cops, crooked businessmen, and career criminals.
There's a lot to investigate, from the disappearance of a family album to the theft of gold teeth from bodies at the crematorium. But for someone with the energy, ingenuity, and enterprising spirit of Maggy Garrisson, puzzles are there to be solved, especially if there's money to be made in the process."
And thus begins a hard hitting, if not entirely serious look at how to become a private detective pretty much entirely by accident! For once Maggie realises that not only can she pick up Anthony Wight's very saggy caseload slack whilst he's in hospital recuperating and get paid, she's also well on the way to getting herself into no end of trouble too!
Fortunately, having cultivated policewoman Sheena as a drinking buddy, Maggie has at least some resources to try and help get her out of the particularly precarious situation her new boyfriend, the decidedly dodgy Alex (one of the two 'druggy morons'), is dragging her ever further deeper into.
Well, okay, she's running headlong into trouble and loving every second of it, but she's still going to need a lot of help to avoid getting completely out of her depth if she's not careful. Fortunately she is very careful indeed, and also very crafty to boot too…
This is for me hands down the best fictional work Lewis POPPIES OF IRAQ Trondheim has done. I have no idea why he hasn't decided to illustrate it himself, but in Stephanie Oiry he has found someone whose style is perfectly suited to this oh so well constructed game of cat and mouse. Maggie is convinced she can stay one step ahead of the local goons, but maybe they're not the only people she needs to be watching out for…
This is as cleverly crafted a caper as CRIMINAL itself, with some wonderful little side-bar cases thrown in for good measure that Maggie needs to continually solve just to keep herself afloat for cash. The main case, though, whilst it might offer a considerably larger payday… of the not entirely legal variety… is the one that could also get her head kicked in good and proper if she's not very careful… and verrrrry crafty… Did I mention…? Oh yes, I did!
Being set in the UK, with the mildly comedic convoluted case to unravel by an amateur sleuth thing going-on this also has some of the feel of Posy Simmonds' CASSANDRA DARKE and indeed also MANN'S BEST FRIEND by Sophie & Scarlett Rickard. So therefore highly recommended!
JR
Buy Maggy Garrison and read the Page 45 review here
Monster Allergy vol 1 (£9-99, Insight Comics) by Francesco Artibani & Alessandro Barbucci…
"Listen… can I ask yo
u something? Is it true that you see… monsters?"
"Yes, it is!
"Even now, for example, this room is full of them! Three of 'em are singing on that shelf…
"… and one is hiding behind the couch, a couple of jelly ones are on the ceiling…
"… and there's a really big one called Bombo who can't stop eating…
"… and there's a talking cat, too… but he never has anything interesting to say.
"We're surrounded by monsters… but I'm the only one that can see them!"
Yes, Zick probably needs a trip to the opticians as there seems to be that many monsters flying around I'm genuinely surprised he can see even where he's going! It must make reading comics tricky too I would have thought… Anyway, here's the publisher to tell us more about Zick and his peculiar problems…
"Explore the world of monsters in this thrilling installment of the Monster Allergy adventure! Elena Potato just moved to Oldmill Village, but she's about to find out that there's a lot more going on in this quiet little town than meets the eye; Oldmill Village is actually an oasis for all kinds of monsters!
Zick, Elena's new neighbour, is a strange kid who is allergic to just about everything, but he alone has the power to see the invisible ghosts and monsters that live among us.
Together, Zick and Elena set out to investigate the strange phenomena going on in Oldmill Village, including a recent uptick in missing pets, a dangerous man-eating plant, and a sinister salesman who could pose the ultimate threat to both humans and monsters alike!"
So, spooky all-age amusing detective shenanigans then? Yes, indeed, that's exactly what this is! The unlikely pair of new chums set straight about dealing with the school bullies who are as amused by Elena's surname as they are Zick's allergies, as well as the myriad monsters who just so happen to be floating around causing mayhem, plus more sinister earthly-bound evil too…
I really enjoyed this. It definitely has that same sense of daft that John Allison's BAD MACHINERY has, not remotely to be taken seriously, just enjoyed for the sheer nonsensical goings-on that clearly are going to keep mysteriously following Zick and Elena round and round from volume to volume. I note volume two has already been solicited for September later this year by the way.
Art-wise, it's bold and vibrant with more than a touch of whacky about it, which actually put me slightly in mind of the far more adult FARMHAND material from by Rob Guillory. This has that similar touch of always impending lunacy about it but is just very much more suitable for all-ages readers!
JR
Buy Monster Allergy vol 1 and read the Page 45 review here
Pilu Of The Woods s/c (£11-99, Oni) by Mai K. Nguyen…
"Sometimes I feel like I cou
ld just disappear and no one would notice…"
"… Is that why you ran away? To disappear?"
"…"
"I don't really think things can just disappear…
"Just 'cause you can't see it, doesn't mean it's not important… doesn't mean it's gone. That's how it is in nature."
Very true, especially those stinging nettles that you only seem to see about one second before you stroll stridently right though them… Here's the publisher to tell you what might happen if you pick this up and go down to the woods today…
"Willow loves the woods near her house. They're calm and quiet, so different from her own turbulent emotions, which she keeps locked away. When her emotions get the better of her one day, she decides to run away into the woods.
There, she meets Pilu, a lost tree spirit who can't find her way back home – which turns out to be the magnolia grove Willow's mom used to take her to. Willow offers to help Pilu, and the two quickly become friends.
But the journey is long, and Pilu isn't sure she's ready to return home yet – which infuriates Willow, who's determined to make up for her own mistakes by getting Pilu back safely. As a storm rages and Willow's emotions bubble to the surface, they suddenly take on a physical form, putting both girls in danger…and forcing Willow to confront her inner feelings once and for all."
For this, dear readers, is very much a book about feelings, and also regrets, for Willow has fairly recently lost her mother and is still so very, very far from coming to terms with it. So when she meets Pilu, she feels duty bound, nay compelled, to help her friend get home, despite the fact that Pilu is still clearly working through her own maternally conflicted emotions herself.
I very much liked how this work explored coping with grief, when a loved one is suddenly, unexpectedly taken from you. The immense emotions it can bring out, plus working out how to get past dealing with all the things you didn't say and also perhaps the few you did that you wish you hadn't.
This book, perhaps because it is most definitely aimed at being a truly all-ages work, doesn't dramatise or indeed even show Willow's mother's passing, instead alluding to it by showing the circumstances that lead up to it and then consequently making clear what terrible tragedy occurred. It's handled in a very, very sensitive manner that would be fine with some parental guidance even for littlies.
Artistically, the main character of Pilu reminded me hugely of the titular character in Emily Hughes' illustrated prose work WILD about a little feral girl who is found in the woods and resists all attempts to tame her by her ever more despairing adoptive family. The art style here with the big, plaintive eyes of both characters set amongst the friendly, flowery forest will certainly make you think of many a current all-ages work such as CUCUMBER QUEST, SPACE BOY, HILDA and NIGHTLIGHTS, though this certainly has charms all of its own too.
JR
Buy Pilu Of The Woods and read the Page 45 review here
Tamamo The Fox Maiden And Other Asian Stories s/c (£13-99, Other A-Z) by Gene Luen Yang, Carla Speed McNeil, various…
Are you sitting comfortably? Good, then I'll let the publisher begin to tell us all about…
"An incredible collection of tales from all over Asia, retold as stunning comics by some of the best independent artists the internet has to offer.
Vengeful spirits, flying ogres, trickster tigers, and much more. Featuring the work of Gene Luen Yang, Nick Dragotta, Blue Delliquanti, Carla Speed McNeil, Nina Matsumoto, and many more, this is one lively collection of Asian folktales, reimagined and retold in comics!"
The second volume in the "Cautionary Fables & Fairytales Book" series after THE GIRL WHO MARRIED A SKULL AND OTHER AFRICAN STORIES, this time around this sees us relocate geographically to Asia…
As before there may be the odd tale, or variation thereof, that seems familiar but most of these tales were certainly completely new to me.
Told in black and white, by a whole host of creators, if you fancy finding out a little more about Asian folklore then this may be for you. There's twenty one tales to be told, all short and sweet though a fair few feature a sticky end…
Whilst it's no FABLE COMICS by any means, it is certainly a most enjoyable way to acquire some cultural knowledge that's probably safer than the terrifying prospect of being babysat and taught some learnin' old school style by Shigeru Mizuki's NONNONBA.
JR
Buy Tamamo The Fox Maiden And Other Asian Stories and read the Page 45 review here
Arrived, Online & Ready To Buy!
New reviews to follow, but if they're new formats of previous books, reviews may already be up; others will retain their Diamond previews information we receive displayed as 'Publisher Blurb'.
A Quick & Easy Guide To Queer & Trans Identities (£8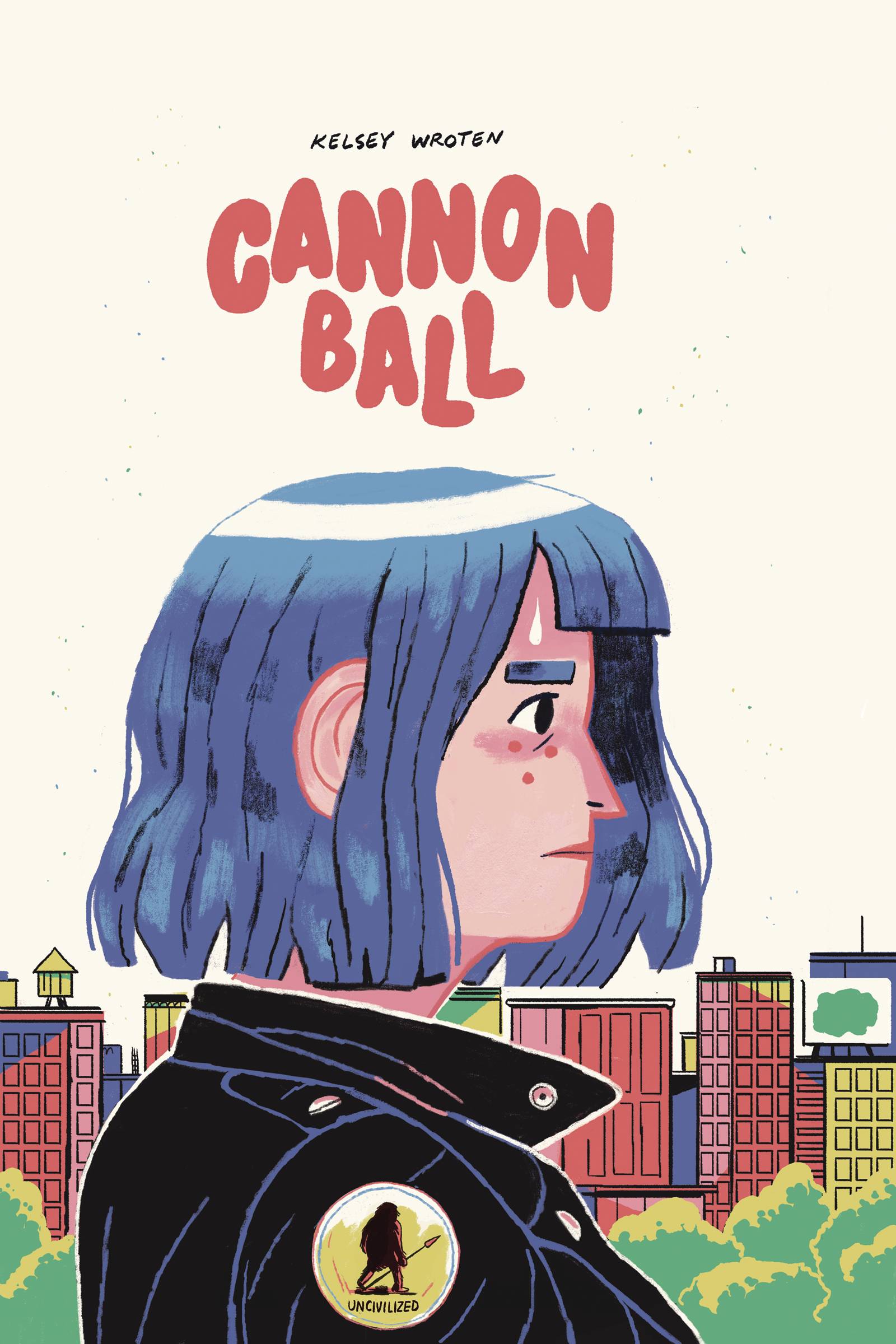 -99, Limerence Press) by Mady G & J.R. Zuckerberg
American Gods vol 2 h/c (£20-00, Dark Horse) by Neil Gaiman & P. Craig Russell, Scott Hampton
Brink vol 3 (£12-99, Rebellion) by Dan Abnett & I.N.J. Culbard
Cannonball h/c (£22-99, Uncivilised Books) by Kelsey Wroten
Firefly vol 1: Unification War h/c (£14-99, Boom!) by Greg Pak & Dan McDaid
The Ghost Of Ohio s/c (£17-99, Z2) by Andy Biersack, Scott Tuft & Eryk Donovan
Outdoors (£14-99, Breakdown Press) by Yokoyama Yuichi
Peterloo: Witness To A Massacre (£11-99, New Internationalist) by Eva Schlunke, Robert Poole & Polyp
Scarlet vol 1 s/c (£14-99, Jinxworld) by Brian Michael Bendis & Alex Maleev
Sunday's Child h/c (£16-99, Jonathan Cape) by Serena Katt
Thin Slices Of Anxiety: Observations and Advice to Ease a Worried Mind (£9-99, Chronicle Books) by Catherine LePage
Windowpane (£19-99, Breakdown Press) by Joe Kessler
Injustice 2 vol 4 s/c (£14-99, DC) by Tom Taylor & various
Jessica Jones: Purple Daughter s/c (£17-99, Marvel) by Kelly Thompson & Mattia De Iulis, Filipe Andrade
Marvel Knights 20th s/c (£15-99, Marvel) by Donny Cates, various & Travel Foreman, various
Venom vol 2 s/c (£15-99, Marvel) by Donny Cates & Ryan Stegman
Barefoot Gen vol 8 (£14-99, Last Gasp) by Keiji Nakazawa
Goblin Slayer vol 4 (£11-99, Yen Press) by Kumo Kagyu & Kousuke Kurose
Letters For Lucardo (£13-99, Iron Circus Comics) by Noora Heikkila