Featuring Seth, Emily Carroll, Michael DeForge, Riff Reb's, A. Tota, P. Van Hove, Terry Moore
Clyde Fans h/c Box Set Slipcase Edition (£42-00, Drawn & Quarterly) by Seth.
The most eagerly anticipated completion in comics of the last decade alongside BERLIN by Jason Lutes!
From the creator of WIMBLEDON GREEN, IT'S A GOOD LIFE IF YOU DON'T WEAKEN, GEORGE SPROTT and THE GREAT NORTHERN BROTHERHOOD OF CANADIAN CARTOONISTS (those last two being Page 45 Comicbook Of The Months), this exquisite slipcased die-cut h/c collects a 488-page generational epic so long in the making that our Mark was still on hand to review the first instalment, after which Jonathan and I observed PALOOKAVILLE's progress as it was released periodically.
Honestly? It's mostly Jonathan.
Book One:
Two brothers inherit their father's company, selling and manufacturing fans.
In the first half of the book it's 1997 and Abraham Matchcard wanders through his day, looking back through the ups and downs of the business, admitting that they were unprepared for the rise of the air conditioner industry.
Once thriving, Clyde Fans was overtaken by technological progress, too self-assured to change track when advancements took place. At the abandoned headquarters he voices regrets for his life and that of his brother, Simon:
"Christ, it's the norm for a salesman to promote himself. That's the number one produce he's selling. It's also a quality I've always found repulsive in myself and others."
We go back to 1947 for the second part of the story. Arriving in the small Canadian town of Dominion, Simon is out of his depth. He's asked to be a travelling salesman, wanting to prove himself to his brother, but without the requisite charm and bluff he finds himself knocked back a few times, backing away with sweaty palms. As he walks the street, the buildings seem to crowd him out. He can't face phoning Abe to say how its all going. And it's not going well.
This is not only an excellent character study but also a delicately drawn evocation of the past. Seth, as we know from IT'S A GOOD LIFE IF YOU DON'T WEAKEN, has sympathies for Abe and his feelings of being left behind as the world expands and thunders on. The detailing of the clothes and stores is wonderful, right down to the cheap, plastic novelties another salesman is hawking.
There are a dazzling few pages at the beginning showing the dawn approaching as we see the light falling on the buildings. As the pressure builds for Simon, his brother is shown in single panels, looking down on him like an angry God. We feel the guilt and panic.
Book Two:

Abraham Matchcard, President of the Borealis Business Machines company which produces his own Clyde Fans, sits in his office with his lawyer and reluctantly signs the papers that will declare it bankrupt.
On the wall hang photographs of more prosperous times when they could afford to develop charity funds. By contrast he's about to make every one of his employees redundant, and as Abraham drives past the picket line he's haunted by each individual face of those he's just passed. They're on strike for no more than a decent, basic living wage, but the company can't afford even that, and by tomorrow morning they will no longer have any job at all.
After that Abraham's thoughts revert to a father whose face he doesn't even recall; a man he hated.
This is the story of the steady decline of Abraham Matchcard and his business empire through the inevitable changes occurring in manufacturing industries and the retail sector, but also through the inability of Abraham to adapt. He knows he's a dinosaur, he can see extinction coming, but he's still going through the motions.
Later, he endures the very definition of strained conversation with his brother Simon. Strangulated would probably be a better adjective to employ, actually.
It's quite incredible how such a downbeat, depressing story can be so utterly gripping.
Design is something that so powerfully stands out in Seth's work these days. His love of small panels, frequently working on a 4 x 4 or 4 x 5 grid on an already relatively small page, means you really do see the clever constructional conceits that are ever-present throughout his stories.
I can't think of another creator where you can be so strongly aware of the design element without it distracting from the storytelling whatsoever. I am still completely present in the moment reading a PALOOKAVILE, but it's just I am so vividly aware of this extra dimension and depth to the construction of the page subtly subconsciously seeping into my overall perception. His attention to detail is immaculate.
Eventually there's the inevitable, sad, yet fulfilling moment as the epic story of Simon Matchcard draws to a conclusion by coming full circle back to the year 1957 where we left him at the end of the first half. Here we see the epiphany which sets him on the course of what will turn out to be his long, lonely life. It's a rather poignant scene, knowing as we do everything that is to follow. For here, Simon is nothing but full of optimism of what lies ahead, certain of the path he is taking and the rewards it will bring.
Eh dear.
MAS & JR with a mere slither of SLH
Buy Clyde Fans h/c Box Set Slipcase Edition and read the Page 45 review here

When I Arrived At The Castle (£13-99, Koyama Press) by Emily Carroll ~
"You really
are a timid, shivering thing, aren't you?
"It has a stink, you know?
"Your meekness.
"It makes me want to vomit."
Says the Countess, lounging loosely and seductively in an armchair, elegant finger curled at painted lip, body delicately wrapped in swathes of sheer fabric… With hooded eyes she's hardly giving her guest a second glance. She did, quite rudely, arrive early after all…
The countess has power and she knows it. She is 'accommodating' to her guest, but not without torment, for she knows precisely why her guest is paying her a visit, and so will take every opportunity to torment her captive caller.
Emily THROUGH THE WOODS Carroll is back with another sensual slice of gothic horror. Done with deft elegance in her signature black, white and red, she has woven a fever-dreamlike tale.
Overlapping images and layers of details and patterns create a chaotic and intoxicating environment, filling the viewer with a certain unease, while well constructed and surprising characters are brilliantly bewitching. Carroll has cleverly entwined fables, which punctuate the story like a slight blow to the head, each time coming to ta new level of disorientation.
Victoriana gothic horror at its finest, this will certainly tantalise the taste buds of her current fans, but also be a striking draw for newcomers.
JP
Buy When I Arrived At The Castle and read the Page 45 review here
Memoirs Of A Book Thief h/c (£14-99, Self Made Hero) by A. Tota & P. Van Hove…
"I whipped everything
out I could remember of Gilles' speech about art being passé and laid it on him, explaining the connection between car theft and poetry.
"He asked me countless questions. He wanted to know everything. I was forced to make up increasingly unbelievable stories.
"I painted myself as a shrewd connoisseur of modernity, a verbal revolutionary, an adventurer of enigmatic intent…
"Nicole discovered that she was hanging out with an essential player on the international art scene."
Which was of course total bullshit! Here's the publisher to tell us more about the deliverer of deception, the font of fabrication, the master of the mendacious that is one Daniel Brodin…
"Paris, the 1950s. Daniel Brodin – bibliophile, book thief, self-proclaimed poet – enters the heated atmosphere of the Cafe Serbier, home of the Parisian literati. Daniel impulsively puts himself forward for a poetry recitation.
Under pressure, he recites not one of his own surrealist poems but an obscure piece of Italian verse he's certain no one will know. It's plagiarism, but it's a triumph. Daniel's recital marks his entrance into the Parisian avant-garde: a band of cultured rogues and pseudo-revolutionaries for whom life is a playground for art and planning a robbery has as much value as writing a book.
In this milieu, the wine is good and the girls are beautiful. But can success last if it is founded on plagiarism and theft?"
Well, that depends entirely on if you continue to get away with it, I would imagine! And Daniel does, for a long, long time… But any house of cards will eventually topple if you keep on trying to build it higher and higher…
I'll be completely honest now, unlike the disingenuous Daniel: I really wasn't sure I was going to enjoy this from my first extremely cursory flick through. However, pretty much as soon as I commenced, I was hooked. By the character of Daniel, and indeed all his crackpot cohorts in 'the scene' with their hair-brained schemes, both artistic and criminal, their petty jealousies and rivalries, and of course the compulsory booze-drenched lifestyle.
Consequently I found this a hilarious enjoyable, riotous piece of contemporary fiction, well, part cautionary tale too, I suppose! You'll find yourself rooting for Daniel, even though you know you really shouldn't, but we all love a chancer, don't we? Though he does steal books… so on principle I ought to regard him as a complete and utter irredeemable bastard, deserving of burning in hell forever in the very special corner reserved for those partaking of the five-fingered discount of reading material.
Sorry, got a bit carried away there! Let him takes his chances and we'll see what happens… For when Daniel eventually finds himself in far, far too deep to extract himself from yet another stupid situation of his own creating, you'll very possibly groan out loud just as I did at the inevitable misstep he finally makes…
Art-wise, the deliberately, dare I say it, slightly dishevelled style is absolutely perfect for this work. Black and white throughout, the only splash of colour is the red wine in Daniel's glass on the front cover (and some letters in the title and creator's names for good measure which actually works very nicely). There's many an intense stare, sly grin and frequently sweaty brows as Daniel continues to try and navigate increasing murky waters.
JR
Buy Memoirs Of A Book Thief h/c and read the Page 45 review here
Men At Sea s/c (£22-99, Dead Reckoning) by Riff Reb's…
"One by one, towards
the end of the second week, the crewmembers died, some of cold, others of exposure, exhaustion, and melancholy."
It's a hard life aboard the good ship Page 45, let me tell you!
Anyway… avast there, me hearties, prepare to have your timbers shivered and your soul sent down to Davey Jones' Locker for a laugh-a-minute look at the high seas this is not. No. In fact, after reading this dour drove of cautionary tales regarding life, well death, on the ocean waves, I think this land lubber will be steering well clear of coastal climes for many a moon. Which is very possibly what the creator intended, dear reader, but fear ye not as I'm sure you sequential art mariners are made of far sterner stuff than I…
Here's the publisher to tip you the black spot and mark you guilty of perusing comics for your own piratical pleasure…
"MEN AT SEA is an opus of eight spectacularly drawn dark, poetic stories freely adapted by Riff Reb's. This collection offers: 'A Smile of Fortune,' from Joseph Conrad, 'The Sea Horses' and 'The Shamraken Homeward Bound,' from William Hope Hodgson, 'The Galley Slaves' and 'The Far South,' from Pierre Mac Orlan, 'A Descent into the Maelstrom,' from Edgar Allan Poe, 'The Three Customs Officers,' from Marcel Schwob, and 'The Shipwreck,' from Robert Louis Stevenson.
These eight tales, themselves interspersed by seven double-page spreads dedicated to extracts from illustrated classics, deliver a rich, poetic, and masterfully crafted work of life and death on the sea."
That they do. Particularly death… I think you do probably need to be a big fan of the briny foam or illustrated classics to fully appreciate these tales. The slightly exaggerated art style and limited colour palettes used throughout perfectly highlight the fearsome, ferocious, all-powerful nature of the oceans and one's chances of survival if you find yourself in a salty scrape, be that confronting a veracious vortex or just stoically dealing with a sinking ship.
Time for this man to go overboard and swim swiftly on to the next review, but before you read that, you might want to muse on Nick Hayes' socially satirical THE RIME OF THE MODERN MARINER, which was a decade ahead of David Attenborough when it came to pointing out what we've done to our oceans with plastics.
JR
Buy Men At Sea s/c and read the Page 45 review here
Leaving Richard's Valley (£22-50, Drawn & Quarterly) by Michael DeForge…
"Have you ever thought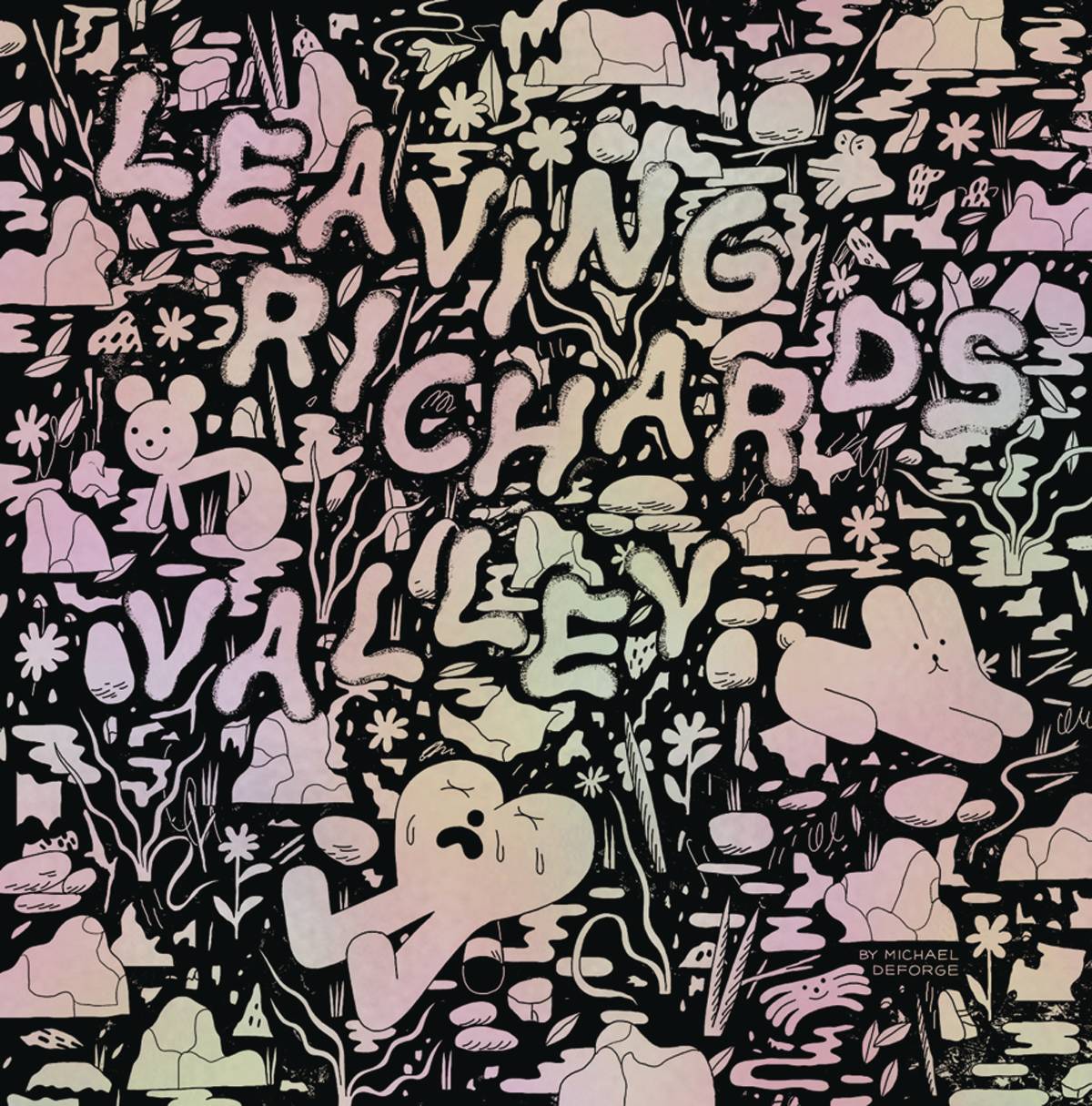 that maybe the valley isn't just a place… it's more like an idea…"
"Yes."
The master of the disparately absurd returns with his most coherently straightforward work yet.
Haha, you didn't believe that for a second did you? Just as well! Here is a succinct, sensible summary of DeForge's latest dene of disastrous daft from the publisher…
"Richard is a benevolent but tough leader who oversees everything that happens in the valley. When Lyle the Raccoon becomes sick, his ragtag group of friends take matters into their own hands, breaking Richard's strict rules. Caroline Frog rats them out to Richard and they are immediately exiled from the only world they've ever known.
DeForge's tale expands from a bizarre hero's quest into something more: they make it out of the valley and into the big city, and we see them coming to terms with different kinds of community: noise-rockers, gentrification protesters, squatters, and more."
Richard is a dick, and not just in the diminutive sense. That's not a spoiler, by the way… you'll certainly pick that up pretty quickly for yourselves. Quicker than Lyle and his chums, I'm sure. But when the penny finally drops they certainly throw themselves into their exiled existence with a newfound zest for life. Amazing what getting out from under the opposable thumbs of a domineering despot can do for your self-esteem…
I should probably make clear at this point that Richard is the only human in the valley. The fact that he's decided to sequester himself away in the middle of a park smack bang in the centre of Toronto to lord it over the wildlife possibly hints at why he isn't ideal leadership material… As Lyle and company manage to start making a go of it in the big city, Richard's regime, and mental health, inevitably begin to crumble and then collapse apace in tragic tandem.
I'll possibly have to retract my opening statement to mention that this is, in some senses, DeForge's least surreal tale, talking animals musing the meaning of life and escape from the clutches of cultdom aside… The strict four-panel-per-page format and askew life lessons put me slightly in mind of PEANUTS, which frankly is a suitably totally ridiculous comparison. This is more like a comedic, satirical, warped version of Ander Nilsen's BIG QUESTIONS. With extra added odd.
In DeForge terms, this is closest in feel to STICKS ANGELICA, FOLK HERO, which actually would be my opening gambit for someone new wanting to give him a try. Or possibly the equally preposterous and indeed hilarious BRAT. This chunky tome is more one for DeForge aficionados as I suspect it would definitely be over-long for someone brand new to his work.
Art-wise it was a slight surprise to see only black and white after all his recent vibrant colour works. I have seen him employ black and white for the odd much shorter strip, but I've always personally felt his whacky colour palette only added to his artistic charms. Well, this is monochrome technically, just about, rather than black and white, but still, for such a long work it was possibly a very prudent decision in time terms if nothing else! Surreal he may be, silly he is not.
JR
Buy Leaving Richard's Valley and read the Page 45 review here
Strangers In Paradise XXV Omnibus (s/c £26-99, h/c £35-99, Abstract Studios) by Terry Moore.
Book One:
SEE SOMETHING
SAY SOMETHING
There's a sign on the New York subway accentuated, emphasised and made urgent by piercing eyes. It says:
SEE SOMETHING
SAY SOMETHING
In a pressed white shirt, suit and tie, a smart man on his smart phone is standing. He is sombrely checking for texts or the latest, breaking News Headlines. He would do well to do that. Satisfied, he slips the phone into his overcoat, scowling at the crowd as the carriage doors open. Commuters get on, commuters get off and, once on the open platform, he checks his coat pocket as per habit, pat-pat. It is not well weighted.
"HEY! STOP!
"STOP THAT BOY!
"STOP HIM!"
The boy and the man are dashing up the escalator, the small boy diving between pedestrians while the smart man is impeded and – shit – there's another kid who's tossed the cell phone sideways in passing! It's nimbly caught in a pre-planned relay race, the brat in the hoodie heading up the stairs at speed, swerving right towards the foyer's crossover before throwing this exceptionally mobile phone clean over the gleaming glass balustrade!
It's gone.
Down below a good-looking woman in her thirties, well dressed for winter in a jacket and loose woollen scarf, calmly and casually removes the SIM card from its casement. As she discards the rest, the detritus unnecessary to her purpose, she glares up at the smart man who's not now feeling very smart at all, looks her victim straight in the eye and she gives him a grimace which he will never forget.
Oh my God! It's — !
Welcome to Terry Moore's STRANGERS IN PARADISE – or indeed, welcome back! – on this, its 25th Anniversary. You can read our prior reviews if you fancy, but you need know nothing in order to settle straight in to one of the series we have been most phenomenally fond of in all of our years working in comics, for this is a very fresh start.
After surviving all that the world and Katchoo's pitch-black past could throw at them, Katchoo and Francine are now happily – nay, blissfully – married, living out in the dessert with their two delightful daughters in a luxury villa financed by Katchoo's highly successful career in fine art… but probably her previous one too.
Katchoo was a Parker Girl. She "belonged" to Darcy Parker. Darcy Parker was a vicious woman who used other women to infiltrate the government at its highest levels. The Parker Girls were essentially the highest paid prostitutes imaginable, and they never got to leave.
Katchoo left, though I will not say how, and now sits with one of Darcy's former enforcers, the formidable, ever-brooding, stone-faced Tambi, as they watch Francine play, splashing away during the heat of the day, in the extensive garden's swimming pool with one of their beloved daughters.
There is so much laughter!
Katchoo is smiling maternally, lovingly, with all the adoration she has always held in her heart for her now-wife Francine, right from the very first moment we met them. Reciprocation did not come easily and it did not come quickly. STRANGERS IN PARADISE was a very long series: 2,400 pages long! But here they are, and they have arrived!
You'll notice Tambi and Katchoo share a certain look. Darcy Parker liked blondes very much. Tambi is not smiling lovingly and her arms are criss-crossed with scars.
"You know," begins Katchoo, a twinkle in her eye, "I used to think you only had two looks, mean and meaner. Then I saw you hold my babies."
"You fought hard for what you have, Katchoo. Wife, kids, a new life… Nothing came easy for you."
That's very true.
"I don't want to see you lose everything you worked for."
"Why would I lose everything? Tambi?"
I loved the reversal on the first few pages where we came in. Initially I fretted for the smart man with the smart phone (his name's Scott) for we all fear pickpockets and fewer ever say something even if they see something, and fewer still do anything about it. And Terry keeps you going breathlessly for three pages before you discover the phone's final recipient.
Scott's married to a woman called Laura, by the way.
She's called Laura, but that's not her name. Her real name is Stephanie, and she has that certain look too.
"Tambi?"
Oh no.
Book Two:
"Who controls the past controls the future.
"Who controls the present controls the past."
– George Orwell
Who controls the future here remains to be seen.
Previously in STRANGERS IN PARADISE (the Omnibus review is ever so slightly expansive):
Katchoo and Francine have endured the vicious repercussions of Katchoo's tarnished past – which have come back to curtail their present and so threaten their future – successfully enough against all adversarial odds, to settle down and carve themselves a blissful, tranquil family life with their two daughters in a really rather swish villa strategically sequestered in the middle of nowhere.
It is idyllic!
Then STRANGERS IN PARADISE XXV vol 1 kicks off.
To ensure her family's safety, Katchoo finds herself racing frantically across the globe from the Isle of Skye in Scotland to the remotest jungles of Colombia. Unfortunately, she's left Francine and the girls terrifyingly vulnerable in the supposed sanctuary of their home.
All the weathers are here, both hot and humid and freezing with snow which Moore draws so eye-blindingly well, plus the sort of cliff-leaping, all-out action that you'd expect from Raiders Of The Lost Ark.
By now, however, long-term Terry Moore fans will have noticed his various storylines merging, incorporating characters and plot points from previous series MOTOR GIRL, RACHEL RISING and ECHO.
They're rekindled here to kick off the next series – imminently and ominously – in FIVE YEARS #1 and FIVE YEARS #2 which will automatically be distributed to those signed up at Page 45 for SiP.
For, as I say, who controls the future remains to be seen.
SLH
Buy Strangers In Paradise XXV Omnibus h/c and read the Page 45 review here
Buy Strangers In Paradise XXV Omnibus s/c and read the Page 45 review here
Note: SiP Omnibus not actual covers. The s/c is essentially #1, h/c #10
Arrived, Online & Ready To Buy!
New reviews to follow, but if they're new formats of previous books, reviews may already be up; others will retain their Diamond previews information we receive displayed as 'Publisher Blurb'.
Circle h/c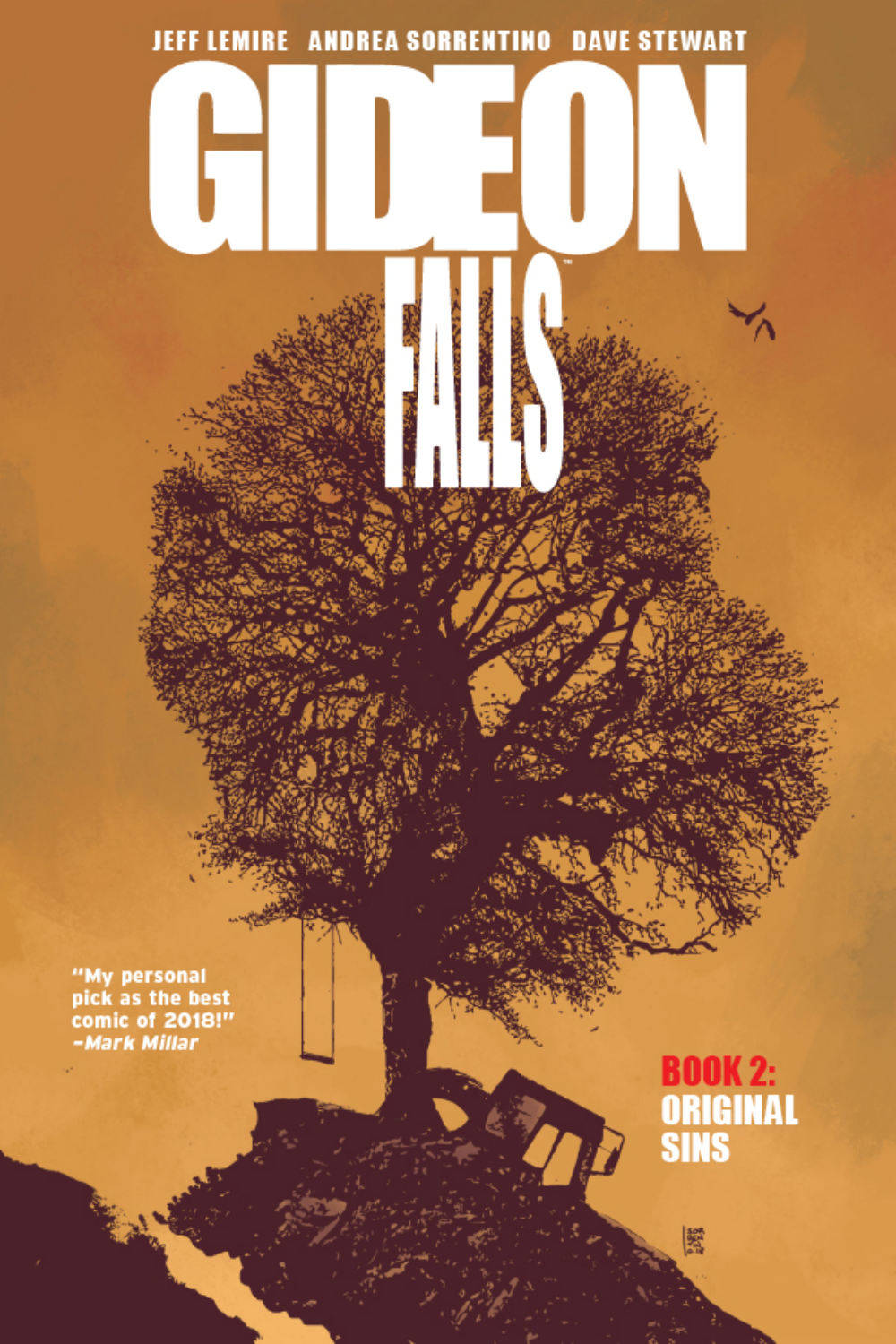 (£12-99, Walker Books) by Mac Barnett & Jon Klassen
Gideon Falls vol 2: Original Sins s/c (£14-99, Image) by Jeff Lemire & Andrea Sorrentino, Dave Stewart
Kiss Number 8 (£13-99, First Second) by Colleen AF Venable & Ellen T. Crenshaw
Maggy Garrison (£14-99, Self Made Hero) by Lewis Trondheim & Stephane Oiry
Magic Order vol 1 s/c (£17-99, Image) by Mark Millar & Olivier Coipel
Monster Allergy vol 1 (£9-99, Insight Comics) by Francesco Artibani & Alessandro Barbucci
Pilu Of The Woods s/c (£11-99, Oni) by Mai K. Nguyen
Square s/c (£6-99, Walker Books) by Mac Barnett & Jon Klassen
Tamamo The Fox Maiden And Other Asian Stories s/c (£13-99, Other A-Z) by Gene Luen Yang, Carla Speed McNeil, various
The Witch Boy (£11-99, Scholastic) by Molly Knox Ostertag
Shatterstar s/c (£14-50, Marvel) by Tim Seeley & Carlos Villa
The Girl From The Other Side vol 6 (£9-99, Seven Seas) by Nagabe
Goblin Slayer vol 4 (£9-99, Yen Press) by Kumo Kagyu & Kousuke Kurose
Go With Clouds, North By Northwest vol 1 (£11-99, Vertical) by Aki Irie
Today's Menu For The Emiya Family (£11-99, Den Pa) by Type-Moon & Taa