Page 45 Comic & Graphic Novel Reviews May 2019 week five
Featuring Sarah Lightman, Koren Shadmi, AJ Dungo, Manuele Fior
Highwayman s/c (£17-99, Top Shelf) by Koren Shadmi…
"How long have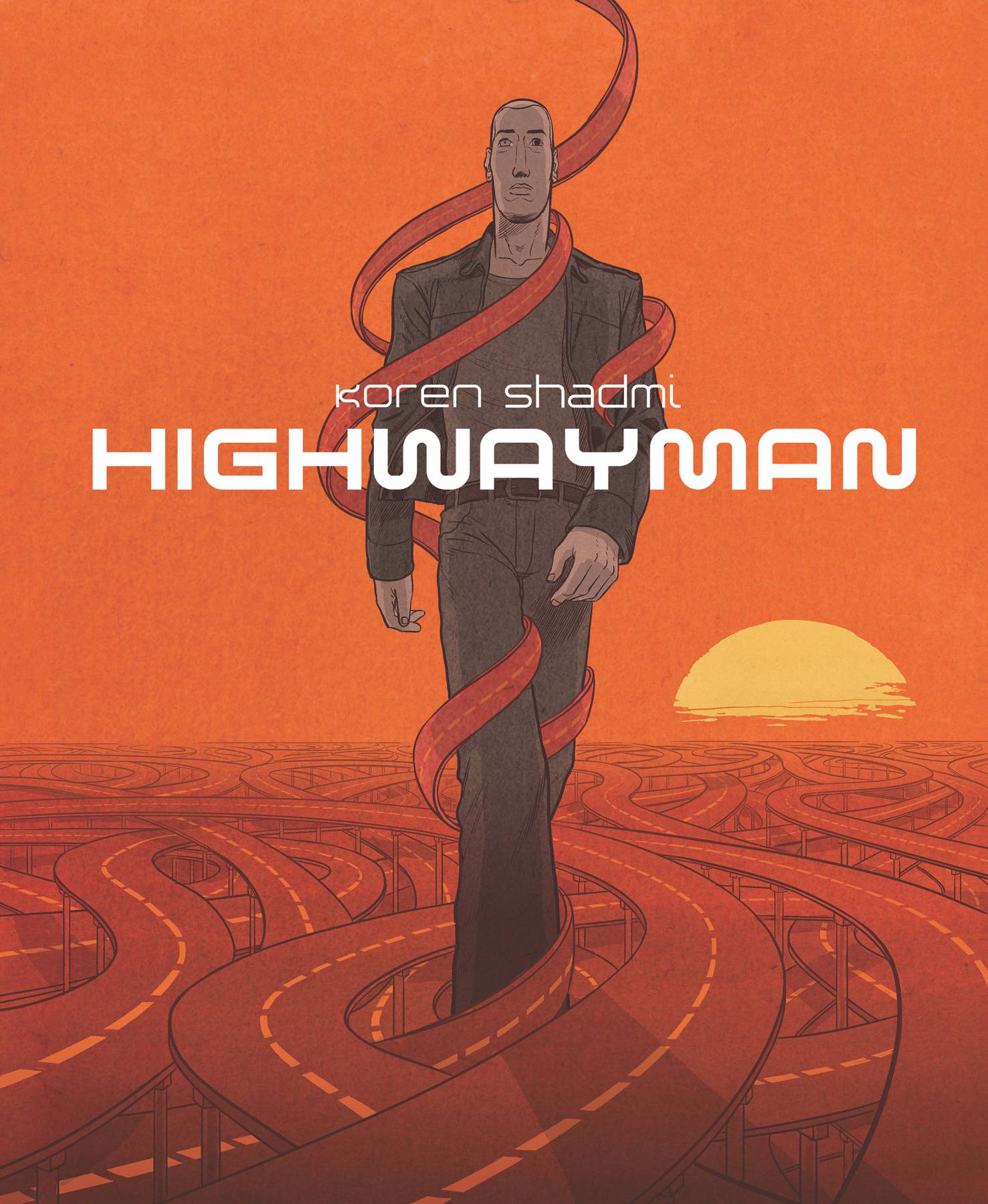 you been hitchhiking like this?"
"Roughly three hundred years."
"Haha. Come on, for real, how long?"
"I'm not sure.
"I've been drifting for too long.
"Losing focus.
"I'm starting to think I'll never find the Source.
"Too many red herrings."
"The Source?"
"Whoever, or whatever gave me this curse."
"What curse?"
"Curse, gift. I'm not sure what it is anymore. After all these years, there's so little I know."
"You're making no sense at all now."
And that is only in chapter two of seven, of which six move our immortal itinerant, the forever roving titular highwayman, considerably forward in time. Substantially further than three hundred years I will say.
One chapter, chapter six, is… different.
There's also a temporally challenging epilogue too, but I'm reluctant to elaborate any further for fear of spoilers.
Am I making any sense at all now?
No?
Good.
For one of the dubious pleasures of following our deathless drifter, as he quests for the reason behind his peculiar ability to defy the Grim Reaper, is observing the gradual collapse of our Earthly civilisation. No, instead we witness the fall of humankind as society begins to crumble rapidly amidst global warming and the consequent natural catastrophes.
It is at all possible that we can adapt and survive these cataclysmic changes, or is humanity entirely doomed? Is the highwayman the only such being to be damned or blessed or are there others of his ilk also gallivanting around the globe? Will he ever find the Source?
Well… suffice to say the answers we do get are as shocking as they are surprising. Koren Shadmi (LOVE ADDICT, RISE OF THE DUNGEON MASTER: GARY GYGAX & THE CREATION OF D&D) turns his hand to produce a truly masterful work of intelligent dystopian science fiction that I found as satisfyingly and frustratingly mysterious as the SNOWPIERCER material.
Artistically Koren has gone for a much cleaner line than with LOVE ADDICT and also a simpler colour palette, opting to have one main different one for each chapter, in multiple shades, with some minimal contrasting colours as and when required. It's a clever combination of vibrant yet suitably bleak.
Fans of the likes of AAMA by Frederik Peeters, EAST OF WEST by Jonathan Hickman & Nick Dragotta will really enjoy this.
JR
Buy Highwayman s/c and read the Page 45 review here
Red Ultramarine h/c (£17-99, Fantagraphics) by Manuele Fior…
"Now don't
dawdle, tell me what this is all about!"
"Well Doctor, it's about Fausto! Unfortunately, last night…"
"Fausto? You mean Georg Faust? I'm so pleased you're reading that! I always keep a copy at hand… clearly signed! "Incommensurable work" as Goethe himself called it.
""Part of the power that would always wish evil, and always works the good."
"You'd like a little clarification on these words of Mefistofeles: is that it, miss?"
"Uh, actually, I… I meant Fausto the architect, remember? Just the other night, he, the archte… doctor?"
"Why do you keep interrupting me!?!
"What else could I have been talking about… besides that fanatical, impertinent dilettante!?!
"Now he even dares to send you here to keep me apprised of his failures!!!
"But I couldn't care less! Does he think he's special?
"I've seen all kinds! Astrologers and alchemists, sailors and scientists! Seekers of the Philosopher's Stone! Poets and investigators of the occult!
"All intent on squaring the circle and circling the square…
"They have to find the key, seize the moment, unravel the skein, you know what I mean?"
Not really, and I suspect Miss Silvia is beginning to regret seeking a diagnosis for her architect beau Fausto from the doctor, who might well be more than he appears, including unhinged…
Still, all the characters in this curious tale that switches between modern day and ancient Crete are more than they seem, for good or ill…
The sections from years gone by are a retelling of the myth of Icarus and his father Daedalus, the builder of the labyrinth for King Minos to hold his son the infamous Minotaur.
How precisely that combines with the travails of Fausto in the present, seemingly trapped within the maze of his own mind, I will leave for you discover.
Suffice to say, everyone needs help sometimes. You just need to be careful who you ask for it…
Finally translated into English, this is one of Manuel THE INTERVIEW / BLACKBIRD DAYS / 5000KM PER SECOND Fior's earliest works, not that you would know it as it is a tremendously accomplished piece of writing, once again employing an entirely different art style. How many does the man have?!
Here he deploys practically no linework as such, instead simply primarily using red and black smeared and smudged areas of colours, frequently offset with substantial zones of white used mainly in a negative sense.
It's an unsettling, uneasy style, almost brutal upon the senses, which mirrors the fractured, tormented madness of Fausto and the devious difficulties faced by Daedalus and Icarus once Minos decides to throw his regal toys right out of the proverbial pram and imprison them inside the labyrinth. Though given Daedalus designed the labyrinth, one would presume that's not exactly the cleverest Kingly plan in the world…
But what elevates this work to another level entirely is how Fior gradually merges the two seemingly disconnected stories in an altogether unexpected manner, which upon reflection simply makes perfect sense. A genuine triumph of storytelling. I can only hope there is more Fior yet to be translated, never mind what he's going to create in the future, because once again this is simply magnificent comics. He is such a talent.
JR
Buy Red Ultramarine h/c and read the Page 45 review here
The Book Of Sarah h/c (£19-99, Myriad) by Sarah Lightman.
"Things
improve.
"Only a few times during the day did I feel I couldn't cope."
I don't know about you, but that quiet confession of oh so crippling helplessness – implying so many more days, months or years of even deeper debilitating self-doubt – halted me in my tracks, and made me linger on it for a long, long time.
With its disciplined precision, restricting itself largely to a single image and but a couple of carefully composed sentences (maybe three or four at the most), each page is designed to focus your attention and reward you for listening. Almost every sentence in this arresting work of courageously communicated insight is eminently quotable, for there is nothing that is in any way extraneous. Not one word.
Its distillation is like the best poetry, free from cleverness and cryptic obfuscation. Moreover, given how complex and overwhelming the inner turmoil which artist Sarah Lightman endured for so long, the reflections in this retrospective are delivered with astonishing clarity.
But like the very best of almost everything, THE BOOK OF SARAH also comes with dry humour, such as the final line here, deftly inserted like a shrug of mock-stoicism:
"I sat on a bench waiting for him to call and tell me that he couldn't make it. It was fine, of course. I had half expected it.
"Otherwise why would I have chosen such a comfortable bench with such a nice view?"
At one point, in an effort to help heave herself out of the paralysing quagmire, Lightman buys a book called 'Woulda, Coulda, Shoulda: Overcoming Regrets, Mistakes, And Missed Opportunities', and that's a surprisingly accurate summation of what you'll be witness to here. I reckon it will resonate with many, profoundly so.
So what is the situation, Stephen?
The situation is this. In spite of early alienation at school resulting in a dwindling self-confidence ("I watched in wonder as people became themselves, whilst I clung to others to find my own way. At assemblies, the great ones were awarded, appointed and celebrated. I would watch and grow smaller in my own eyes, and theirs."), Lightman nevertheless enjoys childhood weekends shared with her friends in the Jewish heartlands of north London whose parents welcome them her readily into their homes for much love and laughter. But, as many of us do when we reach university age, those same friends flew the coop to spread their wings. All of them.
Sarah can't do that.
"I wanted to study at a New York art school and complete my Master's there. But I recalled the screams and fights that occurred when my sister asserted her choices in life. Like the walls of the Red Sea after Moses departed, when Esther's rebellious spirit was absent the force of parental control overwhelmed me. I had the chance to take control, but I floundered."
What 'Exodus' – the second chapter, after 'Genesis' – expresses so eloquently that it almost broke me is her family's long-standing, generational tradition of stifling ambition, autonomy and independence, thereby thwarting so much potential. I'm searching for an appropriate description of the family's chosen mechanisms. Oh, I know, they're called emotional blackmail and outright threats such as this:
""If you let her go to America, I will divorce you," my mother had told my father."
So Sarah doesn't study there. "Instead, I made another visit to New York, to a city I wasn't ready for, and to a boyfriend who wanted to build a relationship with me, when I was not even in a relationship with myself."
This is what I mean by the pithy precision.
Even when she does begin to break fettered bonds, the restrictive damage has already been done.
"I was a free animal, who, having spent her whole life caged, could only walk in circles in this time of freedom, missing the protective walls of her enclosure.
"I'd draw the city I was afraid to engage with."
So it is that we come to the drawings themselves. Interspersed with brief bursts of colour which don't half hit you in the eye, they are predominantly dense and detailed pencil portraits of – and meditations on – ordinary household objects which rarely resonate as 'ordinary' when they are family heirlooms ("I inherited lace from a great-great aunt I never knew. I am just a stitch in my family's woven history."); religious paintings; Jewish books "bought in the height of my religious fervour" which modern-day Sarah no longer knows what to do with; a great many landscapes of houses, streets, rivers and bridges that have loomed large in Lightman's life ("Things and spaces speak for me." The Brooklyn Bridge spoke to her – and there's thwarted family history there too, given that they got off the boat from Vilna too soon in Liverpool after being told that it was New York City.); her family both past and present in the form of her husband Charlie and indeed future in the form of their young child Harry. These are strikingly light, soft and tender by comparison, some not fully formed just like Harry himself, free from the family baggage that Lightman lugged round with her. "I've already decided Harry can go anywhere, when the time comes."
Apart from Harry, often cradled in arms or swaddled in a blanket, the images strike me as solitary, heavy with melancholy, intensely solemn but never bleak. They are solid but sad. And they are silent, so very silent.
How could or even should they be otherwise?
I'm not going to even hint at how this ends, but instead leave you with this from Myriad Editions, one of Page 45's favourite publishers (see our reviews of Jade Sarson's FOR THE LOVE OF GOD, MARIE!, Gareth Brookes' A THOUSAND COLOURED CASTLES, Olivier Kugler's ESCAPING WARS AND WAVES: ENCOUNTERS WITH SYRIAN REFUGEES, Darryl Cunningham's GRAPHIC SCIENCE and SUPERCRASH: HOW TO HIJACK THE GLOBAL ECONOMY etcetera and indeed etc.):
"The Book of Sarah is missing from the bible, so artist Sarah Lightman sets out to make her own: questioning religion, family, motherhood and what it takes to be an artist in this quietly subversive visual autobiography from NW3. The Jerusalem Bible, Ellerdale Road, St Paul's Girls School and a baby monitor: books and streets, buildings and objects in this bildungsroman set in Hampstead, North West London.
"Sarah Lightman has been drawing her life since she was a 22-year-old undergraduate at The Slade School of Art. THE BOOK OF SARAH traces her journey from modern Jewish orthodoxy to a feminist Judaism, as she searches between the complex layers of family and family history that she inherited and inhabited. While the act of drawing came easily, the letting go of past failures, attachments and expectations did not. It is these that form the focus of Sarah's astonishingly beautiful pages, as we bear witness to her making the world her own."
Okay, I'm also going to leave you with this, because honestly!
"I was set up on a blind date and wore unflattering red velvet trousers. After a stilted conversation at the Selfridges bar, he drove me home and, when I went into the bathroom, he promptly asked my flatmate for a date."
SLH
Buy The Book Of Sarah h/c and read the Page 45 review here
In Waves (£16-99, Nobrow) by AJ Dungo…
Well, prepare to have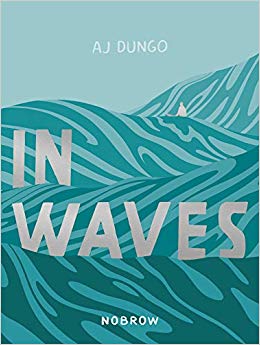 your tears come crashing down your cheeks like Patrick Swayze falling off that big wave at the end of 'Point Break'…
I nearly added dude, but that seems a bit insensitive given that this work joins the disparate canon of material that has caused me to cry on public bloody transport!! Fortunately it was a sunny day so I had my shades to hide my reddening salty eyes from my fellow i4 bus travellers…
Here's the publisher to give you some idea of what is about to come crashing down all over your head, emotionally speaking, whilst I attempt to compose myself…
"A tale of love, heartbreak and surfing from an important new voice in comics. IN WAVES is Craig Thompson's BLANKETS meets Barbarian Days*. In this visually arresting graphic novel, surfer and illustrator AJ Dungo remembers his late partner Kristen, her battle with cancer, and their shared love of surfing that brought them strength throughout their time together.
With his passion for surfing uniting many narratives, he intertwines his own story with those of some of the great heroes of surf in a rare work of non-fiction that is as moving as it is fascinating."
* In case you are wondering by the way Barbarian Days is an acclaimed prose memoir by William Finnegan about his love of surfing (you can read a review on the Guardian website here).
I concur completely with that final phrase! I found myself absolutely gripped like a soon-to-be arterial spraying stump of a leg between a Great White's jaws with AJ Dungo's history of modern surfing featuring the life stories of such luminaries as Duke Kahanamoku, a Hawaiian native regarded as the father of surfing (who also managed to find time to win five Olympic medals for swimming) and Tom Blake who revolutionised board design creating the template for the boards still used today. The endpapers, cast in a sepia tone akin to old photographs, are a lovely tribute to this duo of surf deities.
In fact, I learnt that the sport had its roots as a way of life for all Hawaiians, young and old alike, before the Kingdom of Hawaii was overthrown (becoming a republic for a few years before being finally annexed by the United States) and the influx of non-natives began to drive the vast majority of the indigenous population out the very waters which they had always regarded as part of their cultural heritage.
I found the sections regarding surfing exceptionally engrossing and it did almost make me reconsider having another attempt at learning to surf after a near death experience on my first (and only) attempt in Newquay many years ago. In fairness to the shop owner who had rented me and my friend the boards and wetsuits on a particularly blustery day when the waves were regularly hitting a good six feet, we had neglected to tell him the key piece of information that we had never surfed before.
After we returned totally exhausted, completely bedraggled and having been utterly unable to stand up for even a millisecond, he excitedly asked if we'd had a good time, assuming we'd been loving the big waves. When we belatedly confessed our inexperience he laughed his head off and explained he'd given us the sleekest, fastest boards he had and then went in the back to produce what looked like two enormous perfectly rectangular polystyrene floats that might be used to save someone from drowning. Errr… in fact, that's exactly what they were! But we were far too knackered to have another go… Maybe one day…
Anyway… the joyful, exuberant sections on surfing are in stark contrast to the tragic story of AJ's girlfriend Kristen. Yes, there is certainly joy, and much inspiration, to be found in the way she valiantly battled against her terminal cancer for as long as she possibly could, including going surfing with him and her brother despite having had to have to her leg amputated as a teenager, but ultimately this is also the desperately tragic story of her untimely passing and how profoundly it affected AJ and her family.
Artistically it will not surprise you to learn that AJ has gone for the many greens and blues of the ocean itself for his colour palette alongside some lovely clean linework. His style is perfectly in keeping with the serene nature of his storytelling.
I would defy anyone to read this and not be moved like a bobbing surfer sat atop his board awaiting the next big swell.
In fact once we arrive at the conclusion of this work, where the precise nature of the title becomes apparent and AJ allows Kristen have the simply the most perfect last word possible, I was practically surfing a sea of my own tears off the bus…
JR
Buy In Waves and read the Page 45 review here
Arrived, Online & Ready To Buy!
Okay, it's been a Bank Holiday weekend, so you'll find this week's New Releases, delivered a day later but on our shelves already, linked to here once we've got them online when this sentence will cheerfully self-destruct in favour of the following.
New reviews to follow, but if they're new formats of previous books, reviews may already be up; others will retain their Diamond previews information we receive displayed as 'Publisher Blurb'.
Bezimena h/c (£26-99, Fantagraphics) by Nina Bunjevac
Chopper: Wandering Spirit (£9-99, Rebellion) by David Baillie, Al Ewing, T.C. Eglington, Rob Williams & Brendan McCarthy
Grace, Based On Jeff Buckley Story s/c (£13-99, First Second) by Tiffanie DeBartolo & Pascal Dizin, Lisa Reist
Grunt h/c Art And Unpublished Comics Of James Stokoe (£31-99, Dark Horse) by James Stokoe
House Of Black Spot s/c (£10-99, Koyama) by Ben Sears
Jinks & O'Hare, Funfair Repair s/c (£6-99, Oxford University Press) by Philip Reeve & Sarah McIntyre
Paradox Girl vol 1 s/c (£17-99, Image) by Cayti Bourquin & Yishan Li
Pope Hats #6 Shapeshifter (£5-99, Adhouse Books) by Hartley Lin
Saga Deluxe Edition vol 3 h/c (£44-99, Image) by Brian K. Vaughan & Fiona Staples
The Worst Book Ever h/c (£13-99, Drawn & Quarterly) by Elise Gravel
DC Super Hero Girls vol 8: Spaced Out s/c (£8-99, DC) by Shea Fontana & Agnes Garbowska
Wonder Woman by Greg Rucka vol 2 s/c (£24-99, DC) by Greg Rucka, Geoff Johns & Drew Johnson, Rags Morales, Sean Phillips, James Raiz, Justiniano
Sandman vol 8: World's End (30th Anniversary Ed'n) (£14-99, DC Vertigo) by Neil Gaiman & Bryan Talbot, John Watkiss, Michael Zulli, Michael Allred, Alec Stevens, Shea Anton Pensa, Gary Amaro
Punisher vol 2 War In Bagalia s/c (£15-99, Marvel) by Matthew Rosenberg & Szymon Kudranski
Spider-Man Noir Complete Collection s/c (£22-99, Marvel) by David Hine, various & Carmine Di Giandomenico, Richard Isanove, Bob McLeod, Paco Diaz
I'm Standing On A Million Lives s/c (£9-99, Kodansha) by Naoki Yamakawa & Akinari Nao
Barefoot Gen vol 10 s/c (£14-99, Last Gasp) by Keiji Nalazawa
Gantz Omnibus vol 3 (£22-99, Dark Horse) by Hiroya Oku