Featuring Sarah McIntyre, Yokoyama Yuichi, Kelsey Wroten, Joe Kessler, Catherine LePage, Greg Pak, Dan McDaid
Grumpycorn (Exclusive Signed Page 45 Bookplate Edition) (£6-99 s/c, £12-99 h/c, Scholastic) by Sarah McIntyre.
FREE Limited Edition Bookplate Exclusive to Page 45, designed and signed for us by Lovely Sarah McIntyre with the first 100 copies of either hardcover or softcover! Please see photo below!
"Unicorn was sitting in his special writing house.
"I am going to write the most FABULOUS story in the world," he thought.
Brilliant! Full marks for ambition! A+++
"This made him feel very pleased with himself.
"He already liked being a writer."
Also for self-belief: once you start writing then you are indeed a writer! It's finding the courage to put your first words to paper that's the trick: actually starting in on your story…
But do you know what? Do it!
Don't wait for inspiration to come knocking on your door; it'll only be a cold-caller, touting for business. Clear your own mental gutters and begin doodling away, jotting down ideas! Start writing sentences – any sentences will do – until some start sounding right. They never will sound right until you begin!
That's going to be Unicorn's problem if he's not careful. He'll also have to overcome a certain degree of self-obsession; for one must always remember the value of friendship as the most important source of happiness, but also a well of that oh-so elusive inspiration.
What a deliciously vibrant book, with a dazzlingly shiny gold cover!
I adore all the reflected and refracted light; the way the colours pulse in the sky then shine like shards on the choppy seas' surfaces; the way they wave and beam and whirl in the water below. Those are some truly tasty lemons, lime-greens and tangerines, and oh my days the plum-coloured purples!
Multiple award-winning Sarah McIntyre, author / artist of THE NEW NEIGHBOURS, DINOSAUR FIREFIGHTERS, VERN AND LETTUCE, THE LEGEND OF KEVIN etc (the last one co-created with Philip Reeve – do please see our dedicated Reeve & McIntyre section bursting with so many exuberant reviews), returns with another picture book of mischief, mirth and the mindfulness which parents so very much appreciate.
And this is the key to Young Readers' picture books and comics: you need to get parents as enamoured with the stories (which they'll be reading to young ones over and over and over again) as their wide-eyed offspring. It's the adults' enthusiasm on reading that's infectious, and comedy and compassion work wonders.
So does spectacle!
Seldovia in Alaska is credited as inspiration within the dedication, and to me that manifests itself for example in the base of the snow-capped coned mountains which rise directly from the ocean, with their tiers of tree designs which you might find on very woolly jumpers. Also, the light, as dazzling as any Aurora Borealis!
Background jokes are a bonus too, the craft loosely resembling the Beatles' Yellow Submarine which later returns as Mermaid's mode of transport / mobile home, the joke of its redundancy delightfully left for all to observe for themselves.
On top of that, Narwhal, Mermaid and Jellyfish each project their own versions of what they imagine "the most fabulous story in the world" might entail in visual thought clouds. In Narwhal's case it's the gallant seahorse-assisted assault on a turreted castle in order to rescue a younger prince or princess, locked up in a tall tower, from the fiendish clutches or an orange octopus. You can tell that he's fiendish from the twirled moustache. And an octopus's clutches would take four times any ordinary extraction because of those eight suckered tentacles. Ambitious!
Lastly, no one needs saccharine, and I can assure you that Unicorn has a little bit of growing up to do lest he be called Grumpycorn for life. For by "a certain degree of self-obsession" I mean that he starts off as a right old diva, unnecessarily rude and thoughtlessly, hurtfully dismissive of his friends.
""WOW!" said Narwhal. "Can I be in your story?"
His glee is self-evident.
""Don't be silly," said Unicorn. "No one wants to read a story about a narwhal. Narwhals are very boring. There will be no narwhals in my story."
""Oh," said Narwhal."
His poor blue face is a devastating picture of startled, uncomprehending, internalised rejection.
"He swam sadly away."
Don't fret, families, friendship is what holds most sway here! A little bit of loving, a whole lot of baking, and a co-creative intervention will return that grandiose Grumpycorn round to appreciating that which matters the most.
There'll just be a right old silly strop first!
P.S. Fab to see that Colin the Crab's cheekily back! See OLIVER AND THE SEA WIGS, THE LEGEND OF KEVIN and PUG-A-DOODLE-DO! A BUMPER BOOK OF FUN!
SLH
Buy Grumpycorn h/c (Exclusive Signed Page 45 Bookplate Edition) and read the Page 45 review here
Buy Grumpycorn s/c (Exclusive Signed Page 45 Bookplate Edition) and read the Page 45 review here
Cannonball h/c (£22-99, Uncivilised Books) by Kelsey Wroten ~
A recent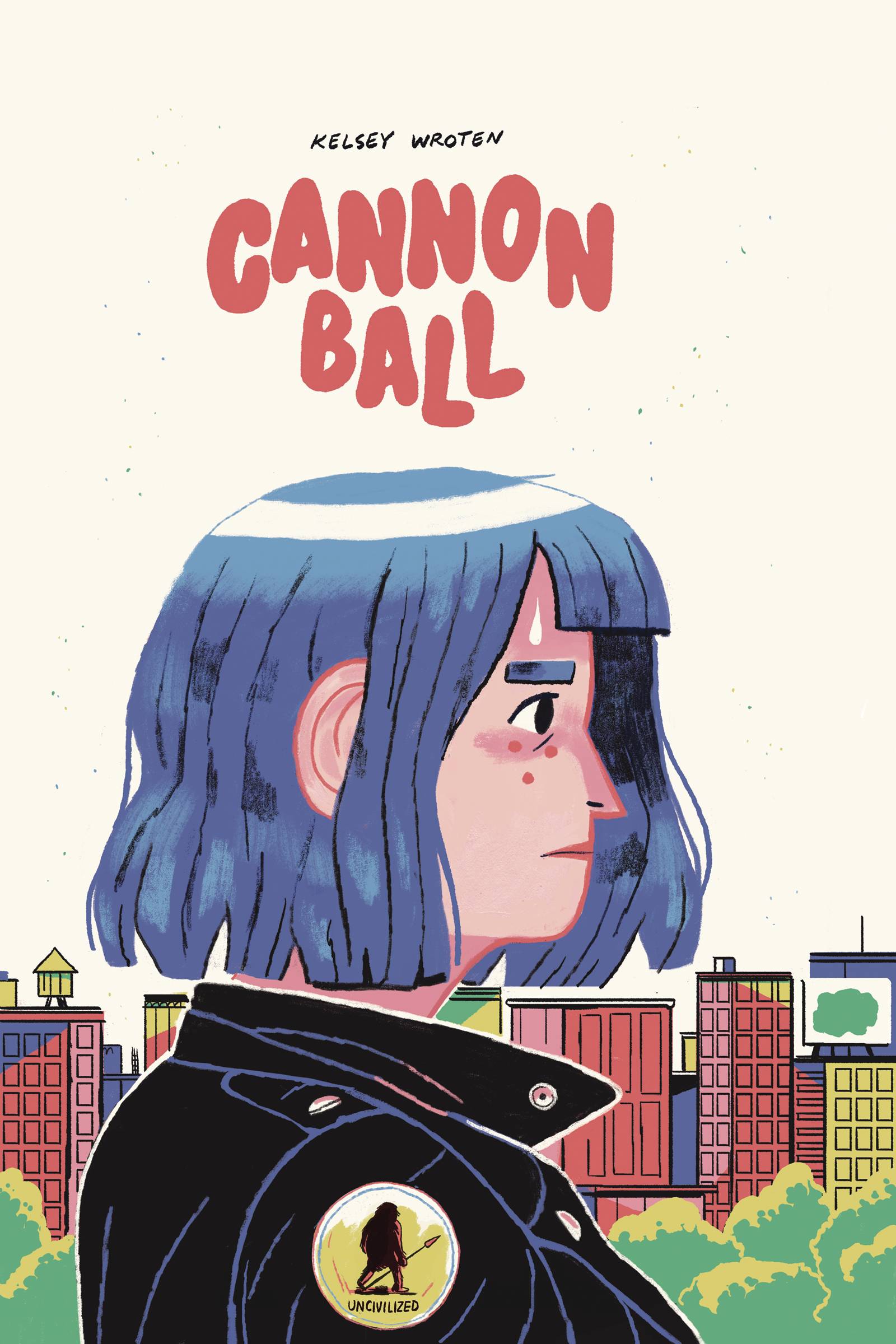 graduate, Caroline is very reluctantly being flung into the world of adulting. She's got herself an apartment with a glorious view of a brick wall and neighbours that party seemingly non-stop. Her friends are moving away, going to grad schools or getting 'proper jobs', while Caroline stubbornly puts her foot down to follow her passion as a creative writer. She will NOT let that degree go to waste!
Writing, re-writing, shredding the whole lot, starting afresh then re-writing that and so on, she is a perfectionist with the determination to break out with a hit novel. She also has a stolen student card that grants her access to the college cafe, ensuring continued procrastination regarding her transition into the 'real world'.
As an art school grad myself, I know that pang for creative success that Caroline feels; to want to do something big, be something great. But finding yourself standing by while your peers get those gallery exhibitions, get hired by the big companies, move away, move on, and grow up, while you feel the knock-back and rejection letters from submissions you've poured your heart and soul into.
Parents, with all the best intentions, adding extra pressure for you to find your feet, but they simply don't quite understand the path you have chosen in life. I know this cast of mis-sold millennials intimately, with their mountains of student dept spent on creative degrees to "follow your dreams" only to find that the pool is overcrowded and over competitive.
Maybe what you've just read will resonate with you; you may feel akin to Caroline, Penelope and Trevor, fumbling their way through a new and confusing period in life. But before we go any further let me just explain one thing about Caroline: she is an absolute dick…
"Betwixt reality and perception is mystery. And mystery is *unf* so sexy."
"And you're not a judgemental asshole, you're a dangerous genius."
"Exactly. Maybe you do know me after all."
"That wasn't a compliment!"
Playing the tortured genius just as well as FANTE BUKOWSKI and learning about as little in the process, she is bitter and destructive, silver tongued and verging on alcoholic. She hates the world and everyone in it; they're all a bunch of grebes anyway. But boy, do I love a flawed protagonist and Wroten has done a brilliant job with Caroline. You can see her path of destruction unfold before her and you'll wince at her actions and recoil at her vitriolic diatribe. But yet, you'll find yourself rooting for her. You want her have at least a small taste of success because maybe then she will calm down, see the world for what it is, maybe even grow up a little… maybe.
Witty and utterly cringe-worthy, I found myself simultaneously grinning and grimacing the entire way though. If, like me, you're a fan of flawed characters and self deprecating humour then Cannon Ball will certainly scratch that itch.
In classic Lego brick colours and rounded cartooning, Wroten has encapsulated the aesthetic of a generation, while its attitude is captured is its disenfranchised bitterness.
JP
Buy Cannonball h/c and read the Page 45 review here
Outdoors (£14-99, Breakdown Press) by Yokoyama Yuichi…
"Like a
Japanese Cowboy…"
Ween – Japanese Cowboy.
There can't be many comics that immediately make one's mind turn to alt-rockers Ween… but then Yokoyama Yuichi's manga always makes my mind do strange things.
His unique art style, replete as ever with a truly insane amount of sound effects, is easily identifiable by its delightful future retro combination of curves and long straight lines. Those sounds effects, which I think must be present in at least 95% of the panels, really add to the at times claustrophobic intensity by the way, something Yuichi comments on in the excellent, if typically terse, two-page interview included at the back of the book. He seems a real character, I must say, which does not surprise me one iota.
His style has always struck me as being of two time periods, straddling both like an enormous yet elegant mega-robot. For there is a sense in which he has the feel of really early Yoshihiro Tatsumi, by which I mean the likes of BLACK BLIZZARD, and also Tezuka in ASTRO BOY mode. I think that is due to the seemingly simplistic panel layouts but also the panel progressions, the actual visual sequential storytelling which feels very of that period.
But then that is transformed into something truly idiosyncratic and futuristic with his trademark illustrative flourishes. Not least the repetitious symmetry of minor (and occasionally major) components, including the sound effects, frequently deployed in precise patterns and formations which has a very pleasing effect on the eye. Well, to mine at least!
The typically ultra-minimal plot, consisting entirely of a group of cowboys riding the range on their minature rocket ships, doing all the usual things that ranch hands do and nothing more exciting than that, okay occasionally waving their ray guns around, only adds to the dualistic contrary temporal feel.
Yuichi will never change, he clearly likes to make manga his own very special way, probably entirely for his own satisfaction I suspect, and I wholeheartedly applaud him for it.
JR
Buy Outdoors and read the Page 45 review here
Windowpane (£19-99, Breakdown Press) by Joe Kessler…
"I got
you some things."
"Oh really?"
"Green things and for the sun… It's a hat and gerkins."
"I can see that. Thank you."
Here's my early front runner for weirdest comic of 2019! It's not going to win, I suspect, as there's a fair few furlongs of freaky to go before the finish line and no doubt something even more insane will come flying up late on the rails like Oliver Schrauwen's PARALLEL LIVES did last year to snatch the gonzo glory.
But Joe Kessler has laid a pretty fair marker down with this anthology of the abnormal, let me tell you…
From a child riding the bus network alone late at night, to being teleported to go shell collecting by an evil wizard, to worrying about a lack of vitamins, to receiving summary justice from what appears to be worrisomely all-powerful jaundiced version of Noseybonk, there is much going on that is very strange indeed here.
Like a fever dream leading in an entirely abstract direction, I didn't guess where any of these stories were going, and that is certainly a very considerable part of their charm. Frequently they adopt a semblance of surface normality before veering off savagely into the surreal!
As an aside, I did wonder at one point if the various stories very, very tenuously all linked together, a little like PARALLEL LIVES but even more disparately, but I'm honestly not sure. I think so…
Style-wise, it looks like Joe has used felt tips. I love felt tips, who doesn't?! Simpler times…
The actual colour palette often harkens back to even simpler times still. I would say the days of four colour, but instead of cyan, magenta, yellow and black Joe has gone for red, yellow, green, blue and black. A proper bunch of fives to the flushed, confused face and highly activated optic nerves.
As I said, weird and abnormal. I loved it!
JR
Buy Windowpane and read the Page 45 review here
Thin Slices Of Anxiety: Observations and Advice to Ease a Worried Mind (£9-99, Chronicle Books) by Catherine LePage…
"I always
simultaneously see two sides of the same coin."
Those two sides being, dear reader, the good side but also the bad side… For if one is prone to anxiety there is no resting on the proverbial laurels, for any scant moments of quiet contentment are surely about to be interrupted by the next display of internal disquiet?! But fret ye not! For as the publisher pronounces…
"Not to worry, a book on anxiety is finally here! A clever antidote to everyday angst, this illustrated book captures universal truths and comforting revelations about being human. Artist Catherine Lepage uses her wry humour to help us see that when thinly sliced and illustrated, emotions are much easier to digest."
Yes she does. Honest, witty and very engaging indeed, this pocket packet of perturbation pacification deals with the causes and effects of Catherine's personal crushing concerns as she prescribes sautéing up the stresses to ensure they don't induce too much unnecessary agitation.
I found much to enjoy in this work as it has been created with genuine tenderness and understanding but also includes much hard-won hilarity.
It's therefore an intimate, engaging look at what is for most people who suffer from it in one form or another, a very personal problem.
I particularly enjoyed how Catherine unpicked and analysed her own predilections to precipitating an onset of anxious thoughts…
"Chapter 4.
"Okay, I'll admit…
"It's a bit my fault as well."
When we get the punchline that concludes this chapter as well as the book, I had a little a chuckle to myself. Forgiveness is very important. Particularly of oneself. I thought it was a delightfully insightful conclusion.
Artistically, the slices of illustration that accompany Catherine's calamity-controlling conceptions will appeal to fans of David Shrigley, I suspect.
It's not as bonkers all-out insane, for sure, but it has more than a little of that deliberately rough and ready absurdity slapping you about the face sensibilities at times.
JR
Buy Thin Slices Of Anxiety and read the Page 45 review here
Firefly vol 1: Unification War h/c (£14-99, Boom!) by Greg Pak & Dan McDaid…
Once upon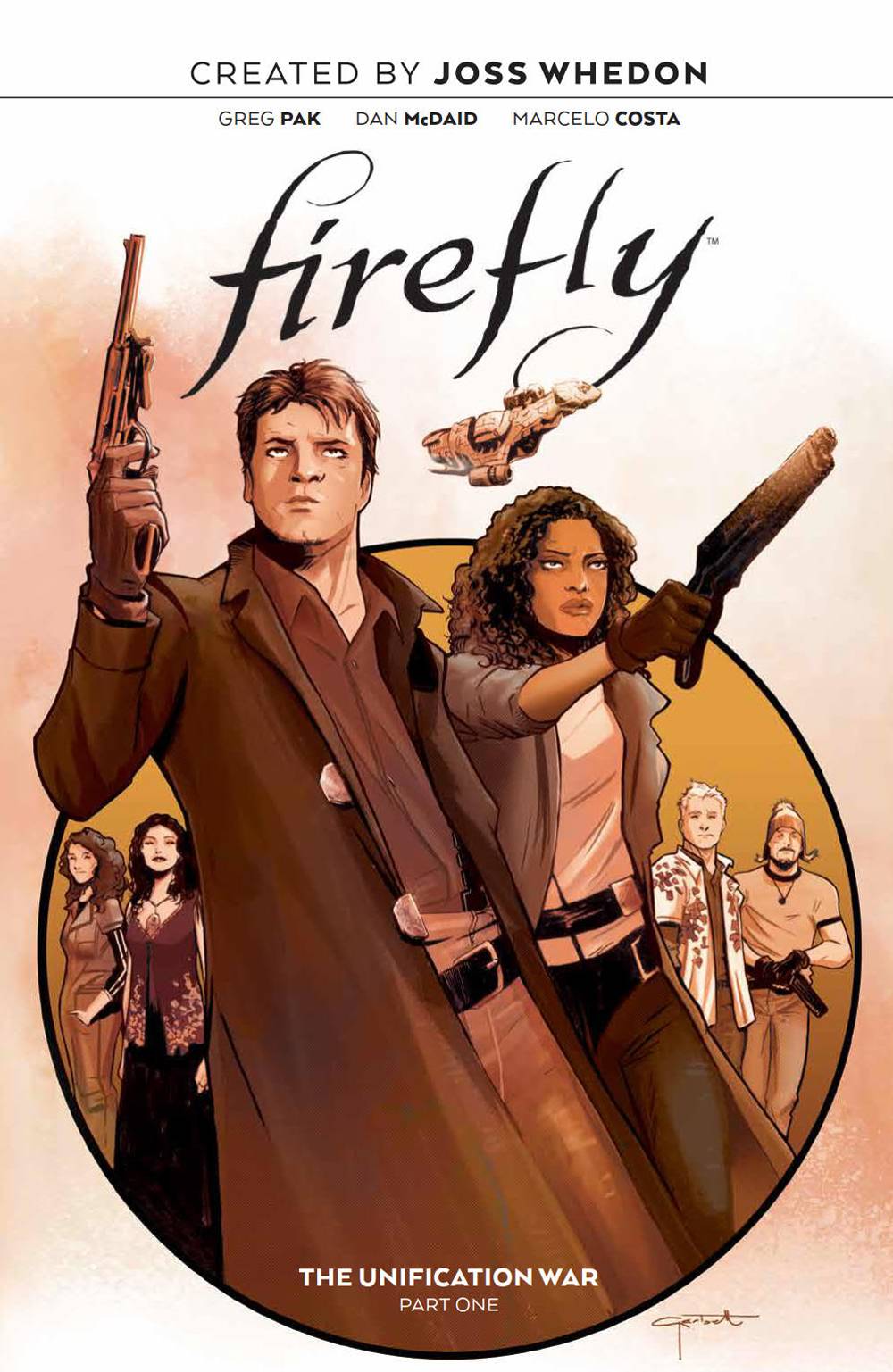 a time in a galaxy not so far away… well… ours actually… a TV show got cancelled…
People got rather upset about this, apparently. Well, some people… and so comics were made. (Oh, and somewhere along the way, a film too, almost forgot about that.)
Five volumes worth of comics, in fact, now available in two splendid 'legacy' editions entitled FIREFLY LEGACY EDITION 1 and, you've guessed it, FIREFLY LEGACY EDITION 2.
I even read one of the five arcs pertaining the back story of one of the more mysterious characters called Shepherd and despite knowing precisely nothing about him, or indeed the show, never having watched it, thought it was quite good. It almost made me want to watch the TV show.
Which brings us to now and this ongoing Firefly series. I've had a brief flick through and it seems quite entertaining. I can well imagine if you have any degree of affection for the characters you'll probably love it, as Greg MAGNETO: LAST TESTAMENT / WORLD WAR HULK Pak is a darn good writer and Dan McDaid has been doing some solid work on IDW's Judge Dredd line.
Not a lot more I can add really. Except, you know, buy the comics or they'll get cancelled.
JR
Buy Firefly vol 1: Unification War h/c and read the Page 45 review here
Arrived, Online & Ready To Buy!
New reviews to follow, but if they're new formats of previous books, reviews may already be up; others will retain their Diamond previews information we receive displayed as 'Publisher Blurb'.
Cannabis: An American History (£14-99, SelfMadeHero) by Box Brown
Aliens: Dust To Dust s/c (£15-99, Dark Horse) by Gabriel Hardman
Black Hammer: Quantum Age s/c (£17-99, Dark Horse) by Jeff Lemire & Wilfredo Torres
Copra Round 1 (£17-99, Image) by Michel Fiffe
Copra Round 2 (£17-99, Image) by Michel Fiffe
Copra Round 3 (£17-99, Image) by Michel Fiffe
Copra Round 4 (£17-99, Image) by Michel Fiffe
Copra Round 5 (£19-99, Image) by Michel Fiffe
I Was Their American Dream (£12-99, Potter) by Malaka Gharib
Oh No (£9-99, Andrews McMeel) by Alex Norris
Posy Simmonds: The Illustrators Series h/c (£18-95, Thames & Hudson) by Paul Gravett
Sandman vol 7: Brief Lives (30th Anniversary Ed'n) (£14-99, Vertigo) by Neil Gaiman & Jill Thompson, Vince Locke, Peter Straub
Secrets #4: Sexy Special (£3-00) by Lae Schafer
Secrets #5: Pained Edition (£3-00) by Lae Schafer
Share Your Smile h/c (£11-99, Scholastic) by Raina Telgemeier
Simak (£14-99, Humanoids) by Jerry Frissen & Jean-Michel Ponzio
Stranger Things: The Other Side s/c (£15-99, Dark Horse) by Jody Houser & Stefano Martino
Under The Moon: A Catwoman Tale s/c (£14-99, DC Ink) by Lauren Myracle & Isaac Goodhart
Injustice Vs. Masters Of The Universe h/c (£22-99, DC) by Tim Seeley & Freddie E. Williams II
Superman: Action Comics vol 1: Invisible Mafia h/c (£19-99, DC) by Brian Michael Bendis & Ryan Sook, Patrick Gleason, Yanick Paquette, Wade Von Grawbadger
Amazing Spider-Man vol 3: Lifetime Achievement s/c (£14-50, Marvel) by Nick Spencer & Ryan Ottley, Chris Bachalo
Doctor Strange vol 2: Remittance s/c (£15-99, Marvel) by Mark Waid & Javier Pina, Andres Guinaldo, Jesus Saiz, others
Barefoot Gen vol 9 (£14-99, Last Gasp) by Keiji Nakazawa