Featuring Sean Michael Wilson, Robert Brown, Brendan McCarthy, David Baillie, Al Ewing, T.C. Eglington, Rob Williams
The Many Not The Few: An Illustrated History Of Britain Shaped By The People (£9-99, Workable) by Sean Michael Wilson & Robert Brown.
"Are you a fan of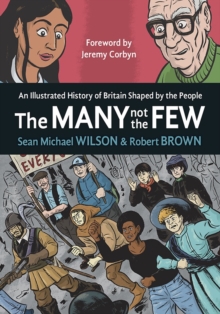 Karl Marx, then?"
"Sure. Though I think Groucho was funnier."
"Who?"
"Oh callow youth! Let me tell you about the Marx Brothers another time, or I might lose track again."
I just threw in that opener so right from the get go you will understand that this is not your typical dry approach to educating people about the important inflection points in the working class history of Great Britain….
Quite the opposite, for whilst you will undoubtedly come away from this far, far better informed than you were before on the salient details, even if you consider yourself remotely politically and historically educated, you will also have been engrossed by the entertainingly resolute presentation of the facts, as recounted to granddaughter Arushi by retired union rep Joe, and perhaps tickled too by many a delightfully humorous aside…
"All right, so we're almost up to date. When were you born? '94, was it?"
"'95. I was a toddler on the night New Labour got elected. Mum said you and your union pals had a big party on election night!"
"Ha, ha! Yeah, we were drunkenly singing 'Things Can Only Get Better'… and old Wilkins threw up into your granny's Royal Worcester flower vase."
"I bet she was mad."
"Well, she was caught up in the excitement too, so she let it pass."
Their endearing relationship, straddling a gap of several decades and indeed political differences too – not least on the subject of Brexit – grounds this in-depth chronology in very real human terms…
"Of course the big thing that's happened recently is voting to leave the EU. I know you were against it, as were a lot of young folks."
"Yeah, I still don't get why you were for leaving."
"Well, I'm old enough to remember when most Leftwingers were against the EU."
I think it's worth taking a paragraph or two just to detail what period of time is covered in the ten chapters, prefaced by a foreword from Jeremy Corbyn, no less. Starting with the Peasant's Revolt of 1381 featuring the original poll tax we move through the battles over the rights to use common land c.1549, then onto the 17th century and the English Civil War and the Levellers. Then the mythical Captain Swing (minus his electrical pirates) makes an appearance fighting against agricultural landlords in the 1830s, followed by the Tolpuddle Martyrs and the Chartists, then the beginnings of trade unionism proper from 1860s onwards.
Once we enter the 20th century we have the many labour protests between the two world wars, the brief highpoint of the creation of the NHS and free education, before the chaos of the Winter Of Discontent in 1978-79 leading to the rise of Thatcher and "18 years of neoliberal fury" including the miners' strike before depositing us into our current end times of Brexit madness.
I think Sean Michael Wilson has done a brilliant job assembling his workers' manifesto here, with the stoic assistance of historical advisor Doug Nicholls. Robert Brown's simple, straightforward no-nonsense black and white art style is perfect for portraying this epic march through the heroic efforts of many an individual and collective to fight for the rights of the many over the greed of the few.
I can't recommend this highly enough for anyone interested in British political history. I fervently hope it will get picked up and used as a teaching aid in schools so the current crop of young minds are (de-)programmed with a message of how positive changes can be effected if they are prepared to resist and perhaps rage a little against the ever hungry all-consuming machine of neoliberal capitalism.
But still buy comics obviously.
JR
Buy The Many Not The Few: An Illustrated History Of Britain Shaped By The People and read the Page 45 review here
Chopper: Wandering Spirit (£9-99, Rebellion) by David Baillie, Al Ewing, T.C. Eglington, Rob Williams & Brendan McCarthy…
"Without the dreamtime as conduit this cloud has become
just science… and is looking for a shape in its own chaos."
"Look! From the formless chaos something emerges."
"Shapes taken from its own twisted memory!"
I believe I have just felt myself Judda… (sic).
Regular Page 45 review readers may well know that my favourite all-time 2000AD comics character is one Marlon Shakespeare a.k.a. Chopper. How can one not love someone who takes such great delight in deservedly, continually sticking it to 'the man', even earning in the process the very, very, very begrudging respect of Judge Dredd himself? If you want to hear me wax lyrical even further about the Midnight Surfer here is my review of CHOPPER: SURF'S UP.
But back to the review at hand, and I suspect most, if not all people, will be interested in this purely because it is illustrated by the Prince of comics psychedelia himself, Mr Brendan McCarthy. You don't need me to tell you who the King is, right?
Much like his insane SPIDER-MAN: FEVER which was about as far removed from a Spider-Man story as you could possibly be (by about five dimensions of rational thought, I would estimate), this isn't really a story about a man on a flying plank. I mean it is, clearly, but it's primarily a nonsensical, riotously garish Aboriginal-art-themed assault on the mind that just so happens to feature a man on a flying plank. As you do. Well, as Brendan McCarthy does.
It's a fabulously frenetic fun and frolics story from David Baillie and I love the nod, well, more like a psychic headbutt, to the Supersurf 10 voyage to Oz epic which I make reference to above by way of the guest villain faux appearance. If you don't have a clue what I am on about by the way, really do not worry about it. Just sit back and absorb it all in. As the colours start swirling around you may find yourself becoming quite intoxicated…
In addition to the Chopper story this volume also collects some Mega City One-based Judge Dredd bizarreness illustrated by McCarthy including a great Doctor Who spoof penned by Al Ewing featuring a rogue time travelling scientist and a zombie farce scripted by Rob Williams. Plus a final very short short part-scripted by Brendan himself.
Note: Rob Williams has a Judge Dredd story from the pages of 2000AD being collected in September called JUDGE DREDD: THE SMALL HOUSE (with art by Henry Flint) which is one of the best Dredd stories I've ever read and I believe will come to be regarded as an all-time classic. Should be up on the website with the next month of PREVIEWS, I would imagine.
You'll find a full (and very large, broadsheet-sized) page drawn by Brendan McCarthy in THE SPIRIT NEWSPAPER comics anthology, distributed worldwide and on sale on our shelves exclusively at Page 45.
JR
Buy Chopper: Wandering Spirit and read the Page 45 review here
Arrived, Online & Ready To Buy!
New reviews to follow, but if they're new formats of previous books, reviews may already be up; others will retain their Diamond previews information we receive displayed as 'Publisher Blurb'.
Akissi: More Tales Of Mischief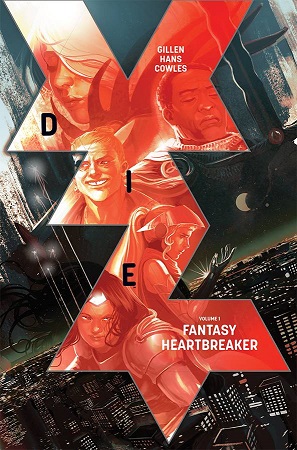 (£12-99, Flying Eye Books) by Marguerite Abouet & Mathieu Sapin
Cemetery Beach s/c (£15-99, Image) by Warren Ellis & Jason Howard
Die vol 1: Fantasy Heartbreaker s/c (£8-99, Image) by Kieron Gillen & Stephanie Hans
Dungeon Fun vol 1: The Adventures Of Fun Mudlifter (£14-99, BHP Comics) by Colin Bell & Neil Slorance
Elfin Lied Omnibus vol 1 (£22-99, Dark Horse) by Lynn Okamoto
Good Omens (£8-99, Corgi) by Terry Pratchett, Neil Gaiman
Grand Abyss Hotel h/c (£18-99, Archaia) by Marcos Prior & David Rubin
Hotel Dare s/c (£7-50, Kaboom) by Terry Blas & Claudia Aguirre
Minecraft vol 1 s/c (£8-99, Dark Horse) by Sfe R. Monster & Sarah Graley
Mirror vol 2: The Nest s/c (£17-99, Image) by Emma Rios & Hwei Lim
Skim (£11-99, Groundwood Books) by Mariko Tamaki & Jillian Tamaki
Tales From The Hidden Valley vol 4: Under The Water (£12-99, Flying Eye) by Carlos Porta
Tongues #2 (£10-99, ) by Anders Nilsen
Wandering Luminations: The Art Of Tara McPherson h/c (£26-99, Dark Horse) by Tara McPherson
You're Safe With Me h/c (£11-99, Lantana Publishing) by Chitra Soundar & Poonan Mistry
You're Snug With Me h/c (£11-99, Lantana Publishing) by Chitra Soundar & Poonan Mistry
Mister Miracle h/c (£29-99, DC) by Tom King & Mitch Gerads
Nightwing vol 8: Knight Terrors s/c (Rebirth) (£16-99, DC) by Benjamin Percy & Travis Moore
The Dreaming vol 1: Pathways And Emanations s/c (£14-99, DC) by Si Spurrier, Neil Gaiman & Bilquis Evely
Avengers vol 1: War Of The Vampires s/c (£15-99, Marvel) by Jason Aaron & David Marquez, Andrea Sorrentino
Marvel Knights Punisher By Ennis Complete Collection s/c vol 3 (£35-99, Marvel) by Garth Ennis & Tom Mandrake, Cam Kennedy, Steve Dillon
Marvel Super Hero Adventures: Spider-Man (£8-99, Marvel) by various
Boruto vol 2 (£6-99, Viz) by Ukyo Kodachi & Mikio Ikemoto
Boruto vol 3 (£6-99, Viz) by Ukyo Kodachi & Mikio Ikemoto
Boruto vol 4 (£6-99, Viz) by Ukyo Kodachi & Mikio Ikemoto
Boruto vol 5 (£6-99, Viz) by Ukyo Kodachi & Mikio Ikemoto