"If the terror of DIE is the annexation of reality by fantasy in the form of five friends trapped there, the genius of its execution lies in the indissoluble bonding between fantasy and reality so that ordinarily consequence-free fantasy – played so as to give one a break from reality – has very real repercussions for both."
– Stephen on Die volume 1
Die vol 1: Fantasy Heartbreaker s/c (£8-99, Image) by Kieron Gillen & Stephanie Hans.
"die, noun: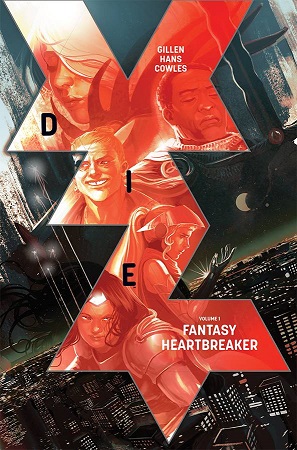 singular form of dice"
"die, verb:
stop living, become extinct, be forgotten"
"We can survive anything but our past."
This is blinding in its multi-layered brilliance, and our highest selling periodical comic by some substantial score.
Co-creator Kieron Gillen (THE WICKED + THE DIVINE, MERCURY HEAT, UBER, PHONOGRAM etc) describes Stephanie Hans's visual prowess as "mixing epic romance with operatic intensity". I've stolen that because it is perfect. Hers is a playlist of songs rich in colour, carefully composed around those colours with varying, artfully controlled tempos, all arranged so as to hit you in the heart.
As with its cast, this will seduce you, startle you, suck you in until you're helpless, have you sweating emotionally, vicariously, for their sanity as much as safety, and then break your hearts, repeatedly. It will also give you much food for thought, not least about reality, fantasy, actions, consequences, rules and restrictions, friendship, loyalty, the power of persuasion, collaborative creation (as well as cooperative action), what it's like to be left behind, and the weight of adulthood and its responsibilities plus their potential toll which can resonate with all that we did during earlier years which were more complex in their interactions than we'd originally thought.
On that very subject the new contrasting chapter breaks in less complicated pencil of innocents at idle, carefree play are very clever indeed.
Britain 1991, and five teenage friends are invited over to Solomon's to celebrate the shared 16th birthdays of Solomon and Dominic, for whom Solomon has created a brand-new role playing game.
He'll be their Dungeon Master; but he'll be participating too.
"Yeah, it's an unusual game. We're all in this together."
Each receives a sheet to develop their imaginary characters. "Guided freedom, selecting abilities and personalising them," recalls Dominic. "Anything was permissible, if not always advisable."
Each then in turn describes their character to Sol who accordingly assigns them both a role and a unique die, from the 20-sided die (D20) reserved by Sol for himself down to the 4-sided die (D4) for Dominic, who chooses to play as female Ash. She is the Dictator (spokesperson, negotiator… dictator…)
And they start to play.
Two hours later, Sol's mum discovers her son's bedroom empty.
Two years later five of the six reappear on a roadside near Nottingham, one of them minus an arm, all of them minus Sol.
Obvious questions were asked by the police, by the press, by their friends and relatives. Where had they been? What did they do? And whatever happened to Solomon?
But they couldn't say. They truly couldn't say. They physically couldn't say.
Brilliantly (and all still within what is the prologue), after but two more pages we flash-forward another 25 years to the point where the former 18-year-old survivors are now in their forties. Some have married, some have had kids, some have married and divorced, but one at least has found commercial success as a writer of fantasy which has since gone multi-media massive, netting him a small fortune. That would be Chuck, the individual amongst them who never took any of it seriously. He's been successful, all right.
Dominic and his younger sister Angela, not so much: she's the one missing an arm and now a husband whom she left for a woman who almost immediately ditched her, plus she's fighting a custody battle for her kids which she's unlikely to win even if she keeps her feet on solid ground. Please remember that after we leave the prologue. The siblings are both exhausted and Hans excels at depicting their depletion, then the varying degrees of trepidation when the remaining five are reluctantly forced to meet up.
They're forced to meet up because – while drinking down a London pub whose pavement outside is being lashed with rain – Dominic and Angela are presented with a package which the barman found on the doorstep. In it is a box, and within that box, on top of crushed velvet, lies Solomon's prized D20, gleaming away but covered in blood.
The subsequent page outside the bar is one of Hans's most accomplished. The light at night emanating from the street lamps and closed retail outlets still blasting out come-look-at-me-luminosity cascades through the deluge onto the rain-soaked stone, and there is so much red carried over from the previous page's blood-bathed, twenty-sided die. In spite of all the horrific, war-torn, fantastical spectacle that is delivered so devastatingly later on, it is the most violent page in the comic as Dominic – knowing full well its potential properties – attempts to smash it to pieces.
Both impressionistic and expressionistic, that is a scene which will linger with you forever.
Likewise, I believe, a panel which will be hitting us ever so shortly once we're not in Kansas anymore.
That bears all the neo-classical grandeur and majesty of a scene from the PS4's 'God Of War'. It's worth scanning the rich, lambent background for details, because in any other context like animation this glorious landscape would not be just a single-panel scene-setter, but the backdrop to so much more super-imposed art to follow. Again, a reminder that red features prominently.
Teasing aside, we're nearly done with the expository hand-holding, I promise. It's lovely to have a lot more leeway than when I wrote the first issue's review.
Dominic decides that he has no option responsibly but to consult his fellow survivors about the D20's reappearance. They reconvene at Chuck's lavish estate and compare notes, not just on what to do with the die, but on where their lives have taken them in the 25 years since they were last… embroiled. It's a lot like a school reunion. *shudders*
But the D20 was a lure, a trap, and they have gathered together right into it.
And suddenly, as I say, they're not in Kansas anymore.
They're back on Die, the mist-shrouded, 20-faceted world which they barely escaped 25 years ago, and they are all very much altered. They've resumed their former identities / roles which they dangerously played out for two whole years: Dominic is Ash the Dictator, Matt is the Grief Knight, Angela is Neo once more with two arms (albeit one cybernetic), and Isabelle's back in her Godbinder armour. She has gods in her thrall; she may be in thrall to her gods. It all depends upon how they use each other. A god's the same thing as a demon: discuss.
Chuck is the only one of them who seems remotely happy to be back, but then Chuck is the Fool.
So that's where they went. But what did they do that took such a terrible toll on their lives, rendering the rest of them terrified to be back, fractious and full of mutual recriminations? And whatever happened to Solomon?
That's it, prologue over. No more mere plot points for you!
As you've probably gathered, this is a Dungeons & Dragons interactive role playing game made manifest. By which I mean, instead of sitting down together with tea, biscuits or a fridge full of bevies to collaboratively create your own adventure through conversational narrative (isn't the human mind amazing?), our six participants have – and will yet again – be living it. But this is the key: the rules still apply. It's still a negotiation in both its physical and bartering sense, for there are prices to be paid and costs to be extracted for every move made or ability utilised.
If the terror of DIE is the annexation of reality by fantasy in the form of five friends trapped there, the genius of its execution lies in the indissoluble bonding between fantasy and reality so that ordinarily consequence-free fantasy – played so as to give one a break from reality – has very real repercussions for both.
I mean, just for starters in the real world, there's the not inconsiderable matter of Angela's arm. Then there's what's happened to their heads, to their hearts. But on Die there are, have been (while they were away) and will be more consequences to come. I'll let Isabelle, the Godbinder, explain their dilemma, in words which will echo for you in your own private reading much later on:
"Before we decide the next move, we need to talk. We play by the old house rules, right?"
I love the use of "play" there. This is no longer a game; and the "house rules" are now more of a moral imperative.
"We have no idea how real Die is. So we have to treat it like it is real.
"If it's fantasy and we treat it like reality, there's no loss.
"If it's reality and we treat it like fantasy, we become monsters."
I'll give you an example, spoiler-free on account of where I will leave it. Almost as soon as Isabelle has spoken, the truth of her words is exemplified in the form a formerly cheery knight called Sir Lane who hails Lady Ash with "I am here to fulfil my duty unto thee."
Ash:
"The past walks up and says hello. I barely remember him…
"He was an Angrian knight of kisses. Joy into power.
"He was an adventurer.
"He was an adventure.
"As he rode off, he said he would not rest until he had gazed upon my perfection once more."
Ash blows a flattered kiss his way as her knight departs on his white steed.
"He dared me to use my power to make his words binding. I laughed and did so."
I promised you no spoilers so you'll have to discover for yourselves how profoundly Dominic / Ash's innocent teenage overconfidence will prove to have been so fatefully ill thought out. The premise is all there in the words I've typed, but where it is taken is a testament to Gillen's lateral thinking because, remember: Rules and Repercussions. This is, in so many instances, a horror comic. Also: a war comic.
No more so on both counts than when Gillen wittily, grittily combines WWI with Tolkien in the trenches: Eternal Prussia with its industrial-strength dragons versus Little Englanders caught in a mud-bogged, smoke- and sulphur-stenched conflagration that has ordered them almost as far from home as our five, never to return to their loved ones. The dove-tail is surprisingly seamless. One panel in particular by Hans is pure Elijah Wood.
Again, then again, in the second, third, fourth and fifth chapters, Gillen opens then opens up further the horizons of that which he wants to explore: for example, the history and nature of fantasy writing, and the history and potential of creative game-playing, prising apart his own past experiences of role playing to pare off the rigid crusts of customary codes and well worn modes to reinvigorate its potential for others.
Oh yeah, he's even recreated and so procreated DIE as an actual RPG: www.diecomic.com/rpg
[Editor's note: while you're here, another graphic novel hugely recommended on the subject of creative, collaborative gameplay is USER by Devin Grayson and Sean Phillips, John Bolton. Remember when games were nought but words on the screen? That.]
There's plenty about all of this (his research, his cogitations and extrapolations) in this DIE collection's back-matter – along with a new essay by Stephanie Hans on her approach to design and sequential-art storytelling – which I absorbed when originally printed in the periodicals before re-reading each issue. I cannot commend to you strongly enough to do the same for they proved an engrossing, enlightening revelation. By all means read the whole first (rather than individual chapters) before giving yourselves the added gift of extra insight.
Matt as the Grief Knight in the comic is a perfect example of recalibrating an old favourite. The important element is "grief".
Chuck the Fool may be as care-free (and, to begin with, as callous) in the present as he was in the past, but Matt endured such substantial trauma as a teenager that it's a minor miracle that he is now pretty much sanguine to it all and created for himself a loving and stable family unit, from which he has now been torn. But he was and so remains a Grief Knight, his substantial powers on Die activated only upon misery. Evidently, he must have kicked ass 25 years ago. But if he's to be more use than ornament now, his hard-won optimism or at least equanimity must be stripped bare, destroyed, by not just reminding him of a past during which he was laid so very low, but manipulating his mind so that he feels that same sorrow and suffering.
That would be a vicious thing for any enemy to do. It would be worse if it came from one of your friends.
"We can survive anything but our past."
DIE is a comic which will threaten to pull both you and its cast apart.
What is your tensile strength?
SLH
Buy Die vol 1: Fantasy Heartbreaker s/c and read the Page 45 review here
Cover vol 1 s/c (£14-99, Jinxworld) by Brian Michael Bendis & David Mack, Bill Sienkiewicz, Michael Avon Oeming…
"…Hi."

"Hi, Julia? HI?! I haven't heard from you for ages and you come at me with Hi?"
"You're mad at me?"
"You're surprised? We've been busy. You're doing so great."
"Is Julia even your name?"
"What are you talking about?"
"What are you doing here?"
"It's Angoulême!"
"Okay, what am I doing here?"
"Being the fanciest of fancy comic book persons."
"This is nuts."
"Really? You're mad?"
"Of course I'm mad."
"You're mad you're not hunched over your space paintings in that tinderbox of a house you live in?"
"You arranged this."
"Of course. You wanted it, didn't you?"
"I wanted them to invite me. I wanted them to want me. Am I a baby for being disappointed that you manipulated all of this instead of me earning it?"
"You are here because of you. Life is who you know and you know me. I'm just here to take advantage of it. Sweetie, the rules remain the same. You are desperately needed. Your cover is needed. That's why I am here."
"So…? Am I here because they invited me, or because you got them to invite me?"
"It's Angoulême. Who gives a shit?"
"I think I do."
Haha, Max Field, comics creator and more recently secret undercover agent for an American intelligence agency still so, so very desperately craves the approbation of his industry! Well, perhaps he ought to feel a tad puffed up and important that 'Julia' wants to entrust him with a highly important secret mission to try and turn another secret agent working for an unknown foreign power, who just also happens to be, yes, you've guessed it, a comics creator. "A really famous comics book artist" in Max's own words. How hard could that be, right? Go to a swanky dinner with a group of comics colleagues, let the drink start flowing and just have a casual chat.
It's going to go badly…
I am now going to make a bold statement, so brace yourselves. This may well be the best thing that Bendis has ever written. It is certainly the best thing he has written since the original JESSICA JONES: ALIAS material (in my humble opinion), and he has written a lot of good material in the meanwhile as I am sure you will know.
From the preposterous, yet upon reflection perfectly plausible premise (I'm sure I saw Bryan Talbot using a dead letter box at the last LICAF outside the Kendal Clock Tower…), the insanely brilliant back-and-forth dialogue which bounces intensely like a demented dodgem car driver between joyfully crackpot to crunchingly hardboiled, through the most genius plot pivot point around which the entire story oh so exquisitely, and actually quite movingly for true old school comic fans, tips, before concluding in one of the most satisfying endings I think I have ever read… well, this simply has it ALL in writing terms.
You want more…?
It also has David Mack putting in a shift of virtuoso proportions on art duties, movingly seamlessly from style to style like Sherlock Holmes switching disguises on the hoof, all in service to the story.
Such as showing pages from Max Field's own work, including the title that made his name, a watercolour on parchment feel epic entitled Ninja Sword Odyssey.
Our Stephen commented that this work feels like one long comics love letter between Bendis and Mack – long-term friends that are – and I can certainly concur that they seem to have brought hitherto unparalleled levels of comics perfection out of each other here. Do read each of their respective forewords for just how long they have been planning this collaboration.
Here is a quote from Bendis from a recent interview regarding some of what he asked Mack to do:
"I'm trying to give David all of the opportunities to do all of the things that he can do. It works great because with David, we can show the comic book that Max is making. The one you see in the first issue is a beautiful indie comic that you can tell was a hit comic. Later, we'll see another comic he's made that's a soulless piece of shit that he thought was going to be a big hit, but it wasn't. So, I had to tell David, 'Now, I want you to make a purposefully bad cash-grab comic.'
There's a point to that. There's a point when an artist gets lost and they do something they shouldn't. We're having an inordinate amount of fun exorcising demons, revealing truths…"
I'm sure we can all think of a few examples of bad cash-grab comics, albeit perhaps not purposely so… Naming no names whatsoever…
Meanwhile, let's return to the Mack. There is some exceptional work going on here, both with pen and brush. There are many pages and part-pages composed of composite panels which are assembled so cleverly as to overtly or subtly convey the story, or just astonish artistically in their own right, that I frequently had to simply stop and admire the construction.
Also if you know where to look, there's even a cheeky Bendis and Mack cameo… of a fashion…
In terms of colours, I presume the sections with brush are done by Mack himself, but special mention must be also given to the digital colouring done by Zu Orzu. Between them they've done a stupendous job here. The primary palette of pale blues is punctuated with intense, firework-like bursts of rich colours. There's an astonishing sequence involving Julia and Max driving through the countryside which is simply magnificent in its seasonal colouring, capturing perfectly the joy of such a scenic journey. If you're not busy being debriefed by your slightly sarcastic handler, that is…
There is also a page heady with the shimmering shades of a hot Brazilian evening later in the book which is so expressive of the delights of a close of day gathering in warmer climes. Plus there's even two black and white single-page spreads which seem to serve no other function than to perhaps allow Bendis to cleverly muse – not least, because, that cameo – upon how comics fans of the future will perhaps view his work, as well as paying homage to one of the true giants of early twentieth century comics…
"Like, if I show this to a college kid today would they appreciate this as much as we did in college. Or do they look at it like the way I look at, I don't know, Winsor McCay?"
"Wins… What? Winsor McCay is genius!"
"It is! DUH!
"But I look at it like I look at a movie from the '30s.
"It's amazing, I appreciate it, but it isn't really in a language I relate to.
"I see that it's good, I just don't… it wasn't actually made for me.
"I wonder if this is as relatable as I think it is.
"And what I mean is I wonder if my work is going to be relatable?
"I wonder if our work will age well.
"And then I remember how excited I was just to be published, and, maybe, I shouldn't be worrying about anything but that."
Hah, what a beautifully self-deprecating finale to that mini-monologue. I wonder if we will ever get to the point where the entire population can't relate to comics at all anymore. I fervently hope that particular dystopian future never comes to pass…
Anyway, if that were not enough artistically, we also get two quintessential cameos, one portraying the comics work of Max's chum from Michael UNITED STATES OF MURDER INC Avon Oeming…
… and the 'baddie' secret agent's rather more… intense material… from Bill DAREDEVIL ULTIMATE COLLECTION BY BENDIS VOL 3 Sienkiewicz…
…that just act as two perfect pieces of staccato visual plot punctuation.
It's hard to put into words the sheer amount of joy reading this comic brought to me. Firstly, because after beginning to wonder if Bendis was perhaps starting to lose his mojo a tad with his final frankly run-of-the-mill, by-the-numbers Marvel output and, I have to say, seemingly a little lacklustre initial DC supes output – on that point, for capes 'n' tights Bendis true believers I am happy to report that the SUPERMAN LEVIATHAN RISING SPECIAL ONE-SHOT which leads into the summer EVENT LEVIATHAN errr… event (penned by Bendis with Alex Maleev) on art is superb! – I am delighted that between this and also the mesmerising crime caper PEARL with Michael Gaydos, well, he's right back to the very top of my reading list. That pivotal plot point! That ending!
Brian, I'll never doubt you again! I've no idea whether there will be a second volume of COVER. In one sense, they don't need to do it because this is absolutely flawless, so neither should they perhaps attempt it, but I do so want them to!
I therefore excitedly noted in David Mack's foreword that they had asked Tom MISTER MIRACLE King, a former CIA spy bod, to write an introduction, but he wasn't able to due to the rather prosaic non-espionagey reason of a scheduling conflict. Why is that exciting? Because David Mack then states Tom will have to write the introduction for the next volume! That's practically a verbal contract!
JR
Buy Cover vol 1 s/c and read the Page 45 review here
Pope Hats #6 Shapeshifter (£5-99, Adhouse Books) by Hartley Lin.
Self-contained
selection of autobiographical musings, highly recommended to fans of Adrian Tomine, Kevin Huizenga, Andi Watson, Joe,Decie etc. There may be a little that's made up here too!
'Island'
"I want Top 40 pop song money. I want to be absurdly, confusingly rich so I can buy an island."
The remote island floats in the middle of an idyllically calm ocean, its dense, tropical foliage barely spoiled but for the single, enormous mansion complex rising up the hill above a jetty.
"And throw a phenomenal party there, bringing together the most courageous thinkers and artists of our time."
It's already celebration time as the guests approach the island by boat at night.
"There will be heart-pounding music and relentless, blissed out dancing. And by sunrise, everyone will have surrendered themselves to an all new understanding of L-O-V-E."
They sure are getting their joyous groove on beneath the bright, roving spotlights!
"I would not go to my party."
Hartely Lin is out walking his dog, which has stopped to pee in a park.
That's your opening single-page salvo, setting the tone perfectly for the short stories to follow, most especially the last one – the third in an interspersed trilogy – which had me chuckling heartily at its deadpan calamity.
All of which is a complete departure for Hartley Lin and his sporadic periodical POPE HATS, some of which were collected in YOUNG FRANCES, the comedic tale of two female friends heading in divergent directions: one to stardom in a ludicrous TV show about a vigilante District Attorney called 'Bad Prosecutor', the other climbing ever higher up the ladder in an equally absurd legal corporation whose behavioural quirks smacked satirically of early Evelyn Waugh novels like 'Scoop' and 'Black Mischief'. Highly recommended, all three!
I relished this just as much, but I'm hoping it'll bring Lin more readers by dint of its difference, except that the comedy's still here.
We've already established that Hartley really isn't a party guy, but he is now a husband and father. Both of these developments have sparked in him relevant contemplations of the present, recent past, and early childhood, for example, when he was prone to worry. About worms. It was bad enough when his mate Dane would surgically divide their segments in his driveway, declaring with glee "It's still alive!" Hartley: "Ha. 'Fun'." To himself: "God, make it stop."
The patter of rain drives worms to the surface, so on desultory days it wasn't just cracks in the paving which the boy had to studiously avoid. (Side-note: a mass movement of stilettos on grass have the same effect. True fact.) This didn't go unnoticed. "Vulnerability is different between children. It is basically appropriate to exploit any hint of fear." I think you can imagine…
One English Lit class required the school kids write down a major fear, but "I'm prone to category error" so whilst his peers declared bears, tarantulas and snakes to be terrifying, serious-minded young Lin wrote down – no, not worms, but – "Becoming my parents". That's a neatly dodged all-too-obvious repetition of worms. Still, as a father trying to avoid instilling the same fears in his son, he imagines in two years time being gleefully given and handful of slimy, wriggling worms.
"Dada, look!!"
"Ha, that's right, worms."
To himself: "God, make it stop."
There's plenty more discussion between friends about changes made to your life when you become a parent, plus attendant worries with self-deprecating humour, an adorable memory about his wedding day, recollections of past friends' unexpected trajectories given their early inclinations, a meditation upon meditation, and one exceptional piece of lateral thinking called 'Settlers Imagined' in which a husband lies sleepless at night in bed with his wife, fretting that she might not love him. He asks her point-blank in modern mode, while she replies at length, in pen-and-ink handwriting, archaic language and purely practical concerns specific to the patriarchy of those times. The husband's unconvinced, the more emotional final line is hilarious.
The visual delivery is crystal clear, warm and quiet, leaving the thoughts to speak for themselves. But there are also some exquisite scenes in the 'Driving Through Vermont' trilogy which I touched on earlier, during which Lin drives either alone at night or with his family by day, along a vast highway through the countryside, and I have never before seen so perfectly represented the effect of snowflake flurries as seen from a first-person perspective when driving through them in the dark, picked out by your car's headlights. Whoosh!
SLH
Buy Pope Hats #6 Shapeshifter and read the Page 45 review here
The Dreaming vol 1: Pathways And Emanations s/c (£14-99, Vertigo) by Neil Gaiman, Simon Spurrier, Kat Howard, Nalo Hopkinson, Dan Watters & Bilquis Evely, Tom Fowler, Dominike Stanton, Max Fiumara, Sebastian Fiumara…
"You know
the feeling… right? Sure you do.
"Happens every morning, right after you wake.
"The moment you forget your dreams."
Dream has vanished. Left the Dreaming and gone… well… no one seems sure quite where. All that remains within the disintegrating imaginary edifice at the centre of the Dreaming are a collection of familiar assistants and acolytes such as Lucien the librarian, Matthew the raven, the demi-deranged double act Cain and Abel and the… well, just plain old argumentative arsehole in the case of Mervyn, the cigar-smoking pumpkinhead. It's good to have them all back!
It'd be lovely to have Morpheus as well, or Daniel at least, as the reincarnate youthful Lord of Dreams was named. But he's vanished with nary a trace and now seems unable or perhaps unwilling to answer the call of his sigil in the Gallery of the Endless located within his castle.
Fortunately, Lucien, if he can remember it – for this mysterious decay is beginning to affect the inhabitants too – has a plan… As a former raven himself – something Matthew, as well as myself had forgotten – he is aware of the psychic tether between the Lord Of Dreams and his atramentous avians. And so Lucien sends Matthew soaring off to roam the realms looking for their master before all of his creation crumbles away completely.
It's a stratagem that twangs, sorry hangs, by the proverbial rubber band of a tenuous thread, to say the least, but it certainly forms an excellent conceit for allowing Matthew to pass mostly unawares by the characters who will form the cast of the four cornerstones of this new DC Vertigo Sandman Universe.
Said sound foundations being formed of…
The Dreaming vol 1: Pathways And Emanations s/c (£14-99) by Si Spurrier & Bliquis Evely
Lucifer vol 1: The Infernal Comedy s/c (£14-99) by Dan Waters & Max Fiumara, Sebastian Fiumara out June 25th
The Books Of Magic vol 1: Moveable Type s/c (£14-99) by Kat Howard & Tom Fowler out 16th July
The House Of Whispers vol 1: The Powers Divided s/c (£14-99) by Nalo Hopkinson & Dominike Domo Stanton out 30th July
So, yes, we will see several old favourites return, albeit many filled with the same egotistic notions of grandeur and / or crippling neuroses as before, for example in the form of the likes of the ever <ahem> trustworthy Lucifer Morningstar, still getting worked up about his absent daddy issues, and Timothy Hunter, still grappling with school life whilst wondering which end of his wand is which, plus new characters aplenty, particularly in The House Of Whispers, which looks to open a hitherto unknown corner of the Vertigo mythos by taking us to a bayou where the houseboat of Erzulie Fréda floats, a voodoo goddess who attracts the souls of her followers looking for agony aunt-esque advice on both supernatural and worldly issues.
Matthew does eventually manage to locate Daniel, if not find him, just in case you are wondering. So we catch at least a glimpse of the albino teenage sulkpot at large in the big city and perhaps get half an answer to the question.
It seems he is there of his own volition, rather than caged against his will, which is where, if you recall, SANDMAN itself began all those years ago, in SANDMAN VOL 1: PRELUDES AND NOCTURNES.
All of which above formed most of my review of the lead-in Sandman Universe one-shot, which DC has wisely decided to include in each of the first collected volumes of the four individual titles, indeed it opens this volume as I presume it will the others. I'm not normally one for publishers recycling material unnecessarily, but here I think it is most definitely a worthwhile exercise. We certainly found people were willing to try the different titles before settling on which they wanted to read (all of them in most cases) after reading the one-shot.
I do however promise not to recycle the above review when each of the subsequent three volumes are released!
Now, whilst Neil himself was involved with the writing of the one-shot, being credited with the story idea, he is not, involved directly as such with the writing of the four ongoing titles. Instead he's hand-picked the writers, including comics veteran Si Spurrier to helm The Dreaming, who with the likes of GODSHAPER and THE SPIRE has certainly proven he can craft an atypical tale or two.
So… what happens in the first volume of The Dreaming proper then…?
"Naturally the Judge anticipates their hesitation. He observes, after all. He assesses.
"He recognizes instantly that this youthful crop of nightmares takes forms beyond his fathom.
"It follows that to them, he must seem a relic. An anachronism, unfit to be feared.
"That can be changed.
"It has been remarked that the gaze of Judge Gallows is alone sufficient to constrict a dreamer's throat. This is of course hyperbole.
"It is not rage nor terror that glimmers there… but calculation.
"The simple certainty that within moments the judge has ascertained, by his own cold metric, the precise value of life he observes.
"And that none is worth more to him that two pennies for the reaper."
…
"Bring me the Black Chest, Mervyn."
Yes, it doesn't take long for Judge Gallows, Nightmare of the Major Arcana, brought to life by the previous Morpheus himself to decide he needs to take charge whilst Daniel is off… galavanting around.
Of course, His Honour starts off by telling Lucien he's only turned up to "…advise by consent…" and just to "regard me as an observer… no more.." before he promptly decides some serious gavel bashing and restoration of order is precisely what's required.
Well, establishing his new world order… I'll not spoil precisely what is inside the Black Chest for you…
What a great new villain Si Spurrier has created (well recreated if you know your DC history down to the minutiae), straight into the league of the tooth-eyed Corinthian for pure malevolent menace! We get the full back story of his creation and it's abundantly clear he's not the type of beak to let a miscreant off with a slap on the wrist and six months community service…
We do also find out a little more about the nature of the trouble which Daniel is involved in, well, undoubtedly got himself embroiled in, very probably unnecessarily. Oh, did I not mention it was trouble that was responsible for the unexpected jaunt which has induced extreme trepidation and vexation in all of his creations?
Aside from old hang 'em high himself, who is now having the time of his life. Well, you probably didn't expect Daniel simply to have sloped off to Skegness for a fortnight, but suffice to say, the Lord of the Dreaming seems not to have lost his penchant for peril, regardless of his incarnation…
Delightfully delicate yet dangerously dirty art from the gloriously named Bilquis Evely, I believe she may be Brazilian and I know she has done various work for DC previously.
Her fine linework ensures the panels are packed with detail without it ever feeling overcrowded. I loved her facial expressions too, she's particularly adept at a furrowed brow, and there's a lot of that going on here let me tell you.
Combined with the colour palette, I was minded in places of Peter HIGHEST HOUSE Gross, who of course has a fine Vertigo pedigree himself, having combined so successfully with Mike Carey on the original Sandman spin-off LUCIFER material.
Readers new to the SANDMAN mythos will have no problems getting utterly engrossed in this intriguing opener, indeed it will, I suspect, undoubtedly engage them sufficiently as to tantalize them to investigate the original material. Fans from the first time around will, I feel, believe that Si Spurrier has done more than adequate justice to Neil's creations, the wider Sandman canon and already begun to append some brilliant elements of his own to it. I look forward to seeing the wider story arcs unfold grittily yet gracefully with genuine excitement.
JR
Buy The Dreaming vol 1: Pathways And Emanations s/c and read the Page 45 review here
Plus there's still time to pre-order the following at the links below…
Lucifer vol 1: The Infernal Comedy s/c (£14-99) by Dan Waters & Max Fiumara, Sebastian Fiumara
The Books Of Magic vol 1: Moveable Type s/c (£14-99) by Kat Howard & Tom Fowler
The House Of Whispers vol 1: The Powers Divided s/c (£14-99) by Nalo Hopkinson & Dominike Domo Stanton
Dungeon Fun vol 1: The Adventures Of Fun Mudlifter (£14-99, BHP Comics) by Colin Bell & Neil Slorance…
"What did you do?
At least the ghosts weren't eating us!"
"Get out of the way! He won't harm me… he only eats the cursed!"
"Are you kidding me? You hold the sword! You're cursed! I explained this!"
"Riiiiiiiiight."
It's just another ordinary day for a most unordinary girl when Stephanie, a human raised by trolls in the muddy moat of a castle, is nearly sliced in two by a sword falling from the sky. In fact, there are a lot of things spontaneously falling into the village of Deepmoat, almost as if people (and bridge trolls) keep deliberately throwing them in there…
So when a knight promptly, and unfortunately for him fatally, drops in as well, immediately rising as a ghost cursed to follow whoever has his sword, generally doing their heads in with smart-arsed running commentary, Stephanie has had enough!
It's time to look for some answers, seek out adventure, and generally get out of the godforsaken dump that is Deepmoat. Along the way there'll be monsters aplenty, more than a few dungeons, but most certainly fun. Who'd have thought that risking life and limb swinging steel could be so invigorating?!
This neatly straddles the divide between ADVENTURE TIME-esque material aimed at teens and adults, and Phoenix-type material like BUNNY VS. MONKEY, FISH HEAD STEVE, STAR CAT BOOK 1 etc. aimed at younger kids. It's heavy on the laughs and light on the peril without skimping on the danger. Fans of daft fantasy generally will approve. The art style is nice and simple, adding to the cartoony feel.
JR
Buy Dungeon Fun vol 1: The Adventures Of Fun Mudlifter and read the Page 45 review here
Spider-Man Noir Complete Collection s/c (£22-99, Marvel) by David Hine, Fabrice Sapolsky & Carmine Di Giandomenico, Richard Isanove, Bob McLeod, Paco Diaz.
Long-awaited
repacking of all previous series about which we wrote something like a decade ago…
Spider-Man Noir.
Free from the constraints of continuity, Hines and Sapolsky have brought something both fresh and festering – which is a neat trick to pull off – and I think if you enjoyed SPIDER-MAN: REIGN, you'll very much go for this.
America 1933 is in thrall to the most massive recession and the underworld gangster who sits ruthlessly at the top with the politicians, police and industrialists all in his pocket. The gangster is known as The Goblin and his henchmen I will leave you to discover for yourself, but Hine has done something truly hideous (but clever) with The Vulture. Meanwhile, activists May and Peter Parker are causing a political stir in the shantytown of destitute squatters in spite of the threats to their lives – the same threats that saw Ben Parker savagely mutilated. And where is J. Jonah Jameson in all this?
Get beyond the first page for some strikingly fresh art from Carmine Di Giandomenico whose Vulture now looks like a ravenous Nosferatu. Hine's done a fine job of building up the unassailable walls the Parkers and press have to climb / fight against, using Ben Urich as the guide, and I like this new Peter, unembarrassed by his socialist aspirations.
What you have to bear in mind is that in America a "socialist" is akin to being a commie, and we all know how America felt and still feels about commies. In 2008's Presidential election the word "socialist" was used to undermine Obama whereas over here we liberal-lefties – the Labour Party, the Liberal Democrats, the Greens and their voters – consider it a badge of honour, because putting the needs of the many ahead of one's own is actually kinda selfless.
This is a much bigger collection than the first, so as well as the original SPIDER-MAN NOIR #1-4, it also includes SPIDER-MAN NOIR: EYES WITHOUT A FACE #1-4, EDGE OF SPIDER-VERSE #1, SPIDER-GEDDON: SPIDER-MAN NOIR VIDEO COMIC and material from SPIDER-VERSE TEAM-UP #1.
Spider-Man Noir: Eyes Without A Face…
"He's also been looking into the disappearance of dozens of negroes from the streets of Harlem over the past few months."
"But if that were true, we would have heard about it."
"If they were white you'd have heard about it. Cops don't take the disappearance of coloureds too seriously."
"But what about all the missing people? They couldn't just disappear. "
So it's round two for the noir-era Peter Parker and his fight against the criminal elements of New York City circa 1933. And after taking down The Goblin last time around, now he's pitched into conflict with the mysterious Crime Master who has stepped in to fill the inevitable power vacuum Peter created.
Again, the completely different use of various well known characters – including this time around Robbie Robertson, the Sandman and Doctor Otto Octavius – is what makes this Marvel Noir book work. There's unpleasantness of many different types going on, not least Octavius' disturbing experiments in his U.S. government lab on Ellis Island, which somehow seem connected to a certain political party on the rise in Germany. But how is that linked to the Crime Master and his crime empire of speak easies and cat houses, and the strange disappearance of members of the African American community? Maybe the world-wise and semi-reformed Felicia Hardy knows something that might help, if Peter can get close enough to win her confidence, but at what cost to herself?
Nice writing from Hine, who hasn't lost sight of the fact that this is supposed to be first and foremost a crime story. He spins a good yarn, throws in some suitably unpleasant twists and turns, and once again, a lot of bad things do happen to a lot of nice people.
SLH & JR
Buy Spider-Man Noir Complete Collection s/c and read the Page 45 review here
Arrived, Online & Ready To Buy!
New reviews to follow, but if they're new formats of previous books, reviews may already be up; others will retain their Diamond previews information we receive displayed as 'Publisher Blurb'.
Build Your Own Theme Park s/c
(£16-99, Andrews McMeel) by Lizz Lunney
Moonshadow Definitive Edition h/c (£26-99, Dark Horse) by J. M. DeMatteis & Jon J. Muth with Kent Williams, George Pratt
O Josephine h/c (£21-99, Fantagraphics) by Jason
Island Book s/c (£17-99, First Second) by Evan Dahm
This Was Our Pact s/c (£13-99, First Second) by Ryan Andrews
Lunch Quest s/c (£13-99, Koyama Press) by Chris Kuzma
Kim Reaper vol 2: Vampire Island s/c (£13-99, Oni Press) by Sarah Graley
Penny Nichols s/c (£17-99, Top Shelf) by M. K. Reed, Greg Means & Matt Wiegle
Life Drawing: A Life Under Lights h/c (£16-99, Unbound) by Jessica Martin
Detective Comics #1000 Deluxe Ed h/c (£16-99, DC) by various
Hulkverines s/c (£14-50, Marvel) by Greg Pak & Ario Anindito, Guiu Vilanova
Inside Mari vol 4 (£11-99, Denpa) by Shuzo Oshimi
Edens Zero vol 3 (£9-99, Kodansha) by Hiro Mashima
That Time I Got Reincarnated As A Slime vol 10 (£11-99, Kodansha) by Fuse & Taiki Kawakami
Blank Canvas So Called Artists Journey vol 1 (£10-99, Seven Seas) by Akiko Higashimura
Our Dreams At Dusk Shimanami Tasogare vol 1 (£9-99, Seven Seas) by Yuhki Kamatani
Sorcerous Stabber Orphen vol 1 Heed My Call Pt1 (£9-99, Seven Seas) by Yoshinobu Akita & Muraji