Featuring Ed Brubaker, Sean Phillips, Jacob Phillips, George Takei, Harmony Becker, William Gibson, Johnnie Christmas, Tamra, Jim Ottaviani, Leland Myrick, David Lapham, Maria Lapham, Sang Miao, Andy Diggle, Mike Carey, Leonardo Manco, Danijel Zezelj, Jason Aaron, Giuseppe Camuncoli, Stefano Landini, Sean Murphy
Bad Weekend (A Criminal h/c) (£14-99, Image) by Ed Brubaker & Sean Phillips with Jacob Phillips.
"So what were those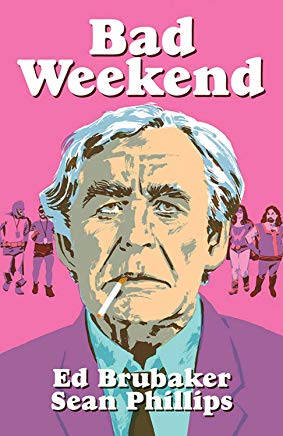 pages you were looking for?"
"Some stuff I drew back when I was working for Archie Lewis… Don't worry about it… It's just a mistake I made. One of many, right? But I wanted to keep this one to myself…"
There is a crime committed here. Well, several if you include the odd counterfeit, entry by deception and a felony assault.
But unlike most of CRIMINAL, this self-contained mystery from the creators of KILL OR BE KILLED, THE FADE OUT, FATALE and published in the same format as MY HEROES HAVE ALWAYS BEEN JUNKIES focuses far more on criminal behaviour, as in shoddy, as in unethical, as in treacherous.
Over the years, the American comics industry has witnessed more than its fair share of corporate malfeasance and personal betrayals – sometimes in the same swoop. Now you'll be privy to some of those too.
July 1997, and the American comicbook industry is purported to be dying.
"Publishers going bankrupt, distributors imploding, shops closing all over the country."
But at least the conventions still focussed on comics, and due deference was paid to its veterans.
One such legend is Hal Crane, who cut his professional teeth inking backgrounds on Archie Lewis's STAR KING newspaper strips before carving out his own career with deadlines so tight he too needed junior assistants. Oh, and then there was his gig as lead design and storyboard artist for Danny Dagger And The Fantasticals, an animated cartoon which became a cultural sensation for a whole generation back in the '70s with a lot of licensed merchandise which Hal saw not a penny from. But Crane had become a chain-smoking, hard-drinking bitter man long before feeling ripped off by that, and his explosive temper was as legendary as his undeniable talent.
"The kind of guy who could ink with a toothbrush or a broken stick and the page would still come out perfect."
Jacob knows, because straight after high school Jacob became one of Hal's art assistants, learning from the best while witnessing the worst. He lasted longer than most but it didn't end well. "Hal ended most of his relationships badly." They haven't spoken since.
So Jacob's more than a little startled when Mindy from the imminent annual Comicfest phones late at night with an urgent request.
"Apparently, Hal Crane was flying in to be given a Lifetime Achievement Award and they needed someone to… uh… basically be his minder for a few days. Make sure he got to the ceremony and his other appearances."
That's minder rather than P.A., Steering Hal clear of the bars is going to be no easy task, but Hal Crane has asked specifically for Jacob. What Jacob isn't aware of yet is that keeping Crane at the exhibition hall itself is going to be as arduous as smoothing over his bad behaviour, because Hal's on a mission to recover missing pages of original art that very few others even know exist.
Unusually, I haven't given you all the information you need to comprehend the exact nature of the mystery yet – I honestly haven't – because they're deliberately dropped in the narrative as casually as conversation and the final three pages will be doozies. Which is not a word I've ever typed before.
Brubaker builds the relationship between Jacob and Hal in recollections scattered throughout at relevant junctures so that you understand why the former would accept the request of a difficult man who didn't treat him too well, and why Hal would have the temerity to ask: he's pretty much oblivious to his past. Well, that part of it, anyway. He certainly doesn't own it.
"You threw in the towel… really?"
"You're the one who said I wouldn't make it."
"I never said that… And why the hell would you listen to me, anyway?"
"Uh… because I was your assistant?"
"No. You can't let anyone tell you what you can be or not. I was probably trying to toughen you up… If I said that."
Brubaker also demarcates the generational gap between Hal and almost everyone he encounters with aplomb. He doesn't understand the world he's re-entering after a long retirement at all. I think you're going to enjoy the convention itself, and the eight extra pages which there were no room for in the issues of the CRIMINAL which this reprints flesh out the contrasting expectations of a faded and jaded star and the far cruder reality.
The art's another star turn by Phillips and Phillips (solicitors at large), particularly Hal Crane's slightly hunched, old-man posture and initially twinkling eyes which are soon clouded then shrouded over as he enters affrays of his own making. Still, there's nothing like a speedy, cop-avoiding car dash about town to get the adrenaline pumping, and Hal's eyes perk up again, rather proud of his own naughtiness.
"He's not calling the cops… I'm his "mentor", remember?
"Trust me, he'll be dining out on this story for years."
There's a terrific upwards angle through the windscreen there, conveying the urgency and speed, while the colours are slashed across the panels in delicious tangerine and lemon mousse rippled through with blackcurrant. There'll be much more cramped interior car shots later on, back-lit by sheets of a very specific red and blue as alternating lights flash outside before we approach those final three pages once the very bad weekend is almost over and Jacob returns home alone.
"Someone once referred to Hal Crane as "a master without a masterpiece" but that wasn't actually true. There was a masterpiece, it's just that only a handful of people had ever seen it…
"And only on Hal's most drunken nights. That's when he got confessional…
"When he told you his secrets.
"Like the real story of Archie Lewis's death."
As for my opening quotation, it came with one hell of a haunted eye.
Post Script:
"Publishers going bankrupt, distributors imploding, shops closing all over the country."
I didn't want to bog you down unnecessarily too early on, but in advertising this graphic novel much was made of what looked like comics' "death spiral" at the time, and I thought you might be curious.
As far as it goes, the above quotation stands true. In the mid-1990s short-sighted retailers had over-ordered insane quantities of superhero comics based on the corporations' hype in collusion with Wizard Magazine's self-serving forecasts in the hope of selling them later on at prices much higher than those on their covers. Rather than stack their shelves to sell through as soon as possible, they'd filled their basements with comics which they laid down like wine if not to mature then to appreciate in value.
It's called speculation. Collectors did it too. They still do. They treat comics not like an entertainment medium, but like the Stock Exchange.
Amateurs all, what these retailers had failed to understand is that cashflow is key, critical to any business's day-to-day survival. So when the buyers' bubble inevitably burst (not least because corporations like Image and Valiant then failed to deliver the over-ordered comics in time before their status as "hot" had evaporated), retailers found themselves with nothing but dead stock and debts. They went bankrupt in droves.
At the same time the two major comics corporations instigated the Distribution Wars, either effectively self-distributing in Marvel's case or naming Diamond as their exclusive conduit in DC's. Can you spell "Monopoly"? Without the surviving (and already strapped) retailers' cash coming in for these dominant publishers' products, every other distributor in the US imploded, taking with them the orders from independent publishers which they had proactively supported, so guess what happened to those poor publishers? Entirely deliberate on the publishers' part: wipe out the competition.
It's a longer story but that's the skinny which I witnessed first-hand, having joined the industry circa 1990, working for a chain of comic shops called Fantastic Store. Racked, stacked and packed with comics, those basements were bursting; their owner's bank account, not so much.
SLH
Buy Bad Weekend (A Criminal h/c) and read the Page 45 review here
They Called Us Enemy s/c (£17-99, Top Shelf) by George Takei, various & Harmony Becker…
"My father, Takemura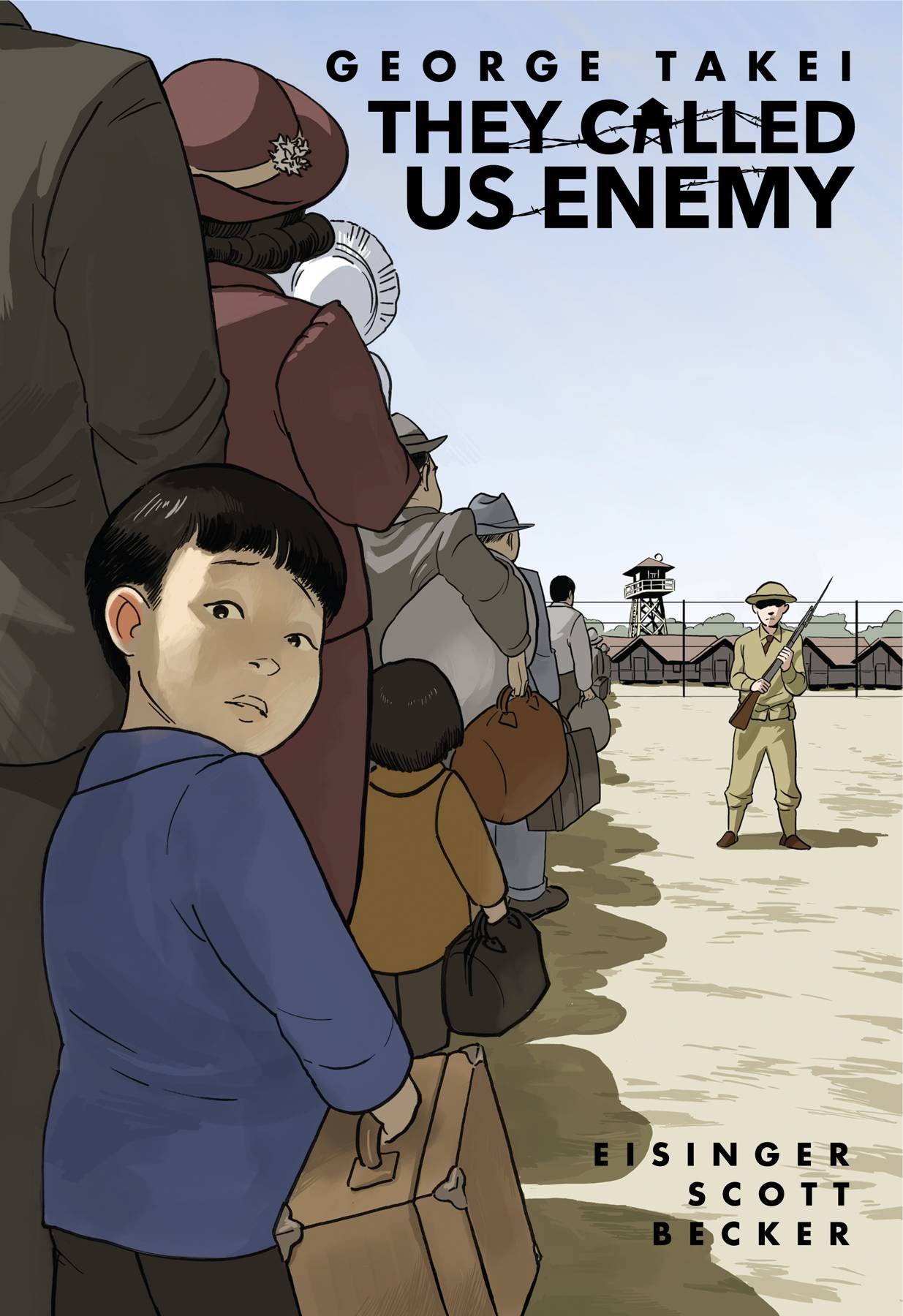 Norman Takei, was born in Yamanashi, Japan. He came to America as a teenager and was educated in the Bay area. He later pursued a lucrative dry cleaning business in Los Angeles' Wilshire corridor.
"My mother, Fumiko Emily Nakamura, was born in Florin, California, but was raised traditionally Japanese. Her father had sent to her to Japan to avoid school segregation in Sacramento."
"I am the grandson of immigrants from Japan who went to America.
"Boldly going to a strange, new world, seeking new opportunities.
Like many before them and since. But for the burgeoning Japanese American community, the events of Pearl Habour were about to turn their happy lives in the 'land of the free' into a living nightmare.
Here's the publisher to tell us more about this divisive episode in US history as experienced by the living legend himself.
"George Takei has captured hearts and minds worldwide with his captivating stage presence and outspoken commitment to equal rights. But long before he braved new frontiers in Star Trek, he woke up as a four-year-old boy to find his own birth country at war with his father's and their entire family forced from their home into an uncertain future.
In a stunning graphic memoir, Takei revisits his haunting childhood in American concentration camps, as one of over 100,000 Japanese Americans imprisoned by the U.S. government during World War II.
Experience the forces that shaped an American icon – and America itself – in this gripping tale of courage, country, loyalty, and love."
I actually learnt about the American internment of its own citizens through comics coincidentally enough. Specifically INVADERS #27 (released in 1978) penned by Roy Thomas where Captain America, the Human Torch and the Sub-Mariner fly to the location Bucky was last seen (he's been kidnapped by Agent Axis along with Toro) and are appalled by what they witness at just such an internment camp. It struck a chord with me as a six year old and that page was very much burnt into my mind forevermore.
Anyway, I digress for this is George Takei's story and very well told it is too, as you might expect. His childhood seems to have been an extremely typical one until everything changed overnight. Effectively stripped of everything they'd ever worked so hard for, his family was shipped off to Rohwer Relocation Centre in Arkansas, thousands of miles away from California.
I think about the only fortunate thing you can possibly say about the situation is that these were not the concentration camps of Nazi Germany, far from it, but still, people were persecuted and effectively criminalised for nothing other than simply being of Japanese ancestry.
The historical record is extremely well laid out and explained, alongside the story of George and his family and their time in the camps and then afterwards trying to rebuild their lives once war was over.
As ever, it's incredibly worrying to observe how easily the propaganda that politicians spew out and spin to prejudice people allowing them to proceed with their plans is utterly believed by the general populace.
Extremely clear black and white art from Harmony Becker captures all the emotional lows and occasional highs experienced by the Takeis in a remarkably non-sensationalist matter-of-fact manner. As a snapshot into a fascinating piece of WW2 history that's all too often overlooked it's a wonderful piece of documentary. For more about lifetime during WW2 and its aftermath from the perspective of the average person in Japan itself, I highly recommend SHOWA 1939-1944 and SHOWA 1944-1953.
JR
Buy They Called Us Enemy s/c and read the Page 45 review here
Hawking h/c (£22-99, FirstSecond) by Jim Ottaviani & Leland Myrick…
"Not long after,
we all went to a talk Hoyle gave at the Royal Society about their results. There was much excitement."
…
"…The big bang has all the elegance and dignity of a party girl jumping out of a birthday cake.
"What I meant is it has none. As the BBC listeners among you know, I liken our previous position to that of mountain climbers attempting a summit via multiple routes.
"We found out that all of them peter out on hopeless precipices.
"So, many years ago, I proposed a new hypothesis… that matter is created continuously."
…
"He went on, presenting his newest ideas and the results he and Jayant had worked on. Results that had not been reviewed by anyone by Jay… and me."
…
"…QED. Are there any questions?"
…
"The conclusion of his talk caused a bit of a stir."
…
"Yes, you there."
"The… the influence of matter in a steady-state universe would… the quantities you're talking about would diverge."
"Of course they don't diverge."
"Er, yes. The masses would be infinite, which is…"
"Nonsense. Why do think you this?"
"I worked it out. I calculated it."
…
"Some people thought I'd done so on the spot.
"I hadn't, of course. I'd seen the calculations Jayant was working on and had become interested in them myself.
"Regardless, this didn't hurt my reputation."
Quite. Just in case you haven't heard of the most famous scientist of the second half of the 20th century, here's the presentation from the publisher…
"From his early days at Oxford, Stephen Hawking's brilliance and good humour were obvious to everyone he met. At twenty-one he was diagnosed with Motor neurone disease, a disease that limited his ability to move and speak, though it did nothing to limit his mind.
He went on to do groundbreaking work in cosmology and theoretical physics for decades after being told he had only a few years to live. Through his 1988 bestseller, A Brief History of Time, and his appearances on shows like Star Trek and The Big Bang Theory, Hawking became a household name and a pop-culture icon."
That he did. From the graphic biographers behind the brilliant FEYNMAN comes the life story of a truly remarkable man who would not allow his own physical limitations to curtail his insatiable determination to increase our understanding of the universe.
From his early life and quintessentially British and slightly eccentric upbringing, he was a man with a deep desire to know more, about everything.
Initially, that thirst for knowledge was unfocused and untrained, perhaps in part because nothing seemed beyond him, but little seemed to retain his interest.
But once at University, he began to discover scientific questions which would fascinate and motivate him until his dying day. Which was considerably further in the future than any doctor, and probably he himself, could have ever expected when first diagnosed with his condition.
This is an exceptional biography. What I had anticipated was that it would go into considerable detail regarding his life, which it certainly does, with great warmth and humour, reflecting the sprit with which he faced the ever-increasing difficulties arising from his condition.
What I hadn't appreciated, was just how much I would learn concerning the specific details and minutiae of his work and theories. I possibly should have, actually, because that was a feature of FEYNMAN, but here we get into the physics in much, much more depth.
Consequently, this work is as much as opportunity to learn about his theories and discoveries as it is the man. I am extremely impressed with how Ottoviani and Myrick present all this complex information so clearly.
JR
Buy Hawking h/c and read the Page 45 review here
The Immortal Jellyfish h/c (£11-99, Flying Eye Books) by Sang Miao ~
"What about us?
Are we immortal?" The boy enquired.
"Not in that way," replied Grandpa. "But there are other ways of living for ever."
In THE IMMORTAL JELLYFISH, Sang Miao tells the poignant story of a young boy's first experience of death. When his beloved grandpa passes away he is left sad and confused that he will no longer be able to see his Grandpa anymore. But that is just the beginning of the tale. When he takes to his bed and succumbs to slumber, he is visited by his Grandpa and taken on a beautiful journey to a magical land filled with all kinds of fantastic creatures, all of whom has recently left the world as we know it and are now getting to experience a new life entirely.
Through a mystical and dreamlike tale, Miao has been able to explain the complex concept of death and mortality to little minds in a way that is magical and embracing. With poetic elegance they explain that our loved ones will always be with us, but now we get to spend time with them in a different way: through memories, imagination and, most wonderfully and tangibly, in our dreams.
Lashings of watercolour blend and pool, while layers of crayon bring a soft, textured detail to this ethereal world. This is reflected in the design of the book itself, with spot glossed illustrations on a matt, textured cover in warm, comforting blue. As a book that could play a very important part in a young person's life, the clever tactility of this book acts with embracing familiarity.
It is a book to be cherished and revisited, as a gentle reminder that those we have lost are never really gone, and in their own way will always live on, just like the immortal jellyfish.
JP
Buy The Immortal Jellyfish h/c and read the Page 45 review here
Lodger s/c (£15-99, IDW) by Maria Lapham, David Lapham…
"… Shows you.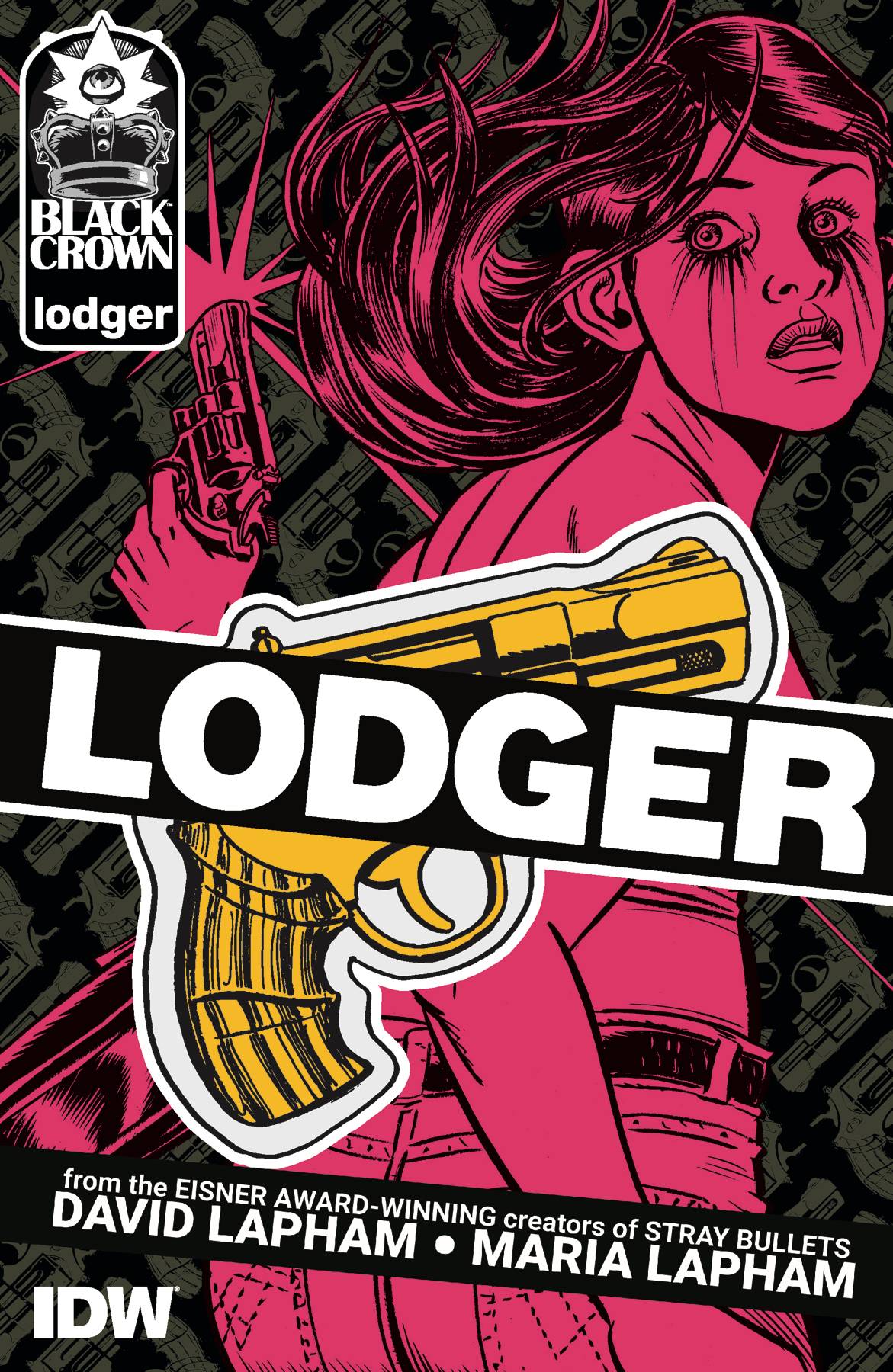 I almost half believed you.
"I don't need psychos in my life…
"… thank you very much."
Said the psycho to the person he has just forcibly overdosed on heroin and murdered…
There is a safe way to have psychos in your life, though… Read material like this from the Laphams who I am sure are completely lovely in real life and appear not remotely psychotic at all. Though I guess they have to be a little bit psycho to produce material like this, but, you know, just inside their heads…
Sure, perhaps if they weren't producing comics they'd be out roaming around America offing people for kicks (makes note to investigate disappearances versus their appearances at comic conventions…) but happily for us, and them, it's easier to write and draw about it instead. Clever psychos, you see…
Here's the rap sheet from the publisher to tell you why you shouldn't be remotely concerned associating yourself with two of the nicest people in comics who love to entertain us with deranged psychopaths and almost certainly really aren't ones themselves. Promise. Now comics retailers on the other hand…
"Guns and revenge. As American as the wicked west. Ricky Toledo is going to find the man that killed her mother, and revenge is going to be sweet. Ricky was 15 when she fell hard for a handsome drifter who rented a room in her family home. Then he killed her mother and got her father sent to prison for it.
It's three years later, and Ricky will stop at nothing to get revenge. A broken young woman and her trusty companion – a gold Smith and Wesson 45 named Golddigger – track a serial killer hiding in plain sight as a travel blogger.
It's a dark, grimy game of cat and mouse through a tangled American landscape. And, like all the best crime noir, it's a twisted love story."
It is! There's definitely a hint of Mickey and Mallory from Quentin Tarantino's Natural Born Killers about Ricky and master of disguise Dante, though there's considerably more hate to go with the lust, which is mostly of the murderous kind, anyway. Still, there's pure primal obsession at play here that is for sure.
Fans of STRAY BULLETS will know precisely what to expect from this self-contained piece of sociopathy. Even with its tight anxiety-inducing five-issue confines it manages to take the reader on a wild ride of jumping backwards and forwards in time, deliberately presenting key events in misleading fashion, confusing readers and characters alike with wilful, nay gleeful, obscurification.
And disguises… Lots of disguises…
JR
Buy Lodger s/c and read the Page 45 review here
Hellblazer vol 20: Systems Of Control s/c (£22-99, Vertigo / DC) by Andy Diggle, Mike Carey & Leonardo Manco, Danijel Zezelj.
Collects Hellblazer:
All His Engines original graphic novel by Mike Carey & Leonardo Manco
and #230-238 wherein Andy Diggle kicked off his own blistering run.
Fortunately I wrote a bit about both.
All His Engines
Neil Gaiman offers the headline quote, "Mike Carey has written the quintessential Constantine story," which I was almost positive represented a favour to a friend, until I hit the first dozen pages. What does Gaiman mean by "quintessential"? I can't tell you that, but I can suggest what I would have meant: British, political, involving what's left of John's mates and played like a game of poker. Although there's merely a smidgeon of politics, excepting those of hell and death, there's plenty of the rest here even though the majority of the metaphorical car crash takes places in Los Angeles, for it brings Britain with it:
"Fucking hell, Chas! They drive on the right! The right!"
"Don't panic, John. It's a learning curve."
"Yeah, well, I don't wanna be here when it flattens out!"
Chas is one of John's longest-standing and longest-suffering friends, and he's been chauffeuring the trickster around for years ("See, it's a cabbie's license. Means I can drive and give marriage guidance counselling."). Usually wherever John wants to be is where Chas doesn't, but when his niece falls into a coma out of the blue, and when it appears she is part of an epidemic with no trace of a viral strain, Chas calls in all his many favours and calls up John Constantine. One more dead acquaintance and a plane flight later, it's immediately clear to Constantine that things aren't quite right.
"Something's dead wrong. A taste in the air, like hot iron. A fingernails-on-blackboard noise, too high even for dogs. Or maybe it's just that it's six in the evening on the Santa Monica freeway. And we haven't had to slow down once."
Carey is on the toppest form I've known of him. I'm no fan of his current run on the main title, and when you go in with such heavy prejudices based on perceived past performance that you don't even want to pick the book up, it's only a remarkable composition that changes your mind. The script felt like Ennis, the art like a moodier, more solid John Ridgeway (so that's the first two eras in one blood-soaked package), and Constantine has to summon up all his powers of baiting and bluff – as well as a prideful Aztec God – to do a better job of saving Chas' niece than he did with the girl back in Newcastle.
"You forget yourself. I am no upstarting demon, scrabbling in the dirt of the human soul. I am Mictlantecuhtli. I am a God."
"Great stuff. I'm John — and I'm a bastard."
Joyride
Scathing and witty, I've not relished this series so much since Garth Ennis's run, and if you've never tried it then Andy Diggle's run would be a very fine place to start. Both the book and John Constantine are back on top, socio-political form after a cathartic return visit to Ravenscar Asylum where Constantine spent much time following that ill-advised outing in Newcastle, whilst Andy brings back the humanity at its heart and reunites the bite with the bark:
"Two years they had me locked up here, off and on. Back before Thatcher sold it off to the private sector and Blair turned it into a super-casino. After all why treat the mentally ill when you can fleece 'em for every penny they've got?"
It's back to being pertinent with property redevelopment and youth gun crime, impertinent with the well-earned laceration of the establishment's bullying of and cash-ins on the disadvantaged, and genuinely frightening with its painful pincer movement of supernatural horror and physical danger. It kicks off with Constantine being slowly drowned.
Most of all, it will make you very, very angry, and that's what this book under Jamie Delano originally set out to do and managed so magnificently.
Comics as political agitation: always of vital importance.
Oh, and the joyriding…? Not just of cars, but of people.
What on earth could possess you to do that?
Continued then wrapped up in HELLBLAZER VOL 21.
SLH
Buy Hellblazer vol 20: Systems Of Control s/c and read the Page 45 review here
Hellblazer vol 21: The Laughing Magician (£22-99, Vertigo) by Andy Diggle, Jason Aaron & Leonardo Manco, Giuseppe Camuncoli, Stefano Landini, Sean Murphy.
Contains HELLBLAZER
#239-249, and LADY CONSTANTINE #1-4.
As such it contains both the conclusion to Andy Diggle's wit-ridden run which began in HELLBLAZER VOL 20 (reviewed) and 'Newcastle Calling' (#245,246) by Jason Aaron & Sean Murphy from which all the interior art here is taken.
The Roots Of Coincidence
"I'm driving the wrong way up the Synchronicity Highway… And someone's trying to make damn sure I don't make it to the other end."
The finale to Andy Diggle's masterful performance on John Constantine and – with the aid of Leonardo Manco's furiously scratched yet classically proportioned art – I hereby declare it the cleverest, truest take on the character since Alan Moore first created him, combining the very best of Ennis and Delano both in style and substance. There are a lot of familiar faces here!
Previously in Joyride:
Scathing and witty, I've not relished this series so much since Garth Ennis's run, and if you've never tried it, this'd be a very fine place to start. Both the book and John Constantine are back on top, socio-political form after a return, cathartic visit to Ravenscar Asylum, whilst Andy brings back the humanity at its heart and reunites the bite with the bark:
"Two years they had me locked up here, off and on. Back before Thatcher sold it off to the private sector and Blair turned it into a super-casino. After all why treat the mentally ill when you can fleece 'em for every penny they've got?"
Then in Laughing Magician:
"In the blood-soaked sands of Darfur, a murderous mage called Mako is drawing power from genocide and cannibalism, eating magicians alive to gain their hard-earned powers. His ultimate target: an eternal presence that maintains the world's mystical balance – the so-called Laughing Magician."
He's after John Constantine.
Now in Roots Of Coincidence:
The trickster is back! Deep in the heart of the Vatican there's a room set apart from the world by Papal Decree, so whatever takes place in there comes without Judgement. "Nothing is forbidden, everything is permitted." There is no sin. Only two problems: the decree came from Roderic Llancol de Borgia; and if the room is no longer in this world… it means it's uncomfortably closer to another. With uncharacteristic altruism, Constantine offers to help a priest with his self-inflicted problem, but it's one giant sleight-of-hand for John's after something else entirely: The Lost Gospel Of Constantine.
But it's only when he returns to England where Lord Burman and Mako are patiently waiting that all the threads come to one eminently satisfying head, especially the panels in which John realises exactly who The Laughing Magician really is and the extent of his scheming, for he may never be able to look himself in the mirror again.
Reflection or deflection? I will not say, but there are some cracking one-liners as when John rolls a seasonal card and snorts up his nose the ground, powdered bones of Lycia's Saint Nicholas, also known as Santa Claus:
"Looks like it's going to be a White Christmas after all."
Newcastle Calling
"Impressive member you've got there, old boy.
"But you're forgetting one thing…
"Mine's bigger.
"Shall we measure?"
He's talking to a thirty-foot, bipedal wolf.
It's an awful thing.
This gruesome two-parter' by Jason Aaron (SCALPED, SOUTHERN BASTARDS, THE GODDAMED etc) and Sean Murphy (PUNK ROCK JESUS JOE THE BARBARIAN, THE WAKE etc) bears all the trappings of a perfect HELLBLAZER shudder-thon: British culture in the form of punk rock, a prime piece of Constantine history reprised (the clue's in the title; see HELLBLAZER VOL 2), and a fractious gang of video journalists over-confident in their crusade to discover the truth behind Constantine's past which, as we all know, is best left buried.
Instead they break into the dark and derelict Casanova Club where John's Mucous Membranes angrily snarled out 'The Venus Of The Hard Sell'. It was also where an over-confident Constantine made the most serious of his five thousand, six-hundred and fifty-eight terrible miscalculations, landing him in the legendary mental asylum called Ravenscar. Now they have woken that which they shouldn't and what they wind up doing to themselves – and to dead dogs – will make your toes crawl and their bunions bleed.
Sean Murphy shows you just enough to make you wonder what God was thinking when he invented eyes.
All of this before our John joins us on the first chapter's final two pages having got wind on the ectoplasmic plains of what the fuck is up, pulling him back so very, very reluctantly to Newcastle.
"Just this once, how grand would it be if this whole dammed mess didn't somehow turn out to be entirely my bleedin' fault."
That would be super.
"Fat fuckin' chance of that though, aye?"
SLH
Buy Hellblazer vol 21: The Laughing Magician and read the Page 45 review here
William Gibson's Alien 3 h/c (£17-99, Dark Horse) by William Gibson & Johnnie Christmas…
"You caused the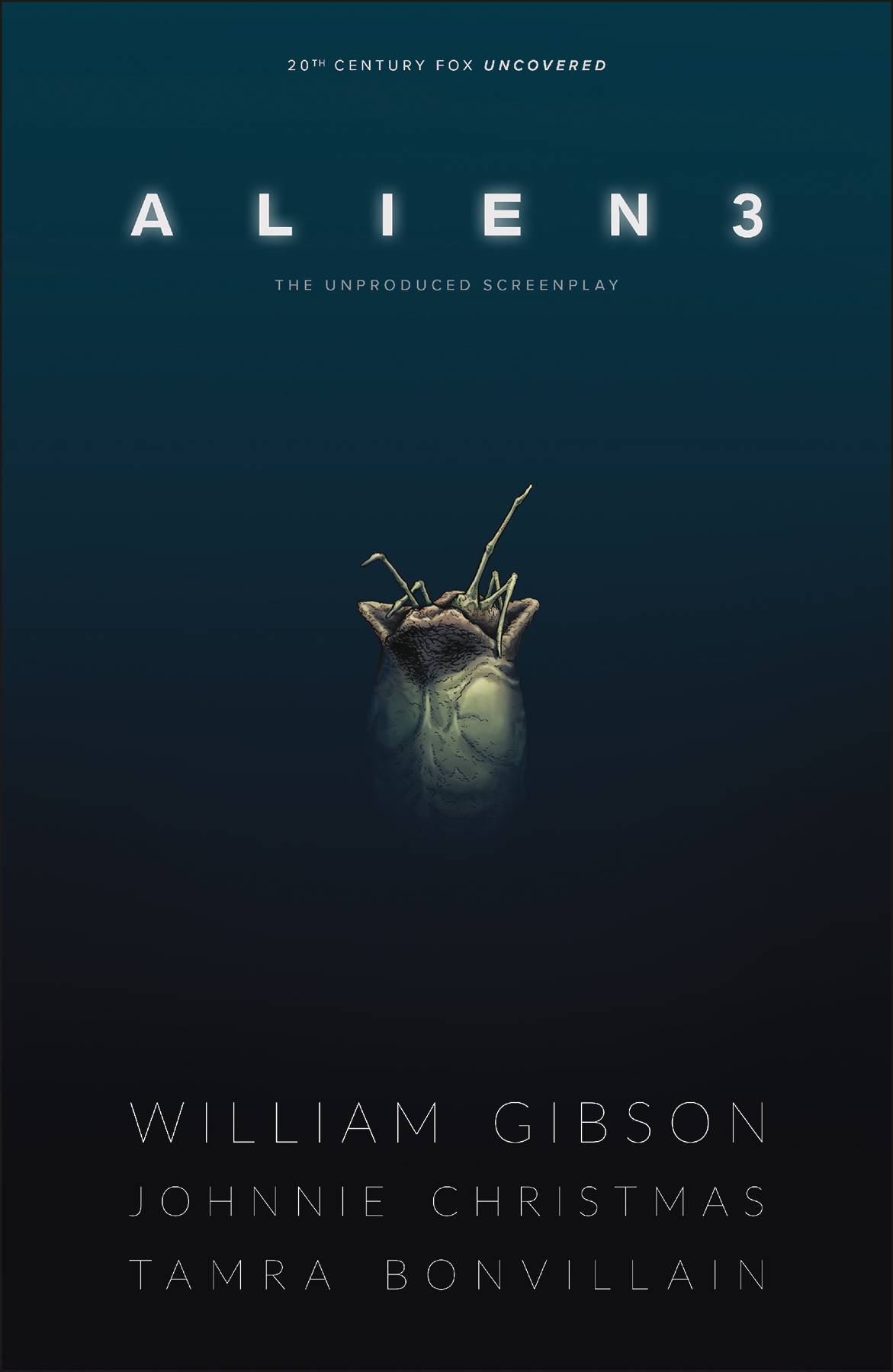 failure, Fox. Deliberately routed the Sulaco through the U.P.P. sector and brought her into Anchorpoint."
"We're with Military Sciences."
"I know that."
"We're with Weapons Division."
"The presence of Weapons Division personnel on Anchorpoint is specifically forbidden by our strategic arms reduction treaty with the United Progressive People. This isn't a military station."
"We appreciate your concern."
"You're violating treaties that exist to prevent nuclear war! You've deliberately caused an armed spacecraft to penetrate their border zone. If they can prove it…"
"They know. Proving it is something else."
"They boarded Sulaco, We logged a security breach and internal damage. We can certainly prove that if we have to."
"If that's true, I think you're crazy. Someone is crazy…"
"A calculated risk. And believe me, Colonel, the decision was made at the top."
"The top of what?"
"Sulaco was returning to Gateway with specimens of weapons-related material. The company's quantum detectors were monitoring data from the ship's hyper sleep vault. It became evident that the material in question had… become active."

"The decision was made to reroute Sulaco here, to Anchorpoint. Other factors outweighed the risk of entering U.P.P. territory."
"Status report on the biohazard sweep we requested?"
"We have a crew assembling in docking bay 8… You'll be going aboard yourselves?"
"We're in charge."
"We wouldn't have it any other way."
Ahhh… there's nothing like some hubris on behalf of the 'bad guys' to really antagonise the viewer / reader into wanting them to get their just desserts. Or in this case, just be dessert. Yeah, I'm pretty sure you can guess how it is going to end for the two Weapons Division suits… even if you've never read William Gibson's legendary never-made screenplay which has been floating around the electronic ether for those of a curious mind.
I hadn't read it as it happens, but I do remember very well the truly immense disappointment and intense bemusement I experienced upon watching the Alien 3 film which did eventually appear at the cinema in 1992. As did most people… How had this travesty been made? Who could possibly have written such a downbeat movie that starts with two completely pointless off-screen deaths and only gets more dour from there? (Spoiler alert… Hicks and Newt are alive! For now…)
With hindsight Alien 3 is actually a pretty decent movie, which is more in keeping with the claustrophobic tone of the original Alien film than the all-action sequel. But I think I am on fairly safe ground to state Aliens (1986) is as near perfect an action horror movie as has ever been made and certainly rightly matched the original in terms of acclaim. Anticipation was thus very high about the follow up with the expected trajectory of yet more insane action. When news broke that William Gibson had been tasked to write the screenplay that only made everyone even more excited. Could the man who invented cyperpunk possibly take the franchise to another level altogether?
From Gibson's foreword, it's clear he was a massive Alien / Aliens fanboy and set about writing something he felt would be the next logical step in building the trilogy, both in terms of plotline and tone. Reading this adaptation, he clearly succeeded in every respect, producing something completely in keeping with what had gone before in both films but also potentially allowing the franchise to expand in a new logical direction.
Which then begs the question… why didn't it get made?
As I've commented before, it is a complete mystery to me why so many films that actually do get made have ever been greenlit at all. We are back to the hubris of bad guys aren't we? Just movie execs this time…
Anyway, the opening quote above is enough of a 'trailer' to give you fair warning of the mind (and stomach) rending horror that is to follow.
Johnny Christmas' art is clean and crisp yet sufficiently visceral and bloody to convey the terror and carnage that is about to be unleashed on the inhabitants of the unsuspecting space station.
JR
Buy William Gibson's Alien 3 h/c and read the Page 45 review here
Arrived, Online & Ready To Buy!
New reviews to follow, but if they're new formats of previous books, reviews may already be up; others will retain their Diamond previews information we receive displayed as 'Publisher Blurb'.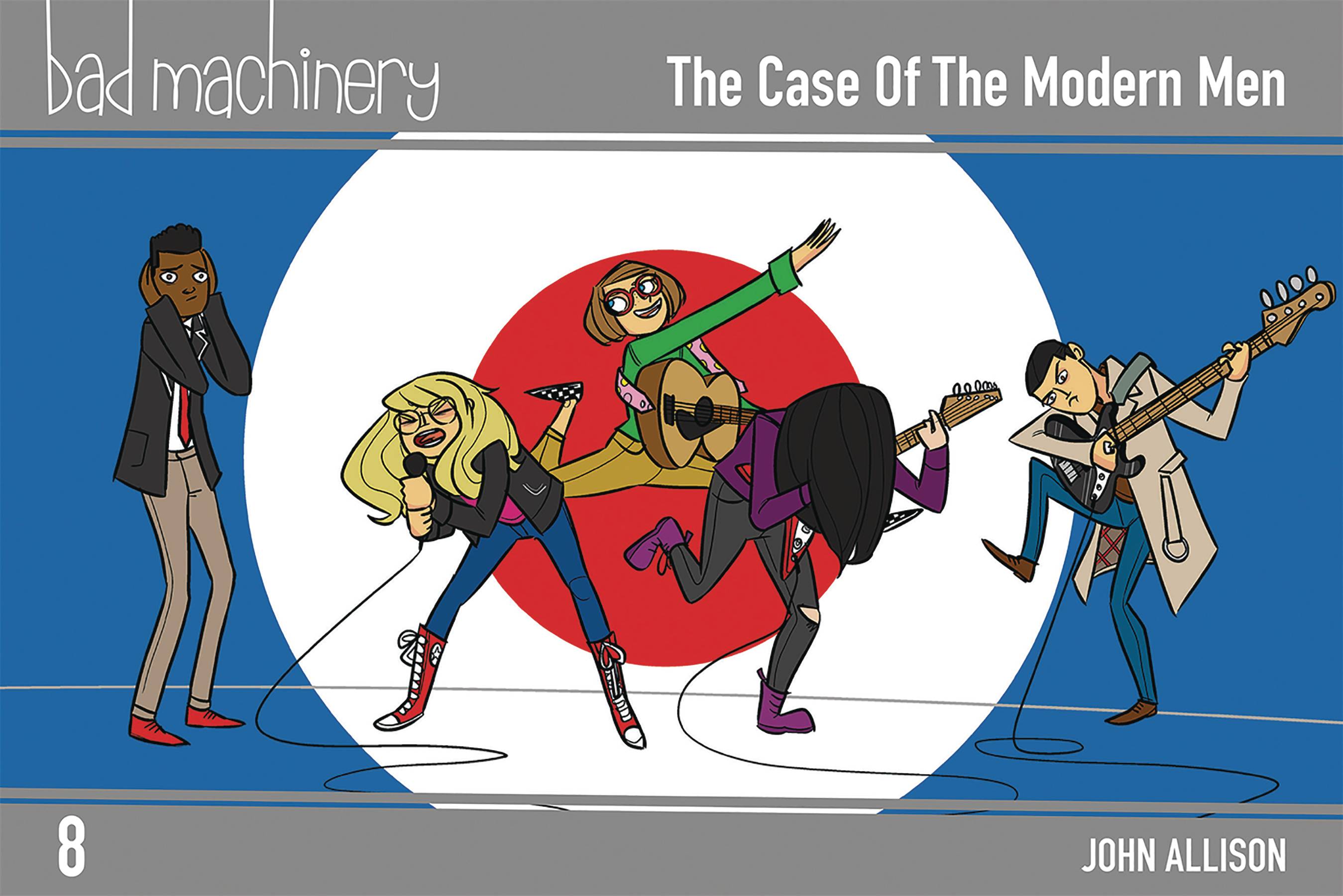 Bad Machinery vol 8: The Case Of The Modern Men (Pocket Edition) (£11-99, Other A-Z) by John Allison
Deadly Class vol 8: Never Go Back s/c (£14-99, Image) by Rick Remender & Wes Craig
Handmaids Tale h/c (£20-99, Doubleday) by Margaret Atwood & Renee Nault
Lumberjanes vol 12: Jackalope Springs Eternal (£10-99, Boom!) by Shannon Watters & Kat Leyh
Over The Garden Wall: Hollow Town s/c (£12-99, Kaboom!) by Celia Lowenthal & Jorge Monlongo
Prodigy s/c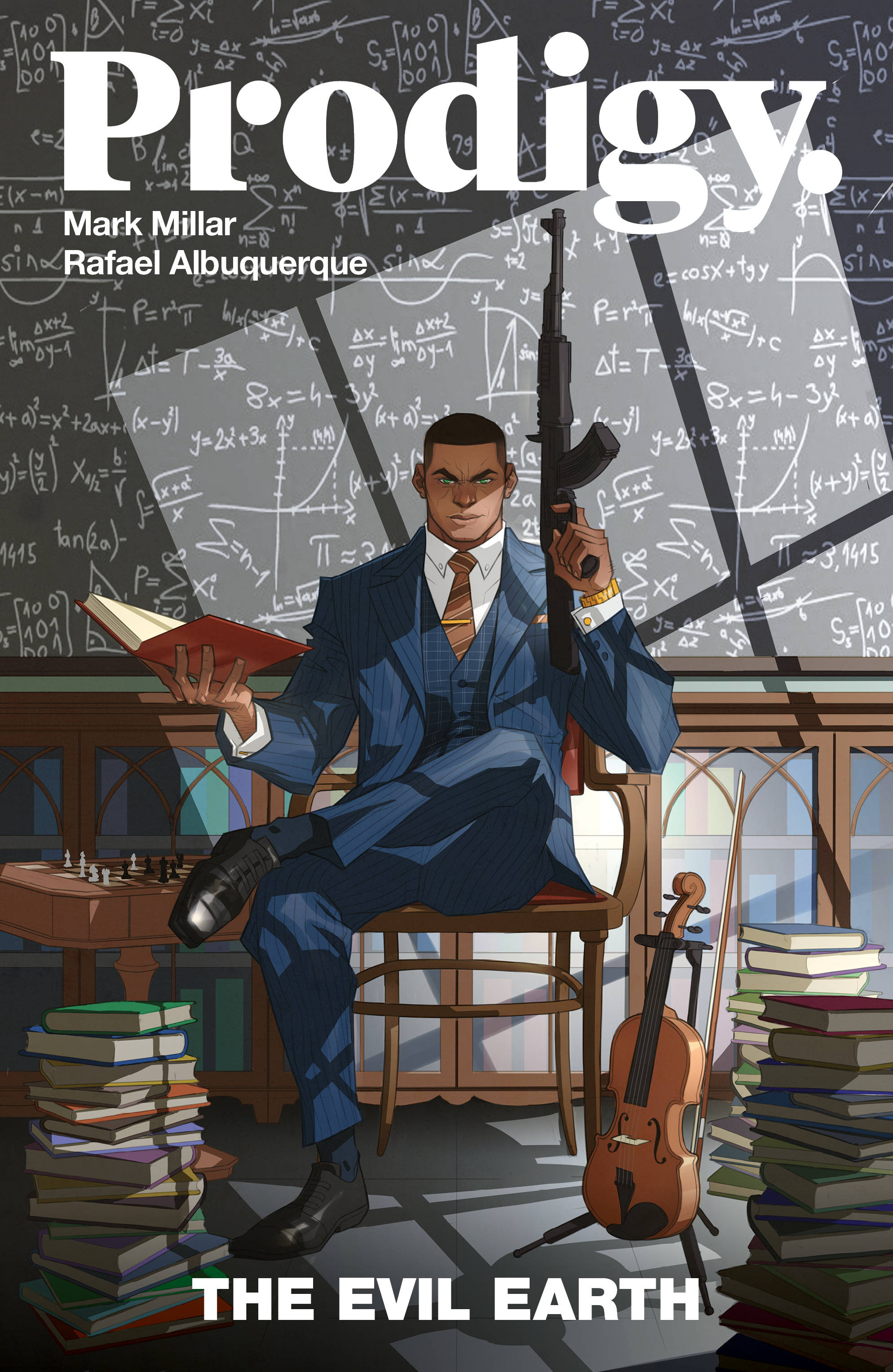 (£17-99, Image) by Mark Millar & Rafael Albuquerque
Sandman vol 10: The Wake (30th Anniversary Ed'n) (£14-99, Vertigo) by Neil Gaiman & Michael Zulli, Jon J. Muth, Charles Vess
Scott Pilgrim Colour Collection vol 1 s/c (£26-99, Oni) by Bryan Lee O'Malley
Sky Hawk s/c (£18-99, Fanfare Ponent Mon) by Jiro Taniguchi
Stig & Tilde: Vanisher's Island s/c (£9-99, Nobrow) by Max De Radigues
The Adventure Zone vol 2: Murder On The Rockport Limited! s/c (£17-99, FirstSecond) by Clint McElroy, Griffin McElroy, Justin McElroy, Travis McElroy & Carey Pietsch
Dear Justice League s/c (£8-99, DC Zoom) by Michael Northrop & Gustavo Durate
Daredevil vol 1: Know Fear s/c (£14-50, Marvel) by Chip Zdarsky & Marco Checchetto
Elektra: Assassin s/c (£17-99, Marvel) by Frank Miller & Bill Sienkiewicz
Savage Sword Of Conan vol 1: The Cult Of Koga Thun s/c (£15-99, Marvel) by Gerry Duggan & Ron Garney
The Invaders vol 1: War Ghosts s/c (£17-99, Marvel) by Chip Zdarsky & Carlos Magno, Butch Guice
The Superior Spider-Man vol 1: Full Otto s/c (£15-99, Marvel) by Christos Gage & Mike Hawthorne
Wolverine: Long Night s/c (£14-50, Marvel) by Ben Percy & Marcio Takara
My Hero Academia: Vigilantes vol 5 (£6-99, Viz) by Hideyuki Furuhashi & Betten Court