Featuring… well, this lot for a start…

Kramers Ergot vol 10 s/c (£26-99, Fantagraphics) by Sammy Harkham, Robert Crumb, Dash Shaw, David Collier, Anouk Ricard, C.F., Jason Murphy, Blutch, Shary Flenniken, Johnny Ryan, John Pham, Ron Regé Jr., Simon Hanselmann, Anna Haifisch, Naoh Van Sciver, Ivan Brunetti, David Amram, Helge Reumann, Frank King, Steve Weissman, Aisha Franz, Leon Sadler, Adam Buttrick, Archer Prewitt, Connor Willumsen, Bendik Kaltenborn, Will Sweeney, Rick Altergott, Kim Deitch, Marc Bell…
"You skipped
school again?! Get out of bed! We're under attack!"
"What? I don't hear anything?"
"Stay inside!"
"What are you talking about, Mom?"
"Turn on the news!"
…
"Fucked up shit."
One should never really giggle when the 9/11 attacks are involved I suppose, but the sight of a baffled young Noah Van Sciver looking out of his bedroom window after answering the phone half-asleep to the sound of his panicking mum, did occasion me to chuckle as I read his one-page contribution on the inside front cover.
There's a fair amount of what one could describe as fucked up shit in this amazing anthology. I would personally describe it as comics of the highest order, but I respect the maxim to each their own. The material within this latest Kramer's collection as ever ranges from the ribald to the ridiculous, from the straightlaced to the stoopid, from the marvellously mundane to the truly out there. And beyond. It's certainly not going to be for everyone, far from it, but it hit the spot for me.
As ever, it is curated by the remarkable Sammy CRICKETS Harkham, who also pulls off the neat trick of providing my favourite contribution in the form of an extended Blood Of The Virgin period story covering as ever the slightly seedier side of American B-movie making.
There's such a variety of material contained within these gorgeously garishly covered (Lale Westvind) French flaps it is a formidable task to assimilate it in one sitting. For you, though, dear readers, I did just that. There were a lot of highlights. In terms of personal pure hit-rate, for such relatively esoteric material, it was considerably more than I could have genuinely expected, with barely a miss. Which either means that Sammy Harkham has been reading my mind, or just really has his finger on the pulse of cutting edge comicdom. I'm going with the latter.
Dash Shaw's Policewoman…
Anouk Ricard's recurring Ducky Coco one-pagers…
C.F.'s Liquid On Neutral…
Ivan Brunetti's Stay Gold…
John Pham's J&K…
… and Marc Bell's Slogan Schnauzerpg…
…were probably my stand out favourites. C.F.'s Liquid On Neutral in particular, about someone planning a script rewrite and then promptly falling down a manhole before undergoing, well, I honestly don't know what, some sort of reality-warping experience, is definitely a contender for the most surreal contribution. It had me returning to it repeatedly just to marvel at the artistry.
There is also a surprisingly large amount of well-executed, it must be said, low-brow filth. All humorously done and frequently completely over the top like Johnny Ryan's Run. Would you expect anything less from Johnny Ryan?
All in all this is as well rounded an avant garde and absurdist anthology as you imagine could be put together. I therefore once again take a Kramer's Ergot vol 7 sized hat off…
…to Mr Harkham for his continued commitment towards showcasing the very best of the most wilfully self-indulgent material out there. Happily volume 10 is a 'normal' oversize.
Anyway, these are creators who are all making precisely the sort of comics they want to make, damn the consequences and in most cases, lack of sales. These folks would rather have the devout love of a few than compromise their creativity to reach the masses and more power to them for it.
JR
Buy Kramers Ergot vol 10 s/c and read the Page 45 review here
Books Of Magic vol 1: Moveable Type s/c (£14-99, DC) by Kat Howard & Tom Fowler…
"Hey, Ellie!
Do you want to see some magic?"
"Like a trick?"
"Real magic, of course. I would never trick you."
"Okay."
"I hold in my hands nothing but coloured paper. But once I say the magic word, they will become flowers! ABRACADABRA! Er…"
"That was… um. Good try!"
Which probably neatly sums up how I feel about this opener, really…
Part of the recent Sandman Universe material also featuring THE DREAMING VOL 1: PATHWAYS AND EMANATIONS, LUCIFER VOL 1: THE INFERNAL COMEDY and THE HOUSE OF WHISPERS VOL 1: POWERS DIVIDED, I really, really wanted this particular title to be brilliant because I hold the original THE BOOKS OF MAGIC material in the very highest regard. Always difficult to follow absolute perfection though I guess!
So, young Tim is back at school, real school not magical school, but it appears he has seemingly forgotten much of what he has already learnt of the mystic curriculum. Fortunately help is on hand in the form of his teacher Dr. Rose, who is of course half of Dr. Occult along with Richard. Well, technically she was bonded to his soul when he died at some distant point in DC past if memory serves, but you get my drift.
Tim hasn't forgotten he is seemingly destined to the greatest magician of his age, for good or evil – again see: THE BOOKS OF MAGIC – nor indeed the tumultuous events which occurred in that epic adventure leading him to this point.
Which is why I am utterly perplexed that he doesn't seem to recognise Rose when he first sees her. Not sure that is a mystery which is going to get solved, or maybe it will.
Anyway, he also definitely hasn't forgotten his mum. His dead mum. Or merely his missing mum, depending on your perspective… That semantic difference is going to ensure Tim gets himself into his first round of fresh trouble, though of course there are darker forces determined to steer Timothy in their direction, or just remove him from play completely.
We also see the return of some other familiar SANDMAN / BOOKS OF MAGIC mythos characters, such as Tim's perennially glued-to-the-TV deadpan dad, plus a firm favourite of mine, the fabulously bonkers Mad Hettie, who as ever is most definitely not quite so completely hatstand as she appears. Just mostly!
Tom DOOM PATROL Fowler's vibrant art is considerably different and less gritty than the other three Sandman Universe titles, but actually works well in capturing the restless nature of the somewhat mercurial teenage wizard complete with all his surging hormones and teenage angst.
I think were it not for the exceptional original material, I would have been sufficiently entertained by this in its own right anyway. Even so, I have persisted with it in single issue form and it is pulling enough rabbits out of the proverbial hat for me to keep reading it. Plus, no spoilers, but there have already been more guest appearances from familiar characters and I am sure that trend will continue.
Particularly given the recent announcement regarding the return of one John Constantine esquire in a forthcoming one-shot and then new ongoing HELLBLAZER series penned by Si Spurrier, which is all apparently going to tie-in directly and follow on from the original BOOKS OF MAGIC…
JR
Buy Books Of Magic vol 1: Moveable Type s/c and read the Page 45 review here
The Magicians: Alice's Story h/c (£20-99, Archaia) by Lev Grossman, Lilah Sturges & Pius Bak…
"And with that,
Quentin is being rescued from being pinned to the wall by Professor March.
"Everything he does, he by the skin of his teeth. Part of me wants to dislike him so much.
"But another part… a very insistent part… tells me that there's more to him than I'm seeing.
"That part is getting traction. But it's annoying getting all the other parts in the process.
"And then…
"… Reality slips a gear and starts idling in neutral.
"I can't move. Nothing moves.
"Out of nowhere he appears.
"No fanfare. One moment not there. The next moment there.
"Hi is in no rush. Time passes.
"How much time I can't say. I will learn later that it's hours.
"Whatever he is, he's not human.
"Or, perhaps, not human anymore.
"Amanda's voice. Mangling her Cretan Mycenaean dialect. But it gets the job done.
"More time passes. But how to count time when your gaze doesn't change?
"And just like that… (just like what, Alice? If anything is sui generis, it's this.)
"… He's gone."
And just like that, with that, Alice's fellow pupil Amanda at the hidden Breakbills University for magicians has been eviscerated and poor Professor March appears to be lying in a puddle of his own piss…
Where's young Harry Potter, I mean Timothy Hunter, to save the day when you need him? Well, Potter was last spotted treading the boards and Hunter's got more than enough of his own academic problems…
Fortunately we don't need them because we have Alice and Quentin, little more than occult aspirants at this point, but soon about to get involved in some very serious wiz-biz along with their frenemy Penny.
Actually, whilst there might be a nod to a certain young mage or two with the hidden school, this whole work is an amusing and clever meta-warping twist and very deliberate nod to several fantasy works, not least The Chronicles Of Narnia by C.S. Lewis.
In fact, the work itself has also undergone a neat little sleight of hand during adaptation by Lilah LUMBERJANES: INFERNAL COMPASS Sturges from the original prose novel by Lev Grossman. For the original (trilogy, this merely being the first book) tells the story from the viewpoint of Quentin Coldwater, whereas this graphic novel adaptation recounts events as experienced by the other main character Alice Quinn.
I guess for fans of the hugely popular original material, and indeed TV show adaptation which is now in its fifth series, it is a lovely bit of legerdemain. For people utterly unaware of the source material, or the TV show, like myself, all one can do is judge it on its own mystical merits, and I really rather enjoyed it.
Here's the publisher to cast a spell on you with their mystical mumblings…
"Alice Quinn is manifestly brilliant, and she has always known that magic is real. During her years at Brakebills College for Magical Pedagogy, she rises to the top of her class, falls in love with Quentin Coldwater, and witnesses a horrifically magical creature invade their dimension.
It's not soon after graduation when Alice, Quentin, and their friends set their sights on the idyllic setting of Fillory: a place thought to only live in the pages of their favourite children's books. A land where magic flows like rivers… but in this magical realm nothing is what it seems to be, and something darker lies behind the spellbinding facade.
It is in the darkness where Alice will discover her true calling and her life, and those friends, forever changed."
This is well crafted fantasy which pays homage to and plays gleefully with its inspirations. I thought Pius Bak was very good too artistically. It wouldn't look out of place in a Sandman Universe title and there are hints of Peter HIGHEST HOUSE Gross and P. Craig GRAVEYARD BOOK Russell going on in there stylistically and in terms of the colour palette.
JR
Buy The Magicians: Alice's Story h/c and read the Page 45 review here
Bags (Or A Story Thereof) s/c (£9-99, Archaia) by Pat McHale & Gavin Fullerton…
John
walked to the policeman's house.
The policeman lived in a house down the street. John had seen him being there sometimes, but other times he didn't.
…
DING DONG
…
"Oh hello, John."
"He's working, John. He's at the police station. Did something happen?"
…
John looked at the policeman's wife for a moment and thought about how anyone could have taken Beth.
…
"It's okay, sweetie. You can trust me."
"Noooo… nothing has happened."
…
Why wasn't the policeman home? What was he doing? Was he really at the station? Was his wife lying? John was very suspicious now. Finding Beth was going to be much more convoluted than he thought.
Yep, it really was! I'm pretty sure you have some questions of your own now… So here's the publisher to provide you with a few answers without giving away pretty much anything whatsoever at all…
"This is the tale of John Motts. He is a man who had a dog, but now that dog is gone. John searches his house, his street, and his town, but the dog is nowhere to be found.
John soon realizes that he must travel further, past the road and into the trees if he's ever to find out the truth of what happened to his dog.
Bags (or a story thereof) is a journey of love and suspense as John Motts searches through the world he knows, and a world he doesn't, weaved together beautifully by Pat McHale, creator of the Over The Garden Wall cartoon series and Gavin Fullerton."
If you seen the beautifully serene and sedately surreal Over The Garden Wall cartoon, or indeed read the subsequent OVER THE GARDEN WALL graphic novels, then you will immediately know what sort of subtle tone, and journey, to expect. The unexpected basically.
Don't try and guess where John will end up, you won't, or indeed if he will ever find his dog. He might. He might not. Just marvel at John's redoubtable determination and resilience to find Beth in the face of ever-increasing odds and oddity and despite all his obvious shyness and uncertainties.
The art is equally unusual, with a deliberate four colour-esque letratone period feel. It all adds to the uncertain ambience. Even the John Motts character himself, with his huge potato shaped head and couple of tufts of hair is like some sort of curious hybrid, both visually and somewhat in terms of personality, of a little JIMMY CORRIGAN and more so Charlie Brown from PEANUTS. He's the sort of character you'll find yourself rooting for but also shaking your head slightly at.
JR
Buy Bags (Or A Story Thereof) s/c and read the Page 45 review here
Murder Falcon s/c (£17-99, Image) by Daniel Warren Johnson & Daniel Warren Johnson, Mike Spicer…
"You…
you're recruiting me to this craziness? To defeat monsters with… MUSIC???
"Me, helping to save the world? No. No. I couldn't even keep my own band together… after I lost everything!
"I pushed everyone out to protect myself! How can I go back to playing now? For stakes this high?
"I'm worthless to you."
"Jake… where I come from… there are many like me. Linked to instruments like the one you hold in your hands.
"My coming here was not by accident.
"I chose you, Jake
"You are talented, kind, resilient. There is a spark inside you, even though you try and hide it. And it is that spark, through that guitar, that helps me to…"
"Fight evil?"
"And save the world."
"This is insane. And what kind of name is Murder Falcon anyways? It's kind of… intense."
"Don't worry, Jake… I only murder monsters."
Channelling, indeed revelling, in the sheer epic nonsensicalness of the likes of Bill And Ted, the Comic Strip's ridiculous Bad News spoof plus pretty much everything Tenacious D have ever written, comes a epic story of one very unlikely heavy metal musician stuck in the wrong sort of funk. He's going to have to fight off an invasion of monsters that even Godzilla in his pomp would have had problems dealing with. Fortunately, he's not going to have to do it alone…
Just occasionally, something is so wrong it is right. If you throw shredding guitar into the ear-rending mix I'm talking DETROIT METAL CITY levels of lunacy here. There is just such a gloriously insane sense of fun at work right from the opening notes that suspension of disbelief gets thrown clean out of the window like a smashed TV out of a deranged rocker's hotel window.
The fight scenes have a touch of the kinetically chaotic precision of Geof Darrow's SHAOLIN COWBOY though in truth Daniel Warren Johnson's art style minded me of a slightly more jagged James ALIENS: DEAD ORBIT Stokoe.
But this is no all-out action comedy fest! No, what carries this behemoth careening along in ever more gargantuan fashion like an exploding fireball from the depths of hell gathering everything up before it in a crap music video style is its drum-thumping heart. For Jake is a man badly in need of redemption and rediscovering his musical mojo. What better than the threat of total global annihilation at the hands, well, claws of Magnum Khaos, who is intent on enslaving humanity, to force Jake to pick up his err… pick and start plucking!
Every time you think Johnson can't up the proverbial decibel level ante he manages it!
I did seriously wonder if he was going to be able to pull off the ending, but he manages something appropriately spectacular to bring matters to a pounding conclusion. Then there is the matter of the power ballad encore epilogue… I don't want to spoil the set list, but suffice to say, the final number brings the house down and draws matters to a very moving conclusion indeed.
There's no comeback tours planned as far as I am aware. This is a one hit wonder for Jake, Murder Falcon and the rest of the band. But sometimes that's the way it should be!
JR
Buy Murder Falcon s/c and read the Page 45 review here
Die! Die! Die! vol 1 (£17-99, Image) by Robert Kirkman, Scott M. Gimple & Chris Burnham.
Someone's not happy.
"She was nineteen."
"That's funny. I said that with a different tone as a defence."
Oh, how I wish I could quote you the three preceding sentences in that exchange, but we don't use those words around here!
As the first issue's cover may suggested ("I'm Paul." "I'm Nate." "I'm drunk.") this is all very Warren Ellis (think INJECTION), and it was indeed a tremendously funny first issue from the writer of THE WALKING DEAD comic, the showrunner of 'The Walking Dead' TV series Seasons 4 to 8 who left to co-write this, and the artist on Grant Morrison's NAMELESS.
It was also a massive surprise because it arrived on our shelves free of charge and entirely unannounced, without us having even ordered it because it was never solicited in PREVIEWS!
The idea behind that – which I wholeheartedly applaud, along with its successfully clandestine execution – was to make visiting comic shops exciting again. As Kirkman has written, there is so much information on the internet now that a comic series can be announced up to a year before its publication and that's a long time to sustain any interest. Instead, here you go – BOOM!
We begin in Shrewsbury at the greyhound races, with an elderly man dropping his betting ticket. A younger, pretty bloke picks it up off the floor, handing it back to grateful gentlemen. Only, it isn't the one which the pensioner dropped. It's just as well, because he'd have lost his bet, having backed the wrong horse.
Instead he's won, big-time.
Believe it or not, that's merely one nudge in a ridiculously elaborate ruse formulated by the woman at the bottom of the cover, a US Senator, to completely ruin then murder a British Member of Parliament and Cabinet Minister without drawing too much attention to it. The murder, I mean. She wants him well ruined first, and in public, for he's a paedophile. She's snorting cocaine at midnight after what must have been a most excellent night of sex if the pert pair of bare buttocks on her sofa is anything to go by, and, as she does so, she reveals in the intricacies of her plan in minute, carefully calculated detail, including the permutations which wouldn't quite work and so were shelved. A key element was that the old codger at the race track, no relation to the MP whatsoever, needed to become exceedingly wealthy.
The Senator, you see, is running an organisation within the United States government which is as covert as the operation required to get the DIE! DIE! DIE! periodicals so secretly onto our shelves.
Unfortunately her plan begins to unravel in the Shropshire countryside on the very second page as the pretty young man speeds through the rural idyll on a motorbike, only to be pursued by a Landrover whose driver displays all the Highway Code courtesy of a BMW tail-gater.
The breezy self-confidence and acrobatic, pugilistic prowess of our secret agent is such that you know full well how that's going to pan out, but the writers are no more slacking throughout than the line and colour artist. They deliver a dry-stone English B-road to die for / beside, and some crotch-ripping high kicks to make you thank goodness for stretchable fabrics.
There followed a cracking final-page cliffhanger, craftily set up well in advance as to provide an immaculate three-beat punchline.
So what does the rest of the series have in store…?
For a start, three identical brothers who will be using their indistinguishable features to bamboozle all and sundry including each other, their wives, their employees and you, the readers. Don't think the cover's seriously wonky nose job is going to deter them, either. Lengths, they will be gone to.
Oh, and there's a great many feuds and a good deal of bloodletting, obviously.
We've racked this at the back of the shop with THE WALKING DEAD, right above the horror section and next to the superheroes. That should give you some idea as to who I'm targeting and how I'm marketing this. Could have gone with the comedy next to Hamish Steele's PANTHEON, I guess.
16+
SLH
Buy Die! Die! Die! vol 1 and read the Page 45 review here
Havok And Wolverine: Meltdown s/c (£22-99, Marvel) by Walter Simonson, Louise Simonson & Jon J. Muth, Kent Williams, Jon J. Muth.
"The atom,
General Meltdown, is the heart of the matter.
"Once, it was thought to be indestructible, immutable, eternal.
"We know better now.
"Or worse, depending on your point of view."
Well, quite.
The above is one Dr. Neutron patiently explaining nuclear physics and, later, fission to a decidedly impatient General Meltdown. It might not just be his temper that's lost here.
The latter is such inspired nomenclature that I could spend paragraphs riffing off it, but make up your own jokes, why don't you? But yes, there will be a General Meltdown as well as a very specific one to challenge the regenerative extent of our hirsute mutant's healing factor.
Thirty years old, this mini-series! Unless I have my maths wrong, that means that as a fully-painted superhero comic it precedes ARKHAM ASYLUM so I'm not sure what precedes this in that category. Jim Starlin's DREADSTAR was more science fiction, wasn't it? Not a lot, anyway. There was a while to be waited until Alex Ross turned up to emphasise the awe in "awesome" with MARVELS, KINGDOM COME, JUSTICE (over Doug Braithwaite's breath-taking pencils) and JUSTICE LEAGUE: THE WORLD'S GREATEST SUPERHEROES.
Naturally I lapped this up, especially since the painting in question was performed by two of my favourite artists, Jon J. Muth (MOONSHADOW, now back in print) and Kent Williams (BLOOD, SANDMAN: DESTINY etc). I even forked out for Graphitti Design's hardcover collection, limited to 2000 copies and signed by all four creators, so although I've not read it recently that's an endorsement from past-me at least.
In the back of that edition from 1990, the Simonsons recall that it was the artists themselves who catalysed the project, pitching to the husband-and-wife team their fervour to illustrate, specifically and individually, Havok and Wolverine, so the series was ritten both to satisfying their interest and play to their respective strengths. What they don't mention is surely the most unusual aspect of this cooperative creation: that Jon J. Muth paints every single appearance of his preferred protagonist Havok (romantically rendering him a lambent James Dean), and that Kent Williams goes expressionistically wild with every growl of a decidedly more feral Wolverine than we'd previously been used to.
Not just on the same page, but often within the same panel!
The effect is, of course, far more cosmetic than Sean Phillips and John Bolton's collaboration during Devin Grayson's USER which utilises the artists' seeming pass-the-parcel juxtapositions to startlingly successful, structurally wicked effect*, but it's still really something to behold. I'm looking back through those co-created panels right now and the joins are seamless even though Muth and Williams favoured different colours and densities, textures. Williams went for ruddy cheeks and more wrought musculature, while Muth was all about clean, gleaming white highlights with a crisper delineation but much wetter brush.
God, but I do go on.
Instead, here's Marvel's hype-monkey to melodrama you to death:
"Two friends. Two mutants. Two X-Men!"
Dun-dun duuuuuuuuh!
"Havok, gifted with the ability to project devastating plasma bursts. Wolverine, a feral warrior with an uncanny healing factor, an unbreakable Adamantium skeleton and razor-sharp claws. Ambushed by Russian terrorists while on leave in Mexico, the two find themselves caught in a deadly web of international intrigue and betrayal! Can Alex Summers and Logan thwart a plot to bring the Western world to its knees? "Beautifully painted artwork combines with fast-paced prose to create a milestone among graphic albums as Havok and Wolverine star in a landmark X-Men story like no other!"
Imagine if those same hype-monkeys actually cared to clue you in to its craft.
* It wasn't pass-the-parcel: Sean Phillips doesn't recall having seen any of Bolton's contribution until publication – the pages were instead painted concurrently as the script was delivered – which makes the resultant illusions even more improbably outstanding. Go on! Read my review of USER! Thanks!
SLH
Buy Havok And Wolverine: Meltdown s/c and read the Page 45 review here
Arrived, Online & Ready To Buy!
New reviews to follow, but if they're new formats of previous books, reviews may already be up; others will retain their Diamond previews information we receive displayed as 'Publisher Blurb'.
Bad Gateway h/c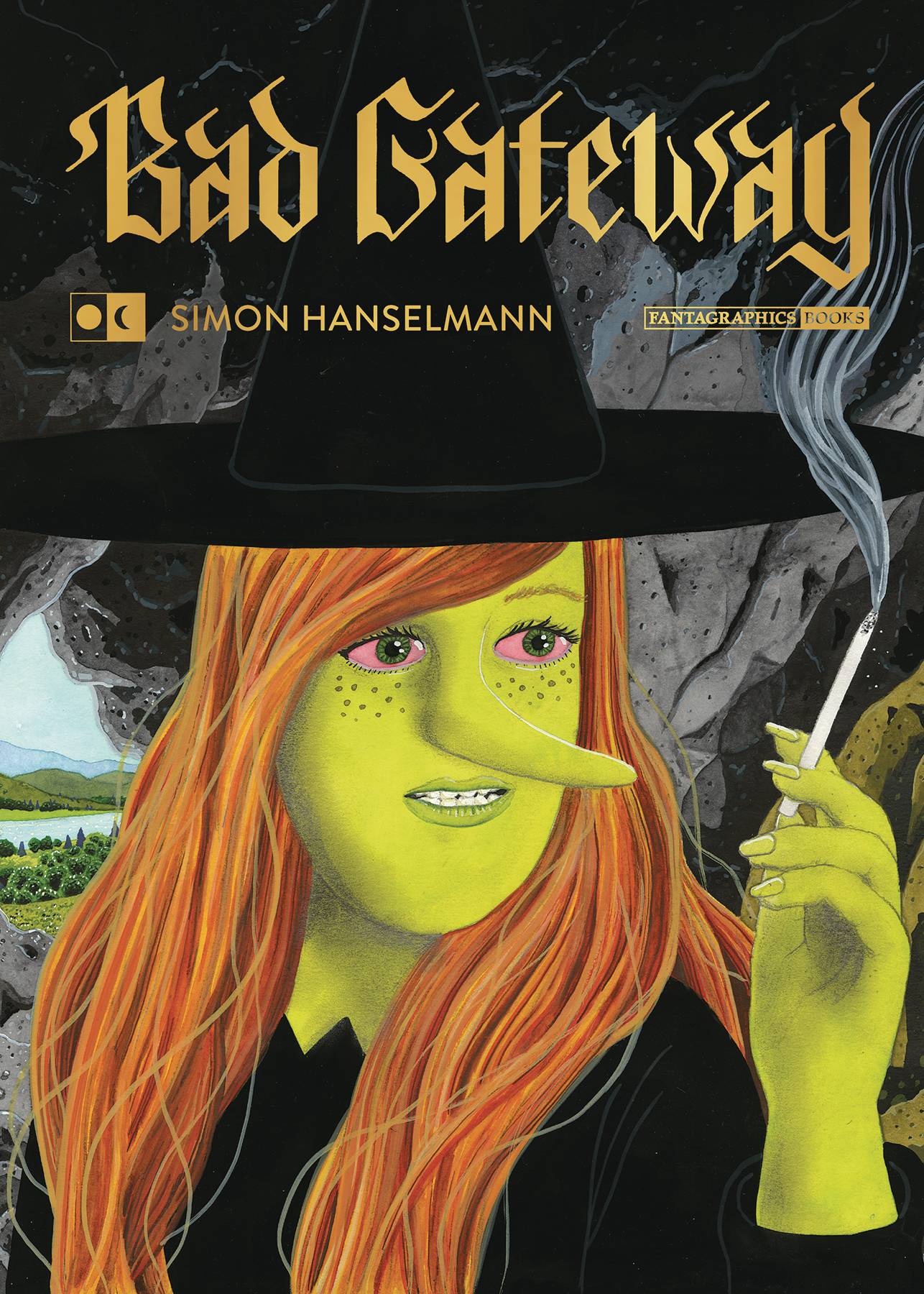 (£25-99, Fantagraphics) by Simon Hanselmann
Hawking h/c (£22-99, FirstSecond) by Jim Ottavani & Leland Myrick
Hellblazer vol 21: The Laughing Magician (£22-99, Vertigo) by Andy Diggle, Jason Aaron & Leonardo Manco, Giuseppe Camuncoli, Stefano Landini, Sean Murphy
House Of Whispers vol 1: The Powers Divided s/c (£14-99, Vertigo) by Nalo Hopkinson & Dominike Domo Stanton
The Immortal Jellyfish h/c (£11-99, Flying Eye Books) by Sang Miao
Lodger s/c (£15-99, IDW) by Maria Lapham, David Lapham
The Nao Of Brown h/c (£24-99, SelfMadeHero) by Glyn Dillon
Red Panda & Moon Bear (£13-99, Top Shelf) by Jarod Rosello
Return To Belzagor h/c (£18-99, Humanoids) by Robert Silverberg, Philippe Thirault & Laura Zuccheri
Scott Pilgrim Colour Collection vol 2 s/c (£26-99, Oni) by Bryan Lee O' Malley
Scott Pilgrim Colour Collection vol 3 s/c (£26-99, Oni) by Bryan Lee O' Malley
Tonta h/c (£17-99, Fantagraphics) by Jaime Hernandez
Why My Cat Is More Impressive Than Your Baby (£9-99, Andrews McMeel Publishing) by The Oatmeal
William Gibson's Alien 3 h/c (£17-99, Dark Horse) by William Gibson, Johnnie Christmas & Tamra Bonvillain
Hulk: World War Hulk s/c (£22-99, Marvel) by Greg Pak & John Romita Jr
20th Century Boys Perfect Edition vol 4 (£12-99, Viz) by Naoki Urasawa
Mob Psycho 100 vol 3 (£10-99, Dark Horse) by One