All-Ages Special featuring Oscar Wilde, P. Craig Russell, Chitra Soundar, Poonam Mistry, Larry Marder, Ted Naifeh, plus we've found stock of Kristyna Baczynski, Dan Berry, Joe Decie, Warwick Johnson-Cadwell, Sarah McIntyre, Fumio Obata and Jack Teagle's 24 By 7 for which I've shot fresh photographs!
You're Snug With Me h/c (£11-99, Lantana Publishing) by Chitra Soundar & Poonam Mistry.
Well,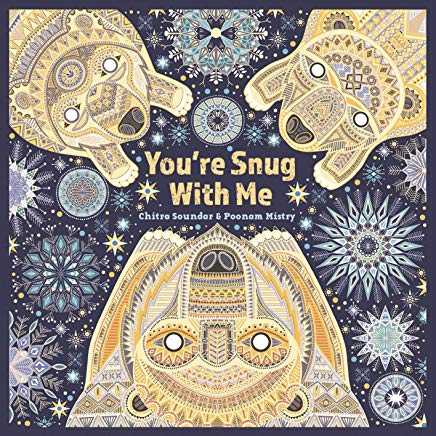 would you look at this wonder!
Although painstakingly hand-drawn and coloured on a flat surface, it comes with all the qualities of intricately embroidered cloth.
Like the most magnificent woolly jumper which you could ever imagine, there are distinct rhythms of lines, dots, spots and triangles arranged with an intuitive understanding of the forms that they delineate. Pulling out further, there are shapes within much bolder shapes like those whole animals which you'd so satisfyingly slot in between smaller, interlocking background pieces in a wooden Early Learning jigsaw puzzle.
Over and again, the geometric is rendered organic while the colours keep it all cosy.
The mother bear's den is a perfect example, the opening image of the cubs nestled snugly head-to-toe inside her womb. She hugs herself calmly, contentedly, assuredly, while outside we see nature taking its uninterrupted seasonal course. All is as it should be, and all will be well.
So long as we maintain the balance.
Just as the colours inside Mama Bear are overwhelmingly clay-warm and cream-bright but balanced by cooler purples and white, so without the descending, sharp icy blues are complemented, being cushioned by softer masses and sweeping contours below, while the bulrush shapes glimpsed outside offer the hope of something less shivery to come.
Then, when those cubs are born, there's a warm welcome tongue too, as the cubs laze, forelegs first, over their rotund mum's tum. It's all pretty idyllic…
So long as we respect the balance.
"As winter turned colder, the cubs explored their frozen den. "Mama, what lies beyond here?" they asked.
"Above us is a land of ice and snow," said Mama Bear.
The cubs shivered.
"Don't be afraid," said Mama Bear. "The drifts bring us hard snow, so we can safely walk this land."
And ordinarily that would be true.
"Can we wander where we please?" asked the cubs.
"Only where the land will let us walk," Mama Bear replied. "But hush now, you're snug with me.""
A poignant picture book that is so desperately timely, this by Chitra Soundar & Poonam Mistry forms a perfect twin to the same creators' Indian-bound YOU'RE SAFE WITH ME. It boasts the same striking visual emphasis on patterns within shapes but a more sparkly, radiant colour scheme as befits the snow-bound Arctic. It also comes with the same structure of inquisitive youngsters' fearful questions about their wider surroundings being reassured, but here a new note of caution is introduced by way of the qualifiers.
"As long as the ice stays frozen, we will never go hungry."
"Will the ice melt?" asked the cubs.
"Only if we don't take care of it," Mama Bear replied.
Only on the opposite side of the double-page spread does she repeat her lullaby refrain which goes "But hush now, you're snug with me."
Narrative context aside, these caveats are aimed not at the cubs, obviously, but at ourselves. I don't think we can in all good conscience accuse the Polar Bear community of compromising their Arctic environment, nor rely on them to fix that which we have so royally… endangered.
Like Tove Jansson's THE MOOMINS AND THE GREAT FLOOD and Francesca Sanna's THE JOURNEY, both Soundar and Mistry books pay profound tribute to the sometimes self-sacrificial role of the ideal mother in reassuring her children when perhaps not so sure herself, and they do so with the same lovely lilting refrain which came with M.H. Clark & Isabelle Arsenault's YOU BELONG HERE (with me).
In summary: we're never alone but it is not all ours and we should only take what we need.
I'll only add that if you want to pluck one more all-ages picture book with a heart of gold from our carefully curated stock, then I'd recommend Sarah McIntyre's THE NEW NEIGHBOURS for its warm welcoming of strangers.
SLH
Buy You're Snug With Me h/c and read the Page 45 review here
You're Safe With Me h/c (£11-99, Lantana Publishing) by Chitra Soundar & Poonam Mistry.
"When
the moon rose high and the stars twinkled, it was bedtime for baby animals. But that night, when the skies turned dark and the night grew stormy, the little ones couldn't sleep."
Well, they can't sometimes, can they, with gales howling outside or torrential rain hammering on the roof or tree tops? Not without some soothing reassurance.
This offers up all the reassurance and love in the world.
"Mama Elephant was passing by. "Hush," she whispered, gently rocking the baby animals in her trunk. "You're safe with me.""
YOU'RE SAFE WITH ME is a Young Readers picture-book so eye-poppingly opulent that I suspect it will be swept up in equal numbers by adults for adults.
It's a perfect twin to Chitra Soundar and Poonam Mistry's YOU'RE SNUG WITH ME, created with the same emphasis on maternal solace when responding to fearful youngsters' questions about the more frightening aspects of their environment. It boasts equally striking patterns and shapes within shapes, but a much warmer, darker and earthier colour palette perfect for Indian climes.
Here the patterns are perhaps more like those you might find on painted clay, stone, or even an elephant adorned for religious festivals. There's one such within!
Tiny dots in white, cream and rich red are arranged in organic circles, joined by their radial counterparts to fashion whole floral blooms which you'll find forming the thighs of the tiny loris or tiger cub.
Foliage abounds! There the dots are configured so as to demark the curved margins and midribs of leaves, while they are thrown out far straighter in tubular veins for extra support.
Wide-eyed whiskered fish with coppery scales float in the river below, its midnight blue surface punctured by monsoon-large raindrops whose ripples echo not out in concentric circles but in spirals instead to denote outward movement, emphasised by triangular teeth in between.
"CRACK-TRACK!
The sky lit up.
FLASH-SNAP!
The night flickered.
The little animals gasped."
Like indigenous masks, the warm-blooded youngsters gaze out of their protective, comparatively cool-coloured undergrowth in awe and wonder and fear. The next double-page spread of the sky splinters in a jagged cacophony of lightning strikes, scattering Mama Elephant's explanation into a staccato of barely heard words.
Rarely have I seen such clever interaction in a Picture Book of sight, sound, cause and empathic effect!
I'll also address one more element of that which impressed me the most: sometimes specific fears need allaying as well…
"SWISH-SWISH!
The trees moved.
OOH-OOH!
The wind moaned.
The little animals woke up and whimpered."
Here they are responded to not just with a temporary, placatory cure-all balm…
"Don't worry about the wind," whispered Mama Elephant. "He's an old friend of the forest. He brings us seeds from faraway lands."
But they are answered instead with a flip-side focussing firmly on the future, the wider balance of nature when understood, and the overwhelmingly positive compensation to any temporary tremors of the head or heart.
We'd all do well to listen to that wisdom, instead of attempting to "best" nature by barricading ourselves up against it and so destroying our oldest friend.
SLH
Buy You're Safe With Me h/c and read the Page 45 review here
The Fairy Tales Of Oscar Wilde vol 5: The Happy Prince s/c (£7-99, NBM) by Oscar Wilde & P. Craig Russell.
One of the most affecting
short stories of all time brought to poignantly pencilled life by one of the true masters of comics: P. Craig Russell who successfully, transcendently adapted Wagner's opera cycle THE RING OF THE NIBELUNG, Lois Lowry's THE GIVER and Neil Gaiman's MURDER MYSTERIES, SANDMAN: DREAM HUNTERS and so much more. I first read the prose in my late teens and it's stayed in my heart ever since. Here P. Craig Russell has done wonders with the work, his fine, clean line lit with lambent colours. I even love what he's done with the speech bubbles linked to their square-boxed, qualifying commentary. More than anything, though, his art here is the ultimate essay in tenderness.
A gilded statue of The Happy Prince stands much admired, a large ruby gleaming on his sword-hilt; his two eyes are clear, bright sapphires. Alive, he enjoyed a life of privileged pleasure and opulence in a rarefied, snowglobe existence entirely detached from the wider world outside the sequestered court. He was indeed very happy. But now as a statue raised high above the city, he can finally see the misery endured by the sick and the impoverished, the industrious yet ill-rewarded, while the rich who have so much think so little of those who serve them. It makes him weep, and his tears fall like pure drops of rain onto a tiny swallow below.
The swallow should have migrated to Africa with his friends many moons ago, but the prince begs him to tarry a while longer and act as his courier. For there are those in dire need – a seamstress with a sick child, a playwright struggling to stay warm and meet his deadline, a matchgirl whose matches have fallen into drain water and will be beaten by her father – and the prince has much of himself to give.
It's a story of iniquity and inequality, self-sacrifice and true love, no matter the consequences. It's about countries and councils who throw so much of their wealth into useless, vainglorious monuments and enterprises, while failing to meet the most basic needs of those they would govern.
Almost every panel has something satirical to say about people's priorities in life or their position and disposition in society. Even the swallow's fanciful dalliance with a slender reed says so much when thrown into contrast with its fateful falling in love with The Happy Prince.
This is the same Oscar Wilde of The Importance Of Being Earnest, but here his boisterous wit is quietly contained, concentrated and considered; the tone no less passionate, but the passion – along with his supreme command of the English language – is harnessed to a quiet, dignified indictment of the superficial few who squander so much, a celebration of the redistribution of wealth, and a relevant reminder that as far as poverty goes there is always much more to be done.
It's also a tribute to true, selfless love and, once again, it made me cry.
We finally have all of THE FAIRY TALES OF OSCAR WILDE in softcover now, each one reviewed. I'd stick to those: some of the hardcovers are out of print.
SLH
Buy The Fairy Tales Of Oscar Wilde vol 5: The Happy Prince s/c and read the Page 45 review here
Beanworld Omnibus vol 2 s/c (£22-99, Dark Horse) by Larry Marder.
"'Now' has
turned into 'then'."
Pure comics magic which has for over 30 years ignited the imaginations of all and sundry, including wide-eyed infants prepared to spend their own pocket money on its mind-blowing invention. The covers are key, for their spectacle promises a brand-new, otherworldly experience, and the contents will not disappoint.
For a full introduction, please see BEANWORLD OMNIBUS VOL 1 for which Jonathan, Mark (posthumously) and I joined forces in a composite celebration of Larry Marder's unique vision.
Alternatively, let's throw you in at the deep end…
A second volume embracing creation, communication, cooperation, discovery and sustainable resources: one man's junk is another's treasure if you manage to unravel its mysteries.
There are plenty of mysteries here, like where Beanish goes when he makes his midday "jump" (he's keeping that a secret) and why the youngest creatures here, the Cuties, start a-snoozin' whenever they're left to their own devices. They just don't talk to each other, and that's a big worry if they're going to grow up to become Chow Sol'jers because teamwork for them is a top priority. Without fresh chow for the Chowdown Pool there'll be no vitamins, nutrients and trace minerals to absorb, so it's time to think of the future and look to a little learning through the eyes of a child who really just wants to play.
Both the dilemma and the solution were brilliant, with obvious implications for our own educational system.
Over and again, Larry Marder proves he is one of the wisest man in comics, connecting his unique and seemingly outlandish, self-sufficient ecosystem with the very real world around us. Oh, and he practises what he preaches, providing education through entertainment shot all the way through with exuberant joy.
The language is fabulous, as witnessed here when the Boom'rs first voice their concerns:
"We stumbledunkled into a somethingness we can't quiff riff into twined idealios!"
"What sort of fact did you discover that doesn't make sense?"
"The Pod'l'Pool Cuties neversonever do the yaketyklak between themselves."
And the designs are simply thrilling. Mark made so many models of these for our windows, and he would have loved the giant amoeba with its cytoplasmic contents coming over all Native American / Jim Woodring. It's flanked with flagella and primed with an angry red eye, assaulting the Beans as they float in their chow. And that makes Mr. Spook angry!
Not sufficiently mind-frazzled yet? Of the first half Jonathan wrote:
"There are new discoveries aplenty from Professor Garbonzo, such as combining the mystery pods with twinks to produce the mysterious float factor, which the ever-practical Mr. Spook is hoping to use to protect the Beans from aerial invaders – should any ever appear. Mind you, there's a certain large fish that might be planning to pay a visit. Whereas Beanish is rather hoping Mr. Spook won't get too interested in what's happening in the sky as that's where he goes for his daily meetings with his beautiful and mysterious friend and muse Dreamishness, who promises the 'secret path of something more' may reveal itself if he can only bring her a love song. To that end he tries to enlist the help of Boomr Band, Beanworld's trio of mad musicians, but poor old Beanish is struggling to find his rhythm."
It is, as it says, "A Most Peculiar Comic Experience" and it will stay with you for a lifetime.
"Search for the rhythms.
Reach deep inside.
Feel the surging pulse.
Summon the BLISS!"
It is here.
SLH
Buy Beanworld Omnibus vol 2 s/c and read the Page 45 review here
Courtney Crumrin vol 5 s/c (£11-99, Oni Press) by Ted Naifeh.
"How did you
know you could trust me with witchcraft?"
"I didn't. And I was right, as I recall."
"What if I used it against you?"
"Why would you do that?"
"I don't know. But if I did…"
"Maybe I'm a fool, but I think every young witch should have the freedom to make mistakes. Good judgement comes from dealing with the consequences of bad judgement. Besides, there are ways to take magic away if need be…. Just be careful I never need to use them on you."
Brrrr… That's Uncle Aloysius to our young Courtney, and by the end of this penultimate volume of COURTNEY CRUMRIN things will have come to a head.
"Good judgement comes from dealing with the consequences of bad judgement."
Courtney will have to exercise some seriously swift judgement here following some catastrophically bad judgement in teaching Holly Hart, the new girl in town, witchcraft. Oh, Courtney once made the same initial mistakes that Holly does with spells to make herself popular, but Courtney recognised those for the mistakes they were. The only thing Holly realises is that Courtney may rescind her privileges: Courtney has been a liability, a threat – one best dealt with swiftly.
Ingeniously Ted mirrors the whole of the first book in the second chapter here, right down to the Goblin market, and then in the third chapter you're witness to Holly's point of view. In the first chapter you'll learn far more of the history of warlocks in Hillsborough than has previously been revealed, and in particular an early assault on Uncle Aloysius' authority via his heart.
Naifeh really let's rip with the actions and fireworks later on. I think we can safely say that Courtney has "levelled up". There's always been a certain steeliness in her eyes, but now she doesn't even flinch.
There's also the reintroduction of many a familiar face most unexpectedly, so for maximum satisfaction I'd make sure you've read the previous instalments of COURTNEY CRUMRIN, reviewed quite extensively, first.
"How do you live with knowing what evil you've done? Knowing you'll do more?"
"I feel like a jerk. But then I get on with my life, and try not to screw up so bad the next time. We're not faeries, Templeton. We don't have forever."
No indeed.
Time is now running out.
SLH
Buy Courtney Crumrin vol 5 s/c and read the Page 45 review here
We Found New Stock (No Easy Feat, Folks)!
24 by 7 h/c (£14-99, Fanfare / Ponent Mon) by Kristyna Baczynski, Dan Berry, Joe Decie, Warwick Johnson-Cadwell, Sarah McIntyre, Fumio Obata, Jack Teagle
"Seven comics as diverse as they are witty as they are beautiful to behold, each created within the same 24 hours. An extraordinary accomplishment."
– Stephen L. Holland, Page 45
Whoever the hell he is.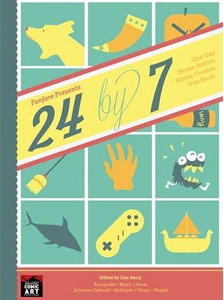 What a stellar line-up! What fertile imaginations! What a variety of styles!
What a bunch of cheats.
Or at least that's what contributor, editor and all-round director Dan Berry would have you believe in his introduction. He's so funny! All seven comics were indeed created within the same 24 hours then printed within another to go straight on sale in Page 45's Georgian Room in Kendal's Clock Tower at The Lakes International Comic Art Festival 2014. Magnificent! Ridiculous! Miraculous!
So they had a little prep time! I made notes for this review. These reviews may all look so randomly free-form with a word lobbed in here and a paragraph casually cauterising one half of a sentence from the next for no very good
Reason. But at least no one is standing over me with a stopwatch.
Let's begin our mad dash with Sarah McIntyre 's 'Scribble' in which only the scribble is scribbled and even that scribble is accomplished. It really is! It's a dab hand at mimicry, posing as a grass stain on one day, a smashed fly on another, a bogey, a spider, then What Will Happen To My Sister If She Doesn't Give Back My Book. That particular scribble is awfully succinct. I'm not sure which day it attempted to represent Chaos as a two-dimensional piece of graphite gurning but that was pretty existential. Almost certainly a Saturday, don't you think?
Anyway, Jamie (the scribble's name is Jamie) began life on a young girl's napkin, got thrown in the bin then escaped and let out a roar: instant teeth. It began to cry – for which you need eyes. Then
Jamie ran around, ever-so-excited and found itself with legs. Legs! Suddenly it's darting about like a mad-eyed monster from Michael Bentine's Potty Time. Next stop: social media frenzy and huge artistic acclaim!
The cartooning is so exquisite that I will forgive its two pages of mid-70s' wallpaper because that's what inevitably happens when you begin to wield orange. Sarah McIntyre has all the best scribbles and if you think Jamie's a dude then wait until you bump into his best boyf, Bob. Bob is besotted and has flap-flap wings and a wide-eyed innocence and adoration which are beyond adorable.
Here be wit, here be glee. It's not easy trying to represent philosophy, France or a full English breakfast in scribbles.
Fumio Obata's 'Anywhere Road' couldn't be more different in style, in tone, in genre, in subject matter. Fumio created the graphic novel JUST SO HAPPENS in gentle watercolours. Here he brings his familiarly soft and gentle line to a tale of truancy as a woman walking her dog on the beach discovers a young boy in a sleeping bag. She takes him to a seaside cafe to buy him breakfast but the lad is reluctant to open up or own up to having run away from home. At first he tries to run away from his good Samaritan as well but there's something about the woman that intrigues him and it's not just her kindness or persistence. Obata had me holding my breath for the entire duration.
Jack Teagle's terracotta 'Witch Cat' finds a crowd-shy country cat forced to fly into town after running out of ingredients for a potion. Her worst fears are realised when she runs afoul of some particularly bad apples. No really, they're very bad apples – one has a worm wriggling its way out of his head! Fortunately our anxious feline is befriended by Bananasaurus, a fruit magician and – yeah, crazy indeed and one to read with your young 'uns at bed time!
So we come to Dan Berry (THE THREE ROOMS IN VALERIE'S HEAD etc) and Joe Decie (COLLECTING STICKS etc).
I love everything about Joe: his mischief, his timing, his otherwise mundane household objects… even his handwriting. Yes, his handwriting! It's one of the most attractive in comics: capital letters, far from rigid, that dance up and down while remaining as crystal clear as the layout here.
'I Blame Grandma' (also on sale separately tells how his gran invented the paper clip, fashioning it from fuse wire while working as a clerk in Sir Gerald Patten's War Office around 1940. So that's several household objects on the very first page. Our Joe draws a perfect pair of pliers, you know.
Joe's grandma felt the need to file faster and keep what she filed better organised. The paperclip quickly catches on and before you know it she's given her own office in the reappropriated Malvern Road Tube Station. She even had access to the station down below where she said she used to eat her sandwiches in the dark.
Fast-forward to the present day and there are repercussions for Decie himself. Well, you have to think of the patent and all that implies. You couldn't make this up.
I will just add that his gran was given a St Hubbins Cross medal and – typically – kept it in an empty tin of boot polish. Joe draws a mean tin of boot polish too.
In lovely, loose, full-colour washes project director Dan Berry delivers a haunting tale of love, longing and lament.
In a small village by a vast lake 'Nicholas and Edith' are in love. Their parents disapprove of their relationship for no better reason than a petty family feud. To be together they must therefore find sanctuary away from the spying eyes and tattling tongues of the idle-minded villagers. And there is an island, you see, an island on the lake.
It is an object of local superstition involving some so-called spectre of doom but you know what close-knit communities are like. You know how local legends endure. You know how parents keep their children in check: with a little elaboration and fear. But when you're in love you can see right through these things, so one evening when the waters are calm Nicholas rows Edith to the island. They find a clearing in the trees overshone by the serene, silver light of the moon.
"I love you.
"I want you.
"I need you."
I will say little more except think Becky Cloonan – BY CHANCE OR BY PROVICENCE in particular. When you've read this through once you will want to start again from the beginning immediately. Entreaties are reprised word-for-word like echoes. Reproachful echoes, you could argue.
Visually, interesting things are done with Edith's hair. Oh, how how I wish I could say what they were!
We're all at sea with Warwick Johnson Cadwell's 'Tom Hand' too. Like any good sailor's yarn it's set in a tavern where all the tallest of tales are told. There three sea dogs take it turns to show off their tattoos, each dedicated to the old Tom Hand and his watery demise. Each differs in what finally did him in, but the barmaid's tale trumps them all. She has a tattoo too, you see, but it's not necessarily where you'd expect to find it.
The forms are big, bold and as burly as the barflies', the monsters are terrifying and the deep blues are rendered as energetically as the stormy seas themselves. You'll almost certainly end up soaking wet.
Finally, RETROGRADE ORBIT's Kristyna Baczynski tells a wordless, anthropomorphic, semi-cyclical tale spanning millions of years which made me smile with enormous satisfaction throughout. Her leaf and timber textures – as well as the bone and stone – are perfectly balanced, never once bogging the page down or cluttering it up but letting the light shine through, while the brightest of sage greens prove to be perfectly placed tones.
'Hand Me Down' begins slightly upsettingly when a three-eyed prehistoric lovely hatches from an egg, grows up, falls for a female, curls up in cave with his beloved then before you know it Junior is hatched. All very idyllic but before you know it (once again), he ages, is exhausted and dies.
Eons pass before the creature's bones are discovered, his horn is detached and that's when the repurposing begins as the horn is handed down through history as one ornament then another, whittled away each time through wear and tear and outright vandalism. Where and when it ends up I will not say but there's a Tom Gauld moment towards the end that had me roaring with laughter.
If you stop to consider for a moment that these 170-odd pages of comicbook magic were all created in the same room within the same 24 hours, I defy you not to shake your head slightly and smile.
This creativity was captured in a collection of colour photographs published at the back of the book which give you a very real sense of the energy involved and the exhaustion staved off by espresso coffees and galvanising visits by Jeff Smith, Mary Talbot, Bryan Talbot and the original instigator of the 24 Hour Comic challenge, THE SCULPTOR's Scott McCloud himself.
There the creators all stand round their printed pamphlets on sale in the Kendal Clock Tower's Georgian Room on October 19th 2014, beaming with pride and accomplishment and quite right too. Bravo!
SLH
Buy 24 by 7 h/c and read the Page 45 review here
Arrived, Online & Ready To Buy!
New reviews to follow, but if they're new formats of previous books, reviews may already be up; others will retain their Diamond previews information we receive displayed as 'Publisher Blurb'.
Bad Weekend (A Criminal h/c) (£14-99, Image) by Ed Brubaker & Sean Phillips with Jacob Phillips
Herakles Book 3 h/c (£17-99, Lion Forge) by Edouard Cour
Sensible Footwear, A Girl's Guide (£17-99, Myriad) by Kate Charleworth
The Phoenix Colossal Collection vol 2 (£9-99, David Fickling) by Jamie Smart, Neill Cameron, James Turner, Jess Bradley, Faz Choudhury, Benedict Tomczyk-Bowen, Dominika Tomczyk-Bowen
Grass Kings vol 1 s/c (£13-50, Boom! Studios) by Matt Kindt & Tyler Jenkins
The Magicians: Alice's Story h/c (£20-99, Archaia) by Lev Grossman, Lilah Sturges & Pius Bak
Murder Falcon s/c (£17-99, Image) by Daniel Warren Johnson & Daniel Warren Johnson, Mike Spicer
Books Of Magic vol 1: Moveable Type s/c (£14-99, DC) by Kat Howard with Neil Gaiman, Simon Spurrier, Dan Watters, Nalo Hopkinson & Tom Fowler with Bilquis Evely, Max Fiumara, Sebastian Fiumara, Dominike "DOMO" Stanton
Kramers Ergot vol 10 s/c (26-99, Fantagraphics) by Sammy Harkham, Robert Crumb, Dash Shaw, David Collier, Anouk Ricard, C.F., Jason Murphy, Blutch, Shary Flenniken, Johnny Ryan, John Pham, Ron Regé Jr., Simon Hanselmann, Anna Haifisch, Ivan Brunetti, David Amram, Helge Reumann, Frank King, Steve Weissman, Aisha Franz, Leon Sadler, Adam Buttrick, Archer Prewitt, Connor Willumsen, Bendik Kaltenborn, Will Sweeney, Rick Altergott, Kim Deitch, Marc Bell
Sandman vol 9: The Kindly Ones (30th Anniversary Ed'n) (£14-99, DC) by Neil Gaiman & Marc Hempel, Glyn Dillon, Charles Vess, D'Israeli, Teddy Kristiansen, Dean Ormston, Kevin Nowlan
Green Lantern vol 1: Intergalactic Lawman h/c (£22-99, DC) by Grant Morrison & Liam Sharp
Friendly Neighborhood Spider-Man vol 1: Secrets And Rumor s/c (£15-99, Marvel) by Tom Taylor & Juann Cabal, Yildiray Cinar, Marcelo Ferreira
Incredible Hulk: Epic Collection – The Leader Lives s/c (£35-99, Marvel) by Stan Lee, Gary Friederich with Roy Thomas, Bill Everett, Archie Goodwin & Marie Severin, Herb Trimpe with Frank Giacoia
Today's Menu For The Emiya Family vol 2 (£11-99, Denpa) by Type-Moon & TAa