Featuring Sarah McIntyre, Philip Reeve, Luke Pearson, Chino Moya, Tal Brosh, Darryl Cunningham, Stan Lee, Jack Kirby
Hilda And The Mountain King (vol 6) h/c (£12-95, Flying Eye / Nobrow) by Luke Pearson.
Never threaten
a mother's child; or a child's mother, for that matter.
It's a bond that should never be broken.
Welcome back to the wild, rock-strewn countryside of HILDA outside the tall city walls of Trolberg, defended against its indigenous inhabitants with enormous bells, the clanging of which repels those Trolls almost as forcefully as sunlight deters them. Sunlight quite literally petrifies them.
But those same Trolls have been appearing outside their dank, cavernous mountain home in larger numbers of late – in their hundreds, perhaps thousands – and roaming farther afield. Specifically they seem to be drawn, by some compelling inner instinct which they do not understand, to that very city whose human inhabitants, already nervous, are growing increasingly alarmed.
Well!!!
HILDA AND THE STONE FOREST certainly culminated in quite the unexpected climax, didn't it?
We've never known HILDA end on a cliffhanger before! As a result, insatiably inquisitive explorer Hilda and her more cautious Mum have found themselves in much altered circumstances, utterly bewildered and terribly separated with very little hope – it seems – of reversing their plight.
I'm going to be as elusive as possible about the exact nature of this strange transformation in their lives, but what I can tell you is that Hilda herself is enjoying an enforced holiday in that subterranean stone forest, while Mum and furry-faced family friend Tontu have a rampaging new house guest on their hands.
Neither party knows for sure what's become of the other, but both are going to go to the greatest lengths possible to find each other and be reunited using natural curiosity, making what they hope are new friends and learning whatever they can about the Trolls' history and customs. The Trolls, for example, collect stuff. It's a recycling of sorts – certainly a more positive pastime than fly-tipping.
"What are all these piles of junk?"
"We gather it from the city outskirts. Things the humans have dumped or don't seem to need any more."
"You know vegetables aren't buried in the ground because people don't need them, right?"
"Well it's a funny place to leave them."
With the mystery and emergency already established at the end of the last volume (and recapped in a handy-dandy, two-page "Previously…"), Pearson makes maximum use of the increased page count this affords to weave in additional dangers and suspicions – on both sides and from multiple directions – and build on what we've already established as the Trolls' nature while subtly but repeatedly emphasising the acute anxiety of separation: the separation of parent and child.
Everyone I know has an embedded memory or three of being separated from their parents, be it lost briefly in a crowd or a far more protracted affair, and far too many parents I know have experienced the same terror from their own perspective. The vividness of the childhood memories after perhaps decades is a testament to the extent of the trauma. It's going to resonate with readers, is what I'm saying, and create quite the incentive for families to fly through these pages – they're gripping!
Hilda and her mother can, if not hear, then at least sense each other calling throughout, but the distance between them is emphasised by the marked contrast in colours. The warm glow of earthy, autumnal colours both within the sanctuary of home and on the pages following the mother's daylight efforts on the hillside to establish Hilda's whereabouts are matched once Hilda manages to venture outside the mountain, albeit temporarily at night, for the starlit skies glow a golden brown; but while trapped underground inside the Trolls' mountain, the colours are cold and empty in greys, green and pale aquamarine, stark white or echoing black.
Having successfully avoided the biggest spoilers for HILDA AND THE STONE FOREST, then, I leave you with a last illustration, Hilda's dream-like vision in threatening scarlet, catalysed by the glowing orb which forms her third and final quest to reverse her predicament…
Whatever can it mean? And will any of them figure it out before the humans scramble up the mountain to attack with their new secret weapon, or the Trolls descend en masse to Trolberg and wreak havoc on the city's rush-hour traffic and much cherished civic floral displays?
SLH
Buy Hilda And The Mountain King (vol 6) h/c and read the Page 45 review here
Reminder: Luke Pearson Signing & Sketching in Hilda at Page 45 Saturday September 7th 2019, 12-2pm
Kevin's Great Escape: A Roly-Poly Flying Pony Adventure h/c (£8-99, Oxford Press) by Philip Reeve & Sarah McIntyre.
Break out the
biscuits! Kevin the roly-poly flying pony is back!
"There was a big silver door knocker in the shape of a snake eating its tail. "Stupid snake!" said Kevin. You'd never catch a flying pony doing something as stupid as eating his own tail, he thought. Then he wondered what his tail tasted like and turned round to have a nibble."
And he's as peckish as ever.
""Biscuits?" said Kevin, who had just realized that it was the end of Chapter Two already and he hadn't had any custard creams yet."
As those who've previously perused Page 45's Philip Reeve & Sarah McIntyre Section and enjoyed its literary spoils (like Kevin's last loop-the-loop), both these collaborative creators fire on full thrusters to entertain your young ones by employing everything at their disposal: mystery, mythology, a great many biscuits and cakes, illustrations fully integrated into the text, popular culture, pugs, cumulatively funny linguistic reprises and irreverent attention to chapter breaks.
"…And this is Nobbly Nora, a friendly tortoise. (She doesn't have anything to do with this story at all, she just wanted to be in a book.)"
Here both mythology and popular culture are brought to the fore as we encounter more legendary beings from Kevin's natural home on the wild wet hills of the Outermost West and a spectacularly successful goth popstress called Misty Twiglet whose music videos like 'Trapped (In A Haunted Wardrobe)' prominently feature her being trapped. (In a haunted wardrobe.)
Kevin's comfy straw nest currently sits far from the wild wet hills of the Outermost West atop the flat-roof floor of Max and Daisy's top-floor flat.
(You try saying that with your fat face stuffed full of Bourbons!)
That top-floor flat has just been flooded with a scream, because Maisy is Misty's biggest fan, and Misty – it's just been announced on the TV – is about to move to the home town of Bumbleford! Or rather, just outside it, in the vast gated mansion called Gloomsbury Grange. Will she be seen shopping (spookily) in Bumbleford or getting her hair cut (gelled and sprayed) in Maz and Maisy's Mum's hair salon? (Unlikely – it's also flooded but with water; mermaids are her chief customers.)
The family's frenzied debate about whether pop goddesses get their minions to do their shopping or send servants to get their hair cut for them is suddenly, startlingly interrupted downstairs by the arrival in his shiny sports car of Misty Twiglet's chief minion, Mr Baz Gumption, Superstar Talent Management, with his "shiny jacket and shiny dark glasses, and once he had got over the shock of having a roly-pony flying pony land beside him, he smiled a shiny smile…"
He only wants to buy Kevin for Gloomsbury Grange!
"How much do you want for him?"
""Nothing!" said Max. "I mean…"
""Kevin's not for sale!" said Mum.
""He's our friend," said Daisy.
"Oh, sure," said Baz Gumption. "But your friend would be way better off living in Misty Twiglet's garden than up on your roof.""
Baz Gumption does his best to persuade them with all the amenities on offer, but the family are resolute, defiant, and Baz isn't accustomed to defiance.
"Baz Gumption scowled while trying to keep smiling, which was an interesting look."
I love the lightness of Reeve's quiet critiques, but you won't like the heaviness of Baz's response when refused. All it'll take is a little luring of Max's star-struck sister then a typically roguish, nay ruthless sleight-of-hand when Maisy and Misty [totally redacted] and Kevin may find his flight quite encumbered!
La McIntyre's art is as thrilling and inventive as ever, with lots of sneaky background jokes I'm not going to sign-post for you for fear of spoiling your fun (hint, however: you're not the only one reading here!), and, as usual, there will be a few familiar faces of former friends, even if one is carefully hidden amongst Misty's household ornaments.
Poor Kevin's new straw nest isn't going to be situated in anything like the idyllic surroundings Baz Gumption promised and McIntyre's decidedly dismal holding pen looks more like a ramshackle early-to-mid 20th Century zoo enclosure, as inappropriate and inhospitable as the cramped concrete monstrosity I once witnessed polar bears gloomily mourning in. Notice how his water trough is actually a human domestic bath complete with tap appliances!
I did promise you more mythology too, didn't I? Reeve and McIntyre have assembled quite the collection of fellow captives, like the Gorgon called Zola who wisely wears sunglasses (more for your protection than hers), a Centaur who I later spotted wearing Cyclops-style shades (nice!) and a cardigan-loving faun called Cardigan Faun. There Reeve excels himself:
"His eyes were the colour of sunlight in autumn woods."
It's an evocative enough description for anyone's irises – but for a sylvan Satyr's, it's perfect!
The title of course is KEVIN'S GREAT ESCAPE, but how can this possibly be facilitated when the mansion is walled, gated and guarded by more than Baz Gumption, and Max and Daisy's only flying ally finds himself knotted up in netting?! It won't be easy!!
Especially since Kevin's priorities are as spot-on as ever:
"I can't go without my friends."
Transportation for one will prove problematic (I haven't mentioned them yet, but you'll see!).
Some of my favourite art also contains story spoilers, so I've reluctantly withheld it, but you wait until you see our roly-poly flying pony soaring above Bumbleford's country churchyard complete with lychgate from an aerial point of view! Spectacular!
I leave you instead with one of Sarah's awesome blogs which always come with extra activities (https://jabberworks.livejournal.com/836398.html – there have been will be many more related to Kevin) and this book's introductory endpapers which are absolutely typical of Philip Reeve & Sarah McIntyre.
I'm surprised any decent home ever let's them through its front door.
Maybe they get in another way?
SLH
Buy Kevin's Great Escape: A Roly-Poly Flying Pony Adventure h/c and read the Page 45 review here
The Legend of Kevin: A Roly-Poly Flying Pony Adventure s/c (£6-99, Oxford Press) by Philip Reeve & Sarah McIntyre.
Also still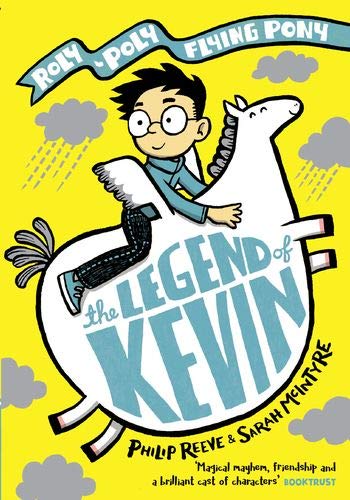 available as THE LEGEND OF KEVIN h/c!
Welcome to Stephen's New All-Ages Taste Test in which I declare that if you can imagine a book being read aloud by Alan Bennett, with his dry yet full-mouthed, fruit-jam-flavoured, deadpan delivery, then you are onto a winner!
So it is here, with the most perfect preamble that I can recall, setting you in very good stead for all that will follow.
"Kevin lives in the wild, wet hills of the Outermost West, where he has built a large, untidy nest for himself in the branches of an old oak tree."
Kevin – if you hadn't gathered from the so-spangly cover – is a Roly-Poly Flying Pony. As David Attenborough once noted, their nests can be famously dishevelled.
Kevin comes from the "wild, wet hills of the Outermost West". Not Plymouth, nor Basingstoke, nor even the Dartmoor plains; but somewhere wilder, wetter and even more westerly. This is Important, as you shall see.
"His favourite things to eat are:
"1. Grass
"2. Apples
"3. Biscuits
"… only not in that order."
Why, Philip, why?
"Grass is quite easy to come by, because it grows all over the wild, wet hills of the Outermost West. Apples are grown on the trees in the orchards, and Kevin often flies down to eat them. (You can imagine how delighted the farmers are when they see him coming.) Biscuits are a bit harder to get hold of, but sometimes Kevin makes friends with a hiker, and if he's lucky they share their biscuits with him. So if you ever visit the wild, wet hills of the Outermost West, be sure to take plenty of biscuits. Kevin's favourites are:
"1. Pink wafers
"2. Bourbons
"3. Custard creams
"… only not in that order."
Reeve is a master of playful repetition and the cumulatively funny joke, and that won't be the last of his winking, tongue-in-cheek, parenthetical asides, either.
You are now fully prepped for the latest deliciously mischievous all-ages, illustrated and fully integrated prose from the award-winning creators of PUGS OF THE FROZEN NORTH, OLIVER AND THE SEAWIGS, CAKES IN SPACE, JINKS AND O'HARE FUNFAIR REPAIR and the creation inspiration that is the PUG-A-DOODLE-DOO BUMPER BOOK OF FUN. Never have I read a funnier kids' activity book in my astonishingly long life.
It was there that I first acquired the sneaking suspicion that Philip and Sarah were building a subtly shared universe in which – at any unexpected moment! – you might meet much beloved, long-lost friends from previous adventures as guest stars in brand-new ones. Oh, my lovelies, that moment is now! Perhaps Kevin is not alone in living around the nebulous "wild, wet hills of the Outermost West" with its Outermost Coast and Outermost Sea. Who do you think you might become reacquainted with here?!
Clue: please bring shampoo! They're all stinky and eww!
The blustery, rain-soaked action begins immediately as a preternaturally turbulent storm blows in from the Outermost Sea, scooping poor corpulent Kevin up out of his messy nest, and sweeping him far, far away to the towns and cities where ordinary people live until he bumps into the side of a very tall building. "Doof"! It's a good job there's a balcony.
Inside that building, in its topmost flat, live Max, his dad, his mum and his older sister Daisy who would prefer you call her Elivira, please, because she's going through her gothic period (don't we all).
Now, Max had always wanted a pet – a dog or a cat, or a bird-eating spider (guess who suggested that one) – but the flat was always deemed too cramped and tiny, without so much as a garden for even a small dog to do its 'doings' in. It's the perfect size of a roly-poly flying pony, though, right?!
Of course, to begin with Max doesn't know that it's a roly-poly flying pony that's landed like a hefty haggis outside his bedroom window. For a moment he's fearful that it might be a fearsome polar bear.
"Don't be silly, he told himself, how could a fearsome polar bear have got all the way up here?"
Or a pony, to be fair.
McIntyre's startled, bright white, limp-winged, shivering and sopping-wet Kevin – eyes wide and clueless while caught in the flashlight – is a dripping masterpiece of lost and lonely forlorn fauna and I defy any of you with your melted hearts not to invite the poor creature indoors immediately, towel him down then wrap him in your duvet.
You might want to find him some biscuits.
"Quiet as a mouse, he opened the cupboard, opened the biscuit tin, and took out a custard cream. Then he took another one, because he thought a flying pony as far as Kevin might be able to manage two biscuits. Then he took a third, because he thought maybe he should have one himself to keep Kevin company. (Max was very thoughtful like that.)"
Of course Max's torch battery is "going" – as in, dying – that's what torch batteries do. Reeve nails this sort of everyday family life, like the biscuit tin (I'd forgotten we had one of those), Max's "Swimming Things bag", and that fact that parents have been saying "Yes dear" while paying no attention whatsoever to what you've been saying ever since Gerald Durrell's mum. I love the animism in Reeve's weather as well: the way the wind "leaned" against a window, or, later the sunlight coming down in "silvery fingers through the wave tops and tickled the shop signs" (italics, mine).
Ah, yes, the wave tops. I did mention, didn't I, that this was a preternaturally turbulent storm?
Well, it was, for it blew in from the wild, wet Outermost Ocean flooding the city from its sewers to its shops, its bike lanes and its bus stops, almost to the rooftops, and sweeping in all sorts of strange sea creatures.
From very first page McIntyre effortlessly integrates her illustrations with the type-set prose so that it is not just a balanced, harmonious whole but a narrative fusion, seamlessly incorporating both into a single fluid stream. Here, however, she instinctively and strategically leaves areas of space in her illuminations, so that the words artfully framed by the sides of the skyscraper, forming what actually looks like substructure to the building!
Elsewhere she uses colour to consolidate an image so that it has no need for a line-drawn frame, but melds the individual components into a single, unified coherent whole, as if the Sea Monkeys were caught in a mousse mould then plonked out on the page, set in a gelatinous or at least aqueous blue mass.
Haha yes! The bickering Sea Monkeys are back! Those chittering, chattering, smelly little mentalists from OLIVER AND THE SEAWIGS have returned to pull faces, blow underwater raspberries and throw whiteboard rubbers at Mr. Mould, Max's headmaster, now stranded on the school roof. Personally I'd leave him to it, but Max isn't that sort of a lad, so it's action stations, rescue elevations once the winged wonder's got his old strength back. Because, honestly, if Mr. Mould thought that the little human monkeys he was used to teaching were loud and ill-disciplined, then this lot are totally bananas.
"The monkeys threw a few pencil sharpeners and things after him, just to make themselves feel better. Then they went back underwater and started writing rude words on the school walls, and they didn't even spell them properly or bother to use capital letters and full stops; it was an absolute disgrace."
Quite a lot of this takes place underwater as Max attempts to rescue some resuscitating custard creams from the supermarket biscuit aisle, encountering a granny down there in an aqualung, I kid you not. It's underwater that I first spied our old mate Colin the Crab, who is renowned for getting around, admiring himself in a circular compact's mirror. Page 67 – perhaps you can spot him earlier?
This is a carnival of cooped up, flood-fleeing neighbours, a romp and a riot, and a minor misadventure for Beyoncé and Neville, two guinea pigs caught in a tide of their own. It's also a book about newly found friendship – about looking after each other and pulling together whatever the weather, for that's what Max and Kevin do!
And it's a little bit about belonging too.
Kevin, you see, comes from "wild, wet hills of the Outermost West". Not Plymouth, nor Basingstoke, nor even the Dartmoor plains.
But somewhere wilder, wetter and even more westerly. Somewhere that's way, way beyond.
He doesn't belong in a city. Not really.
It's here that Reeve and McIntyre's early decision to set limits on Kevin's anthropomorphic qualities pays true dividends. To begin with, it's comical hearing Kevin do little more than repeat "Biscuits!" or "Custard Creams!" oh so covetously. Oh what a funny fella! But that's just about the extent of his ability to communicate verbally, and I'm afraid that when you first find the poor pony pining near the flat-roof railing – staring out at the sunset, tail still, ears drooping, without the first clue as to where he actually came from, a full fifteen pages from the end – you'll know instinctively where his silent animal instincts are taking him, and you might remember that Reeve and McIntyre did this to you once before, in PUGS OF THE FROZEN NORTH.
The teary, heart-break stuff, I mean.
For many more reviews, pleases see Page 45's Philip Reeve & Sarah McIntyre section, especially THE NEW NEIGHBOURS hardcover and THE NEW NEIGHBOURS softcover for which we still have a few signed editions of a completely different bookplate also drawn by Sarah.
SLH
Buy The Legend of Kevin: A Roly-Poly Flying Pony Adventure s/c and read the Page 45 review here
Flat Filters (£6-00, self-published) by Chino Moya & Tal Brosh.
One of
the best evocations of limbo I've ever read.
Not a void, certainly not an apocalypse, but a monotony, an inertia instead. Yes, if there's one word which distils the world this young man wakes up to, and the lines and colour with which it's described, it's supremely, superbly "inert".
Here's how we begin:
"It was too bright already.
"Strange.
"He used to wake up naturally when it was still dark.
"Fuck!
"He'd overslept."
So far, so familiar – too familiar, perhaps! But the young man isn't panicking. He doesn't appear to have a job. In fact, he doesn't appear to have a future – he doesn't reference it once – just a past.
I'm a little creeped out by that already.
"There was nothing out there."
There really isn't. Just one flat tone for sky, and a pale yellow ochre for not-sky.
"The buildings were gone. And the streets.
"The world wasn't there anymore. Just a vast and empty plain.
"A big flat thing."
The two colours could not have been better picked, and the wording below is perfect:
"It was made out of artificial sand or soil or something like it.
"The sky looked different too. It was like one specific blue pantone, no shades, one colour that probably had a name made out of letters and numbers.
"Only one colour."
His flat – as he left it, falling asleep the night before – is the only thing left. The other apartments are all empty of objects and people and, as I say, there's no future. Sure, he can squeeze out the single orange that's left in his fridge, but when he turns on the taps, there's nothing forthcoming.
Finally, there's the sound. And, after reading this, it will come as no surprise that Spanish-born Chino Moya is a film-maker.
"And the silence. His flat wasn't noisy anymore.
"No cars. No trains running right below the window.
"There was no sound at all.
"When there was silence in a film, there was still some sound. A room tone. That was what he'd learnt in film school. Now there was no tone."
Once more, limbo and inertia.
Slowly, the young man begins to explore what's left of his surroundings, assess his situation and reflect on his past.
Past and present, his expression barely changes.
SLH
Buy Flat Filters and read the Page 45 review here
Science Tales s/c (£16-99, Myriad) by Darryl Cunningham
New revised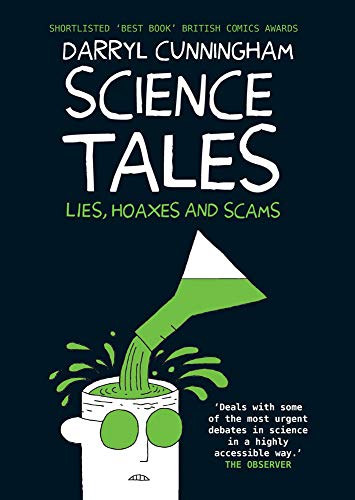 edition including an extended chapter on fracking, which for those not familiar with the term is slang for a relatively new gas and oil extraction technique, which has revitalised the fossil fuel industry in recent years. It's clear this is a topic Darryl is especially passionate about exploring as he goes into great detail eloquently explaining the technique for the lay person, weighing up the technical pros and cons, before getting into his real concerns on the matter. The fact that, despite the genuine possibilities of us now being able to extract vast natural resources which were previously unviable in financial terms, there are some very serious safety concerns, with the potential for causing huge irreparable damage to the heath of a huge section of the population. That these concerns are being blithely swept under the carpet and ignored, indeed actively suppressed.
And precisely who is doing this, both in the UK and US, which are of course leading the way in fracking? Well, the titans of the gas and oil industry whose very deep pockets have, through campaign donations, other lobbying mechanisms and general old-school-tie chumminess, managed to ensure their chosen politicians of every stripe are steering the debate and more importantly legislation, in their desired direction.
For example, did you know that Lord Howell, an energy adviser at the Foreign Office is also president of the British Institute of Energy Economics, which is sponsored by Shell and BP? He's also George Osborne's father-in-law, a man who in 2012 cut wind energy subsidies by 10% whilst giving a 500 million pound a year tax break to offshore drilling. Perhaps more shocking is the case of Lord John Browne, 30% owner of the UK fracking company Cuadrilla, who is an unelected member of the Cabinet Office, with powers to appoint non-executive directors to government departments, including the Treasury and the Departments of Energy and Climate Change plus the Environment, Food and Rural Affairs, as he sees fit. Conflict of interest, or just business as usual, you decide.
It's an exposé which, whilst not remotely surprising to me, does sicken me even further that despite the appearance of us living in a democracy where we have control over the executive who make decisions on our behalf, supposedly for our benefit, it is a sham that ensures the same old snouts stay in the trough and damn the consequences. And let's not fool ourselves into thinking there are any political alternatives available to us under the current voting system which would make a difference, because there are not. The mainstream political parties are all in bed with big business to a degree which is beyond disturbing, but until we start seriously dealing with the culture of corruption that pervades Westminster, that will never change.
So, are we all going to have to deal with the possible consequences to our health and the environment that Darryl outlines, which the fat cats keep lining their pockets? Probably, but as Darryl points out, the truth does eventually out, as the tobacco industry, another group that was extremely adept at manipulating the political landscape, eventually found out to their cost. Hopefully it'll be somewhat quicker this time. And on a personal note, equally hopefully, Nuclear Fusion projects like the ITER test reactor, scheduled to be complete sometime around 2020, which will produce around 500 megawatts of output power for 50 megawatts of input power, i.e. ten times the amount of energy, will finally ensure the true clean energy boom begins in earnest, and fossil fuels can at last be consigned to history. Here's hoping.
What follows below is my review of the previous edition without the fracking chapter.
This time around we find Darryl in full-on debunking mode, as he takes on the scientific lies, hoaxes and scams that annoy him the most, those being: electroconvulsive therapy, homeopathy…
… the moon landing, climate change, evolution…
… chiropractic…
… the MMR jab debacle and the general denial of irrefutable scientific evidence. I personally would have included shampoo adverts with their pseudo-science, made up chemical names and definitive surveys based on massive sample groups of errr…100 people, but that's my own personal bugbear!
It's well researched by Darryl as in each case he goes to great length to not only show how preposterous the various claims are, but also how just unreliable the particular people making those assertions are themselves, and in the case of climate change the infinitely more sinister aspect of just who it is that's funding the idiots. But this is no diatribe, instead it's a meticulous picking apart of the ridiculous web of half-baked facts and fiction that's often woven around one or two grains of truth, usually completely taken and distorted totally out of context, to prove his case. Anyone who enjoyed Darryl's previous work, PSYCHIATRIC TALES, which was a Page 45 Comicbook Of The Month, will definitely enjoy this. Darryl also employs the same understated clinical yet also slightly comical art style this time around, once again inserting himself as a talking head from time to time for additional narrational emphasis.
Please pop Darryl Cunningham into our search engine for subsequent works, reviewed.
JR
Buy Science Tales s/c and read the Page 45 review here
Fantastic Four: Epic Collection vol 4 – The Mystery Of The Black Panther (£35-99, Marvel) by Stan Lee & Jack Kirby.
A gloriously structured
cover heralds the first-ever appearance of the BLACK PANTHER.
Other classic tales include Dr. Victor Von Doom Esq. relieving the Silver Surfer of his Power Cosmic.
"I'll just borrow this, if you don't mind.
"I swear to God, I'll bring it back on Sunday after church."
The thing is, Dr. Victor Von Doom Esq. doesn't even go to church on Sundays. He has a lazy old lie-in, eating crumpets and jam.
For somewhat more in-depth analysis of early Marvel adventures and a sizzle of saucy satire, please see the previous three FANTASTIC FOUR EPIC COLLECTIONS, AVENGERS EPIC COLLECTIONS and the AMAZING SPIDER-MAN EPIC COLLECTIONS. If only they'd keep them in print.
Collects FANTASTIC FOUR (1961) #52-67 and ANNUAL #4-5, and material from NOT BRAND ECHH #1 and #5
SLH
Buy Fantastic Four: Epic Collection vol 4 – The Mystery Of The Black Panther and read the Page 45 review here
Arrived, Online & Ready To Buy!
New reviews to follow, but if they're new formats of previous books, reviews may already be up; others will retain their Diamond previews information we receive displayed as 'Publisher Blurb'.
Grass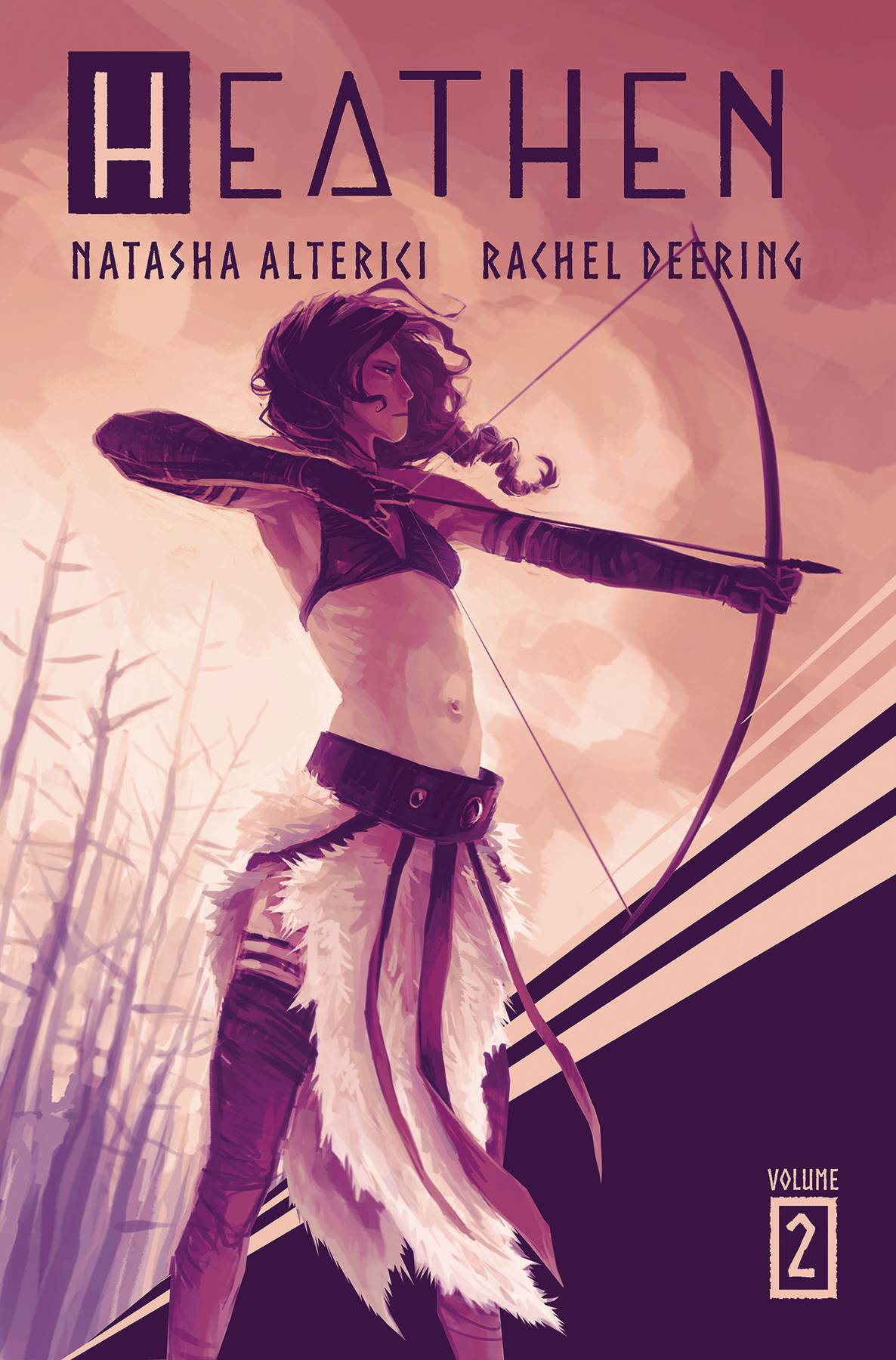 (£22-50, Drawn & Quarterly) by Keum Suk Gendry-Kim
Heathen vol 2 (£13-99, Vault Comics) by Natasha Alterici
The Collected Toppi vol 2: North America h/c (£22-99, Magnetic Press) by Sergio Toppi
Americana (£16-99, Nobrow) by Luke Healy
Judge Dredd: Small House s/c (£9-99, Rebellion) by Rob Williams & Henry Flint
Bloodborne vol 3: Song Of Crows s/c (£13-99, Titan) by Alex Kot & Piotr Kowalski
Doctor Who: The Thirteenth Doctor s/c (£13-99, Titan) by Jody Houser & Rachael Stott, various
Jim Henson's Beneath The Dark Crystal vol 2 h/c (£18-99, Archaia) by Adam Smith & Alexandria Huntington
Batman: Batman Who Laughs h/c (£24-99, DC) by Scott Snyder, James Tynion IV & Jock
Captain Marvel vol 1: Re-Entry s/c (£14-50, Marvel) by Kelly Thompson & Carmen Nunez Carnero, Annapaola Martello
Fantastic Four By Hickman Complete Collection vol 2 s/c (£35-99, Marvel) by Jonathan Hickman & Neil Edwards, various
Star Wars: Vader – Dark Visions s/c (£14-50, Marvel) by Dennis Hallum & Paolo Villanelli
War Of Realms: Journey Into Mystery s/c (£14-50, Marvel) by Clint McElroy & Andre Araujo