Featuring Kate Charlesworth, John Allison, Bryan Lee O'Malley, Mark Millar, Rafael Albuquerque, Chip Zdarsky, Carlos Magno, Butch Guice
Sensible Footwear, A Girl's Guide (£17-99, Myriad) by Kate Charlesworth.
"FEMINISM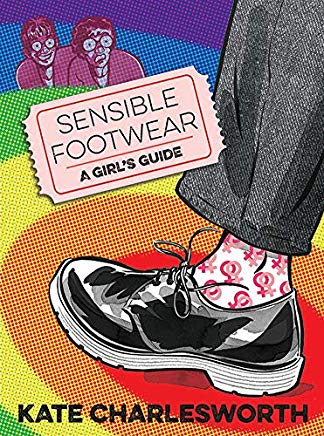 IS THE RADICAL IDEA THAT WOMEN ARE PEOPLE"
What a superbly structured, brilliant but biting history and vital entertainment this is!
Shoes! Shoes! Sensible shoes!
You are hereby ever so warmly invited to walk a mile or twenty-six in somebody else's – Kate Charlesworth's and the growing LGBT+ community's – in a personal insight, education and entertainment spanning 70 years from the 1950s onwards!
All education should be an entertainment and this one comes vibrant in colour, comedy and variety without a po face in sight:
"Yes, Cinders!" it proudly proclaims on its title page, "You shall go to the Rugmunchers' Ball!"
It is laugh! It's a riot! It is a genuine milestone.
It is a declaration of unequivocal and inalienable pride and ownership, as well as an acknowledgement of childhood innocence and naivety which is overwhelmingly inclusive because, hey, weren't we all – gay or straight – utterly baffled and confused aged 5, 7, 9 or 11 either by what others have got going on down there or by increasingly wild, schoolyard hearsay when it came to matters of love and sexual congress? Of course we were!
You'll be privy to Kate's own mystification then awkward, uh-oh education; the disinformation then elucidation; timidity, discovery, further confusion and gradually figuring it out. It's never a straight learning curve, is it? Now imagine all that… before the age of internet information! Before the love that dared not speak its name spoke its name! Before you might know where to go, or whom you could confide in, ever so carefully even those closest to you!
Because ostracism is a bitch, and its prospect's pretty daunting; potentially even more so when they're your friends.
But this is mischievous, it's irreverent and I did promise you "variety". I meant it in both senses for as well as a personal reflection – shared between four fast friends in the present day – of growing up gay in sequences artfully differentiated in both line-style and colour, this is a pageant of past performers who paved our way in one way or another (Divine, Dusty Springfield, David Bowie, Josephine Baker, Tom Robinson, Gay Sweatshop, Rhona Cameron, April Ashley, Dana International, The Pet Shop Boys, Sandi Toksvig, Nancy Spain and so many more) and if you're a Gilbert & Sullivan fan then Charlesworth pays tribute with her own Three-Act gala performance of several "lost" compositions based on extant tunes which could not be more witty in their word-play, delivery, or in the way that they repurpose each musical play for their larger-than-life stroll down the local dykes' bar of yore with all its behavioural idiosyncrasies and points or order, characters, customs and politics.
They could take some finding back in the bad old days – and they could be rough!
Let us be clear, however: there is so much that's sobering to be learned or recalled about the shit which we've been subjected to over these specific decades plus the courageous and enterprising inroads against social adversity and legal persecution / prosecution which pioneering souls far braver than I have turned from vindictiveness, ingratitude or invisibility into official recognition in terms of equality, individuality and outright acclaim.
Take shy Alan Turing, the mathematician who historians now estimate was "personally responsible for shortening the Second World War by two years" with his breaking of the Germans' Enigma Machine messages. How many millions of lives did he save? Arrested then trawled through the courts simply because he was gay – for being caught having a consensual affair with a 19-year-old man who then robbed him – Turing was sentenced to chemical castration "which made him fat, impotent and, worse, affected his ability to think and concentrate".
His inability to think and concentrate…
He committed suicide.
"Prime Minister Gordon Brown officially apologised for Turing's treatment in 2009, and in 2013 he was granted a Royal Pardon. In 2017 this posthumous pardon was extended to thousands of gay men."
Trenchantly, one of the Charlesworth's best friends there interjects: "'Forgiving' us? We did nothing wrong!"
And I adore all this solidarity: lesbian, gay, bisexual, transgender, queer or questioning, intersex, and asexual or allied, plus, plus, plus we are all in this together.
Alan Turing is about to appear on the next generation of £50 notes.
But if the last 50 years has taught me anything, it's that progress towards that which is even bog-standard enlightenment can never be taken for granted – just look at today's news – so we still need to stand up and be counted and embrace diversity in all the joy which it grants us otherwise the bullies on the high street, down the back streets, in the media and in legislature win, and we are all reduced to a powerless, unquestioning, homogenous hole.
Badges! Don't you love badges?
I do love badges, and Kate Charlesworth reminds us of so many I'd forgotten by scattering them across the nuggets of history interspersed between the autobiographical narrative (where chronologically or thematically appropriate) in single or double-page info-burst collages, mostly line-drawn from photos so as to maintain the mood.
One of my all-time favourites is "FEMINISM IS THE RADICAL IDEA THAT WOMEN ARE PEOPLE". It's not a big ask, is it?
My best friend Anita wore a badge proposing that "9 out of 10 men are bisexual", knowing full well that so many post-punk lads wouldn't be able to resist declaring they weren't. "Ah," she'd smile quietly, delightedly, "Then you must be one of the ONE in 10".
Also books, plays and films: you'll have quite the reading list when you finish this, should you want seminal works to watch out for!
And so to the story of Kate Charlesworth herself, co-creator with Mary and Bryan Talbot of SALLY HEATHCOTE SUFFRAGETTE and full creator of Aunty Studs, jacket-studded star of the strips which she sold to City Limits then later The Pink Paper, and from which she derives her Twitter handle.
She was born in Barnsley, Easter Sunday 1950, when the nurse was said to say:
"'The child that is born on the Sabbath Day is bonny and blithe, good and gay!'"
Sometime in the 1980s, and her Mum's leafing somewhat unhappy through the family photo album:
"Oh, well. At least you were good."
They probably need to have that conversation. Or perhaps it'll be best if they didn't.
Kate's early years are narrated in soft, grey, pencil-and-wash focus with delicate colours picking out details as she brandishes wooden swords, rakes saws across lawns, admires military parades or bangs nails into planks to fashion a carpentry reproduction of the HMS Birmingham. Mum (Joan) isn't impressed but Dad (Harold) is much more relaxed.
"Nay, she'll be reyt!" is his cheerful refrain.
Then there's the secret stuff you do with in the shed, tent or some other sort of den. You didn't?! I did! Kate makes Colin scream. "I was always hands-on."
School years with their inevitable, attendant humiliations are rendered as a girls' comic complete with their telling Ben-Day dots, her teen wardrobe playfully parodied as a paper-doll page. Gradually, as Charlesworth grows older, the pencils become sharper then delineated in ink, the memories perhaps more permanent, clearer and less fragmented.
Subtly, this helps differentiate between the time periods as an intriguing, wider, substantial, troubled and at times troubling family history unfurls, going all the way back to Kate's maternal Grandma, thence forward once more to her Mum. Memories of Dianna Rigg in 'The Avengers' catalyse another, much later on, during a visit to see her perform in a musical:
"Love, loss, vaudeville. Pain, angst, tears."
"Why d'you always have to say something miserable, Kathryn?"
"It's Stephen Sondheim, Ma! It's the law! Besides, I've already seen it three times."
During these many mother-and-daughter outings in all kinds of environments, mother Joan can flip swiftly from disapproval to animated enjoyment, depending on what's distracting her. Of Diana Rigg, strutting her high-heeled, split-dress stuff, she cannot help but declare, "Well! She's certainly managed to keep her legs!"
And it seems a puzzle because Joan's reactions are unpredictable, all over the place, basking in company you'd suspect she'd flinch from, yet at other times growing distant, walling herself off….
Anyway, eventually it's off to art college in Manchester during the late '60s and it's time for family to take a temporary back seat while fresh friends are made, digs are dug or not dug (and so swiftly swapped), and all the metropolis has to offer is explored along with Kate's tentatively emerging thoughts and feelings.
That we begin the graphic novel in Teneriffe, 2016, with Kate hooked up not with Ness but Dianne (and, along with friend Wren, all basking joyfully in the brightest of rainbow-coloured combos) cleverly adds a level of eager anticipation on our parts, as well as the certain knowledge that there is a whole lot yet for Kate to enjoy and endure. Most of life comes with mixed feelings. And yeah, it's pretty eventful!
There's a whole career to come involving design, animation, comic strips… romances and relationships to be cautiously explored in all their up-and-down diversity… movements to emerge including CND, anti-apartheid and gay liberation in all its multiple facets from Stonewall and Sappho magazine (run by the ever-inventive Jackie Forster) to the first times that the love which dare not speak its name nor certainly appear on national television without being cushioned in camp finally did so in the form of soap-opera kisses and Gaytime TV, "a queer take on daytime programming"… and inevitably, unfortunately, the most horrific adversity to be challenged.
Although I'm not at all sure that "adversity" is adequate to describe the detonation of the then-fatal '80s AIDS epidemic which ripped through our individual lives and the gay community, robbing so many individuals of dozens of friends. It ignited and renewed an even more vicious, physically violent homophobia whose flames were fanned by opportunist politicians and Christian clergy in collusion with the media, were institutionalised by the likes of Manchester Police Chief James Anderton, and were then legislatively endorsed and enforced by the Tory government of the day in the form of Clause 28 which became Section 28, with Prime Minister Margaret Thatcher declaring:
"Children who need to be taught traditional moral values are being taught that they have the inalienable right to be gay!"
Which I do, thanks very much.
It's all documented here, with real headline quotes – so many duplicitous – that will make your skin crawl.
But you know what? We did stand up and were counted, including the comics community: Alan Moore, Debbie Delano and Phyllis Moore invited all their top-tier comicbook-creator pals to contribute to their Artists Against Rampant Government Homophobia anthology. More vitally, the Terrence Higgins Trust was born to educate the public, confidentially test and treat those diagnosed as HIV-positive, the Red Ribbon Project gave everyone the opportunity to show public solidarity against a prejudice so severe that many lost their jobs and – no small act, this – Chief Anderton's daughter was so ashamed of her father that she outed herself in the News Of The World.
Its headline was not censorious but relieved, even celebratory, iconoclastically co-opting the language of organised religion's venomous hatred to declare:
"HALLELUJAH! Anderton's daughter is a dyke"
That's surprisingly supportive, isn't it?
There's so much more besides inside to surprise!
Most especially this, oh so much this: SENSIBLE FOOTWEAR carries one heck of a personal punchline which – unexpectedly, startlingly – resolves so much of what's said before. Families can we well-funny things, can't they?
Posy Simmonds MBE, creator of graphic novels TAMARA DREWE, CASSANDRA DARKE et al declares:
"A stunning achievement – as a graphic study of LGBT history, and as a memoir of growing up gay from the 1950s onwards. Kate's fluid and tellingly detailed drawing reveals not only the frustrations of and traumas of lesbian life, but also the laughter and camaraderie… and a glorious cavalcade of gay icons."
For further reading, please see Page 45's LGBT+ non-fiction and Page 45's LGBT+ fiction
SLH
Buy Sensible Footwear, A Girl's Guide and read the Page 45 review here
Bad Machinery vol 8: The Case Of The Modern Men (Pocket Edition) (£11-99, Oni Press) by John Allison…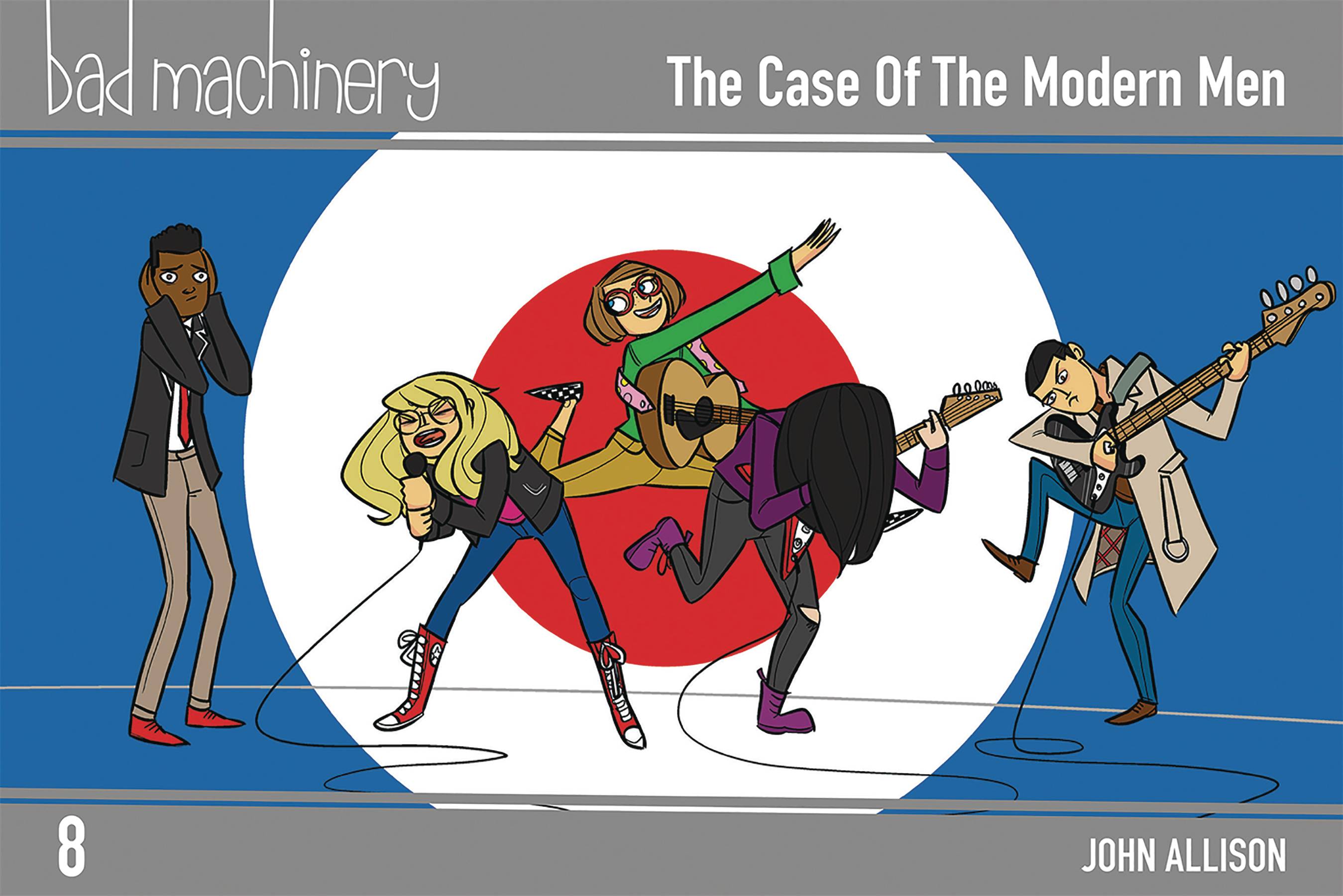 "Heh! What a mess! They're great, these Chinese bikes, until you finally decide to ride them."
"Can you fix it?"
"Mods, coming around again! Takes me back to my days working at the Kaufman in '61.
"I'd been a teddy boy, most teds hated mods. But I didn't care.
"The girls! Pointy bras, hair lacquered just right, paradise for a lad.
"The lads were the purists and snobs, but at least they had manners.
"We'd have all the villains in there too.
"The Wessex Brothers. Bonnie Prince Gordon. Tony Crow and his mother!
"Never any trouble, or if there was, it took place out the back.
"They all loved jazz, see?"
"But can you fix it?"
…
"Grandpa's in his anecdotage. Stories only stop for toilet breaks."
Haha! I feel that is how John Allison must work sometimes to put out the amount of material he does. Right around the clock only stopping for the call of nature… And I bet even then he's plotting whilst plopping… Still, this particularly webbery material is from 2014 I think, and I make it there are still three more collected case volumes to come, I think, so we needn't panic just yet. Huzzah!
Anyway, the kids are back and so is mod. Yes, all crazes come around again eventually and our gang of sleuths just carry on aging disgracefully, now firmly in the grip of adolescent hormones. Well, all the boys at least, who are now finally starting to display some fashion sense and even a sharp haircut or two in a feeble attempt to attract the attention of the ladies. Just in time for the sophisticated female French exchange students to arrive and turn everyone's world upside down…
There's not so much of the supernatural testing Tackleford in this case, aside from the haunted scooter responsible for decapitating multiple King Mods from the sixties onwards, that is…
No, causing most of the consternation this time around is sassy Camille Duplass, staying with little Claire of the lisp…
… who harbours a possibly spurious long time grudge against Mimi…
… residing with Charlotte Grote, who is of course, more than happy to help, errr insist… that Mimi tries to settle the score with the wannabe upstart Queen who also wants to reine (sic) over the English Mods. Which of course only succeeds in enraging Camille even further…
As ever, I find myself marvelling at the near continuous stream of wittiness that flows from John's mind. Every page, nay panel, well in fact pretty much every single speech bubble in BAD MACHINERY is packed with the trademark gently surreal humour that makes this series just such a merrily mirthful delight to read.
We know the main cast so well by now John is able to get fully freewheelin' with the dialogue, the in-jokes, frequently going on the most delightful round the back of the bike shed diversions before always bringing it back to a chuckle inducing climax with the pithy punchlines that punctuate practically the end of every page.
He is a comedy genius. Perhaps the very finest in comics. I would happily argue his case there. I will be so, so sad when all this material is finally collected and the series complete. The same as with GIANT DAYS… sob… which is rapidly heading to a conclusion.
But fret ye not, fans of John's brilliant brand of surreal British farce, because there is a new series entitled STEEPLE about to begin! It is only slated to be a five issue mini-series, mind, but we will take what we can get!
JR
Buy Bad Machinery vol 8: The Case Of The Modern Men (Pocket Edition) and read the Page 45 review here
Prodigy s/c (£17-99, Image) by Mark Millar & Rafael Albuquerque…
"Would you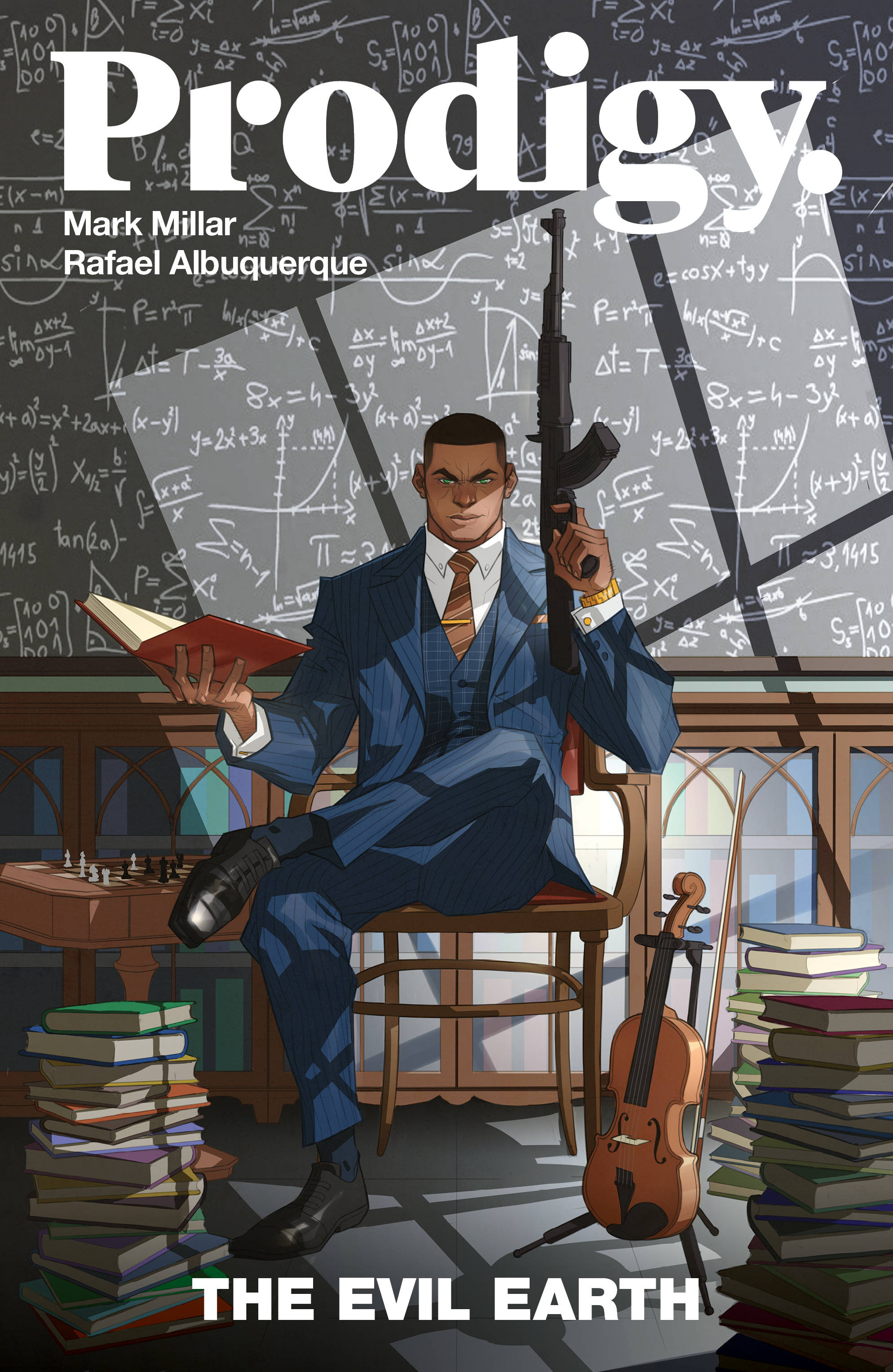 be offended if I said this is the most ridiculous stunt you've pulled in all the time I've worked here, sir?"
"Too late, Candice. I'm afraid the words have already left your lips."
"Should I run through today's main requests?"
"Please do."
"First is from the Australian government, and they want you to investigate a series of weird materialisations they've been having.
"Second is from La Folle Journee in Nantes, asking if could compose a new classical overture for their festival in July.
"Third is a brand-new stunt challenge where you drive a car off the roof of our Berlin office, and land on a specific floor on the building opposite. Blindfolded, if you're feeling brave enough."
"Is this from that same kid again?"
"I'm afraid so."
"Well, tell him it's a yes and the others too. I haven't slept in over a month, and I need something to exercise my brain cells a little.
"I've written three plays, designed a new telecommunications system and invented a polymer that keeps food fresh for a century. I also grew the company thirty percent last night, but I'll slit my wrists if I have to look at another spreadsheet.
"These materialisations sounds interesting. Tell Australia we're firing up the jet."
The only thing more annoying than a cocky know-it-all, is a really, really cocky know-it-all. And yet, despite being an immense show-off of the very highest order Edison Crane is actually quite the likeable character. He might even be capable of running a comic shop…
Fortunately for Edison, his primary concern is merely an imminent extra-dimensional invasion aided and abetted by a secret cabal who have been preparing for this very moment for thousands of years. Well, there is also that extinction level asteroid which is going to plough into the Earth that he's promised to devise a solution for, but that's seventeen years away so he can just let his subconscious mind keep working on that minor problemette in the meanwhile…
Well, following on from the exceptional MAGIC ORDER, that most relentless of comics writers Mark Millar is back yet again, and once more he has penned a self-contained piece of action comedy gold. You will find Edison Crane as annoying as he is enchanting certainly, he's like Stephen Hawking crossed with James Bond, as he flits around the globe from glamorous but deadly location to location in search of clues as to how to save the day.
With panache obviously! Just saving the day in a humdrum run-of-the-mill fashion wouldn't do at all now would it?!
Along the way there'll be idiots who think they can outwit him, of course, for the cabal is well aware that Edison Crane is the only person who could possibly stand any hope of stopping them. He might even let them think they have outwitted him in true cocky know-it-all fashion…
Much like James Bond, certainly circa Roger Moore era, the plot is delightfully preposterous, the stunts truly over-the-top ridiculous, and the one-liners wincingly hilarious. If you enjoyed THE SECRET SERVICE: KINGSMAN you'll definitely get a spinning, twirling flying head kick out of this.
Rafael AMERICAN VAMPIRE Albuquerque, who has worked with Millar before on the Forrest Gump-esque superhero parody HUCK, provides equally non-stop kinetic, action-packed art.
I've always thought he does a great snidey bad guy face too and here is no exception as Edison Crane's private school bête noire turns out to be the loony tune in question.
Albuquerque also does a great snidey bad guy who's just realised his plans of world domination have been totally thwarted by a cocky know it all face too. With panache…
JR
Buy Prodigy s/c and read the Page 45 review here
Scott Pilgrim Colour Collection vol 1 s/c (£26-99, Oni) by Bryan Lee O'Malley.
Scott is a clot.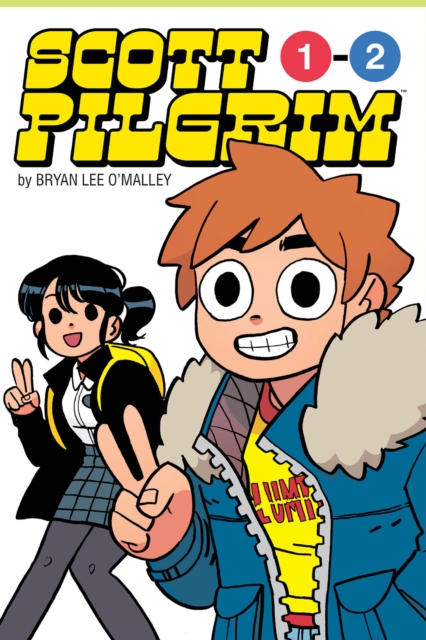 He really is. He's a total dumpling, and in terms of a Chinese take-away, dim doesn't even begin to sum the lad up.
He is kinda cute, though, and as the series kicks off, Scott is living with gay housemate Wallace for whom sly, dry mockery is a default setting. They're so poor that they even share the same bed. But Scott sleeps soundly until this girl called Ramona comes skating through his dreams. She's a delivery girl and as you well know the quickest way from A to B is to skate through someone else's dreams, right…? Then Scott meets Ramona in his waking life, falls head over heels in whatever the hell that thing is (he may figure it out eventually) but is casually informed that if he wants her as a girlfriend he'll have to defeat her seven evil exes in combat!
Truly a unique series with a heart of gold, and a wit and a Nintendo logic all of its own, there is not a single comicbook reader who could fail to fall in love with Scott, Wallace, Ramona or Bryan himself. O'Malley's visual gags, unique to the medium, keep tumbling onto the page.
Unlike the six SCOTT PILGRIM colour hardcovers, these three 2-in-1 editions boast no behind–the-scenes extras, just ALL the comics, their comedy genius, plus an innovative, thick-book spine mechanic which we've never encountered before.
Of Scott Pilgrim vol 2 h/c I wrote:
Seminal series about the most sensitive, caring, sharing boy in Christendom.
"Um, listen… I think we should break up or whatever."
WHAT?! No level-up points you, young Scott!
Nathan Fairbairn has done the impossible: taken Page 45's all-time favourite black and white series and enhanced it with colour. Oh, the blasphemy of it all! But it looks so good and it feels so right. Witness that rain-soaked night with the puddles on the pavement: you can almost hear the downpour and smell its wet-dog fur! And then there's the subtle reflection of Ramona's fuscia leggings!
Anyway: Kim Pine. She was beautifully portrayed in the film – I don't think you could have cast a better Miss Mardy glowering over the drum kit – but woefully cut in terms of screen time. Well, it wouldn't all have gotten too complicated…
Here: IT GETS COMPLICATED!
Kim Pine, you see, was always a major player in the comicbook series and now you'll be privy to her full story.
Previously in SCOTT PILGRIM:
To continue dating Ramona, Scott must defeat her seven evil exes in combat, leveling-up Nintendo-stylee as he does so. BUT: Ramona isn't the only one who's had a complicated love life, and – Knives Chau aside – they all seem to end up in bands! Plus: is Scott finally going to ditch Knives Chau? And if he does so, did he actually pay attention to her name?
In fact does Scott pay attention to anyone or anything ever?!
Scott…?!
Oh, good grief. Too busy fussing about his hair, I expect.
SLH
Buy Scott Pilgrim Colour Collection vol 1 s/c and read the Page 45 review here
Elektra: Assassin s/c (£17-99, Marvel) by Frank Miller & Bill Sienkiewicz –
Deadly but beautiful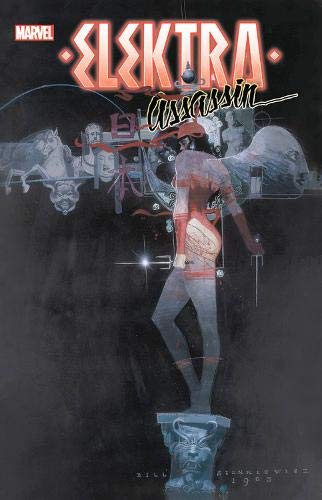 ninja action from 1987. Bill's art begins to approach the wild invention of STRAY TOASTERS with lashings to photocopies, splayed paint, collage, stickers and time-saving short cuts. Frank's splintered storyline uses multiple voices to give a sense of confusion in both the narrative and their own minds.
We begin with Elektra escaping from the asylum, controlling her memories and trying to keep the ninja training at the forefront. Throughout the book, this discipline is responsible for many great plot twists – mind-swapping, lightning-quick reflexes, mind-control, everyday objects used as weapons. There is a great beast looking to bring the destruction of the world by controlling the mind of the next president of the United States and Elektra must stop him. Although this was published by Epic, it references Miller's earlier DAREDEVIL storyline but the only Marvel bleed-through we get to see is a big-gun-obsessed Nick Fury along with several disposable S.H.I.E.L.D operatives.
MAS
Buy Elektra: Assassin s/c and read the Page 45 review here
The Invaders vol 1: War Ghosts s/c (£17-99, Marvel) by Chip Zdarsky & Carlos Magno, Butch Guice…
"But my
power is even greater than that. My reach, farther.
"Don't believe me? Well, listen closely…
"… Because the sea has secrets.
"I've lived a long time, Karris.
"I've experienced great losses… great victories…
"But I've learned from them.
"And now, finally, I have a plan.
"Nobody needs die in battle ever again.
"For why would there be battles if we no longer have enemies?
"Yes, the sea has secrets. And I am the sea…"
Hmm… well, there is a certain way you could take Namor's monologue. I did, and I was wrong!
Chip Zdarsky, currently one volume in to a so far excellent and pleasingly thoughtful run on Daredevil (DAREDEVIL VOL 1: KNOW FEAR S/C) turns his pen to the heroes that battled and battered the original goosesteppers back in the day.
With a story told in two time periods, both in the midst of their World War Two comradeship-in-arms and now firmly set against each other in modern day, well, stroppy pants Namor versus everyone else, it is all about the ghosts of the past haunting the present. And Namor losing the plot, again…
However, like he says, he's not just throwing his toys out of the pram and blaming it on a bad migraine as per usual, he does have a plan, and surprisingly dastardly it is too. Actually, I say two time periods, it is in fact three, because what does a young Professor X, cropping up before he'd even assembled any X-Men at all, have to do with Namor's mental maladies…? Lovely bit of Marvel Universe retconning going on there.
Nice, easily distinguishable appropriate art from Butch Guice handling the period material and Carlos Magno handling the modern day matter.
The latter is decent enough, but Butch Guice as ever is superb. He did some of Ed Brubaker's DEATH OF CAPTAIN AMERICA run, along with Steve Epting, and it was actually Brubaker and Epting's very enjoyable MARVELS PROJECT that Guice's work here made me think of, for reasons of period and tone.
I'm sure it wouldn't sell, but on the basis of this I'd love to see Zdarsky and Guice tackle an entirely period Invaders run, or at least a mini-series.
Or better yet, have a go at something a bit more inventive and imaginative like the MARVELS PROJECT. On that point, the shortly to be offered as a collection SPIDER-MAN: LIFE STORY telling the story of a Peter Parker who actually ages through the decades penned by Zdarsky is really rather good.
JR
Buy The Invaders vol 1: War Ghosts s/c and read the Page 45 review here
Arrived, Online & Ready To Buy!
New reviews to follow, but if they're new formats of previous books, reviews may already be up; others will retain their Diamond previews information we receive displayed as 'Publisher Blurb'.
Me, Mikko And Annikki
(£22-99, North Atlantic Books) by Tiitu Takalo
Press Enter To Continue h/c (£17-99, Fantagraphics) by Ana Galvan
The Anthology Of Mind (£22-99, Fantagraphics) by Tommi Musturi
Thief Of Thieves vol 7: Closure (£14-99, Image) by Brett Lewis & Shawn Martinbrough
Walking Dead vol 32: Rest In Peace (£14-99, Image) by Robert Kirkman & Charlie Adlard
Aliens Resistance s/c (£15-99, Dark Horse) by Brian Wood & Robert Carey, Dan Jackson, Roberto De La Torre
The Complete Future Shocks vol 2 (£19-99, Rebellion) by Alan Moore, Alan Grant, John Wagner, more & Dave Gibbons, John Higgins, more
Aquaman vol 1: Unspoken Water h/c (£22-99, DC) by Kelly Sue DeConnick & Robson Rocha
Wonder Woman By Greg Rucka vol 2 s/c (£24-99, DC) by Greg Rucka & Cliff Richards, various
Marvels (Monster-Sized) h/c (£67-99, Marvel) by Kurt Busiek & Alex Ross
Old Man Quill vol1: Nobody's Fault But Mine s/c (£15-99, Marvel) by Ethan Sacks &Robert Gill, Ibraim Roberson
Dead Dead Demon's Dededede Destruction vol 6 (£9-99, Viz) by Inio Asano
Legend Of Zelda vol 15: Twilight Princess vol 5 (£6-99, Viz) by Akira Himekawa